Located at the base of Mount Kilimanjaro, Amboseli National Park is renowned for being the ultimate spot in Kenya to witness magnificent herds of elephants. As we had been to Masai Mara National Park, which is considered to be one of the best national parks in the world, just a few days earlier, we were unsure whether Amboseli can offer nearly as much as. 
Long story short – it is incredible! You can sight hundreds of majestic elephants gracefully roaming the vast savannahs, with the iconic Kilimanjaro in the background (in case it is not hidden behind clouds as it was during our visit). You also won't be disappointed by the wildlife in general. 
Read more about our adventures during the one-day safari in this world-class national park (including a short detour in the lake with our 4×4). And in case you are planning your trip to Kenya – we have included everything you need to know for your safari in Amboseli National Park.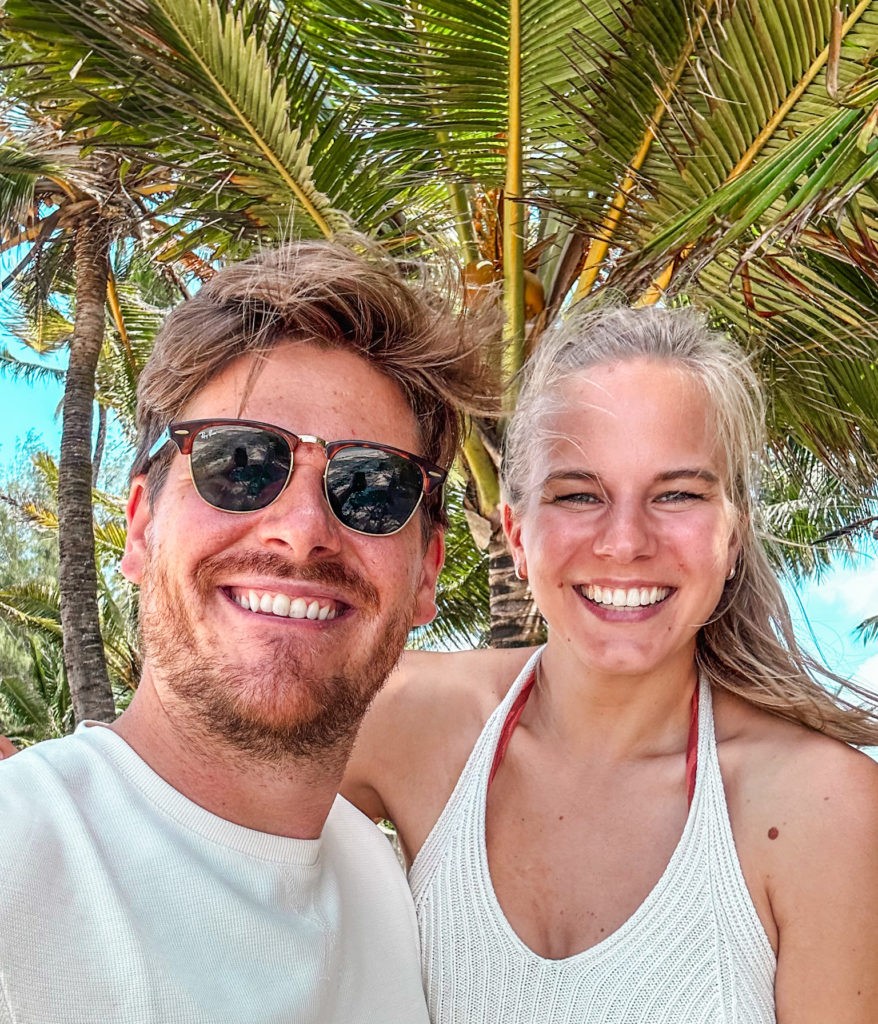 We hope you enjoy our travel stories, guides and tips! If so, please consider supporting our work.
How to Get to Amboseli National Park?
As we had rented a 4×4 for our Kenya roundtrip, we explored Amboseli National Park on our own (our story about camping with 4×4 in Kenya). The distance between Nairobi and Amboseli is around 250 km, which translates to approximately a 4-hour drive. We started our journey from Maji Moto Cultural Camp which is near Masai Mara. It took us about 10 hours to get to Amboseli, which was exhausting but totally doable. So in case you are a good driver and are not afraid of overtaking other vehicles, visiting Amboseli with a 4×4 could be an option for you. The approximate cost of a private car hire for the round trip can range from $300 to $500, depending on the vehicle and your negotiated rates.
For not so adventurous souls, there are other options to visit Amboseli, varying in cost and timeframes.
If you prefer a seamless and convenient approach, Nairobi's Jomo Kenyatta International Airport offers scheduled flights or private charters directly to Amboseli's airstrip. Prices for flights can range from $200 to $400, depending on the season and availability.
Another excellent option is to travel with a tour operator. Many reputable tour companies offer guided safari packages to Amboseli National Park, taking care of transportation, accommodation, and game drives. The cost of these tours varies depending on the duration and level of luxury, but a mid-range option may range from $300 per person for a one-day safari experience to $1500 per person for a multi-day tour.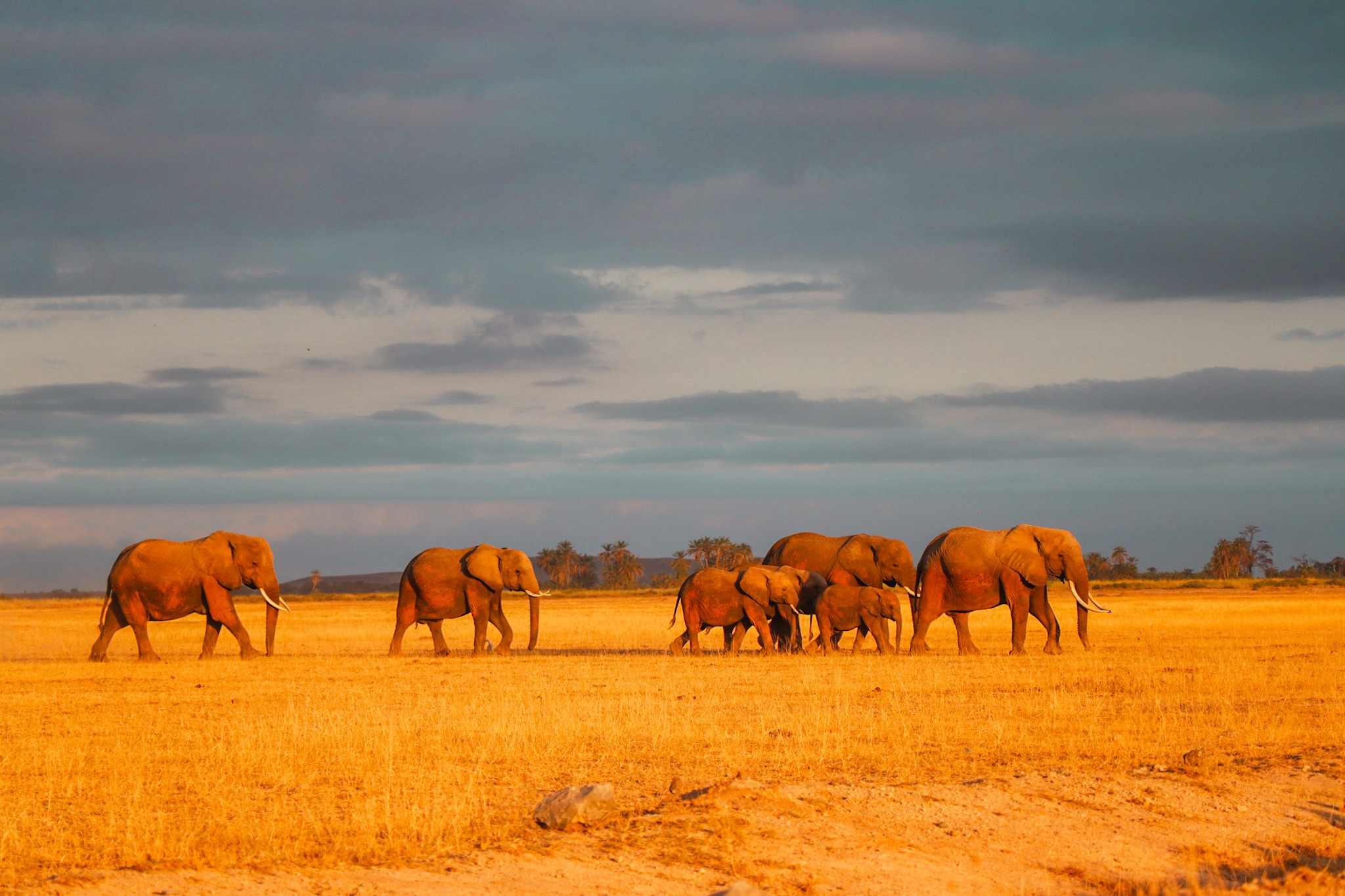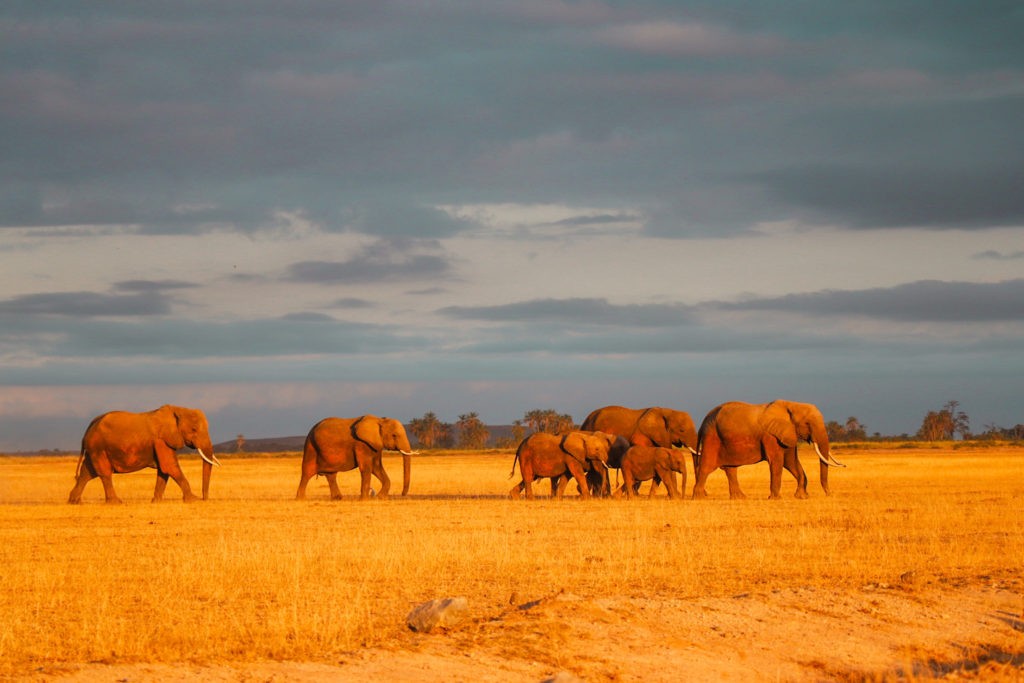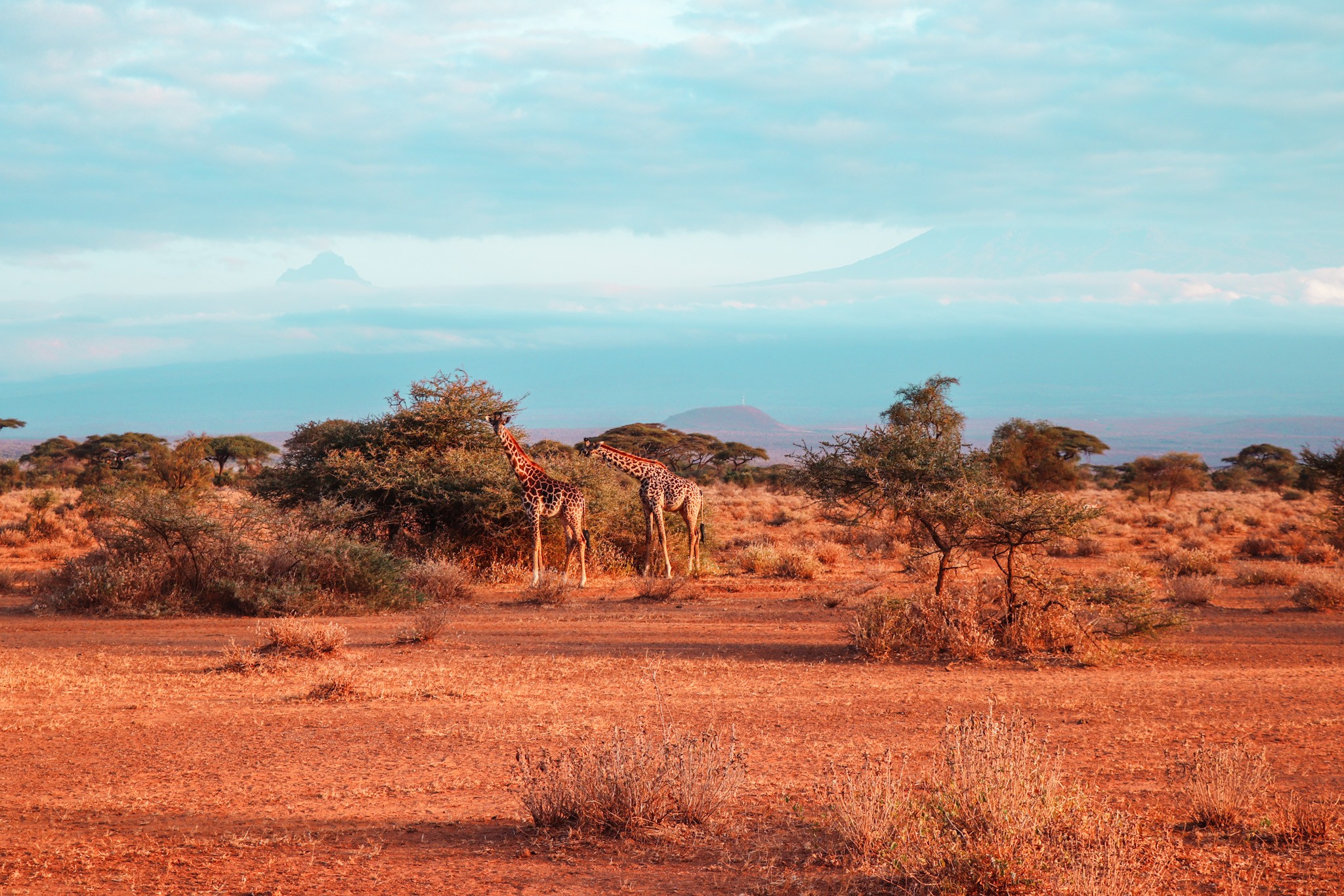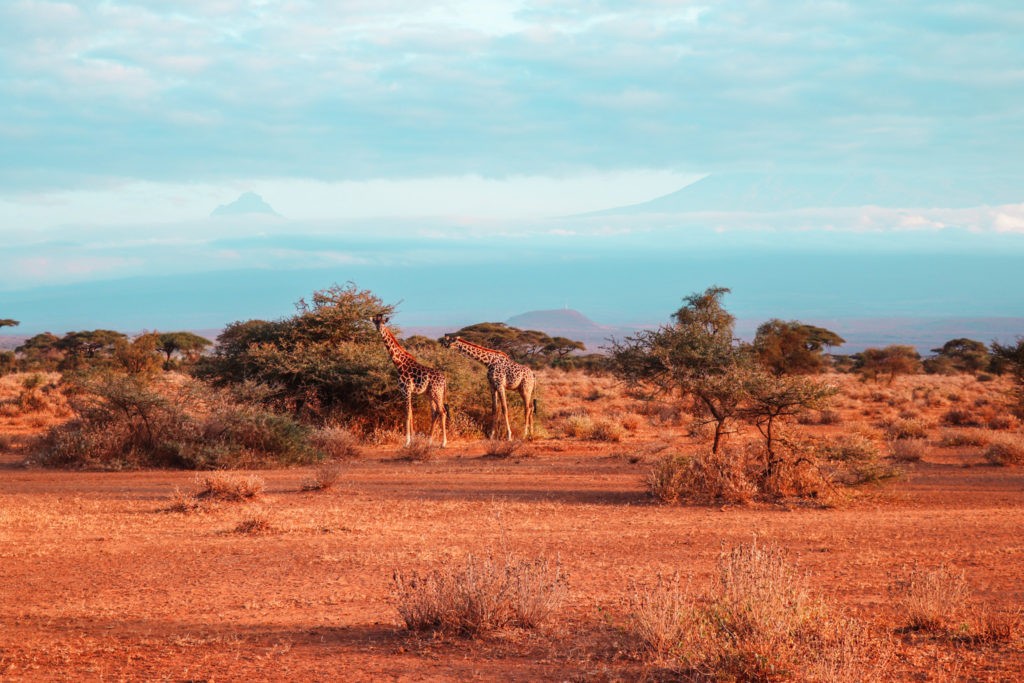 Why is Amboseli the Best Place to See Elephants?
Among the most common and spectacular sightings of the Big 5 in Amboseli National Park are the majestic African elephants. And there are a ton of it: In fact, Amboseli hosts more than 1600 individual elephants which makes the National Park the best place to see elephants in Kenya. 
During the early morning and late afternoon hours, the elephant herds gracefully journey to and from the waterholes. Throughout the day, they spend their time in the swamplands, seeking refreshment from the intense sun. Therefore, we recommend arriving at the park promptly upon its opening to witness this remarkable daily migration. You can spot these elephant families, typically composed of 8 to 10 individuals, from far away as they elegantly make their way to their destinations. If you pause your vehicle and wait patiently, you'll often have the chance to witness them crossing the road in close proximity to your vehicle, providing an opportunity for an up-close observation of these magnificent creatures. Watching the elephants stroll across the savanna during sunrise, with the sun casting warm light upon them, stands out as one of the most beautiful moments we experienced  in Kenya.
During the day, you can enjoy views of elephant families bathing. It's almost like they're treating themselves to a day at the spa! They enter the water, play around by splashing, and simply have a good time.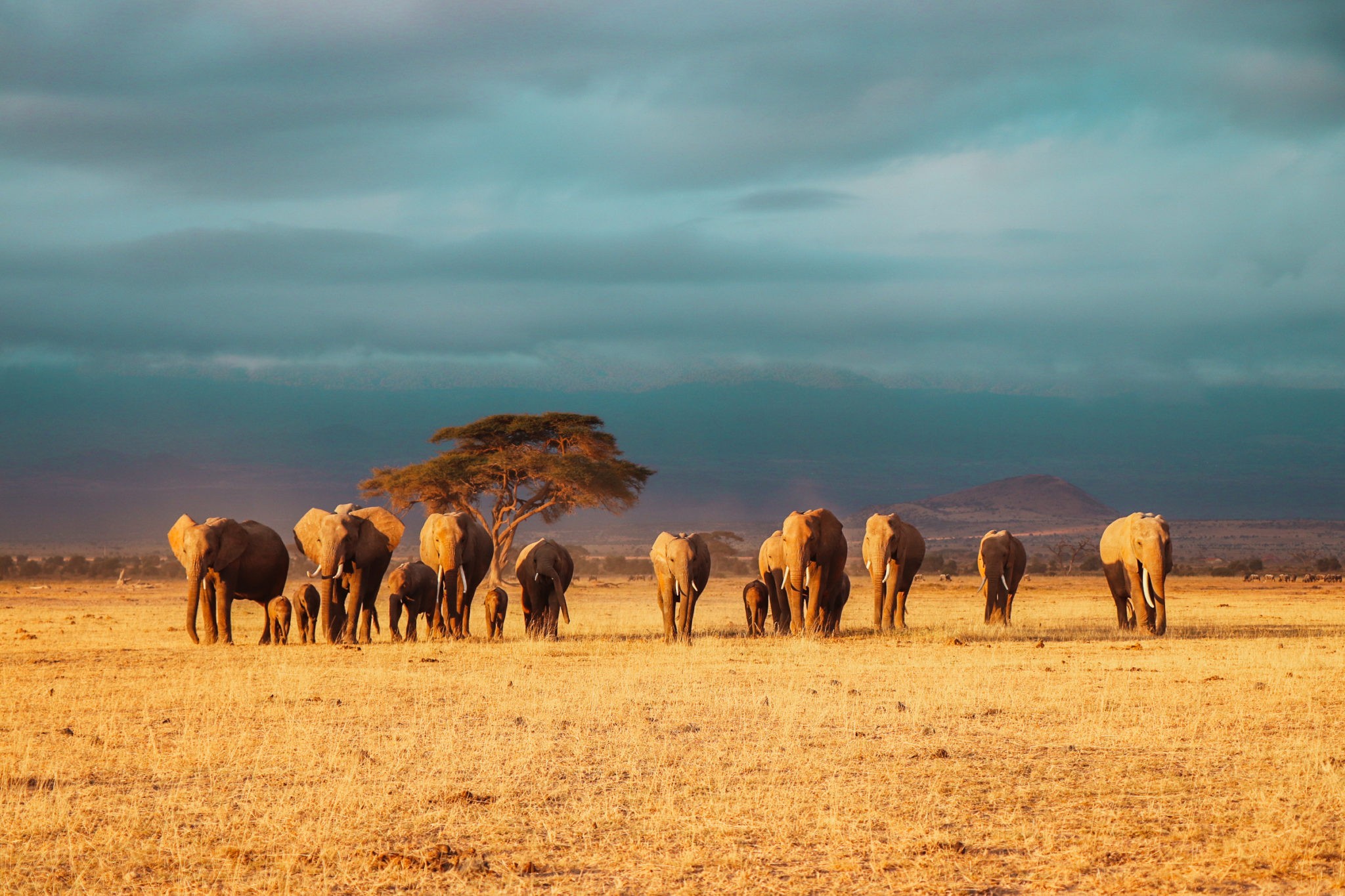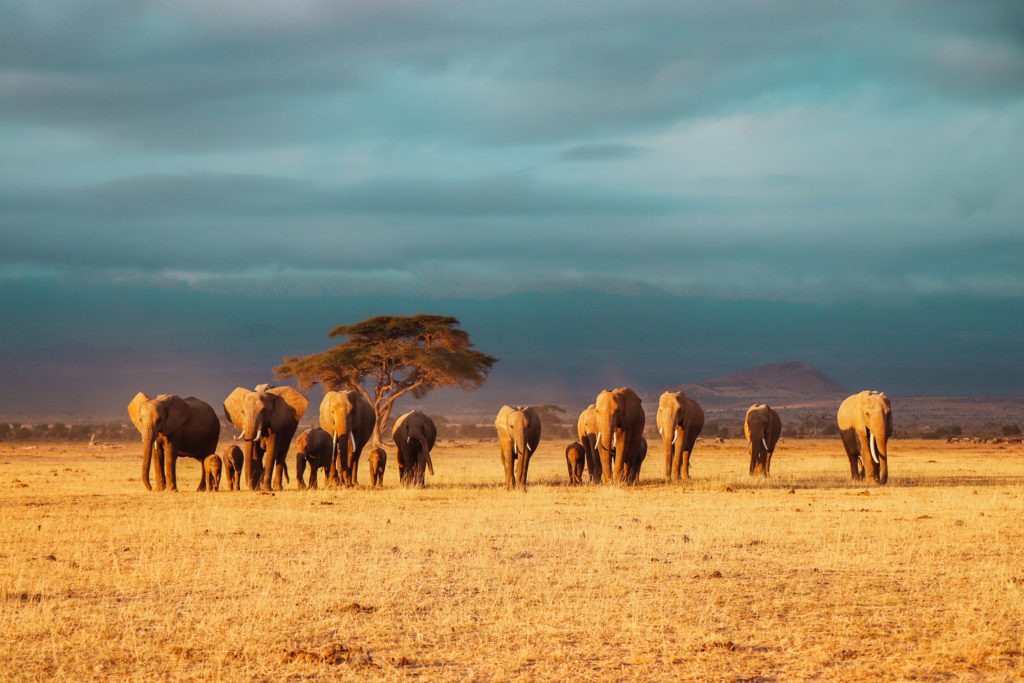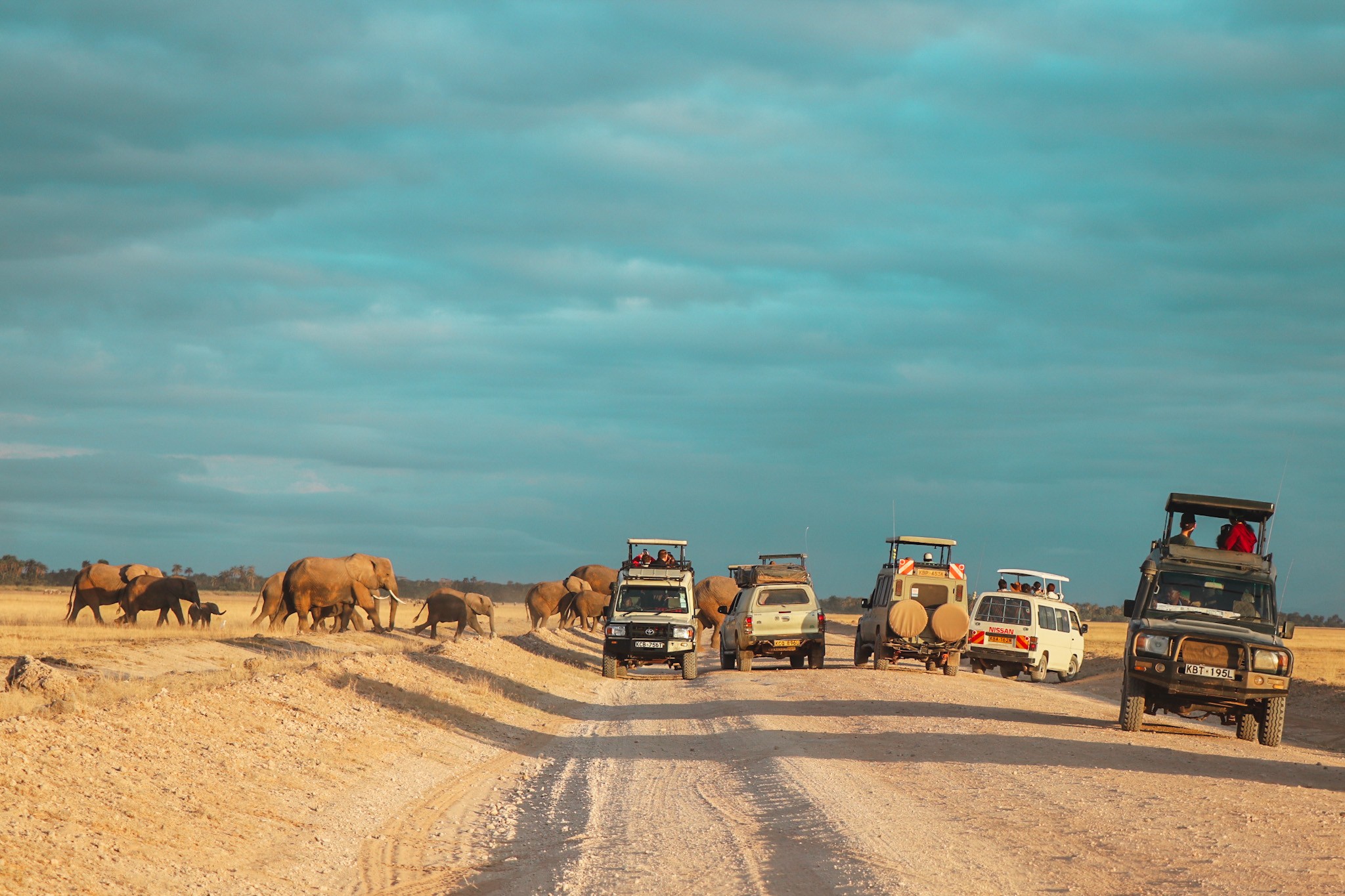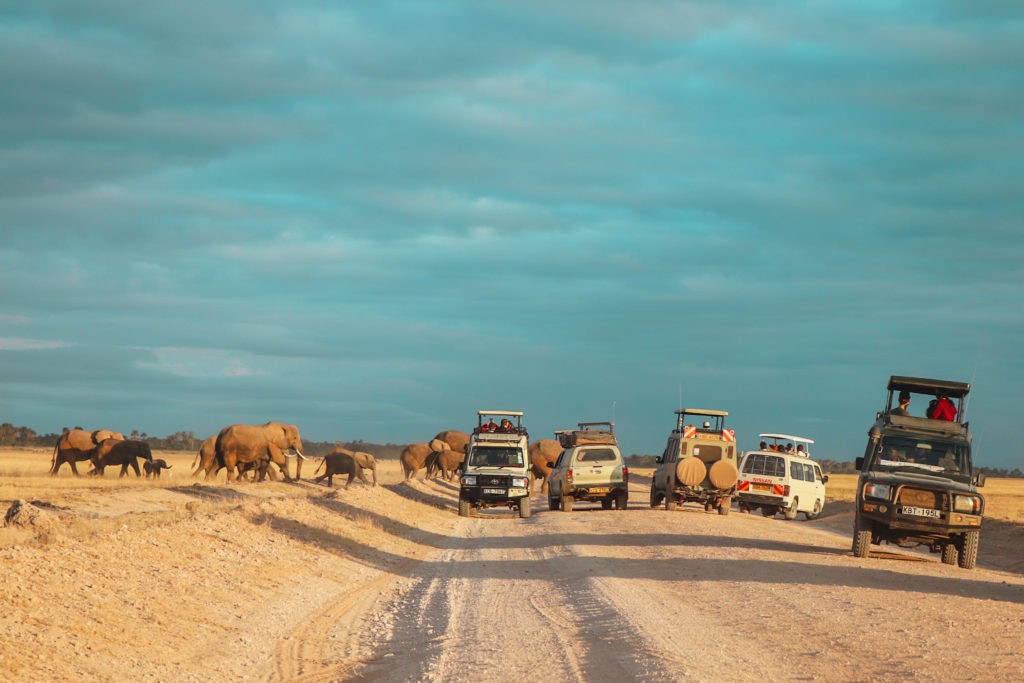 What Other Animals Can Be Seen in Amboseli?
While Amboseli National Park is renowned for its incredible wildlife, it's important to note that it does not host all members of the traditional Big 5. Unfortunately, the park does not have any rhinoceroses. So in case these are on your bucket list, we recommend to visit Masai Mara National Park and stay until late afternoon (Our Masai Mara Story). 
Among the iconic Big 5, besides elephants, Amboseli offers exceptional sightings of the Cape buffalo, leopard, and lion. These magnificent creatures are frequently spotted during game drives and safaris, providing incredible photo opportunities and unforgettable memories for every safari enthusiast. As in Masai Mara, we were again not lucky enough to see leopards, but our highlights included an amazing sighting of a lioness and seeing two buffalos fighting.
Save on Pinterest to read it later.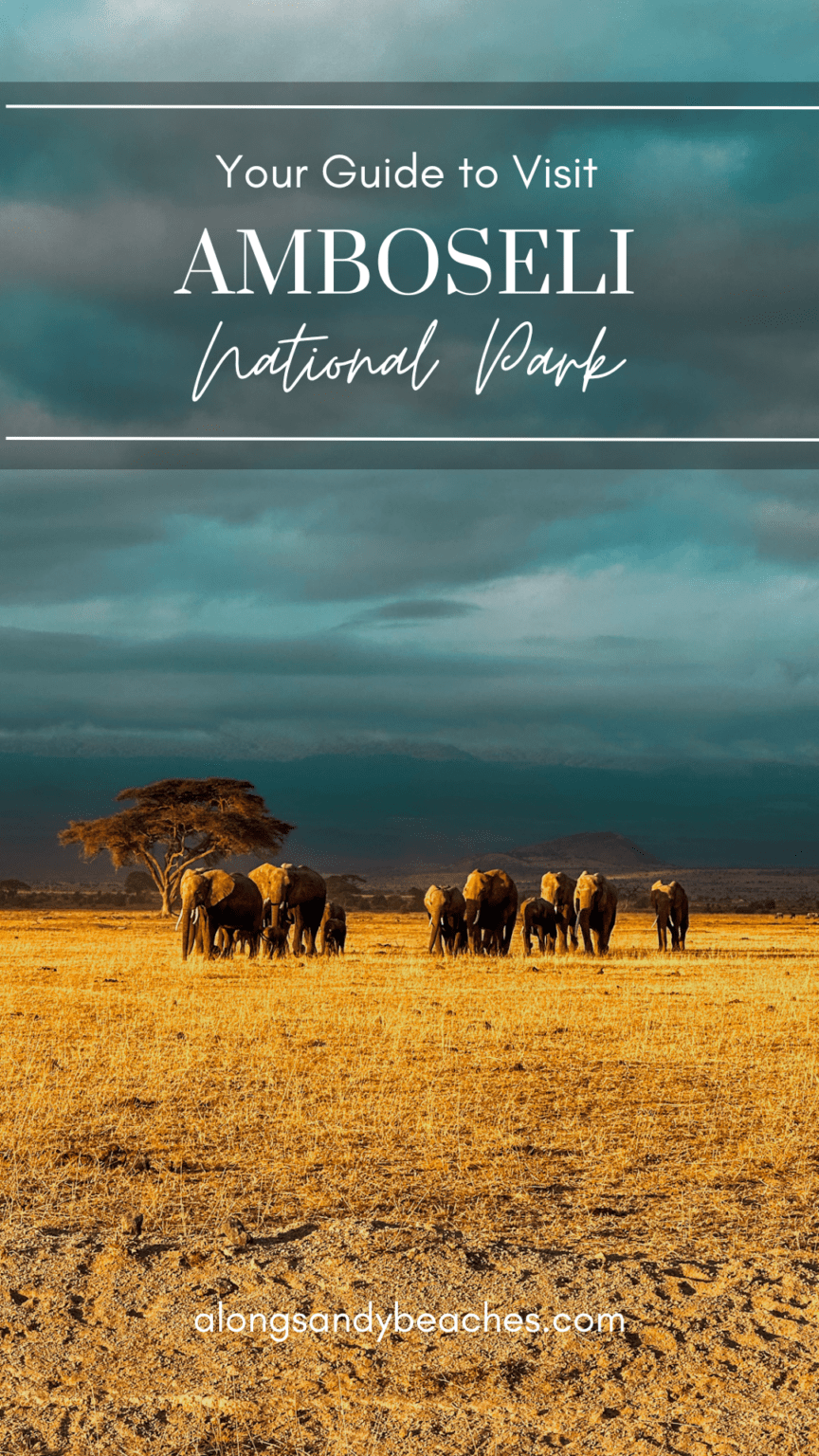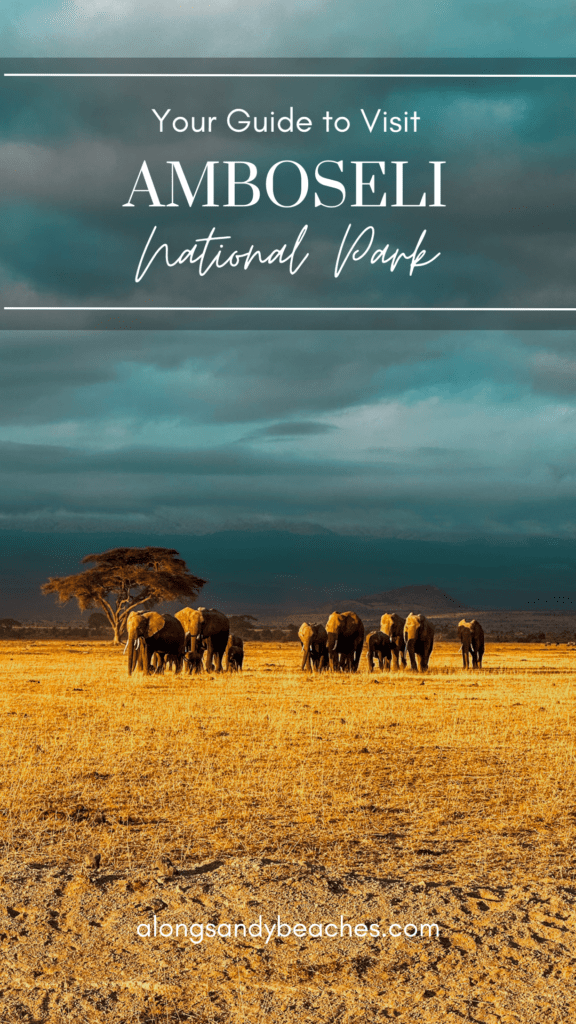 Despite this, the incredible diversity of wildlife in Amboseli more than compensates for the absence of rhinos. You can watch towering giraffes elegantly roam the plains, or elusive cheetahs prowl in search of prey. Furthermore, the park is home to wildebeests, zebras, hippos and hyenas, creating a harmonious balance in the circle of life. During our visit in July, the grass in Amboseli was not high which made it much easier to spot hyenas, lions and other smaller animals.
Also, the park's diverse birdlife enchants visitors, with vibrant flamingos, graceful eagles, and colorful bee-eaters dotting the skies. Due to high entrance prices we decided to skip Nakuru Lake which is known for scenic views of thousands of flamingoes. The views at Amboseli aren't as amazing as the pictures we saw of Lake Nakuru, but since we're not super into birds, we were happy seeing still lot of those pink elegant birds here.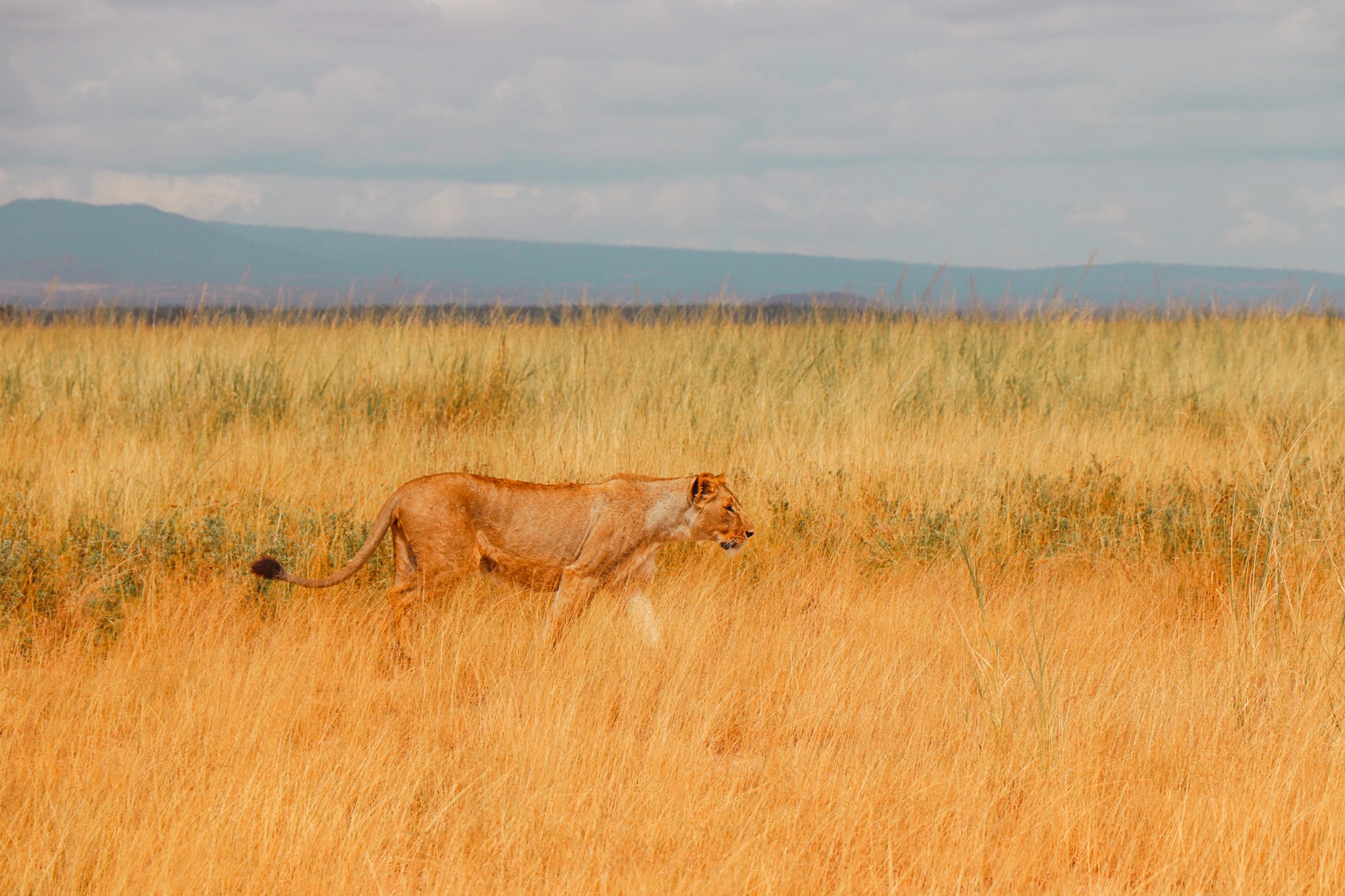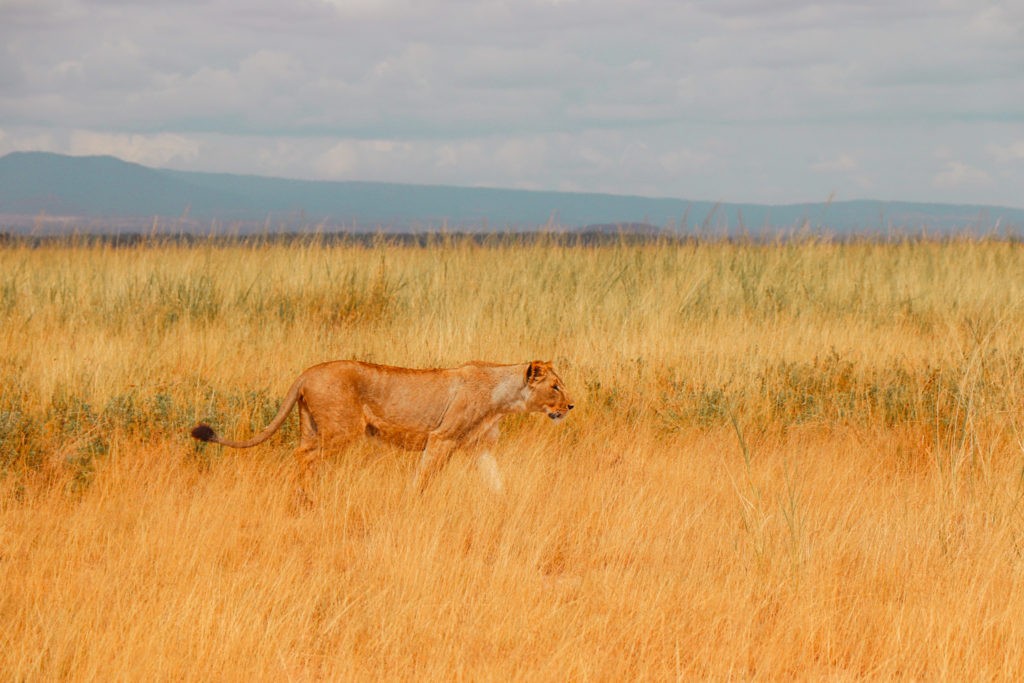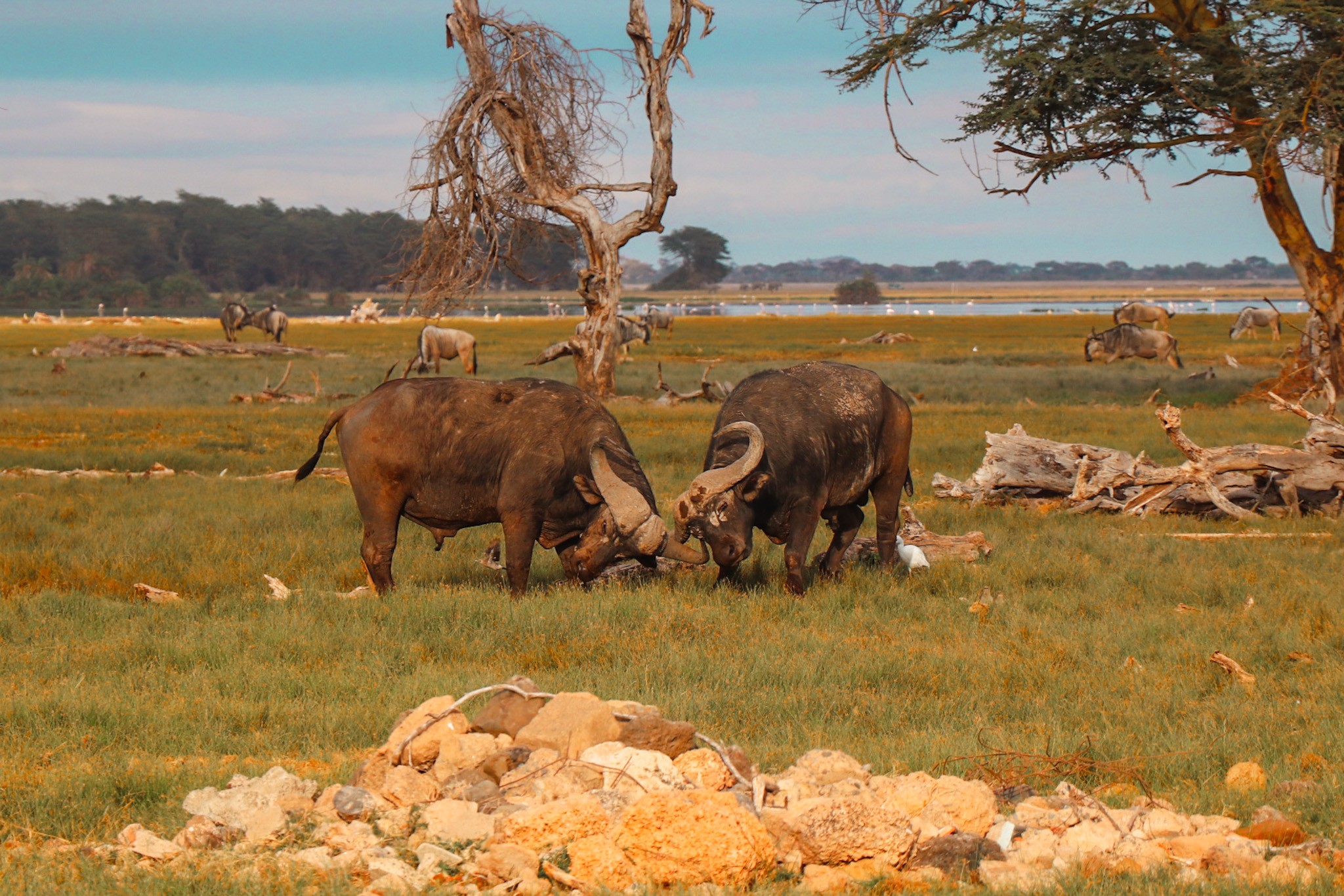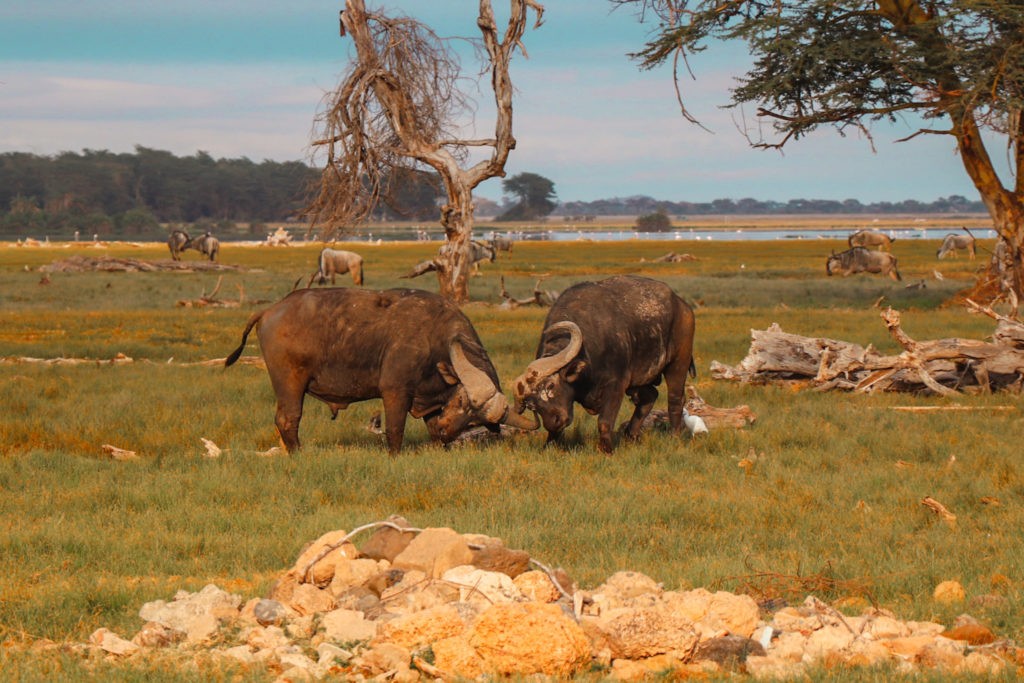 Conservation Efforts and Community Initiatives
We learned that Amboseli National Park faces unique challenges as at times wildlife ventures beyond its borders into community areas. The Maasai, formerly nomadic herders, are now settling and increasingly embracing agriculture. This shift brings increased interactions between humans and wildlife, particularly elephants and lions.
As these majestic creatures roam beyond the park's boarders, they occasionally cause damage to farmlands and herds, straining relations between the local communities and park authorities. Nevertheless, the government actively collaborates with these communities to find sustainable solutions that protect both villages and wildlife.
They have a compensation program in place that eases the financial burden of wildlife damage. When elephants or lions cause losses to crops or livestock, affected farmers receive compensation, fostering coexistence by recognizing the importance of safeguarding these animals while ensuring community well-being.
Additionally, the park conducts education and awareness campaigns on wildlife conservation, encouraging communities to become advocates for protection and sustainable land practices.
We find it impressive, that Amboseli leads by example, working hand in hand with local communities to address conflicts, and setting a powerful precedent for balancing conservation with people's needs. This approach preserves natural heritage and fosters a future where humans and wildlife thrive side by side.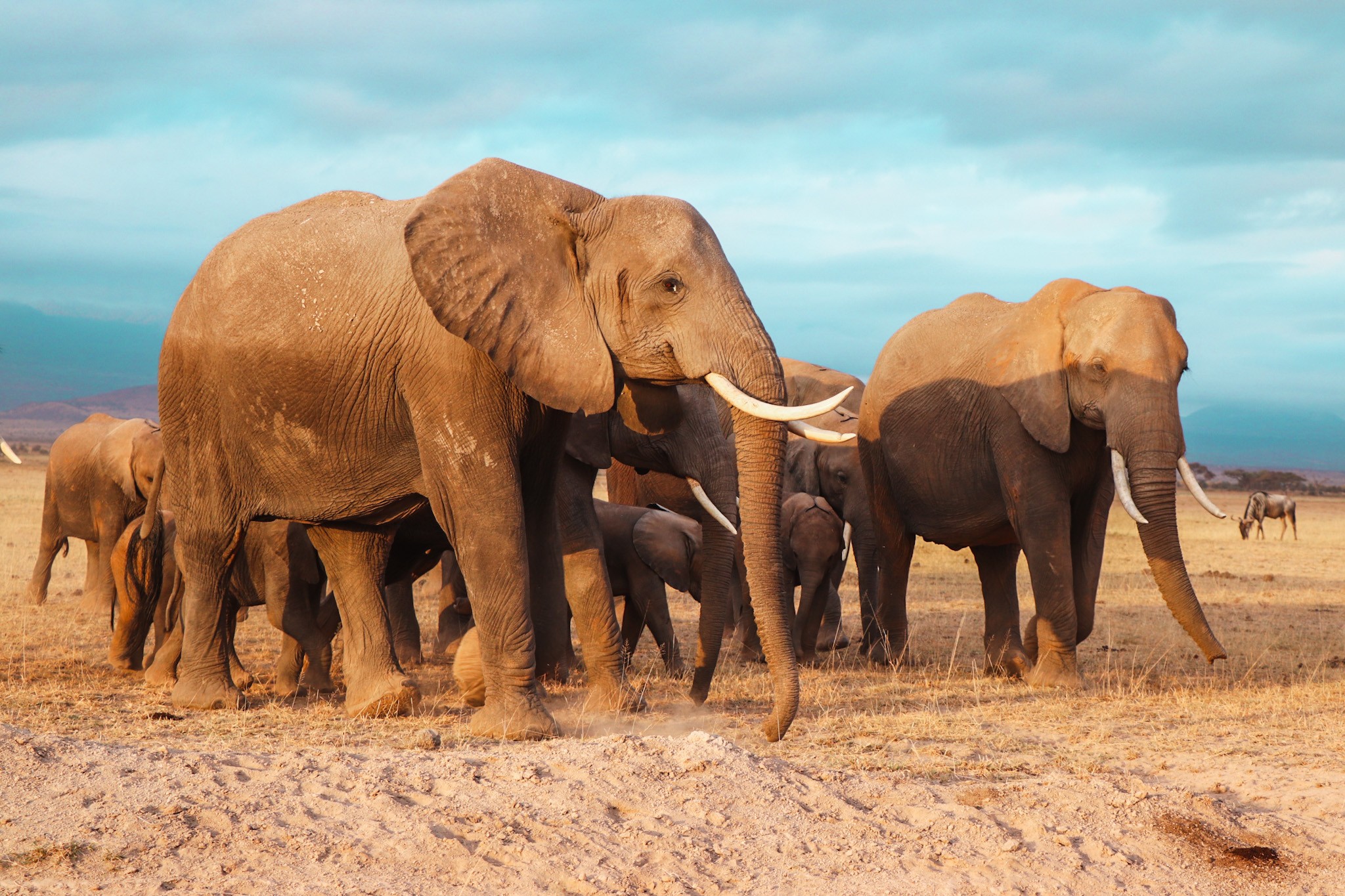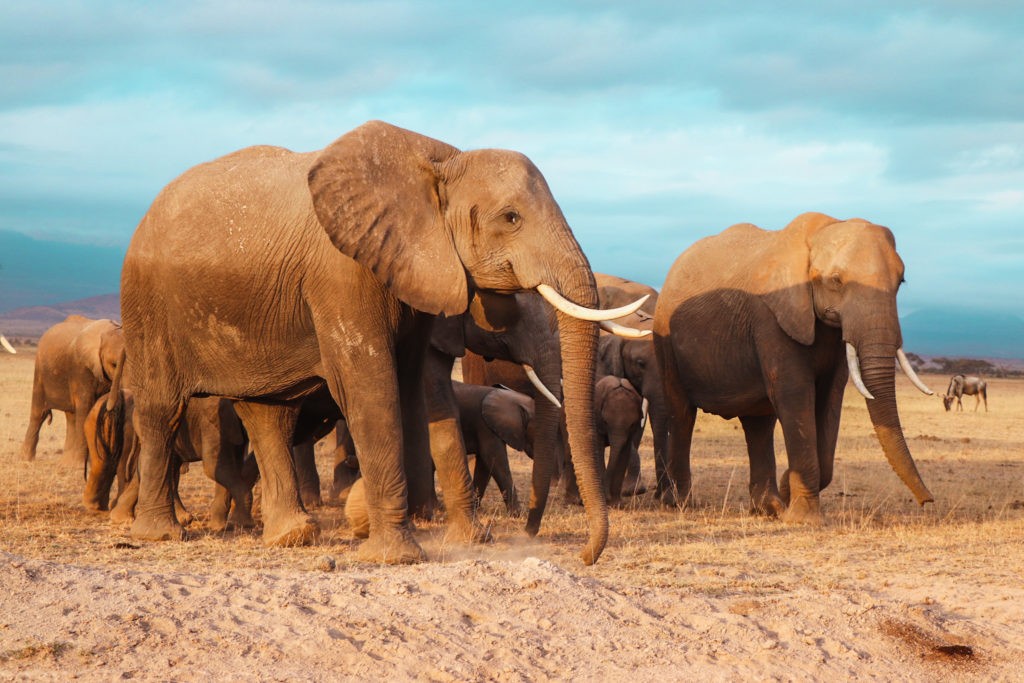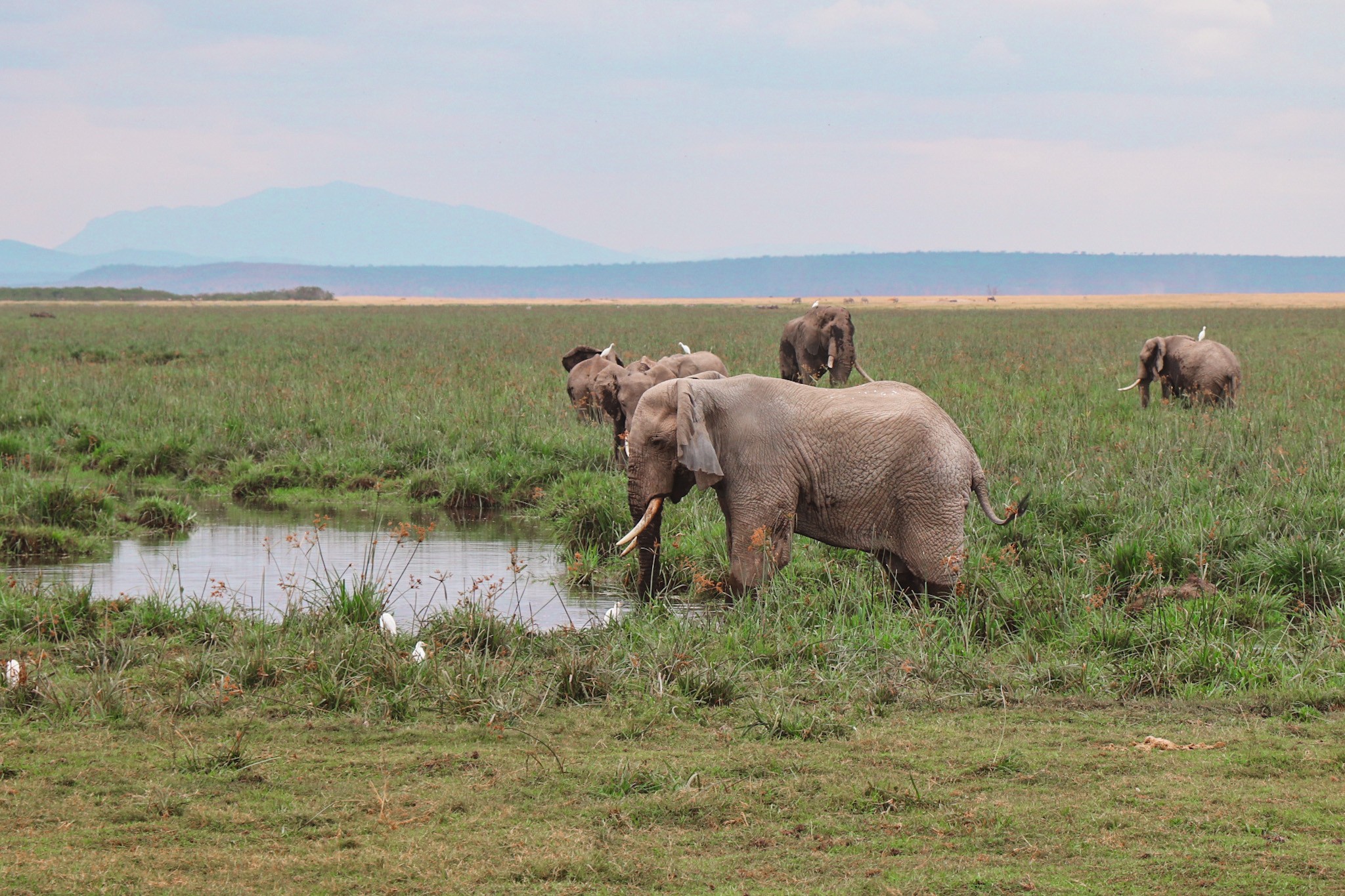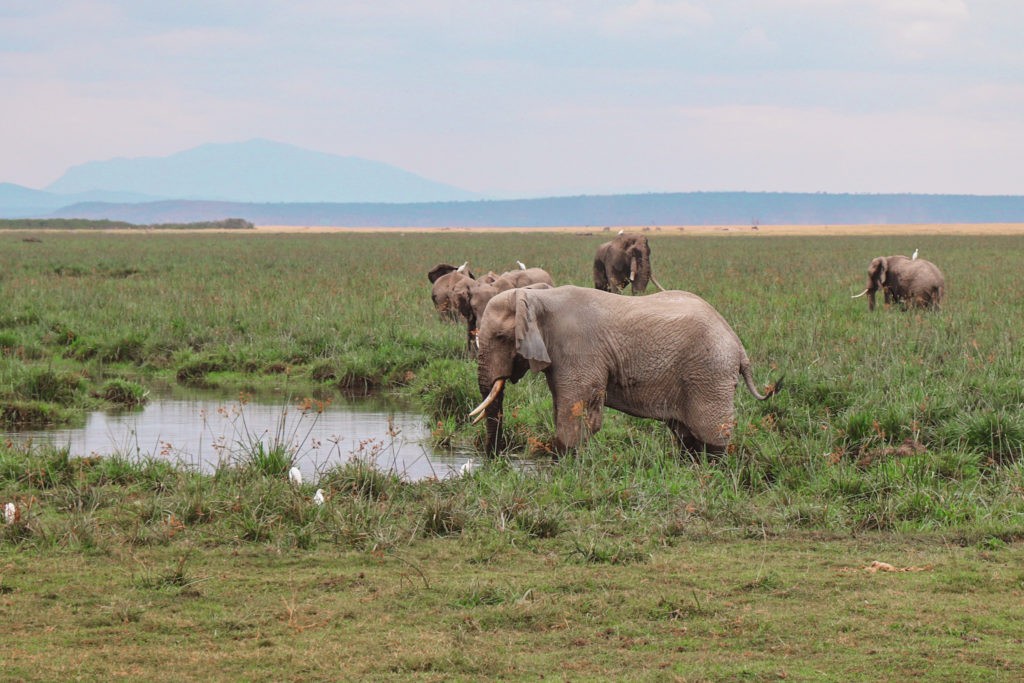 Safari in Amboseli with a 4x4
Amboseli National Park is a great location for self-drive safari experience. The roads in the park are in relatively good condition (at least compared to Masai Mara which was getting worse every day) and the park is not too big for you to get lost. Also, most of the roads are captured on Google Maps so it is relatively easy to navigate.
Here are also some other rules to follow when self-driving in a national park:
Respect Speed Limits: Drive at a safe speed for wildlife viewing and always slow down near waterholes and other potential animal habitats.
Keep Your Distance: Maintain a respectful distance from wildlife. A good rule of thumb is to stay at least 20 meters (about 65 feet) away from most animals and even more for larger predators.
Patience and Silence: Practice patience when observing wildlife. Turn off your engine and enjoy the silence; it can lead to more rewarding sightings.
Stay Inside Your Vehicle: Do not leave your vehicle unless you are in a designated area, like a picnic site or a viewpoint. Wildlife can be dangerous, and it's safer to stay in your car.
Pack Essentials: Bring enough water and food as there may not be many facilities within the reserve.
Check Your Vehicle: Before entering the reserve, make sure your vehicle is in good working condition. Flat tires or breakdowns can be especially challenging in remote areas.
Emergency Contacts: Have the contact information for park authorities and emergency services readily available.
By following these rules, you can have a safe safari experience. Just remember, watch out for the roads to avoid accidents and keep an eye on how the animals are acting.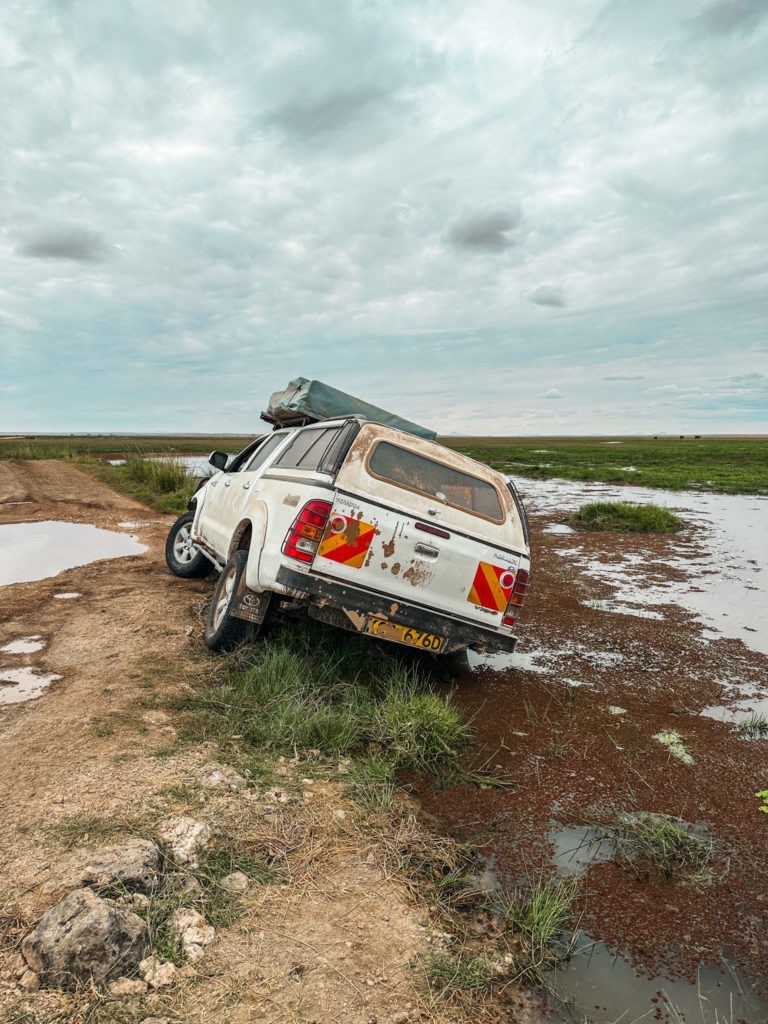 We think it is important to mention though, that half of the park's grounds is swampland. Therefore, you have to be cautious (especially during the rainy season), not to drive off the road and risk getting stuck or land in a lake. Like we did :). The incident was primarily due to our own stupidity. We're relieved though that we got out safe thanks to the rangers, and the car wasn't damaged.
When Is the Best Time to Visit Amboseli?
Embarking on an adventure to Amboseli National Park is a journey filled with captivating wildlife and breathtaking landscapes. But, the question lingers: When is the best time to visit Amboseli? Nature's seasonal rhythms play a crucial role in crafting the ideal visit. For those yearning to witness the spectacular sight of Mount Kilimanjaro's snow-capped peak as a backdrop to the park's rich wildlife, the dry months from June to September stand out as a prime choice. However, if you crave a more intimate encounter with the region's diverse birdlife and lush vegetation, the wet season from November to May brings the park to life in vibrant hues. Timing is key, as both seasons offer unique and rewarding experiences, ensuring a memorable and immersive journey through Amboseli's untamed beauty.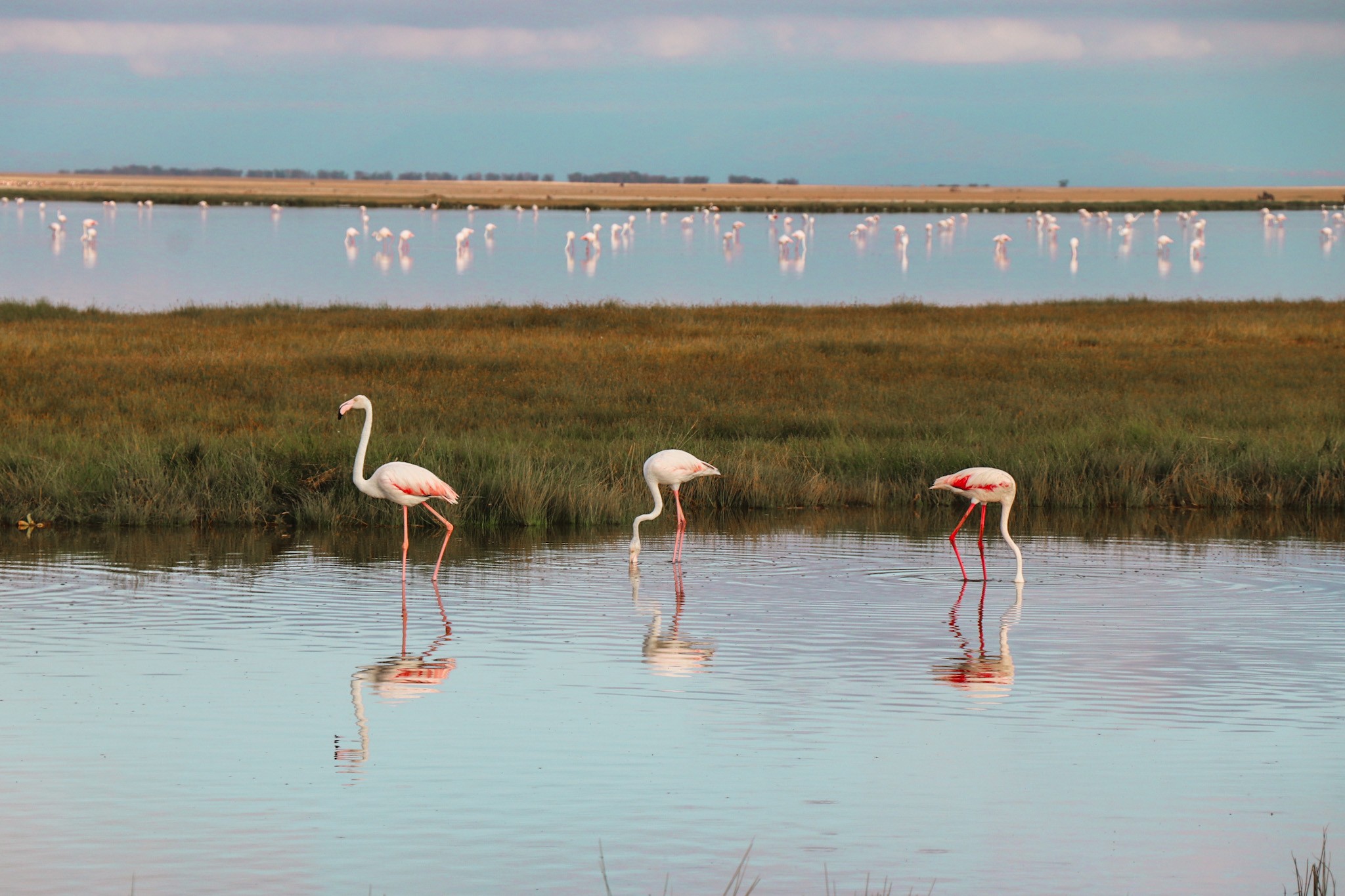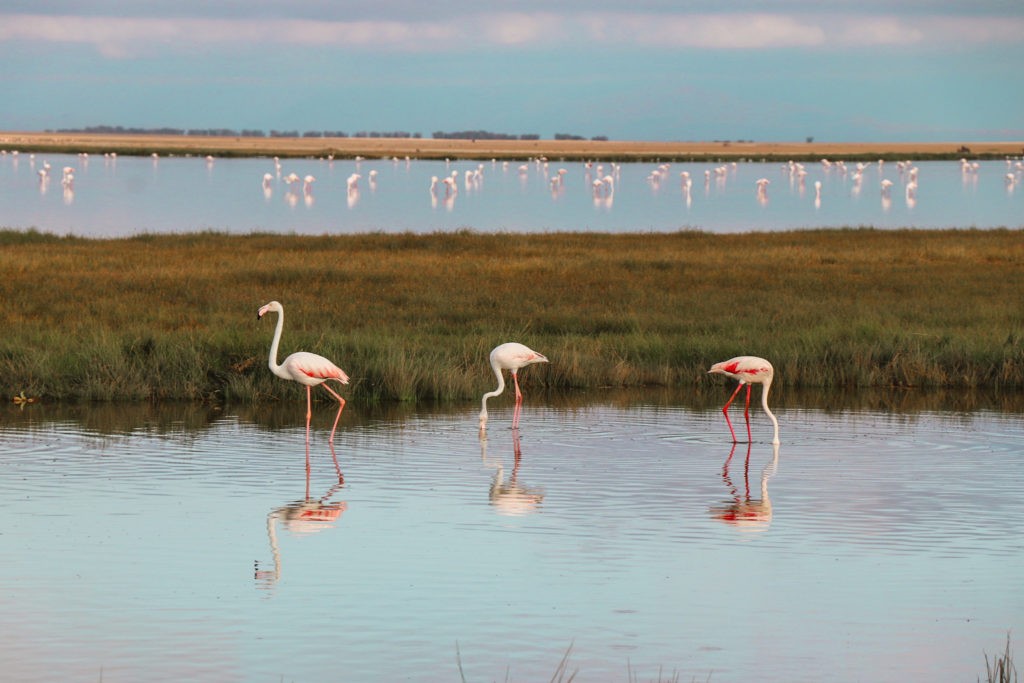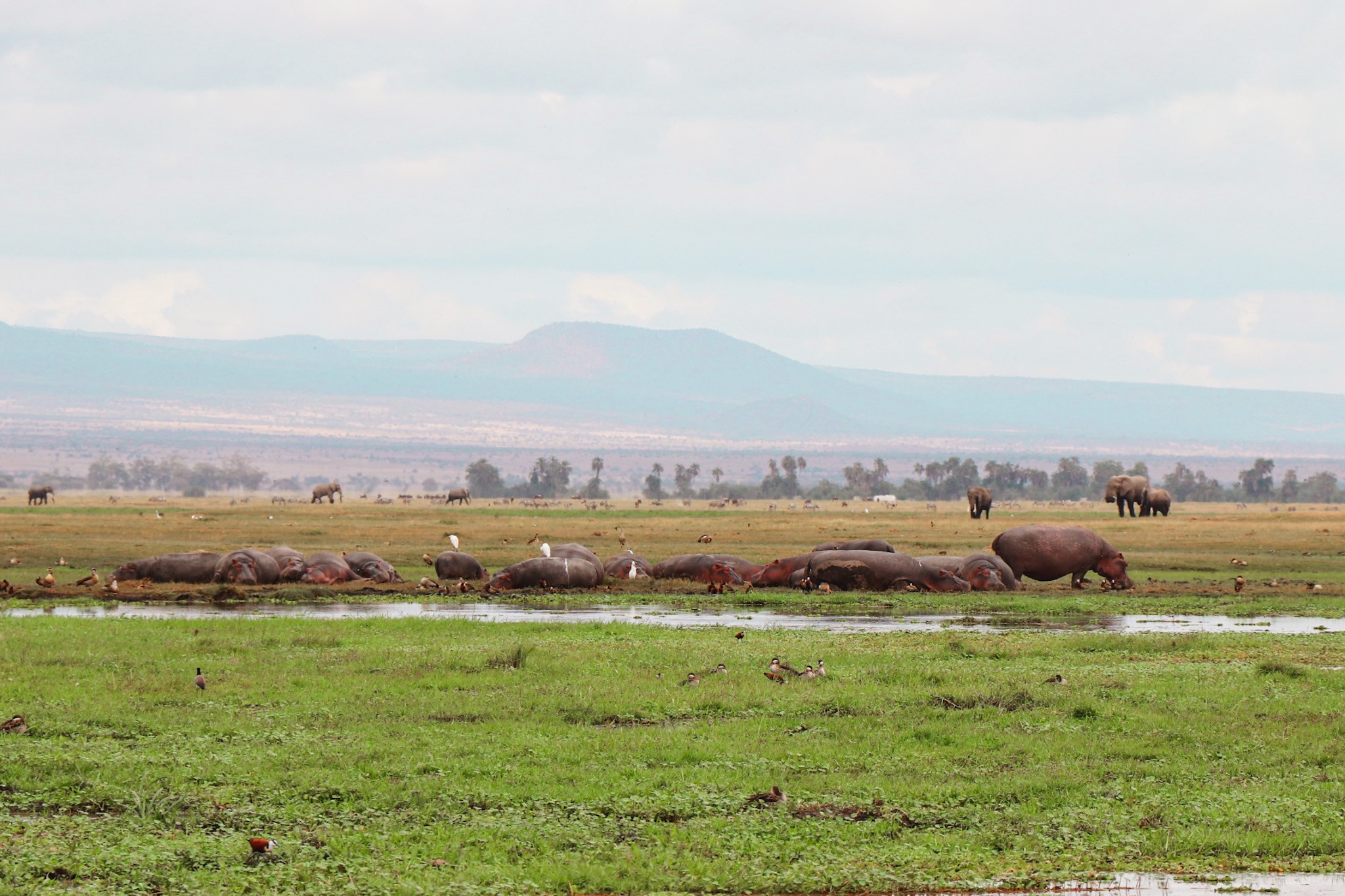 What Accommodation Options Are there in Amboseli?
If you choose to stay overnight in or around Amboseli National Park, there are various accommodation choices available to you. As Amboseli is rather small in size and we had spent 2 nights at a Masai Mara public campsite already, we decided to camp outside of the park this time.
Campsites outside Amboseli National Park
We have spent 3 nights at the WE4Kenya campsite (1000 KES per person and night), which is just a 10 minutes drive away from the main entrance gate to the park (Kimana gate). The campsite is in the middle of the nature with great views on the Kilimanjaro (if it's not too cloudy). The challenge however is to get there. There is no paved road that leads to the camp and even Google does not find a route. Just call the owner, Wilson, and he will come to show you the way.
Wilson and Rachel (and little Max) were the most hospitable hosts. We felt as part of the family from the moment we arrived. Wilson invited us to join them to the church and we spent a lovely Sunday with the family, visiting the village, springs and having lunch with them. In case one has more time, Wilson's brother is a leader of a nearby Maasai community, which you can visit. It was a perfect experience for us to closely experience the life in a Kenyan village.
There are also other campsites available outside of the Amboseli National Park. The most reliable option to find those is by using Google Maps (here is the location), as common booking providers usually don't list all of the local campsites.
Campsites inside Amboseli National Park
For those looking for more comfortable accommodation, there are many lodges located inside and outside of the park. Prices for lodges inside the park are higher, as there are fewer sites and the Kenyan Wildlife Service tries to limit the amount of people sleeping inside the park, as ultimately it's still a National Park, not an Amusement Park. Accommodation outside and inside the Amboseli National Park can be found here or, alternatively, on the most common booking platforms. Booking a lodge is the most expensive option, but also the most convenient and luxurious one. Costs for a night for two people usually range from 150 to 350 USD.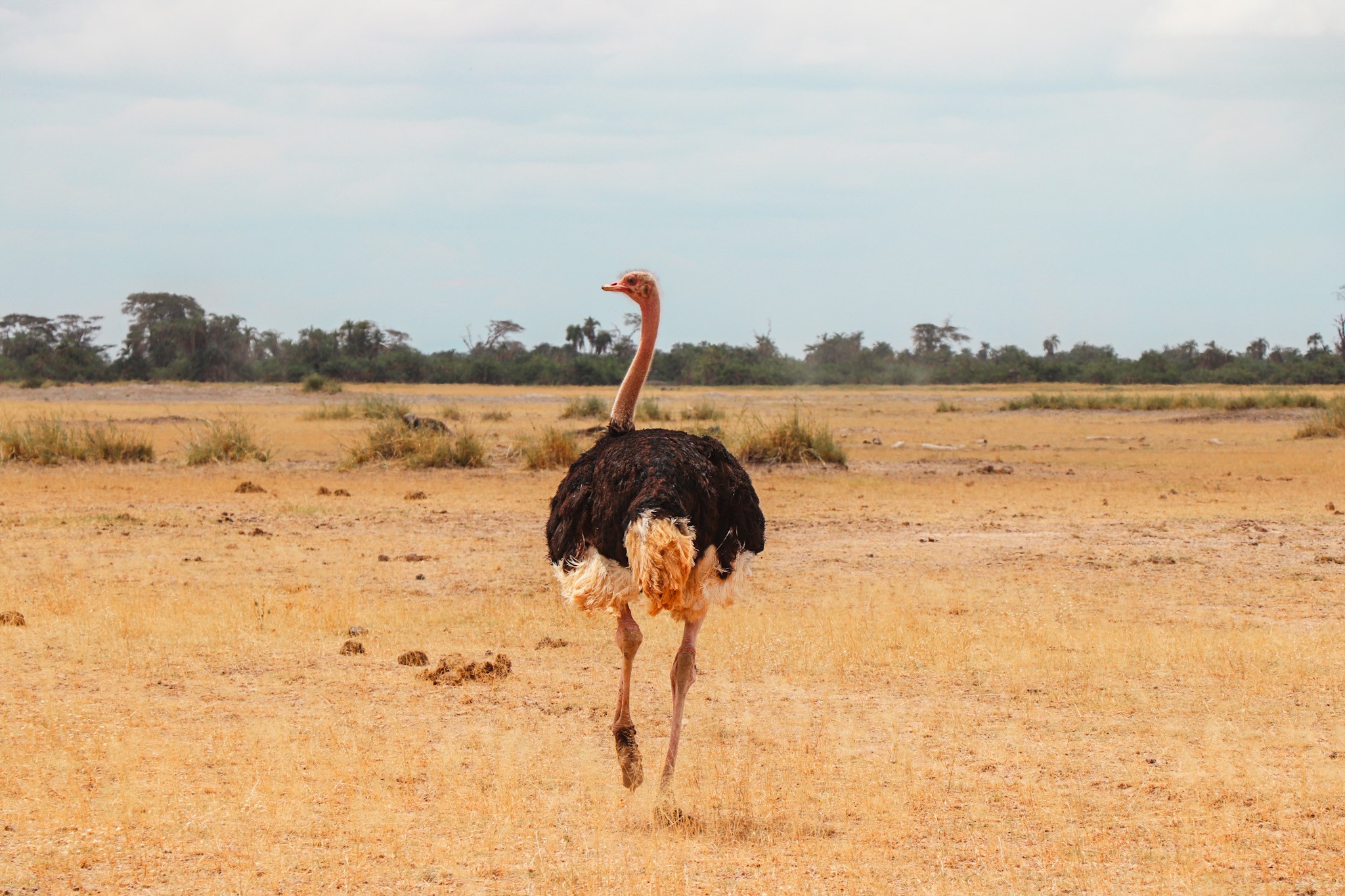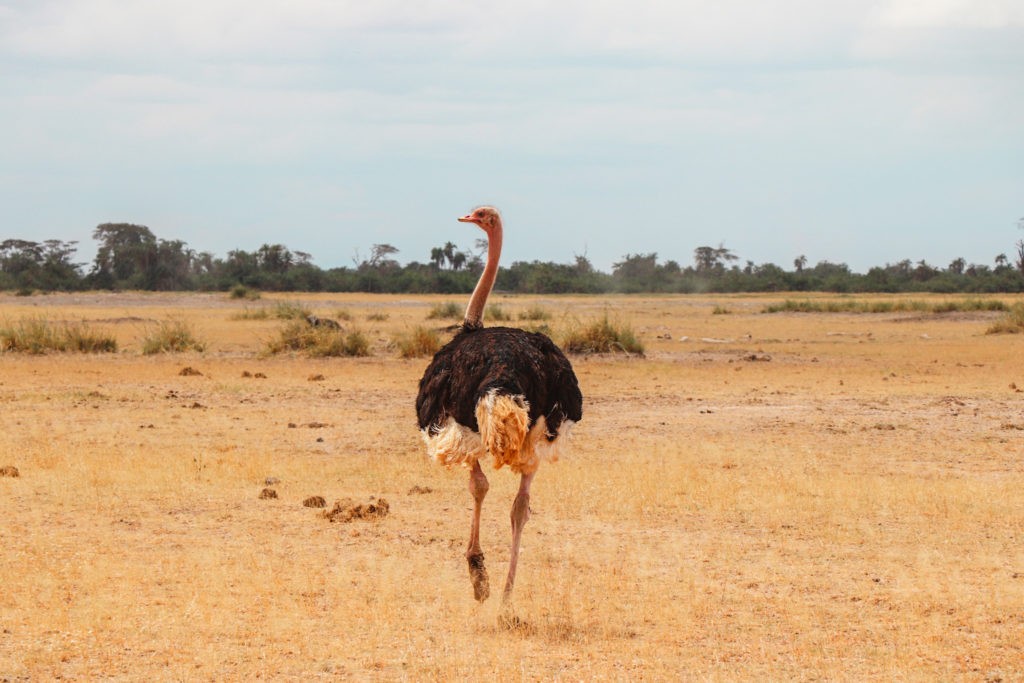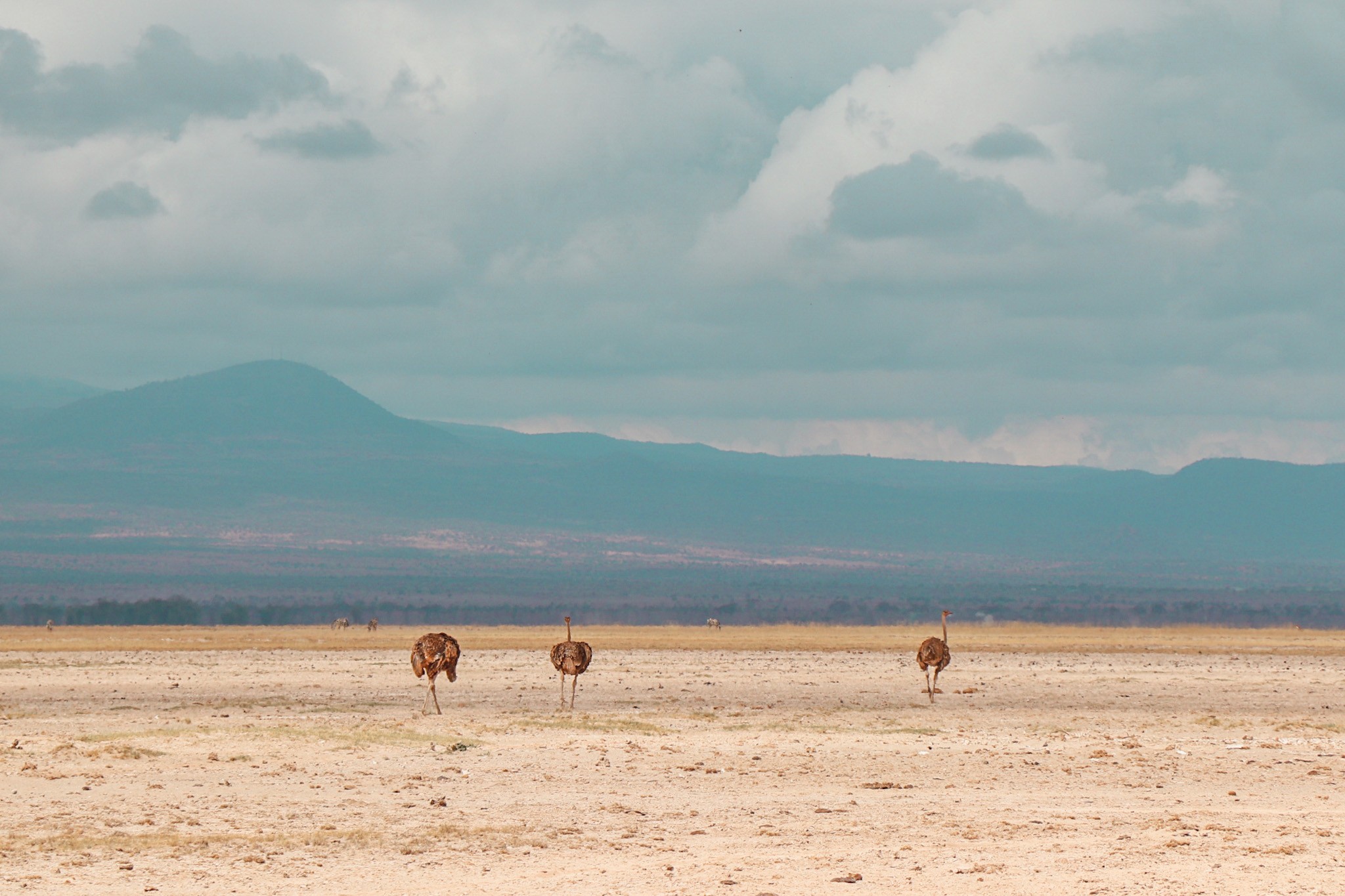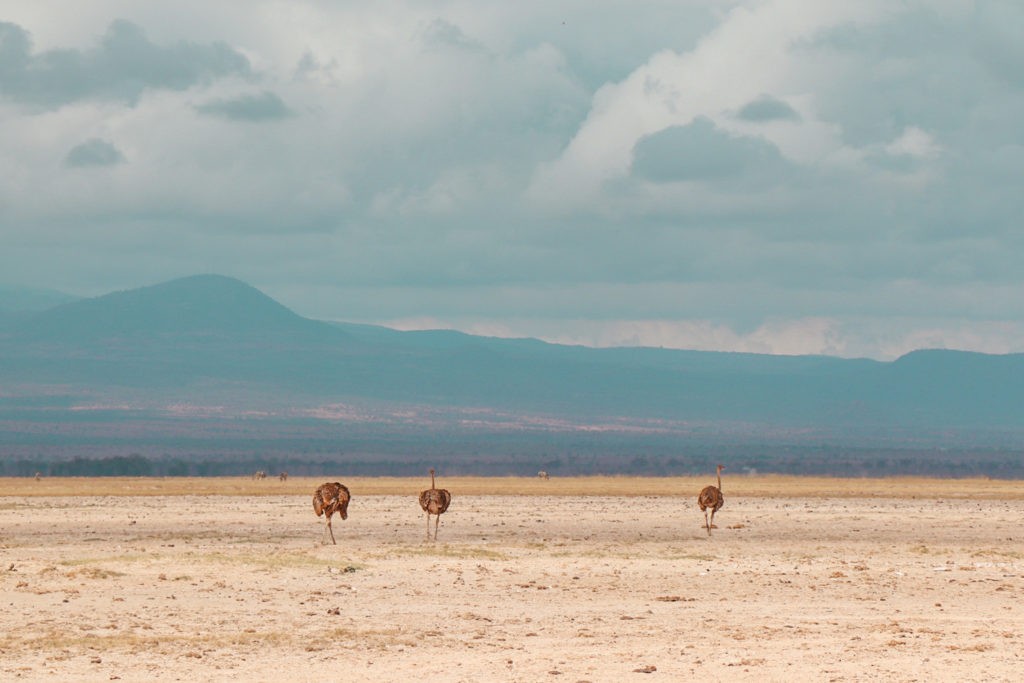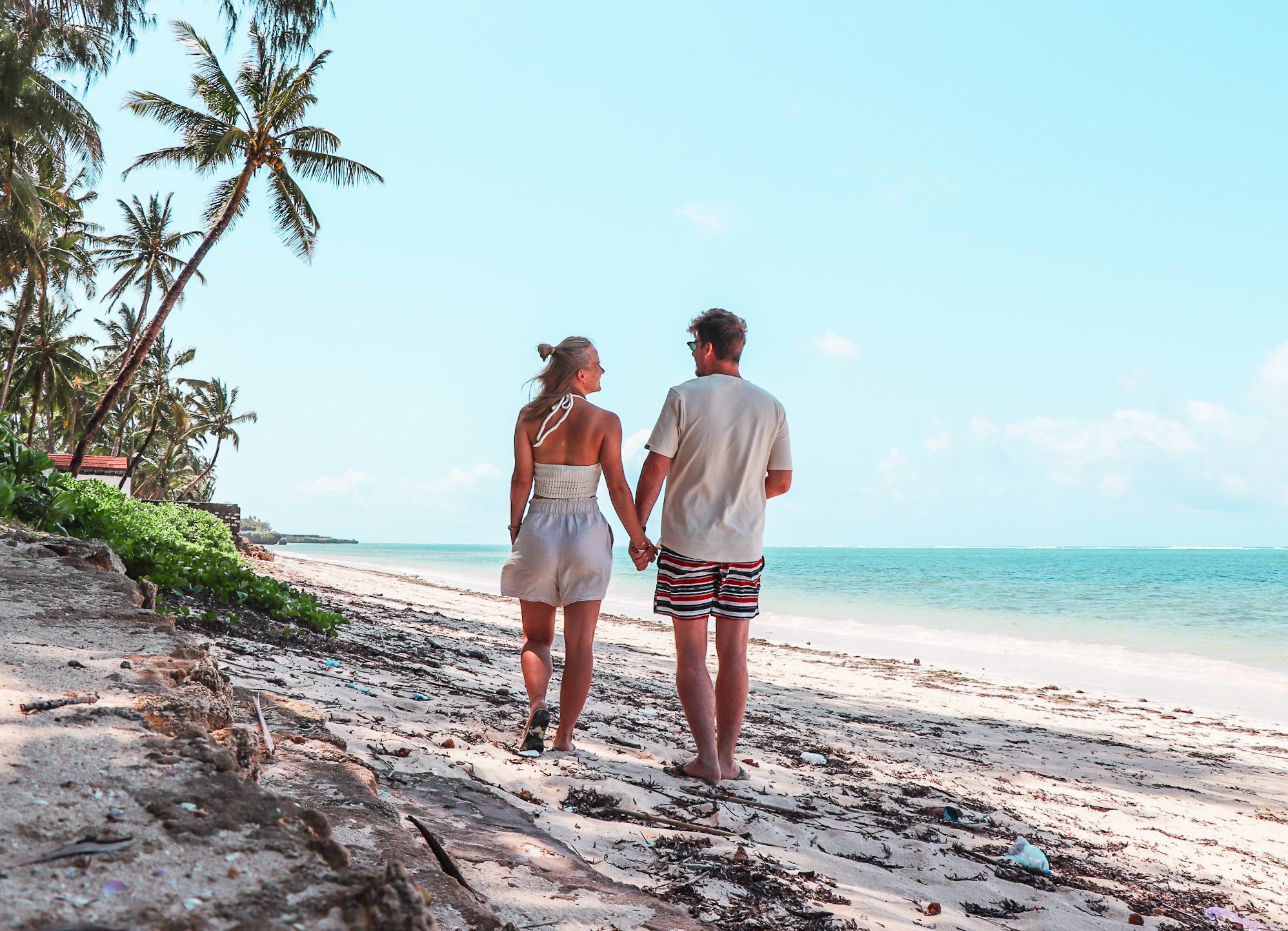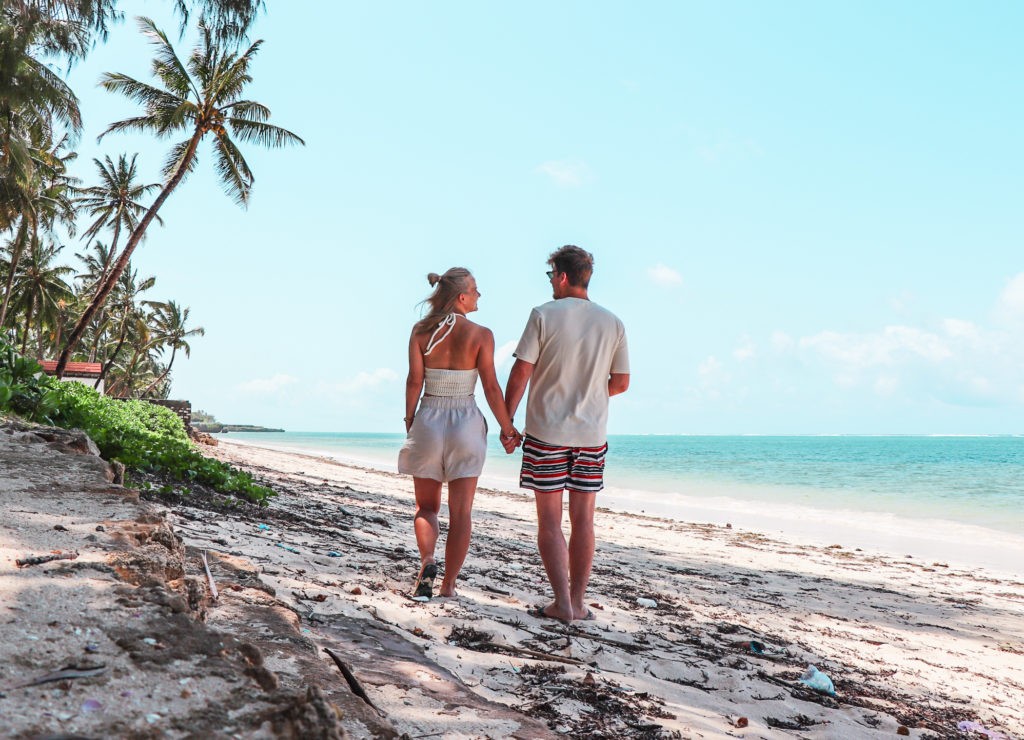 Amboseli may be small in size, but it's undeniably rich in its safari offerings. We witnessed a mesmerizing parade of elephants, the power and grace of buffaloes, and the playful presence of hippos. Though Kilimanjaro remained hidden behind the clouds, we could only imagine the incredible views it promises. Our verdict: Amboseli is a world-class safari destination. If you're curious about other game drive adventures, check out our safari tagged stories – the wild world awaits.