We were absolutely excited to go camping in Masai Mara National Park. After all, it is one of the best national parks in the world. We had our last safari last year in Sri Lanka to see leopards, but a half-day tour barely gives you the real feeling of being on a safari. In Kenya, we also had seen some zebras, giraffes and hippos already, but we were thrilled at the prospect to witnessing the Great Migration, as well as, if we were lucky, even some lions, leopards or cheetahs. 
Our chances of seeing the cats were actually not high, as we decided to explore the park on our own, without a guide. But we were hoping to accidentally drive by the spots where the tours had seen something big. One just has to look out for places where many jeeps are gathering ;).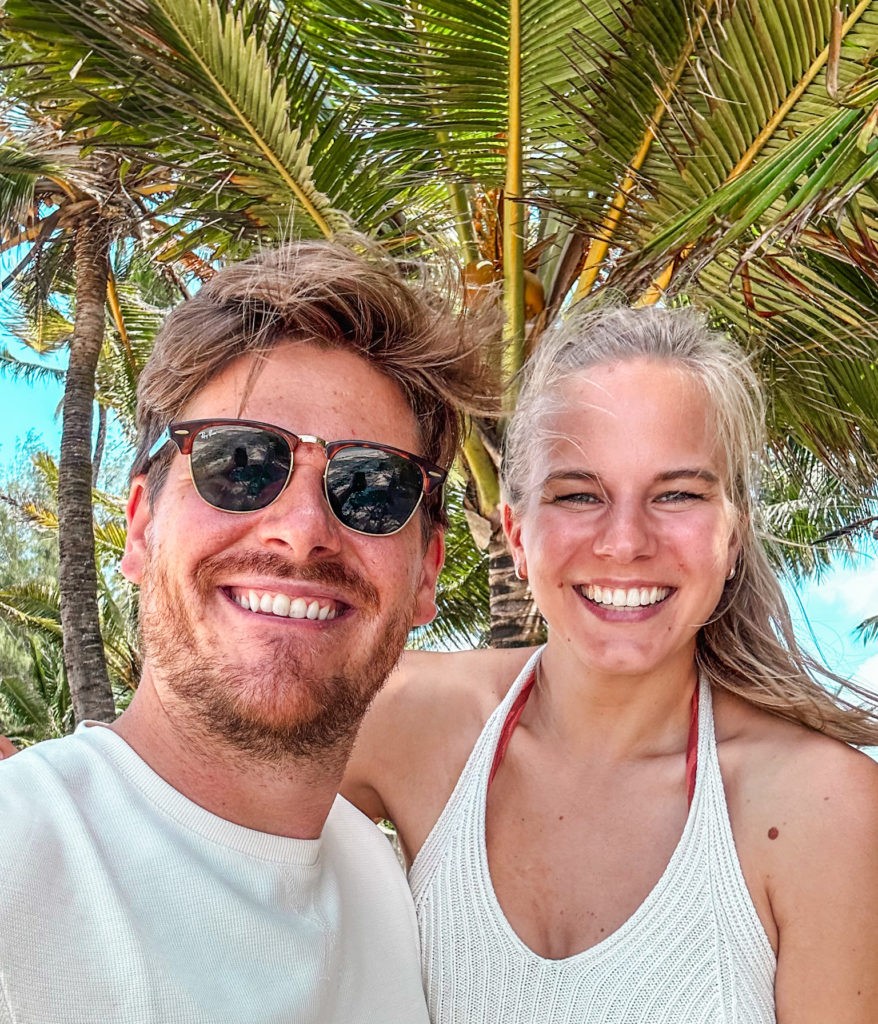 We hope you enjoy our travel stories, guides and tips! If so, please consider supporting our work.
The Gateway to Adventure: Entering Masai Mara National Park
We had planned to stay two days and even do camping in Masai Mara to be able to enjoy the luxury of being the first ones to greet the wildlife with the sunrise. The morning game drive was indeed the most magical moment in Kenya, but little did I (Laura) expect that I would also experience the scariest moments (probably in my life) in this park.
We had actually not done much research before entering the park. Not that there would have been much information available… I was trying to google at what daytime and where it would be best to see the wildebeest crossing the river, but found nothing useful. The only information we had, was from our guide at the Hell's Gate, who said that they only start crossing the river once there are thousands of the wildebeest gathered at the riverbank. Sometimes it can take days until the first one finally decides to make the first step. 
We also had just a vague idea in which campsite we wanted to overnight. We found out that there are 3 public sites for camping in Masai Mara (which are the cheapest ones) available in the park. As the ranger asked us at the main gate where we wanted to overnight, we only could name one of the campsites by heart. Our plan was to just drive past each and then decide where we want to stay. Then the ranger started talking about a campsite called "Sand River", being the best one to see the migration. We did not really care so we said "Yes, maybe we will go there". He also gave us the number of the ranger there and we were good to enter the park.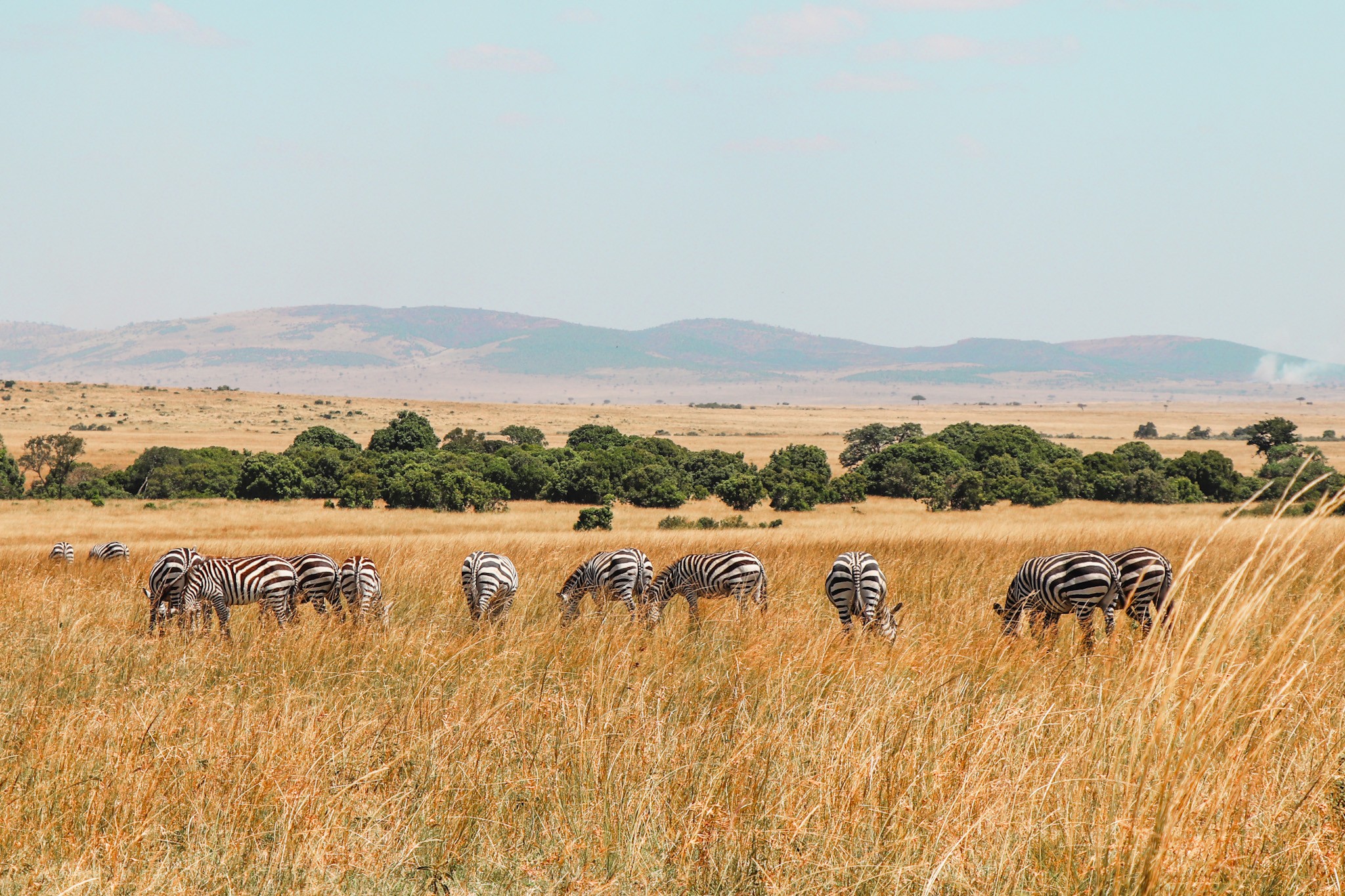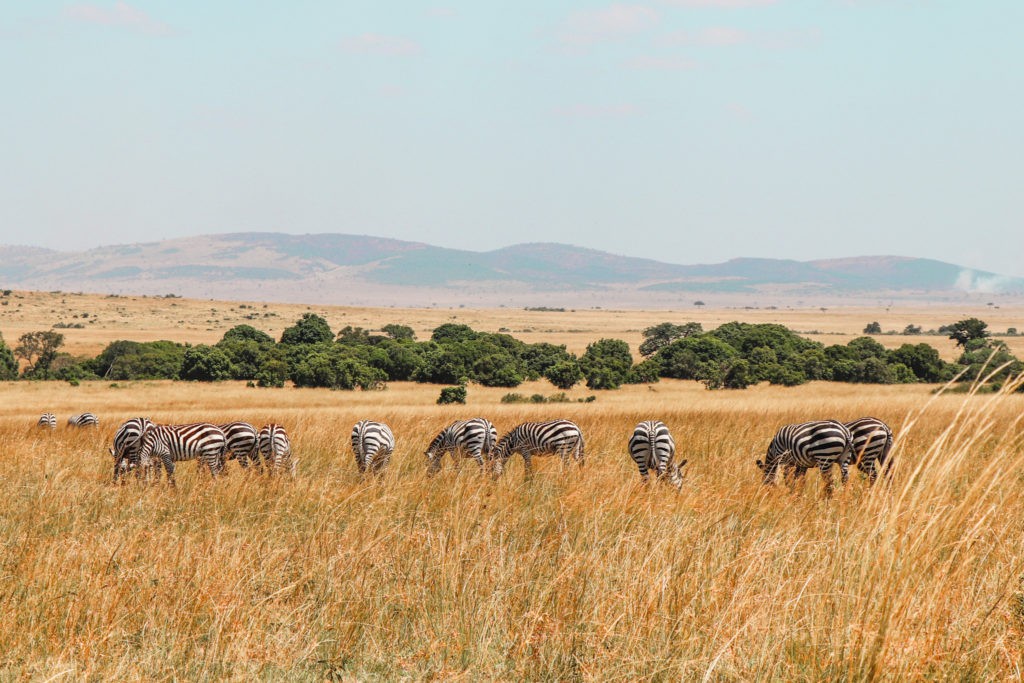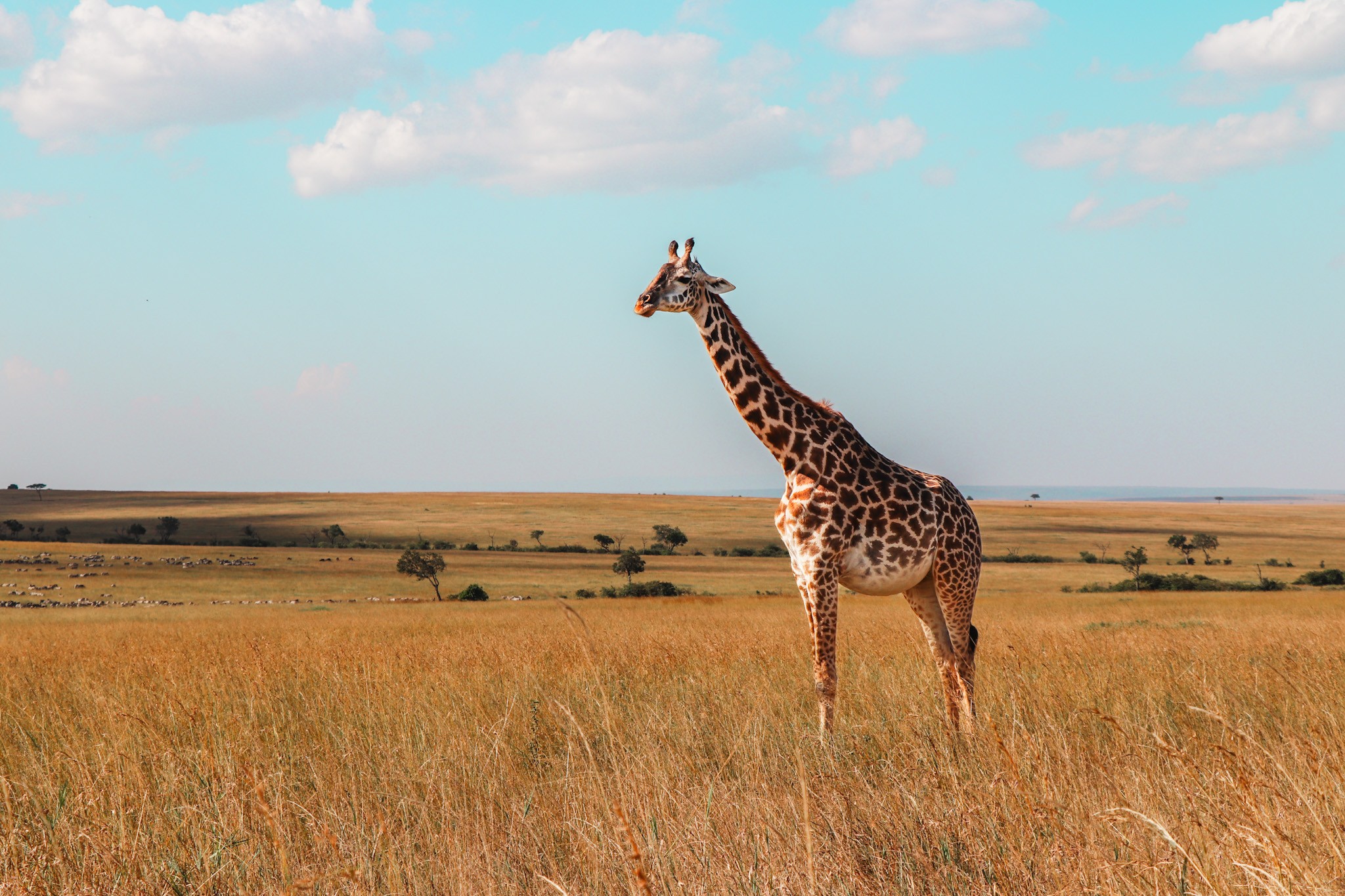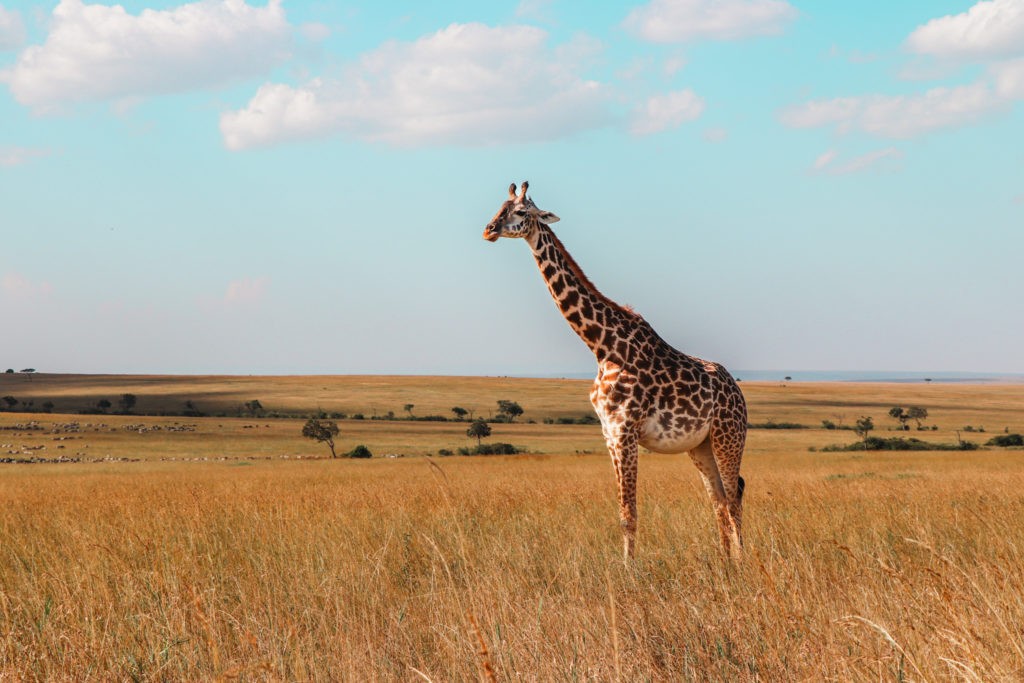 Save on Pinterest to read it later.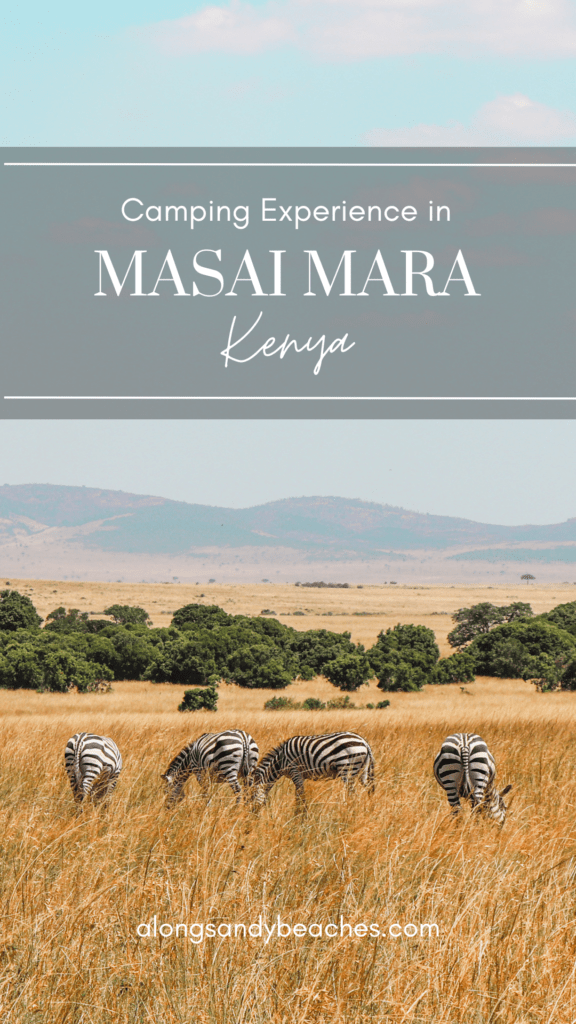 Witnessing the Great Migration at Sand River
The day in the park was just amazing. We were greeted by giraffes and elephants already within the first hour. And also the landscapes in the park were just stunning.
We decided to check out the Sand River right at the beginning as it was relatively close to the gate. And to our surprise there really was a river crossing of the wildebeest happening at the very moment. We were very lucky, as the migration from Tanzania had just started 3 days prior to our visit and it was the 3rd group crossing. Surprisingly, there was barely any water in the river, so I guess they were not really afraid of crocodiles attacking them.
There were thousands of wildebeest and hundreds of zebras (we later learned that they always travel together, since the zebras are not afraid to just go through the high grass, paving the path for the wildebeest). And they were getting more every day. We could only imagine how many they would be towards the end of August. 
We also learned that the grass that was currently hip-level-high, would be totally grazed by the wildebeest during the migration as searching for food and mating is the reason for their long journey.
And… there was no campsite to be seen at Sand River, so we decided to move forward.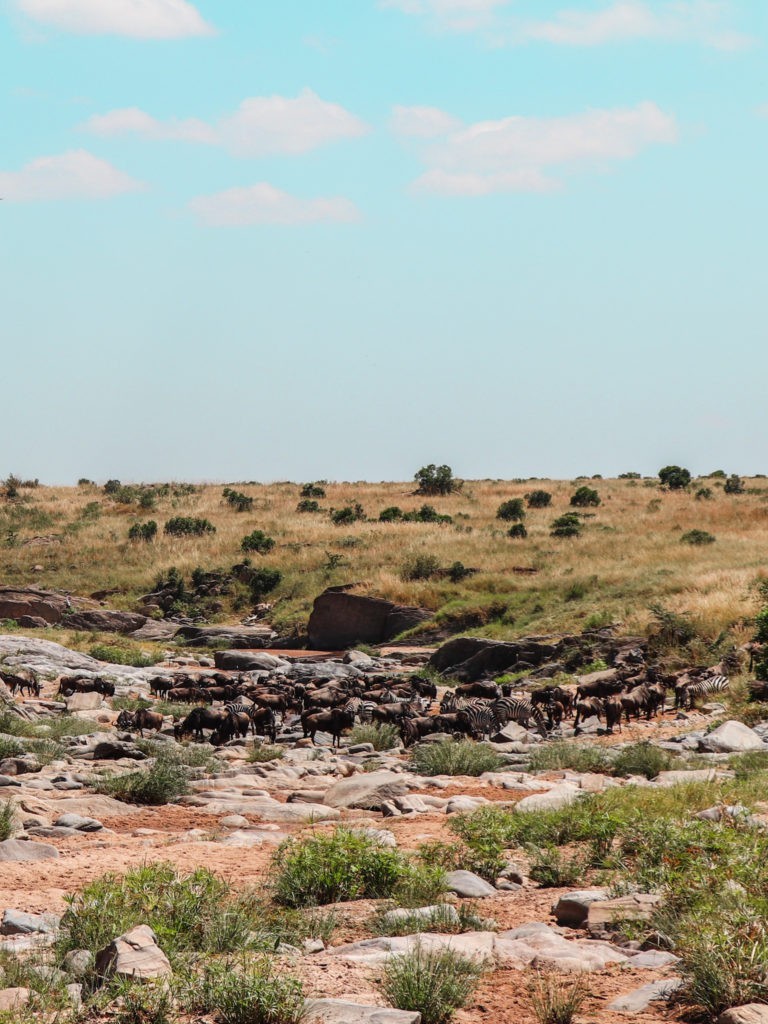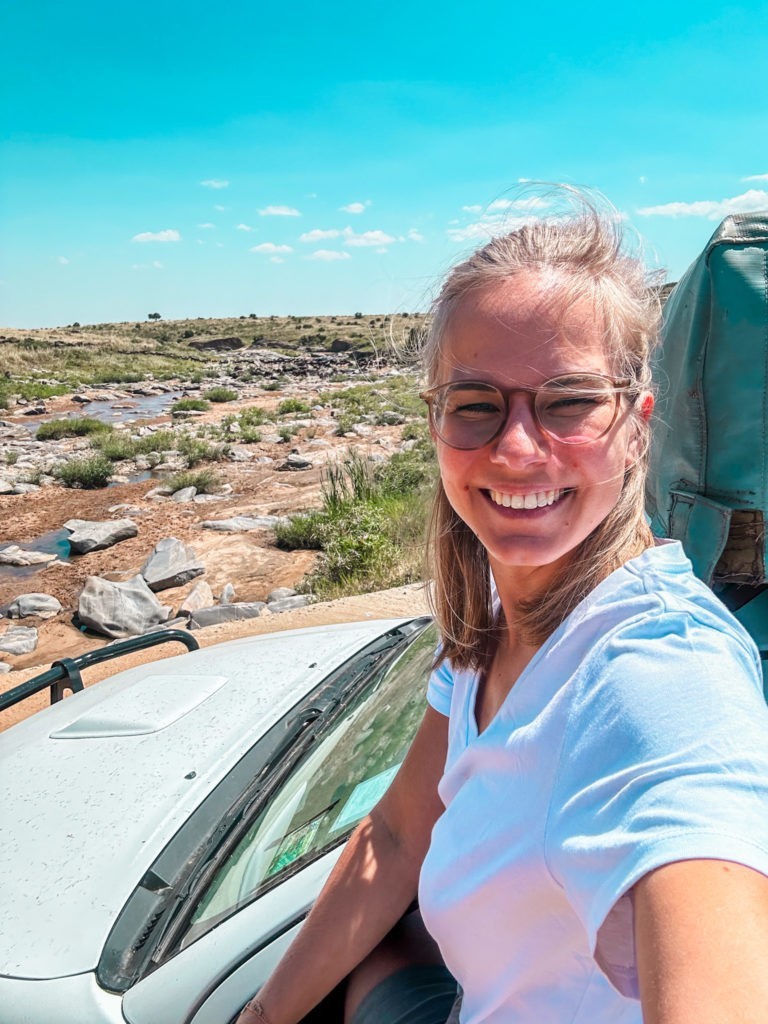 Then, Things Took a Turn for the Worse: Looking for a Place to Stay Overnight
First, we still enjoyed some hours of amazing wildlife and the picturesque landscapes. Until we wanted to enter the Mara Trianlge. It is the southwestern part of the Maasai Mara National Reserve which is the best place to observe the river crossing (of course, once the wildebeest have traveled so far, which probably happens in August earliest). We had planned to spend the rest of the day in Mara Triangle and then overnight at one of the campsites. Only to find out that it is impossible. Well, not impossible, just ridiculously expensive. 
We found out that we had "Sand River" printed on our ticket and learned, this means we can only spend the night at that campsite. If we wanted to stay at the Mara Triangle, we would have had to pay the whole entrance fee again (since it is apparently a separate conservancy and they have separate books). 
We felt scammed. We did not want to spend the night at Sand River. We had seen no campsite there. Even worse, we had no idea, how much it would cost. We tried to call the number, but no one was picking up. I was devastated. What was supposed to be the highlight of our Kenya trip, was just becoming the lowlight. We had no idea where we could spend the night. As it was getting late, we decided to drive all the way back to the main gate and maybe the rangers would help us solve the problem.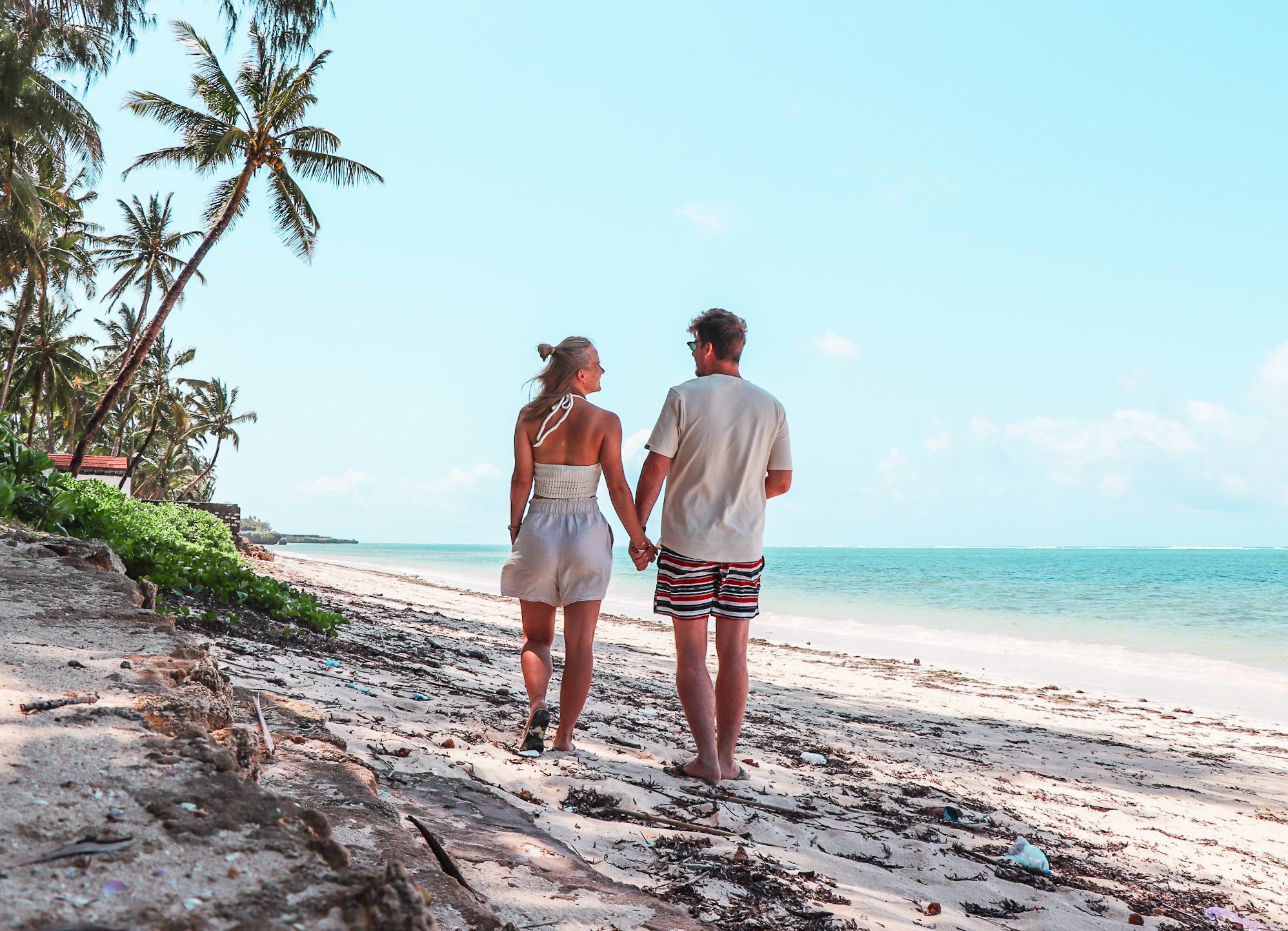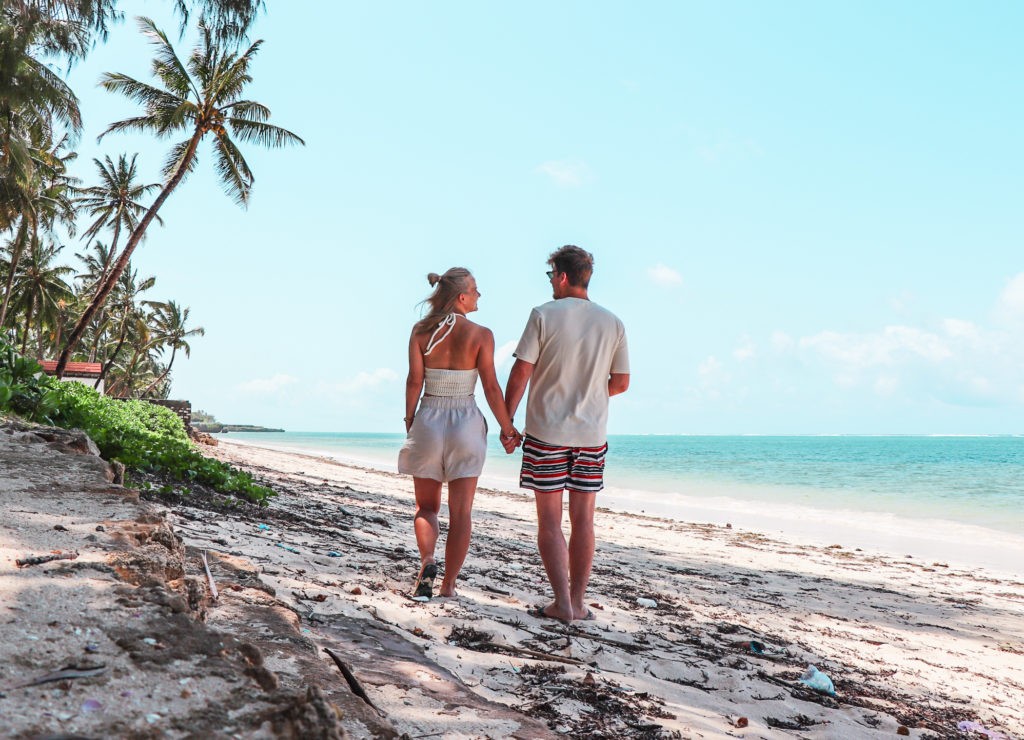 At the entrance we found the guy who had sold us the tickets earlier. Actually, all he had to do as we were entering to park, was to say us, that the camp name gets printed on your ticket and therefore we need to decide from the beginning where we want to spend the night with no option to rethink the decision. Now, we were explaining him that because of him we cannot stay at the campsite where we originally wanted to and that no one at Sand River campsite is answering our calls so we do not know where to find the campsite.
Soon there were 10 rangers around us, all trying to understand our problem and help us find a solution. They then explained, that there is very poor reception at the Sand River but if we just drive to the gate, there is a ranger who would guide us to the campsite. "You will love it there" they said.
Without wanting to risk with getting our tickets expired, when exiting the park to return to another campsite nearby where we had spent the last night, we decided to give the "Sand River campsite" a chance.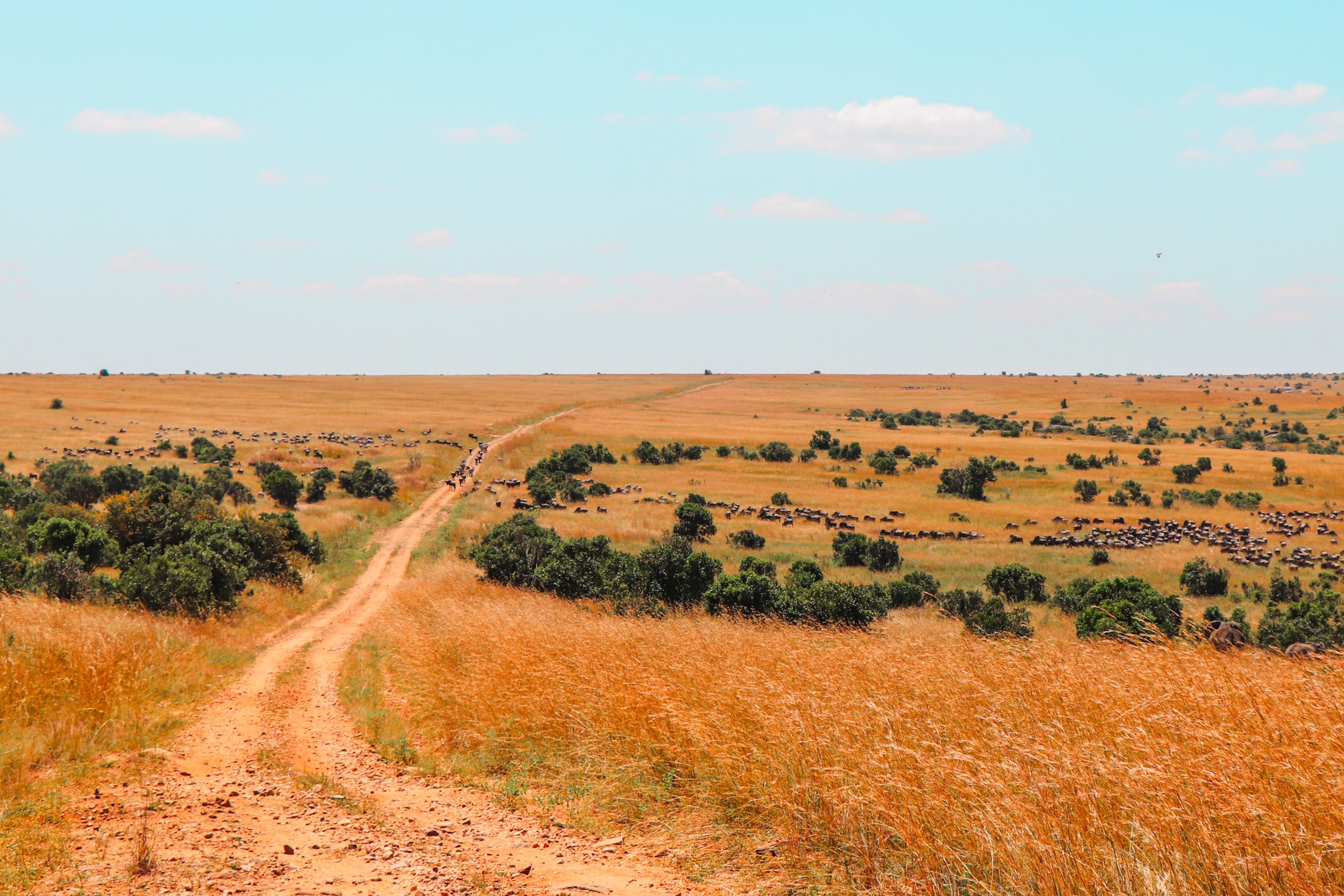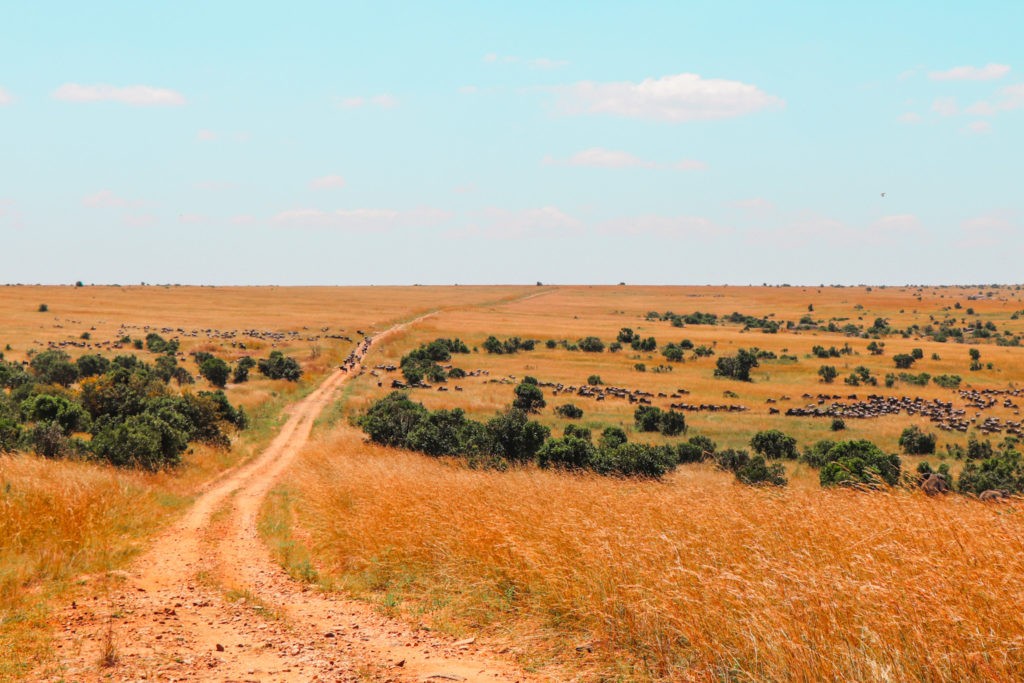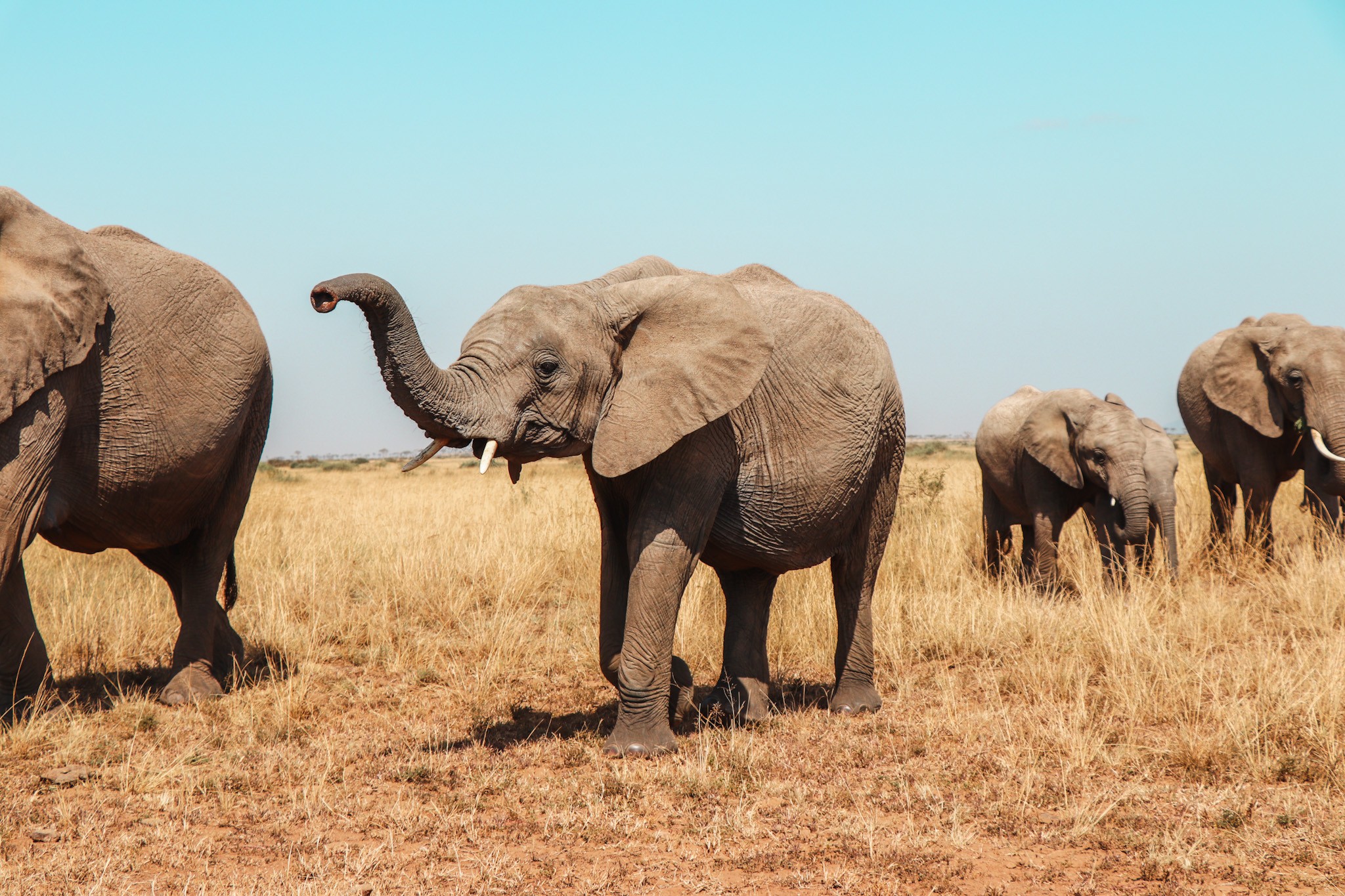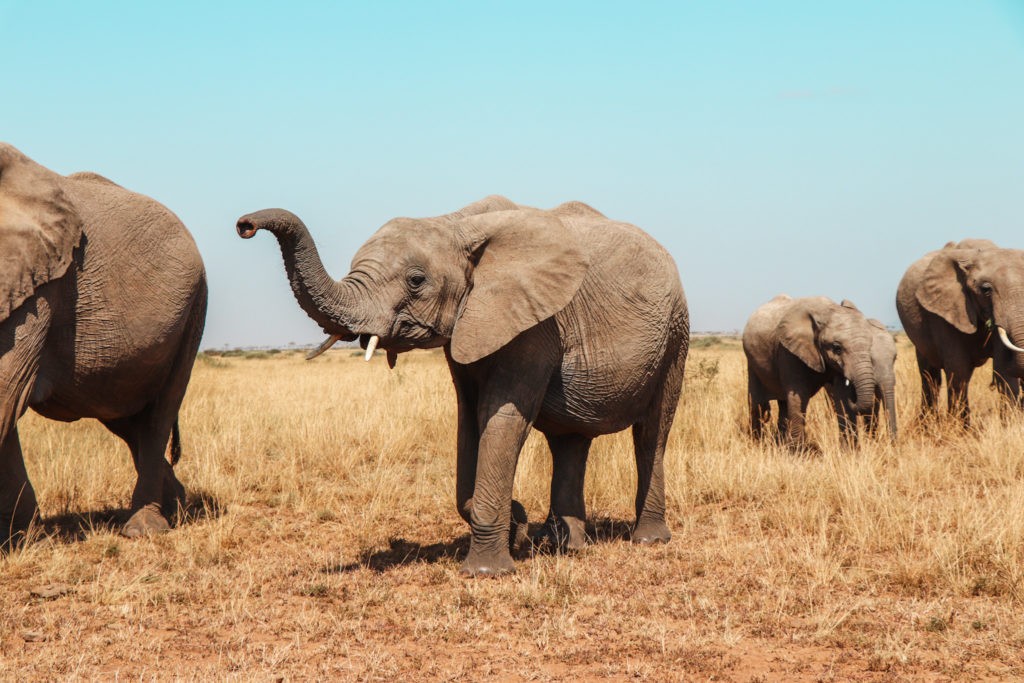 Fortune in Misfortune: Unexpected Spotting of a Rhino
So we drove back as the sun was setting, hoping to make it in time so that we do not have to drive the bad roads in the dark. All our stress was rewarded, though, with an unexpected sighting of a rhino. Actually, we had seen vehicles waiting for it to come nearer already earlier, but without a binoculars and from our lower car we could not see anything yet. So we were happy, that the rhino decided to really come closer to the road by the time we returned. As we learned, rhinos are the hardest to spot in Maasai Mara, since they only come out in the late afternoon, when most people have already left the park. So there was some fortune in our misfortune :).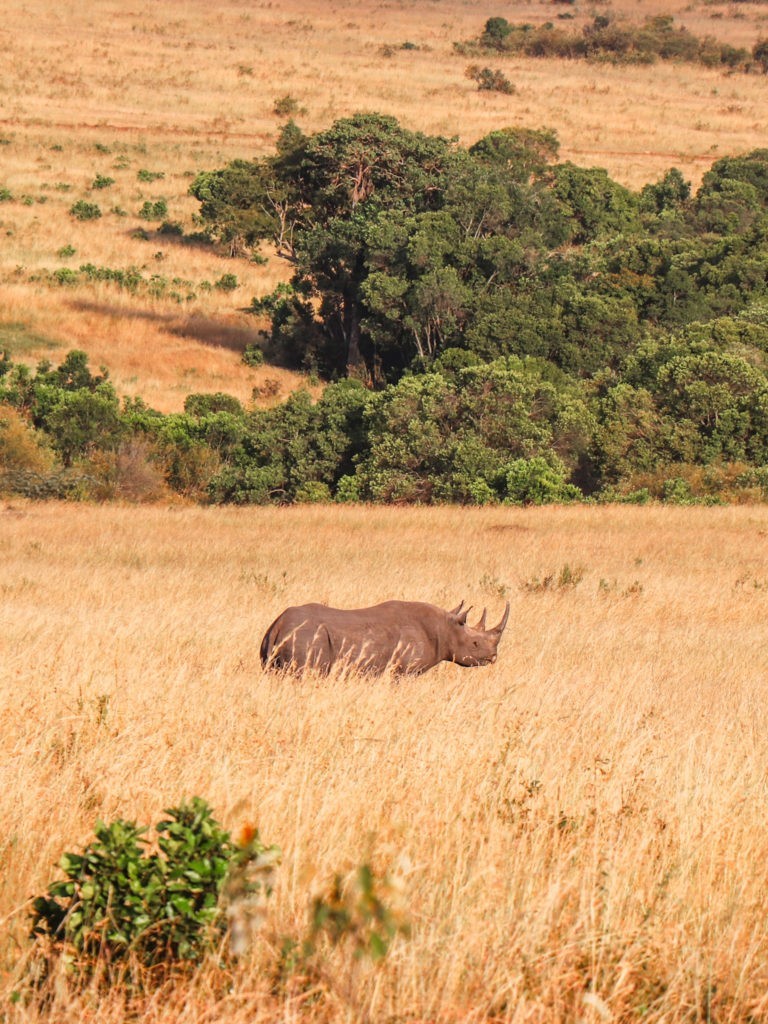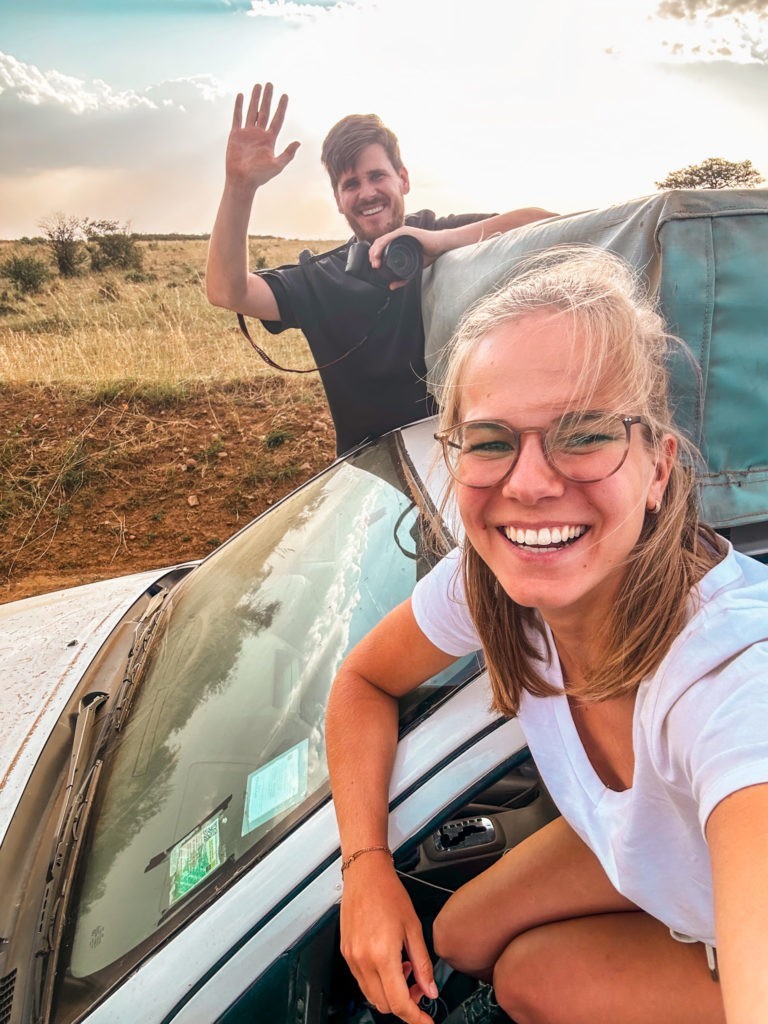 We arrived at the Sand River gate just 10 min before the sunset, where Samuel was already waiting for us. He told us that he had seen us already earlier in the day and wanted to talk to us about the campsite but we drove away too quickly. He was so friendly, telling us so many things about the wildebeest and the Great Migration as we were driving to the campsite. 
To our surprise it was a pretty long drive. The campsite was about 500m away from the gate. It was a totally secluded spot at the river, with nobody near us. Then Samuel asked whether we would want him to stay for the night watch. I asked him whether it is necessary. After all, it was getting dark and we still had to cook some dinner. He said that at the campsite it is safe to sit outside even if it's dark and we do not have to be afraid, e.g. to be attacked by a lion. Well, then we also did not see the point to pay extra 20 USD for him to sit around the whole night. 
We set up our tent. We had some dinner. Then we enjoyed some stargazing with our heads out of the tent door. And as we were so tired from all the emotions we fell asleep at around 9 pm. It was extremely windy. The tent was flapping so loudly. Still, about 2 hours after we had fallen asleep, I heard it. Loud and clear. It was a lion. I was 110% sure, because it was roaring exactly the way the lions in Wilhelma had (the zoo in Stuttgart). My pulse was 300. I was almost scared to death (what an easy pray for a lion, he would not even need to kill us). I decided to not awaken Jens though. Maybe the lion was just passing, I thought…
Well, it was not. It was roaring the whole night. I barely got any sleep as I was trying to figure out whether the lion was getting any nearer. Or whether the sounds I was hearing were still the tent itself or someone sneaking around our car. 
The scariest thing was, that we said the ranger to be leaving at 6 am, to be able to catch the sunrise in the park. This meant we had to pack our tent when it was still dark. As I was awake anyways, I panicky watched the clock to be able to turn off the alarm clock as soon as it rang – not to bring the lion's attention to us, you know. It was when I also discovered, that there is no reception – so there is no possibility to call for help. I was already imagining all the German newspapers writing about us – the two dumb tourists camping in Masai Mara who refused to take a ranger because they thought they new better. They were the easiest pray for the lions, who have not had anything to eat for months since the Migration had delayed. 
As the alarm clock went on, I immediately turned it off and told Jens to be silent. He thought I was just being lunatic (as he had heard no lions) and tried to calm me down. I was fighting with myself and my thoughts. I do not know why but, of course, it was me who had to leave the tent first and open the car doors. I've never been so scared and so thankful as I made it to the car safely. I was not sure whether I would have been really able to jump into the vehicle when there truly was a lion who decided to attack us. But it still gave me this illusional feeling of safety to know that there is an option for escaping.
Fortunately, we had practiced packing the tent a few times already and everything worked out well. Even the zippers played along. So, in 10 minutes we were sitting in the car and started our journey into the darkness. Samuel greeted us at the gate and wished us a great day. It was a great day already, just because I had survived the first night camping in Masai Mara and was able to see it.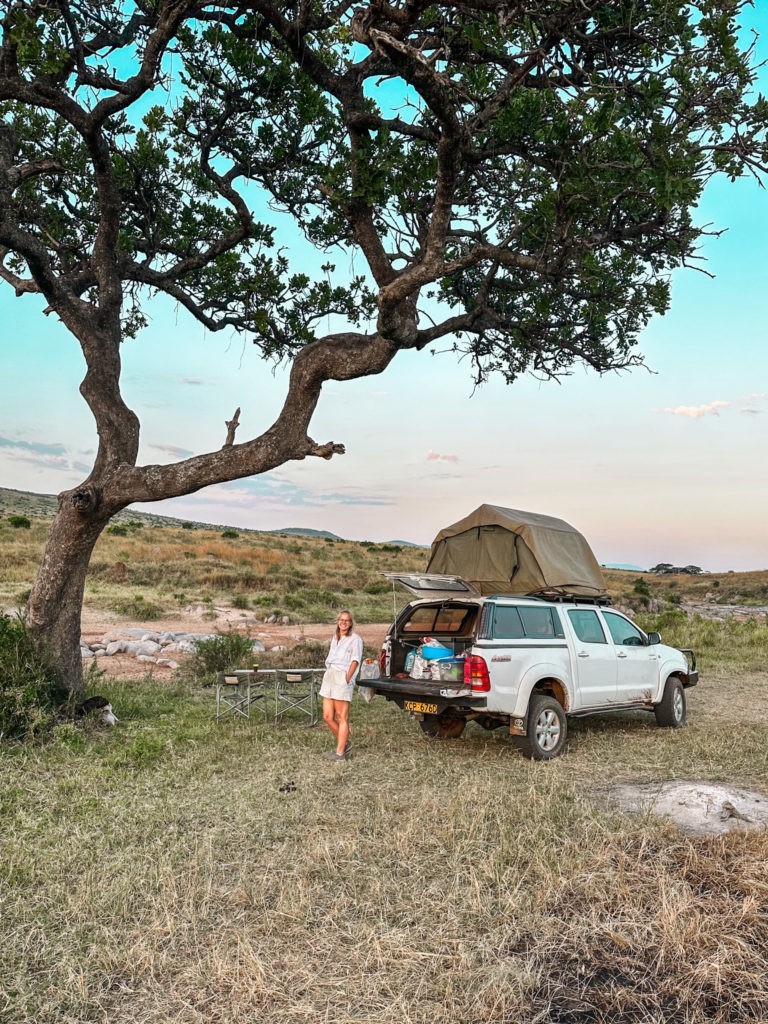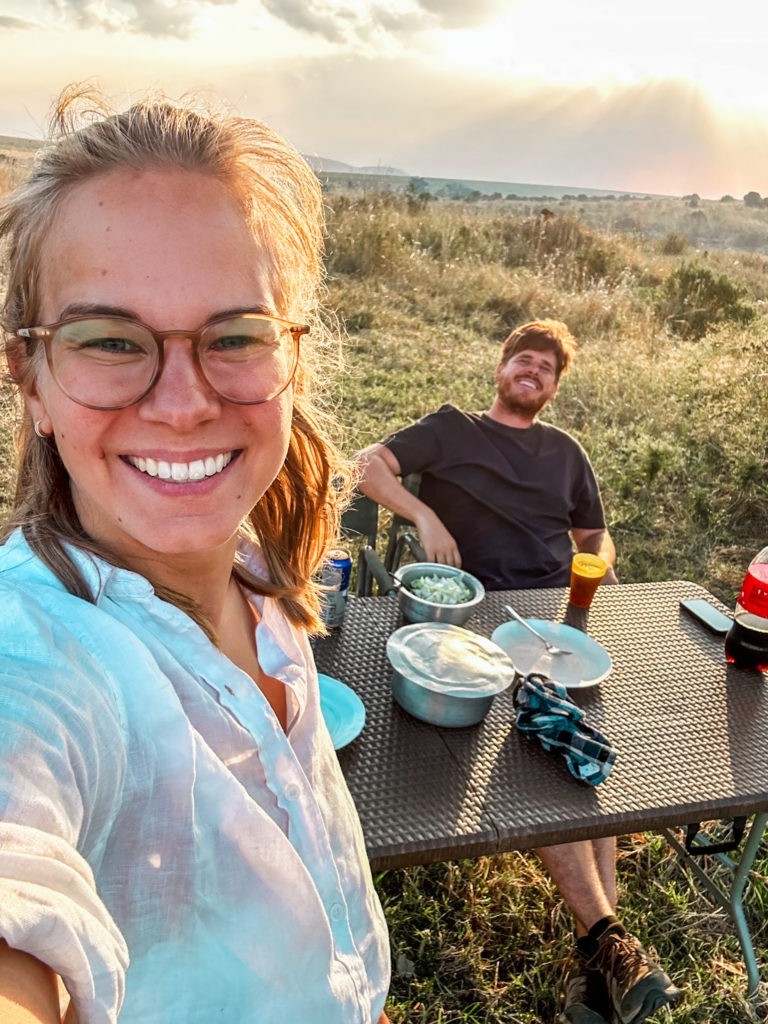 Magical Morning Game Drive in Masai Mara
The morning game drive was just magical. The sun was rising, kissing the grasslands. There were thousands of wildebeest who had made their way to the main road already, just has we had see in videos. It was as we were living in a movie. We also saw some hyenas, foxes and elephants just beside the road. And it was almost only us enjoying all this beauty. 
Our plan was to try to explore Mara Triangle once more. They surely remembered us from the last day and were happy for us that we found a place to stay overnight.
To our surprise there were not many animals in the Mara Triangle. It seems that it would only be the best spot for game drive once the wildebeest have arrived. Still, we managed to see many elephants and some ostriches. We also checked out the river crossing points, where we saw many hippos and hungry crocodiles eagerly waiting for the wildebeest to come. It must be so spectacular to witness the real river crossing. Maybe we will be back one day… We could imagine it to be so cool to once visit with our children. (Not sure however whether it would be a good experience for them to see the poor animals being attacked by these beasts…)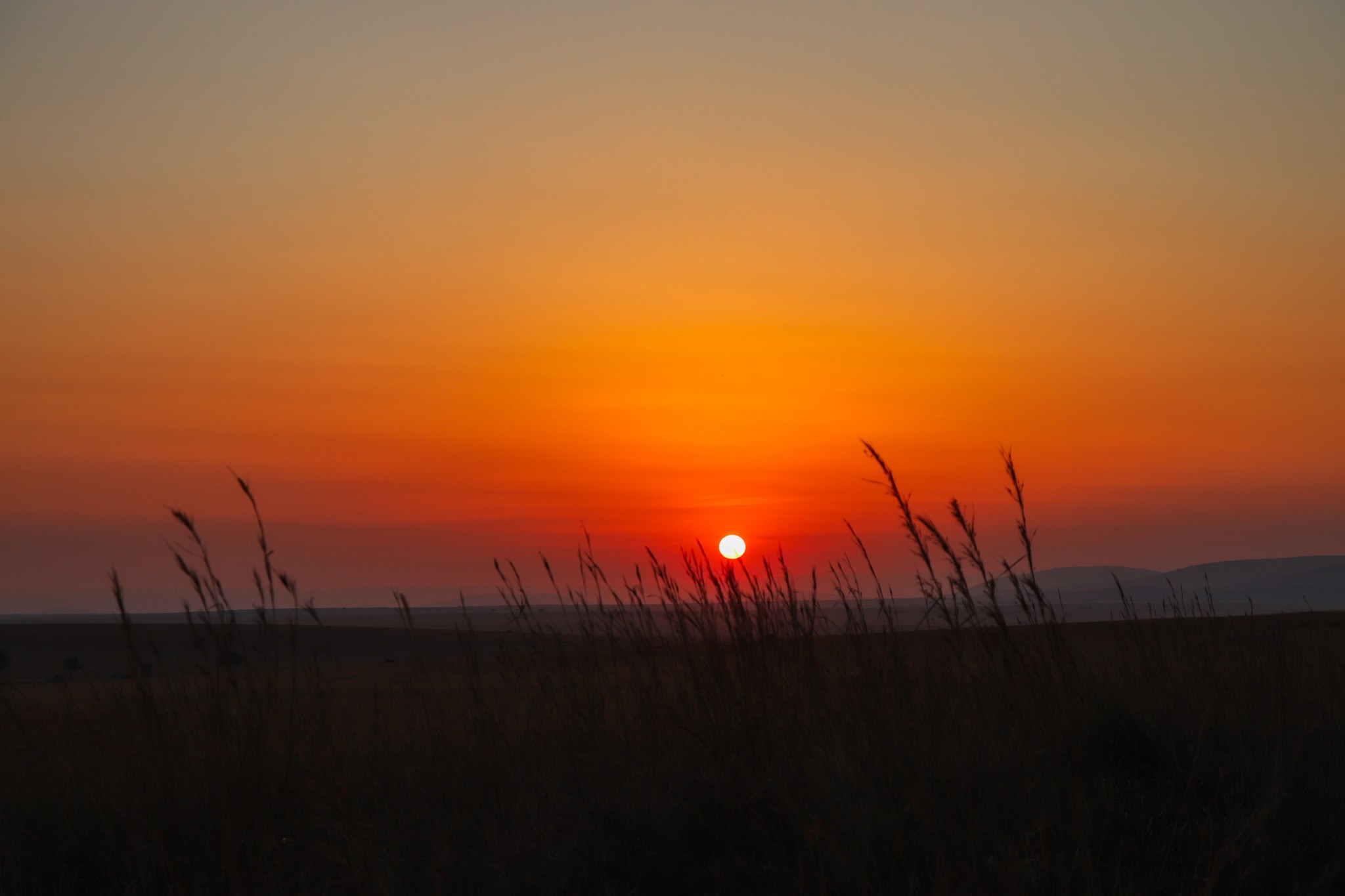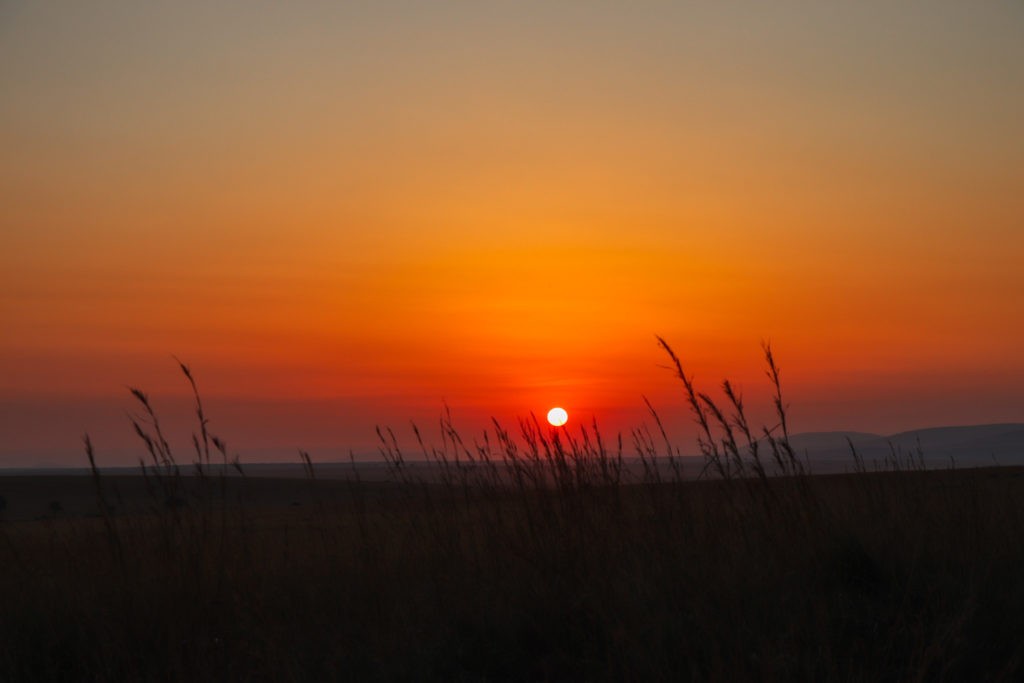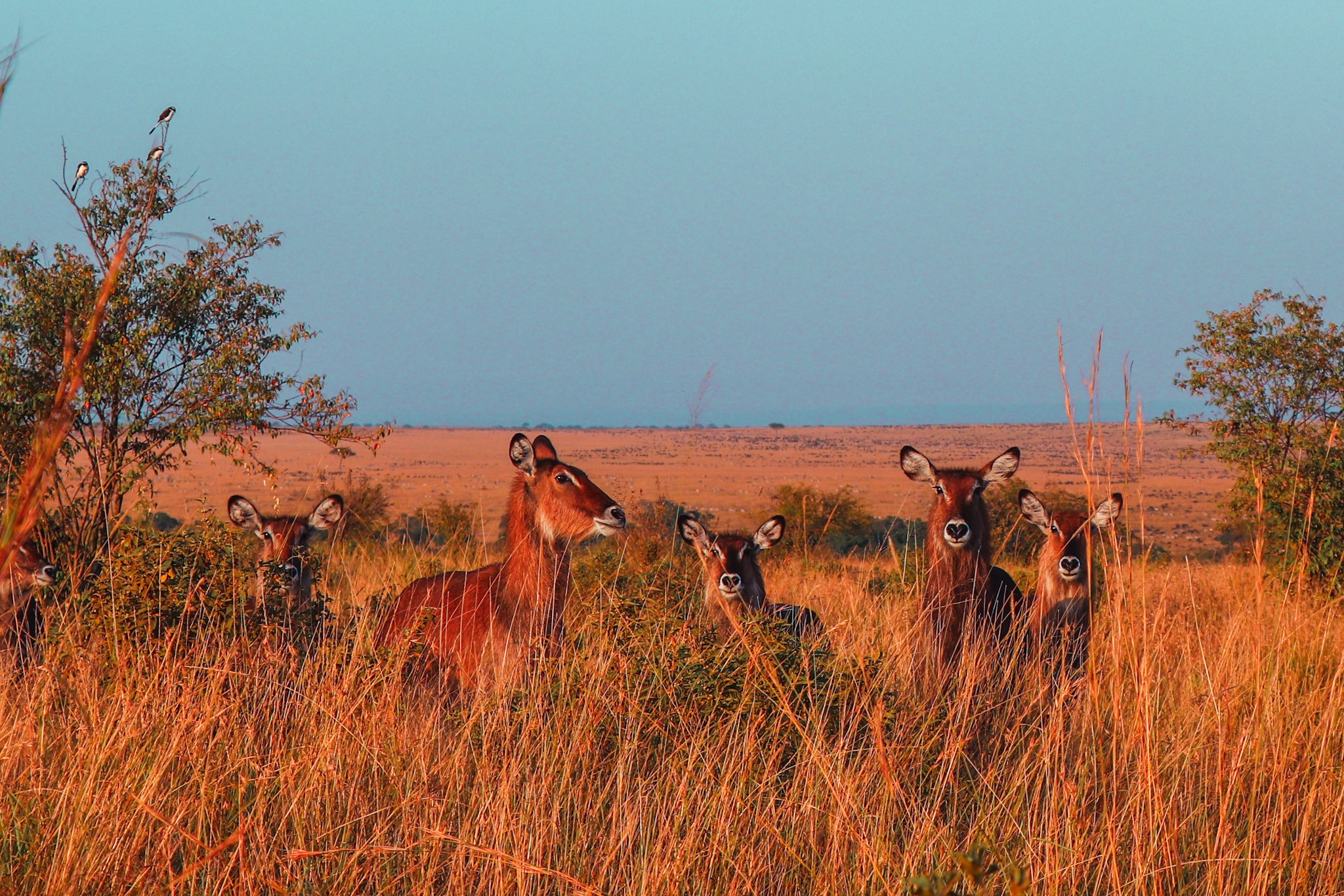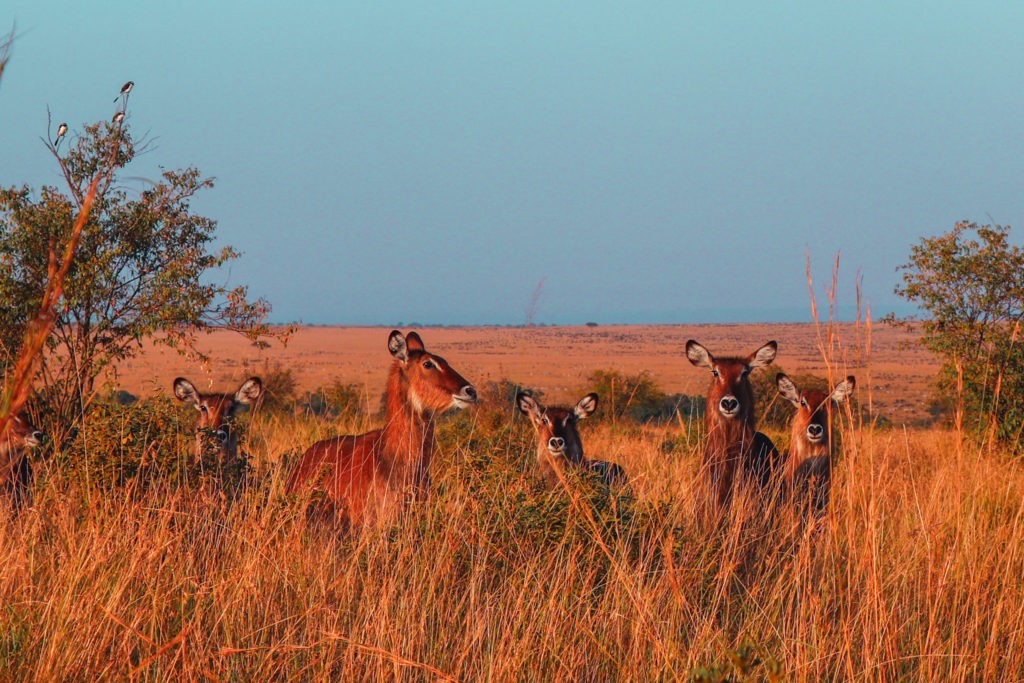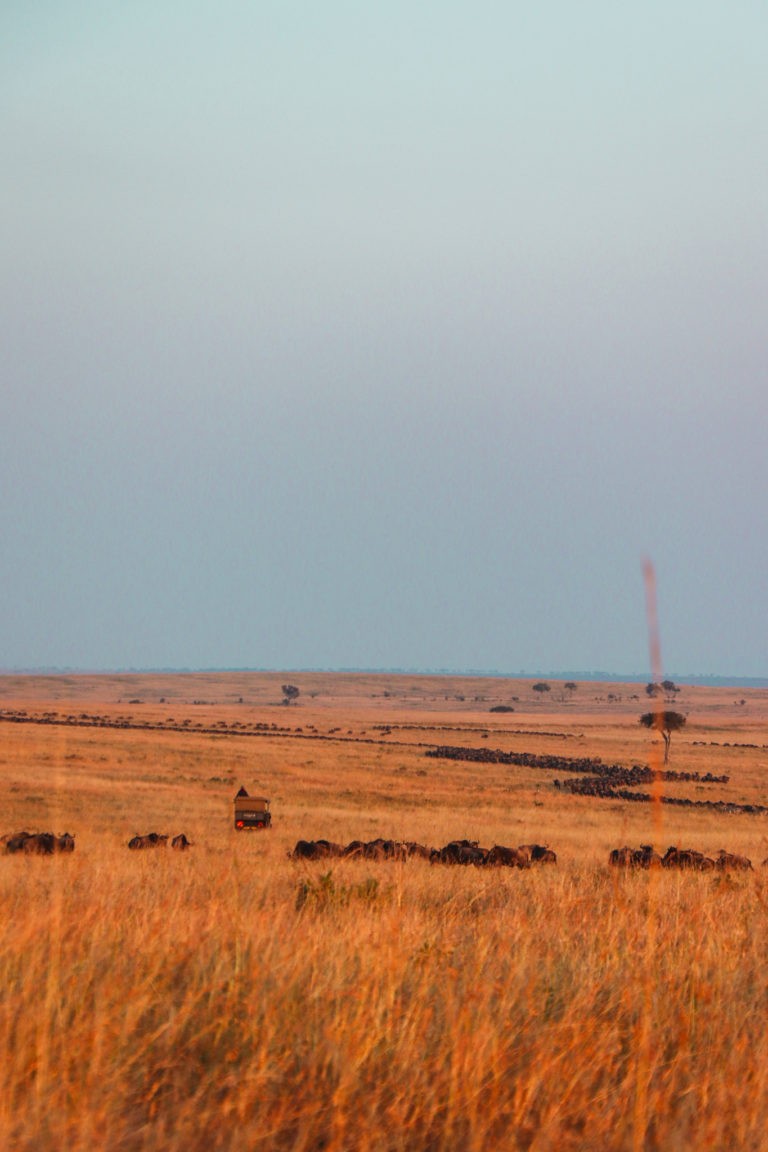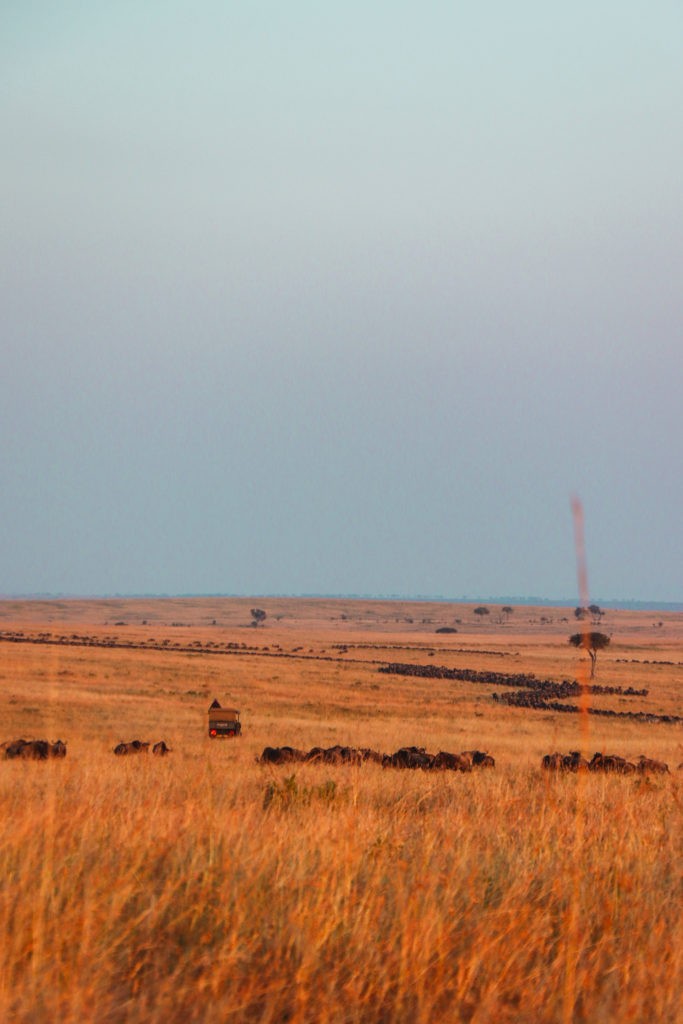 Nearly Getting Lost When Looking for Lions
As we wanted to exit the Mara Triangle, one of the rangers asked us whether we had seen the lioness with her cubs eating a zebra. Obviously we had not. He explained Jens, where the sighting was and we turned around to try to find them. It was not easy to navigate as we got further away from the main road, but we were sure we found the place. What we did not find, however, were the lions. Maybe they were there, but the grass was so high that from our vehicle it was impossible to find them. For 2 seconds we thought we saw someone peaking out of the grass. Based on the eartips and the tail it could have been a little lion cub. But maybe it was just a mirage…
Jens was so excited that he wanted to go even further into the savannah, following the roads that were not on the map anymore. My anxiety was getting greater and greater as the road was getting worse and we had no cell reception again. Maybe it was meant to be, that we die in this park… We drove so far that once we decided to turn around it was hard to recognize where we had come from. Fortunately, we made it out to the main road safely. 
This all was too much for my nerves. I just wanted to leave the reserve, even if we had paid for the second night already. It was enough of adventure. Somehow Jens managed to convince me to stay. Probably, by that point I had already accepted my faith to be eaten by lions, so I agreed to drive back to the campsite.
Sighting of a Lion in Masai Mara
To our surprise our next encounter with a lion was earlier than we had thought. We saw the jeeps standing at the roadside from far away. Jens was sure that there is more to see than just elephants. As we neared, we could not see anything. The drivers of other jeeps said that there are lions sleeping. We patiently waited for other vehicles to go away to get a better sight. And the lion was lying just there – about 5 meters from the road, under the bushes (we learned that they love lying under these ones because they keep away the insects). Actually there were even 2 lions, but we could not really see the other one from our lower vehicle. 
Watching these beautiful creatures sleeping creates an illusion as if they were just oversized house cats. Then the male lion stood up. The horror movie in my head continued – it would now jump in the car and rip me apart… I was panically trying to close the window. But the car engine was not on… Jens was just laughing again. The lion just wanted to get away from the sun so it went gracefully to the other side of the bush. It had zero interest in us. We were extremely lucky to have arrived exactly at the right time to still see him. I was still afraid of the next night ahead.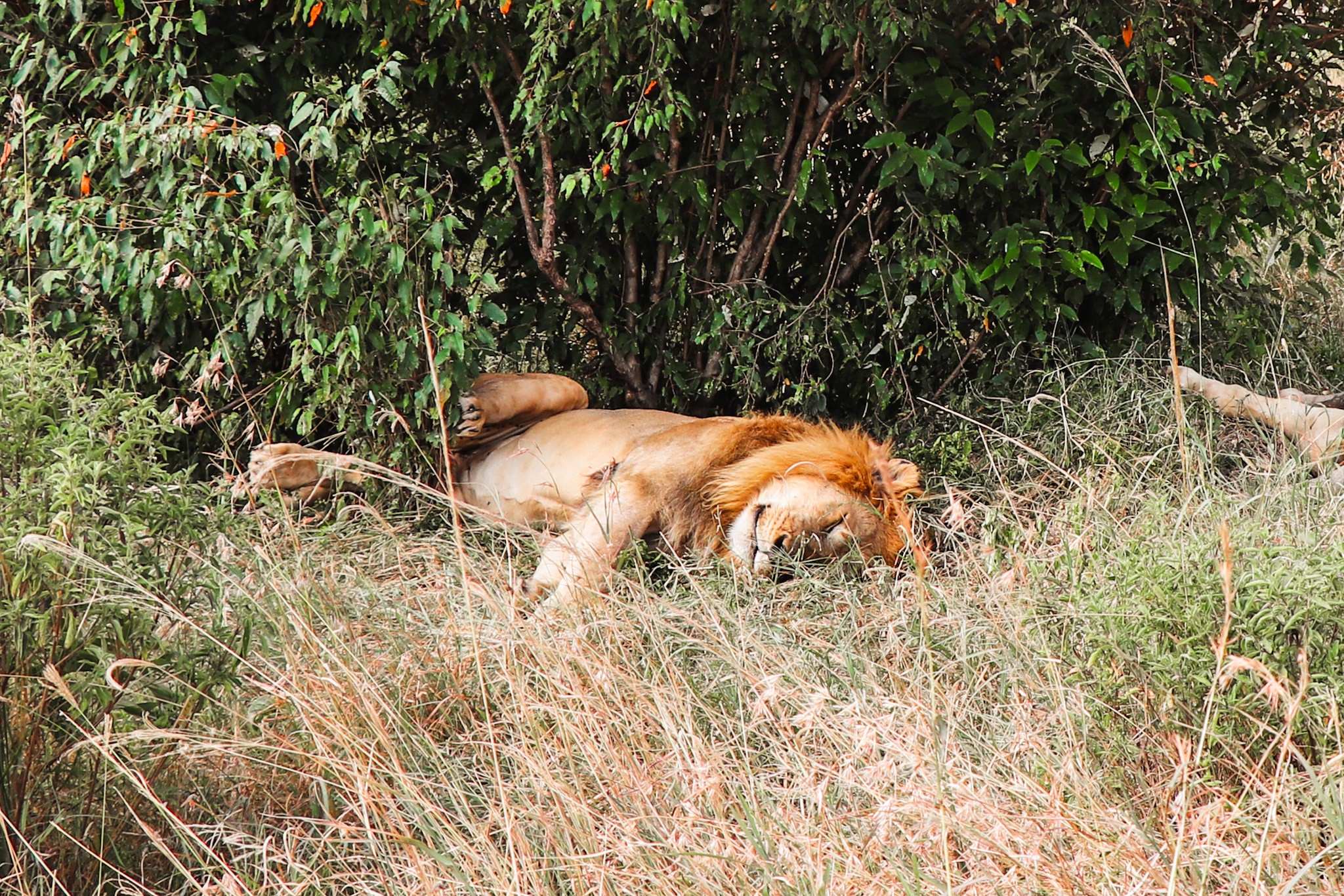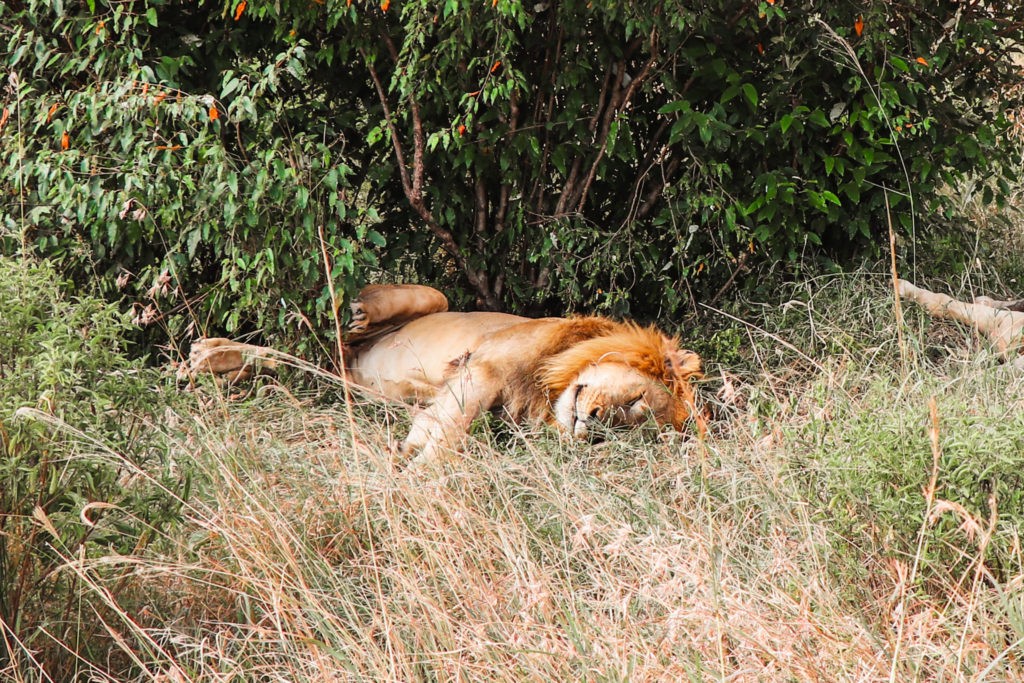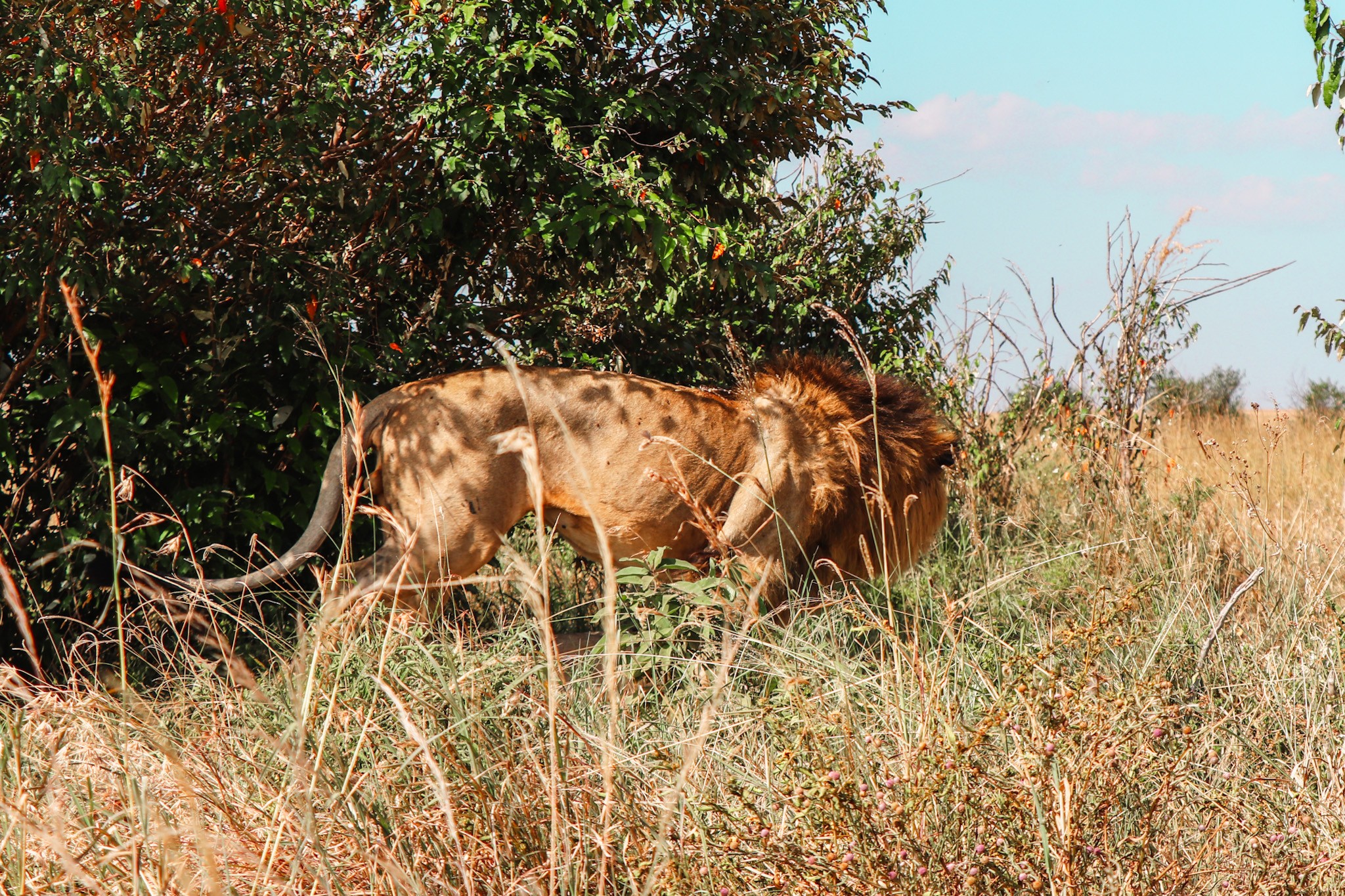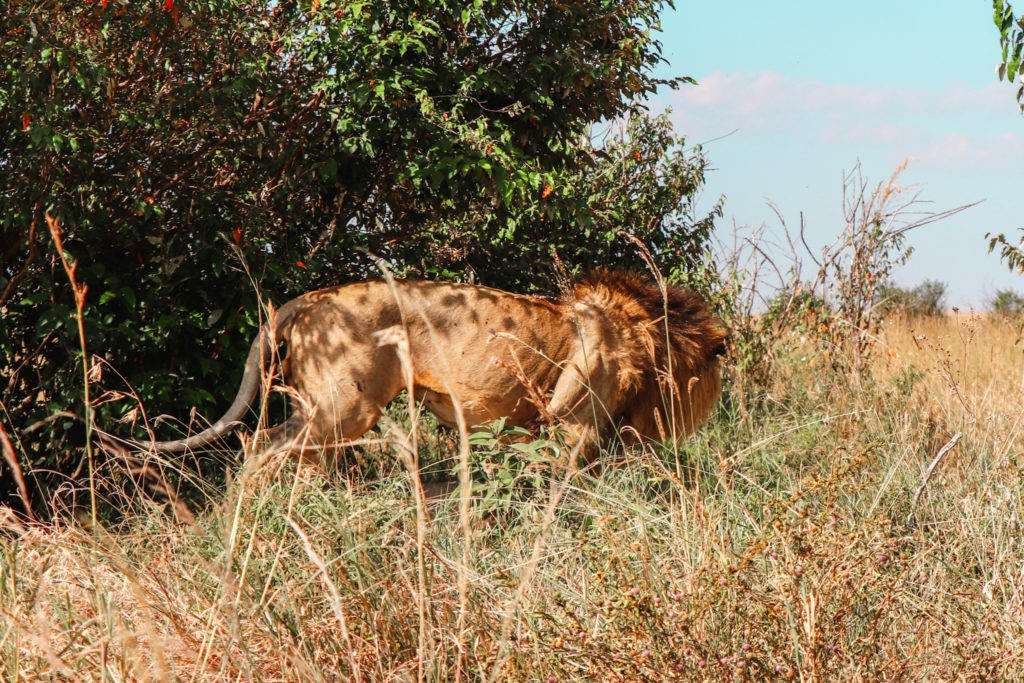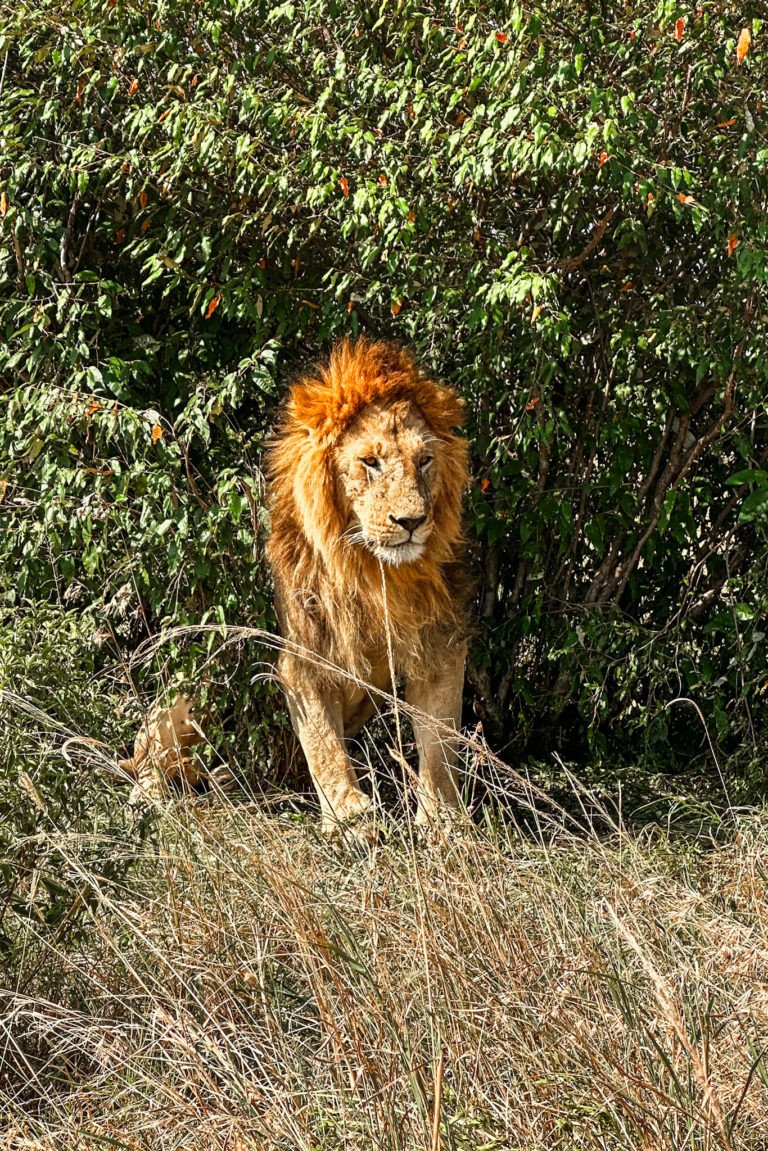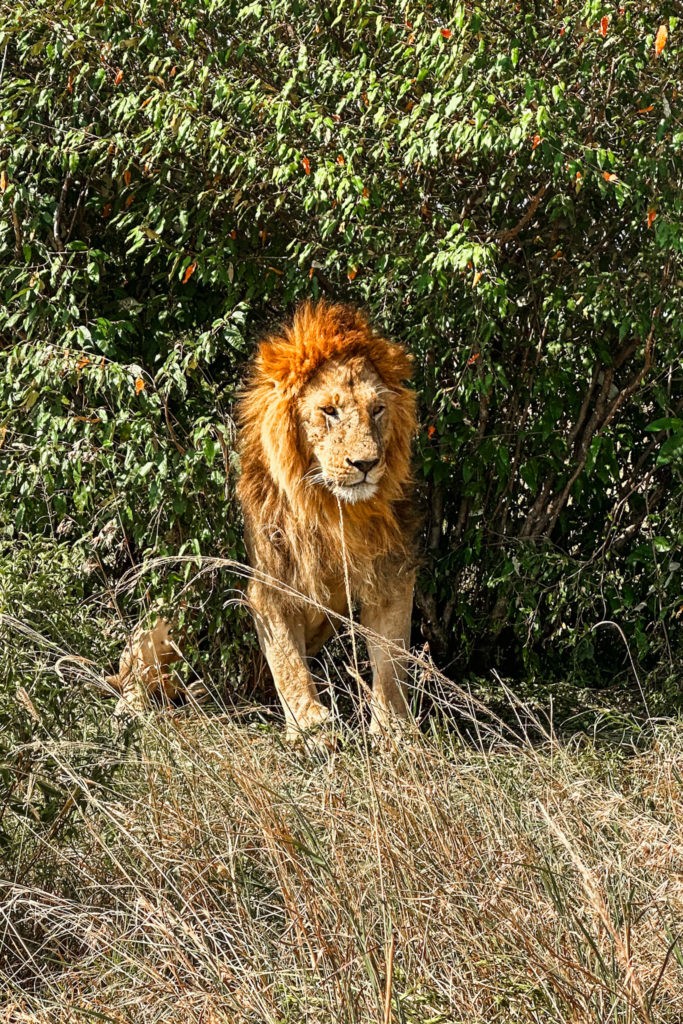 Second Night Camping in Masai Mara
We arrived at the Sand River Gate around 4 pm. Samuel was greeting us. We were glad to say him that we were able to see a lion. Then I raised my concerns about the lion at our campsite. Samuel was kindly asking again "Do you need a security?" And my answer was again "You tell us?" He was just laughing and said something about the lion already having moved away with the wildebeest. And that they are truly afraid of the vehicles, so they would not try to climb one to check out the tent. Especially if there is so much better pray – wildebeests and zebras – around. I believed him. 
Probably I was being too naive again. We had a very nice dinner – our favorite camping food, campfire nachos – and enjoyed the sunset. This evening, there was even another couple further away camping on a ground tent. We were joking that probably the lion would eat them first. 
And then there was time to go to the tent. We were watching a Netflix episode about… Lions and other wild cats… I guess it was not really helpful since now I was afraid that there is not only one lion but maybe a whole family around here. If I managed to somehow attack one with my pocket knife (also naive I know), there was no chance that I could scare away 10…
Just like last night, about after 2 hours of sleep I heard the lion again. It was obvious that he was still around. I managed to remain much calmer this time, however. I was able to realize it really was several hundreds of meters away and even on the other side of the river. I just tried to observe whether he stayed there or came any nearer. Luckily, it remained where he was. Until it did not. Suddenly I heard him roaring much nearer to our tent. This was probably only a couple of hundreds of meters away. Even Jens woke up. And now he was also sure it was a lion. He tried to calm me down. And as I heard it was moving further away again, I did.
Next morning we woke up as it was light already. There was no sign of a lion, so we had a quick breakfast, packed our tent and were ready to leave the park. I have never felt so relieved. Having survived these 2 nights camping in Masai Mara under the watch of a lion.
If you are looking to have such great safari experience in Masai Mara – we also wrote a safari guide about what you need to know when visiting the Masai Mara National Park, what accommodation options you have and how to get there.