Imagine standing at the very top of Ciudad Perdida, also known as the Lost City. Before you stretches a stunning panorama of ancient round terraces and the Sierra Nevada mountains. In this remote corner of the world, there are no shortcuts. Here, everyone have to earn the views, usually, hiking 2 days through the lush jungle to Ciudad Perdida and 2 days back.
The Lost City trek is no walk in the park. It involved real river crossings and relentless uphill climbs. But the views were worth every step, every drop of sweat and every blister.
But, above all else, it's crucial to understand that this journey isn't solely about reaching Ciudad Perdida; it's about the holistic Lost City Trek experience. It was one of the most challenging yet coolest adventures we've ever embarked upon. The memories we gathered along the way are sure to endure a lifetime. And we also want to share these with you to give a glimpse of this spectacular hike.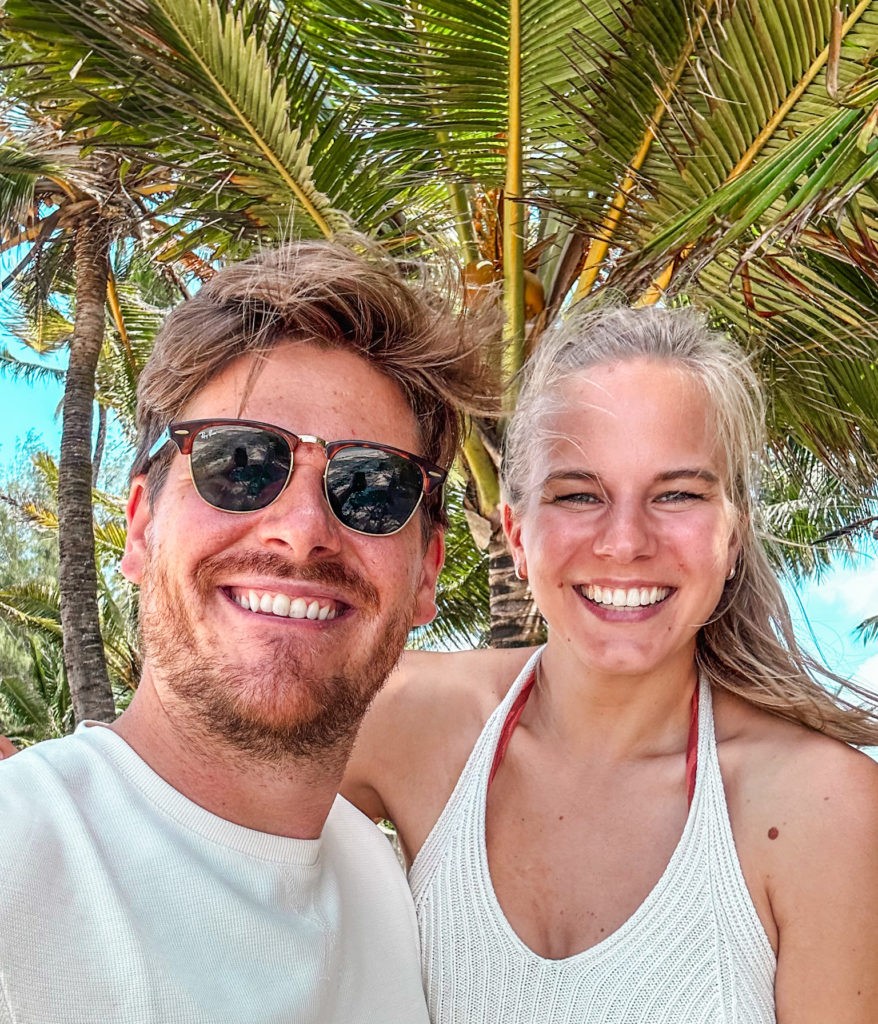 We hope you enjoy our travel stories, guides and tips! If so, please consider supporting our work.
Every Lost City Trek experience is individual
Before we start, here's a little disclaimer: everyone's Lost City Trek experience is different and depends a lot on your personal fitness. What we're sharing here is our personal view on those four days. We want to give you an idea of what it's like, but we don't want to scare anyone away from trying it.
If you want to know all the details you should consider before doing the Lost City trek, check out our Lost City Trek Guide. Remember – no pain, no gain – and, in conclusion, we think the challenge was definitely worth it. We're not super athletic, but we didn't find this hike too tough. Any complaints you'll read below are just us whining a bit 😉.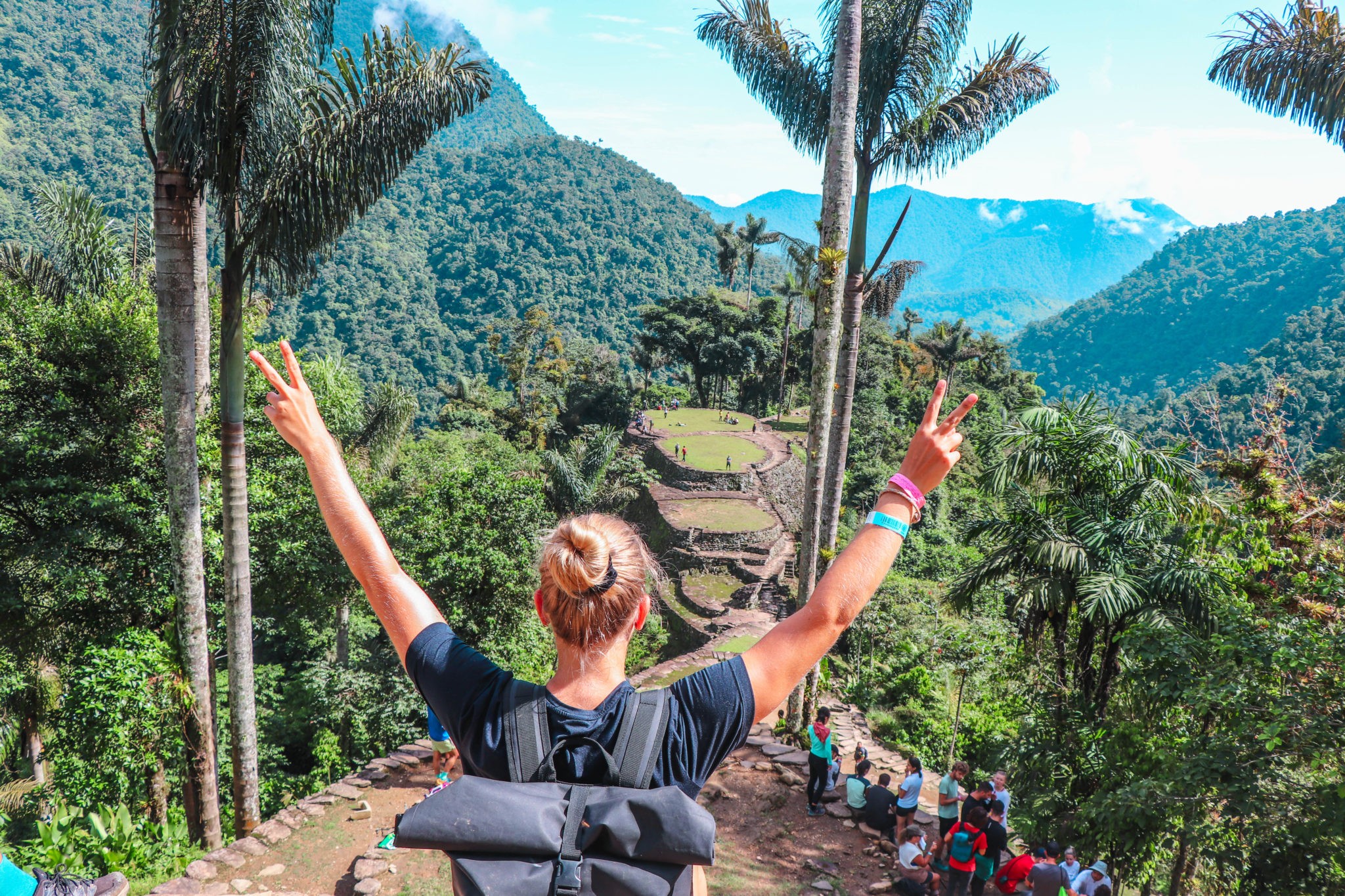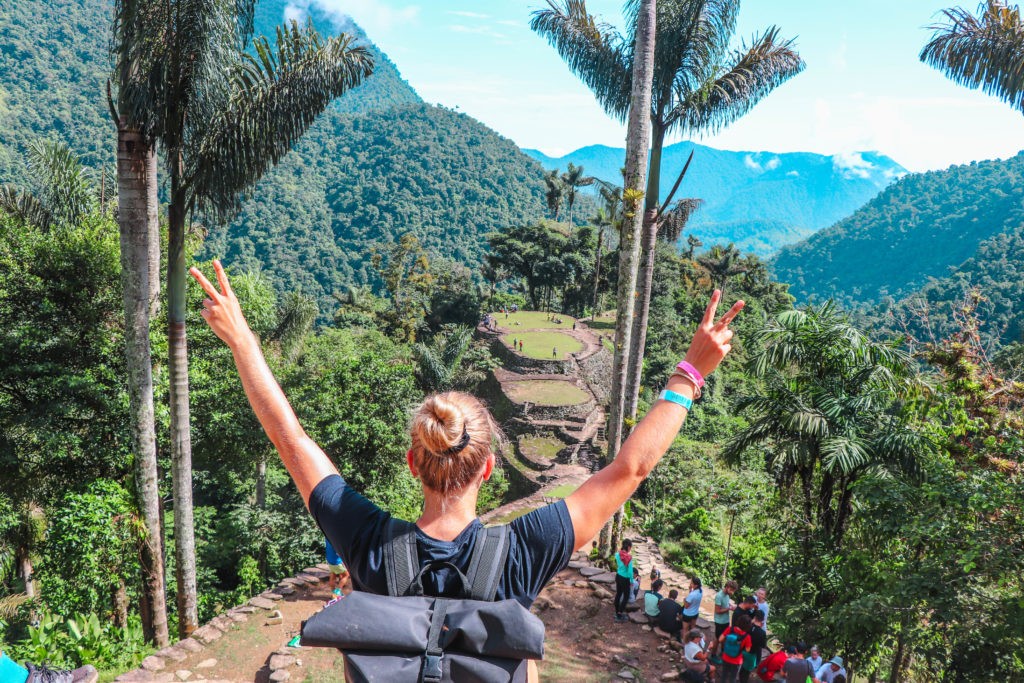 How long is the Lost City Trek? Full Itinerary
The Lost City Trek covers a total distance of approximately 55 km. There are no shortcuts or alternative starting points; everyone taking on this trek follows the same route. However, to cater to different fitness levels, there are various tour options with varying durations. The most popular choice is the 4-day trek, but you can also opt for 3- or 5-day tours. Picking the right pace is essential for a rewarding Lost City Trek experience.
We personally chose the 4-day option. Here's a summary of the Lost City Trek itinerary and what you can expect during a 4-day journey to Ciudad Perdida:
Day 1: Warm-up (5 km/ca. 3h) 
Day 2: Jungle Beauty (17 km/)
Day 3: Visiting Ciudad Perdida and Turning Back (17 km)
Day 4: The Grand Finale (15 km/6-7h)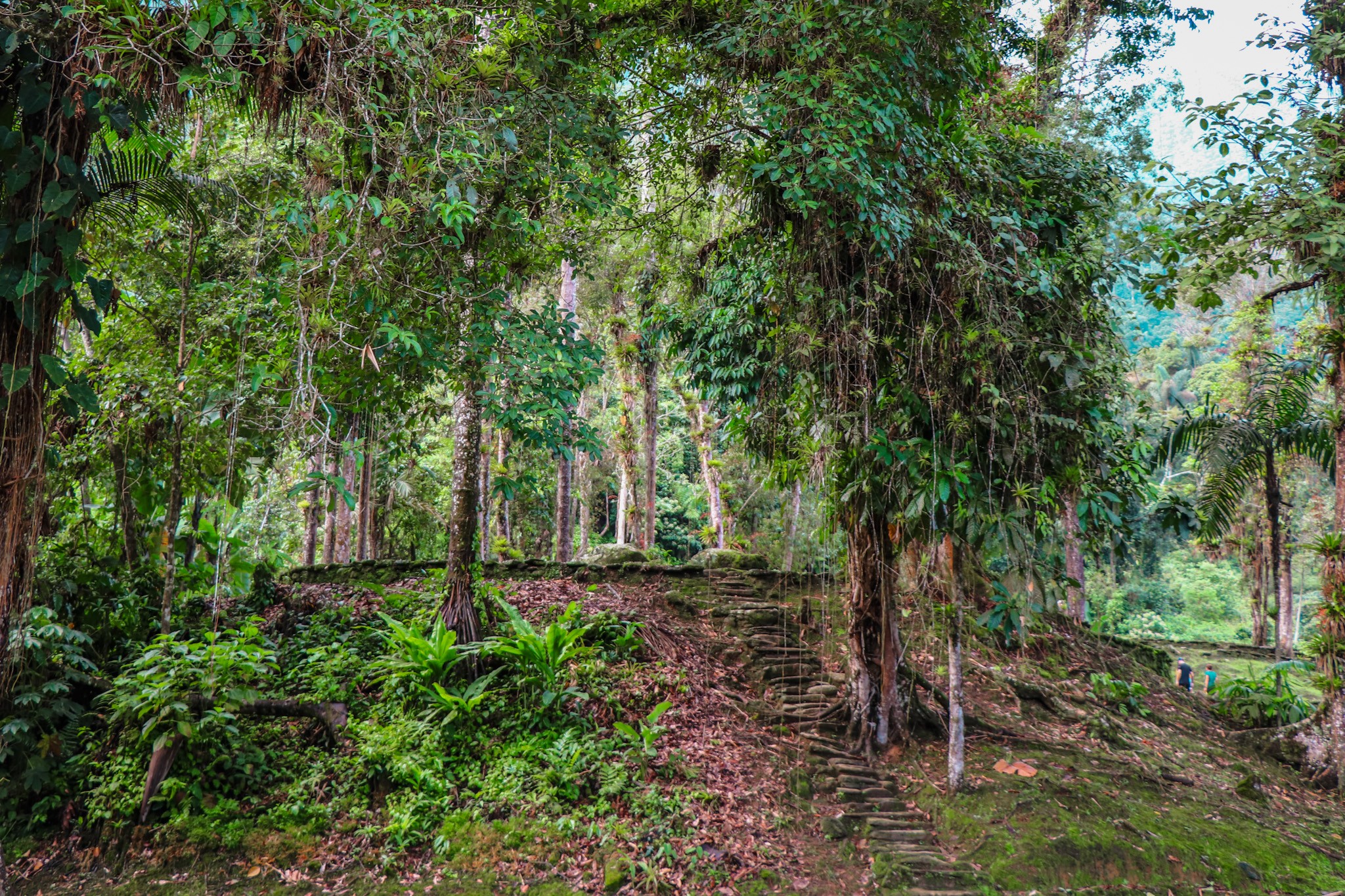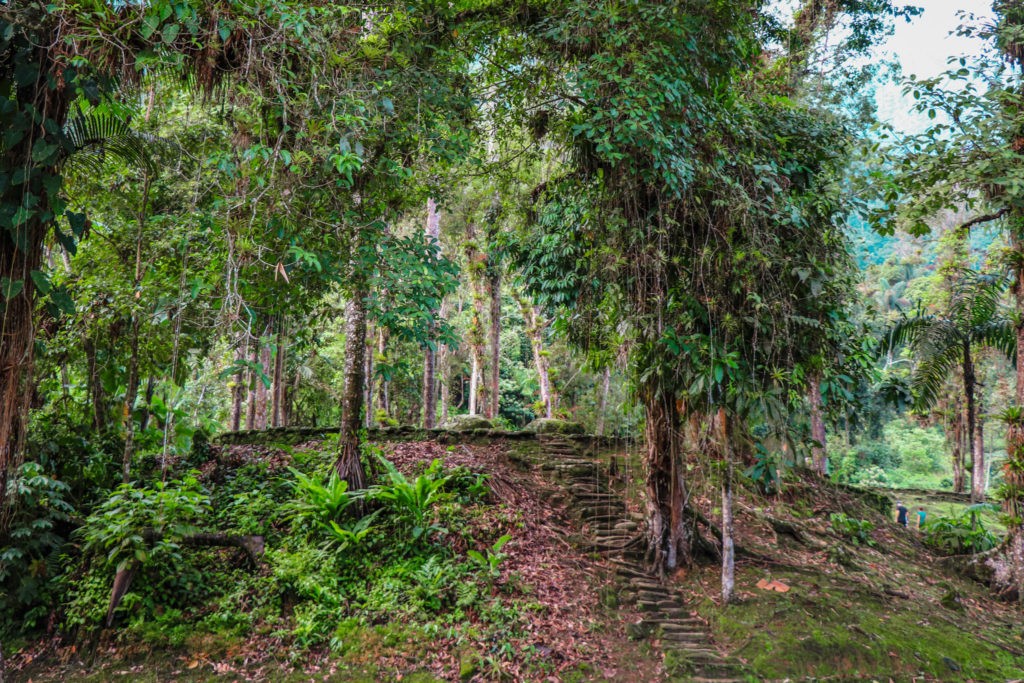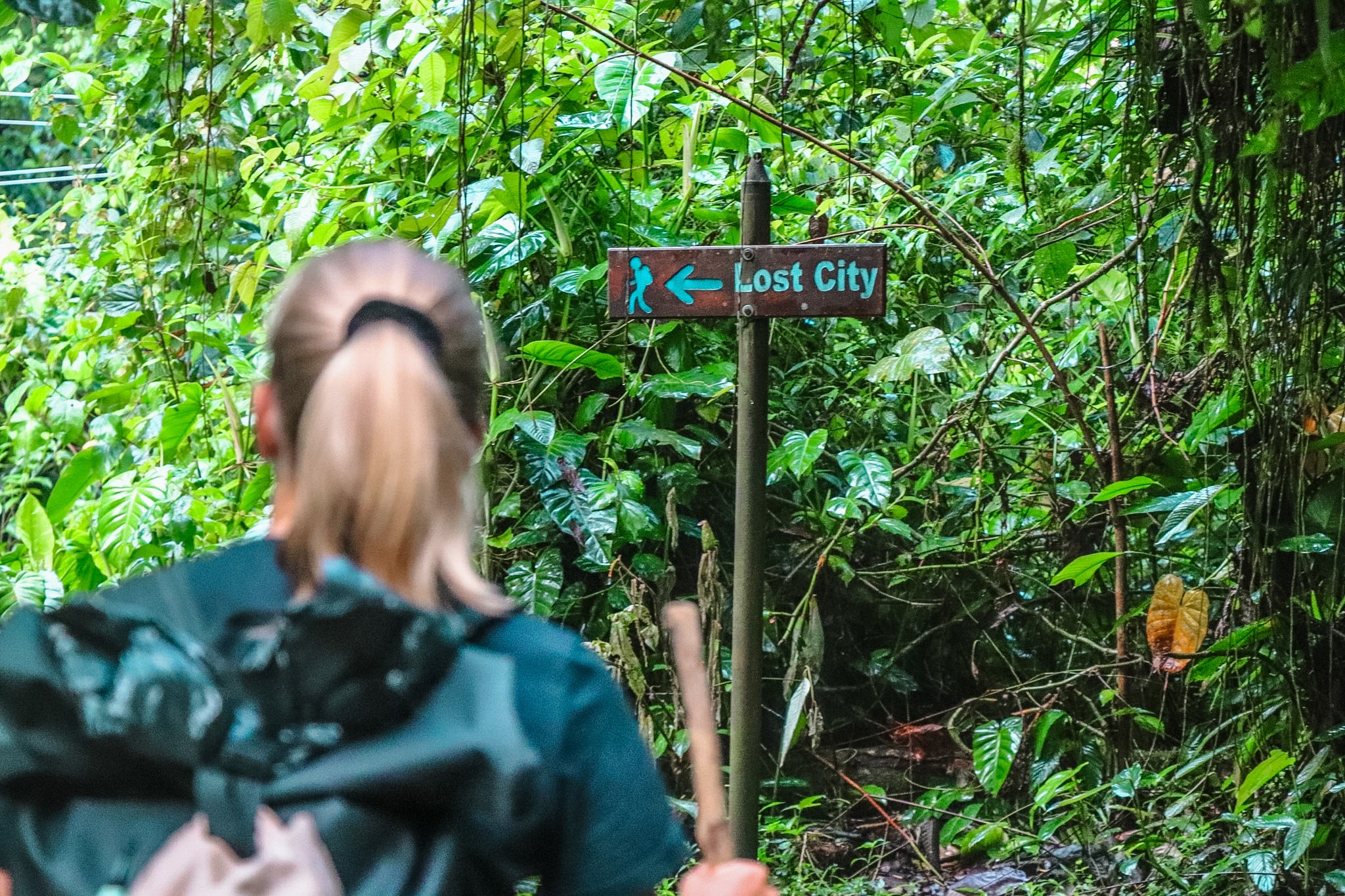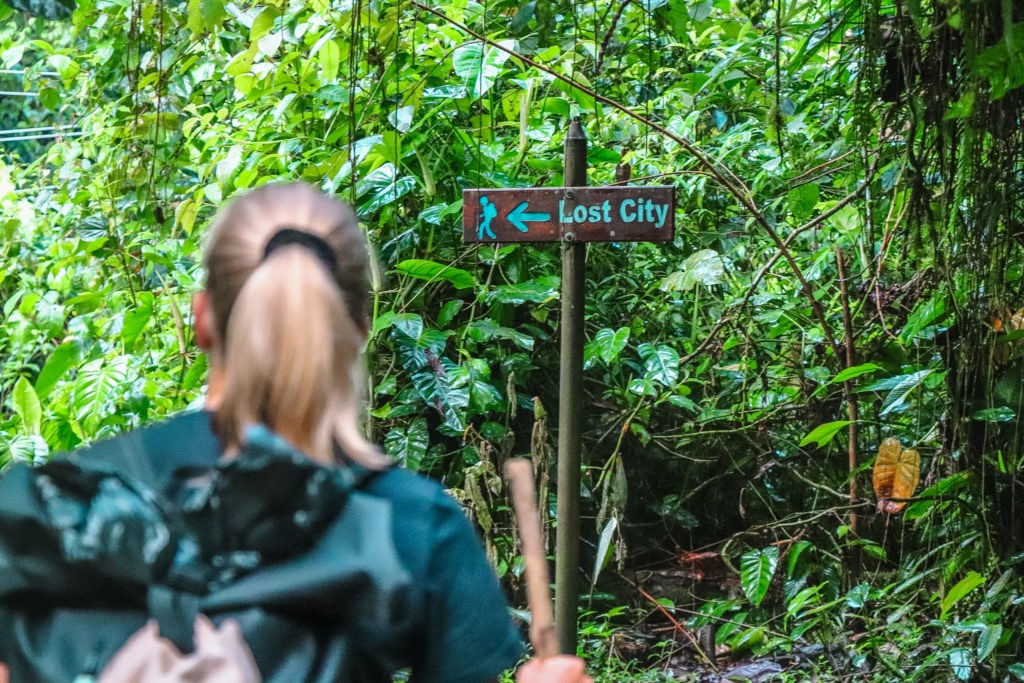 7:30 AM: Meeting in the Santa Marta Office
Already early in the morning we gathered in the Wiwa Tours' office in Santa Marta, ready to embark on our 4-day tour into the heart of the Sierra Nevada mountains with a mission to find the Lost City. As you can read in our Lost City Guide, we have chosen the Wiwa Tours since they are hiring their guides from the indigenous communities. They aim to provide immersive Lost City Trek experiences alongside indigenous people, rather than just bringing tourists to visit them. It is important to us to supporting such sustainable tourism initiatives during our travels.
We were a rather small group of 12 persons – 1 Colombian, 1 Italian, 4 French, 4 Spanish, and us. The ages ranged probably from late twenties to mid-fifties. We believe that everyone would agree, if we said that the Italian guy was by far the coolest. He had found this tour in internet and immediately wanted to do this. You could see the excitement in his eyes and hear it in his laughter. Later, during challenging times, it kept our spirits up and gave us motivation to move on.
Then, the guides Alejandro and Efren greeted us warmly and gave a short introduction about the days to come. After sorting out the details, we hopped on a bus that would lead us to La Aguacatera, the entrance to Sierra Nevada National Park.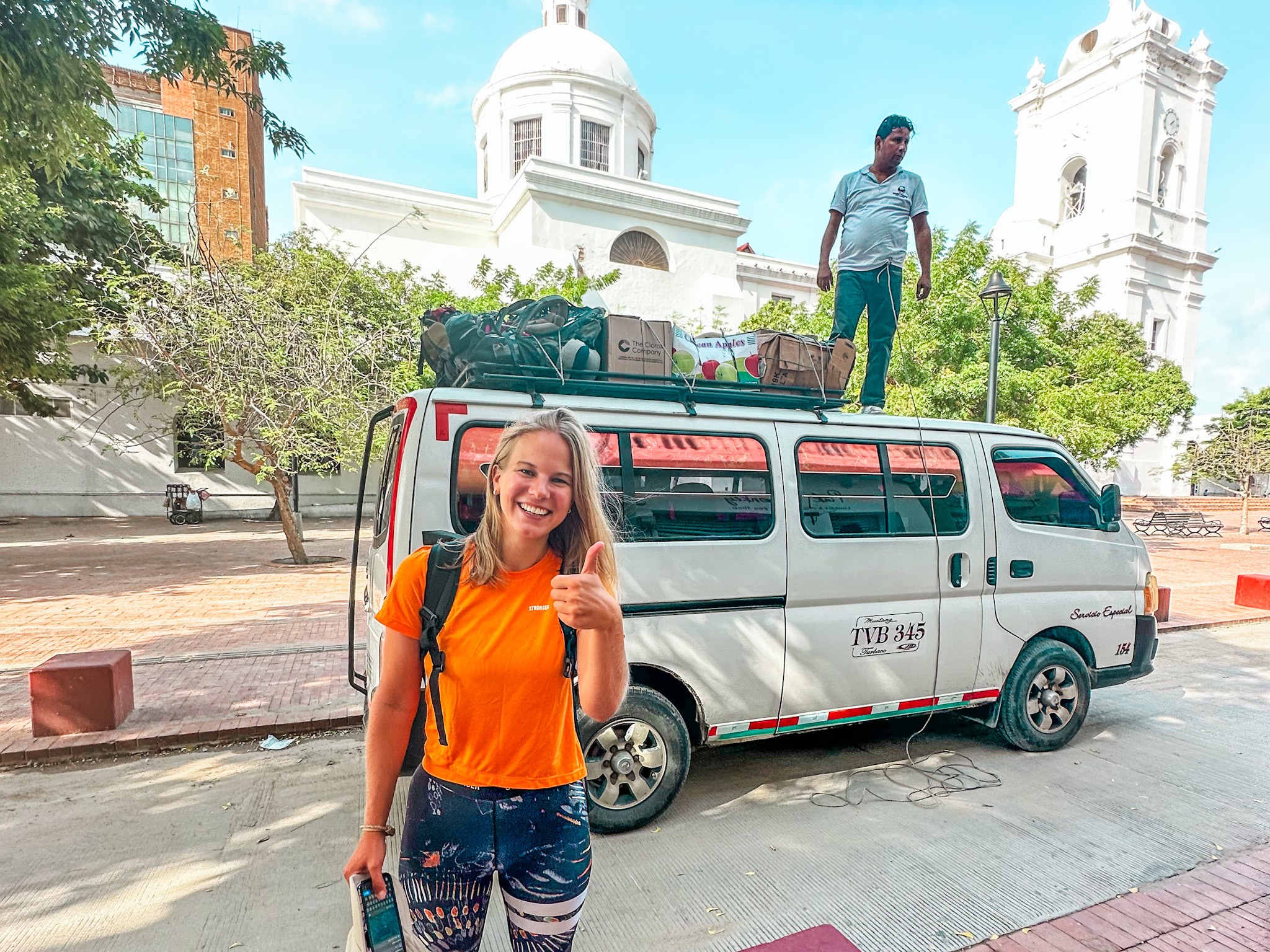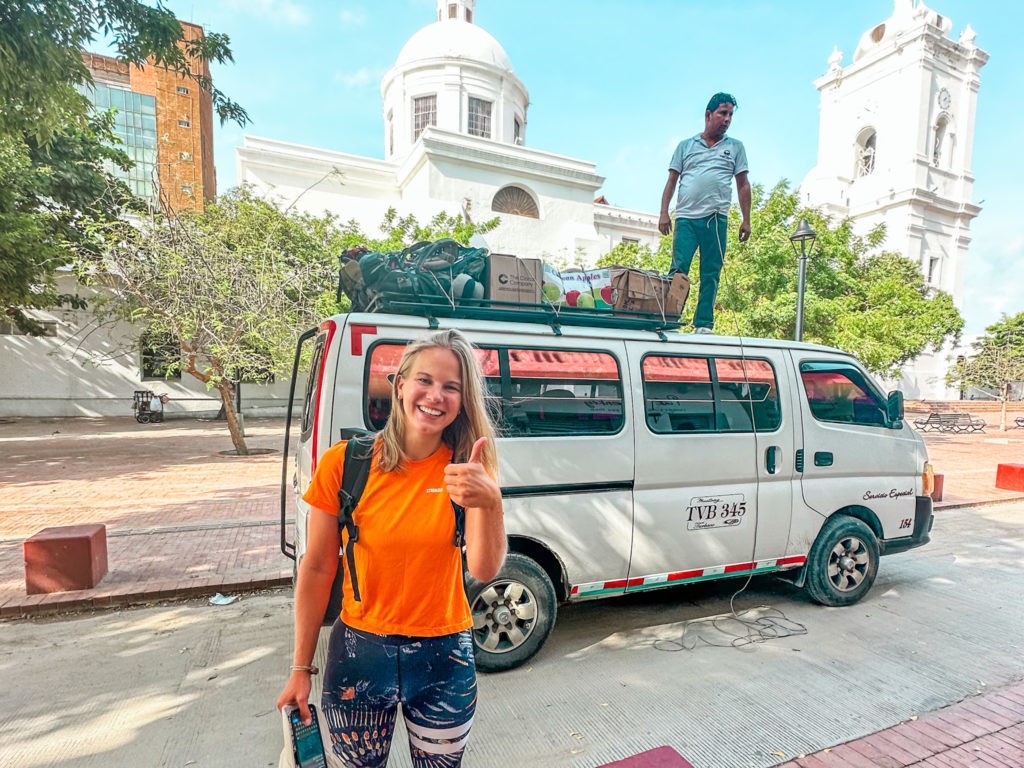 10:00 AM: Entering the Sierra Nevada National Park
After a 1.5-hour bus ride, we arrived at the gate and had a brief check-in with park officials, who handed everyone a bracelet. There was also a small shop and some street vendors in case you wanted to buy some sweets for the journey or simply enjoy a refreshing coke. Since we hadn't had breakfast due to last-minute packing, we decided to finally try some empanadas. Empanadas are a popular dish in many Latin American countries. They are fried pastries typically made by folding dough or pastry around a filling. Our empanadas were filled with ground meat, potatoes, and vegetables. They were absolutely delicious!
Then, we set off on our journey into the mountains. The road was narrow and winding, clinging to the steep mountain sides. We were a little scared and hoped we wouldn't drive off the road. But the bus driver drives on this road every day, so he must be really good at it, right? Every turn in the road was taking us deeper into the wild and offered fleeting glimpses of the lush jungle surrounding us. It was great to think that with each meter we ascended in the mountains, we saved ourselves from having to hike. Our excitement grew. We were ready for the challenges of the next four days and could not wait to find out what our Lost City Trek experience will be like.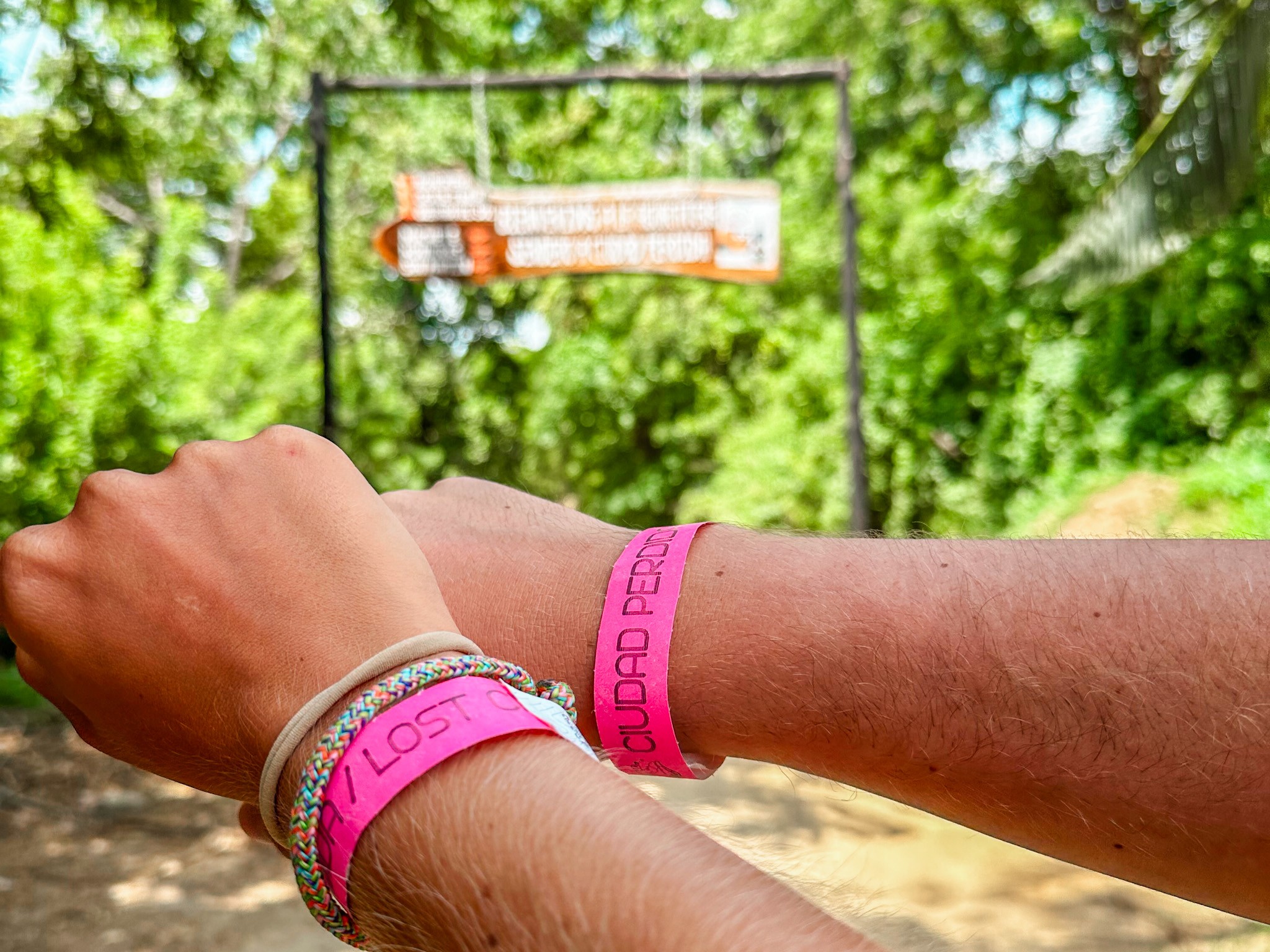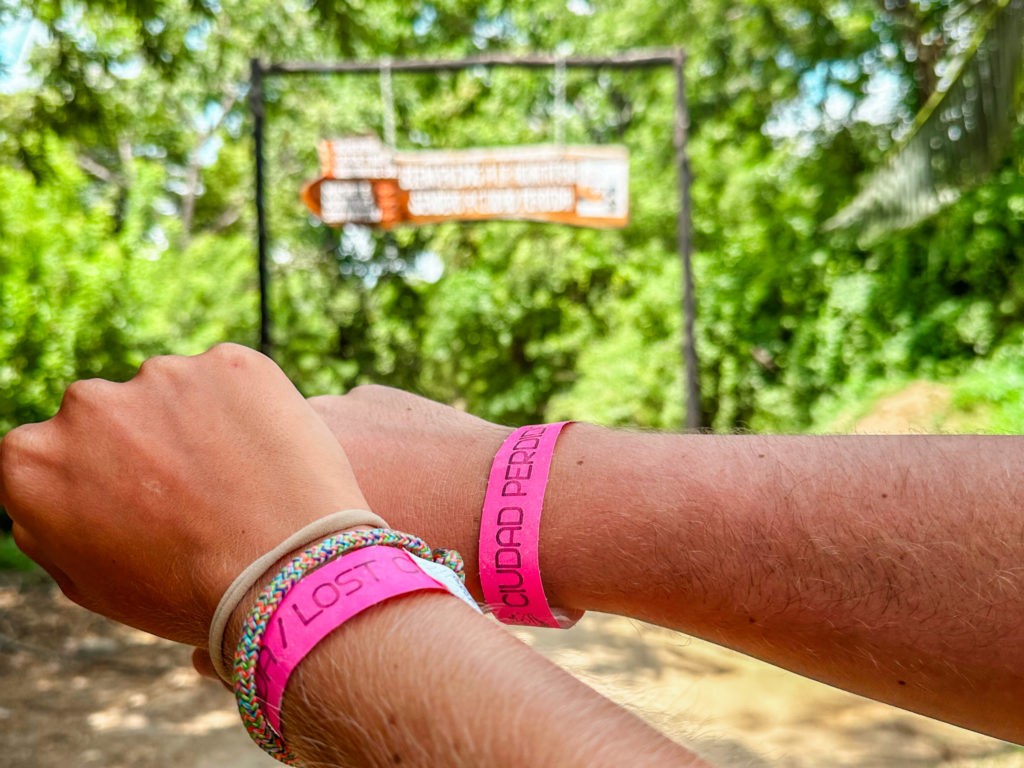 10:30 AM: Lunch in Mamey
We eventually reached Mamey, a small village that marks the beginning of the hike. After enjoying a hearty lunch, we studied the trek map, which also displayed the elevation changes. The not-so-good news was that the first day would kick off with a steep ascent up the first mountain. As the weather was very sunny, our guides suggested that we should take it slow and pause for breaks whenever necessary.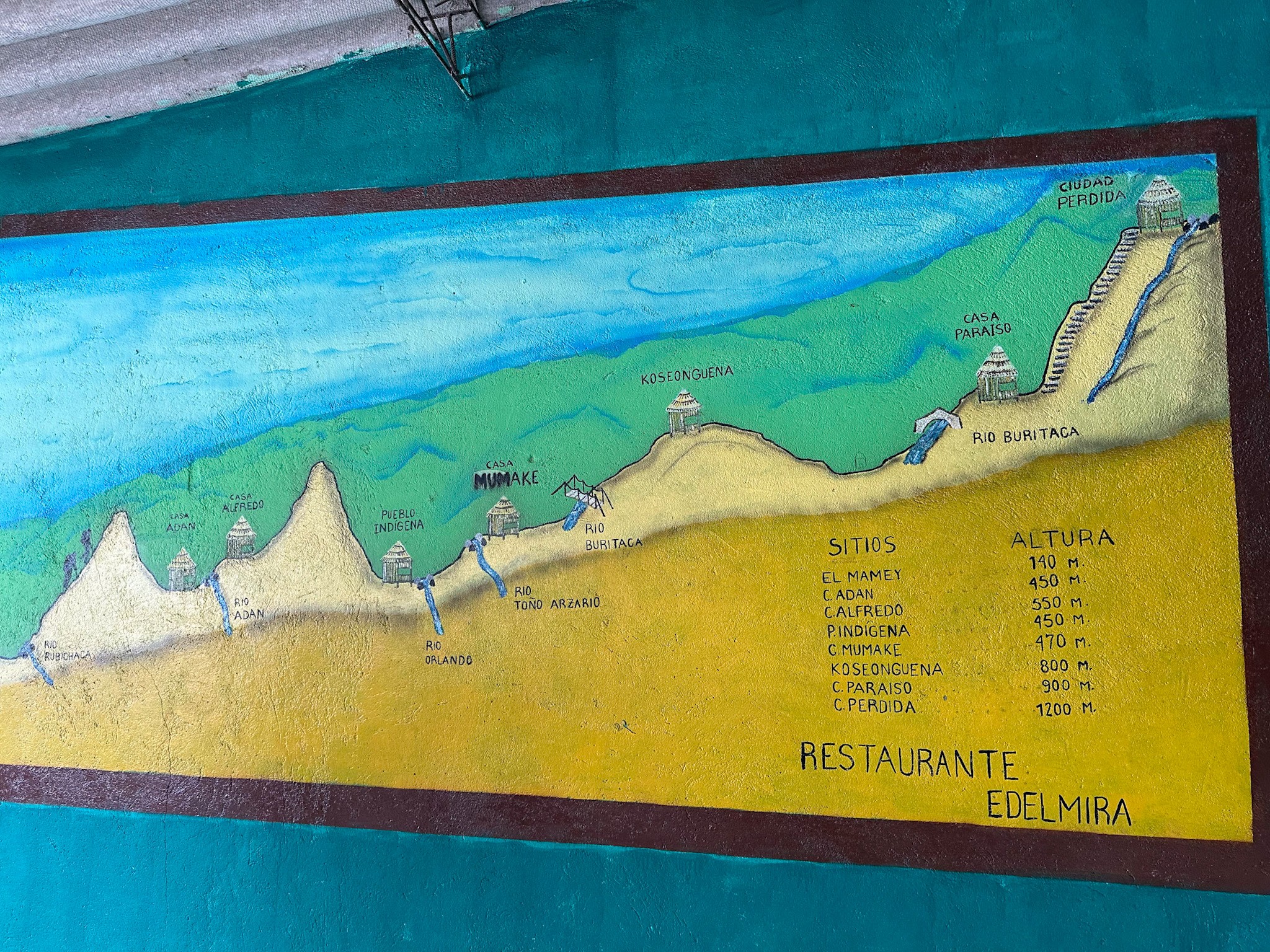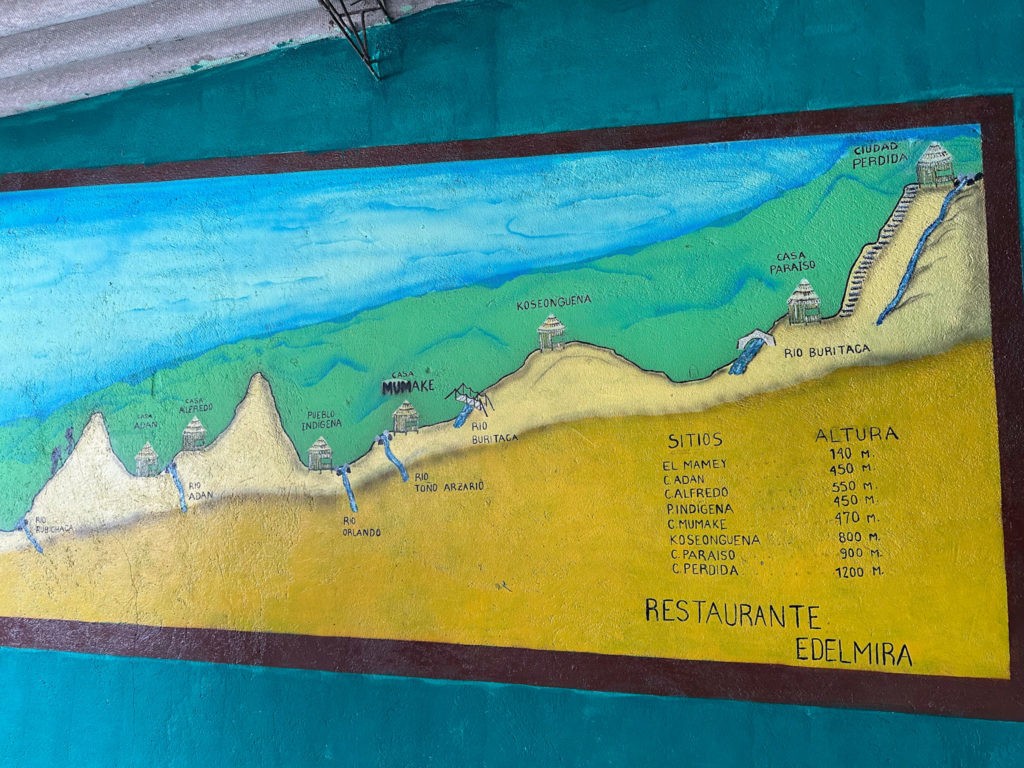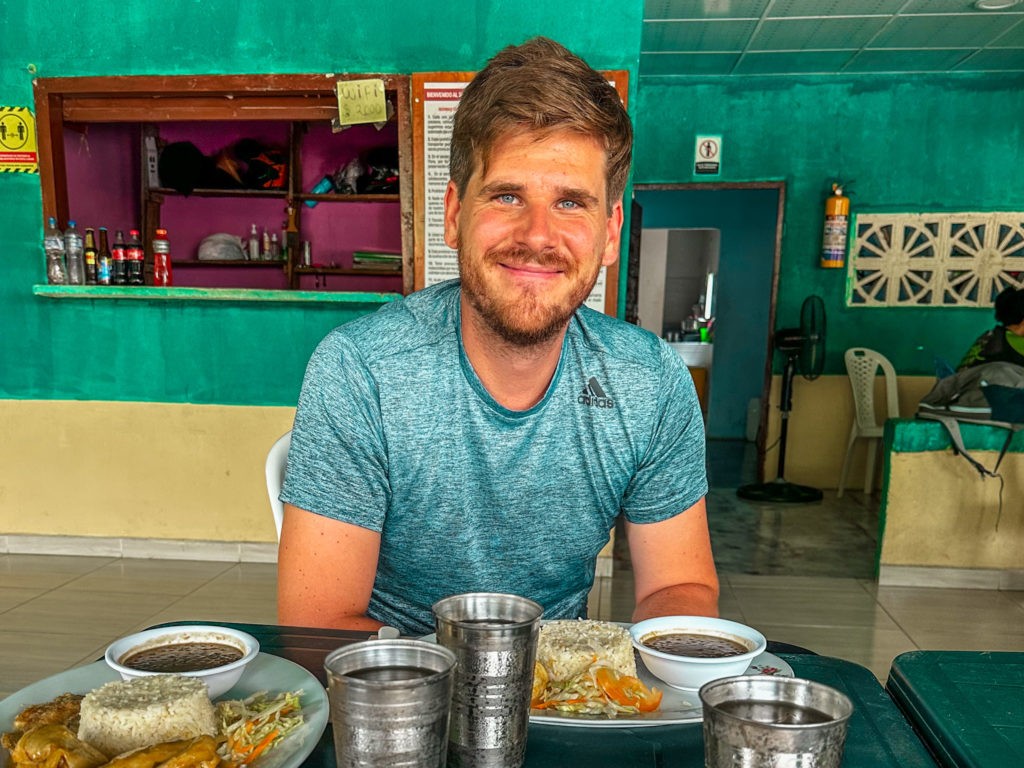 12:00 PM: Embarking on the Lost City trek
Around noon, it was finally time to start the hike to the Lost City. At the last moment, the guides mentioned that there were some walking sticks in a corner of the restaurant if anyone wanted to use them. Laura had never hiked with a walking stick (just as she never thought she would buy hiking boots, but now she loves them). Having one seemed like a good idea this time, so we both decided to take one along. Little did we know how helpful they would be during our trek.
At the beginning, the path was still wide and paved. After just 20 minutes, the uphill climb started. With the sun blazing hot and barely any shade on the road, we were soon covered in sweat. We had never sweated so much in our lives as on the Lost City Trek. This is why it's crucial to stay well-hydrated. We stopped regularly to rest, drink water, and have some snacks (watermelon or pineapple were provided by the tour operators). On the first day, there are many vendors along the way, so you can buy drinks approximately every 30 minutes, if you haven't brought enough with you.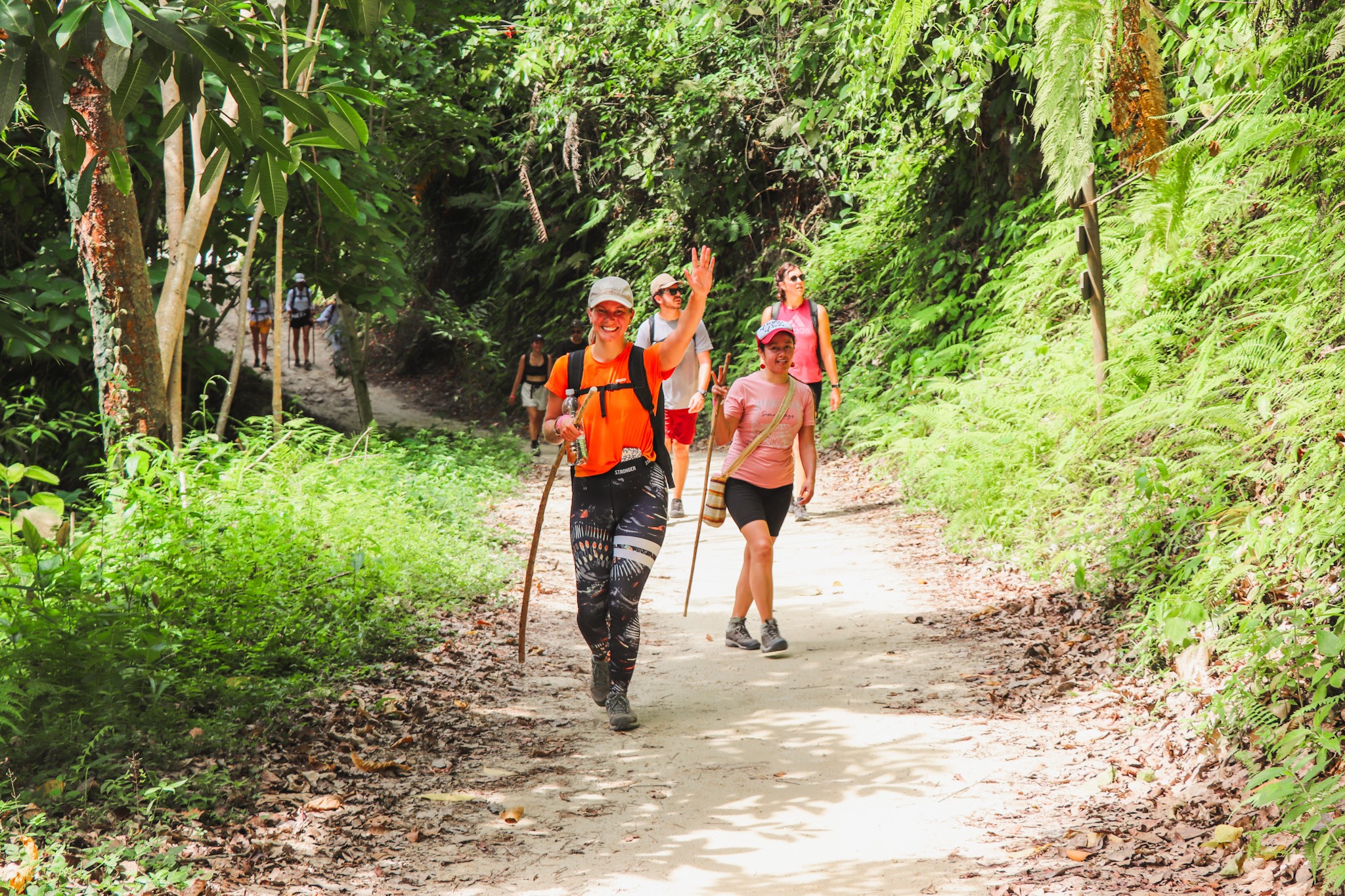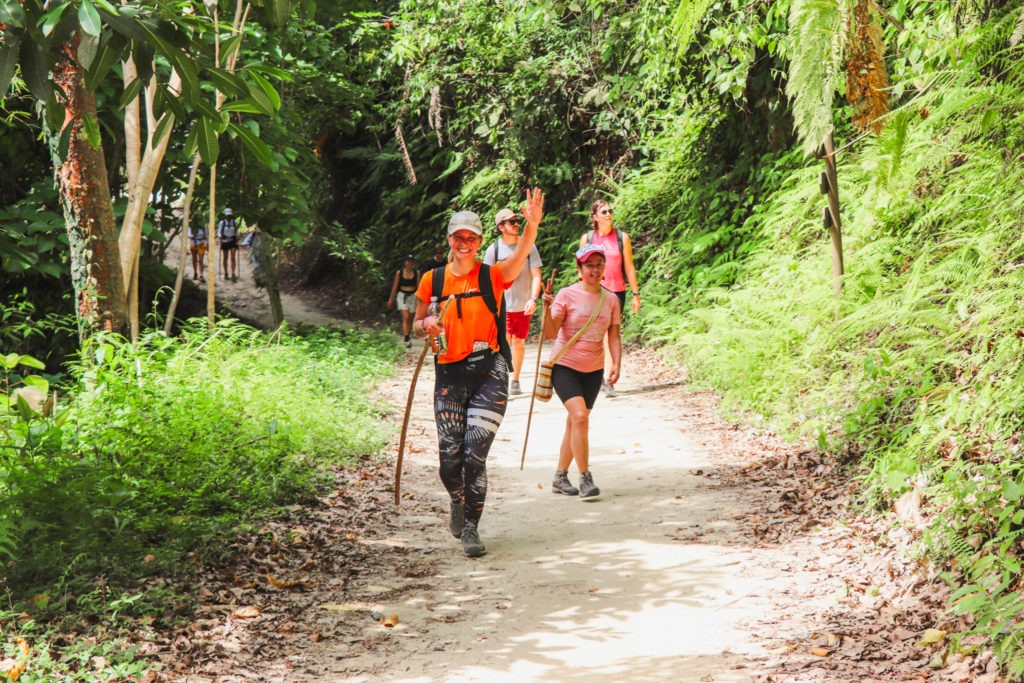 TIP:

We strongly recommend to take at least one walking stick with you to support you on this challenging journey. It will be your best companion - trust us. Not only makes it easier to climb the steep slopes, but it may save you from falling into the water when crossing rivers or sinking in the mud in case the roads get muddy from the rain. In case you are traveling to Colombia for holiday only, you can bring some special walking poles with you, or in case you are traveling light-weight, they have some wooden sticks in the corner of the first restaurant where you have lunch.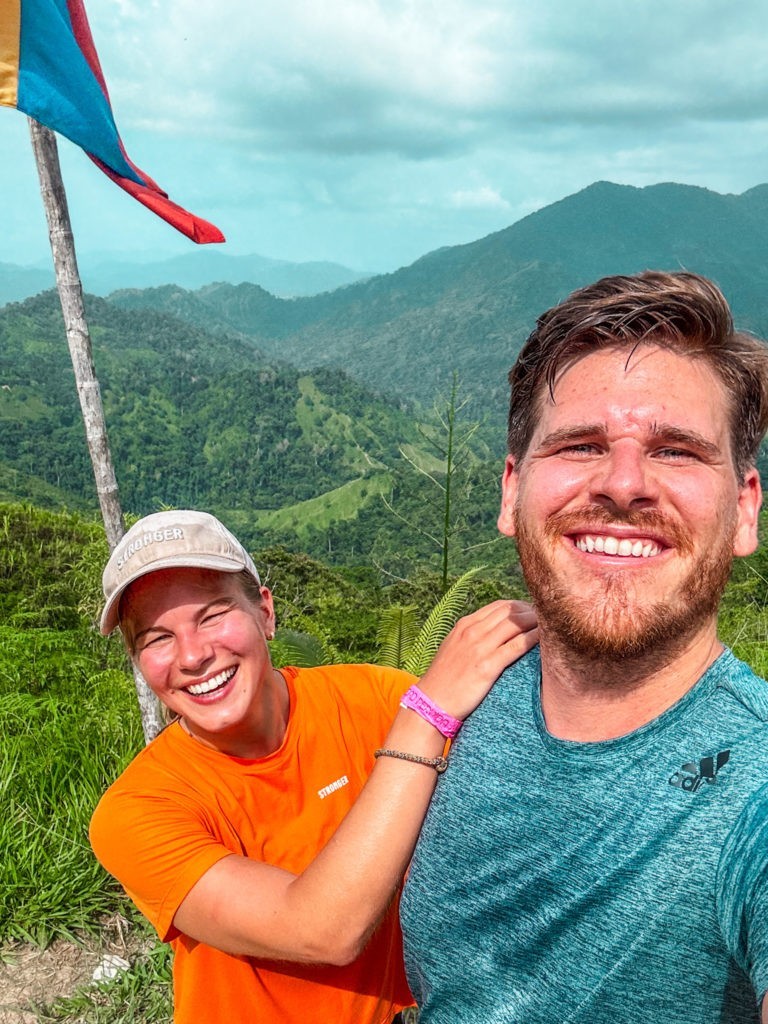 3:00 PM: First Campsite
By around 3:00 PM, we reached our first campsite. To be honest, it felt like we had stopped almost too early, considering we still had energy left to continue. It had been 5 km only. We were the only ones at the camp, meaning everyone else had pushed on to the next campsite at least. On the other hand, having the camp only for ourselves gave us the opportunity to spend a relaxing evening there. And the view was absolutely breathtaking.
Don't set your expectations too high for the campsite. However, to our pleasant surprise, it was in much better condition than we had anticipated. There were three rows of bunk beds, each equipped with mosquito nets. We had access to four (basic) showers and four toilets, which were more than sufficient for our group of 12 people. There was even some toilet paper!
We took this opportunity to freshen up with a shower and unwind while sipping coffee, soaking in the expansive view of the jungle below. By the way, on the Lost City Trek, there's a rule that everyone must take a shower before going to bed. Considering that some days left us covered in mud, we fully understood this requirement for the well-being of everyone. The camp only had cold showers, but honestly, you didn't mind. Taking that shower to wash away the day's sweat was the second-best feeling every day. The first-best one being to finally change into clean, dry clothes.
We also had a lovely chat with our translator Efren. Interestingly, we found out that actually he is an electrician. Probably the best English-speaking electrician in whole Colombia. It has been his personal motivation to learn the language through music, movies and contacts with expats/tourists. Now he does not like being electrician that much and thanks to his English skills, he could join the Wiwa Tours. Being a translator on the Lost City Trek provides him flexibility in his work-life. He also admitted that would they not pay him good, he would never hike the route. And he can understand us gringos even less, why we are willing to pay for this torture :).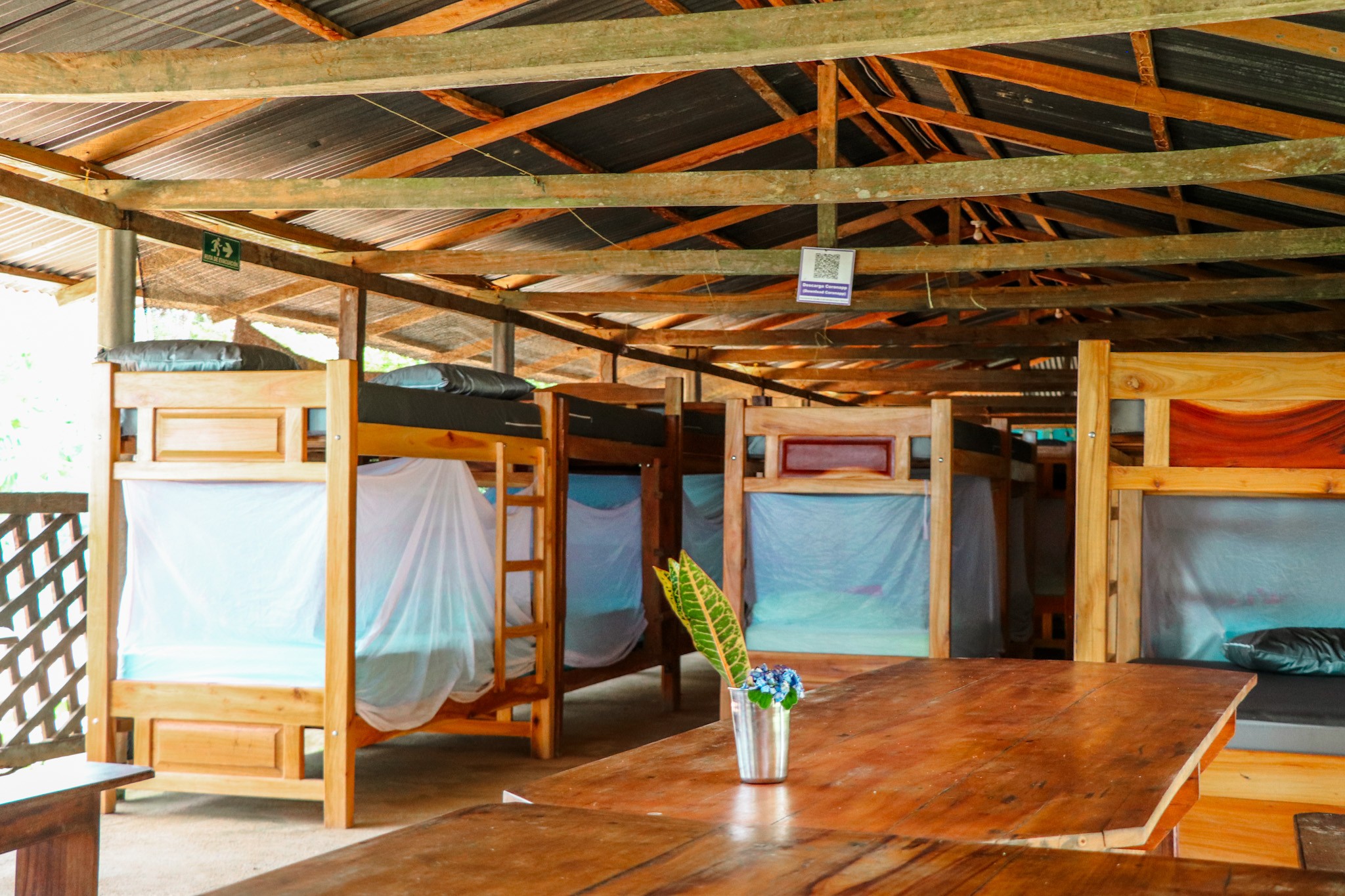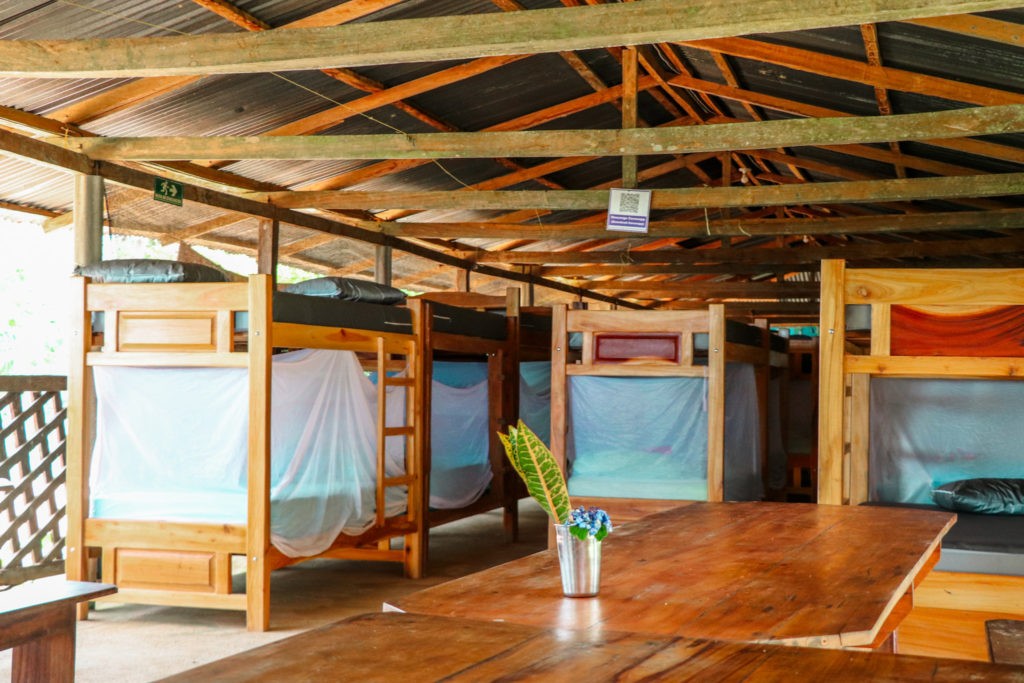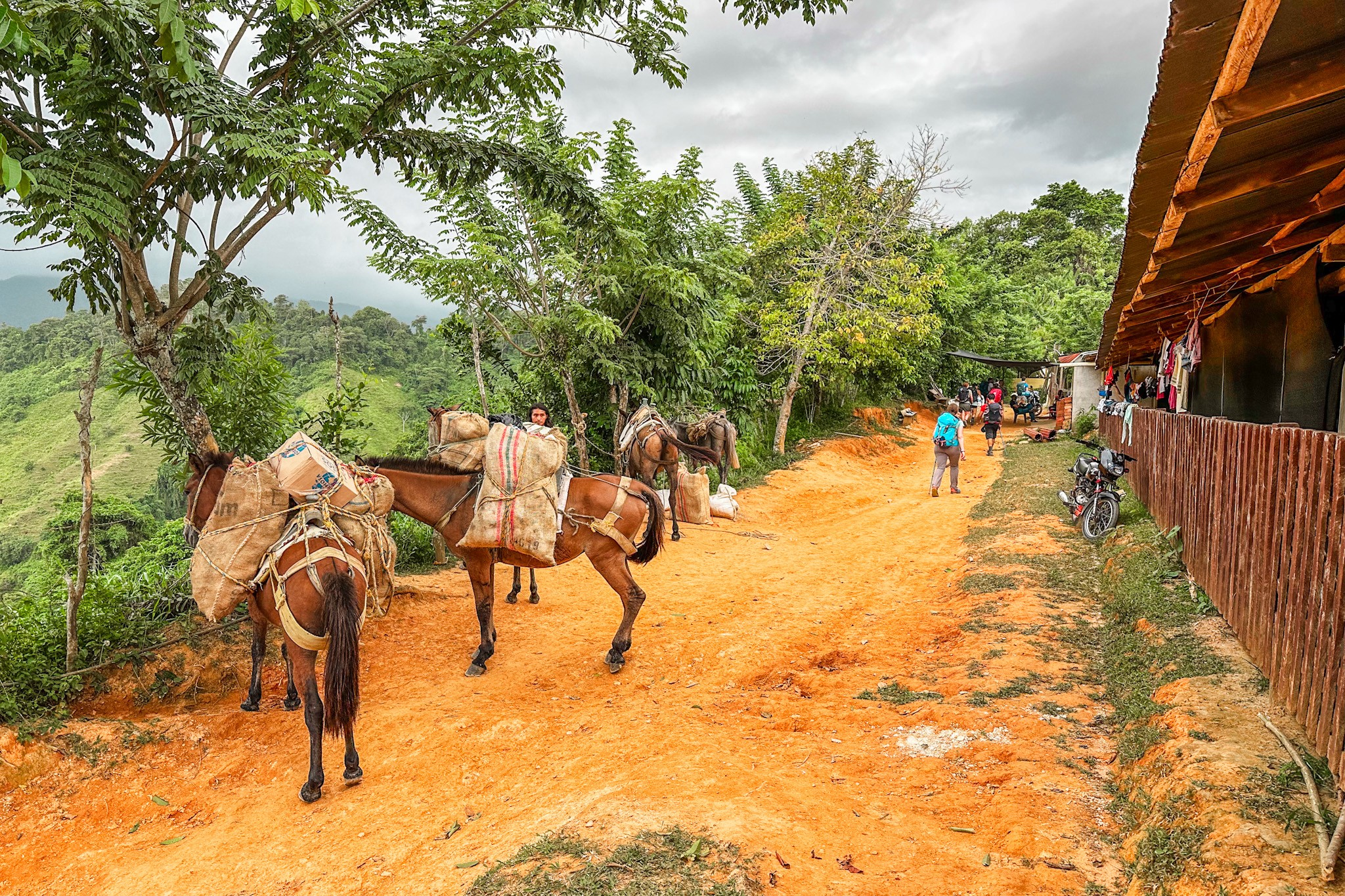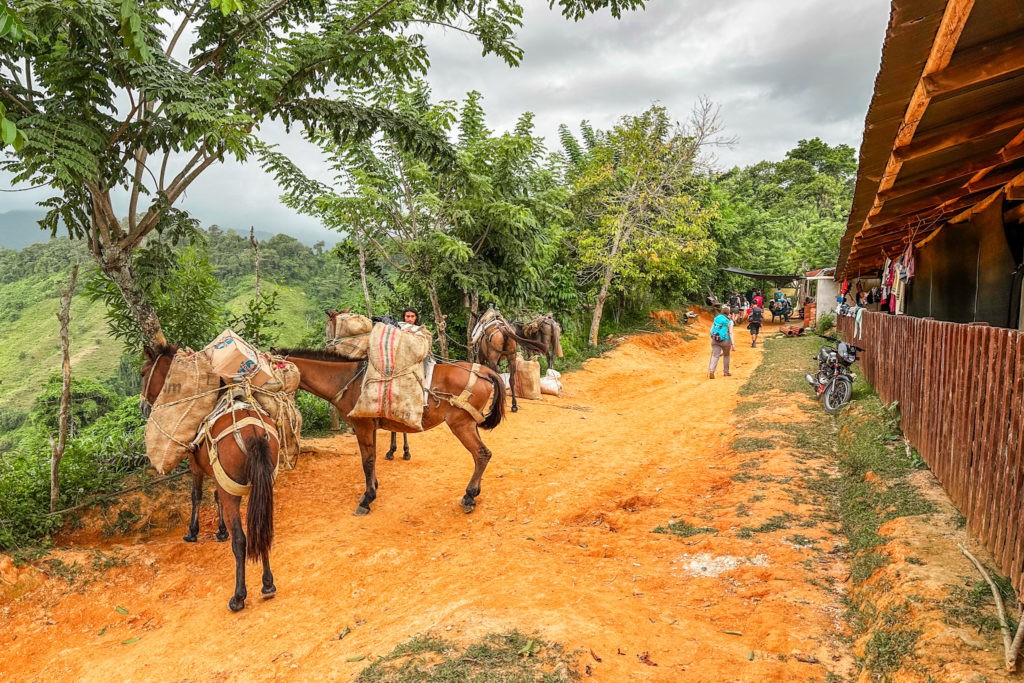 5:00 PM: Dinner and fireside stories
Before the sun went down, we all gathered for dinner. Our plates were filled with fried fish, rice, salad, and patacones (plantains – a type of banana – fried in oil and then flattened). We couldn't quite tell if we were just very hungry or if the fish was genuinely that delicious. But we believe the second one was the case ;). For dessert, there was a small chocolate bar.
As the evening grew darker, we sat around the campfire (if you can call a few glowing sticks a campfire) for a brief lesson about the four indigenous tribes inhabiting the Sierra Nevada region – the Kogi, Arhuaco, Wiwa, and Kankuamo. These indigenous tribes hold a vital role in preserving the ecological and cultural diversity of the Sierra Nevada.
Sitting there, around that campfire in this remote corner of the world, with the sounds of crickets filling the air and breathtaking views of the dark jungle around us, we realized – these were the experiences we set out to have on our world trip. These were the moments that would stay with us for the rest of our lives.
8:00 PM: Good night
Already at 8:00 PM we found ourselves in our beds, knowing that an early start awaited us. Luckily, on that day everyone got to sleep in a bed, which is not always the case on the Lost City trek. As we layed down, it started to rain. What a perfect lullaby!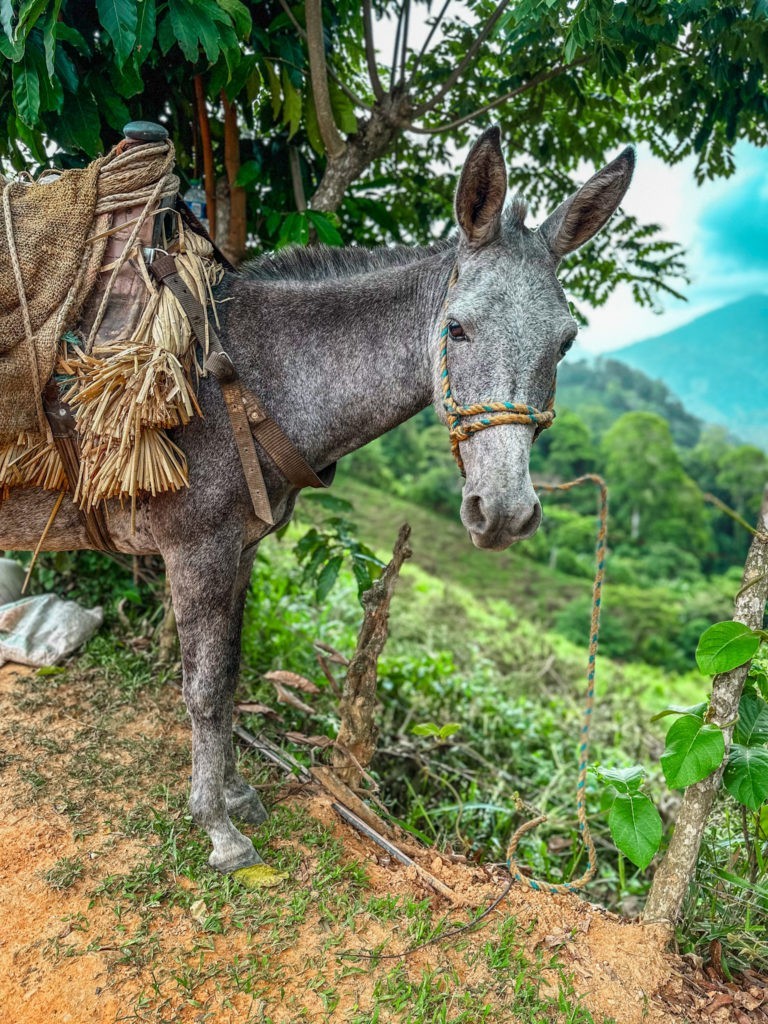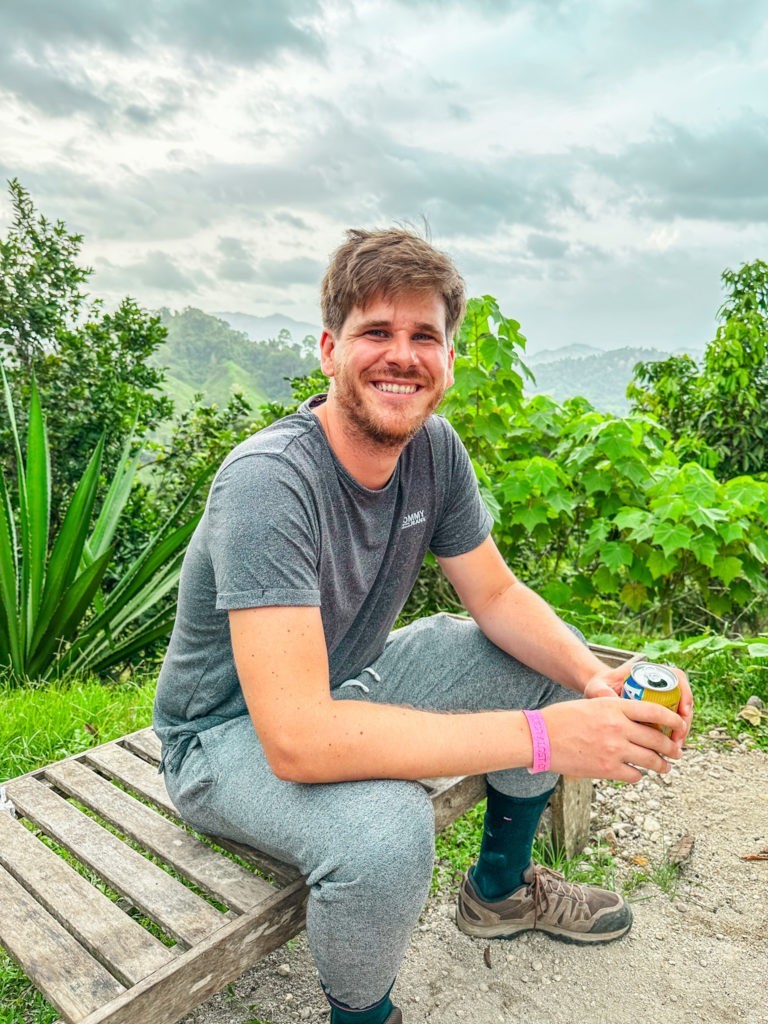 Day 2: Jungle Beauty (17 km)
4:45 AM: Wake up & breakfast
We woke up as it was still dark. Luckily, the night hadn't been too cold, which was something Laura had worried about the most. We were also prepared for the fact that the clothes we'd washed the previous evening wouldn't be completely dry by morning. As it had been raining all night, the truth was that our clothes were almost as wet as when we'd hung them up. Well, putting on damp clothes wasn't the most pleasant sensation, but once you're wearing them, it's not as bad as you'd think. At least we didn't smell.
Save on Pinterest to read it later.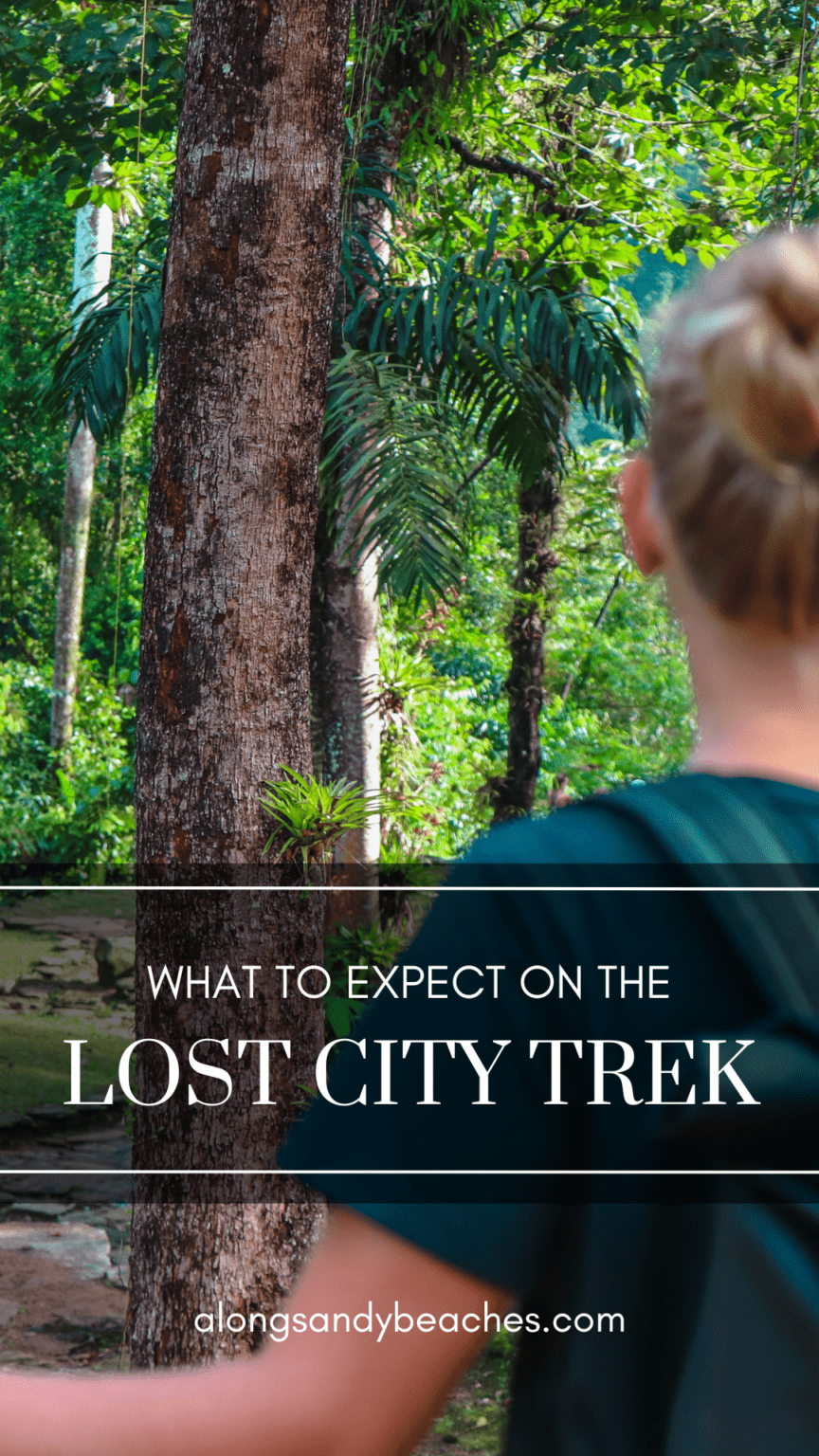 6:00 AM: Hiking to Wiwa Camp
After a hearty breakfast, we were on our way with renewed energy. With every step, the trail grew narrower and more rustic, leading us deeper into the rainforest. Eventually, motorcycles were no longer permitted, and mules took over the heavy lifting of goods and food. It was at this point that we realized just how extraordinary this journey was.
While we maintained a steady hiking pace, we made sure to take regular breaks to enjoy the breathtaking scenery. We spotted hummingbirds, saw thousands of ants transporting pieces of leaves and encountered indigenous people along the way. With no other groups in sight for a while, it almost felt as though we were part of a National Geographic documentary. For a brief moment, Laura even found her rhythm with one of our guides, Miguel, right in the middle of the group, with no one else around. It was just her, this indigenous guide, and the vast jungle. How idyllic.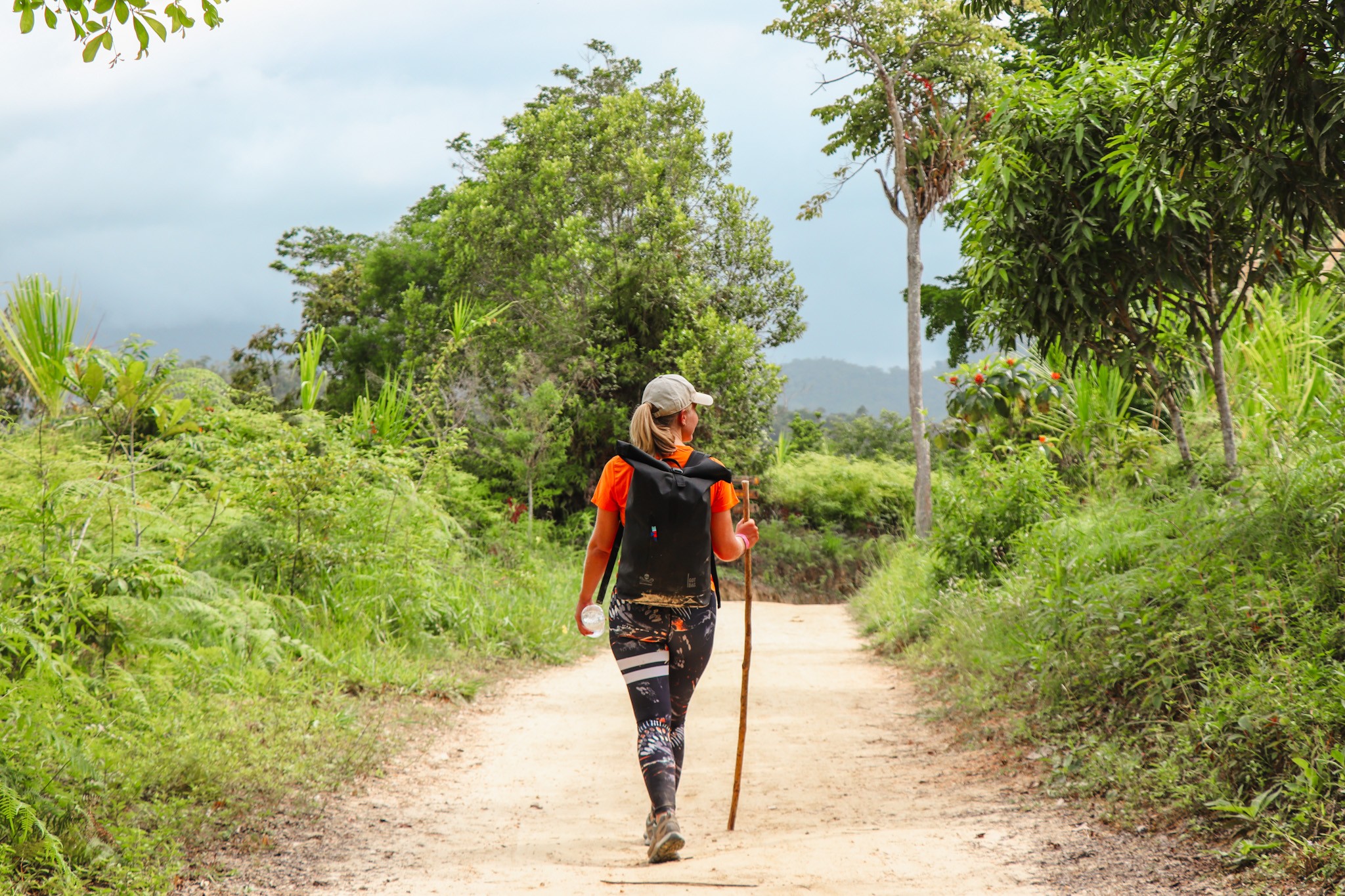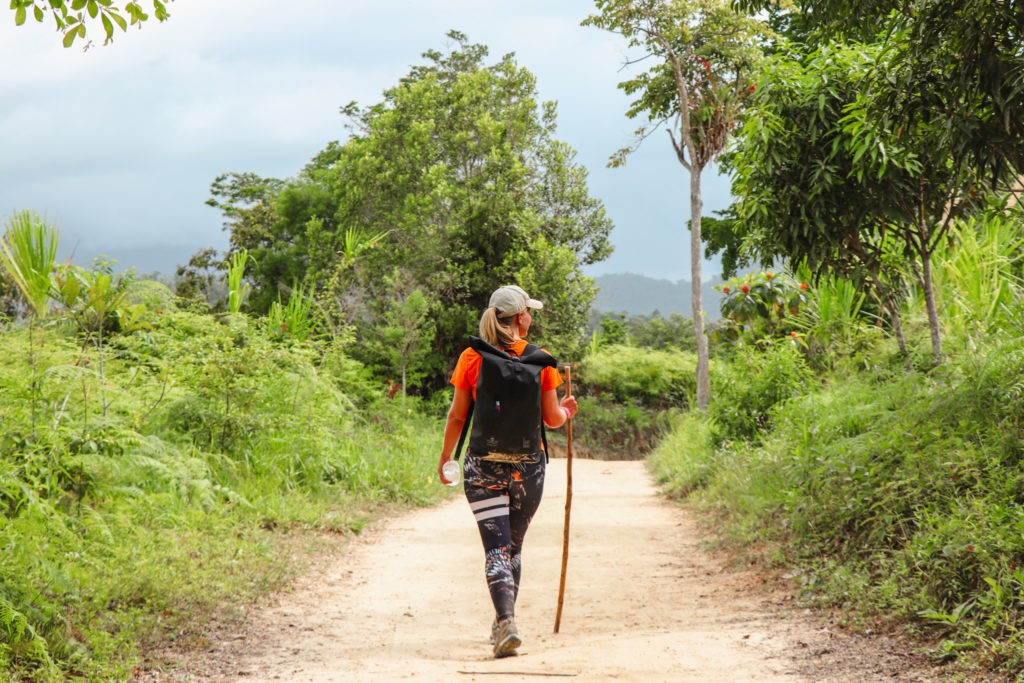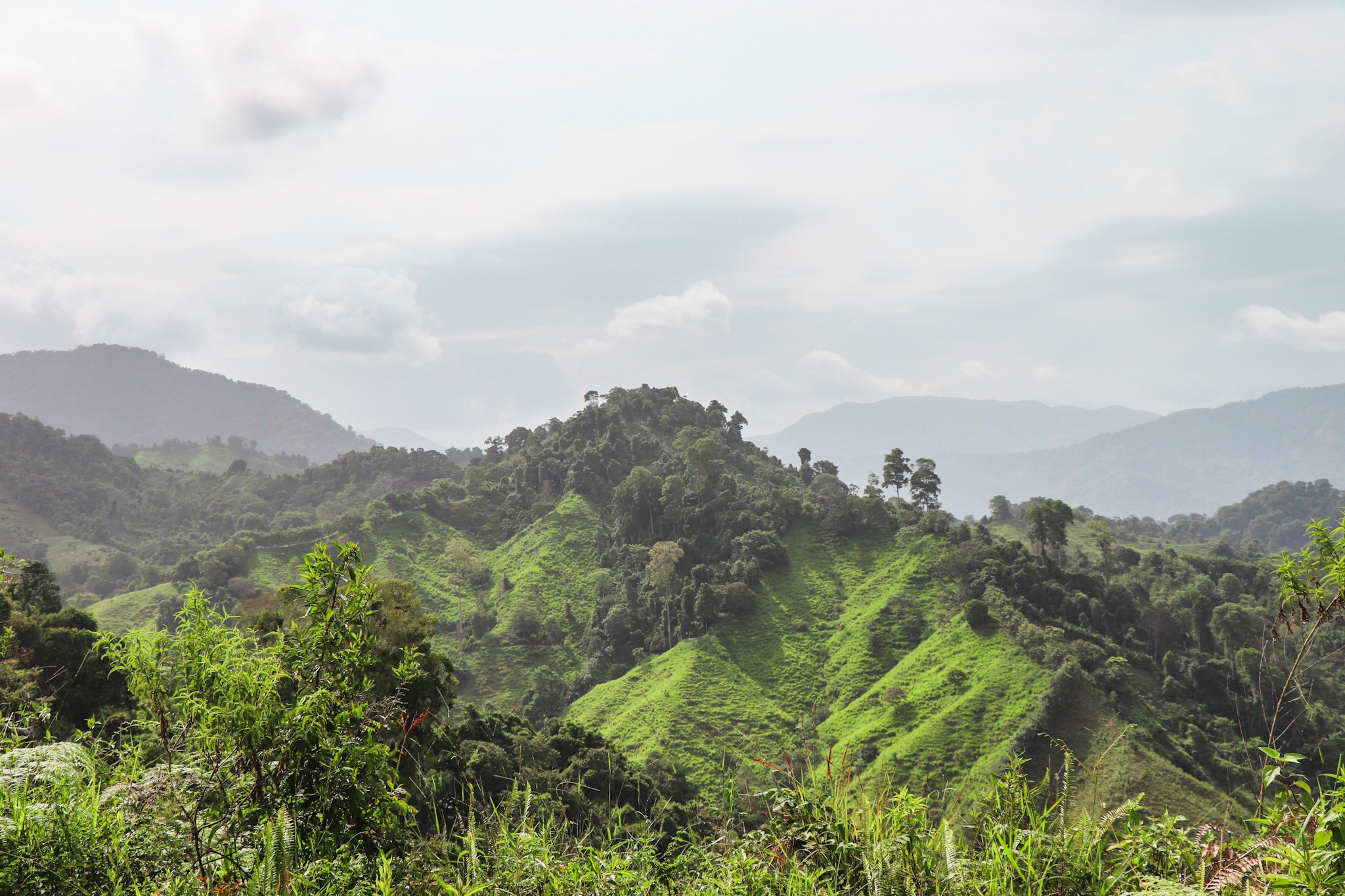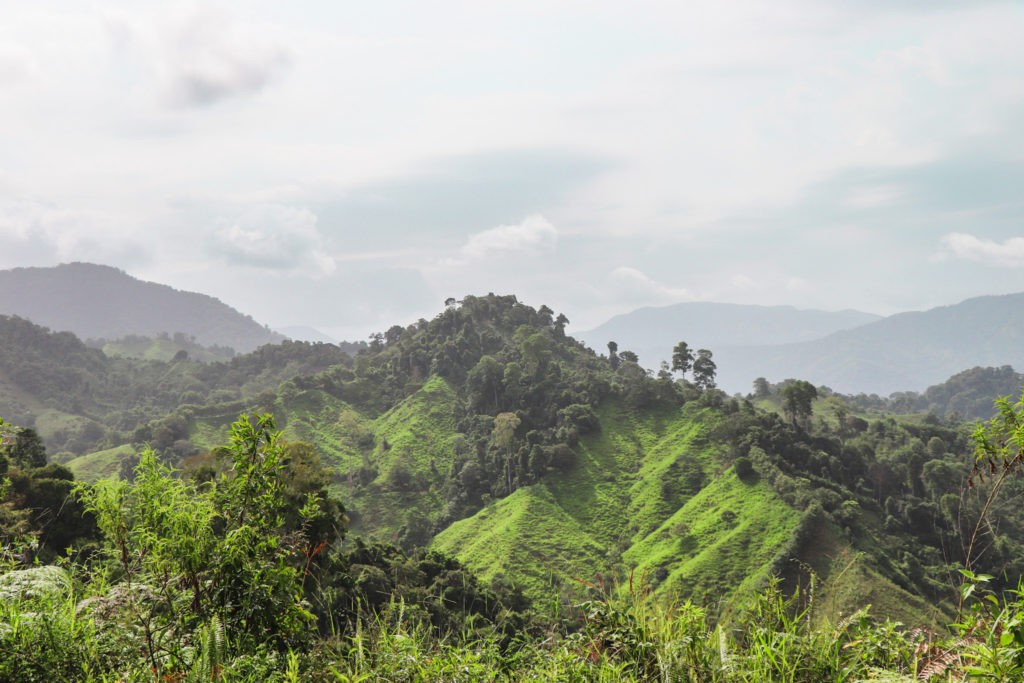 9:00 AM: Swimming in the river and lunch
About 10 am, we found ourselves at Wiwa camp for our lunch break. We were also fortunate that it was not raining, allowing us to have a quick dip in the nearby river. Oh what a great feeling it was. The water was cold but it was perfect for a short refreshment. In that moment, there was no other place we would have rather been.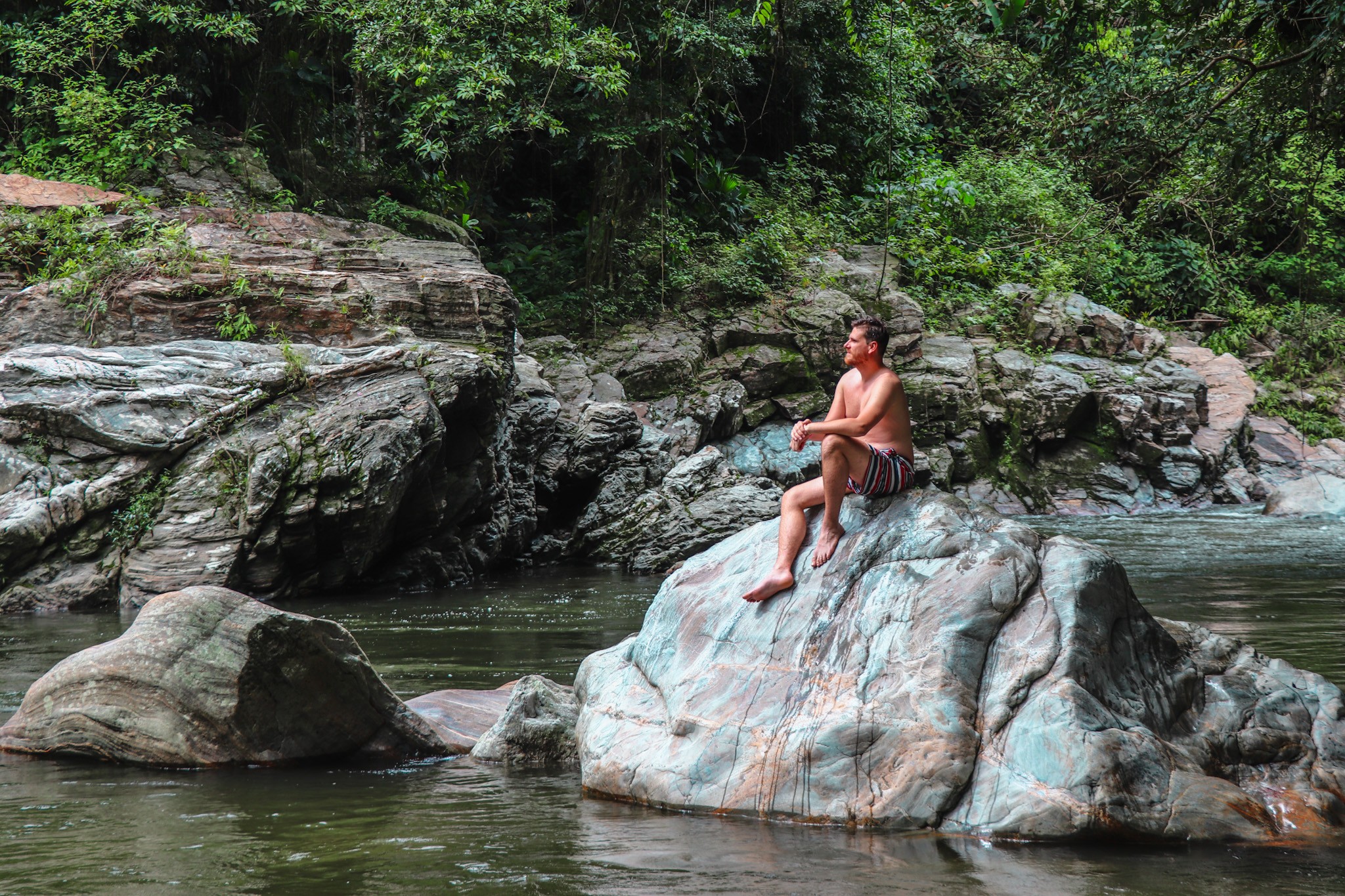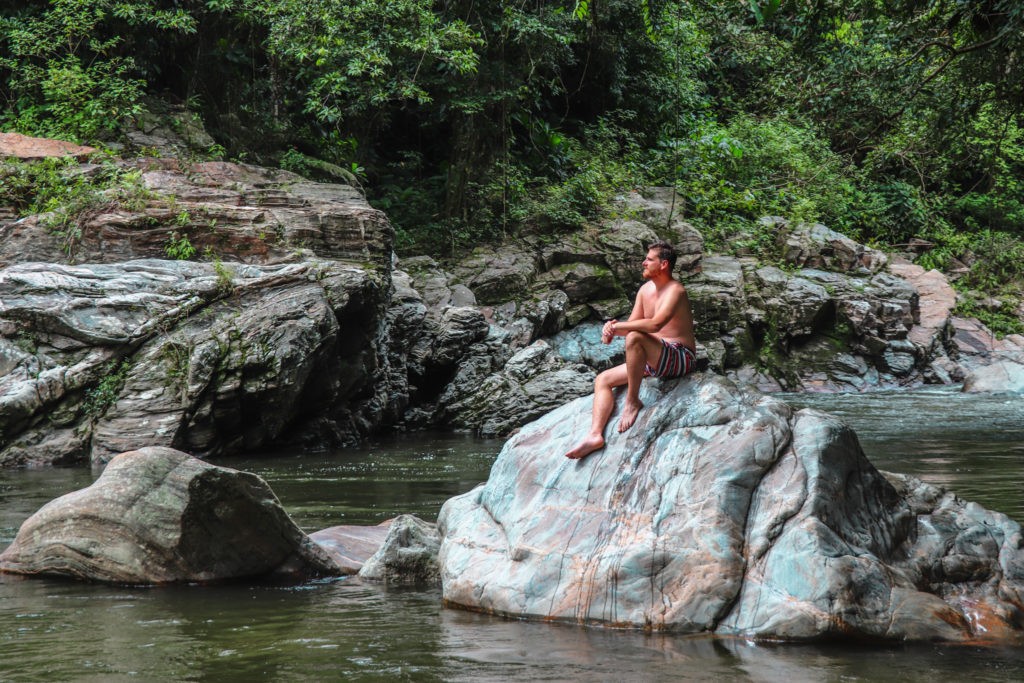 11:30 AM: Continuing the trek
After the lunch, it was time to put on our sweaty clothes again (yes, unfortunately, there is no luxury of bringing 10 outfits to this trek as you have to carry everything along the way) and continue our trek. We passed a few indigenous villages and got to know even more about their ways of living.
After about hour of hiking, our guides announced the Happy Hour. This meant we were starting an hour-long hike uphill. It actually sounded worse than it really was. As usual, there were enough breaks to rest on the way. Every time we thought we could not do much longer, we had arrived the next pit stop. And it is amazing how much one can recover within 10 minutes only.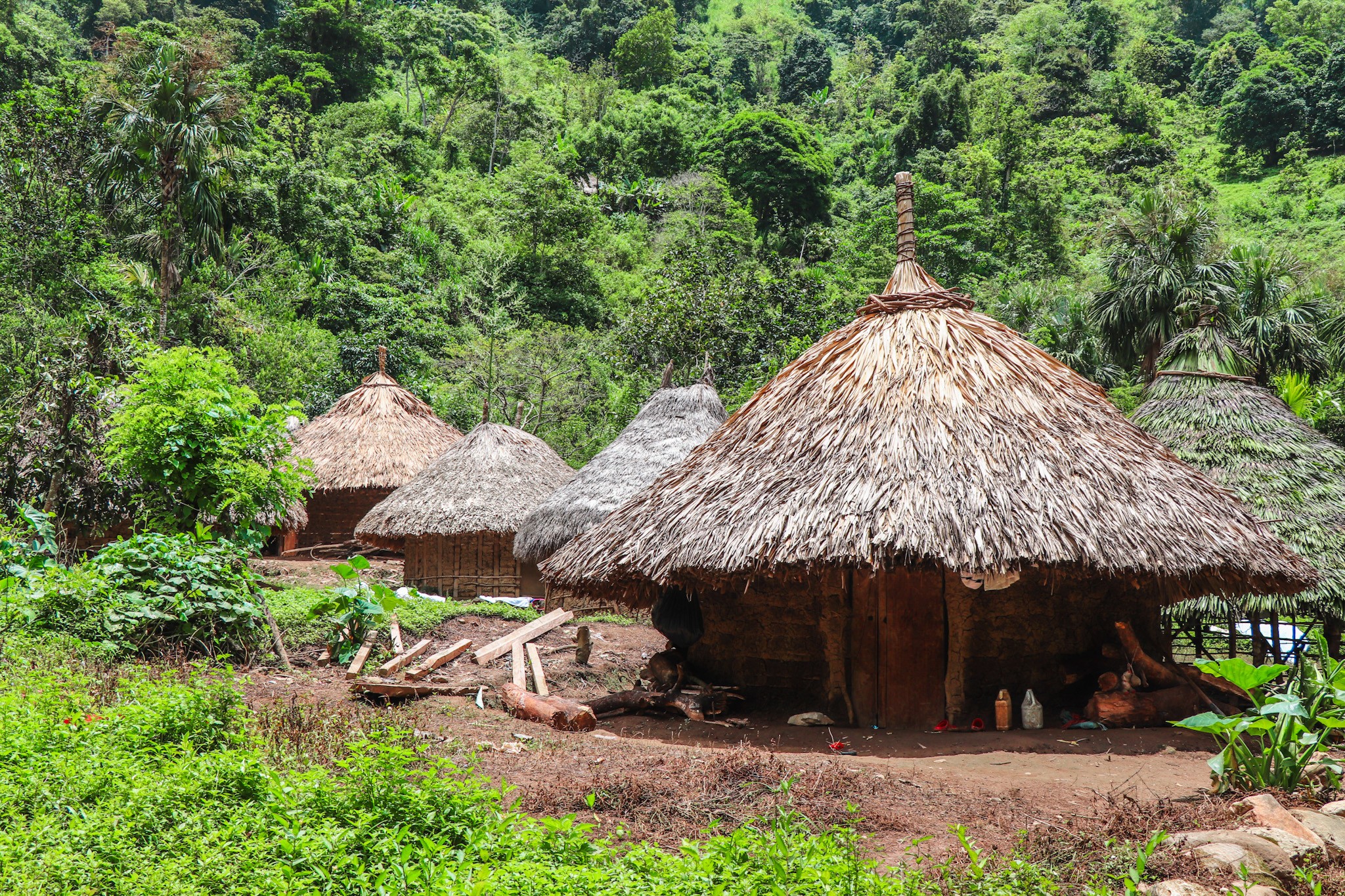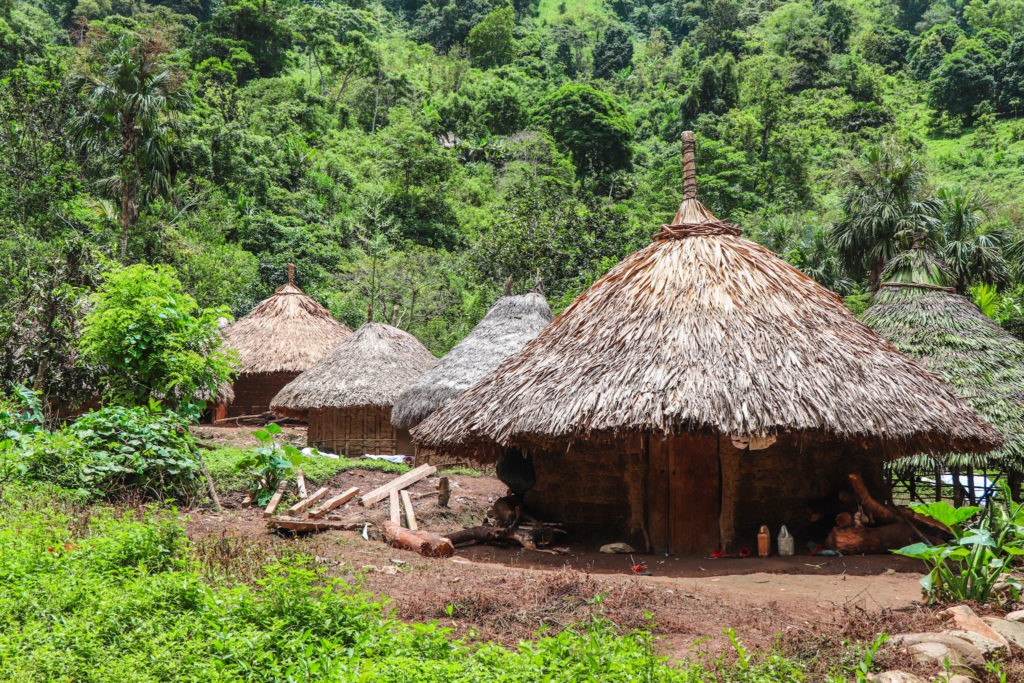 Once we made it up the hill, it was time for snacks. And then it started raining. Heavily. We remember how we were thinking how lucky we were that it started raining while we were taking shelter, hoping it would pass quickly. Only that it did not. After all, we were in the rain forest so getting wet is part of the real Lost City Trek experience. We had to start the final stretch to our camp for the night in the midst of the rain. The guides distributed large black trash bags to all of us our backpacks, adding an extra layer of protection for our belongings. We pulled on our rain jackets, and it was time to set off.
At first, hiking in the rain felt kinda nice. Finally it was not that hot anymore. The sound was like something from a meditation app – raindrops and distant thunder. But as time went on, it got more and more annoying. Everything was wet. We started having blisters from wet shoes and aching backs from the heavy bags. But the upside of not knowing how much farther we had to go was that unexpectedly reaching our destination felt like a pleasant surprise.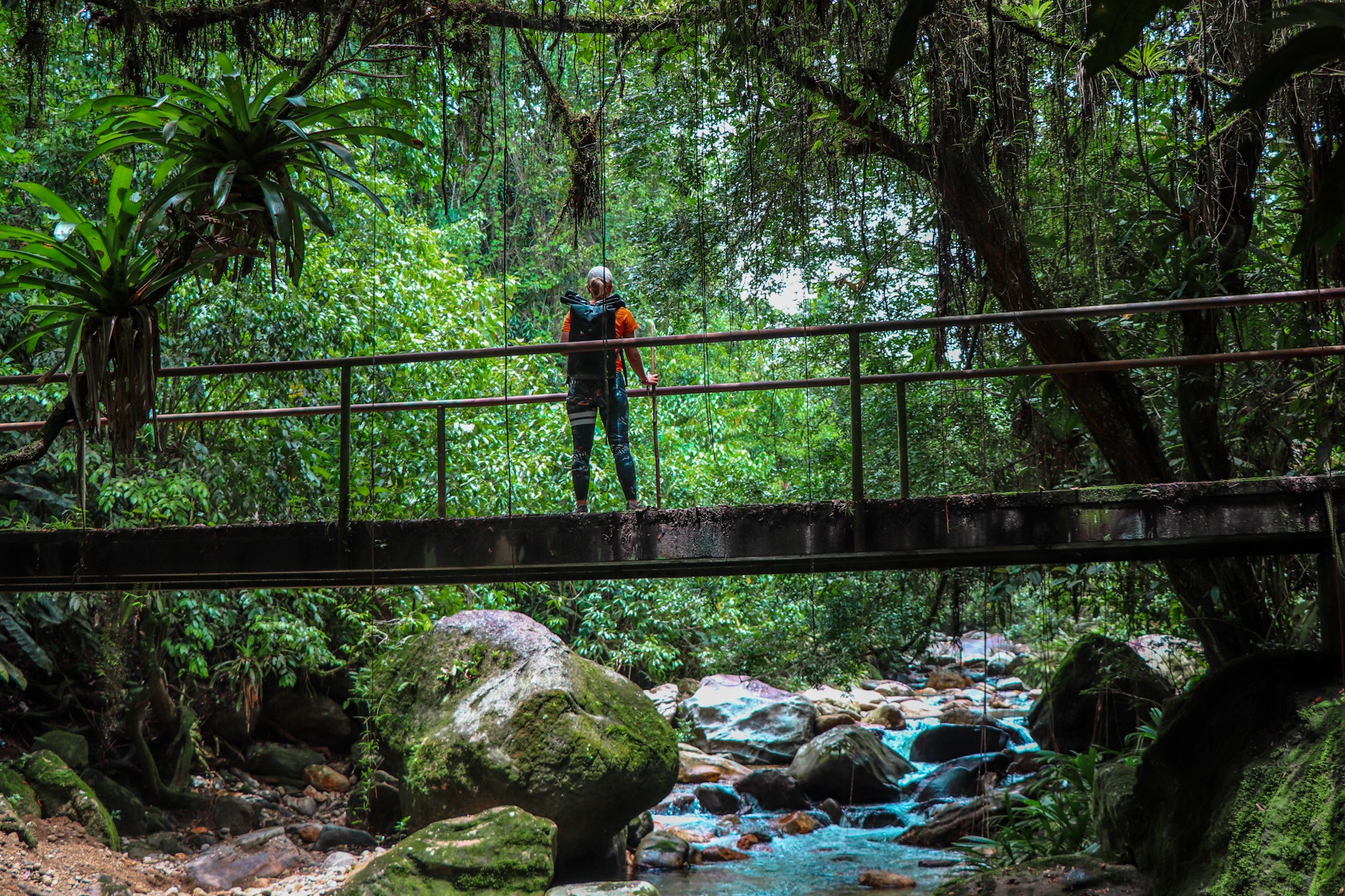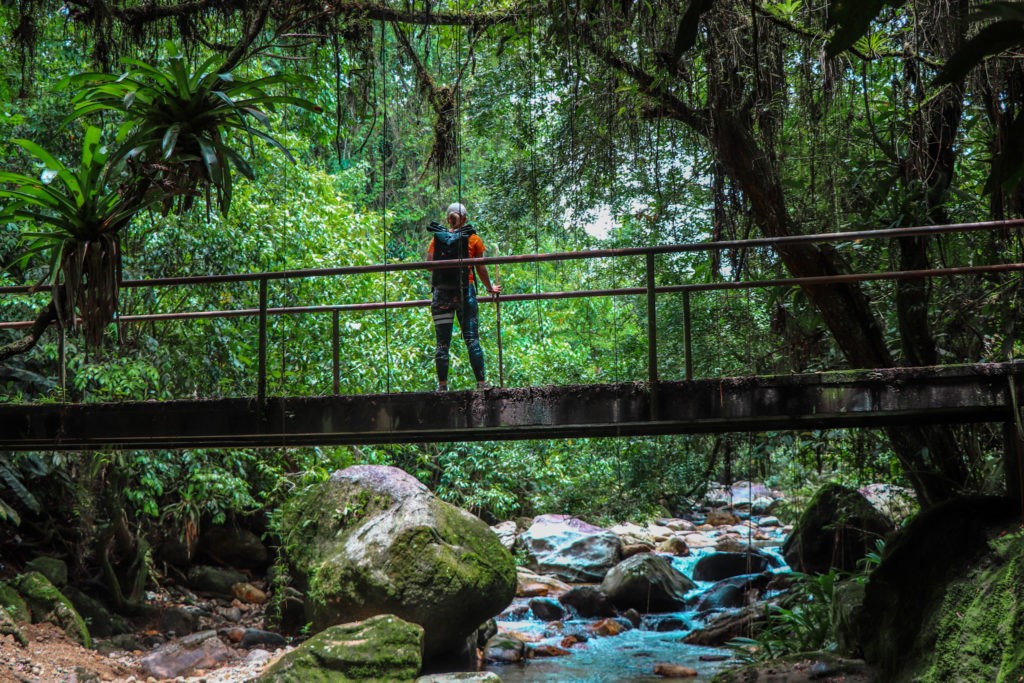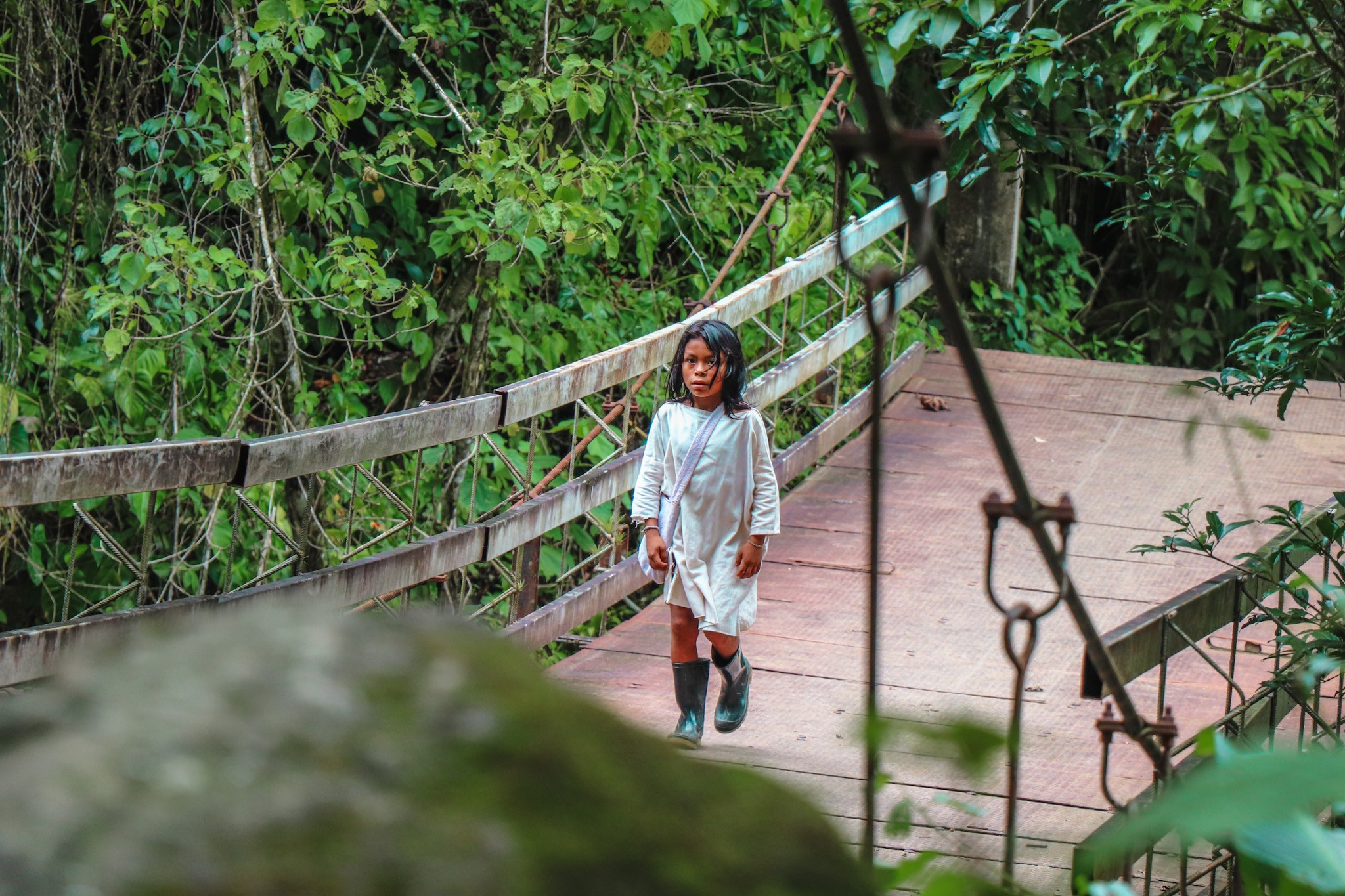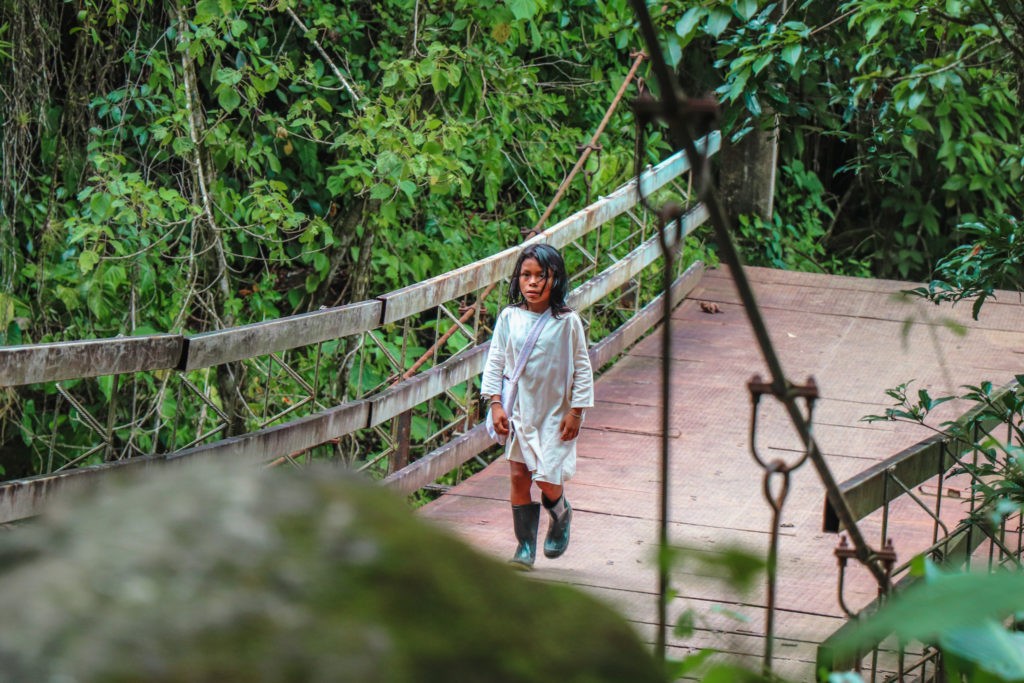 4:00 PM: Arrive at Camp Paraiso
We were there! We had completed the first challenging day!
Camp Paraiso is the nearest one to the Lost City. Everyone on the 4-day-tour spends the night there before ascending the Lost City in the next morning. On that day, there were 200 people in the camp, which meant not everyone could sleep in a bed but rather spend the night in a hammock. We were kindly asked to share beds as couples if possible, and we were happy to do so. Luckily our group was assigned a small cabin at the end of the camp. It was a bit more secluded and we had definitely a more peaceful night than in the large sleeping hall. Later, we saw people trying to sleep in their hammocks in the narrow aisles between the bunk beds  as everyone passed by to use the restroom. So, our advice would probably be not to volunteer for a hammock if you can avoid it.
Our evening routine remained the same – showers, dinner, and bed. Once again, we fell a sleep at 8, with the beautiful symphony of rain and thunder in the background.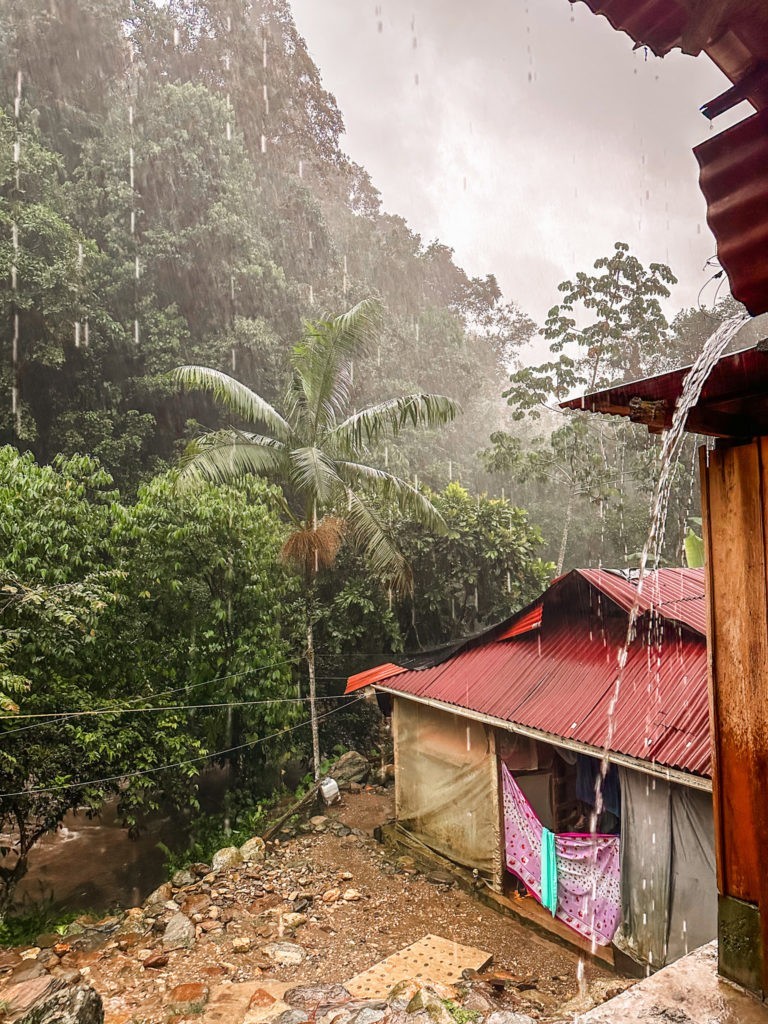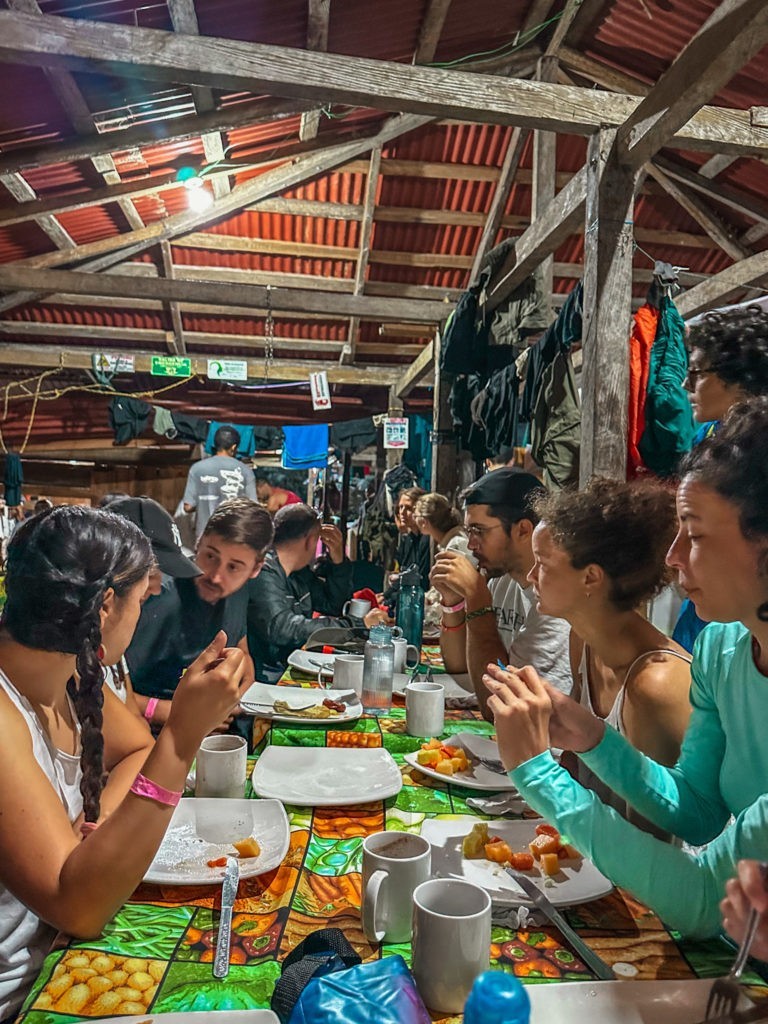 Day 3: Visiting Ciudad Perdida and Turning Back (17 km)
4:30 AM: Wake up
At 4:30 AM, we were awake again, more excited than ever, fir it was the day we would finally reach the Lost City. Since our clothes hadn't dried at all over the night, we opted to wear our other – still dry – set of hiking clothes for this special occasion.
There was also some bad news; Jens was starting to experience an upset stomach. We suspected it might have been the filtered water we'd been drinking. As we were trying to reduce plastic waste, we refilled our bottles at the campsites. Perhaps we'd consumed too much of this water, given that we were drinking liters of it daily. But it could as easily be anything from food, dirty hands, exhaustion. We hoped Jens would make it through the day.
Luckily, we could leave our bags at the campsite for the trek to the Ciudad Perdida as we'd return by lunch. It was relieving to know that we wouldn't have to carry all our luggage up those challenging stairs leading to the Lost City Laura had seen in a video. The only items we needed to take with us were the camera/phone, sunscreen, mosquito spray, water, and some money.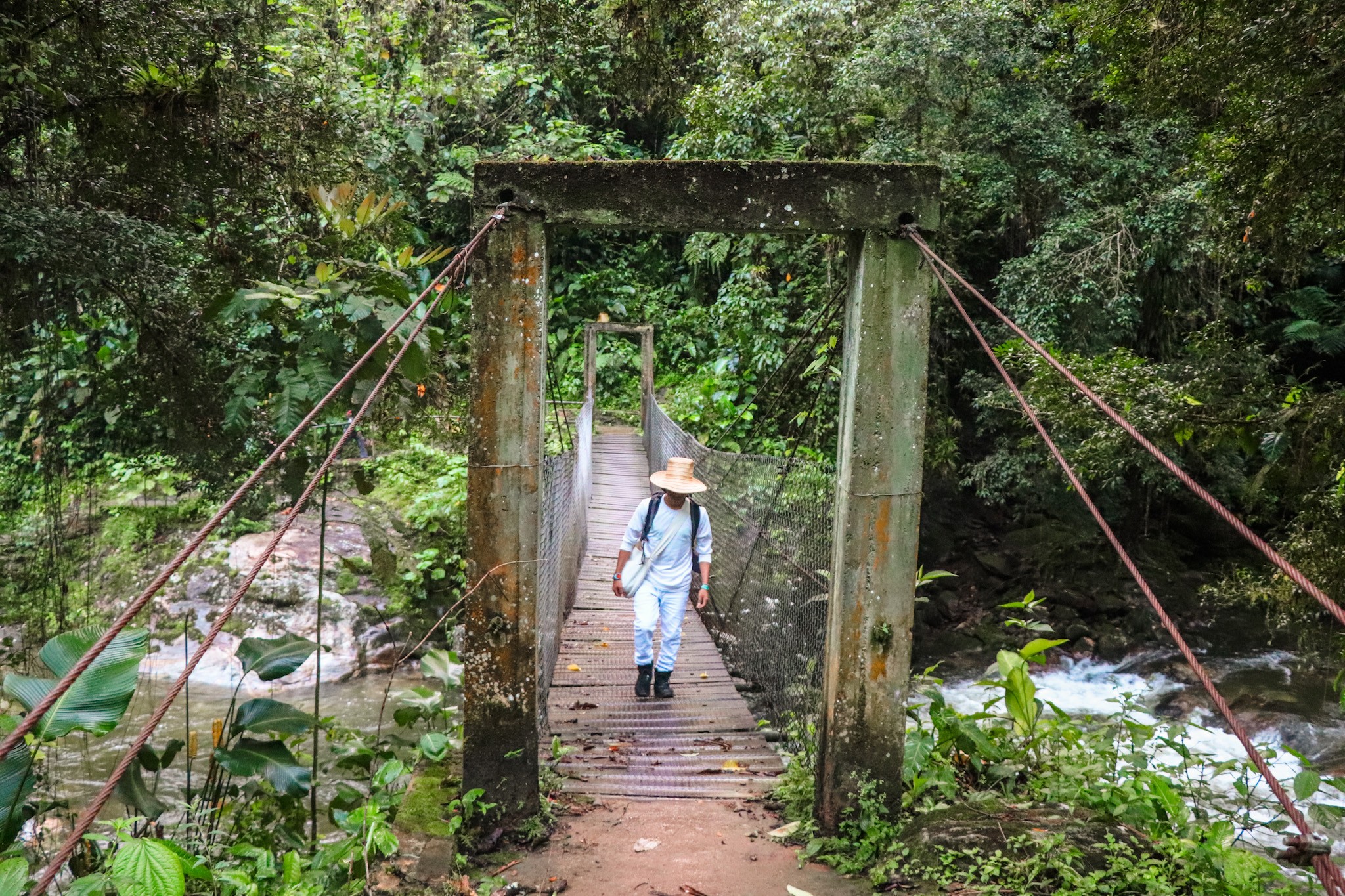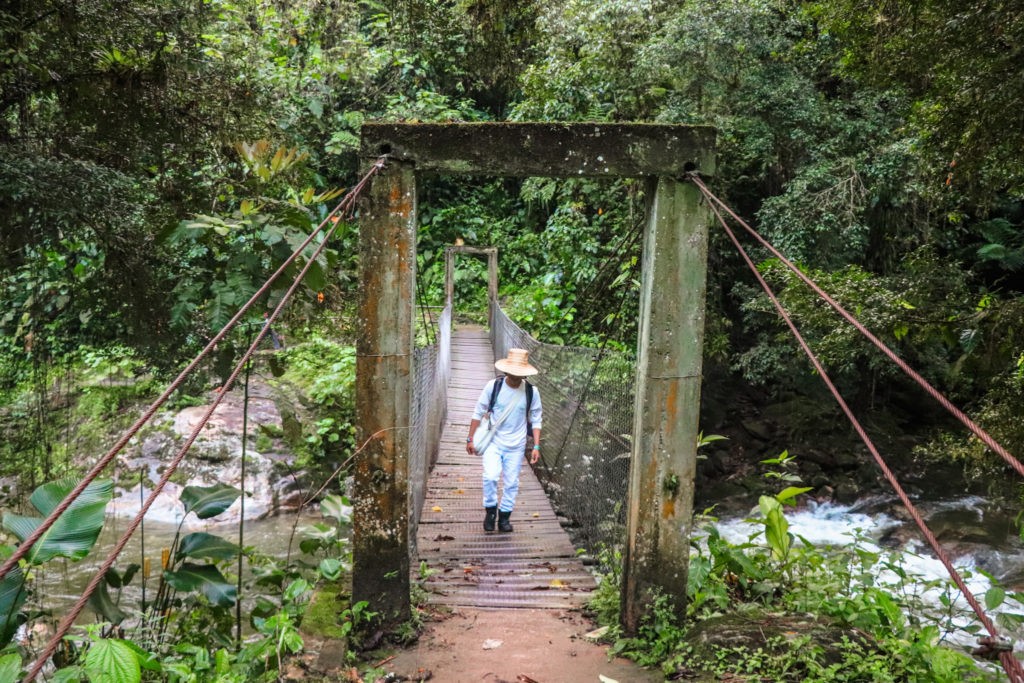 5:45 AM: Start the hike to Ciudad Perdida
We still had a bit of hiking left to reach Ciudad Perdida. Here, the rivers crossing our path were getting deeper. Fortunately, another tour guide from a previous group assisted us by rearranging larger rocks in the river, allowing us to cross without getting our feet wet. As we were balancing on those stones in ankle-deep water, we felt so grateful for having brought the walking pole along – it made river crossings so much easier.
The narrow path finally led us to a steep staircase — the final ascent to finally arrive at the Lost City. It was challenging. The stairway seemed endless. Yet with each step, we were closer to our goal. Laura started counting the steps, expecting about 1000 to come (a number she thought she could remember from a TikTok video, but maybe it was even 1200). Somewhere in the middle, Jens disturbed her counting, as there were some horseflies attacking him (they bite really hard). And then, to our surprise we were suddenly at the top. We had made it. The Lost City stood before us.
7:00 AM: Arrive at the Lost City
Whereas along the trek we were the only ones not being bothered much by the mosquitos (maybe it's because of our mosquito spray), we were greeted by A LOT OF mosquitoes and horseflies here. So yes – take your insect spray!!
We had a small ritual to get the permission from the spirits to enter the city. But before entering the sacred place, we had a small ritual to ask permission from the spirits. It is a sacred tradition of the indigenous people, that added some mystery to the Lost City Trek experience.
Ciudad Perdida is still a sacred place for the indigenous communities. They still come here once a month for special rituals. Also, every September the Lost City trek is closed for a whole month so that they can "clean" the places energy. And we believe a short break is also a good measure of sustainable tourism, avoiding it slowly decaying under feet of tourists as Machu Picchu is.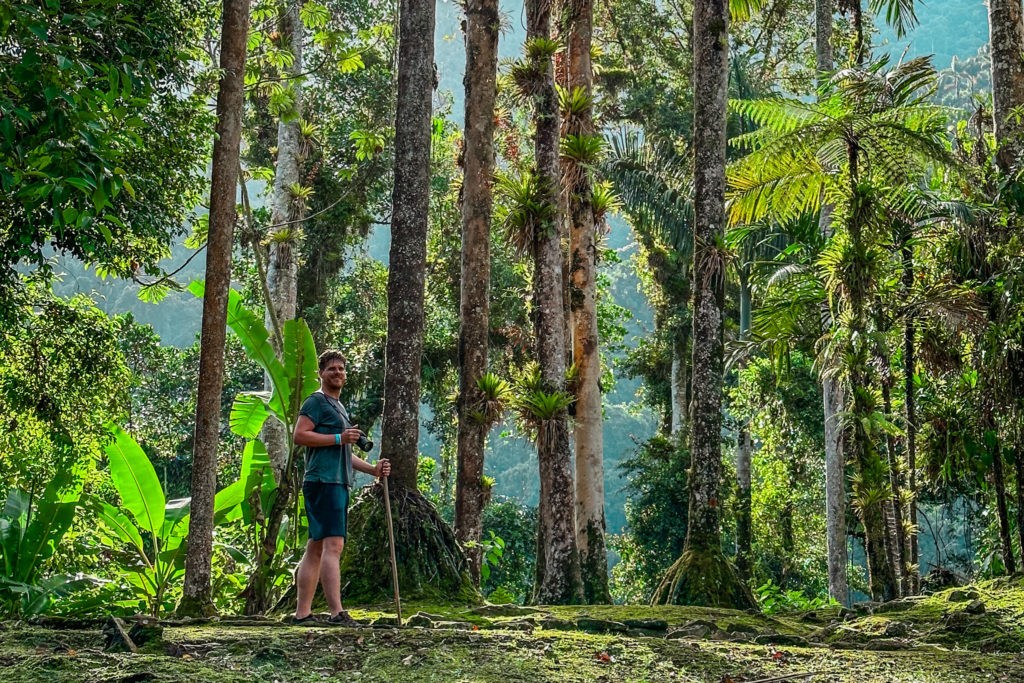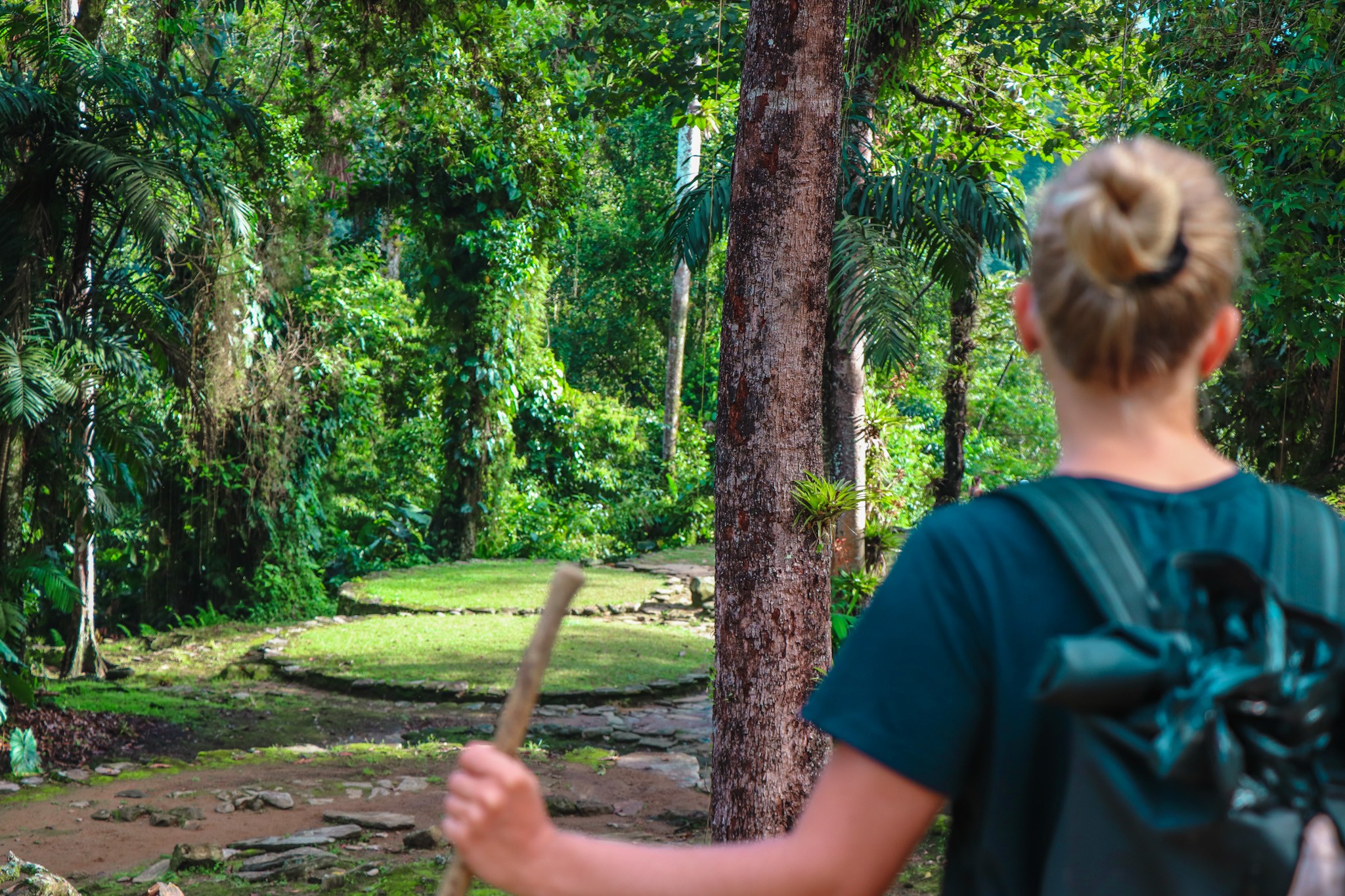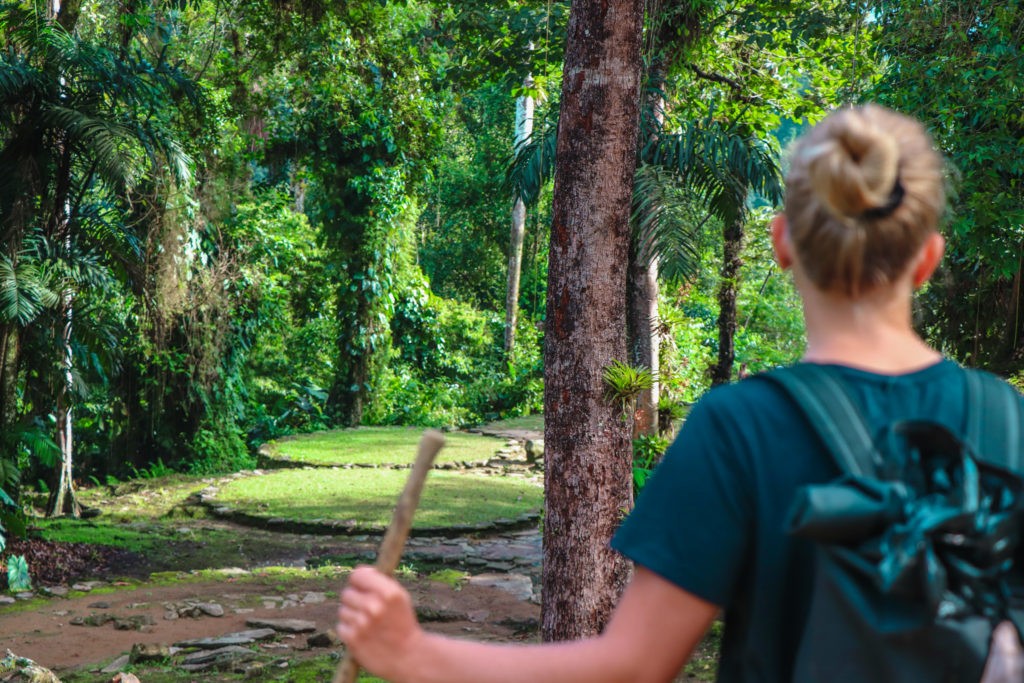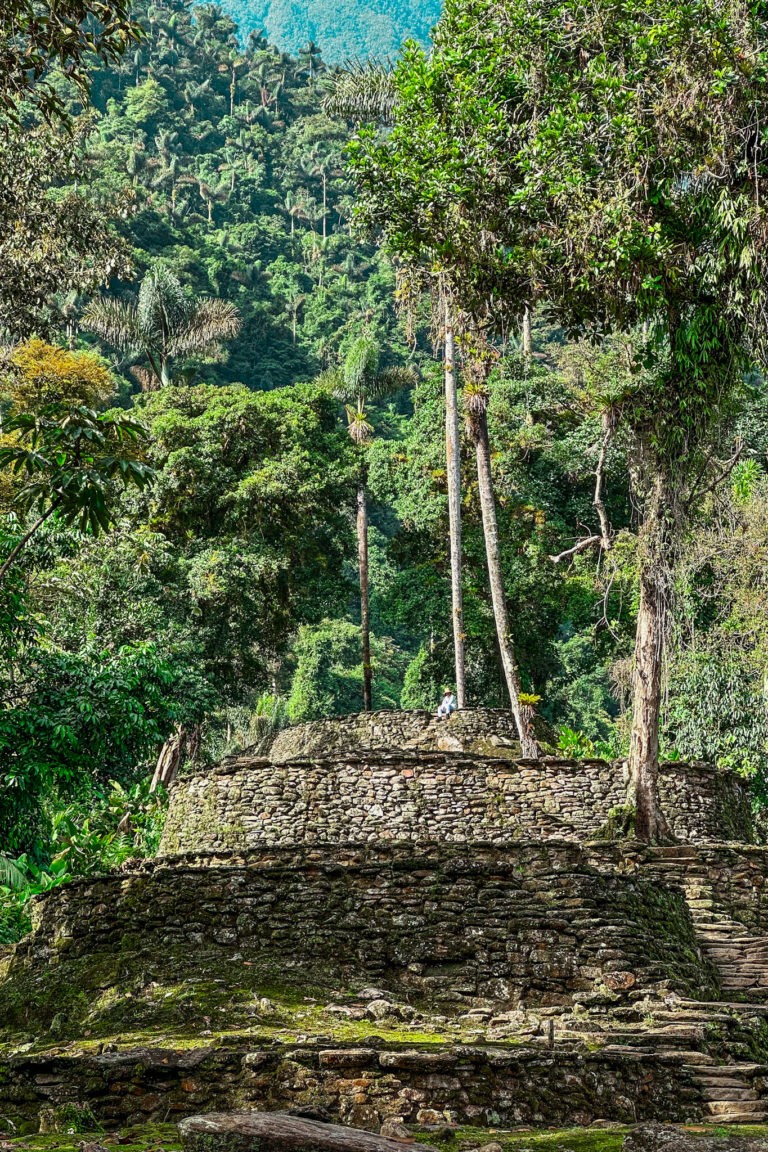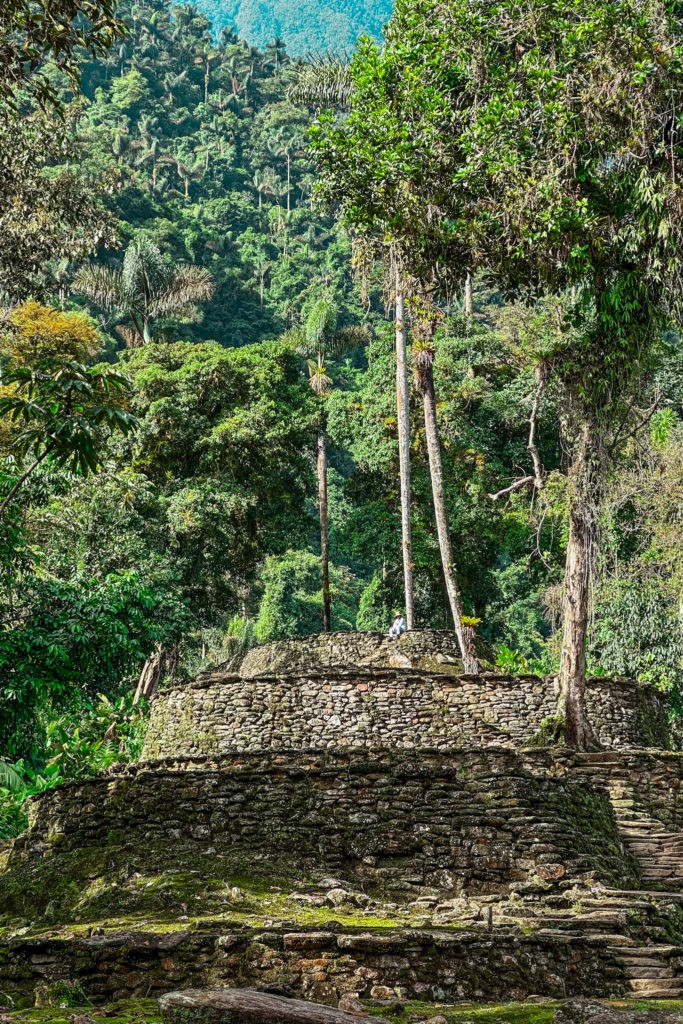 We knew already from the research before that you should not expect to see something spectacular. All that has remained from the glorious Ciudad Perdida are some stone terraces and circular bases of the houses. Since everything else was built of natural materials, it has deceased over time. Still,there was indeed something magical or mystical in this place. Where history and nature have merged into one. A testament to this magnificent city once having populated several thousand people, a sad reminder of how nothing on this earth is permanent.
We learned that currently only about 30% of the Lost City have been cleared from the forest by archeologists. The rest 70% are still "buried" under the lush jungle. The indigenous people are the guards of the nature and ecosystem of Sierra Nevada and are fighting against cutting the forest to bring the whole city to the daylight.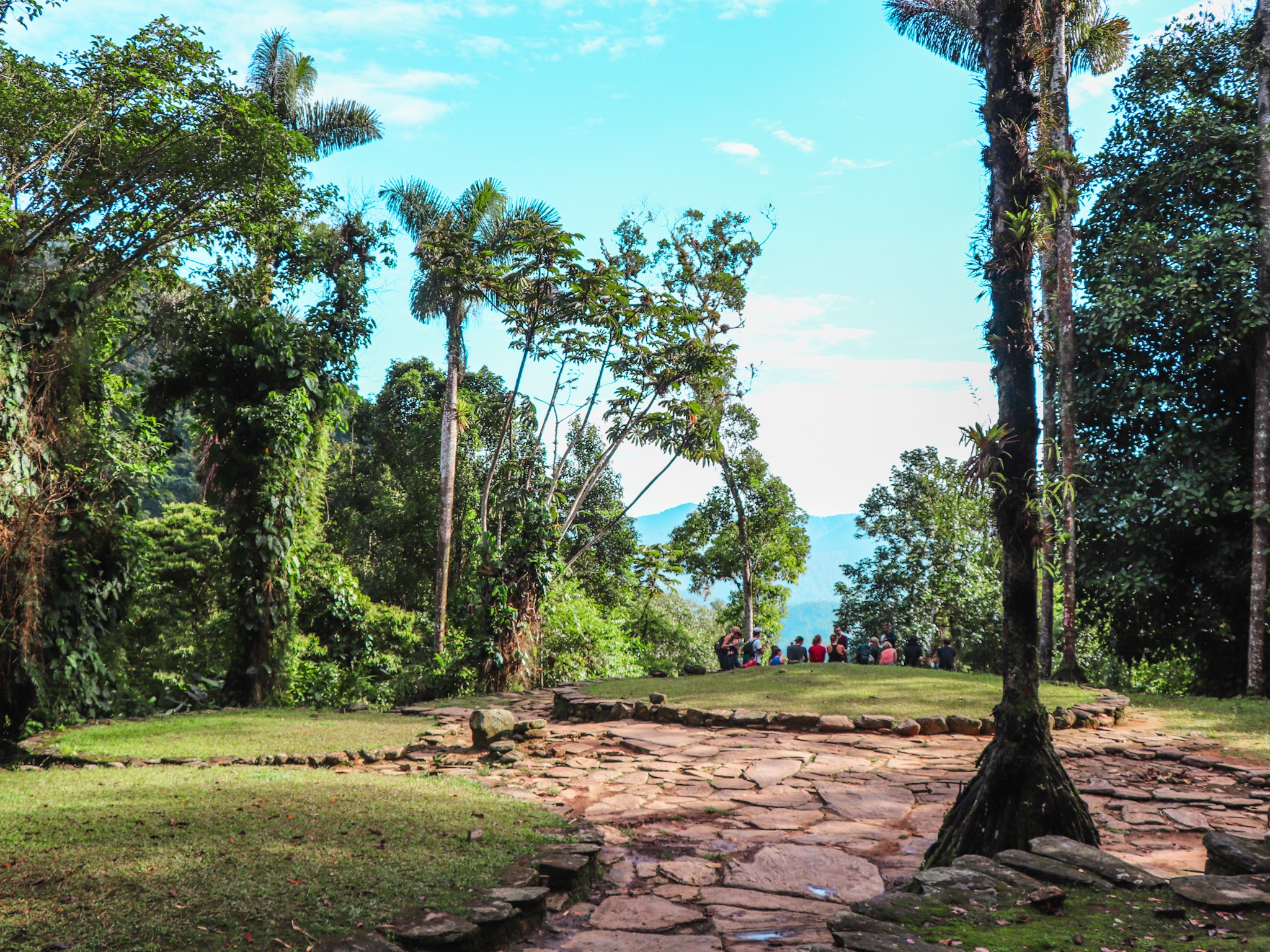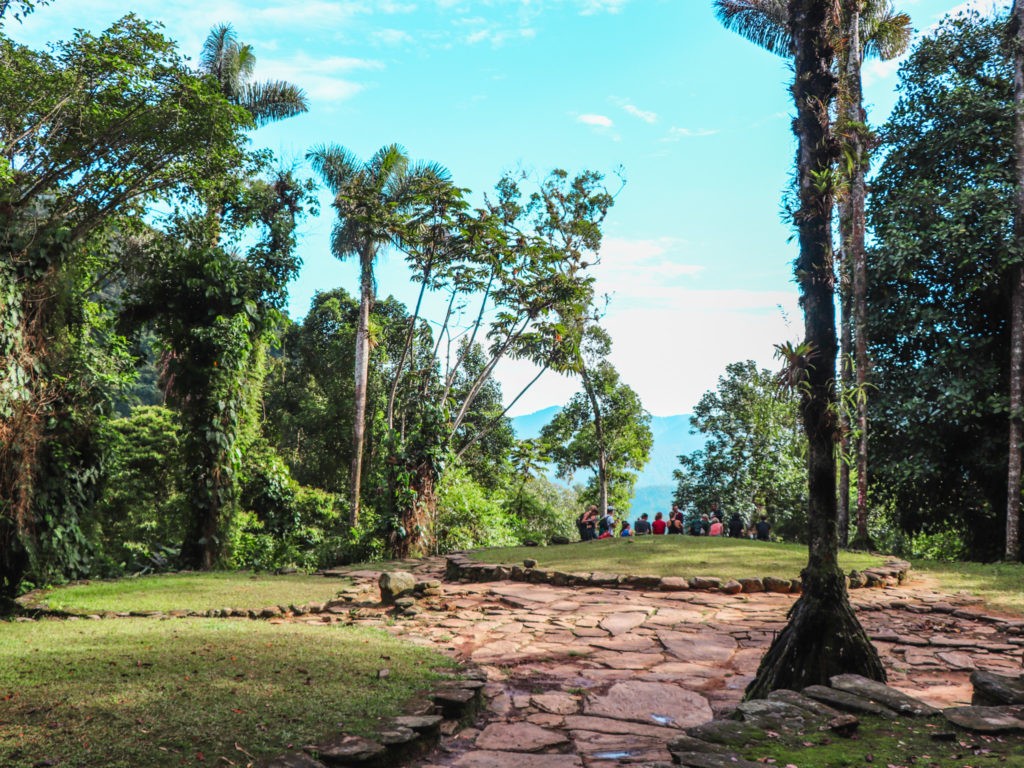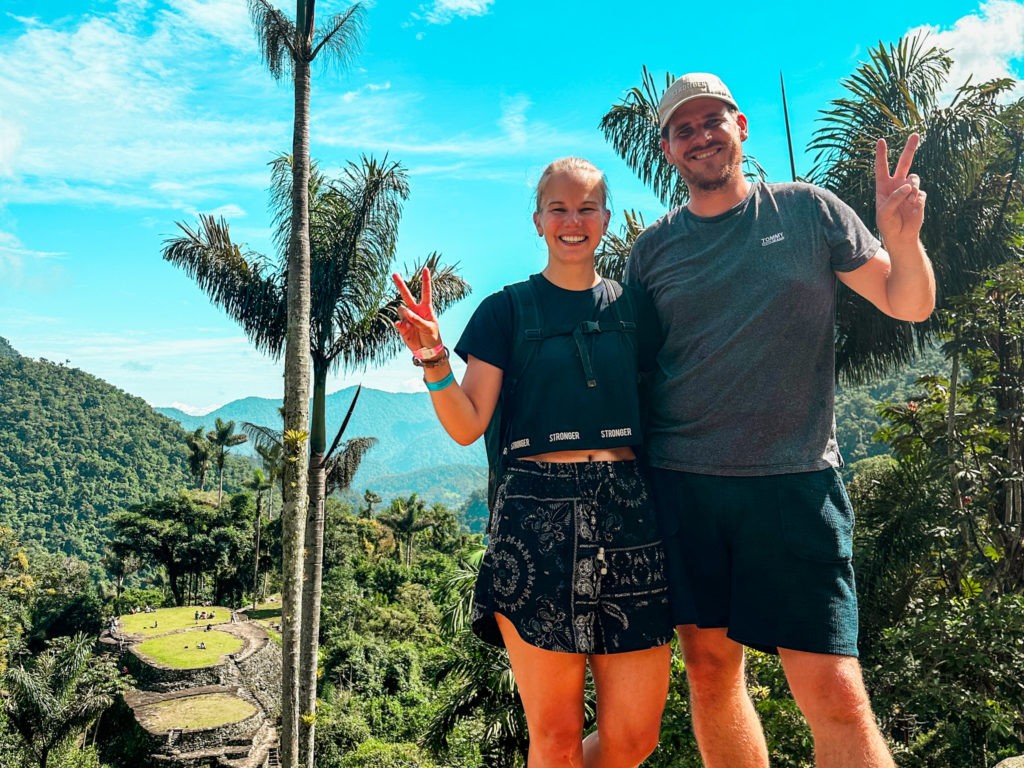 We visited all 4 "districts" of the city and listened our guides to give us valuable insights into the history of the Lost City and traditions of the Tairona people. We even had a chance to meet the "mamo's" wife and buy a small bracelet for protection (for only 2000 COP which is less than 50 cents). In the Tairona indigenous culture, "mamos" are spiritual leaders and traditional authorities. They hold significant influence and play a central role in the religious and cultural practices of the Tairona people. Mamos are considered intermediaries between the spiritual realm and the physical world. They are responsible for maintaining the spiritual balance of their communities, performing rituals, and providing guidance on various matters, including agricultural practices, healing, and social issues. Unfortunately, the mamo himself was busy with a tour of children at that time. But we had an opportunity to take a picture with him later on that day, as he was also going down the trek along us.
Of course, there was enough time for the most important things –  making photos and enjoying some snacks! 😄 After about three hours, it was time to embark on the long journey back. At this point, we had completed half of our trek, and every step from here brought us closer to the end.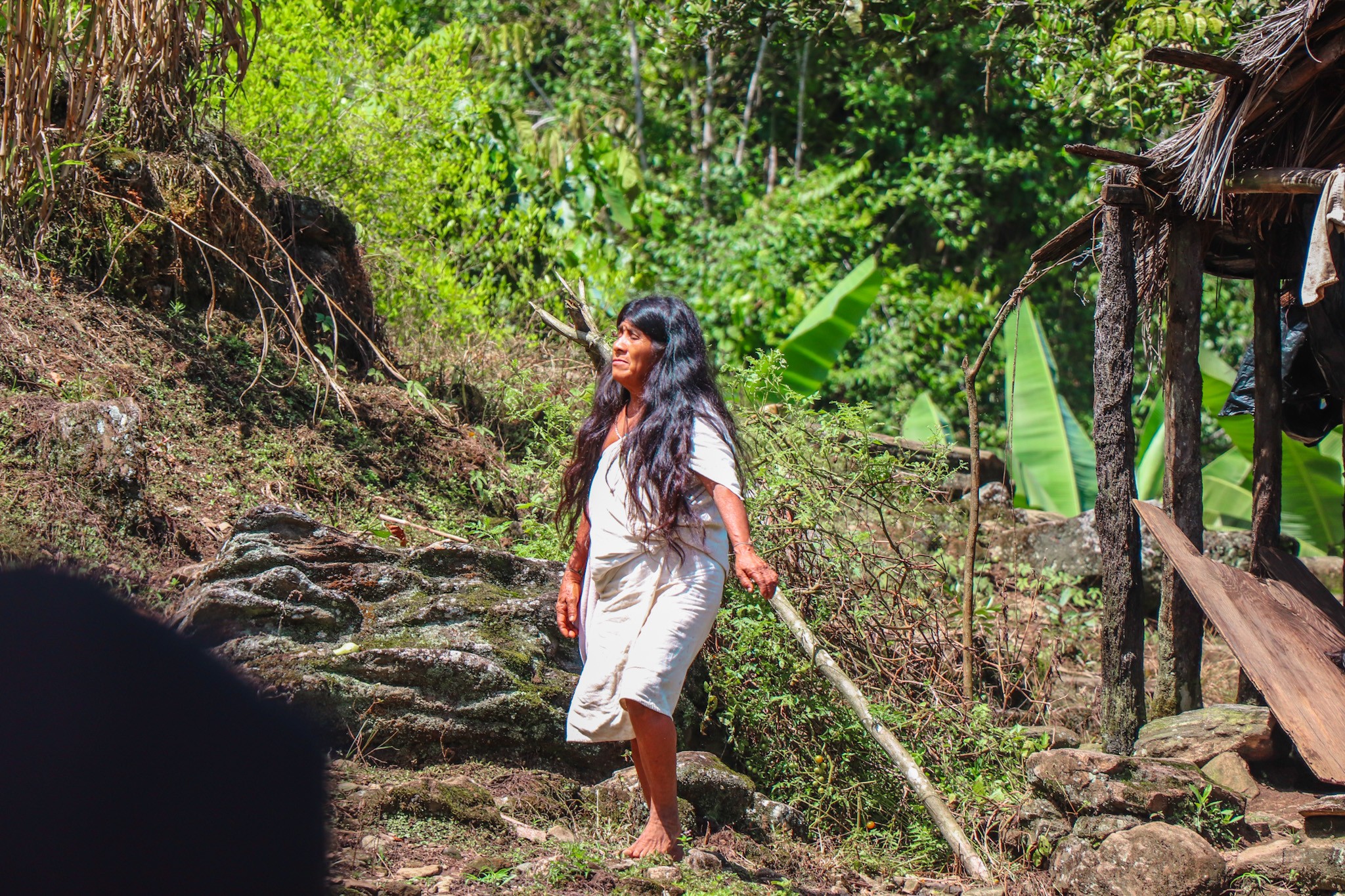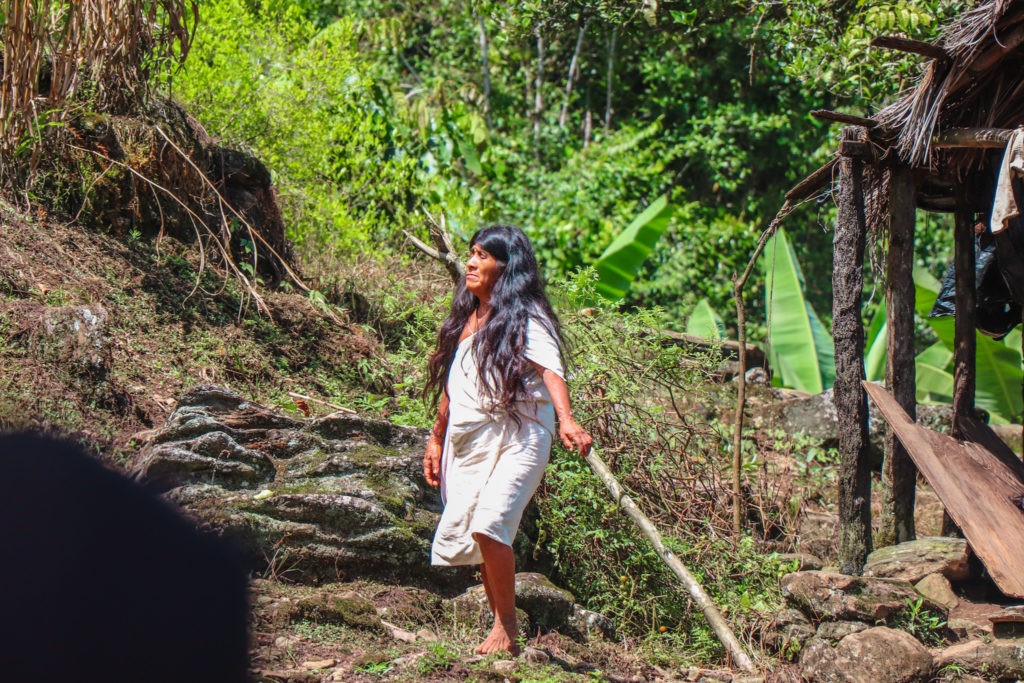 The return journey reminded us of the dangers of the Lost City Trek. The stone steps of the staircase were slippery, demanding extra caution while descending. We witnessed some people slipping. One of our fellow trekkers fell and cut her knee so bad that she needed to be transported back to Santa Marta immodestly (the cut was so deep it needed stitches). This is why one should choose safety over speed. It's crucial to watch every step to avoid accidents, as medical help is hours away. A stomachache is actually the least of your worries on the Lost City trek.
In addition to these challenges, we also unfortunately damaged our camera lens. Apparently those bracelets didn't possess any supernatural powers after all… Now, we must decide whether we try to let it fixed (if possible), buy a new lens, or send the camera back home. Nevertheless, this incident didn't dampen our spirits too much, as we considered it most important that we were uninsured. Also, over the 2 months we've become much less attached to things. It is normal, that things will break or be ruined during our one year of travels.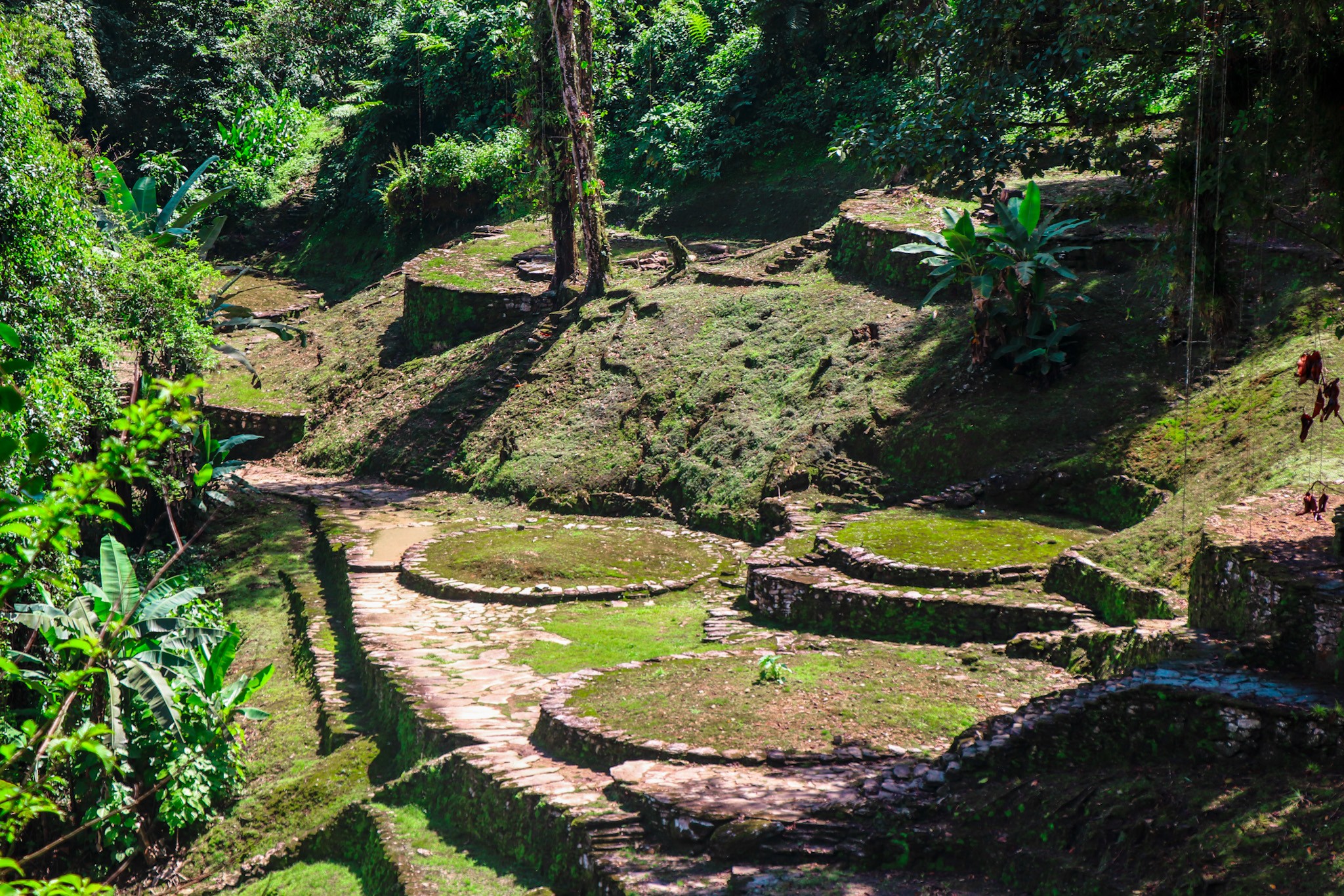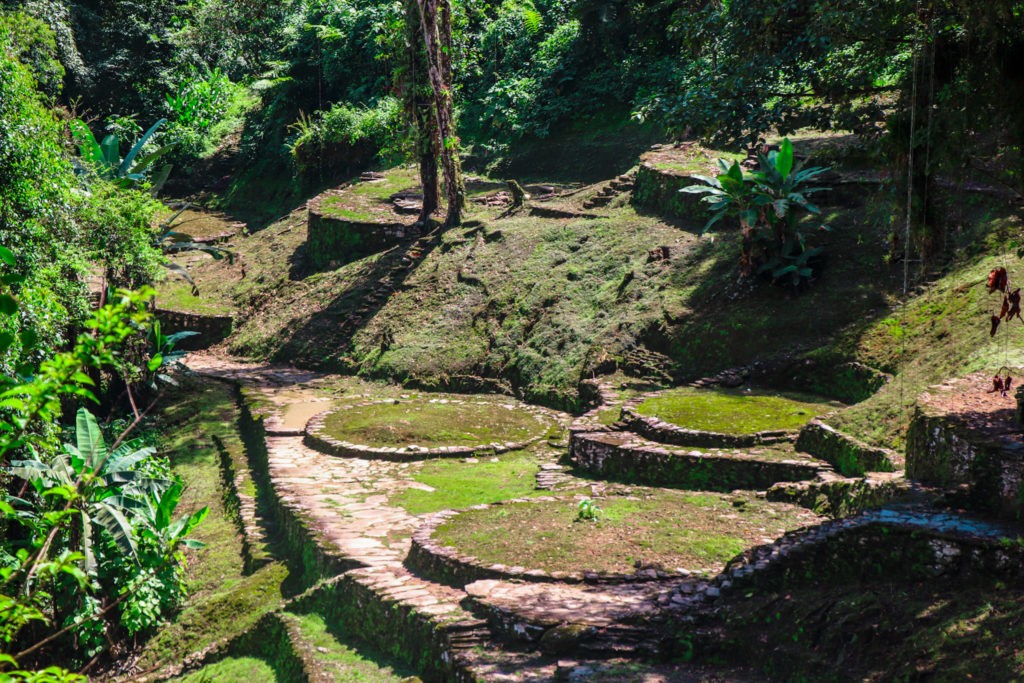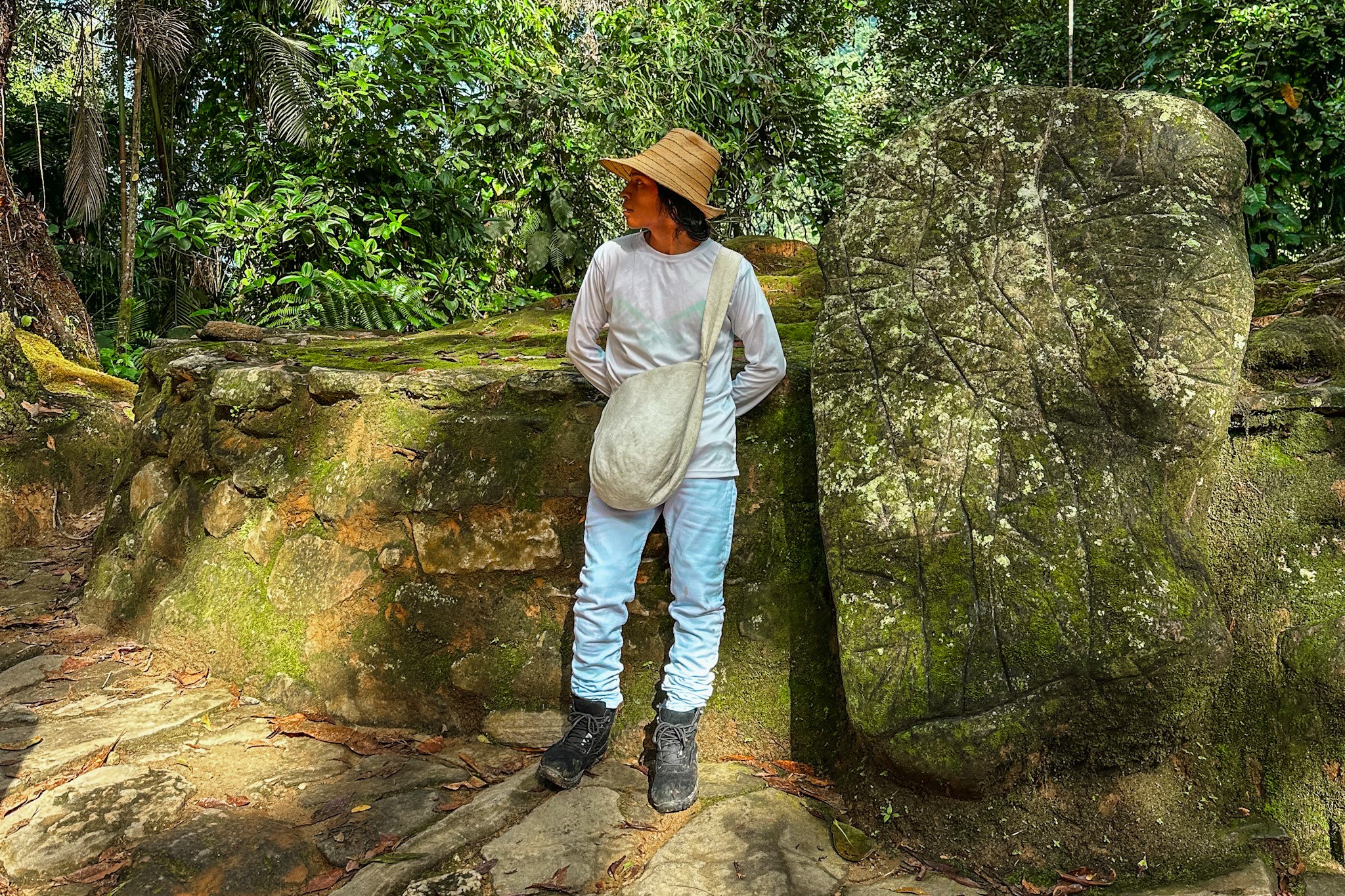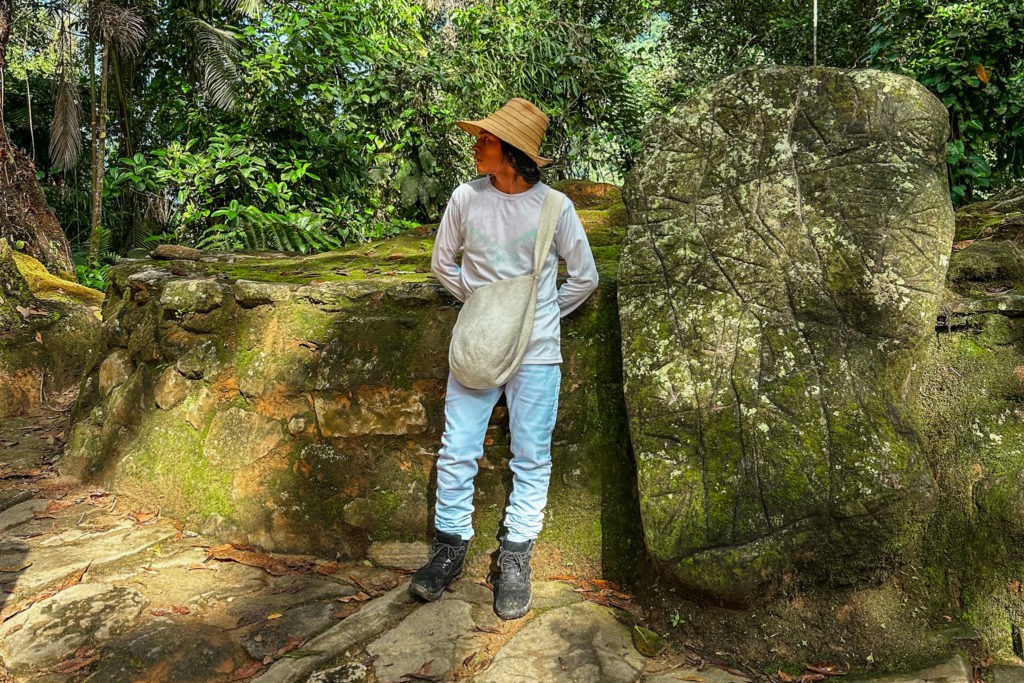 12:00 PM: Lunchtime
With a little delay due to the accident, we were back at the Camp Paraiso at around noontime. Laura's feet had 2 new blisters more blisters, and Jens' stomach still troubled him. To our surprise, we noticed that others had left their clothes out to dry. If only we had known! Probably it was only shared in Spanish. Nevertheless, we decided to hang up our wet clothes for the time we had lunch and they did indeed get somewhat drier. It meant a slightly lighter load to carry on our backs and Laura was particularly delighted to finally slip her feet into shoes and socks that were not wet. With dry feet, there was hope that the band-aids would stick longer to her toes, making the hike more comfortable.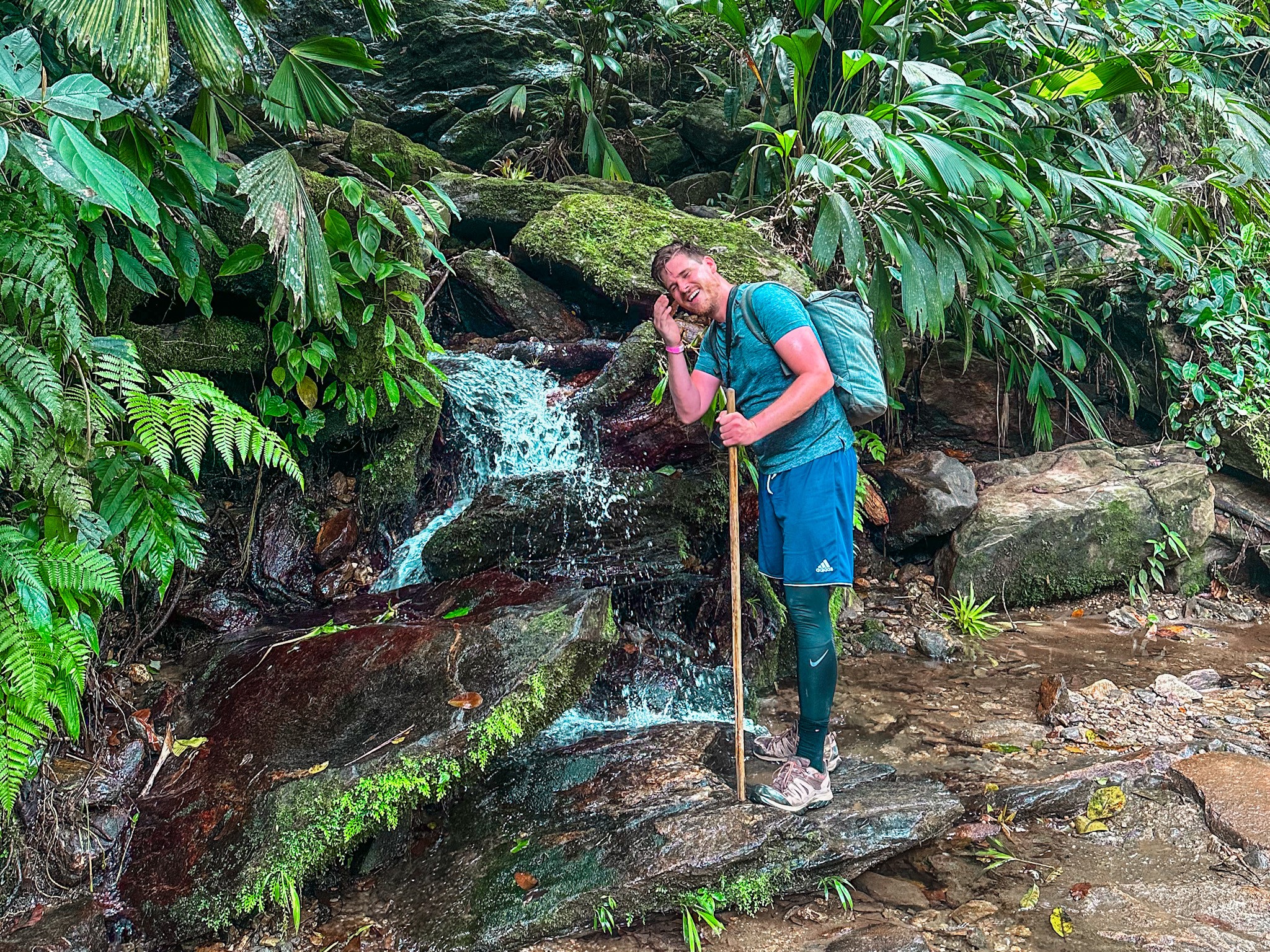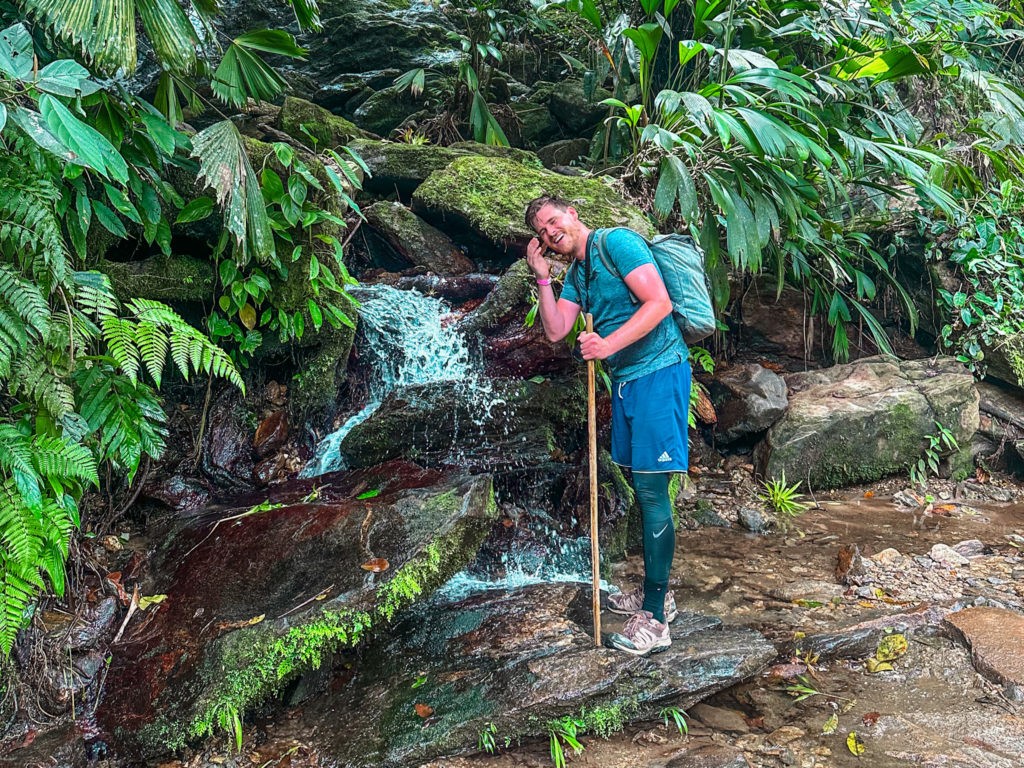 1:00 PM: Begin heading back
The beginning of our journey was truly stunning. The rain from the previous day had left the rocks with sand which was glittering in the sun. Occasionally, there was a gentle breeze cooled us down. We couldn't help but be thankful how privileged we were to witness it all. That we could afford it and were physically fit enough to make so far. There are places on this planet that can only be explored when you're in good health. That's why we've chosen not to delay our travels until retirement. Our travel philosophy is to seek out the most adventurous destinations while we're young. Canada and Australia can wait until we're older and have children. The time for adventure is now! Consider this your wake-up call – go travel now! Don't regret it later.
With our pace established over the past days, it didn't take us long to reach the first camp for a snack break. And then, we heard it – thunder, it's about to pour down on us.
We departed from the camp, hoping the rain would hold off a bit longer. But within about 15 minutes, it started pouring once again. After just 20 minutes, our feet were soaked through, regardless of whether we were wearing waterproof shoes or not. The upside of it was, that we were so focused on not slipping and falling that we hardly noticed our wet and aching feet or the weight of our backpacks. Our sole mission was to keep moving and reach the next camp. Also, the path was mostly downhill now, making the hike not so strenuous.
We passed by all the spots where we had taken breaks the day before, only to realize how far our destination for the day still was. The last hour was particularly tough. But you just keep on going. The goal is your motivation.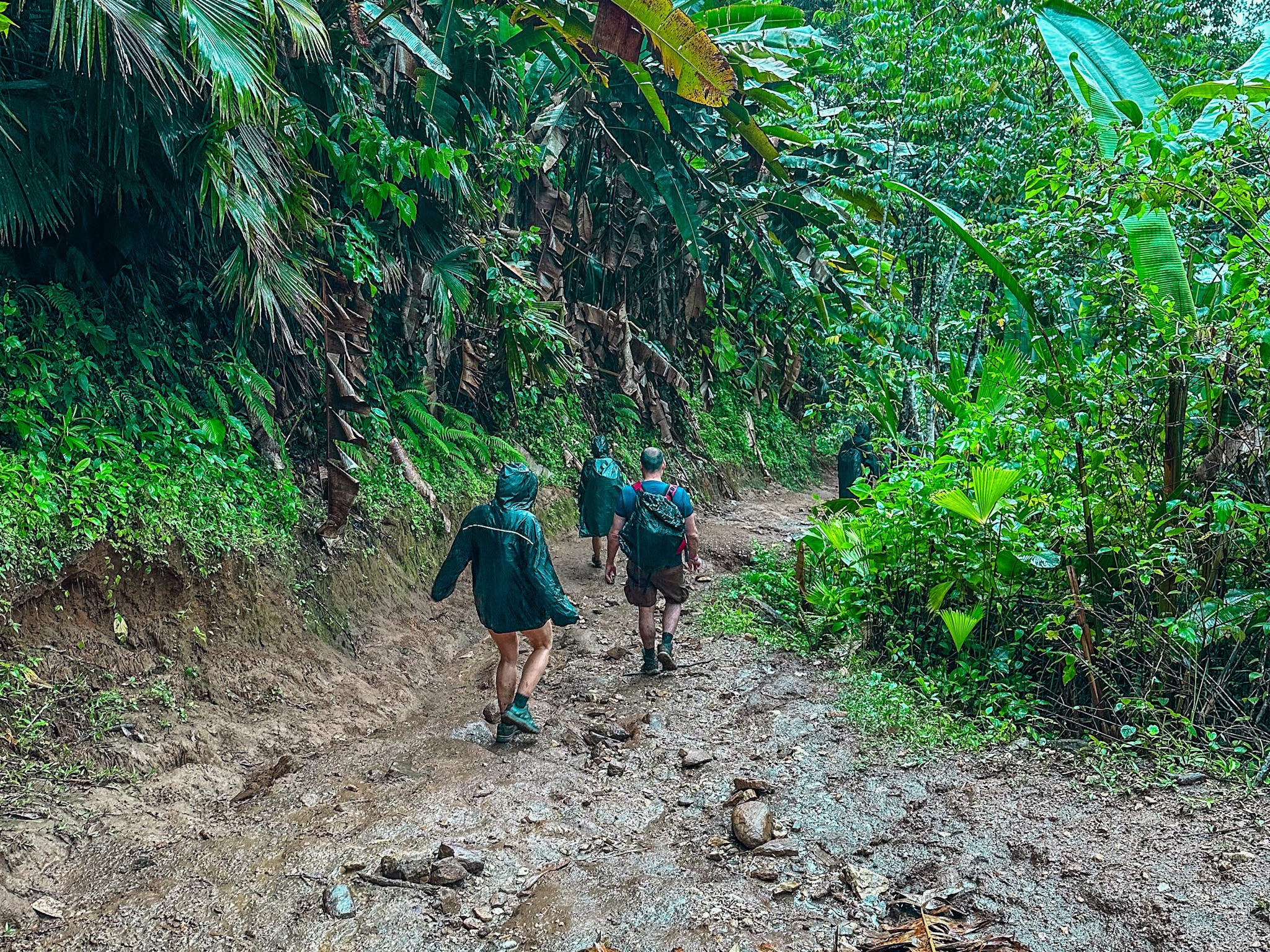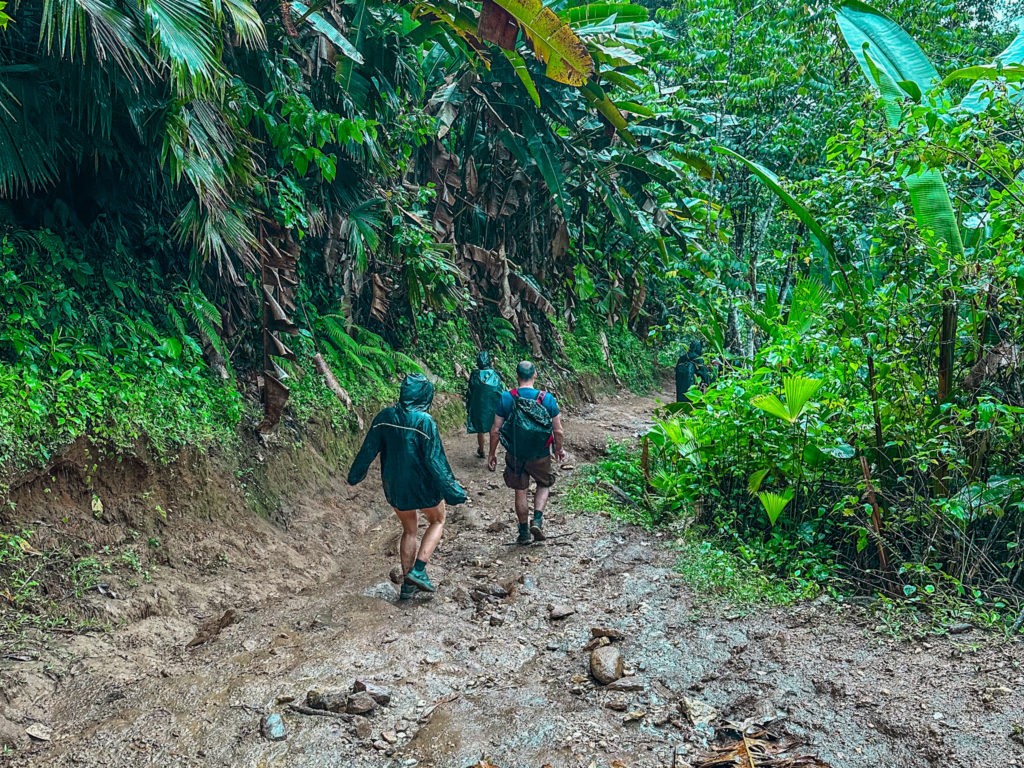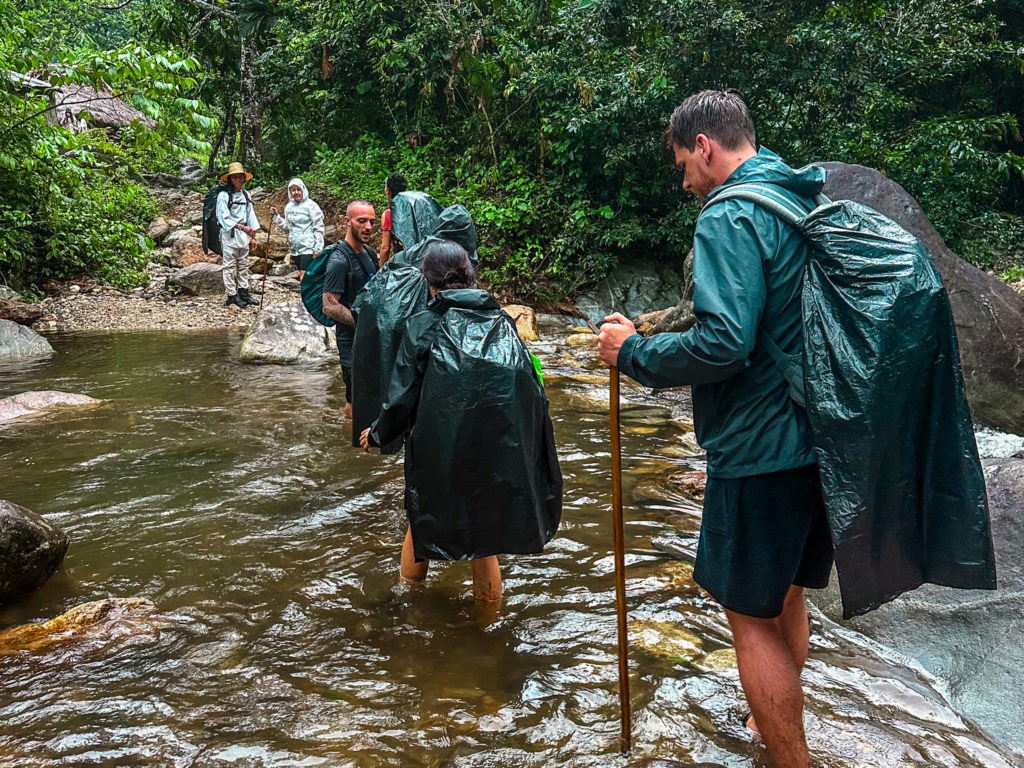 4:00 PM: Back at Wiwa Camp
Finally we made it. What a relief. We could barely walk anymore. During the hike you feet get numb at some point so you do not even notice the pain, but as soon as you come out of this element, you realize in how much pain you are.
Already when rearing the camp we were greeted by the pleasant smell of freshly showered travelers. It is fascinating how your brain instantly recognizes things that it is yearning for. We immediately got rid of our shoes and backpacks, and had a shower. And then its time for the happiest moment of the day – to finally put on some dry clothes. After that we simply fell in the bed and waited for the dinner.
On that day we had some beef and french fries. What a nice comfort food! Already shortly after 7 pm we were back in the beds again. To our horror we realized – based on our hiking app – that we still have to walk at least 12 km on the next day. Not sure how we would make it with our feet being so damaged.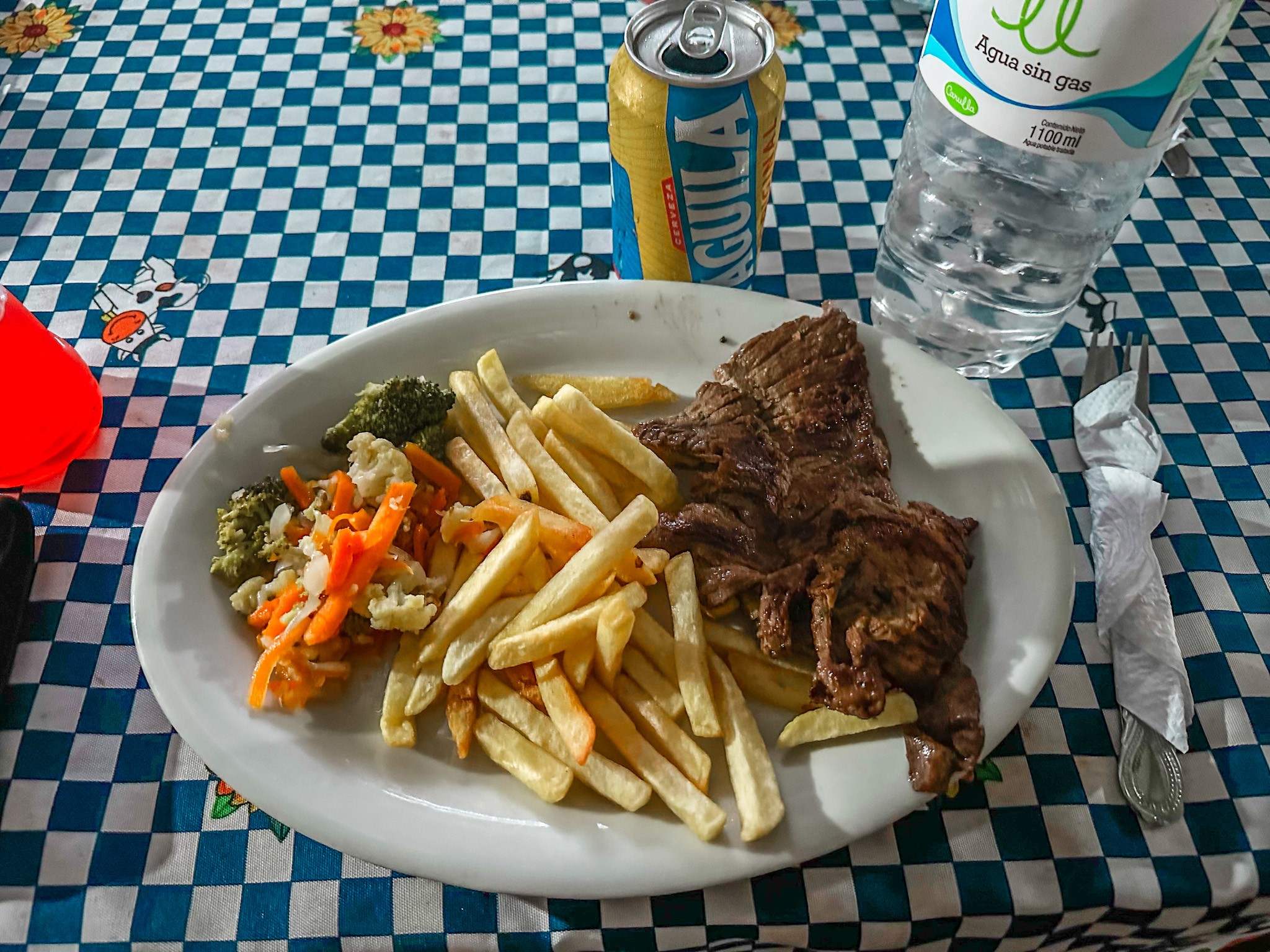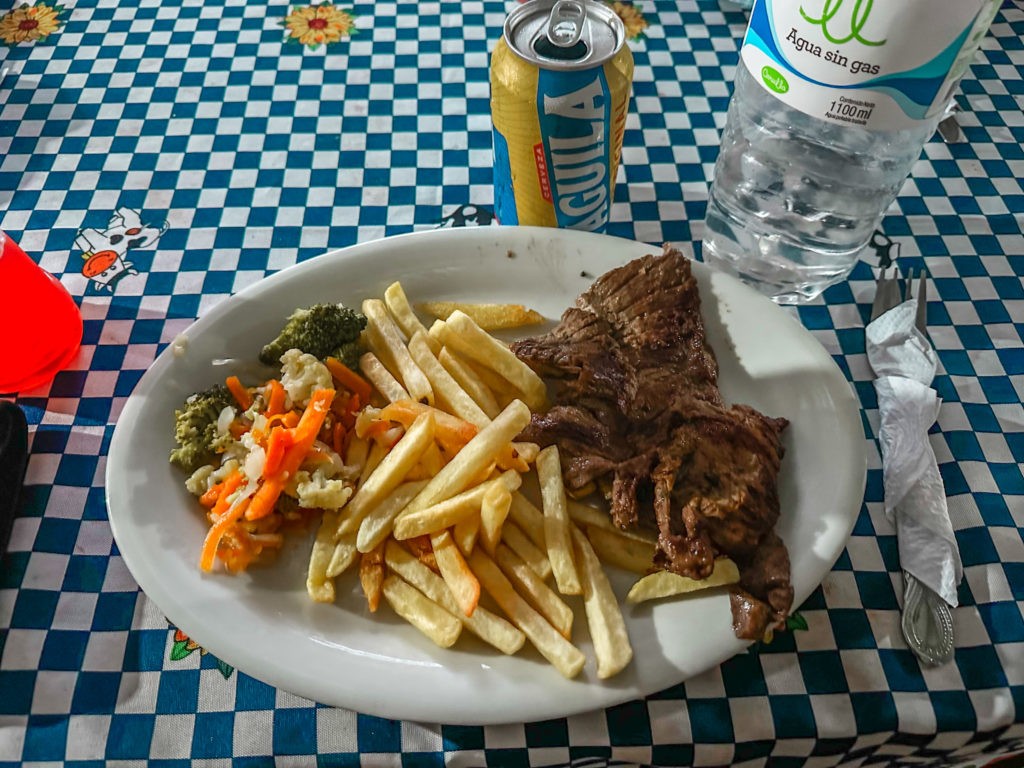 Day 4: The Grand Finale (15 km)
4:30 AM: Wakey-wakey
Waking up early was getting a routine already. As well as pulling on wet clothes and shoes.
6:00 AM: End sprint
On the last day, we began with a long uphill climb. The trail was incredibly muddy, demanding extra caution with each step to avoid slipping. Laura, at one point, sank into the mud with one foot after taking a wrong step. This was one of the moments when she again truly appreciated having the walking stick to help her out.
We continued without many breaks, the longest one might have been around 20 minutes. Our feet were covered in blisters, it was raining most of the time, and no one bothered to remove their shoes for river crossings; we just walked straight through the water.
In the last two hours, the sun came out again again, and we spent time chatting with our guide, Efred, discussing politics, economics, both in Colombia, Germany, and worldwide. It's amazing how our minds can push aside pain when engaged in meaningful conversation. It was the perfect final stretch.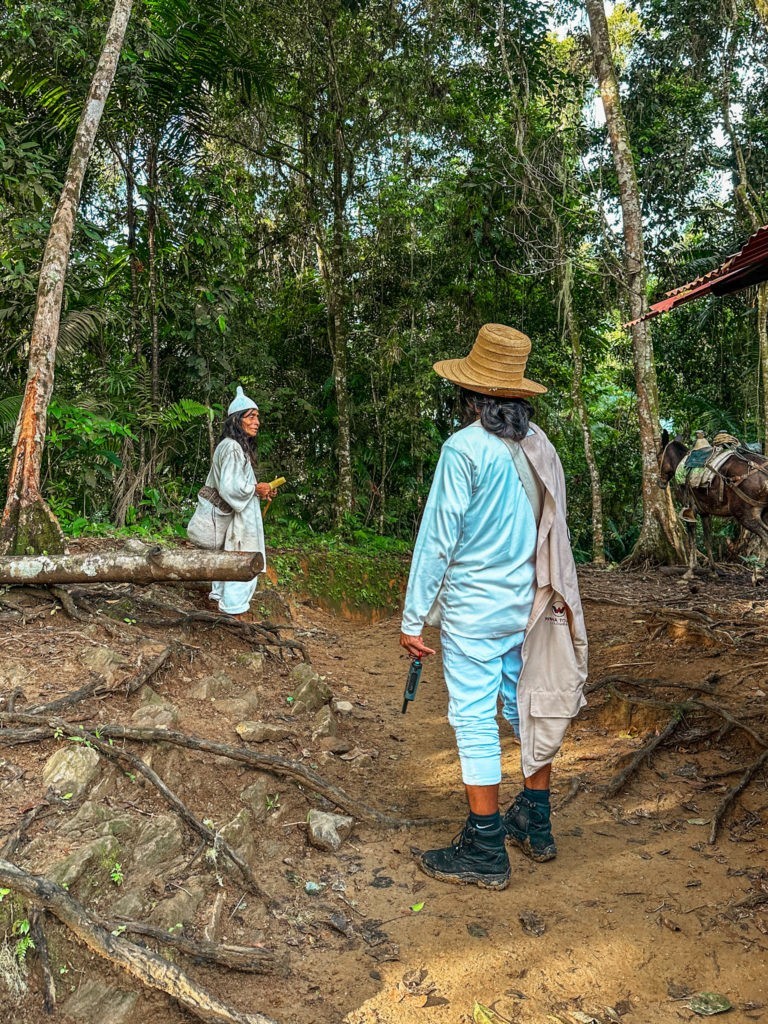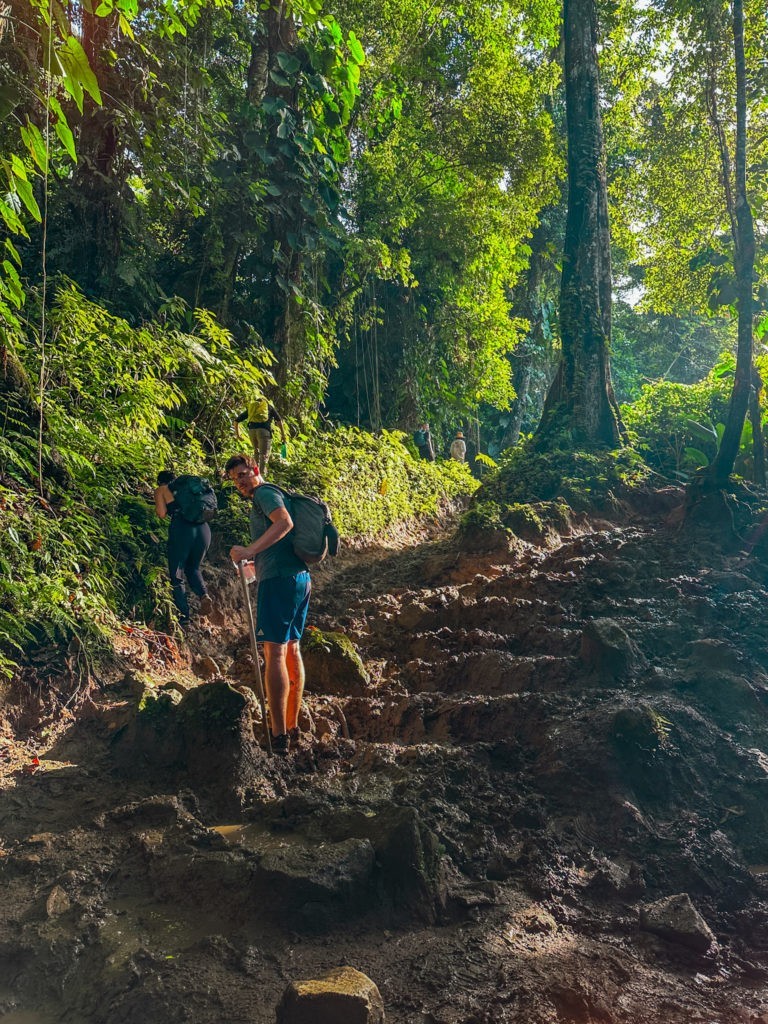 11:55 AM: Finish!
We did it! We were finally back at the beginning. It was one of the best feelings in the world. We were so proud of ourselves. And we even made it to the top 3. The Italian traveler ahead of us was the fastest. But as said, the real victory was in our journey, not the race. Our bodies bore the marks of the trek, but our hearts held the memories of a lifetime. We had ventured into the heart of the Sierra Nevada, walked in the footsteps of indigenous tribes, and uncovered the Lost City's.
We saw the other groups who were just embarking on the Lost City Trek. If we could have, we would have said everyone 2 things:
If you are wearing sneakers, you might want to reconsider your choice of shoes, as the roads are getting muddy and slippery when it rains

Take one of the walking sticks from this corner. You will be so happy. Trust us
In that quiet moment atop the terraces of Ciudad Perdida, we understood the true essence of adventures and the reward it offers. Ciudad Perdida, is a reminder that sometimes, the most extraordinary places on our planet can only be reached through effort.
The Lost City Trek experience is woven into the fabric of our lives. Ciudad Perdida is no longer just a place; it is a chapter in our personal narratives, a story that we would tell for years to come. If you are planning to embark on the journey yourself, also read our Lost City Trek Guide and the Ultimate Packing List.