The Paracas National Reserve is a place of natural wonder! Get ready to be amazed by its extraordinary beauty from breathtaking vast desert landscapes to diverse wildlife. There are multiple ways to explore it – from bus tours and scooters to biking or even hopping on a sand buggy for an extra thrill.
Paracas is calling, and we've got all the expert tips you need for your visit. Discover the top sights, how to book your tour and find out what to pack for the adventure of a lifetime.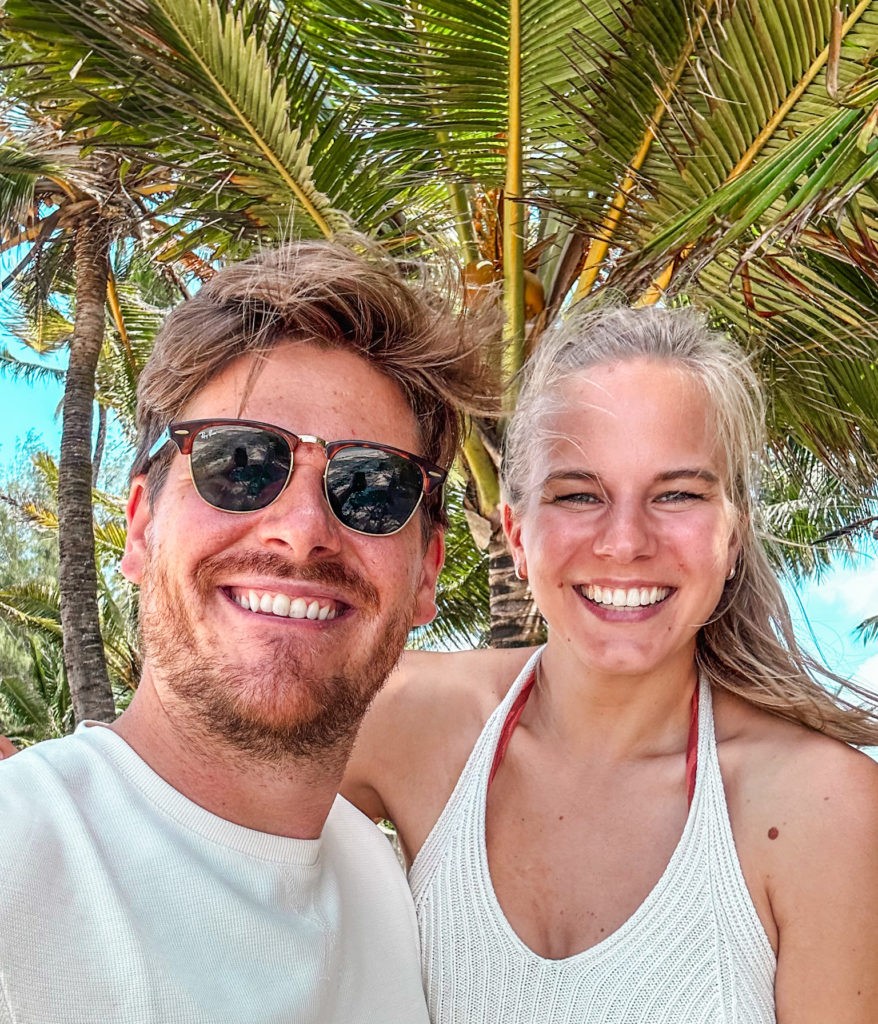 We hope you enjoy our travel stories, guides and tips! If so, please consider supporting our work.
About the Paracas National Reserve
The Paracas National Reserve attracts both local and foreign tourists from all around with its stunning scenery and pristine diverse nature, stretching as far as the eye can see. There are vast deserts, jaw-dropping coastlines, and rugged islands that just take your breath away. We are still amazed every time we watch the photos we have taken during our visit.
But it's not just about the views. This place is full of life, being home to over 400 species of flora and fauna. In the ocean, you'll meet dolphins and sea lions. And it's also a birdwatcher's paradise. Among others, you can spot Peruvian pelicans, Peruvian boobies, Guanay cormorants and even Humboldt penguins!
While most animals and birds are best observed during a boat tour to Isla Ballestas leaving from Paracas town, there are still numerous bird species to be seen when driving around the national reserve. Although we did not have any sightings of dolphins during our visit, we have heard that with some luck you may see some in the waters near the Playa Supay.
In this guide we'll show you around the best places of the Paracas National Reserve and cover everything you need to know to visit this picturesque beauty at the Peruvian coast.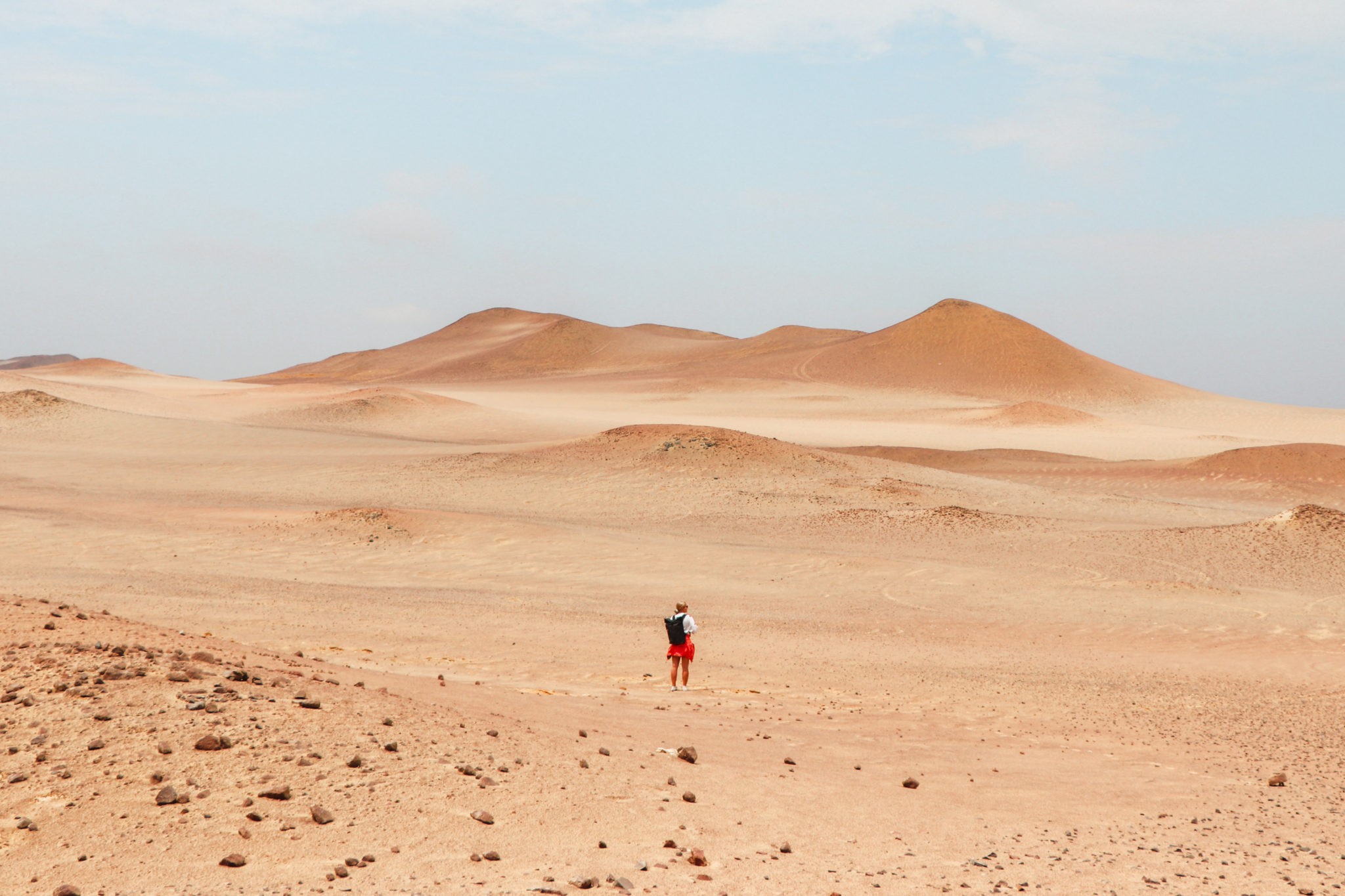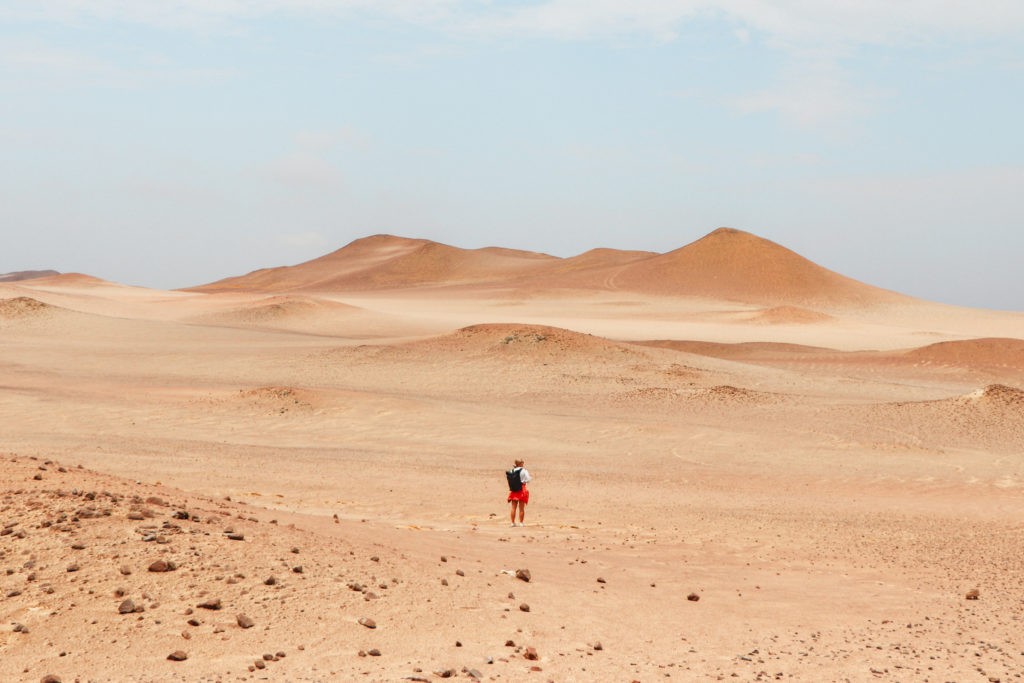 Things to see in the Paracas National Reserve
The Paracas National Reserve offers many stunning viewpoints to soak in the astonishing vistas and beaches to relax. However, we found that the views were absolutely amazing everywhere along the road and we constantly made stops to capture this incredible beauty.
There is a regular looping route covering all the important sights in the Paracas National Reserve that you can follow during your visit. Ask your tour operator or the park official for a map which will make navigating easier. Also, it is recommended to download the offline maps on your Google Maps, as most to the time there is no reception in the park. And yes, the viewpoints are also marked with signs, leading the way.
Save on Pinterest to read it later.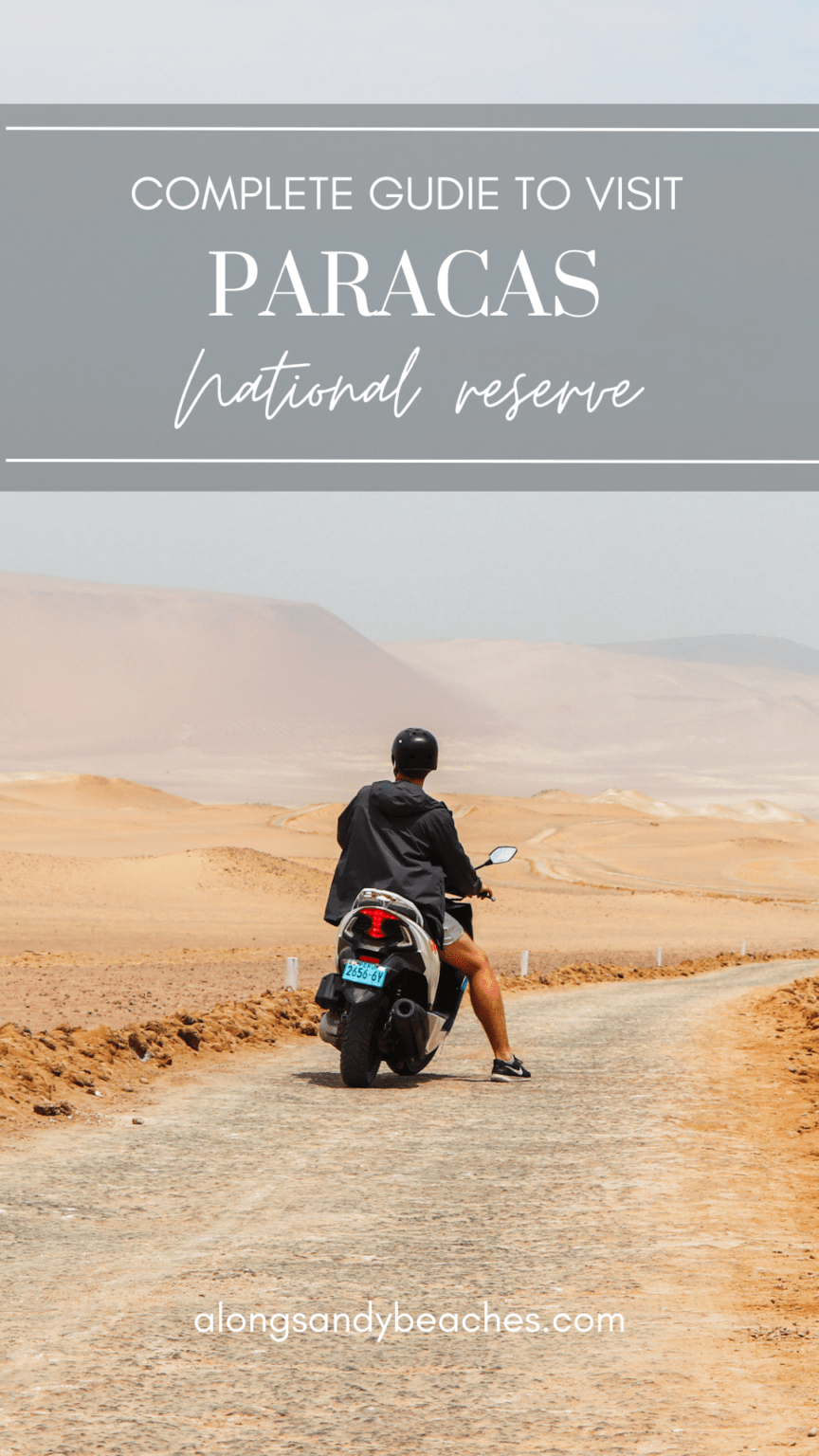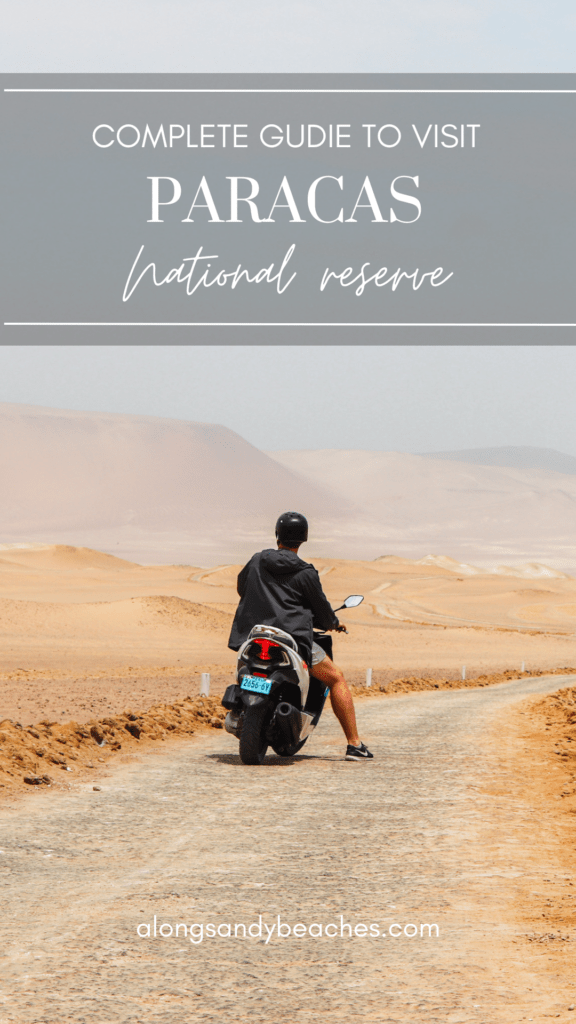 You can do the route either way around. Usually people start with Playa Supay first and finish in Playa La Mina or Playa El Raspon, which are suitable for swimming. For this, turn to the left once you have entered the Paracas National Park office, following the signs towards La Catedral.
It's worth noting that the roads in the southern part of the reserve are in rather rough shape, with more potholes than actual road. You'll also encounter quite a few trucks on the main road. Additionally, our tour operator didn't recommend going farther south than Playa Supay on a scooter or a bicycle, as it can become dangerous due to strong winds and even worse roads.
Playa Supay is your first stop (or your last stop, depending on the direction of your tour) on your journey through the Paracas National Reserve. When we arrived in the morning, there was still a bit of fog, which added a touch of magic to the scene as we observed the big waves breaking on the shore. If you've packed some breakfast with you, there are benches available where you can enjoy your snacks while taking in the breathtaking views of the enormous sandstone walls. Once you're ready to continue, follow the only road along the coastline to reach the next sights.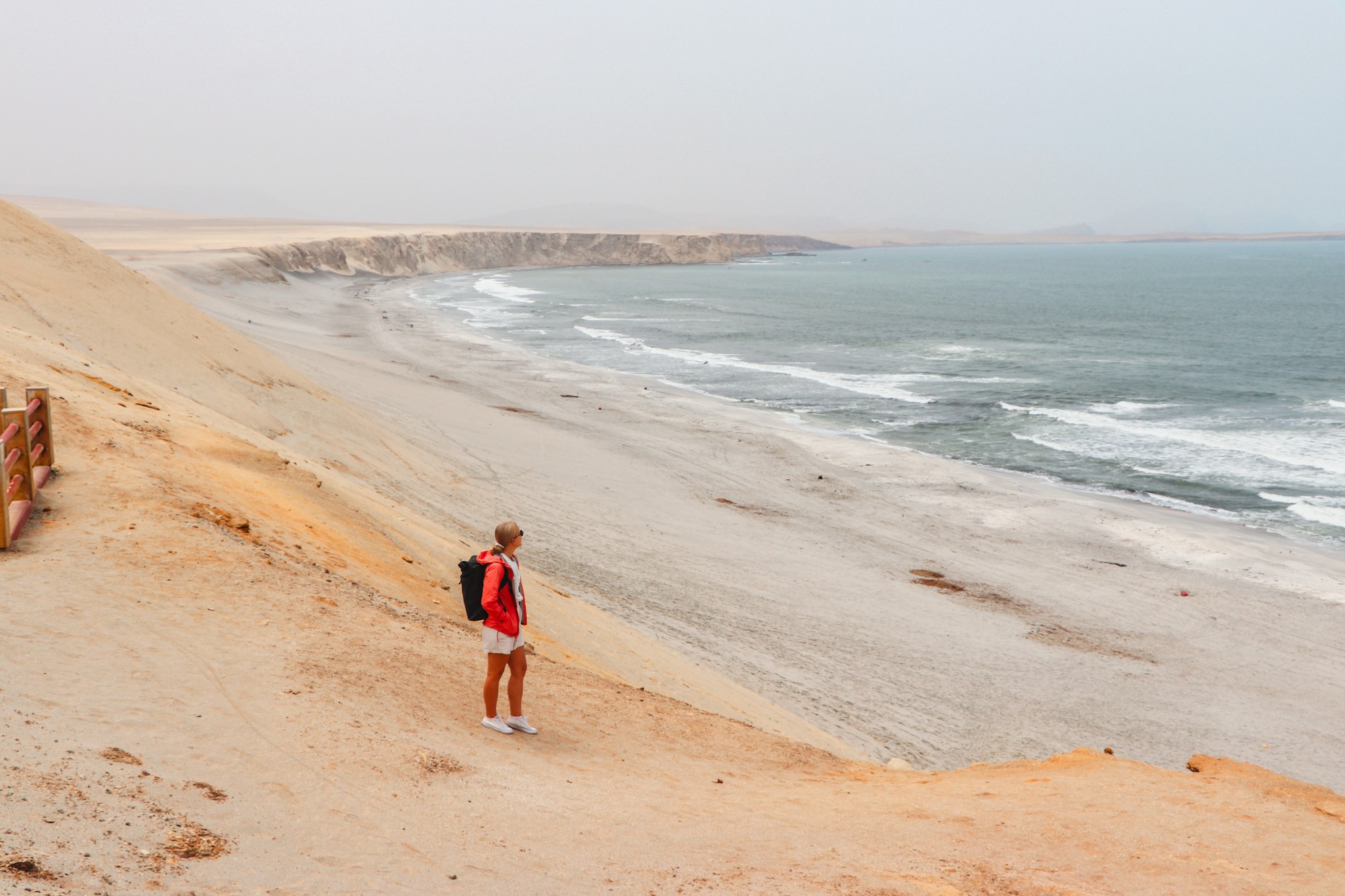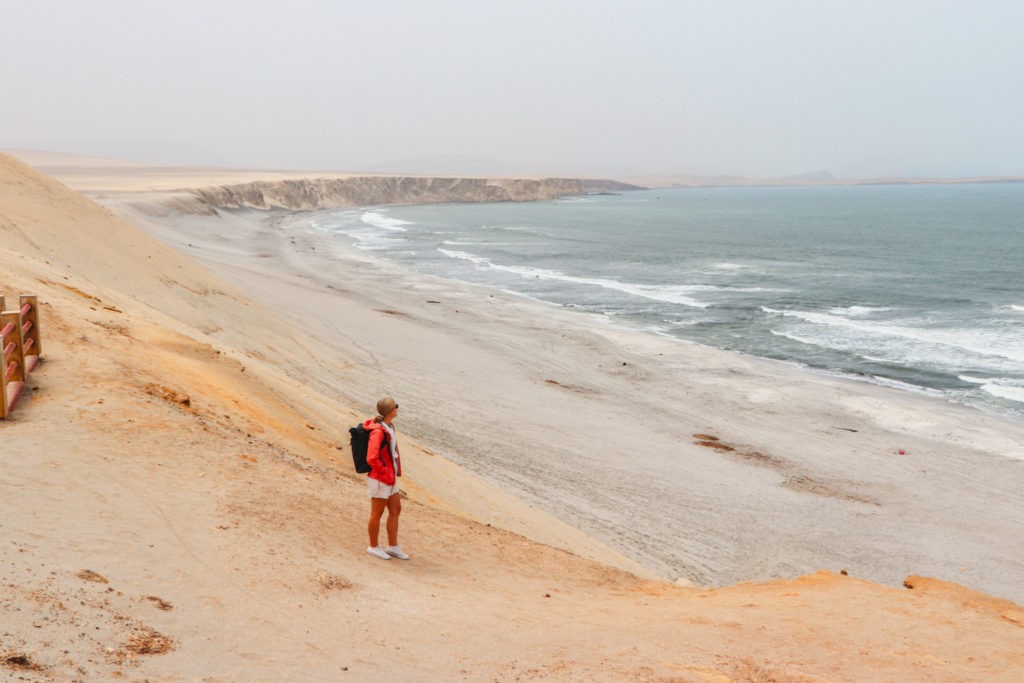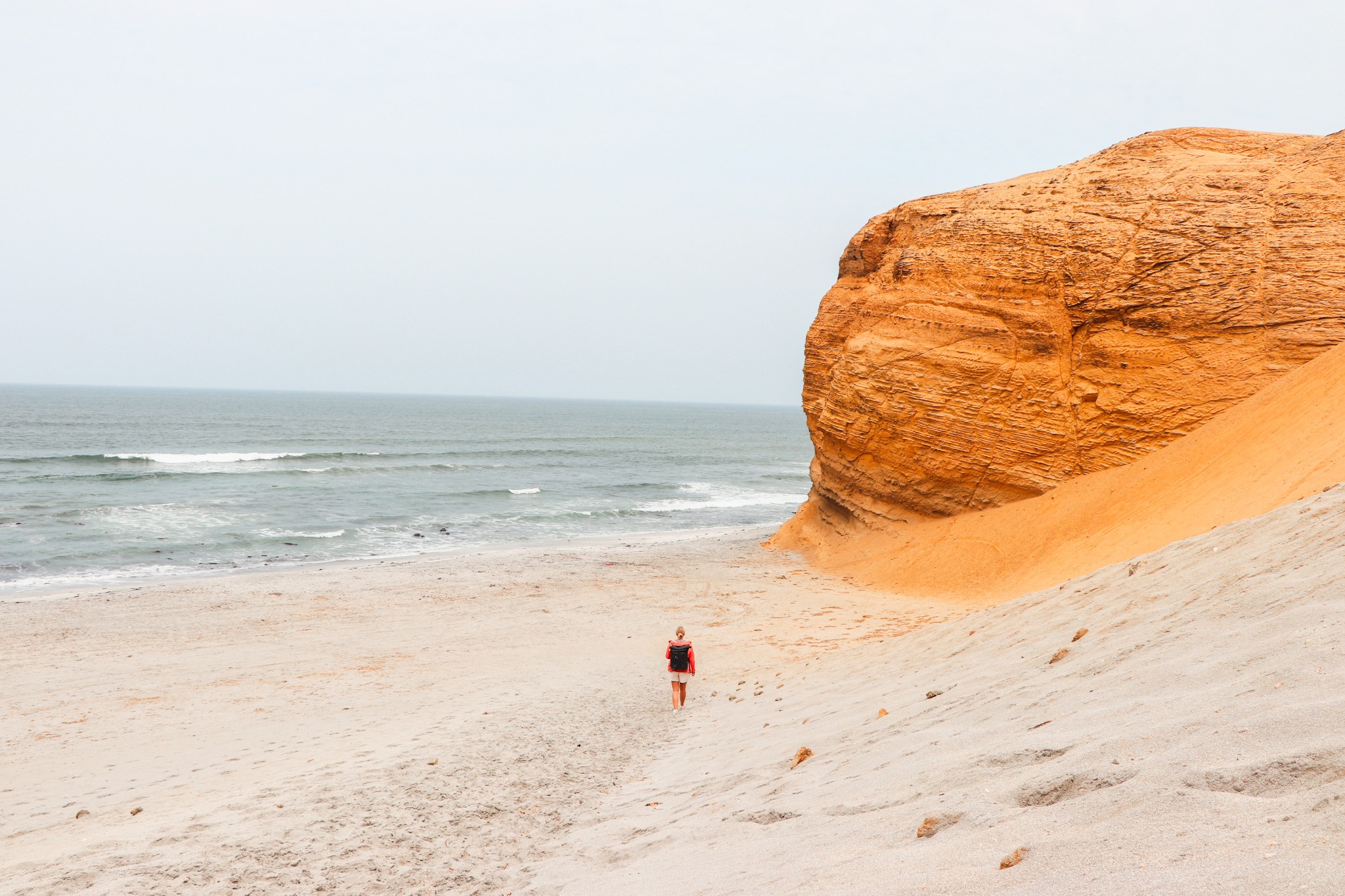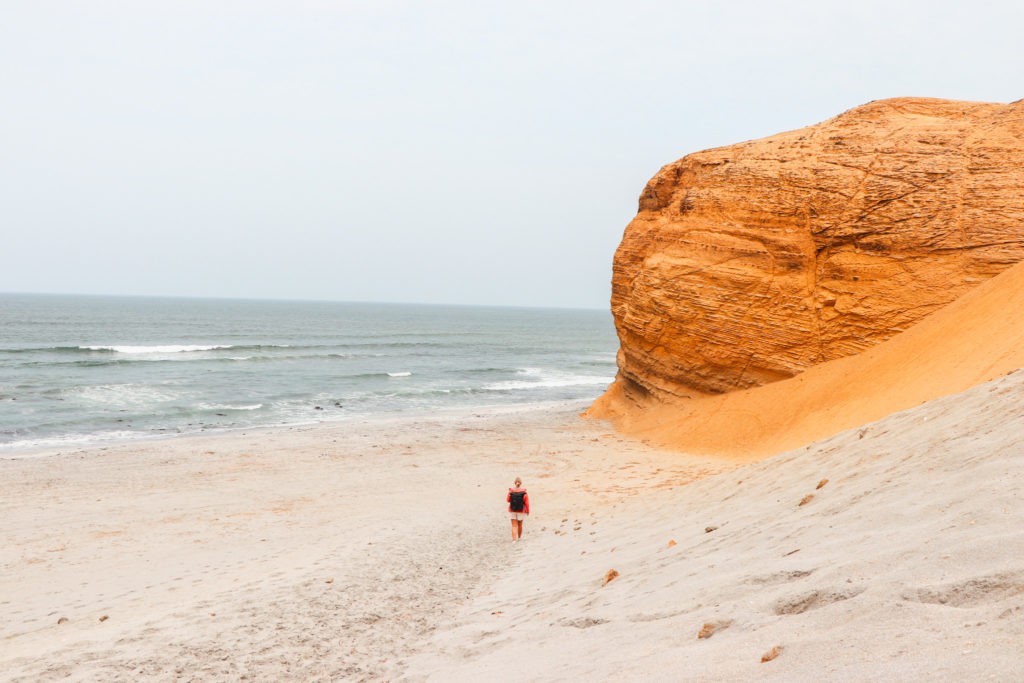 Next, head to La Cathedral following the road along the coast. La Cathedral was once a majestic rock formation, forming a grande arch. Unfortunately, it has been destroyed by an earthquake in 2007.  The views are still nice and the sight is well worth to make a quick break. From there you will also have a nice view on the cliffs of Playa Supay, the spot you've visited earlier.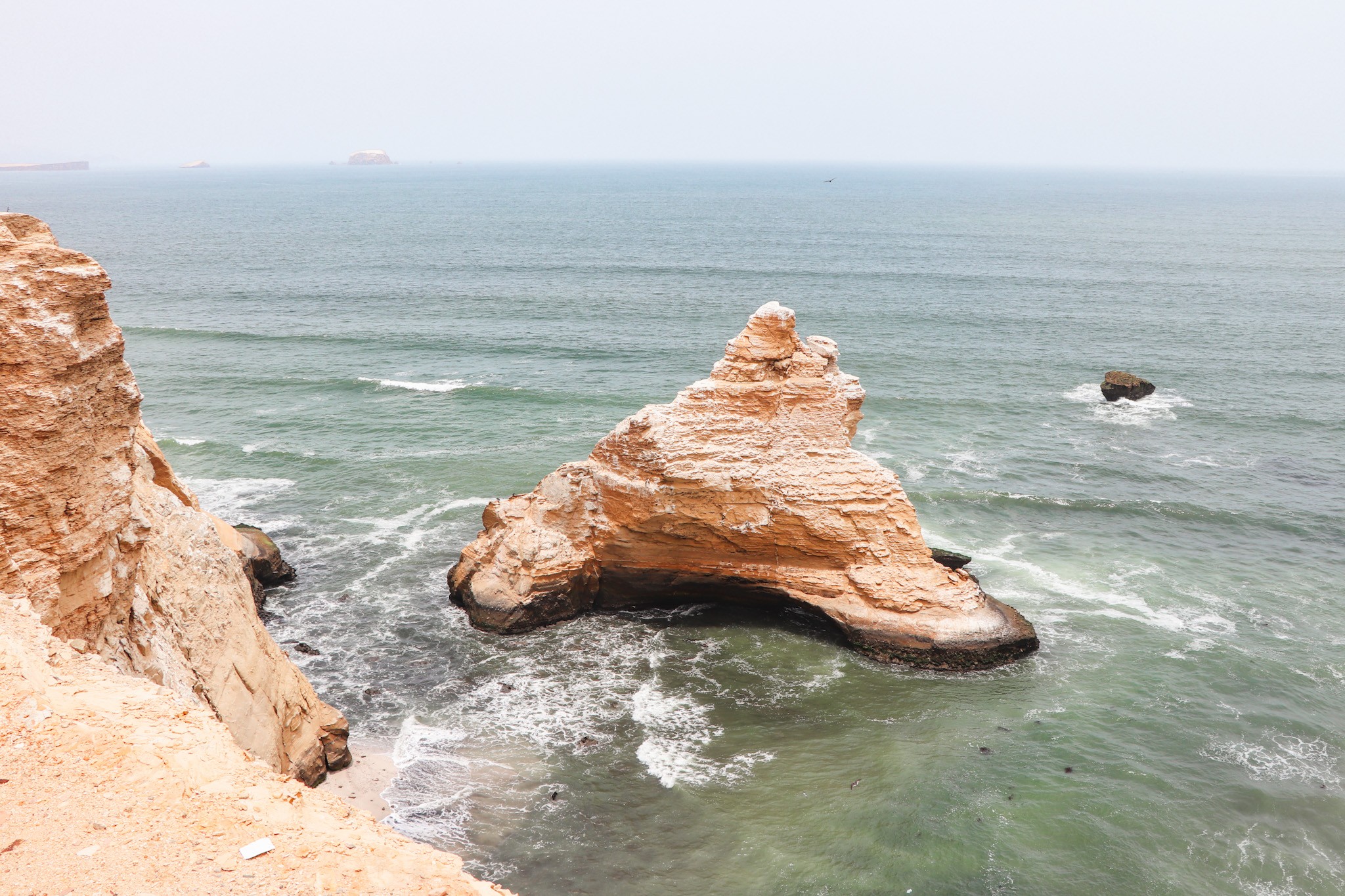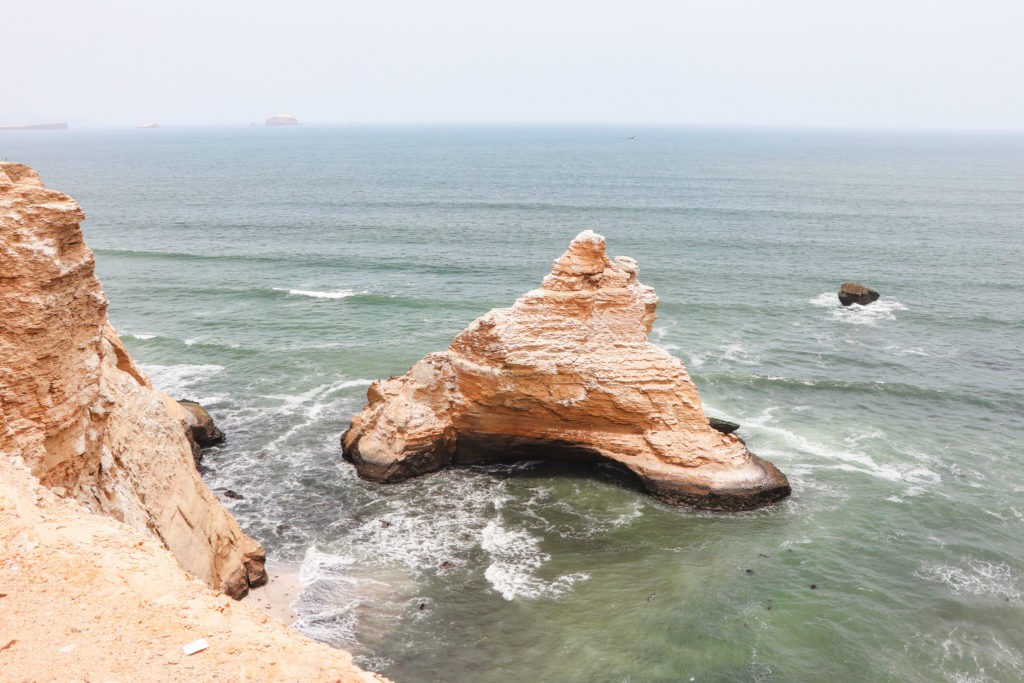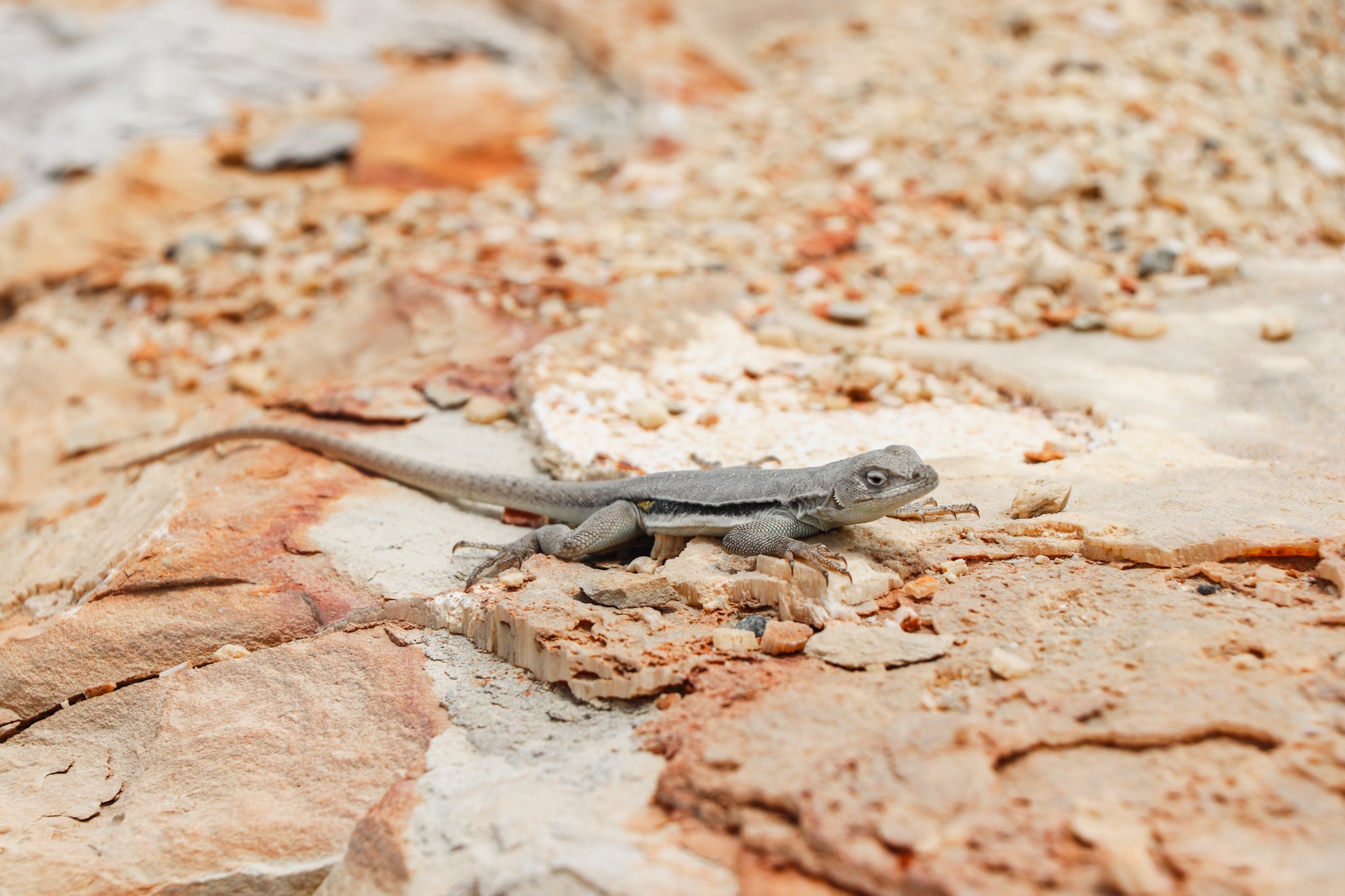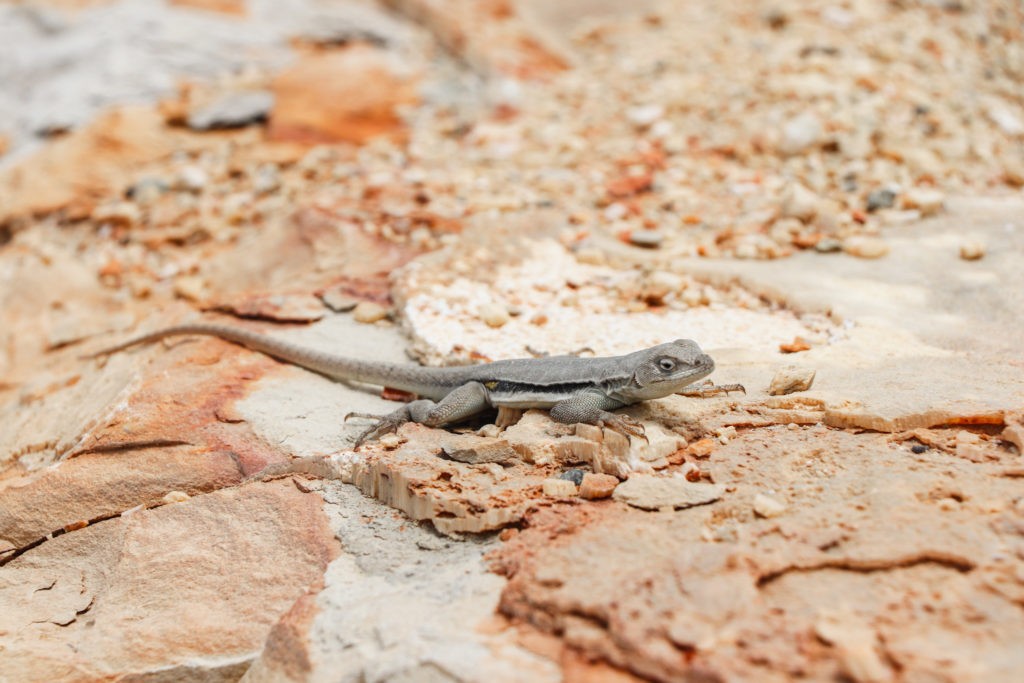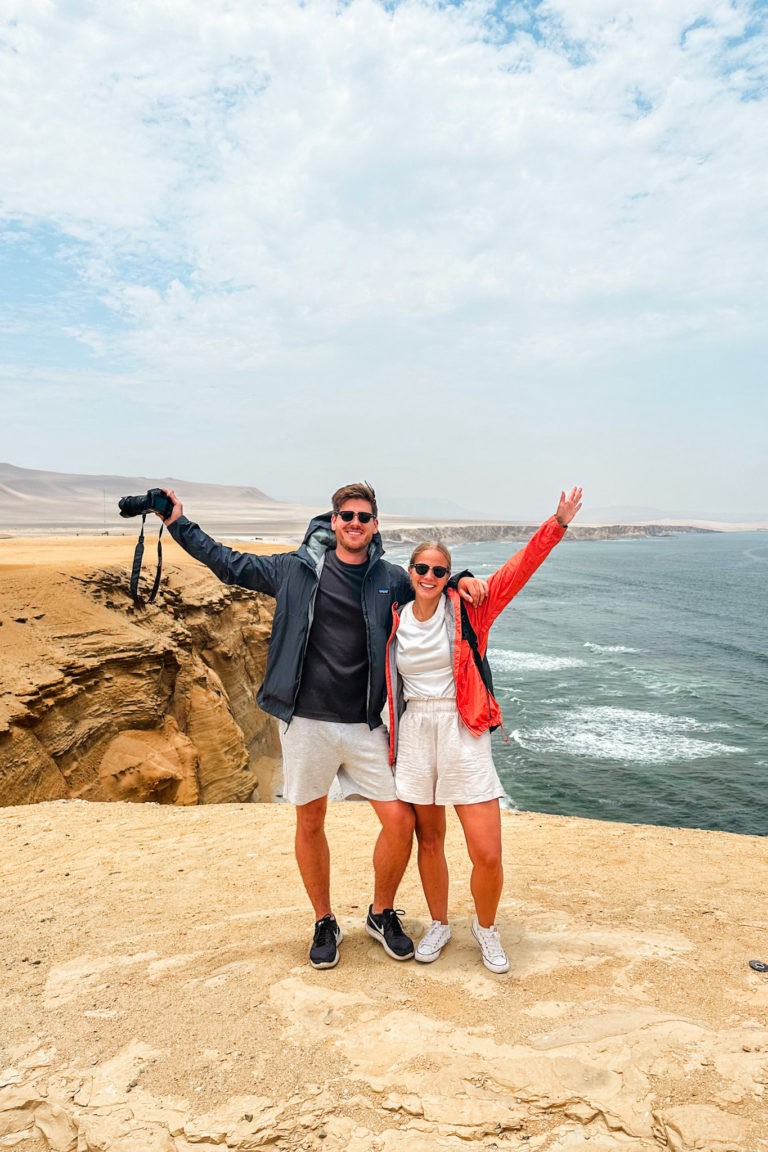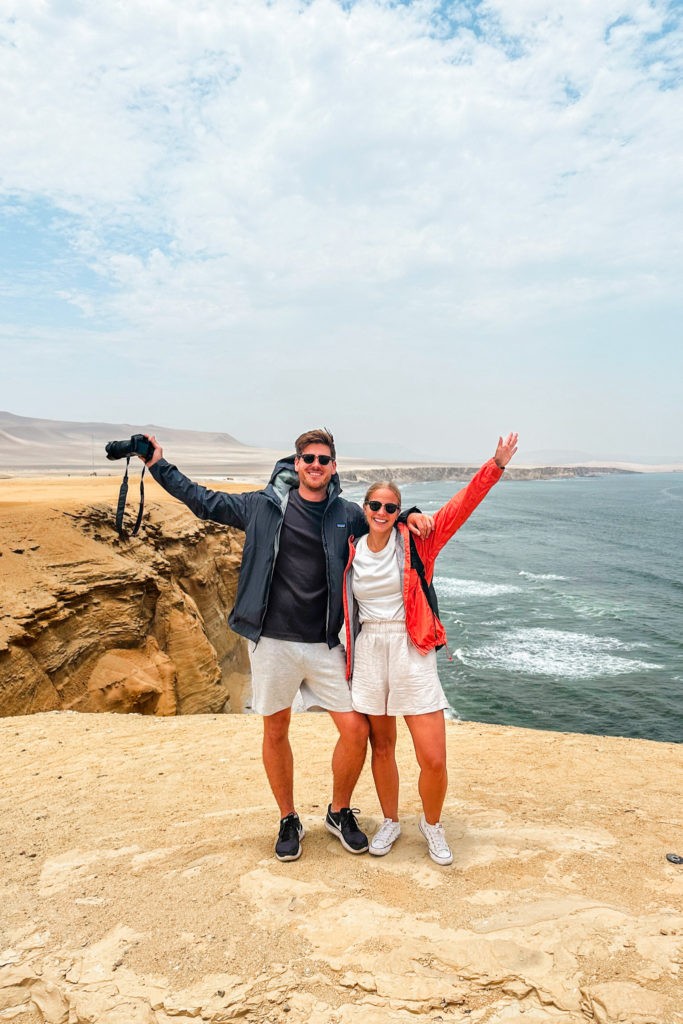 Further down the coastline you'll find Playa Yumaque. Playa Yumaque is a long beach, with the backdrop of high sand dunes. The views over the beach is just breathtaking. To the right you'll see a magnificent limestone cliff and upon closer inspection you'll see its layered surface, revealing hundreds of thousands of years of history.
As the sun came out, we decided to test the water temperature. There's no need to sugarcoat it – it was cold. If the weather had been a bit less windy, we might have considered taking a dip.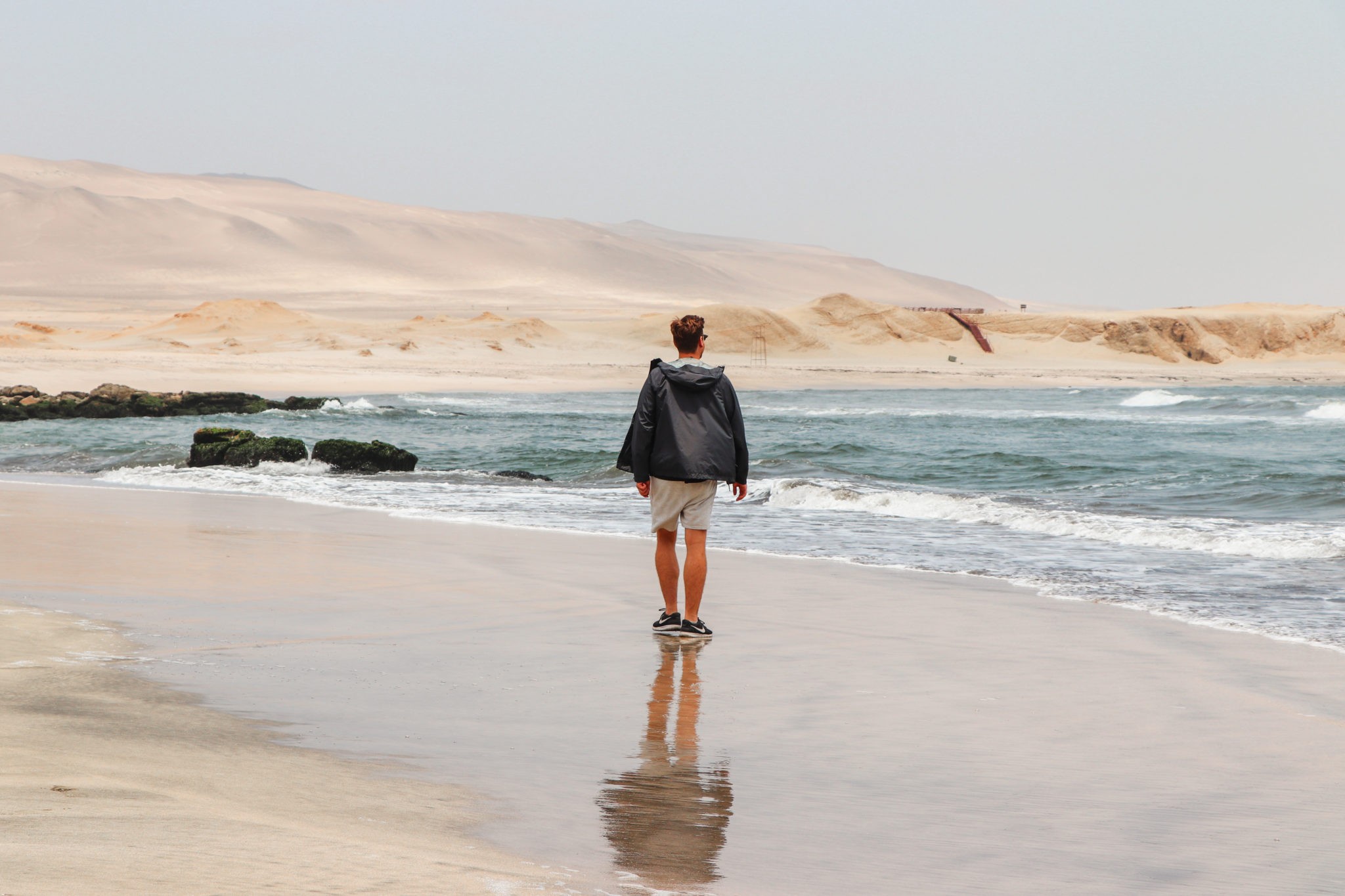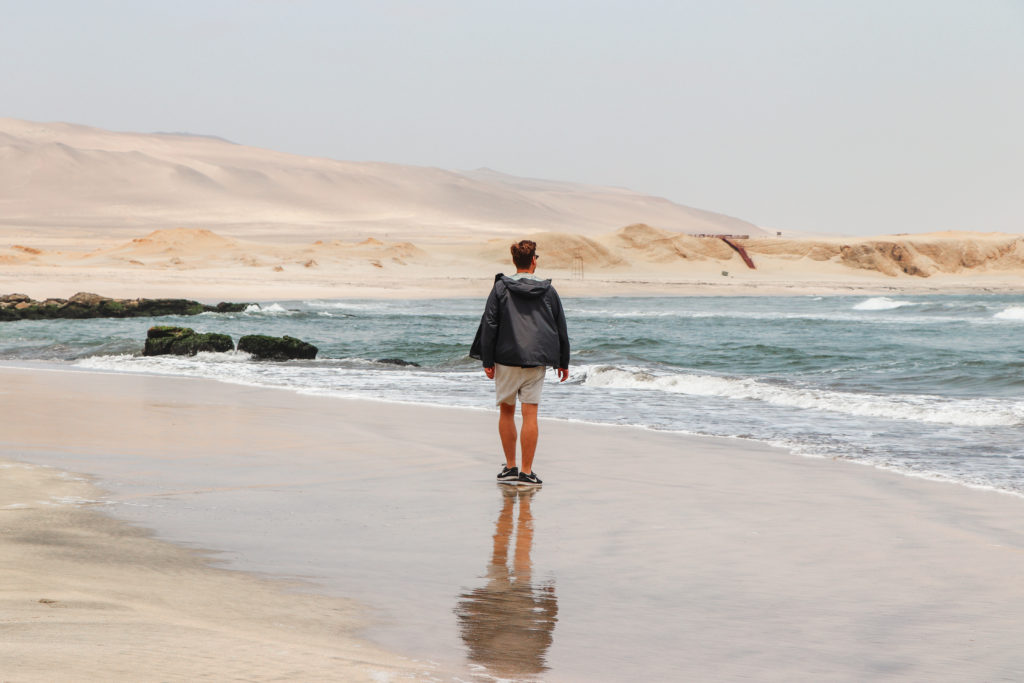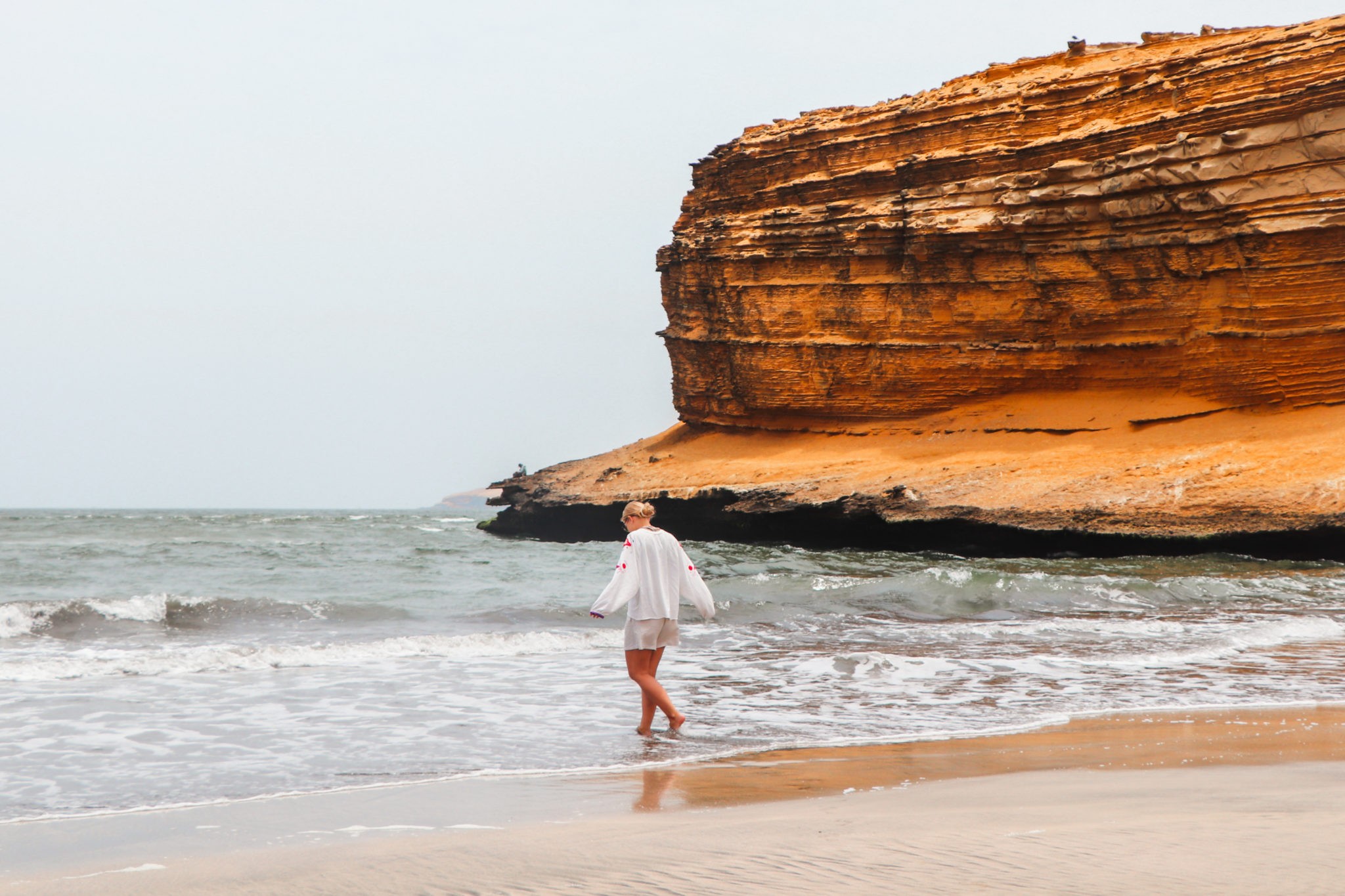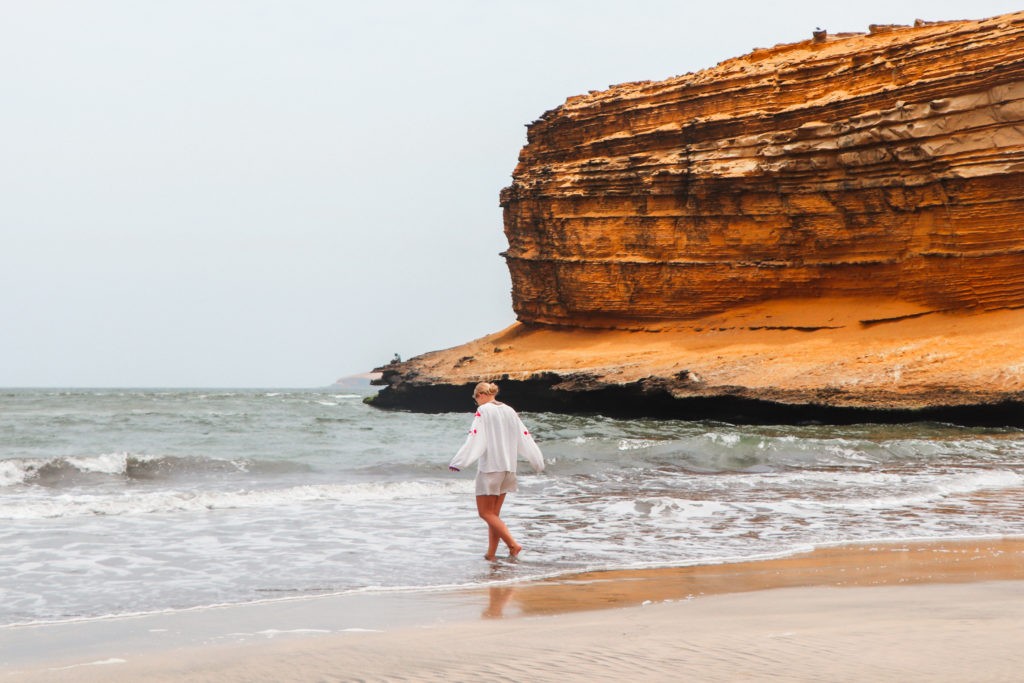 On your way from Yumaque to Playa Roja, there is a road leading to a viewpoint Istmo on the left hand side. From this higher cliff you can enjoy beautiful play of the colors – the blue the lagoon, the red beach and golden dunes. Watch the majestic eagles gliding in the air, hunting for lunch.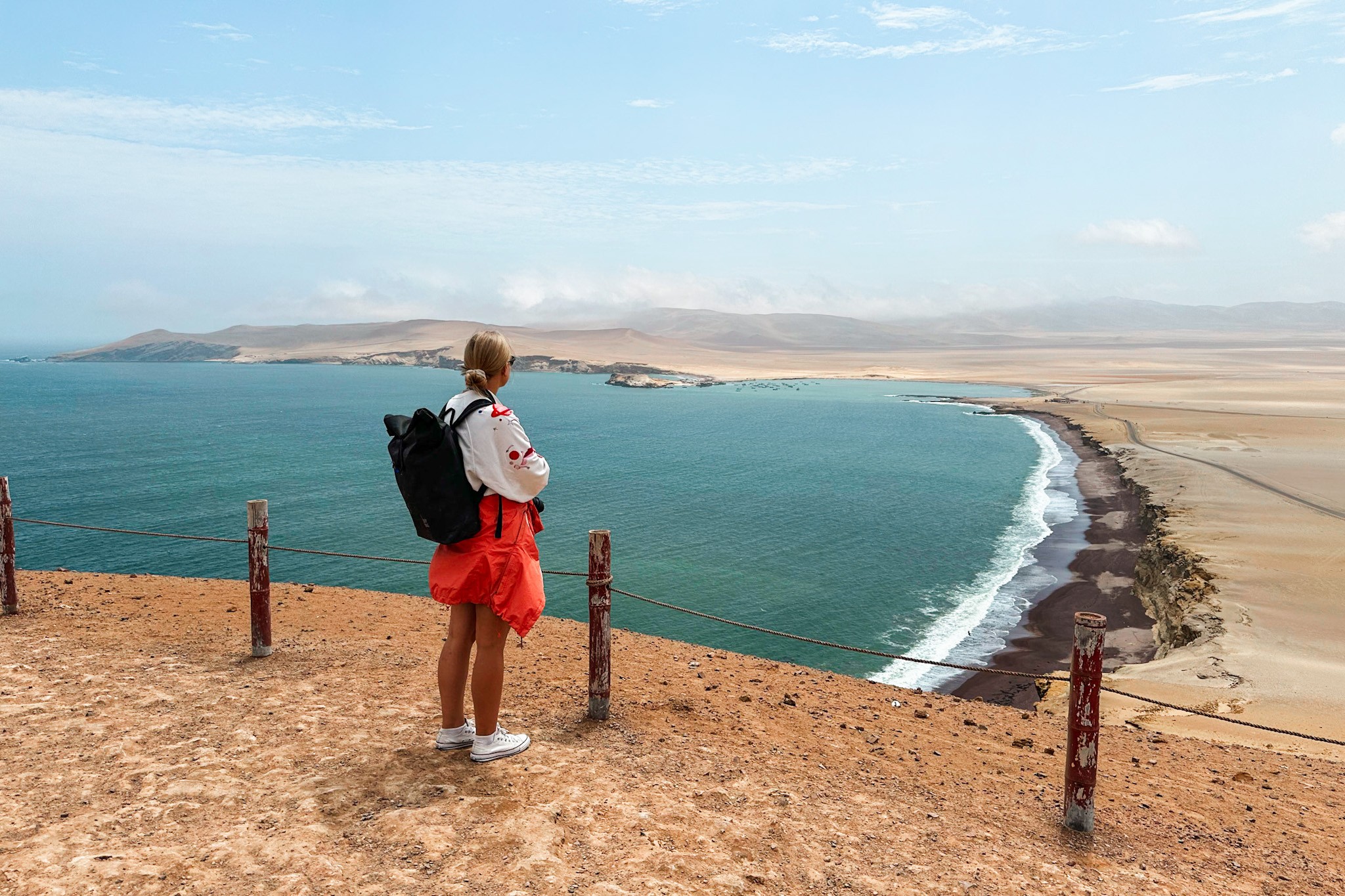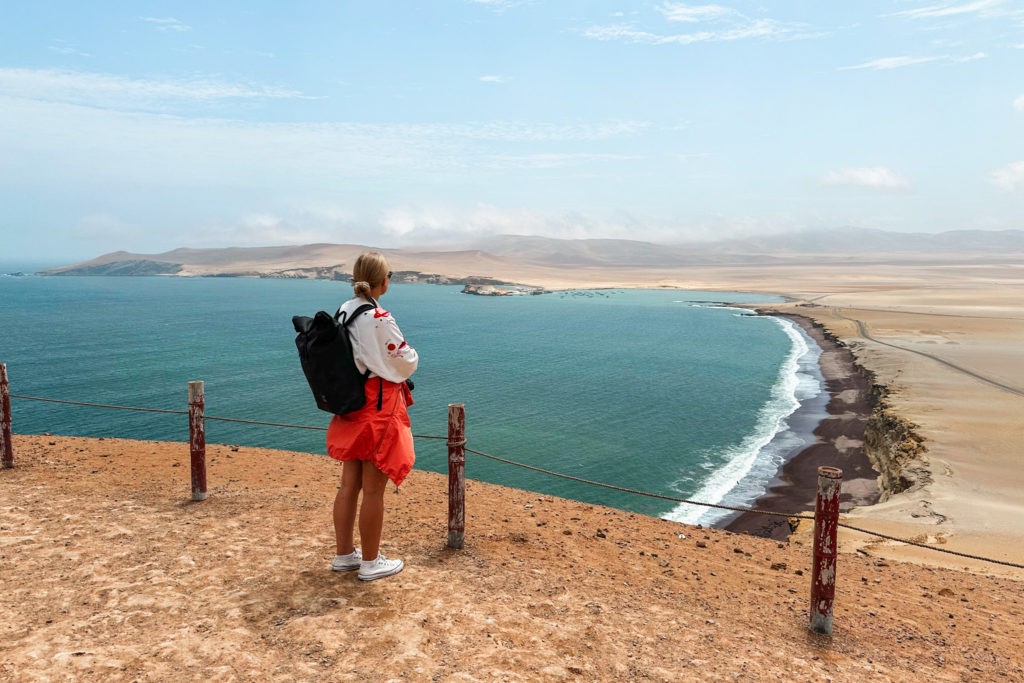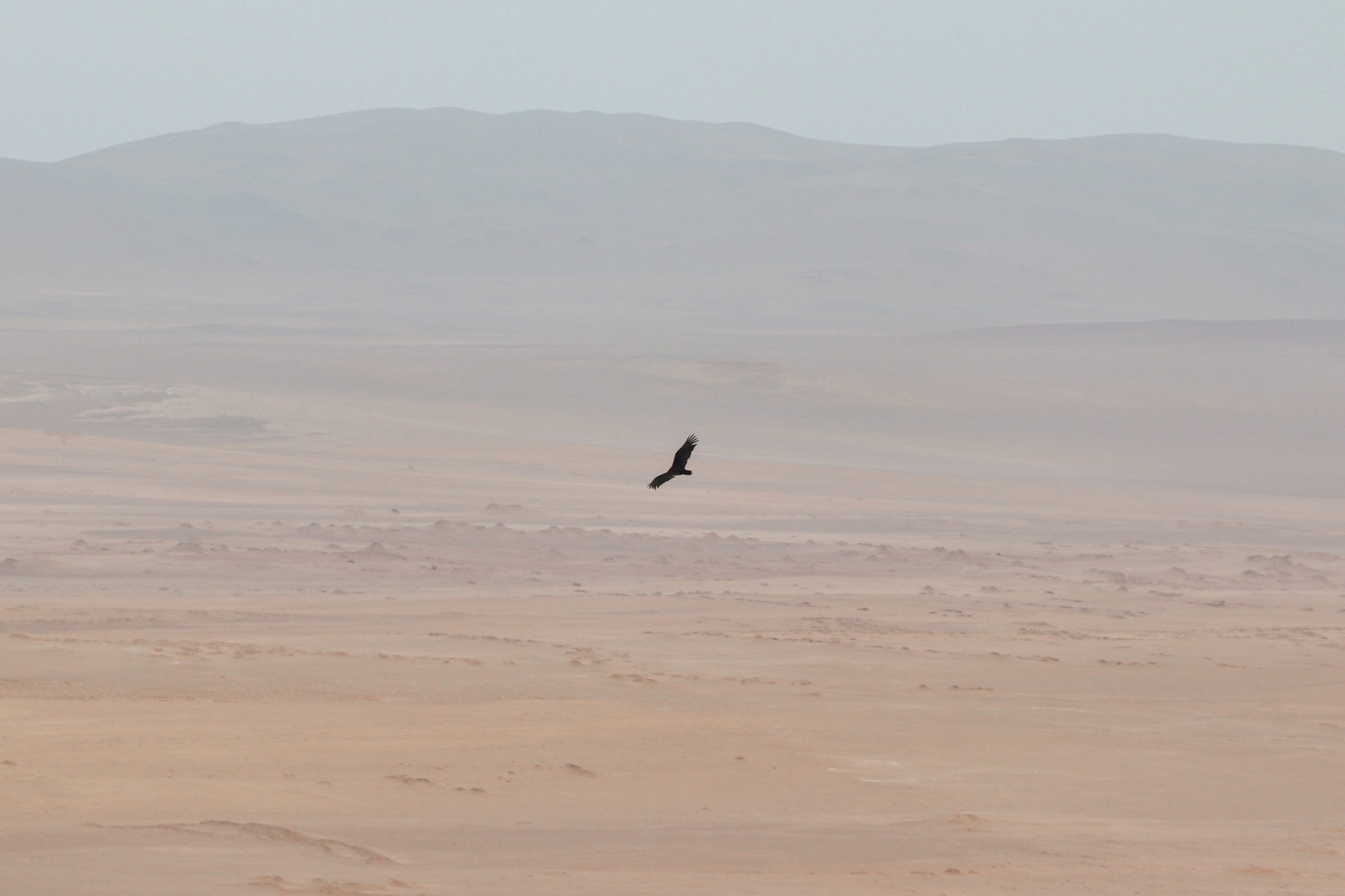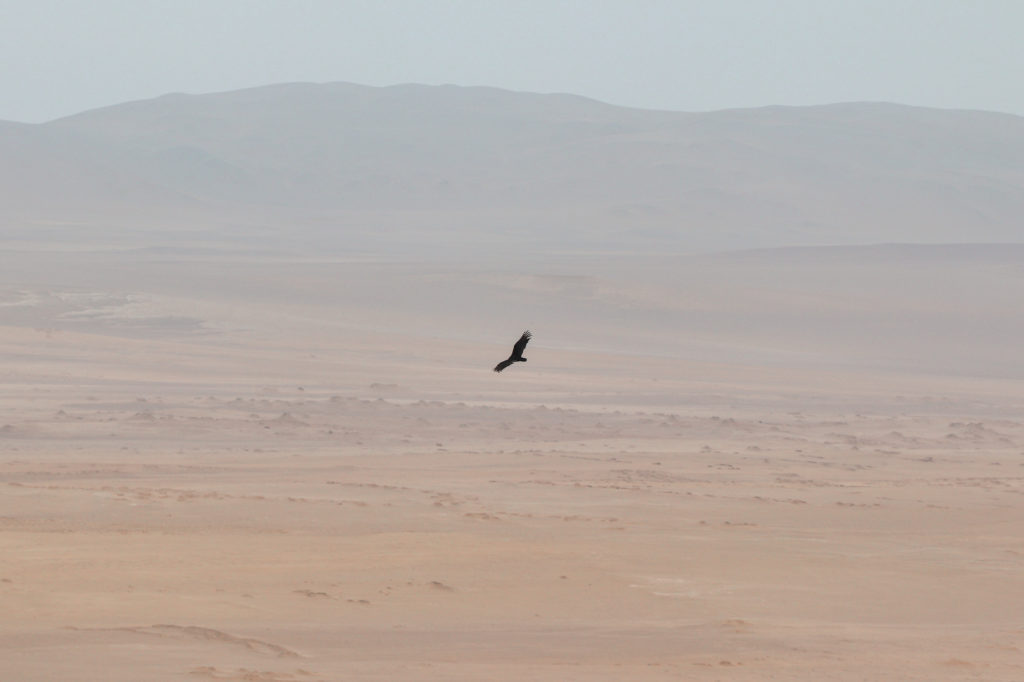 Playa Roja, or "Red Beach," is one of the unique locations within the Paracas National Reserve. As the name suggests, Playa Roja got its name from the red sand. This unique coloration is due to the high iron concentration in the sand, which has oxidized over time. The color is not as red as you may have seen on some of the pictures in the brochures, but its picturesque nevertheless.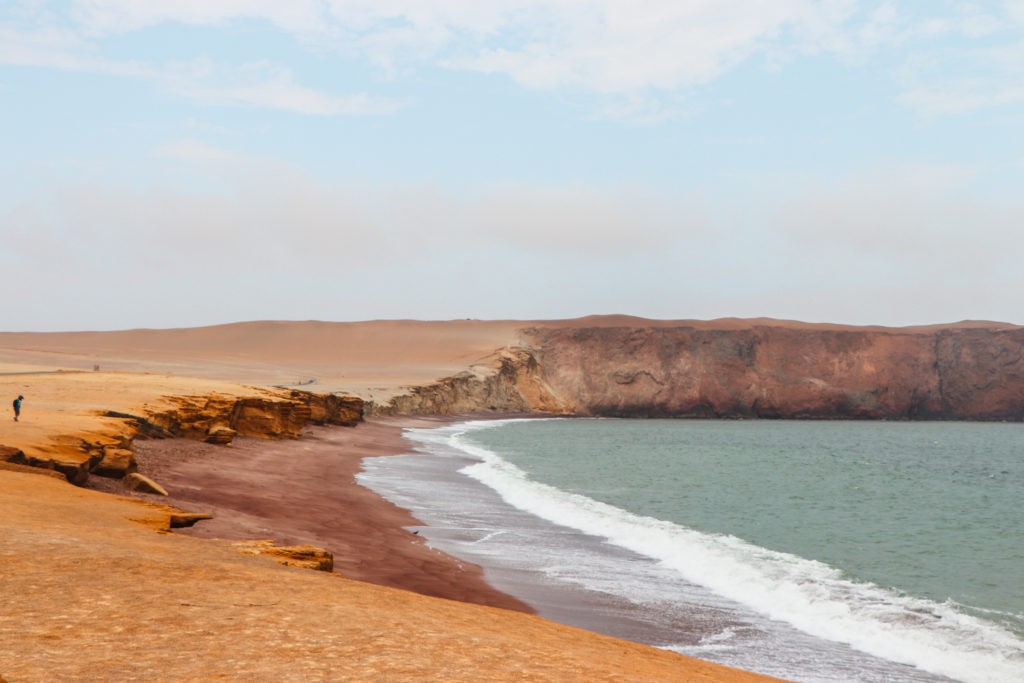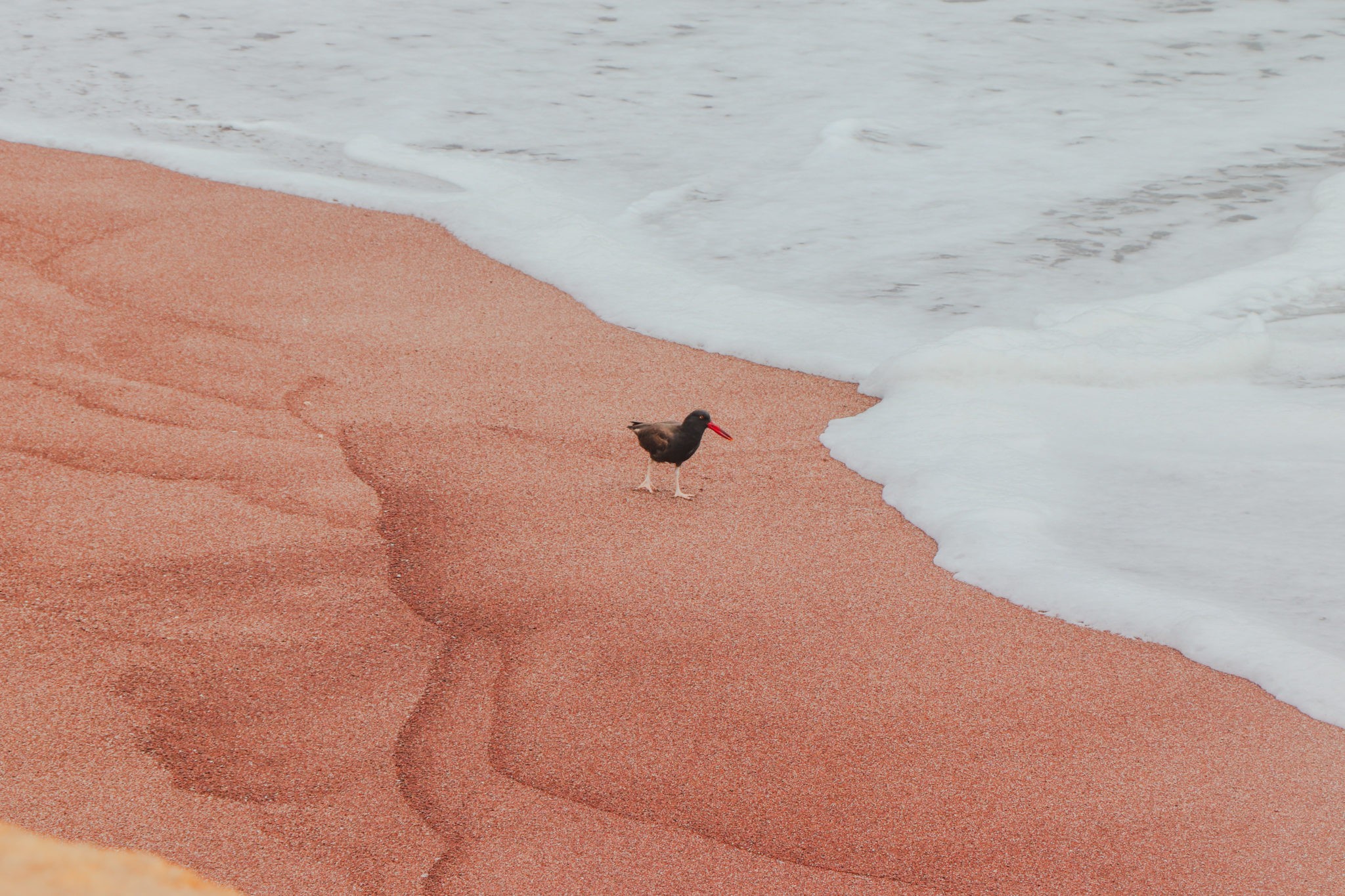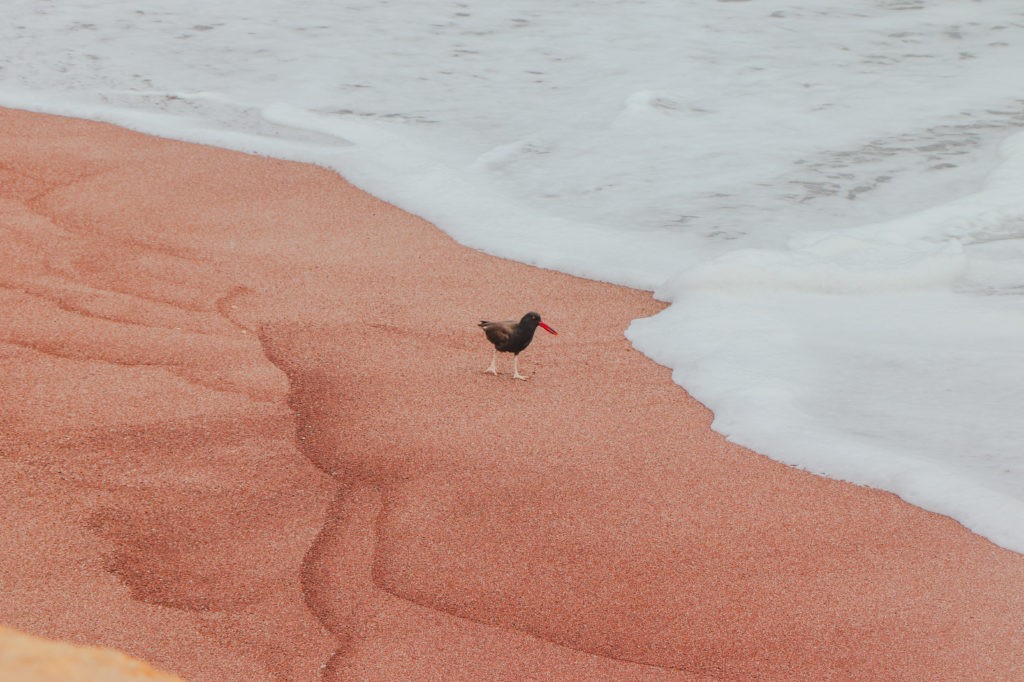 Lagunillas is a fishermen's harbor where you can see many colorful boats anchored on the beach. This is a perfect stop, in case you would like to have lunch or just enjoy a cold beer or an energizing coffee, as there are several restaurants here.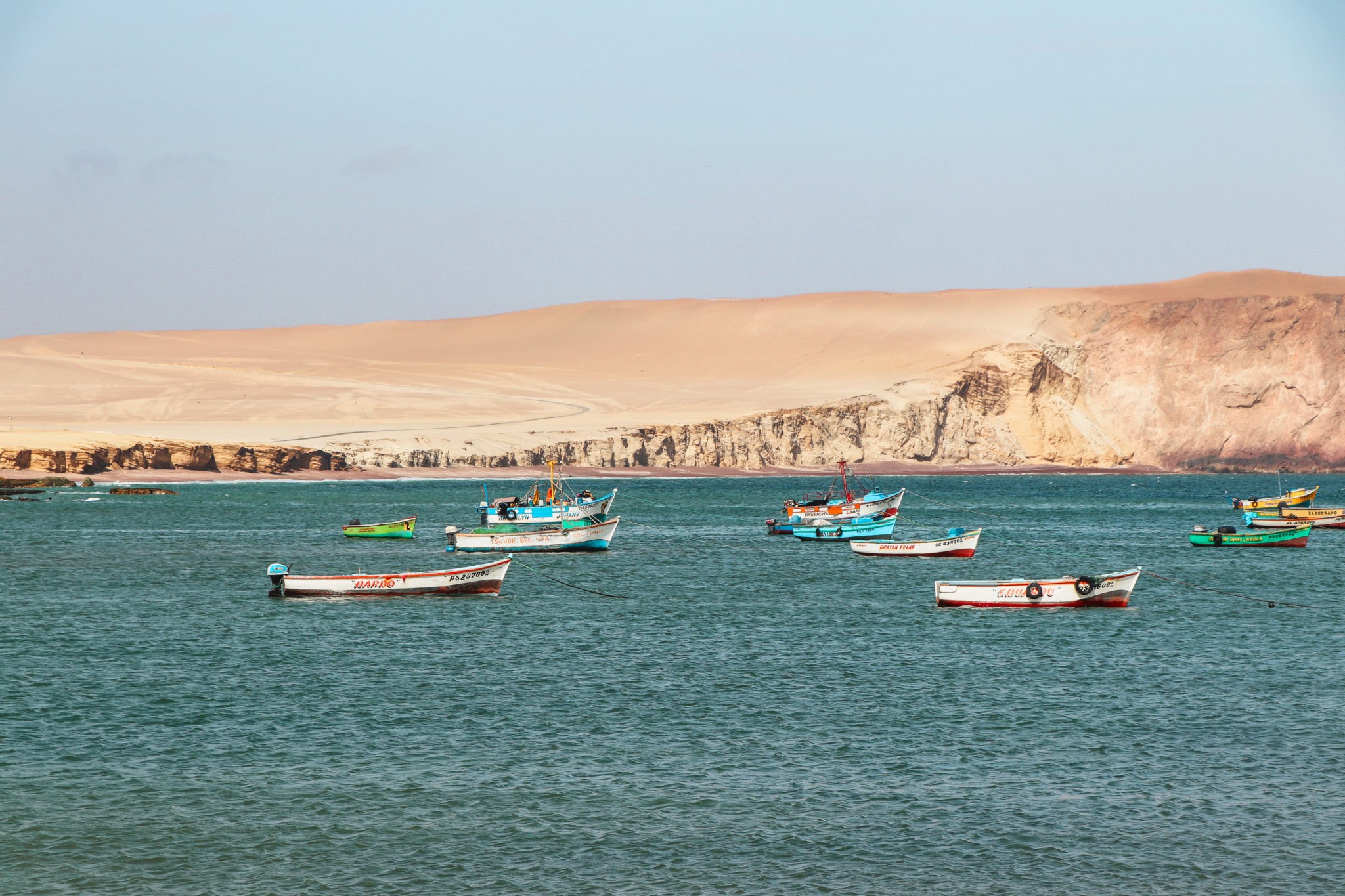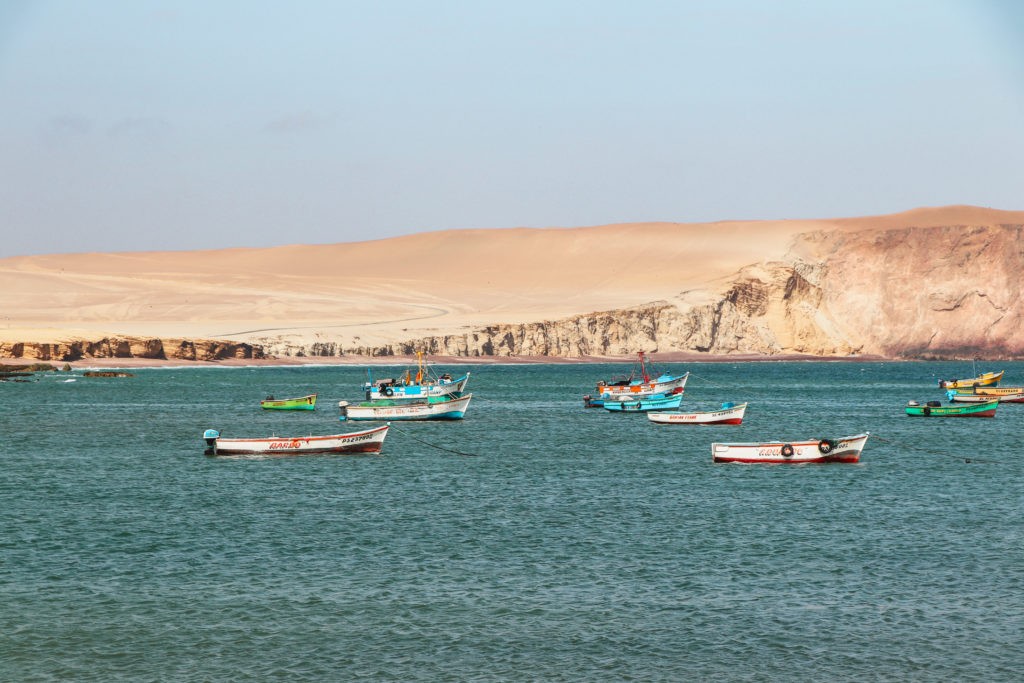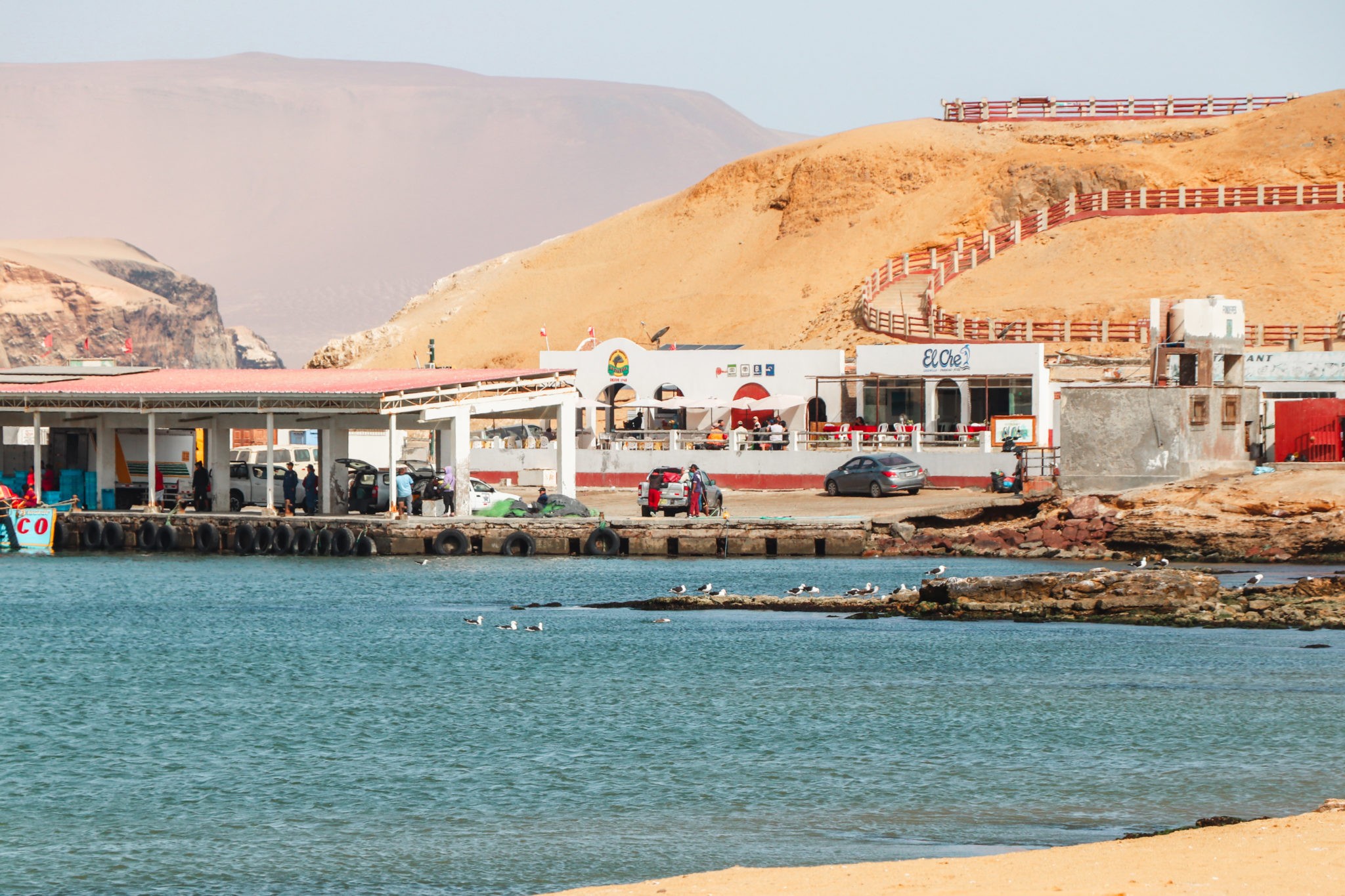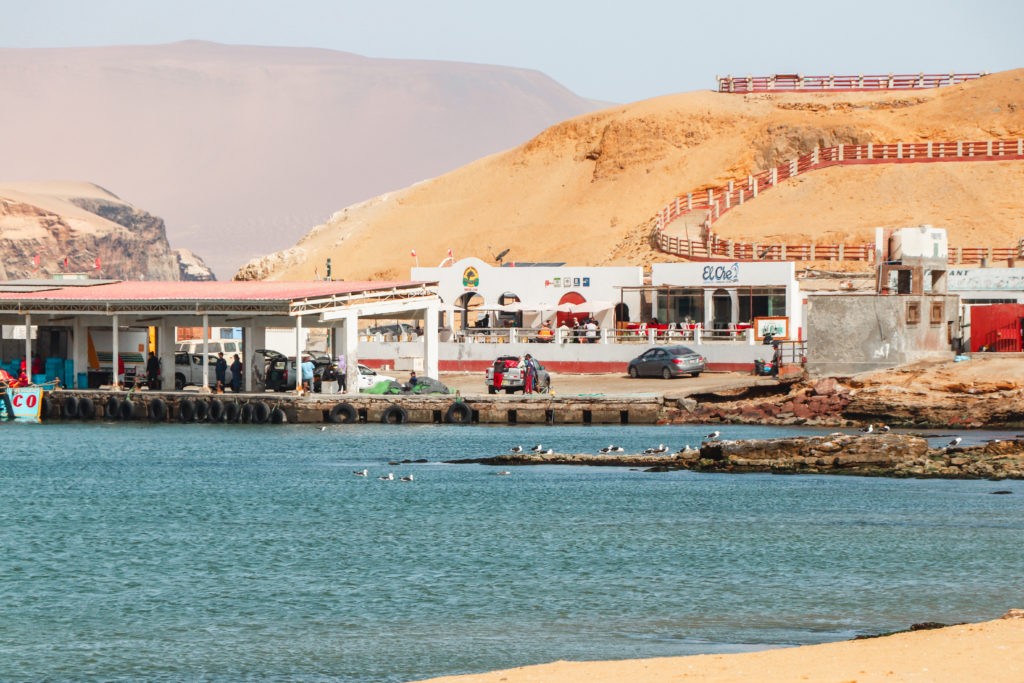 Playa El Raspon is a smaller beach in the north of the Paracas National Park. It is a great place for swimming and is quite popular among locals. It's our secret tip, if you want to relax at the beach. Not many crowds find their way to the very end of the road, as most tours and buses stop already at Playa La Mina.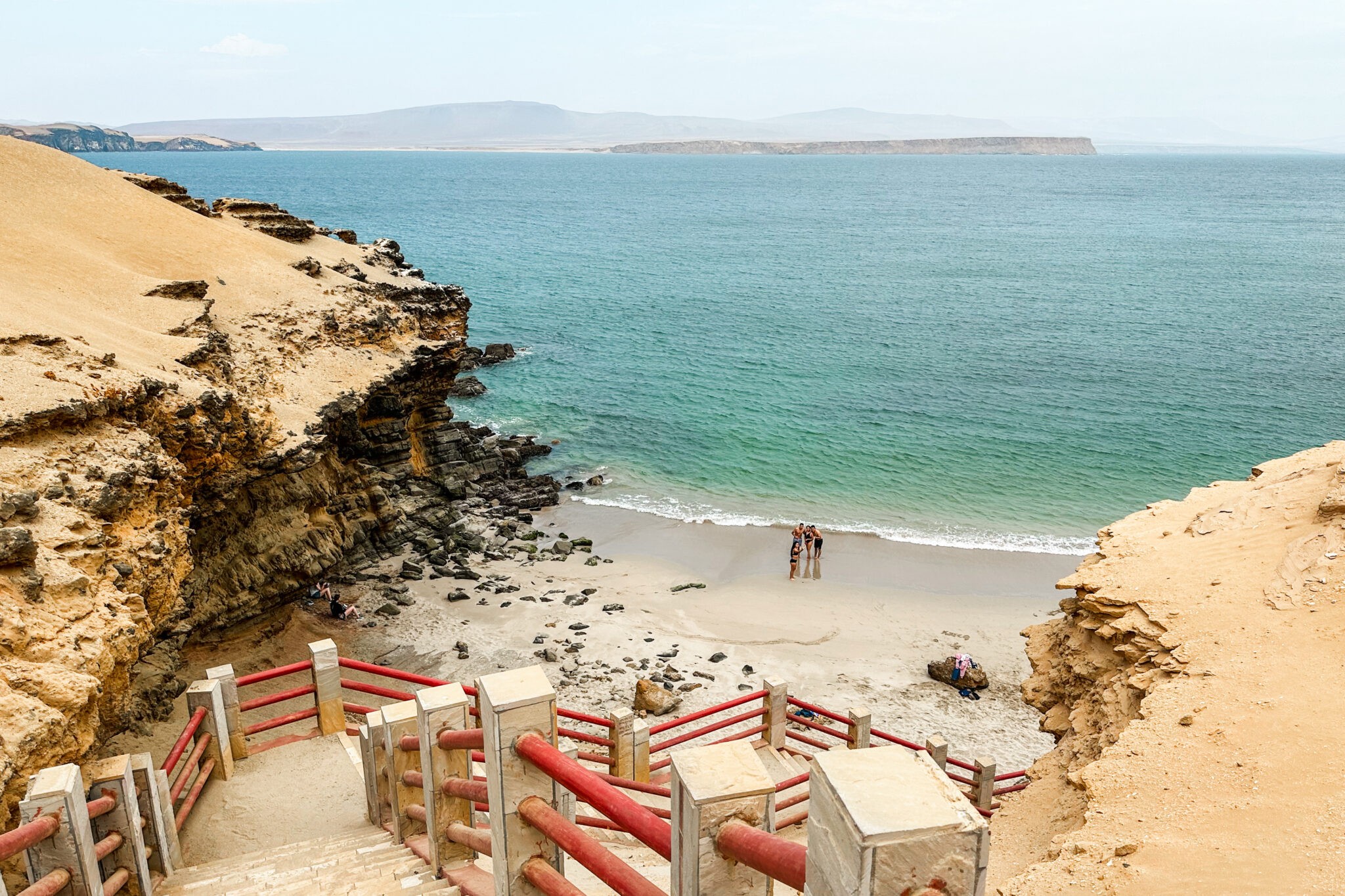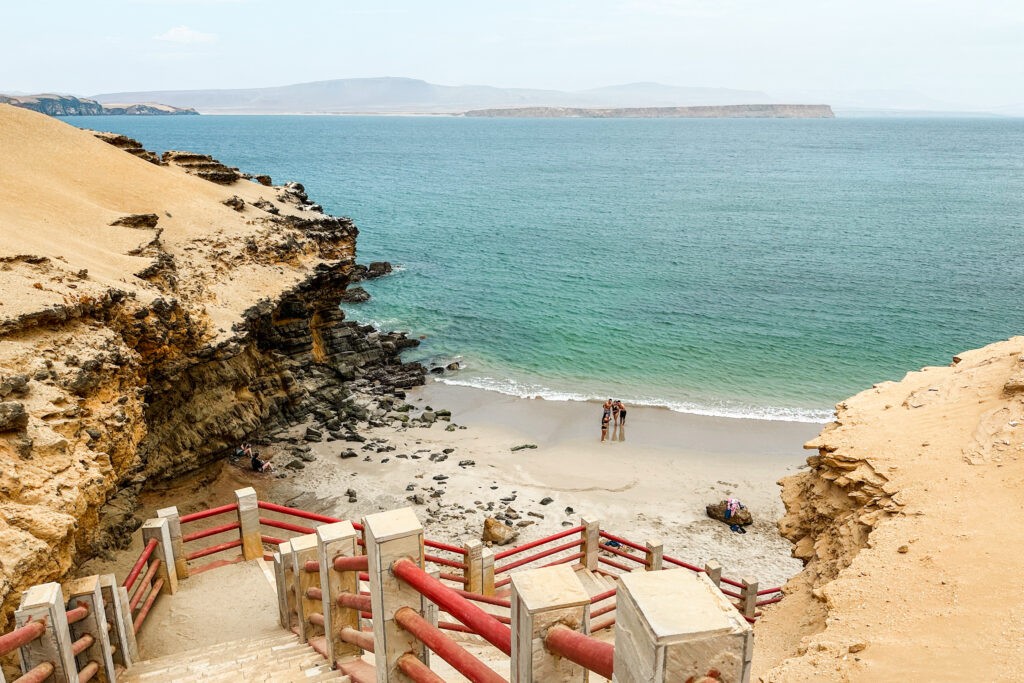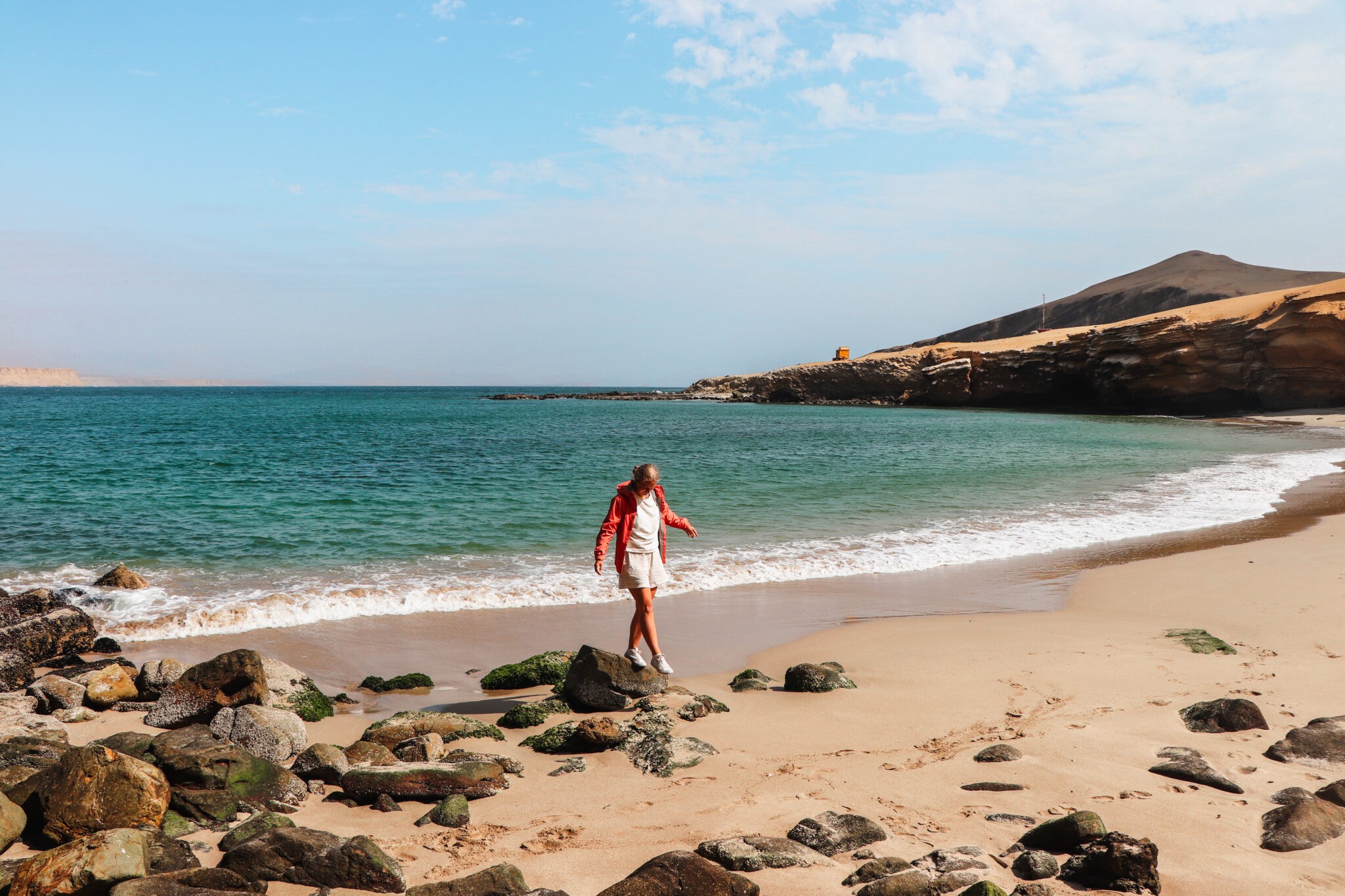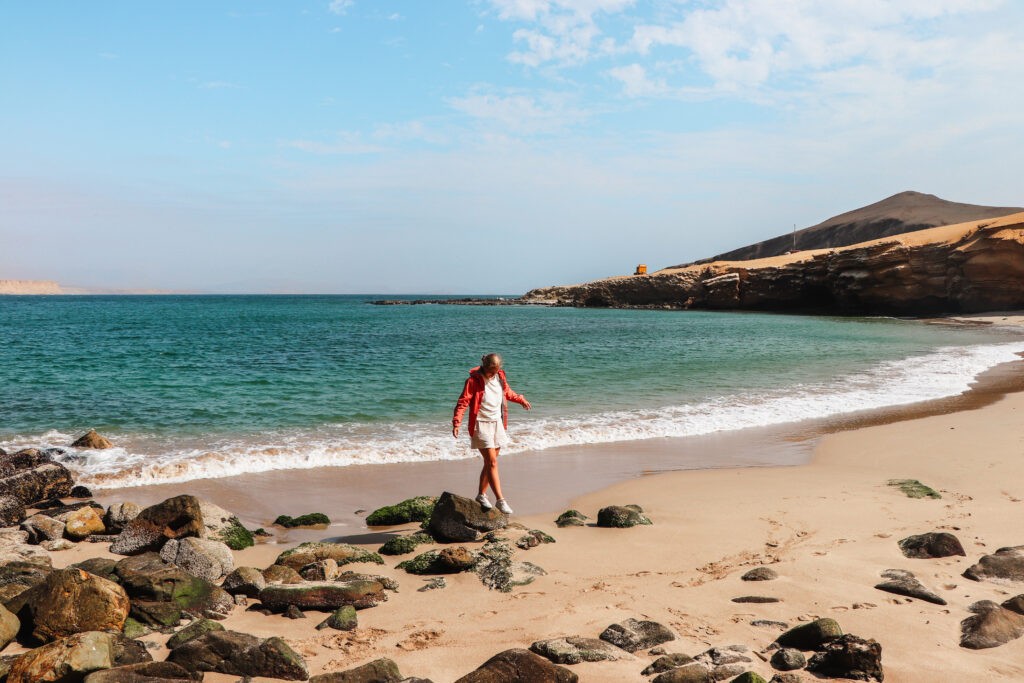 Playa La Mina is definitely the most popular beach among the locals in the Paracas National Park. Many people come here on weekends or evenings to enjoy the sand, the sea and the sun. With good weather this place can get very crowded.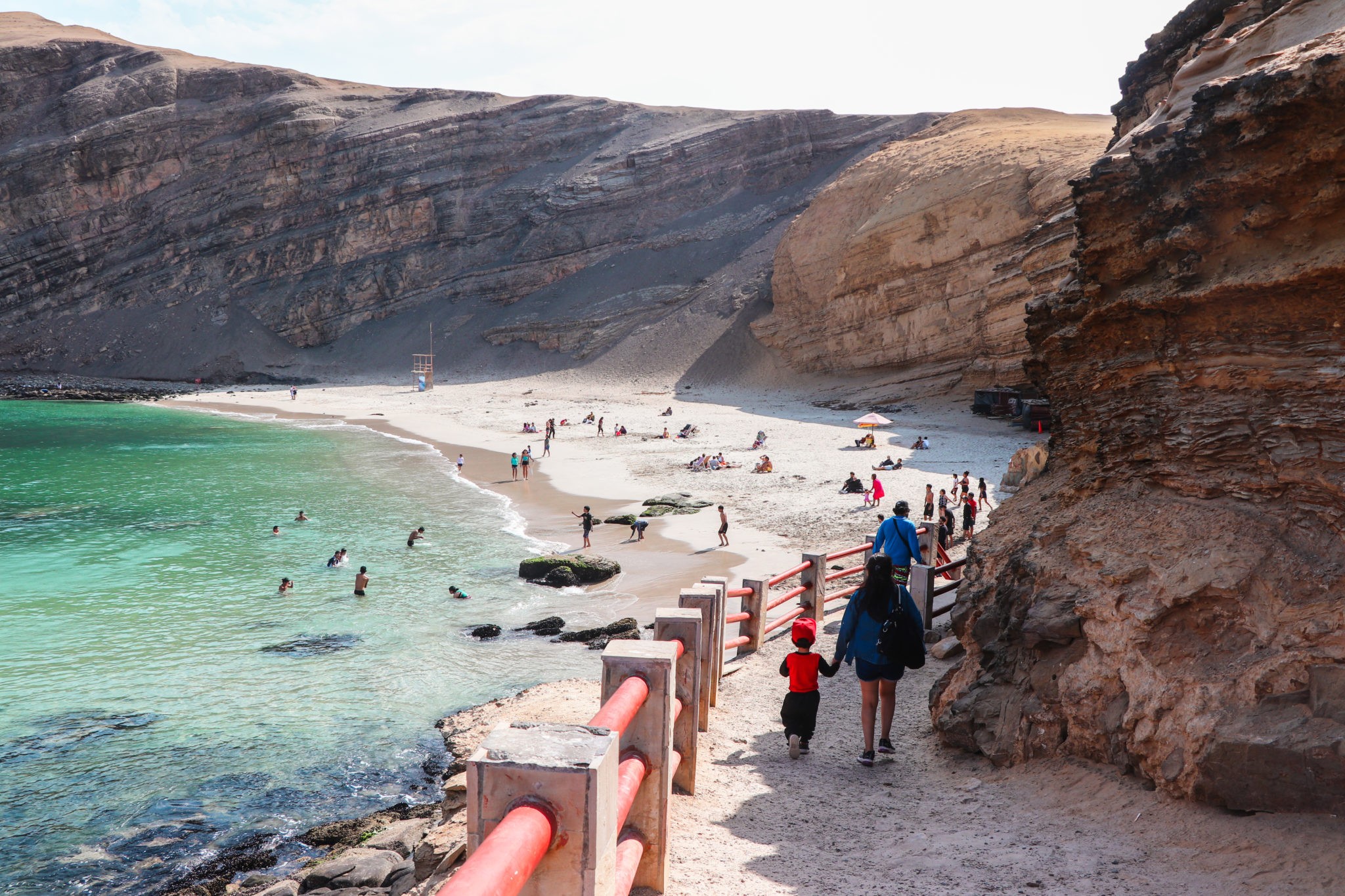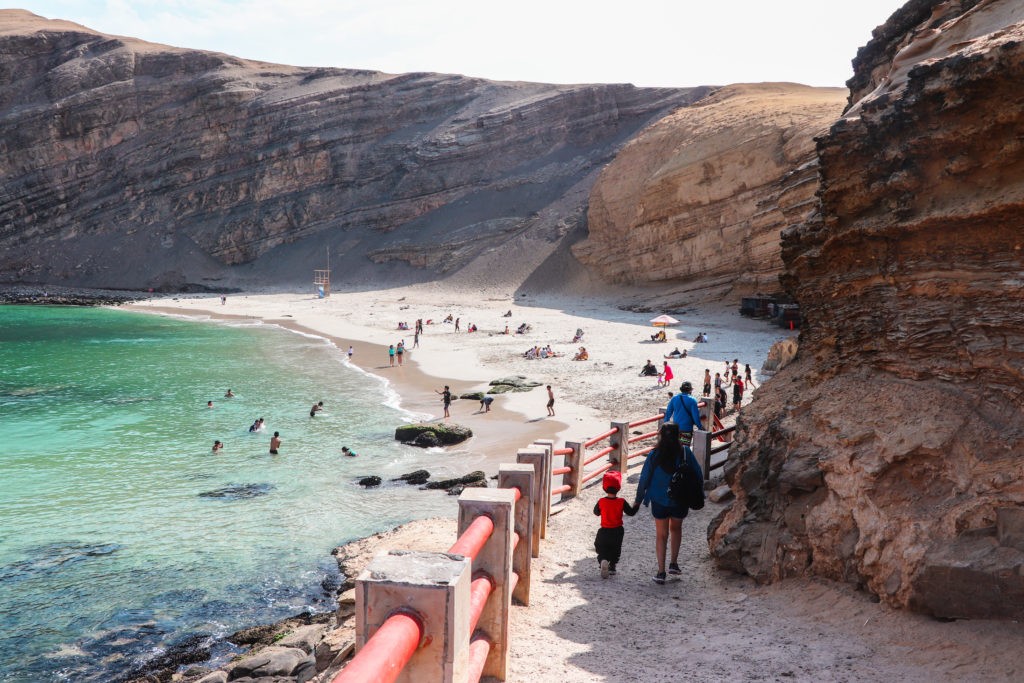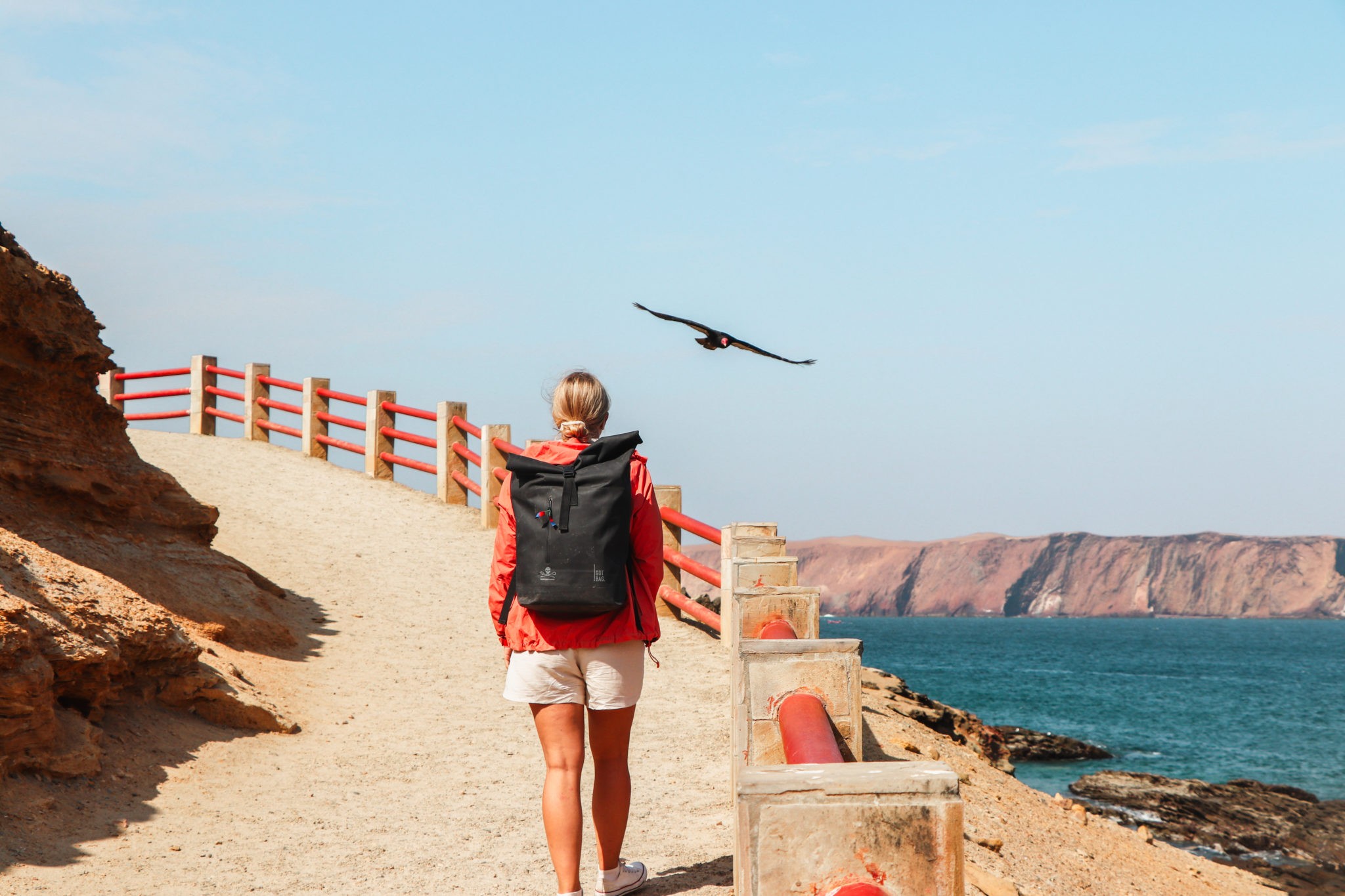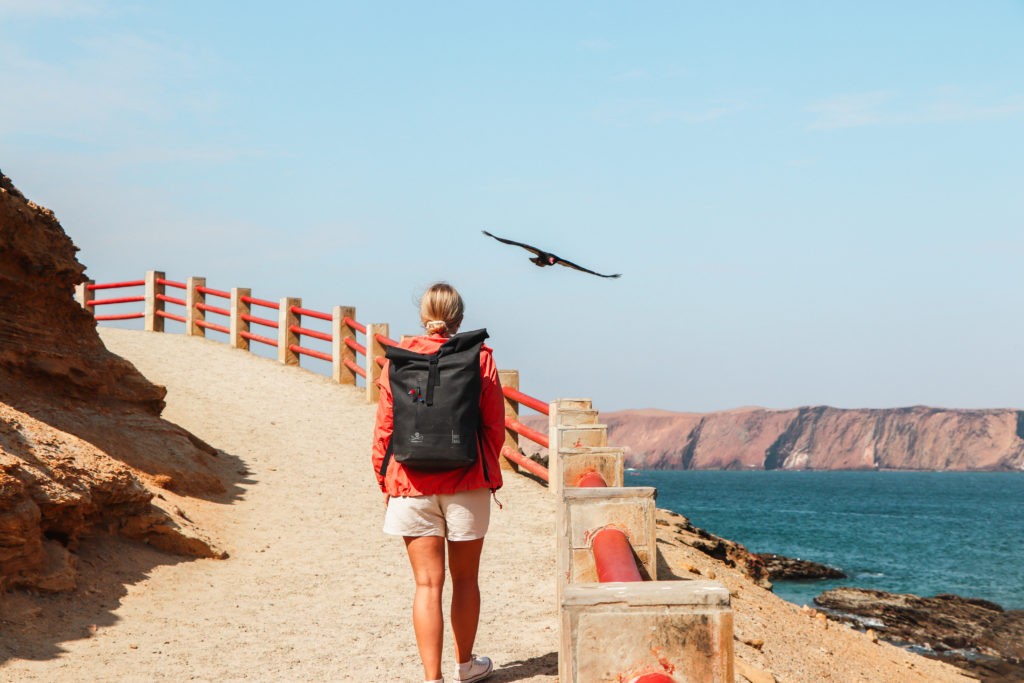 How to visit the Paracas National Reserve?
When you want to visit the Paracas National Reserve, you've got a couple of ways to go about it. One option is to join a guided but tour. Or, if you're up for some excitement, try a tour on a sand buggy or on an ATV. But if you like doing things your way, you can also go solo. Rent a bike or a scooter and explore at your own pace.
You will have to pay the entrance fee to the Paracas National Reserve which is 11 PEN (approx. 3 USD). If you buy the Paracas National Reserve ticket for the Isla Ballestas and the Paracas National Reserve at once, you only pay 22 PEN instead of 27 PEN.
You will get the best prices for the tours to the Paracas National Reserve if you book once you are already in the Paracas town. Don't worry, there will be enough places for everyone. In case you will be arriving late in the evening, and want to do the tour already on the next day, write the tour operators via WhatsApp to easily compare the prices and reserve your spot.
Book a bus tour to the Paracas National Reserve
A bus tour is probably the most common way to visit the Paracas National Reserve. This option is the best for people wanting to lay back and enjoy a guided experience. Just be aware that you will be enjoying the beautiful views mostly out of the bus window. The tours only stop shortly at the sights to take pictures.
You can book the bus tour with any tour operator in the town. The tours usually start at 11 a.m. and can be combined with the boat trip to Isla Ballestas on the same day. The tour lasts for 2,5-4 hours, depending on a provider, and costs 50-60 soles (approx. 13-15 USD).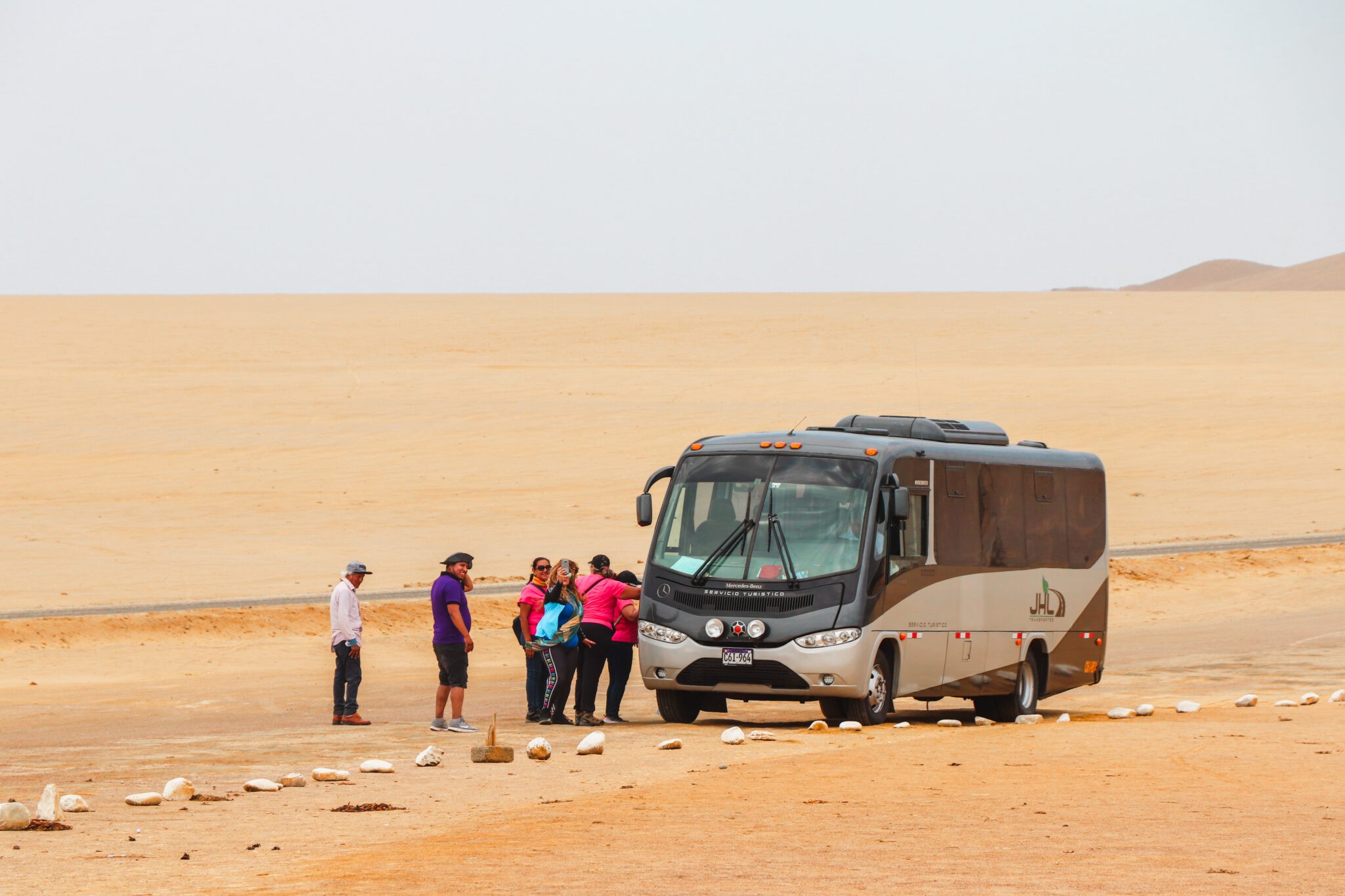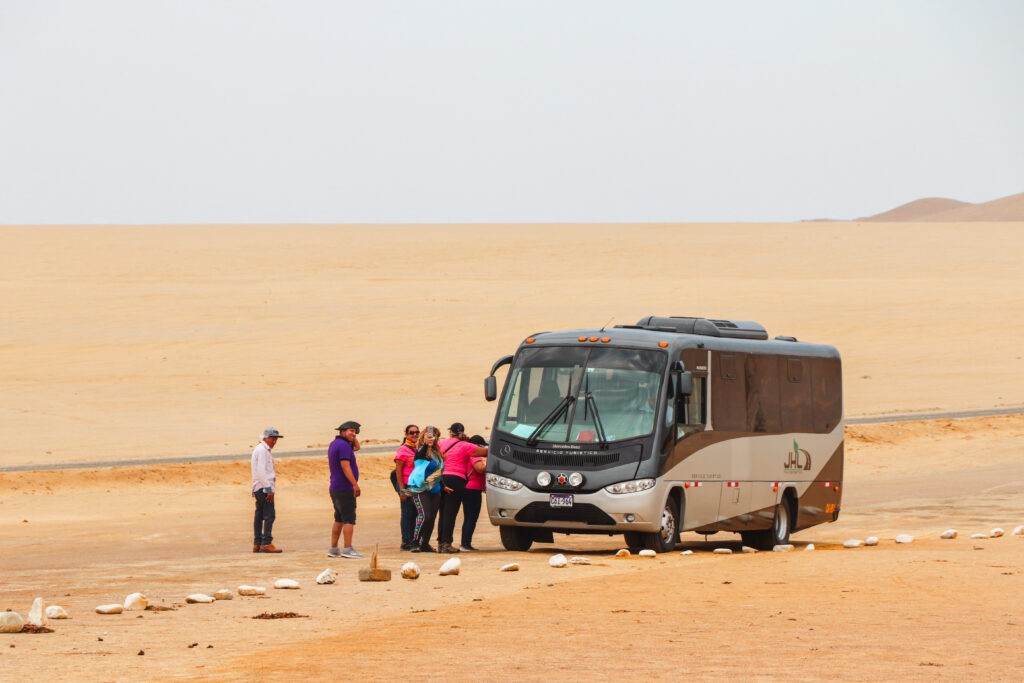 Have a thrilling sand buggy or quad bike ride
Are you looking for a unique experience when exploring the Paracas National Reserve? Then book a sand buggy or a quad bike tour. Some agencies even offer special buggys which can be ridden by you and your partner or friend. Also bear in mind that you are not allowed to drive on the dunes and have to stick on the regular roads.
The tours usually last for 2 hours and cost between 50-110 PEN per person (approx. 13-30 USD). During this time you will visit some of the viewpoints in the national park, but not all of them.
Wear a scarf and glasses (sunglasses will do) to protect your face from sand. If you have a face mask, you can also wear it to not eat too much sand while you hit the road.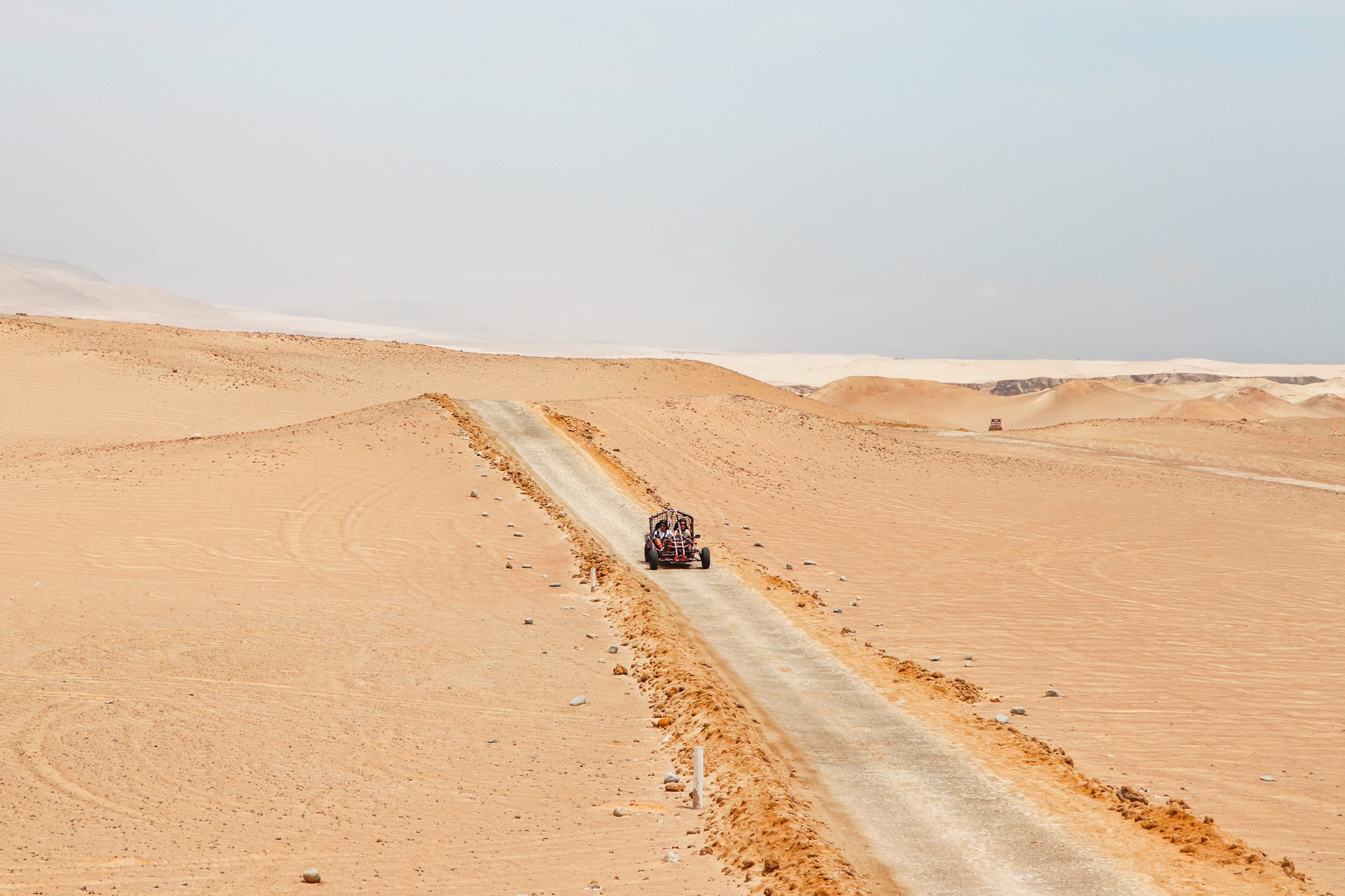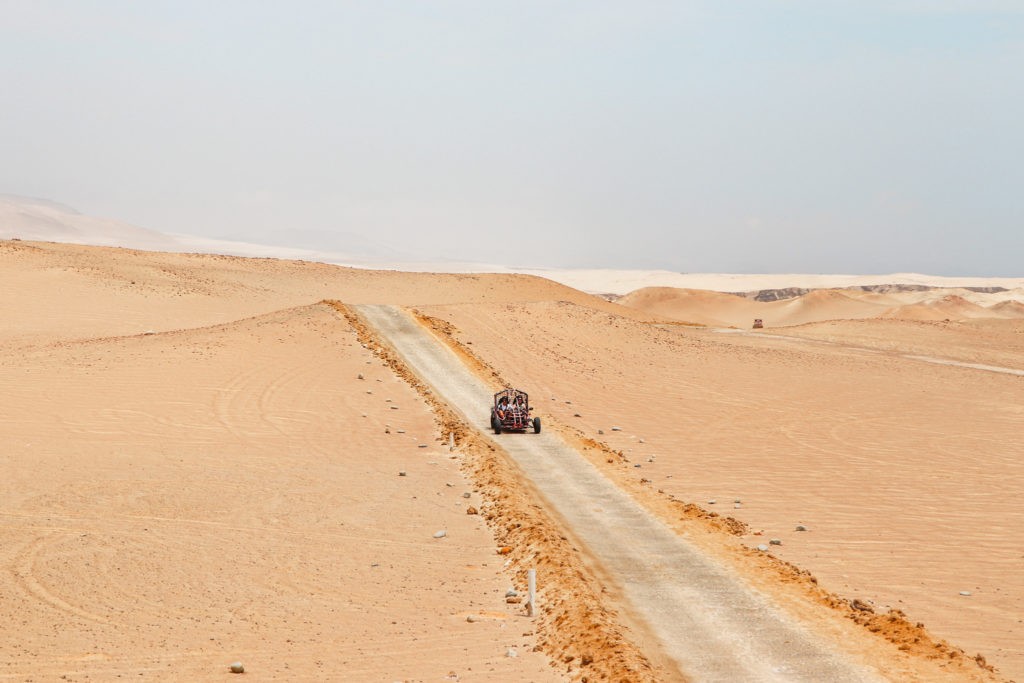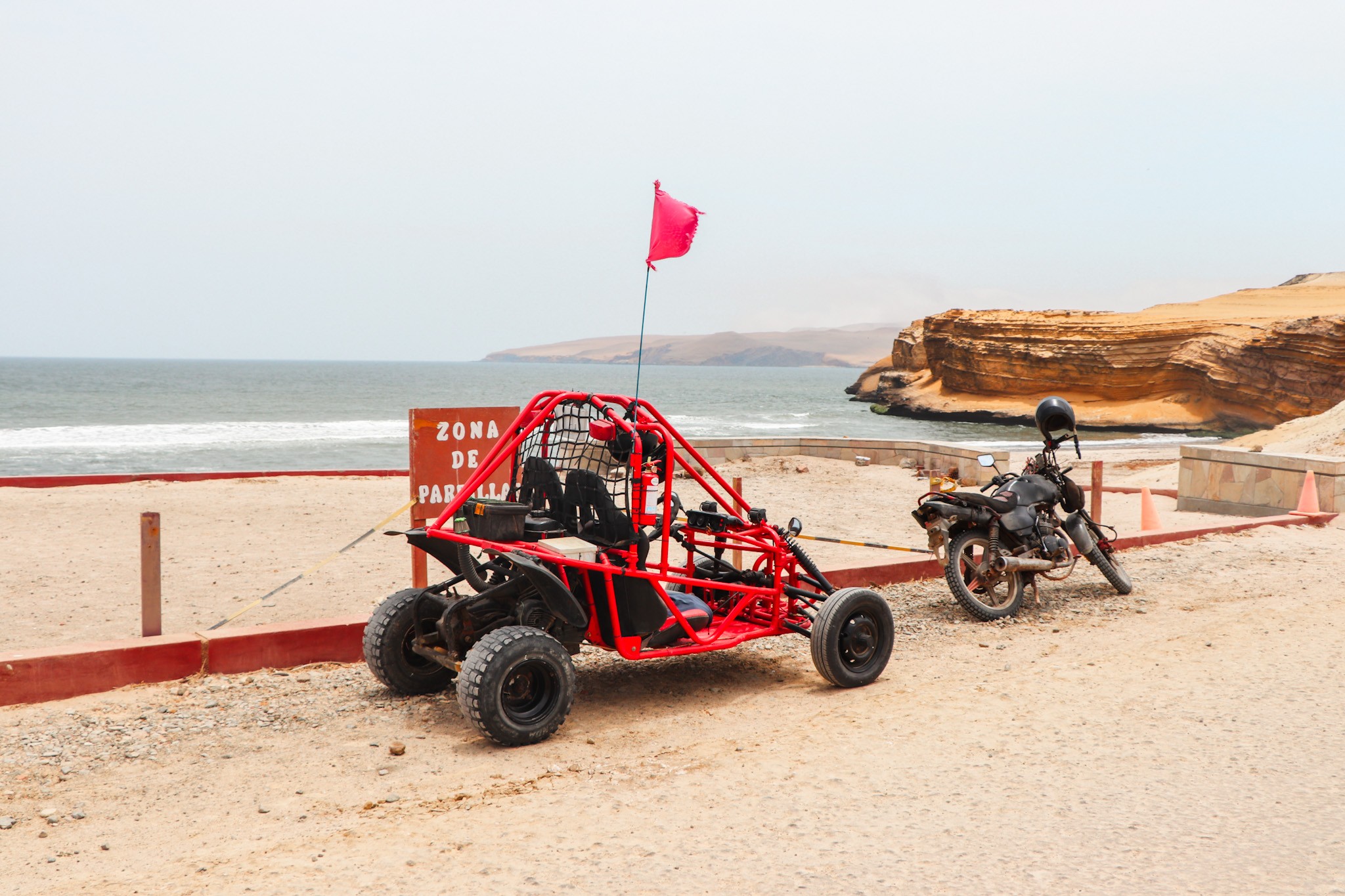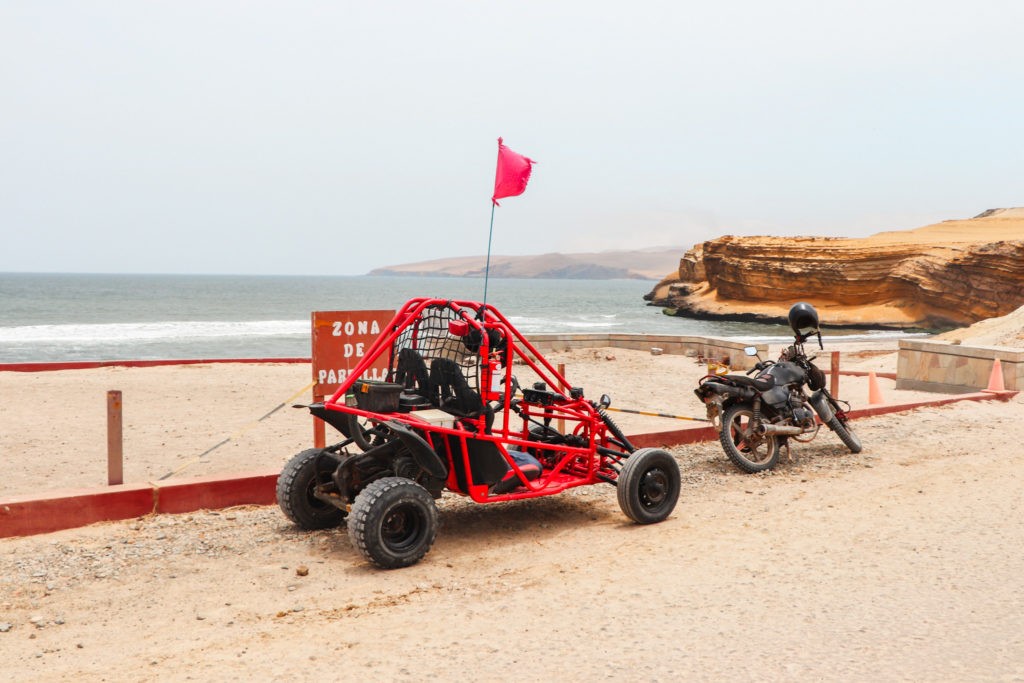 We chose to rent a scooter which allowed us to explore the park in our own pace. While the roads in the Paracas National Park are not the best, its still possible to drive them by scooter. It takes a little bit of skill, but just keep slow and stick to the speed limit of 25-30 km/h (15-18 mph).
Scooters are easily available for rent in Paracas and cost 80 soles per day (approx. 20 USD) including gasoline. Make sure that the rental company also provides you helmets. Safety first!
Dress up in layers when visiting the Paracas National Reserve. Although the desert can get pretty hot during the day, as soon as the clouds cover the sun and the winds start to blow, it is good to have a sweater and maybe even a windbreaker jacket with you.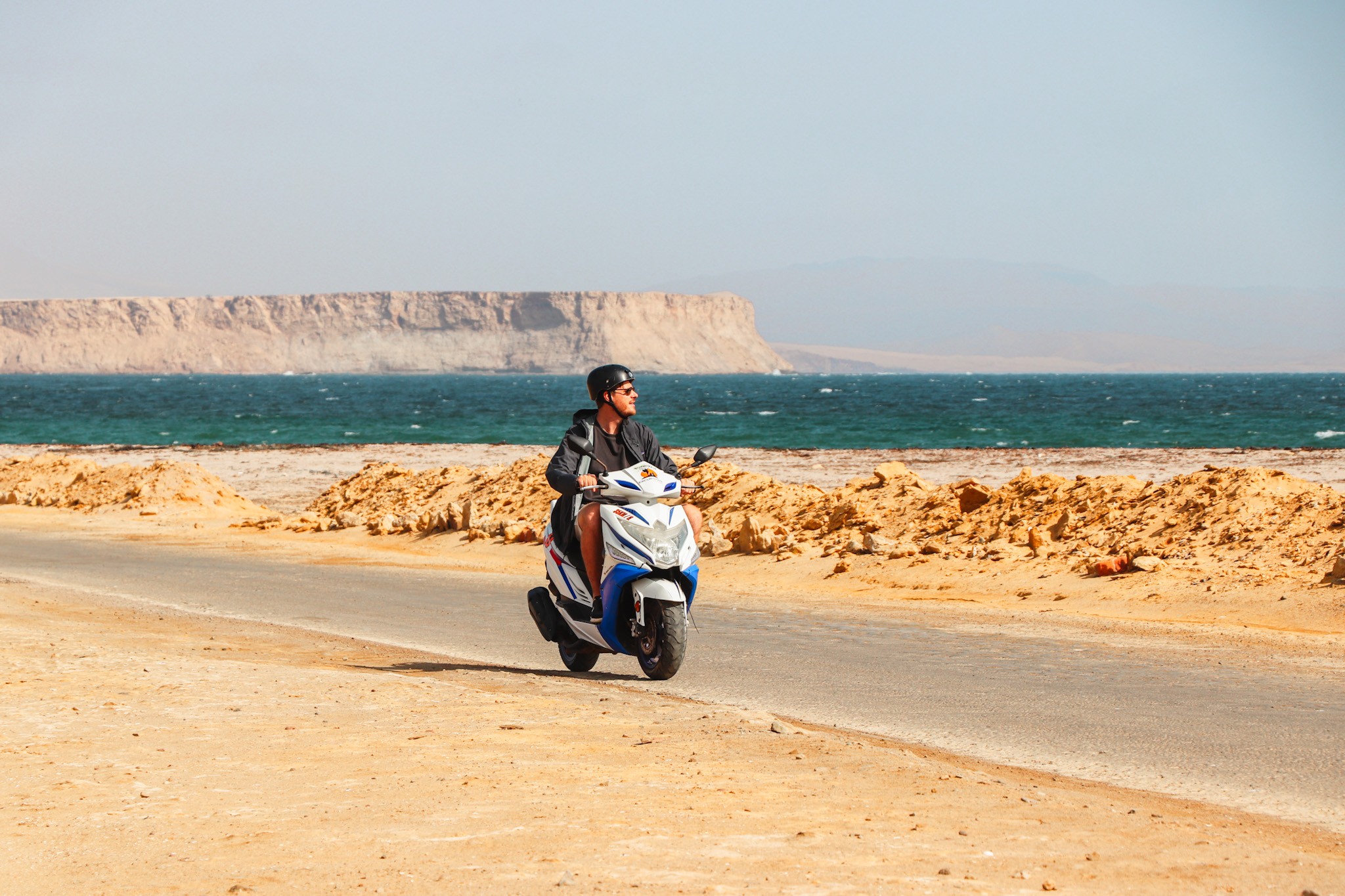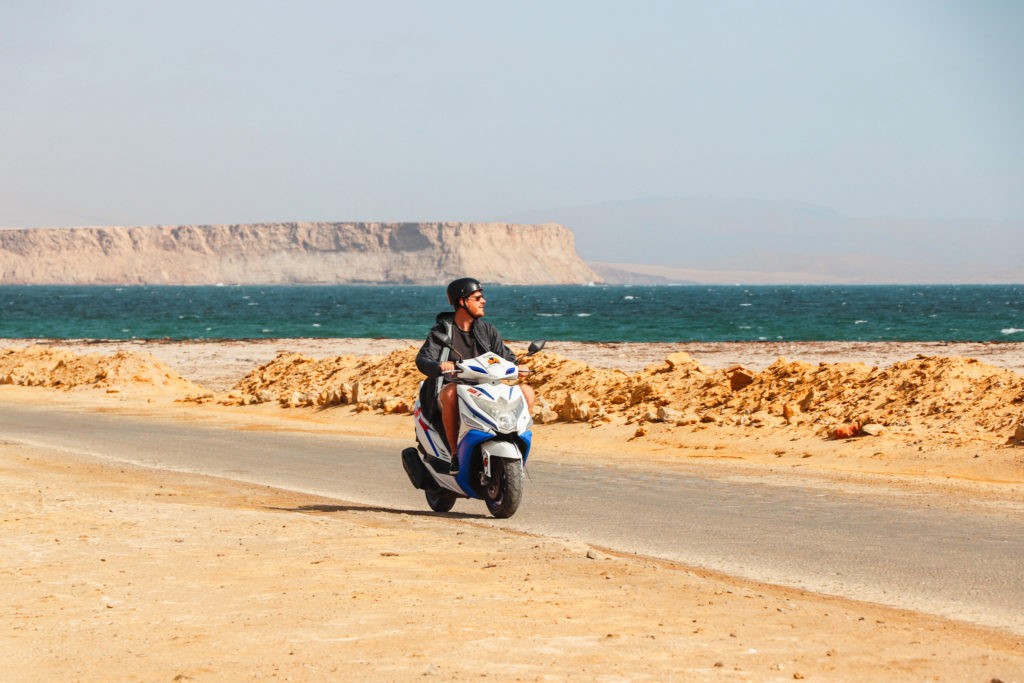 Challenge yourself with a bicycle ride
If you are in a good physical condition and love biking, exploring the Paracas National Reserve by bike might be your opportunity to put yourself on a test. The round trip from Paracas town is about 30 kilometers long (ca. 19 miles). We have seen many people choosing this option, which definitely is the cheapest one.
You can rent a bike in Paracas for 30 soles (approx. 8 USD) for a day. Make sure to check the condition of the bike before signing the rental contract. The roads in the park are not well maintained and you want to be able to relay on your vehicle. Also, please ask your rental company for a helmet.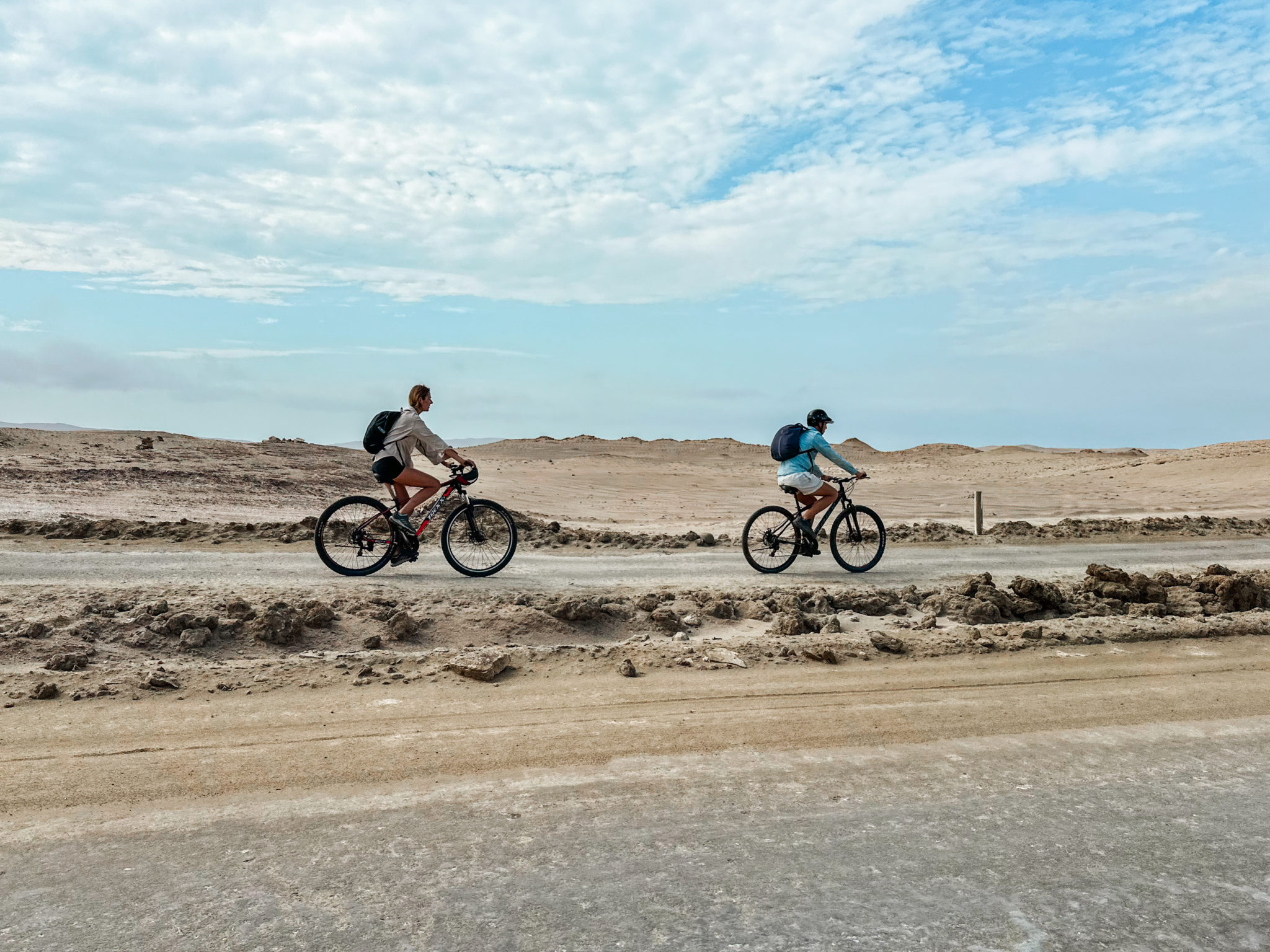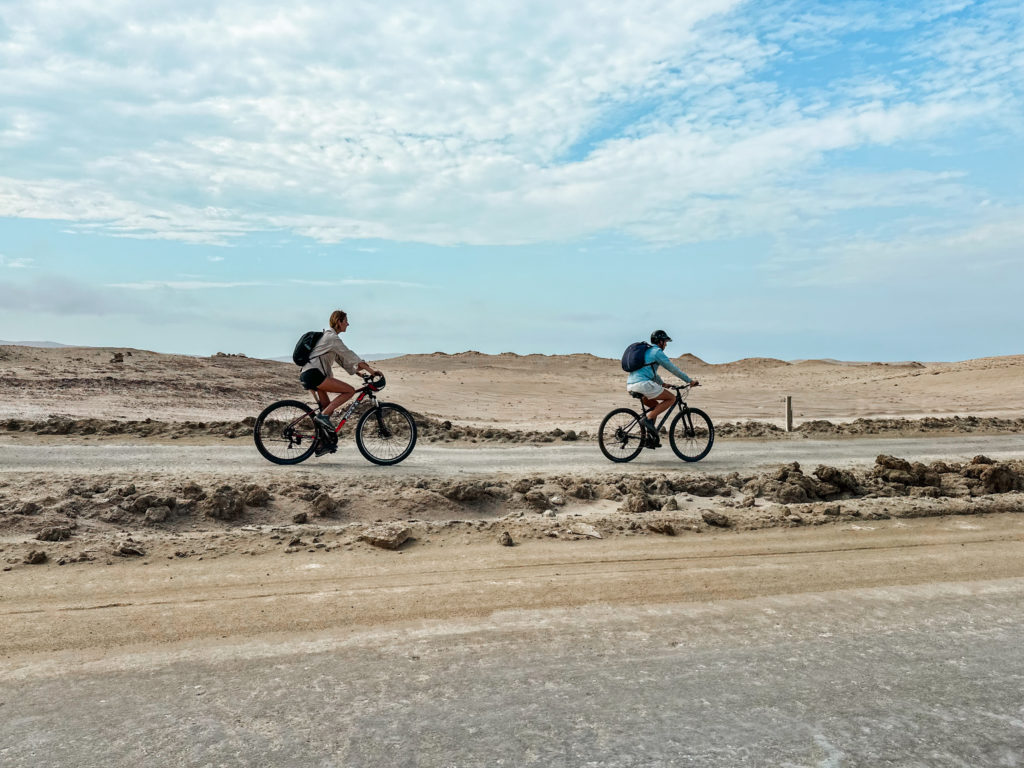 Let a private driver drive you around
There is also a middle-way option offering a good combination of  comfort and privacy when exploring the Paracas National Reserve – to book a private driver. This way you can visit all the places you like on your own pace, without having to drive on your own.
A private driver can be booked for 170 soles for a day (approx. 45 USD). If you are traveling as a group, this may be a good option to have a shared private trip.
How to get to the Paracas National Reserve?
The Paracas National Reserve is just a 10-minute drive from Paracas. Simply leave the town, head toward the Pan-American Highway, and drive south for about 4 kilometers (2.5 miles) until you reach the reserve's entrance gate. There, you'll need to pay the entrance fee of 11 soles per person (approx. 3 USD). The reserve office is open from 9 a.m. to 4 p.m.
Some visitors have mentioned that arriving early might mean that you can enter the reserve for free. Additionally, on Mondays, there's a special offer where you don't have to pay the entrance fee if you're cycling. Keep in mind that for the Playa La Mina you need to show your entrance ticket, but its not too bad if you need to skip it, as we found it to be the least beautiful place in the park.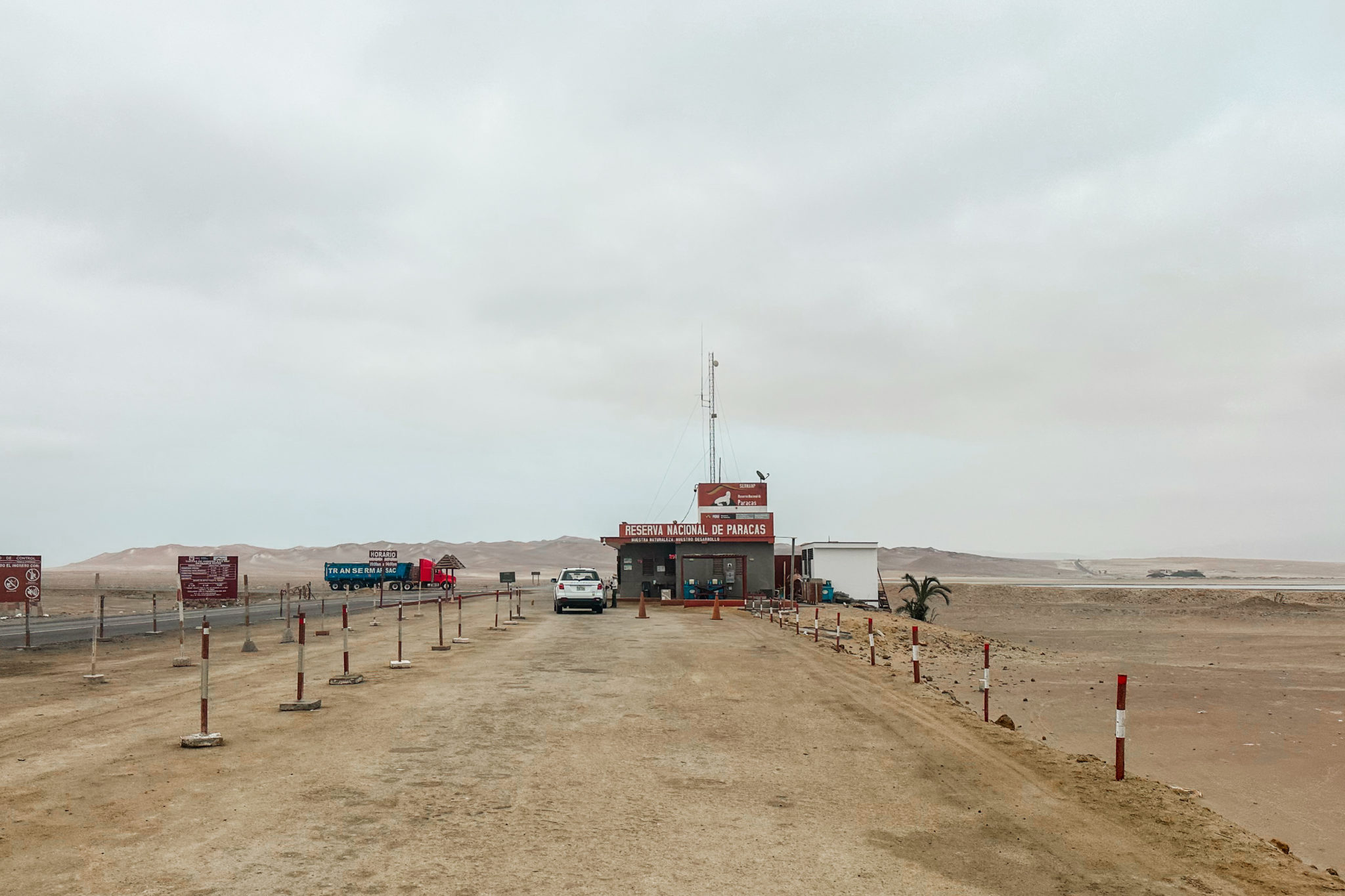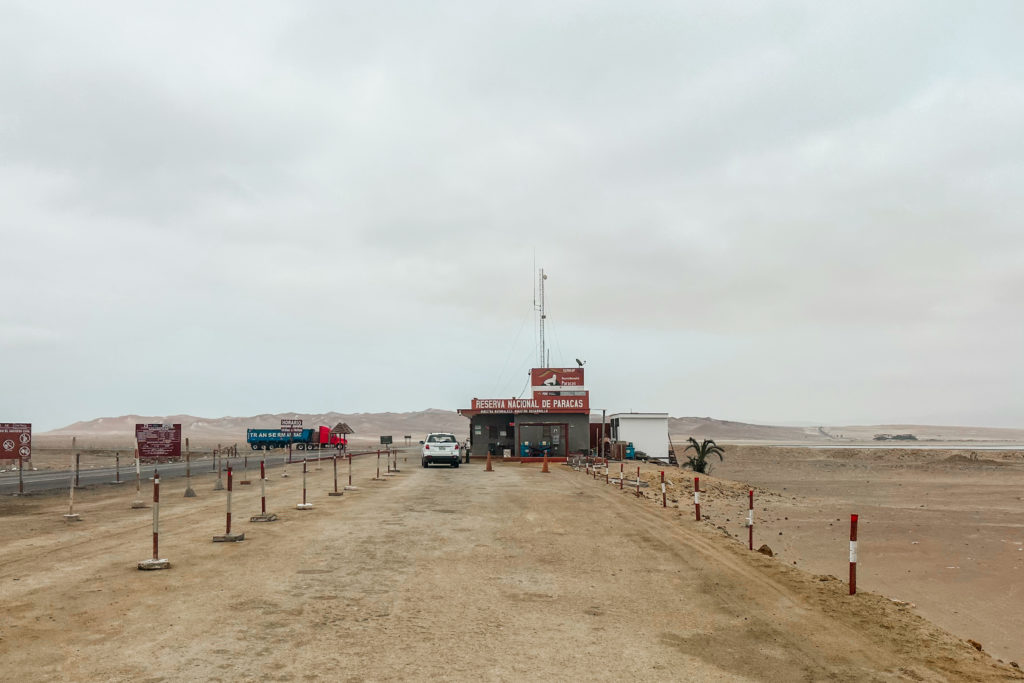 Can I swim in the Paracas National Reserve?
There are many beaches that are safe for swimming in the Paracas National Park, so don't forget to bring your swimwear and a towel. While the ocean waters can be chilly, during a hotter day it can be a refreshing experience to jump into the waves and cool yourself off.
Playa La Mina is very popular for swimming. However, we liked Yumaque and El Raspon more, being more peaceful. If you are looking for a place with some restaurants, Lagunillas is your go-to-beach. We also saw some locals with their feet in the ocean on Playa Supay, but the waves are pretty big, so we would not recommend swimming in there.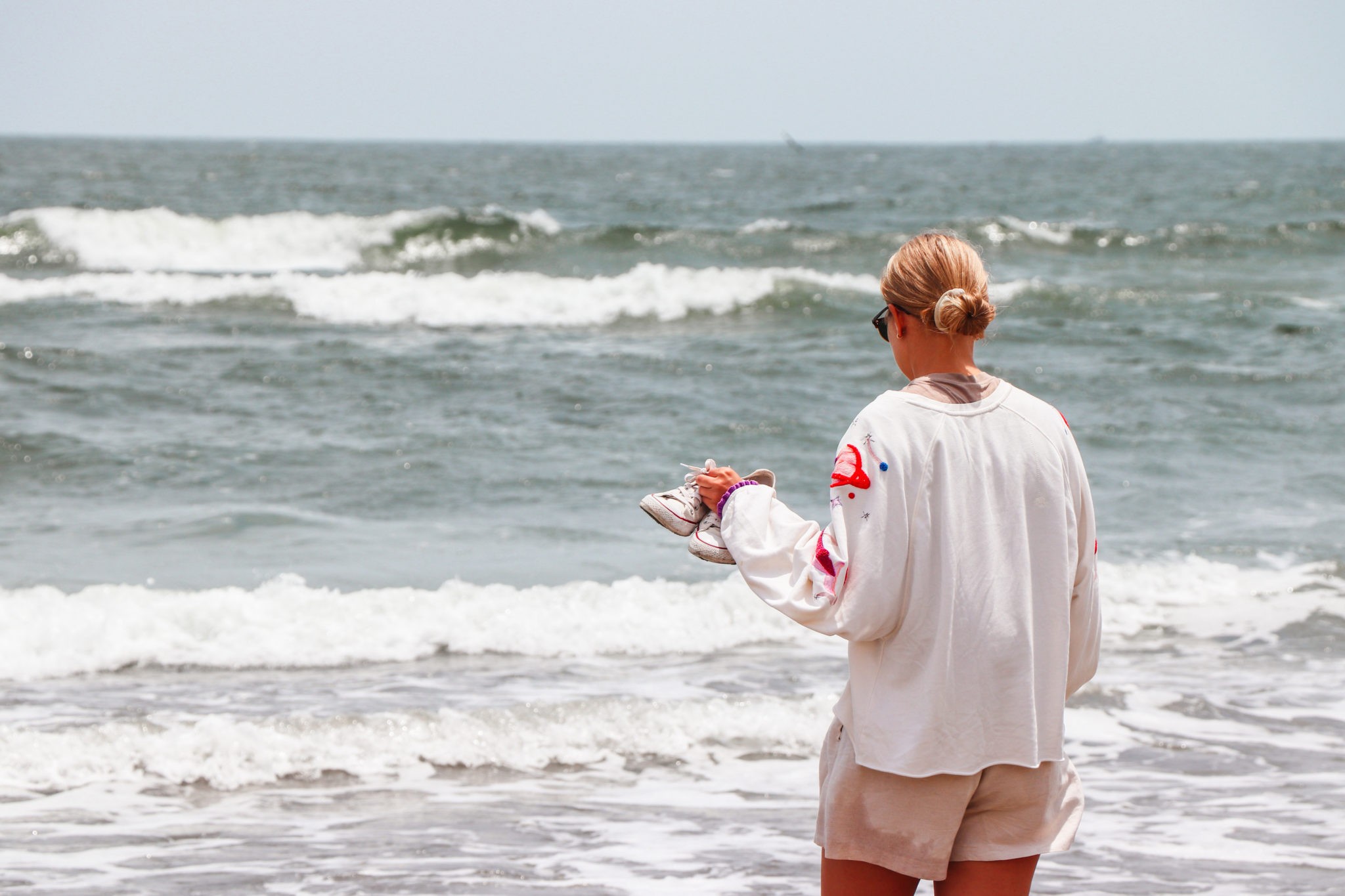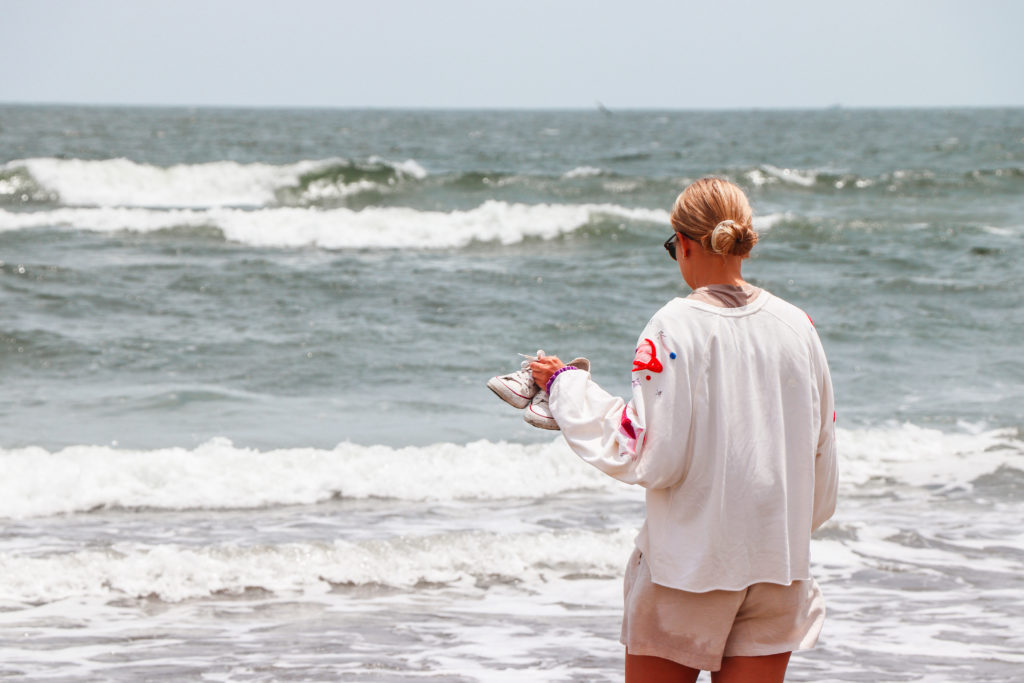 How long do I need to visit the Paracas National Reserve?
The duration of your visit to the Paracas National Reserve depends on how you choose to explore this conservation area. Guided tours are usually shorter, lasting about 2-4 hours. However, if you plan to explore on your own by scooter or bicycle, you have the flexibility to enjoy a longer stay to enjoy the picturesque views, snap numerous photos, and maybe even take a dip in the ocean.
To complete the regular route within the Paracas National Reserve on a bicycle, it's a good idea to plan with at least 6-8 hours for your visit. Starting your tour early, around 7 or 8 a.m., is wise to avoid the scorching sun, even if the reserve office hasn't opened yet. You can still enter with your bike.
If you're thinking about renting a scooter, expect the journey to take a minimum of 4 hours. This way, you have ample time to make the most of your visit.
The reserve is open from 9 a.m. to 4 p.m. We recommend planning your visit in the morning to avoid the heat that sets in after noon.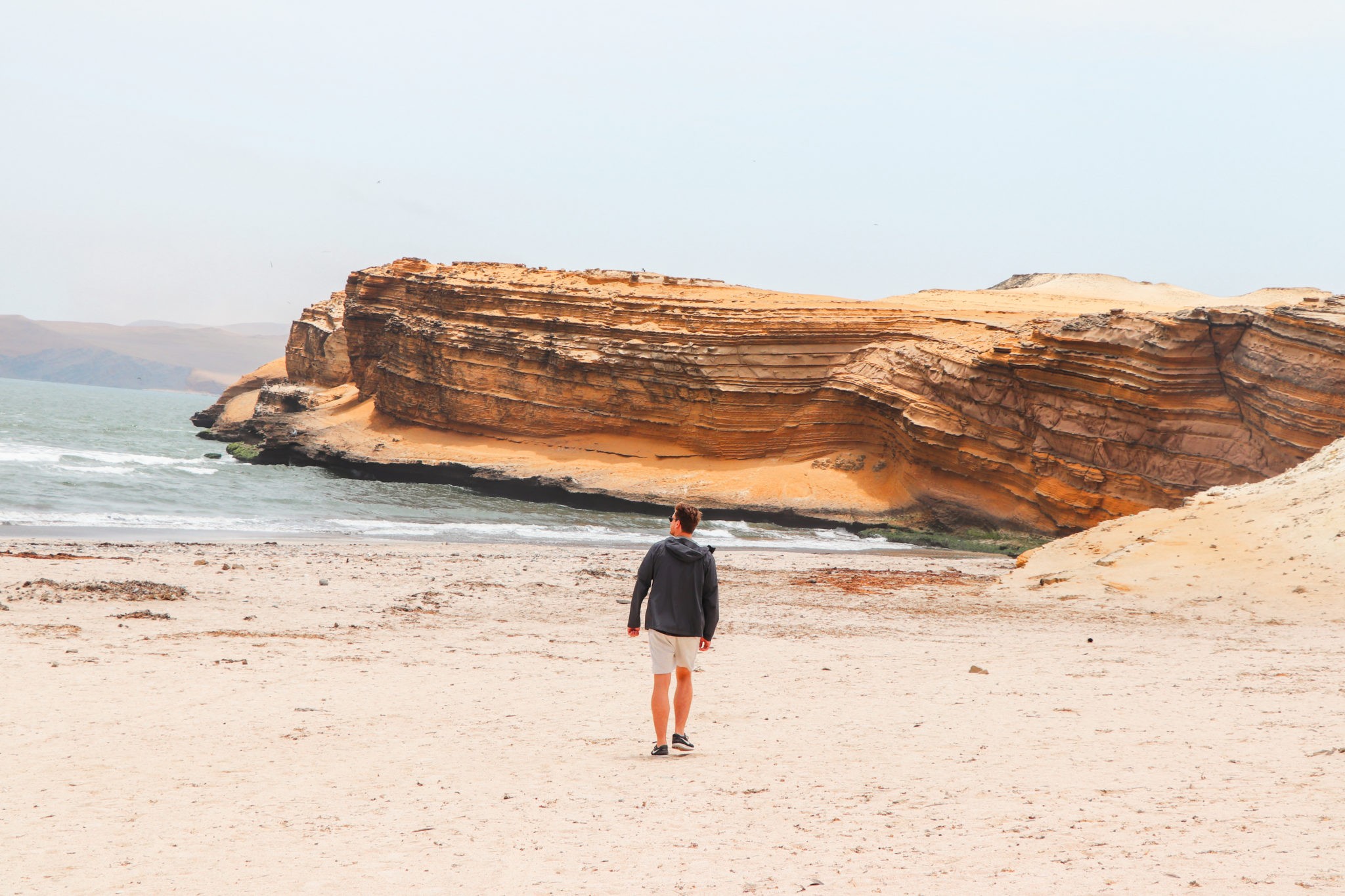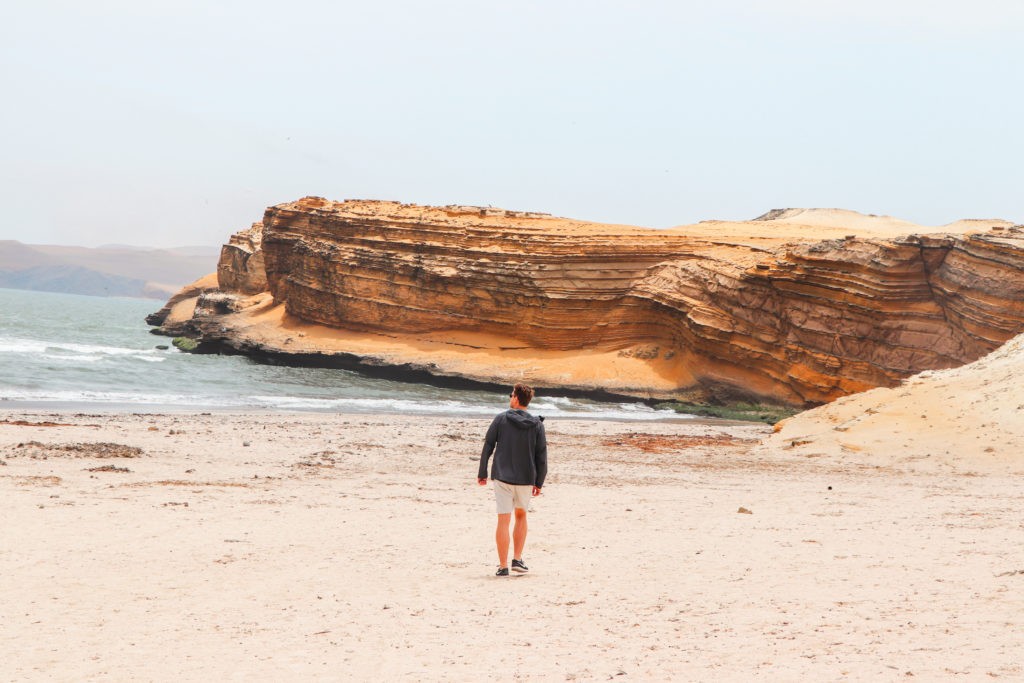 What to pack for the Paracas National Reserve?
We have prepared a compact packing list for your half-day trip to the Paracas National Reserve. Whereas it is essential to bring enough water and sun protection, also don't forget your swimsuit in case you would like to jump into the waves of Pacific. We recommend dressing in layers as the weather can be unpredictable, with hot sun and strong winds being both very probable.
Packing list for the Paracas National Reserve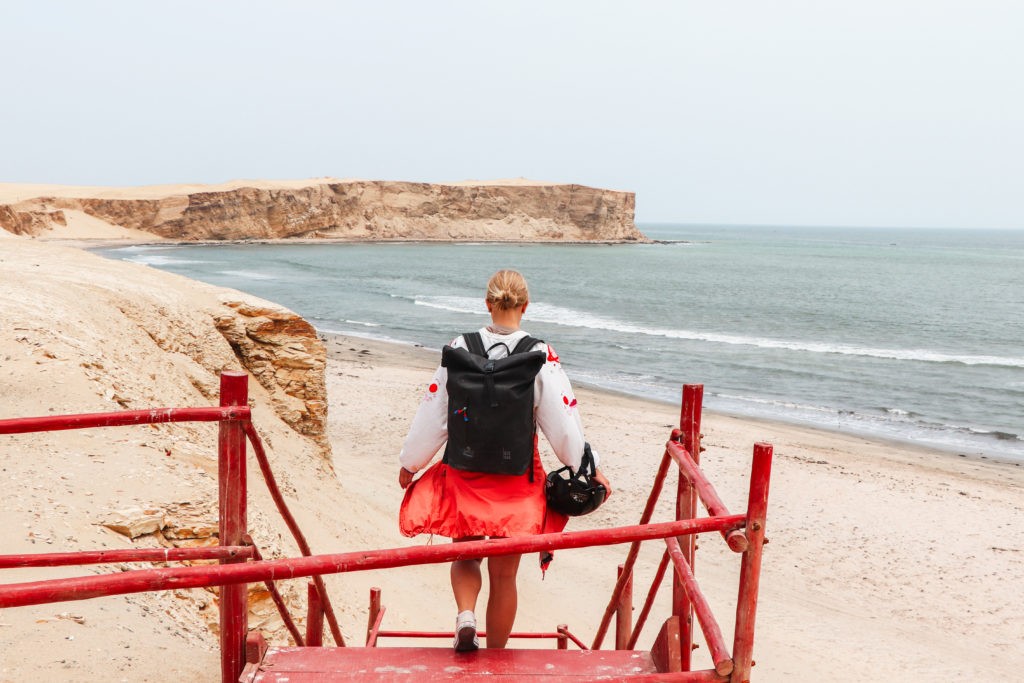 Cash | Remember to bring some cash, as you will have to buy your entrance ticket to the Paracas National Park. Also the use of toilets costs 1 PEN at some of the beaches.
First Aid Kit | Accidents can happen without warning. Especially if you are planning to visit the Paracas National Park on a bike or with a scooter, we recommend packing some bandages and disinfectant.
Sunscreen and Hat | Even if you might not feel it due to the wind, the sun in Paracas is strong. Therefore, bring lots of sunscreen and a hat.
Jacket (Windbreaker) | Paracas National Reserve is windy all year round, with stronger winds emerging in the afternoons. Keep yourself warm with a windbreaker. If you can, also pack some layers of cloths to keep you warm while you take a break.
Scarf and Sunglasses | To protect your face from the sand as you are dashing through the windy desert, wear a scarf and glasses.
Water | A bottle of water is essential for your trip to the deserted area, to keep yourself hydrated. Especially if you are planning to go on a bike, make sure to bring enough water with you.
Snacks / Breakfast | Even if there are some vendors in the viewpoints and even a few restaurants in Lagunillas, the prices are way higher than in Paracas town. Therefore we suggest to take your own snacks. And maybe even your breakfast if you are starting early and would like to enjoy your first meal of the day with some nice views.
Offline Maps | Most of the time, there is no cell reception in the Paracas National Reserve, therefore we recommend downloading offline maps of the region in the Google Maps app, to make navigation easier.
Swimwear, Towel and Flip Flops | You can swim in many beaches in the Paracas National Park, so don't forget your beach essentials.
When is the best time to visit the Paracas National Reserve?
You can visit the Paracas National Reseve all year round as it almost never rains in the region. On the other hand, it is not a coincidence that the Reserve is called Paracas which comes from the Quechua word paraq'as meaning 'sand storm'. In the Paracas National Reserve you will have strong winds throughout the whole year. So remember to pack a windbreaker jacket.
In the summer from December to May, the days are warm and the skies are clear, with temperatures ranging between 26°C and 28°C. During this season, expect lots of local tourists to come to the park.
In the wintertime from April to November, temperatures in the Paracas National Reserve are milder, ranging from 21°C – 24°C. While it can get quite cold throughout the day and at night, it is a good idea to bring some warmer pullovers and a jacket.
Average peak temperatures
Is the Paracas National Reserve worth visiting?
The Paracas National Reserve is one of the most beautiful places in Peru, famous for its endless deserts, distinctive red beaches and the abundant wildlife. Locals come here in the evening and on weekends to relax at the beach. But also tourists from all over the world travel to Paracas National Reserve to explore its unique landscapes.
A trip to the nearby Paracas city fits perfectly into almost every traveler's itinerary. Be it as a one- or multi-day trip from Lima or as a stopover on the way to the south of Peru to visit Ica, Huacachina, Nazca, Arequipa and Cusco. Don't miss out on this beautiful place on your trip through Peru.