Welcome to Arequipa full of colonial charm and culinary delights. It's a place where history whispers from every corner, where the spirit of adventure echoes through the Andes, and where the flavors of tradition dance on every plate.
Walk along the cobblestone streets in the historical center of Arequipa, explore the Plaza de Armas to admire the majestic Basilica Cathdral or hike down the Colca Canyon – one of the deepest canyons on Earth.
We've explored the best things to do in Arequipa to help you plan your unforgettable visit to "the White City".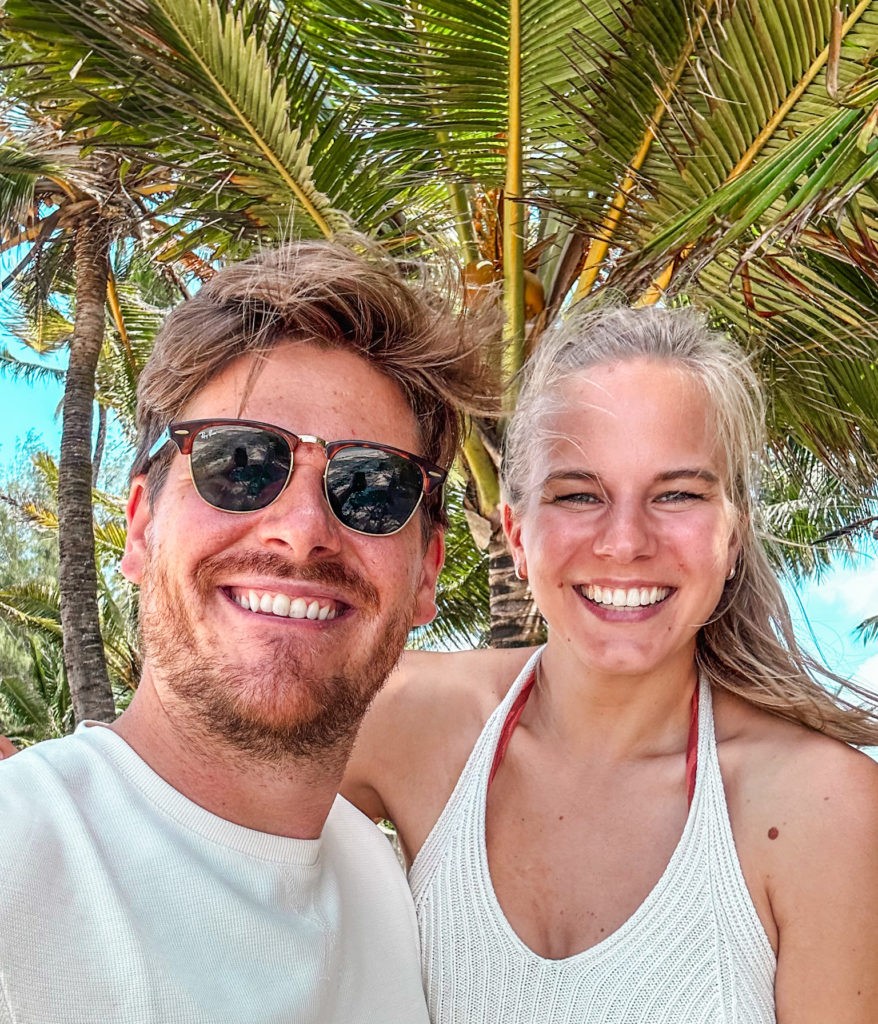 We hope you enjoy our travel stories, guides and tips! If so, please consider supporting our work.
14 Best things to do in Arequipa
In Arequipa is the capital of the Arequipa region and the second largest city in the country, right after Lima. The historical district of Arequipa is known for its well-preserved colonial architecture, that are made out of white volcanic stones called sillar. Because of the sillar stones, Arequipa is also often referred as to 'the White City'.
When wandering around the historical center, you'll find most of the city's best things to do. Visit the Basilica Cathedral on the Plaza de Armas, walk through the narrow alleyways of the Santa Catalina Monastery at sunset or treat yourself with some tasty meals in one of the fantastic restaurants in the neighborhood. These and many more sights await you in the historical center of Arequipa. Spend at least two to three days in Arequipa to explore this city to the fullest.
Every city in Peru has a Plaza de Armas and almost all of them are a spectacular place to visit. The Plazas serve as a hub for locals to meet, sell, celebrate and make siestas. Not only are the Plazas nicely decorated and provide a green spot midst of the busy streets, they are also always surrounded by the most iconic building of a city.
Visiting the Plaza de Armas in Arequipa is a must thing to do. The first time you enter the Plaza, you'll see the massive Basilica Catedral de Arequipa, one of the most beautiful Catholic churches in Peru. Take a coffee in one of the nearby rooftop restaurants and enjoy the views on palm trees, flowers, a fountain and all of surrounding historic buildings that decorate the center of Arequipa.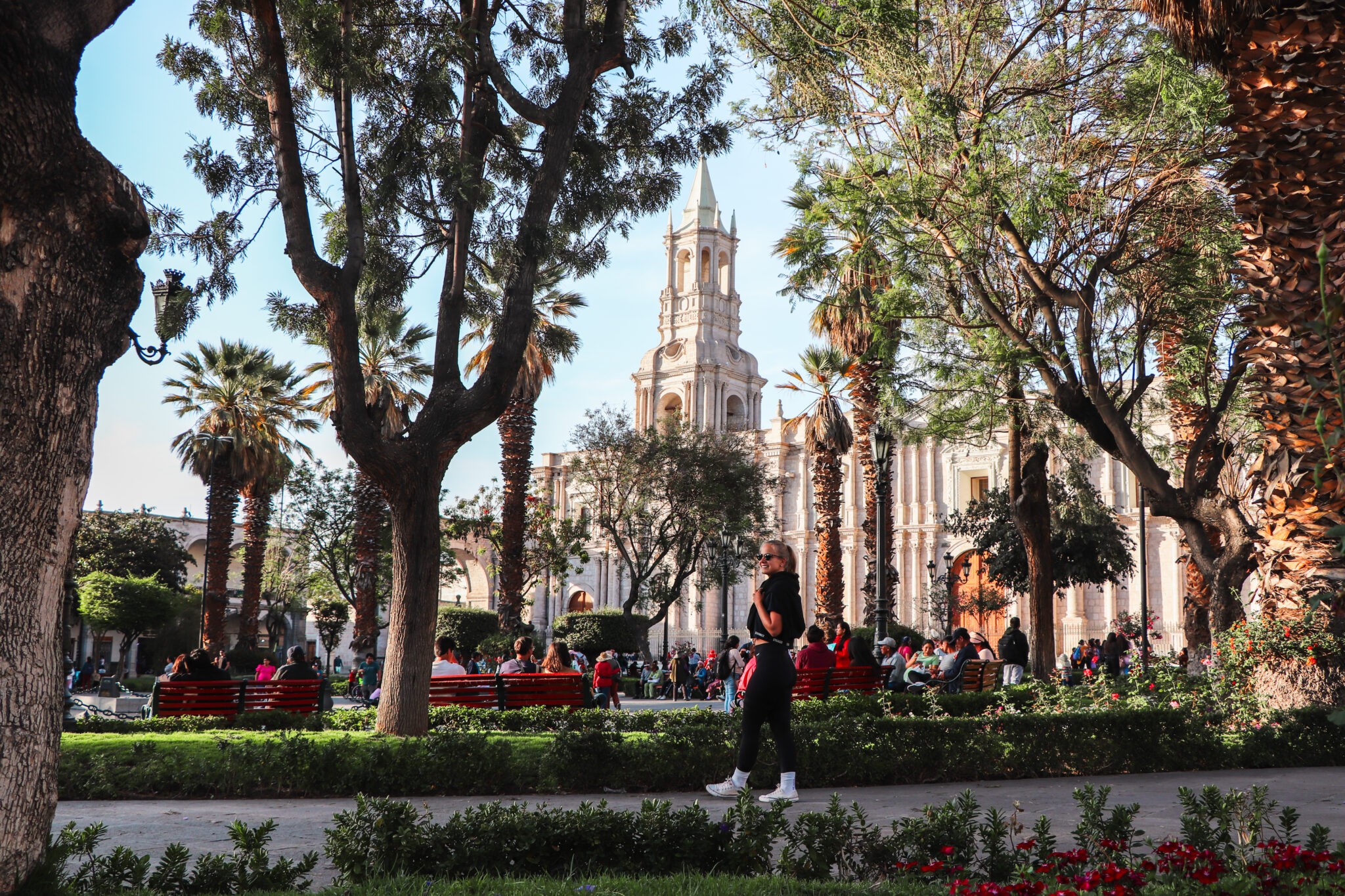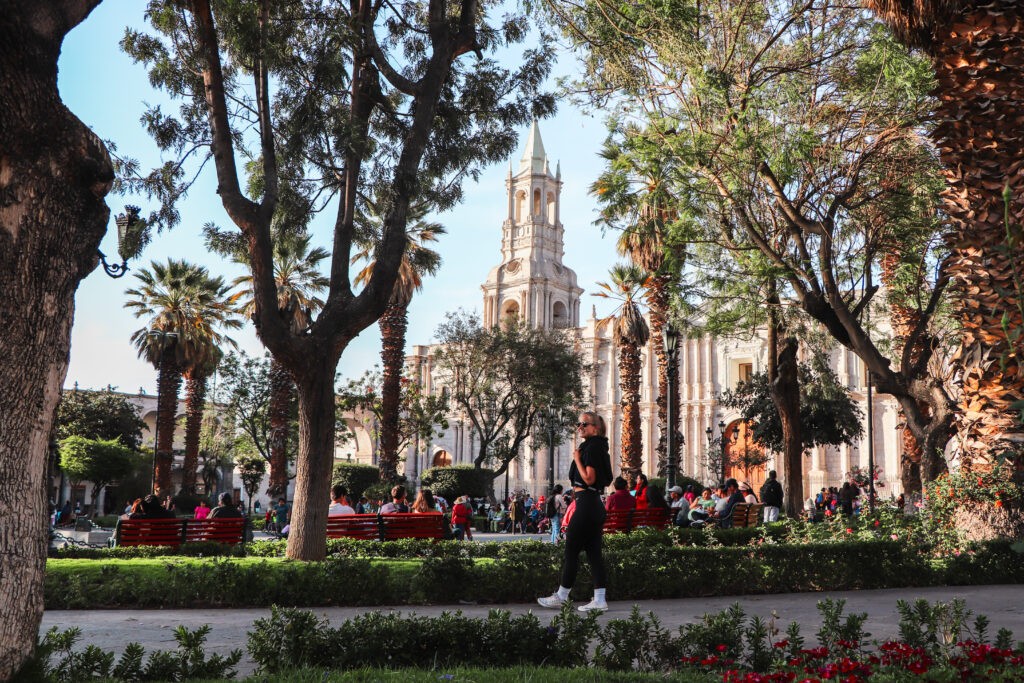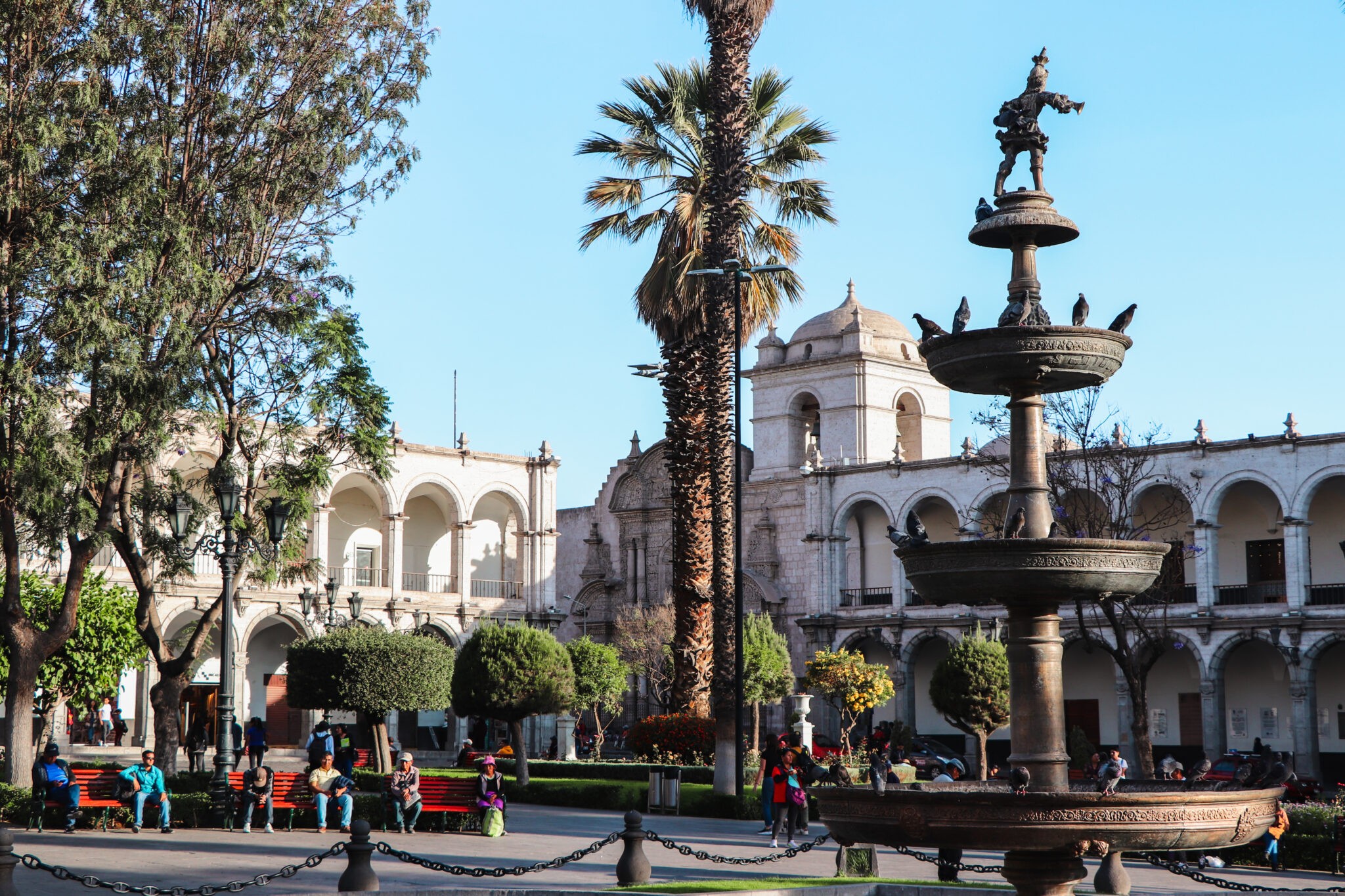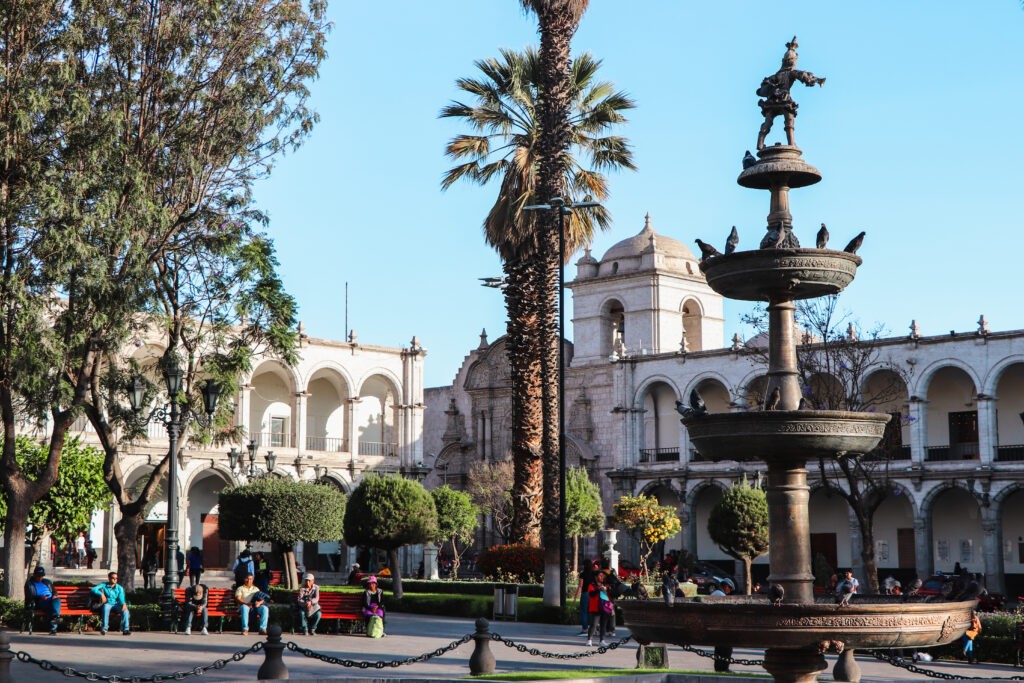 2. Basilica Cathedral of Arequipa
The Basilica Cathedral of Arequipa is considered one of the most beautiful Roman Catholic churches in Peru and a definite must see during your stay in the city. Despite being damaged and rebuilt several times due to multiple earthquakes over the 500 years since its construction, the Basilica Cathedral of Arequipa still remains an exceptionally beautiful landmark that has not lost any of its charm.
When at the Plaza de Armas to see the cathedral, take the time to go inside. The cathedral has a stunning interior adorned by gold leaf decorations, paintings and sculptures. You can also visit the church towers to have an unmatched view over the historic district of Arequipa.
If your time allows, you can also pay a visit to the Cathedral Museum nearby. There you can find beautiful paintings and learn about the churche's history.
The Basilica Cathedral of Arequipa can be visited from Monday to Saturday from 10:00 a.m. to 5:00 p.m. The entrance costs 10 PEN (approx. 3 USD) and an additional 5 PEN (approx. 2 USD) for a mandatory 45-minute guided tour. A visit to the Cathedral museum costs 20 PEN (approx. 6 USD), with discounts available for students and seniors.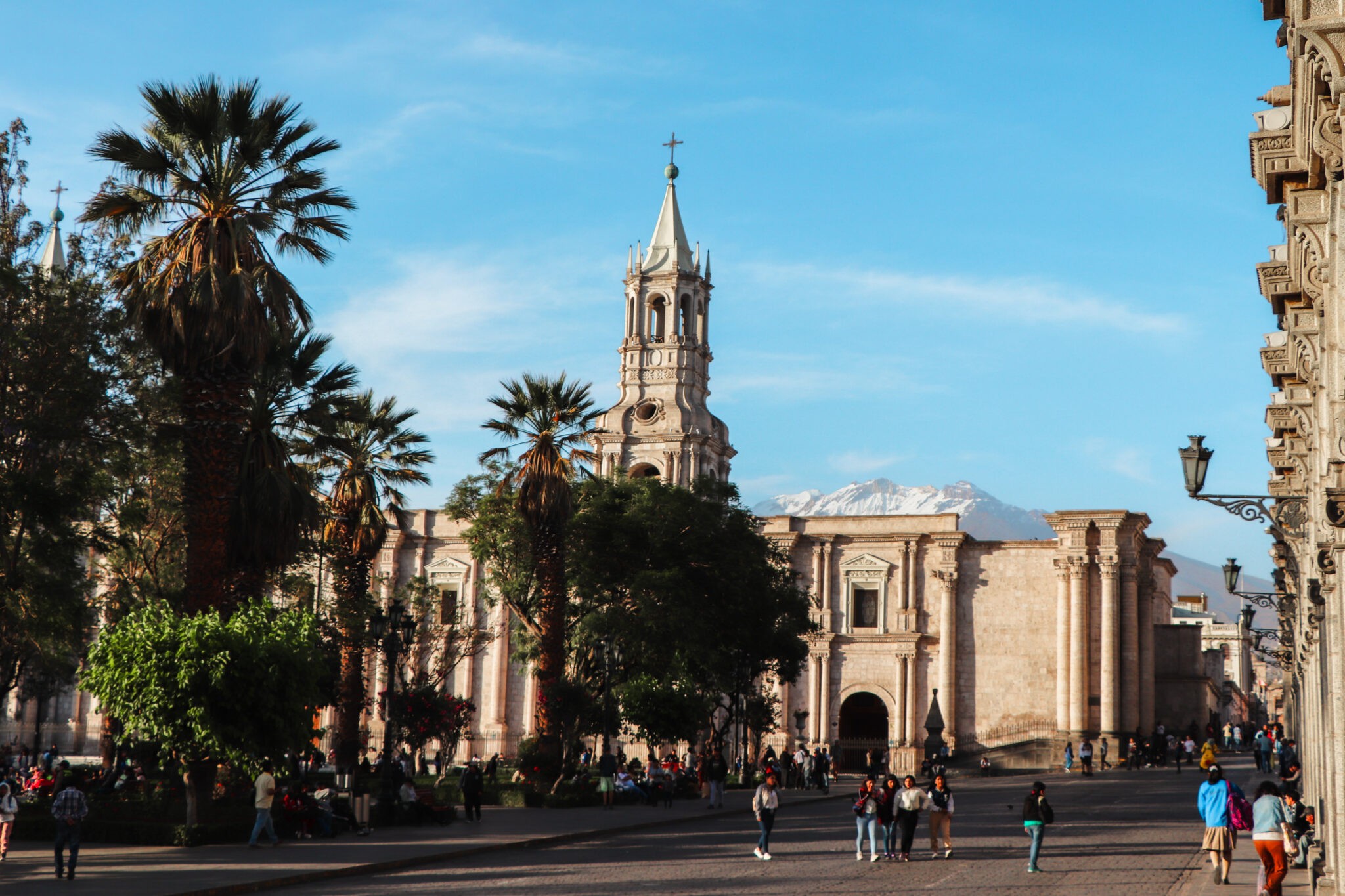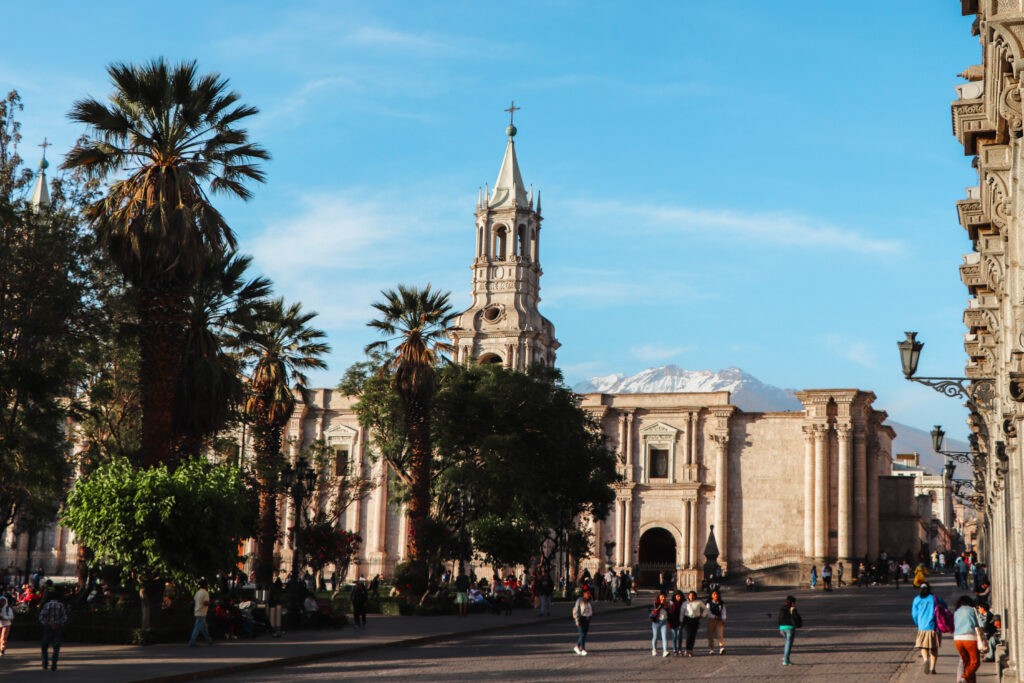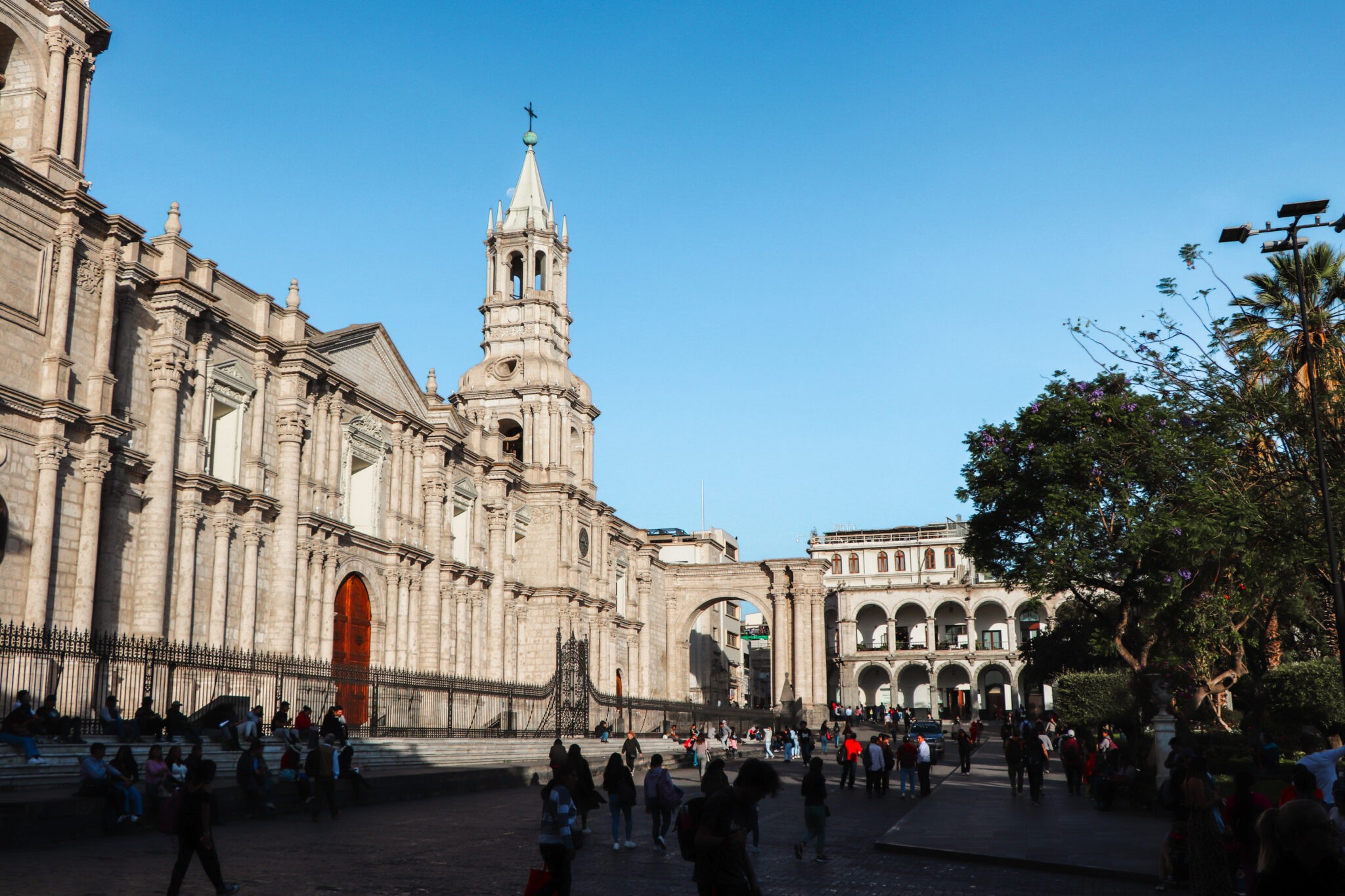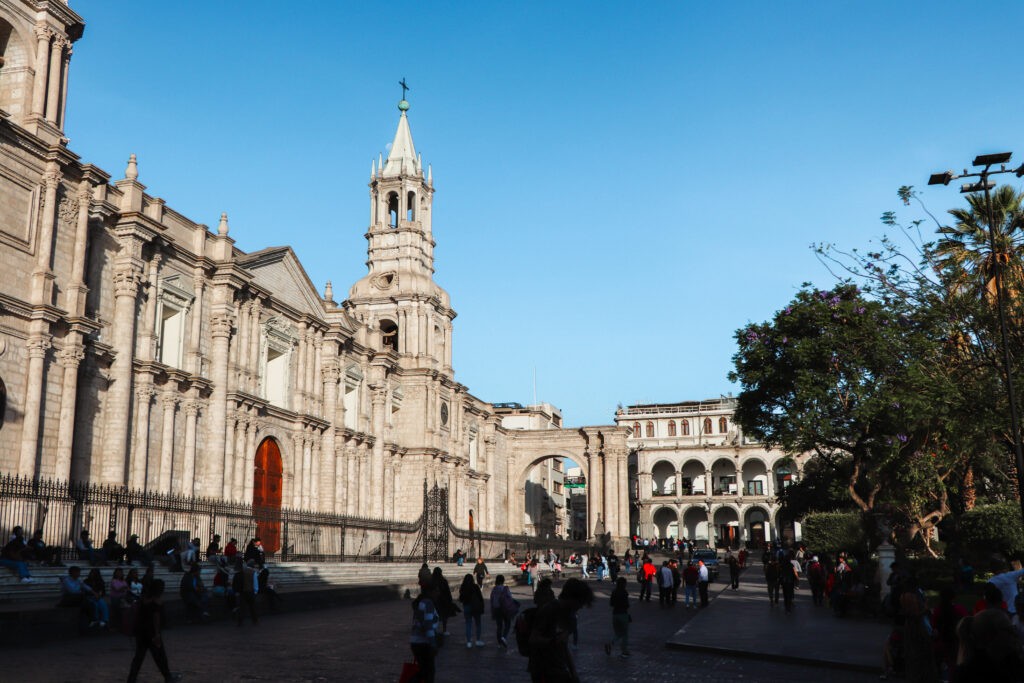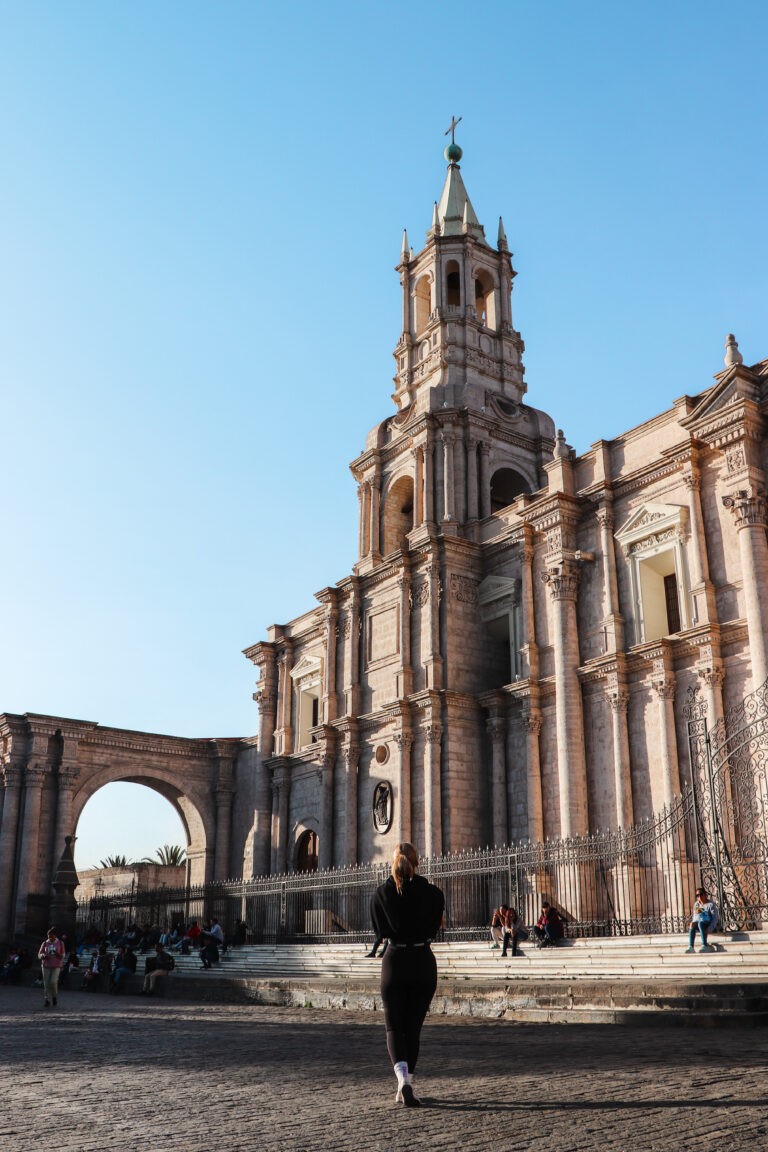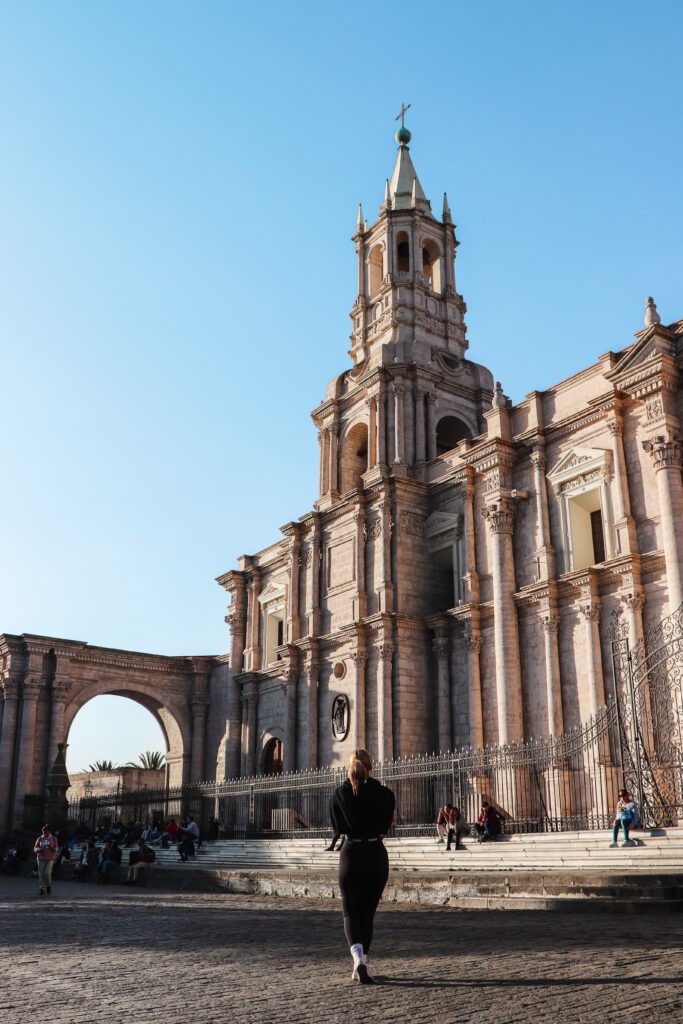 3. Santa Catalina Monastery
As you stroll through Arequipa's historical district, you can't miss the towering stone walls that enclose a significant section of the city center. These walls embrace the Santa Catalina Monastery, a beautiful well-preserved 16th-century monastery with picturesque charm.
Upon entering the Santa Catalina Monastery, you'll navigate an exciting labyrinth of narrow cobblestone pathways, bordered by tiny residences that once housed the nuns. The Santa Catalina Monastery is much bigger than you would think and you can explore almost every corner of this fascinating maze.
The Santa Catalina Monastery is located not far away from the Plaza de Armas of Arequipa and is open every day from 9:00 a.m. to 5 p.m. The entrance ticket costs 45 soles (approx. 12 USD) and can be bought online or at the door. Plan at least two full hours for your visit to the monastery to have enough time to adore the beauty of this place.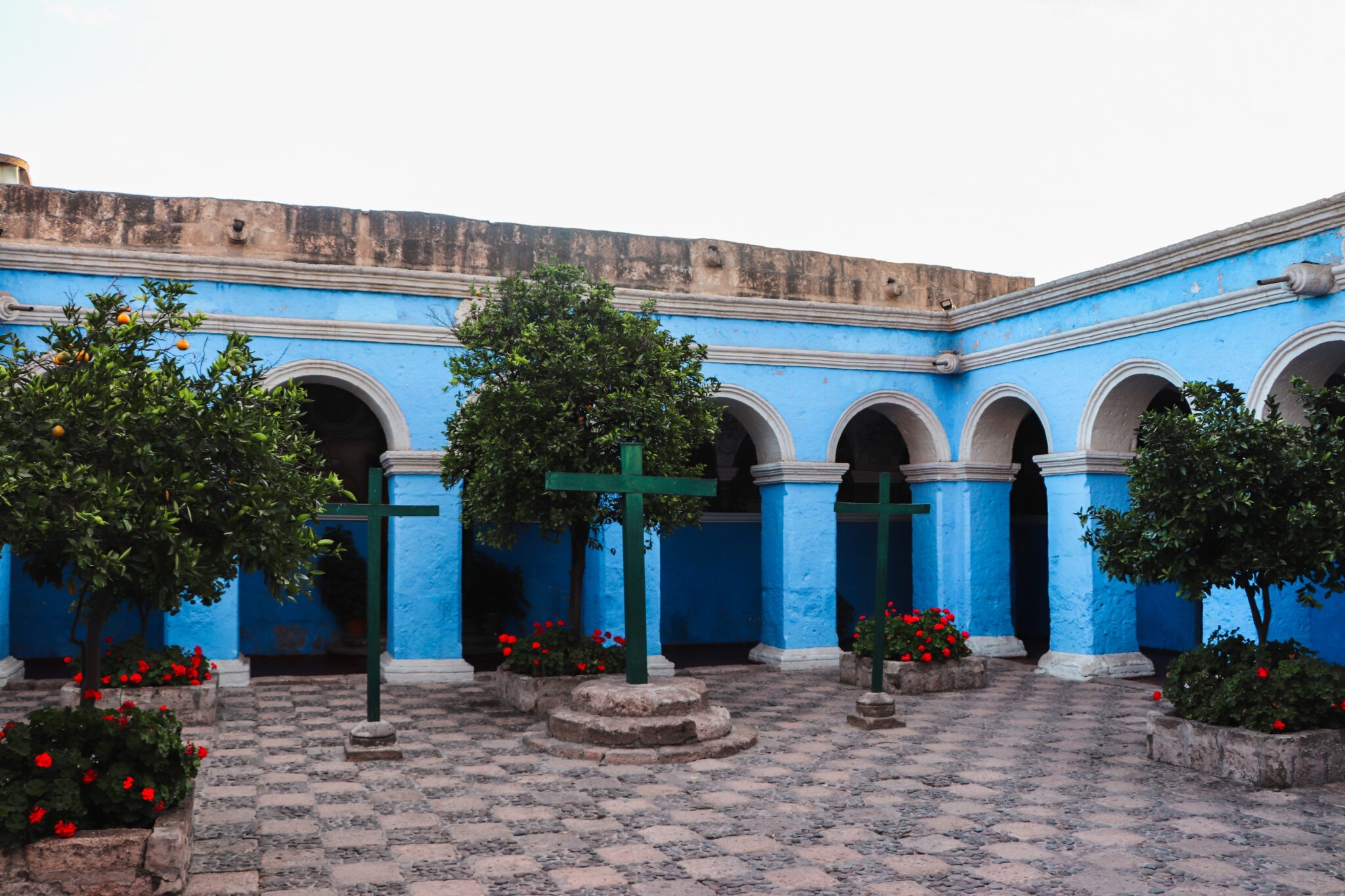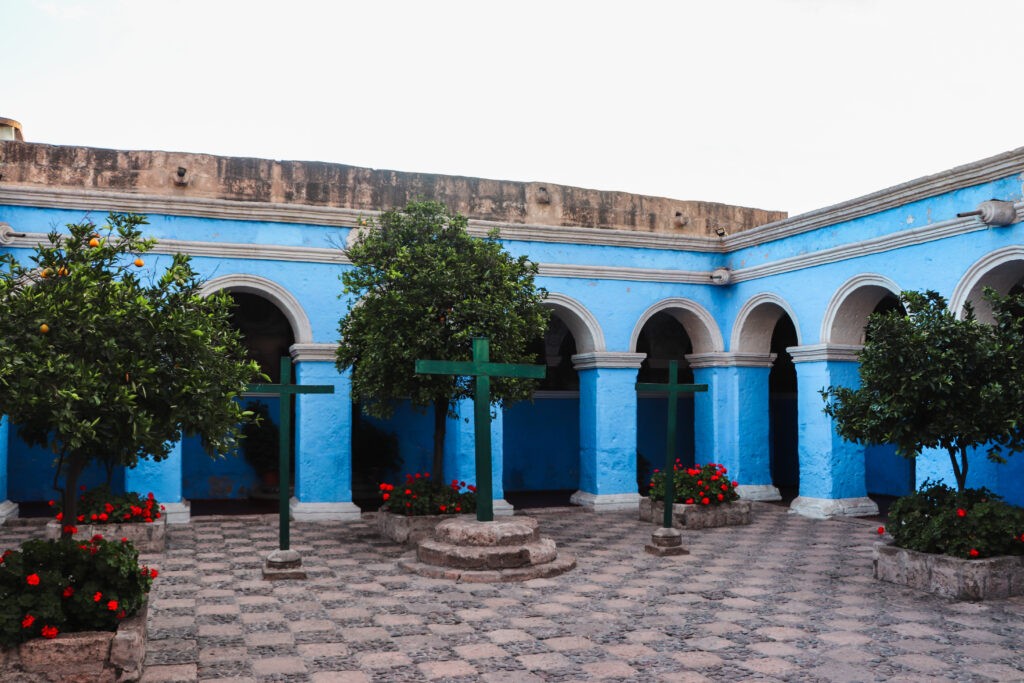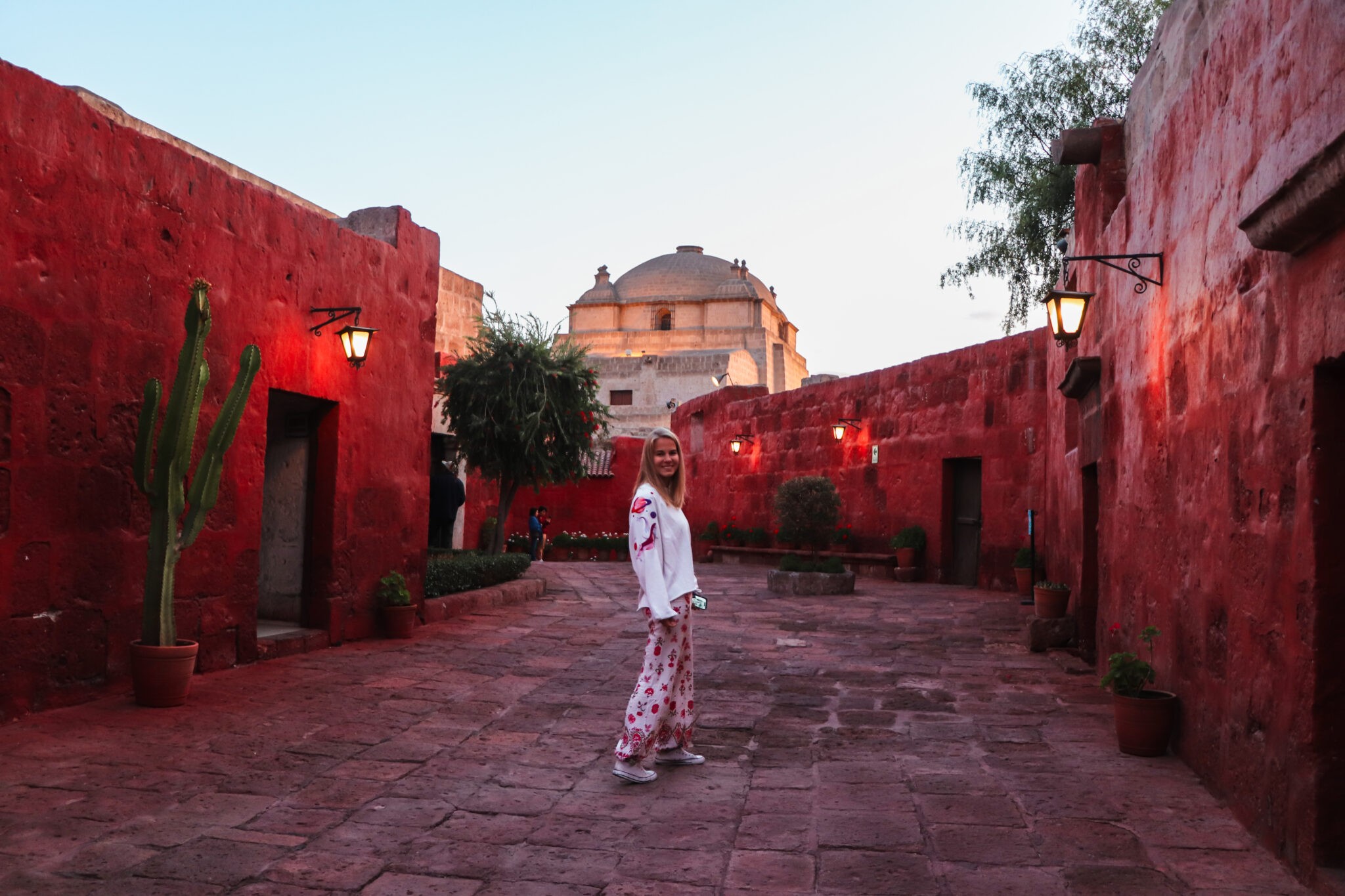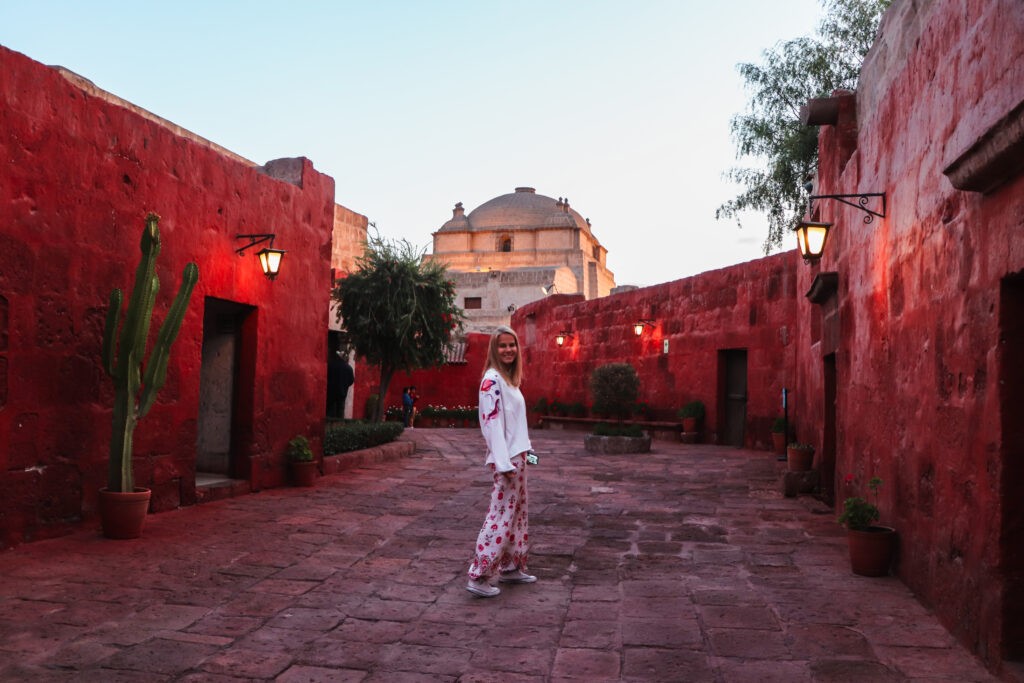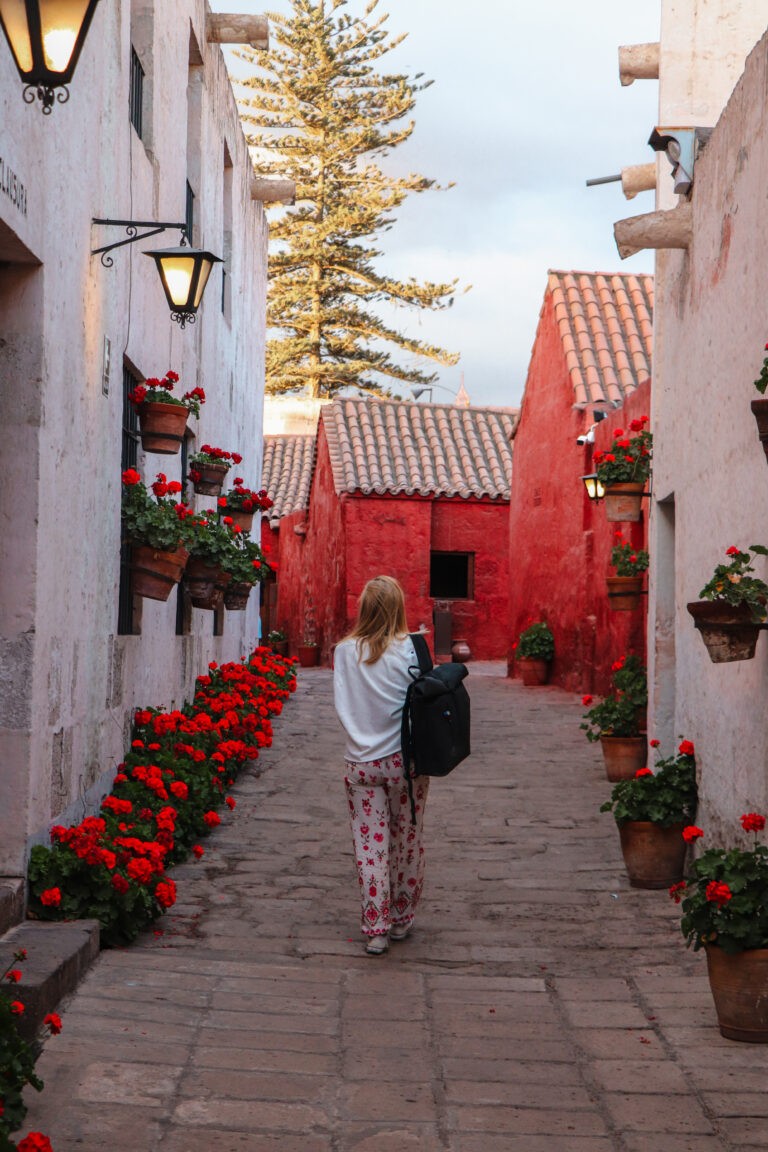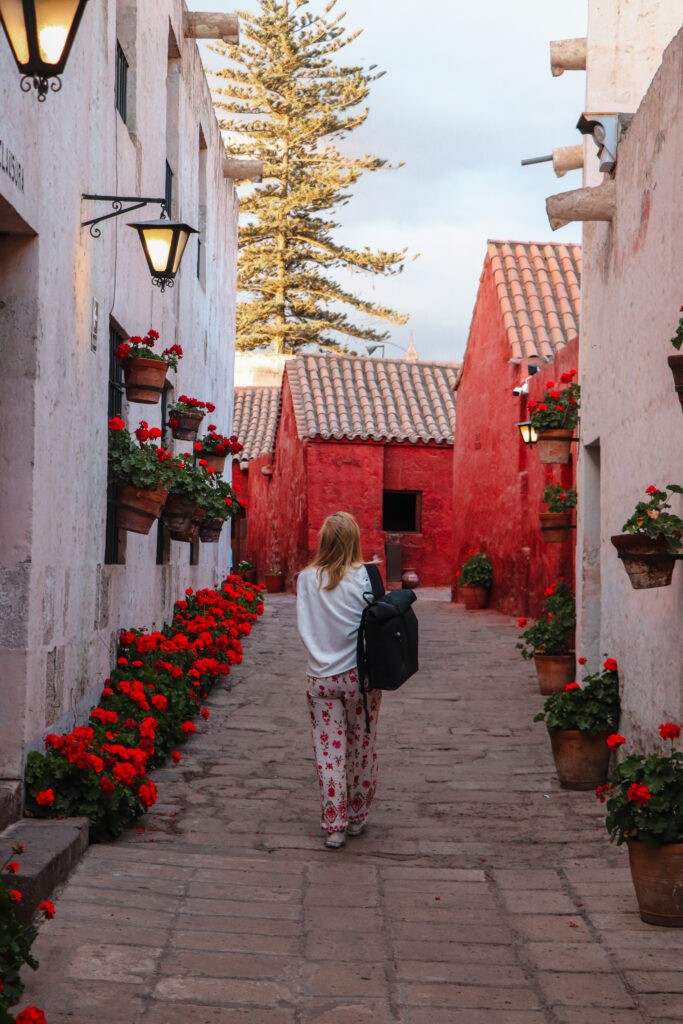 Mundo Alpaca is the best place to see alpacas in the heart of Arequipa. It's a museum, where you can feed and pet different kinds of lamas and alpacas, learn and experience how talented women turn the raw wool into textiles and buy some first-class products.
Mundo Alpaca is open every day from 9:00 a.m. to 5:00 p.m. and the entrance is free. You will find Mundo Alpaca only a 10-minutes walk away from the Plaza de Armas, so it is a great addition for your Arequipa itinerary.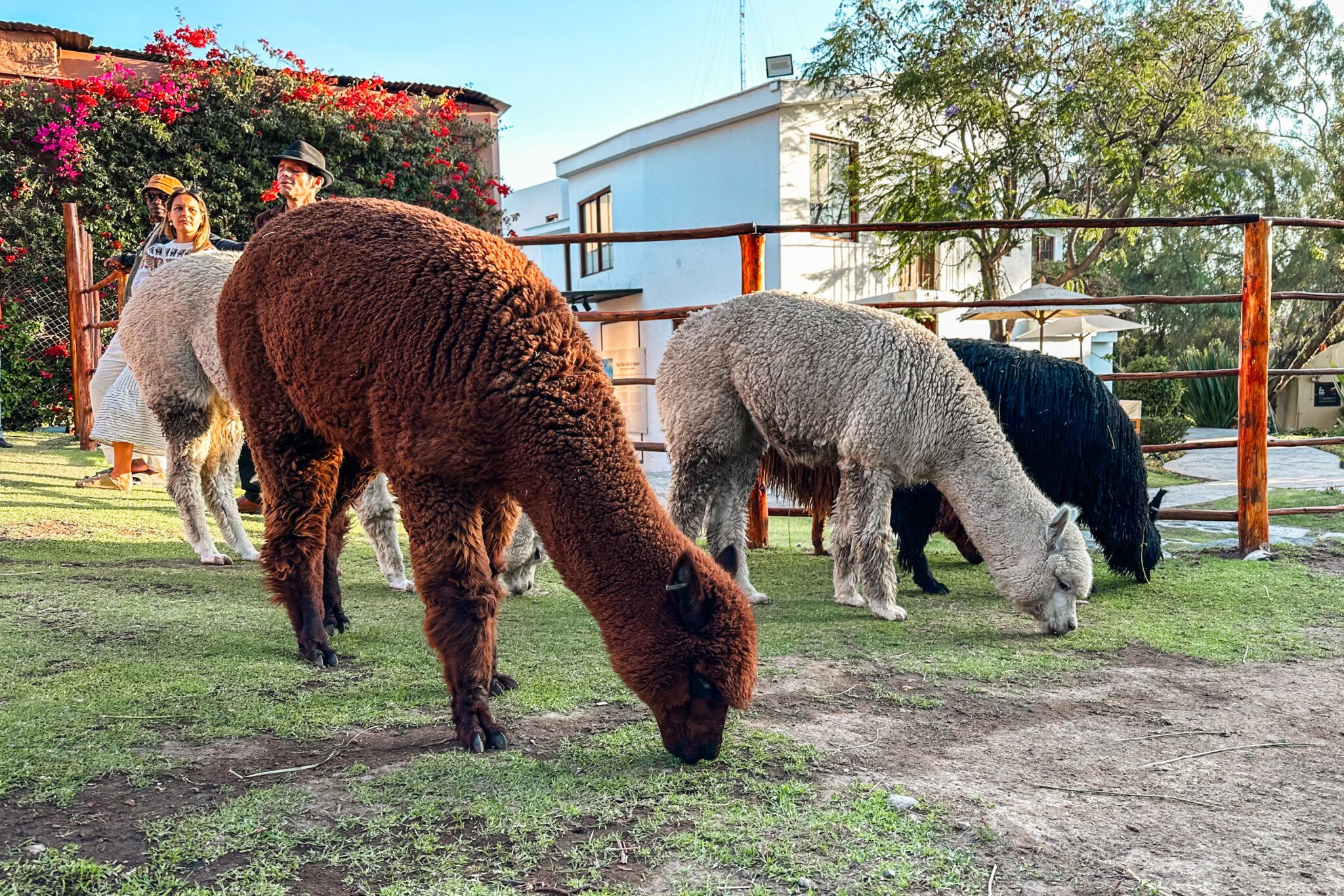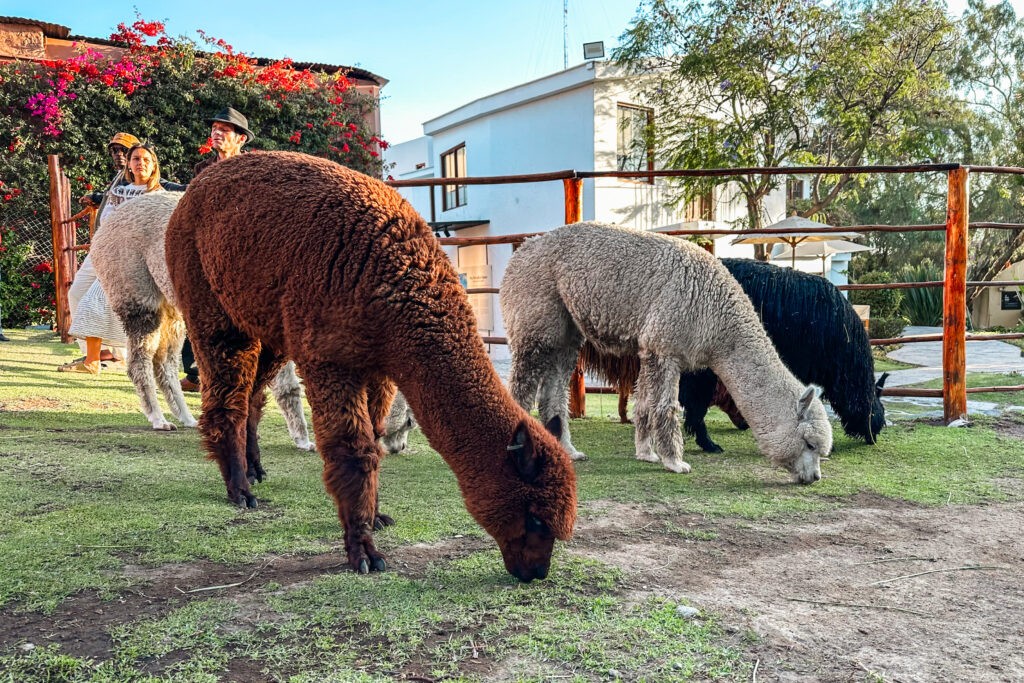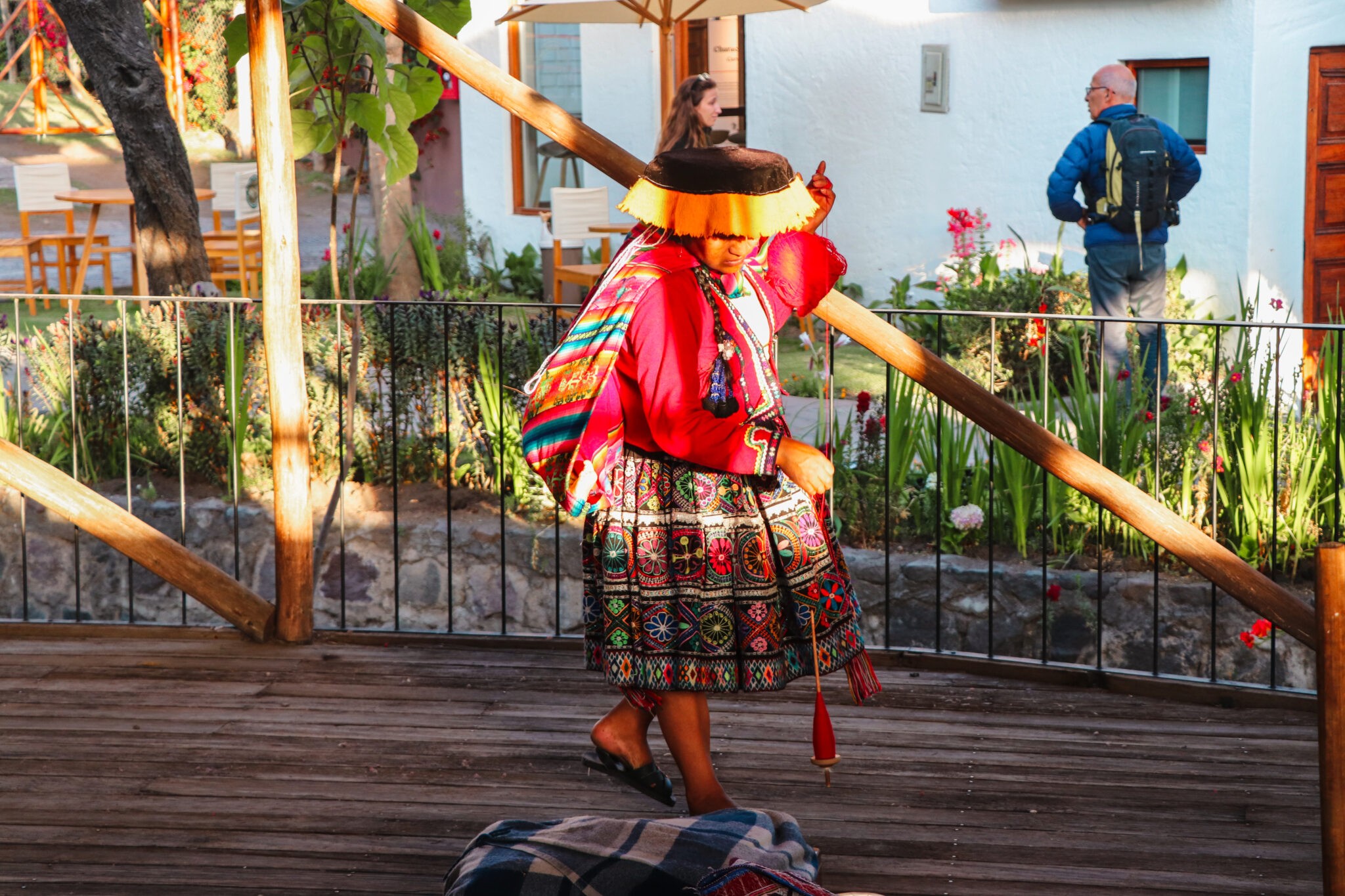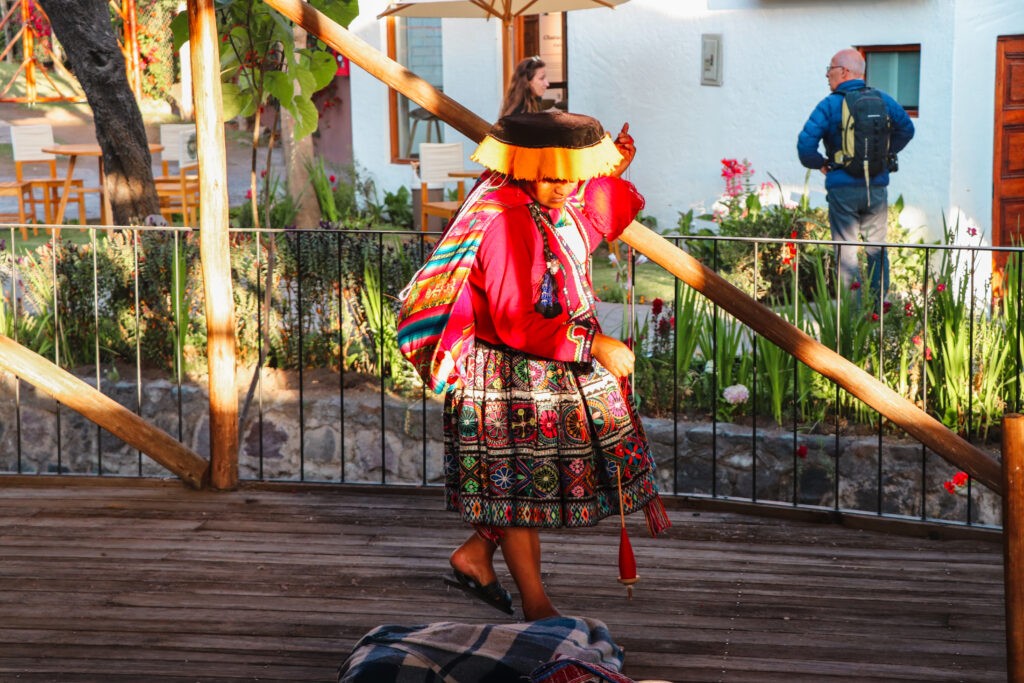 Going on a Free Walking Tour is the best way to get to know a new city. Especially for Arequipa, where there are plenty things to see and do, taking a guided trip through the city is perfect opportunity to get some insight tips to better plan your days in Arequipa.
The routes differ by operators, but expect to visit the Plaza de Armas, take a walk into Arequipa's oldest neighborhood San Lazaro, see iconic churches and buildings along the way, cuddle with lamas and alpacas at Mundo Alpaca, learn a lot about the colonial influence and the Arequipenian lifestyle, and enjoy the views from the highest city viewpoint.
By doing a free walking tour you'll have the opportunity to dive into the city life of Arequipa. A guide will walk you around the city, show you the best places and provide you with interesting insights about the history and culture. Because Free Walking Tours are technically free, guides will do their best as their only income is your tip at the end of their tour.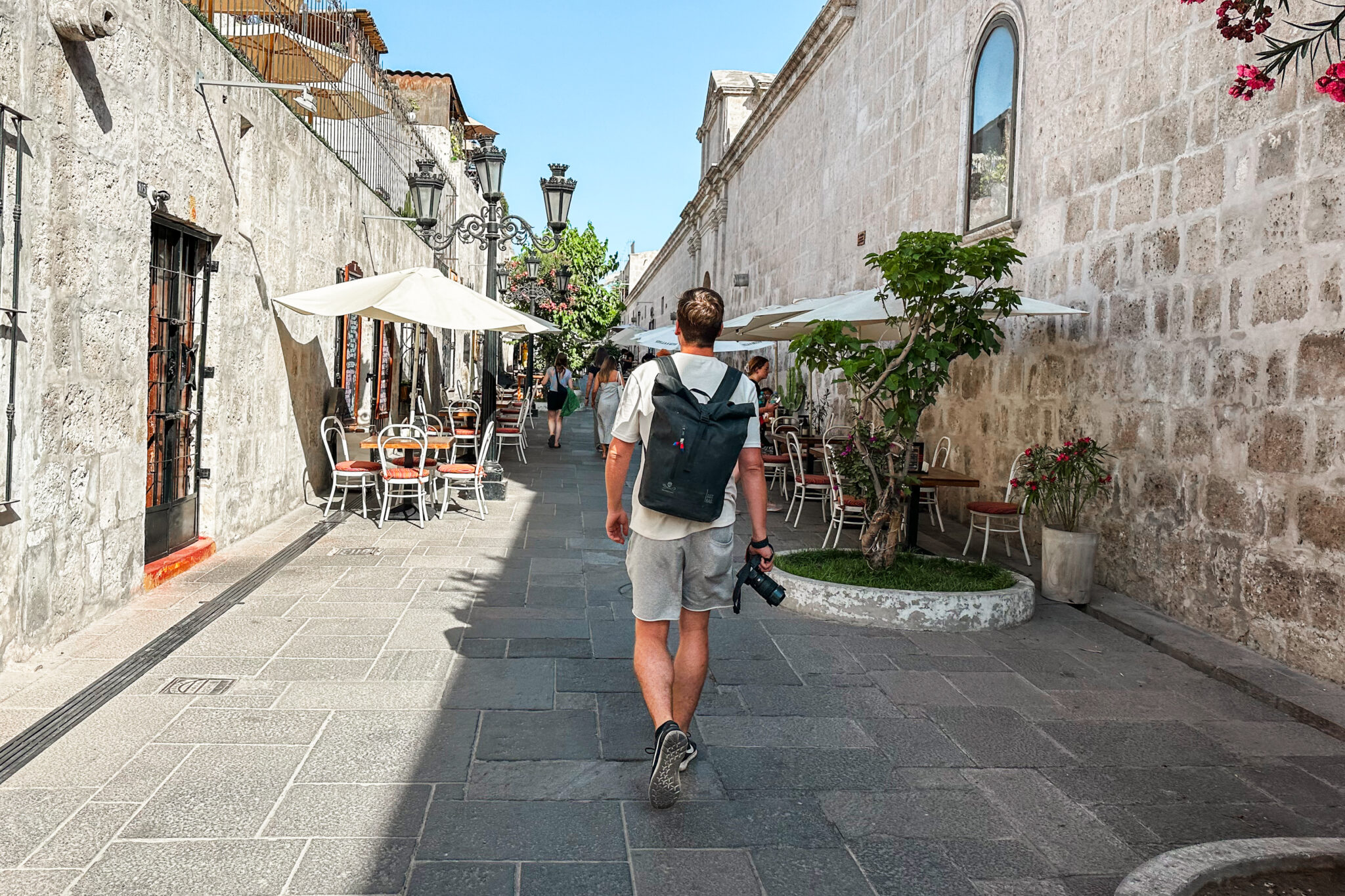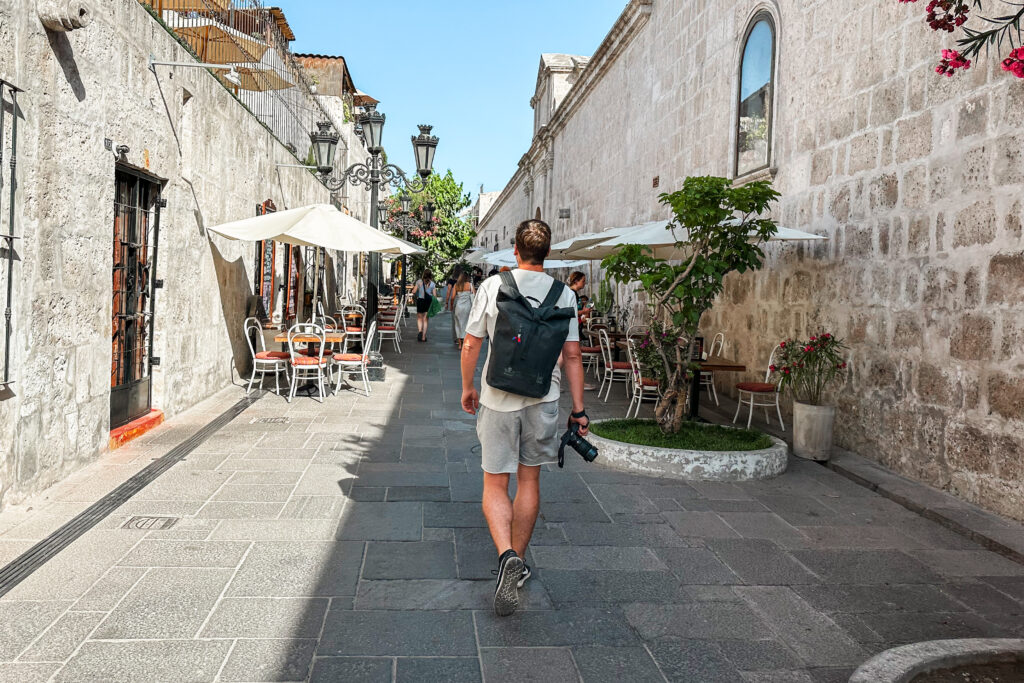 Take a walk to the Yanahuara viewpoint to enjoy some beautiful views over the rooftops of Arequipa and the volcanos Misti, Picchu Picchu and Chachani mountain peaks. The volcanoes around Arequipa are just breathtaking.
Once you're finished gazing at the views, walk through the palms of the Plaza de Yanahuara and visit the small church of San Juan Bautista.
The Yanahuara Viewpoint is a 25 minutes walk from the city center. You'll cross the bridge of the Rio Chili and walk a little along the riverside, before you reach the arches of Yanahuara. While you can hop on a bus to take you near the viewpoint, its a great morning walk to Yanahuara. We were unlucky with the visibility on the volcanoes that day, but we still did some nice views on Arequipa.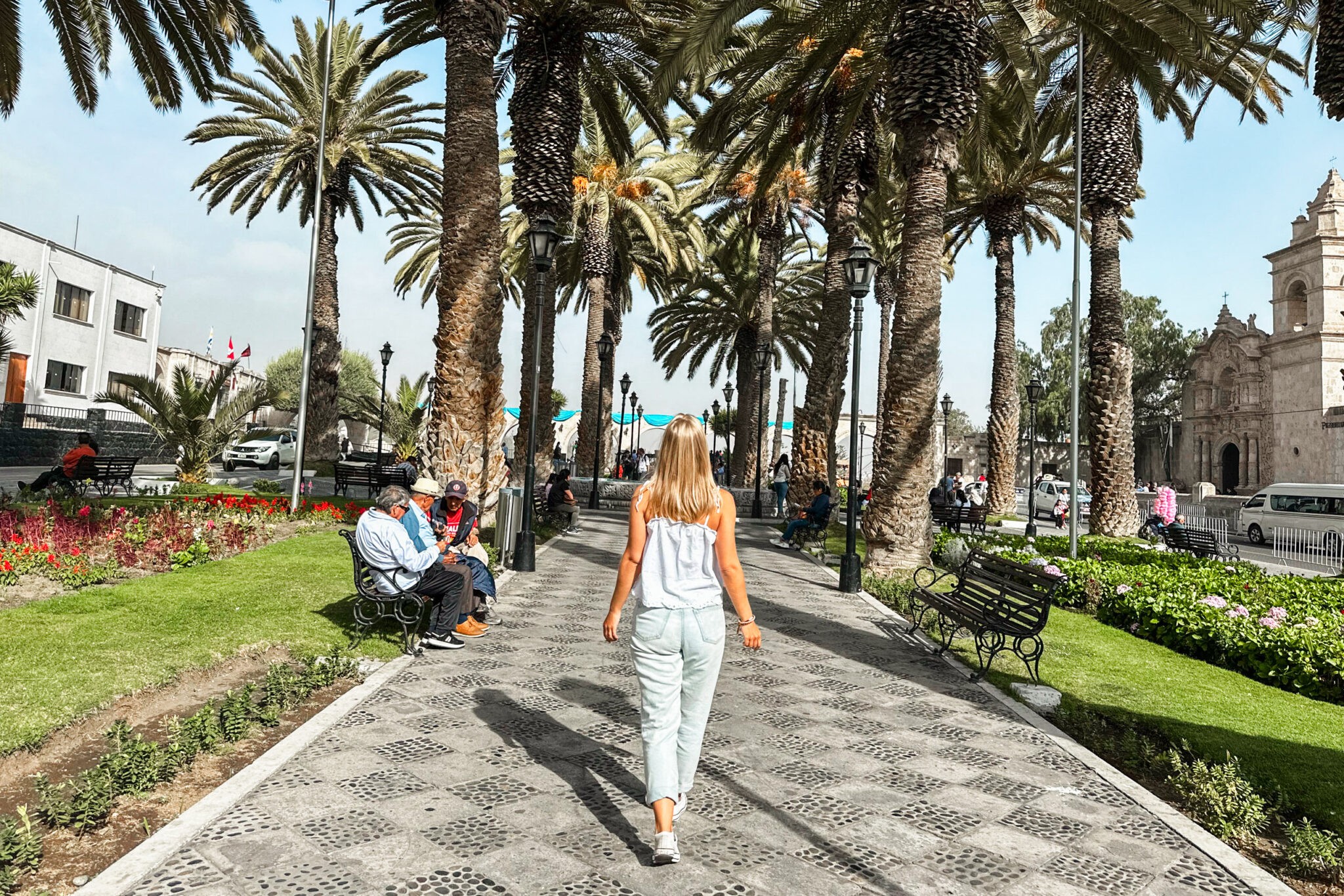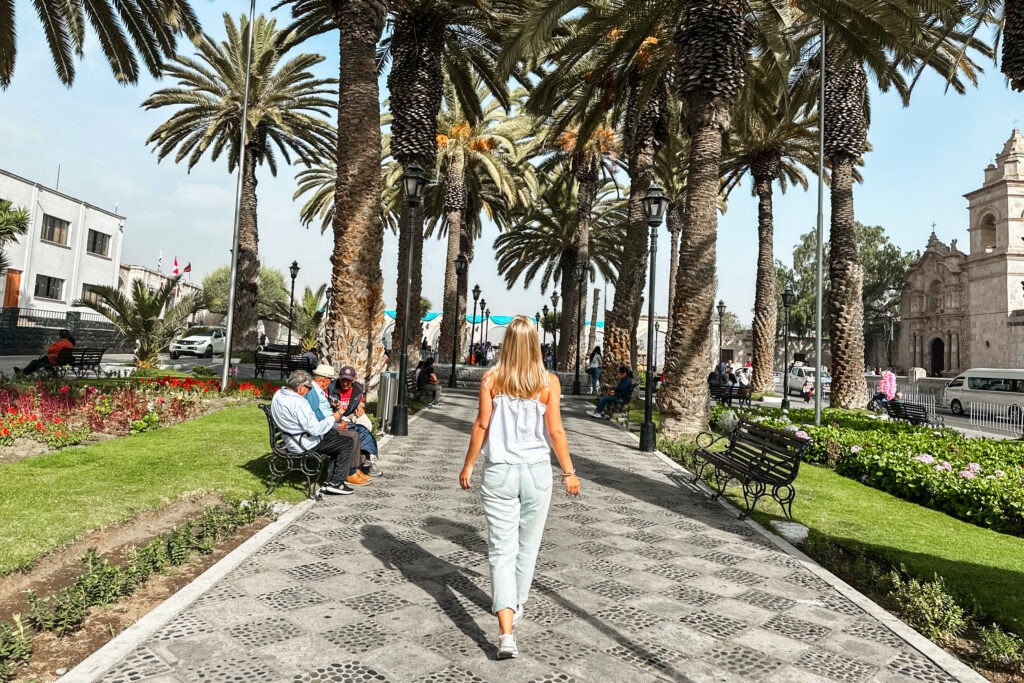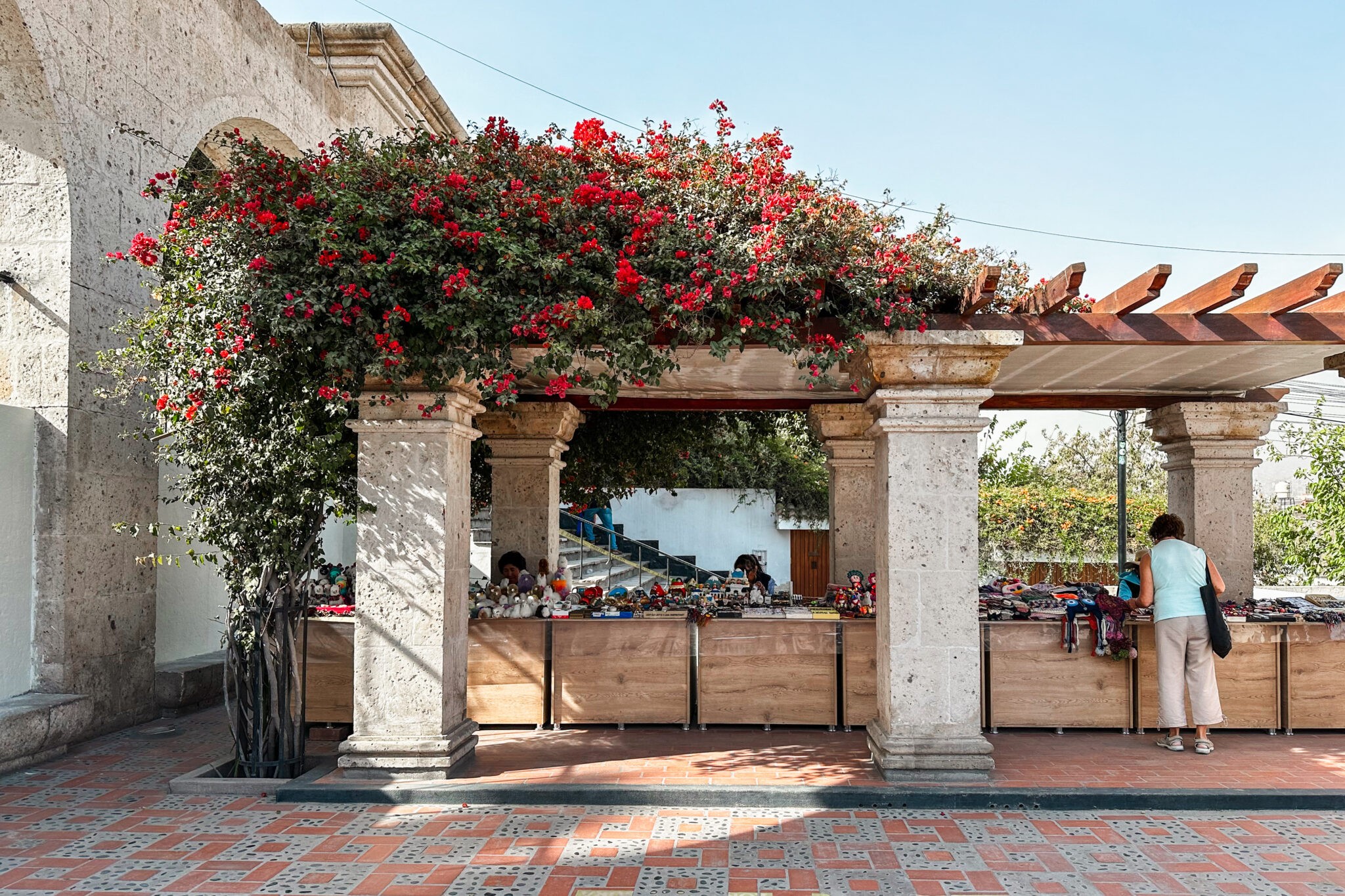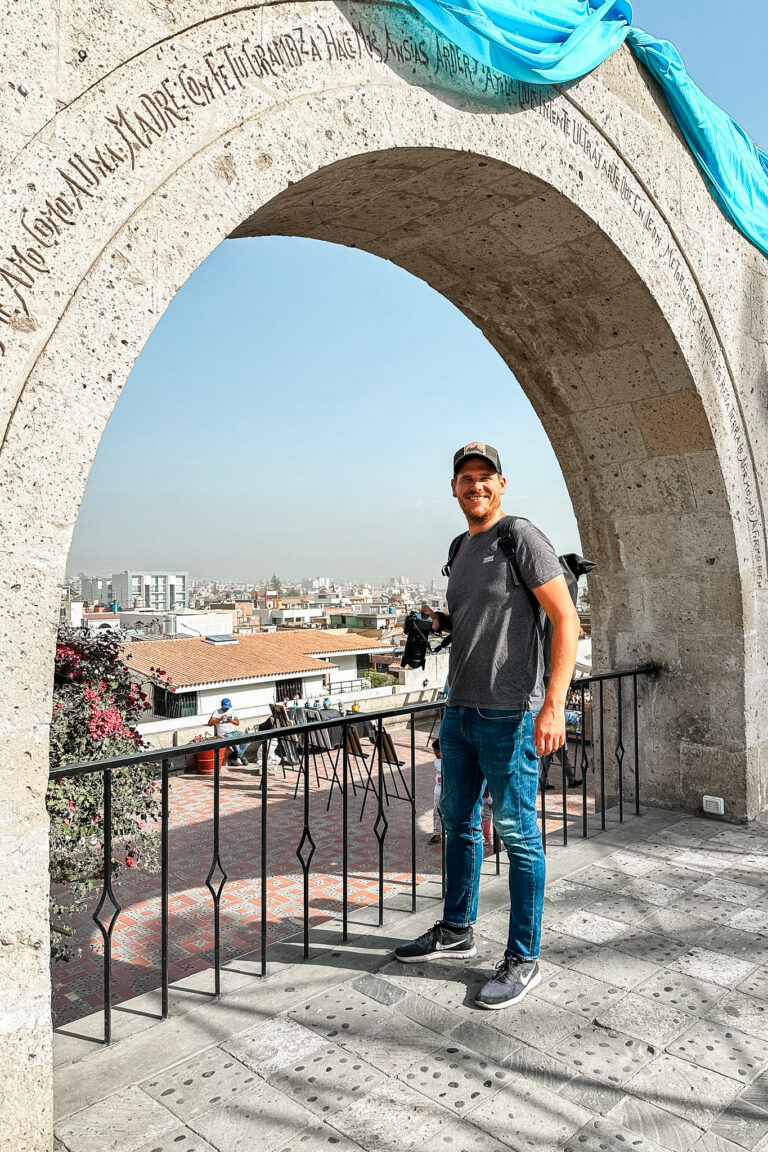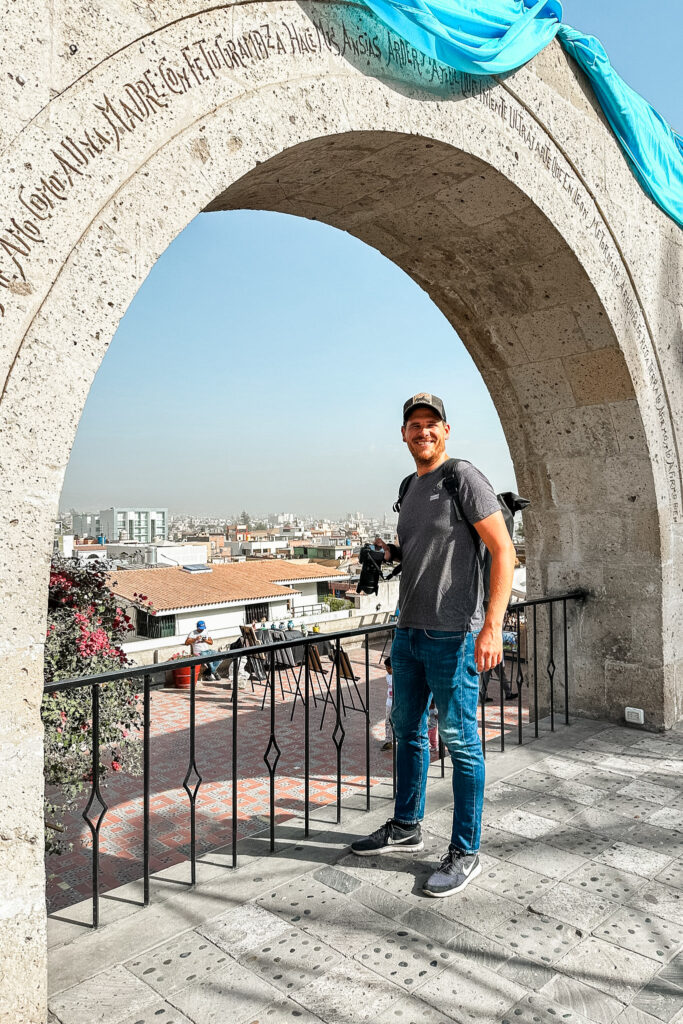 If you don't want to walk to the Yanahuara Mirador to enjoy the views, then visiting the highest viewpoint of the city is your next best thing to do in Arequipa. It's a super cool little spot we discovered as part of our Free Walking Tour, where no tourist would find its way to.
The city viewpoint is a little hidden and not easy to find. To reach it, head to this location, walk inside the courtyard and take the spiral staircase to the top of the building. It's free and publicly accessible for everybody.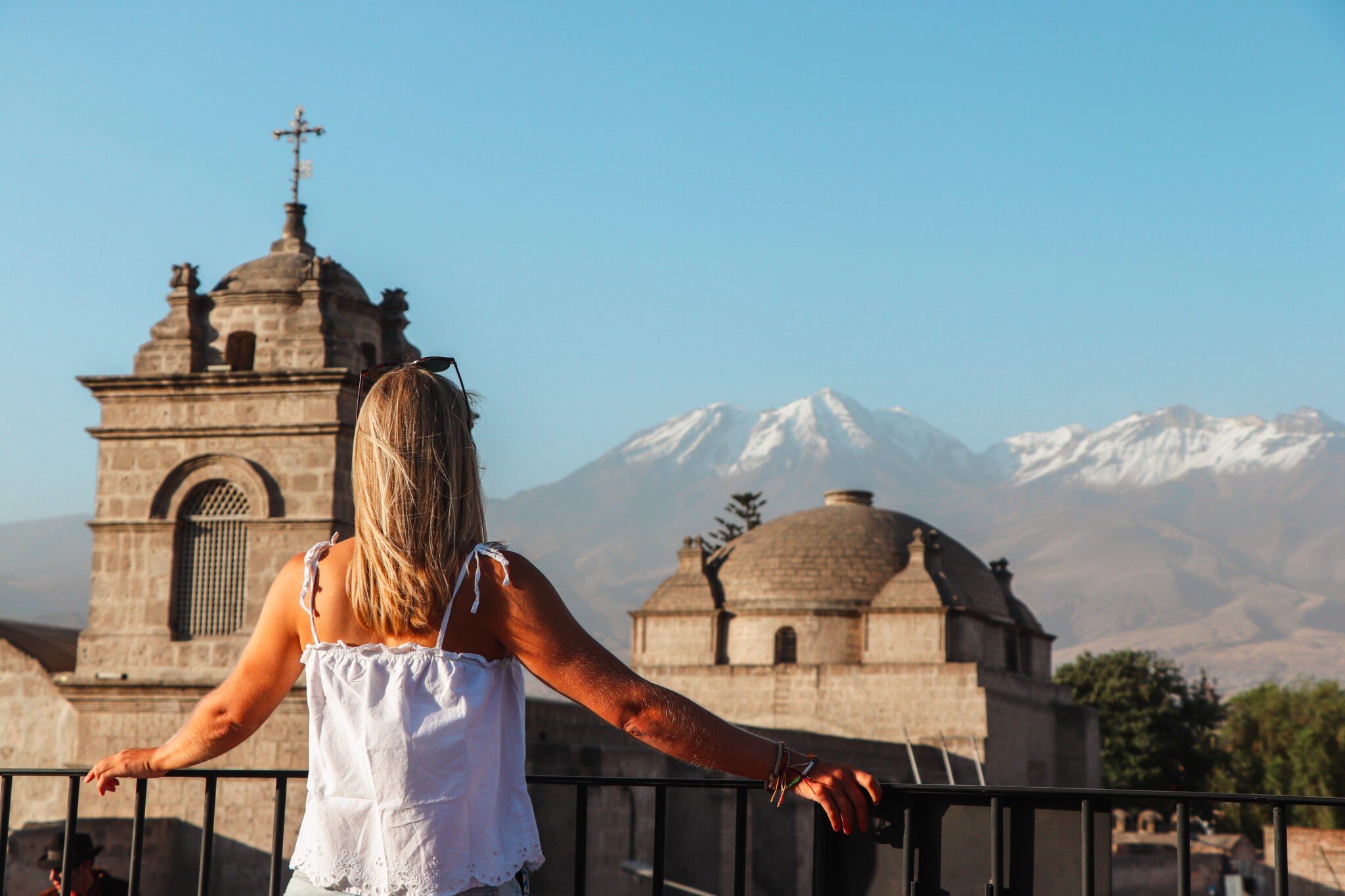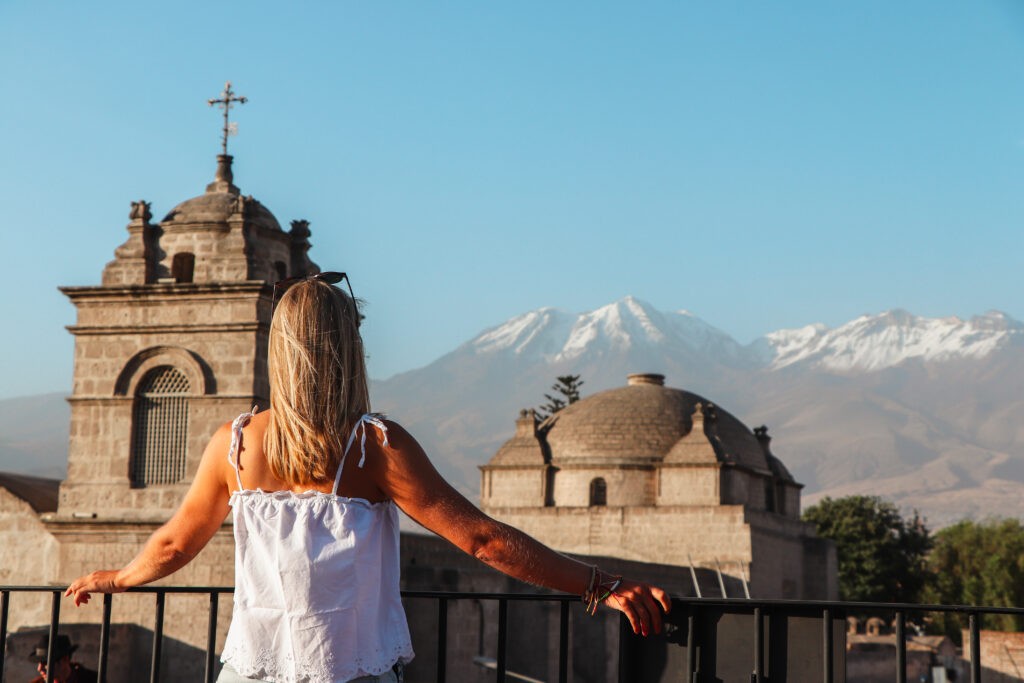 8. Claustros de La Compañía
You won't notice Claustros de La Compania to what it is. The Claustros de La Compania is a shopping center, but none you've seen before. This relatively unknown place has beautiful colonial architecture, ornamentally decorated arches and walls and some chic cafes and restaurants. Plus there is a nice church nearby as well.
If you have some spare time, visit one of the cafes at Claustros de La Compania. It's a perfect, yet little hidden place to enjoy a freshly brewed coffee away from the busy city streets.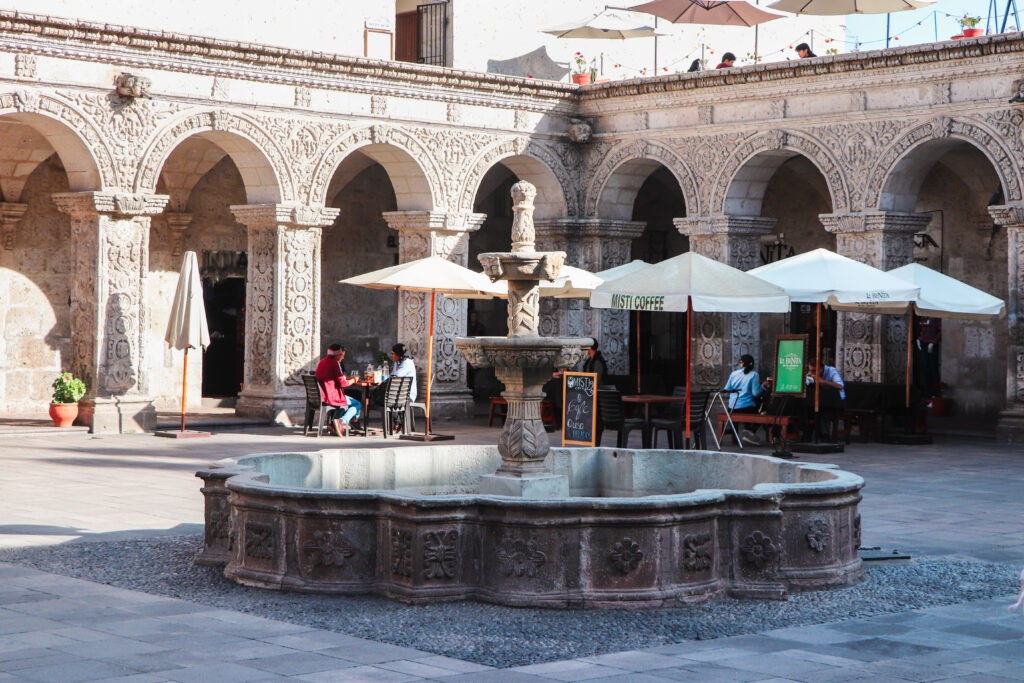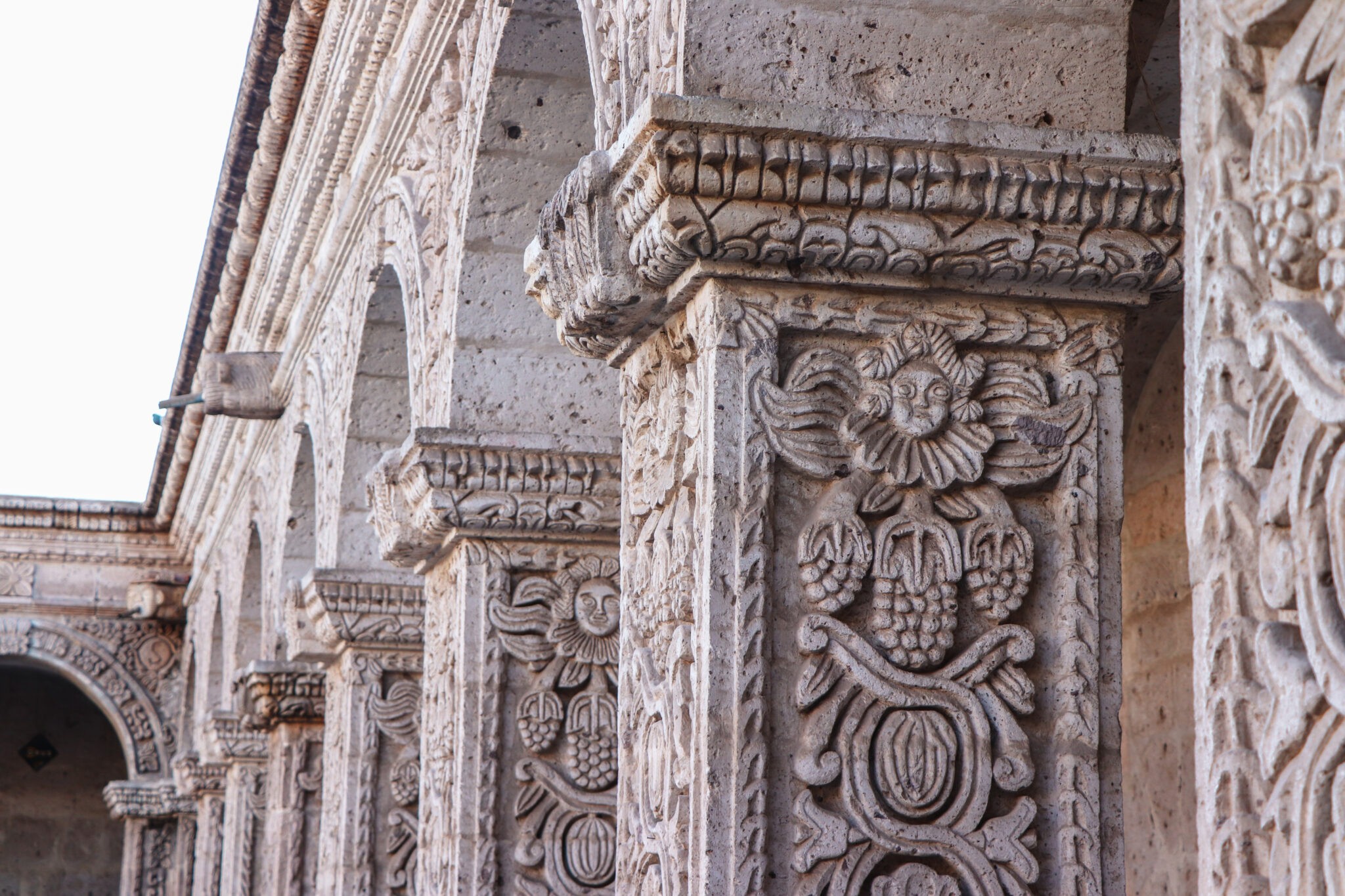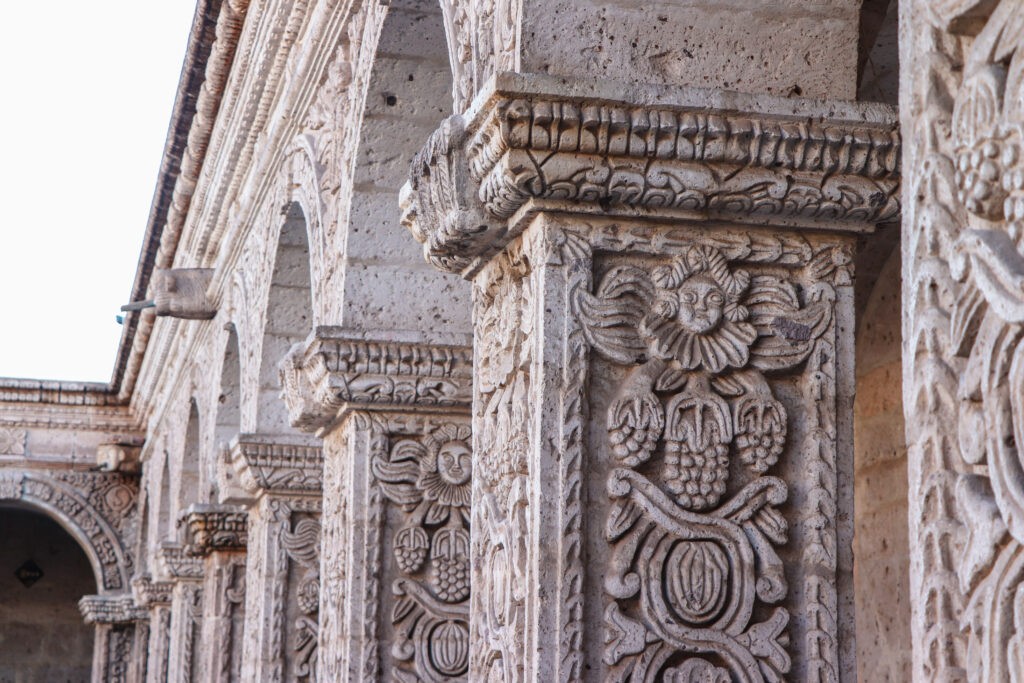 San Lazaro is the oldest neighborhood in Arequipa and only a 10 minute walk away from the historic center. It's known for its narrow cobblestone streets, sillar architecture and well-preserved colonial houses. San Lazaro was founded in the early 16th century, shortly after the founding of Arequipa. Initially serving as a hub for the city's artisans and merchants, it eventually became home to some of the Arequipa's wealthiest families.
While strolling through the narrow cobble-stone streets of San Lazarro you'll find plenty of restaurants, cafes and shops. Its also a good spot to try out some of Arequipa's traditional dishes in one of the Picanterias.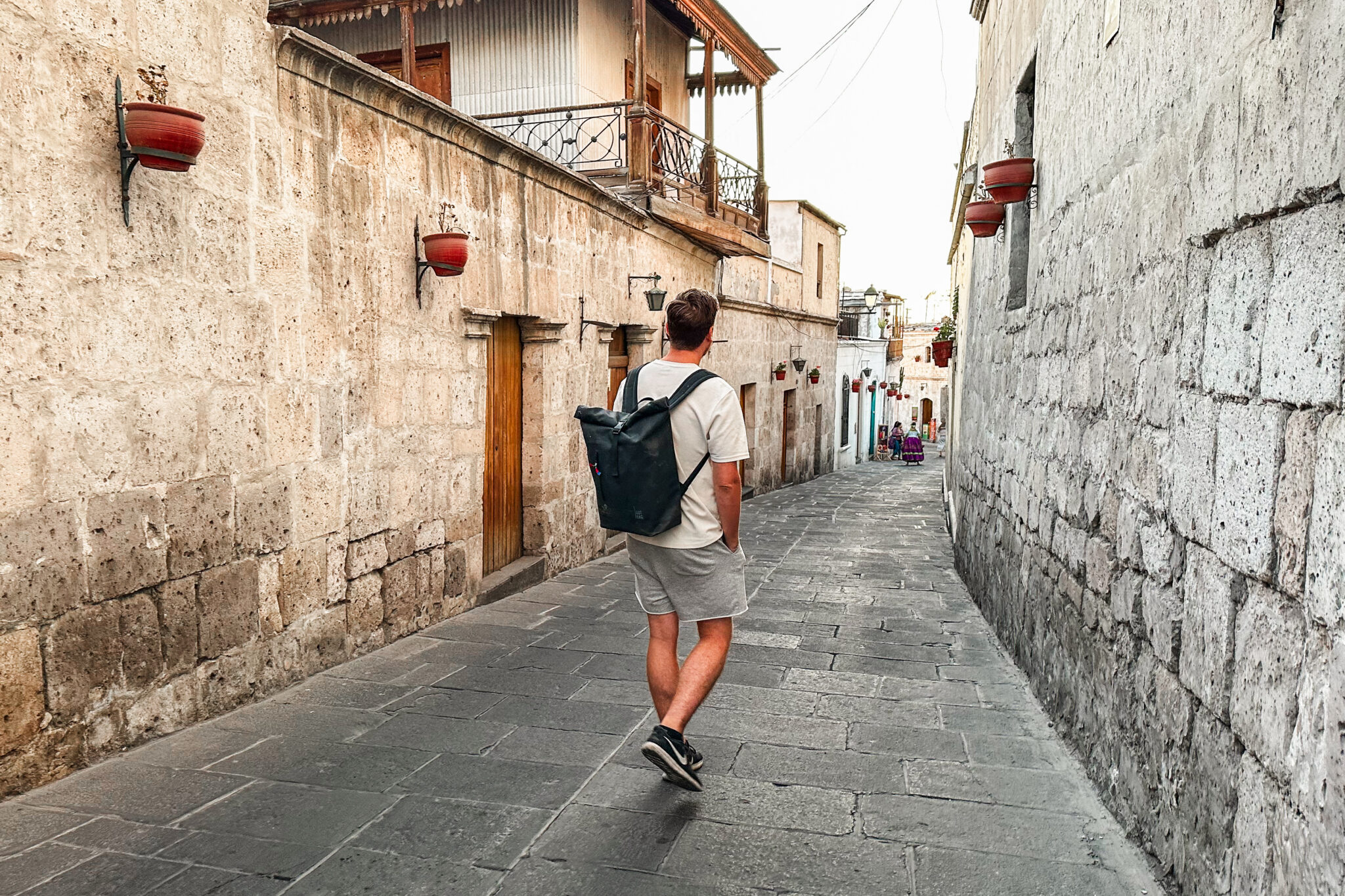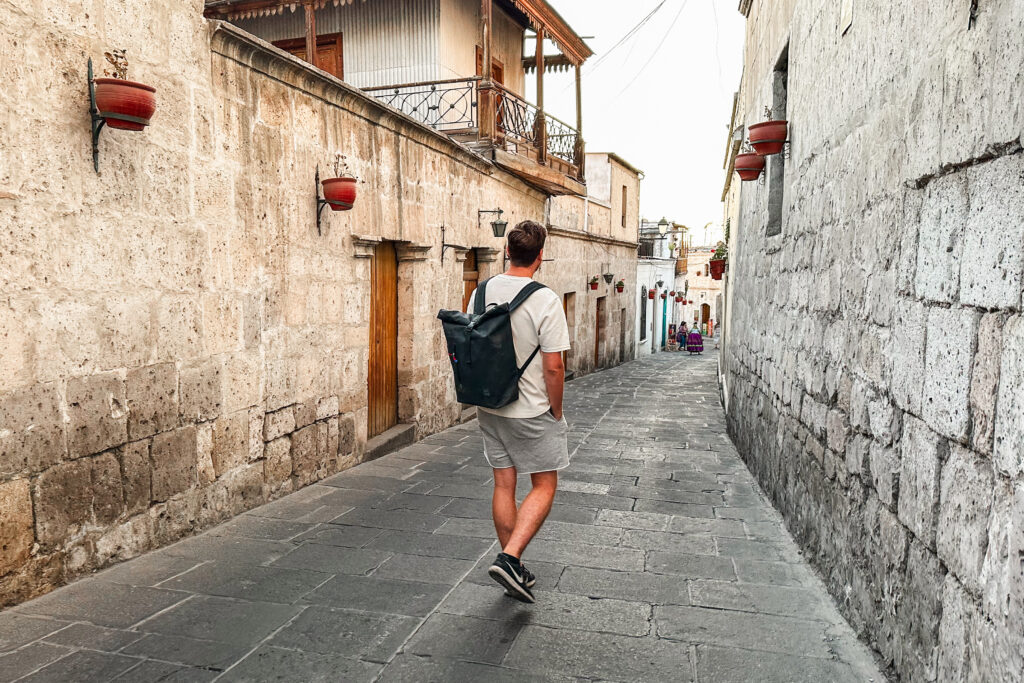 The San Camilo Market is a traditional market in Arequipa and one of the most popular tourist attractions in the city. With over a thousand stalls selling a wide variety of products, the San Camilo market is your go-to destination to shop  everything you need while in Arequipa. You can even get a freshly prepared meal at one of the many food stalls. Ask for the 'menu', which is the meal the stall owner prepared for the day.
The San Camilo Market is located in the heart of the city, just a few blocks from the Plaza de Armas. It is open every day from sunrise until the late afternoon. Head there in the morning or noon to experience the market at its busiest time.
Save on Pinterest to read it later.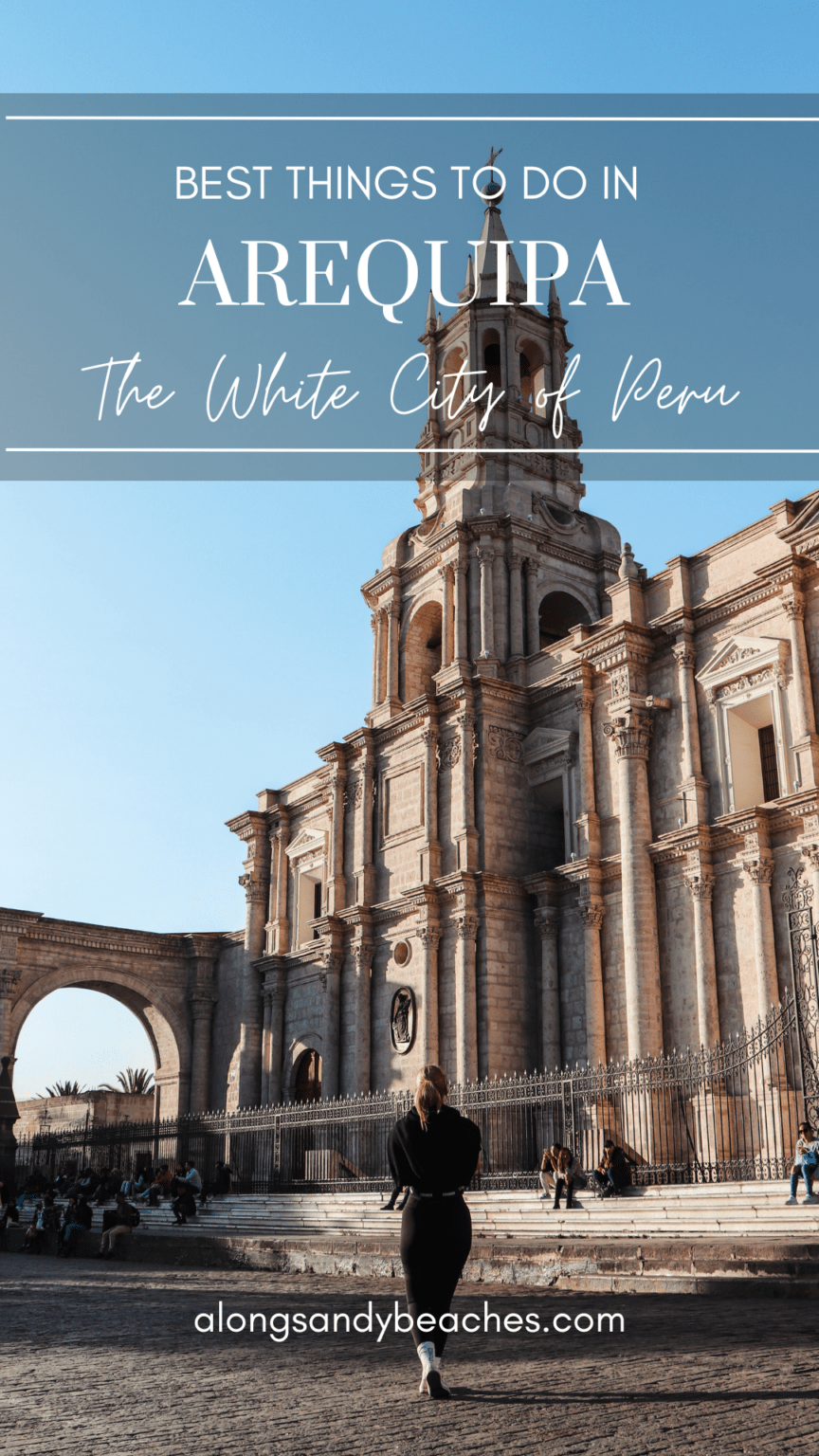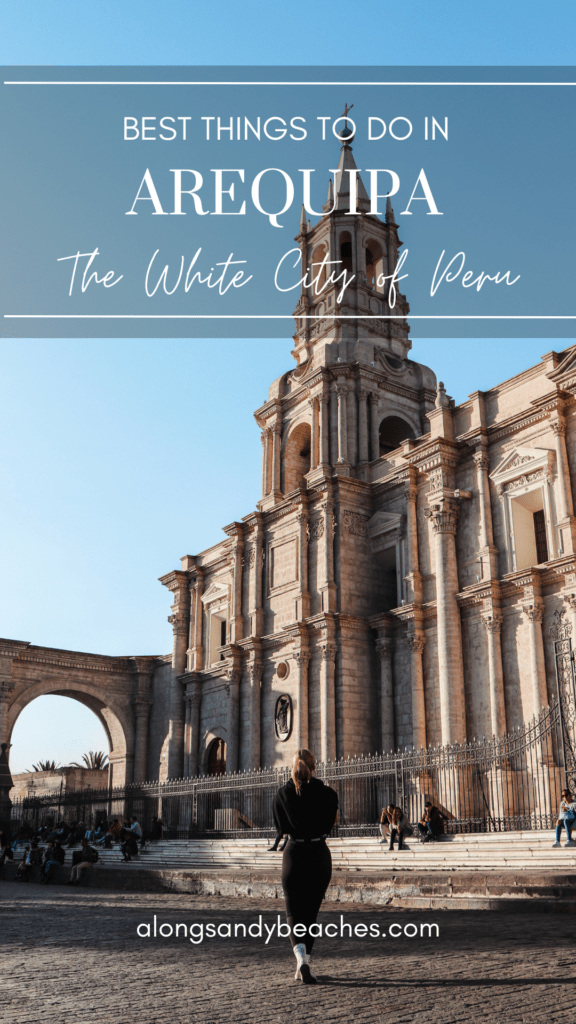 11. Casa del Poeta Peruano
The Casa del Poeta Peruano is a cultural center in Arequipa and is dedicated to the promotion of the Peruvian poetry. The Casa del Poeta has cool artwork; they design faces of famous artists and put them onto a huge palm tree inside the courtyard. Plus, there is a nice coffee place too.
The Casa del Poeta Peruana can be found in the historic center of Arequipa, not far away from the Plaza de Armas. Make a quick stop there to see this special piece of art.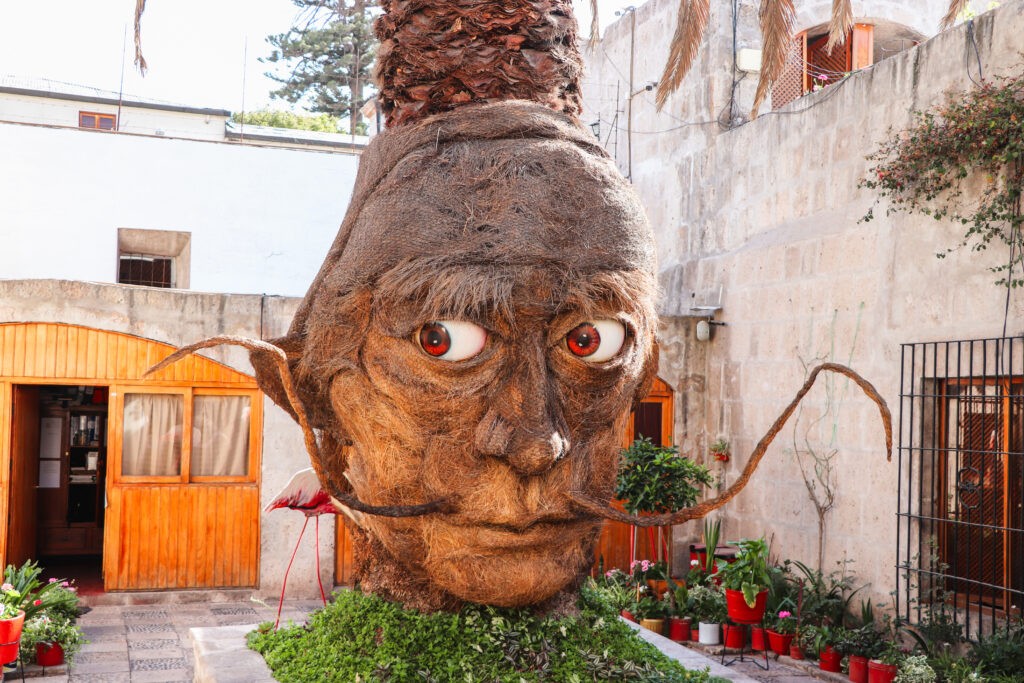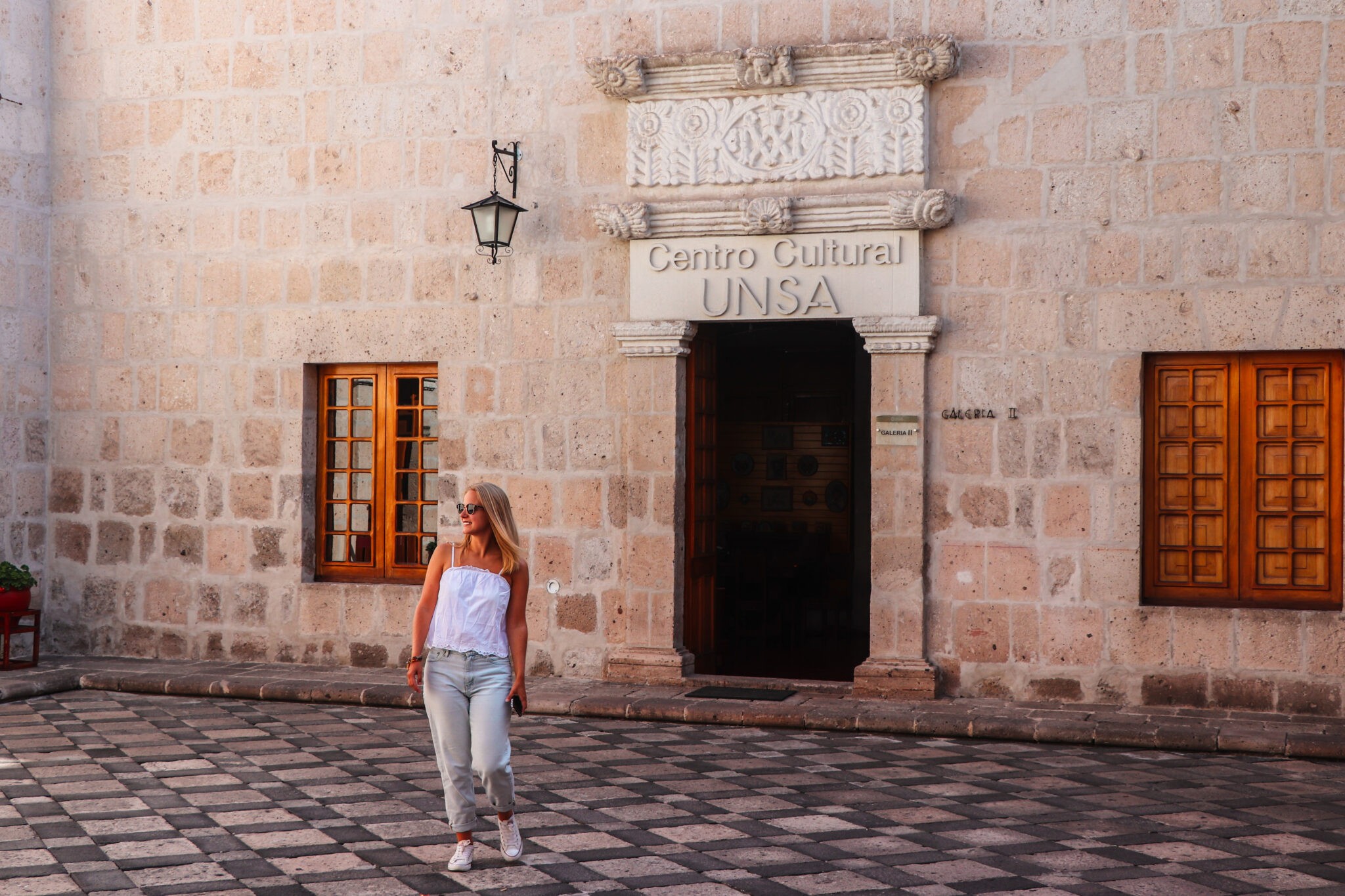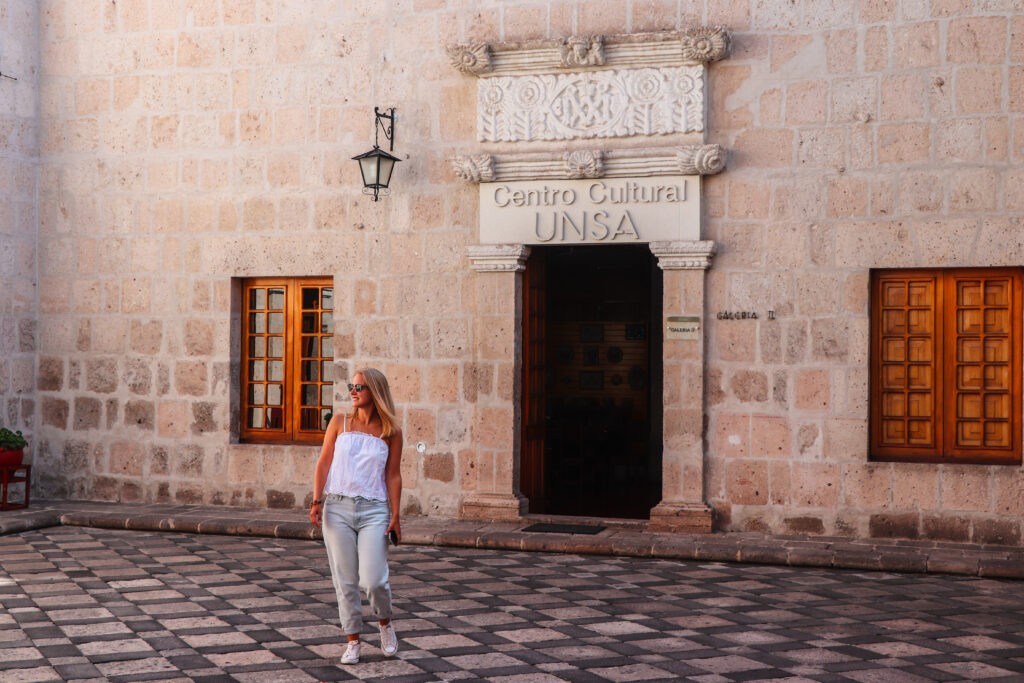 Try out the local dishes of Arequipa in a Picanteria. Picanterias are traditional lunchtime restaurants that you will only find in Arequipa. They serve all kinds of Arequipenian cuisine, from local river prawns (Chupe de Camarones) over stuffed chilli (Rocoto Relleno) to fried guinea pig (Cuy Chatado).
While for some on the food may be a bit too exotic, it's a great way to catch the local vibes and take part in the Arequipenian lifestyle, while having a refreshing chicha or corn beer. Yummy!
Visit the Picanterias for lunch time, as they are usually only open between 12:00 and 5:00 p.m. Look for the menu sign at the entrance and ask for the menu of the day. This usually comes with a starter, drink and main dish. The food in the Picanteria's is quite affordable too, so it's an ideal place for budget conscious travelers.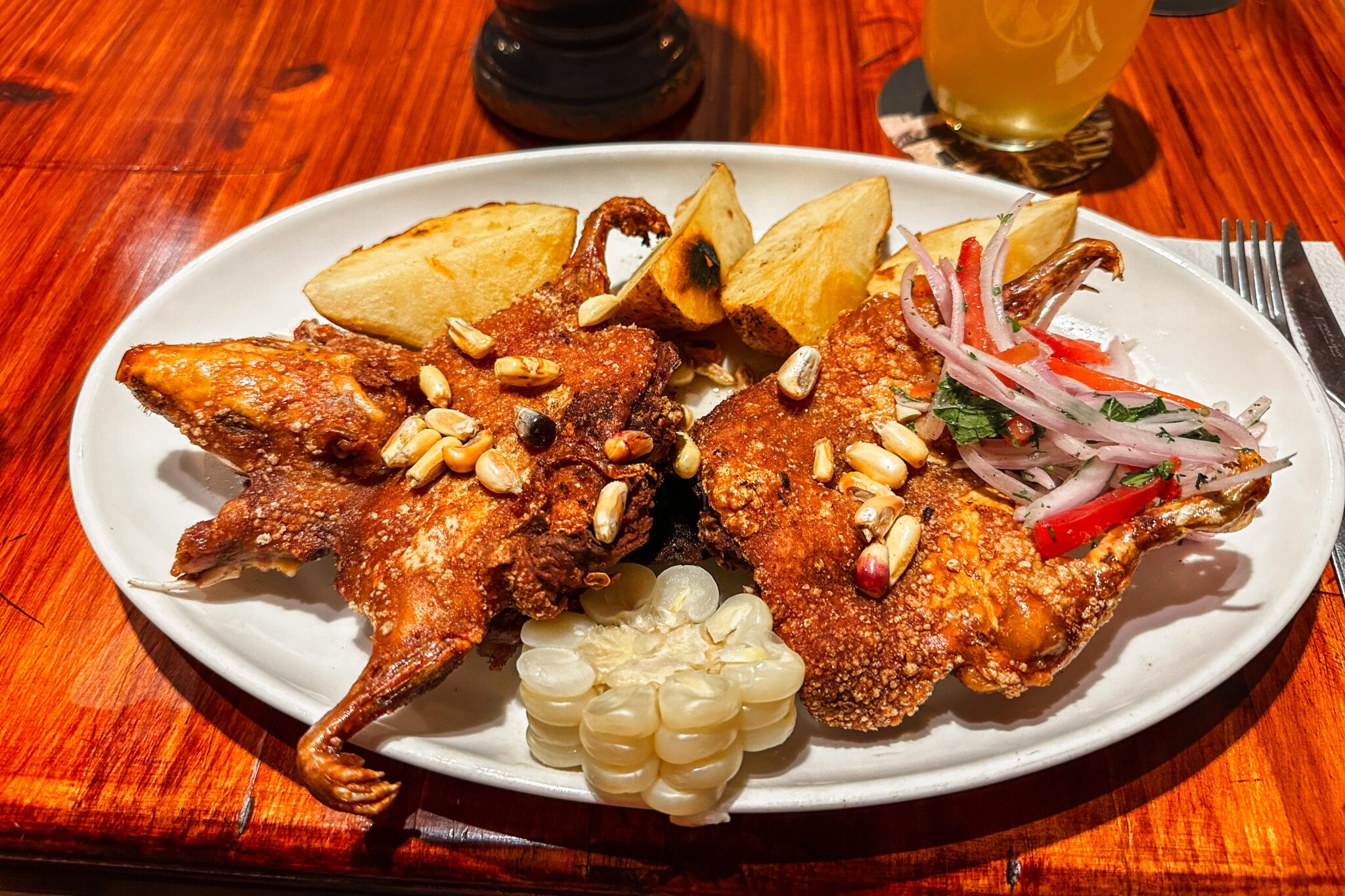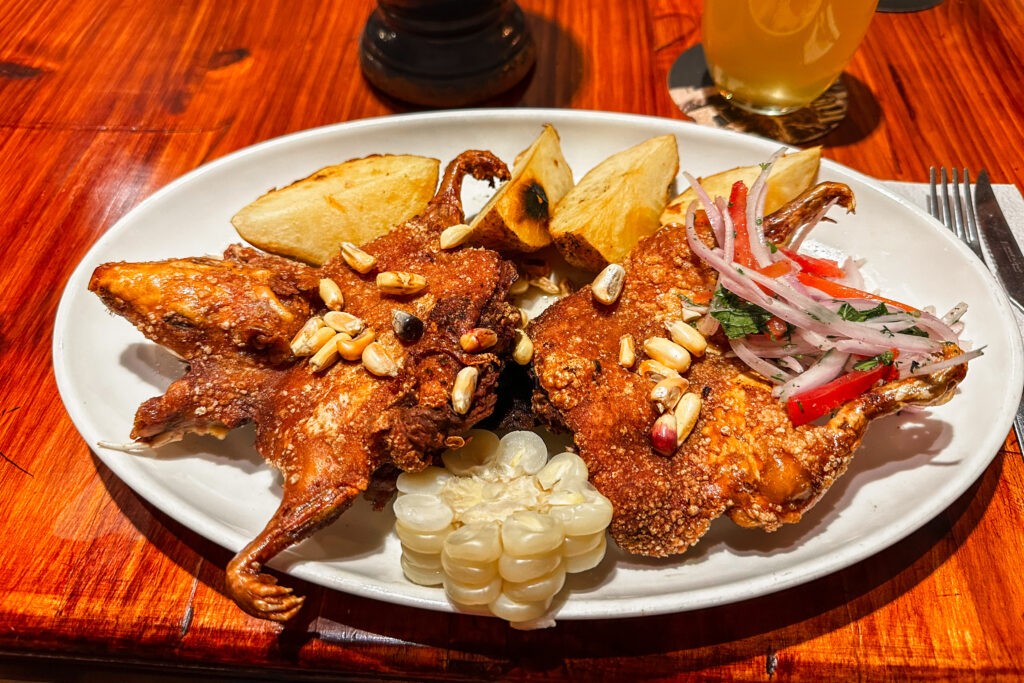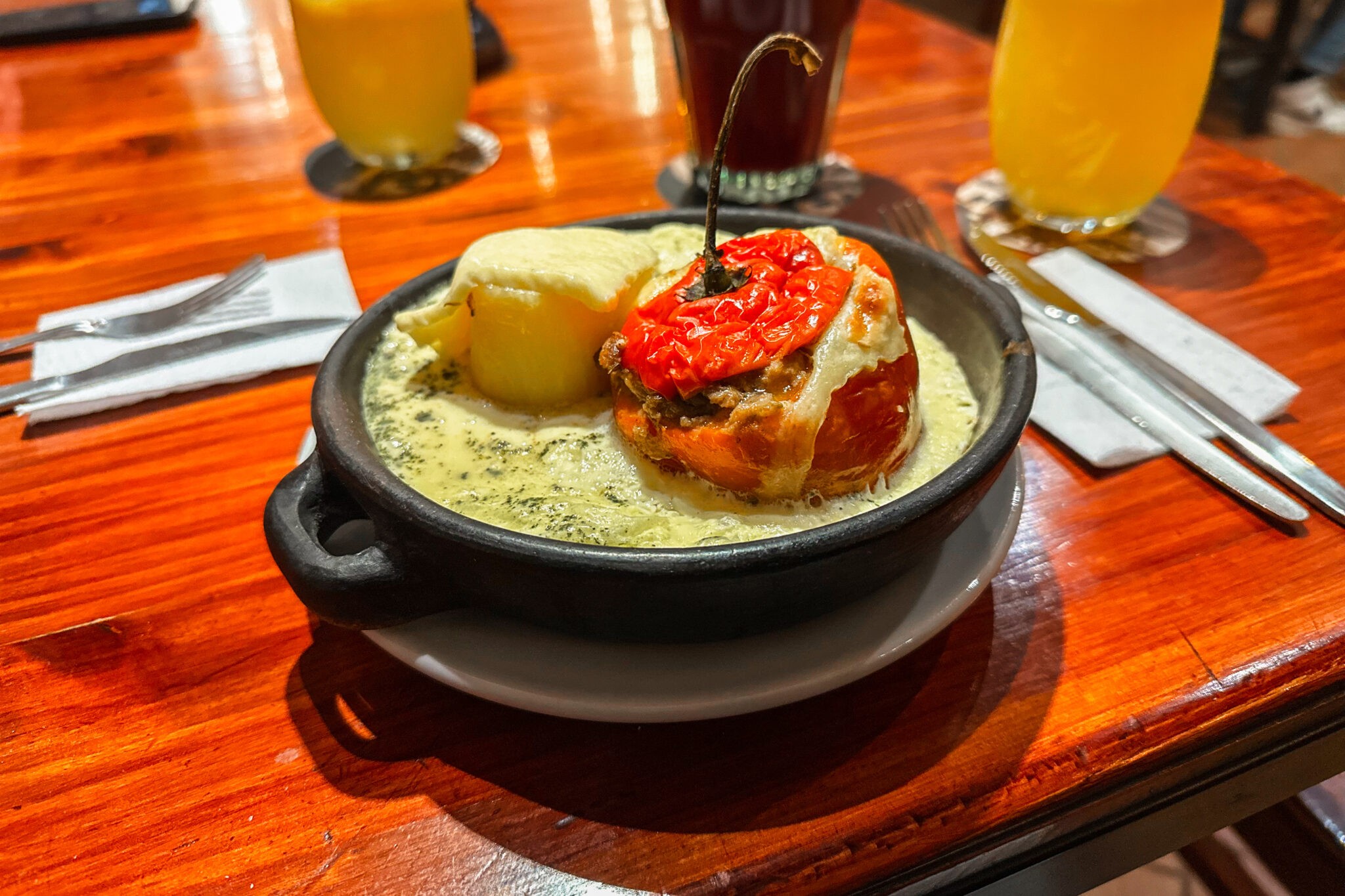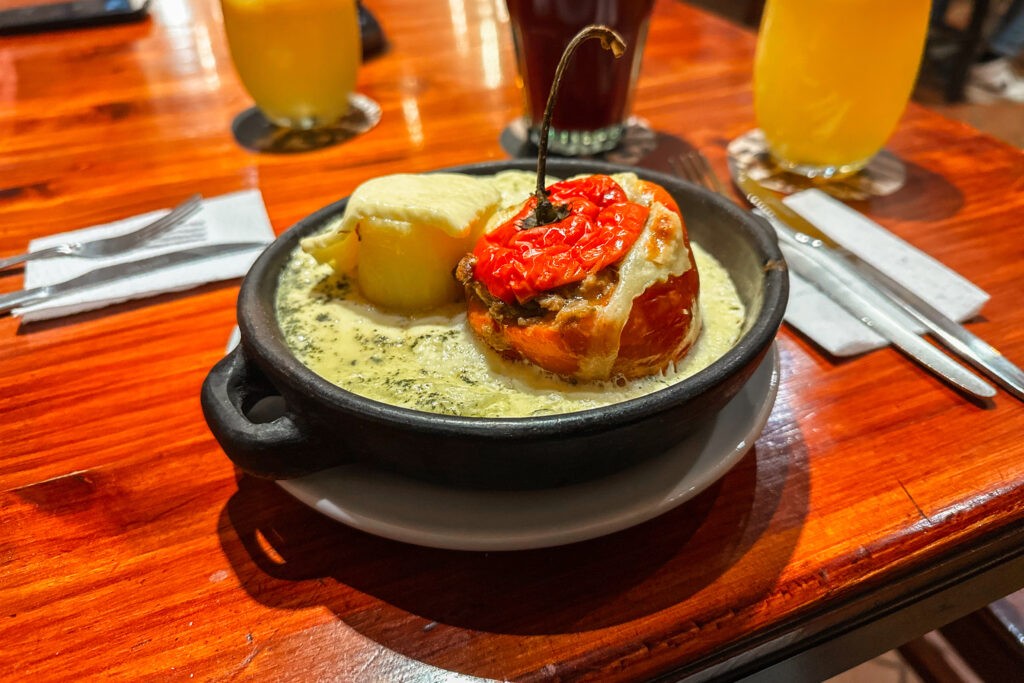 The Colca Canyon is one of the deepest canyons of the world. With towering cliffs plunging over 3.000 meters (10.000 feet) into the Colca River below, it's a definite must visit when in Arequipa.
Enjoy the breathtaking views from the canyon rim, witness condors gliding over the cliffs and see wild vicunas on their way through the vast landscape of the national reserve.
The Colca Canyon is a 3-hour drive from Arequipa. There are one- to multi-day tours available and they cost around 90 PEN (approx. 24 USD) per day, plus the park entrance fee of 70 PEN (approx. 19 USD). You can also visit Colca Canyon independently, if this is how you prefer to roam.
If you are up for a challenge, you can also hike down the canyon. There is even a little oasis. Read more about how to best visit the canyon in our Colca Canyon Guide.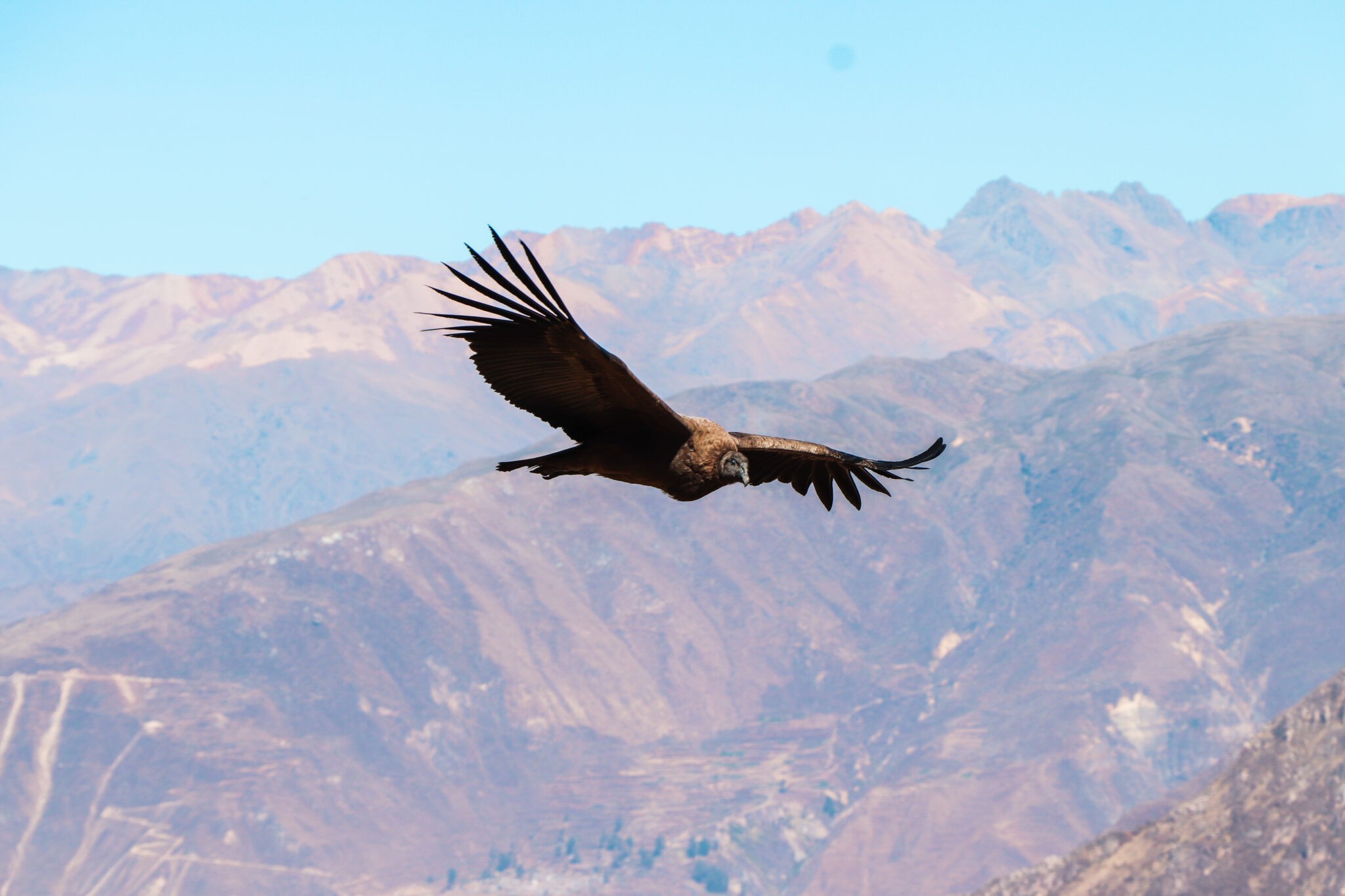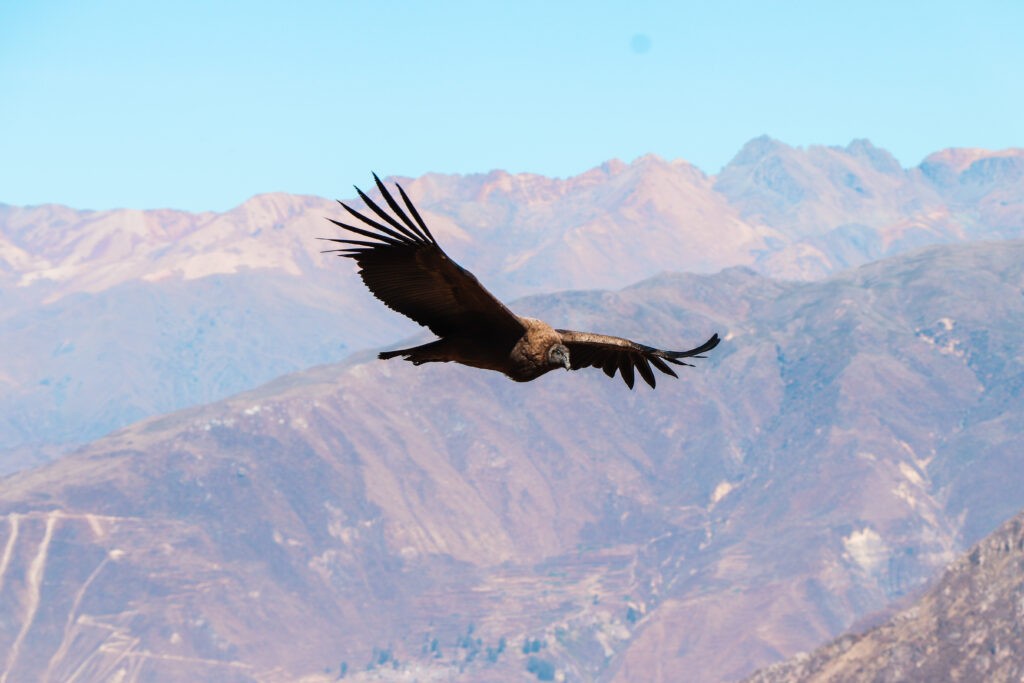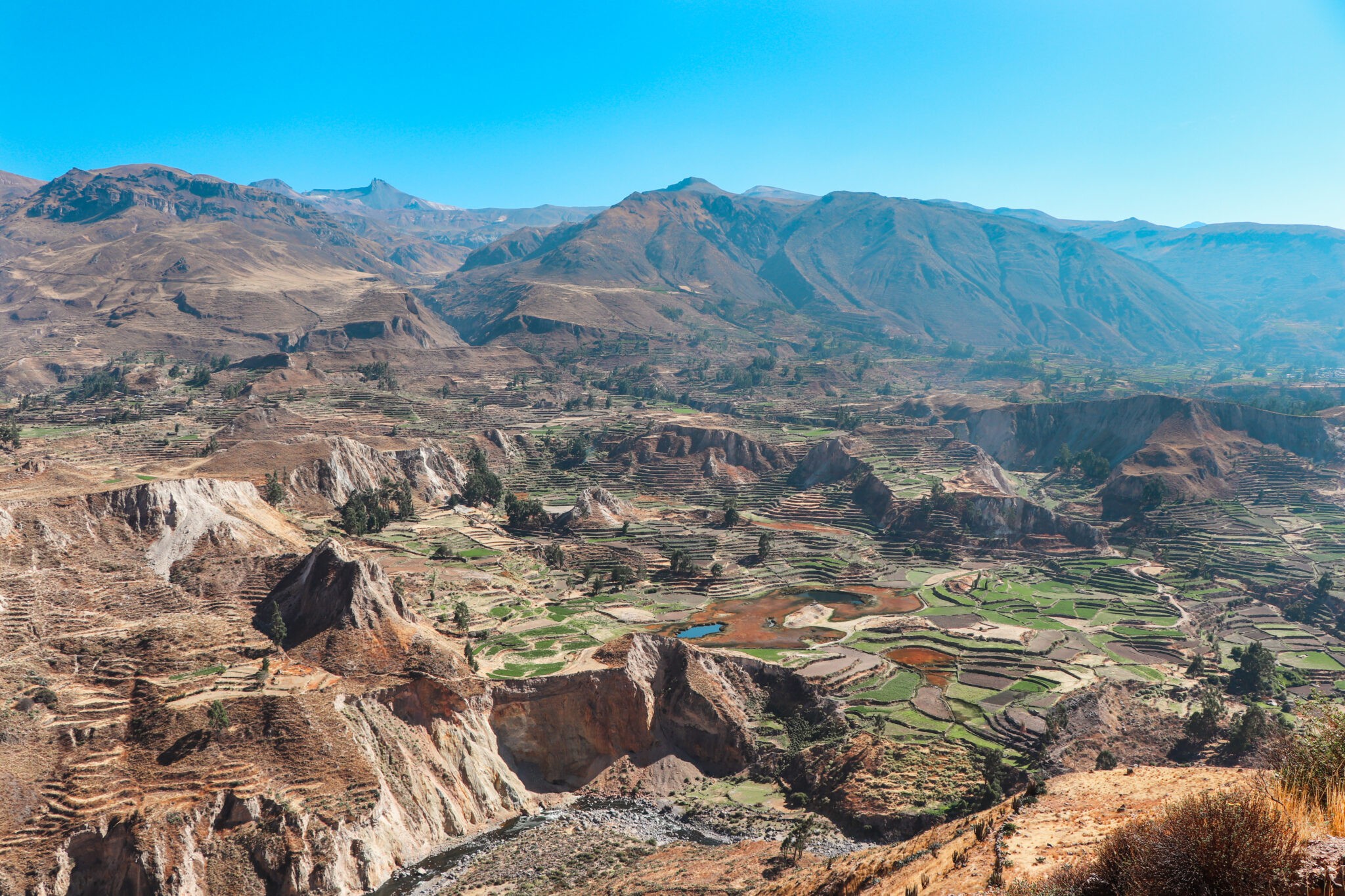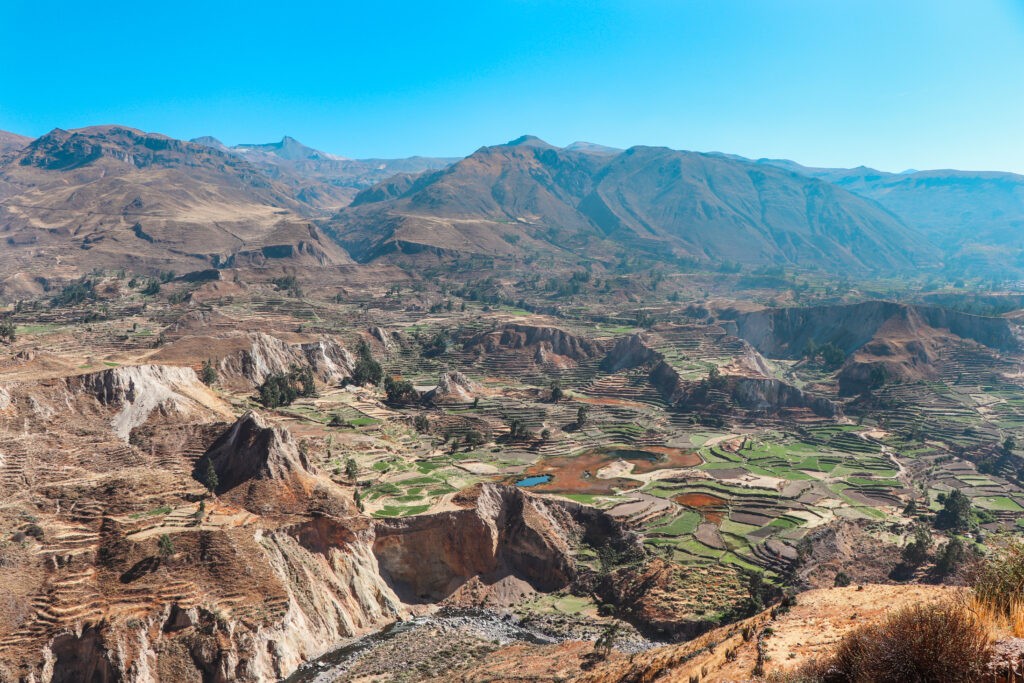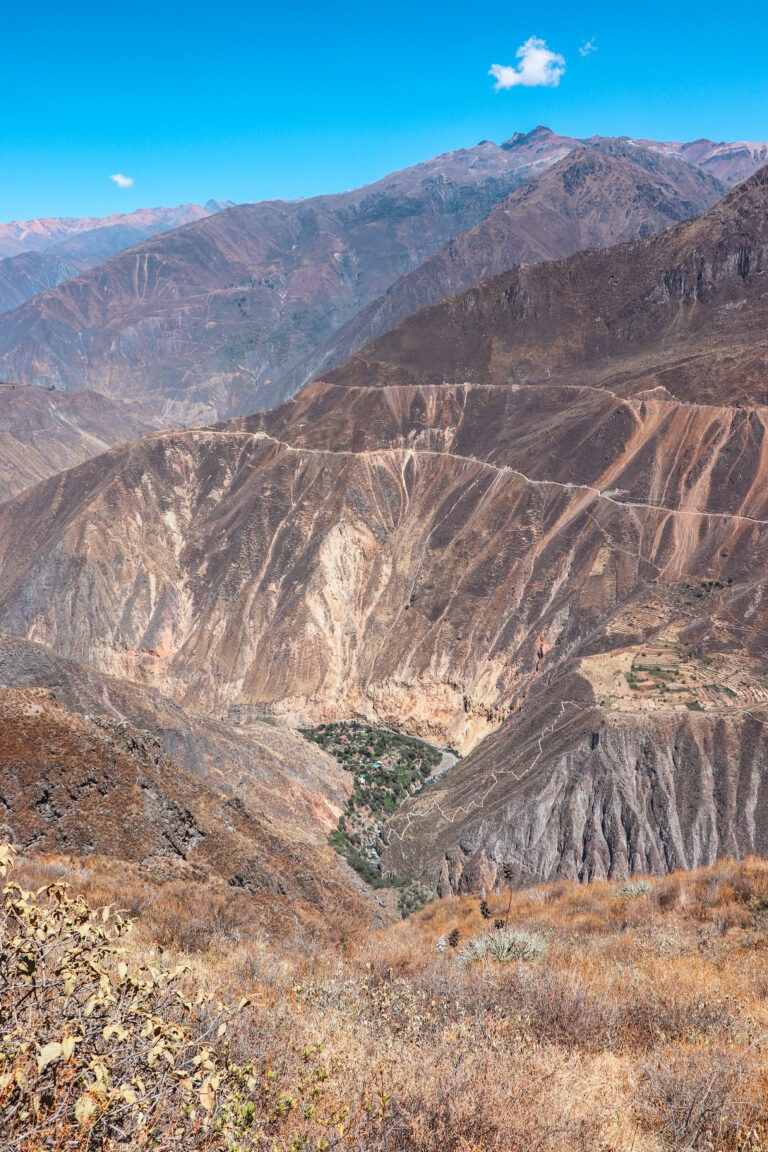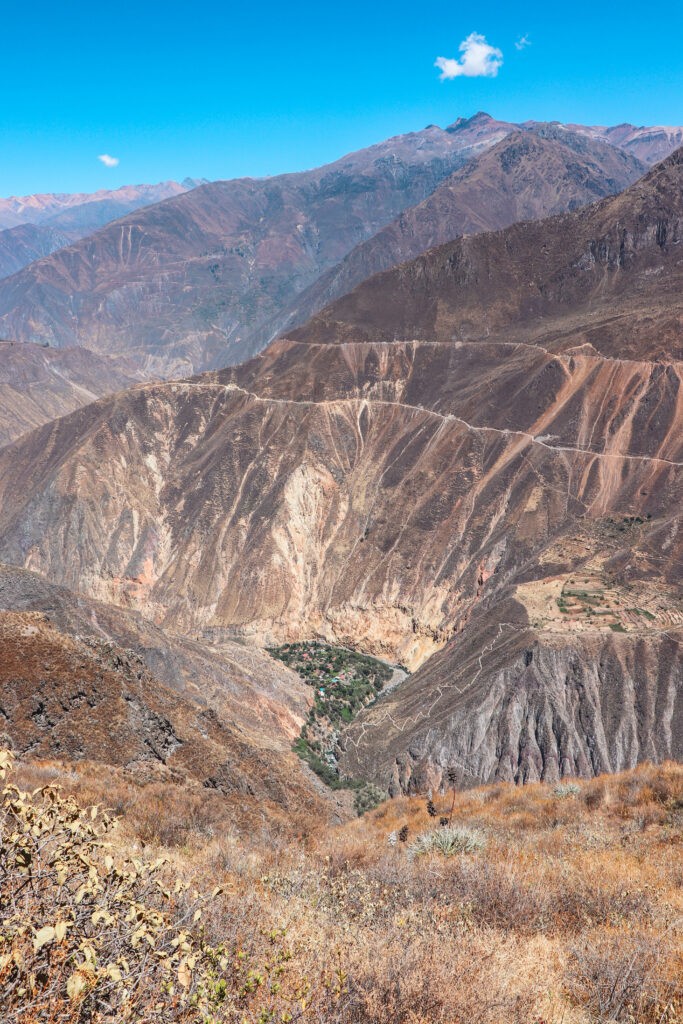 White-water rafting is an adrenaline-pumping and exciting thing to do in Arequipa. While this exhilarating activity is nothing for the faint-hearted, its a great adventure if the city life wasn't already exciting enough.
Raft down the rapids of the Rio Chili and get to see the beautiful landscape around Arequipa from a totally different perspective. Have the local river prawns for lunch and take home some stunning photos of you in action.
White-water rafting can be done at more than a hand-full of rivers nearby. A half-day tour to the Rio Chili, the most popular one, costs around 25-50 USD and includes a professional guide, transportation, river equipment and snacks.
With over 1 million people living in Arequipa, the city is well connected nationally. While most tourists arrive to Arequipa by bus, the city also has a fairly large airport. Buses and planes commute daily between Arequipa and most major Peruvian cities like Lima, Cuzco and Ica.
The most comfortable way to travel from Lima to Arequipa is by plane. Planes to Arequipa leave multiple times a day, from the early morning to late at night.
Flight prices vary, depending on the time of booking and day of departure, but expect to pay about 60 USD (excl. luggage) for a one-way ticket.
Alternatively, you can also take the bus from Lima to Arequipa. The journey, however, takes more than 17 hours, so it is advisable to make a stop on the way and also visit the costal town Paracas or the desert oasis Huacachina.
If you still decide to go by bus, we recommend booking with Cruz del Sur or Civa bus companies to have a more convenient journey as their fleet is modern and offers seats reclining up to 160 degrees. The tickets cost 90-185 soles (approx. 24-50 USD), depending on the selected comfort level. You can check the schedules and book tickets directly on their homepage.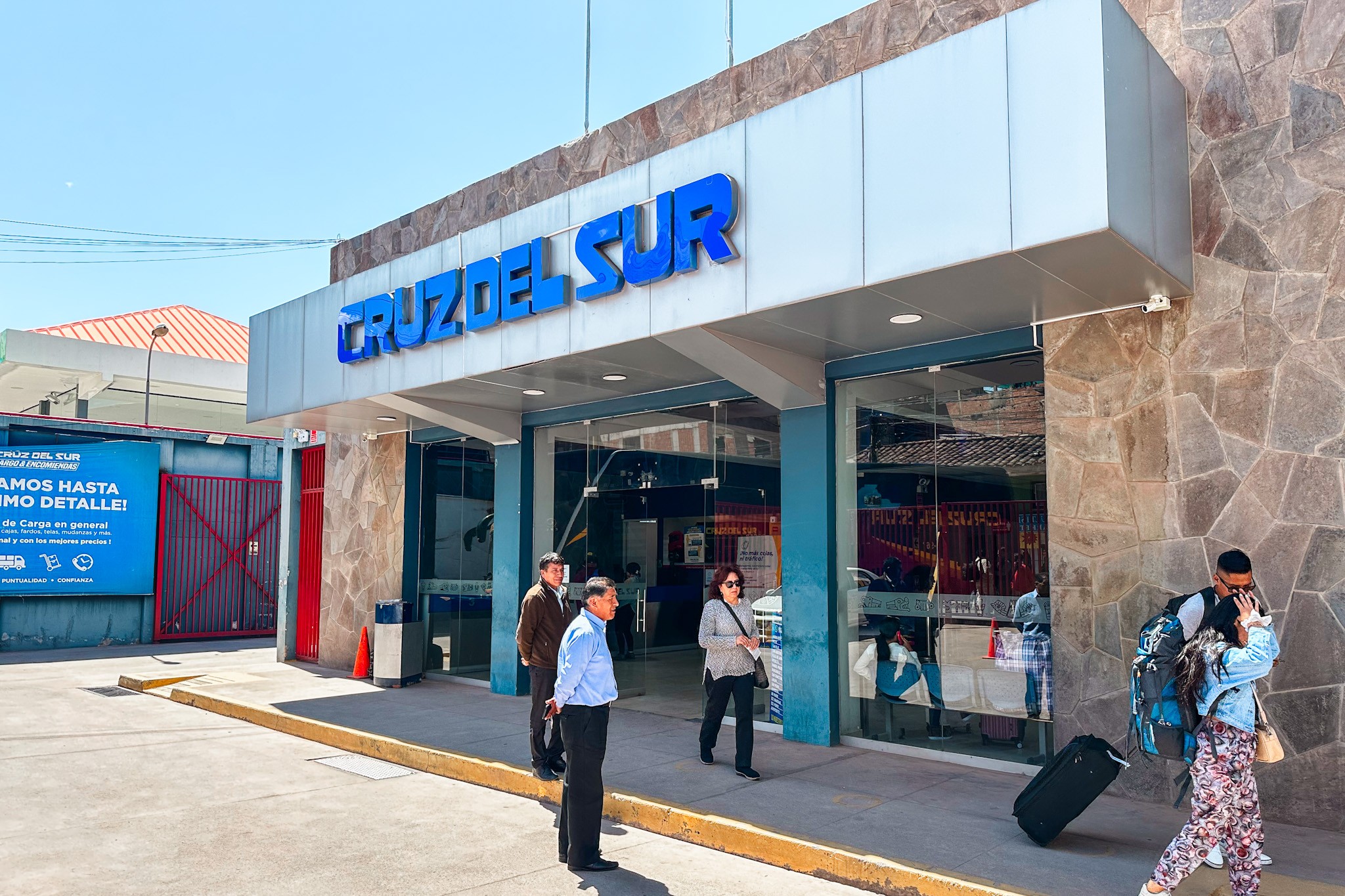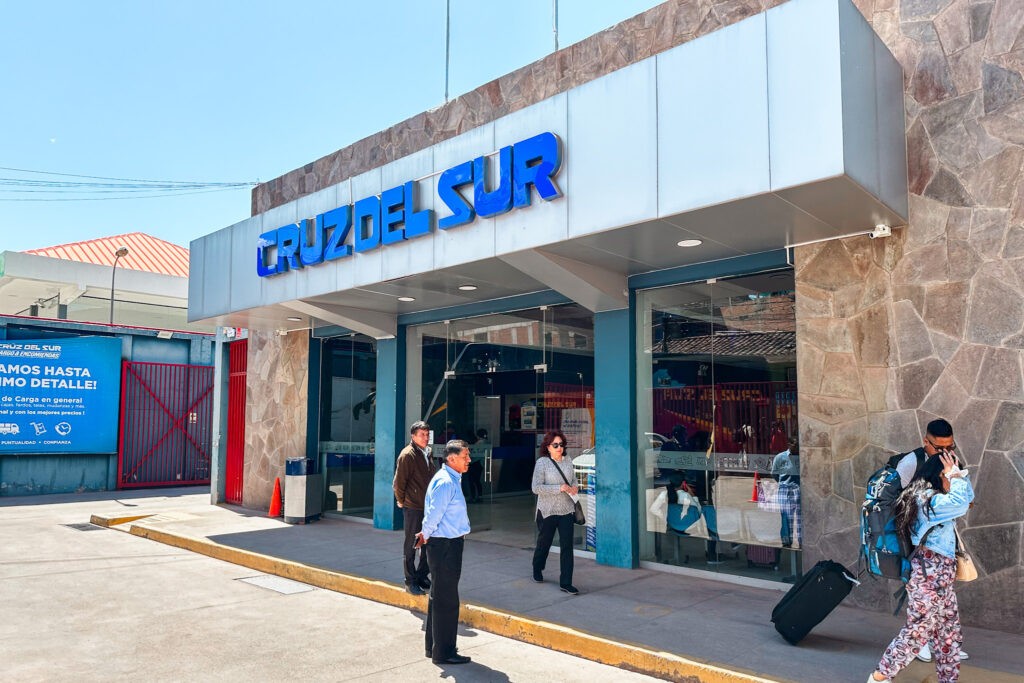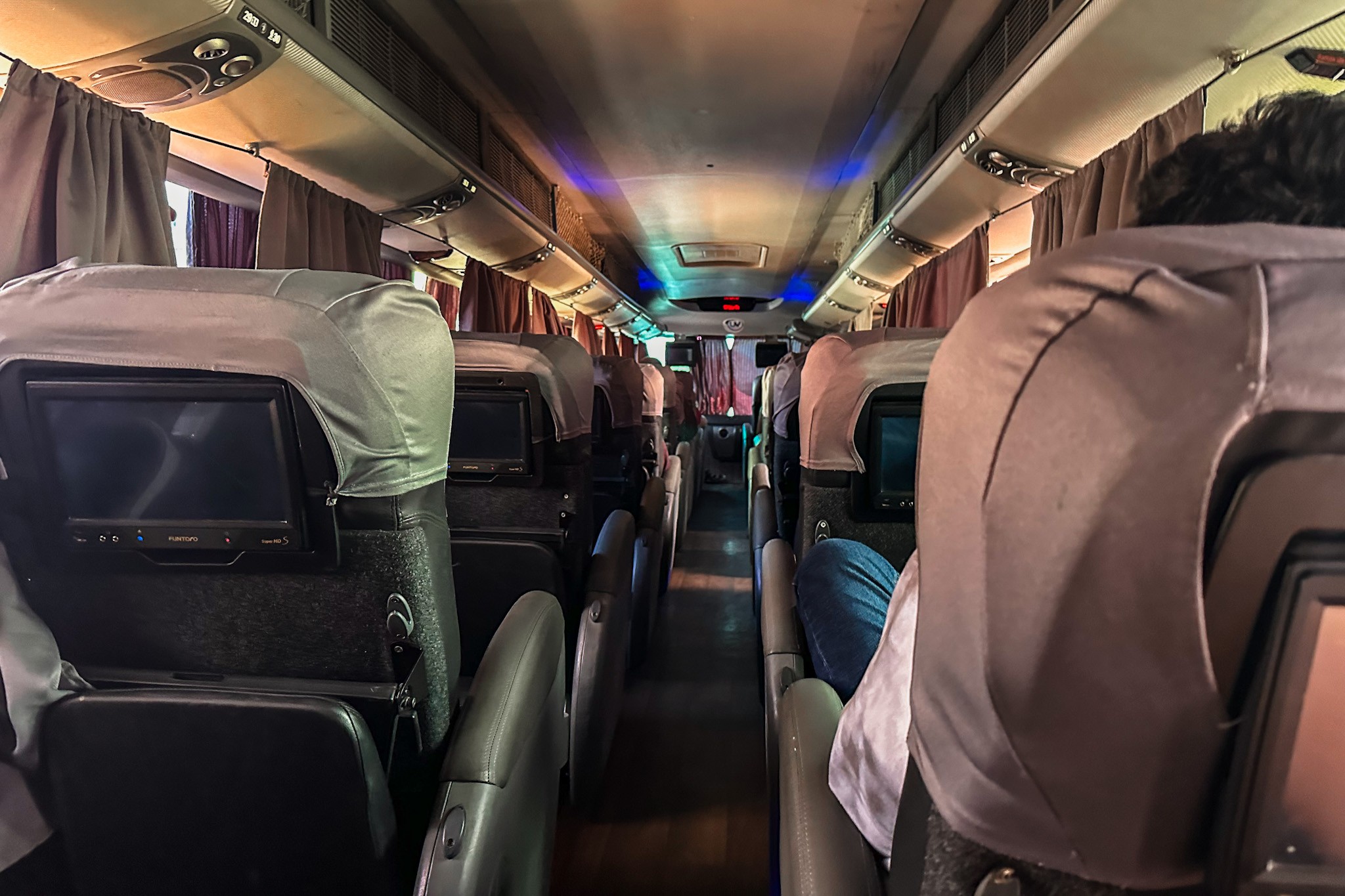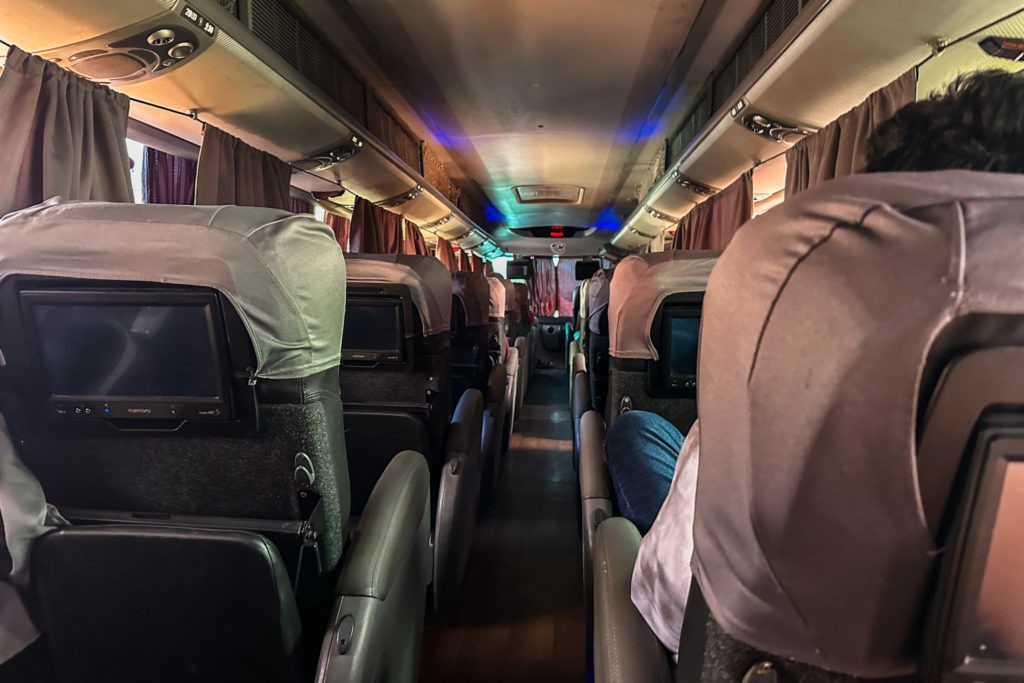 From Huacachina to Arequipa
To get to Arequipa from Huacachina, you first need to travel to the nearby city of Ica, which is a 5-minute taxi or TukTuk ride from Huacachina. Buses depart from the bus terminals in Ica multiple times a day, mostly from the early afternoon until late at night. Book your ticket online and in advance, especially during the main season to avoid your bus being booked out.
The bus ride from Huacachina to Arequipa takes around 13 hours and costs around 60 – 100 soles (approx. 16 – 28 USD), depending on the bus company and travel time. While we traveled over the day, we would recommend you to take the night bus. For a more comfortable experience, choose seats which recline 160 degrees.
Huacachina is a picture-book-like oasis midst of the Peruvian desert and an absolute must-see for every Peru traveler. Find out why in our Huacachina Guide.
Traveling from Cusco to Arequipa can be done via bus or plane. As both cities have airports, you can choose from multiple direct flights a day. Alternatively, you can hop on a night bus in Cusco to travel to Arequipa in 10 hours.
There is a morning and an evening flight from Cusco to Arequipa. Depending on your time of booking and travel date expect to pay between 40-60 USD one way, excl. luggage. 
Buses to Arequipa mostly leave Cusco in the evening around 7 – 8 p.m. and are a very comfortable and popular travel option when traveling through Peru. Ticket prices vary from operator to operator, but expect to pay around 60 – 80 soles (approx. 16 – 22 USD) for a one-way trip from Cusco to Arequipa.
Where to stay in Arequipa?
Arequipa has a lot of accommodation options from which you can choose, ranging from budget stays to more luxurious hotels. Choosing a place to stay in Arequipa's historical district is a good idea because it's close to most of the nice things to see. We have listed our favorite places to stay in Arequipa, so that you can get some inspiration for your trip planning.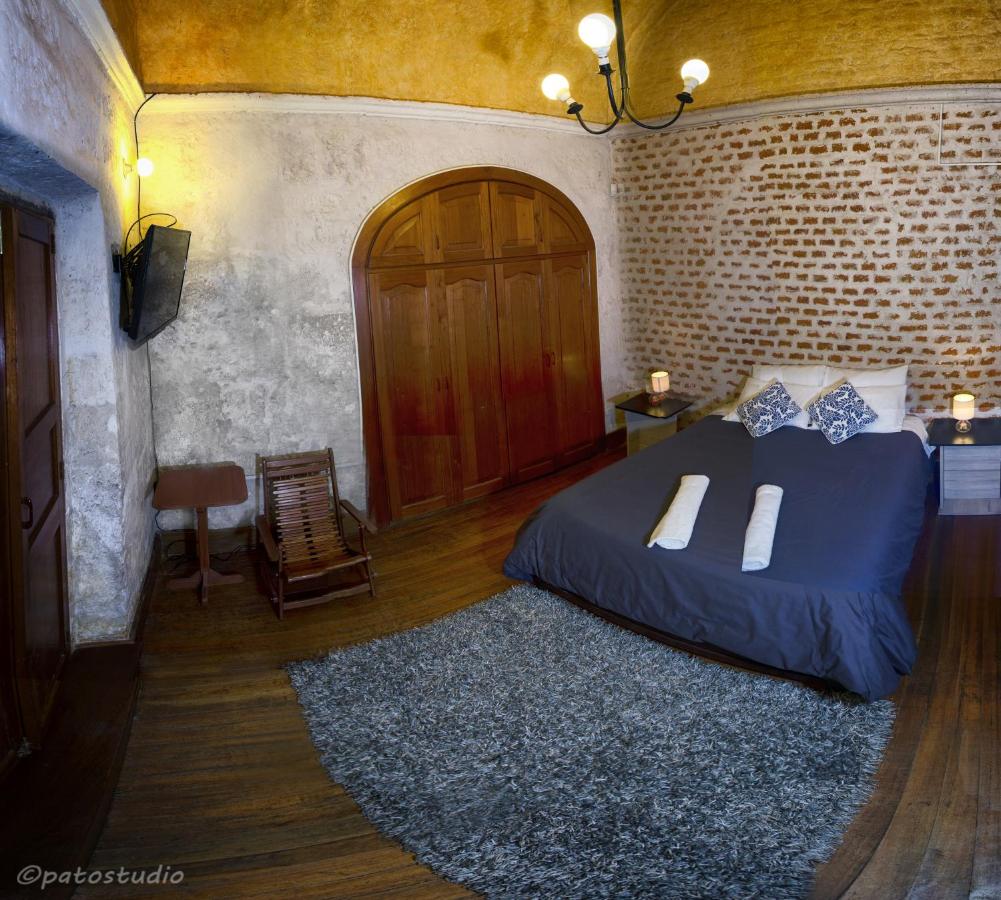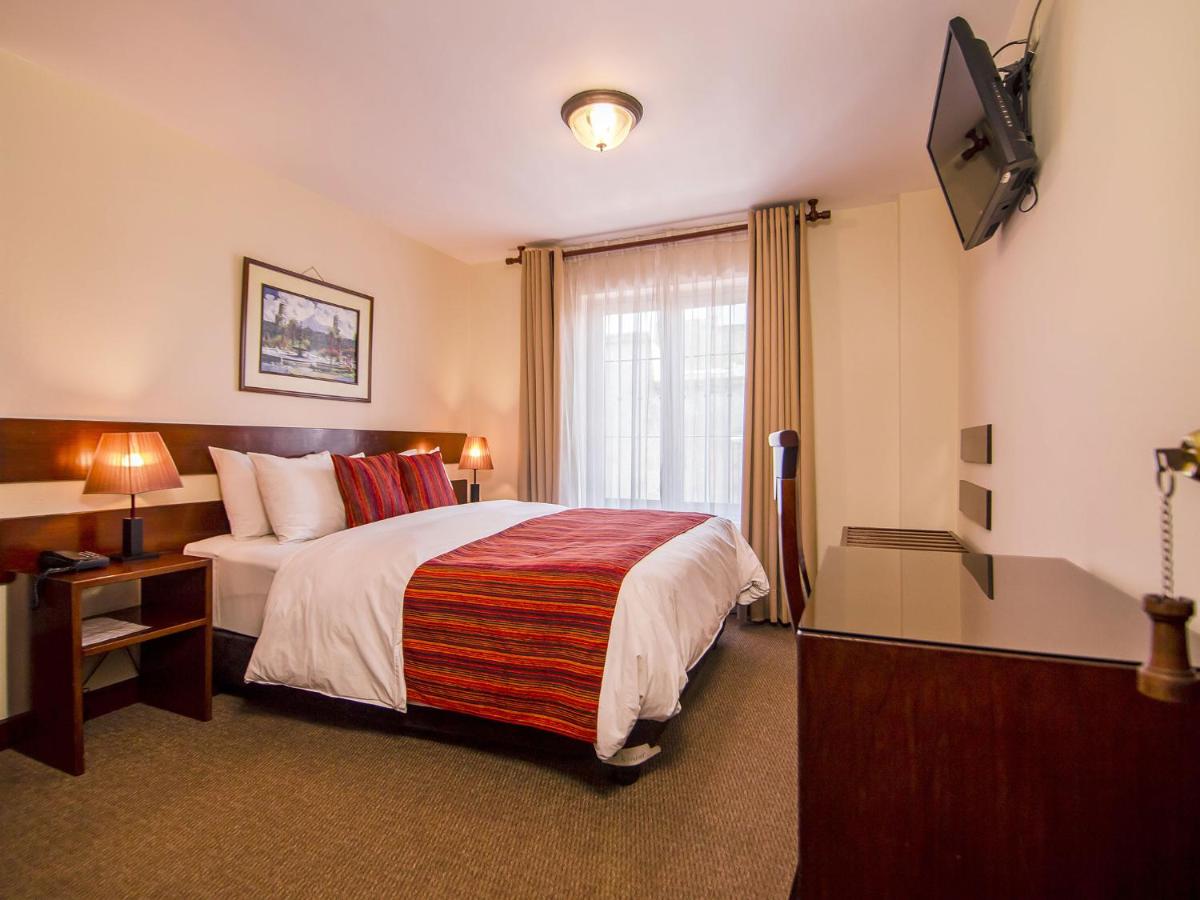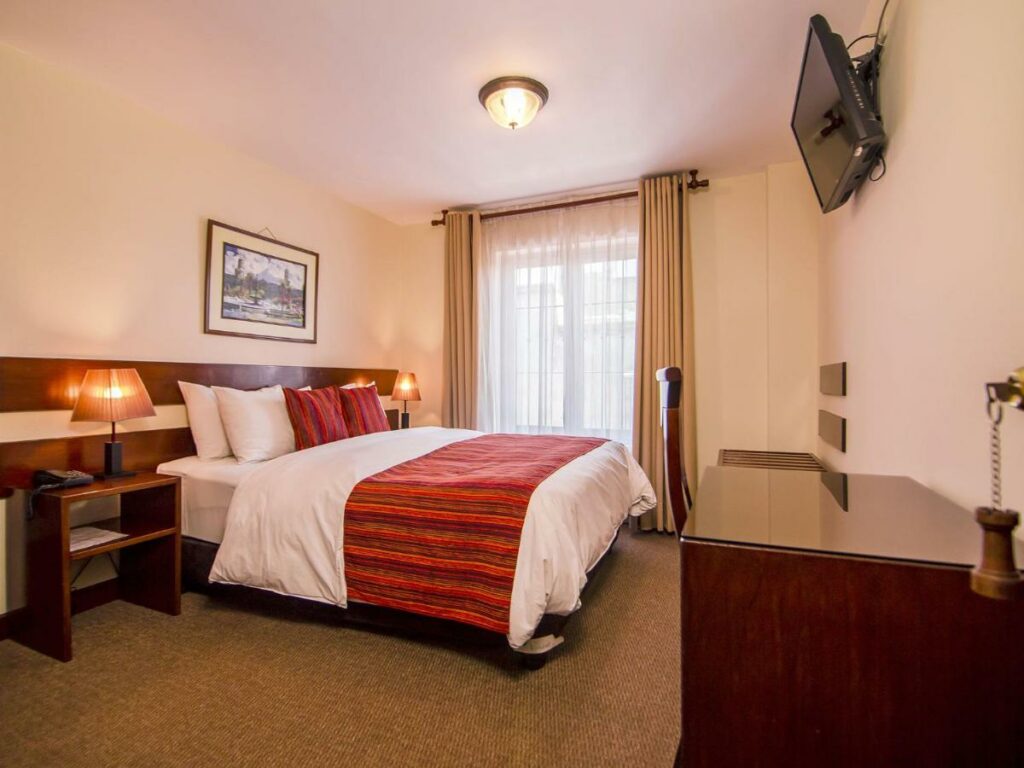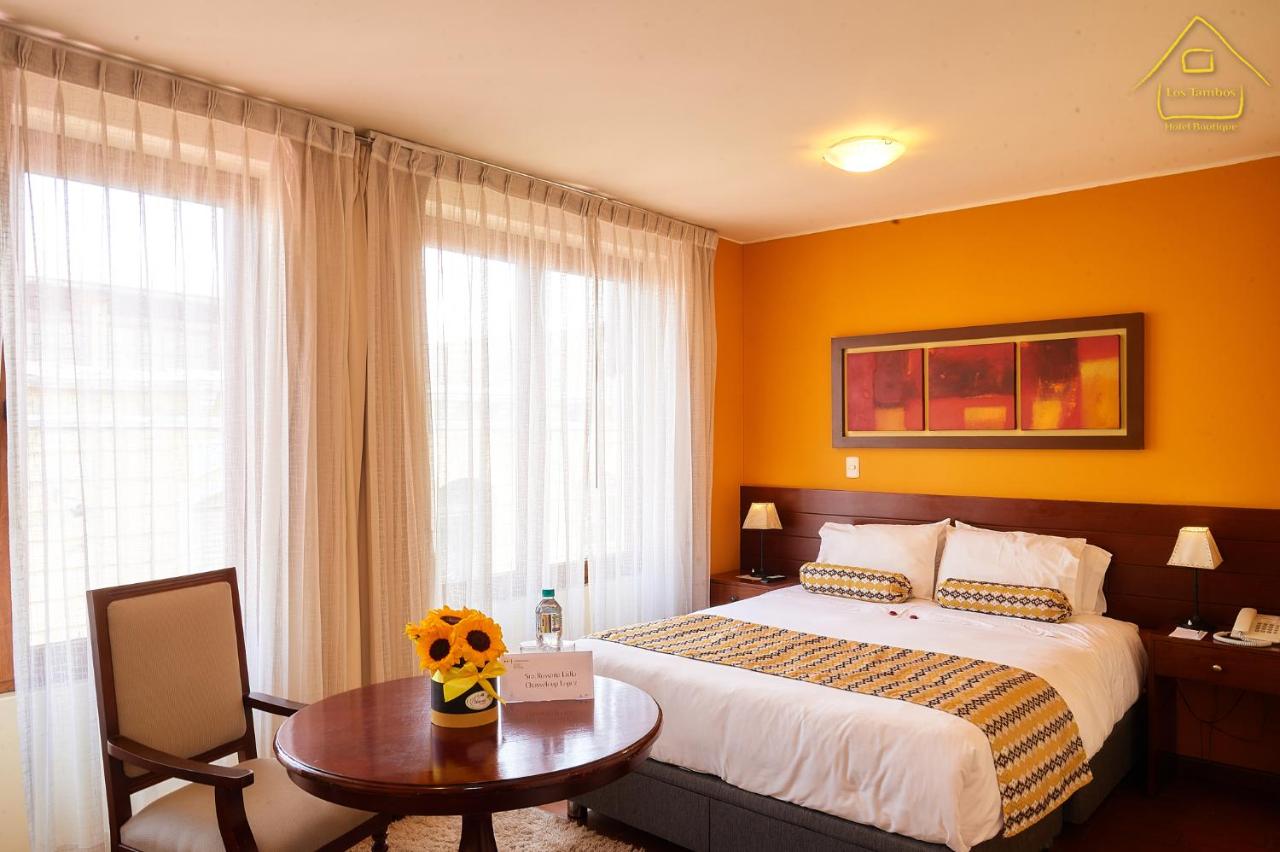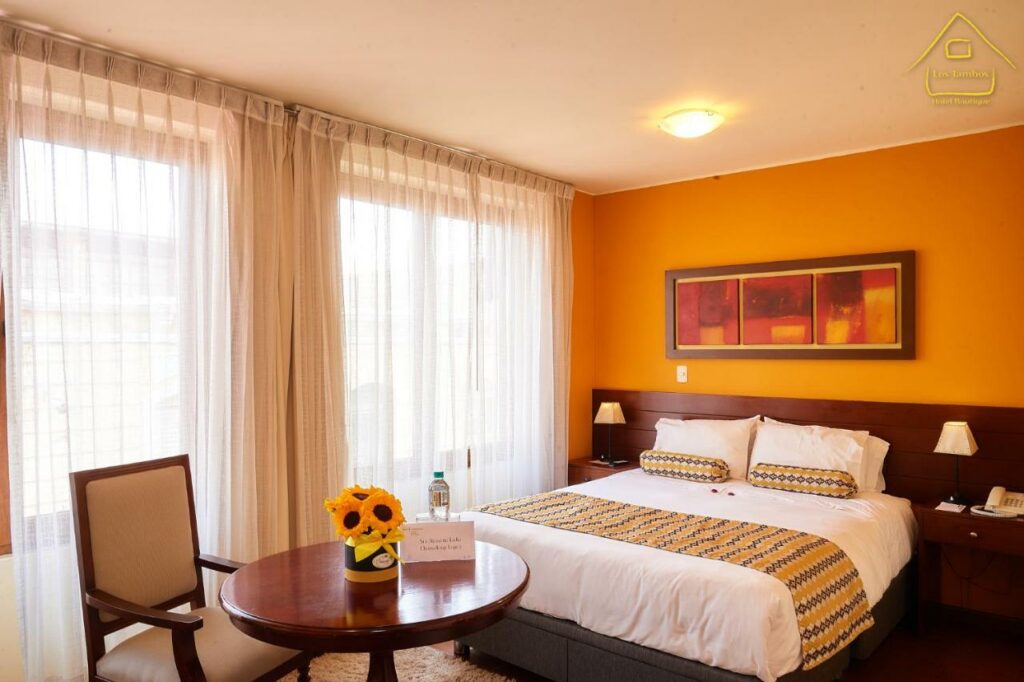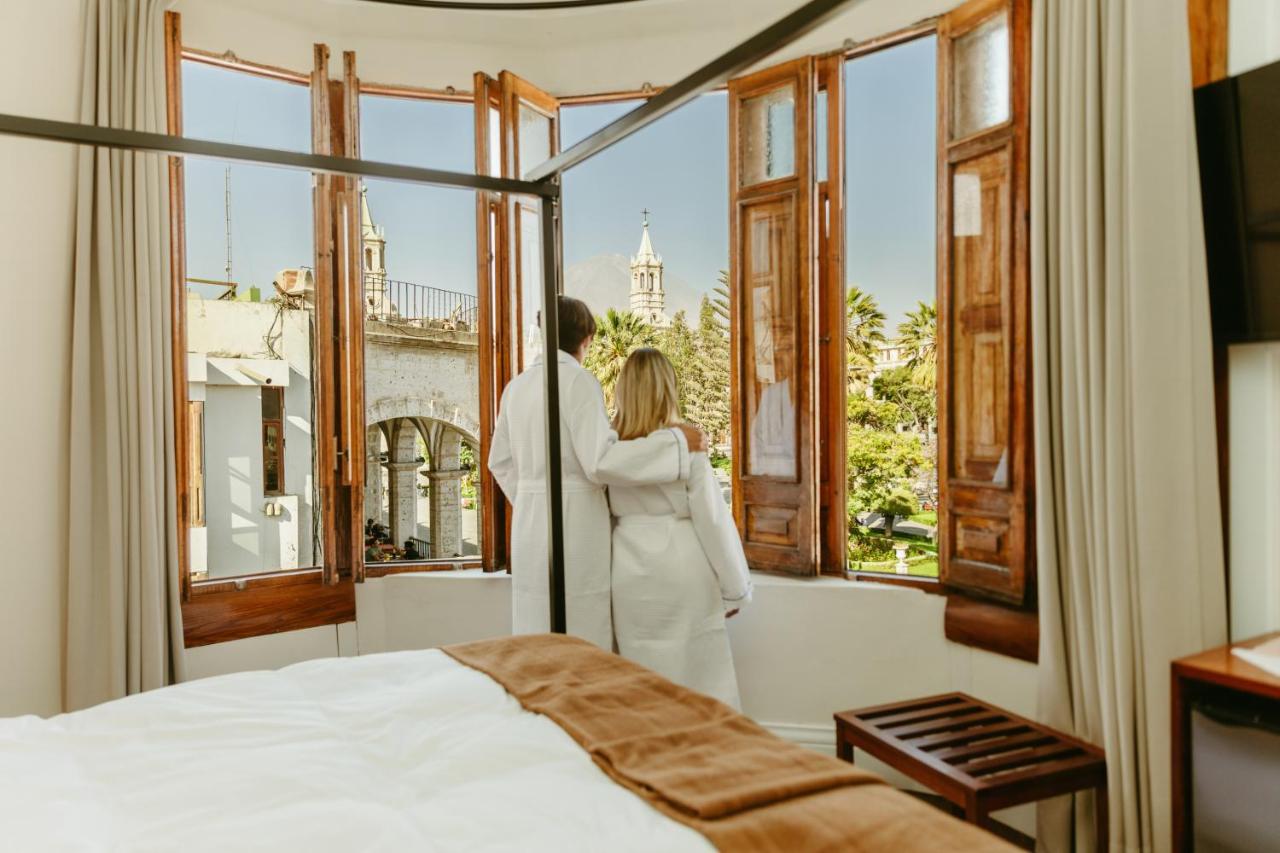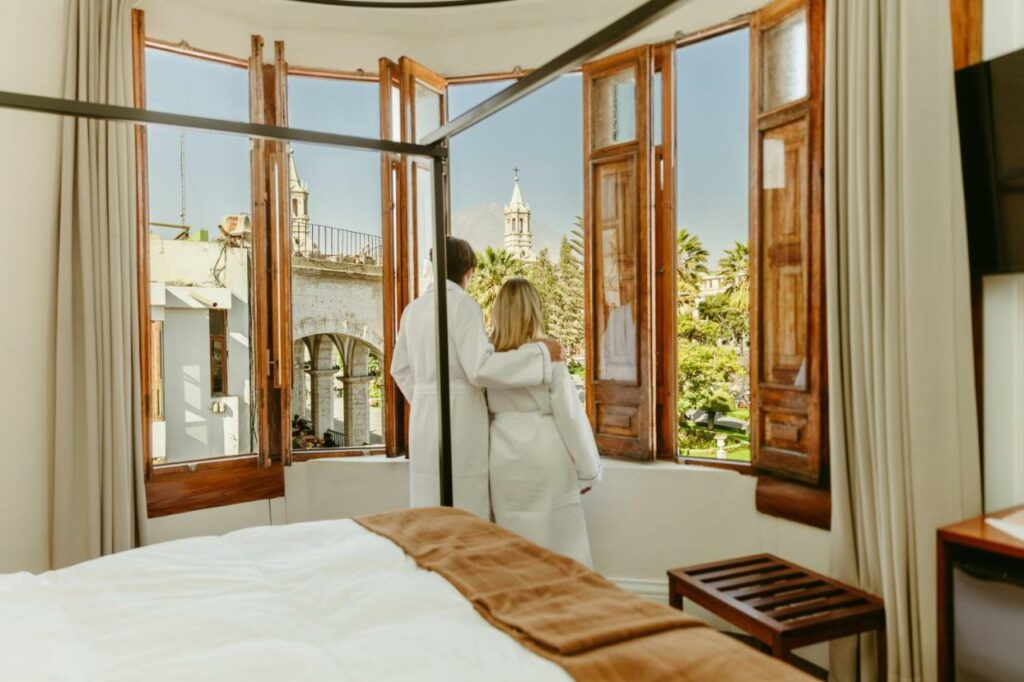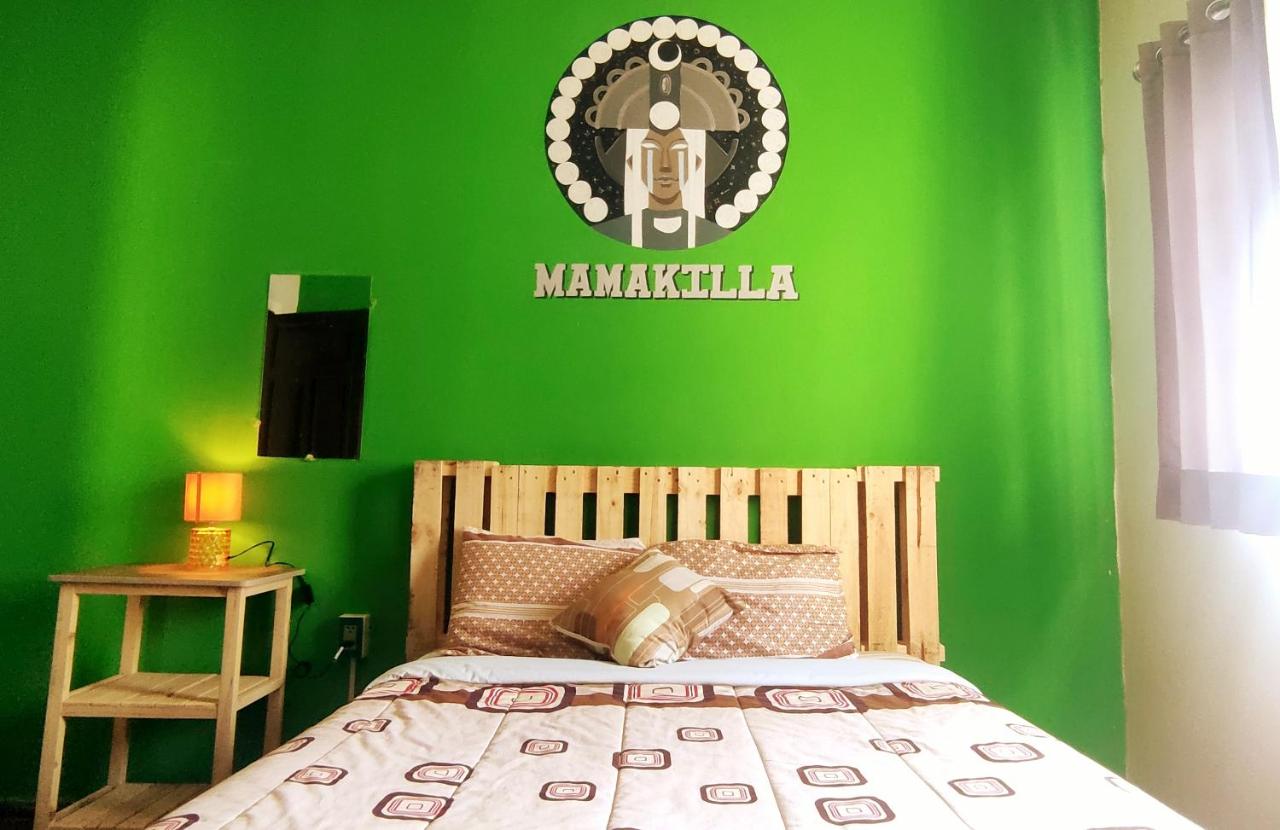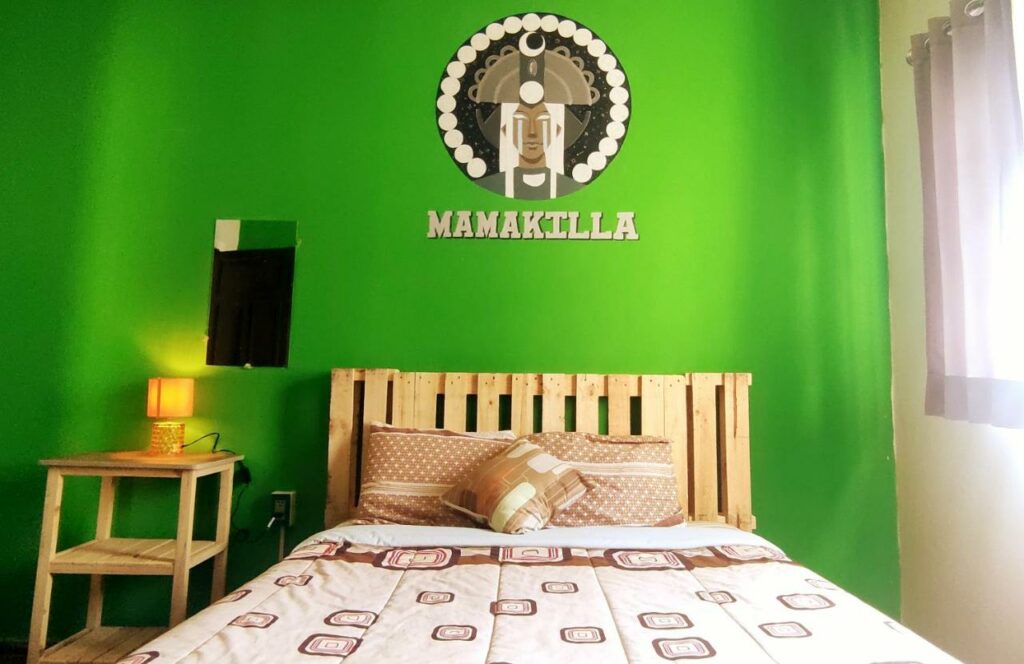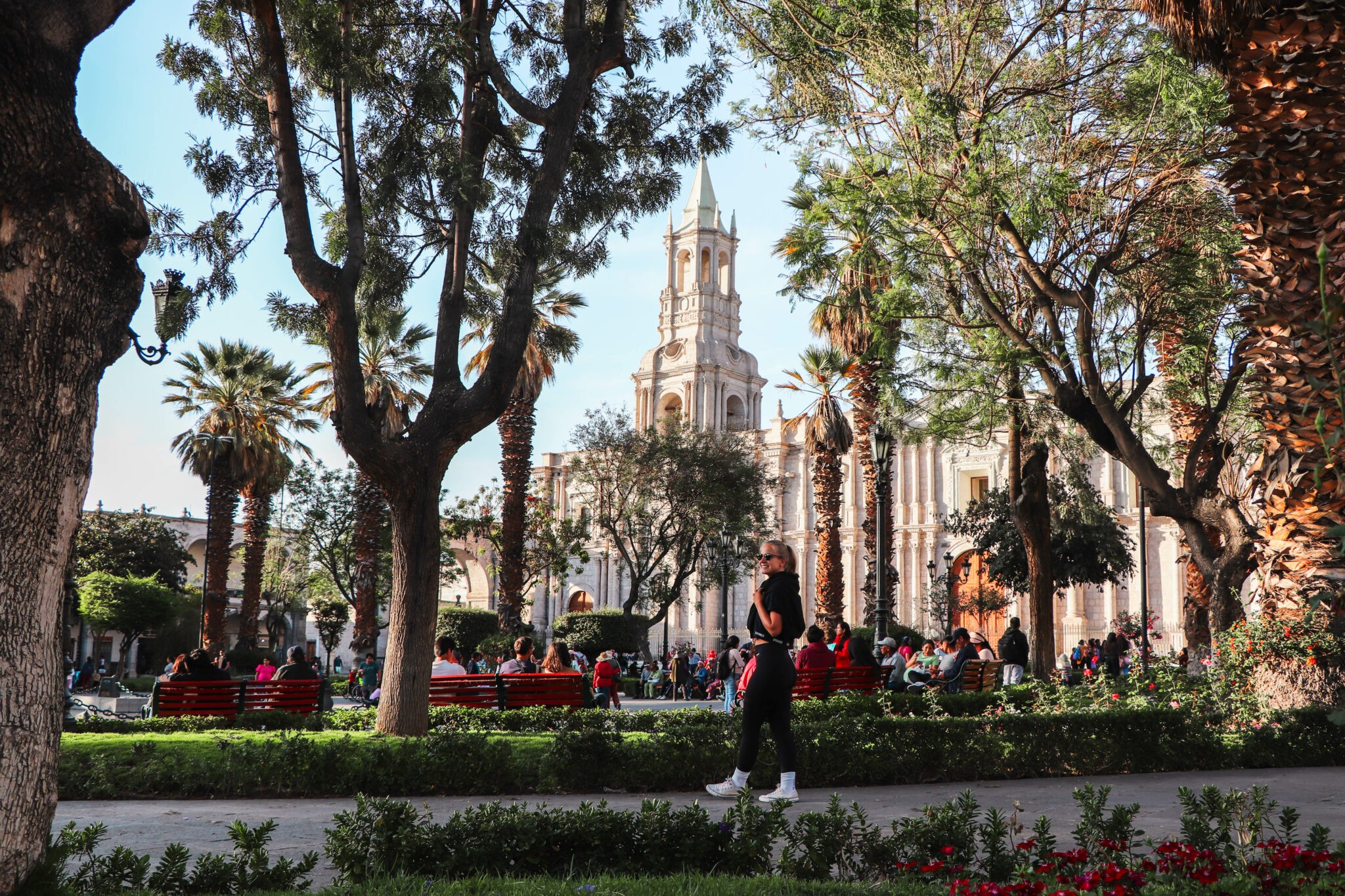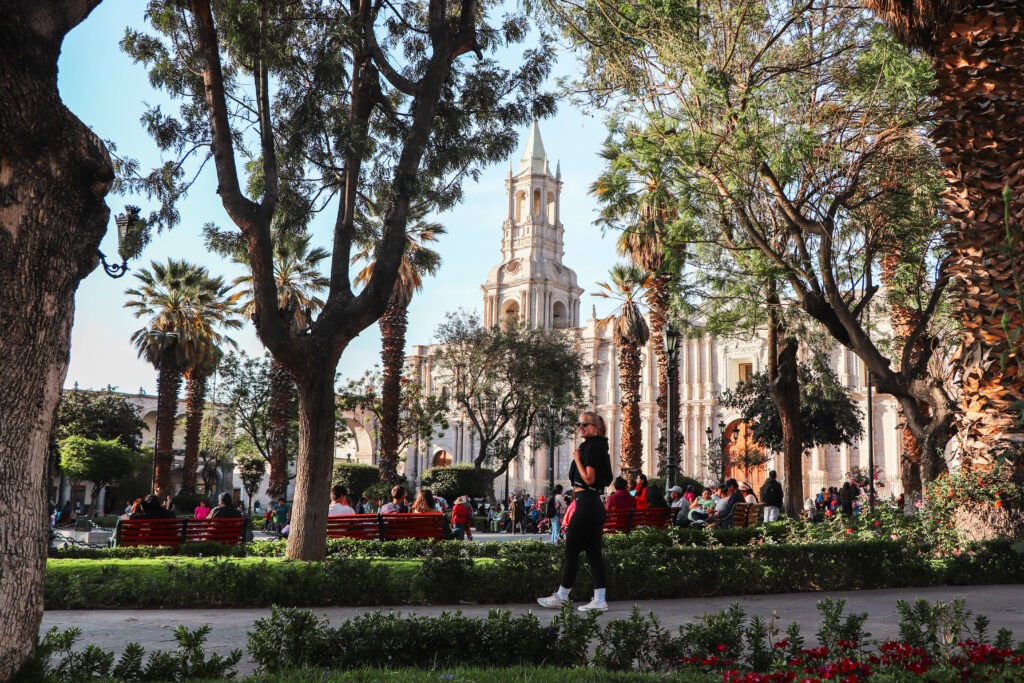 Where to eat in Arequipa?
When we arrived in Arequipa, we were so desperate of having a decent meal. And Arequipa welcomed us with open arms. The food in Arequipa is as delicious as it can be. There are restaurants all over the city, with the best ones located in the historic district of Arequipa.
While in the city, you can choose from a wide range culinary options. There are delicious Italian, Asian and Indian restaurants in the city, but also very authentic Chifas and Picanterias.
We tried out several restaurants in Arequipa and listed you our top three.
The Pasta Canteen serves delicious Italian cuisine. From mouthwatering pizza to homemade pasta from the Grana Padano loaf, you'll get the best Italian food Arequipa has to offer.
The Picanteria Victoria is a chic restaurant in the historic district of Arequipa. They serve authentic local Arequipenian food. Plus, unlike other Picanterias, they stay open until late at night.
While the restaurant's name is very pragmatic, the food is not. The India restaurant serves you with delicious Indian meals that you won't find elsewhere in the city.
For a unique treat, approach the friendly ladies with buckets labeled "Queso helado" in Arequipa. Despite its name suggesting cheese ice cream, this Peruvian frozen dessert boasts a delightful blend of milk, cinnamon, and coconut – a must-try local specialty!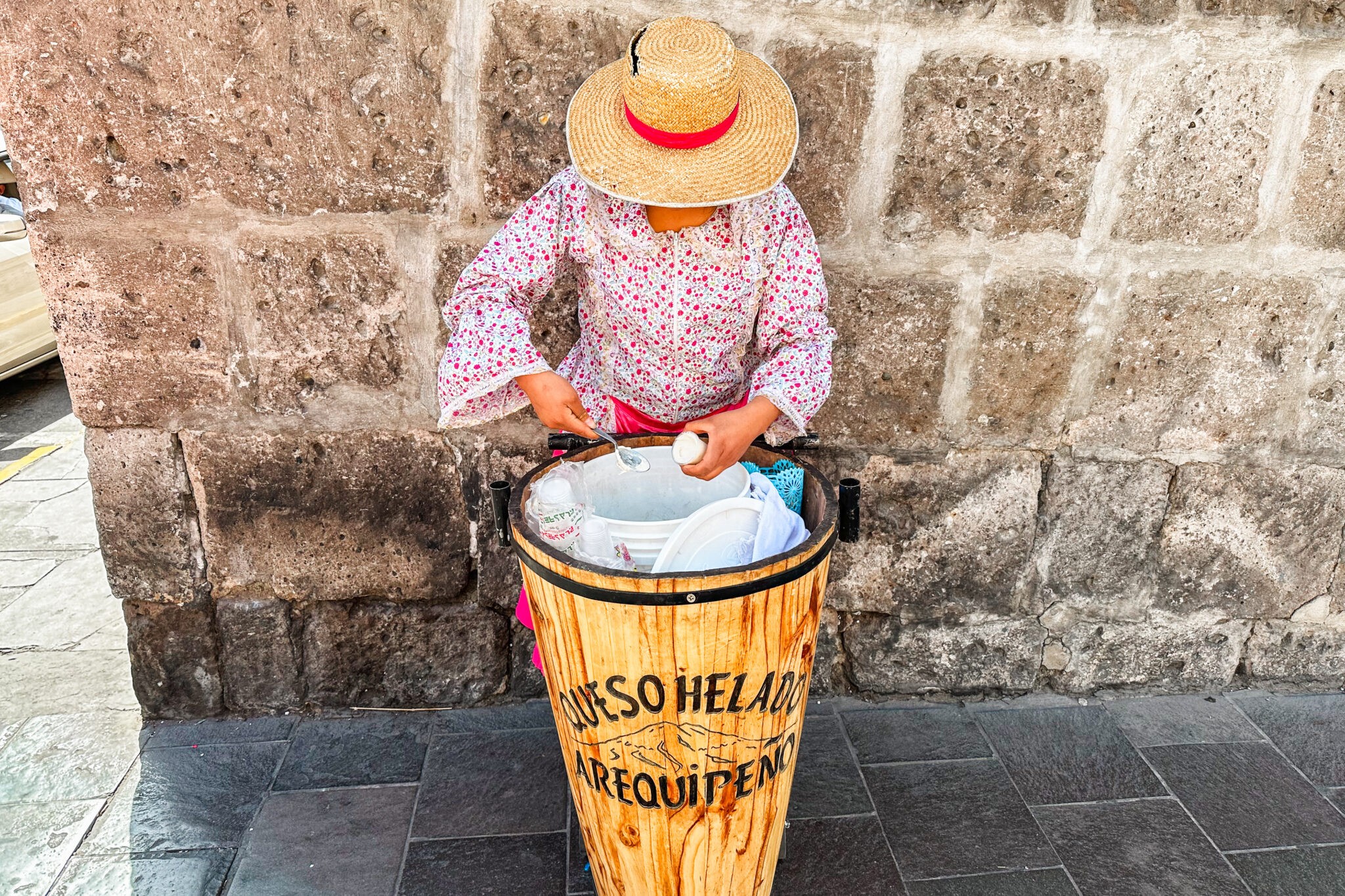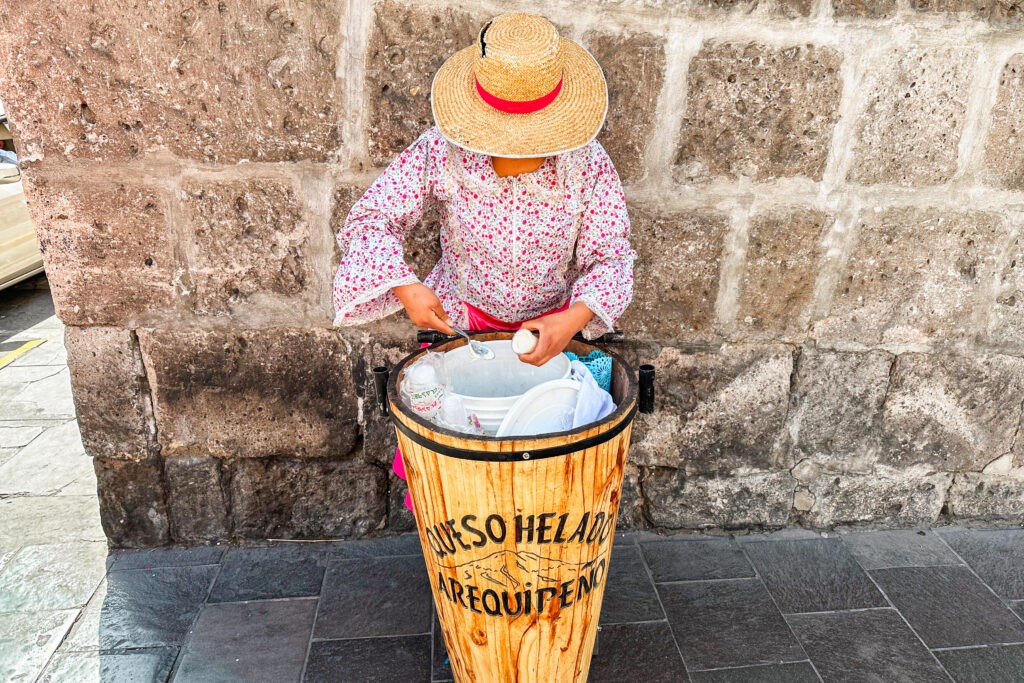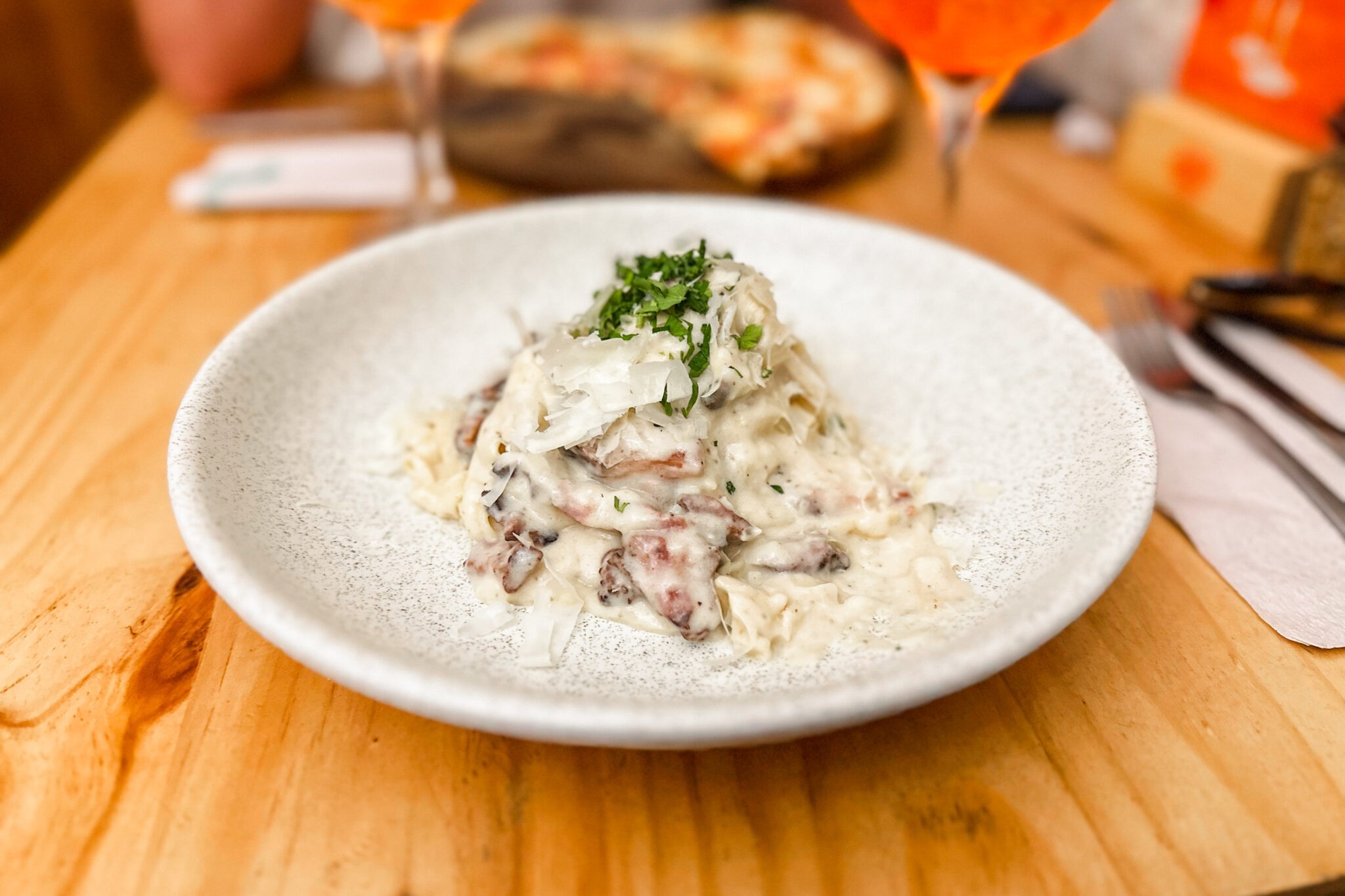 How to get around Arequipa?
Most of the sights in Arequipa are in the historical district of the city, so it is wise to choose an accommodation there. That way you can easily access everything on foot. Most often you will be faster walking than by taking a car as the traffic in Arequipa's is terrible. We've seen traffic jams in the city center almost every day.
If you need to reach a little more remote areas, such as the bus station, the airport or viewpoints outside the city, taxis and Uber are readily available. Just keep in mind to plan for some additional time to get to your destination.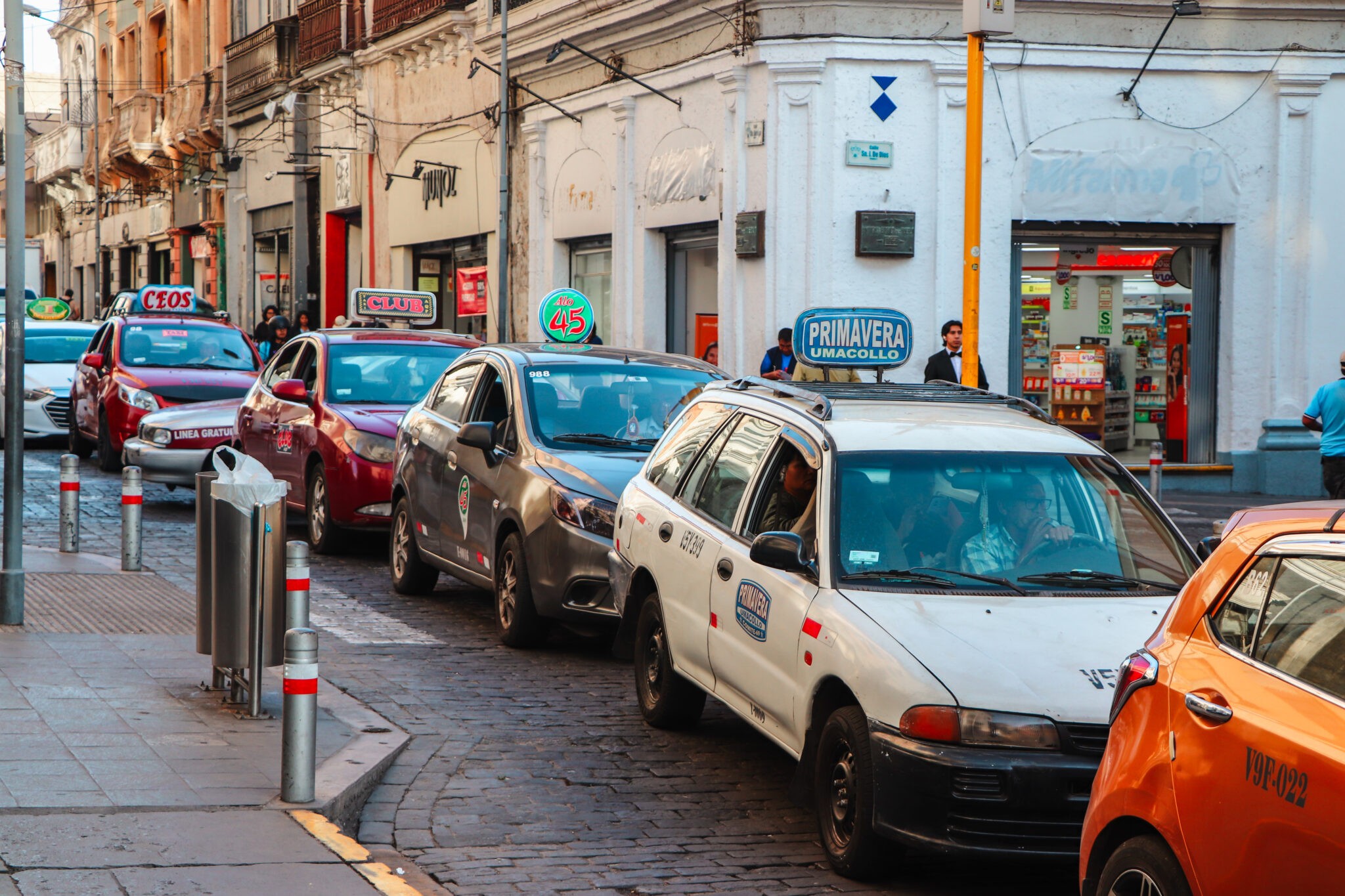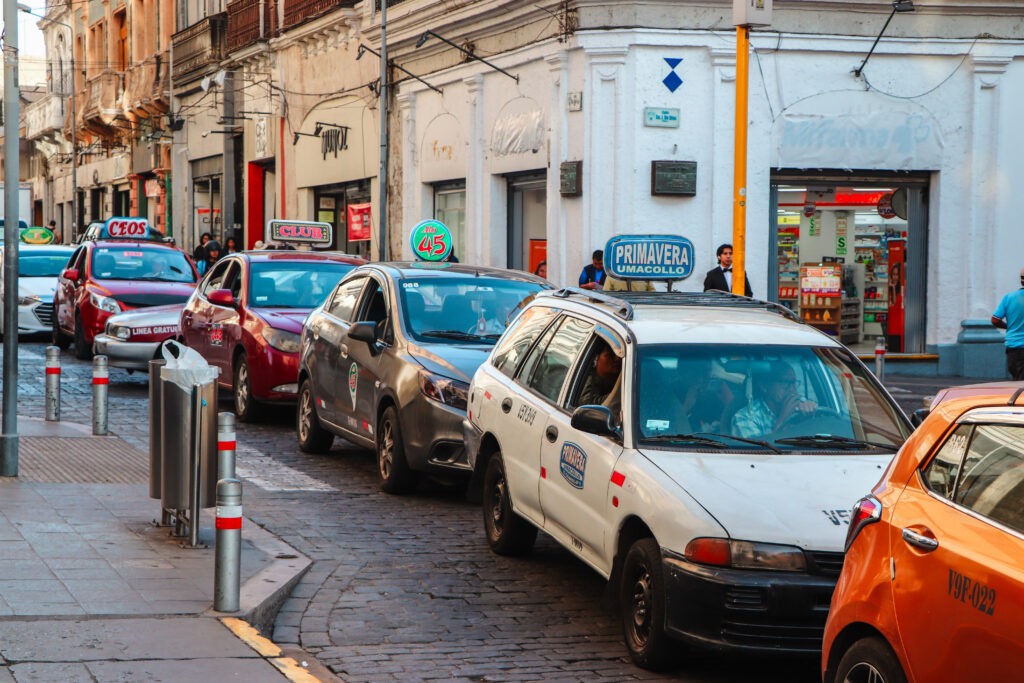 When is the best time to visit Arequipa?
Weather-wise, the best time to visit Arequipa is during the dry season, which runs from April to November. During this time the weather is sunny and mild with very little rainfall. Temperatures range between pleseant 24°C (75°F) throughout the day to a chilly 7°C (44°F) at night.
The rainy season in Arequipa runs from December to March. Rainfalls are more frequent, but the city also is less crowded. Expect temperatures between 22°C (71°F) and 9°C (48°F). If you don't mind getting a little wet from time to time, traveling during the rainy season is a valid option.
We chose to travel to Arequipa in the shoulder months of October and November and had a great week in the city. Traveling in the off-season months is a great alternative to save some money and avoid hefty crows at popular sights.
Average peak temperatures
What does it cost to visit Arequipa?
How much you will spend for your visit to Arequipa highly depends on your travel style. Arequipa itself is a fairly cheap city for its size, especially if you compare it to major tourist hubs like Lima or Cusco.
In Arequipa, there are all kinds of accommodations from budget to luxury. Tours and activities are very affordable, while eating out is comparably more expensive. We never understood how you can pay as little as 25 USD for a decent hotel room for 2 persons (including breakfast), but eat out for 30 USD.
Expect to spend around 260 USD a week if you travel on a budget, up to a maximum of 1500 USD if you want to treat yourself with some luxury.
How many days to stay in Arequipa?
Spending two full days in Arequipa is sufficient to explore all of the best things to do in the city. Plan for one to three more days if you decide to visit the Colca Canyon, which we would highly recommend.
For your first day, you can plan for a Free Walking Tour around the historcial district in the morning, have lunch in a Picanteria at noon and visit the Santa Catalina Monastery just before sunset.
On your second day, have an early breakfast and have a morning walk to the Yanahuara Viewpoint to enjoy an undisturbed view on the massive volcanoes surrounding Arequipa. Plan to spend the noon at the San Camilo Market, before you spend the night in one of the restaurants near the Plaza de Armas.
Remember to adjust your schedule to your liking, time and budget.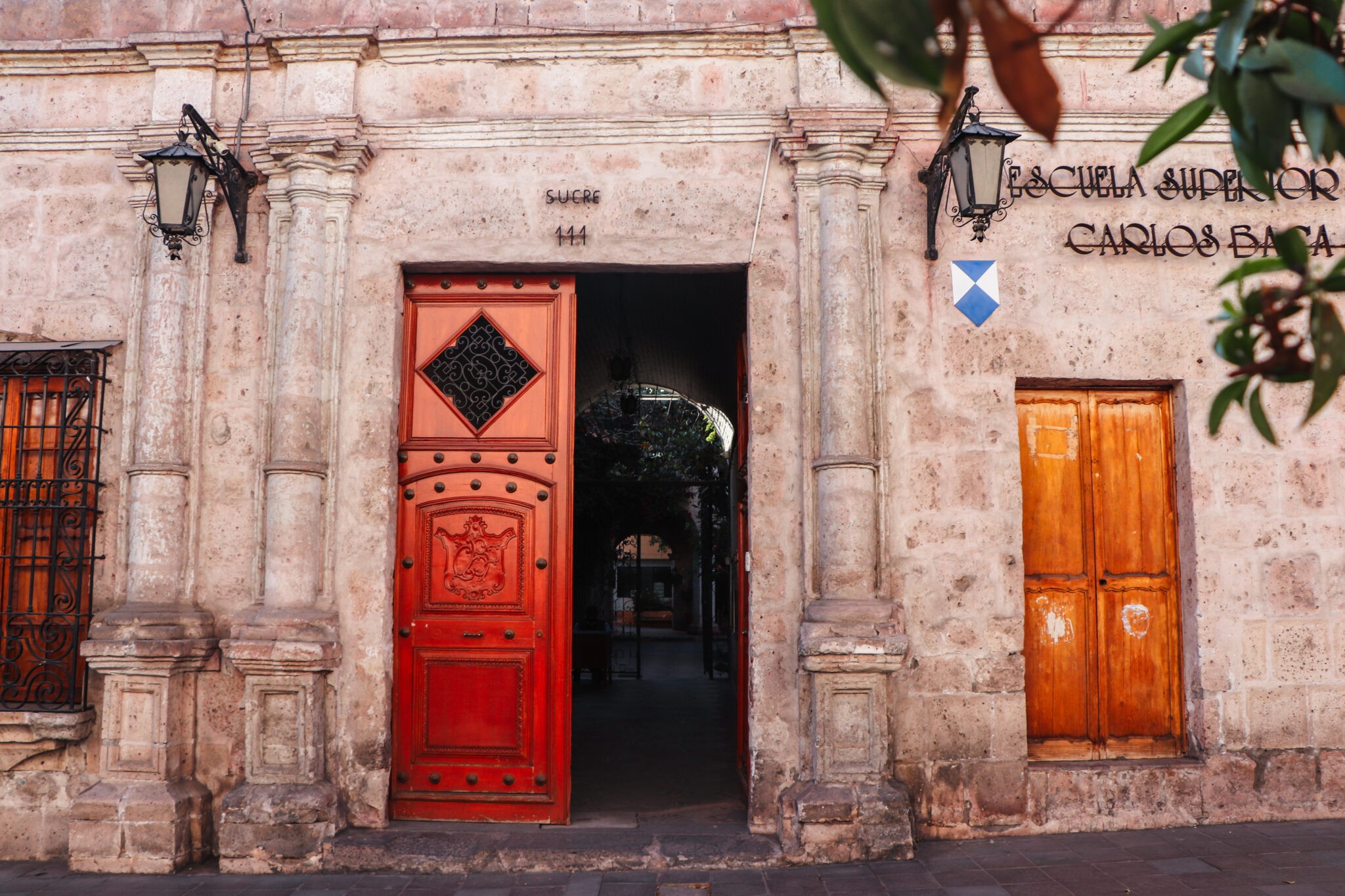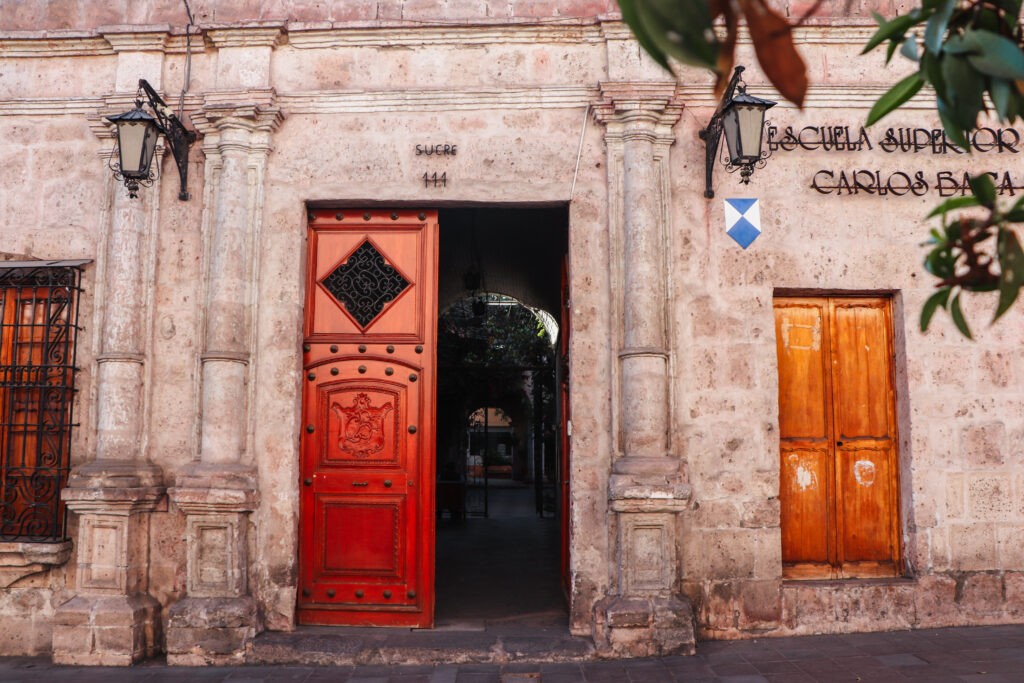 Is Arequipa worth visiting?
Arequipa is definitely worth visiting for its beautiful colonial architecture, historic district and several must-see attractions like the Santa Catalina Monastery and the Basilica Cathedral. Surrounded by massive volcanoes and mountains, Arequipa is a perfect destination for adventurers and city-tripping tourists alike.
Arequipa offers fantastic restaurants, cafés and bars that meet the taste of every traveler. The narrow cobble-stone streets and white colonial buildings set you back in time, as you stroll through the city.
Arequipa is a must-visit destination for everybody exploring the South of Peru. It follows the most common backpacking travel route starting from Lima, to Paracas, Huacachina, Nazca and further continues to Cusco and Puno.