Huacachina is a desert oasis like no other, a real-life postcard destination. Hidden between the enormous sand dunes of the Ica desert, Huacachina is one of the uniquest and most beautiful tourist hotspots Peru has to offer.
Take a wild ride on a sand buggy, sand-board on the slopes of the dunes or simply enjoy the desert vibes at the lagoon. Whichever activity you choose, Huacachina has plenty to explore for adventurers and tourists alike.
Our Huacachina Travel Guide will give you more than one reason why this beautiful village deserves to be a must-visit on your Peru itinerary. Discover all of the best things to do, places to stay and useful tips for your trip to Huacachina.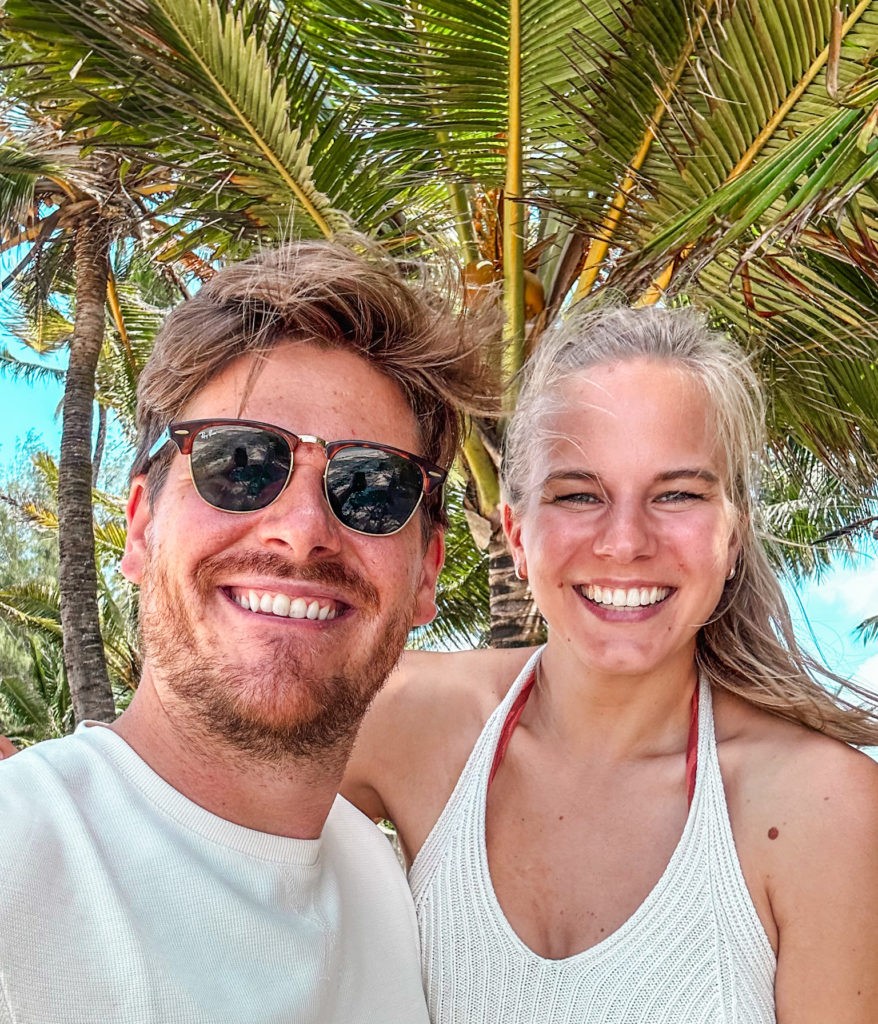 We hope you enjoy our travel stories, guides and tips! If so, please consider supporting our work.
10 Best Things to do in the Huacachina Oasis
Huacachina – once just a small lagoon in the middle of the Ica desert – has now become one of the most exceptional destinations in Peru. After traveling North and South Peru for almost two months, our visit to Huacachina was an unforgettable experience that easily made it on our list of the most beautiful places in South America.
There is so much to explore in and around Huacachina. We have listed all of the best things to do in Huacachina to provide you with some inspiration of what awaits you in this incredible desert oasis.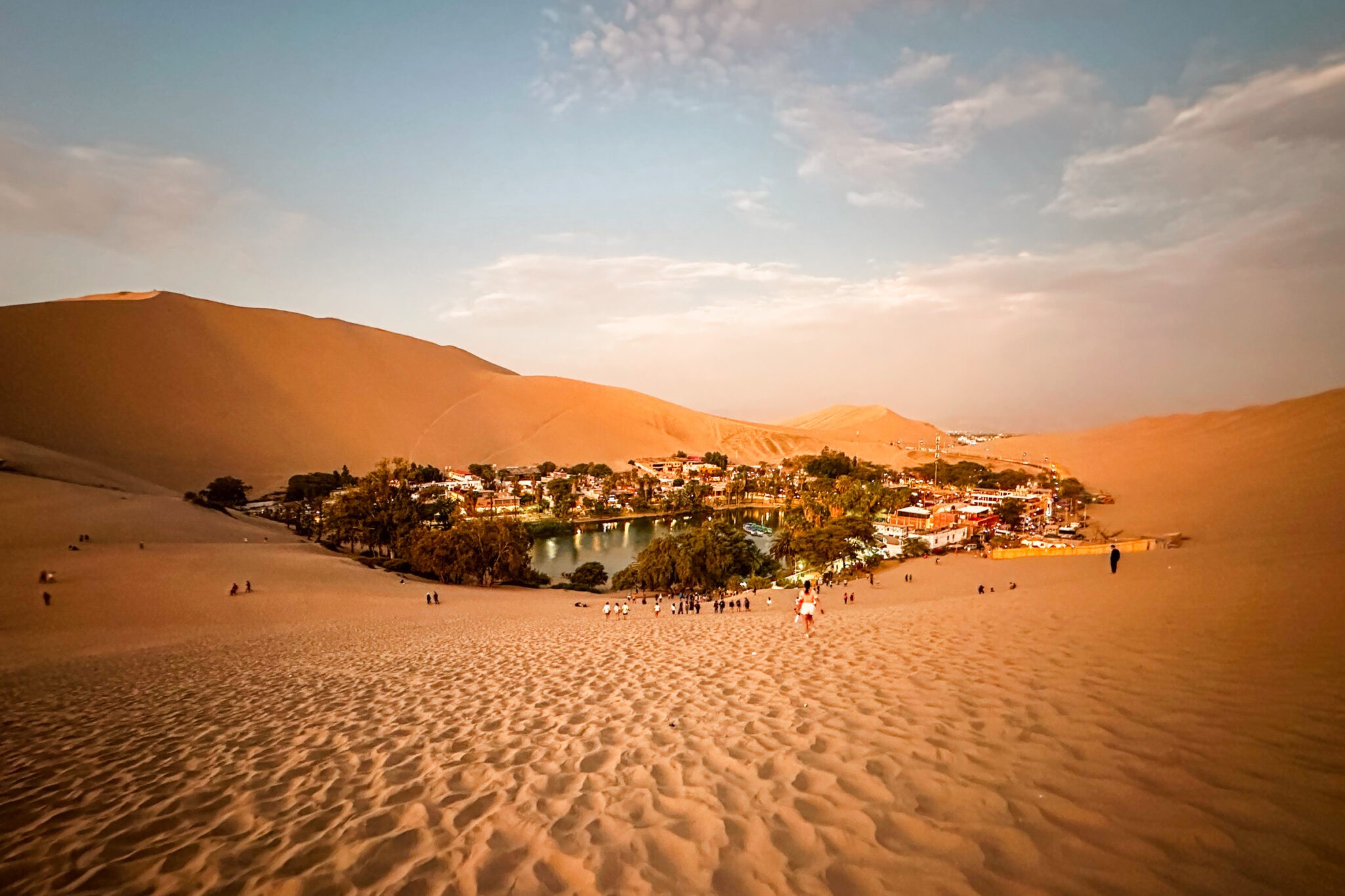 1. Climb the dunes for sunset
The dunes surrounding Huacachina are massive, and – if you're like us – they urge you to climb them. It's a perfect activity to do on your first day in Huacachina, as the views in the late afternoon to sunset are the best. Plus, its not so hot anymore.
Which dune you choose is totally up to you. Views from both dunes are great and, we won't lie, either of them is as challenging to climb as the other. Take as little as your camera, sunscreen and water with you. Leave your shoes at home or carry them in a small backpack, as walking on the sand will be way easier barefoot.
Once you've made it to the top, enjoy the incredible views over the deserts, the Huacachina oasis and the nearby Ica town. Wait for the sun dipping below the horizon and get excited as the sky transforms into a stunning canvas of reddish colors and you see the desert glittering in the fading light to complete darkness.
Run down the dune after sunset. With the wind in your hair and your feet deep in the sand, feel free and alive.
The climb takes around 20 to 30 minutes. Start from Huacachina around 4:30, and you're in for a treat. Also remember to take a bit of cash with you to pay the park entrance fee of 3.60 soles (approx. 1 USD).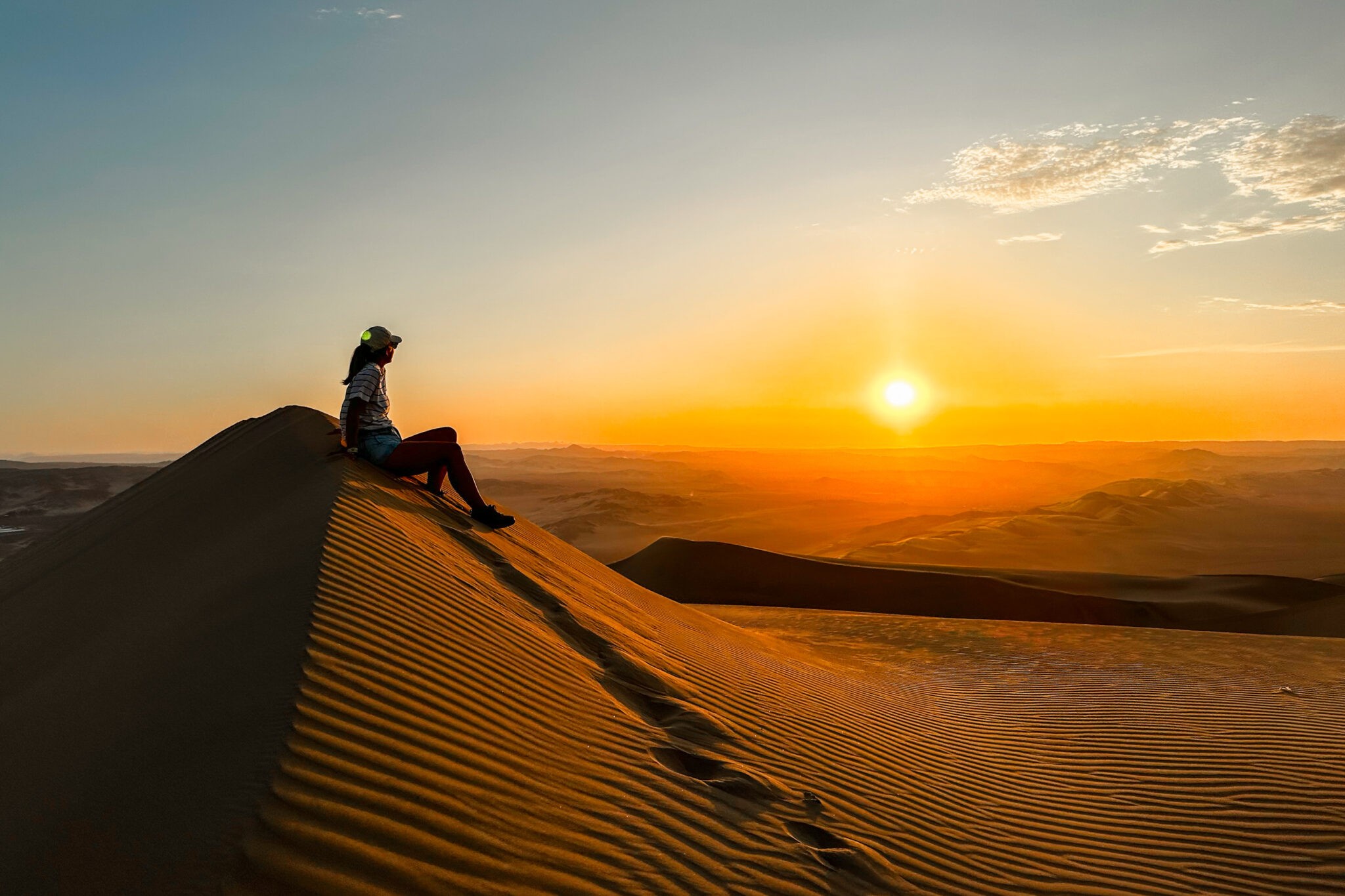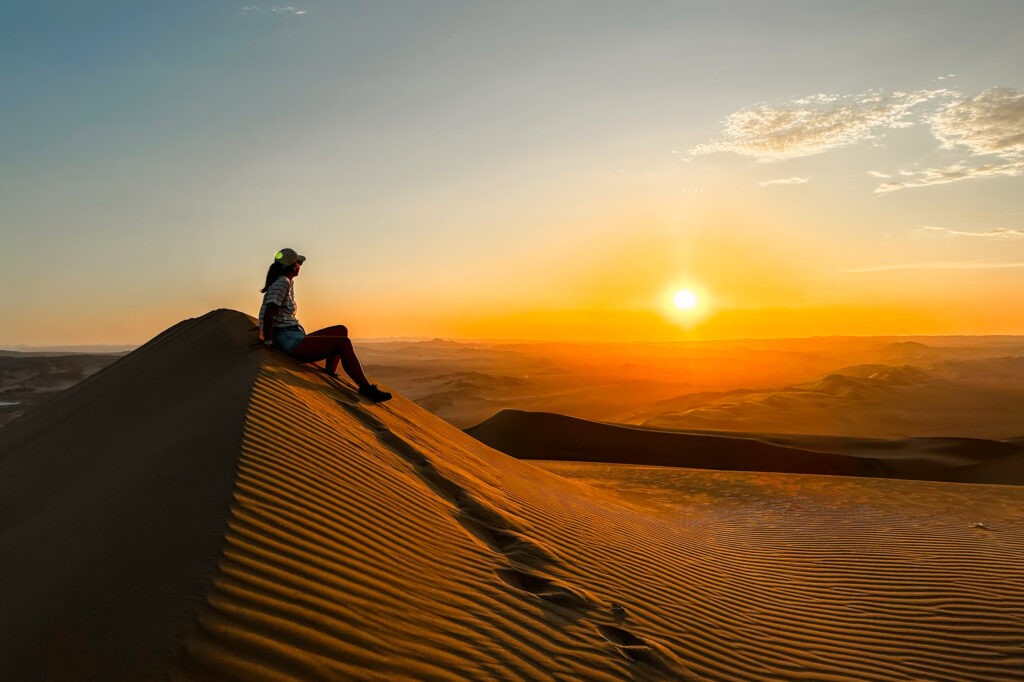 2. Hop-on a buggy tour through the desert
A buggy tour is a definite must-do when in Huacachina. Race through the dunes, feel the wind blowing your hat away, as you hold onto the car handle to remain in your set.
As soon as it's 4 p.m., the entrance of the national park fills with excited tourists all heading to the desert. When sitting into the buggy, try to get the front seats for an even more thrilling experience. And then get ready for a bumpy ride up and around some of the tallest dunes in South America. It will be a rollercoaster ride you will never forget.
A 2-hour tour, including the buggy ride, sand-boarding and sunset views costs 50 soles (approx 13 USD) and can be booked with one of the local tour operators. In addition to the tour, there is a small park fee of 3.60 soles (approx. 1 USD) to be paid when entering the dunes. Choose the tour agency with the best price, as they pool tourists together to fill the buggies. So there is no real difference with whom you book the tour.
The buggies are driven by professional drivers, true petrol heads that know no speed limits, but all the dune treks by hard. There's no reason to be afraid. Your three-point-harness will keep you safe in your seat. Just don't forget to tighten up your hat, so you don't loose it in the wind.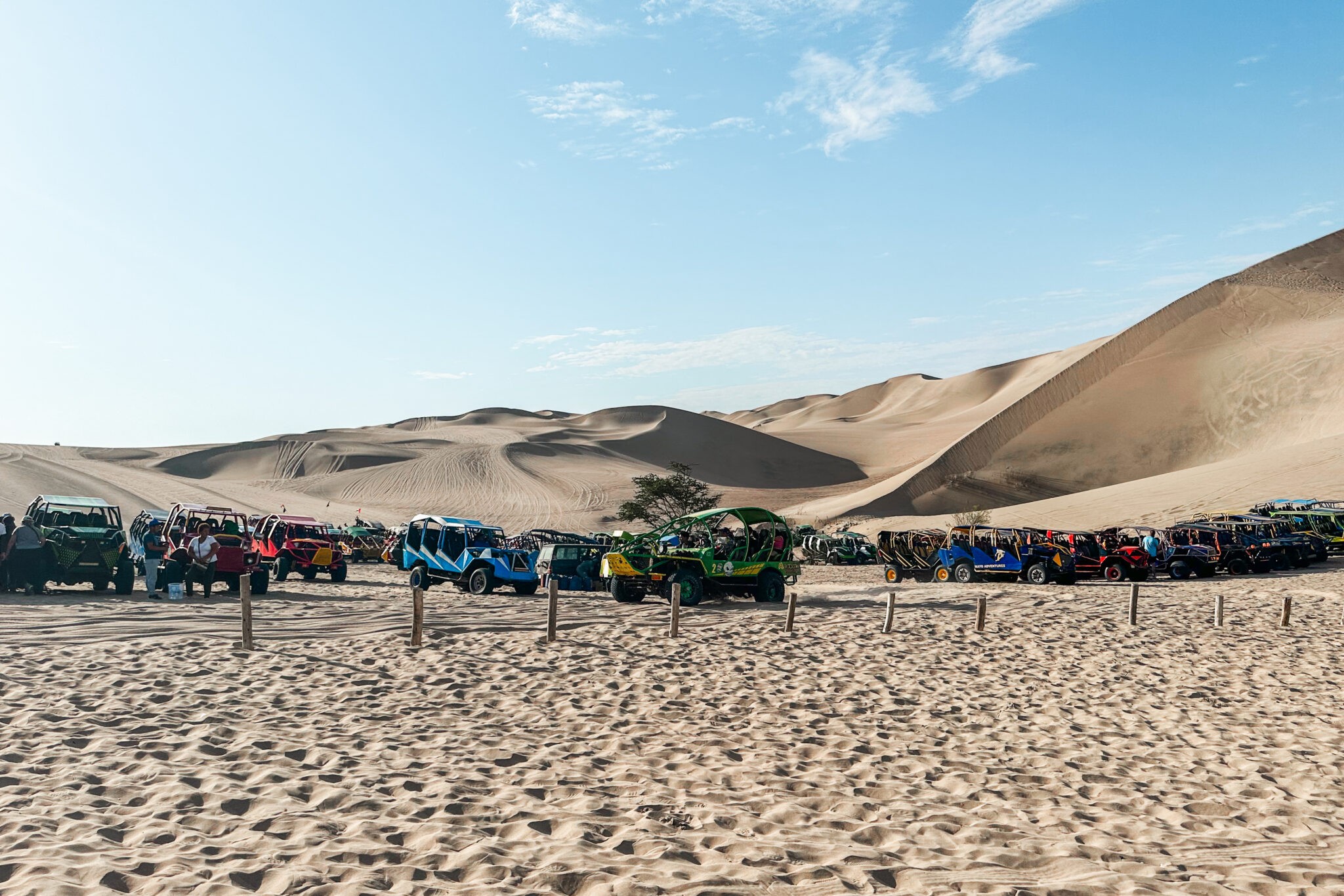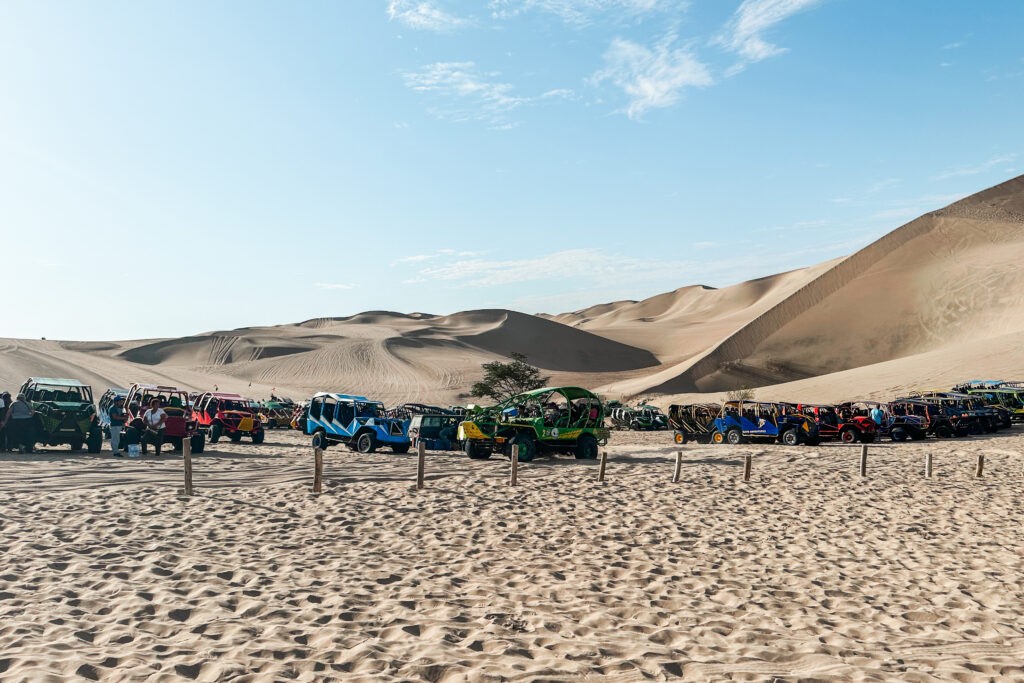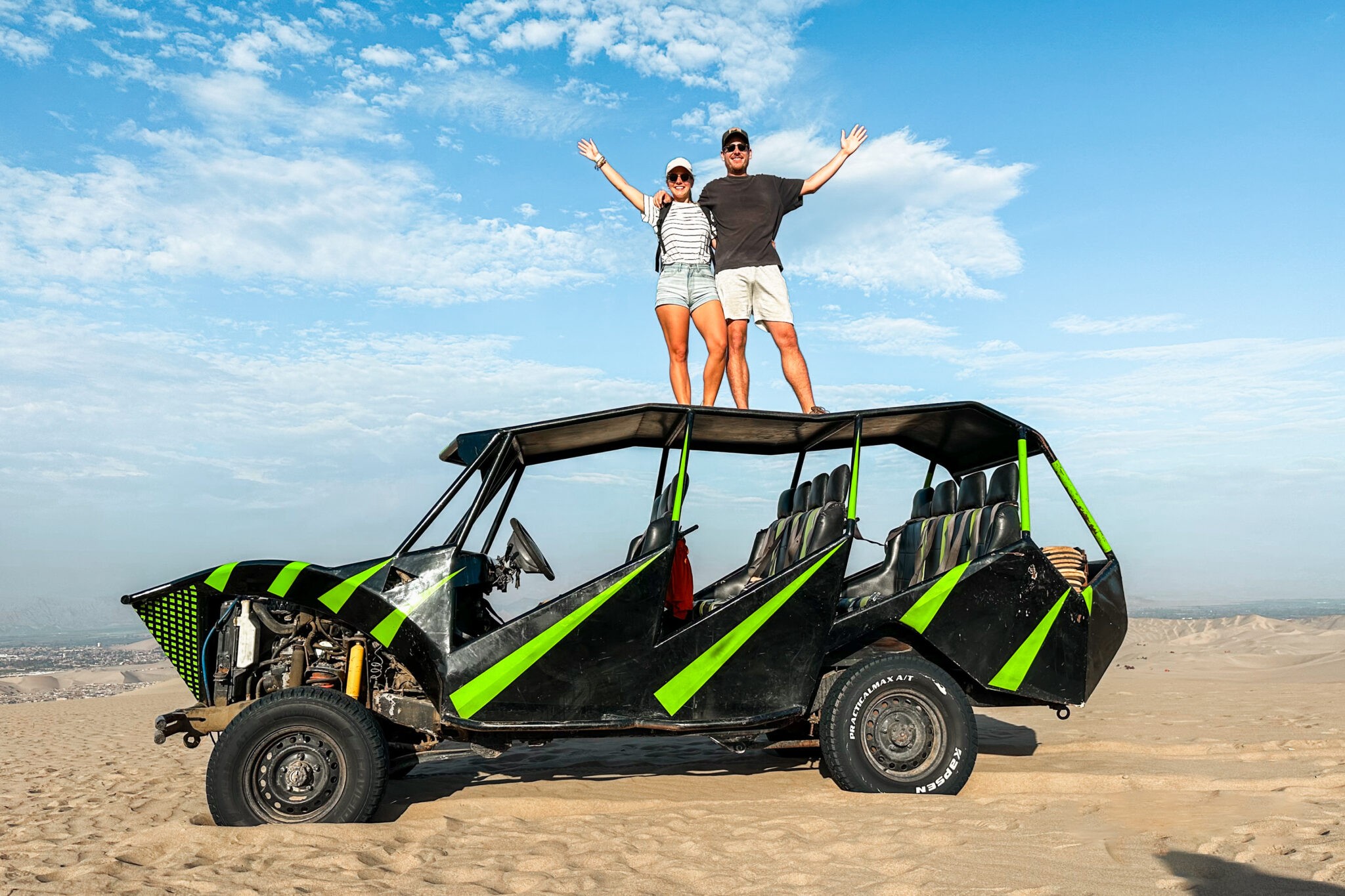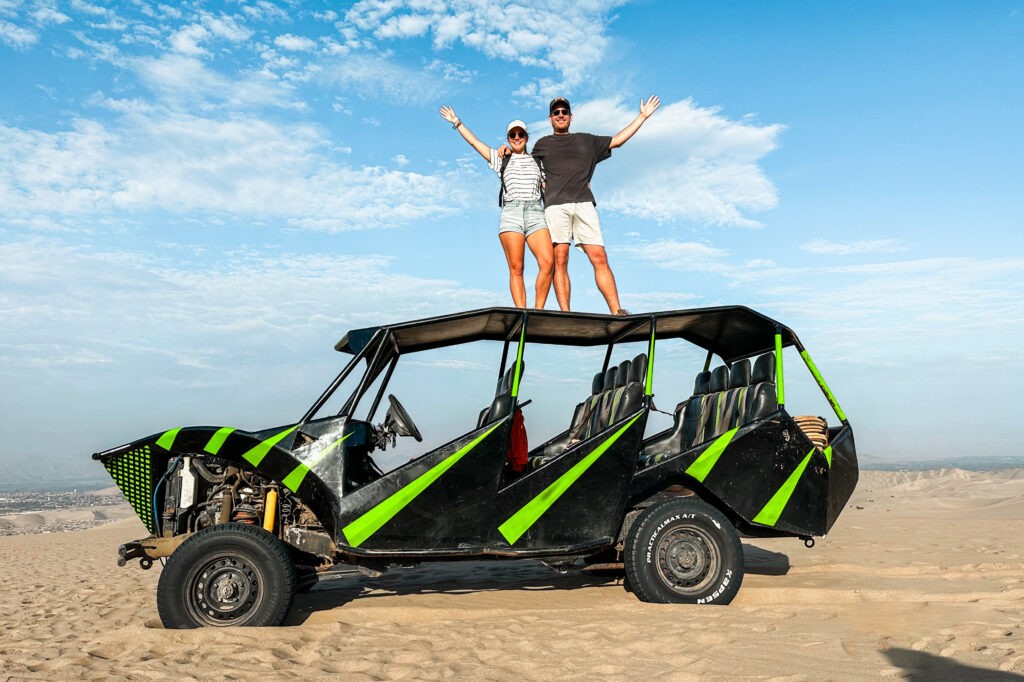 3. Try the thrill of sandboarding
Sandboarding in the dunes is another awesome activity you can do in Huacachina. Get your adrenaline pumping, grab yourself a snowboard and swoosh down the 30-60 meters tall sand mountains of the desert.
You can choose between standing, sitting or laying down on your board. We would say sitting is the most safest option, but laying down will definitely make the most fun. Whichever style you choose, you will have a ton of fun – we promise.
Sandboarding is part of the buggy tour and sunset views and costs 50 PEN (approx. 13 USD), plus a fee of 3.60 PEN (approx. 1 USD) to enter the dunes.
Wear your sunglasses to protect your eyes from the sand. If it's windy, try to cover your face with a scarf. As part of the tour, you can always choose to skip on sandboarding or start at a lower point of the dune. Just let your buggy driver know.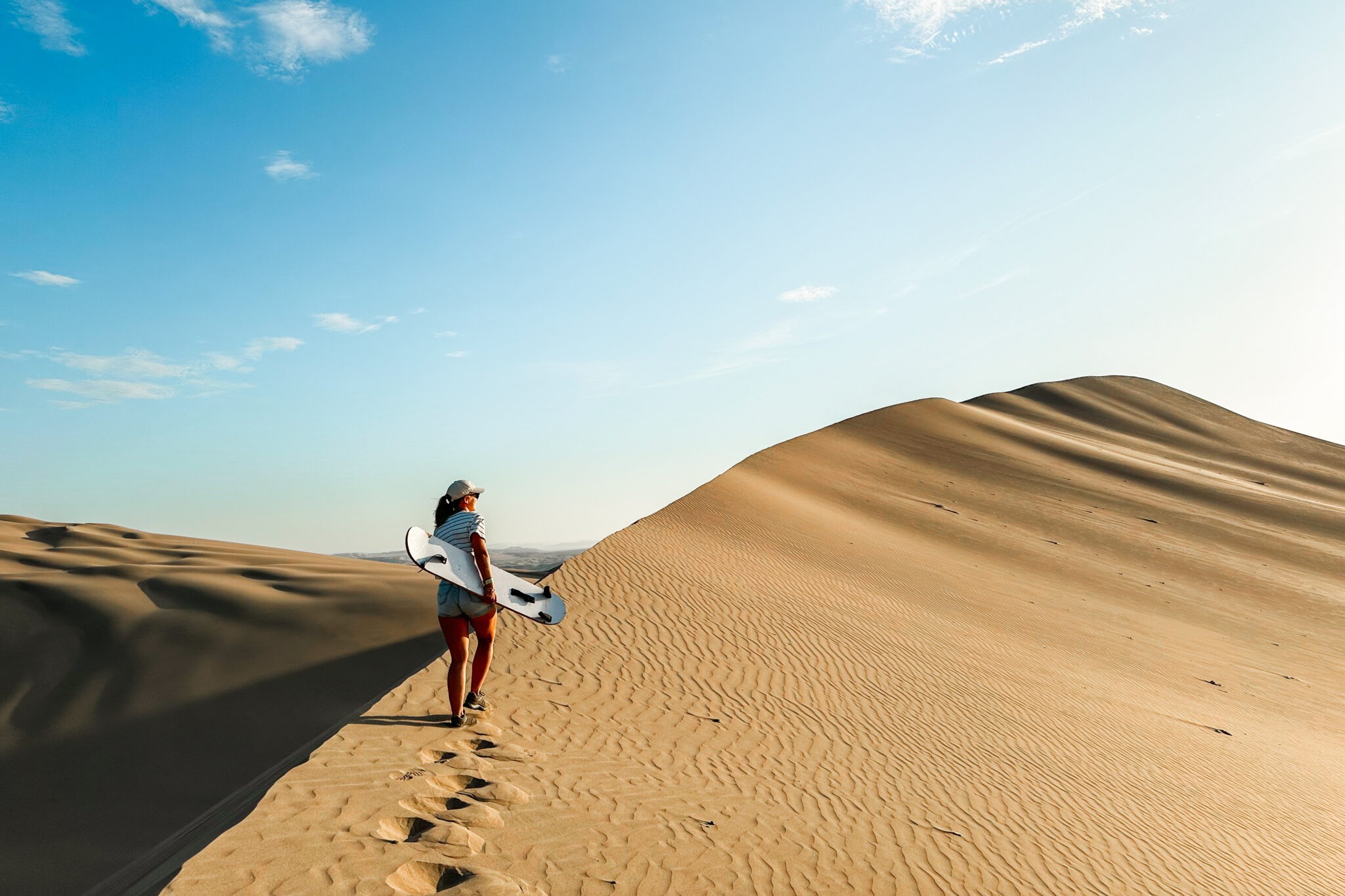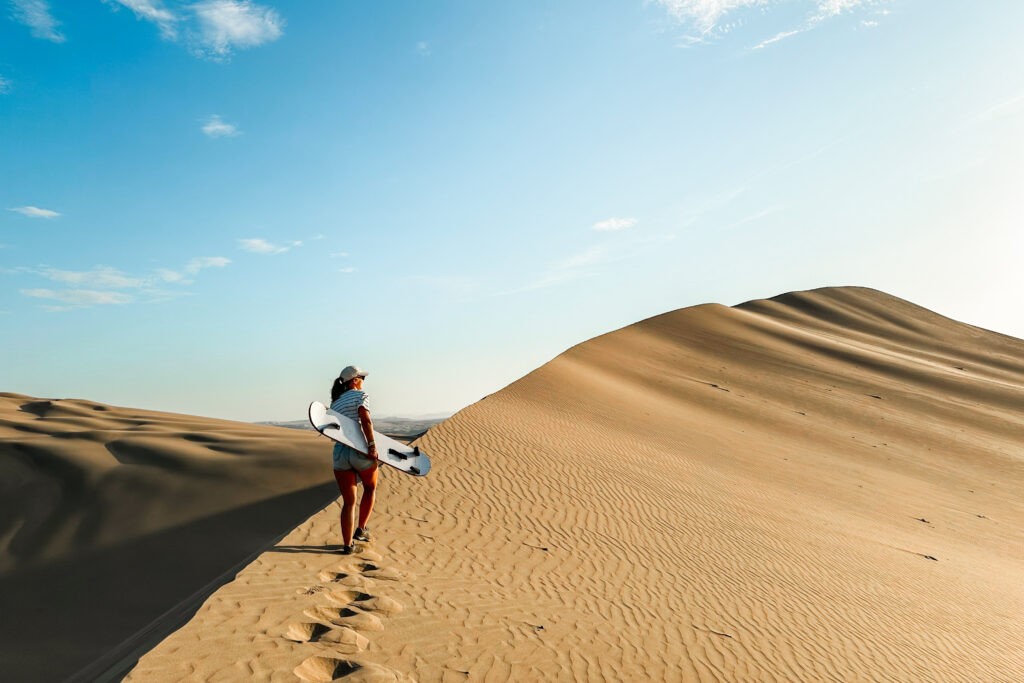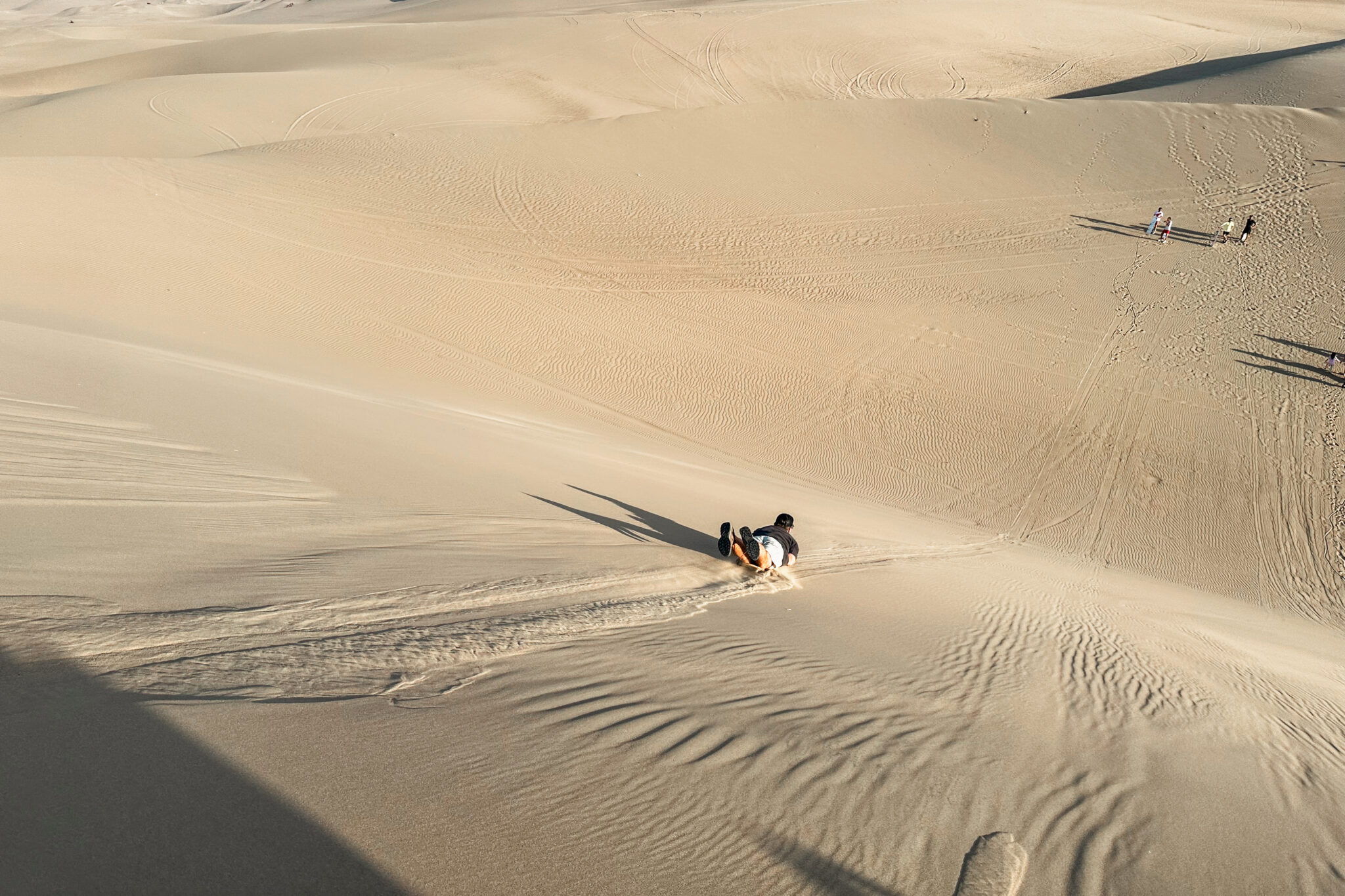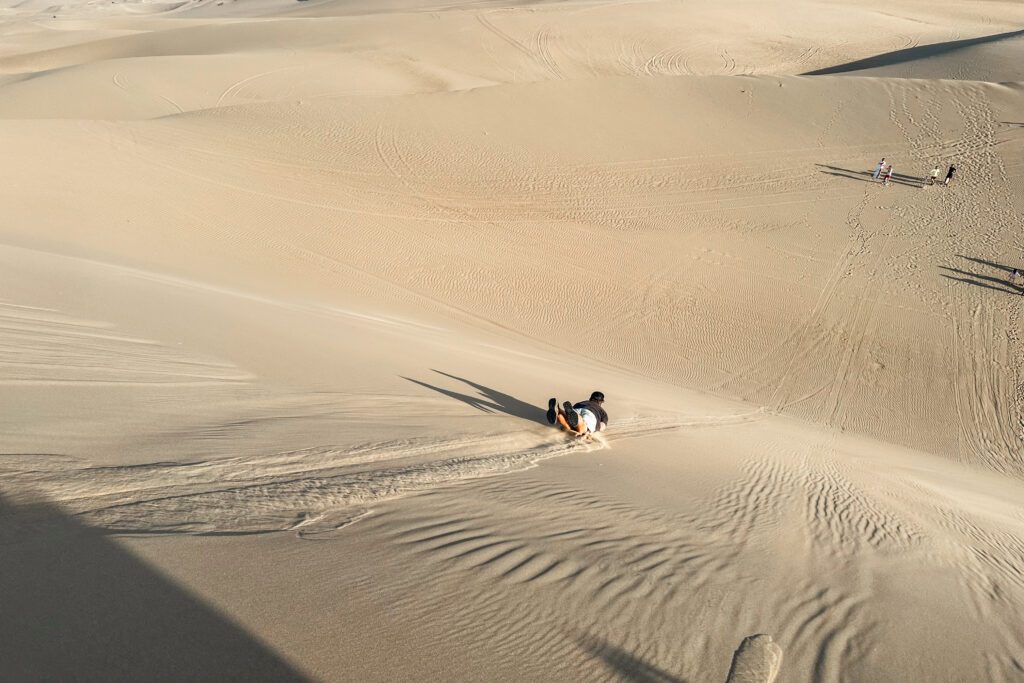 4. Row a paddleboat on the lagoon
If you are looking for a more relaxing activity in Huacachina, spend your afternoon rowing a paddleboat on the small lagoon. You can rent a boat for a few dollars per hour. It's a great way to soak in the lagoon's beautiful surroundings and enjoy the Huacachina oasis.
Don't swim in the Huacachina lagoon. While swimming is not forbidden, the water is very murky and not really inviting. Even the locals will tell you that the water is unsafe for swimming. Choose an accommodations with a pool instead to cool off from the desert heat.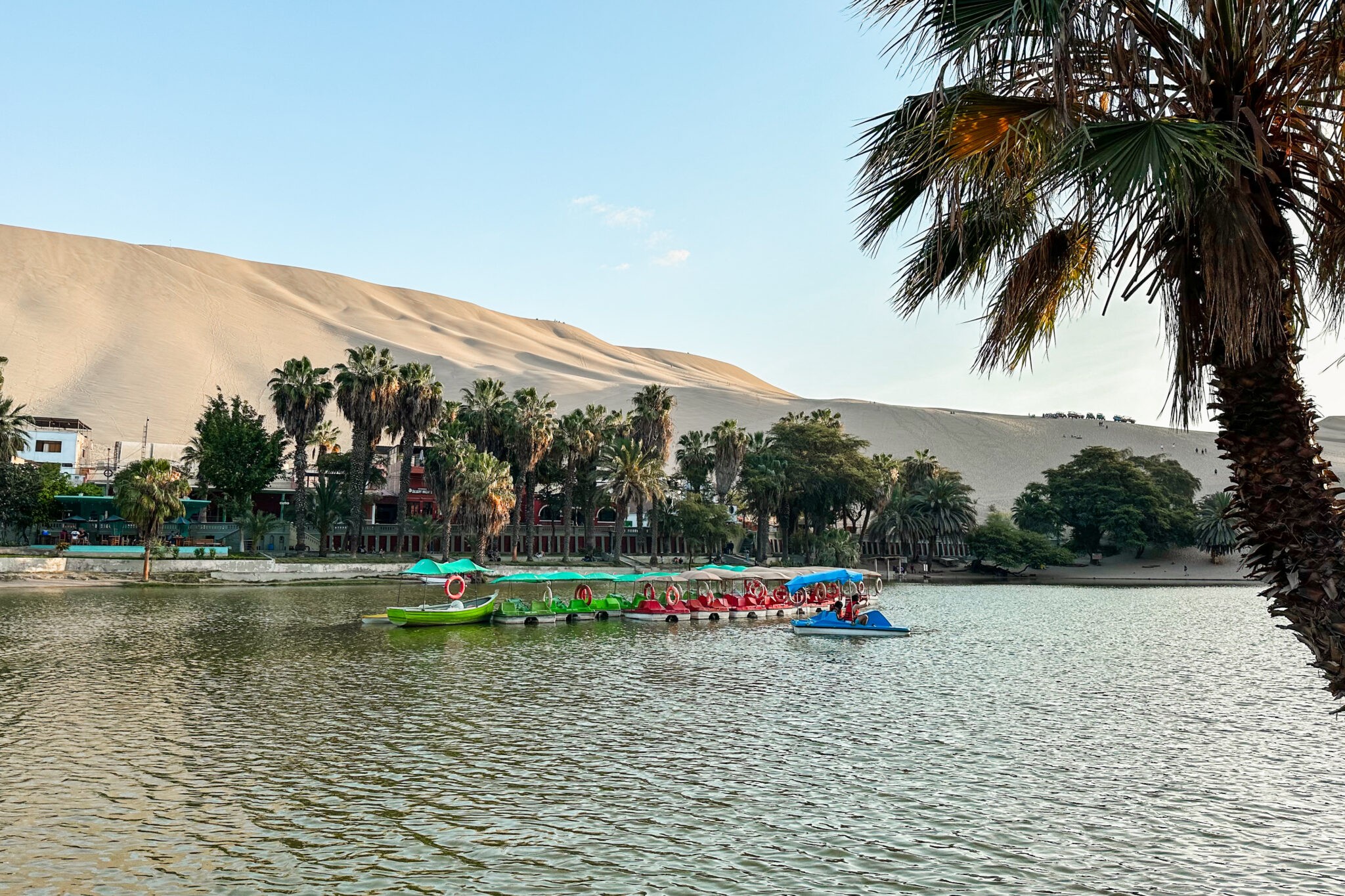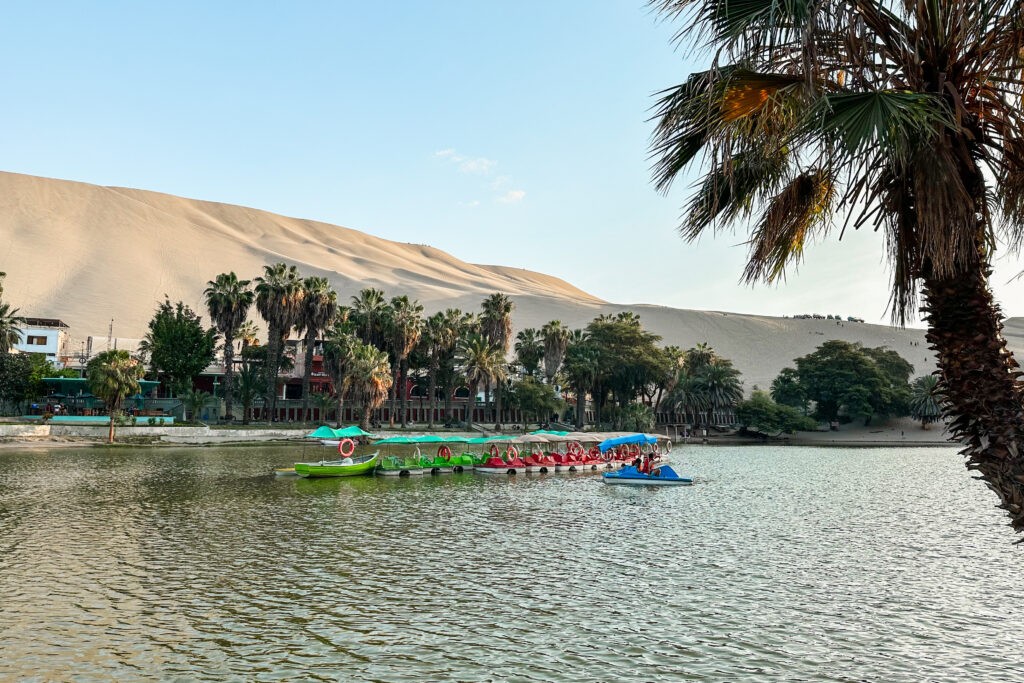 5. Challenge the dunes by quad
If the buggy ride was not enough adrenaline for you, then hop on a quad bike and heat through the dunes on your own. The gritty terrain under your wheels will give you a unique thrill, as you drift on the sandy slopes. Every twist and turn is a new challenge. It's an adrenaline-pumping ride that will make your heart race.
A one-hour quad tour costs 90-120 soles (approx. 23-30 USD) including transfer to the nearby dunes. From there you'll also have a nice view on Huacachina and Ica.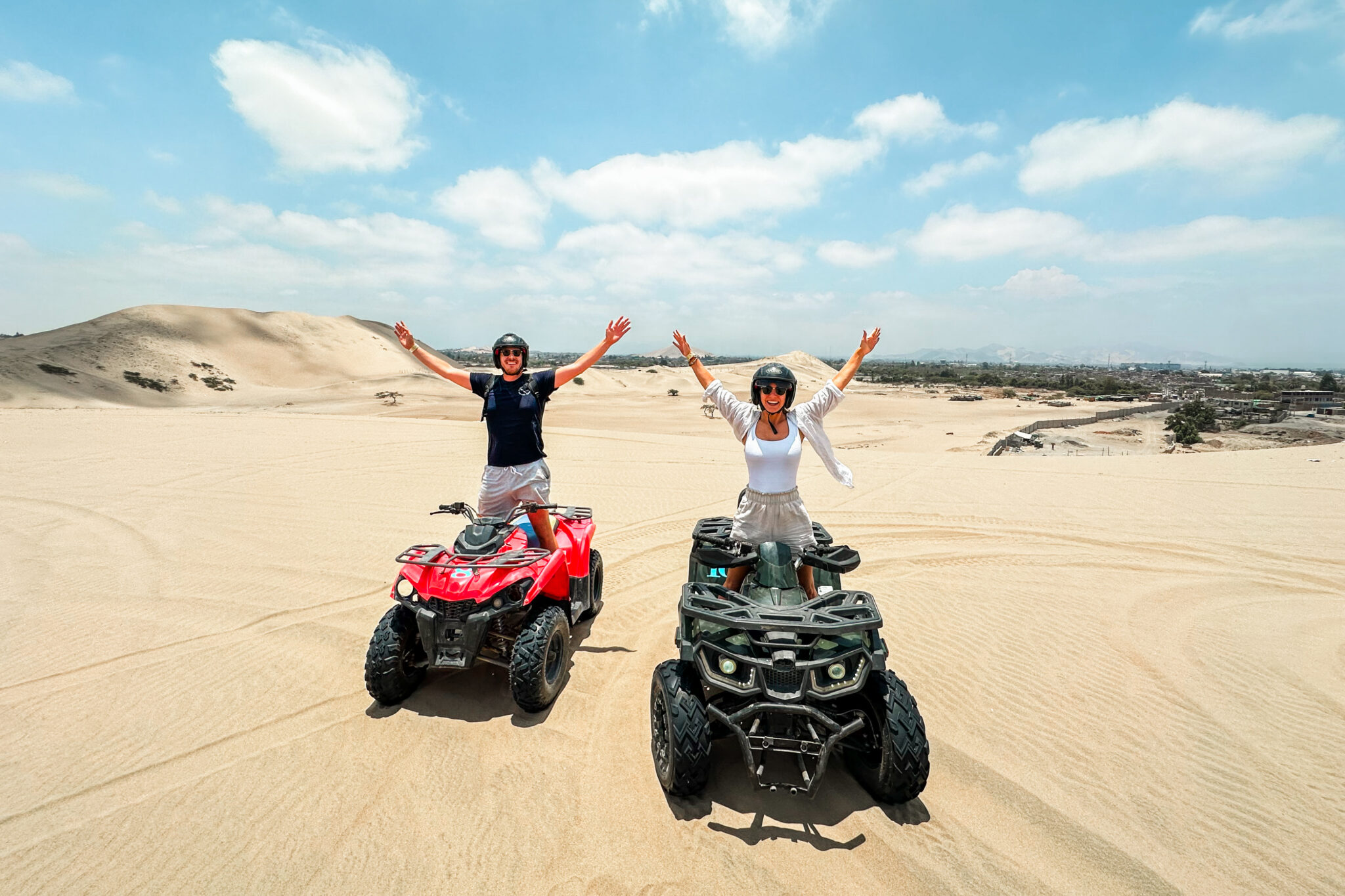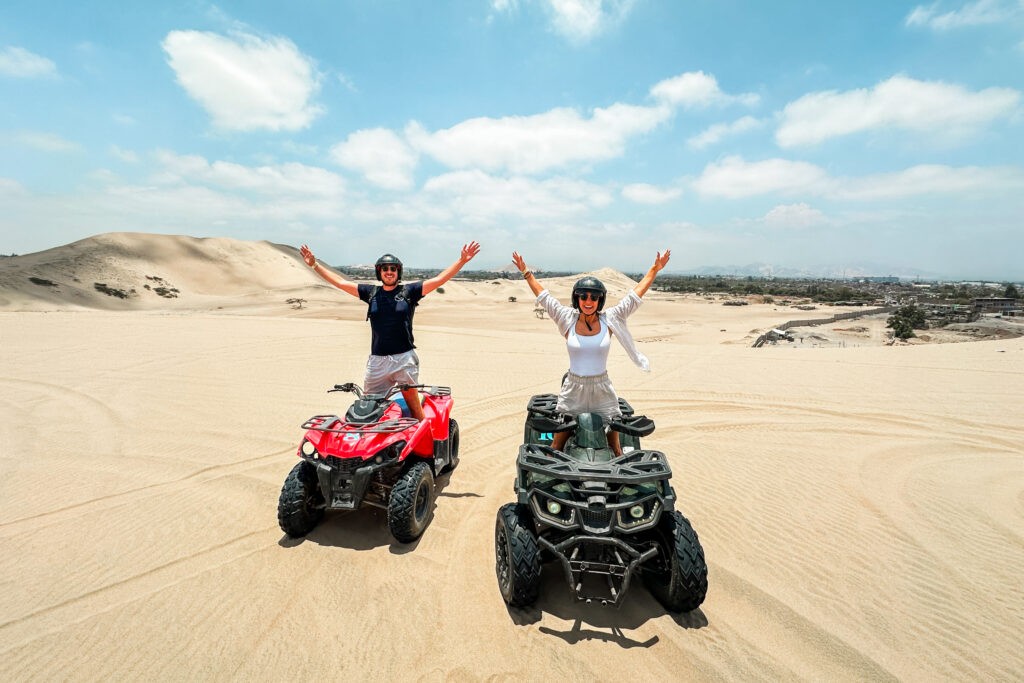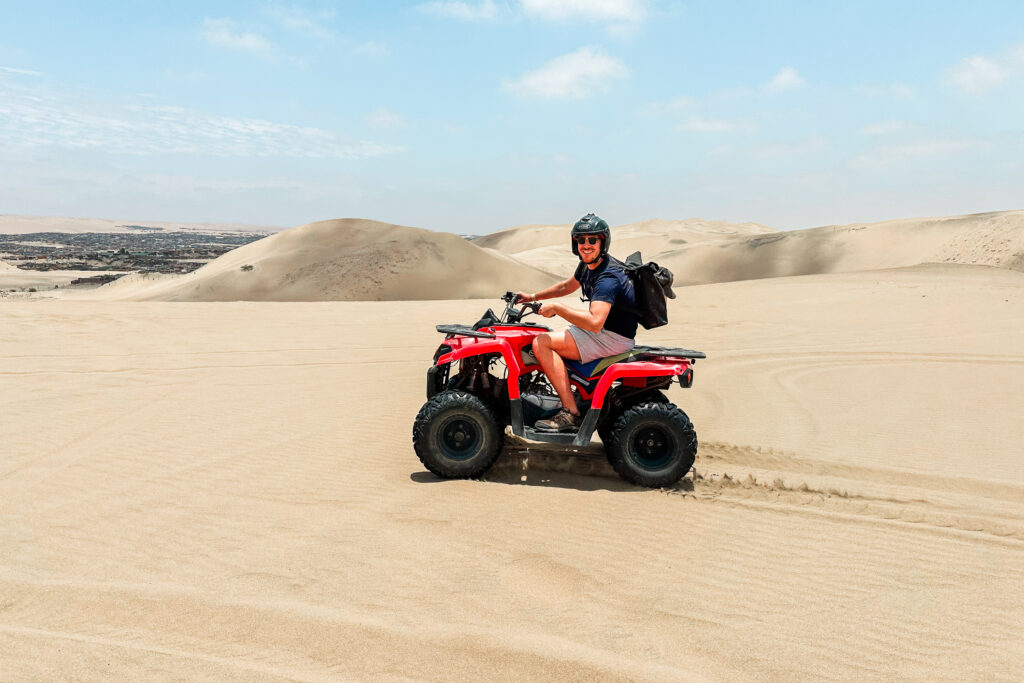 6. Explore the wineries in the Pisco region
Pisco is a beloved spirit, made of fermented grape juice which is distilled afterwards for higher alcohol concentration. Its an iconic Peruvian drink, often mixed and served as a cocktail (the famous Pisco Sour).
Although the name "Pisco" is derived from the town of Pisco, the drink actually originates from Ica. It just got its name because it was shipped from Pisco to Europe. So what better place there is than Ica to learn more of the lang tradition of producing of Pisco and taste some of the varieties of this local delicacy.
During our tour we visited 3 wineries, one of them being a known industrial winery and two artisan wineries. We learned a lot about the history of wine in Peru as well as the famos Pisco spirit. In all the wineries we could also taste some of their products from sweet wines over pure Pisco to special Pisco liqueurs. 
There are several tour operators offering Pisco and wine tours. Depending on the agency, the duration and number of wineries visited may differ. We booked our tour with Sam Travel Experiences for 80 soles per person (approx. 21 USD), and can absolutely recommend him. In case you are visiting the most popular industrial winery Tacama, you will need to pay additional 20 soles (approx. 5 USD) for their tour.
Don't plan anything else for the day. Out of our experience we can say that the tastings in Peru are different to what we know from our European wineries. Take it slowly, and decline if its too much.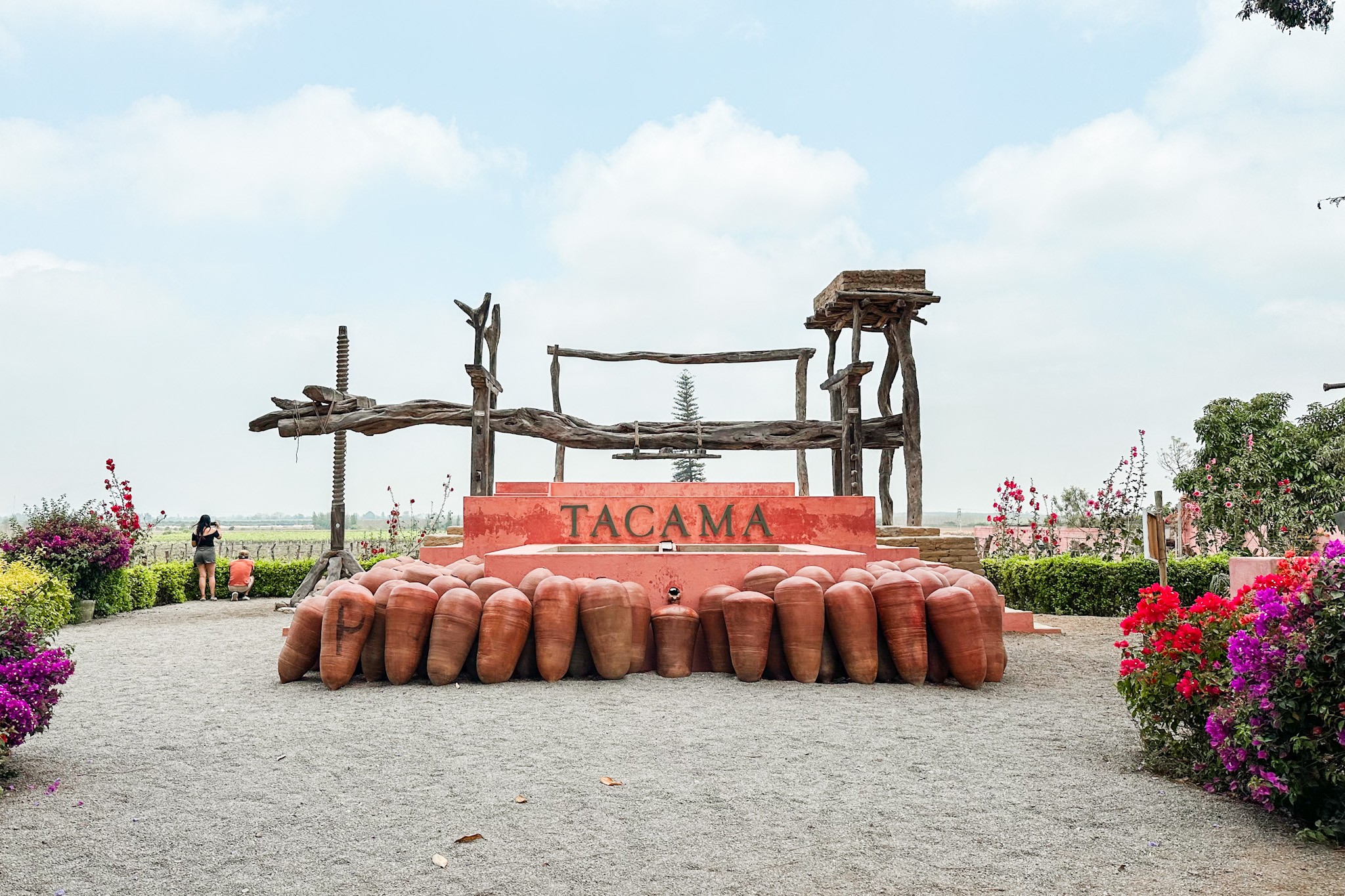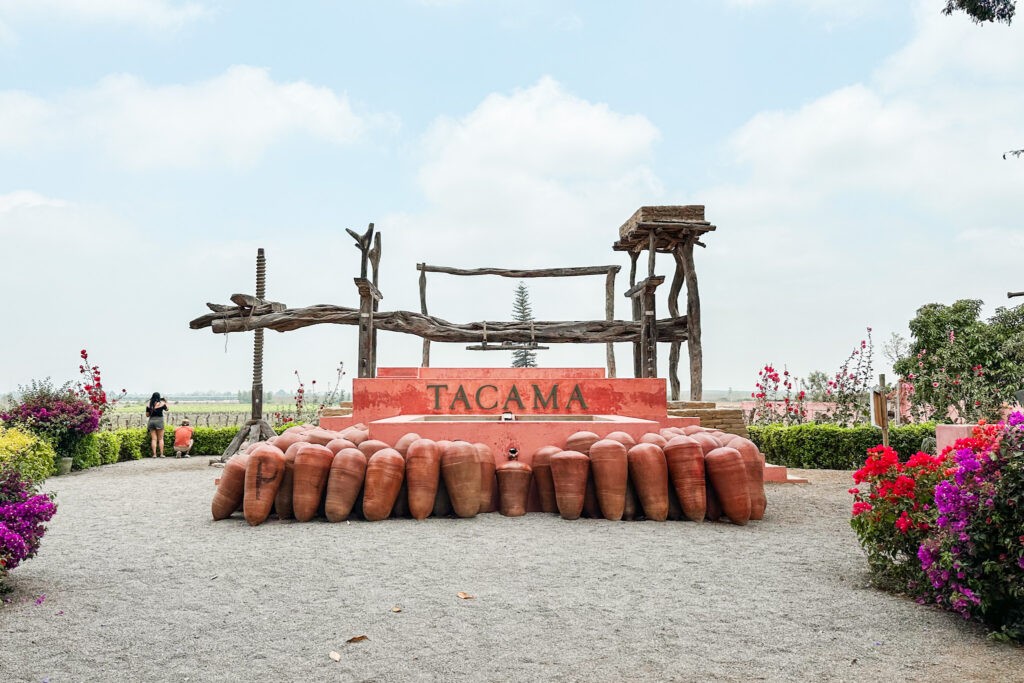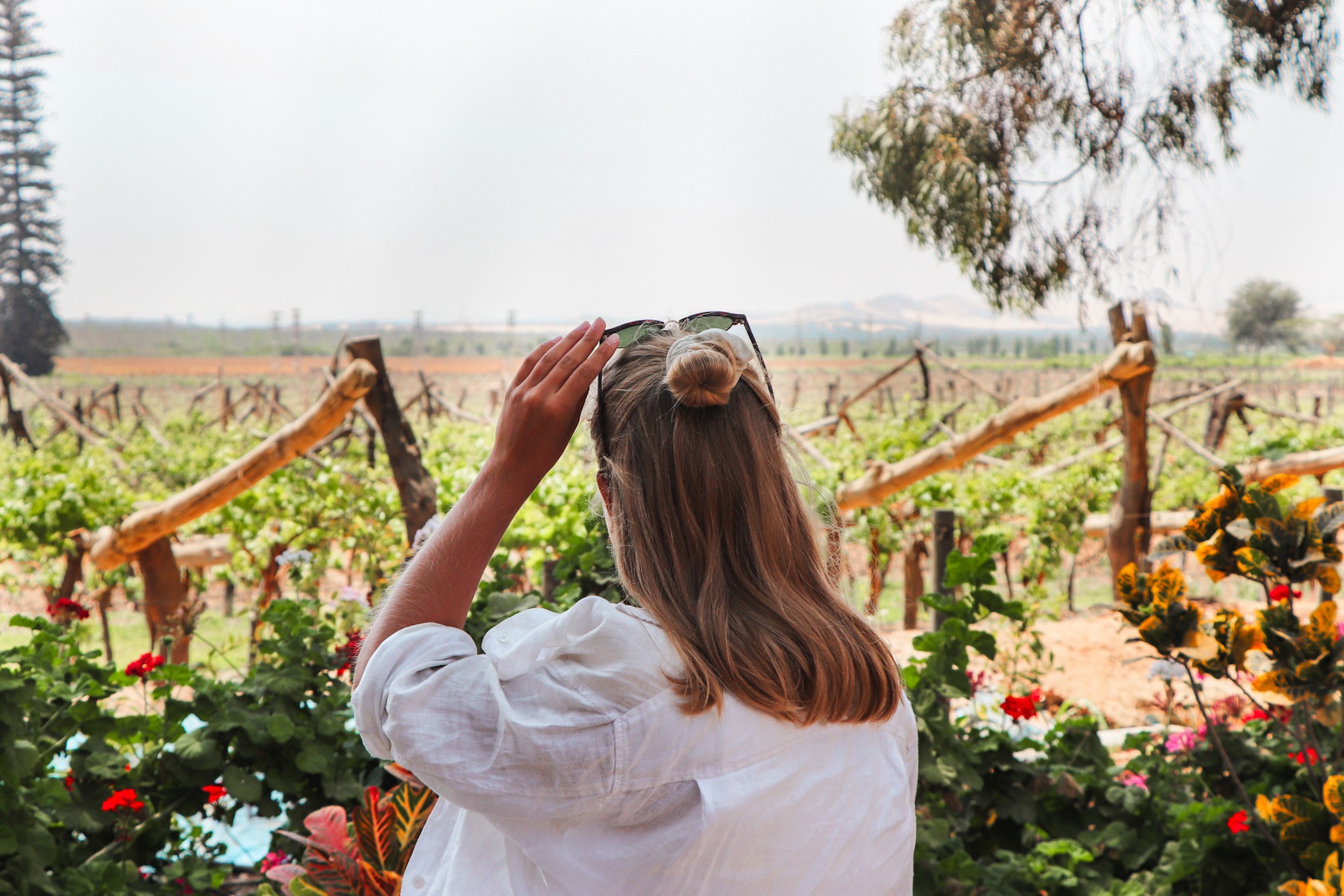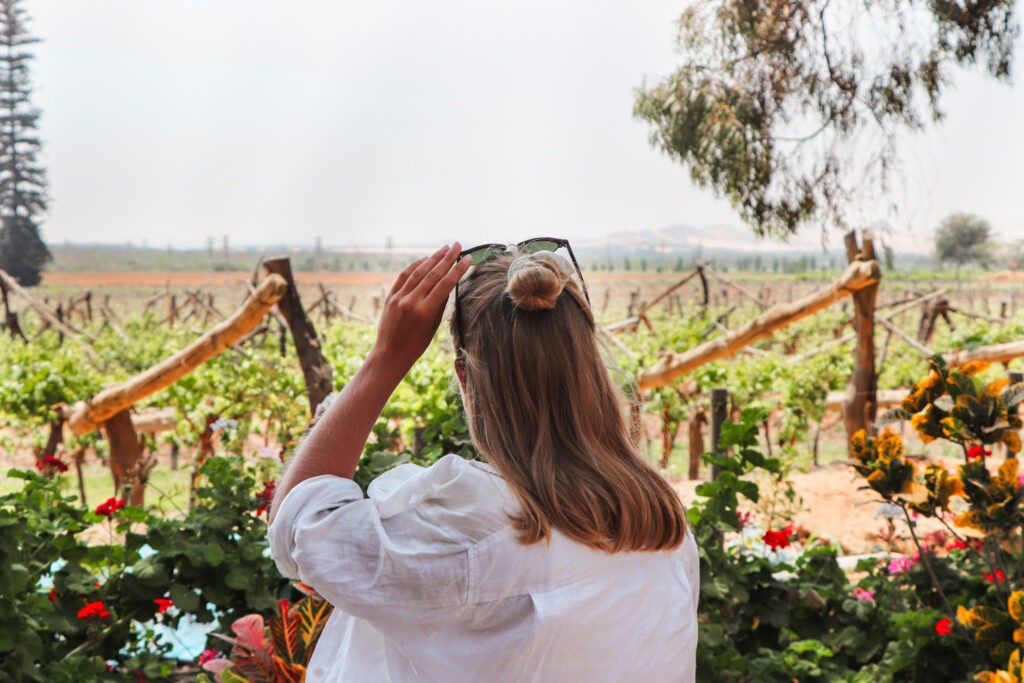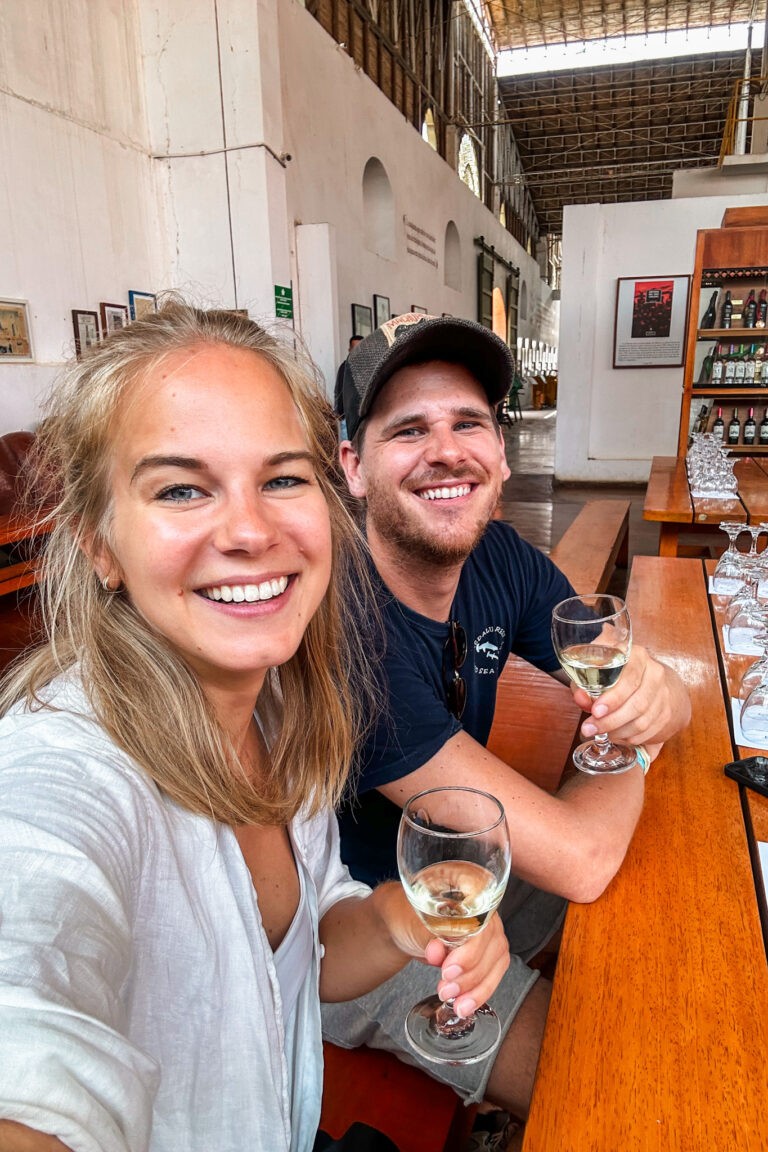 7. Explore the city vibes of Ica
Ica is one of the oldest cities in Peru, once built on sand dunes and having expanded to a home to over one million people. Ica is most known for its wines and Pisco, being a perfect spot for growing grapes. 
Ica is not as beautiful as Arequipa or Cusco, but if you have time, there are some hidden gems to explore in the city. Enjoy panoramic views of the Plaza Mayor, visit the ancient Luren temple, and look for traditional Ica cookies, infused with the famous Pisco brandy.
Also, don't miss out on Cachiche, a park where tales of witches and sorcery come to life. There is a monument dedicated to Julia Hernandez, one of Ica's legendary witches, and the 7-Headed Palm Tree, a mysterious botanical wonder with genetic anomalies.
Ica can be easily reached by taxi or tuk-tuk from Huacachina. The ride takes around 15 minutes and costs 10-15 PEN (approx. 3-4 USD).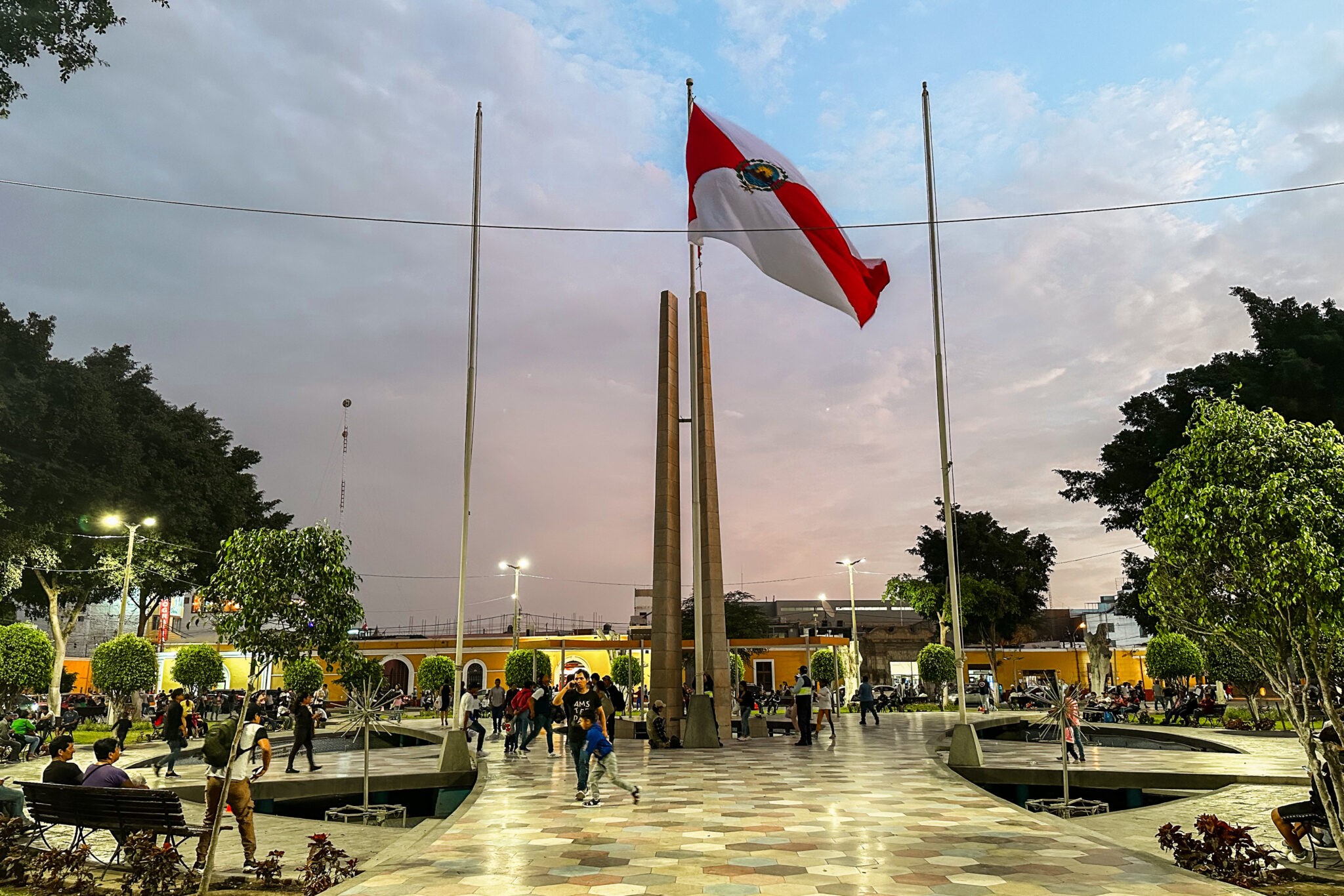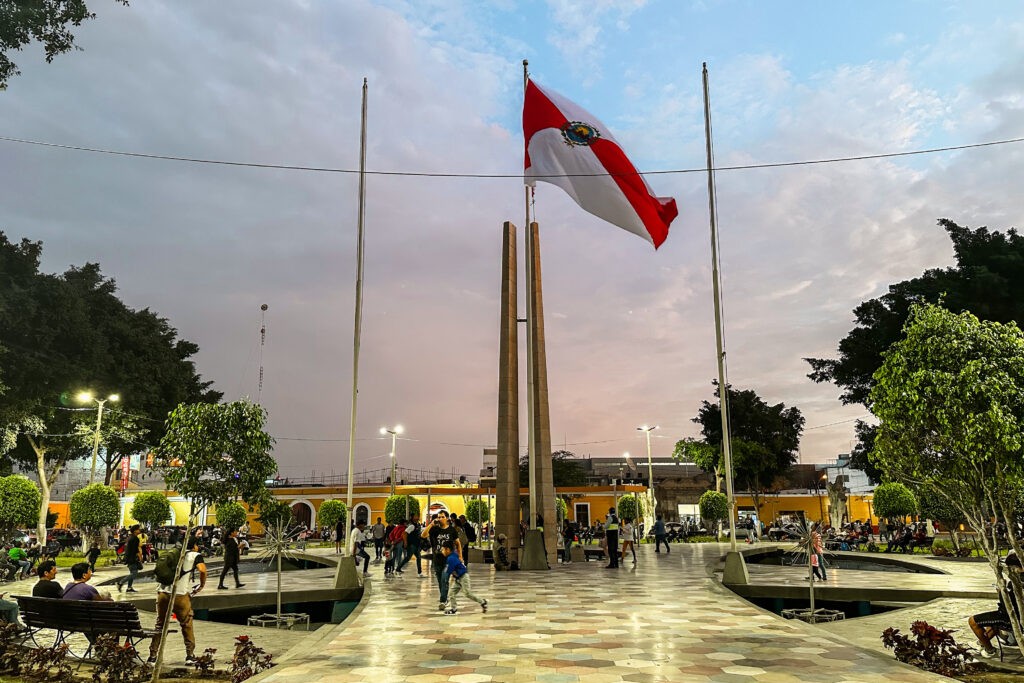 8. Day trip to Paracas to see penguins in the wild
While penguins and desert may not sound like the most usual combination, you can see both in Paracas. This costal town is only 1.5 hours away from Huacachina and is known for its diverse wildlife and stunning landscape views in the Paracas National Reserve. During your day trip you can take a boat tour to see the penguins, sea lions and lots of birds, as well as, visit red beaches and gaze down dramatic cliffs in the National Reserve.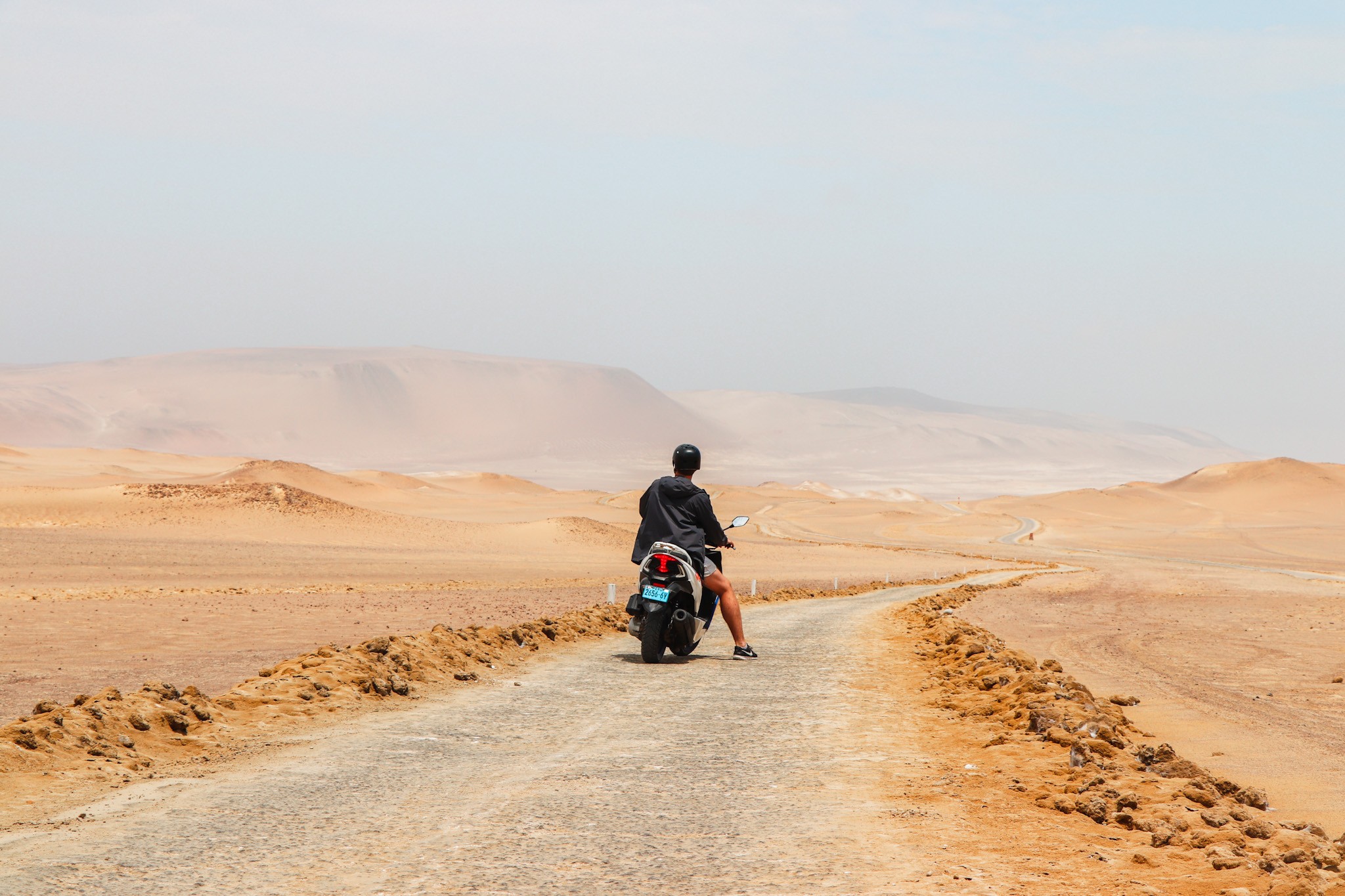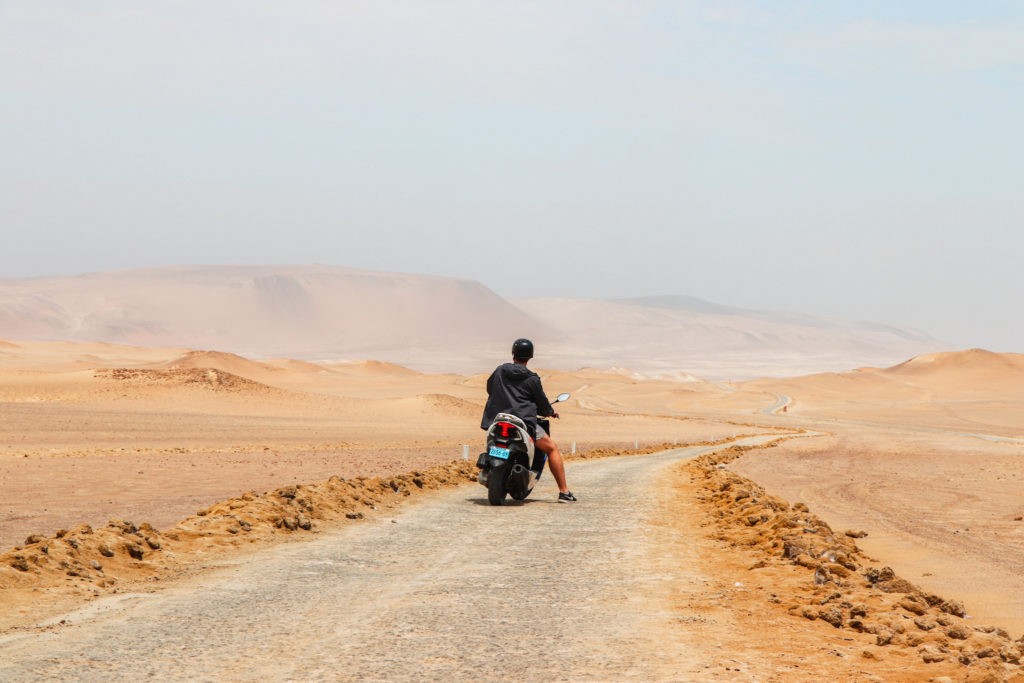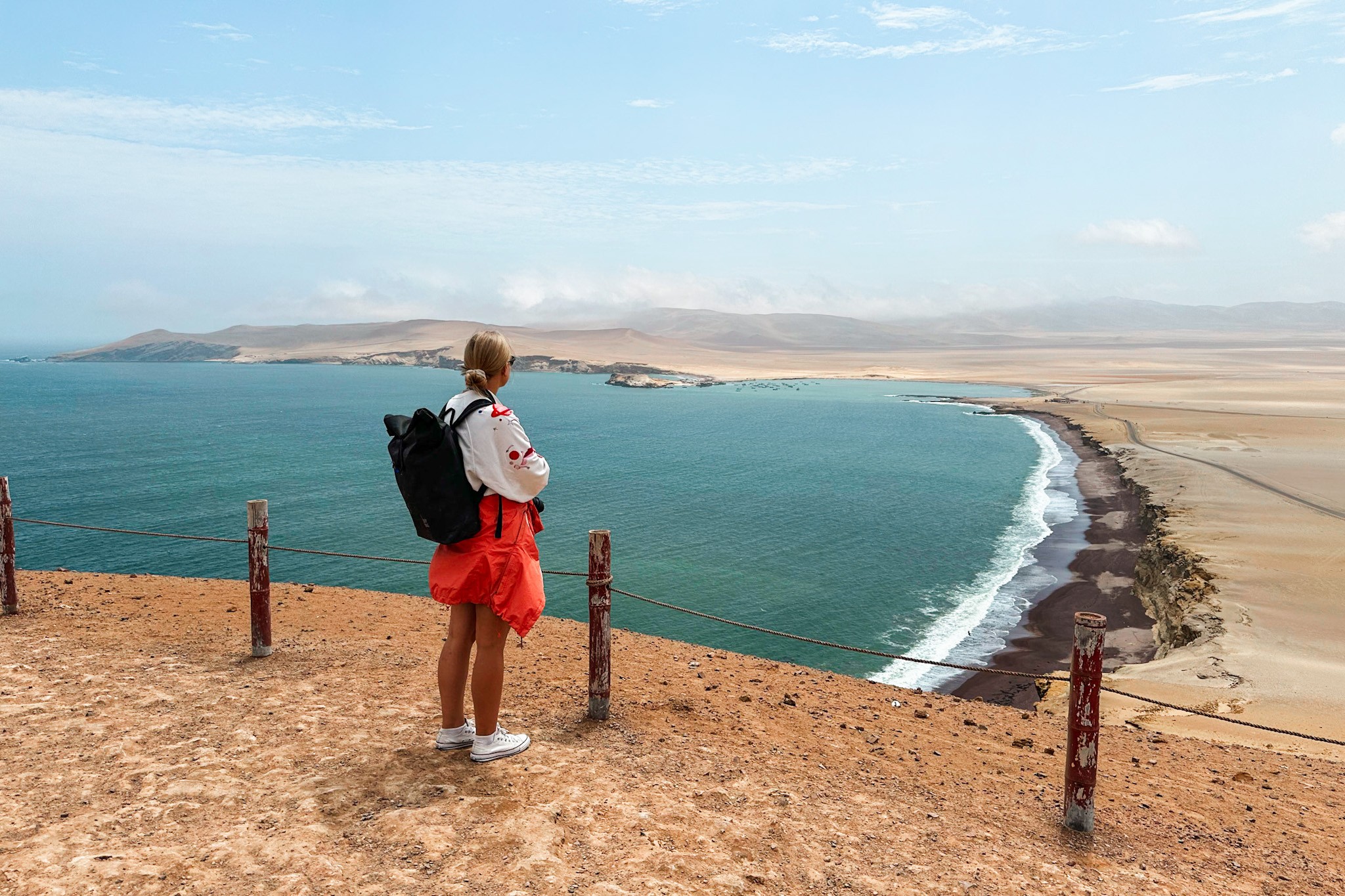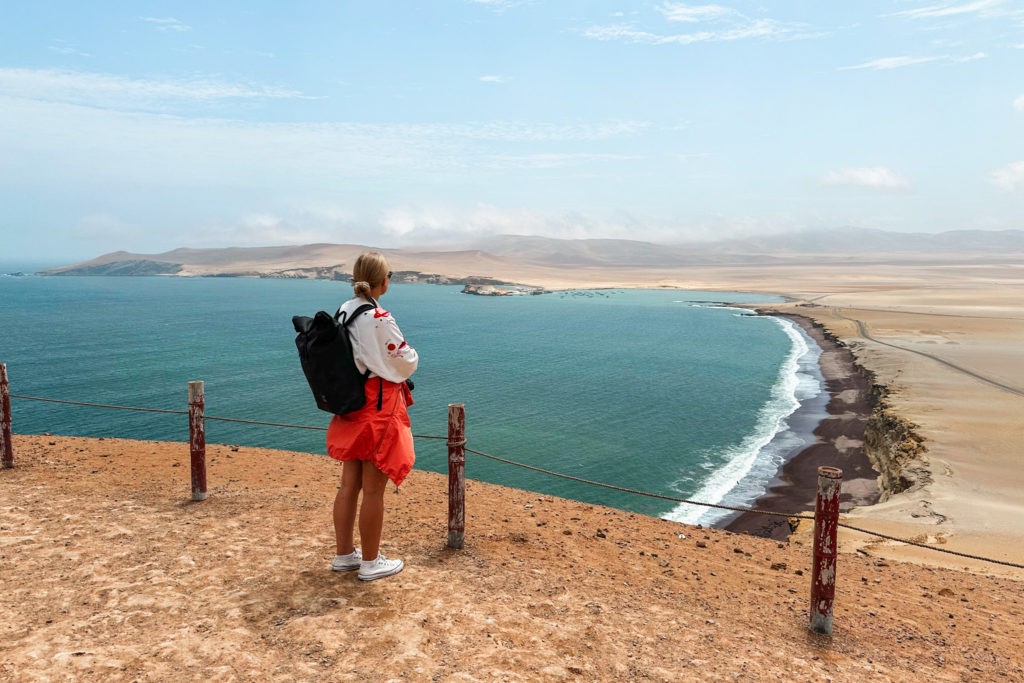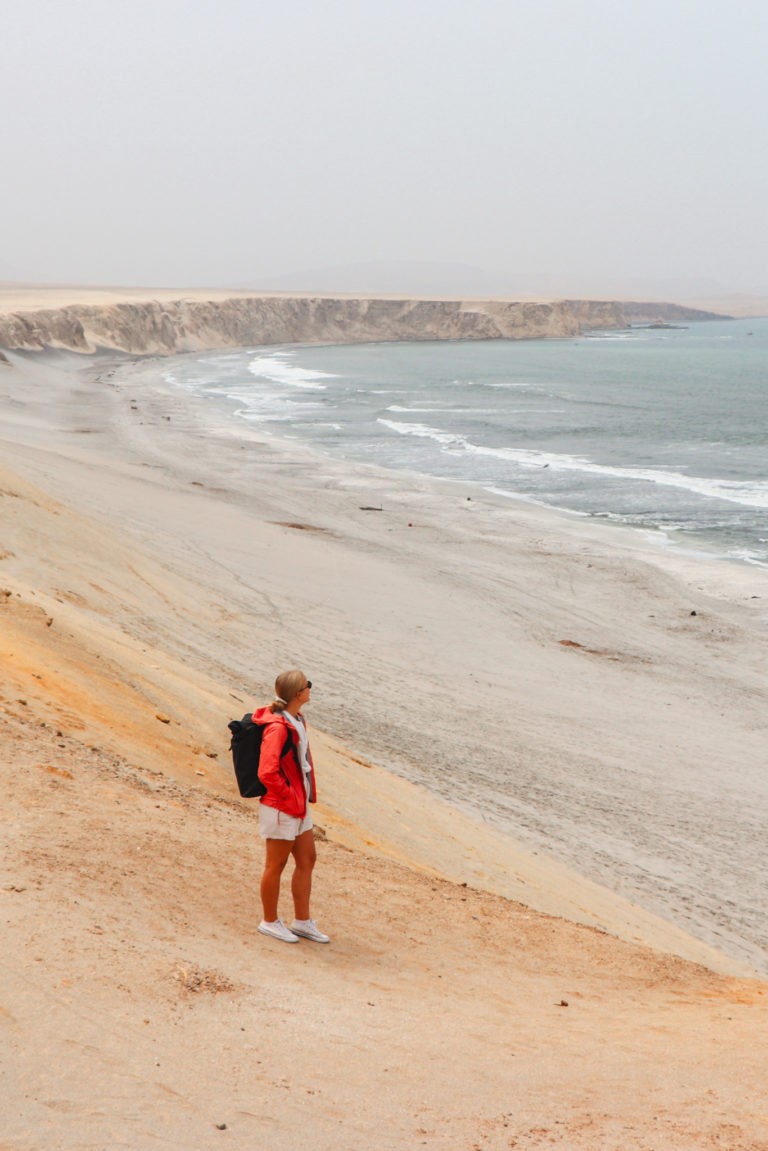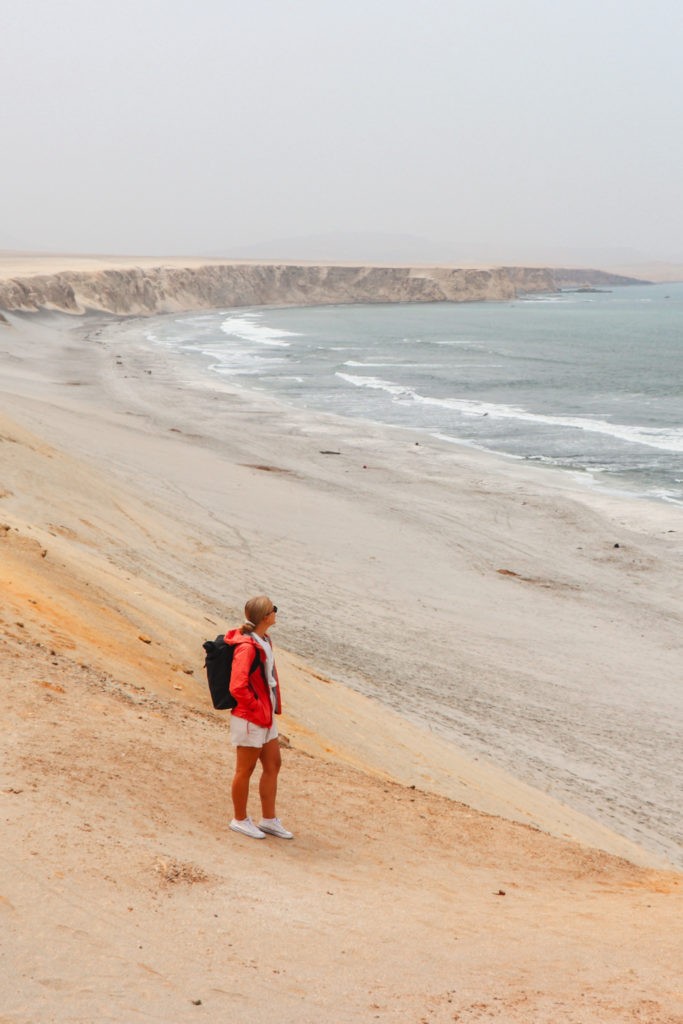 9. Day trip to fly over Nazca lines
The Nazca lines are one of the biggest mysteries of humankind. The oversized figures scratched in the soil of the Nazca desert have caused sleepless nights for many archeologists, ethnologists and anthropologists trying to figure out their meaning and purpose. A trip to Nazca is on many traveler's bucket list, desiring to see these incredible figures of spiders, kolibirs and monkeys with their own eyes. Whereas you can see a few of the Nazca lines from an observation tower, the most spectacular views are to be enjoyed from a plane window.
A day trip to Nazca including transport and a flight costs 70-100 USD, plus the airport fees of 77 PEN (approx. 20 USD). Note that Nazca is 4 hours away from Huacachina and if you are planning to continue your trip to Arequipa, it might be a better idea to spend a night or two in Nazca instead of going on a day trip.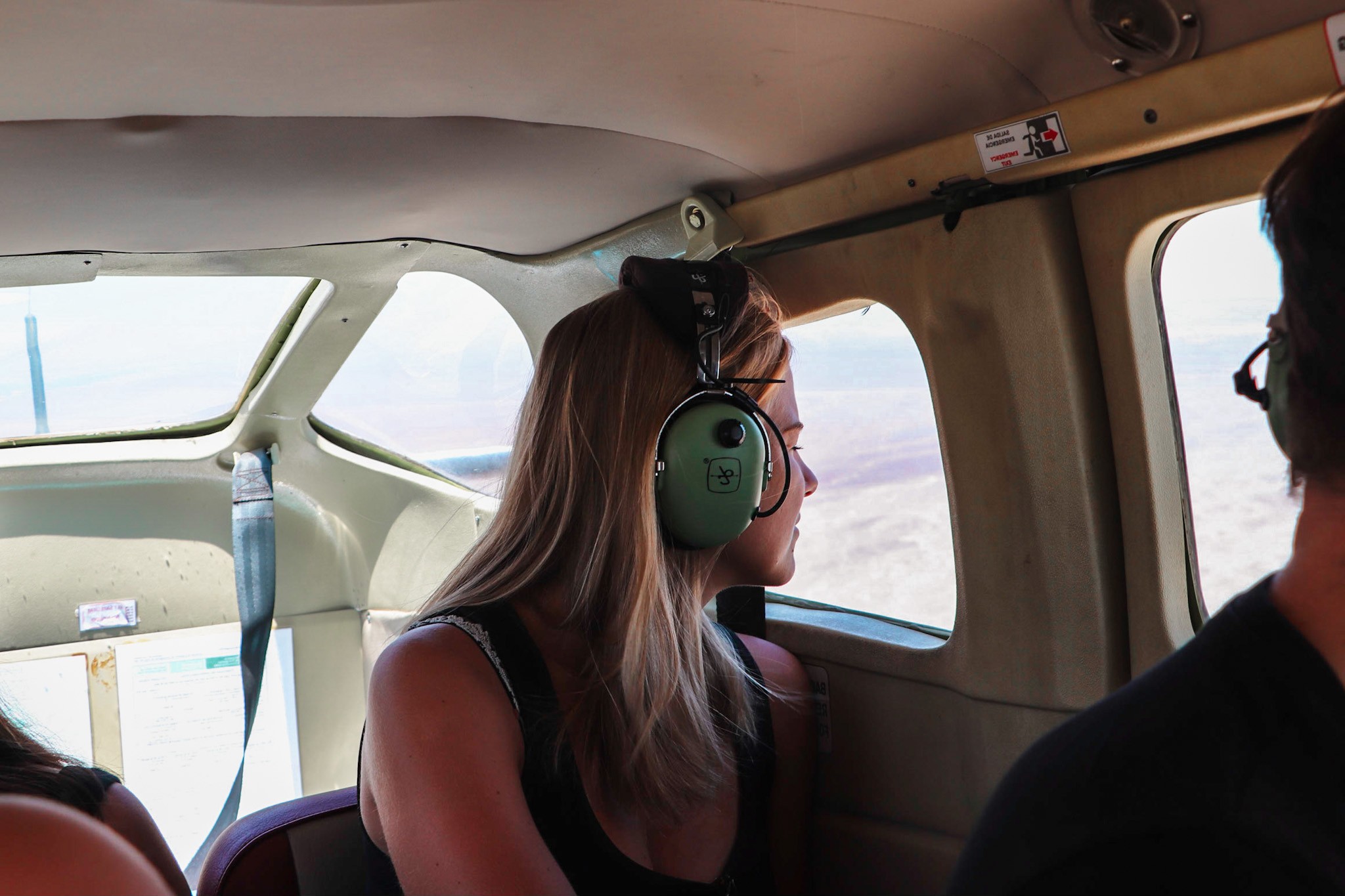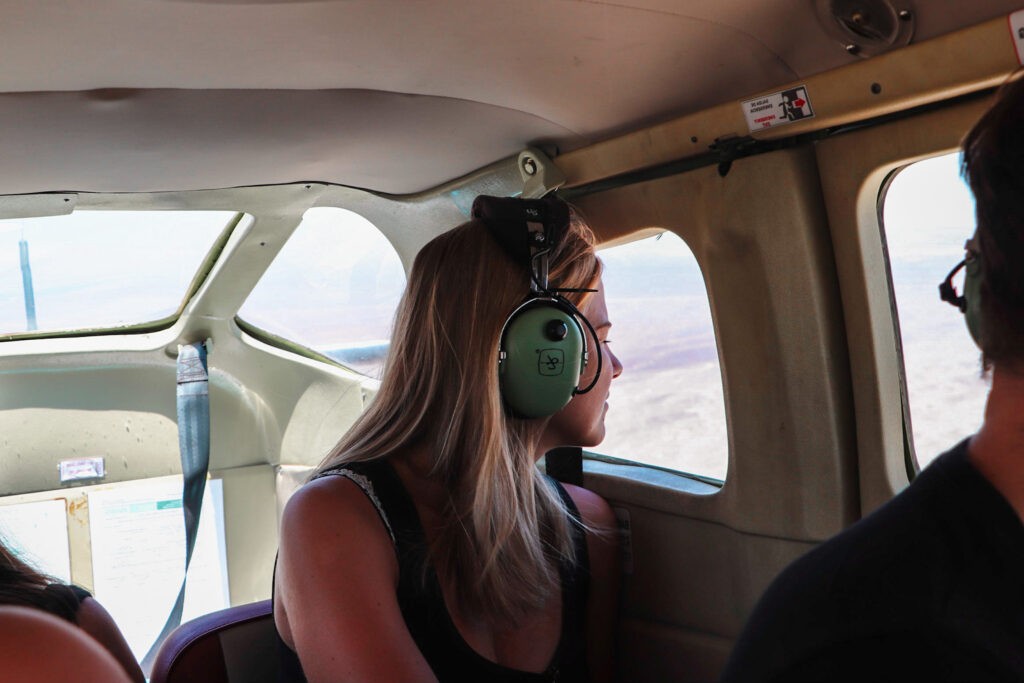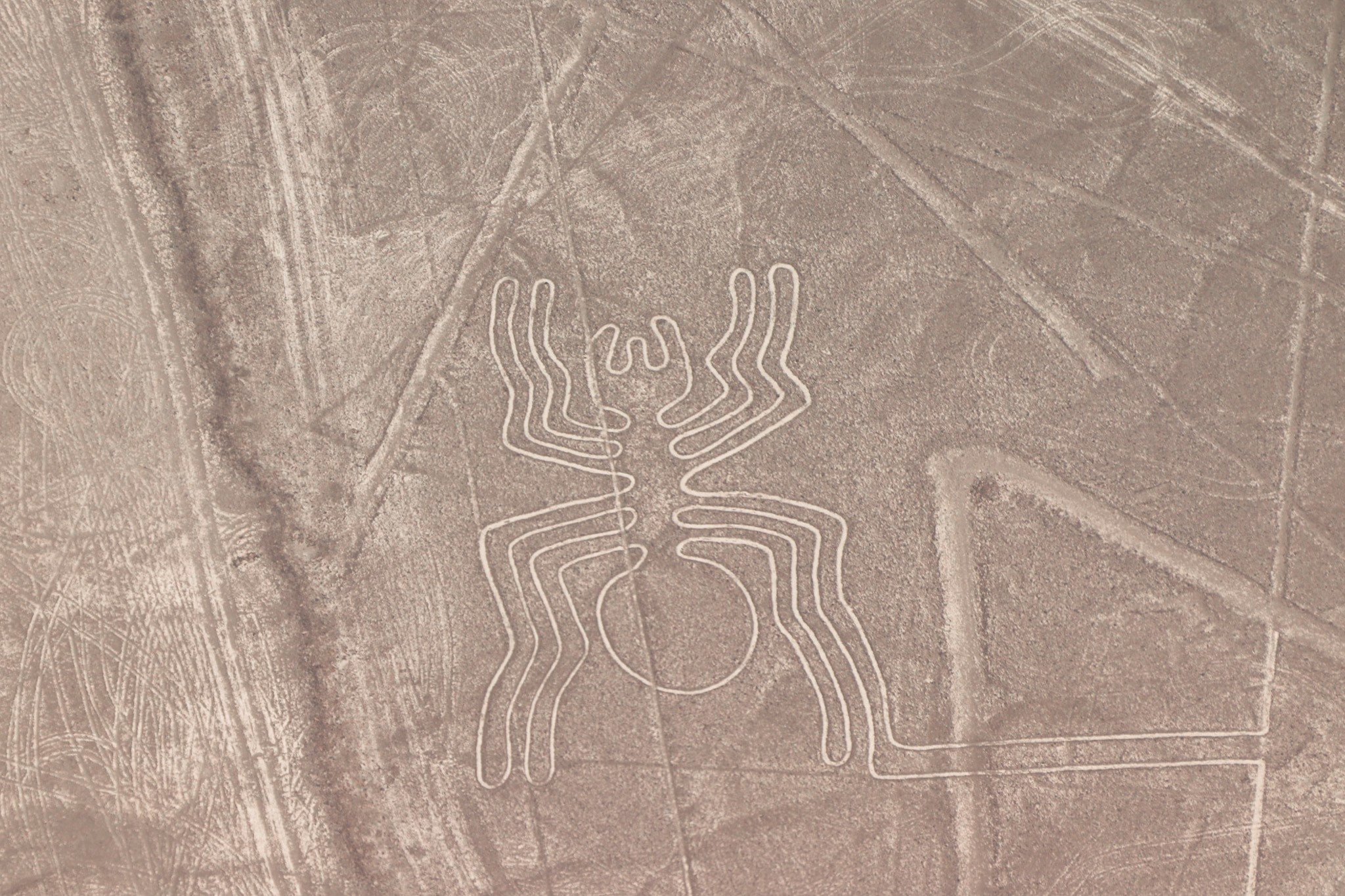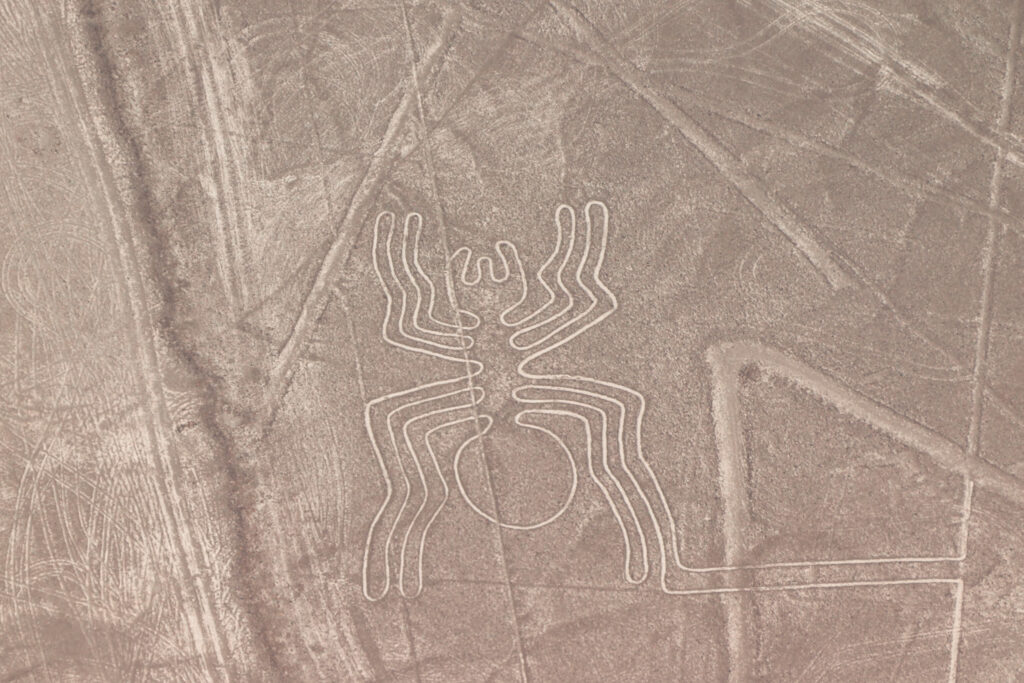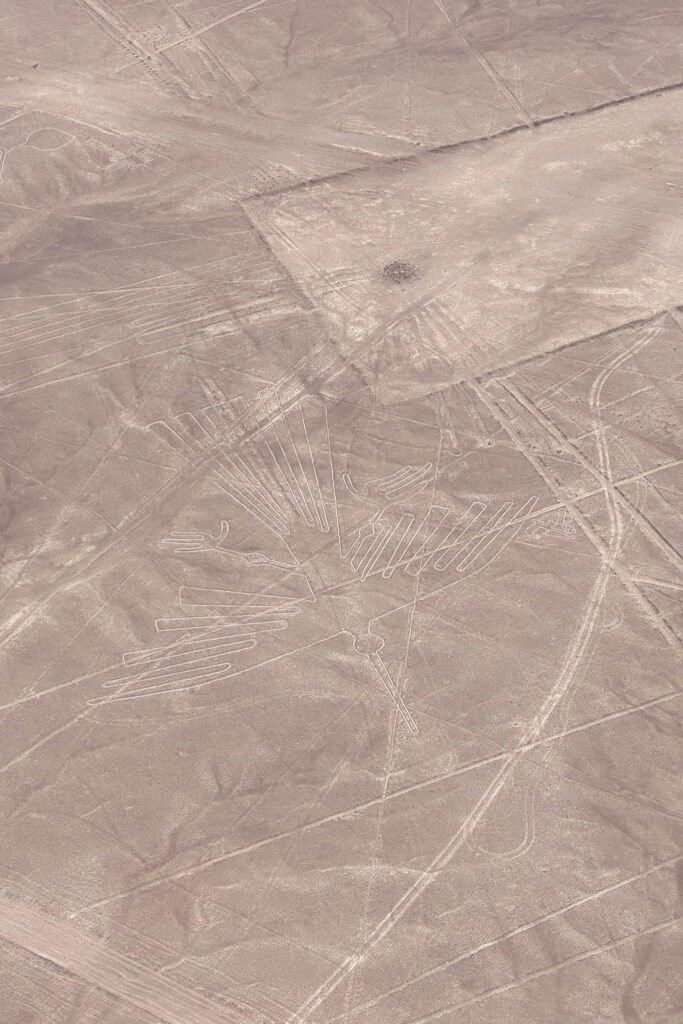 10. Day trip to Canon de los Perdidos
Canon de los Perdidos is a big, wild canyon with tall cliffs and winding watercourses. You can explore the rough terrain, discover fossils and take some awesome pictures. Even though it's incredibly beautiful, not many people know about it, so it's a perfect getaway destination from the crowds from Huacachina.
Most of the tour operators offer the day trip to the canon. Tours start in the early morning and cost around 40 USD.
Save on Pinterest to read it later.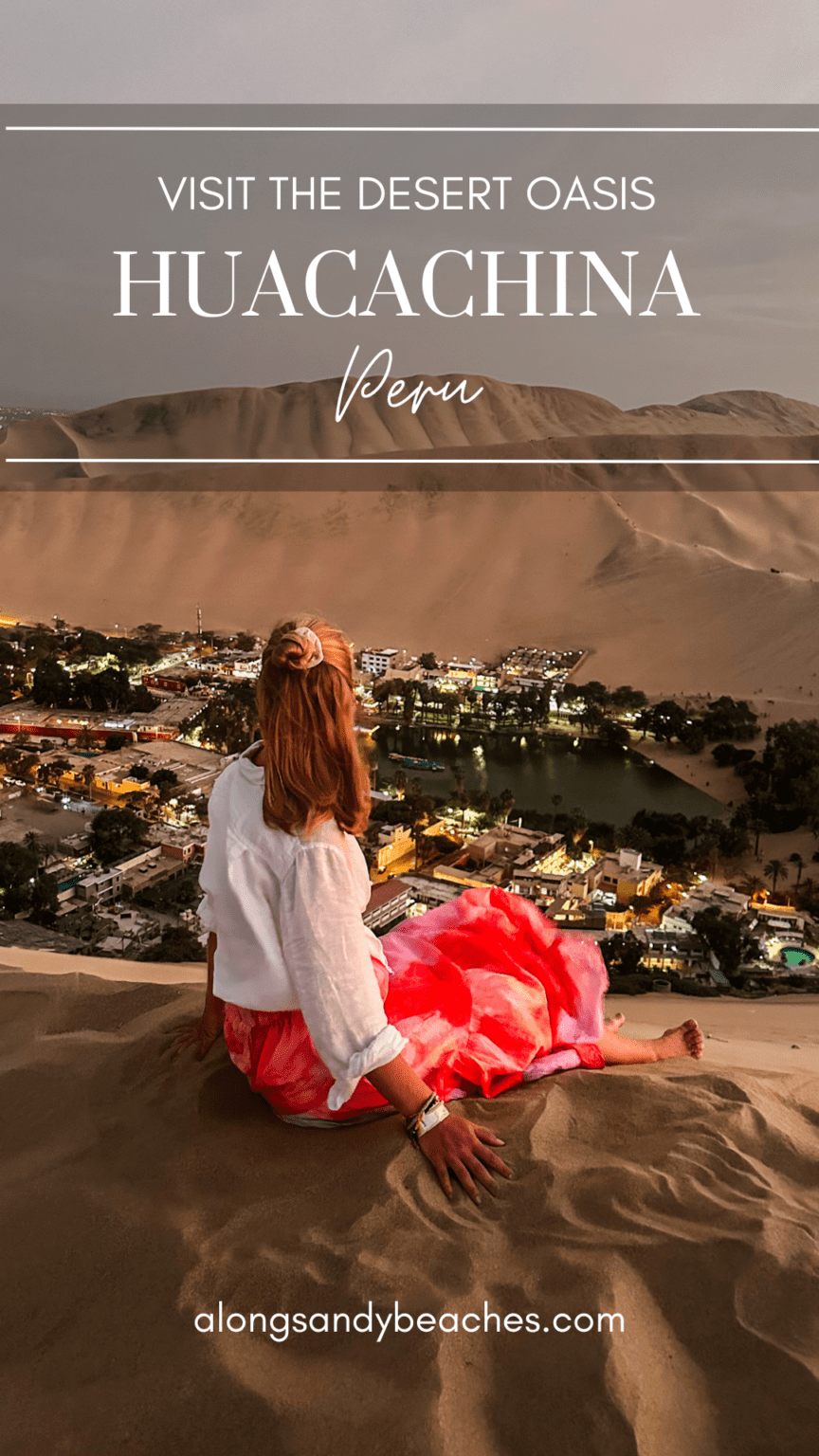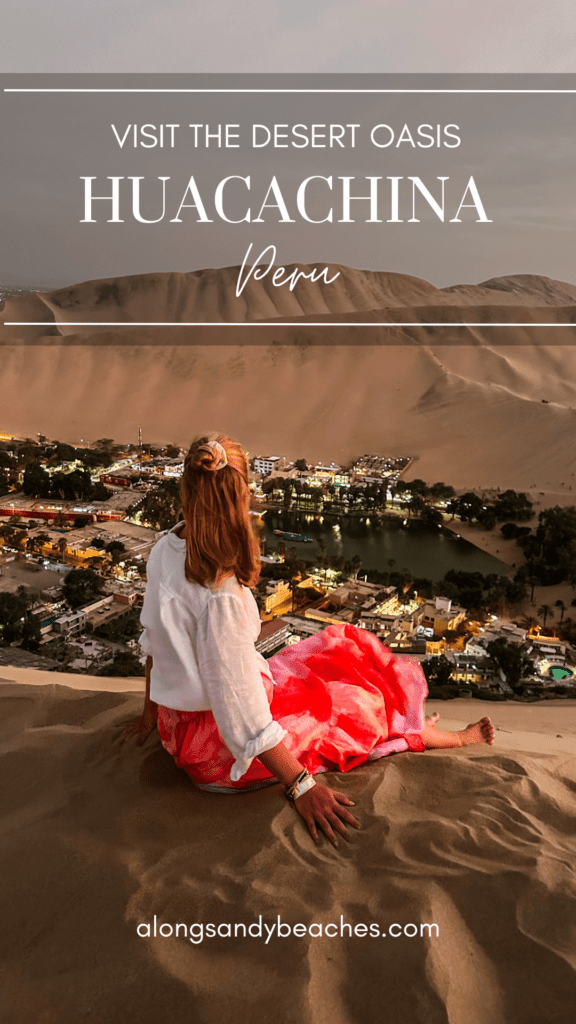 How to get to Huacachina?
Huacachina is a small village at the edge of the Ica desert. Thus to get to this desert oasis, you will first have to get to its direct neighbor, the city of Ica. You can easily reach Ica by bus from most of the biggest cities in Peru, such as Lima, Paracas, Nazca, Arequipa or Cusco. Once in Ica, the oasis is only a 10-15 minutes away from Ica's city center and you can easily reach it by a taxi or tuk-tuk.
Huacachina Oasis is about 5 hours from Lima. To get there, you will first have to book a bus ticket to Ica. There are several bus companies commuting between Lima and Ica multiple times a day, such as Cruz del Sur and PeruBus. While PeruBus is cheaper, we would recommend choosing Cruz del Sur which provides newer and more comfortable buses. 
Depending on which company you choose, the tickets cost from 35-70 PEN (approx. 9-18 USD). When booking your bus trip to Ica, its best to buy your ticket in advance. Booking via online portals, such as RedBus or directly with bus operators, works great in Peru. Also remember to check, where the bus will be leaving from. Not all buses leave from the public bus terminals, but from their own terminals.
Once in Ica, you can just take a taxi to Huacachina in front of the bus station. Expect to pay 10-15 soles (approx. 3-4 USD) for the 15-minute ride.
There's a tip for you if you want to travel by Cruz del Sur but still save some money. The company has implemented dynamic pricing, meaning that the seats nearer to the toilet cost less. This way, the cheapest tickets can even only cost 19 PEN (approx 5 USD).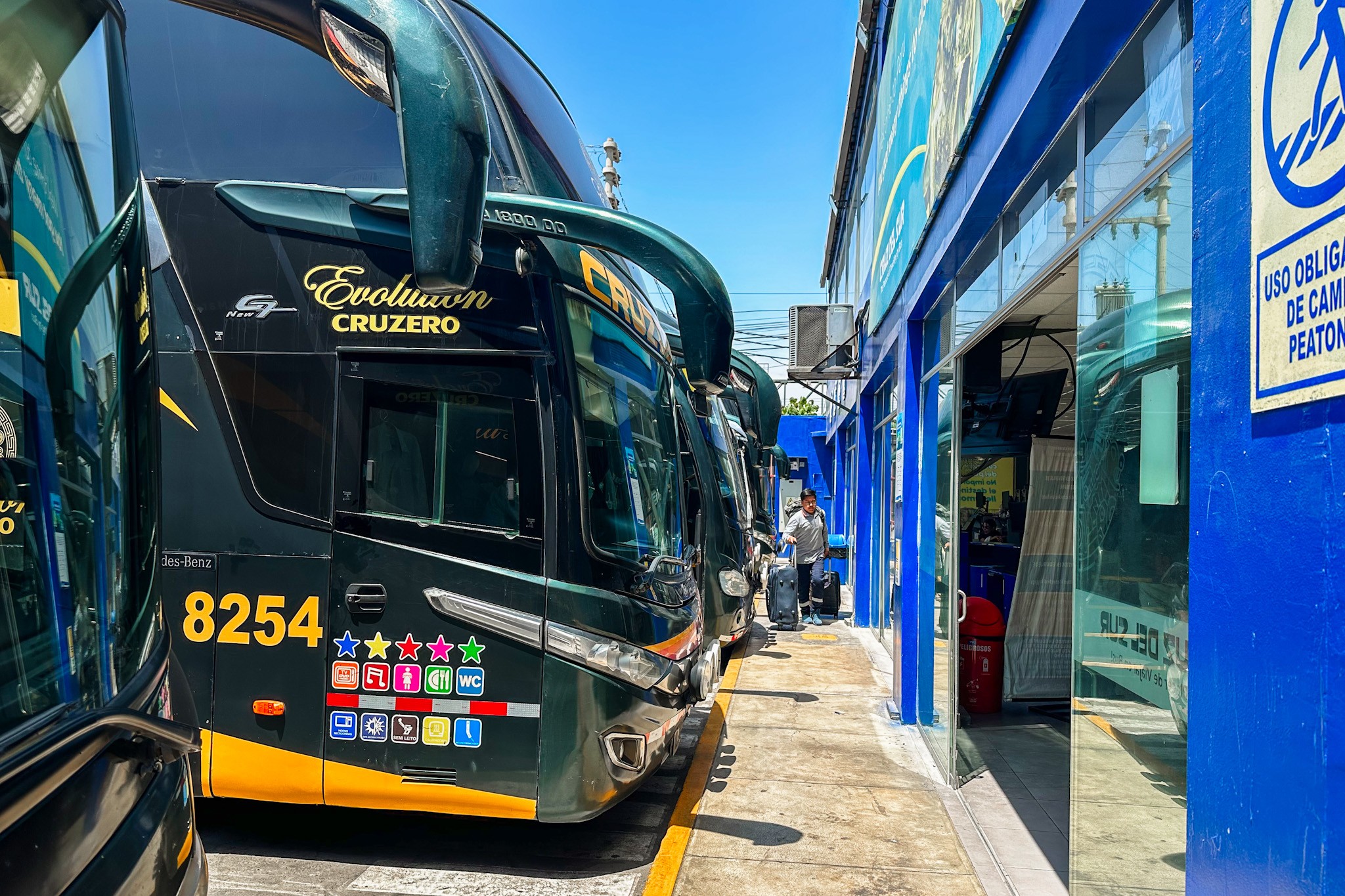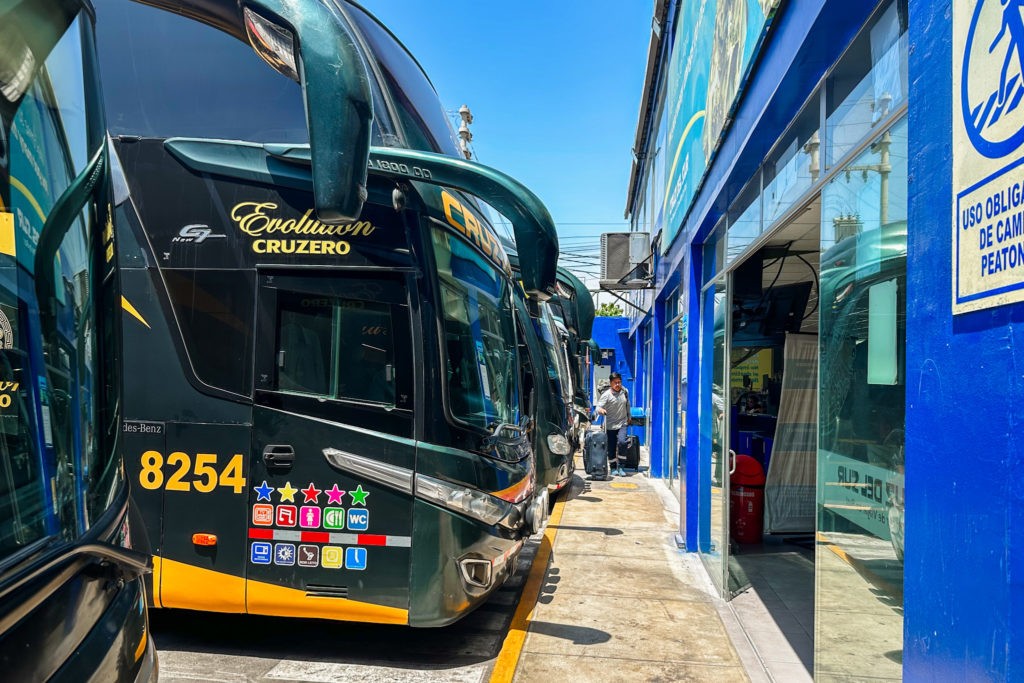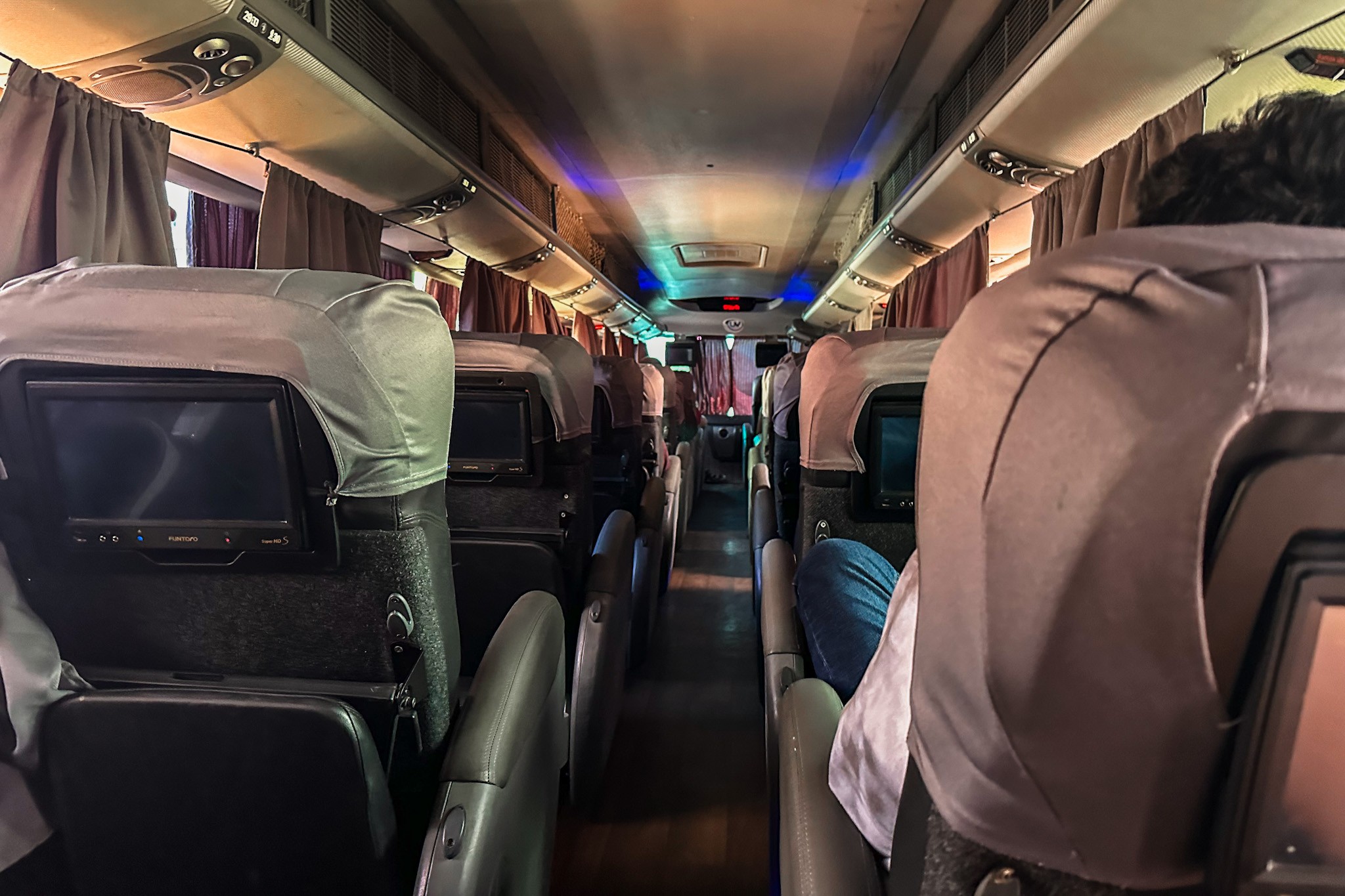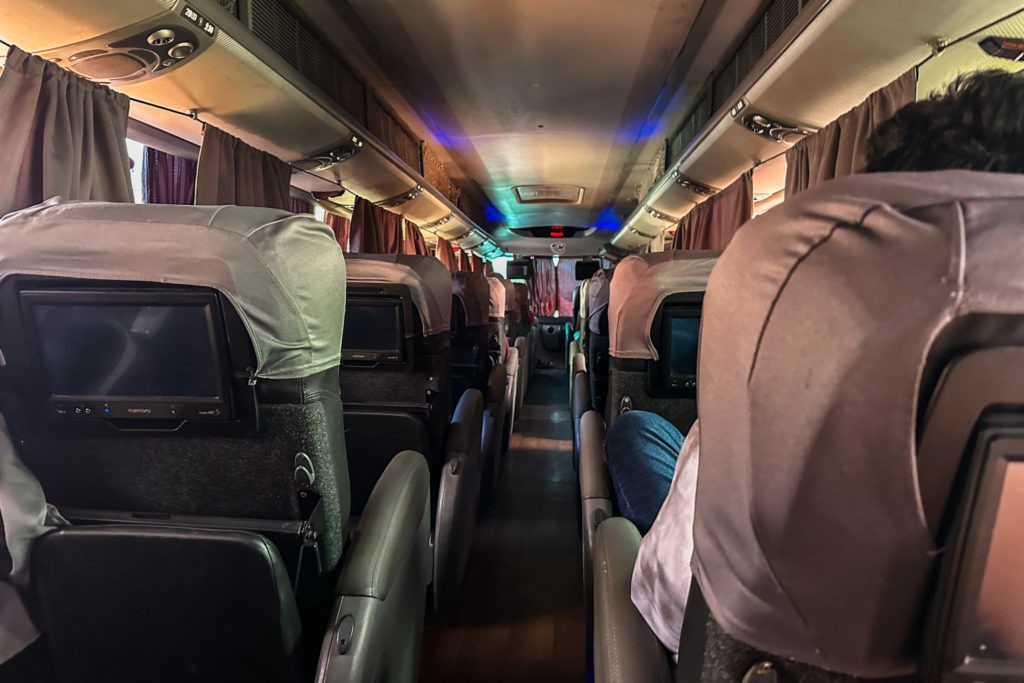 From Paracas to Huacachina
Huacachina is only 1.5 hours away from Paracas. The best way to reach Huacachina from Paracas is by taking a bus or booking a day tour with a local operator. We recommend that you buy your ticket online and also check from where in Paracas the bus will depart. Some bus companies leave from the Plaza del Armas in Paracas, while others depart from their own bus company's offices.
Paracas is often called the Poor Man's Galapagos, but it wasn't poor at all. If you want to read more about why Paracas is a great place to visit, have a look into our article about
the best things to do in Paracas
.
From Arequipa to Huacachina
A ride from Arequipa to Huacachina takes a tiring 12 hours. If you decide to travel to Huacachina, we would recommend that you take a night bus. Most buses leave to Huacachina to Arequipa from noon to late at night.
While a direct trip from Arequipa to Huacachina can be very exhausting, consider to make a stop in Nazca. Take a flight over the ancient Nazca line, a series of geoglyphs that range back almost 2.000 years. It's a perfect opportunity to ease your travel time and discover the culture of the Nazca people.
Where to stay in Huacachina?
Space in the Huacachina Oasis is rare. As a fun fact, the oasis even shrinks in size due to the sand coming down from the dunes. No wonder that accommodations in Huacachina are very limited.
Look for accommodations with a pool, terrace or balcony. The views from the oasis on the otherworldly tall dunes is just stunning. Having a pool is definitely a plus, to cool down from an exhausting climb to the dunes. Beware of hotels that call themselves 'Huacachina', but aren't in Huacachina at all.
We've listed our favourite hotel and hostel picks below from 'where we stayed' to budget-friendly, luxurious or sustainable properties.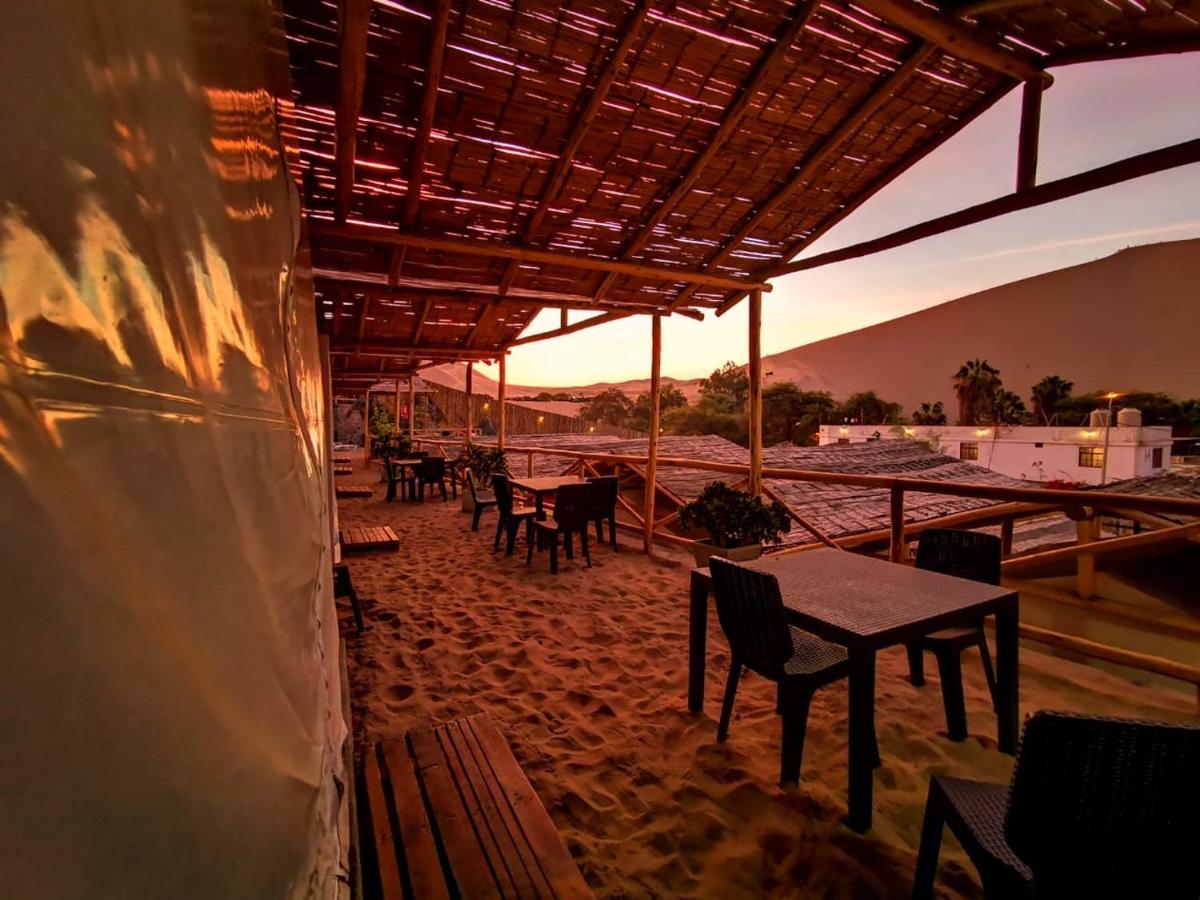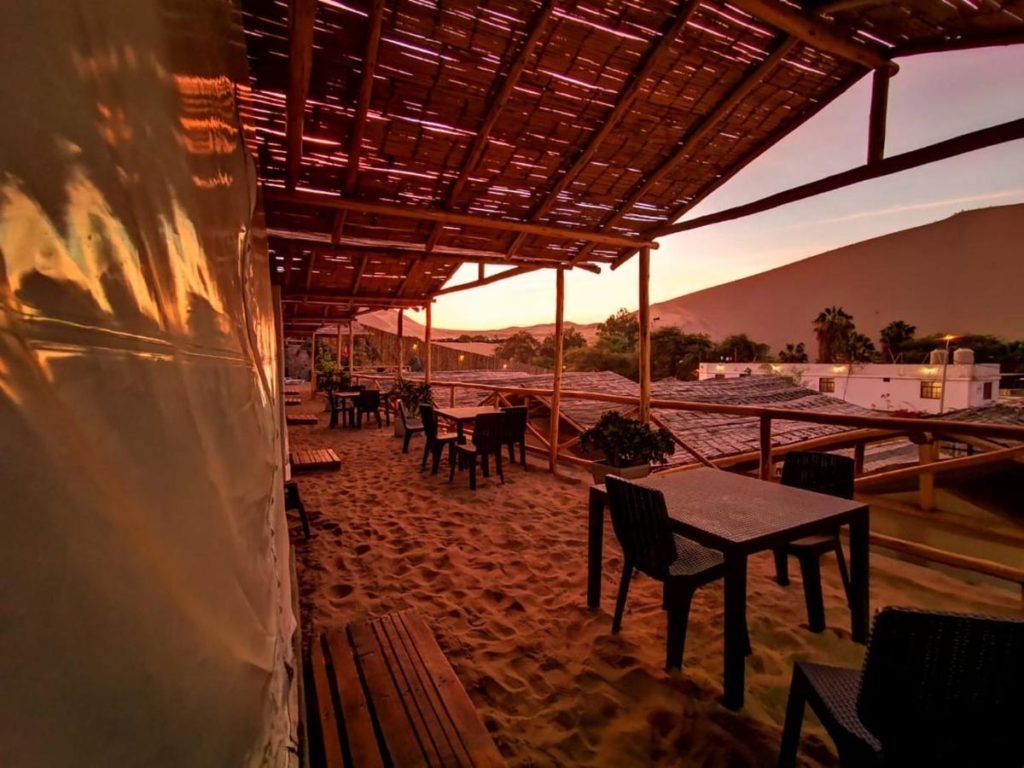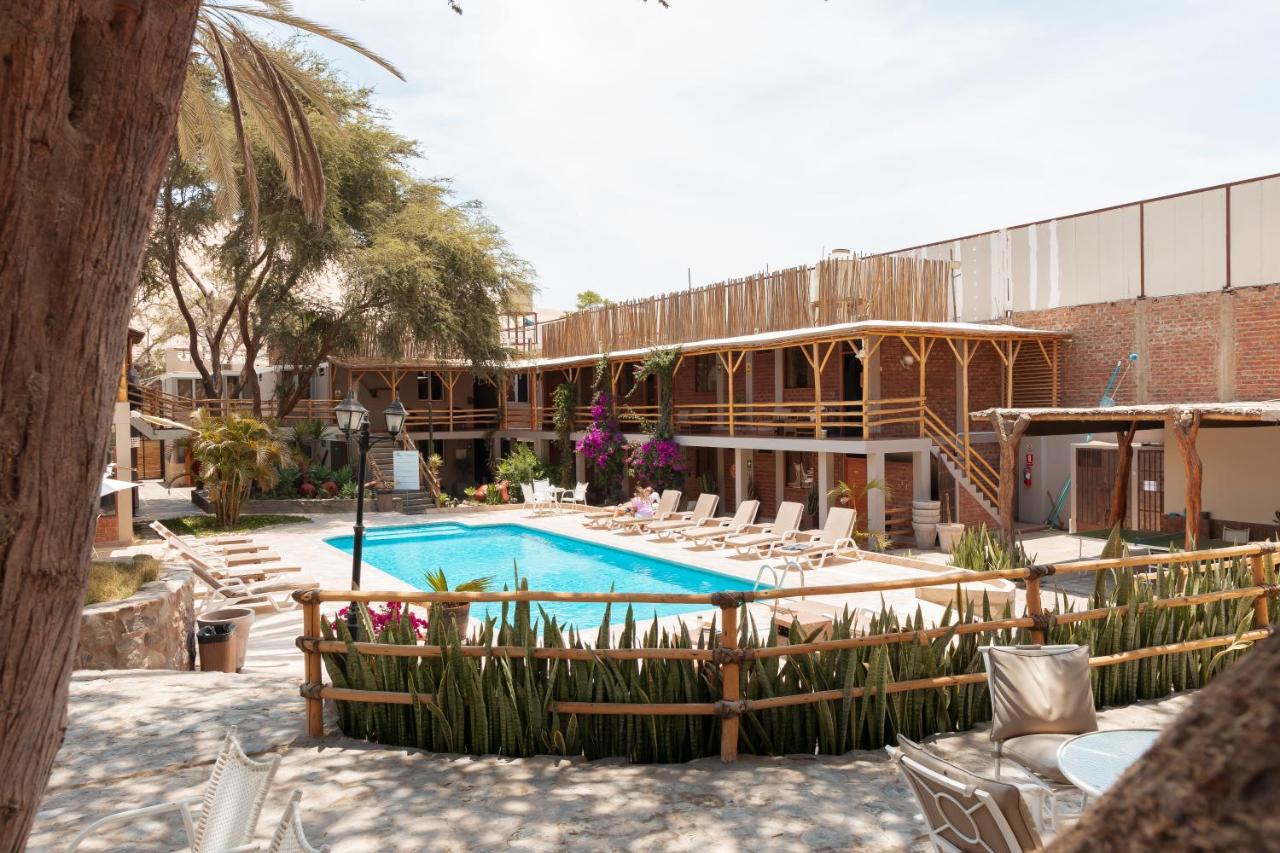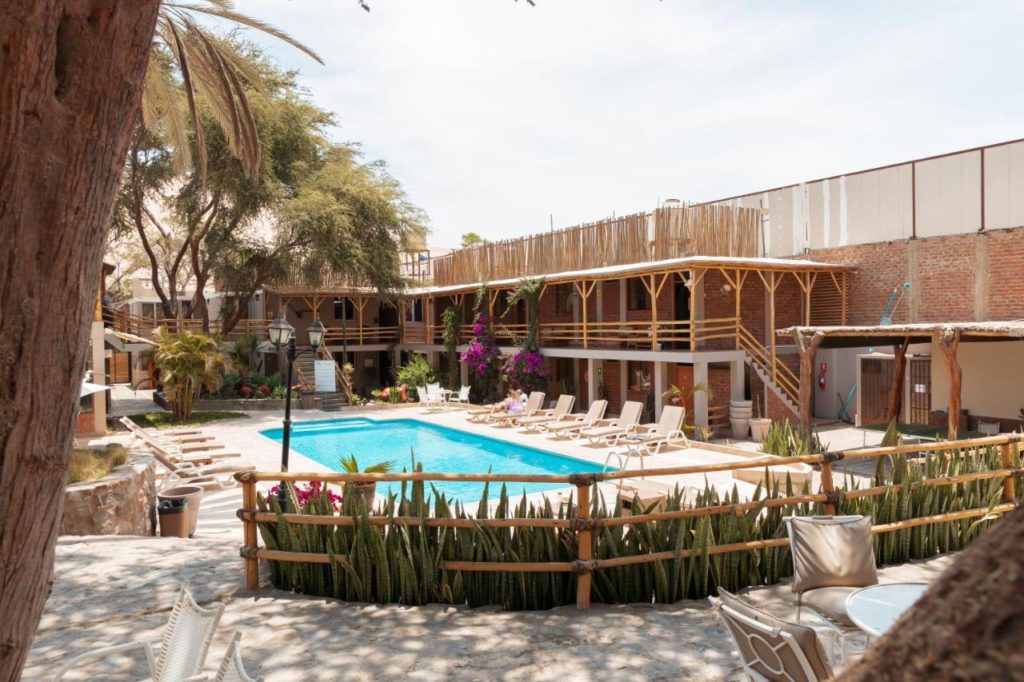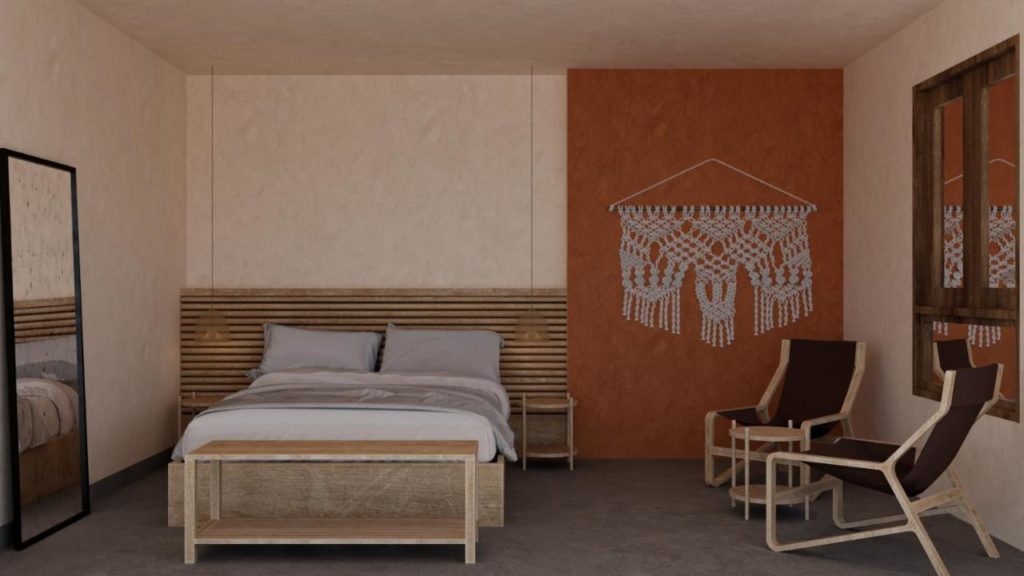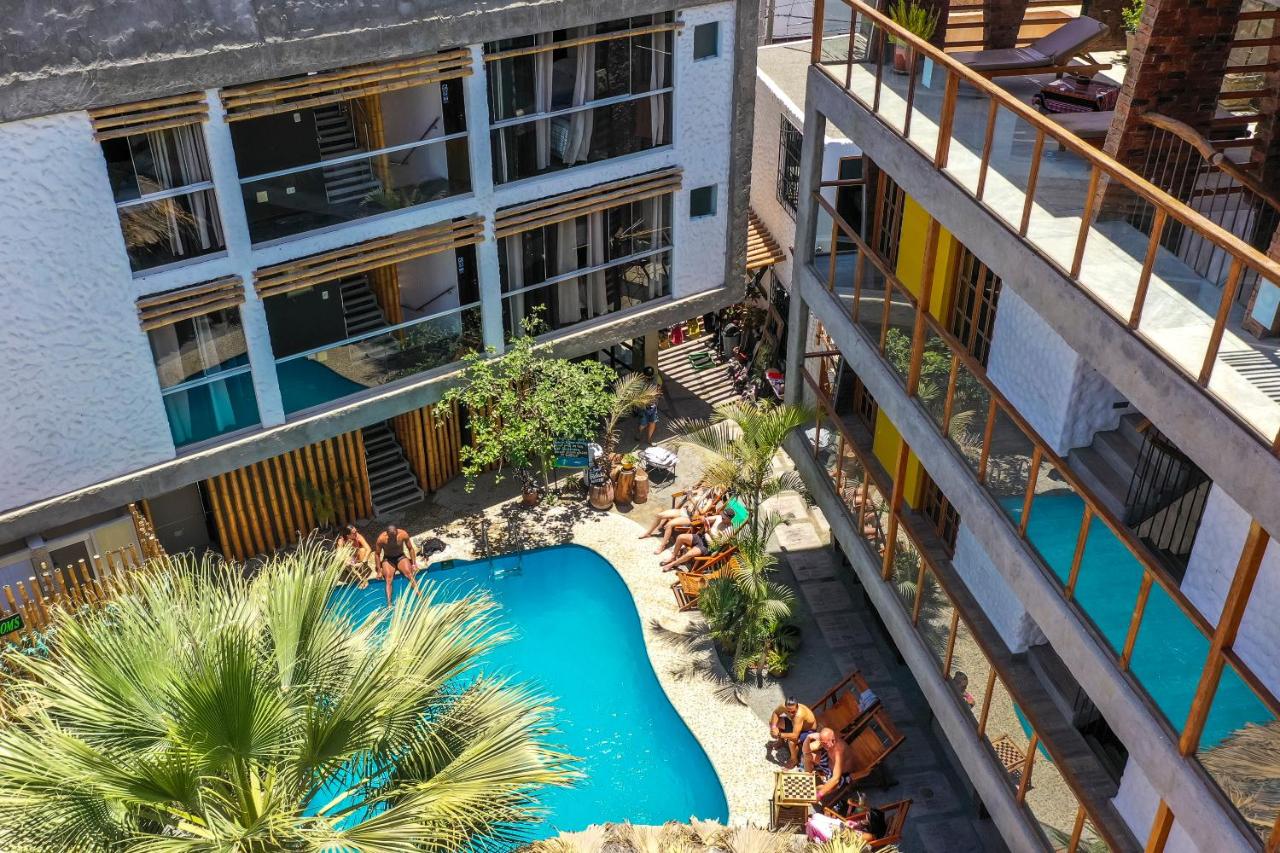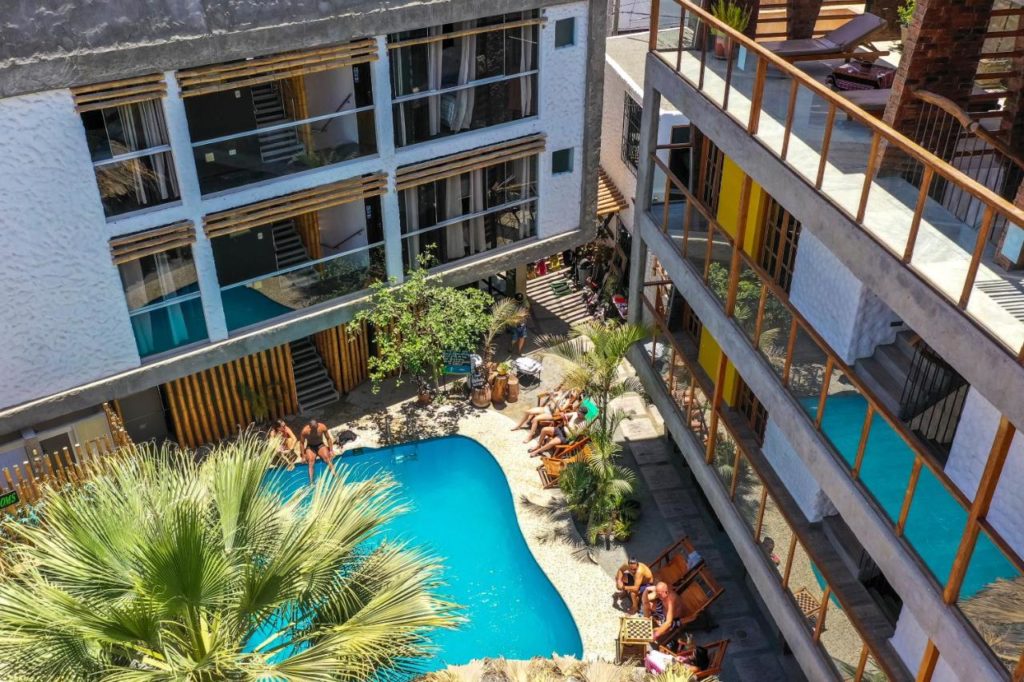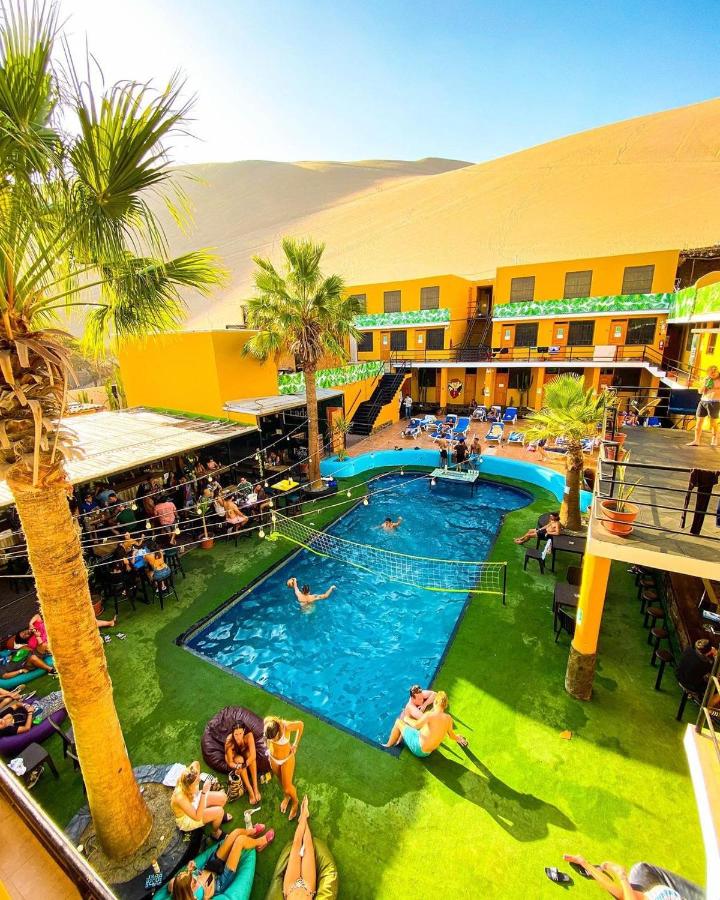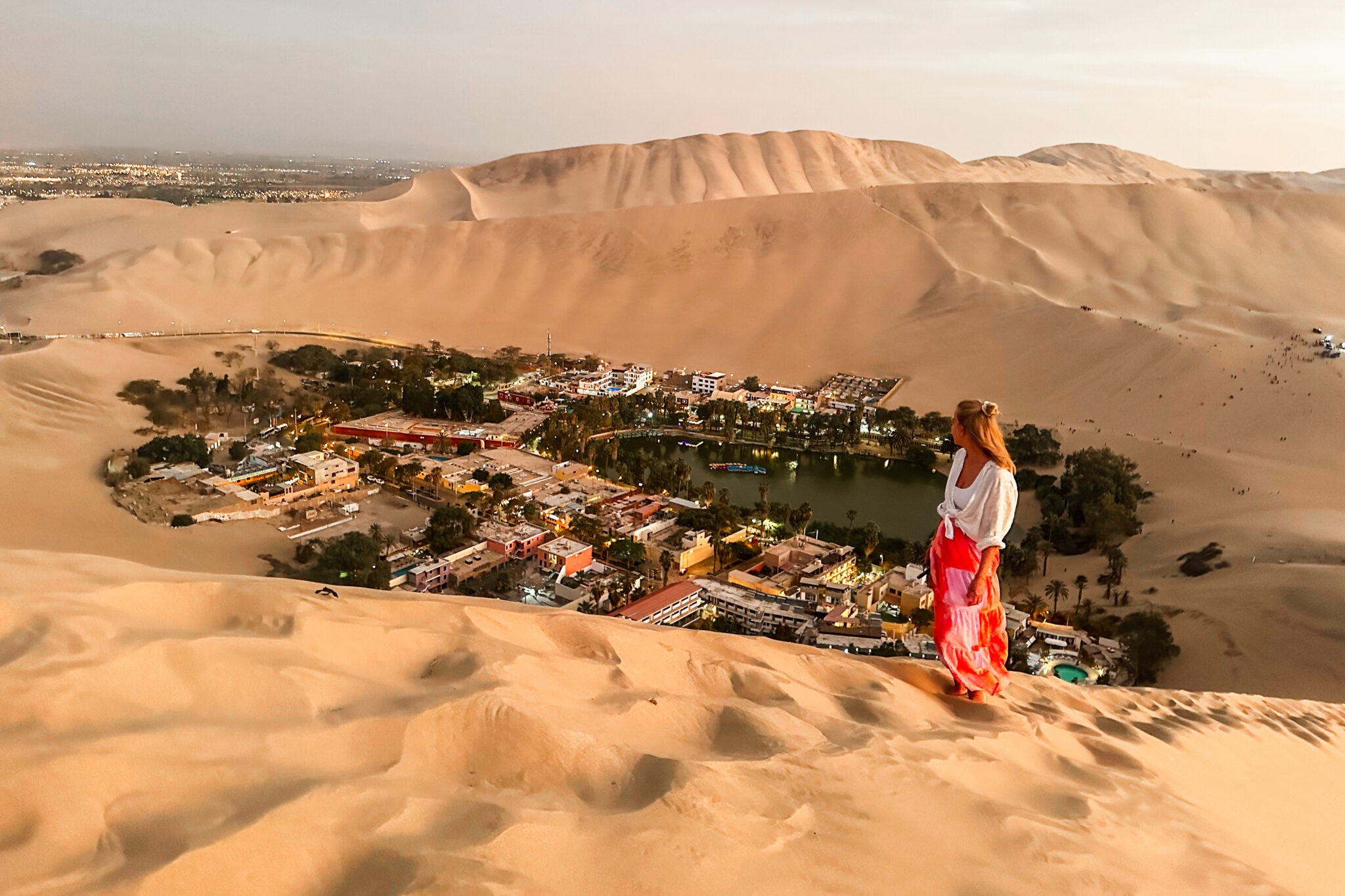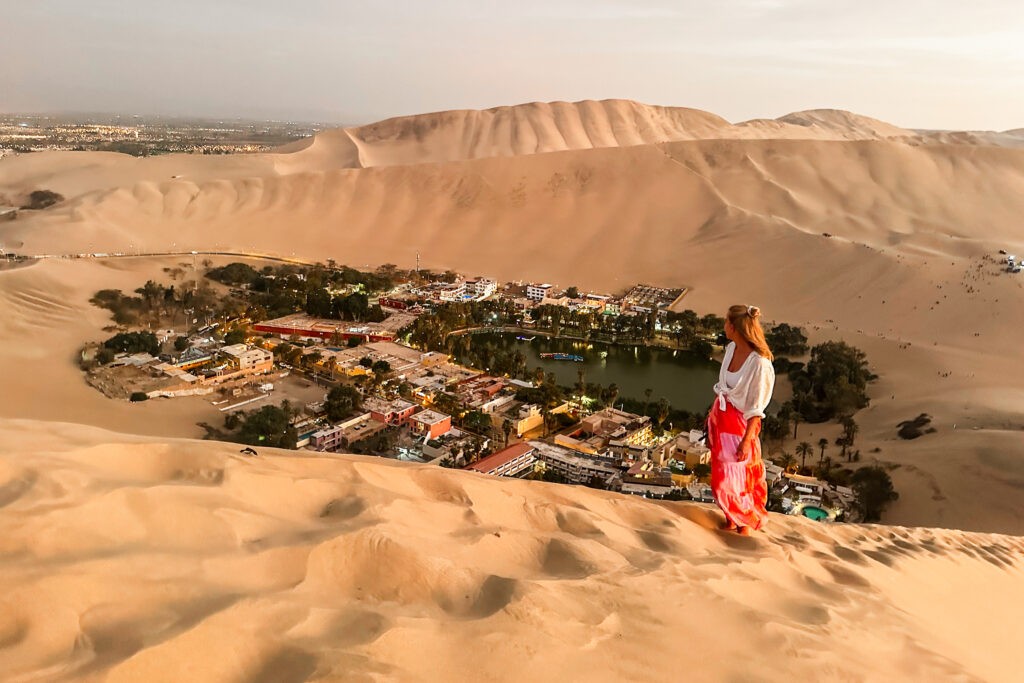 Did you know that only 100 people live in Huacachina permanently, but tens of thousands visit the village each year? With only 25 km² in size, accommodation options are very limited. Huacachina gets particularly busy at weekends, so it's best to book your stay early.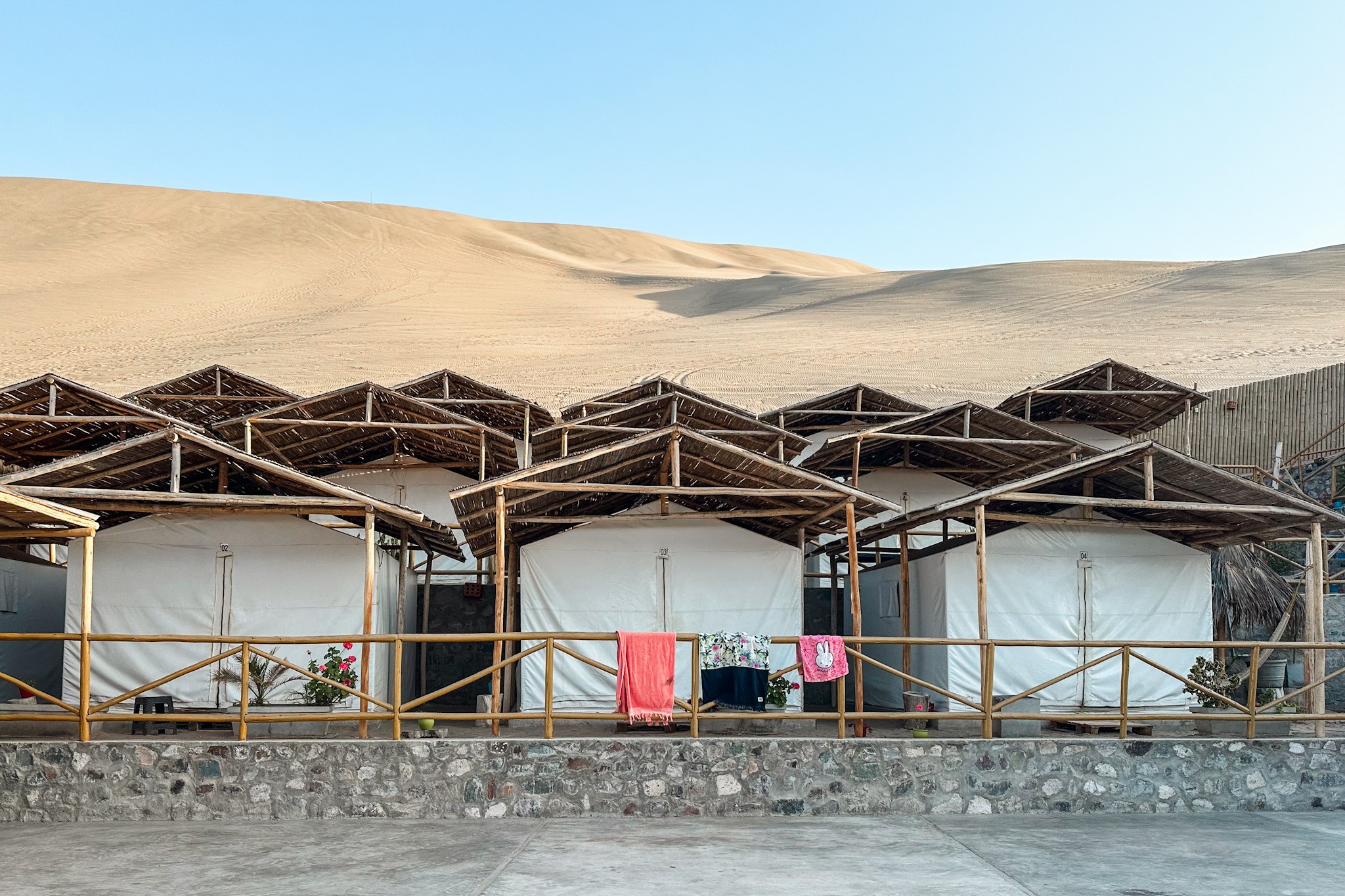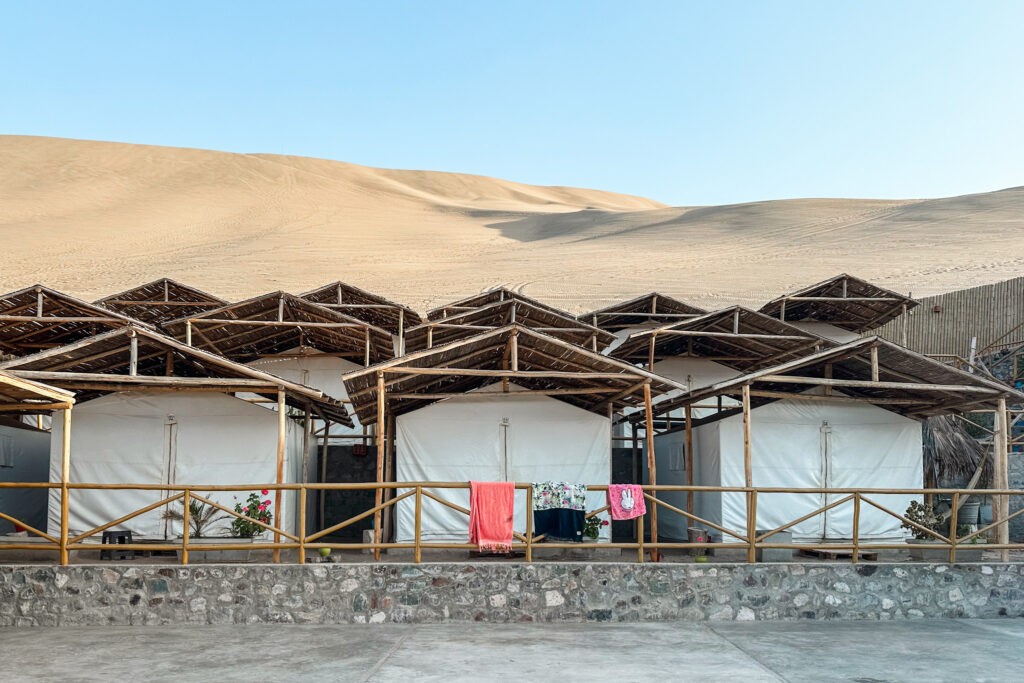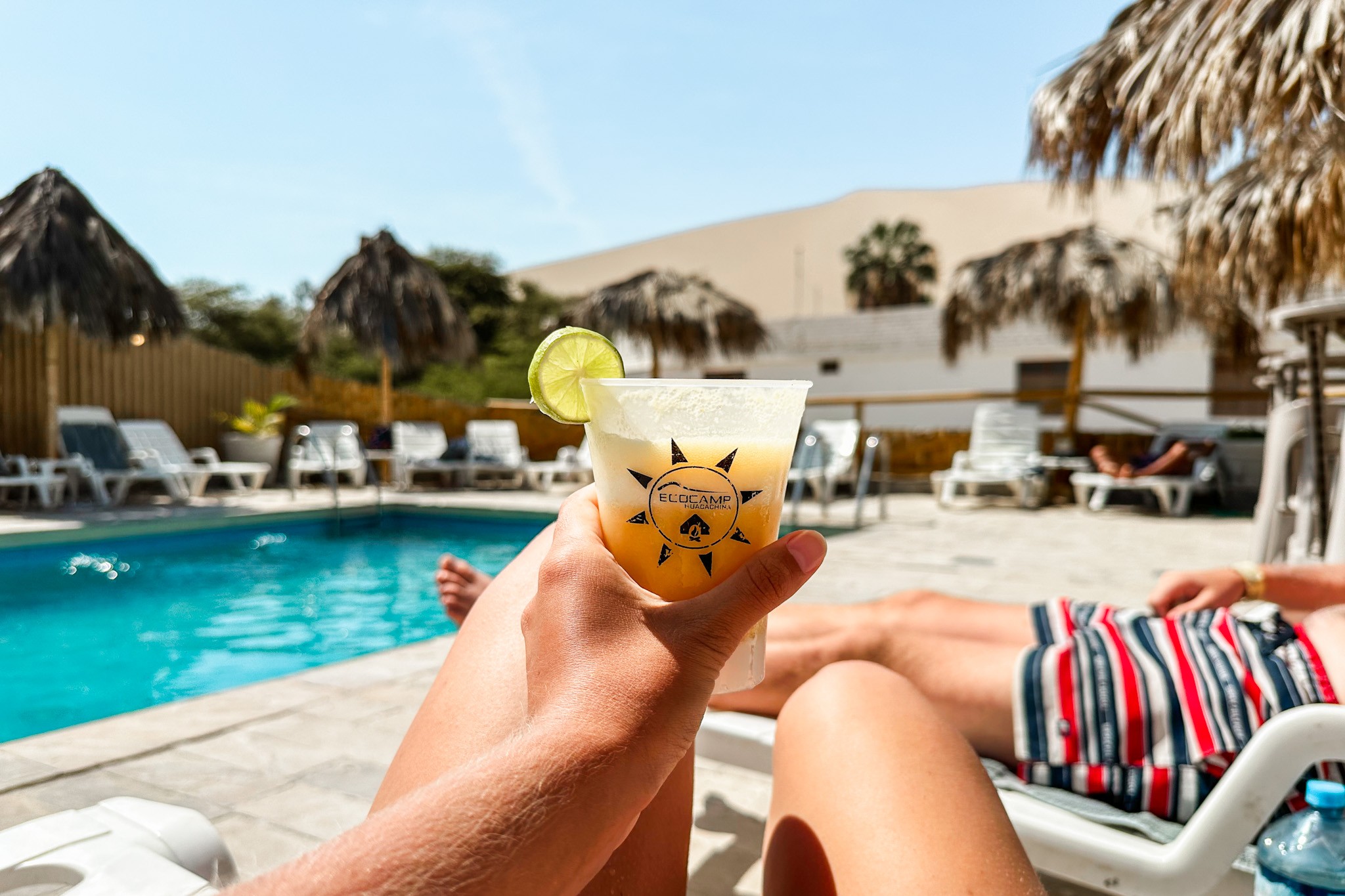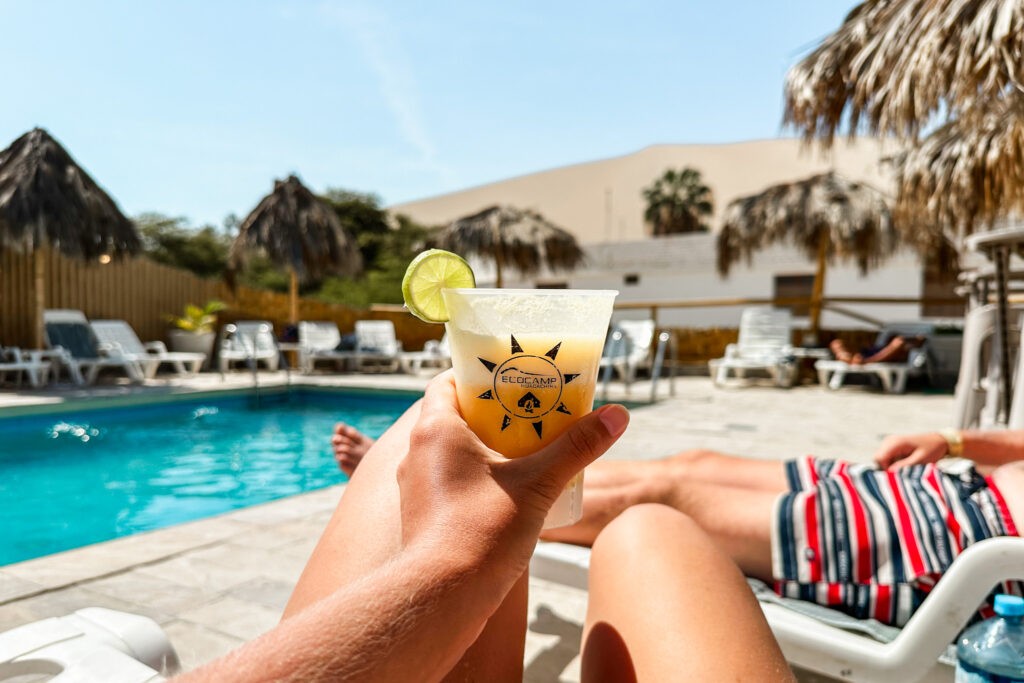 Where to eat in Huacachina?
In Huacachina there are a hand-full of restaurants you can choose from. While a few of them have good reviews, some places serve really delicious Peruvian and international food.
Here are some of the restaurants we enjoyed the most during our visit to Huacachina.
Restaurants in Huacachina
Wild Olive Trattoria is a restaurant next to the Huacachina lagoon. They make delicious burgers, pasta and pizza for affordable prices. Get there early for dinner as it can get quite busy later in the evening. 
Quntu is an authentic Peruvian restaurant and a good option if Wild Olive is busy. They serve delicious and authentic Peruvian cuisine and have decent-sized portions.
The restaurant Oasis de Améria is close to the entrance to the Huacachina dunes. It is a good lunch spot to try out tasty Peruvian food. Go there early as the restaurant already closes at 6:00 p.m. every day.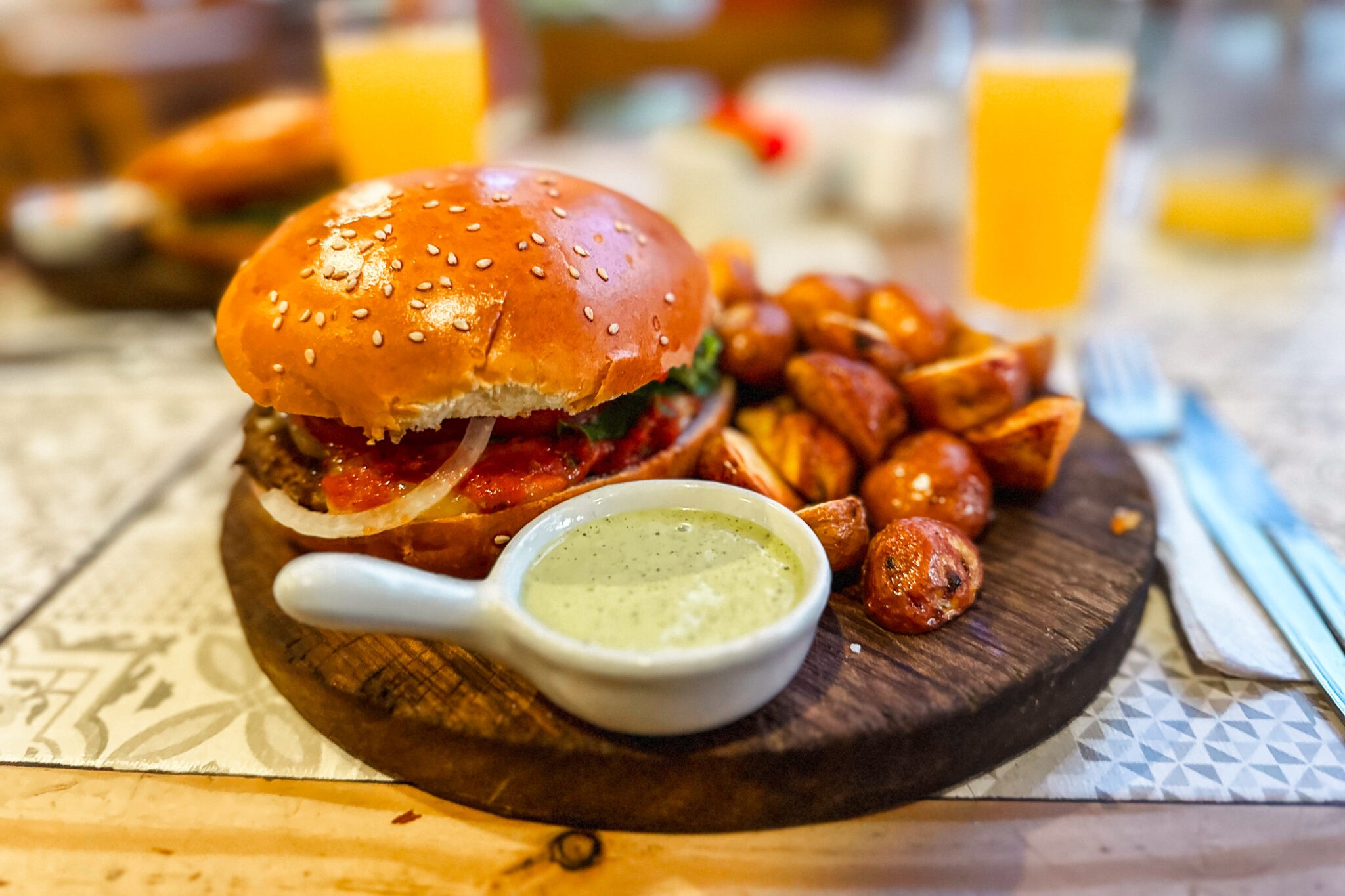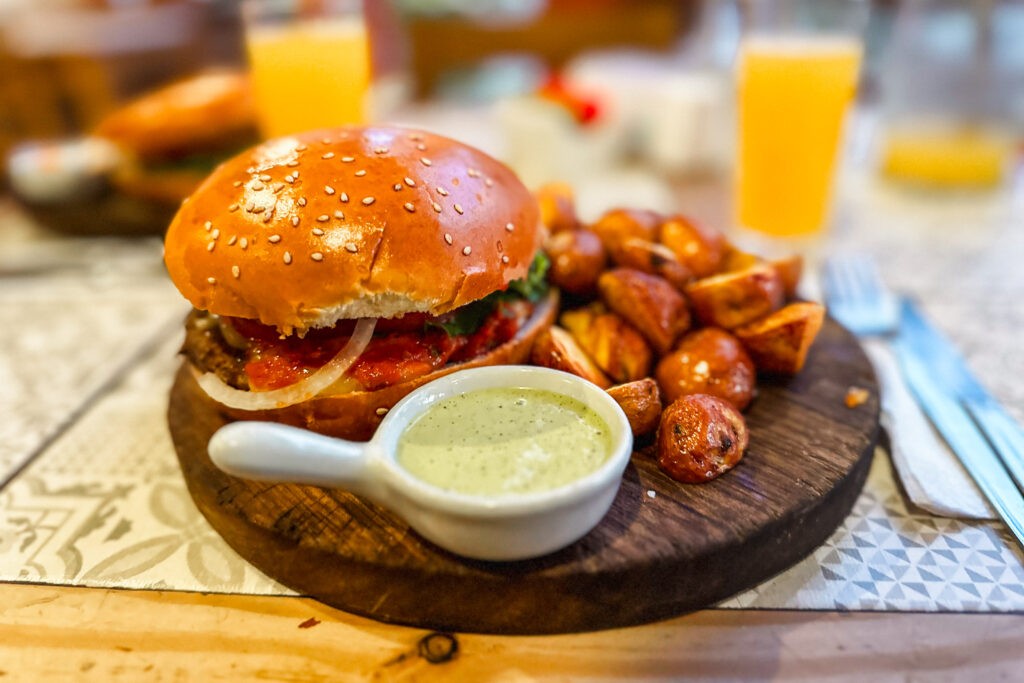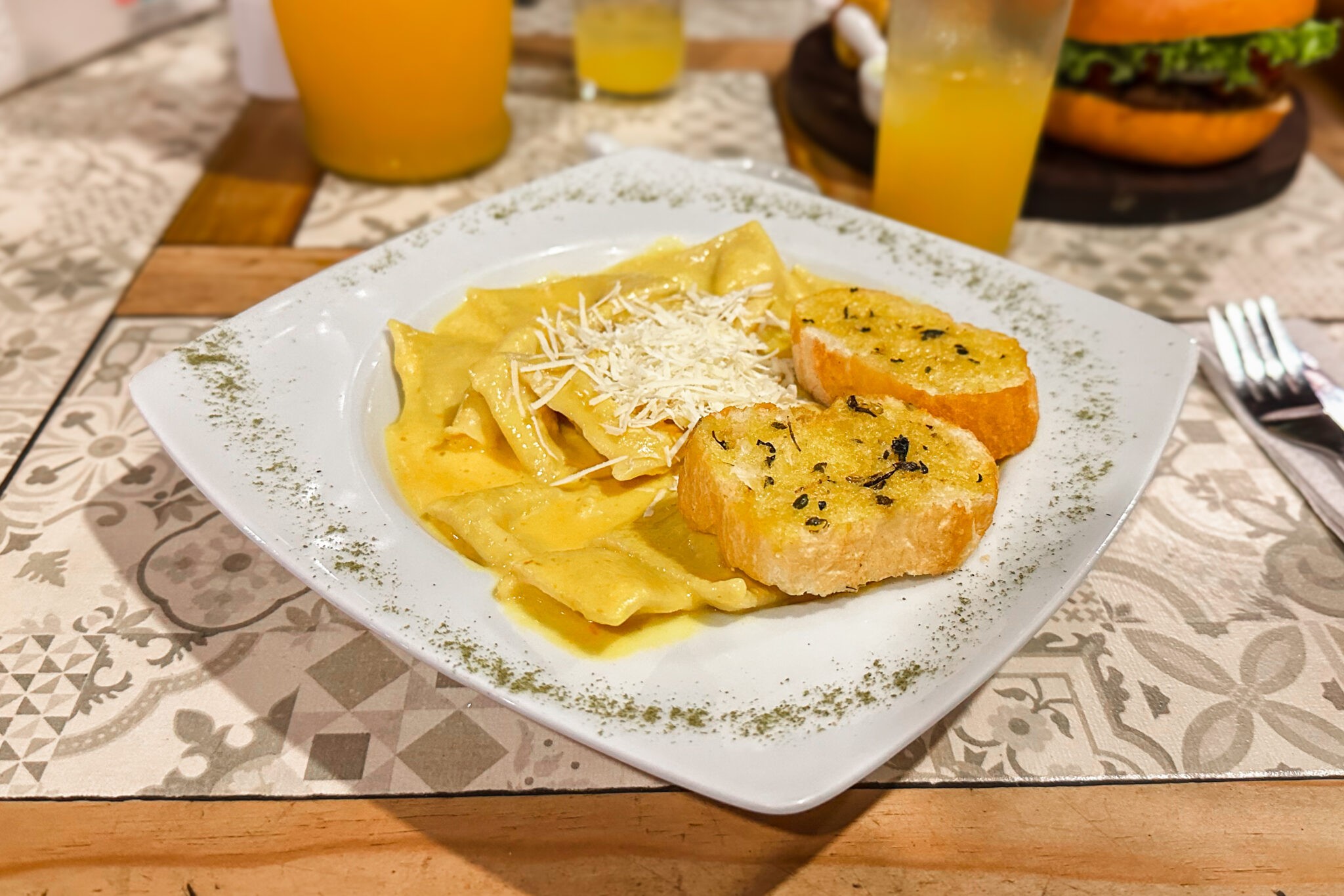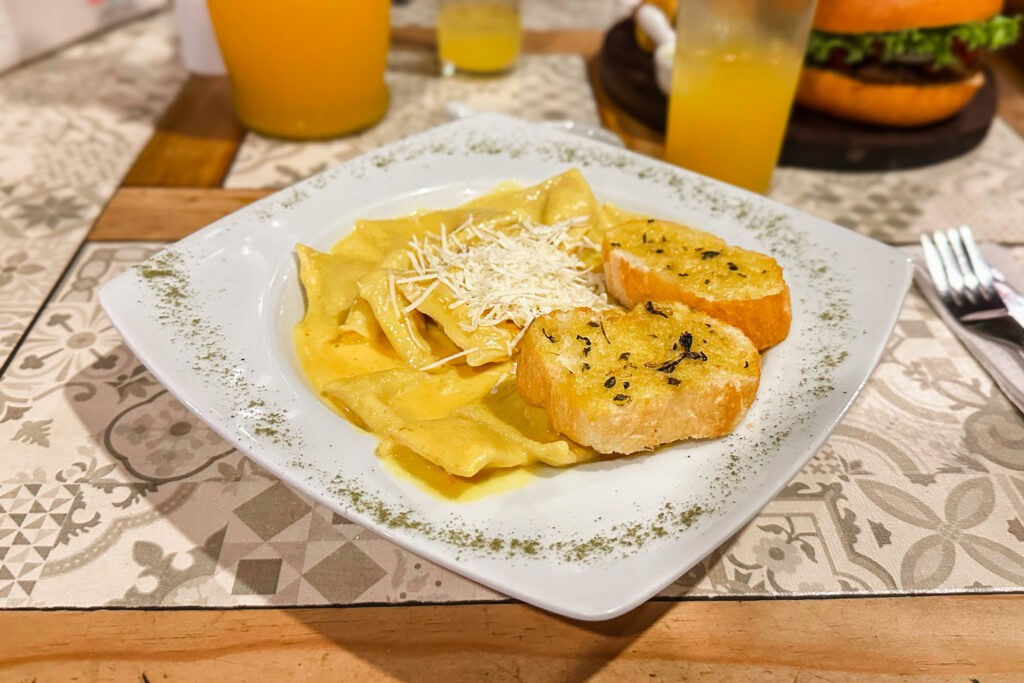 How to get around Huacachina?
With not more than 25 square kilometers in size you can easily get around the Huacachina Oasis on foot. If you want to walk into the dunes, there is an park fee of 3.60 soles (approx. 1 USD) payable at the entrance. For a buggy trip into the dunes of Huacachina consider booking a tour in Huacachina for around 50 soles (approx. 10 – 15 USD).
For a trip to the nearby Ica city, grab one of the tuk-tuks or taxis waiting next to the intersection of the Huacachina main road and Avenue Angela Perotti. The trip from Huacachina to Ica costs between 10 – 12 soles (approx. 2.50 – 3 USD).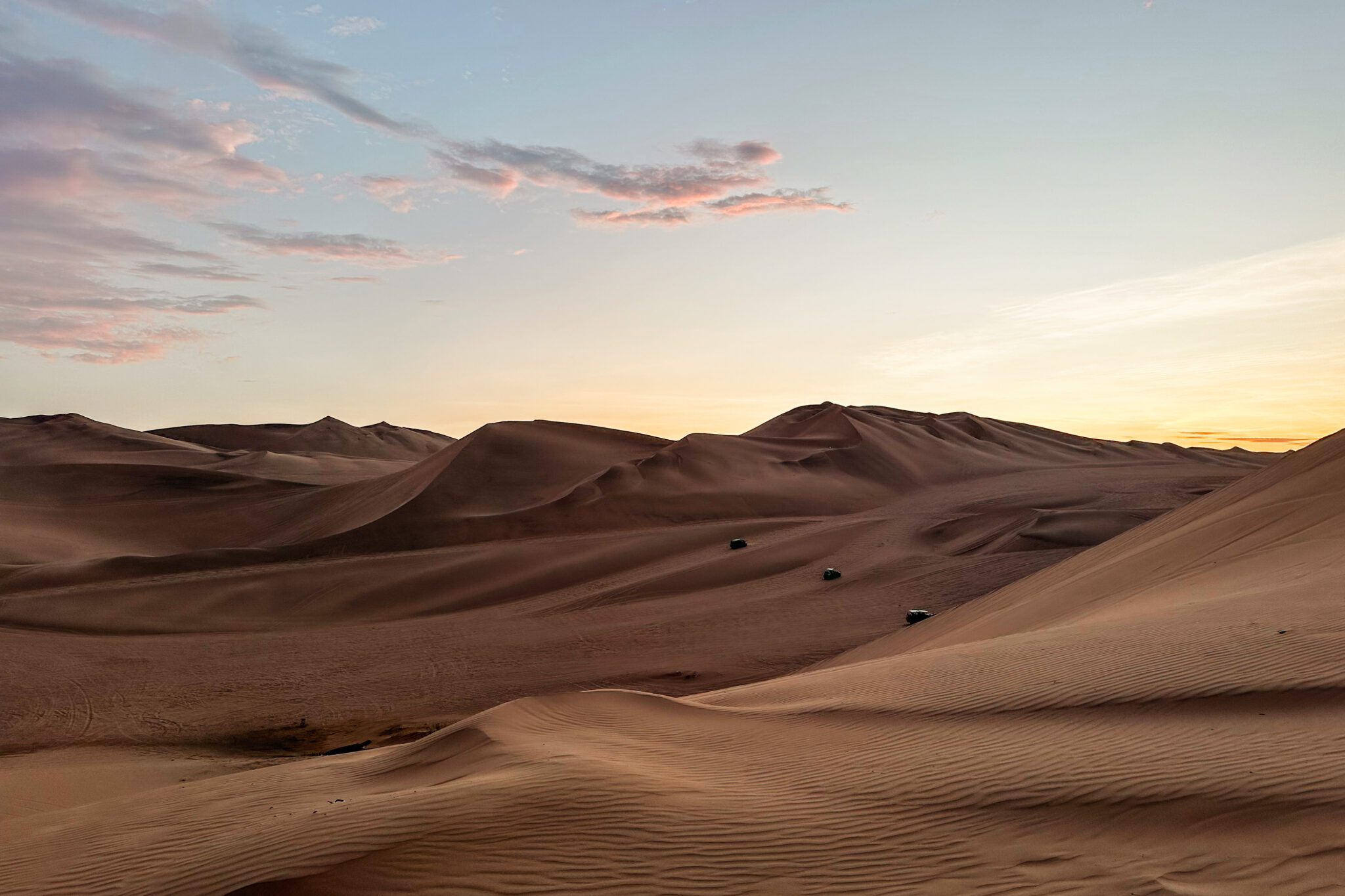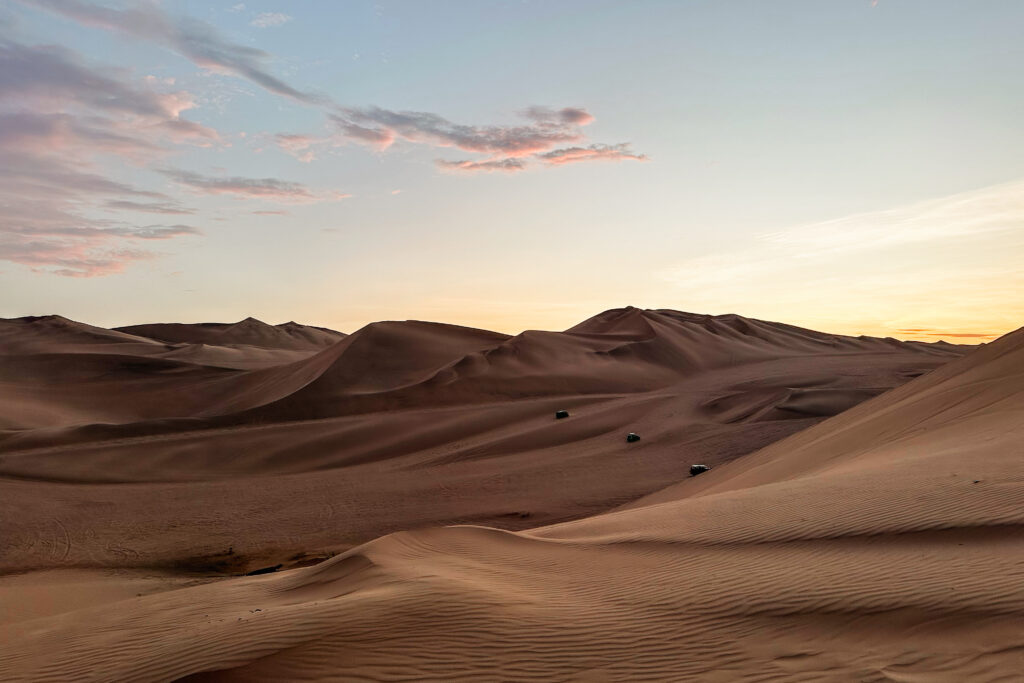 When is the best time to visit Huacachina?
Huacachina can be visited all year round. From May to October temperatures are most pleasant ranging between -29°C (°F-°F), while in the months of November to April the climate can hot and muggy. Nights in Huacachina are cold with temperatures falling below 10°C, so we recommended to bring some warmer clothes.
Try to avoid the direct sun by wearing a hat and applying sunprotection. After all, Huacachina is still a desert. Also, consider booking an accommodation in Huacachina with a pool to cool off from the heat after your desert trips.
Here are the average peak temperatures with our recommendation for the best time to visit Huacachina.
Average peak temperatures
What does it cost to visit Huacachina?
Huacachina is slightly more expensive compared to major cities such as Ica or Paracas, due to its little more remote location. However, the price differences go almost unnoticed.
Consider booking your trip to Huacachina on a weekday, as prices on weekends are usually higher as more local tourists come to visit the village. Its best to reserve your accommodation a few days earlier. Tours and activities are the cheapest when booked on short notice as they don't sell out.
Expect to pay between 200 USD and 1.000 USD for a week in Huacachina.
How many days to stay in Huacachina?
Visit Huacachina for three days to explore all of the best things to do in the village.
For your first day, walk through the village and catch the desert vibes. Take a paddleboat ride on the laguna and talk to the tour operators to book your buggy and quad trip for the next days. Enter the dunes in the late afternoon and climb the Huacachina dune for sunset. Once the sun has set, run down the dune and dine in one of the restaurants near the lagoon.
Start your second day with a nice breakfast and enjoy the views on the surrounding sand dunes. Head on to a thrilling quad ride for the morning and continue the excitement with a buggy and sand boarding trip in the afternoon.
Wake up early to see the sunrise on your third day. Spend the day at the pool of your accommodation or choose to go on a half-day wine and pisco tour in Ica. Alternatively, explore the stunning landscapes in the national reserve of Paracas or fly over the Nazca lines.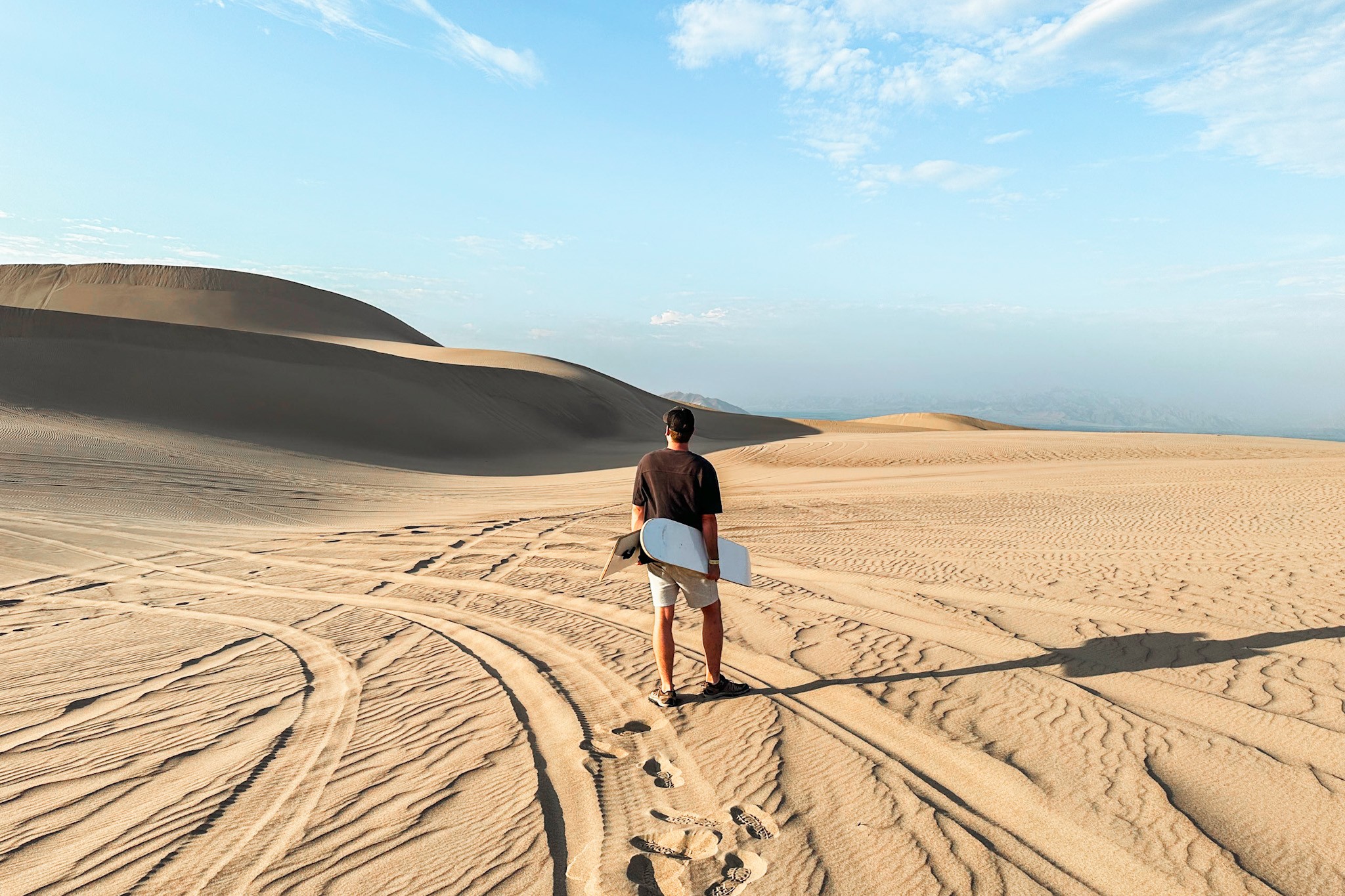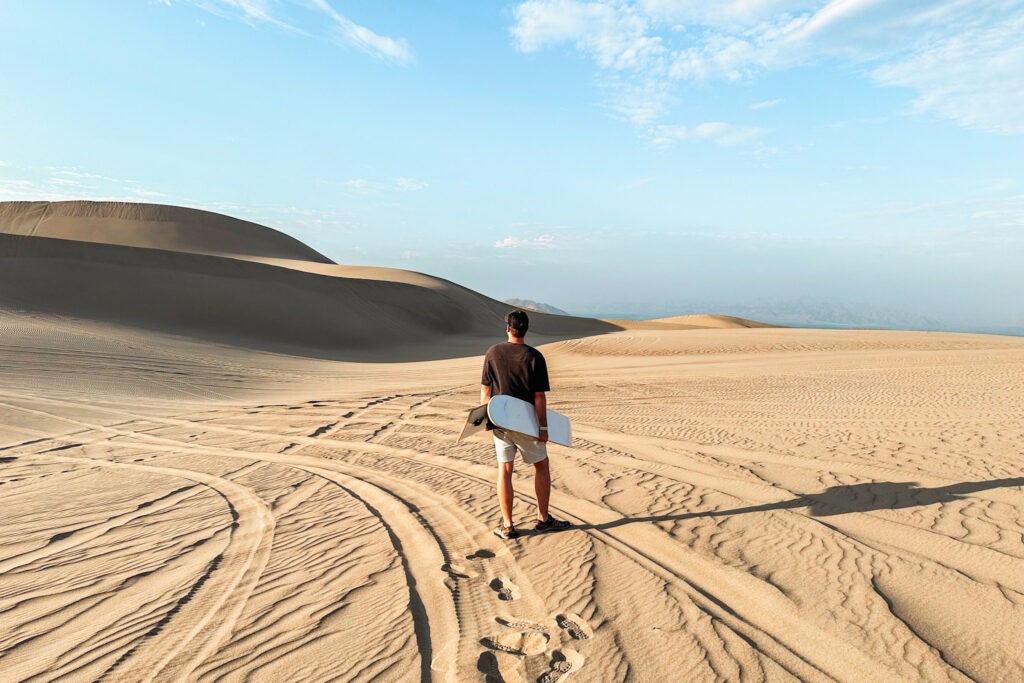 Is Huacachina worth visiting?
Huacachina is the perfect getaway for adventurers. If you are looking for the thrill of sandboarding down the tallest dunes in South America or catch some serious air on a rollercoaster-like buggy ride through the dunes, then Huacachina is a must.
For us, Huacachina was one of our Peru highlights. We spend a lot of time in the village and sought after every adventure. But the decisive reason why we loved Huacachina so much was the uniqueness of this place. Never have we seen a desert oasis, so beautiful and picturesque as if it came right out of an oriental movie.