Welcome to Huaraz, the capital of the Ancash region in northern Peru, where hikers from around the world gather to challenge the skyscraping peaks of the Huascaran National Park. Here you find the beauty of nature at its best. It's a place, where snow-capped mountains, aquamarine lakes and beautiful valleys meet untouched nature – making it a paradise for hikers and nature enthusiasts alike.
We've gone beyond Huaraz's city walls to explore the most beautiful hikes and discovered a place that is so unique that it doesn't compare to any other mountain range of the world.
Find out what are the best hikes in Huaraz, how long you should stay, what to pack and much more in this Huaraz guide.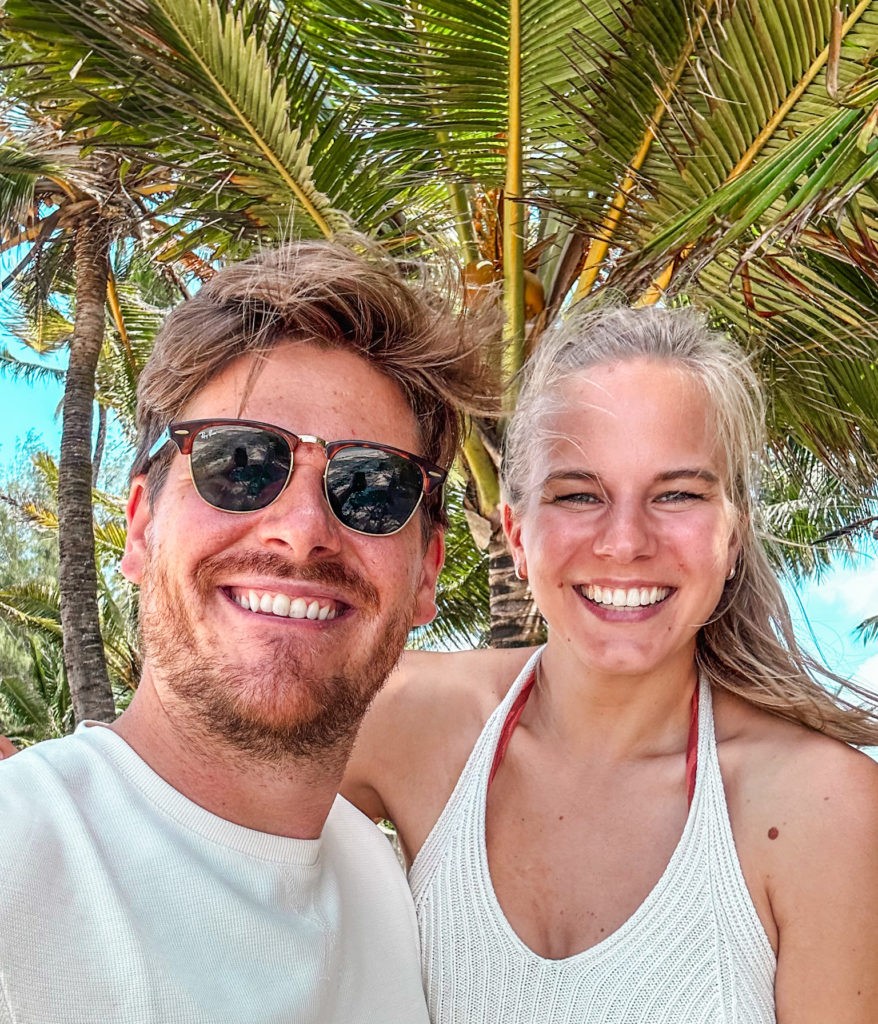 We hope you enjoy our travel stories, guides and tips! If so, please consider supporting our work.
The 8 Best hikes in Huaraz
Huaraz truly is a hiking Mecca and literally took our breaths away. Rarely we've seen such picturesque landscapes before. And even if we've seen scenes in documentaries and travel magazines, exploring the Cordillera Blanca region around Huaraz on our own was an unforgettable experience.
Hiking in Huaraz is both challenging and rewarding. With Huaraz, situated already 3.000 meters (9.800 feet) above sea level, you start feeling the thin air. But the beautiful views will distract you enough so that you want to continue even further up the mountains. Just make sure to acclimatize yourself to the high altitudes first. Read below for our tips how to avoid Altitude Sickness.
Huaraz is the base station for everything that's related to mountains. And there are plenty of hikes your can do in the region. We've collected a list of the best hikes in Huaraz. Whether you're an experienced hiker, our just some thrill-seeking tourists like us, Huaraz has something for everybody.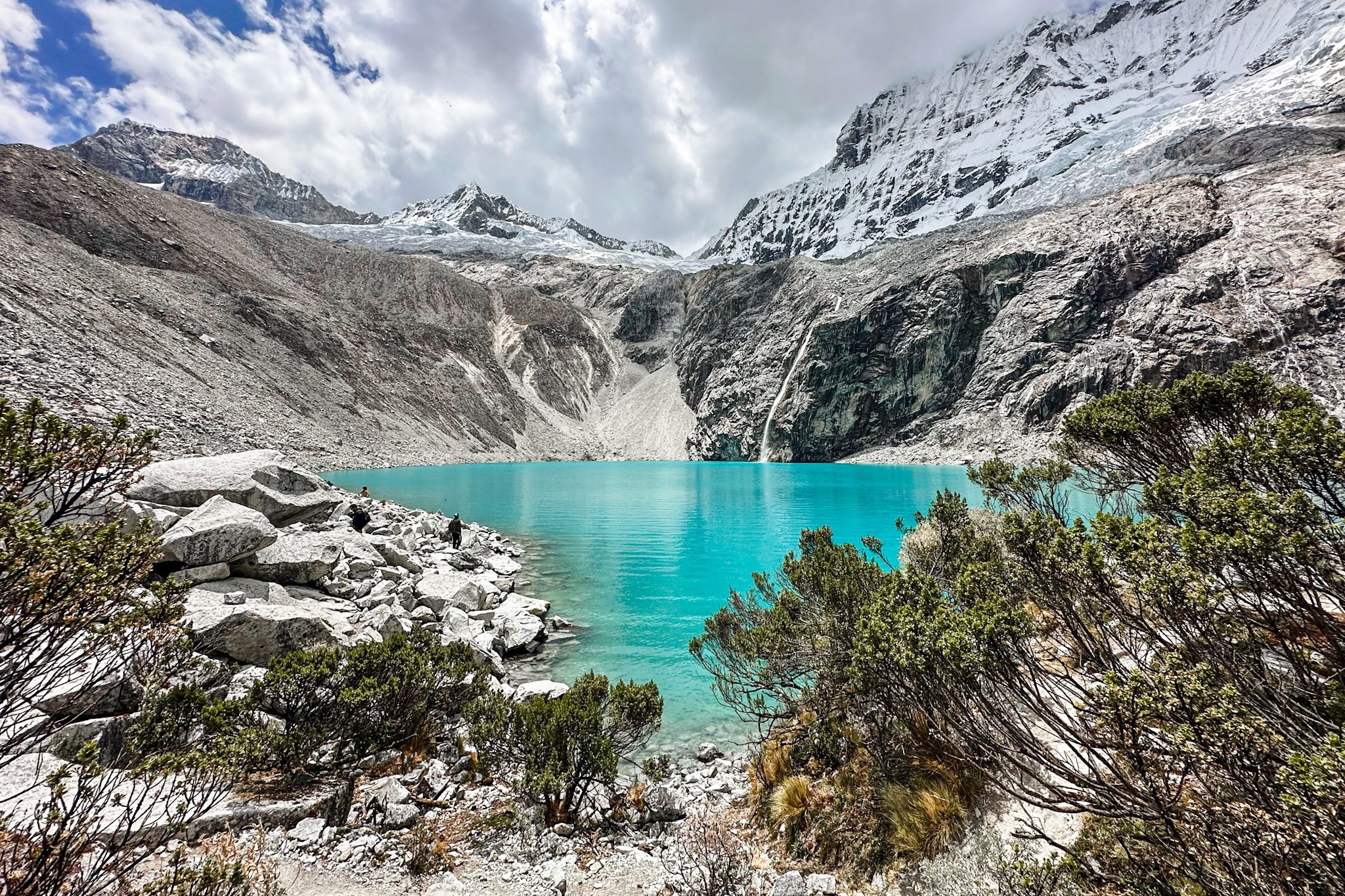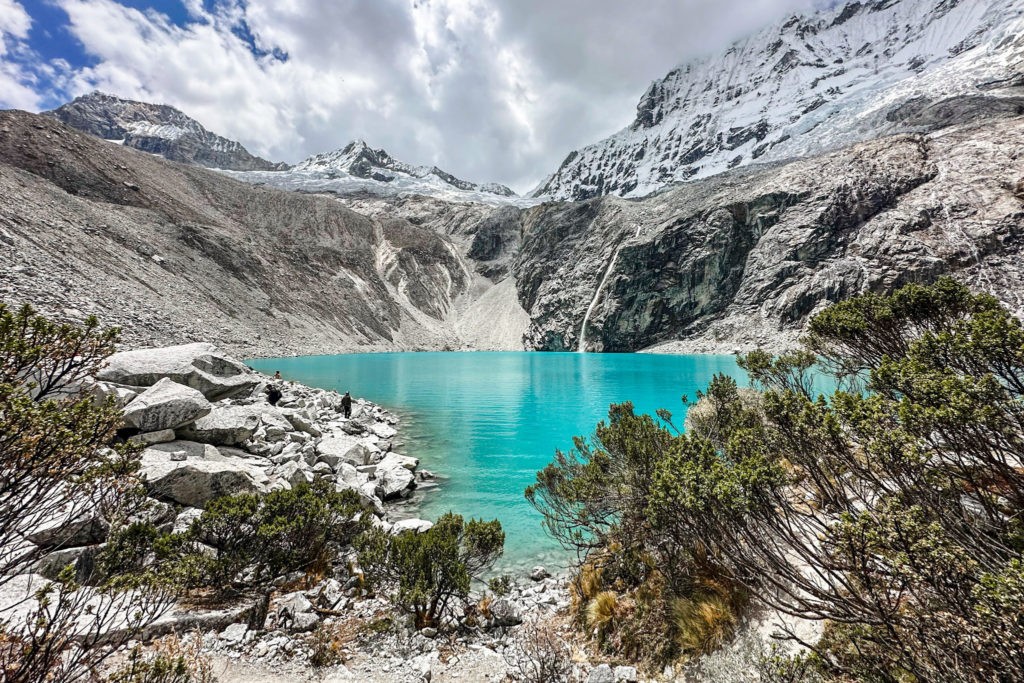 Laguna 69 is the most famous and popular hike to do in Huaraz and pictures of the lake's beauty are featured regularly in travel magazines and documentaries. It is one of the most beautiful masterpieces of nature and with its crystal clear and turquoise waters the Laguna 69 can easily hold up with any other paradise on earth.
We've met people who traveled all the way to Huaraz just to see this one Laguna. And while there are a lot of different day hikes you can do while in Huaraz, we can totally understand the popularity of Laguna 69. In fact, it is not only Laguna 69 that makes this hike stand out, but also the journey itself.
While following the trek to Laguna 69, you will come across an absolutely beautiful landscape. You will pass by several waterfalls, enjoy stunning views of the highest mountains of Peru (Huascaran and Huandoy), and overlook the untouched mountain valleys of the Huascaran National Park.
There are plenty of tour options available to get to the Laguna 69. Tours from Huaraz leave every day starting around 5:00 a.m. and prices range from 60 PEN (approx. 15 USD) to 400 PEN (approx. 105 USD). Consider booking your trip when in Huaraz, to save on tour prices. The entrance fee to the park is 30 PEN (approx. 8 USD). The hike is challenging and takes around 3 hours to reach the Laguna and 2 hours for the way back.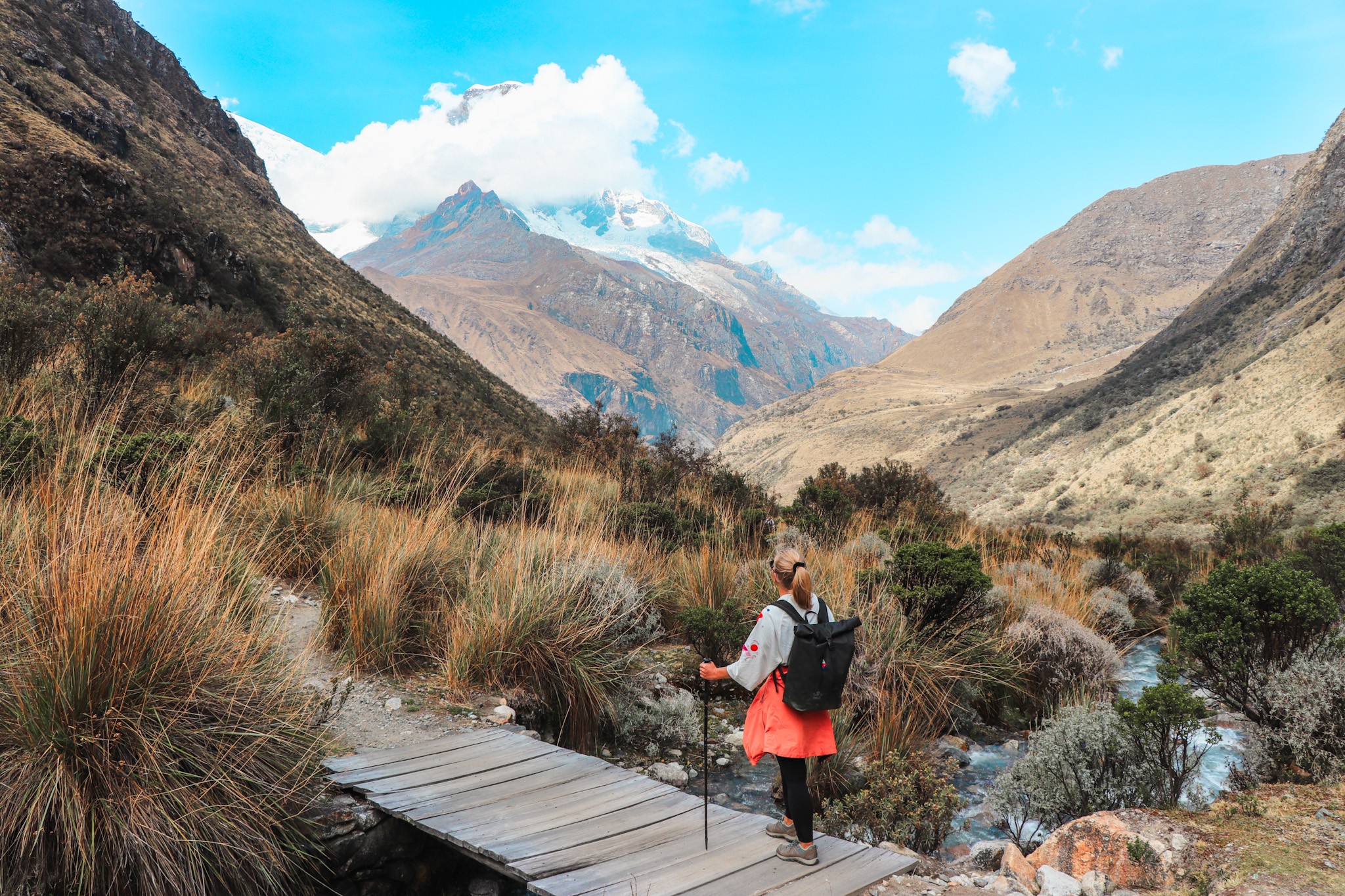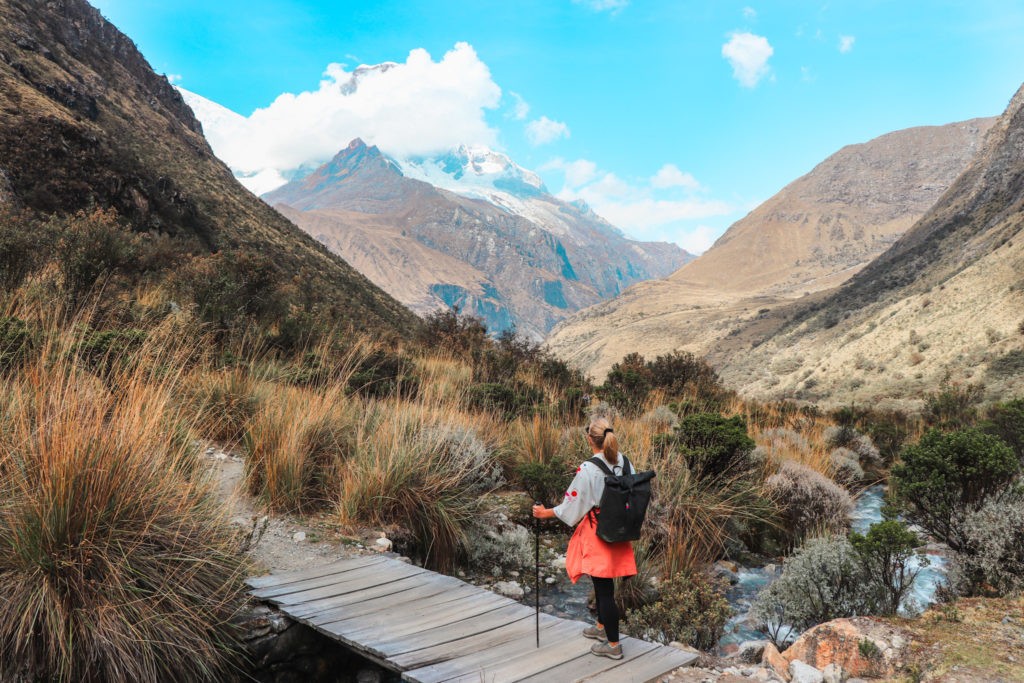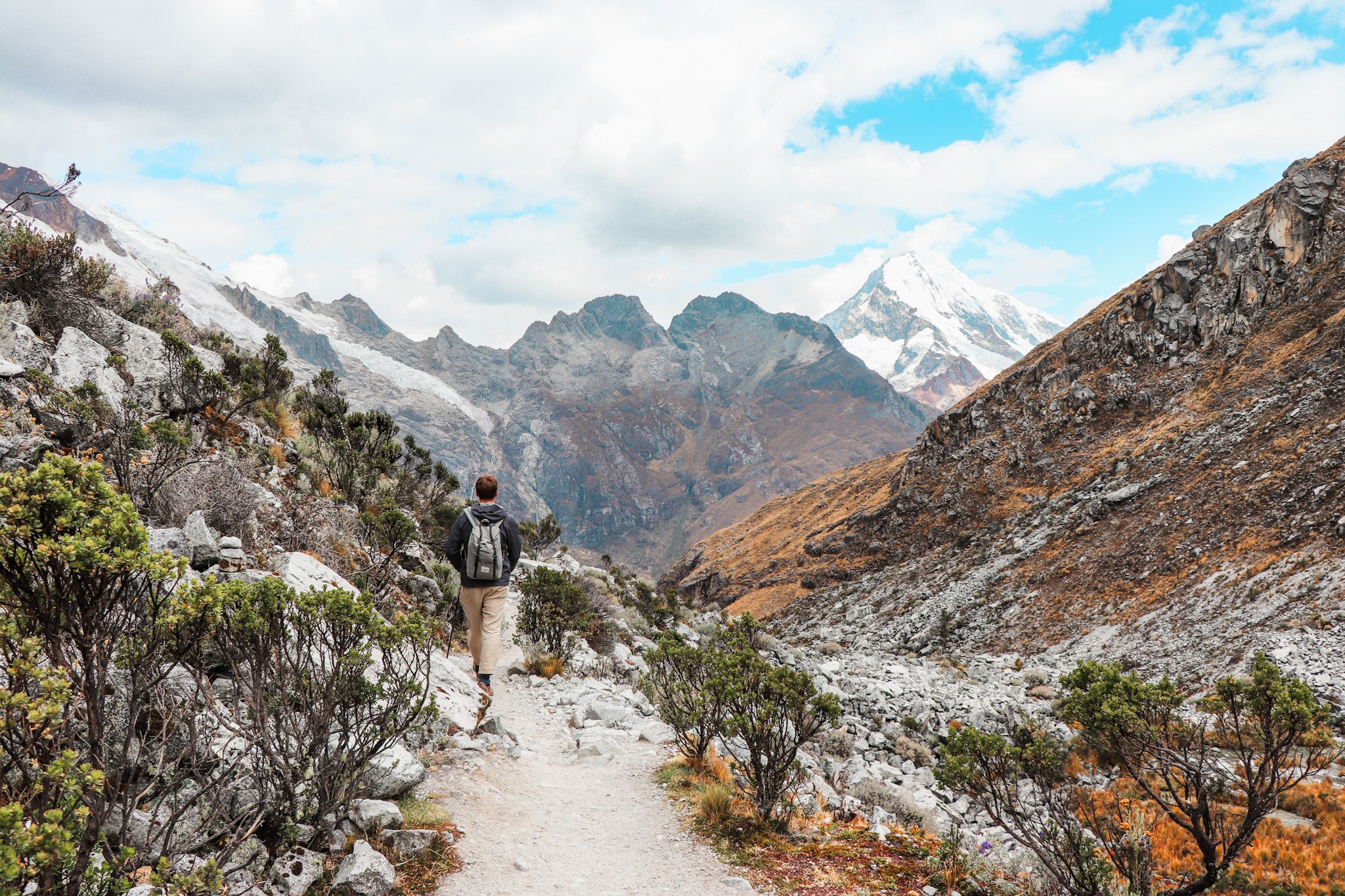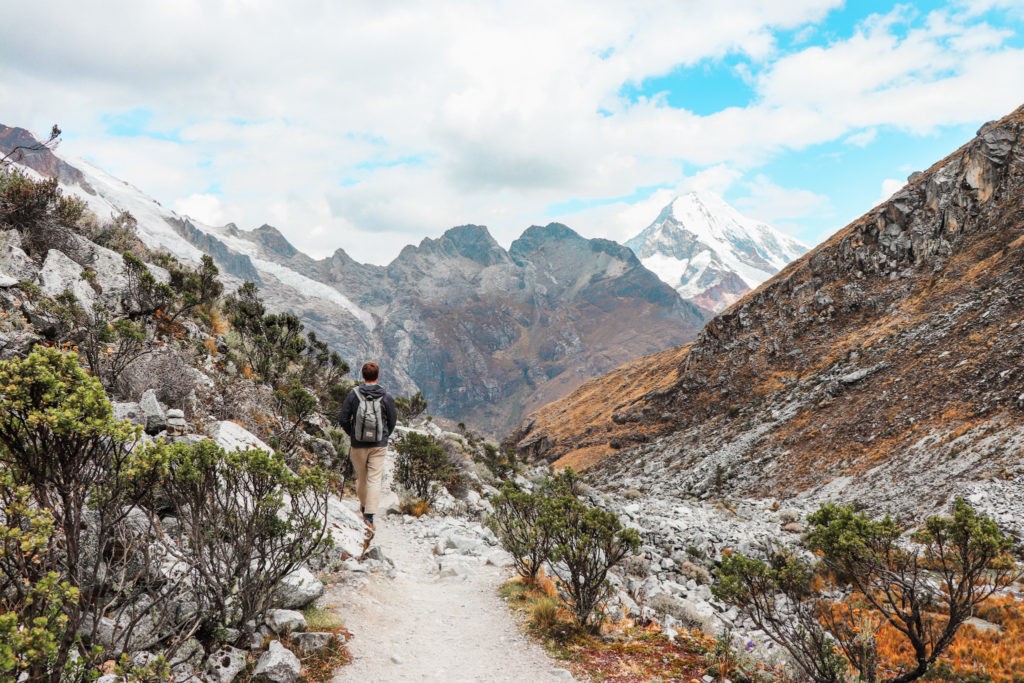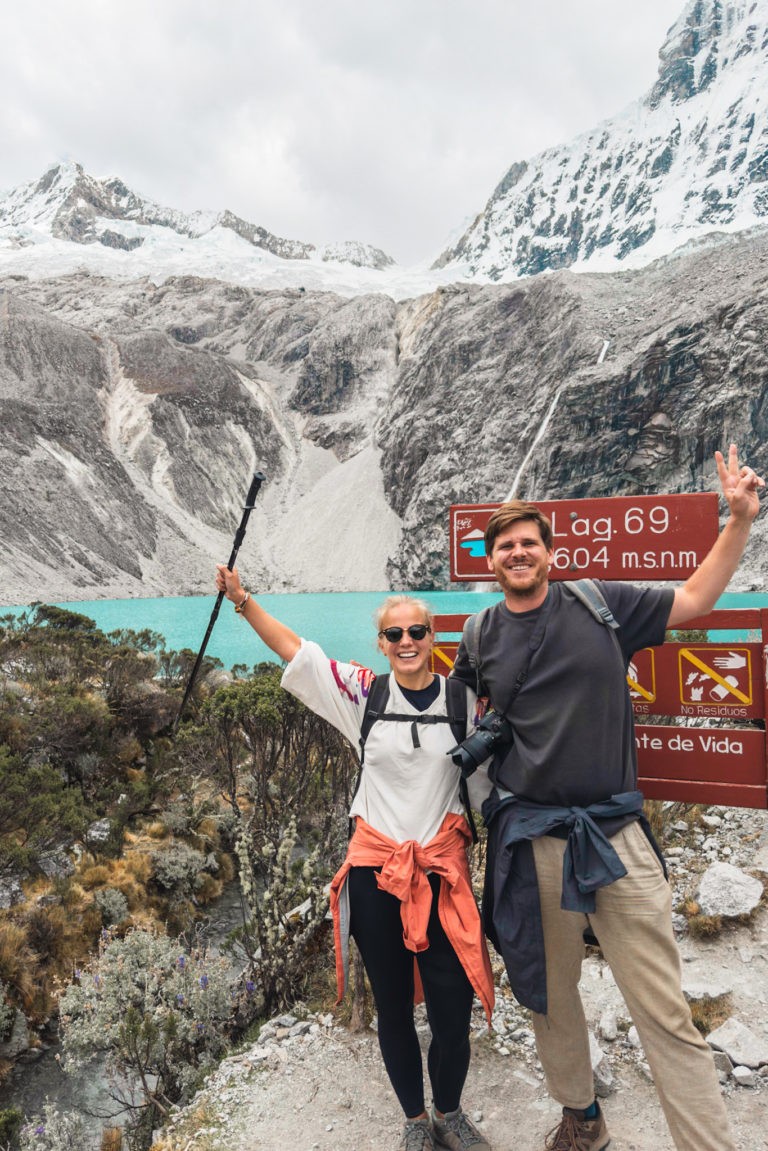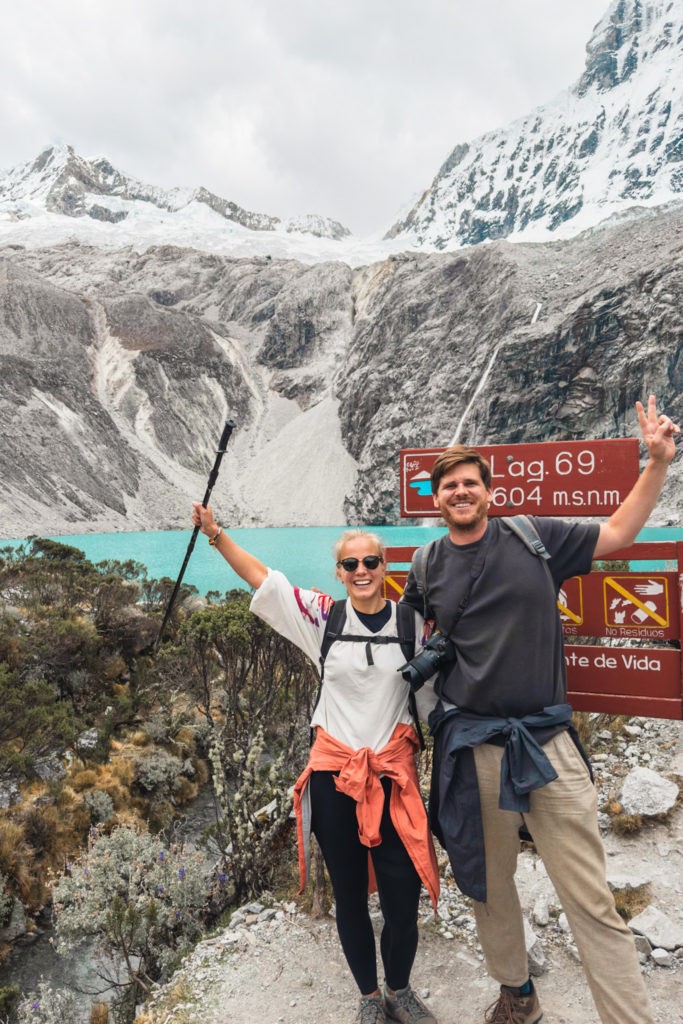 2. Llanganuco Chinancocha and Orconcocha
Chianchocha and Oronchoca are two beautiful, turquoise colored lakes not far away from the entrance to the Huascaran National Park and easily accessible by road. Both are filled with waters from Peru's highest mountains. A third, smaller lake was naturally built by an avalance caused by a earthquake in the 1970s.
Tours to Laguna 69 often do a quick stop at the lakes to enjoy the views and allow you some time to take photos. If you, however, want to spend more time at the lakes, there are tours available to drive you to the lake. Keep in mind that visiting the lakes involves no hiking at all. While this may be a comfortable option for non-hikers, we wouldn't recommend it, as you miss out on the beautiful valleys and views further inside the park. Choose a tour to Laguna 69 instead.
Tour prices to visit Llanganuco Chinanchoa and Orconcocha from Huaraz cost around 95 PEN (approx. 25 USD). Additionally, you need to pay 30 PEN (approx. 8 USD) to enter the Huascaran National Park. The ride from Huaraz to Chianchocha and Orconcocha takes around 3 hours one-way.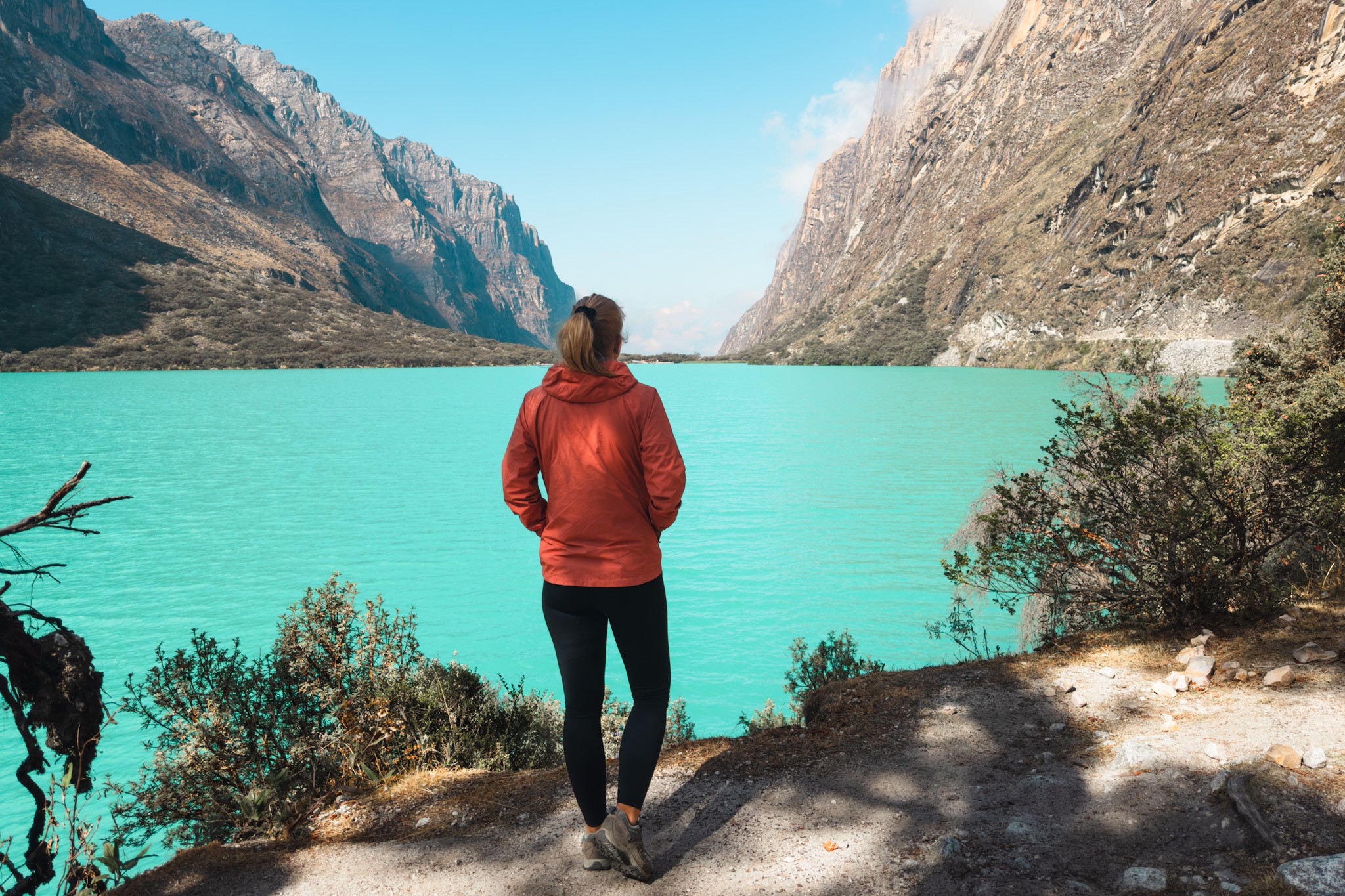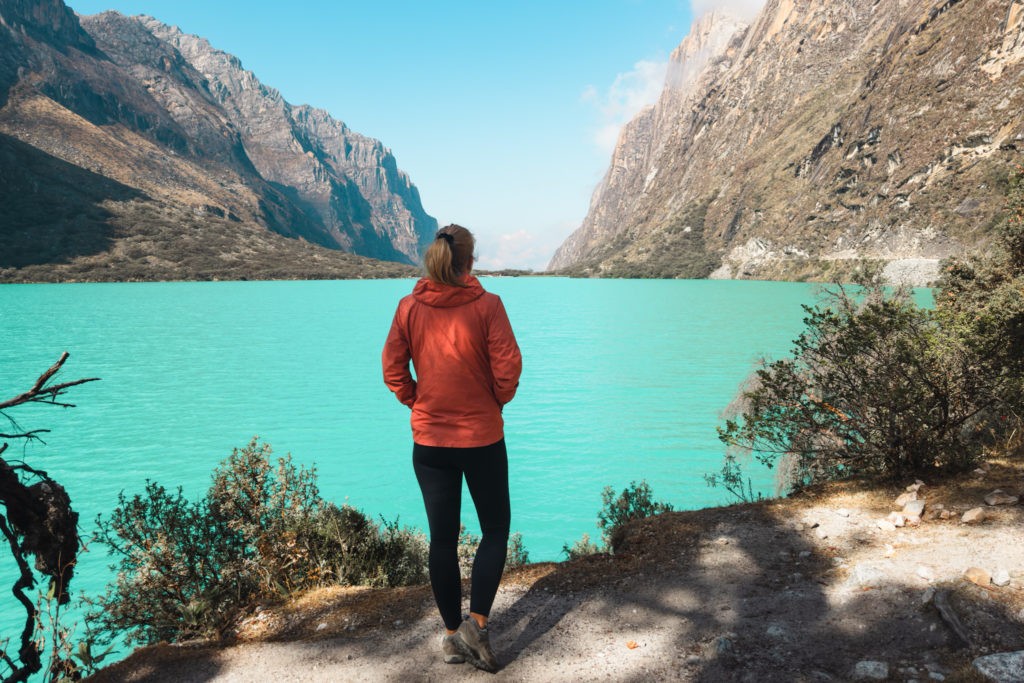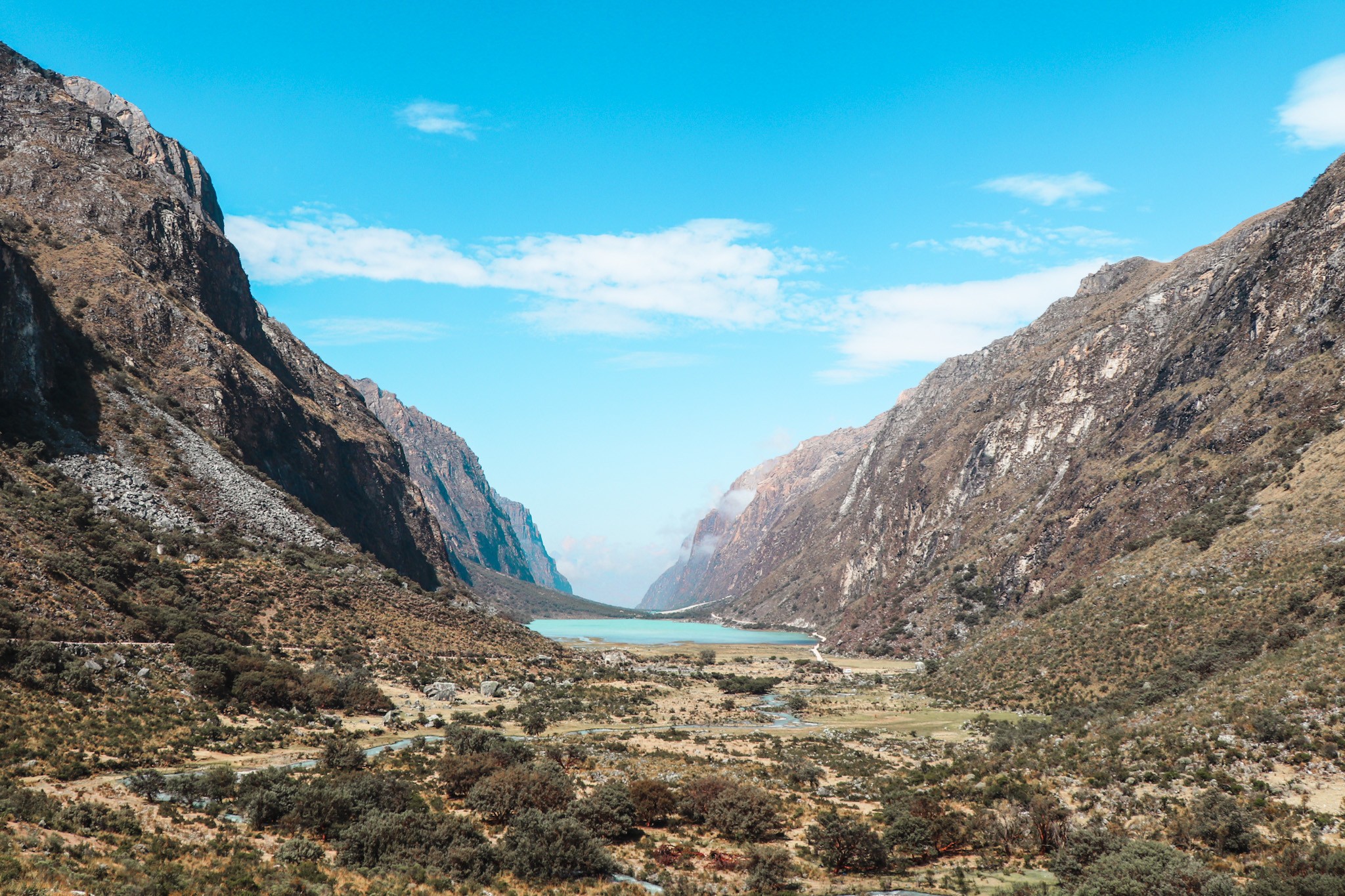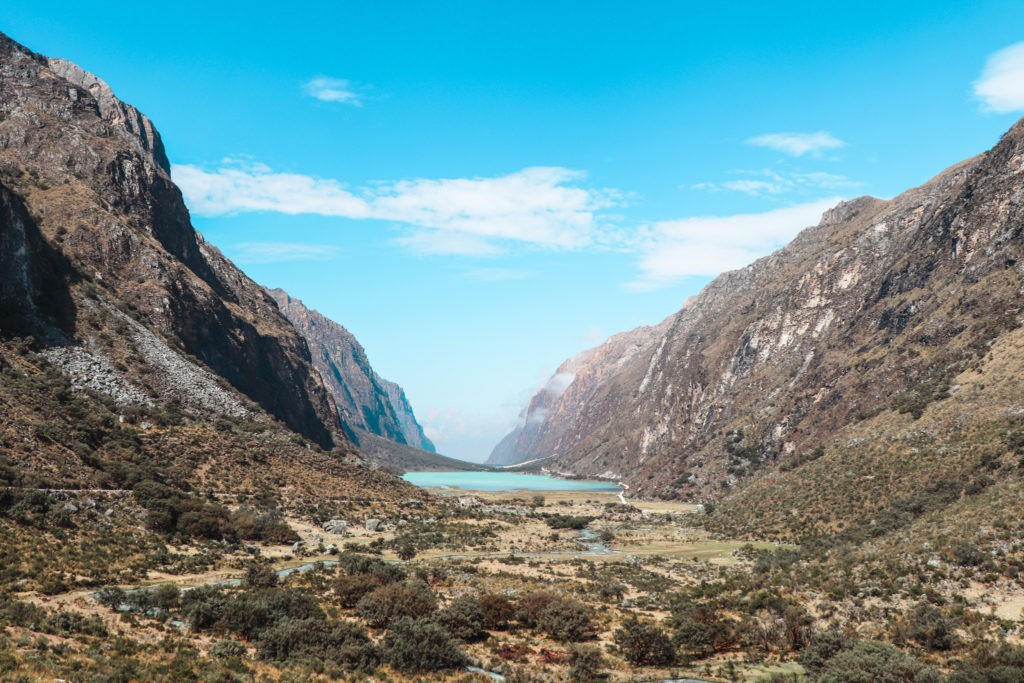 The Laguna Paron is a beautiful glacial lake located in the Huaracan National Park, a bit farther than the nearby mountain hikes to Lake Churup or Lake Ahuac. As typical for the Cordillera Blanca mountains, the waters of Laguna Paron are crystal clear and turquoise in color, making it a scenic and beautiful place to visit. Also, the hike to the laguna is comparably easy and generally doable for all fitness levels.
From the trailhead it takes around 2-3 hours to reach the mountain lake. It's best to take a tour to Laguna Paron, as it is not easily reachable by public transfer. Tours cost around 60 PEN (approx. 15 USD) and leave Huaraz around 7:45 a.m. and return by 6:00 p.m. in. the evening.
Save on Pinterest to read it later.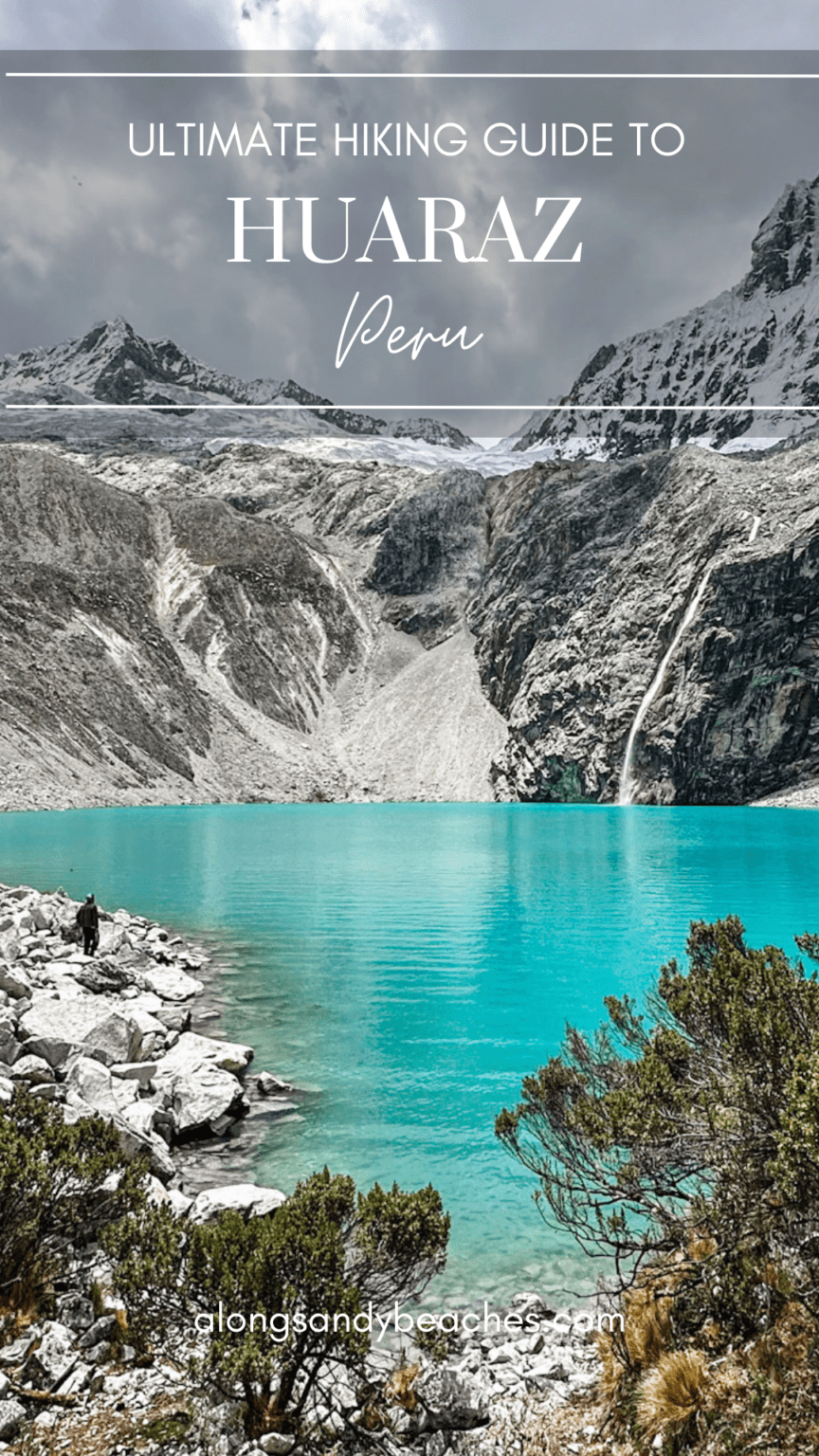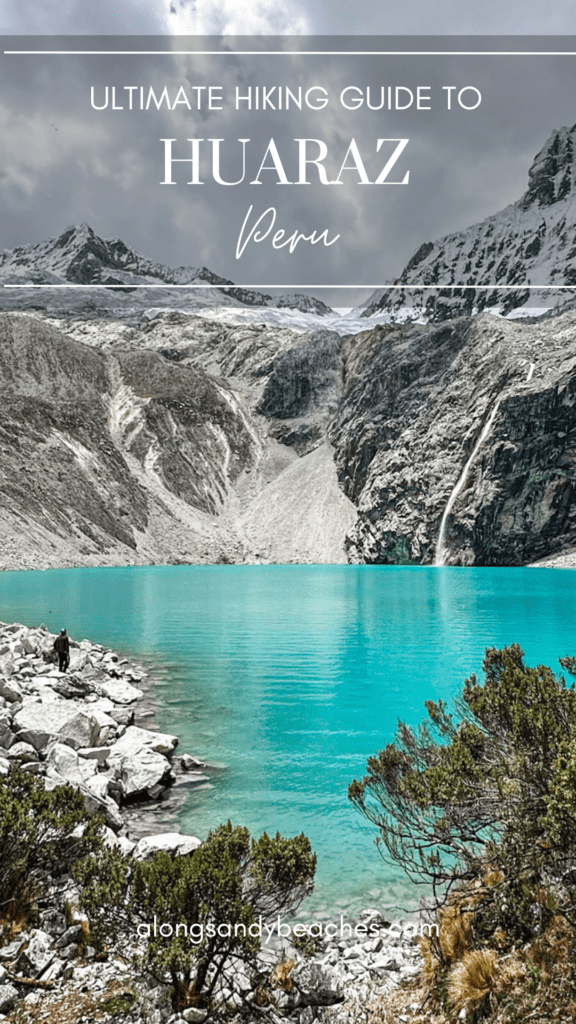 Surrounded by the snow-capped mountains of the Andes, Lake Churup is a beautiful turquoise colored lake in the Cordillera Blanca mountain range. The lake is situated at around 4.450 meters above sea level (14.000 feet) and it is closest to Huaraz, making it a good opportunity to start your hiking journey and acclimatizate for higher altitudes.
While the hike to the Lake provides you with absolutely stunning views, it is challenging with steep slopes and a few sections where pulling yourself up along ropes is required. Even though these sections were totally manageable for unexperienced hikes like us, it may be the reasons why not many tourists visit Lake Churup. Once you reach the top, you will be rewarded by a spectacular and peaceful view over the lake, its waterfall and the snowy mountain peaks.
A day tour to lake Churup costs about 35 USD when you decide to book it online. Reserving your place when you are in Huaraz, can save you money though. If you book it at site, you will only pay 30 soles (approx. 8 USD) for the tour and another 30 soles for the entrance to the national park. The drive to the trailhead of Lake Churup takes around 45 minutes and you'll be given a pickup time for your return journey to Huaraz.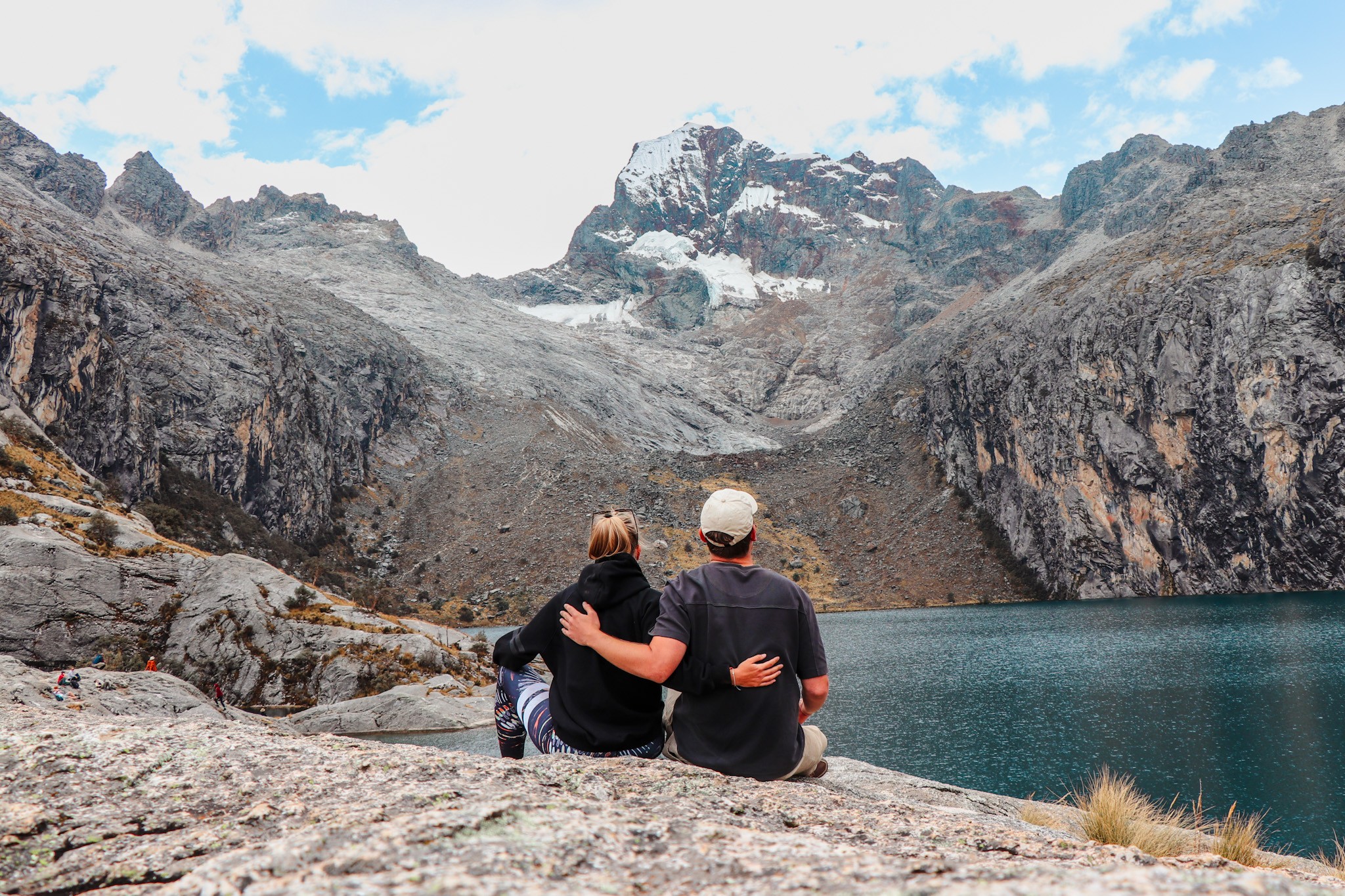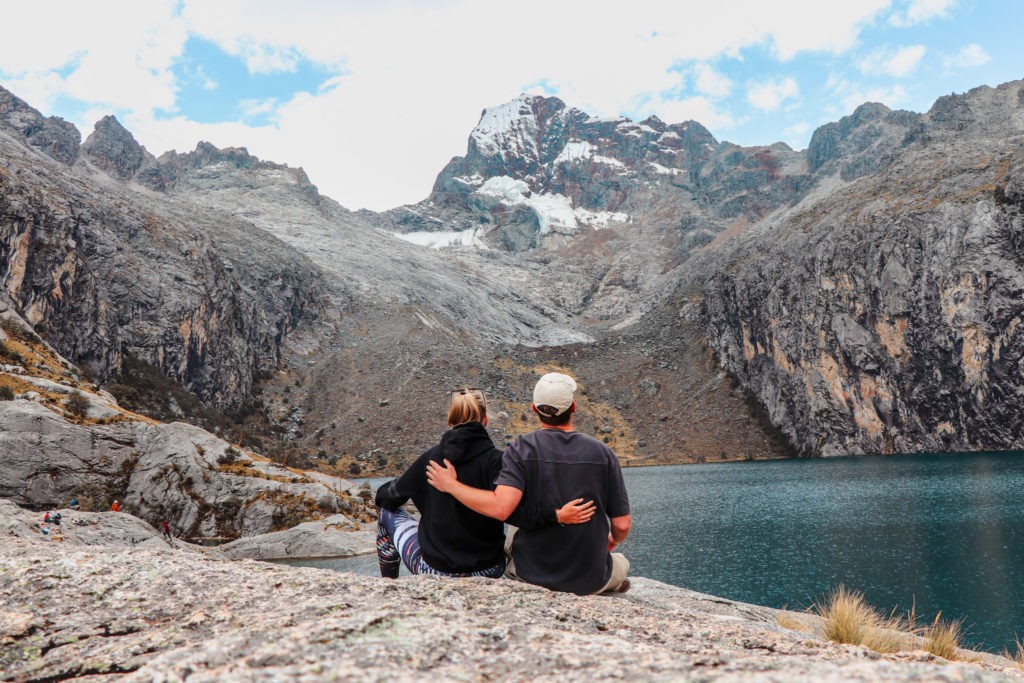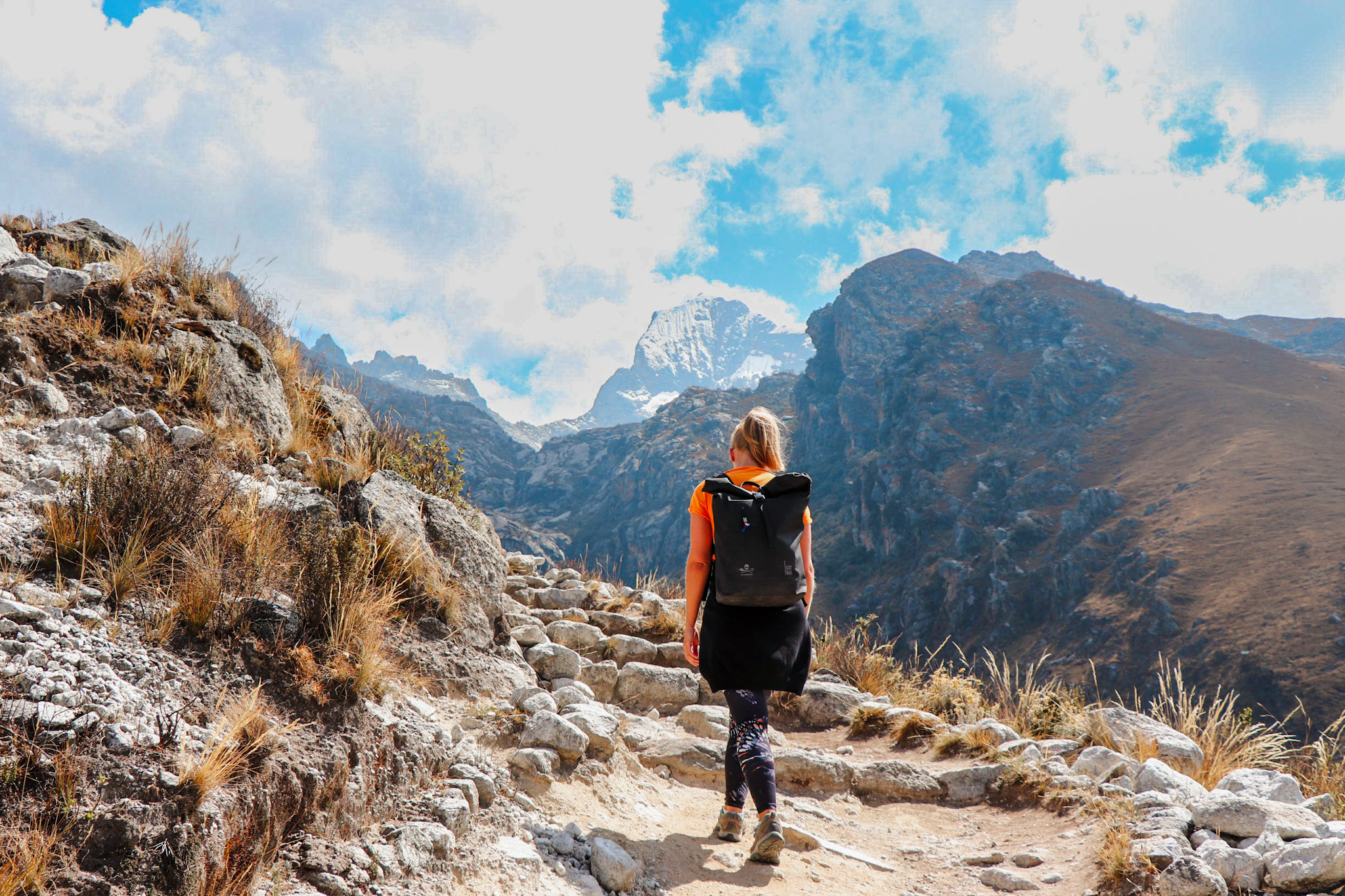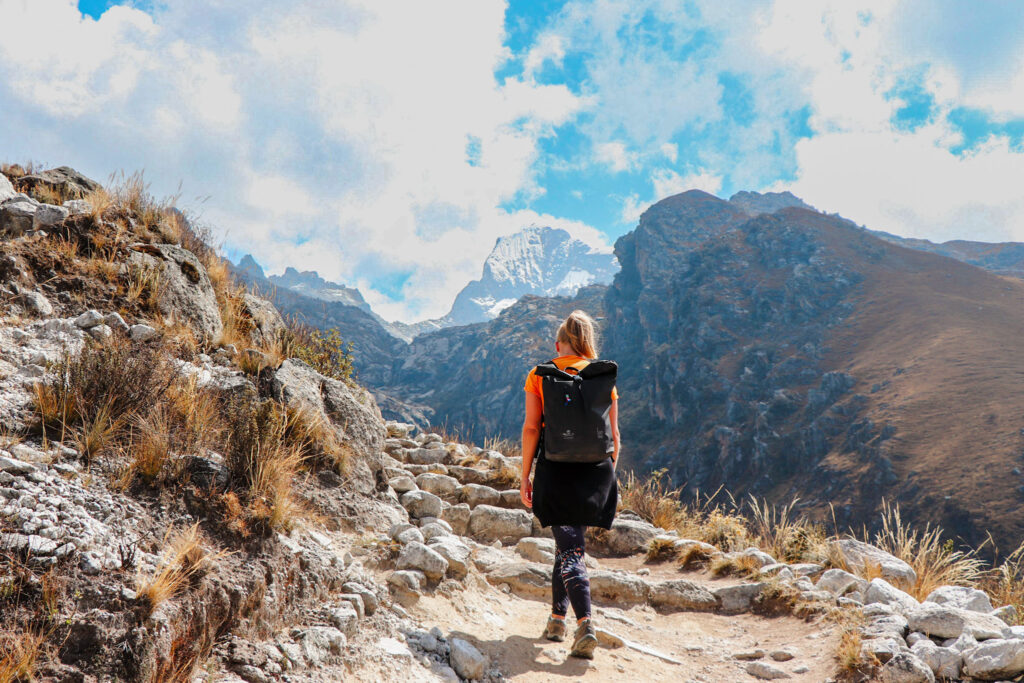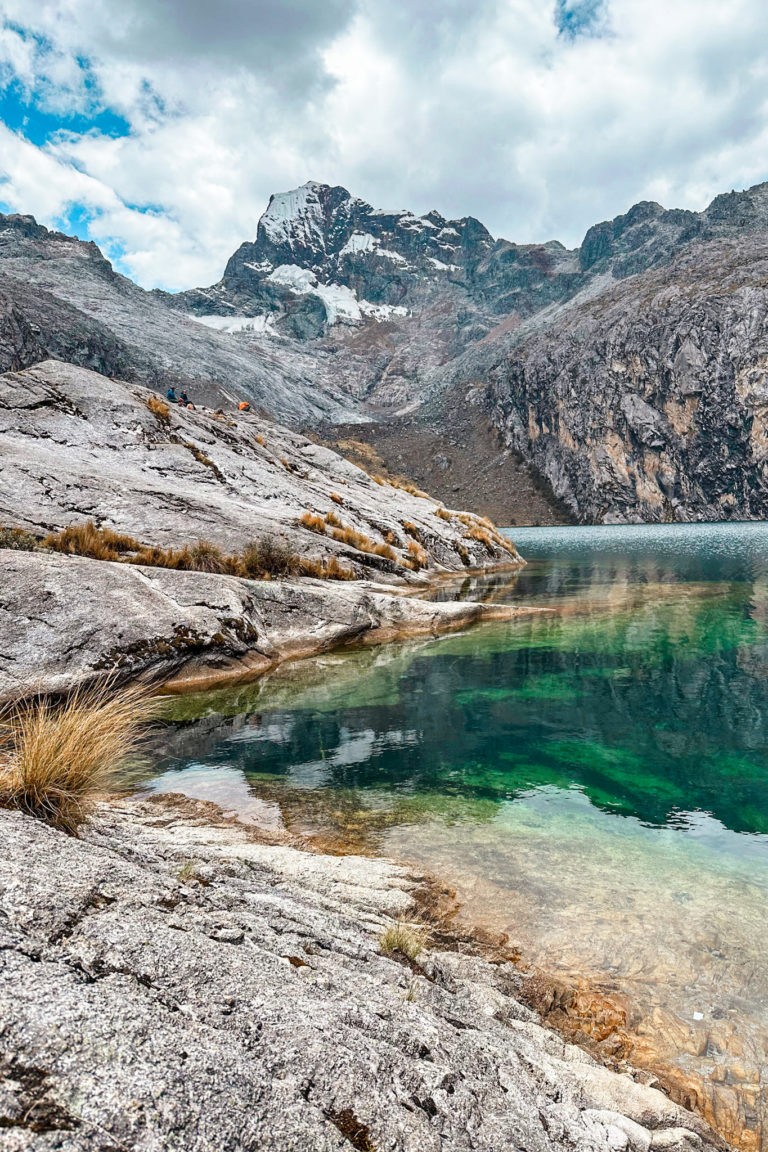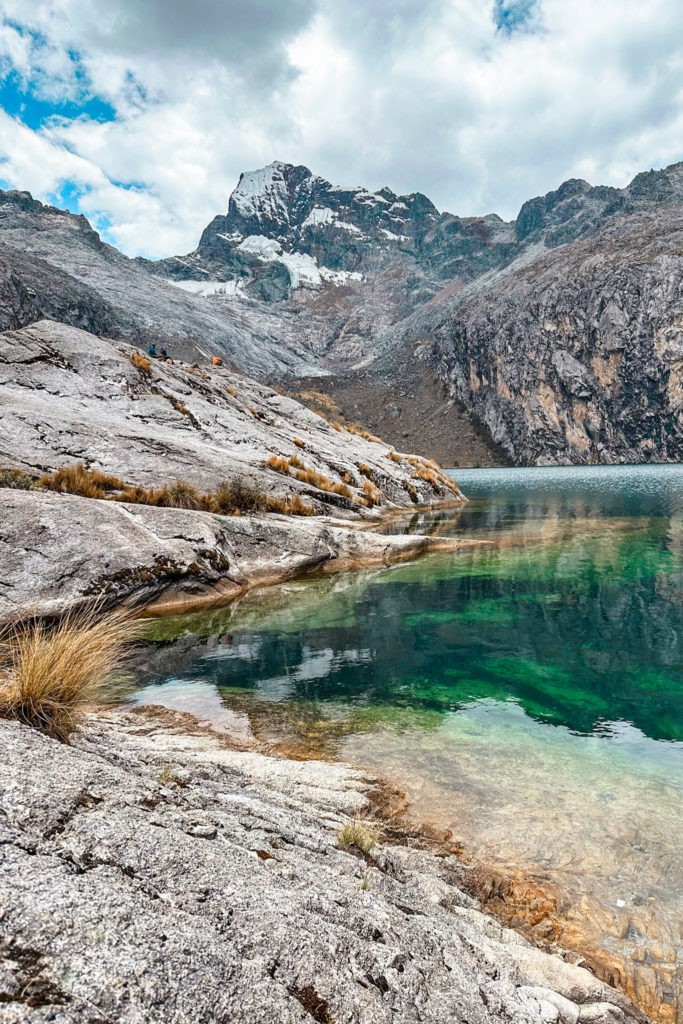 The Pastoruri Glacier is a massive cirque glacier located in the Huascaran National Park, South of Huaraz. It sits at a breathtaking altitude of over 5.100 meters (17.000 feet) above sea level and is one of the few remaining glaciers in the Andes mountain range. Sadly, the glacier has lost almost half of its size over the last decades due to climate change and continues retreating at a rate of about 1 meter a year. Still the Pastoruri Glacier covers a significant body of ice and local authorities started raising awareness for climate change, as well as promoted sustainable tourism in the area.
You can get to the glacier by booking a guided tour from Huaraz, as there is no public transport available. Tours start around 8:30 a.m. and cost 60 PEN per person (approx. 15 USD) for a full-day trip. The drive to the glacier takes around 3 hours.
Pack multiple layers of clothes and bring your winter hat for your journey to the Pastoruri Glacier, as it will be freezingly cold and windy. You will also have an opportunity to buy some winter hats, gloves or cardigans on the first stop of the tour.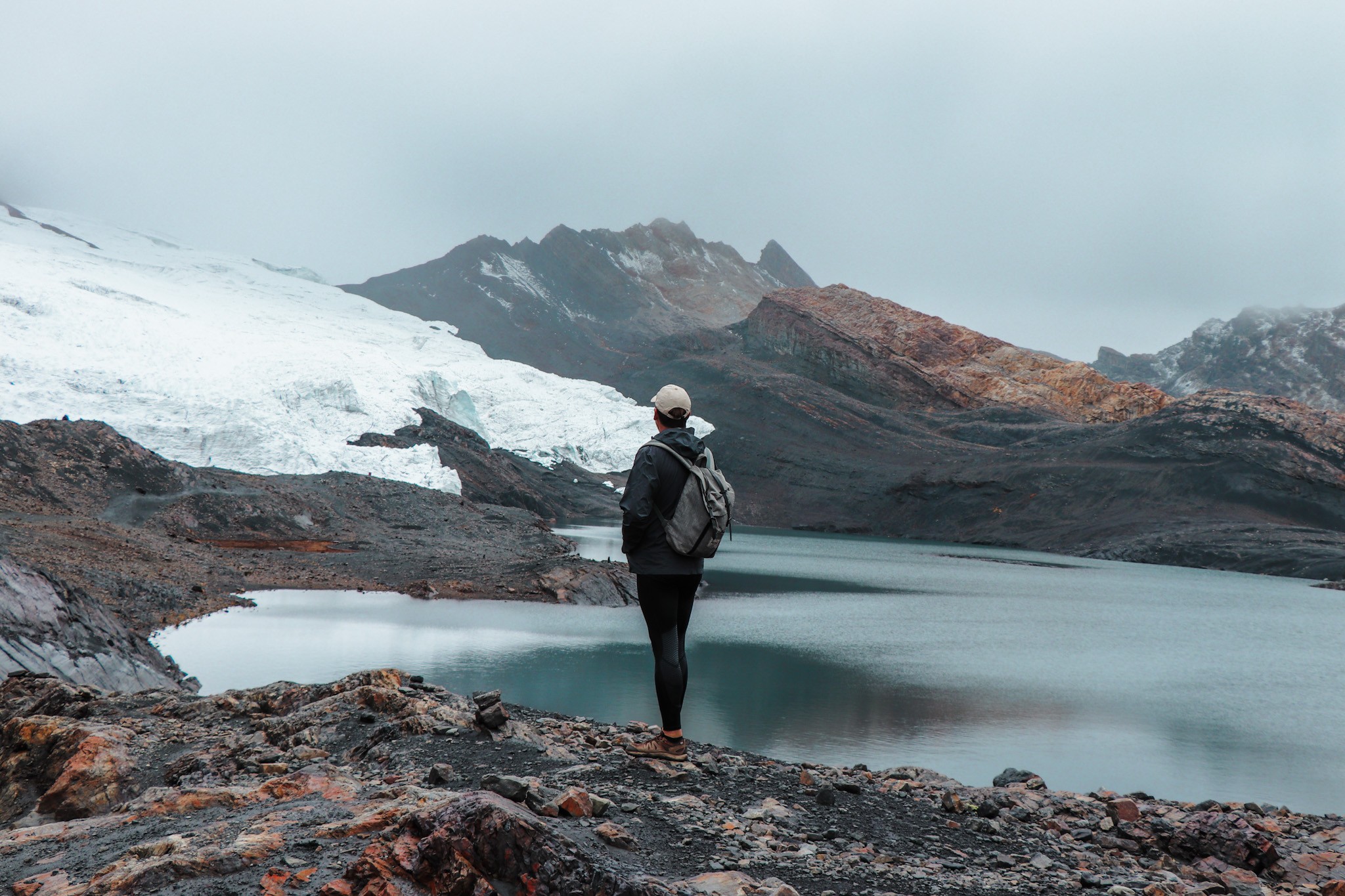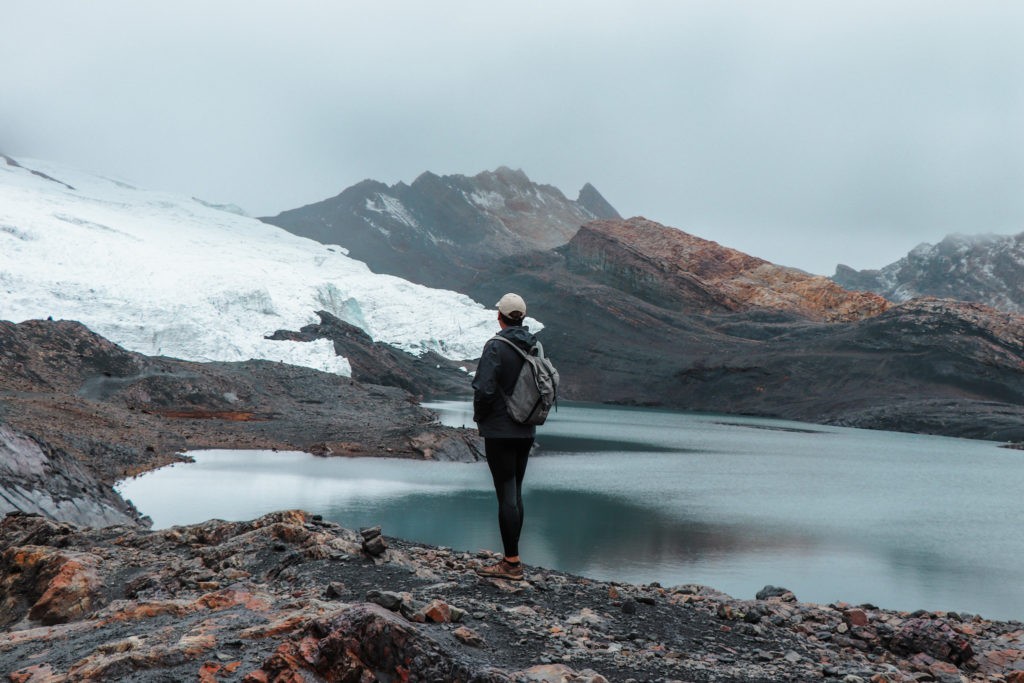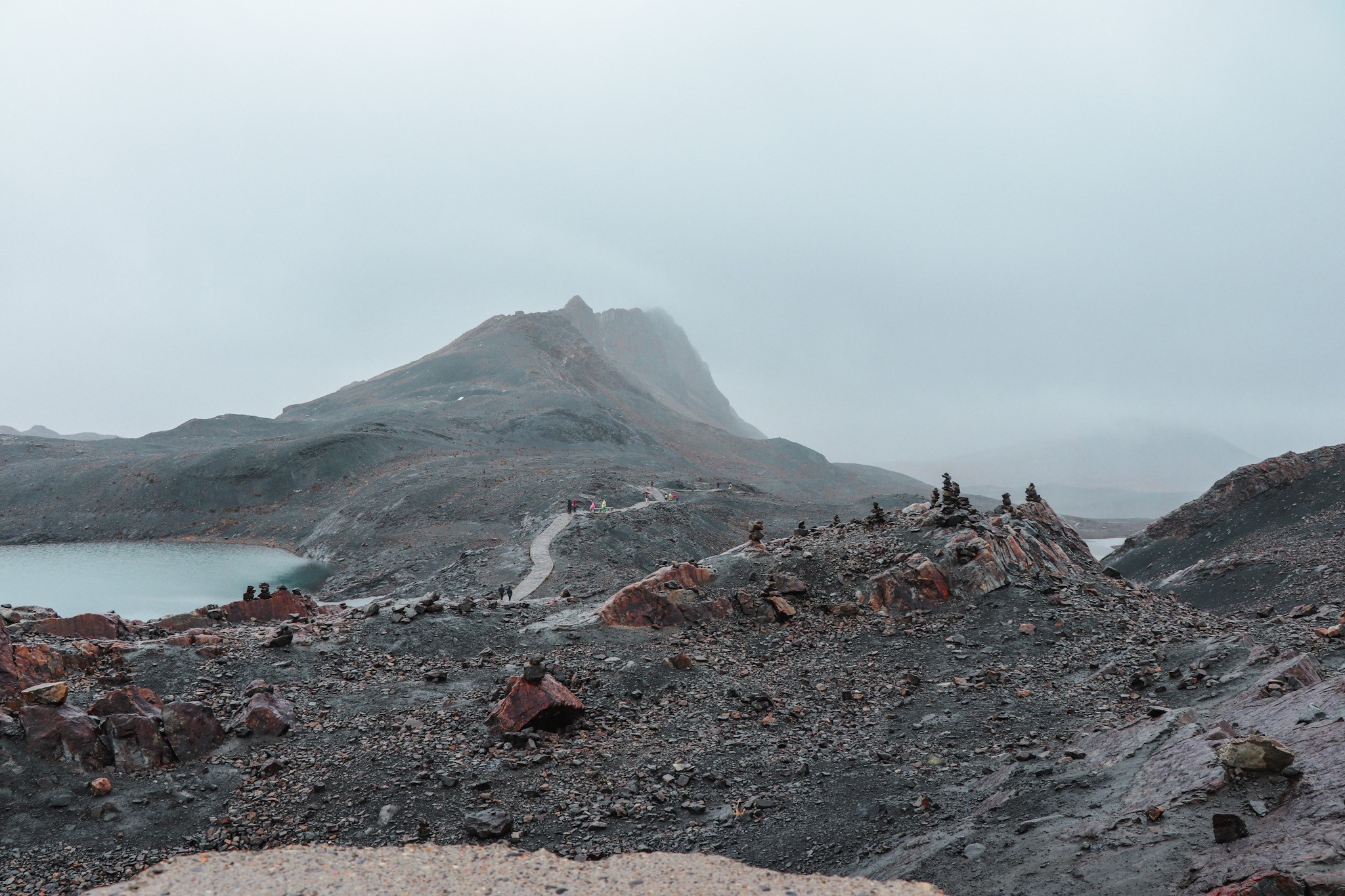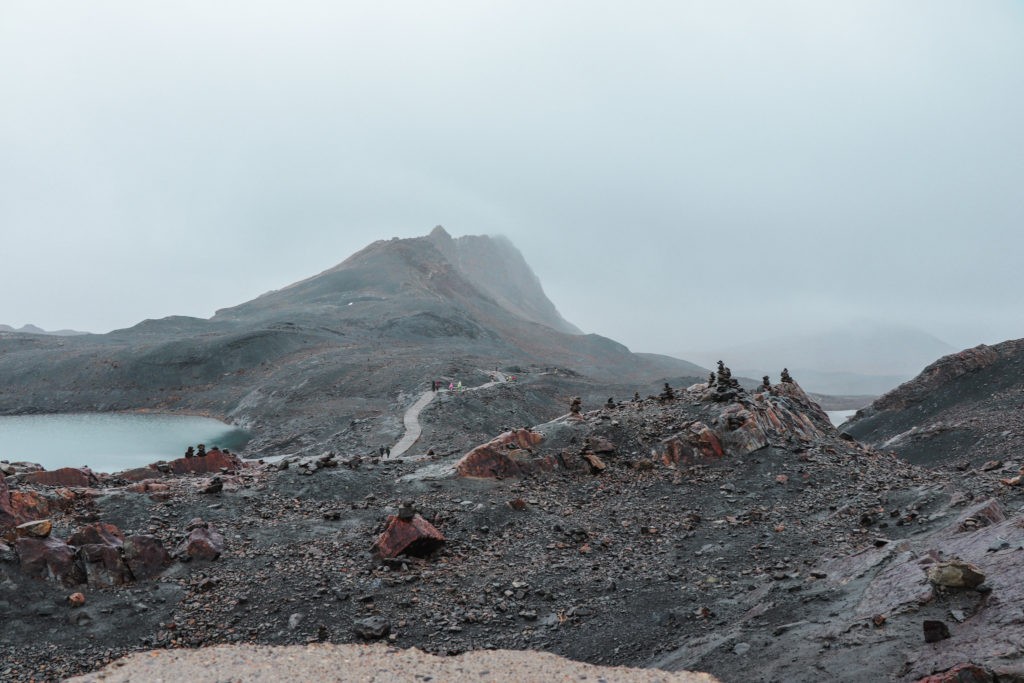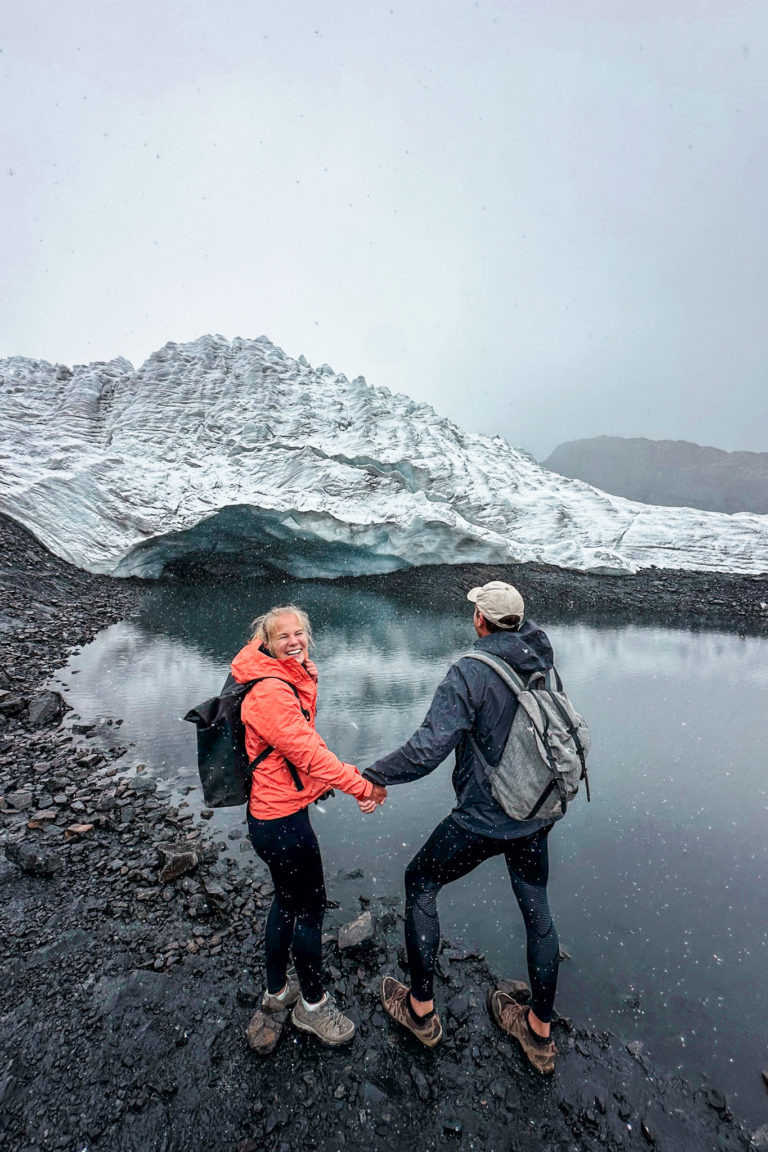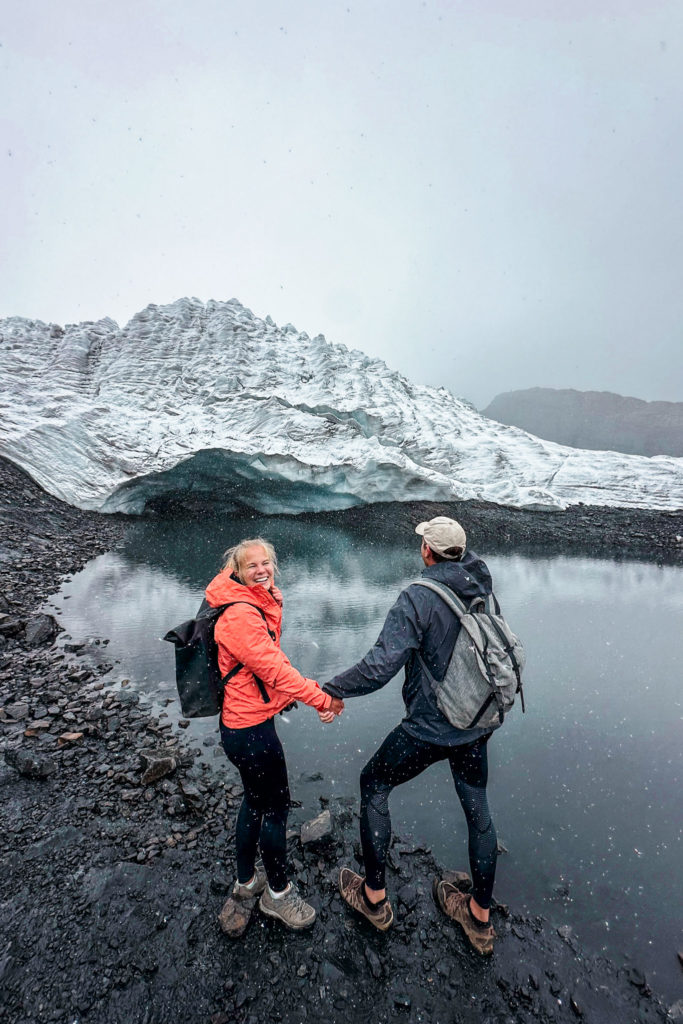 Lake Ahuac is a small, hidden lake at the base of the Vallunaraji mountain located 4.600m above sea level (15.000 feet) and an ideal day trip destination from Huaraz. The hike starts in a small village called Wilcahuain and takes around 2 hours and 4 kilometers (approx. 2.5 miles) to reach the lake. Its considered moderate with a shallow walk from the trailhead and a steeper section before the lake.
Along the way you come across villagers and sheperds grazing their cows and sheeps on the hills. Once on the top, you can enjoy the beautiful view on the nearby Vallunaraji mountain and – if you are immune to cold waters – Lake Ahuac is one of the few lakes where you are allowed to swim.
Lake Ahuac can be visited independently by taking a short 30-minutes public bus or mini-van from Huaraz to Wilcahuain. There are also guided tours available from Huaraz that cost around 80 PEN (approx. 20 USD).
Wilcacocha Lake is an alpine lake located only 7 kilometers (4.3 miles) away from Huaraz. The lake itself isn't as beautiful as the mountain lagunas in the national park, however it offers a panoramic view on the Cordillera Blanca mountain range with its snow-capped peak, including Huascaran, the highest mountain of Peru. Take some snacks and water with you to picnic at the lake.
While there are a few different routes to reach Wilcacocha Lake, the most common and straightforward path is a short, uphill hike that typically takes around 1-2 hours. The trail is relatively easy, making it accessible to hikers of various skill levels and perfect to acclimatize on your first day in Huaraz.
To reach the Wilcacocha Lake, simply take a TukTuk or collectivo (shared mini-van) from the main street crossing Huaraz. Ask the driver to drop you off near the lake. The journey typically takes around 20-30 minutes to get there.
Multi-day hikes in Huaraz
The Santa Cruz Trek is one of the most popular multi-day hikes in Huaraz. The trail leads through the Cordillera Blanca mountain range and spans over 4-days will a total distance of around 50km (31 miles). There is a 3-day option as well, with a more challenging and tighter schedule.
The hike starts in Vaqueria, after a scenic 4 hours drive through the Callejon de Huaylas Valley into the Huascaran National Park. On the following days you will hike to the village of Llamac, Taulliraju, Cashapampa and Huari while passing by beautiful lakes and enjoying the scenic views on most of the largest mountains of Peru.
The Santa Cruz trek is physically demanding, due to the high altitudes and distance. You'll easily walk 5-8 hours a day with varying levels of steepness. However, the hike is totally doable also for non experienced hikers. Donkeys help you carrying most of your luggage to make your hike a little easier.
Hiking the Santa Cruz Trek can be done independently or by booking a tour. Tours for the Santa Cruz Trek leave from Huaraz and prices range between 150 USD to 300 USD. It best to research the tour agency reviews, as they provide varying levels of service and quality. Upton entering the National Park you will need to pay a park fee of about 65 soles (approx. 17 USD).
We would recommend to book a guided tour for the Santa Cruz Trek, especially if you are not an experienced hiker. Guides help you with the directions, timings, safety and logistics. And don't forget to take your passport with you, as you need to register when entering the Huascaran National Park.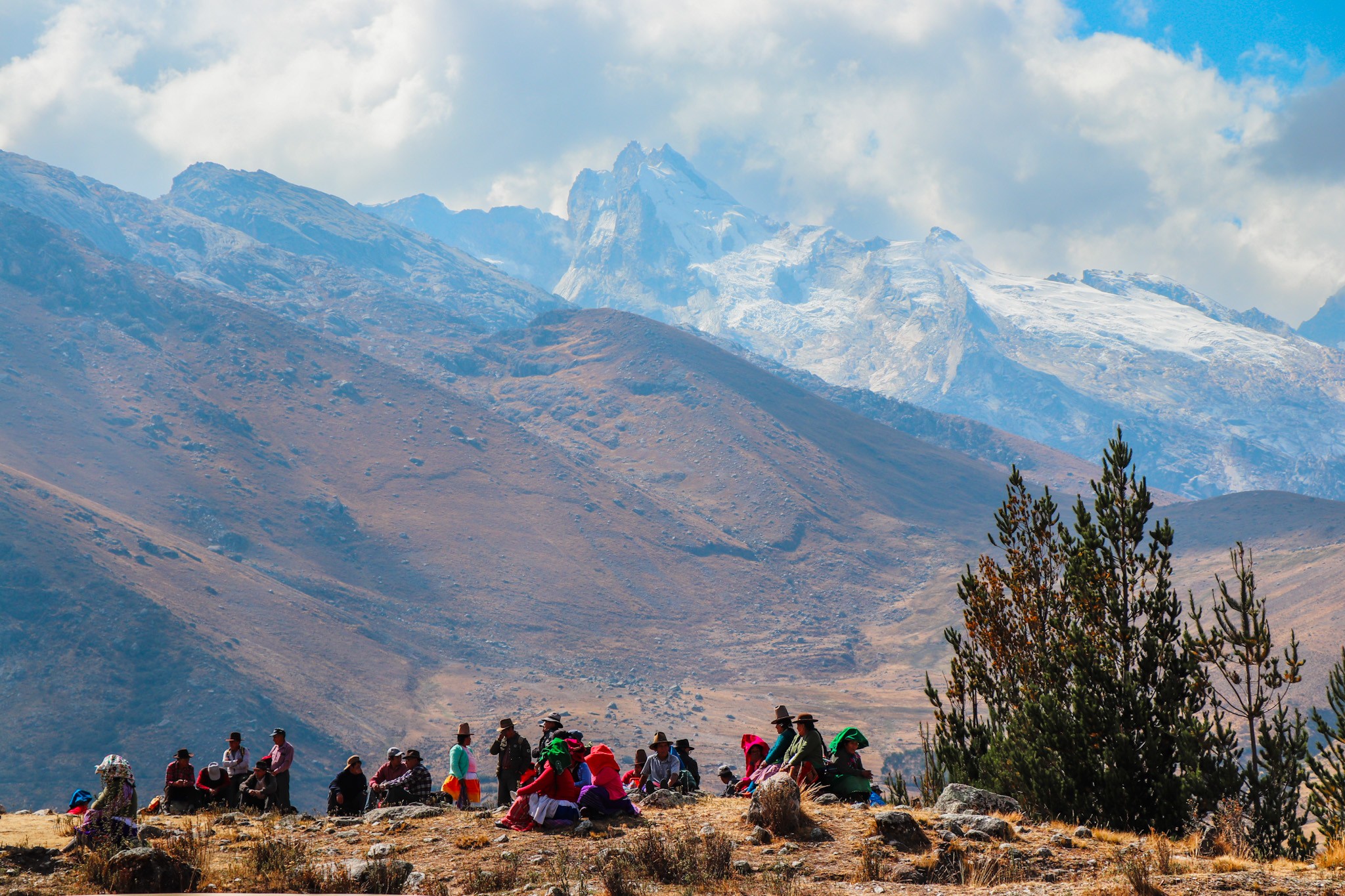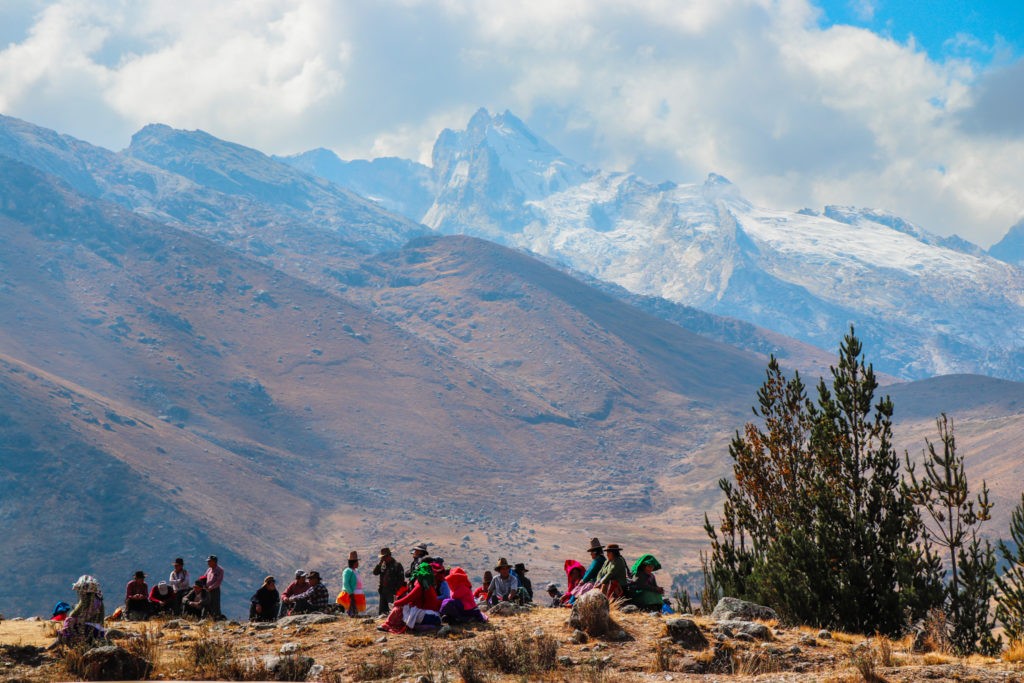 How to avoid Altitude Sickness?
Getting sick of high altitudes is a real thing. Before we were traveling to Peru we were amazed by the heights of the mountains and never thought much about how that could ever turn into a problem. We thought that hiking far above sea level would only be a challenge for Everest climbers who even have to use oxygen masks. But in fact, altitude sickness is a common problem for travelers who challenge Peru's skyscaping mountains.
While we were lucky not getting sick during our stay in and around Huaraz, we wanted to provide you with some useful tips and tricks to avoid altitude sickness and enjoy your hiking trip to Huaraz the most.
Acclimatize to the high altitude
When you plan to hike to the mountains around Huaraz, include at least one full-day of acclimatization in Huaraz. Huaraz is situated 3.000 meters above sea level (9.800 feet), which is already comparably to most of the mountain peaks in the Alps. Moreover, the ride from the coast to Huaraz already gained you about 2.500m of elevation.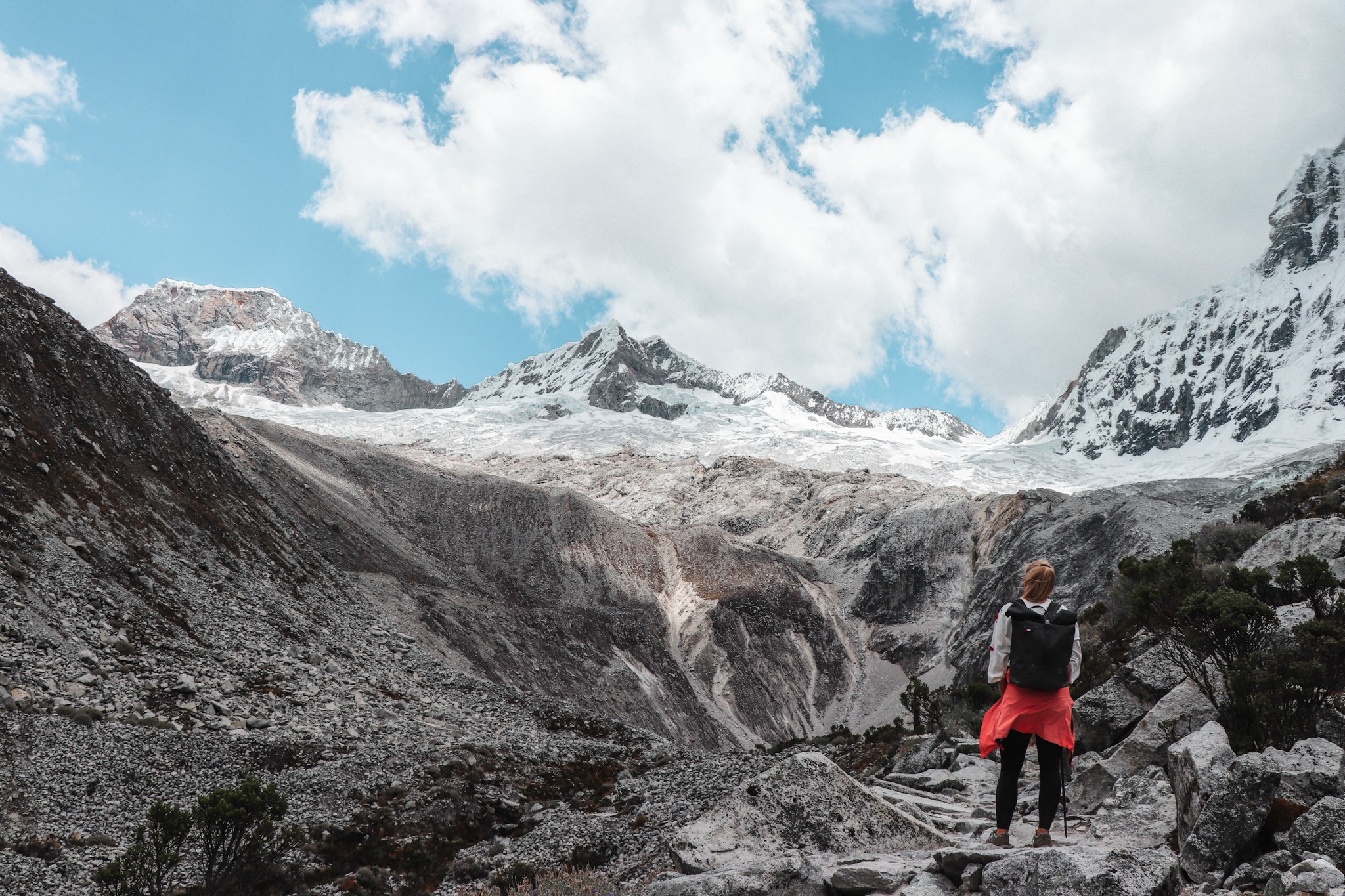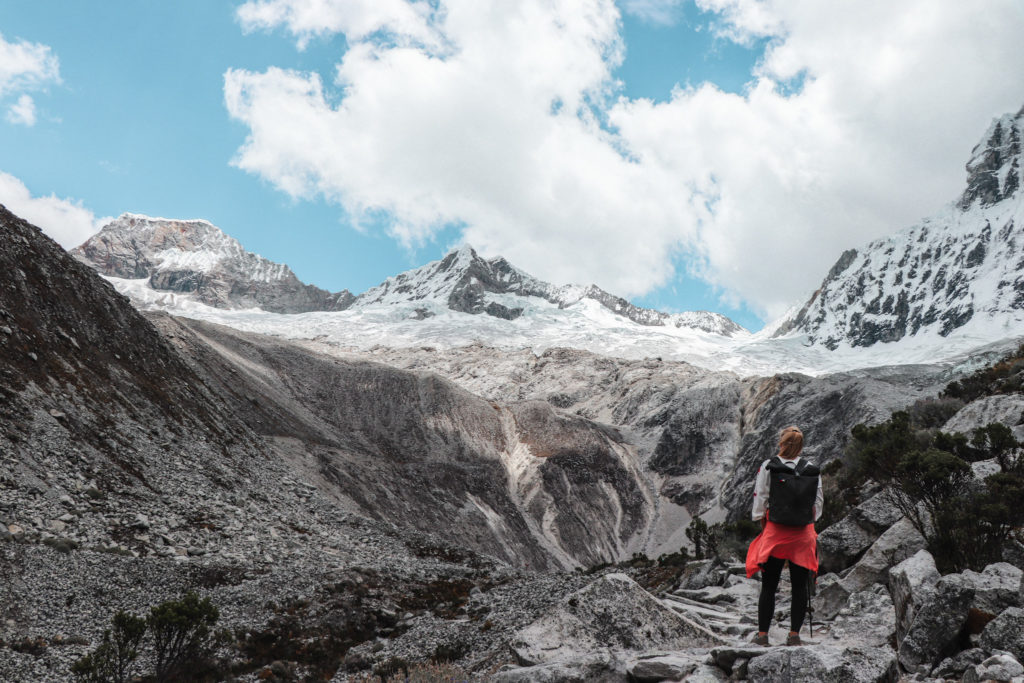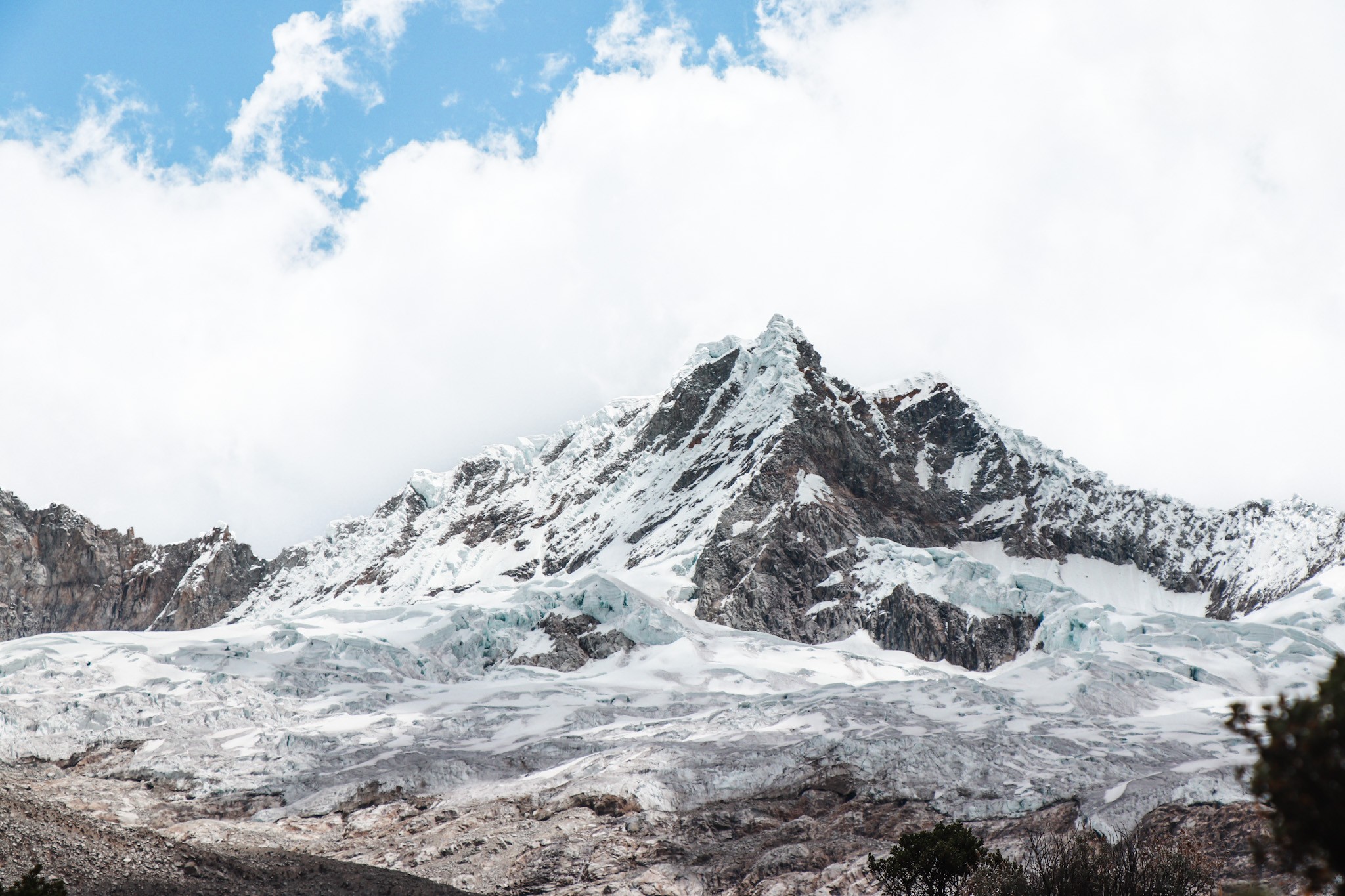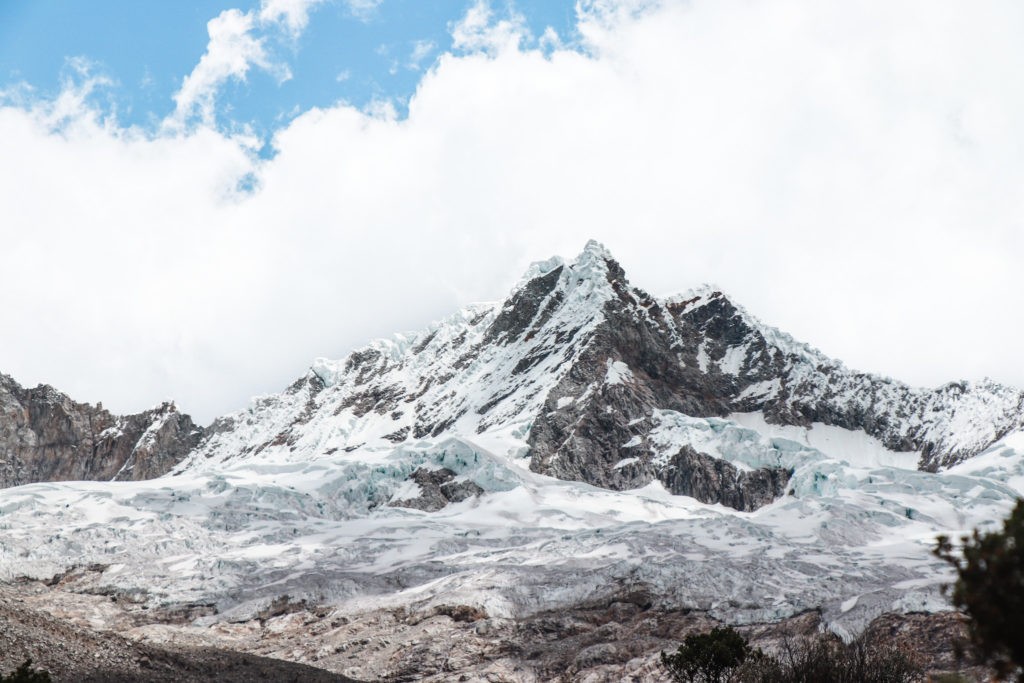 Get enough sleep and rest
Sleep is essential for a good health and it is even more important at higher altitudes. Make sure to get at least 7-8 hours of sleep every night. When you hike, take a rest whenever you feel uncomfortable. Higher altitudes mean less oxygen, so you will get out of breath more quickly.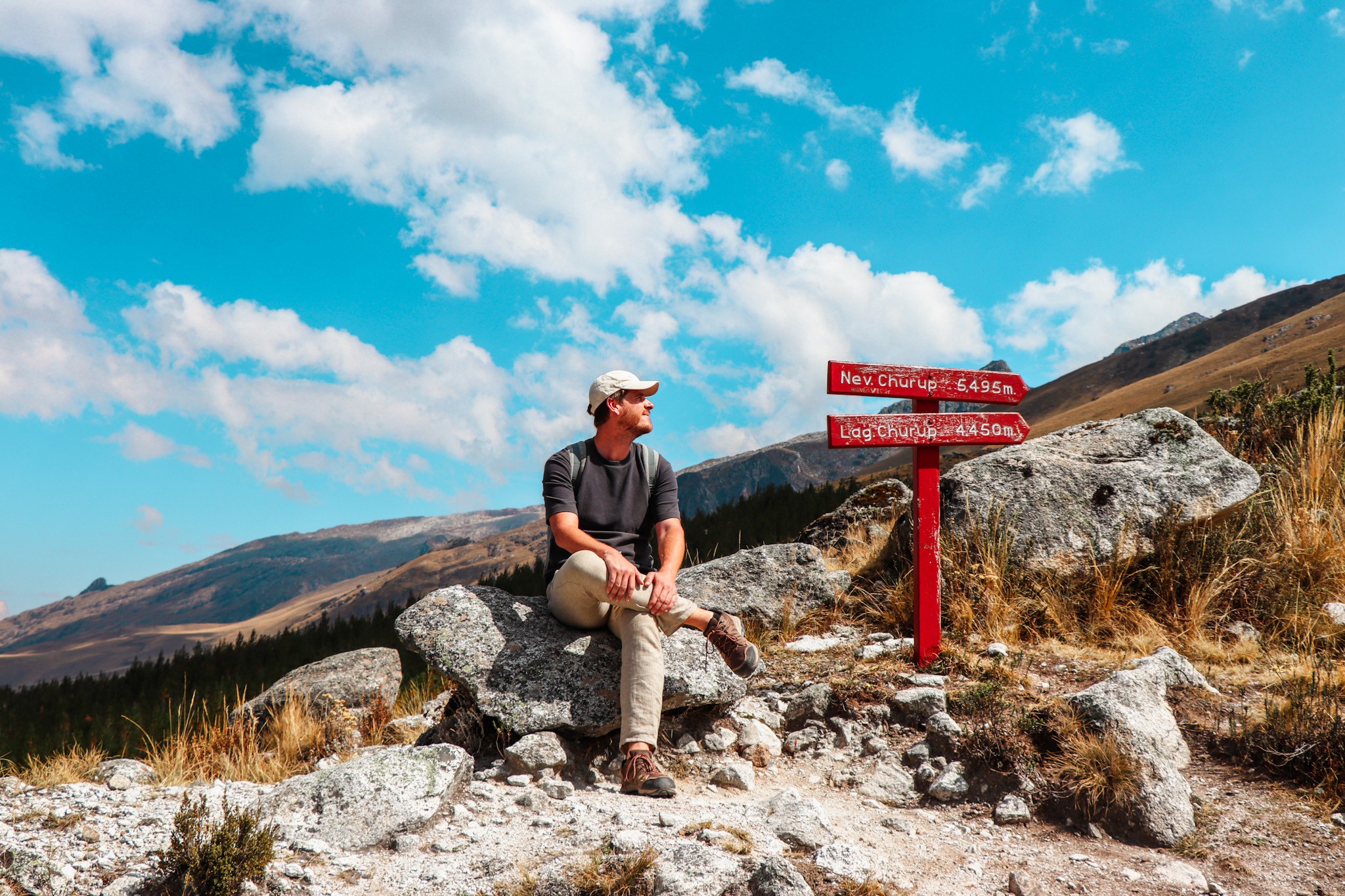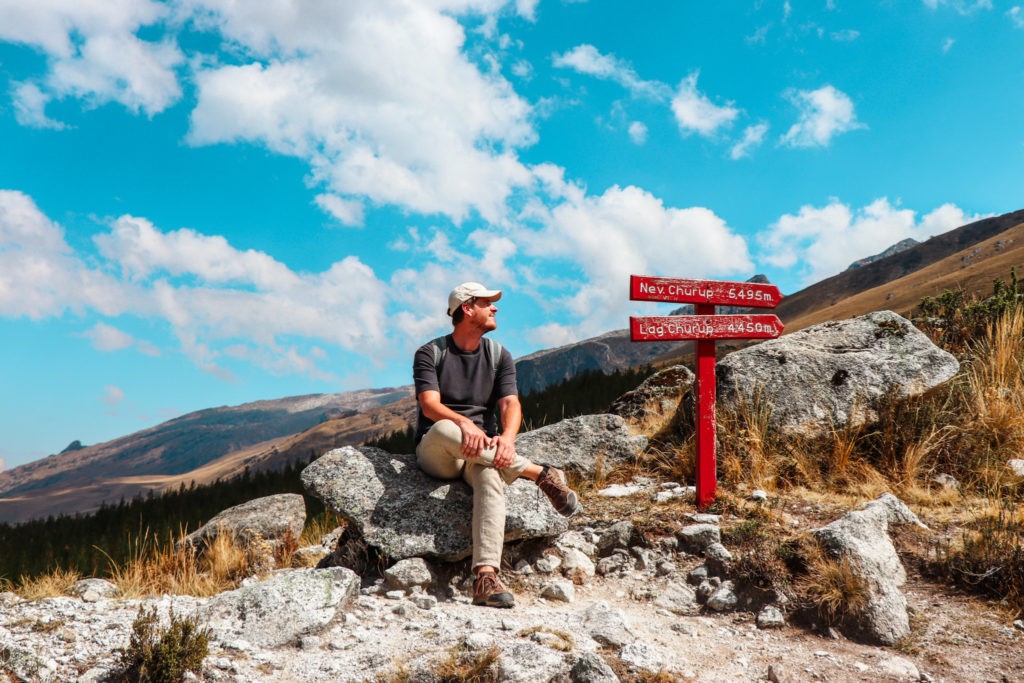 Ascend slowly and listen to your body
If you feel that you start to experience any symptoms of altitude sickness stop hiking and take a rest. In case you don't feel better, cancel the hike and descend. It's important to always listen to your body and be extra cautious.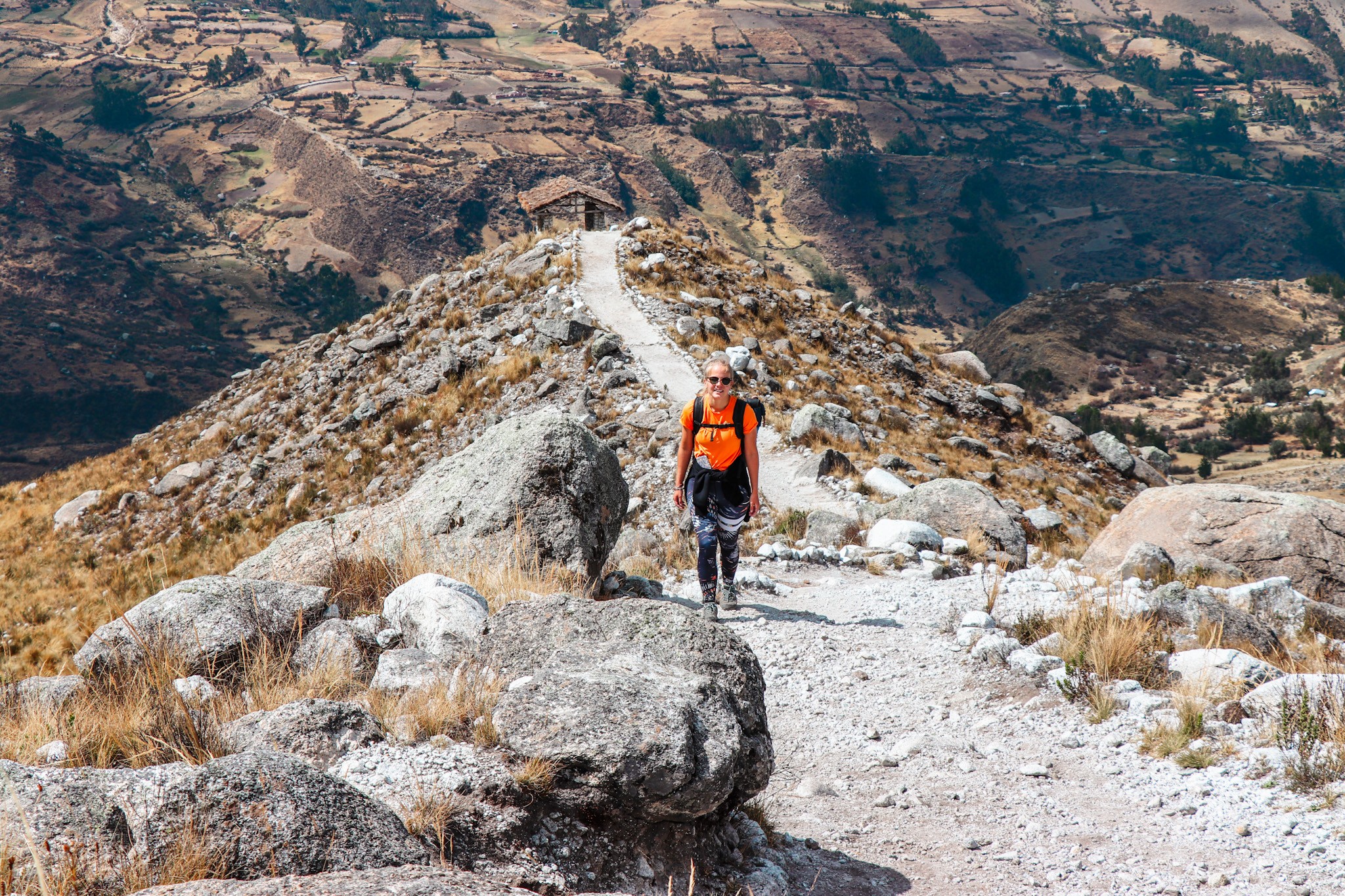 The hikes around Huaraz are challenging even without considering the high altitudes. Make sure you pack a lot of water and drink before you feel thirsty and avoid drinking any alcohol during your stay in Huaraz. Get yourself a coca leaf tea, a traditional Peruvian remedy for altitude sickness – it can work wonders.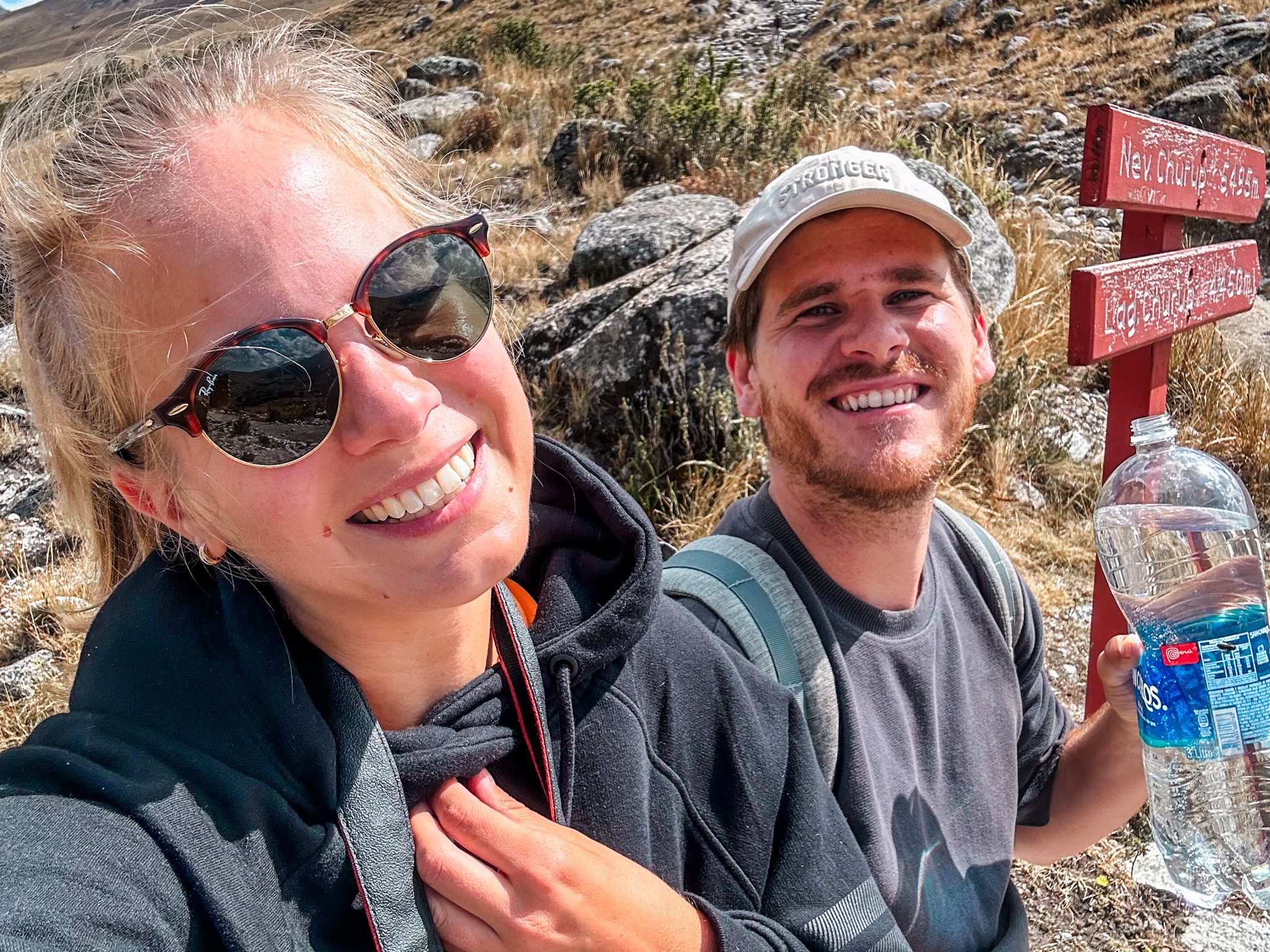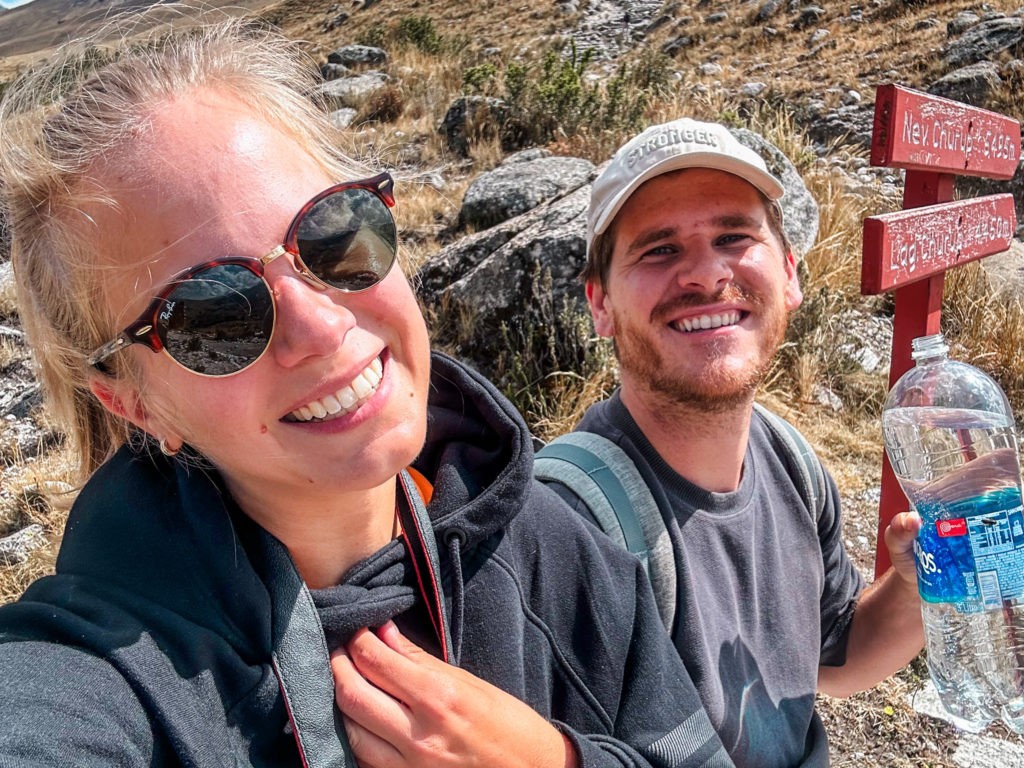 Huaraz is located 420 kilometers north of Lima in the Ancash Region of Peru and can be reached by bus or taxi from major Peruvian cities.
Most travelers arrive to Huaraz from Lima by taking a bus. While theoretically there are options to take a private driver or taxi to Huaraz, it is by far the most expensive way with only little time savings.
There are several bus agencies operating between Lima and Huaraz, most recommended ones being Cruz del Sur, Linea and Rapido VIP. While the ride is 8-10 hours, depending on the road conditions, many tourists choose to take a night bus. In case you prefer not to travel during night – as we do – be aware that there are only a few buses leaving in the morning. Also, be sure to check from which bus terminal your bus will be leaving, often the bus agencies have their own terminals. The same also applies when you are about to get back to Lima. There is no central bus terminal in Huaraz and all bus companies have their own shops where also the buses will be taking off.
The ticket prices from Lima to Huaraz are rather cheap, considering the long distance and comfortable buses, costing between 40-60 soles per person (approx. 10-15 USD). While the bus ride will take 8-10 hours which can be tiresome during the day, there is a short stop at a restaurant where you can buy some snacks or have a lunch.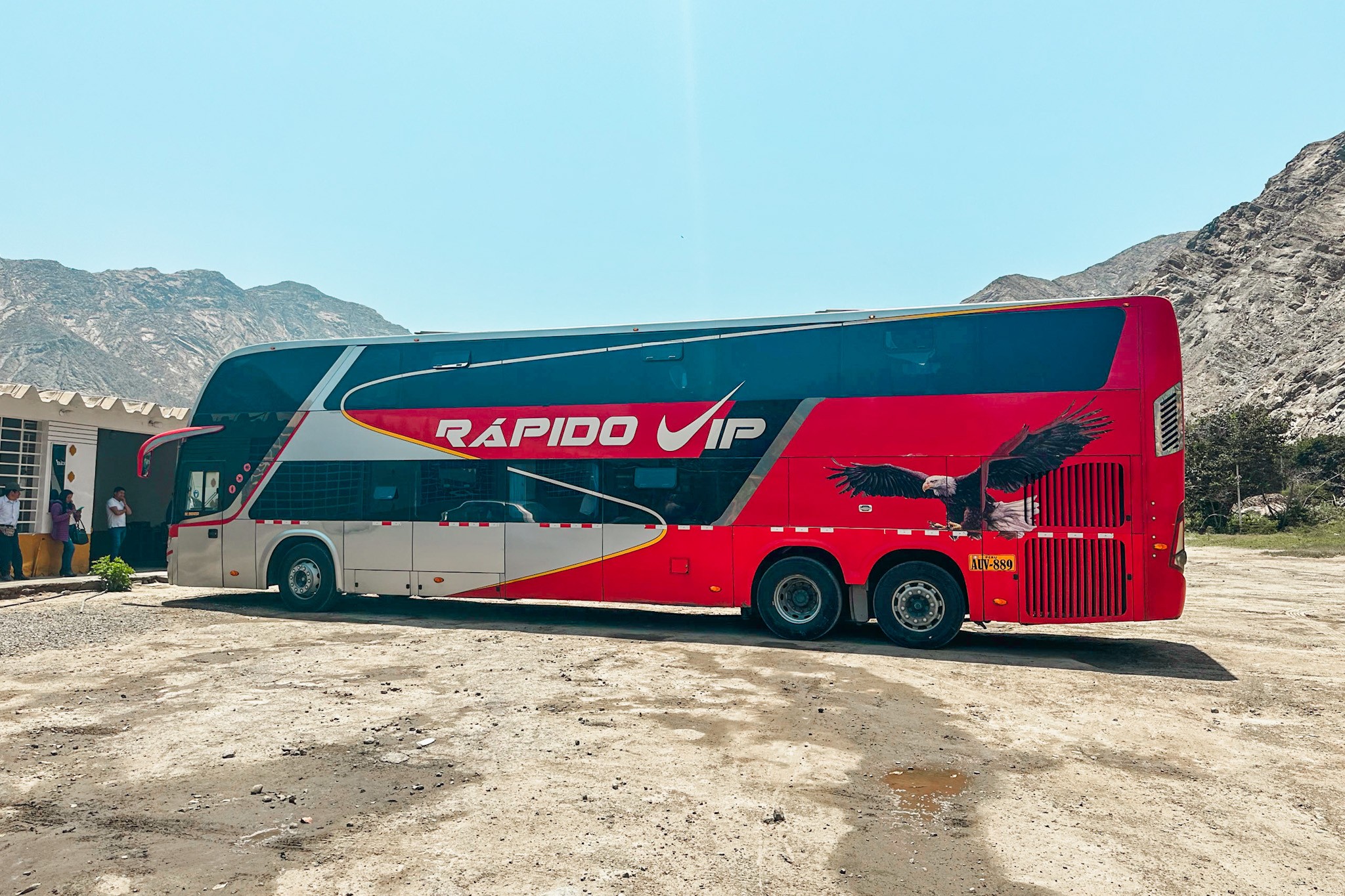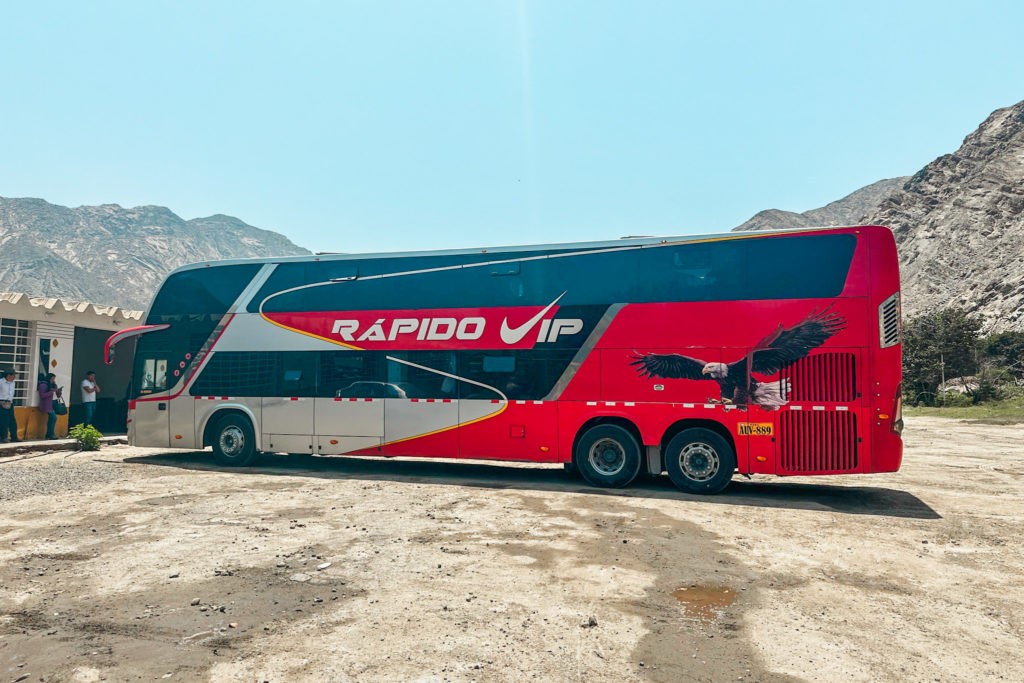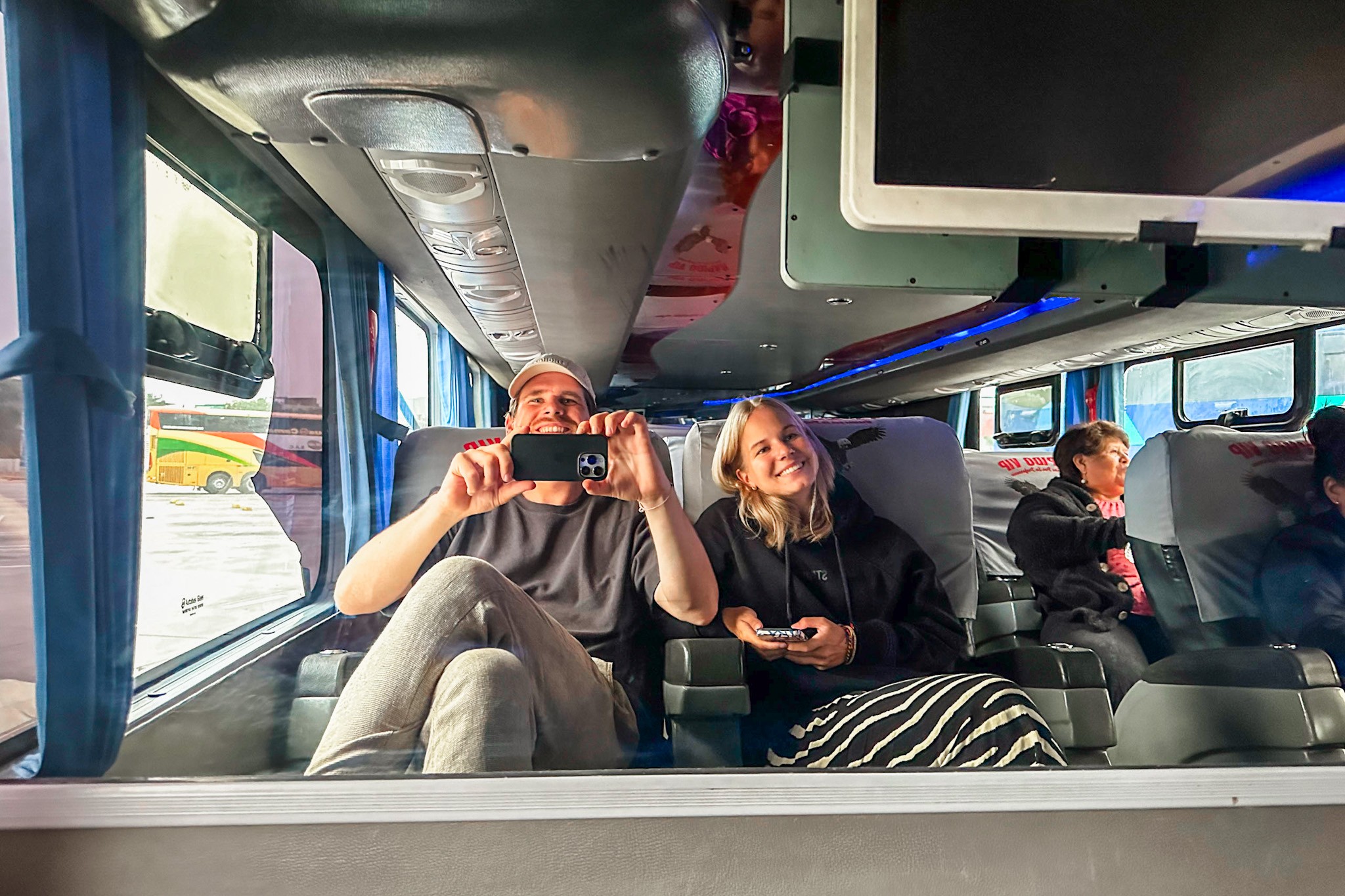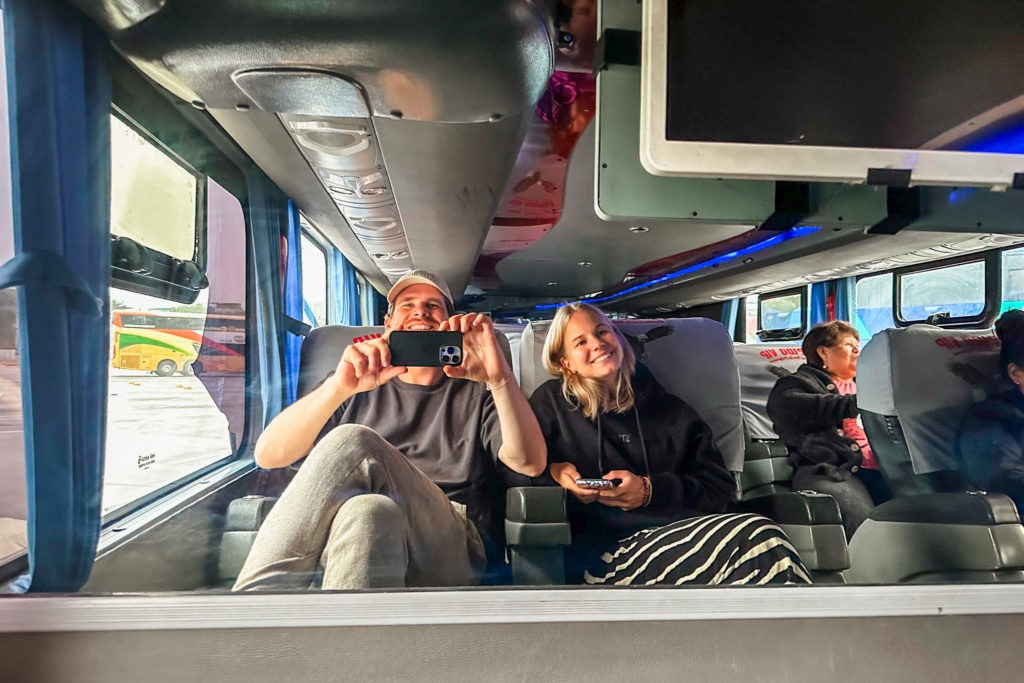 When you traveled North of Peru you will most likely find yourself in Trujillo or Huanchaco. From there buses to Huaraz leave from the Terrapuerto Trujillo or the Avenida America Sur, depending on the bus company. In Trujillo there are several bus agencies that you can choose from, the most popular among tourists being Linea and Cruz del Norte. It is best to book your ticket online and in advance, especially during the peak season.
Buses usually leave Trujillo in the morning between 9:00 and 10:00 a.m. and in the evening between 9:00 and 10.00 p.m. with ticket prices ranging from 60-80 soles per person (approx. 15-20 USD). The ride from Trujillo to Huaraz usually takes around 8-10 hours.
In case you are traveling as a couple or as a group, we recommend to buy tickets online to secure places next to each other. You can easily book your tickets via an online booking platform, such as RedBus. It is important to know, that you will have to exchange your electronic ticket to a paper one at the terminal. So plan for a little spare time before your bus leaves.
How to get around Huaraz?
Getting around Huaraz is not difficult. Huaraz is a small city where you can easily reach most places on foot. The streets of Huaraz are usually very busy with a lot of traffic jams, due to the lack of wide streets. However, in case you need to get to a little ore remote place, there are TukTuks and Taxis readily available throughout the city that are happy to stop for you besides the road if you wave for them.
If you are planning to go for a hike it is best to book a trip with a local tour operator. Prices are very affordable, as the tour is mostly limited on having a shared ride only. Alternatively,  you can take a collectivo (Mini-Van) from the main street to many hiking spots, in case you prefer to explore independently.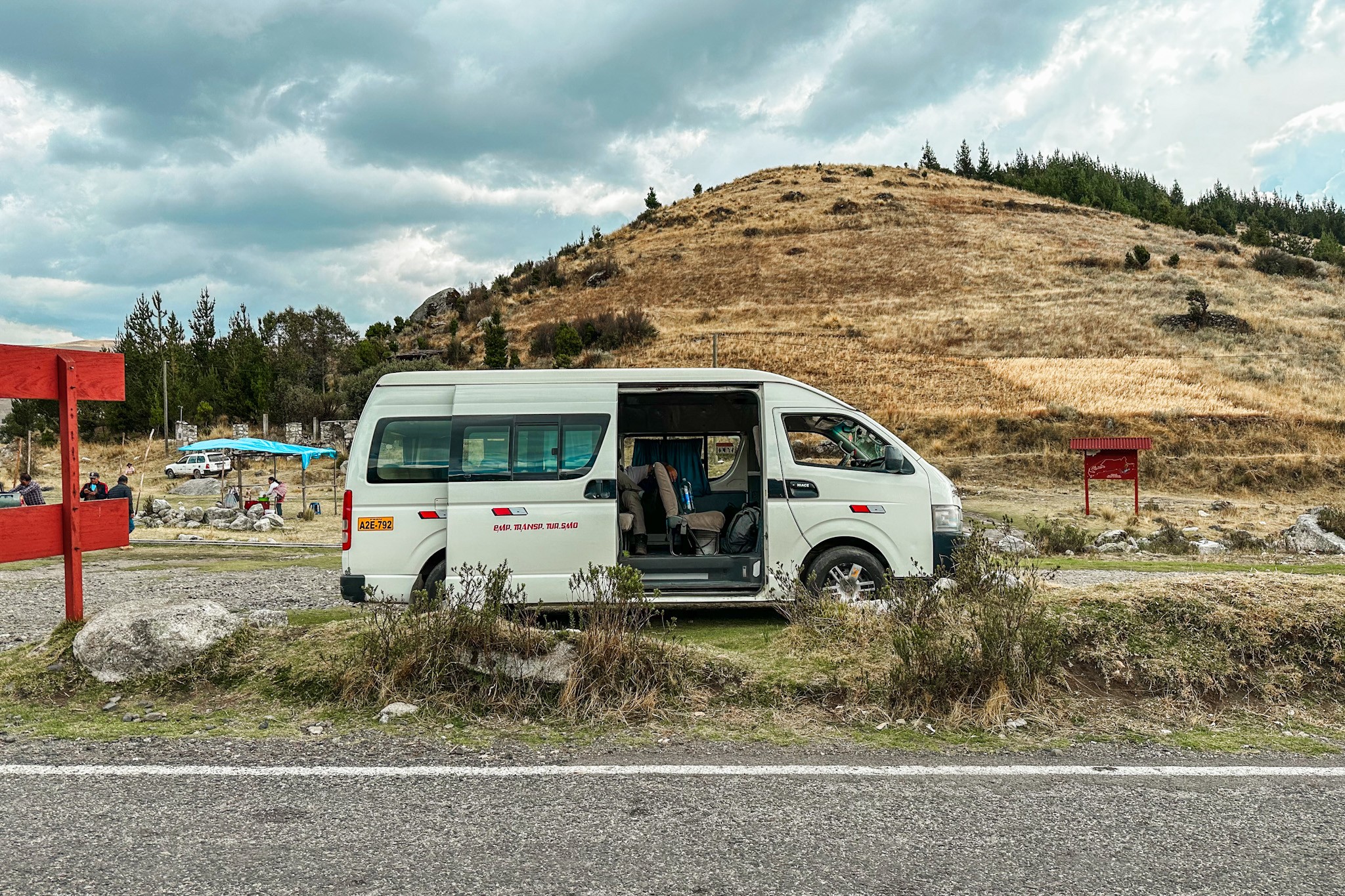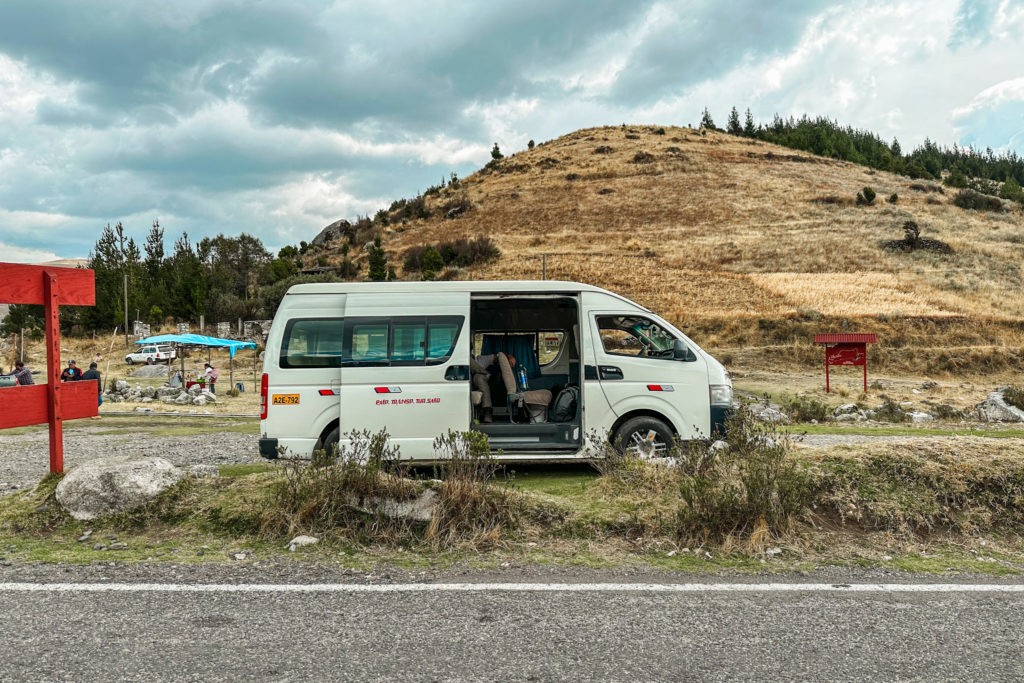 Huaraz offers different types of accommodation mostly targeted for backpackers. There are no fancy resorts or luxury lodges. However, if you look around you will find some nice and welcoming places with not too much comfort, but way more hospitality and attention that usual. Plus, staying in Huaraz is also very affordable. So you can spend you budget on those beautiful hikes in the Andes. We have collected our favourite places to stay in Huaraz to provide you with some inspiration.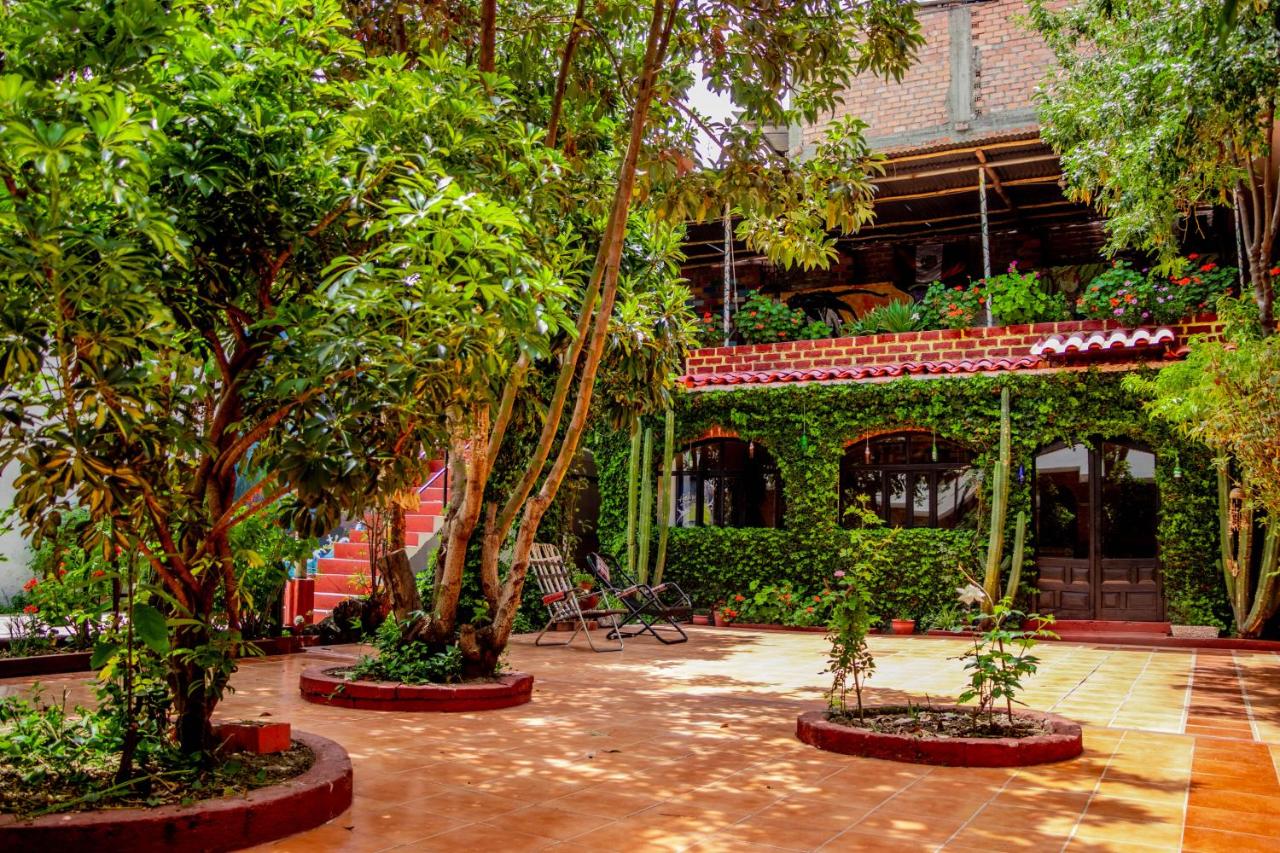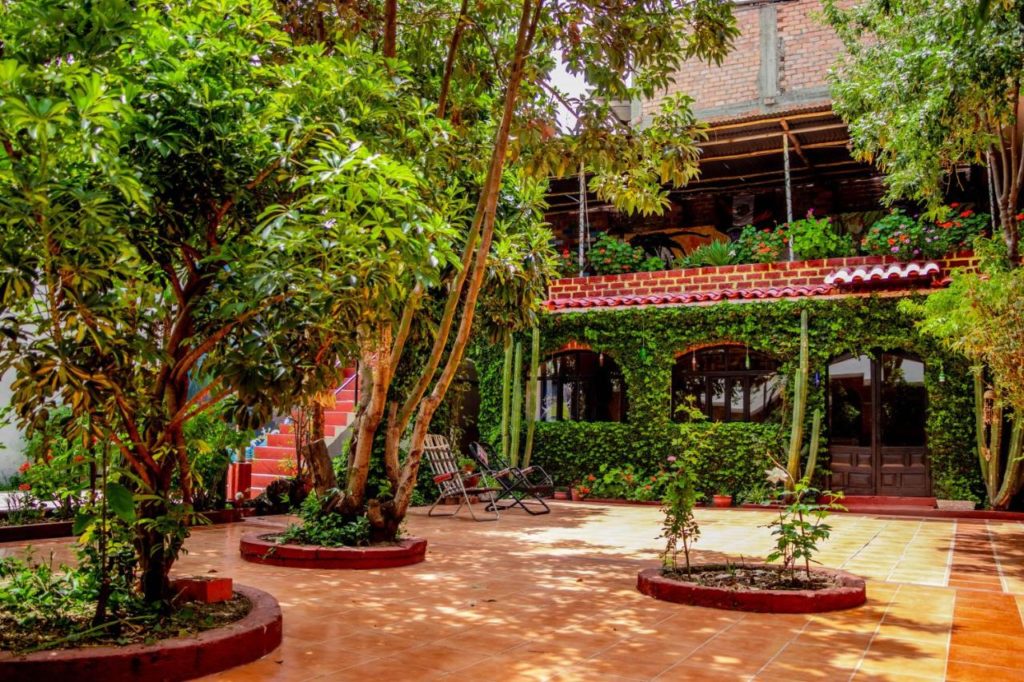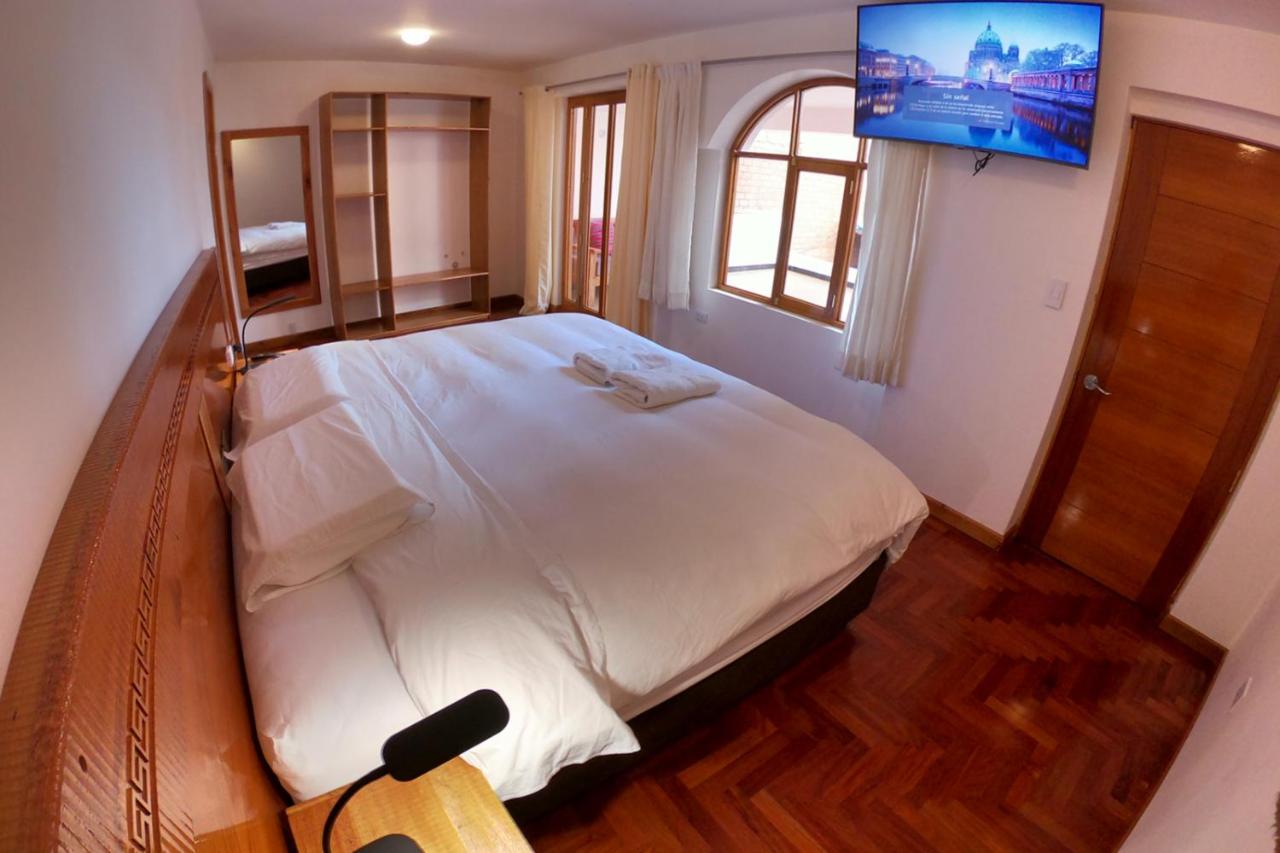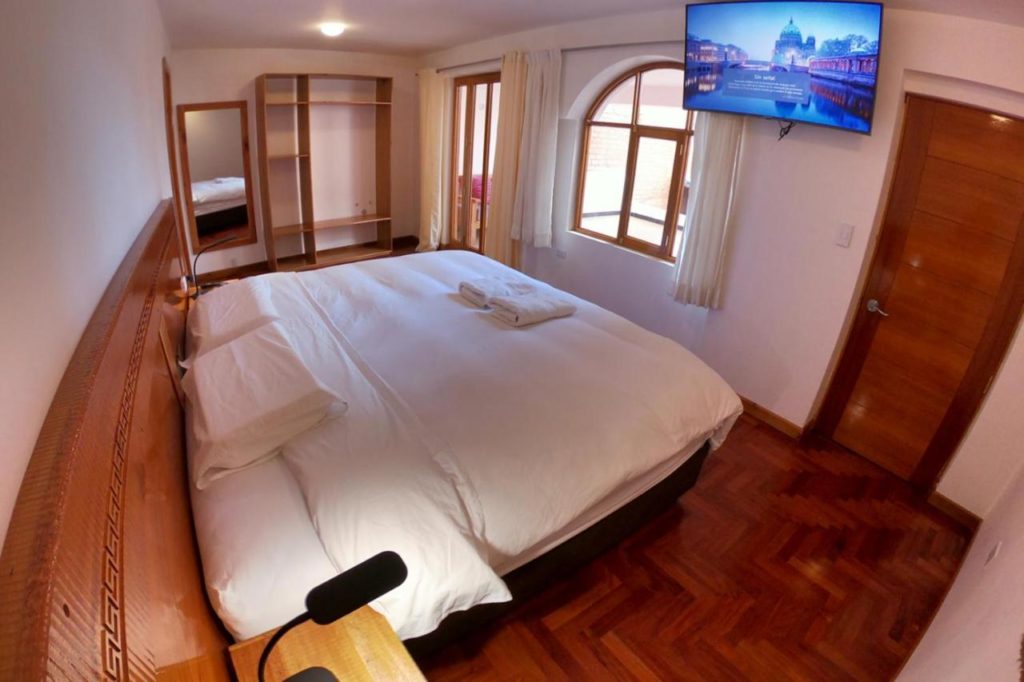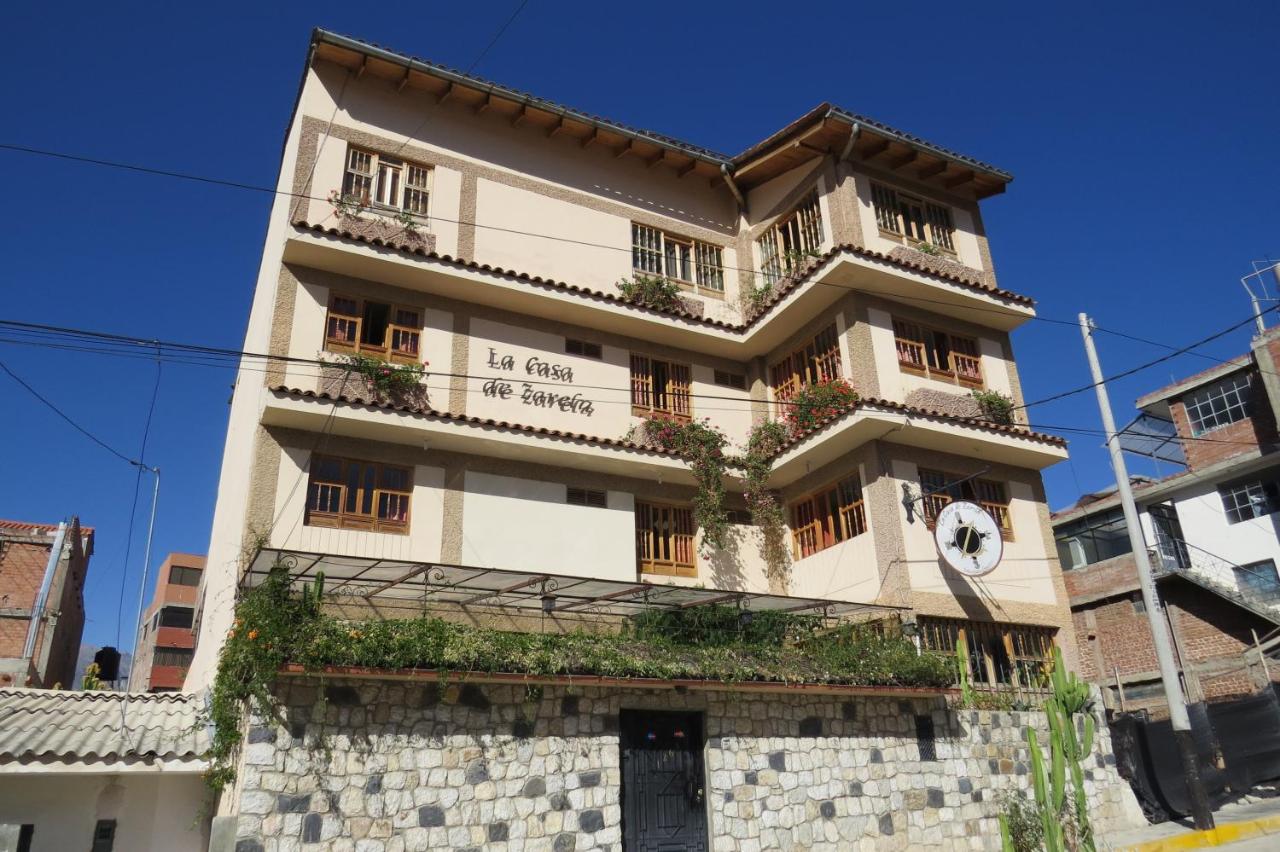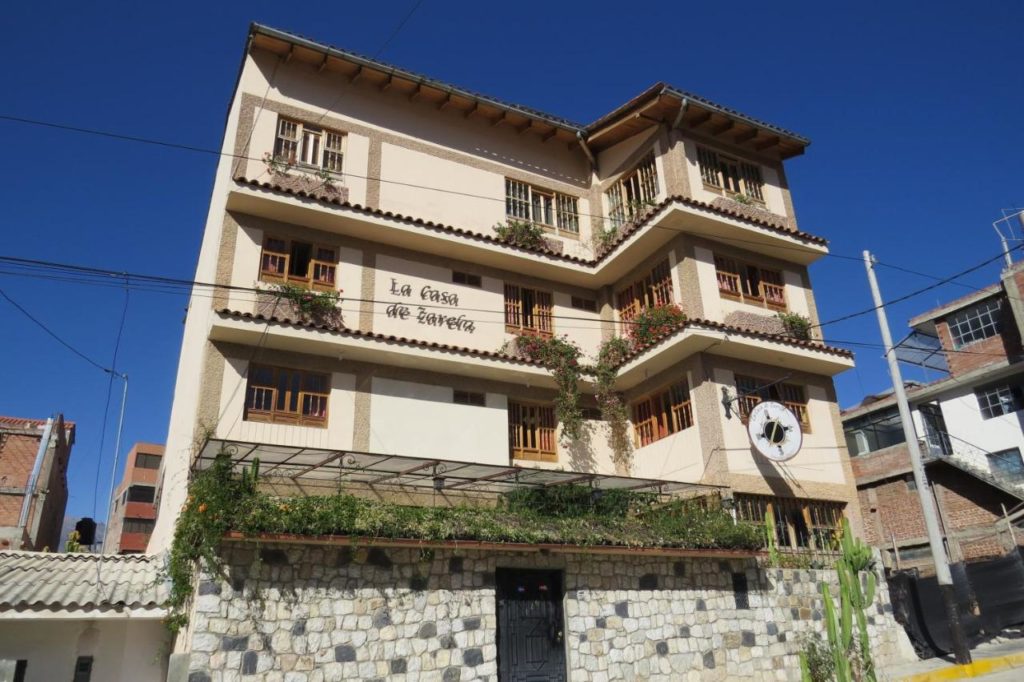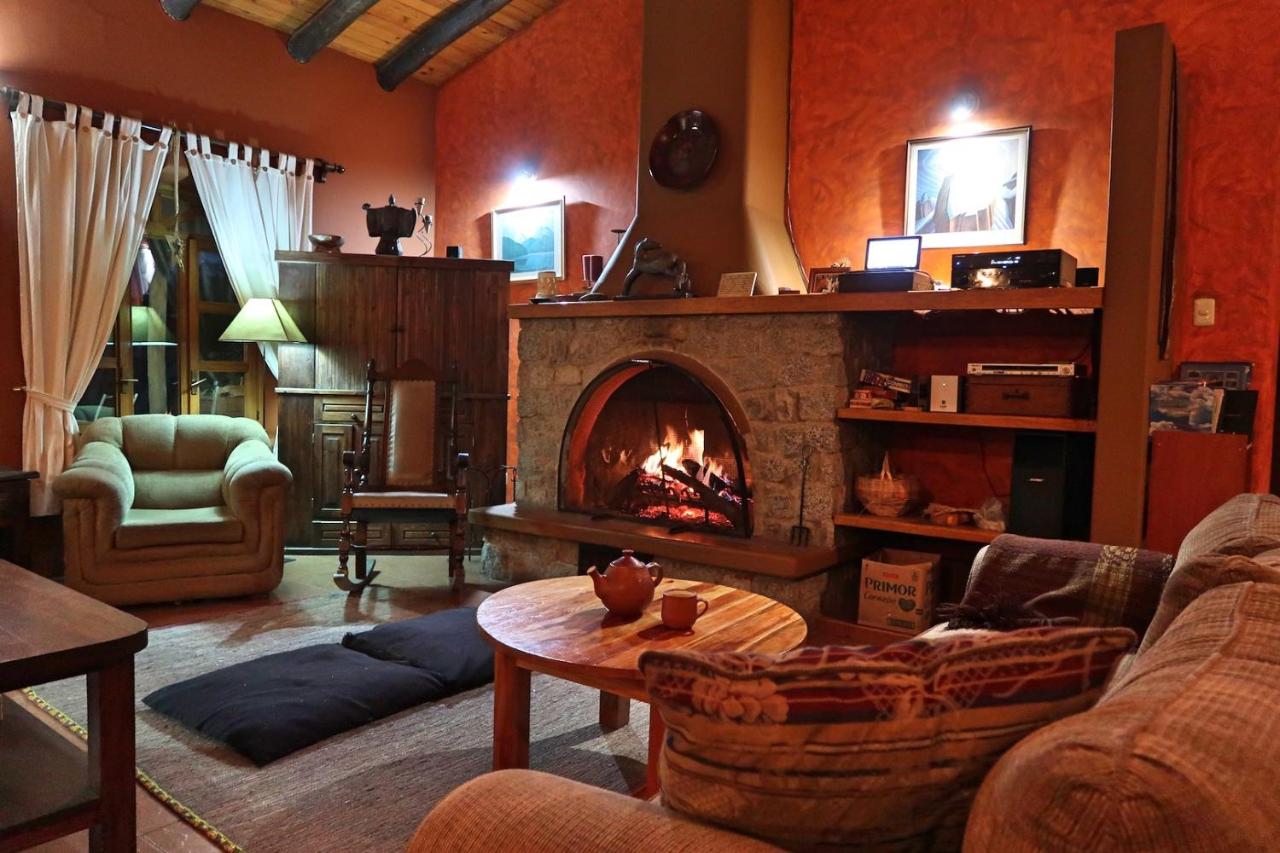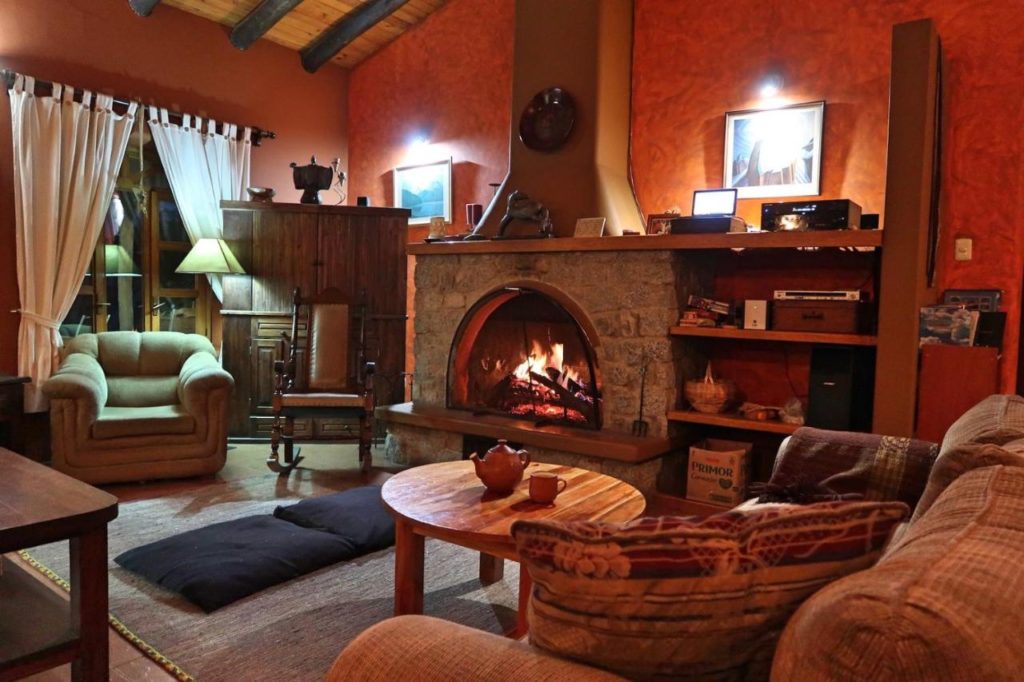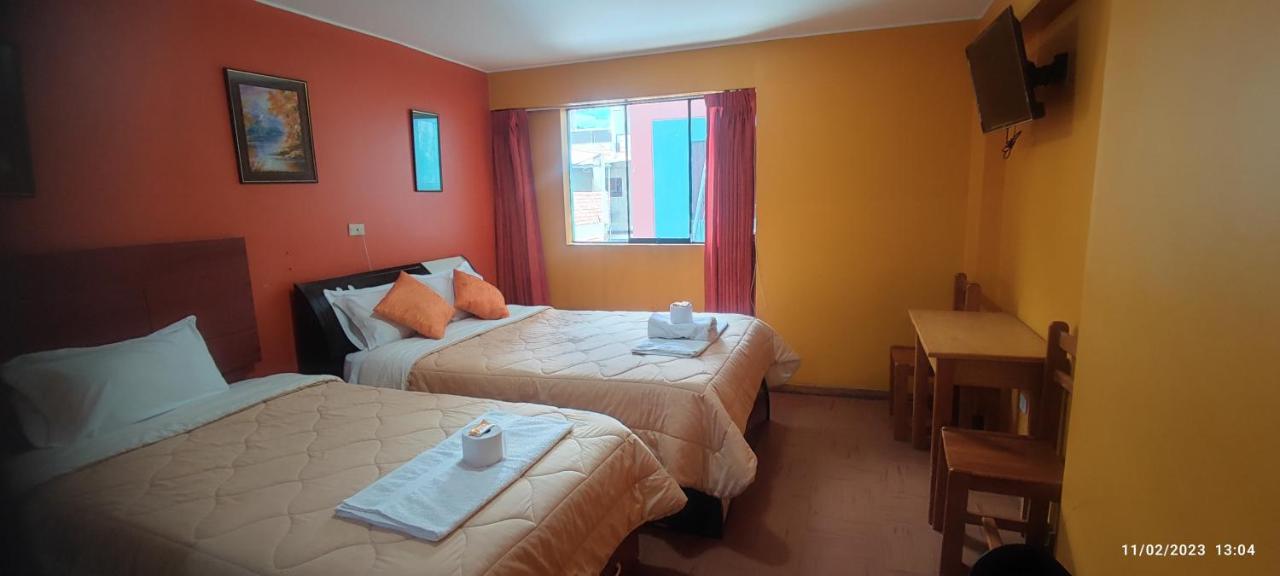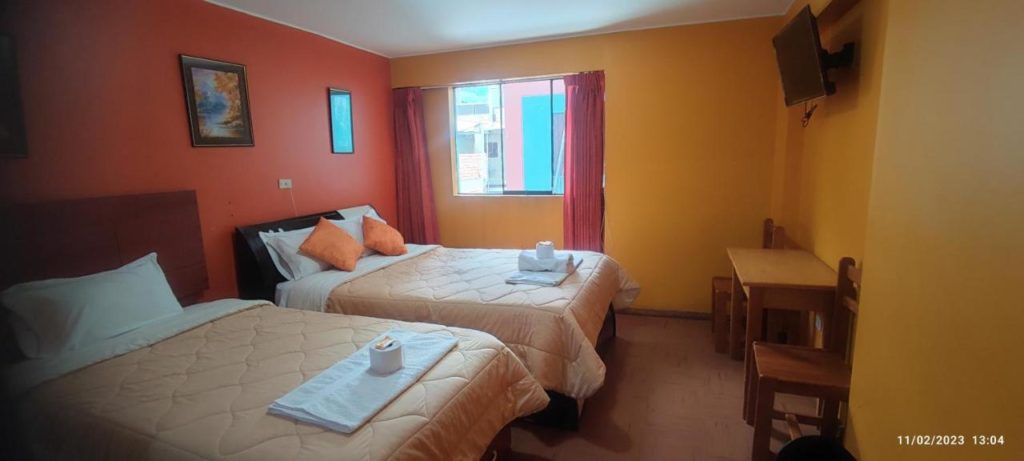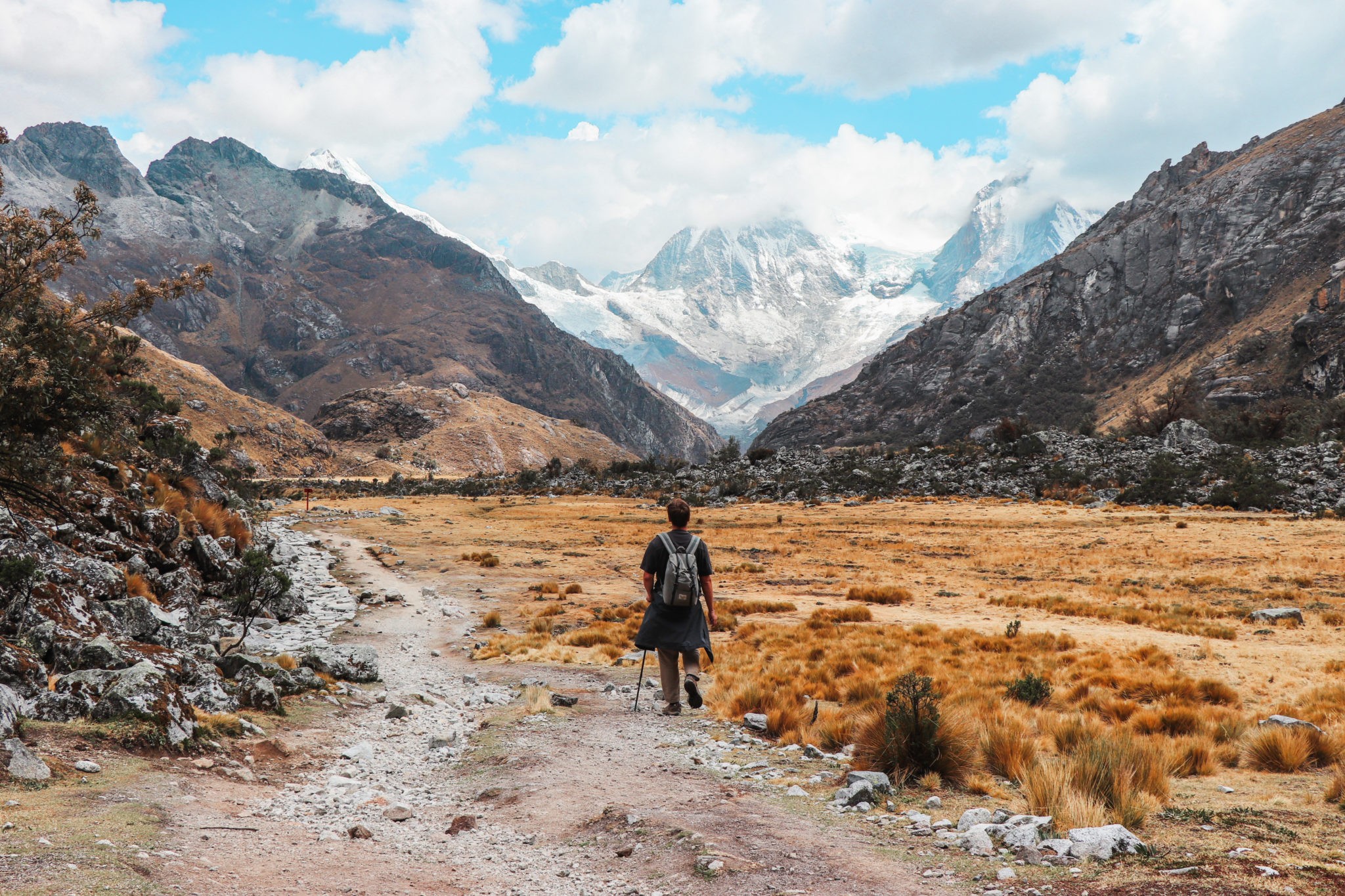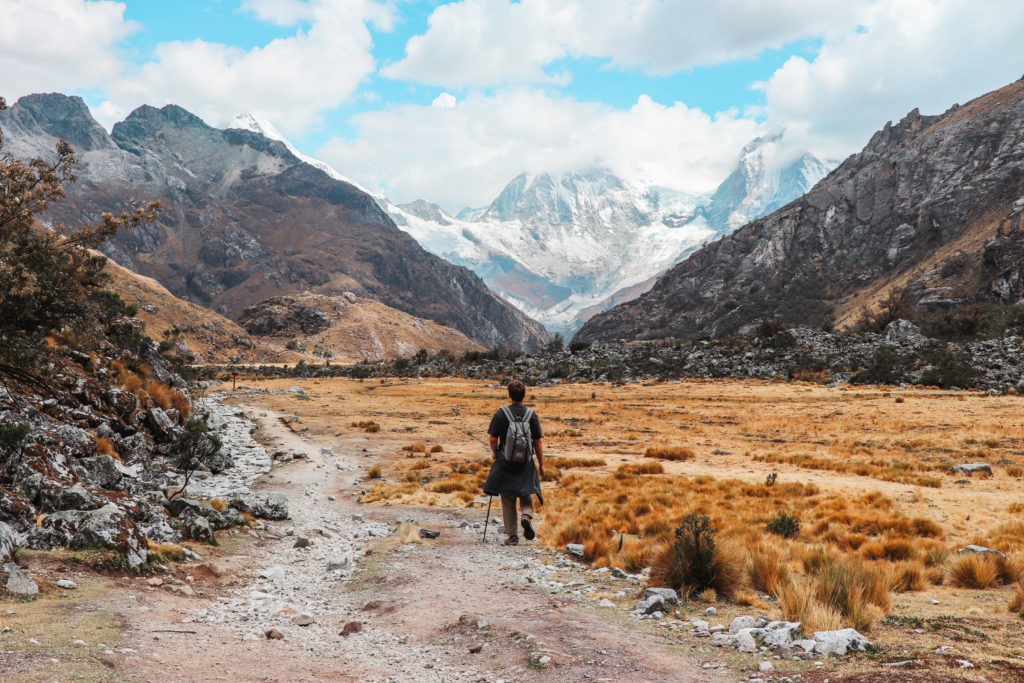 Even though Huaraz is a comparably small city, there are plenty of restaurants all over the city center. Most of them you will find around the Plaza de Armas, the main square of Huaraz. When we were in Huaraz, we tried out several restaurants. Here are our top three.
This was by far the best restaurant in Huaraz. We've visited them several times during our stay in Huaraz. They offer delicious Ossobucco and Andean Cordon Bleu. Those were so yummy!
Perfect place for an after hike drink. They serve local craft beers, fresh juices and tasty cocktails. The burgers were mouthwatering and the fries crunchy. A central and affordable restaurant.
A decent pizza place hidden outside of the city center. You can watch them preparing your pizza right in front of you. Prices are higher compared to other places, but food and service were great.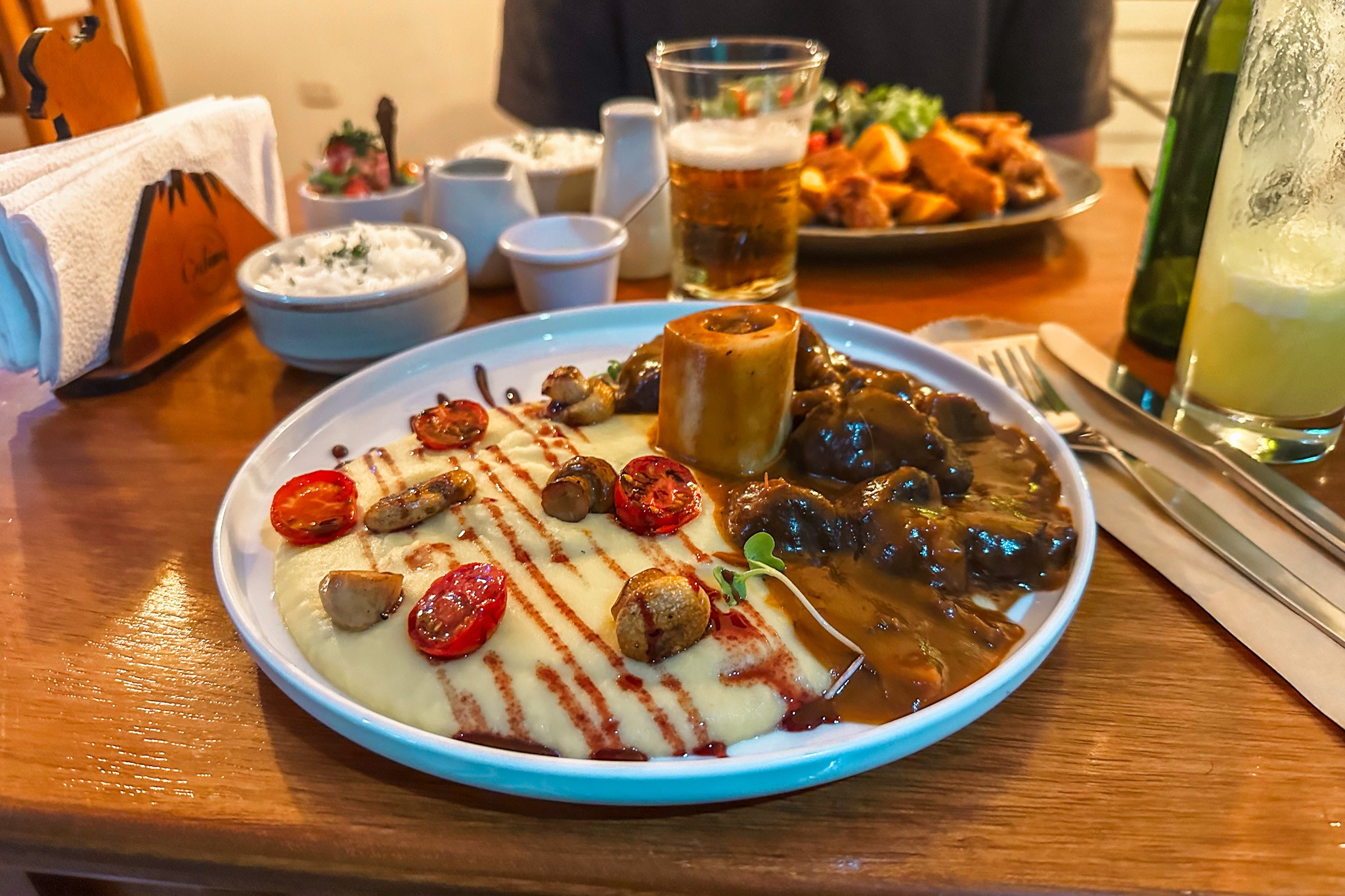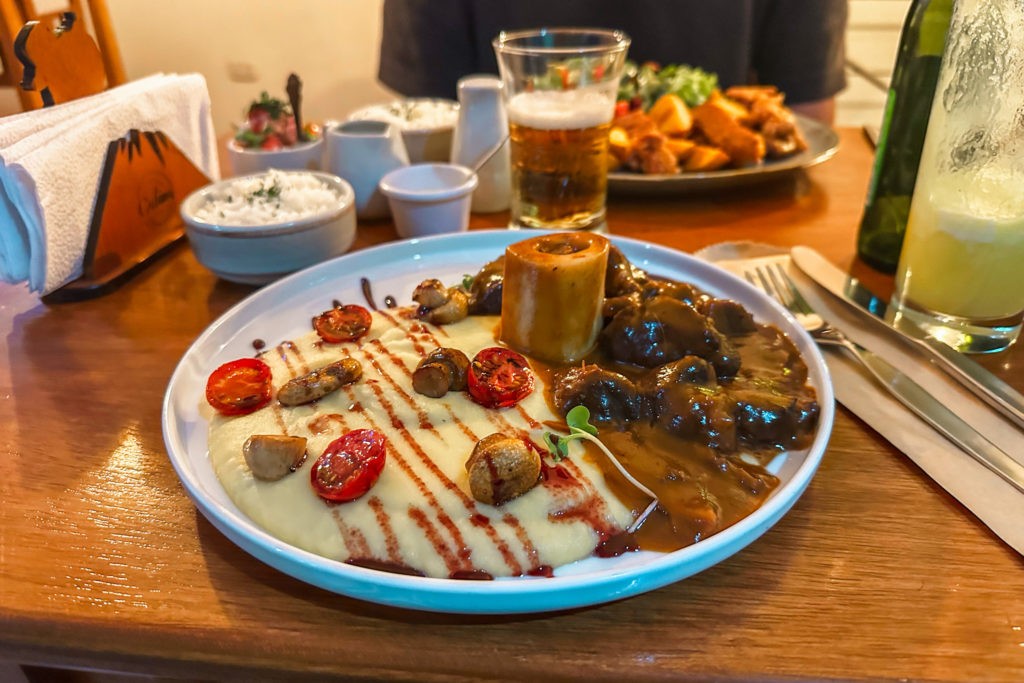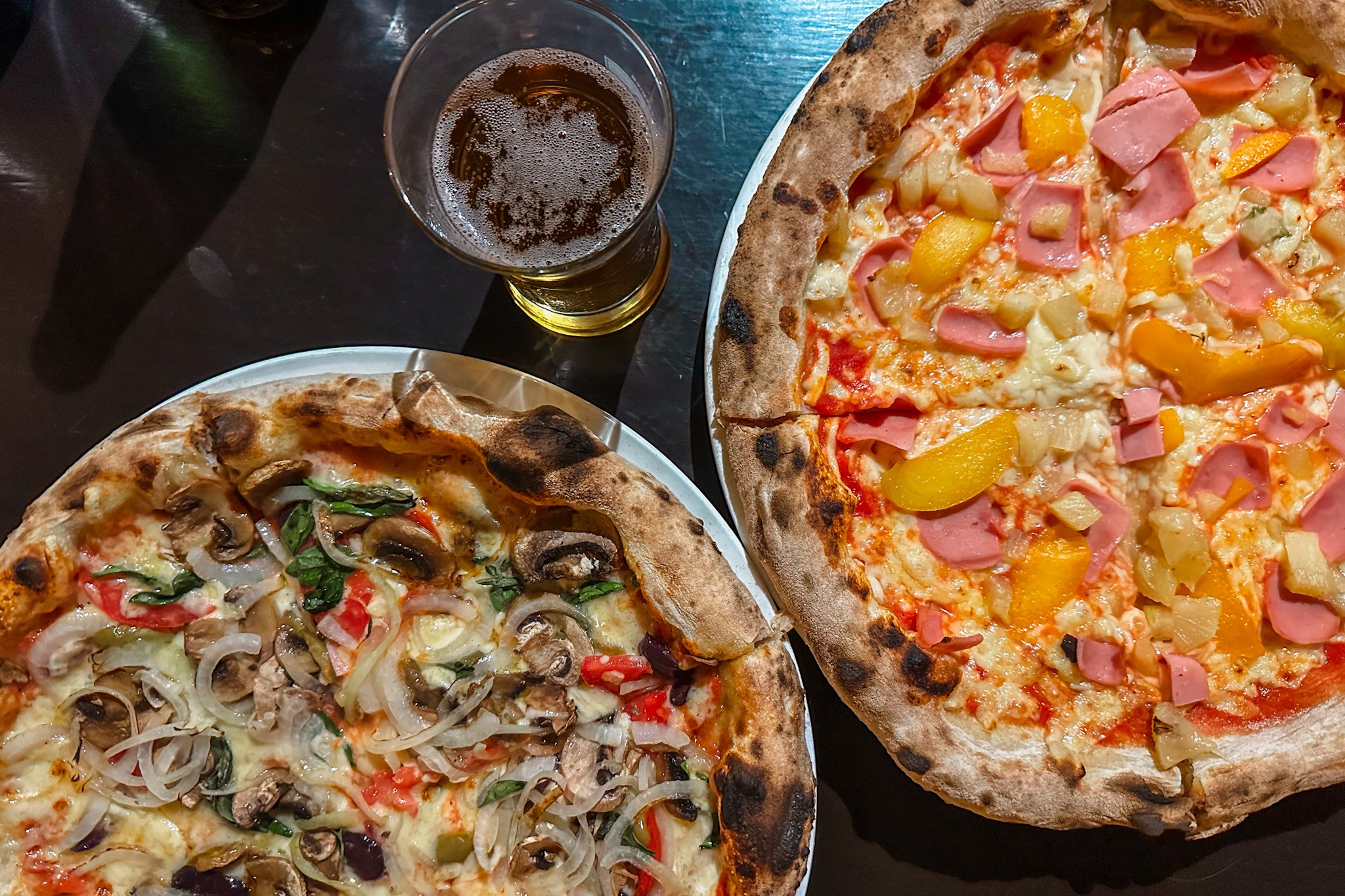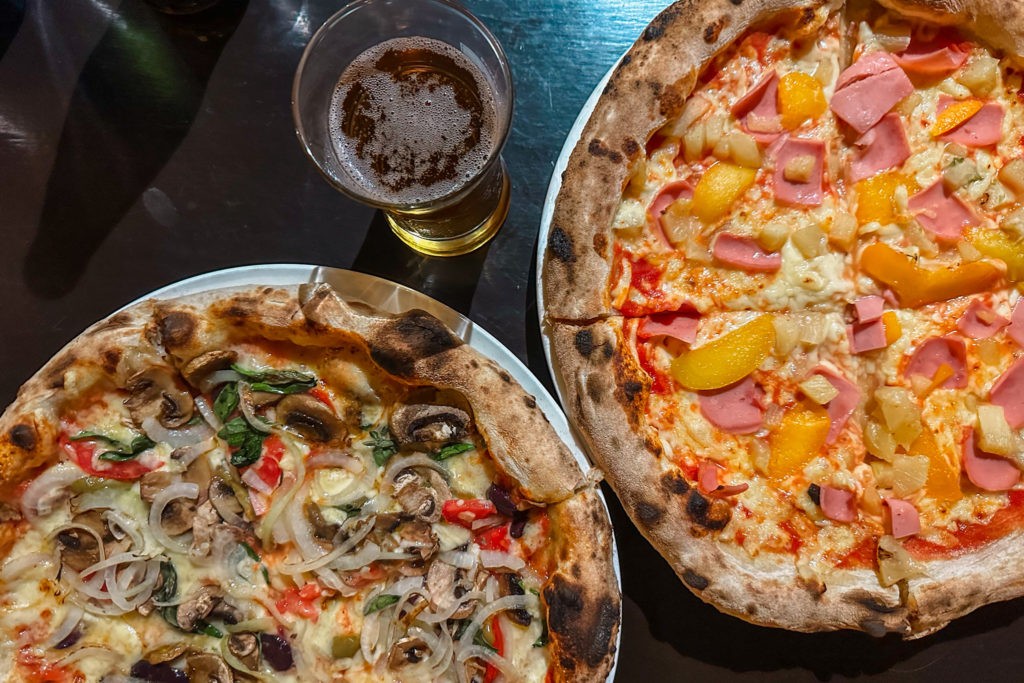 When is the best time to visit Huaraz?
The best time to visit Huaraz is during the dry season between May to September when the weather is generally sunny and mild with temperatures ranging from 19°C (66°F) during the day to 8°C (46°F) at nights. During the dry season the chance of rain is the lowest making it safe to hike the often challenging mountain trails.
We've traveled to Huaraz during the shoulder season which was also a good time to visit. Even though it rained occasionally, rainfalls were rather short and later in the afternoon as we were already in the bus. The upside of choosing a shoulder month is that you will avoid the majority of crowds and can save some money on accommodations and tours. Plus, it is also more sustainable (find out why in our sustainable travel article).
The rainy seasons in Huaraz runs from November to March. During this time, the weather can be unpredictable, with heavy rainfalls and landslides making a trip onto the mountains a risky and dangerous business. Hence, avoid traveling to Huaraz during the rainy months.
Don't forget to acclimatize to the altitude before hiking in Huaraz. Plan at least a day of getting used to the high altitude and follow our tips above to avoid getting altitude sick.
Average peak temperatures
What does it cost to visit Huaraz?
Staying in Huaraz is very affordable, as the city is targeted for backpackers and budget-conscious travelers. This also means you should not expect too much luxury during your time in Huaraz. It is all about the beautiful mountains.
Plan to spend around 250 USD a week if you travel on a budget up to a maximum of 1500 USD, if you seeking a more comfortable stay. Flight prices to get to Peru are not included in the cost overview, as they vary depending on your departure country and time of booking.
How many days to stay in Huaraz?
The amount of days you should spend in Huaraz depends on the hikes you are planning to do. We would recommend that you spend 3-6 days in Huaraz. That way you can either take the most beautiful day-hikes or the multi-day Santa Cruz trek and allow yourself an acclimatization day at the beginning of your journey.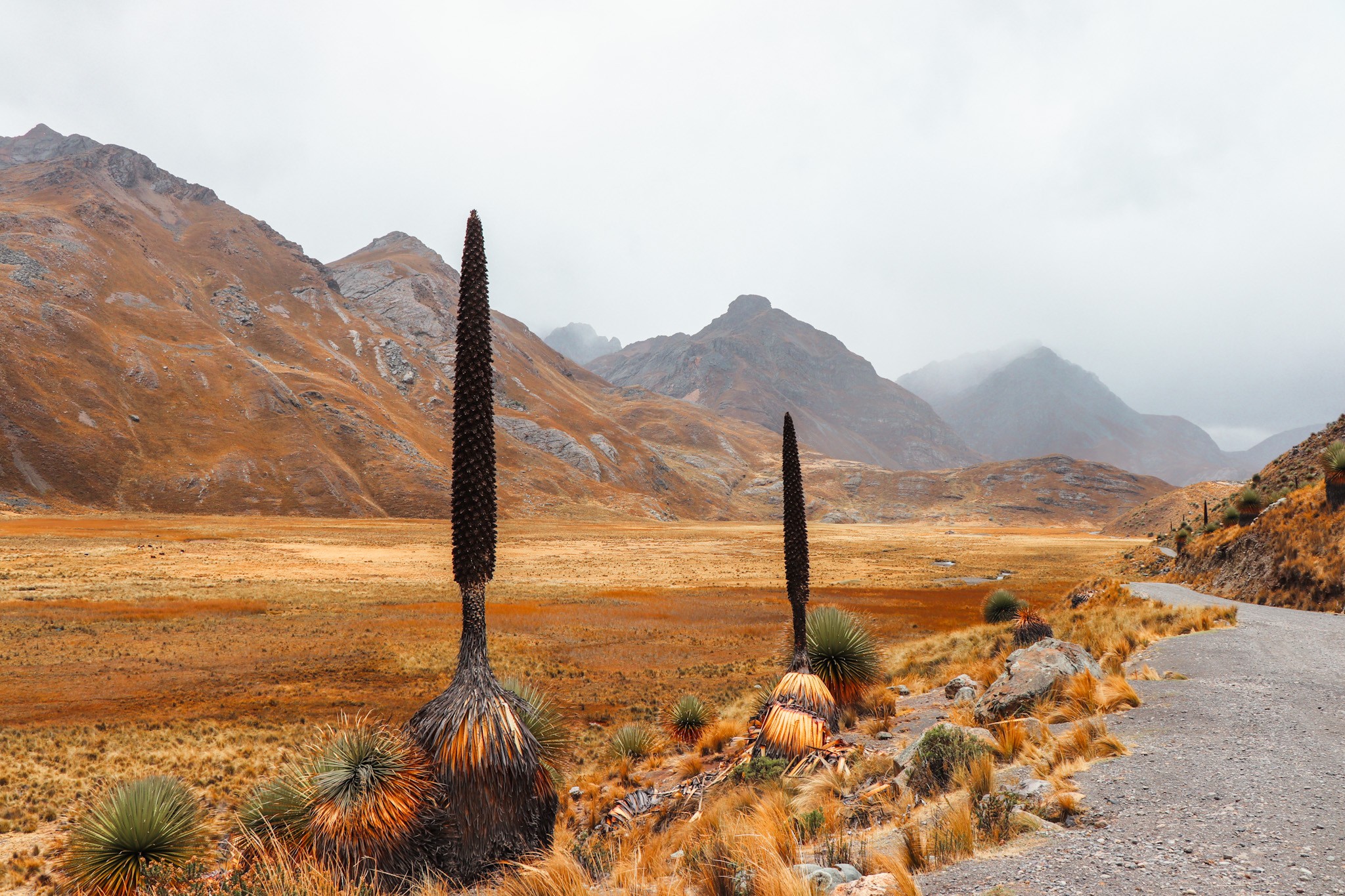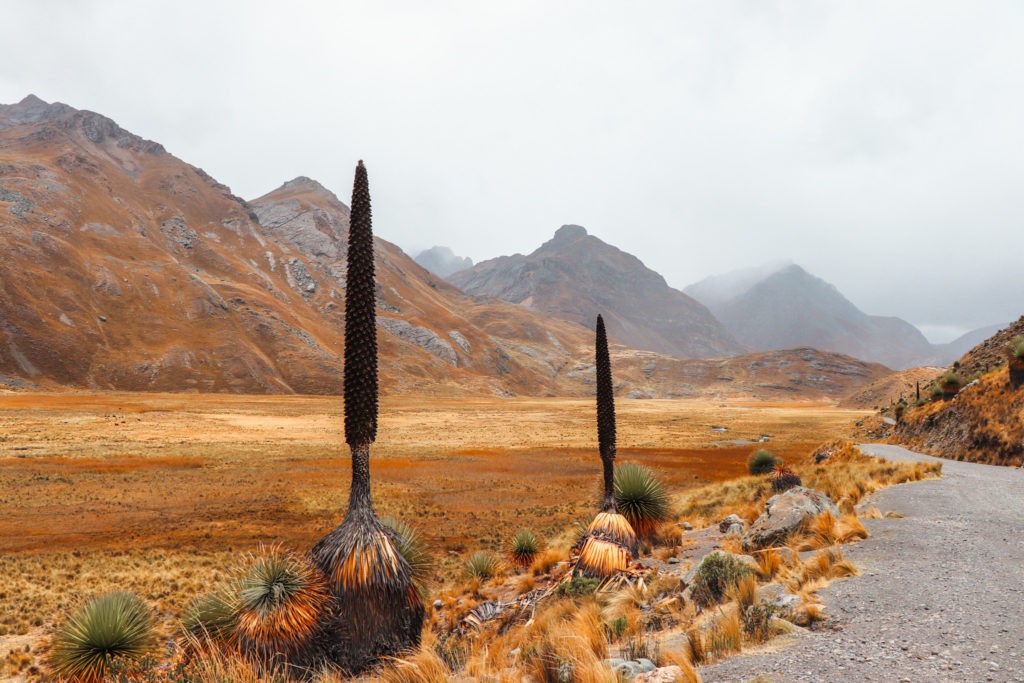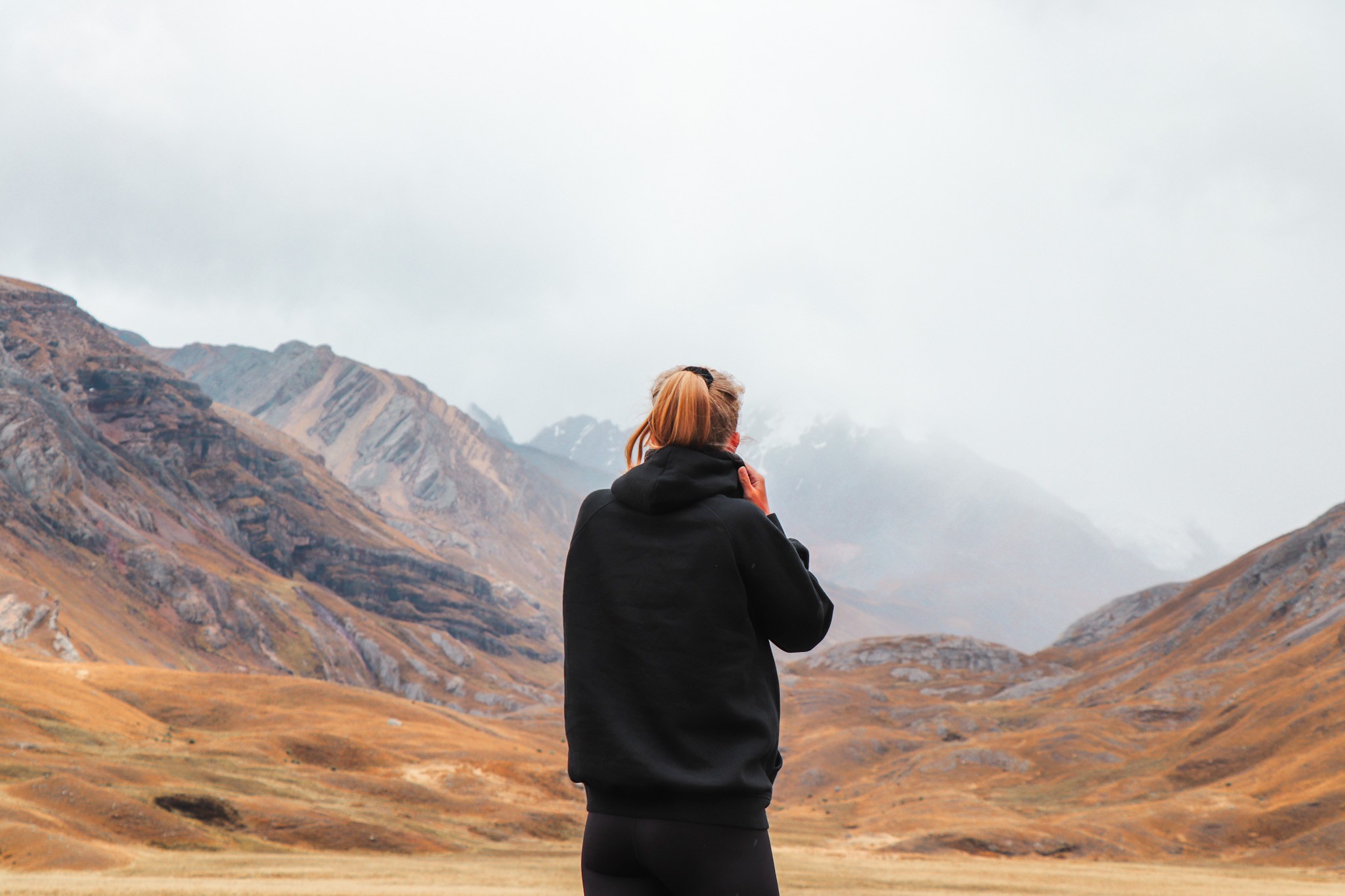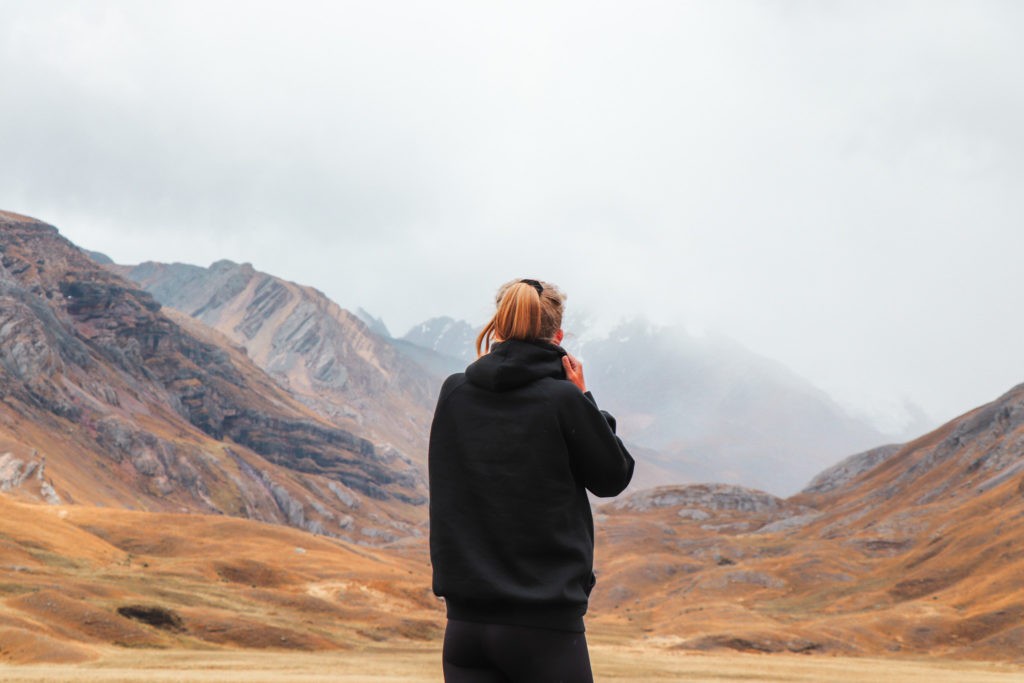 What to pack when hiking in Huaraz, Peru?
Hiking in Huaraz can be challenging, mostly because of the high altitudes and steep trails. To ease your hike, we've created a packing list with all the essential things you need pack when going on a trip to the Andes mountains. Keep in mind that your personal packing list may be different, depending on your preferences, fitness and health.
Packing List for Hiking in Huaraz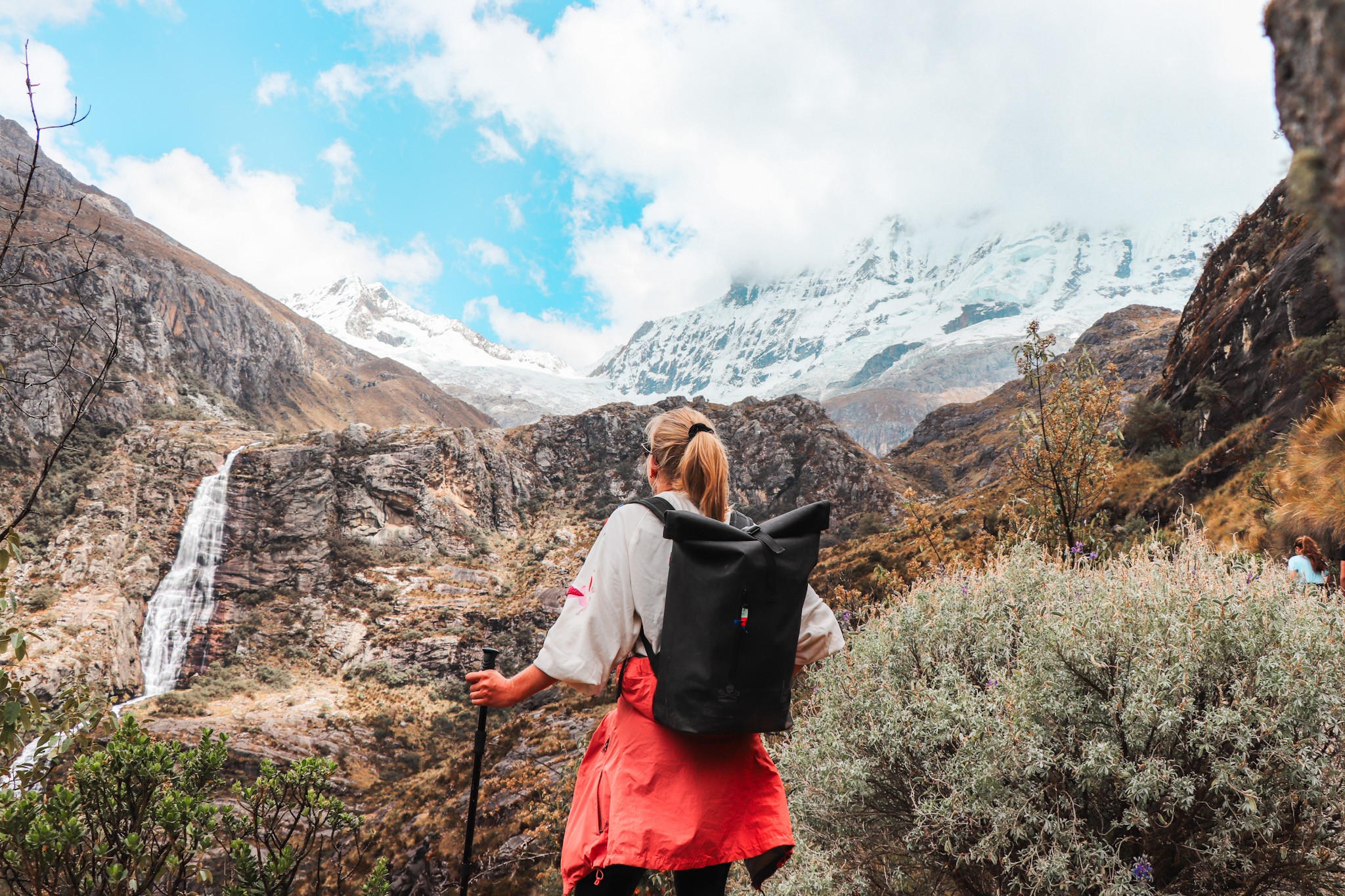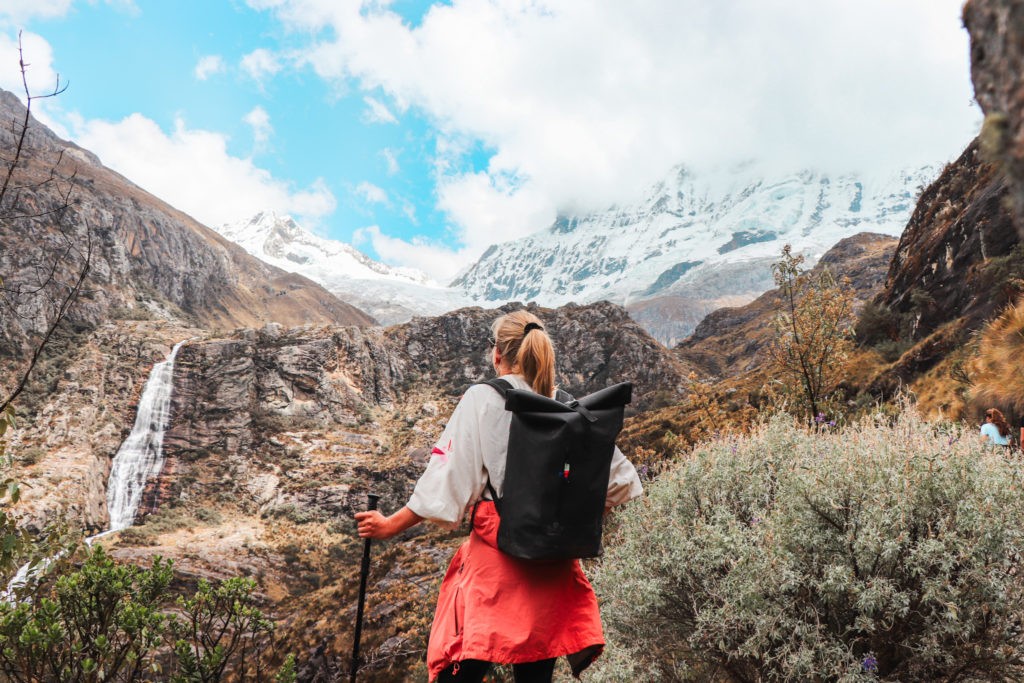 Is Huaraz worth visiting?
Visiting Huaraz is definitely worth it. You don't need to be a hiking enthusiast to adore the documentary-like scenery of the Andes with its snow-capped mountains, untouched valleys and turquoise-colored lakes.
For us, going to Huaraz was an unforgettable experience and a perfect addition to our Peru itinerary, away from touristy places like Machu Picchu. When we entered the Huascaran National Park, we were blown away by the almost vertical stone walls of the mountains and the otherworldly colors of the lakes. We couldn't relate to why hiking in the Andes would be much different to the Alps, but needed to experience by ourselves. And this was one of the best decisions of our whole trip through Peru.