Ciudad Perdida, also known as the Lost City, is a hidden gem within the deep forests of Colombia's Sierra Nevada. The Lost City trek is the second most famous hiking tour in South America, just behind Peru's Inca Trail. It offers an unforgettable 3-5-day trek that's on the bucket list of many travelers. This journey guides you through dense jungles, across rivers, and allows you to connect with indigenous people. It's a unique opportunity to uncover ancient history while becoming one with nature.
If you are planning to take on this challenge, we got you covered in terms of what you need to know, what you should pack and what to expect. Let the adventure of the lifetime begin!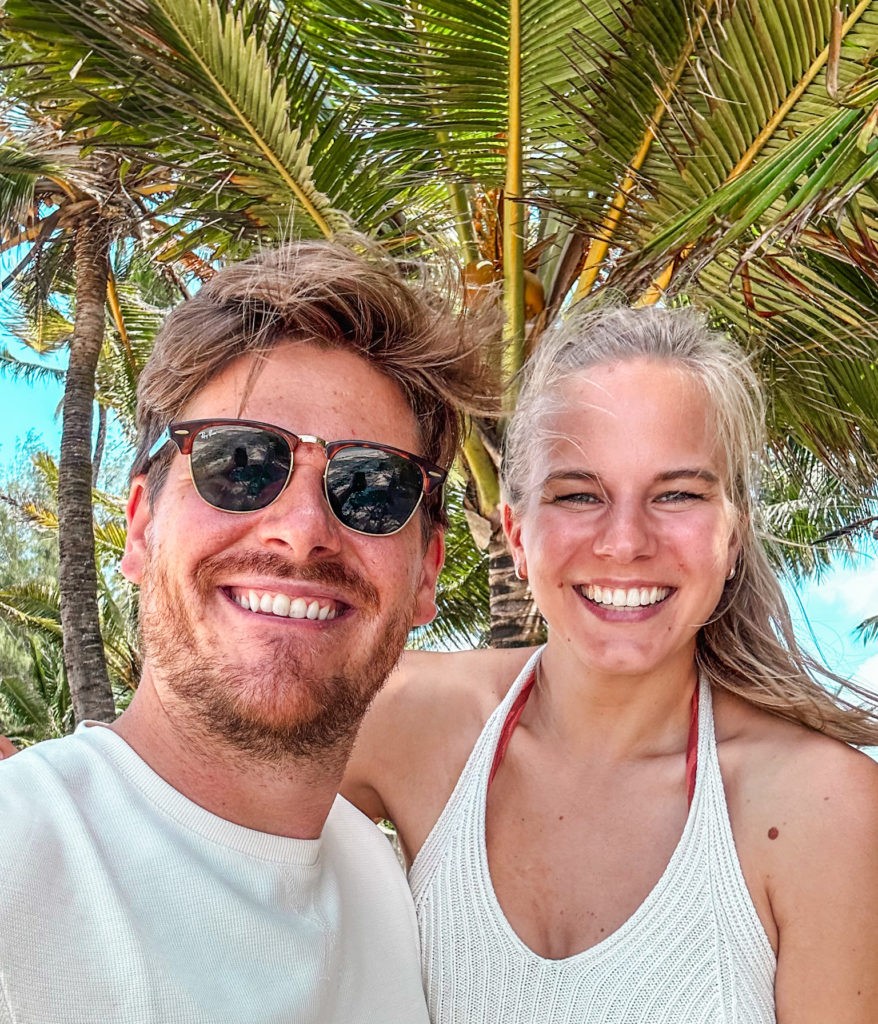 We hope you enjoy our travel stories, guides and tips! If so, please consider supporting our work.
Everything you need to know about the Lost City
Within the lush embrace of Colombia's pristine jungles, Ciudad Perdida – or the Lost City – attracts hundreds of tourists since years with the allure of an Indiana Jones-worthy adventure. Constructed by the skilled Tairona people about 800 AD, making it older than the world-famous Machu Picchu. It's as if you're stepping into a living time capsule, where history and nature entwine. For centuries, this hidden treasure remained a closely guarded secret of the indigenous people (so it was never truly lost), until the 1970's brought its rediscovery to the broader world. 
Wandering through Ciudad Perdida, you'll encounter terraces, pathways, and stone structures that showcase the Tairona's architectural skills. But you'll also meet the indigenous peoples who call this reserve home. The indigenous people who inhabit the surroundings of Ciudad Perdida are primarily from the Kogi, Wiwa, and Arhuaco tribes. These indigenous communities have a deep and spiritual connection to the land they inhabit, considering the Sierra Nevada mountains to be the "Heart of the World." They practice a traditional way of life, closely tied to nature and their ancestral traditions. Their knowledge of the land and its resources is profound, and they have a holistic understanding of the ecosystems in this region.
Why should you hike to the Lost City?
Ciudad Perdida is an archaeological gem, offering a glimpse into an ancient civilization's achievements. Walking its stone pathways is like stepping back in time. You can only see 30% of the whole territory currently, as the rest is still buried under the forest. Still you can start to imagine, the magnitude of the city that, at its peak, may have been home to several thousand people. 
The Lost City trek takes you through some of Colombia's most stunning and pristine landscapes, from dense jungles to river crossings and waterfalls. If you are lucky with the weather, you can even enjoy a quick swim in the ice cold waters of the mountain river.
Meeting indigenous communities along the way provides a unique opportunity to learn about their traditions and way of life. The people you are going to meet are used to the outer world but Sierra Nevada is one of the few places on Earth where communities live without any knowledge about the modern civilization.
The Lost City trek is physically demanding, making it an ideal adventure for those seeking a challenge and a sense of accomplishment. The sense of achievement and the memories you create on this trek are likely to stay with you for a lifetime.
Well, most importantly, there is just no other way to see Ciudad Perdida than embarking on the Lost City trek. Unlike more crowded tourist destinations, Ciudad Perdida offers a more remote and less commercialized experience. There are no buses going there as for Machu Picchu.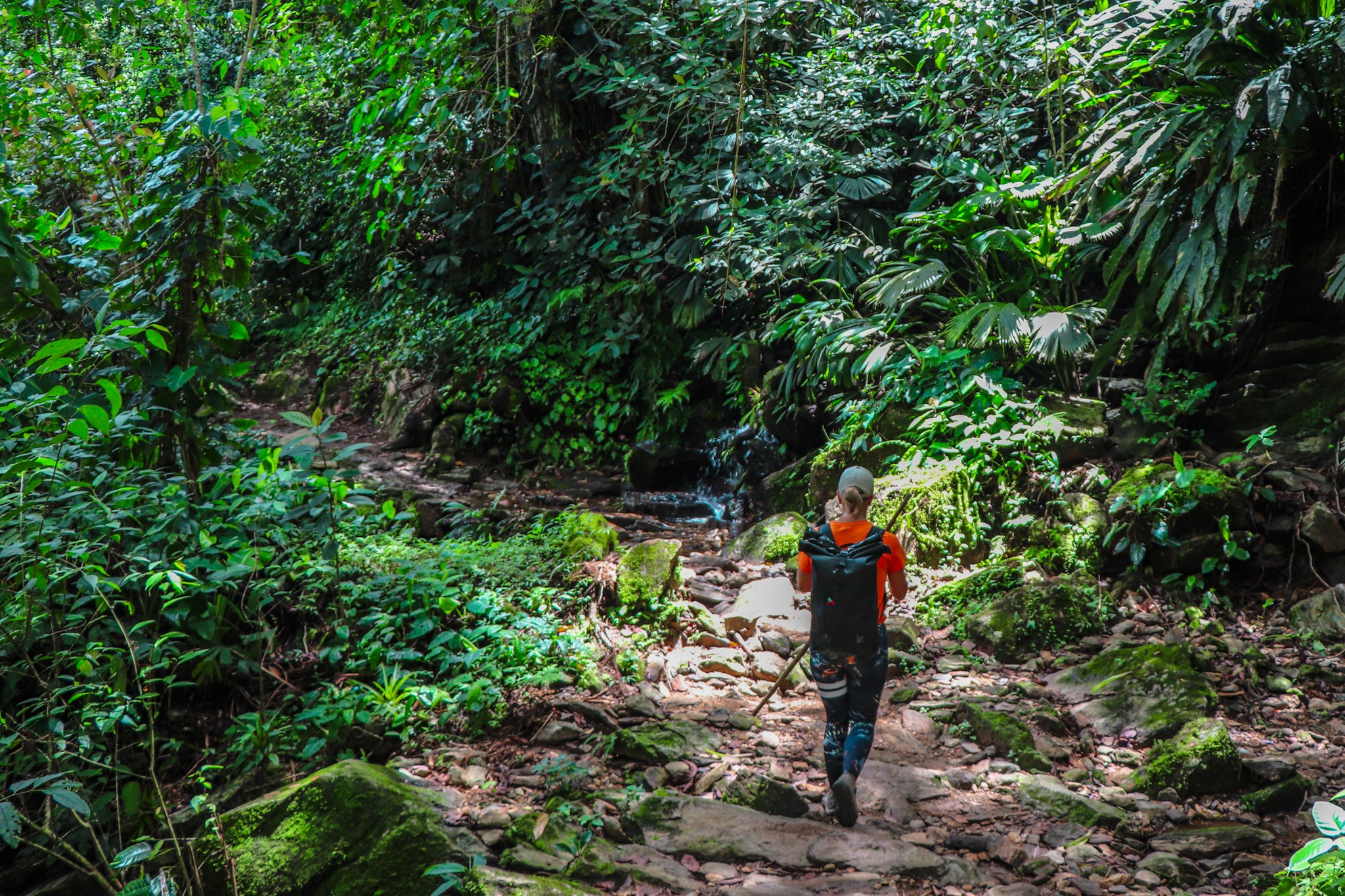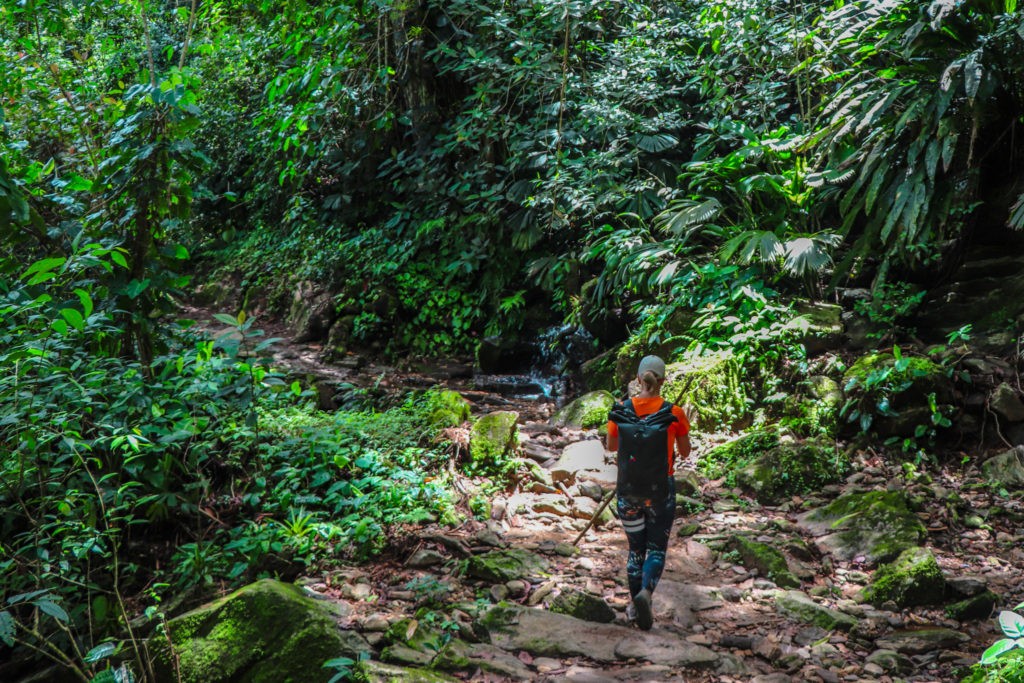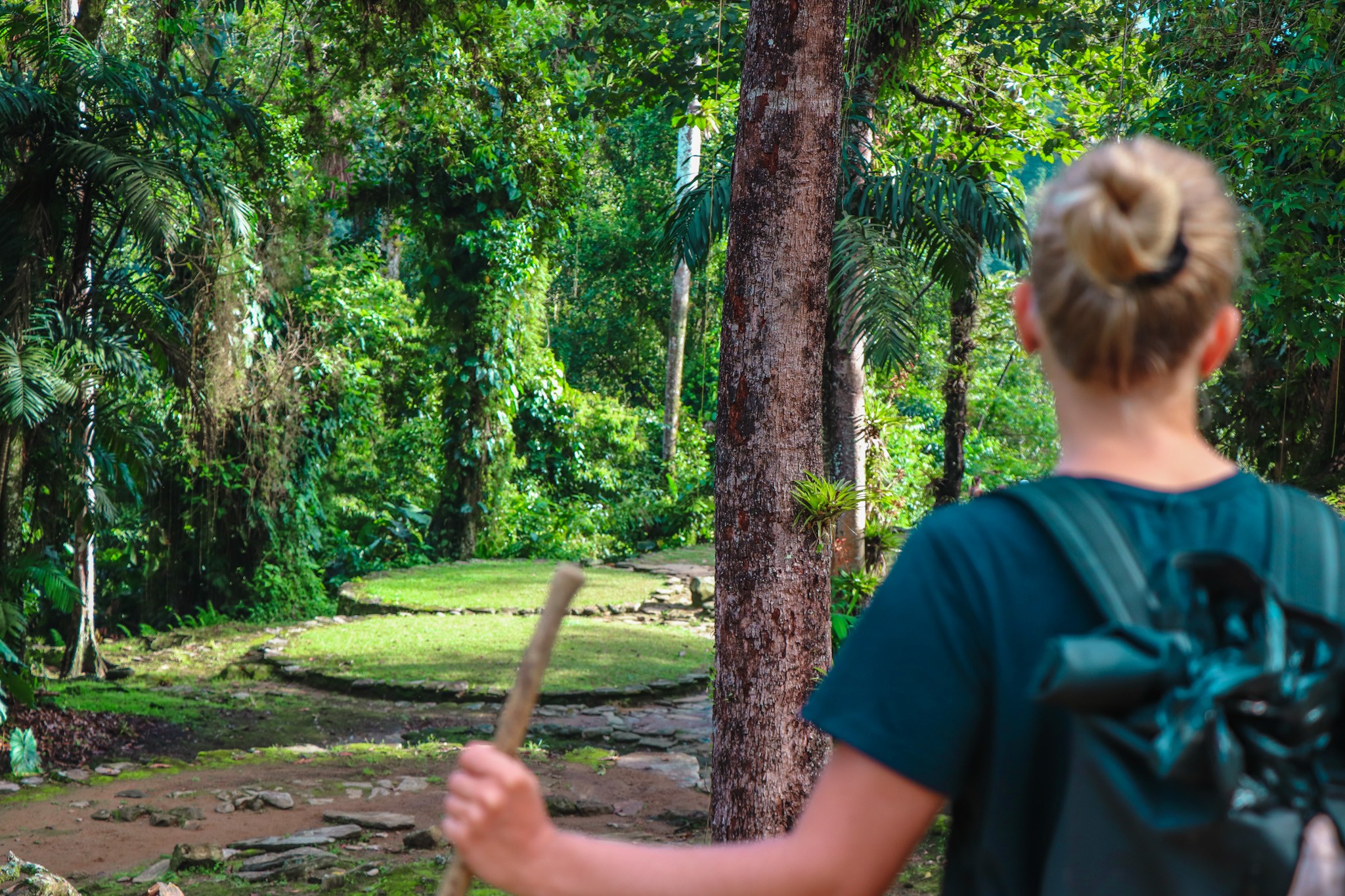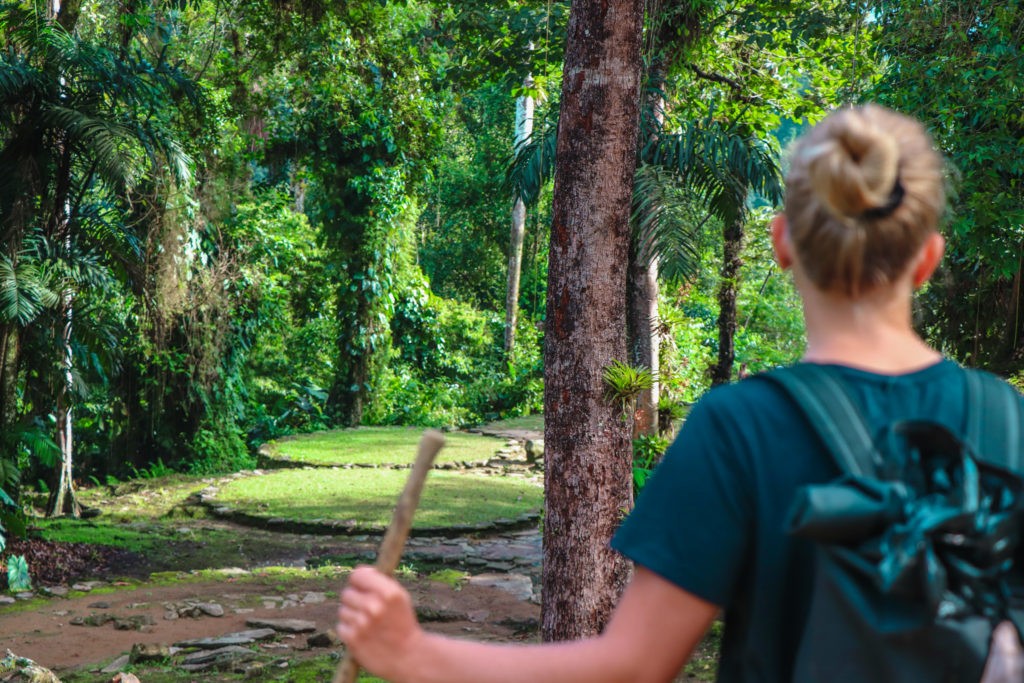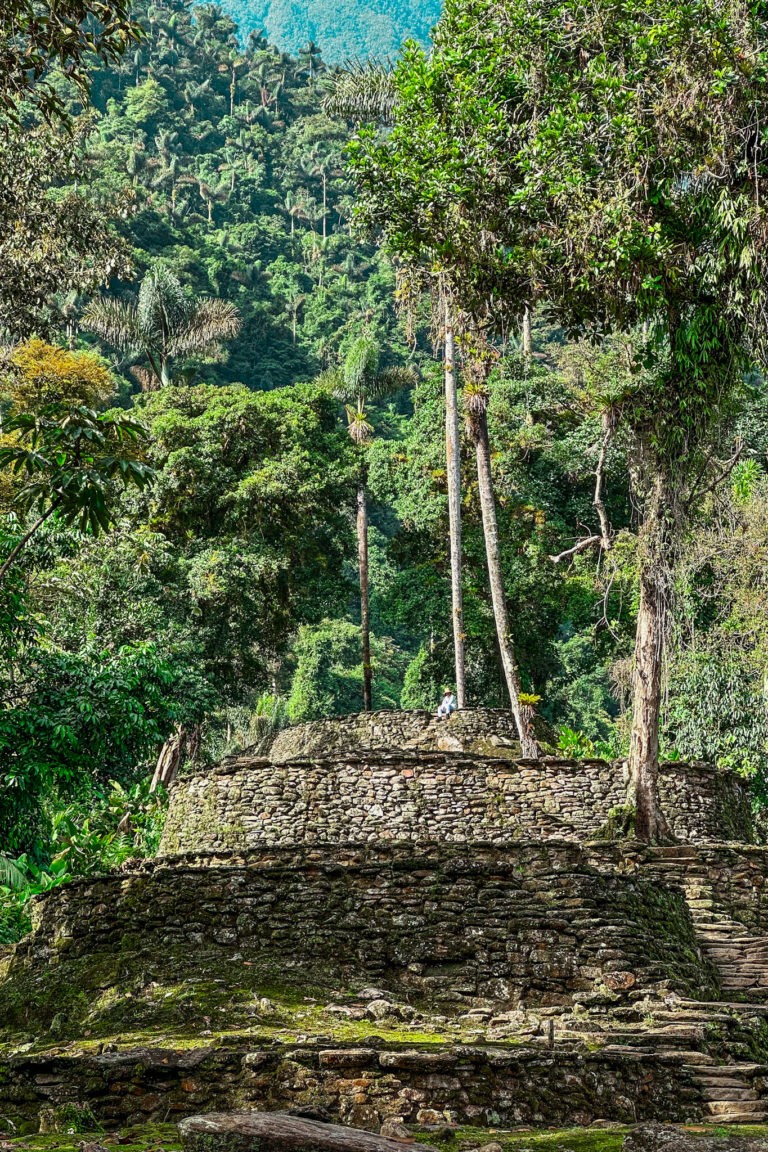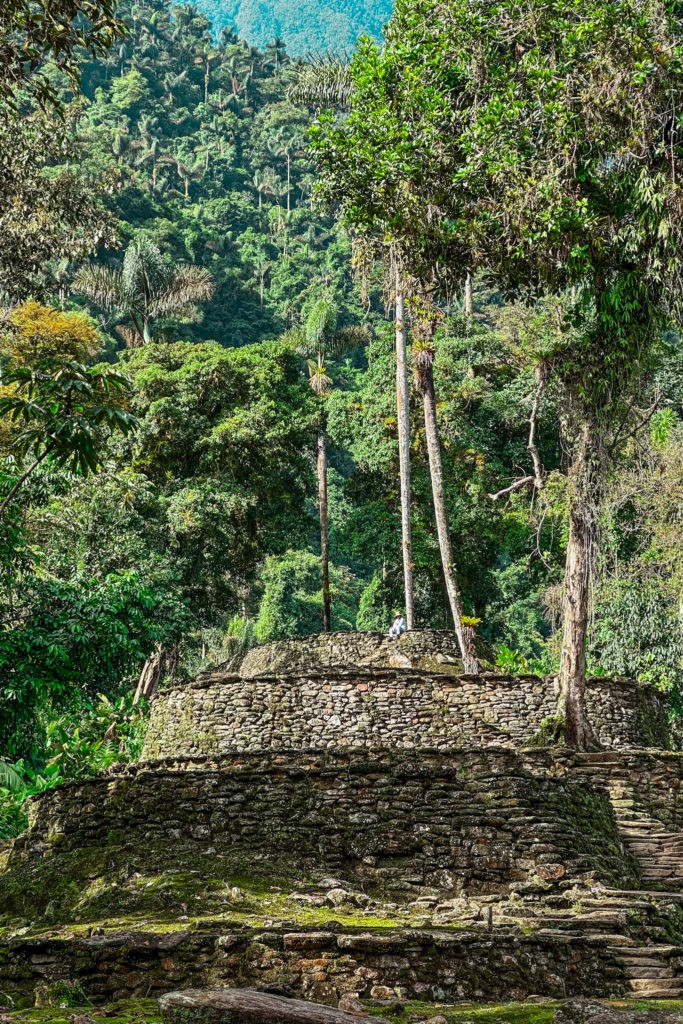 Is hiking the Lost City trek difficult?
There is no other short answer to this question than – 'it depends.' It truly depends on your own physical fitness. We did quite a bit of research (well, Laura did, and Jens was naive enough to just join the tour) and read others' experiences to be able to answer this question for ourselves. We are fit (also proven by our diving doctor), but not the most sporty people you would know. So Laura had quite a respect for the Lost City trek.
It is probably helpful to know that the Lost City trek is about 55 kilometers in total, and on the 4-day-tour, you have to hike about 17 kilometers on two consequent days, which takes approximately 6-8 hours. If this does not scare you and you bring some motivation, we believe you are good to go. But it will be probably one of the most challenging treks you will do in South America (or at least that is what we've read).
Save on Pinterest to read it later.
It is less about the altitude and more about the extreme humidity combined with the heat. We were both sweating like we were in a sauna. Interestingly, we seemed to be the only ones in our group – maybe the southern Europeans are more used to this climate. So, we were happy to see other fair-skinned northern Europeans who also seemed to struggle with the heat.
Nonetheless, you should not underestimate the altitude. Ciudad Perdida rests at an elevation of 1300 meters, having a number of uphill climbs that can prove quite strenuous. Additionally, the trek includes both ascents and descents, equating to more total elevation gain than the initial 1300 meters might suggest. On a positive note, you can set your own pace, take as many breaks as necessary, and the guides regularly gather the group for more extended rests. It's important to ascend gradually and steadily without rushing. It's not a competition, and you may find yourself climbing uphill for an hour at times. Nevertheless, whenever Laura felt it getting exhausting, another break was always just around the corner.
In conclusion, the Lost City tour is tough, but nothing near to impossibly difficult.
Is the Lost City trek worth it?
YES, it is! You'll undoubtedly feel exhausted once you reach the final stop, but there will be a huge smile on your face. Not only because you've discovered the Lost City and enjoyed some stunning views, but also because you've conquered the challenging 4-day Lost City trek. We say this even though Laura fell ill with a high fever the next day. We probably would have regretted it if we hadn't done it.
Maybe we're not the best judges of the experience, as it was our first trek in a rainforest, to be honest. But online sources confirm that it's one of the less touristy and most beautiful treks in South America. You'll appreciate the lush jungle around you, take in stunning views of the Sierra Nevada mountains, and experience some cool river crossings (in case of heavy rain, you might even have to wade knee- to waist-deep, we've heard).
If you're still unsure whether you're fit enough for the Lost City trek, take this as a reminder to resume your training routine. You'll be fine if you believe you're ready to walk 17 kilometers every day. We realized that it was less about physical strength or endurance on the trek and more about the mental motivation to just keep going. You'll be surprised by how much your body can do.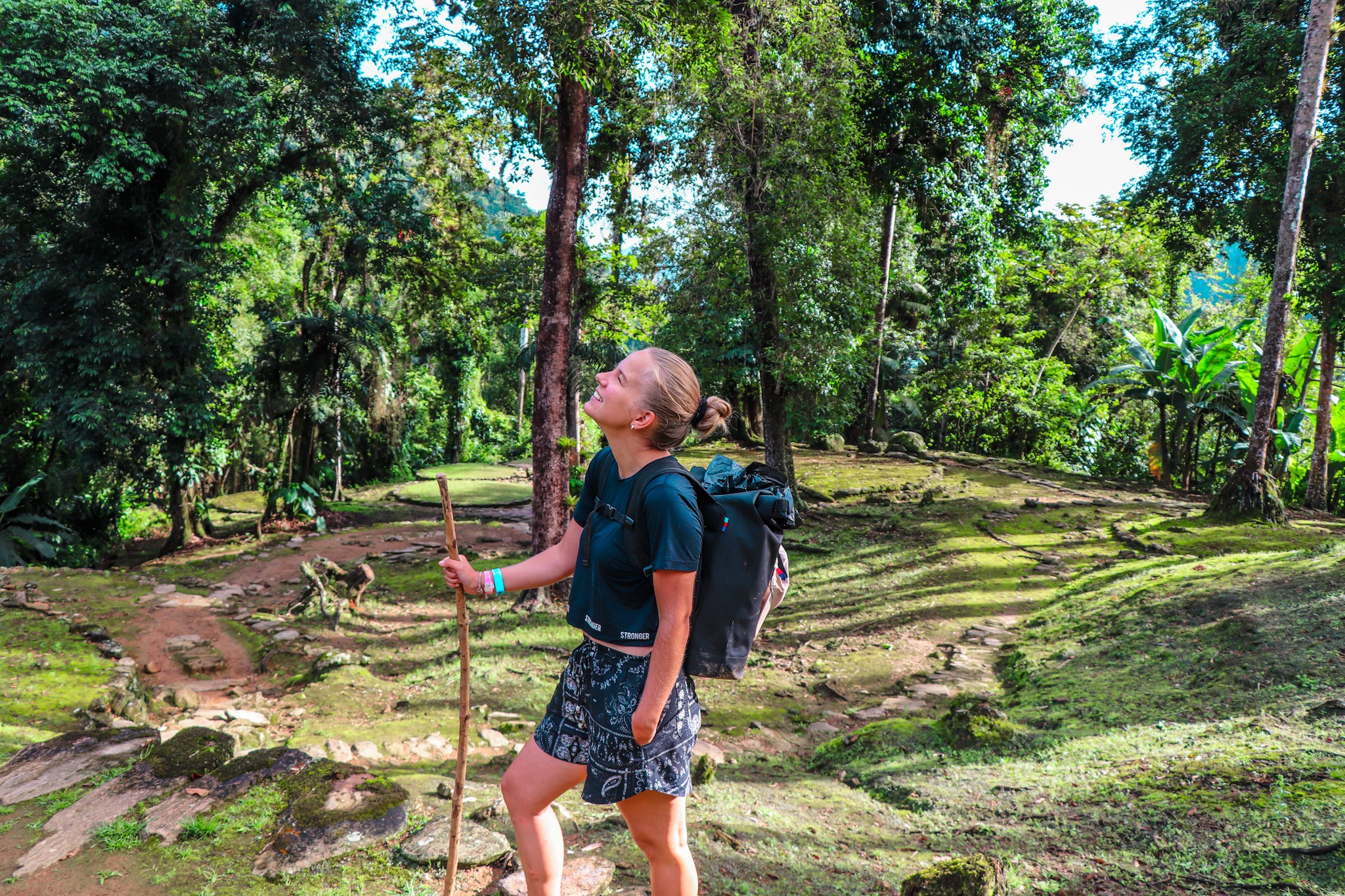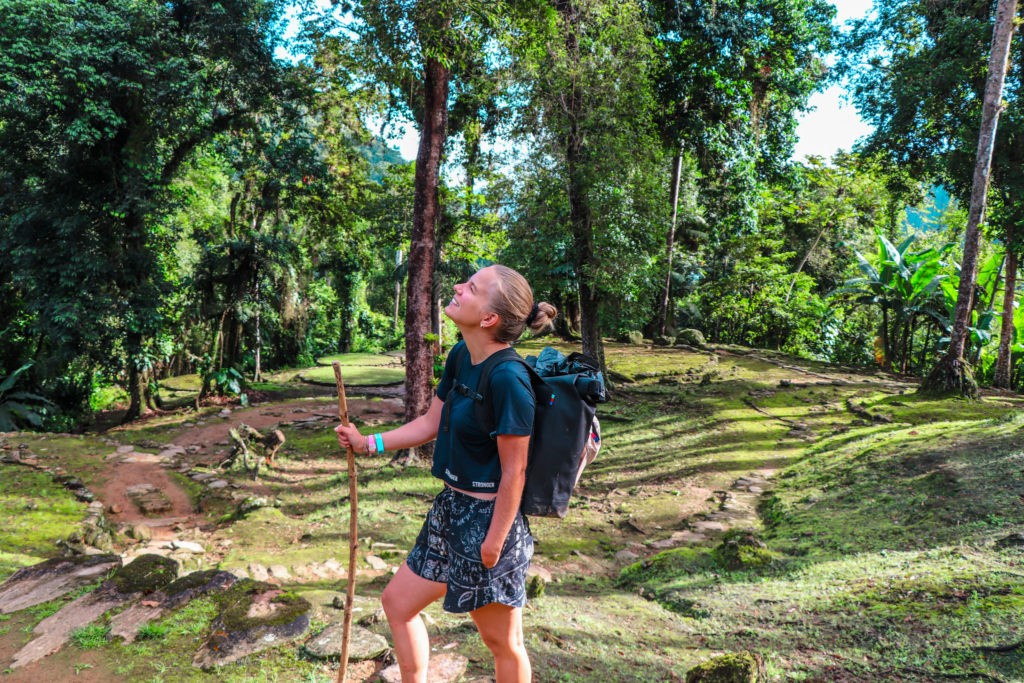 Booking your trip to the Lost City
When booking your tour to the Lost City, you first need to decide which city to start your trek from. Most tours begin in Santa Marta, but you can also arrange to start from Minca or inquire with operators about pickup from the Tayrona National Park Entrance if that's where you're staying.
There is no point in going for price-hopping across the agencies, as the tour prices are fixed by the operators. In August 2023, it was 1,750,000 COP (approx. 430 USD) per person for a 4-day tour. You may find some international agencies offering tours at a higher price online, but it does not mean they have a better quality, all they do is typically resell local tours with a markup. Generally, since all tour operators provide the same facilities, such as sleeping in the same camps and having meals prepared in the same kitchens (with slight variations, e.g. in the type of bread), the choice of the company may not make a significant difference. With one exception.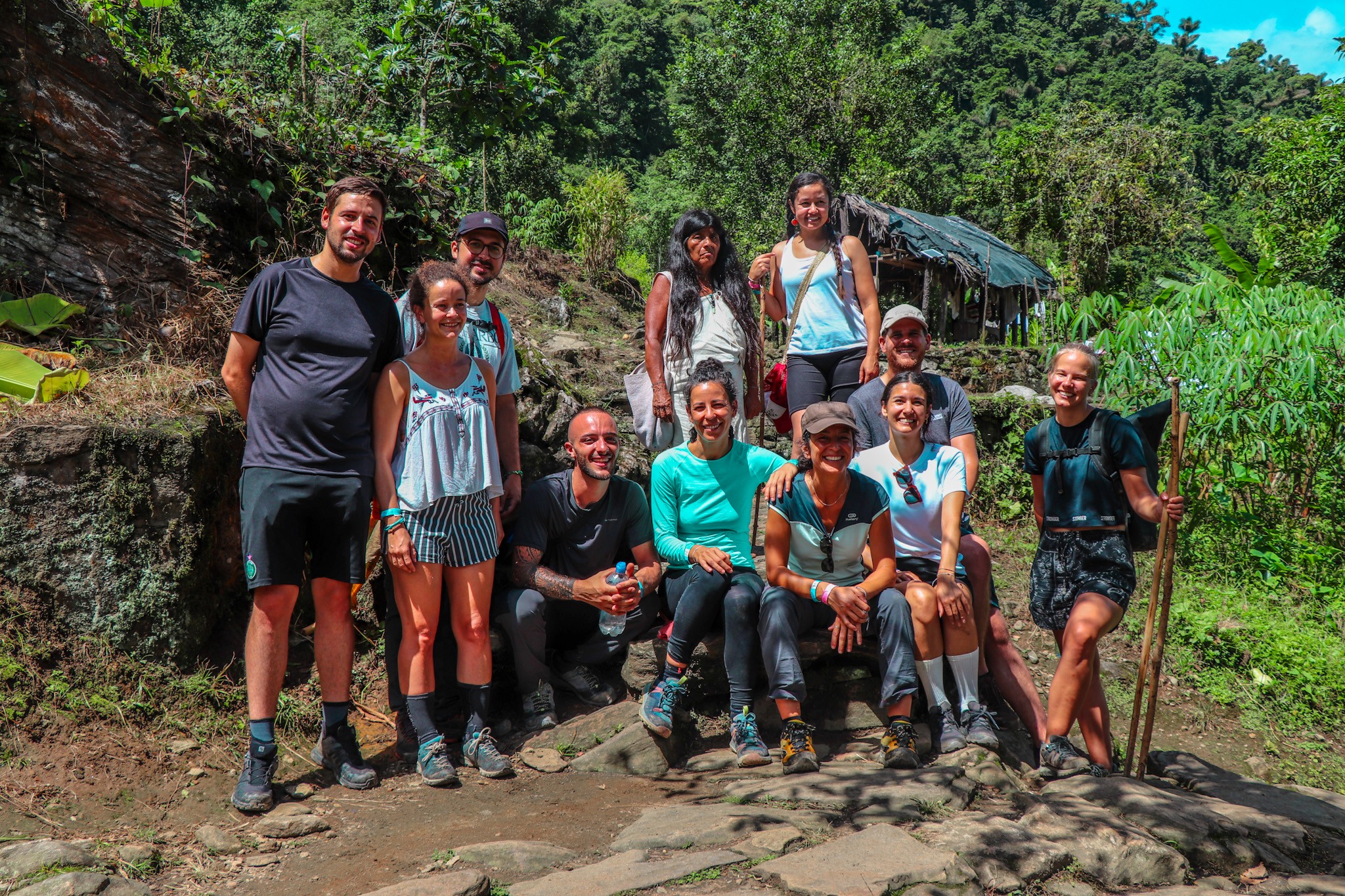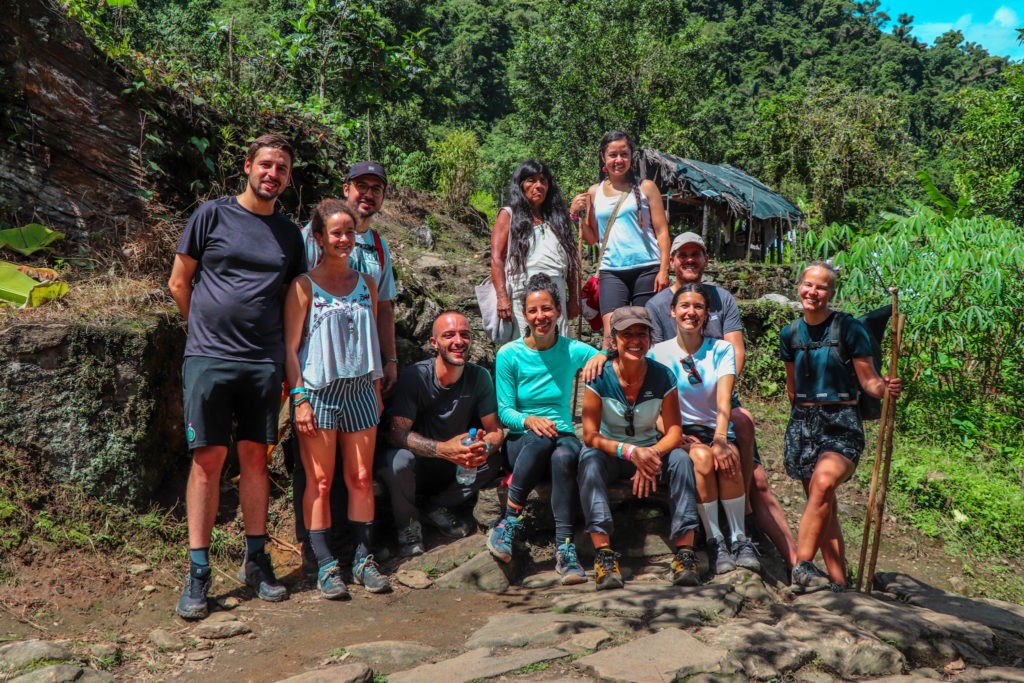 For us, sustainable travel involves supporting local communities as much as possible. That's why we chose to embark on our journey to Ciudad Perdida with Wiwa Tours. They are known for their commitment to hiring indigenous guides from the Wiwa tribe. We wanted not to just hike to Ciudad Perdida but also to learn more about Colombia's indigenous heritage, making it the only right choice for us. Our guides wore traditional Wiwa clothing and made our journey truly unique by sharing insights into the local way of life in the Sierra Nevada.
It probably would make sense to book your tour as early as possible to secure your spot, especially if your are tight on your schedule. For this you have to pay 10% deposit. As we were on our world trip, we decided to join the tour spontaneously, only booking one day ahead, directly in the office. The greatest benefit of being flexible is that you can choose to join the smallest group. We only had 10 other people in the group, but heard that the day before, 20 people had embarked on the journey.
Once in the office, remember to bring your passports, since they will make copies of these, as well as check that you have the stamp from entering Colombia.
As you finalize your payment in the office, be aware that there is 3% surcharge when paying by card. As also withdrawing money from ATM is not cheapest in Colombia (fees varying depending on the bank), it makes sense to quickly consider whether paying by card or in cash is more efficient for you.
Do I need a guide for the Lost City trek?
Ciudad Perdida is situated within the territory of indigenous communities, where the entry without a permission is not allowed. Therefore, you will require a guide to undertake the Lost City trek because. We've heard of a recent incident where a group, despite having a guide, decided to hike to another village during the night and faced consequences when the indigenous residents discovered it. Typically, these communities maintain physical punishments as part of their traditions, and as a result, all the SD cards belonging to the tourists were destroyed, leaving them without any photos or videos from their journey. Also, you will learn a lot about the history and culture of the Tairona people through your guides, making the experience so much more rewarding.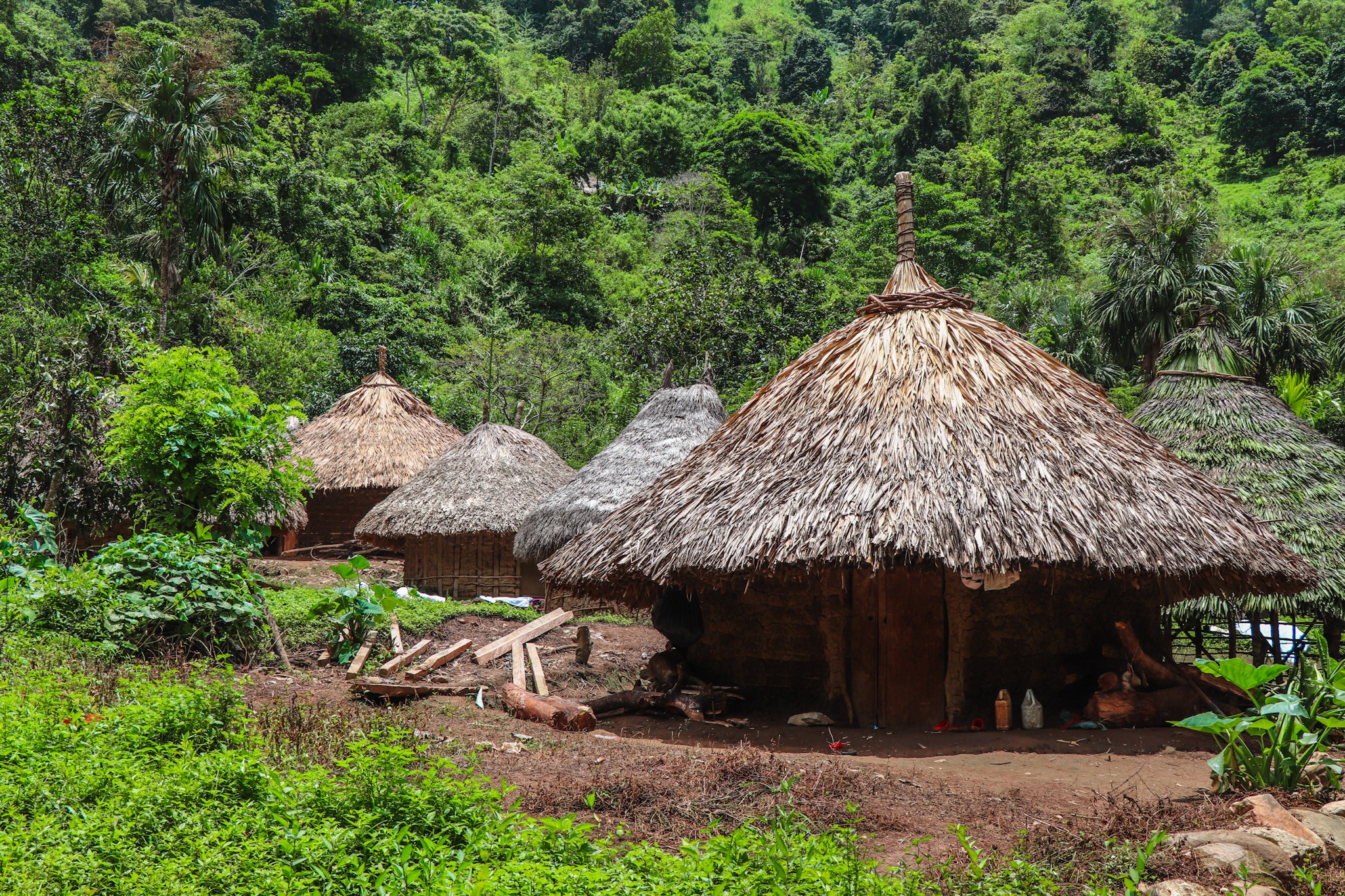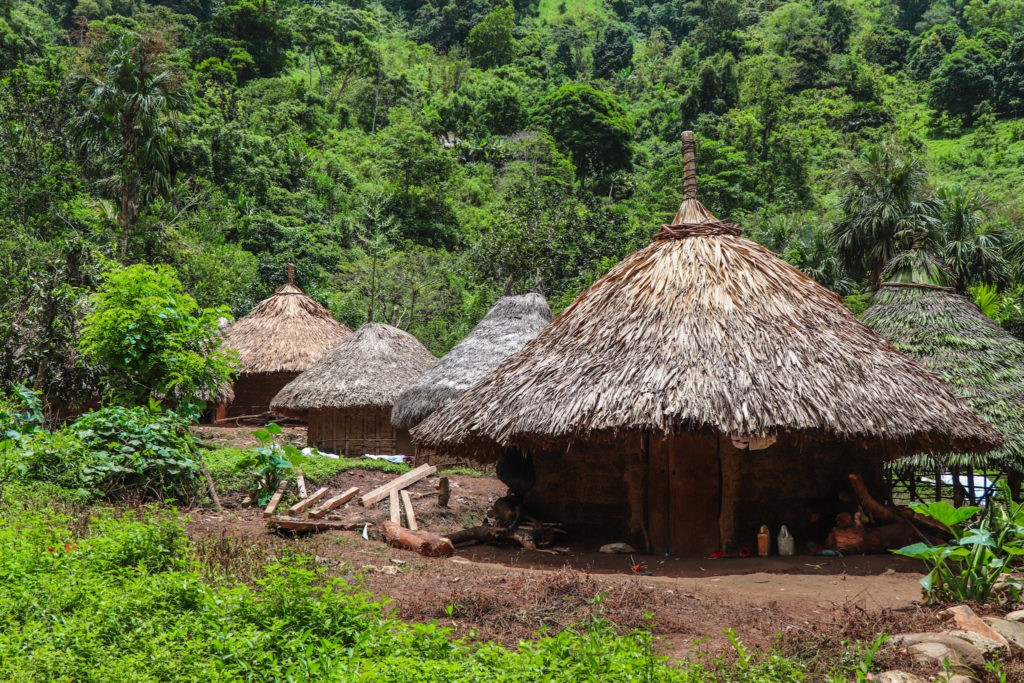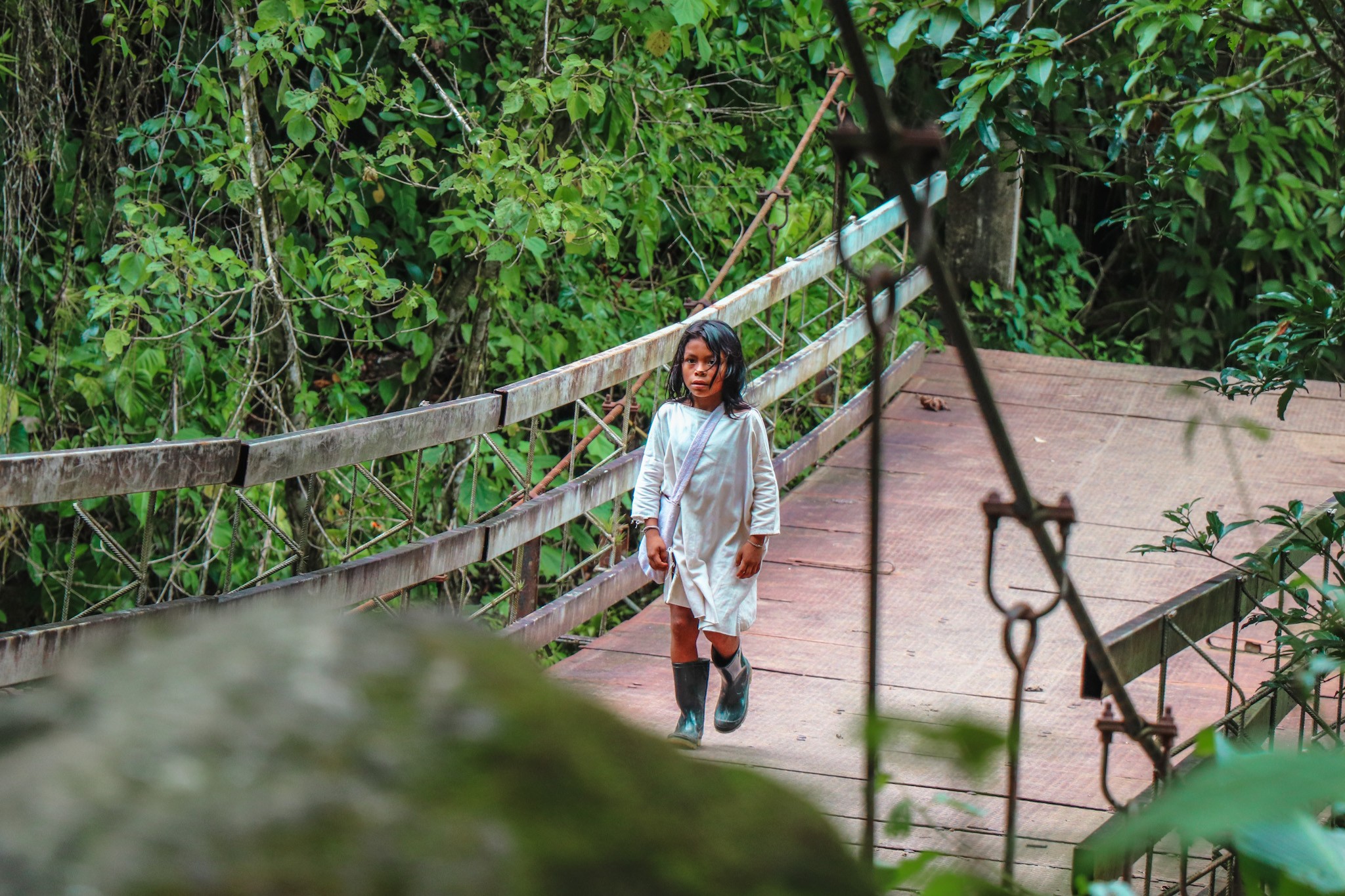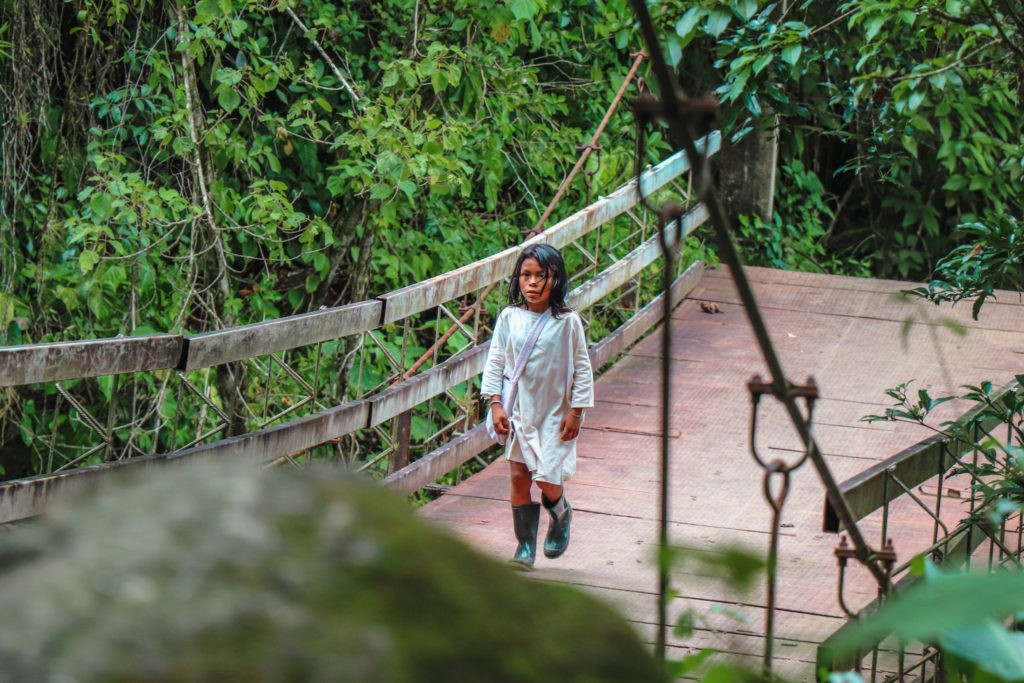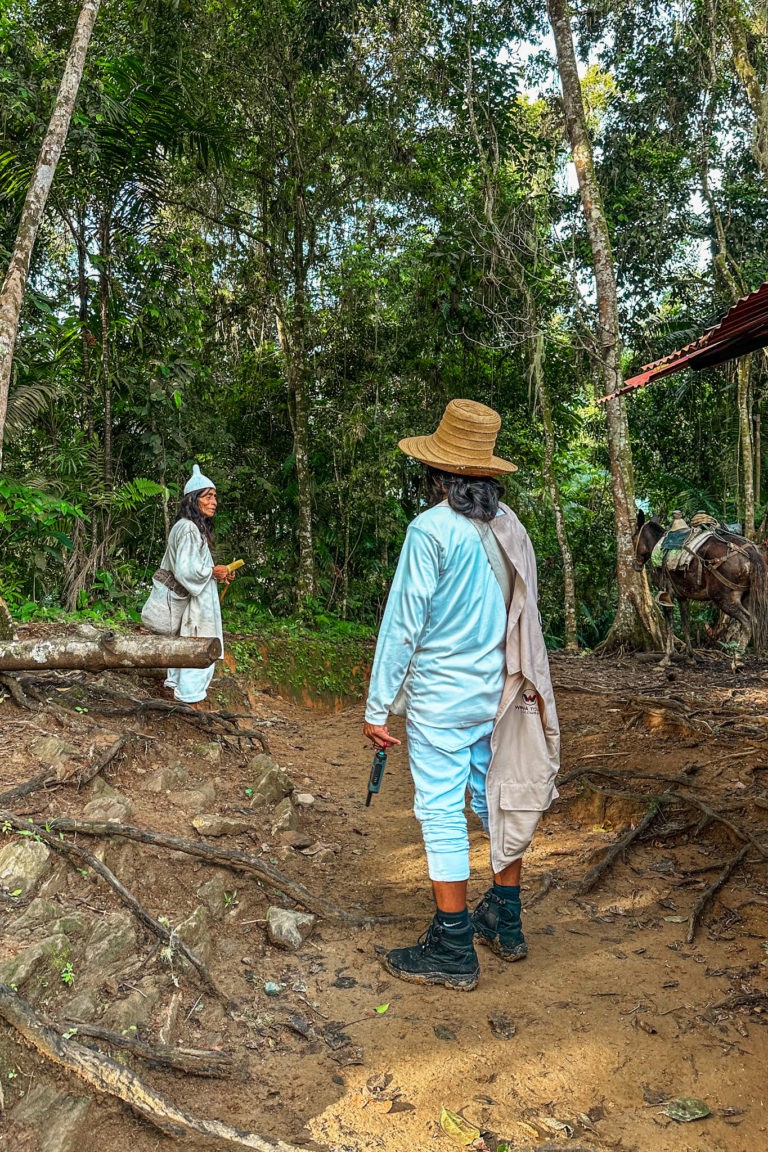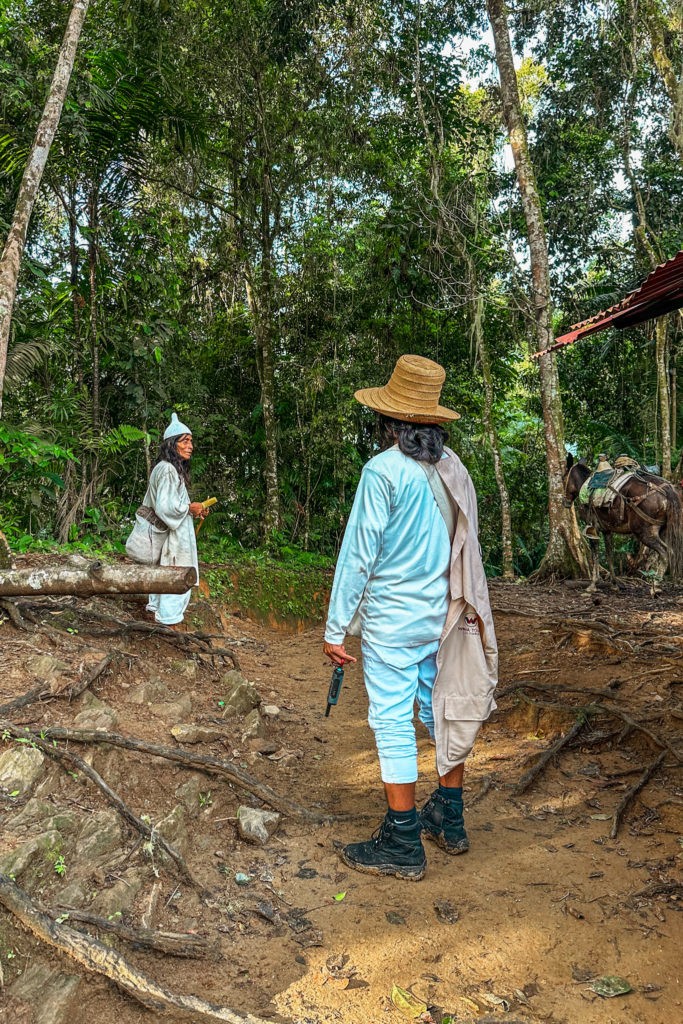 How long does it take to visit the Lost City?
The time you will need to complete the Lost City trek really depends on your personal fitness. It is important to know that there are no shortcuts to the Lost City. While the length of the trek always remains the same, the duration of the tour will define your pace for hiking to the Lost City.
For most people it is usual to hike the Lost City trek in 4 days. We believe that the 3-day-tours to Ciudad Perdida are rather something for athletes. During our hike we saw a few people "flying" by and we definitely could not have kept up with them. Therefore, we would strongly advise giving it careful thought before choosing this option.
In case you are still unsure whether you are fit enough for the 4-day-trek, just choose the 5-day-alternative. It will definitely be less strenuous and allow more time to relax and enjoy the surroundings. But also bear in mind, that you have more days in total to be on your feet should you get blisters or strain your ankle a bit.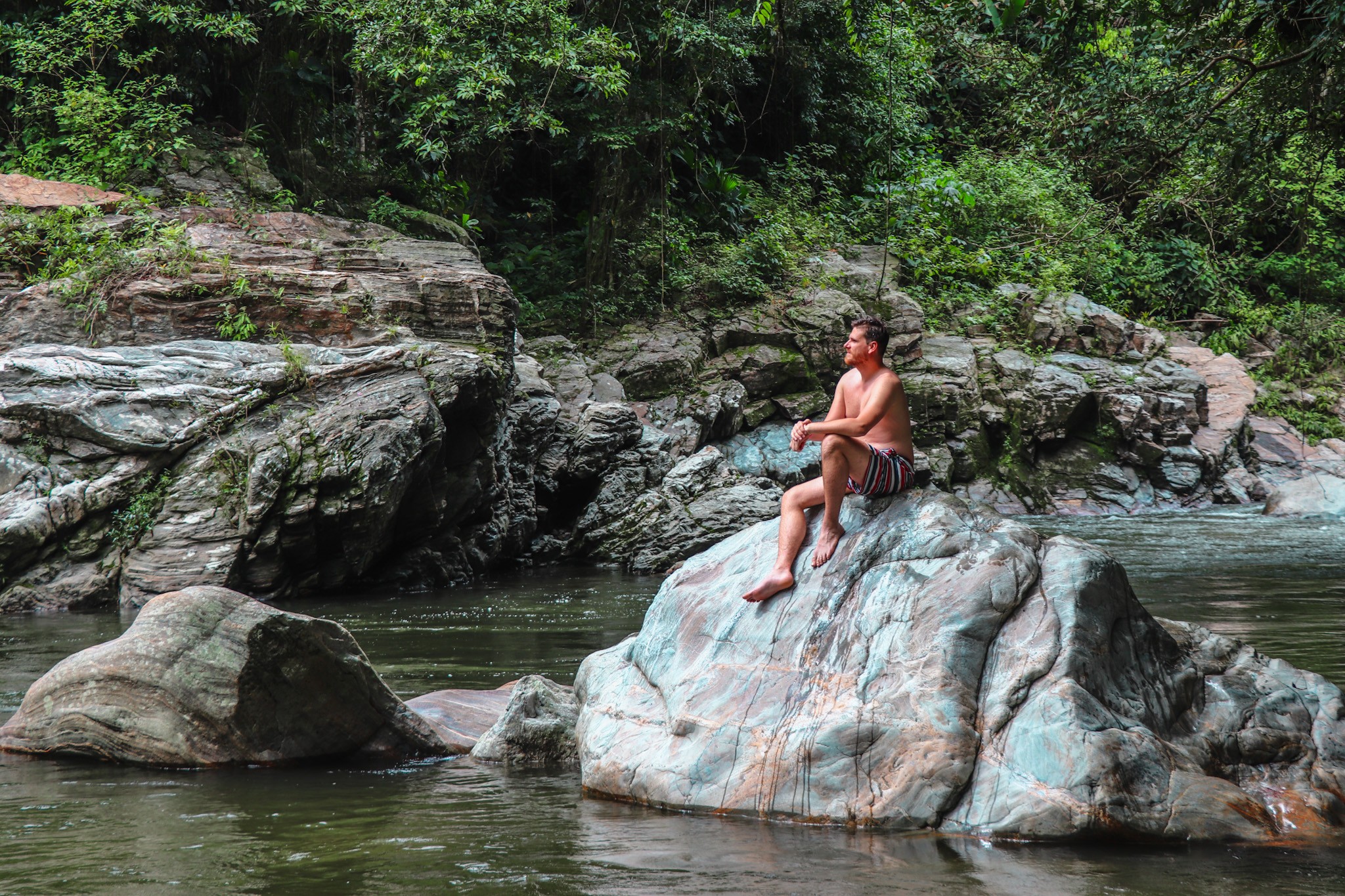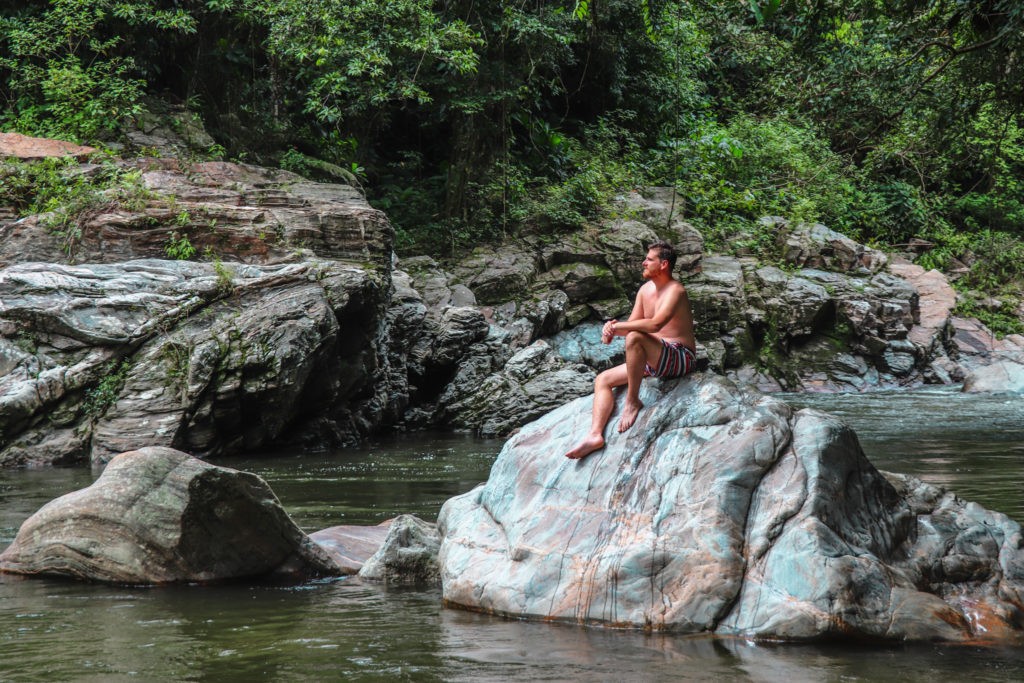 What to bring to the Lost City?
Surely you can't conquer a multi-day trek empty-handed. On the other hand, you've got to carry everything you need on your back every step of the way. So, packing light and smart is essential for the best experience. We have prepared a comprehensive packing list in a separate post, but there are a few key points we'd like to highlight here to ensure you're fully prepared for your hike to the Lost City.
Essential things to pack for the Lost City trek
First, you'll need comfortable sportswear for hiking. We recommend lightweight materials that are less water-absorbent and dry faster than clothes made out of cotton. Although it's essential to understand that, due to the high humidity, nothing really dries in a rainforest, except when exposed to direct sunlight.
Additionally, pack an extra set of clothes for sleeping and relaxing in the camp. AND store these in a separate plastic bag to keep them dry. Changing into dry clothes after a long day of hiking and a cold shower is one of the best feelings during the days
Remember to bring your toiletries, especially sunscreen and mosquito spray. You'll need a generous supply as you'll be sweating and in need of refreshment throughout the journey. Mosquito spray is particularly critical, especially in the Lost City itself, where you'll encounter many bugs.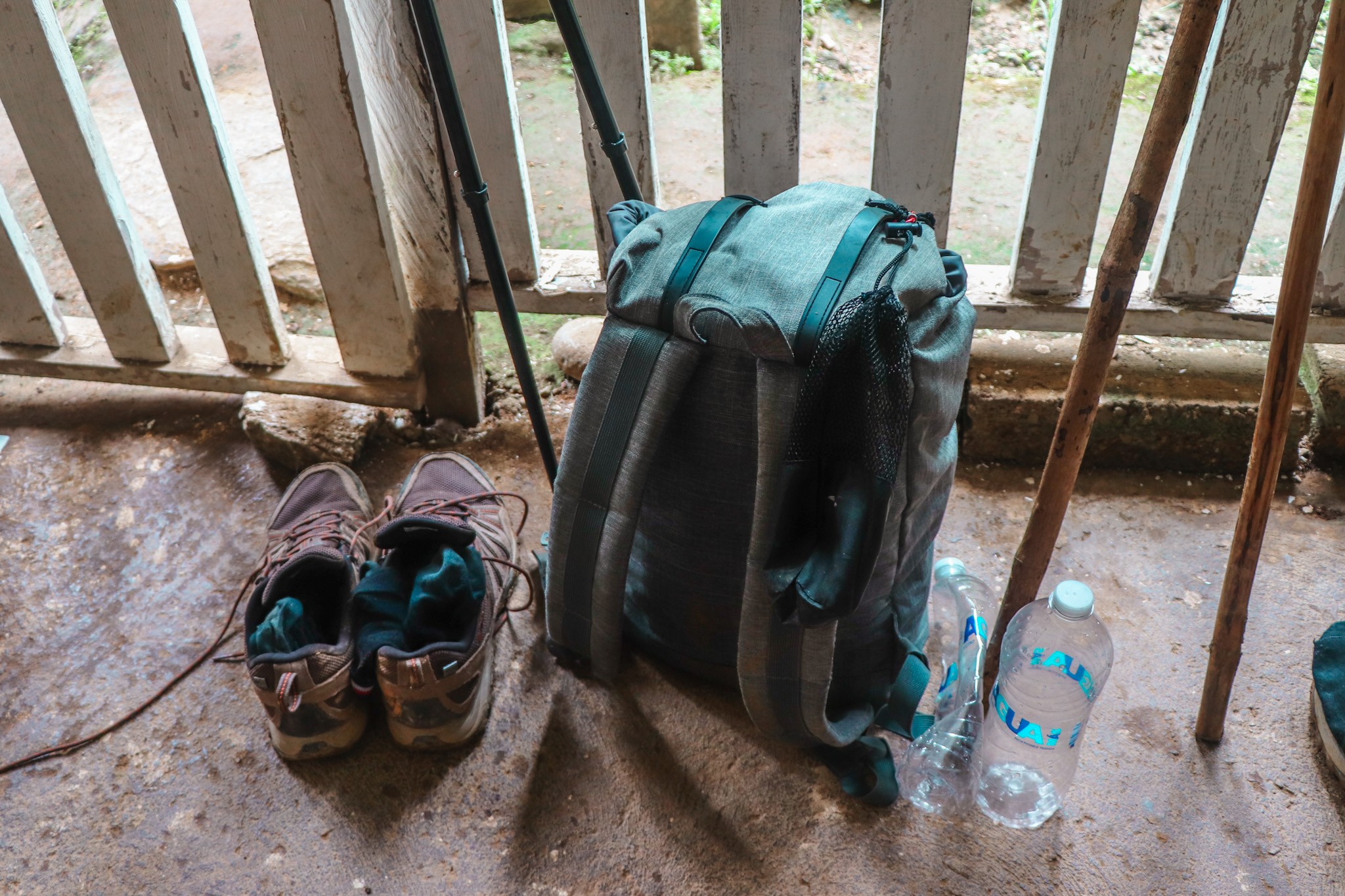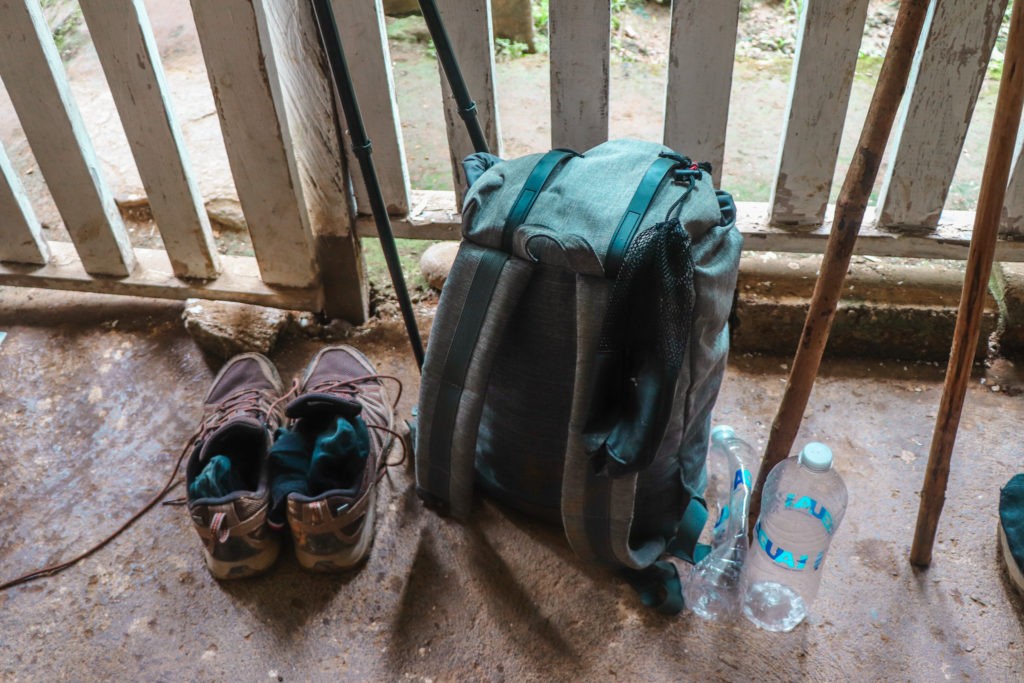 You may also ask yourself whether you really need some hiking shoes. We saw quite a few people doing the hike in normal sneakers, and probably they also made it to the end. However, for your own safety we strongly recommend wearing hiking shoes. We were extremely happy to have some which we had bought specifically for our world trip. And Laura did not think she would buy hiking shoes ever. The trail becomes extremely muddy during rains, and the terrain is uneven, with many rocks and river crossings. Your overall experience will be so much better when you hike in proper footwear.
In addition to sturdy hiking shoes, consider bringing flip-flops or sandals. In the evenings, you'll want to give your feet a break from your hiking shoes. And also don't forget to pack a towel, as campsites do not provide them. It's also a good idea to carry some toilet paper.
Most importantly, do not pack more than 10% of your body weight in your backpack. Your shoulders will thank you later, as will your knees.
Do I need to bring food and water?
All Lost City tours include food and beverages, including morning coffee or cacao, and juices during lunch and dinner. You don't need to worry about going hungry or thirsty, and they even accommodate vegans.
When it comes to food, you don't have to worry as it's transported for you. The food provided during the Lost City trek is abundant, even for "giants" like Jens. Warm meals are served three times a day, and there are stops along the trek where you can enjoy small snacks such as watermelon, pineapple, or oranges. This really is enough, since physical activity tends to reduce hunger, especially in the heat. However, if you still crave more, you can buy snacks from vendors along the road or bring some with you.
It is important to note that, you'll need to carry your water. As representatives of German culture, staying hydrated is a top priority for us (if you know any Germans, they always have a water bottle with them and blame headaches on not drinking enough water – which is often true). Therefore, we brought four liters of water on the first day and refilled our bottles at the camps. Compared to others, who maybe had maximum one liter with them at once.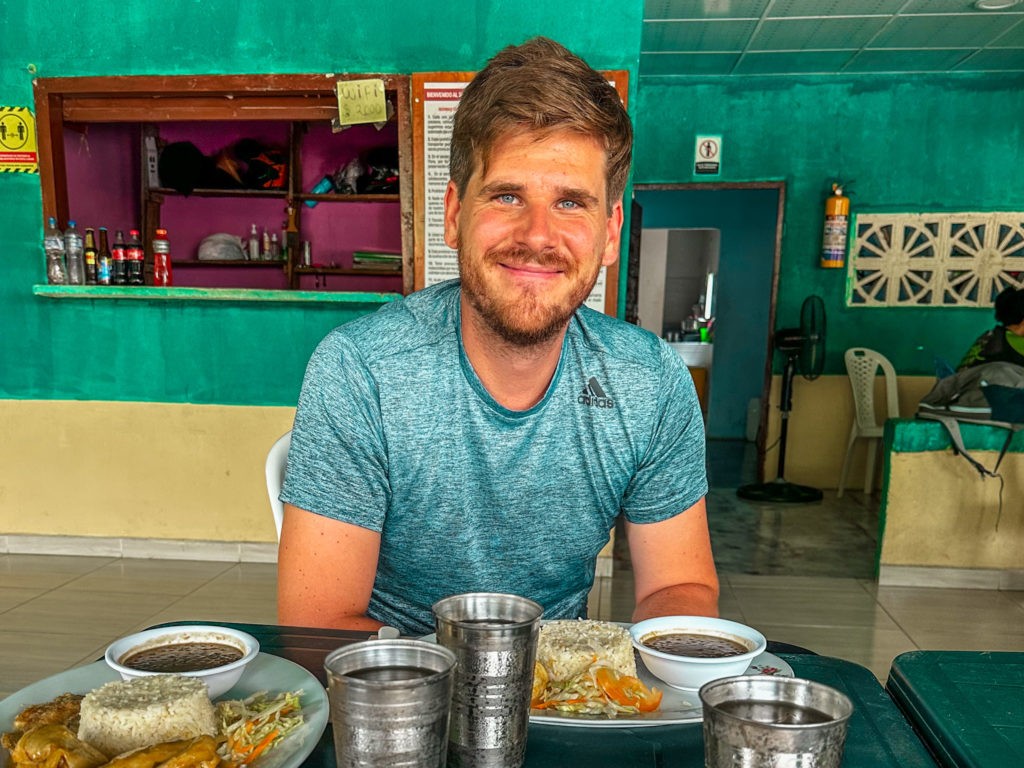 It is important to note that, you'll need to carry your water. As representatives of German culture, staying hydrated is a top priority for us (if you know any Germans, they always have a water bottle with them and blame headaches on not drinking enough water – which is often true). Therefore, we brought four liters of water on the first day and refilled our bottles at the camps. Compared to others, who maybe had maximum one liter with them at once.
You can purchase water at the entrance to the Sierra Nevada National Park and from various vendors along the Lost City trek. Oh, and it's not just water available for purchase. You can reenergize yourself with an energy drink, refresh with a coke, or unwind with a cold beer in the evening. Just be aware that it may cost more than in a supermarket (even up to $2 for 0.5 liters at the top of Ciudad Perdida), and 1-liter bottles tend to sell out quickly. If this seems too expensive or not sustainable (which was also our concern), there is plenty of carbon-filtered water available to refill your bottles at the camps where you have lunch or stay overnight.
However, if you have a sensitive stomach, it's probably better to stick to bottled water. You'll be drinking a lot of this filtered water, and we suspect our stomach issues at the end of the trek were connected to consuming too much of it, although we can't say for sure… One sustainable option would be to take a filter water bottle with you on the trek to purify your drinking water. We are considering buying some now.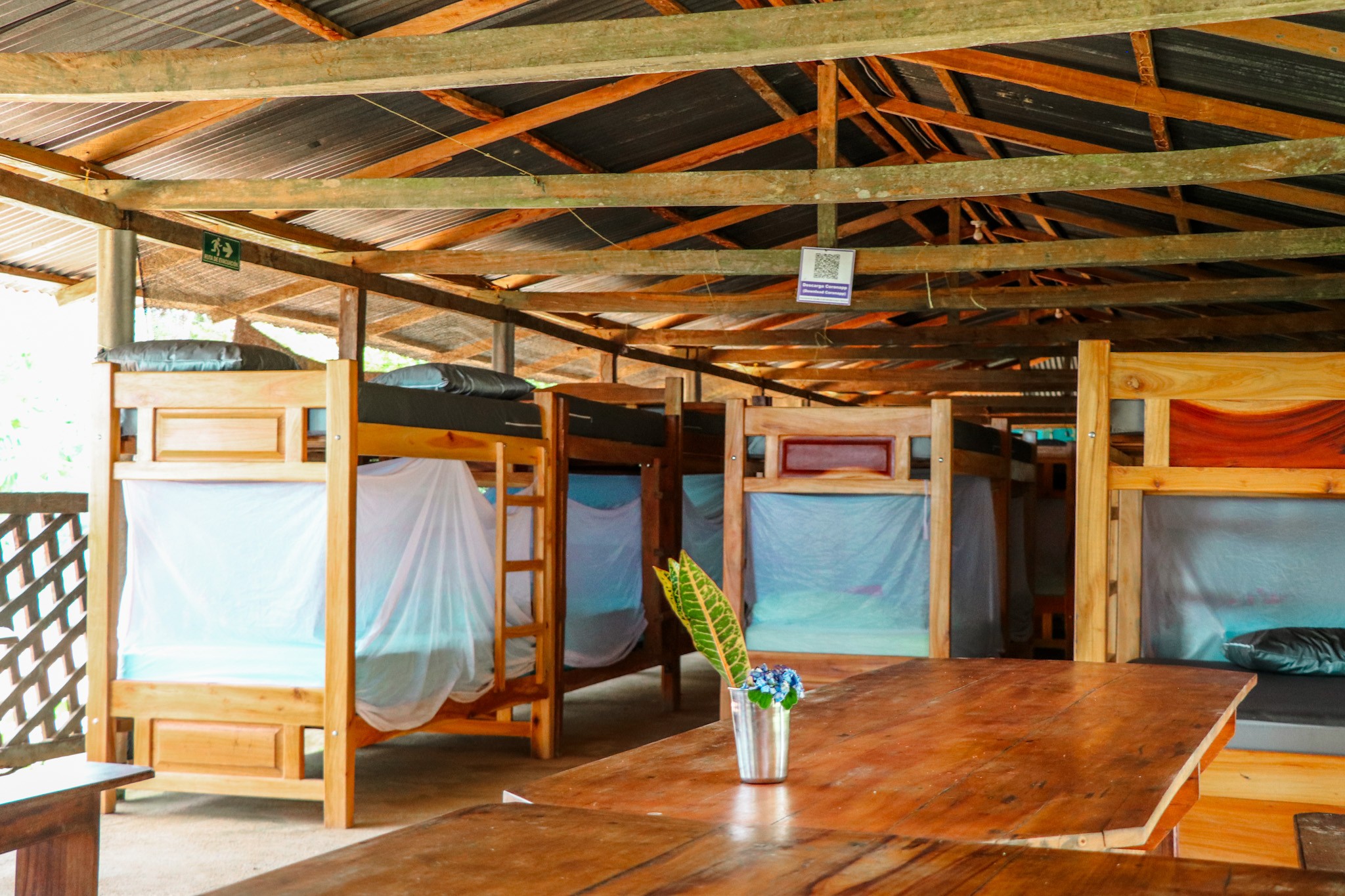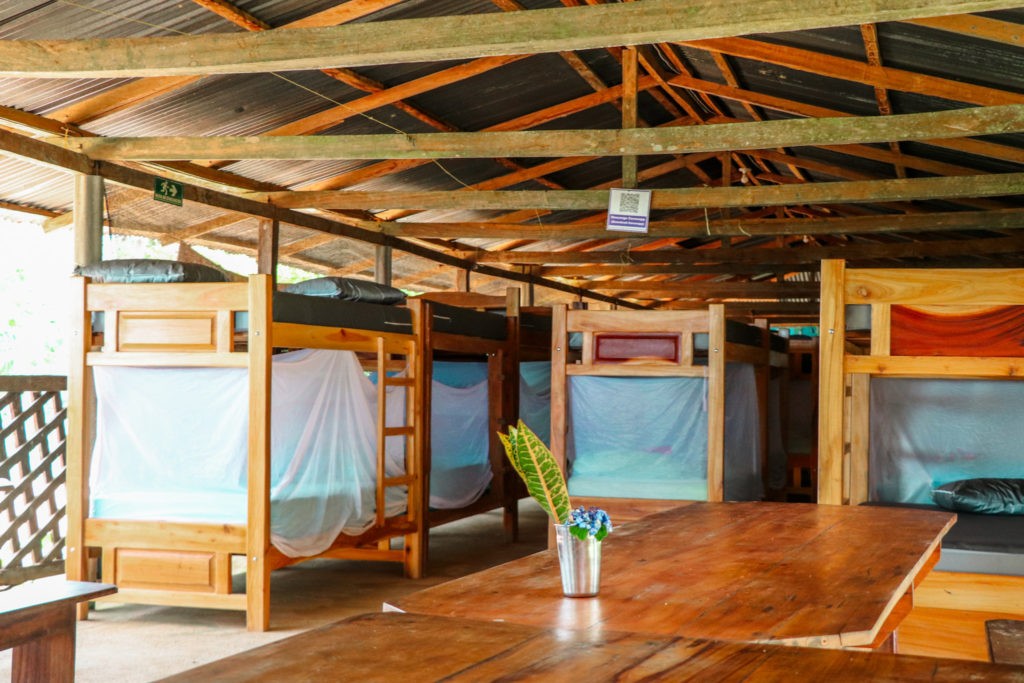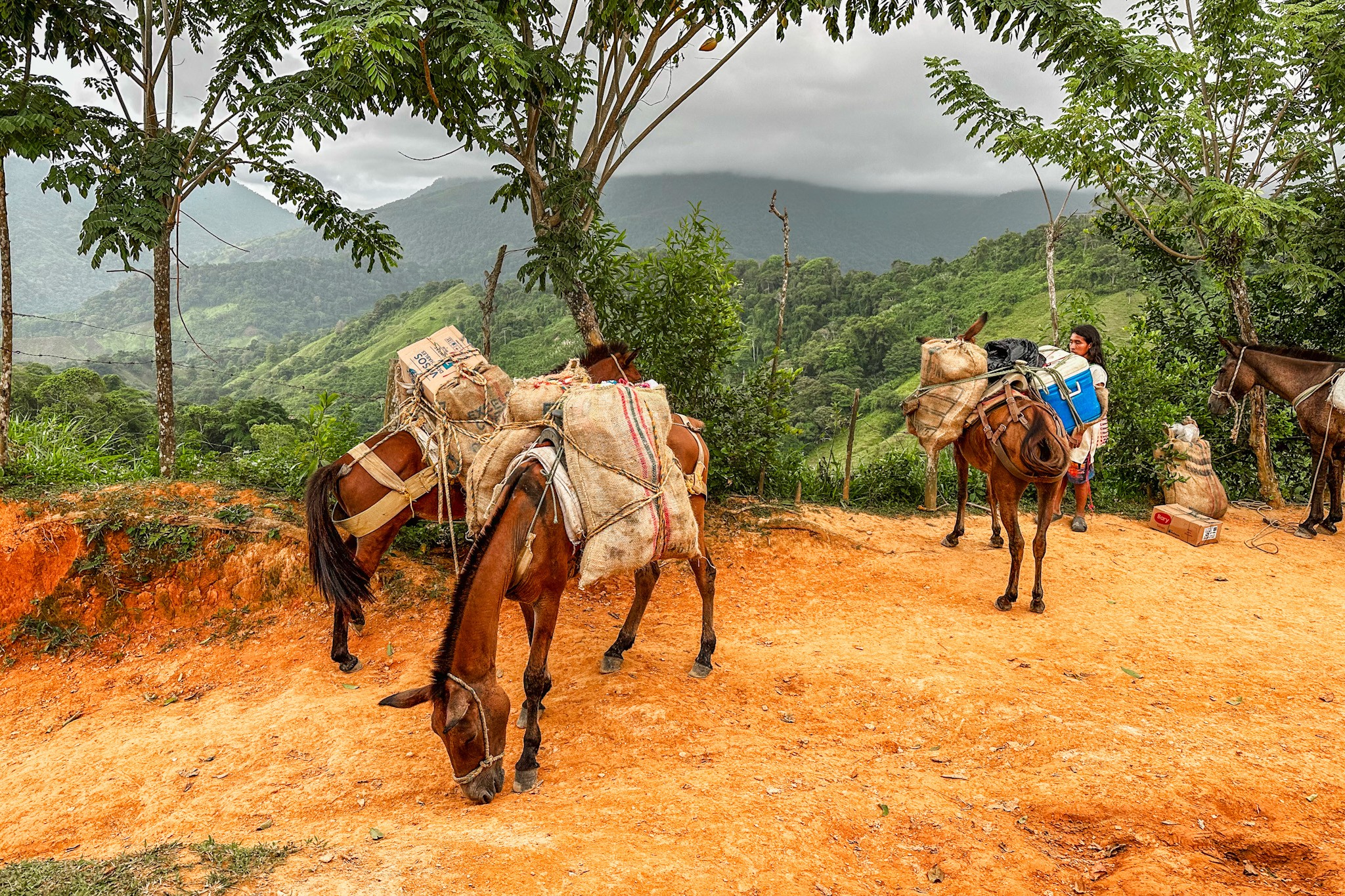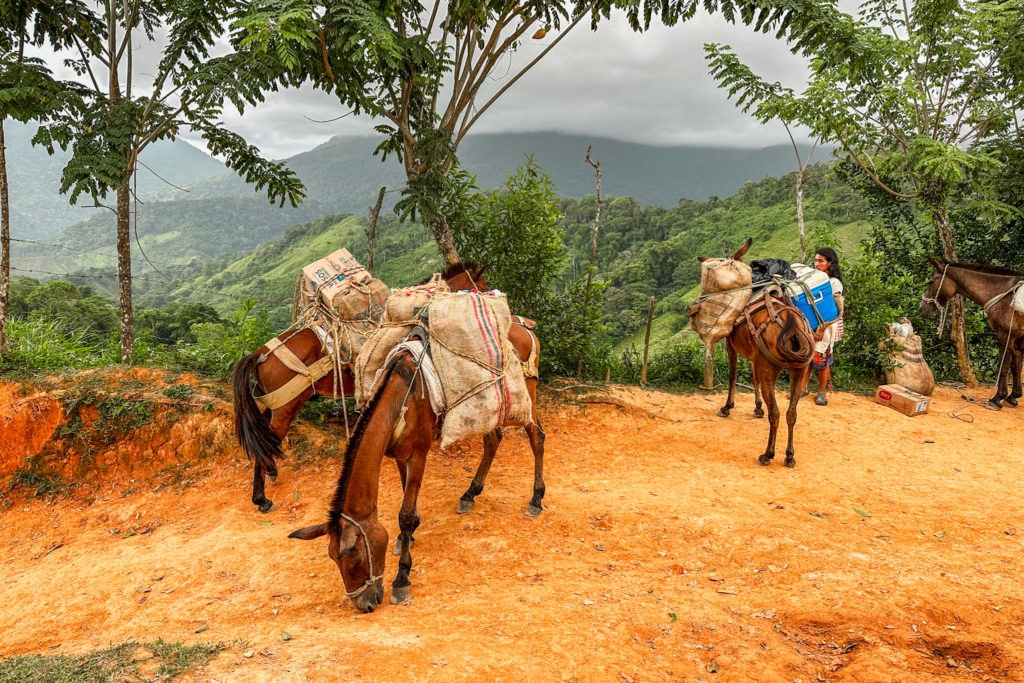 When is the best time to visit the Lost City?
The peak trekking season typically spans from December through March and again from July to August. During these periods there is less rain. The trek is going across the rainforest though, so do expect some rain. You can also expect more agreeable temperatures, which significantly enhances the overall trekking experience.
However, for those who prefer fewer fellow trekkers and are willing to endure being soaked, the shoulder months of April to June and September to November offer a more tranquil trekking atmosphere.
Average peak temperatures
We embarked on our trek to the Lost City in August, and we considered ourselves fortunate for the weather conditions we encountered. It was good that it wasn't too sunny, so we didn't have to endure extreme heat during our hikes. We were also glad that the rain didn't bother us much. It showered on just two of the four days we were out there, and only in the afternoons. Hiking in the rain itself was not so but, but it made the path extremely muddy and slippery so one had to be extra cautious not to fall.
Ultimately, the decision of when to undertake the Lost City Trek should align with your hiking preferences and your willingness to embrace different weather conditions.
It is important to note that the Lost City is closed every September for a whole month. Ciudad Perdida is still a sacred place for the indigenous communities and although they allow travelers to enter their territory, they believe that the great traffic of people to this place can make our Mother Earth sick. This is why every year in September the communities meet in the Lost City to do a "spiritual cleansing" of the territory led by their spiritual leader "mamo".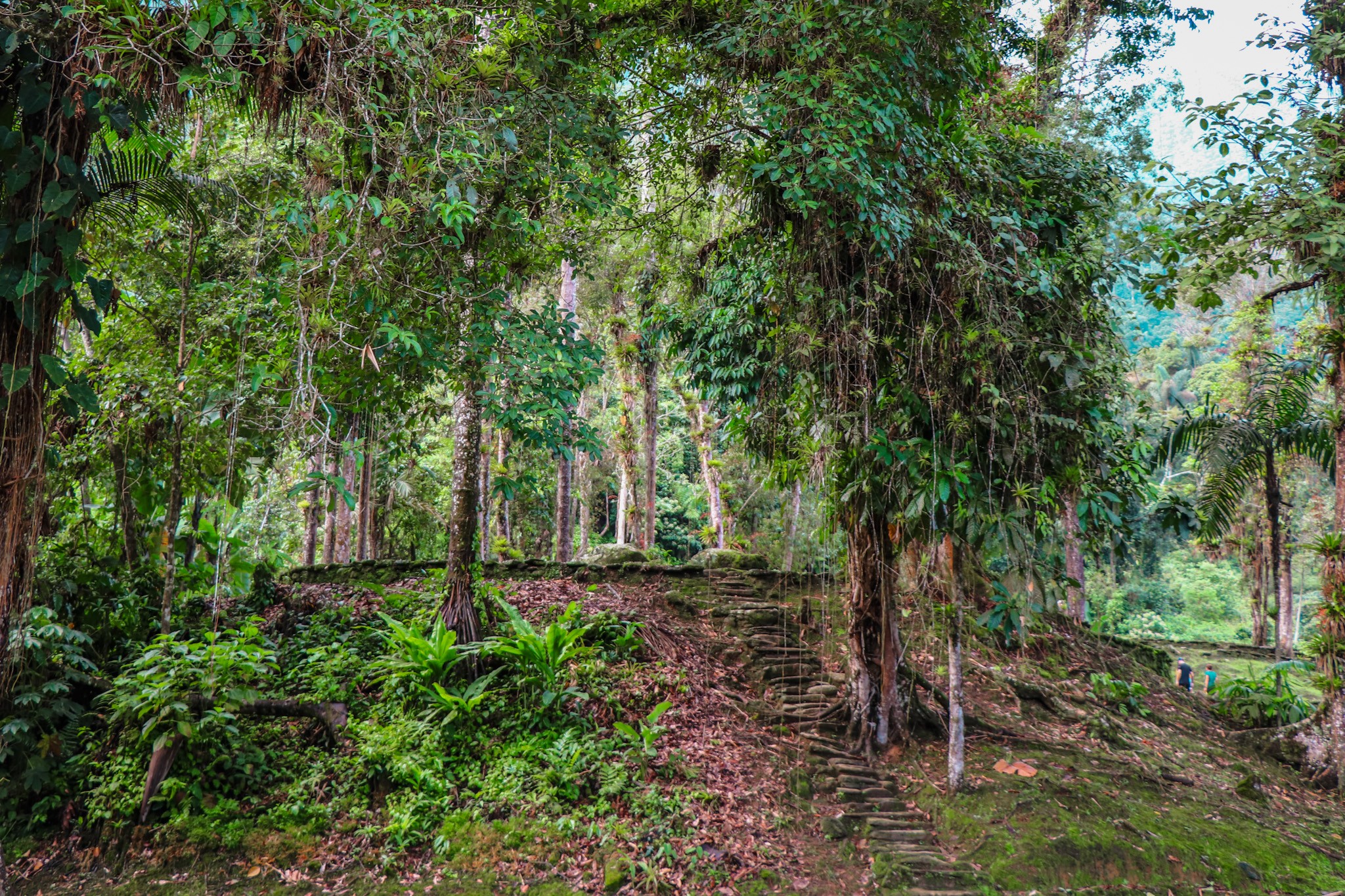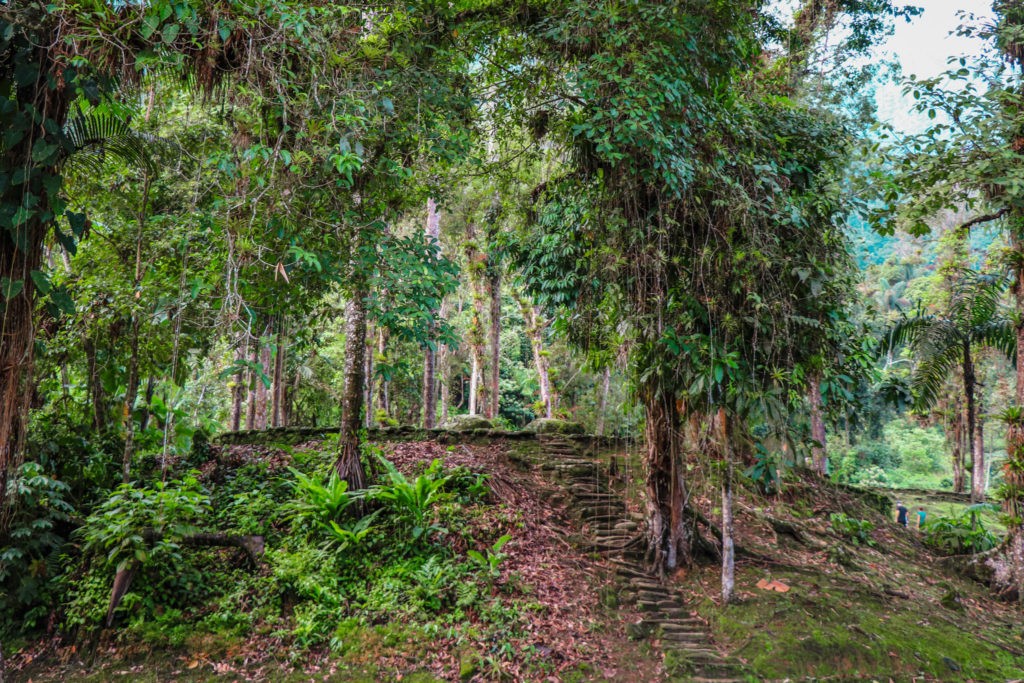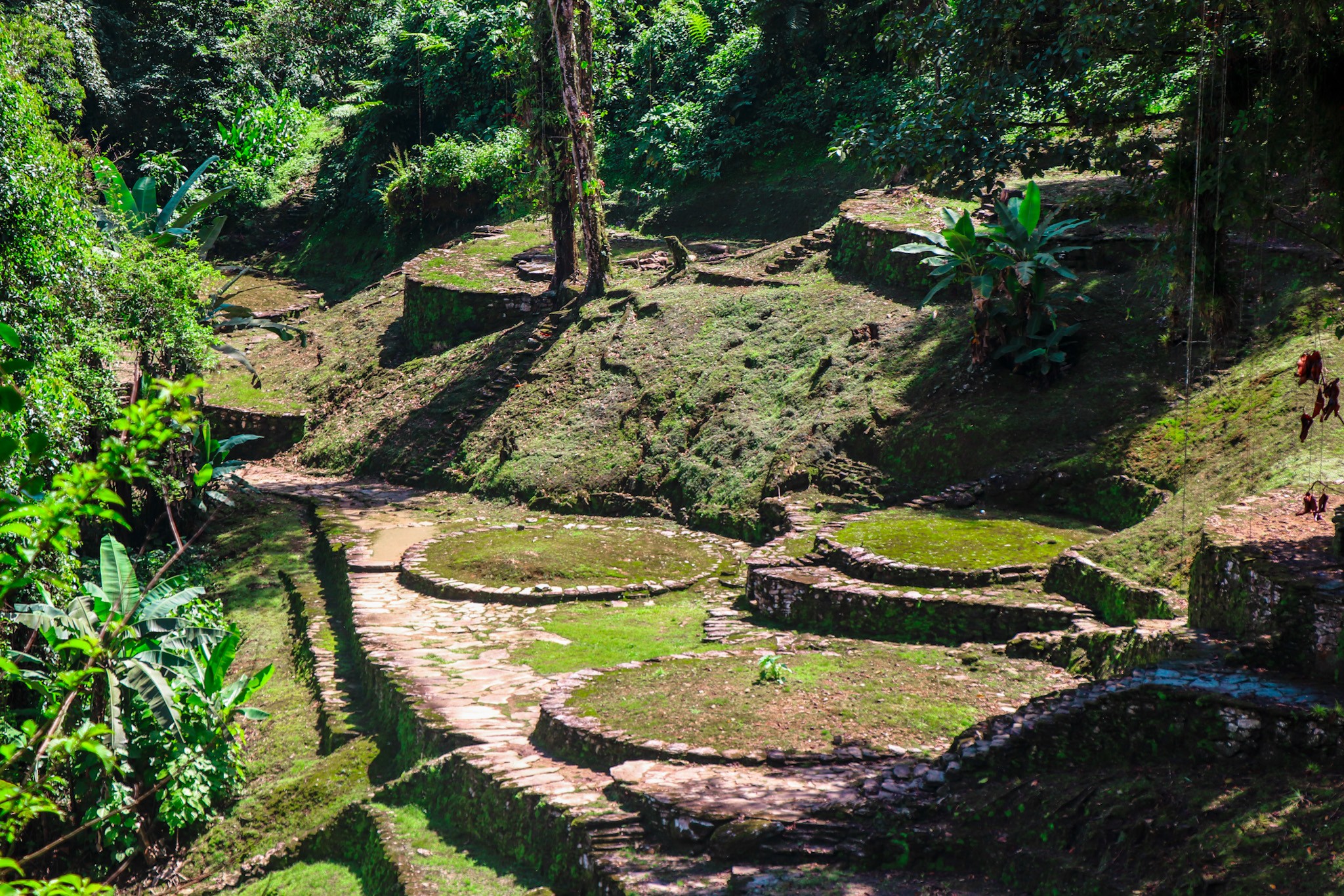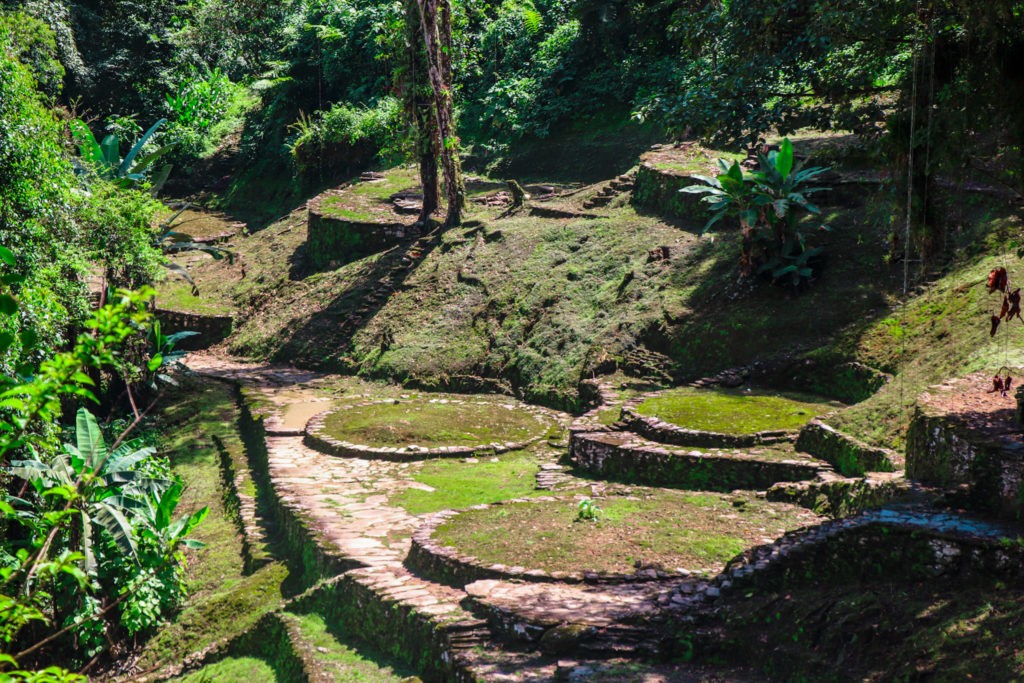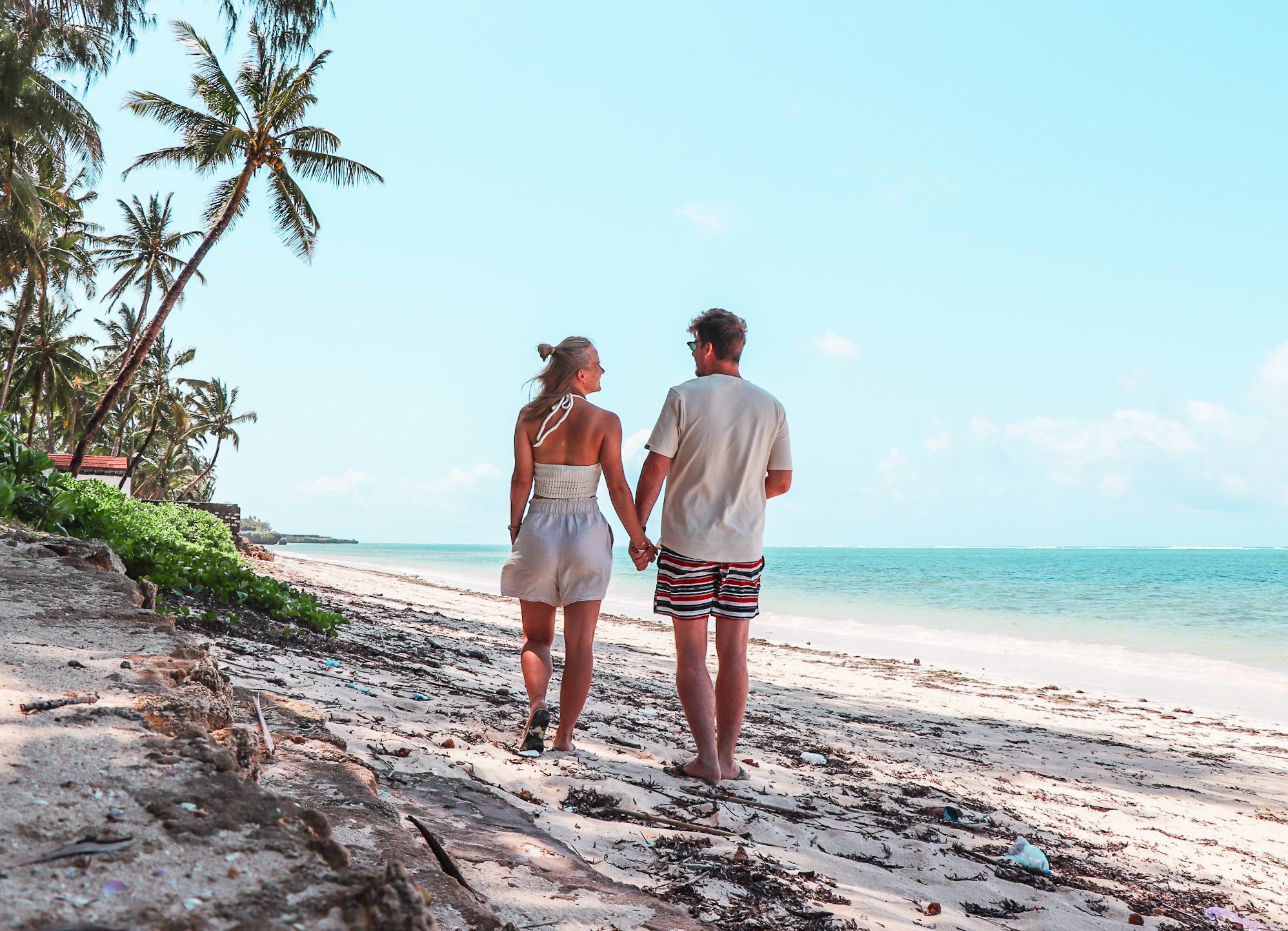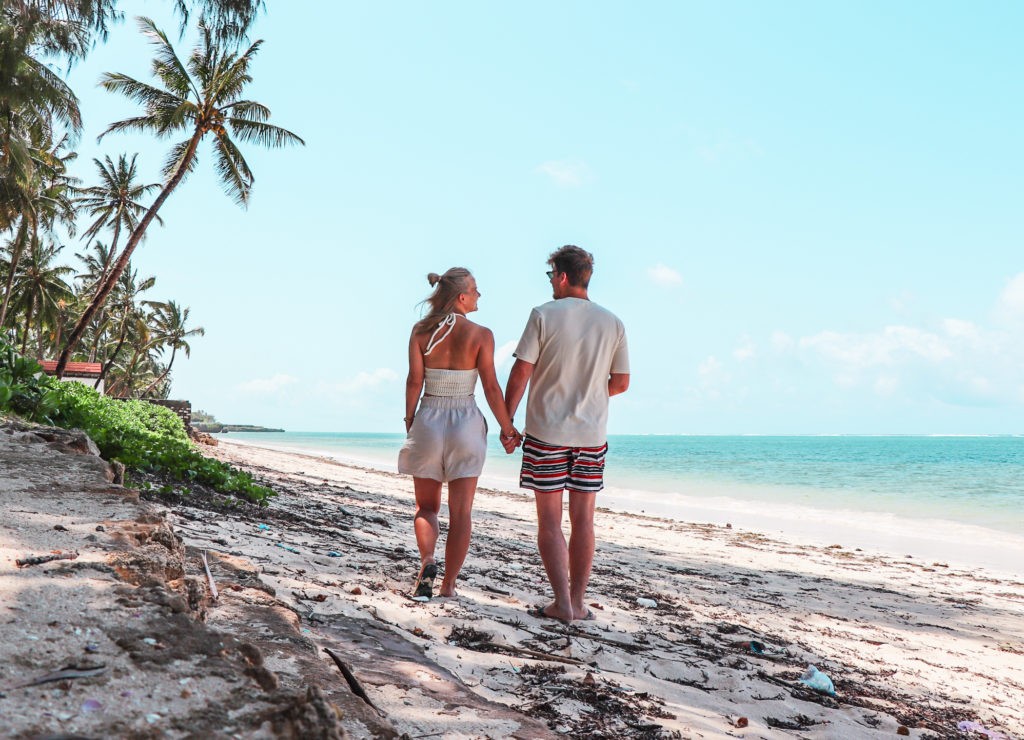 The Lost City trek in Colombia is an unforgettable journey through lush jungles and rugged terrain, leading to the discovery of an ancient ruins, the Lost City itself. For those seeking an extraordinary adventure that combines archeological marvel, breathtaking natural beauty, and the thrill of exploration, the Lost City trek is a must-do, promising memories that will last a lifetime. Embark on this incredible journey and uncover the secrets of Colombia's hidden gem.