Welcome to Bogota, the capital city of Colombia and an urban hub of skyscrapers, busy streets surrounded by lush green mountains. Bogota is the forgotten child of Medellin and often missed out by tourists. We think that Bogota definitely deserves more love and attention.
Spend a few days in this underrated, yet exciting city. Climb Mount Montserrat, dive into the rich street art culture, taste the delicious food and visit the historical centre. Enjoy all the best things to do in Bogota, Colombia.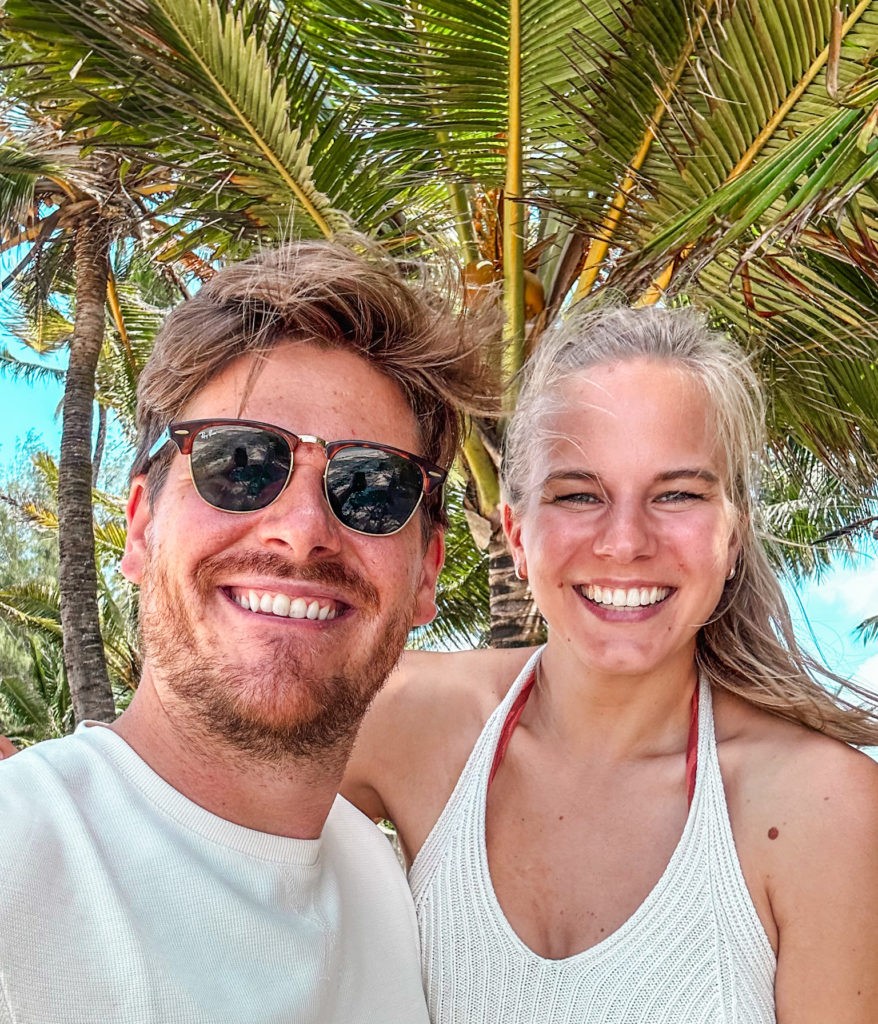 We hope you enjoy our travel stories, guides and tips! If so, please consider supporting our work.
10 Best things to do in Bogota
Bogota, one of the largest cities of South America and home to over 7 million people. That's 5-times the population of Estonia and almost 10-fold the size of Frankfurt. A number that was hardly imaginable for us until we arrived in this massive city. So we decided to further increase it's inhabitants by 2, when we visited the city for 4 days to discover all the best things to do in Bogota.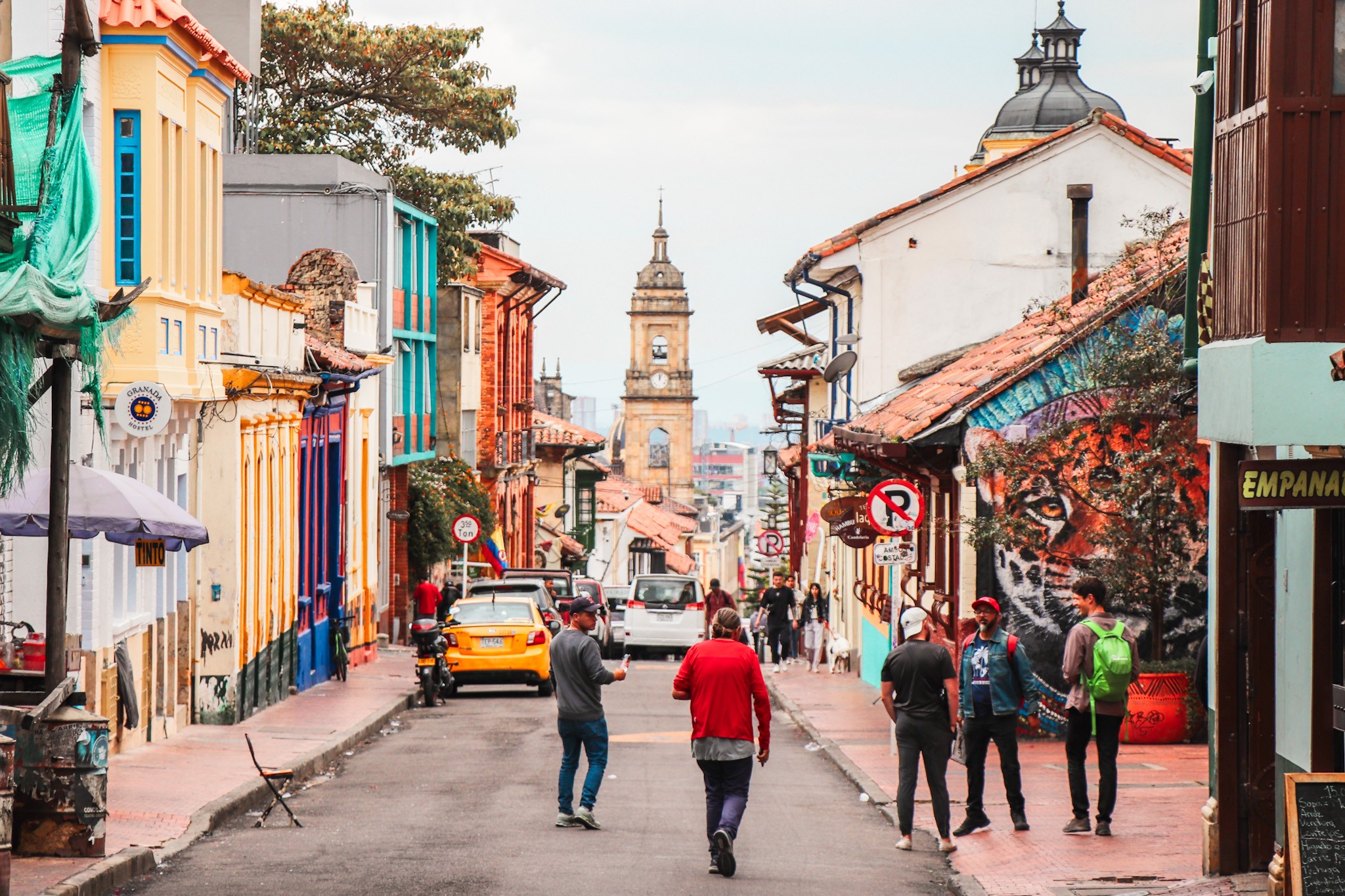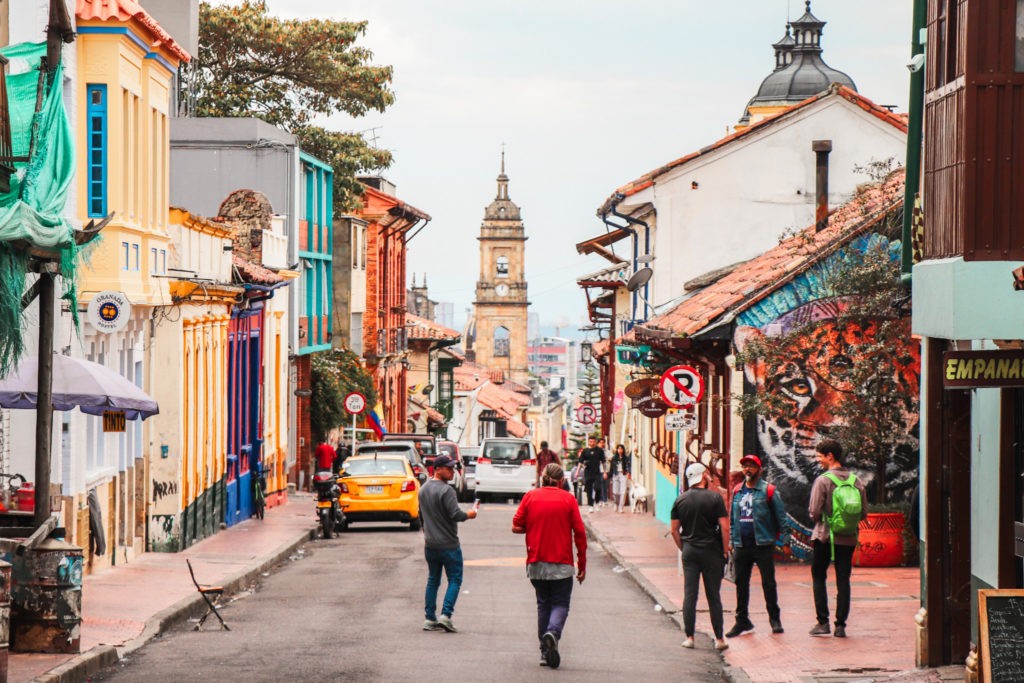 Plaza de Bolivar is the central square of Bogota in La Candelaria and named after South America's liberator Simon Bolivar. The plaza is surrounded by important governmental buildings such as the National Capitol, the Palace of Justice and the presidential mansion Casa de Nariño, as well as the famous Cathedral Basilica Metropolitana.
A visit to the Plaza de Bolivar should definitely go on your list of the things to do while you are in Bogota. For Colombians this iconic place symbolizes the democracy, justice and history of Bogota. While wandering around you'll also find local artists selling beautiful pictures and handicrafts. And watch out the pigeons, there are plenty of them on the square.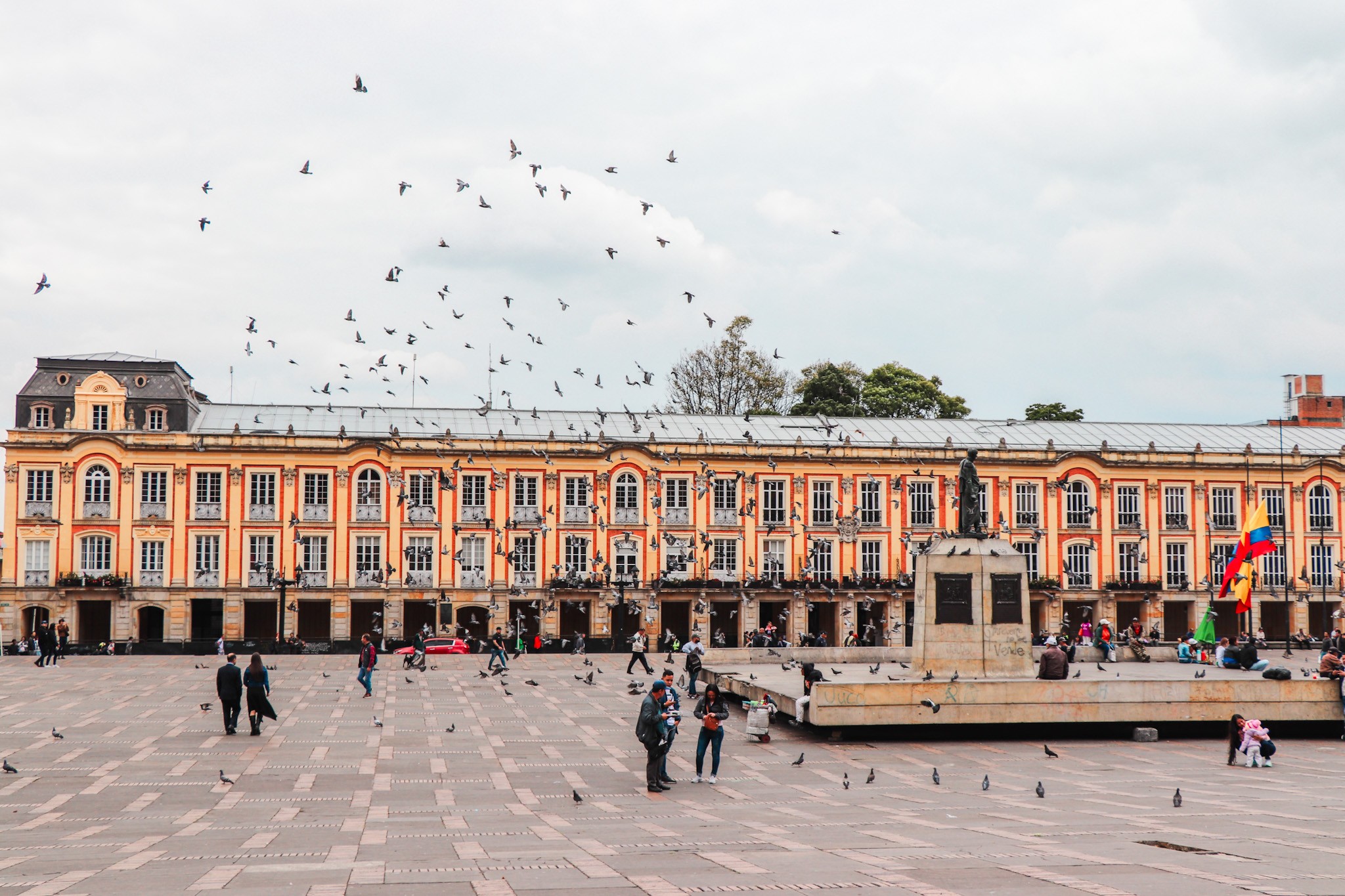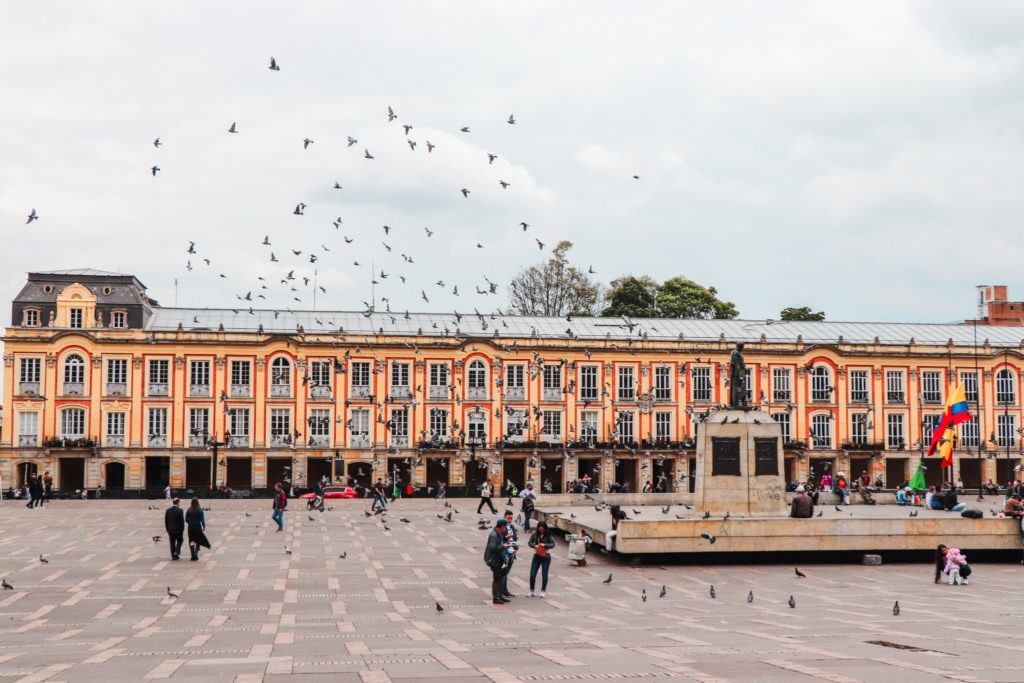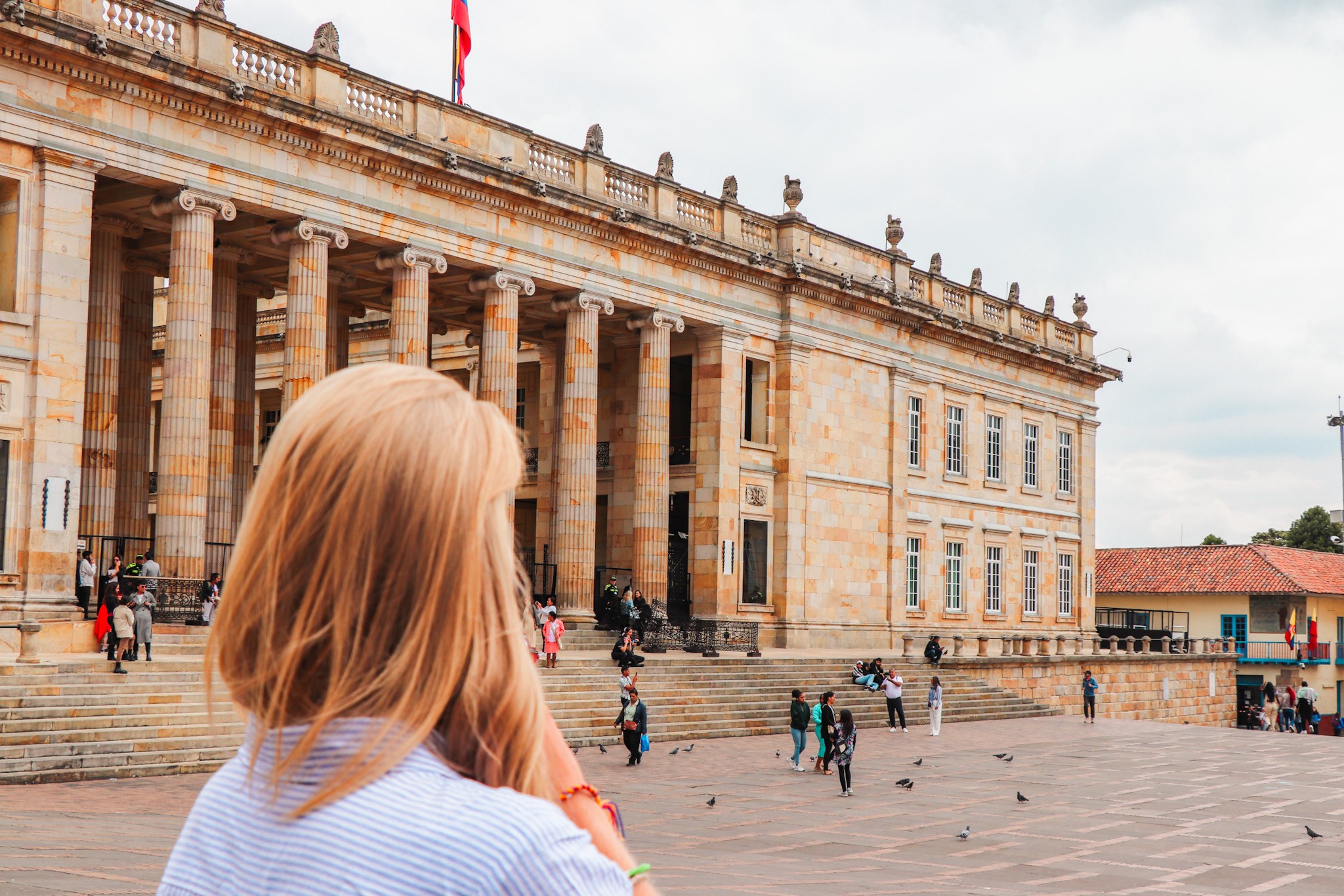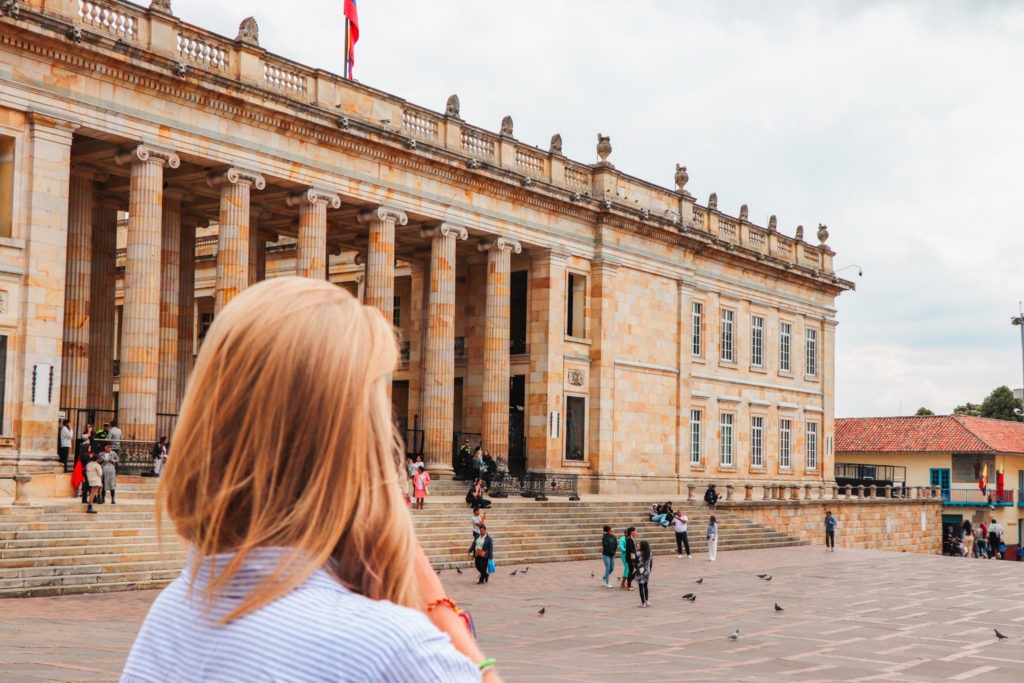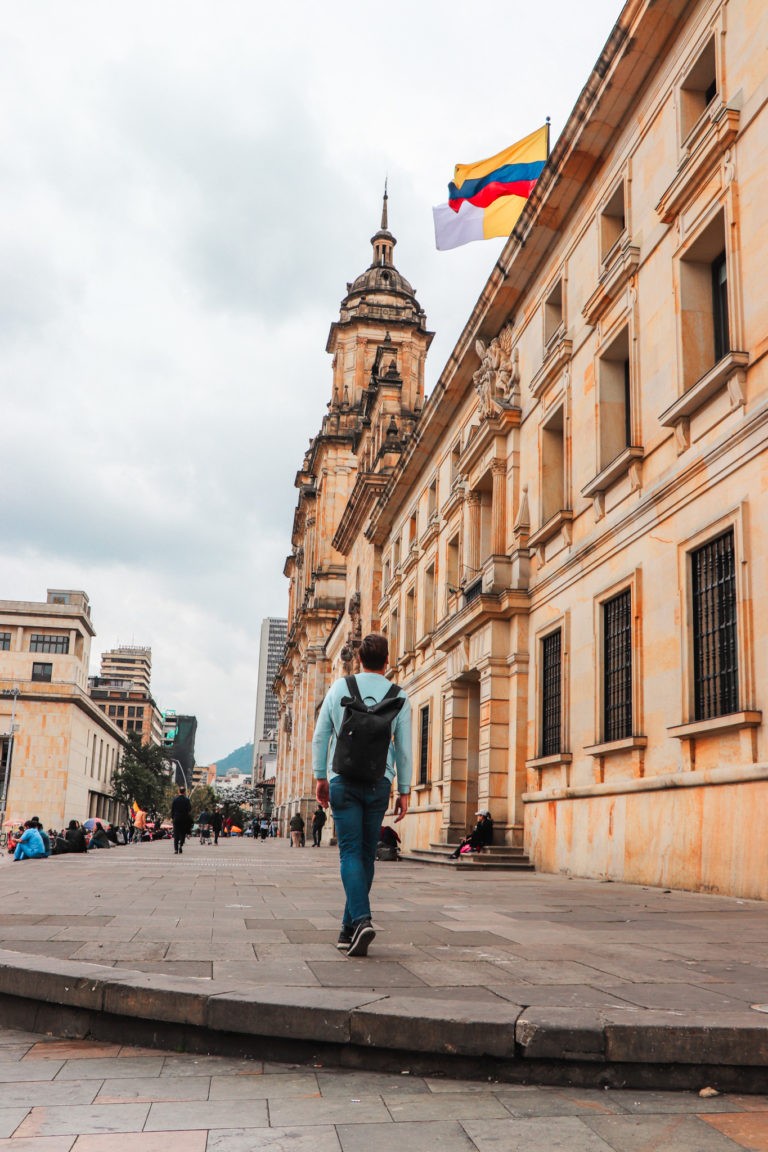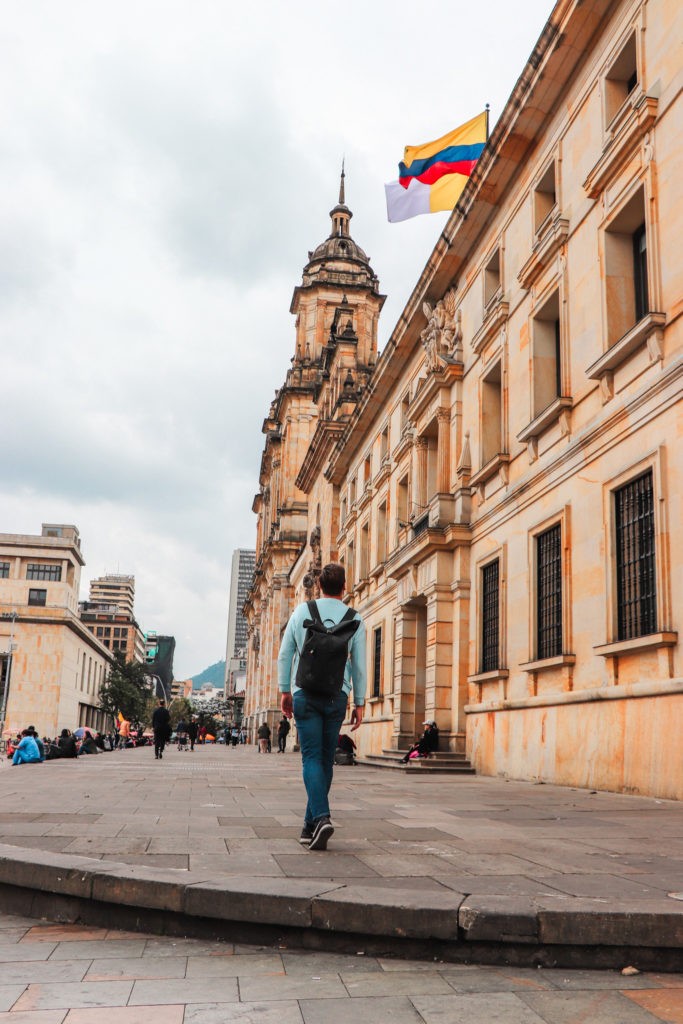 La Candelaria is the historic center of Bogota, known for its charming colonial architecture and cobblestone streets. Many of the city's best attractions, landmarks and sites are in this neighborhood. In La Candelaria you'll find the Plaza de Bolivar, the Botero Museum and Gold Museum, among several churches, galleries, theaters and universities. It's also the the place where Bogota was initially founded in 1538, making it the oldest part of Colombia's capital city.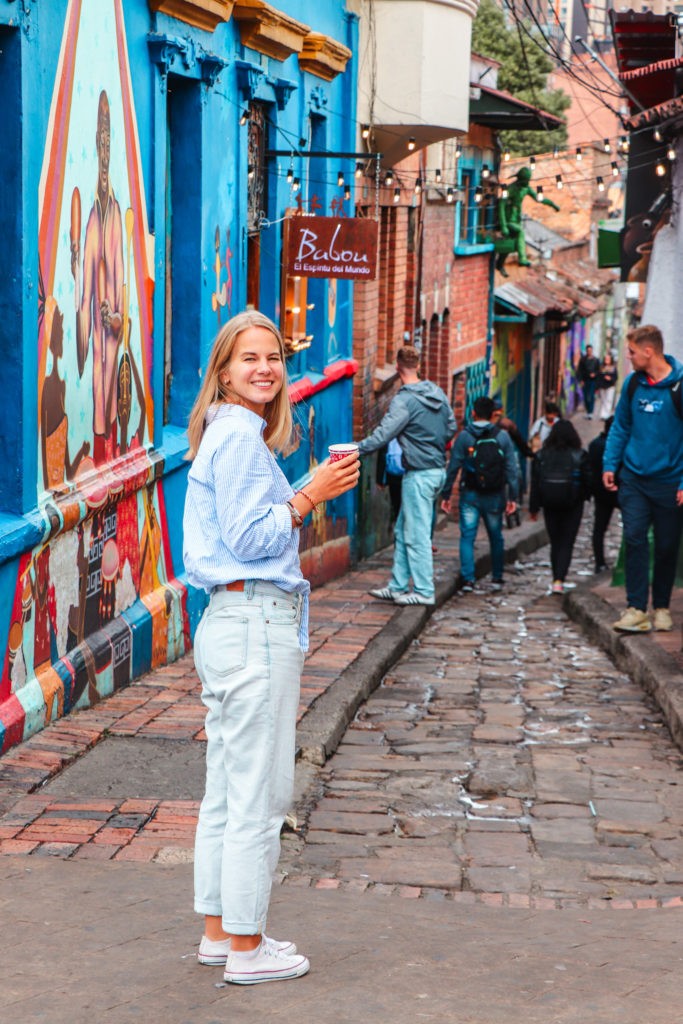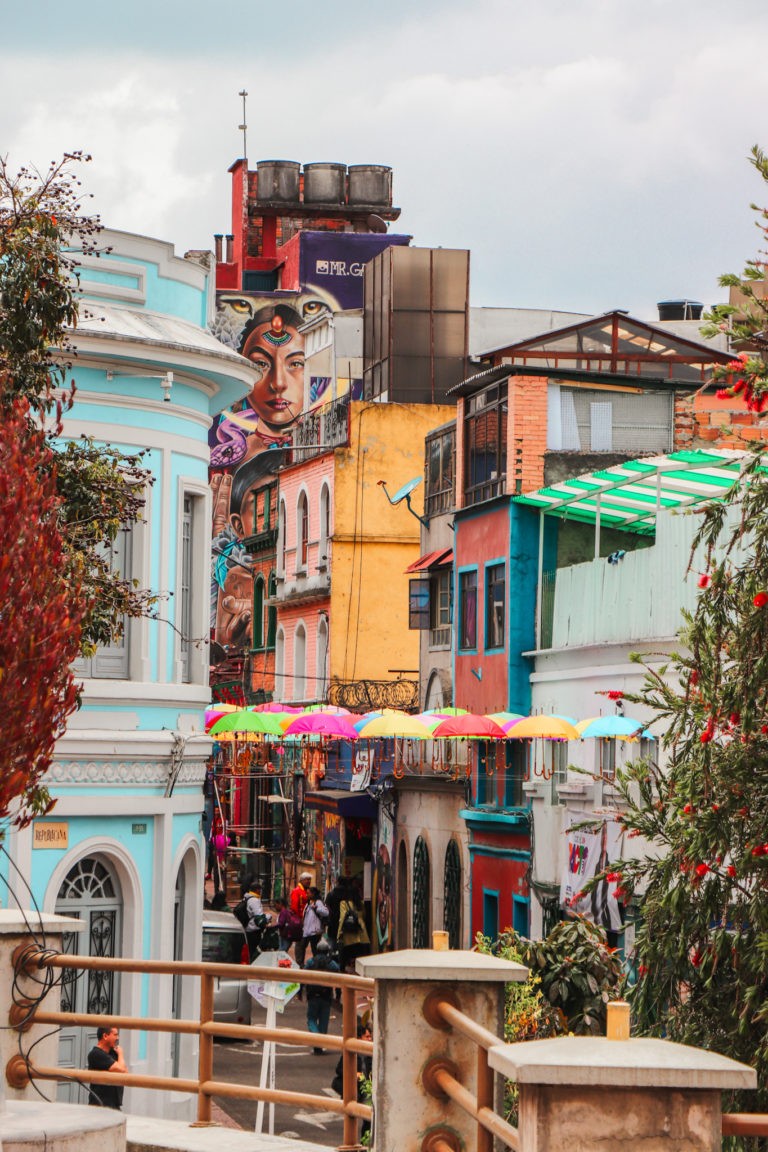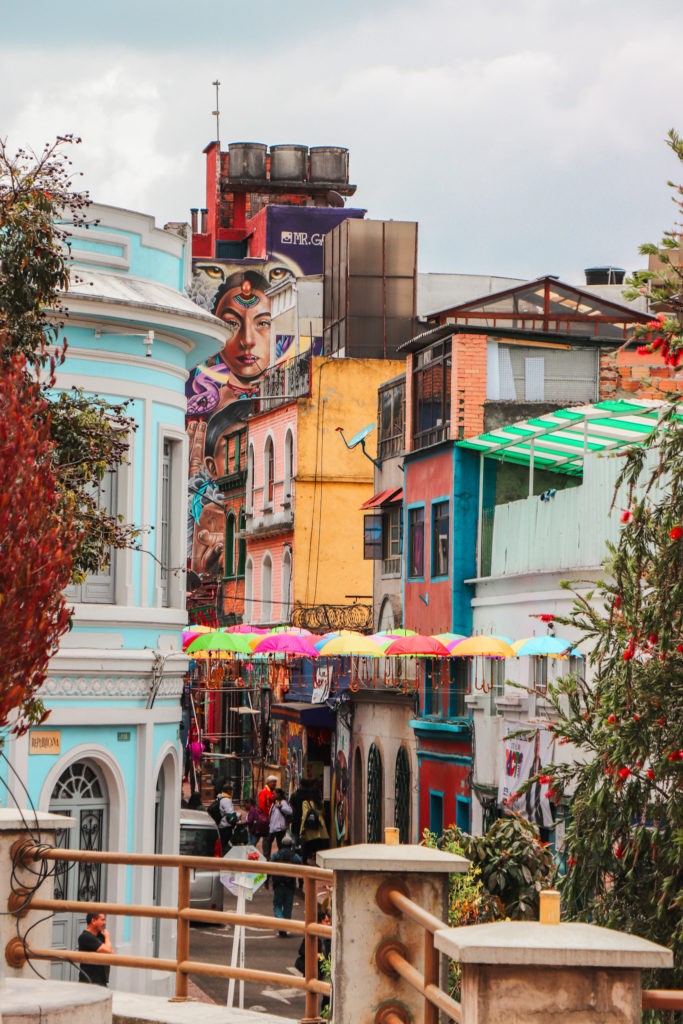 3. Museo del Oro (Gold Museum)
A visit to the Golden Museum is one of best things to do in Bogota. This exceptional museum houses an extensive collection of over 55.000 different pre-Colombian gold artifacts. Each item tells a historical story about the indigenous communities living in South America. You'll see pieces used in ancient rituals, and learn more about their heritage. The displays at the Gold Museum are well explained in both English and Spanish.
Entrance to the museum is 5.000 COP (approx. 1.25 USD) with the option for an audio guide for 8.000 COP (approx. 2 USD) and it's open from Tuesday to Sunday. Plan to visit the Gold Museum for a half-day, as the exhibition is distributed across 4 floors, so there is a lot to see.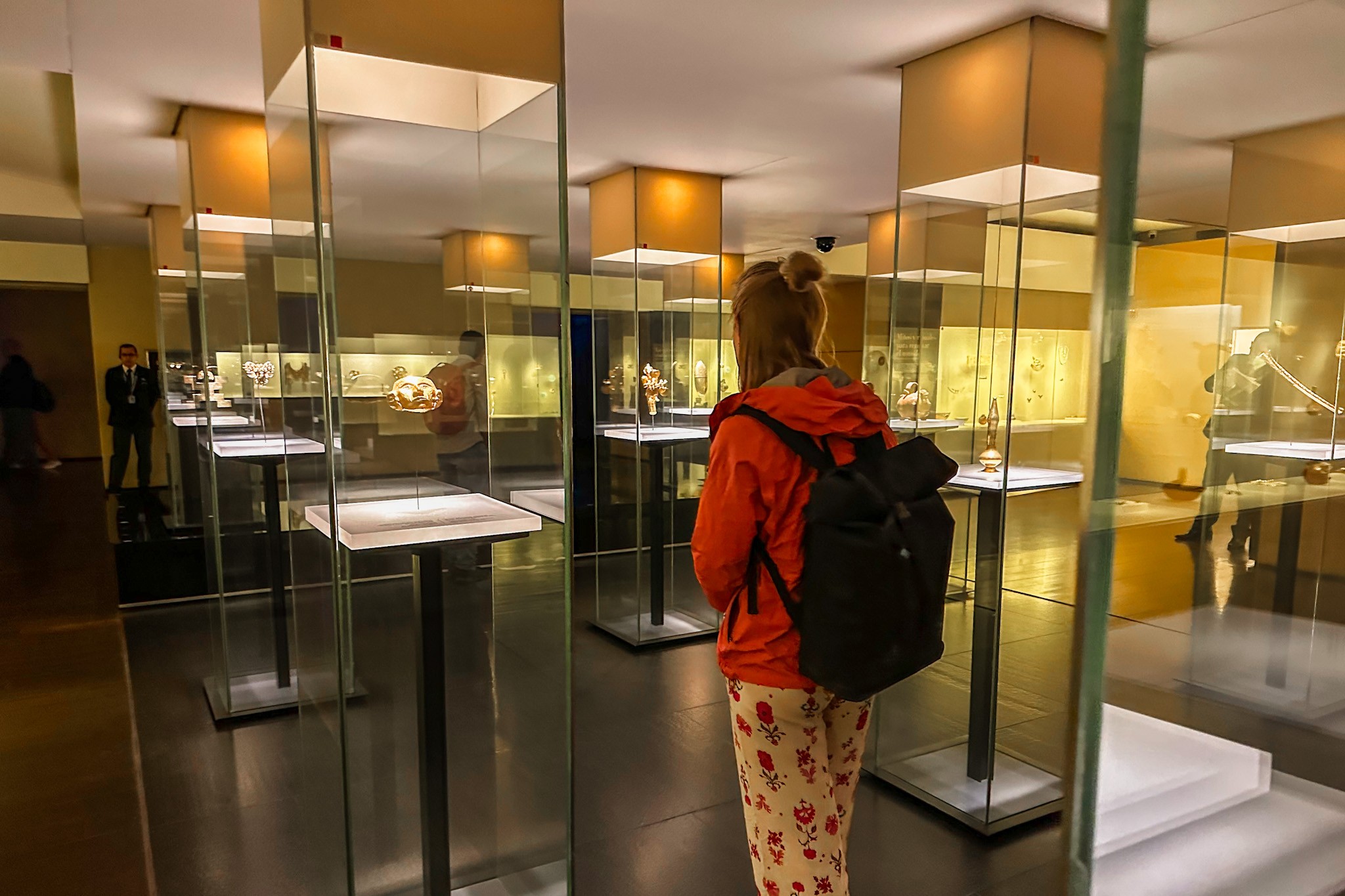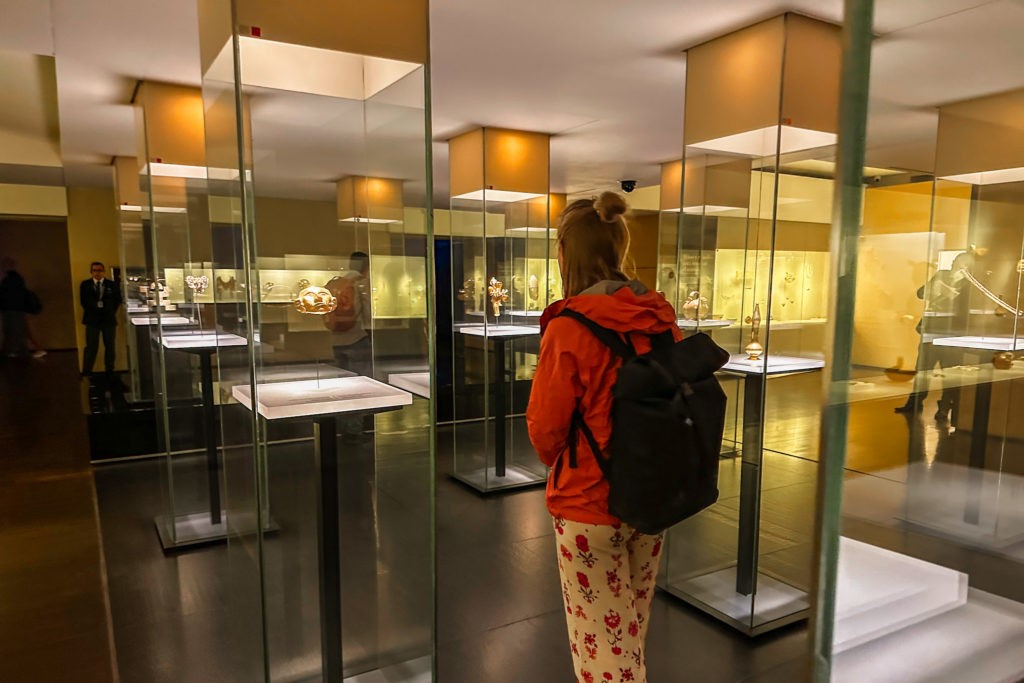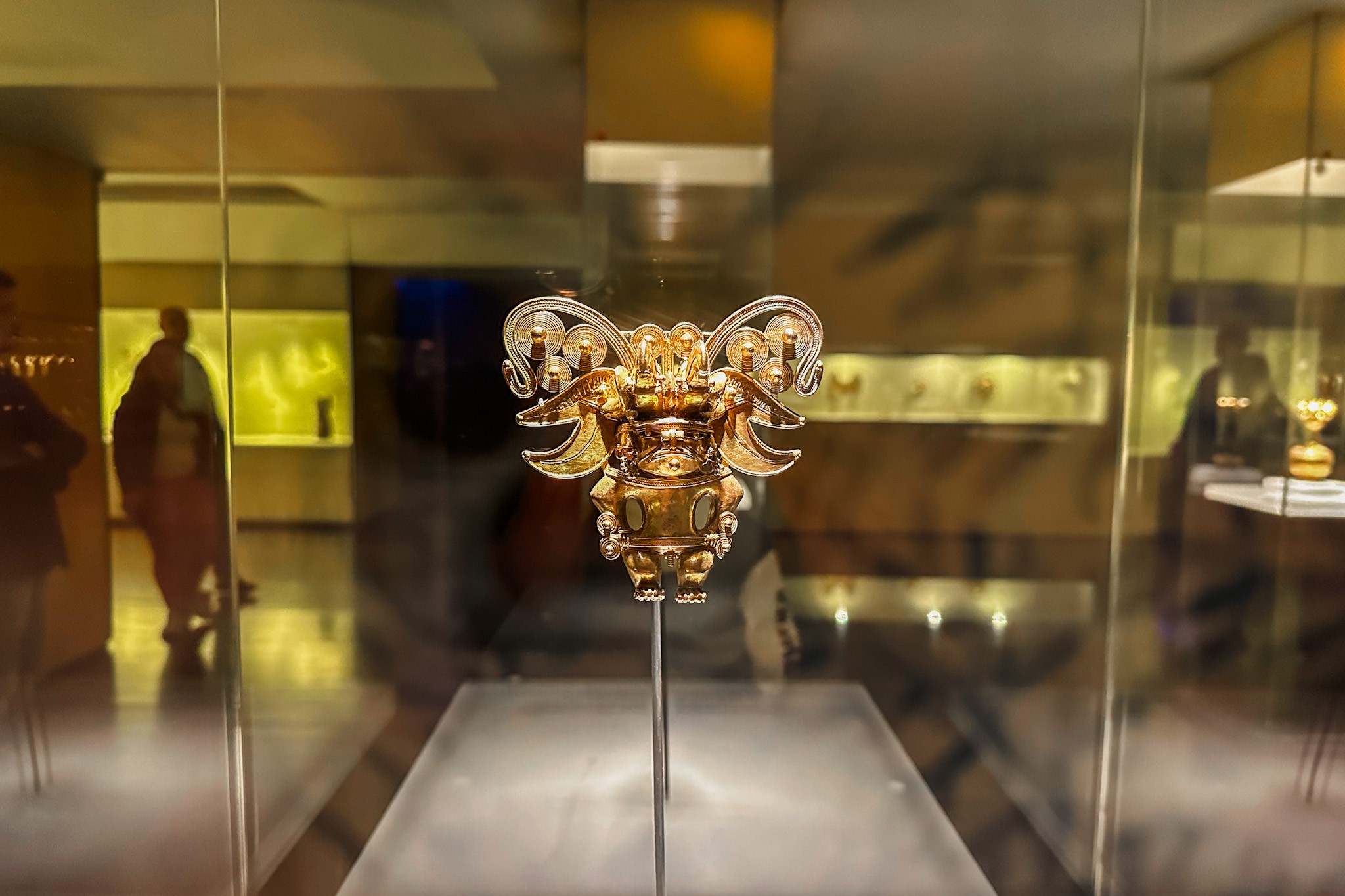 Fernando Botero, undoubtedly one of the greatest artists Colombia ever had. His paintings are known for his distinctive style characterized by exaggerated sizes and plenty of colors. Botero donated his collection of paintings to the city of Bogota under several conditions: The exhibition must remain as curated by him and the entrance must be free for everybody.
Visiting the Botero Museum is a perfect opportunity to witness the influences of Colombia's past. The collection also contains some painting from other popular artists, such as Picasso and Monet and as the entrance is free there is no excuse.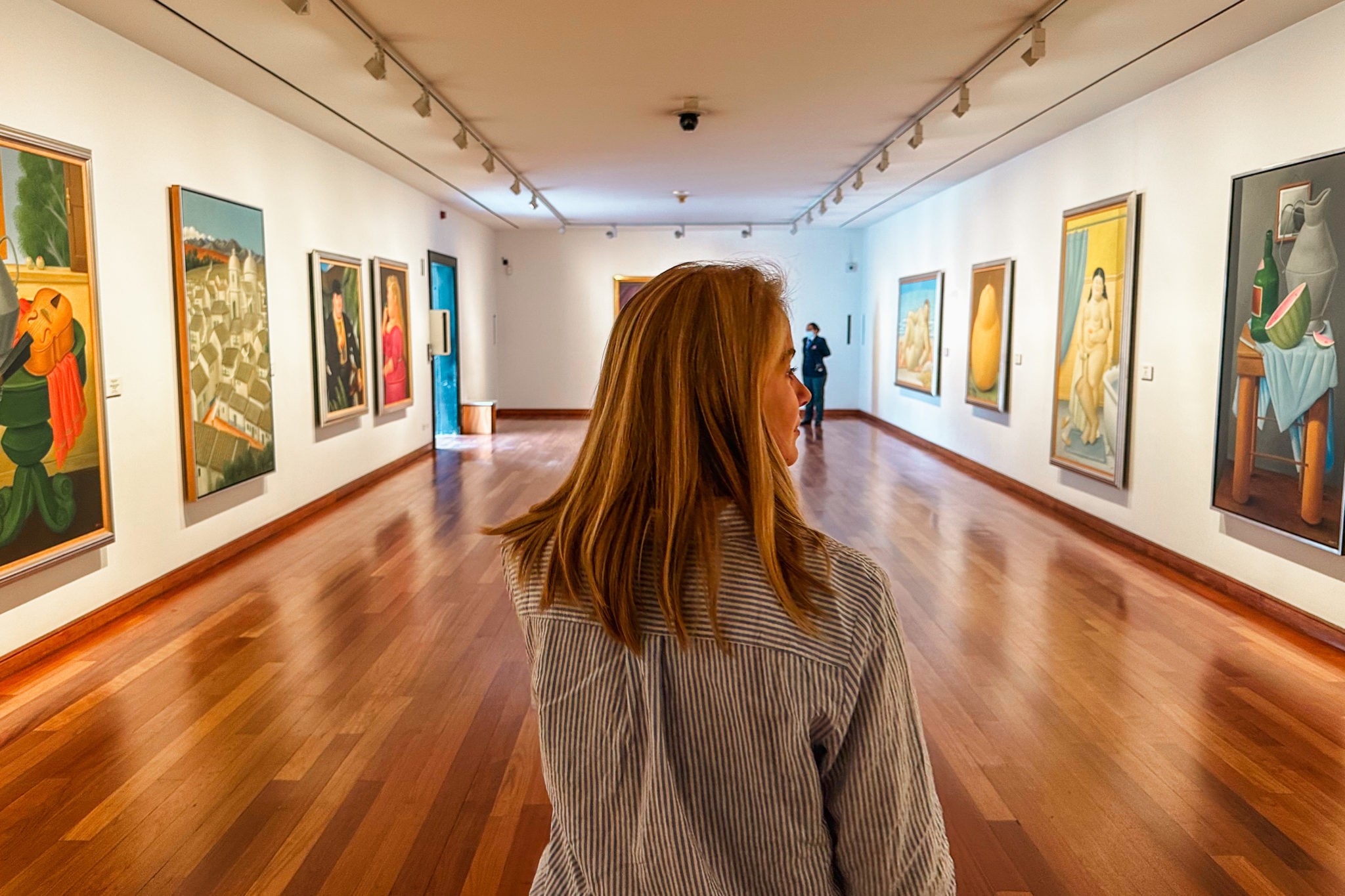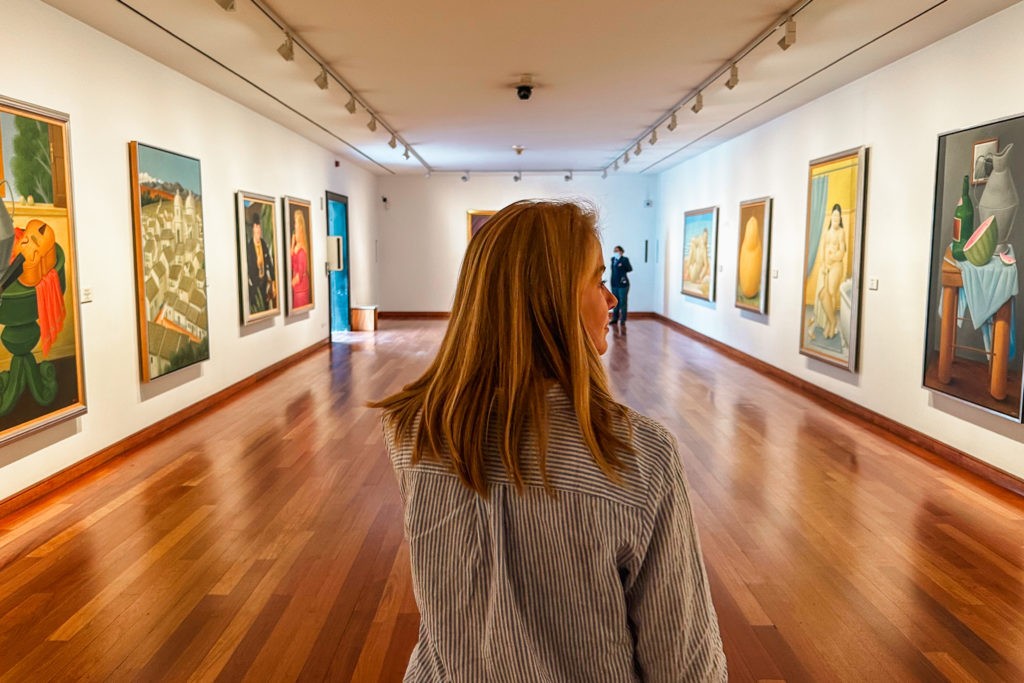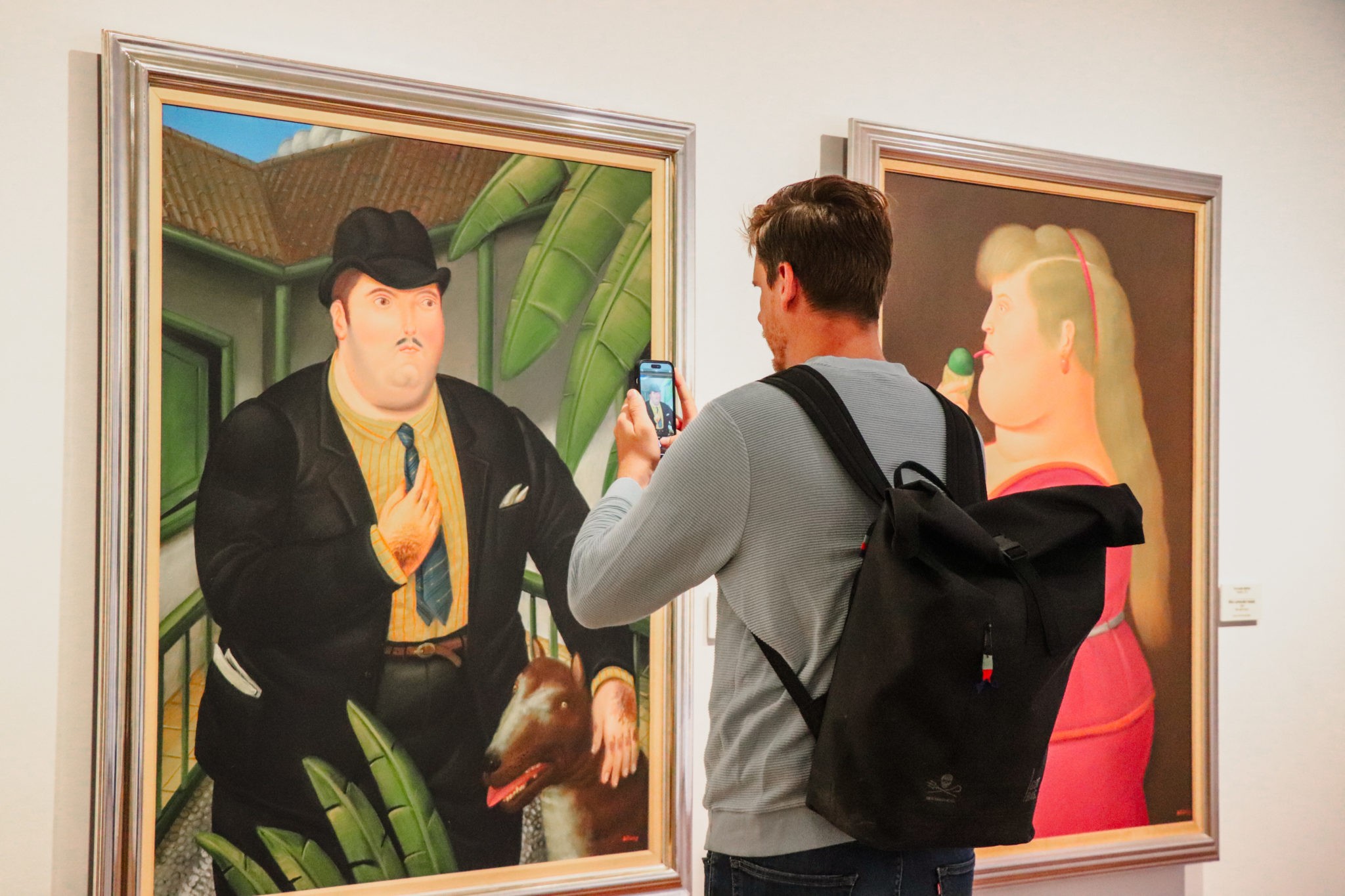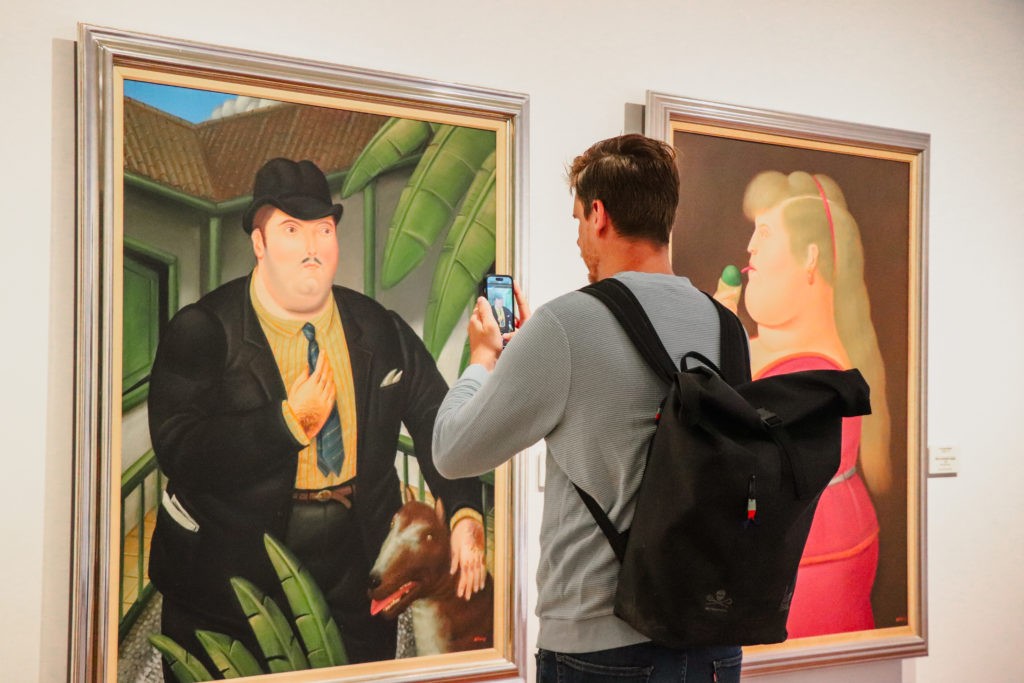 The megacity Bogota lies in the shadow of the Cerro Monserrate, an iconic mountain that provides stunning views over the city. From the peak you will see Bogota in it's full size and realize how massive the city really is. We could barely see the city borders on the horizon. For us, visiting the Cerro Monserrate was one of the best things to do in Bogota that should not be missed out.
To reach the top of the mountain you can take a cable car or funicular. Or alternatively, if you're looking for a little adventure there is also the option to also hike the mountain. Start early as the hike will take around 2-4 hours to complete and you can only enter in the morning. Along the trail there are guards stationed, so we consider it safe. When taking the cable car or funicular, also try to arrive early and on a weekday to avoid long queues at the base station.
The round ticket costs 27.000 COP (approx. 6.5 USD) and the ride will be short but spectacular. On the top you'll not only see Bogota from a totally different perspective, but also find a church and some nice restaurants.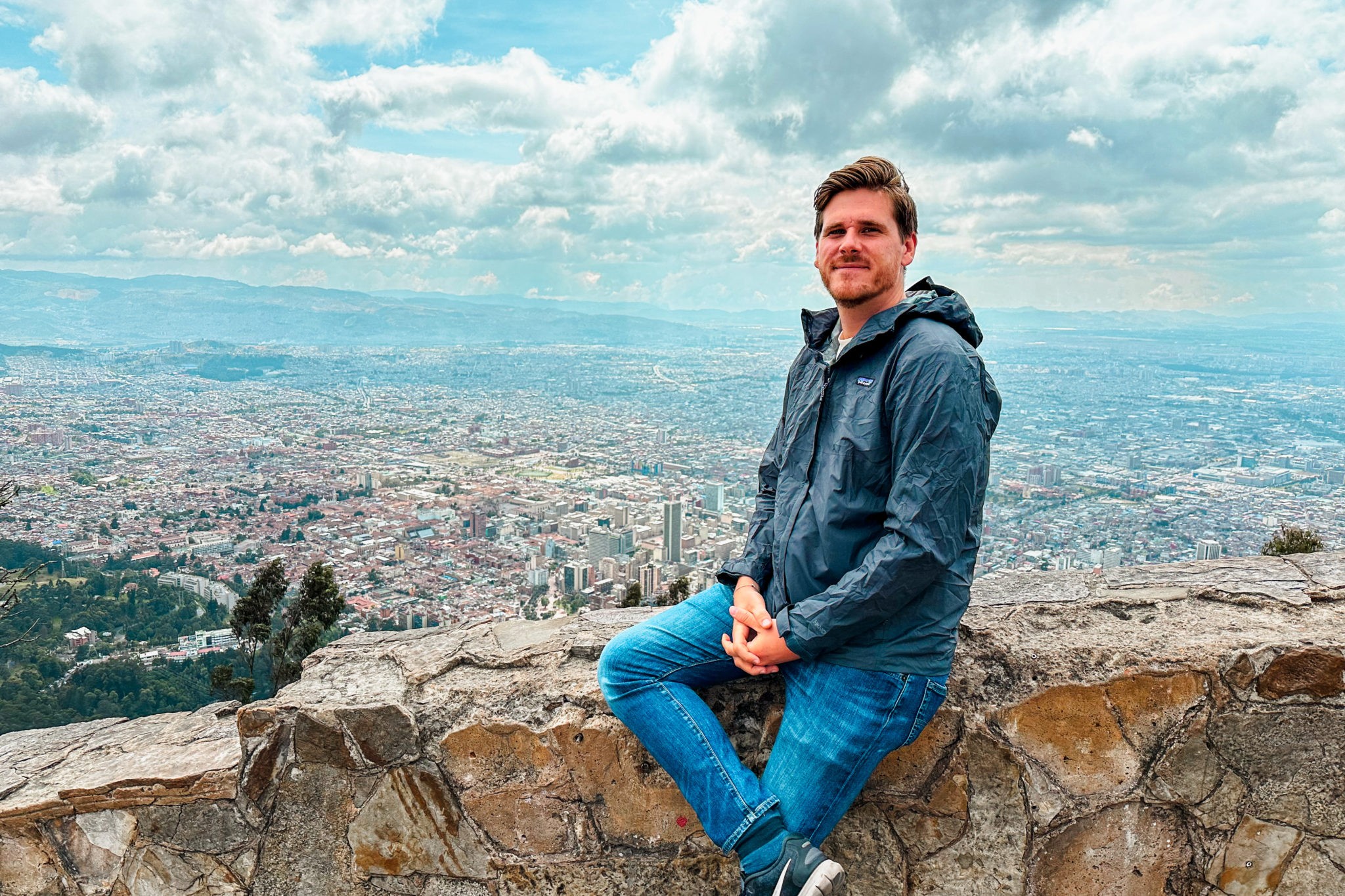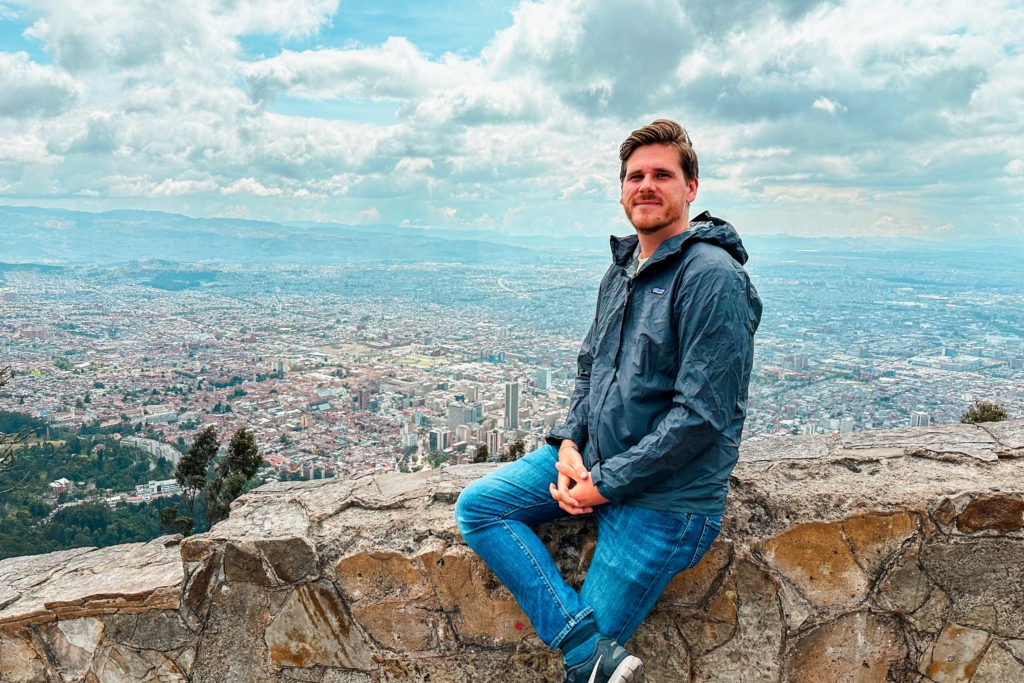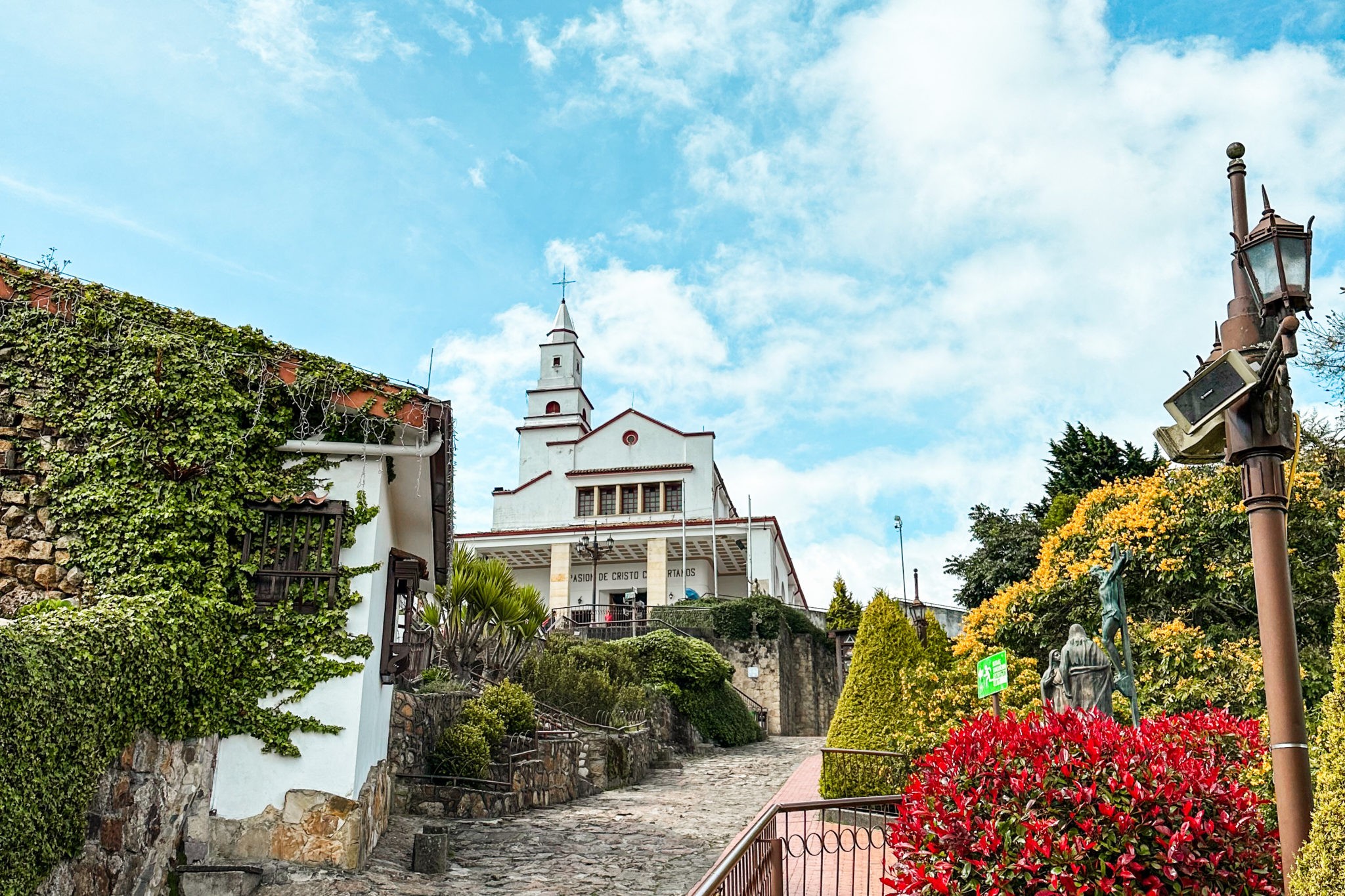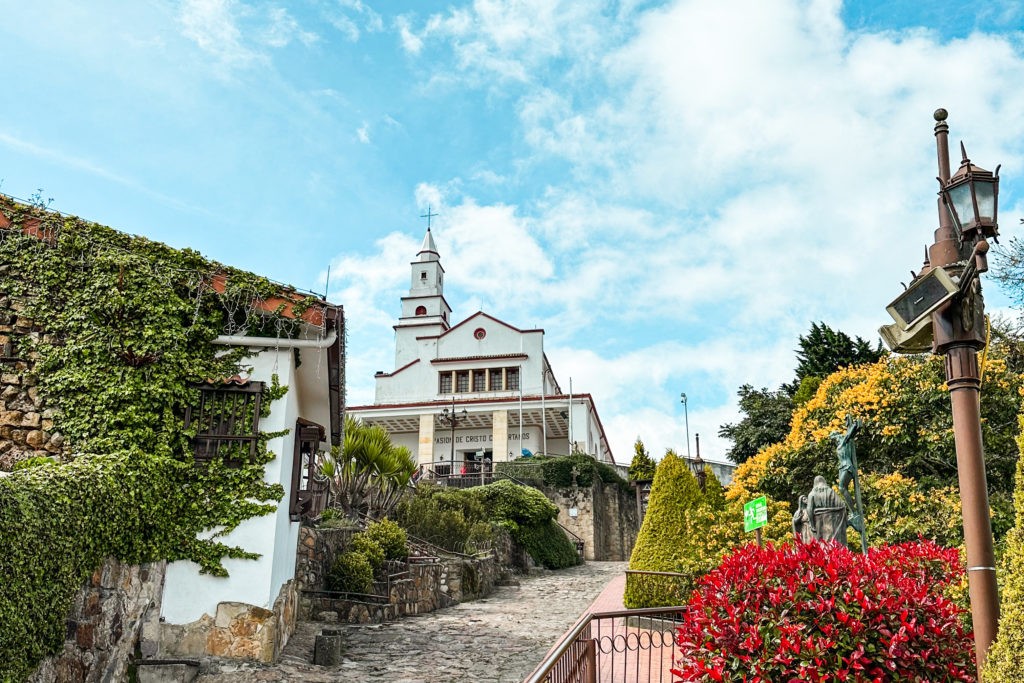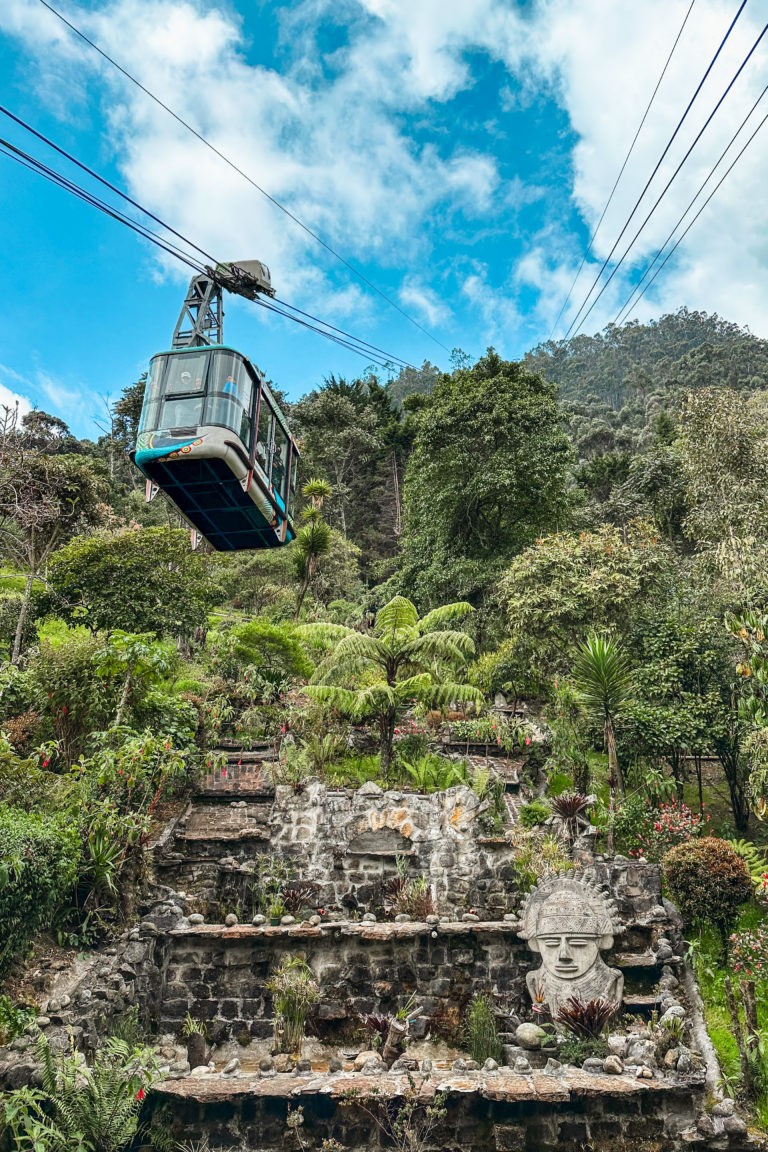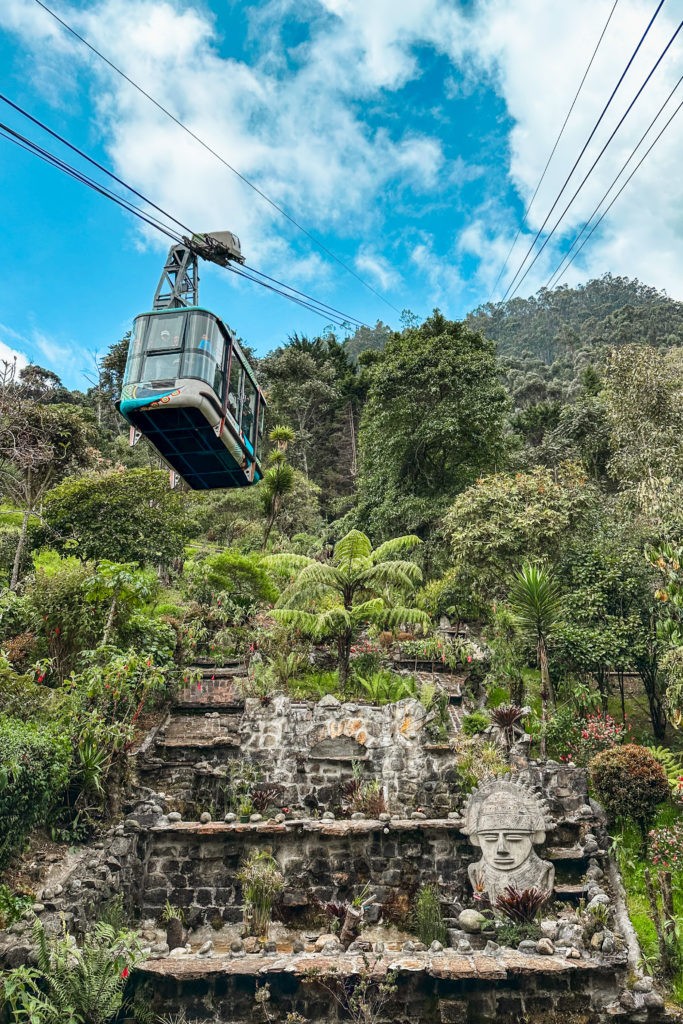 Usaquen is one of Bogota's districts that once was a separate town before becoming part of the city, retaining its distinct character. Similar to La Candelaria, the colonial architecture is still well-preserved making it a perfect place to visit. If you happend to stay in Bogota on a Sunday, definitely plan to visit the Usaquen Flew Market. On that day the streets of Usaquen are full of artisans and vendors selling crafts and local goods.
For us, visting the Usaquen Flew Market was a highlight during our time in Bogota. The market is very local and authenic and still not discovered too much by tourists. People there are genuinely friendly and love to chat.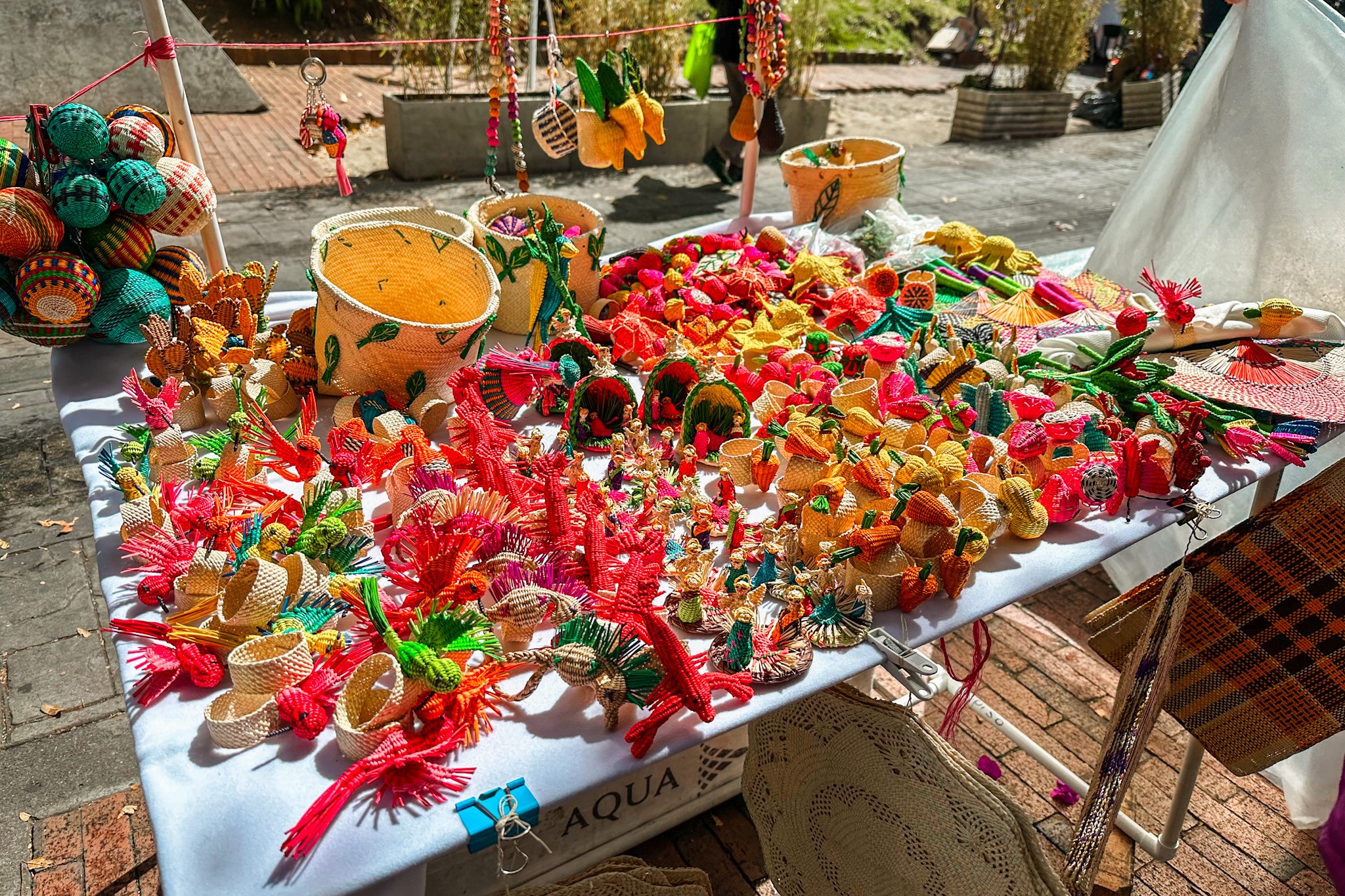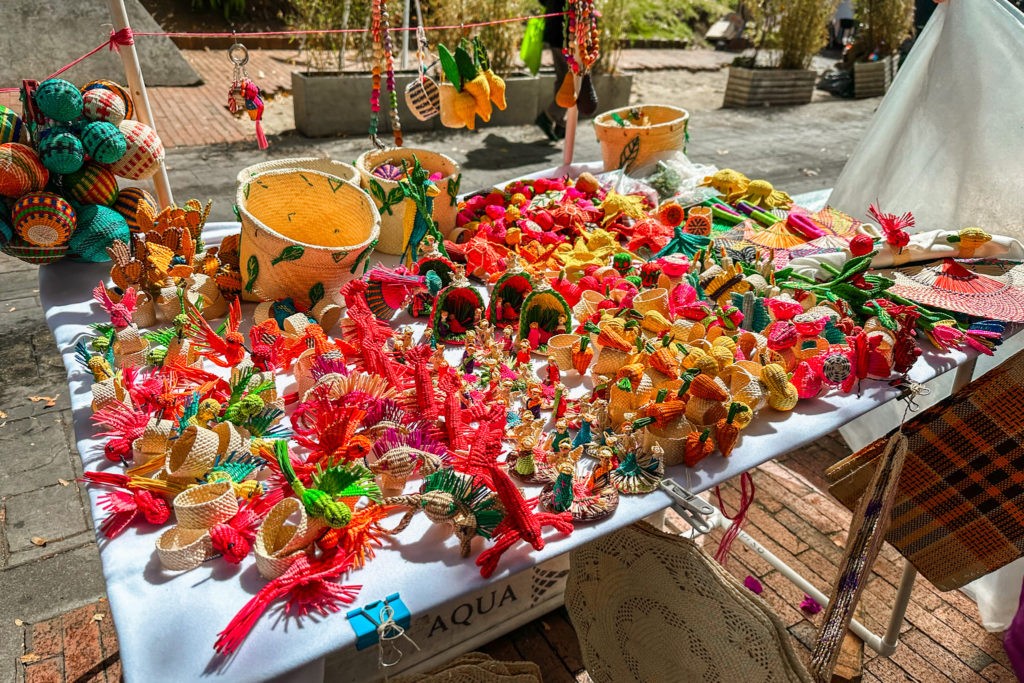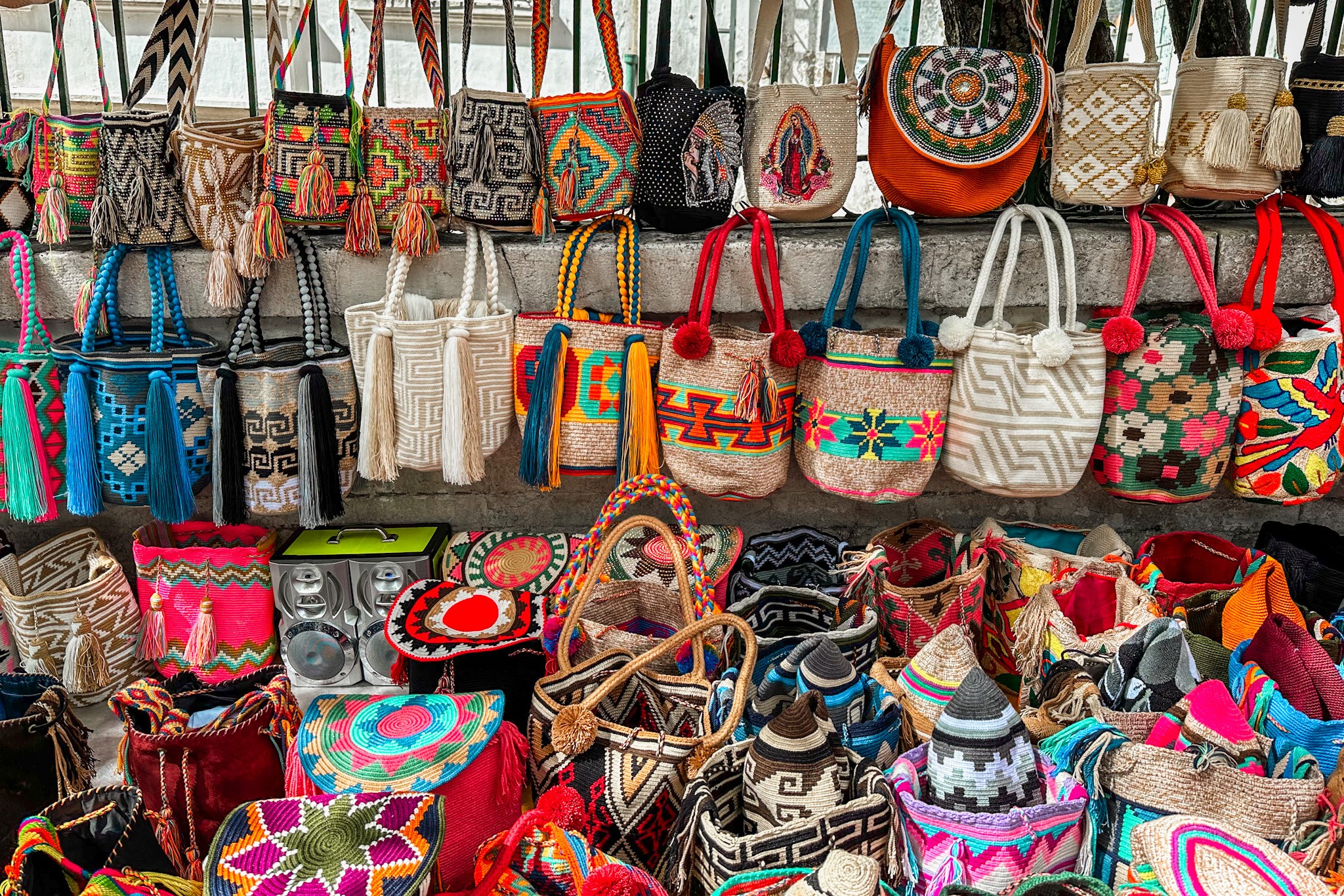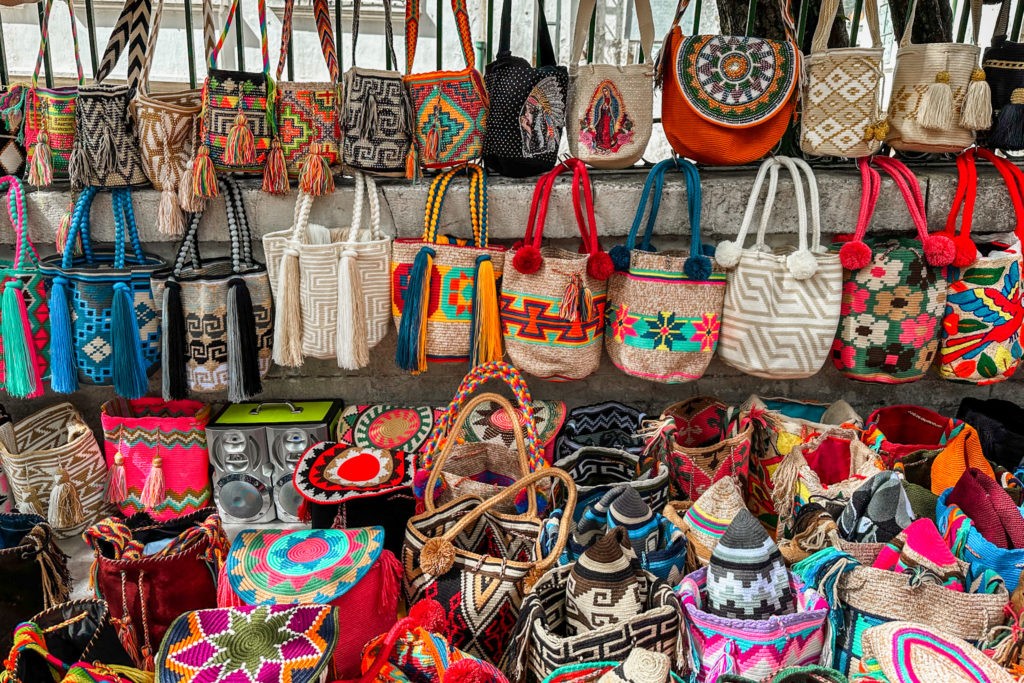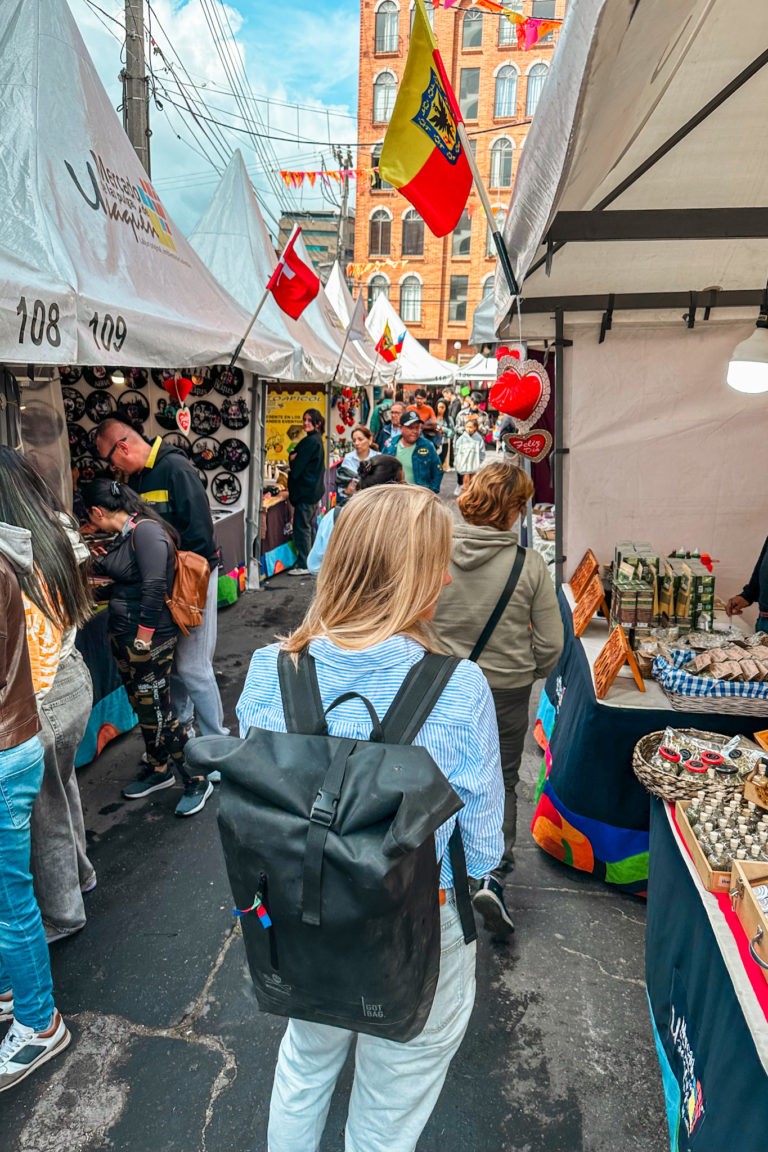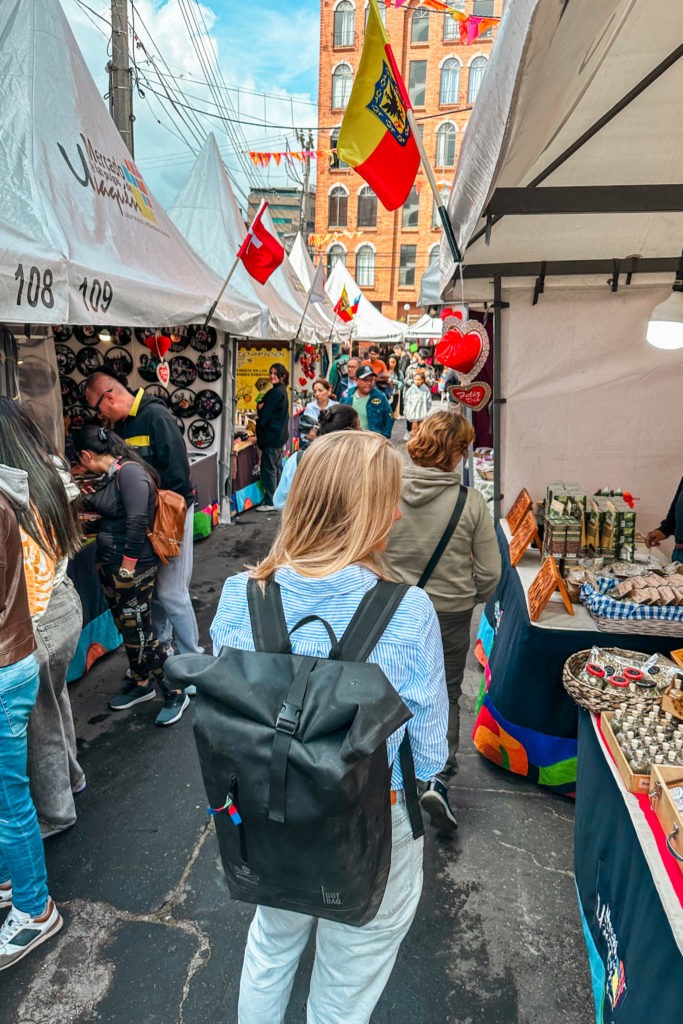 The walls of Bogota are plastered with beautiful graffitis, almost everywhere you go. While this artwork used to be highly illegal in the past, artists today live out their creativity by painting hundreds of murals. It's an expression of freedom, peace and almost a picture book of the city's tumultuous past. And every artwork tells a different story. While you can wander around stumbling upon some nice-looking graffitis, it's best to take a tour. Let locals tell you something about the artists, the meaning these paintings represent and how they have changed urban culture and life.
People say that the city has been decriminalized by graffitis. While this is a strong statement and surely not the only reason, we think it really contributed to the city's urban life for good. Today the locals love getting their houses painted, as before it was only a sign that construction has finished, which made the owner responsible to pay taxes.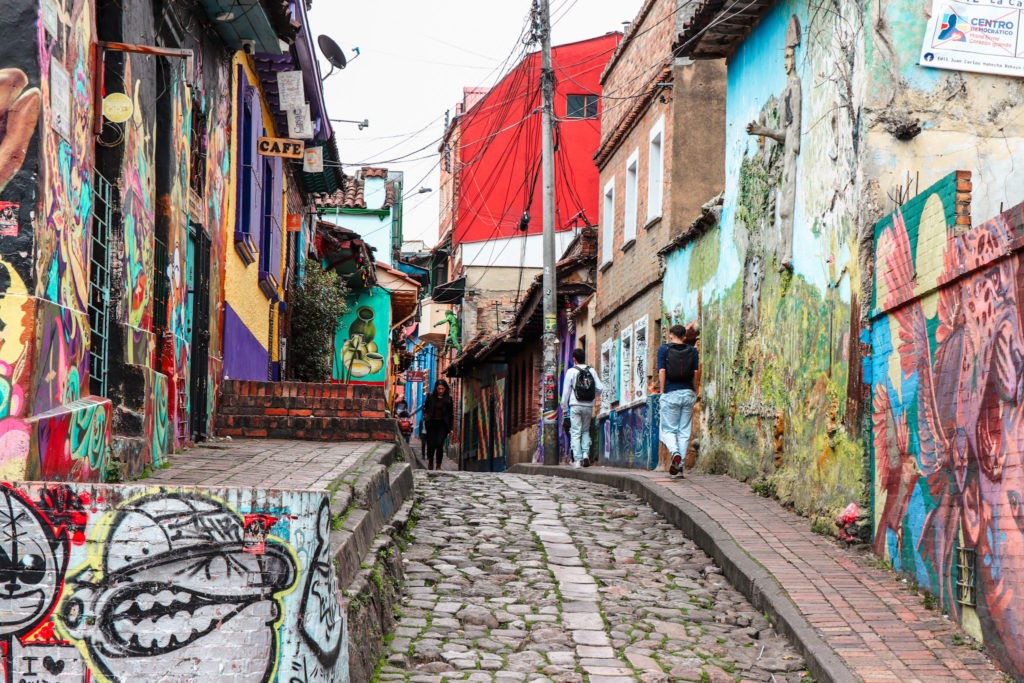 Exploring the Botanical Gardens are a great thing to do in Bogota. Escape the buzzy streets of the city and dive into this downtown oasis midst the heart of Colombia's megacity. The Botanical Garden of Bogota are home to almost 20.000 exotic plants and trees, most of them endemic to the Andes and other high-altitude regions.
The Bogota Botanical Garden is open from Tuesday to Friday from 8am to 5pm (9am to 5pm on weekends) and admission is 7.000 COP (approx. 2 USD) and 25.000 COP (approx. 6 USD) including the tropical greenhouses.
9. Nightlife Zona T and Parque 93
Bogota is known for its vibrant nightlife. Some people even say its the best in whole Latin America. If you want to experience the lively party scene of Colombia's capital city, Zona T and Parque 93 are the most popular and well-known neighborhoods, packed with bars, clubs and restaurants. List to live music at a local restaurants, practice your salsa skills in the night clubs or simply sip on a delicious craft beer in a bar – Bogota's got you covered.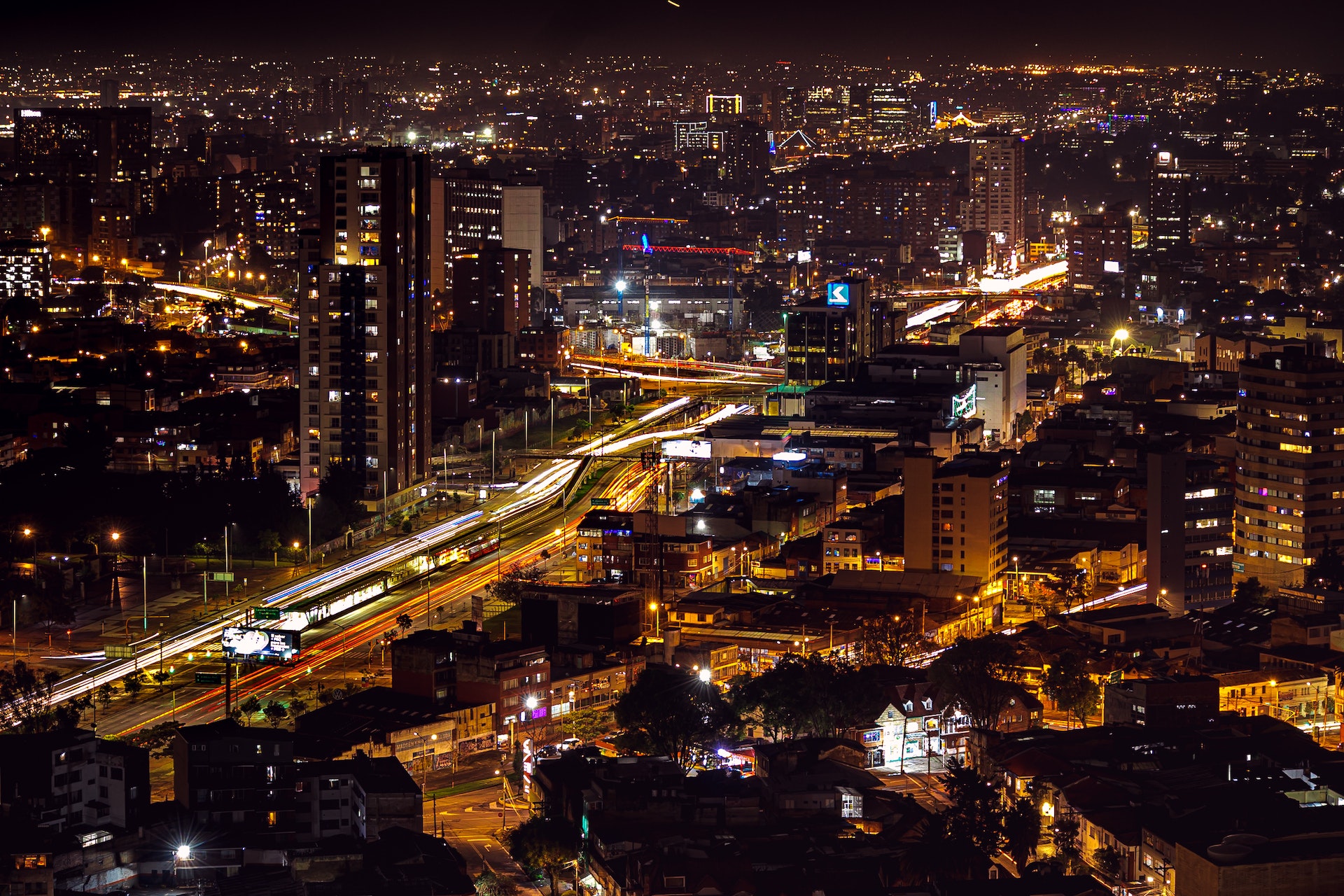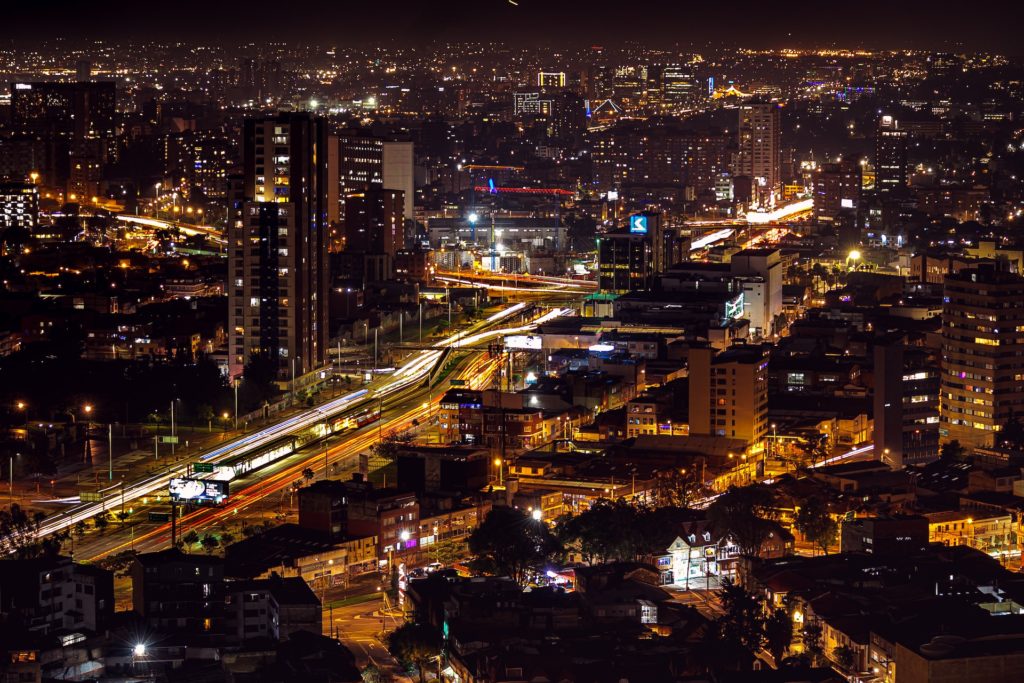 10. Zipaquirá Salt Cathedral
Only 1 hours drive away from Bogota is the fascinated Zipaquira Salt Cathedral, a Roman Catholic church built inside an old abandoned salt mine. The church lies 200 meters (656 feet) below the ground, making it a unique religious site that is still attended by thousands of Colombian's for church service on Sundays. The tunnels inside the salt mine are massive and the sculptures carved out of salt stone are just impressive.
The Zipaquira Salt Cathedral can be easily reached by bus from the Bogota Terminal Del Norte. The basic entrance ticket for foreigners costs 98.000 COP (approx. 24 USD) and the site is open every day from 9am to 6pm.
By Plane to El Dorado International Airport
Most people start their Colombia journey from the country's capital Bogota. The El Dorado International Airport (BOG) a large, well-established international airport that is connected to major cities from America and Europe. There are direct flights from almost 100 cities and 30 countries on the world, making it a perfect starting point to travel South America.
The Bogota airport is located north-west of the city and easily reachable by a short bus or taxi drive from the centre. A ride to the city centre will take you around 20 – 30 minutes, depending on the traffic. 
How to avoid ATM fees in Colombia? In Colombia almost all ATMs charge a fee when withdrawing money, ranging from 10.500 – 25.000 COP. Choose an ATM from Banco Davivienda, as they currently don't charge any fees. Remember to always decline currency conversion to avoid markup fees to the conversion rates.
By Bus from Medellin to Bogota
Traveling from Medellin to Bogota by bus is a day-long ride and will take you around 8 to 10 hours. Buses from Medellin to Bogota depart from the Terminal Del Norte (North Terminal), the terminal for long-distance journeys.
Once you arrive at the Terminal choose the bus company with which you want to ride. When we were traveling Colombia, we've had good experiences with Cootranshuila or Cooperative De Occidente, but there are many more to ride with. There is no need to book a ticket online, as it's often not only more complicated, but also more costly. Just appear at one of their counters at Terminal Del Norte and buy your ticket directly with the company. Expect to pay around 20-25 USD for a one-way ticket.
Buses to Bogota are leaving regularly throughout the day, but we would recommend you take a bus early in the morning to avoid arriving late at Bogota. Generally, we avoided taking overnight buses, as roads are not always the best and also drivers get tired sometimes.
By Bus from Salento to Bogota
There are no direct buses from Salento to Bogota. From Salento you can choose to take a bus to Medellin and spend some days in this beautiful city or choose to head directly to Bogota by traveling via Armenia.
If you've chosen to travel to Bogota directly, you first need to take the bus from Salento to Armenia. Buses to Armenia leave every 20 minutes and the ticket costs 6.000 COP (approx 1.5 USD). The ride takes around an hour to arrive at the Armenia Bus terminal.
From there, go to the bus counters of Bolivariano or Flota Magdalena to ask for a ticket to Bogota. Buses to Bogota do not leave regularly throughout the day, so it's best to check their departure times at the websites of the bus companies. In any case, we would recommend that you arrive early at the Armenia Bus Terminal, as the ride to Bogota will take around 8 to 10 hours.
Salento is a popular yet a little remote travel destination that should not be missed on your journey through Colombia. We have written an article about the best things to do in Salento in case you are interested in traveling to this beautiful village.
By Bus from the Tatacoa Desert to Bogota
If you want to take a bus from the Tatacoa Desert or the nearby village of Villavieja to Bogota, take the local bus departing from the Villavieja Parque Principal at Carrera 4 to Neiva. The ride to Neiva will cost 10.000 COP (approx. 2.5 USD) and takes around 45 minutes.
Once in Neiva, you'll have direct access to buses traveling to Bogota. We've chosen Cooltranshuila as our bus company. The ride costed us 61.000 COP (approx. 15 USD) per person and took a good 8 hours until we arrived at the the Terminal Salitre in Bogota.
We've traveled to the otherworldly deserts of Tatacoa. In case you are planning your trip to Tatacoa, make sure to have a look into our Tatacoa Desert Guide.
The best places to stay in Bogota are Usaquen and Chapinero. Both districts are among the safest in Bogota and offer a beautiful neighborhood with less noisy streets. Many backpackers also choose to stay in La Candalaria. While it is definitely safe during the daytime but as also in other big cities in Colombia, one should use extra caution when moving around in the center once it is dark. 
Avoid staying at Santa Fe, Egipto, Las Cruces and Bosa. While Bogota has improved its safety tremendously in recent years, these districts still face higher crime rates, robbery and petty thefts.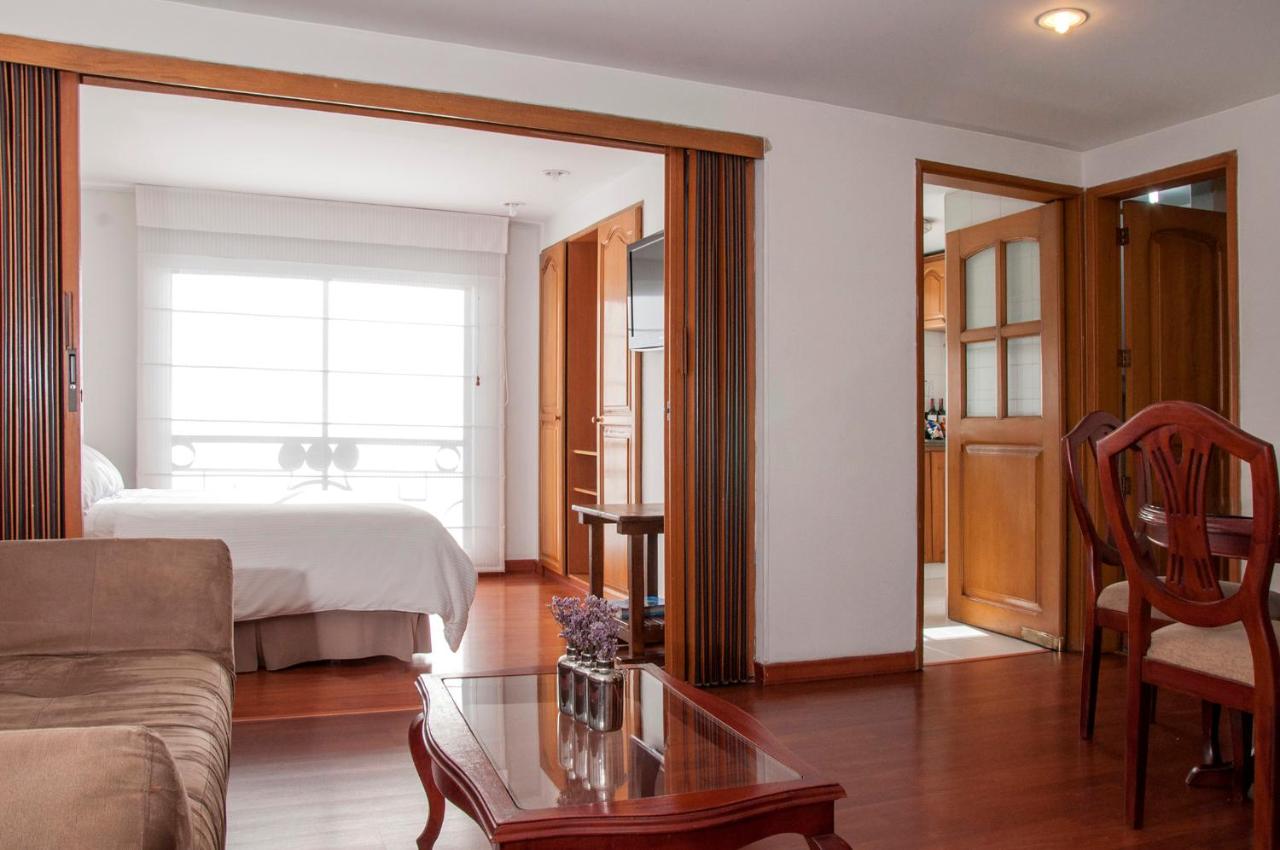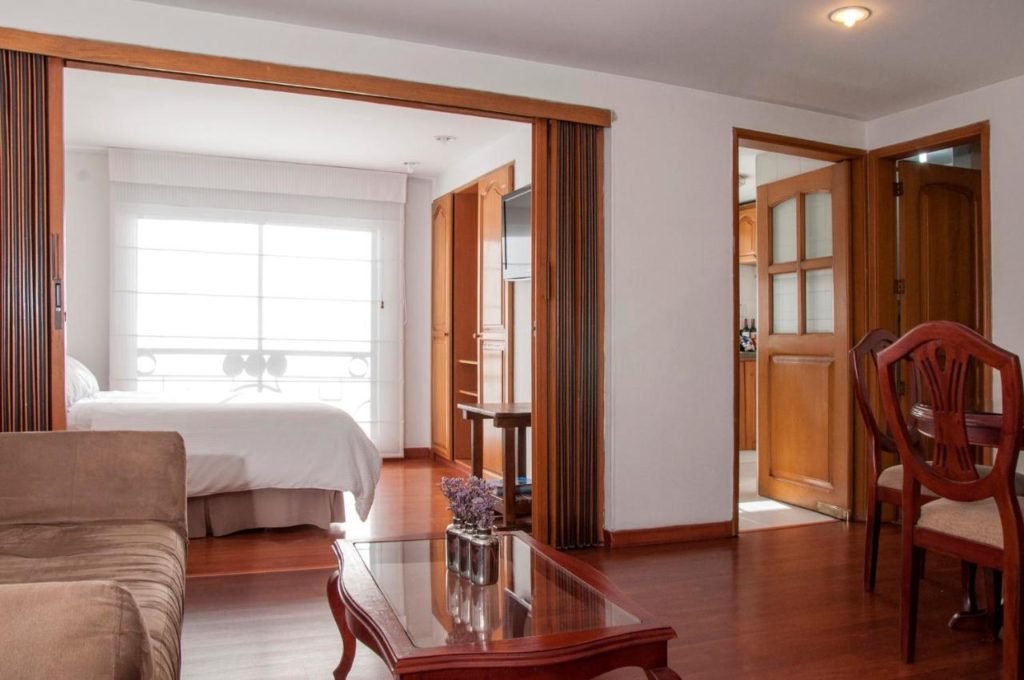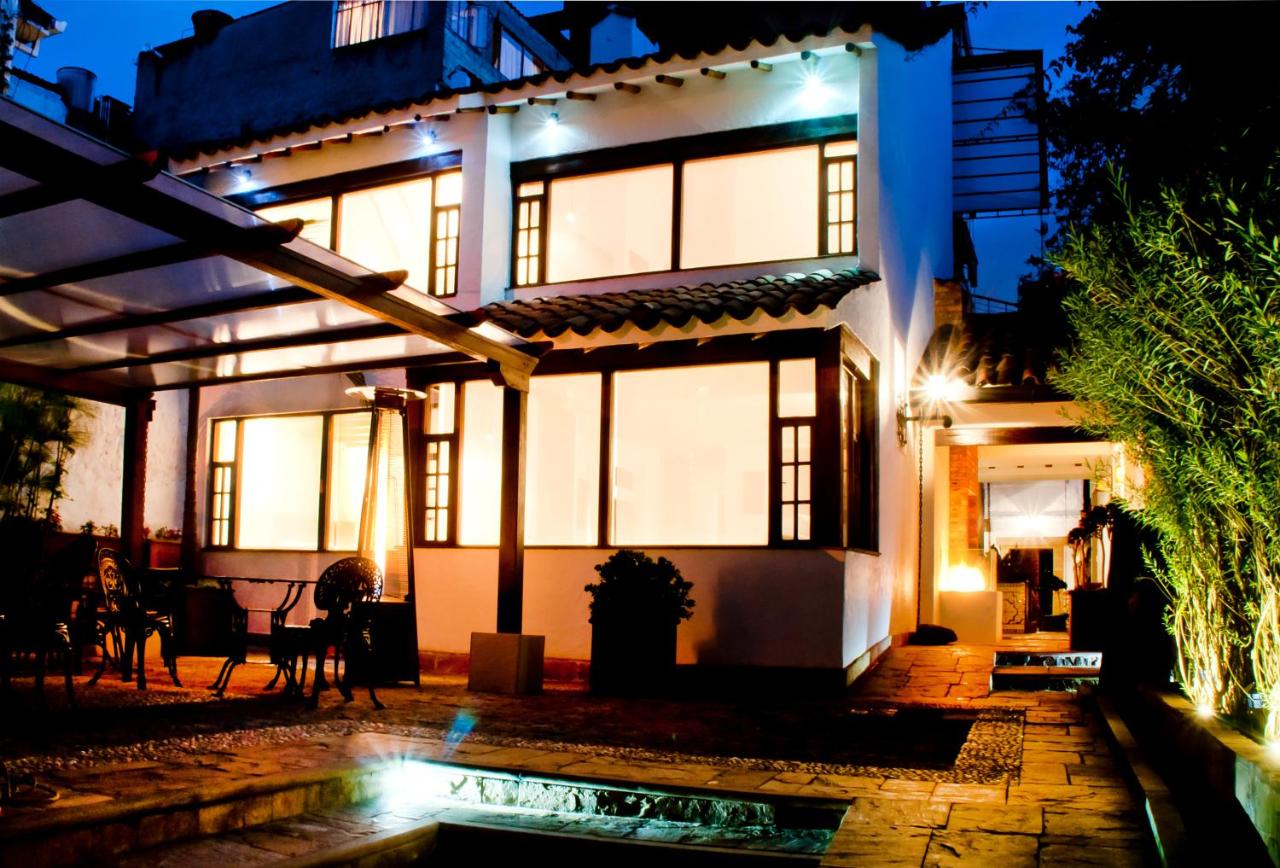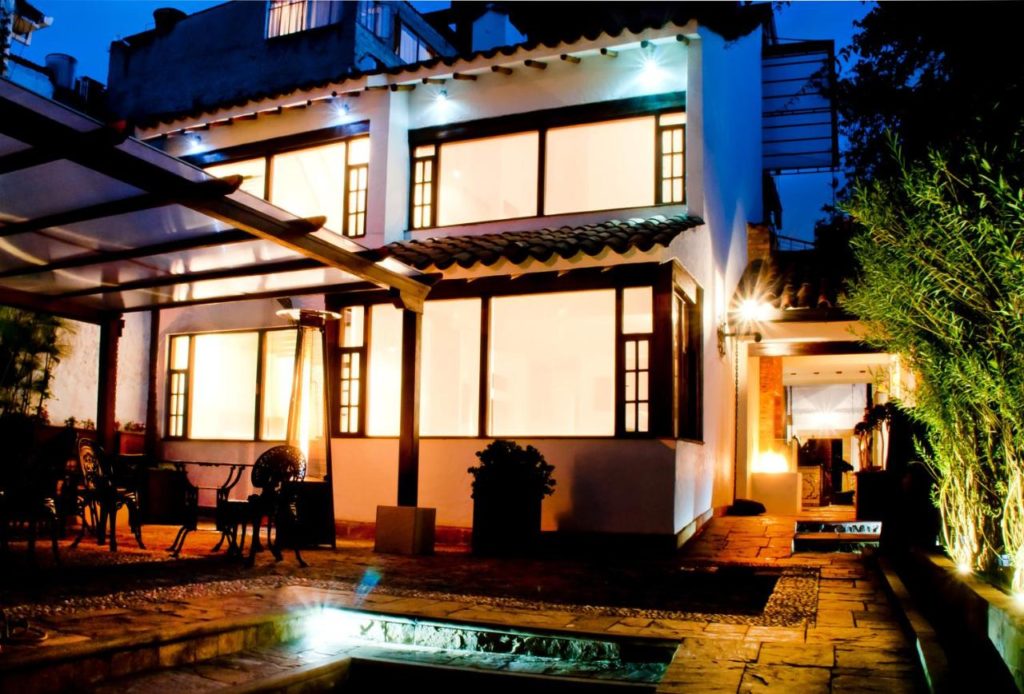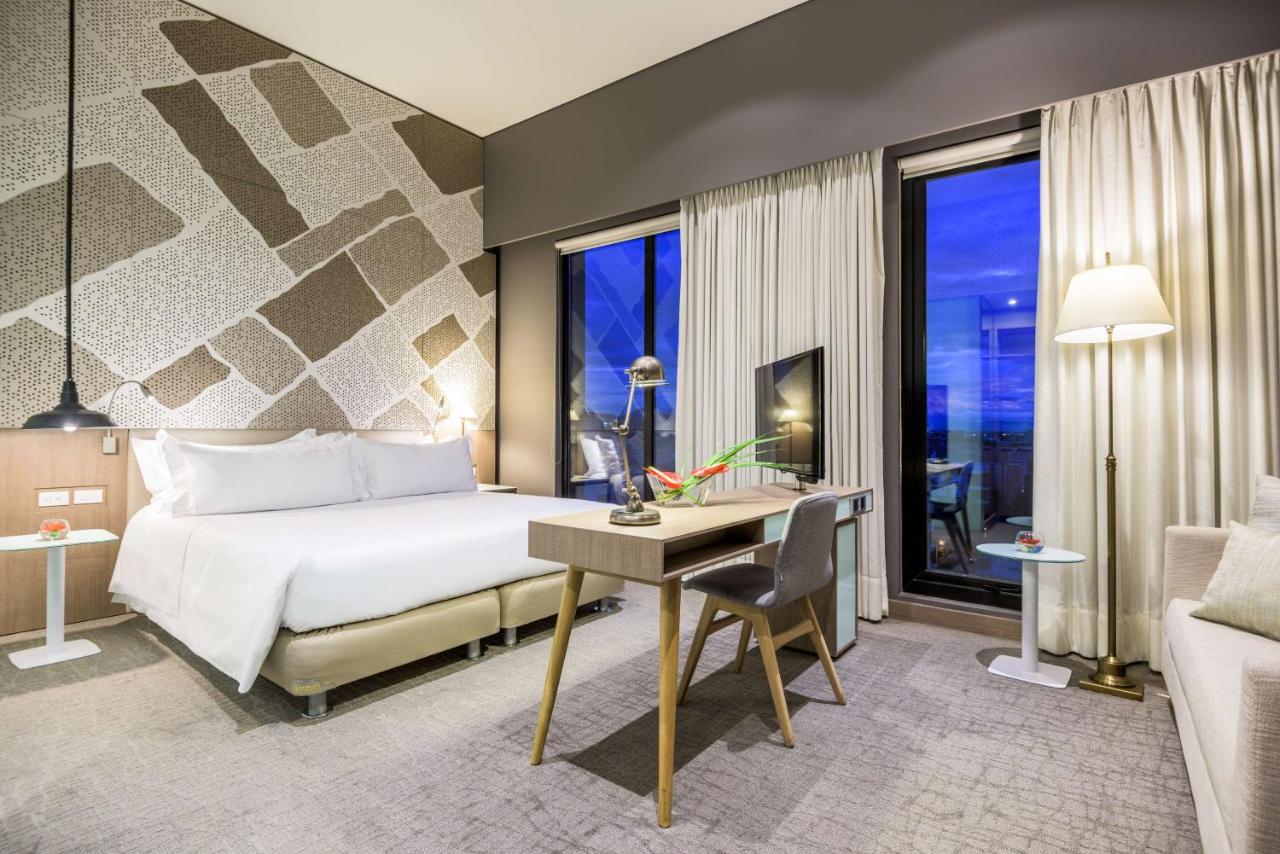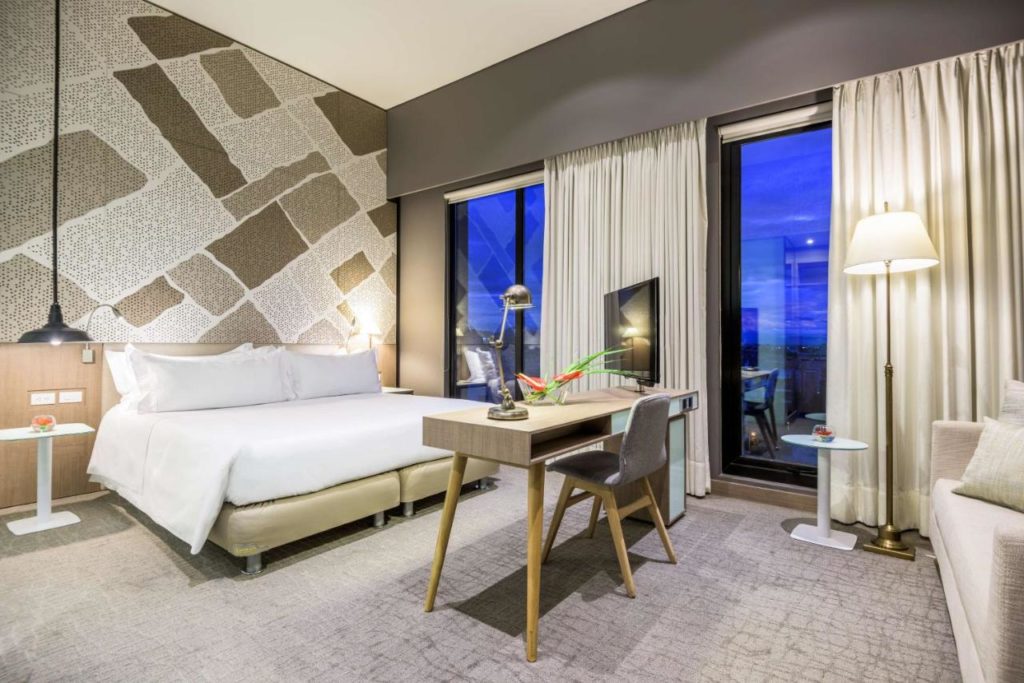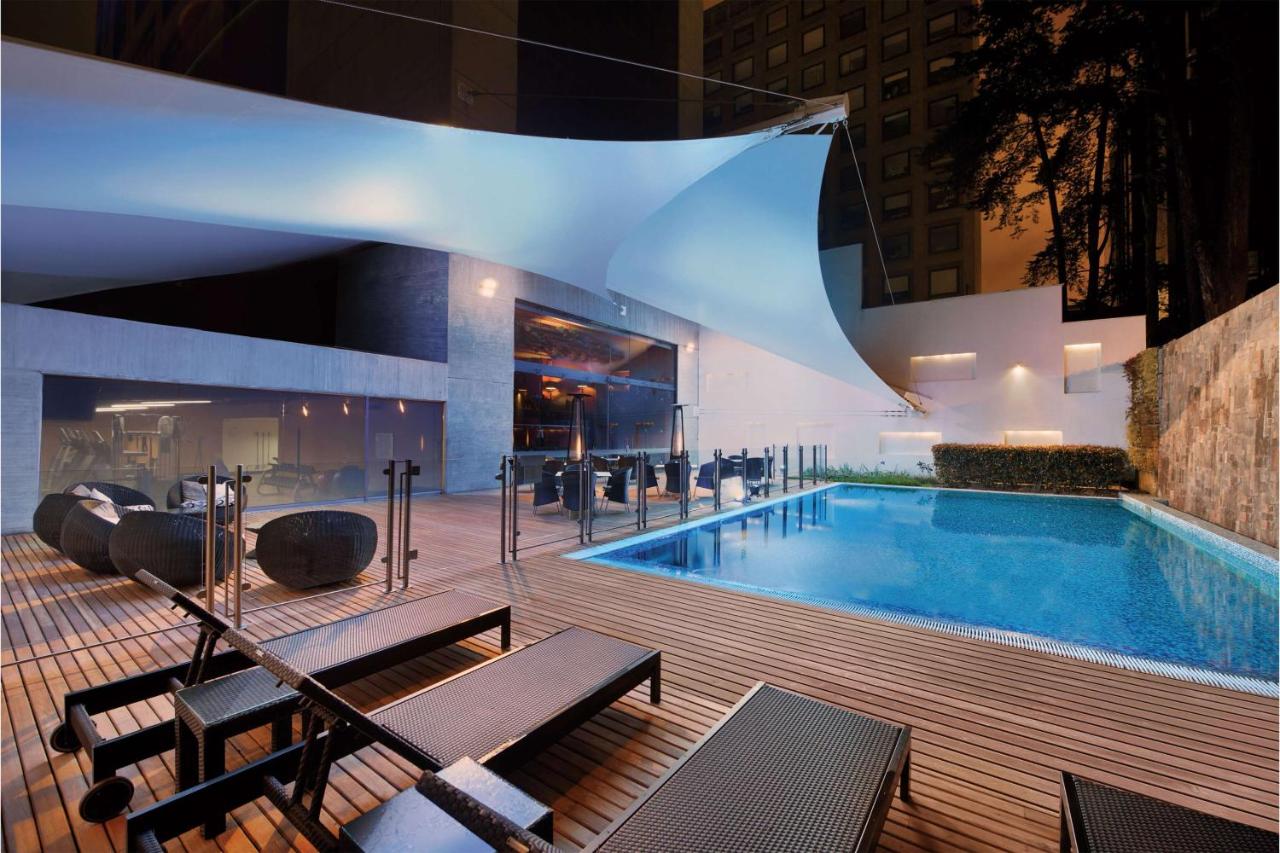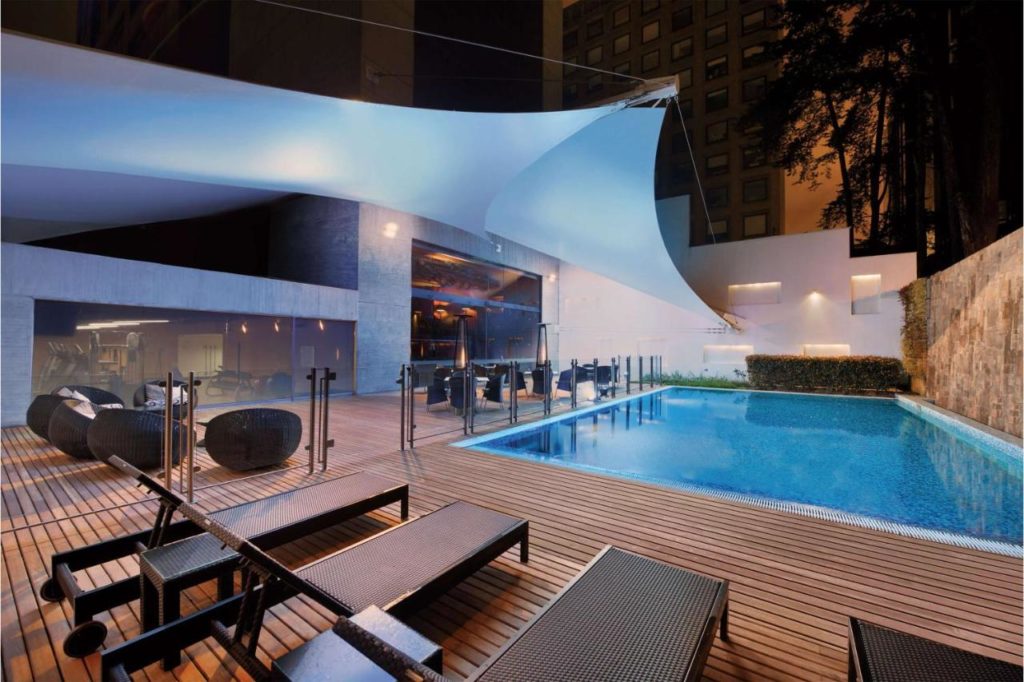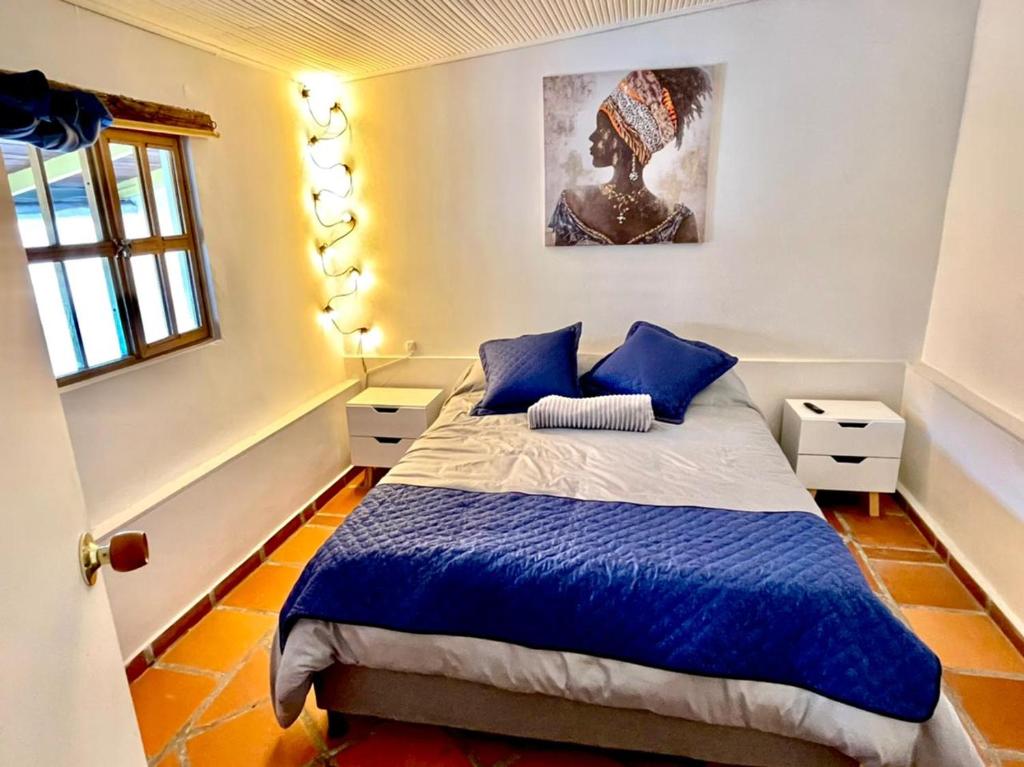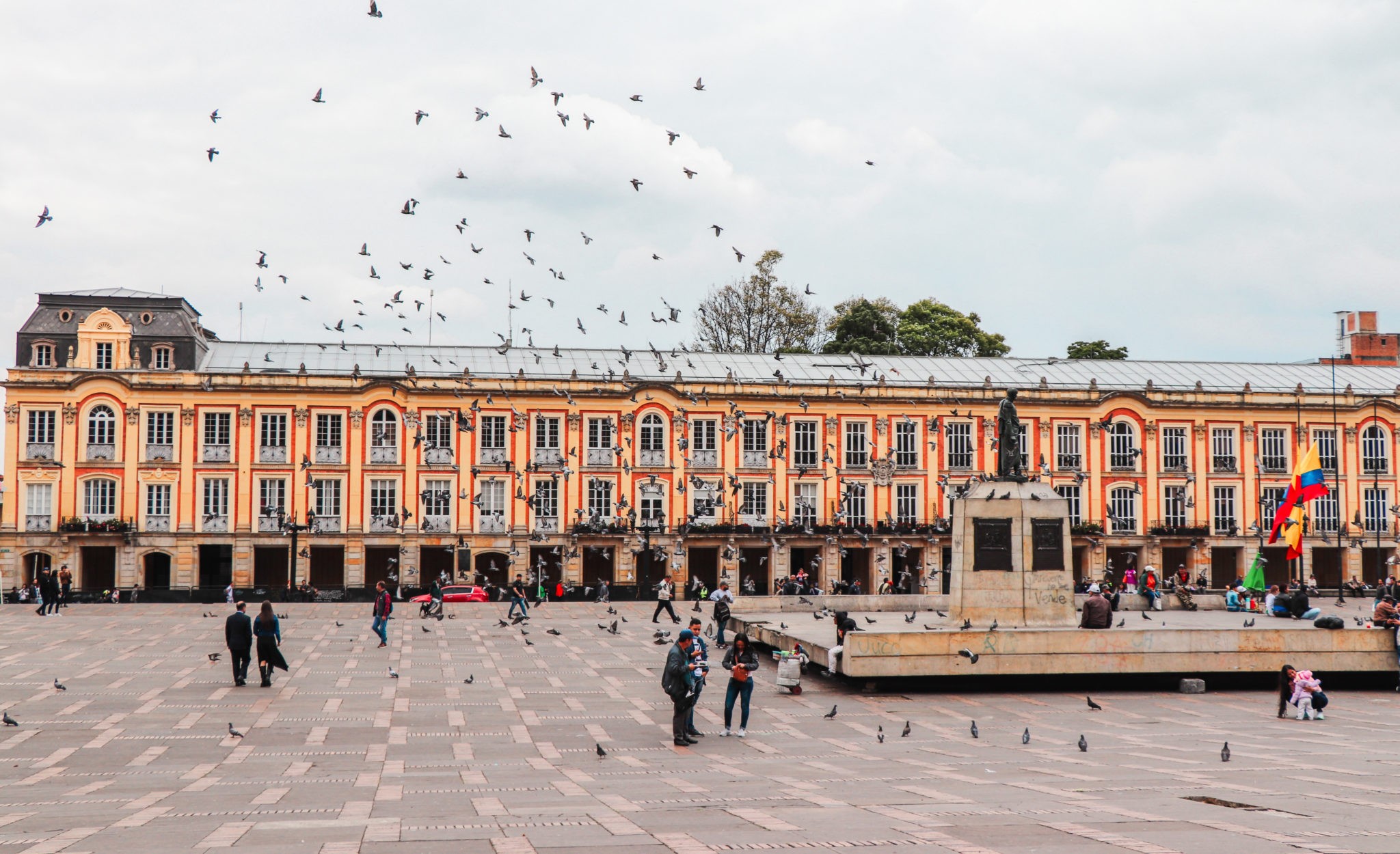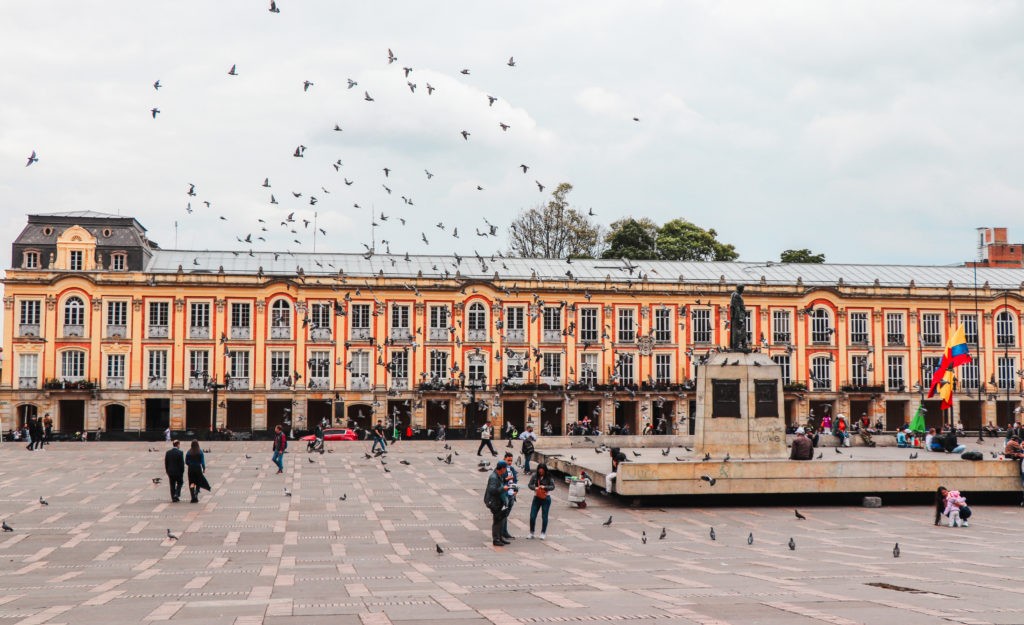 There is no single best place to eat in Bogota, there are plenty. When we were visiting Bogota, we enjoyed the variety of different cuisines the most. We've tasted incredible local food from street food to eateries, but also discovered Asian restaurants serving one of the best curries we've ever had. So while we name you a few places we consider to be decent, there is no way that we could have eaten us through all meals Bogota has to offer.
If you are up for something "exotic", you will find vendors in front of the Museo de Oro and the station for the cable cars to Cerro Monserrate selling roasted big ass ants. Culonas ants are a traditional delicacy in Colombian cuisine, particularly in areas like Santander and Boyacá.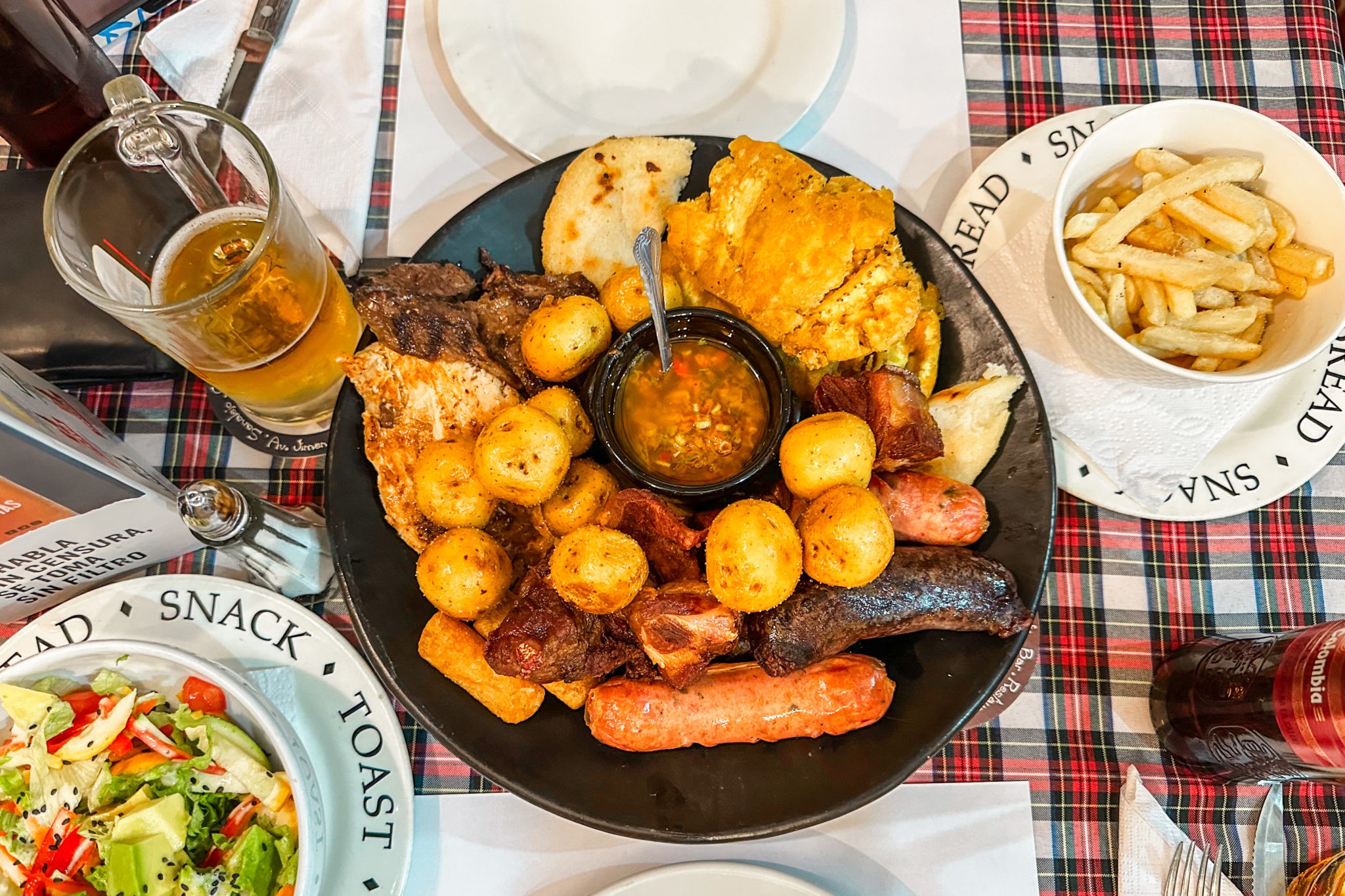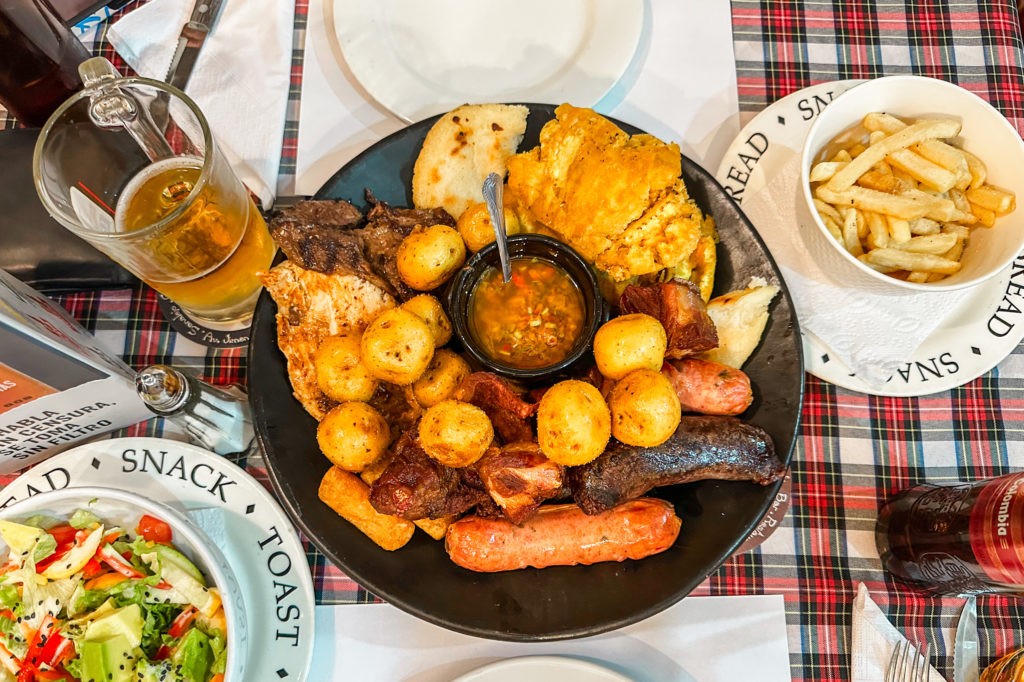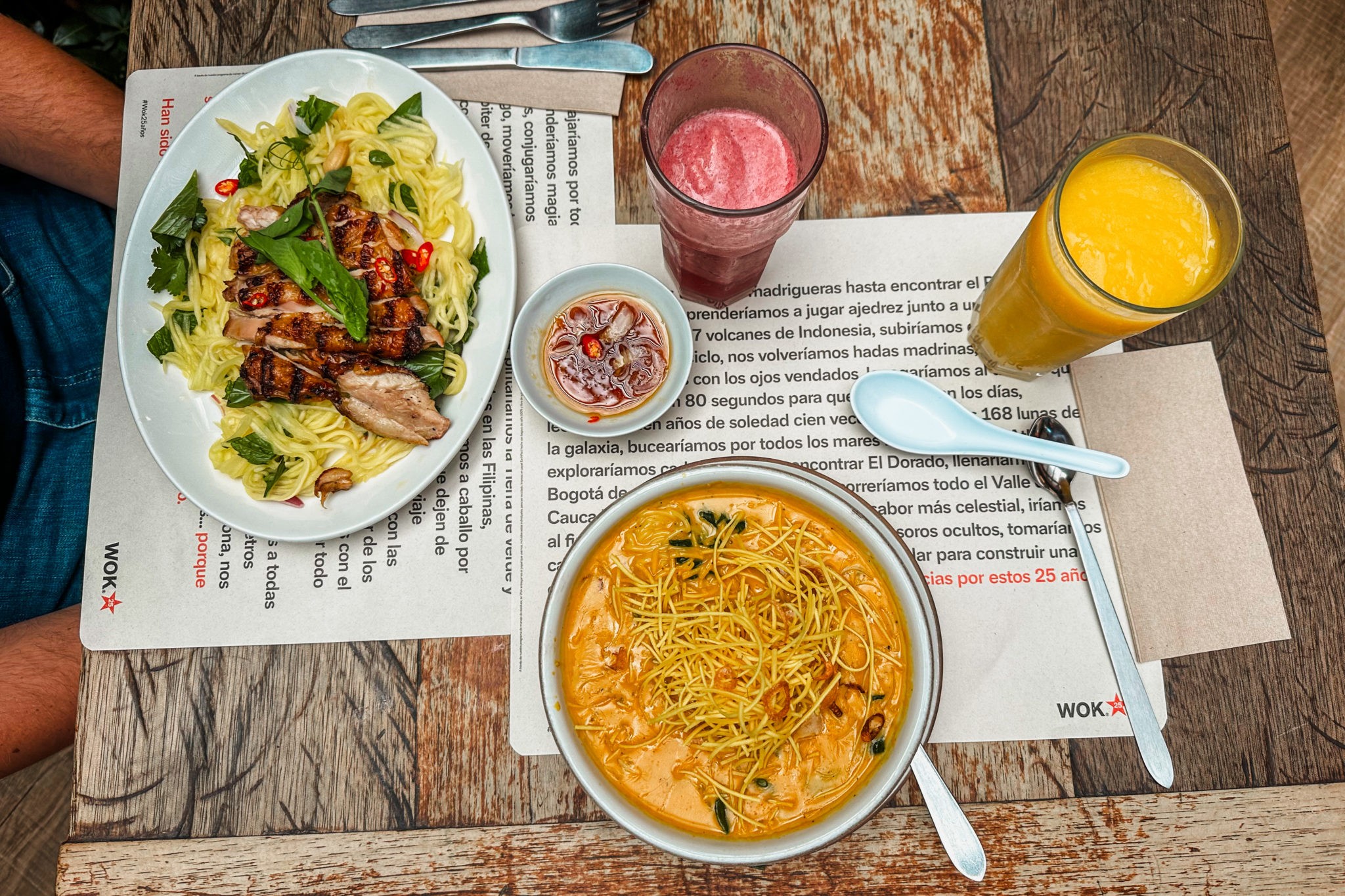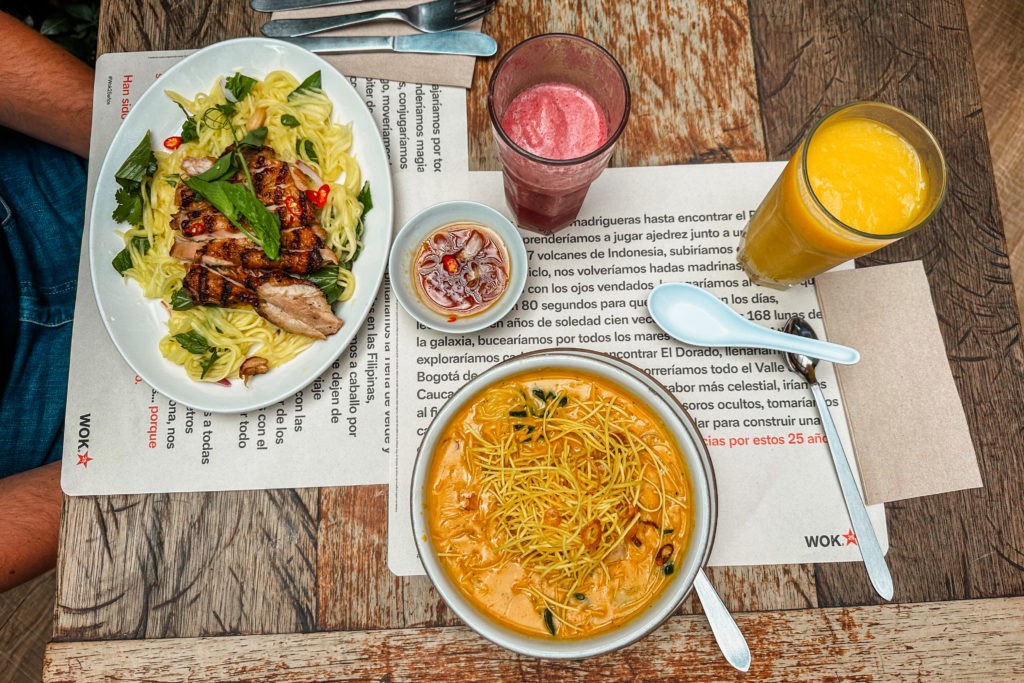 How to get around in Bogota?
Getting around Bogota is no big deal. Even though the city is extremely large, the traffic is still ok-ish. Still there are distances to overcome, so plan at least 30 minutes of travel time for every of your trips.
A popular and cheap choice to travel around Bogota are the public buses. Those are huge omnibuses with up to three passenger compartments (never seen that before!) that travel a predefined route throughout the city. Unfortunately there is no public train system in Bogota, such as for Medellin. To hopping on a public bus is the best option to travel using the public transportation.
Another option is to get around by Uber or taxi. Ubers are operating in Medellin and are, as we think, still the safest mode of transportation. While traveling via taxi can be cheaper sometimes, we would not recommend to take taxis from the streets. Plan for a little time to actually get an Uber, as sometimes drivers are declining rides if your route doesn't match where they want to go to.
Is Uber legal in Colombia? While Uber operates in Colombia, it remains in a legal grey area. Using Uber as a passenger is generally not problematic, as legal implications primarily affect the driver. Consequently, drivers often request you to sit in the front seat to avoid detection in case of a police control. Should you find yourself in such as situation, help your driver out by remembering your "new friend's" name.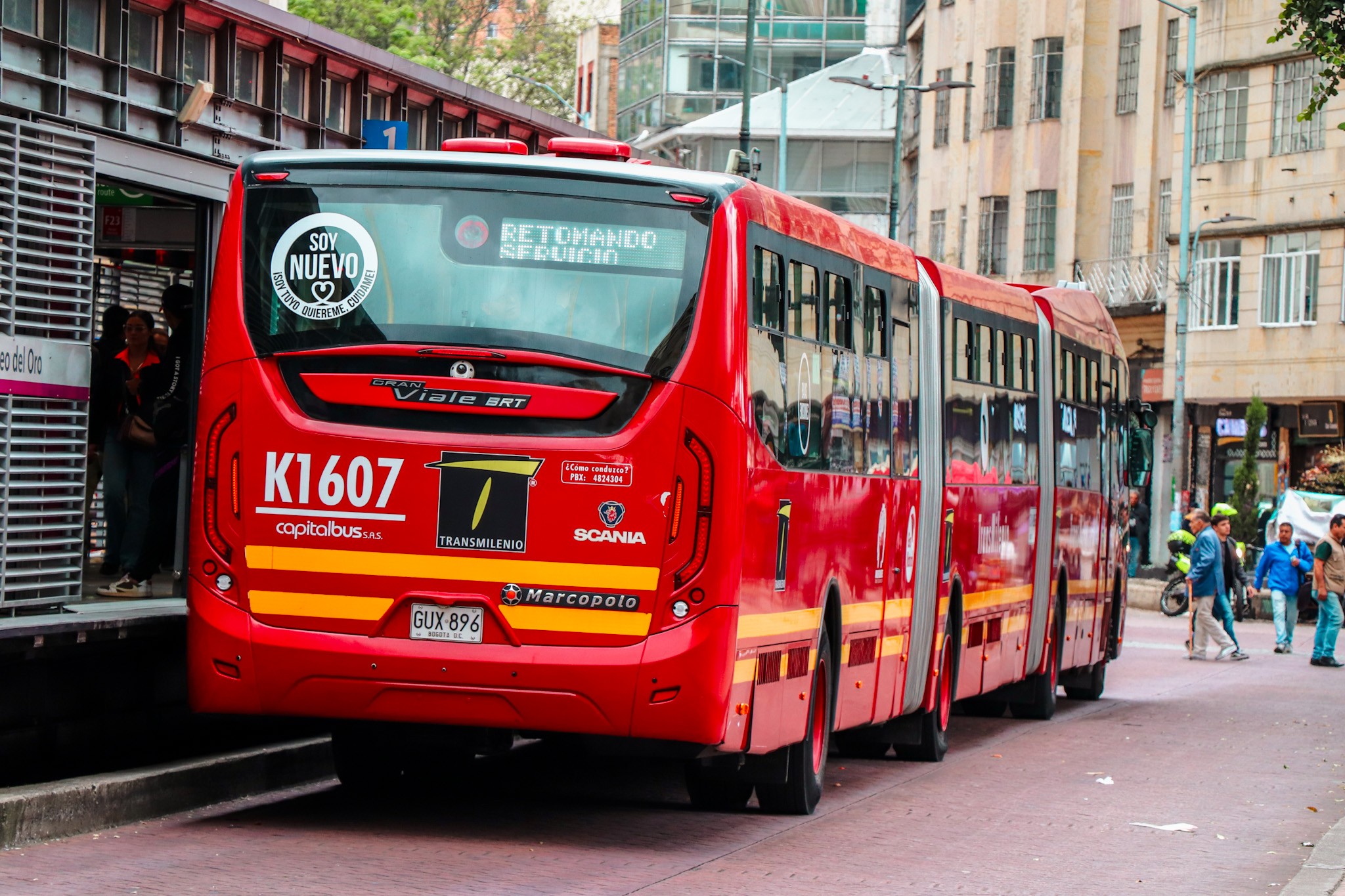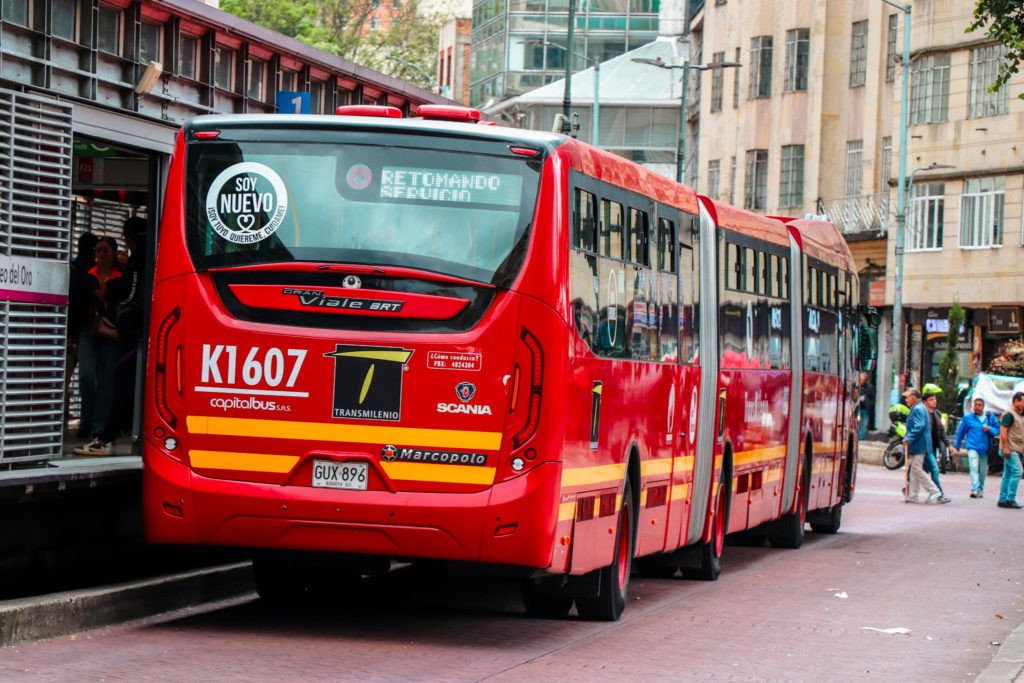 When is the best time to visit Bogota?
It's cold in Bogota! That was a least what we thought when we were arriving from our trip to the Tatacoa desert. In fact, the climate in Bogota is very different to the rest of Colombia due to its high altitude. The city is located at 2640 meters (8.660 feet) above sea level, making it one of the highest capital cities in the world.
Often also referred as the city of "perpetual spring", temperatures in Bogota rarely scratch the 20°C (68°F) in summer and can fall as low as 4°C (39°F) during the night. While for us, it was a welcomed cool-off, definitely bring some layers of clothes when visiting Bogota.
The city itself is not too much affected by the dry and wet seasons of Colombia. However, rain mostly falls during the months of April and May. Rainfalls are usually very short and the weather changes quickly. The same applies for the dry season. Even if the sun is shining, if a cloud passes by, it can get quite breezy. So a water-proof jacket is as important as sunscreen.
Average peak temperatures
What does it cost to visit Bogota?
Accommodation in Bogota ranges from budget-friendly hostels to luxury hotels. Compared to the countryside staying in Bogota is a little more expensive, yet very affordable for both backpackers and tourists.
Expect to spend around 200 USD a week if you travel budget up to a maximum of 2100 USD, if you are seeking a more luxurious stay.
How many days to stay in Bogota?
We think spending two to three days in Bogota is all you need to capture the vibes of city and visit most of the best things to do in Bogota.
You can spend your first day with a city tour through the historic district of La Candelaria, visit the Botero Museum and dive into the nightlife afterwards. On your second day, take the cable car or hike to Monserrate and enjoy the beautiful views over Bogota, before stepping by the Gold Museum. On the last day you can choose to go on a half-day trip to the Zipaquira Salt Cathedral, choose to take a Street Art Tour or wander through the Botanical Garden of Bogota.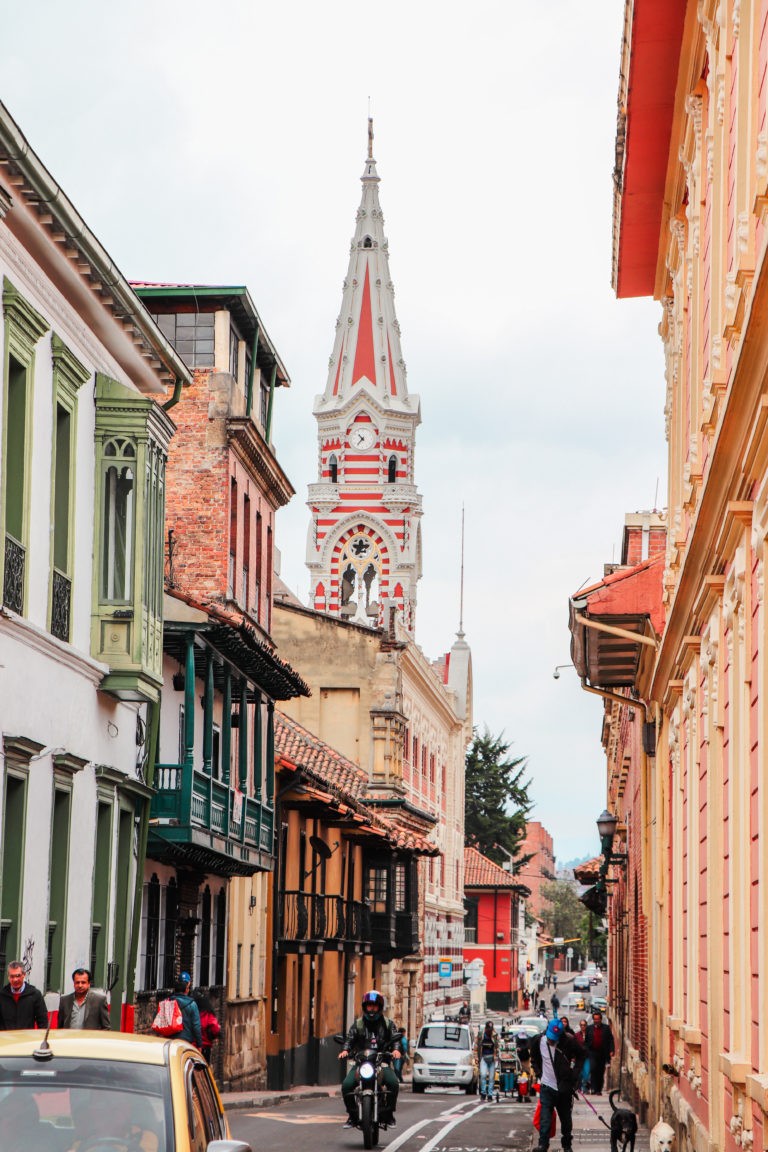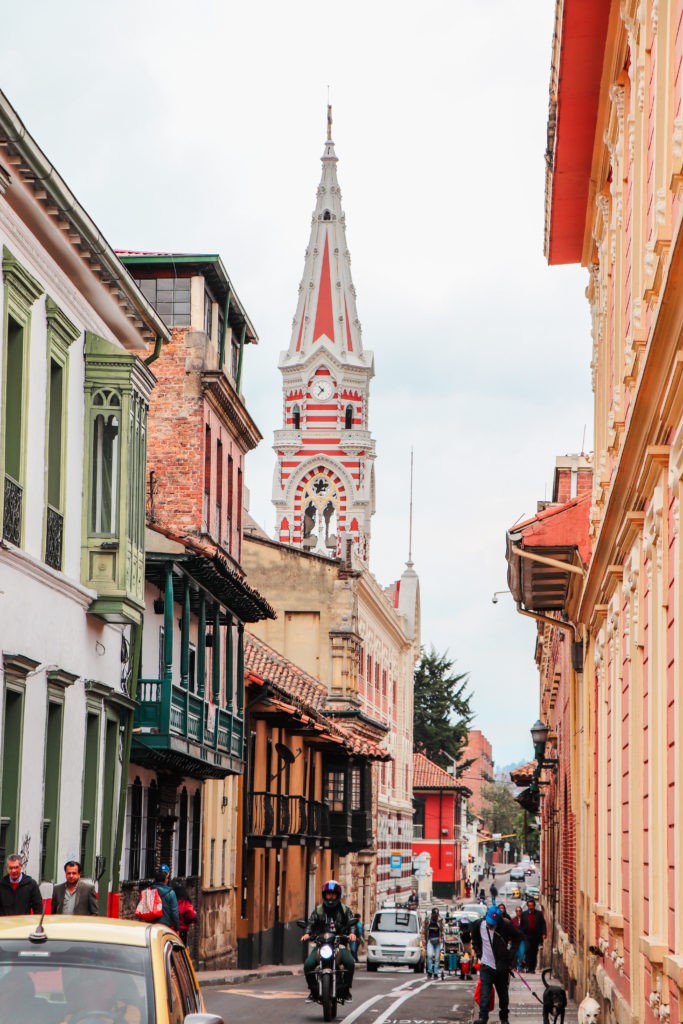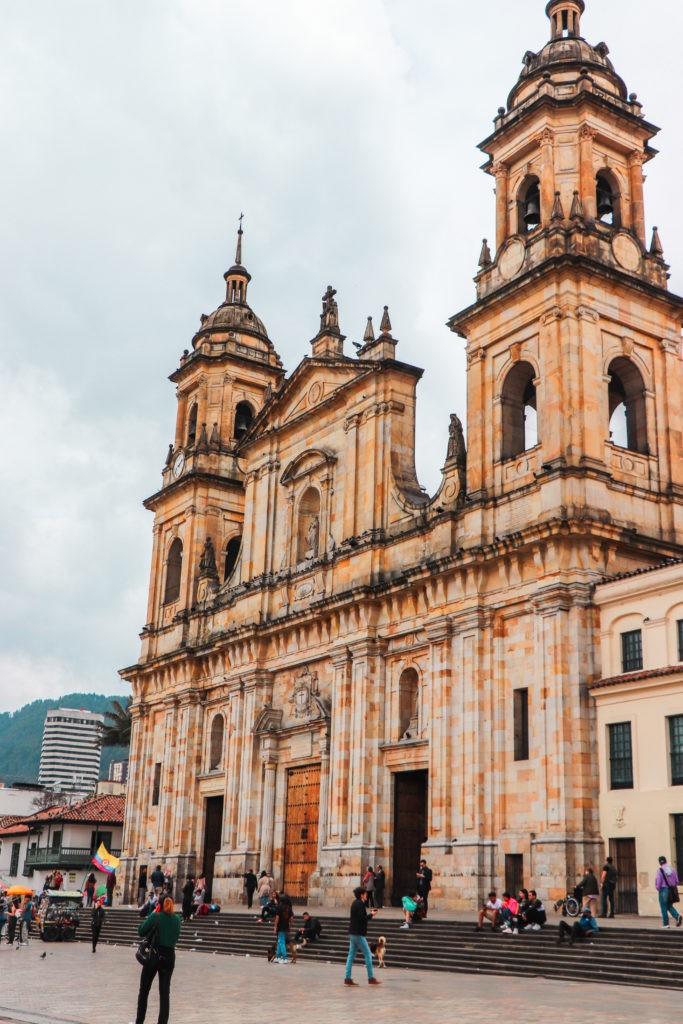 When traveling to Bogota, you'll likely find that safety is not a major concern. We've watched "Narcos" on Netflix and had a totally different picture about Colombia compared to how it actually is. Maybe because of that, we were super cautious during our whole 1.5 months journey through Colombia. But there is nothing to worry about at all.
Neighborhoods like Usaquen and La Candelaria are excellent examples of areas where tourists can enjoy the welcoming atmosphere and experience the local culture without any concerns. It's also an excellent place to stay when you are planning to visit the city.
We've never felt unsafe during our time in the city. Nevertheless, it's always important to exercise common safety practices, such as avoiding busy crowds, keeping valuables close and don't show off your expensive jewelry.
Having said that, there are districts that still face higher crime, robbery and petty thefts than others. If you don't plan a super exciting adventure at districts like Santa Fe, Egipto, Las Cruces and Bosa try to avoid them.
Bogota's nightlife is like no other and Colombians love to party. Enjoy their great Cumbia and Salsa music and dance the night out. But please be careful. Don't drink too much, always party with friends, don't walk home alone and be cautious when hooking up with girls. There are terrible stories from other travelers online that you don't want to experience.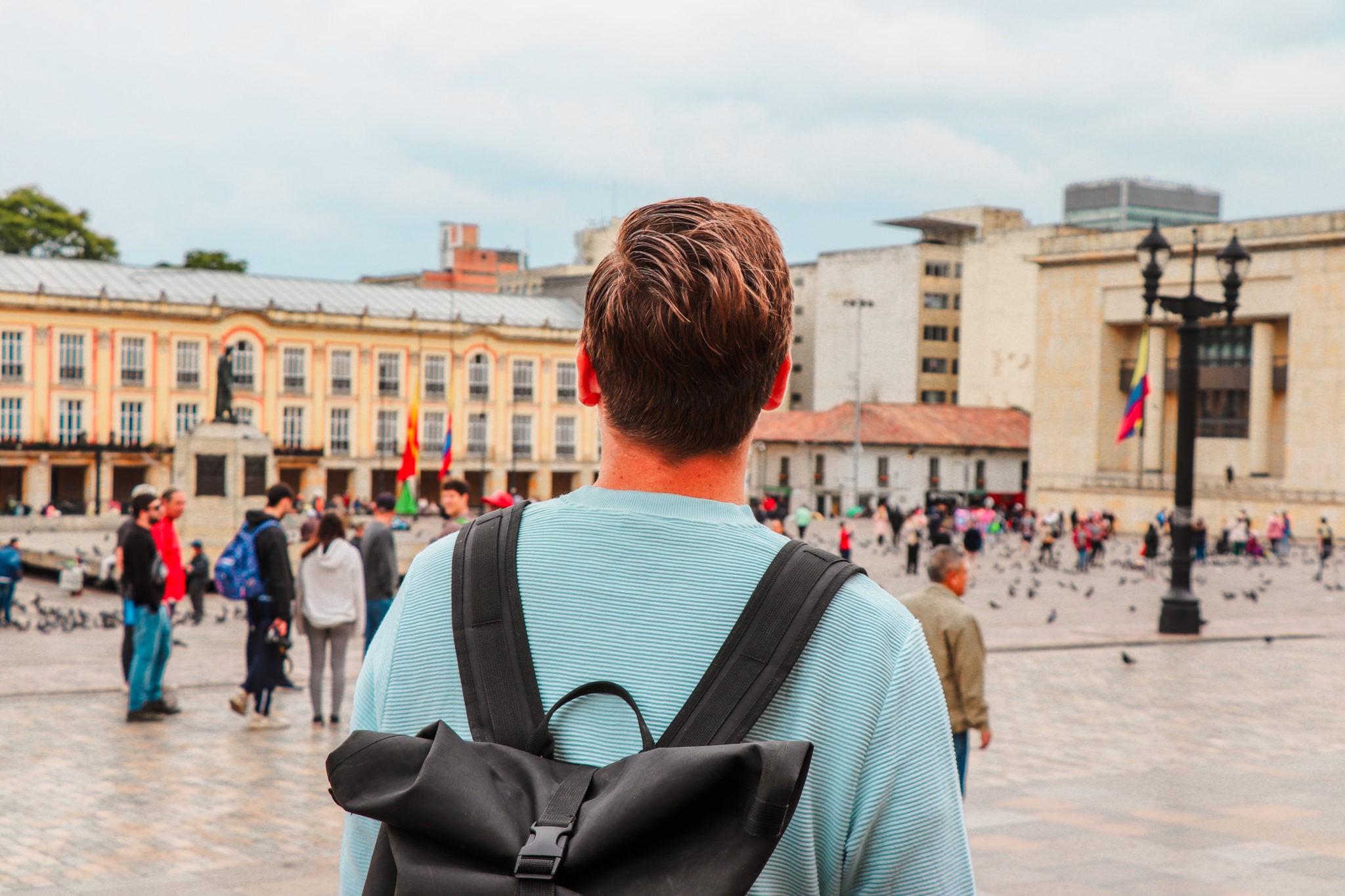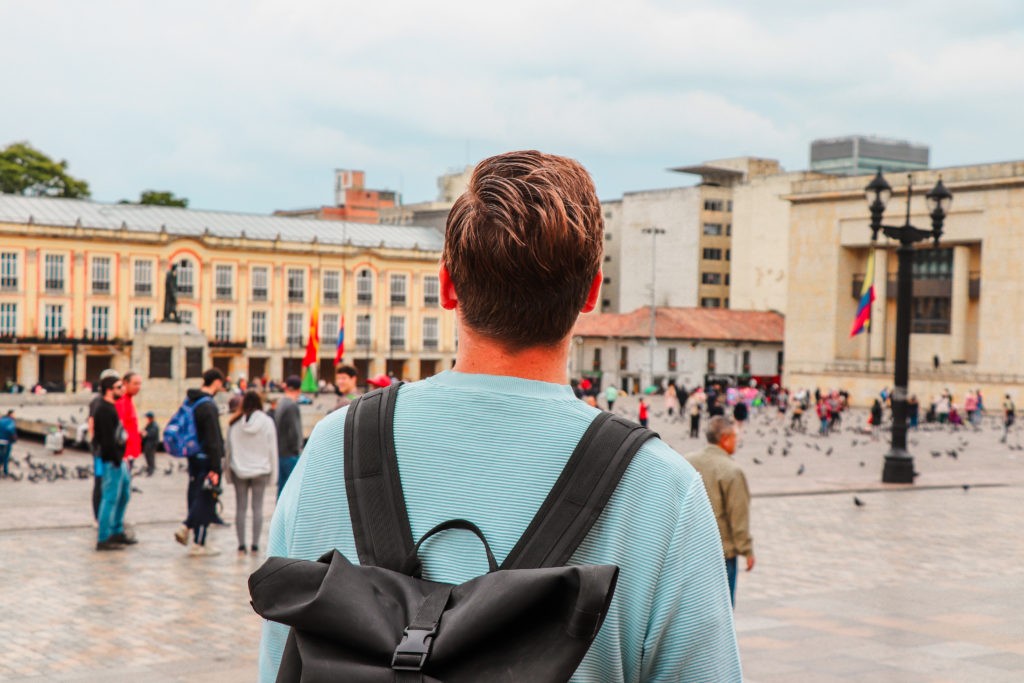 Is Bogota worth vistiting?
Bogota is absolutely worth visiting for its vibrant street art, colonial architecture, impressive museums and delicious food scene. It's well connected internationally and locally, making it the perfect starting point for your trip through Colombia.
We really enjoyed our time in Bogota and are grateful that we allowed ourselves a few additional days to explore the city. For us, it was the ideal destination to recap our trip throughout Colombia and get prepared for our journey to Peru.