Tatacoa Desert, located in the heart of Colombia, can be considered one of the country's hidden gems. It is famos for its surreal, moon-like landscape, with worn canyons and colorful rock formations. If you're seeking a truly unique adventure, this desert should be at the top of your list. Its crystal clear night skies, make the Tatacoa Desert a prime location for stargazing. With minimal light pollution, the stars seem to shine brighter here, offering an spectacular display that is not to be missed.
In this blog post, we'll guide you through the essential tips and information you need to plan your visit to the Tatacoa Desert.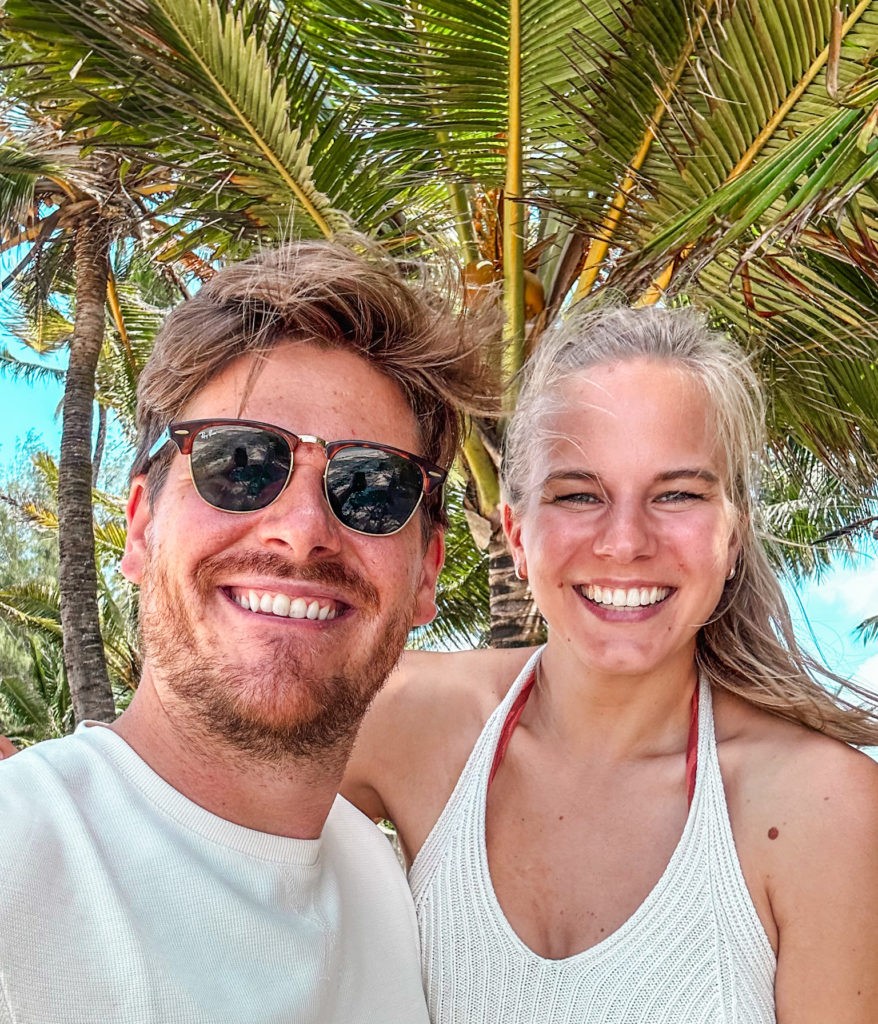 We hope you enjoy our travel stories, guides and tips! If so, please consider supporting our work.
What you need to know about the Tatacoa Desert
Tatacoa Desert is renowned for its colorful rock formations and deep canyons that have been sculpted over millions of years. With no direct buses or airports nearby, reaching Tatacoa Desert is not the easiest endeavor. This might explain why it's still not overly touristy. However, trust us, the effort of getting to Tatacoa Desert is absolutely worth it. Tatacoa treats you to some breathtaking landscapes that will have your camera working overtime. And those who don't mind the burning sun can embark on short hikes that promise unforgettable experiences. It is quite baffling how the landscapes can be so different within the Tatacoa Desert with contrasting Red and Grey Desert both being part of it. So, if you're up for an off-the-beaten-track adventure and have enough time, Tatacoa Desert is your destination.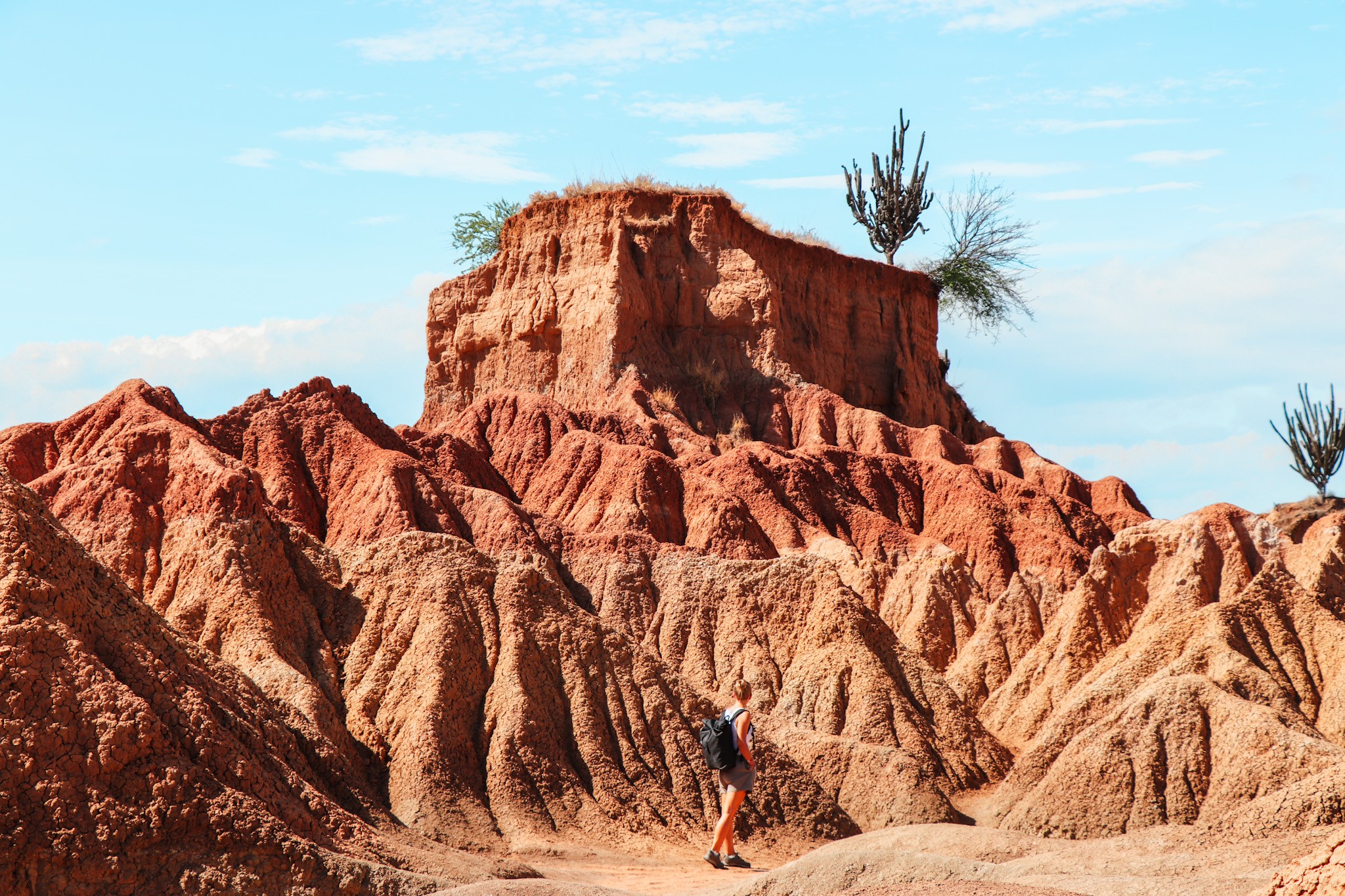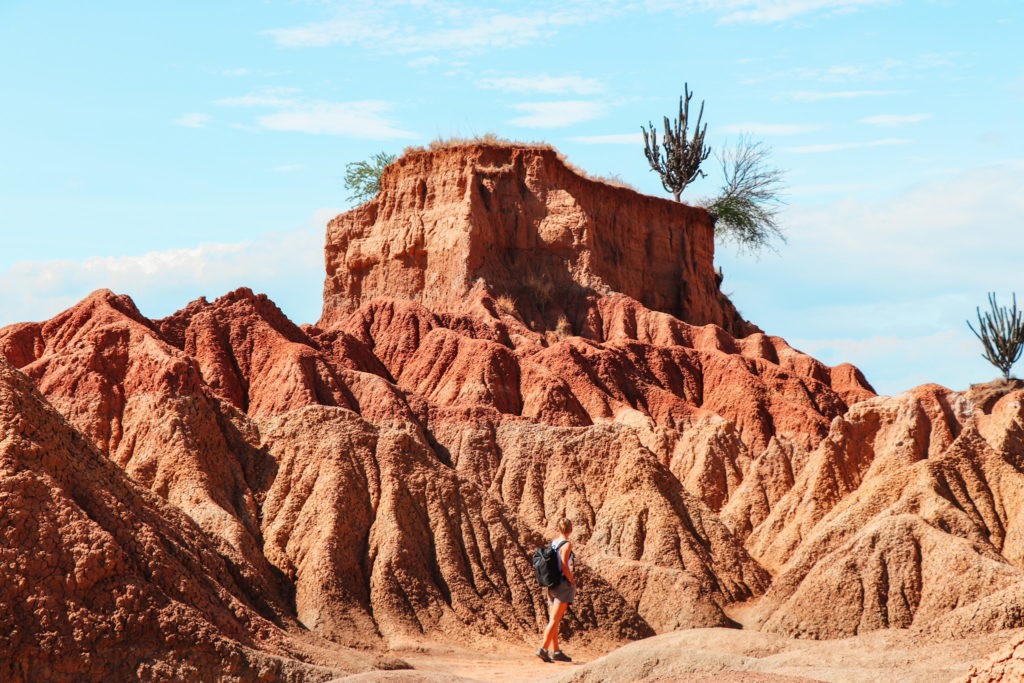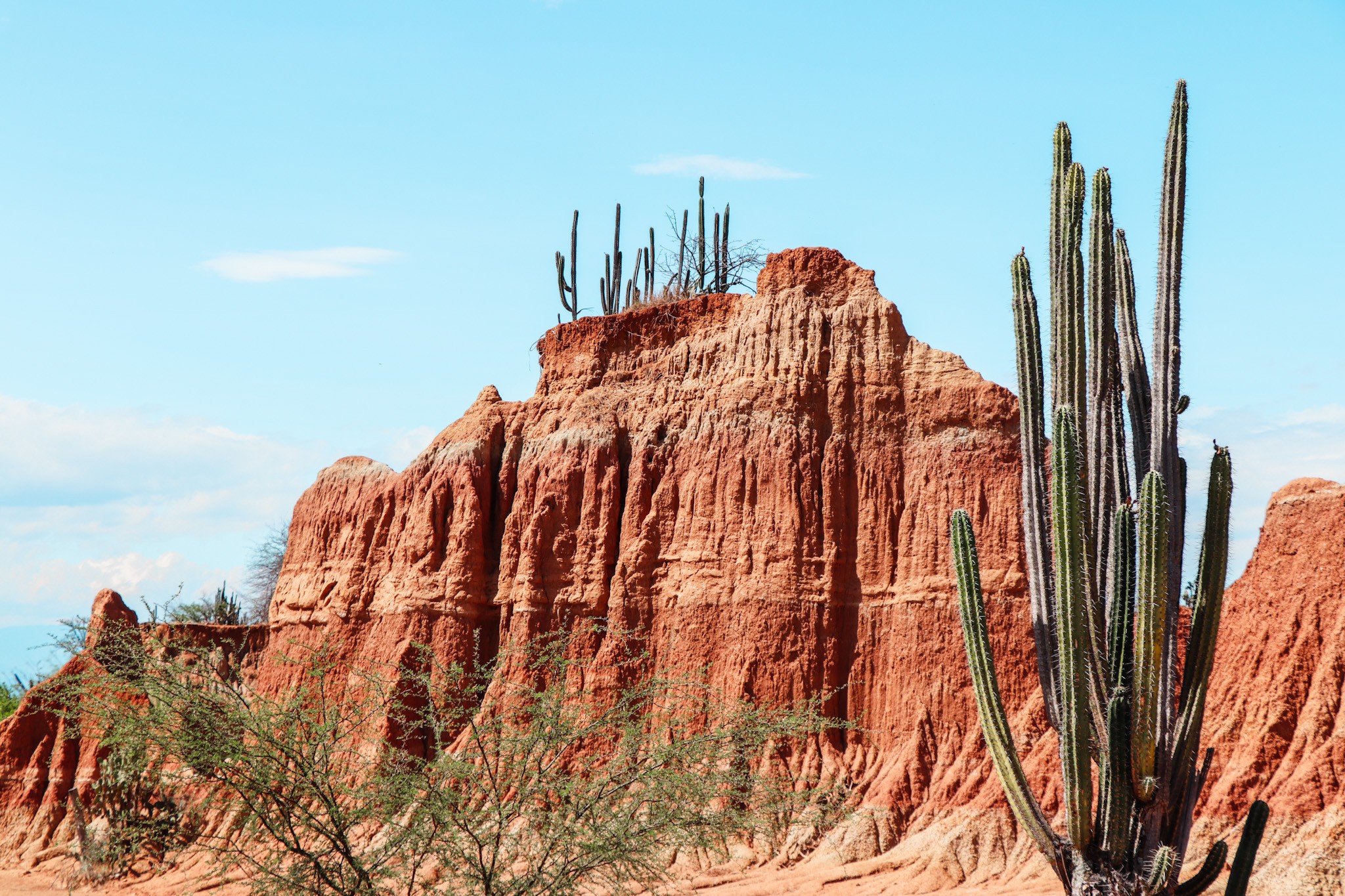 "Tatacoa" is believed to come from the Huila word "tataco," which is said to refer to a type of rattlesnake found in the area. Rattlesnakes were and still are a part of the desert's ecosystem, so watch your steps.
Interestingly, although the Tatacoa Desert is often referred to as a desert due to its dry landscape, it is technically not one. While it resembles a desert, it doesn't fit the strict scientific definition of a true desert and is classified as a "dry tropical forest." The reason for this distinction is that the area still receives some rainfall over time, which has contributed to the formation of these incredible landscapes. Additionally, you will notice a significant amount of greenery in the area.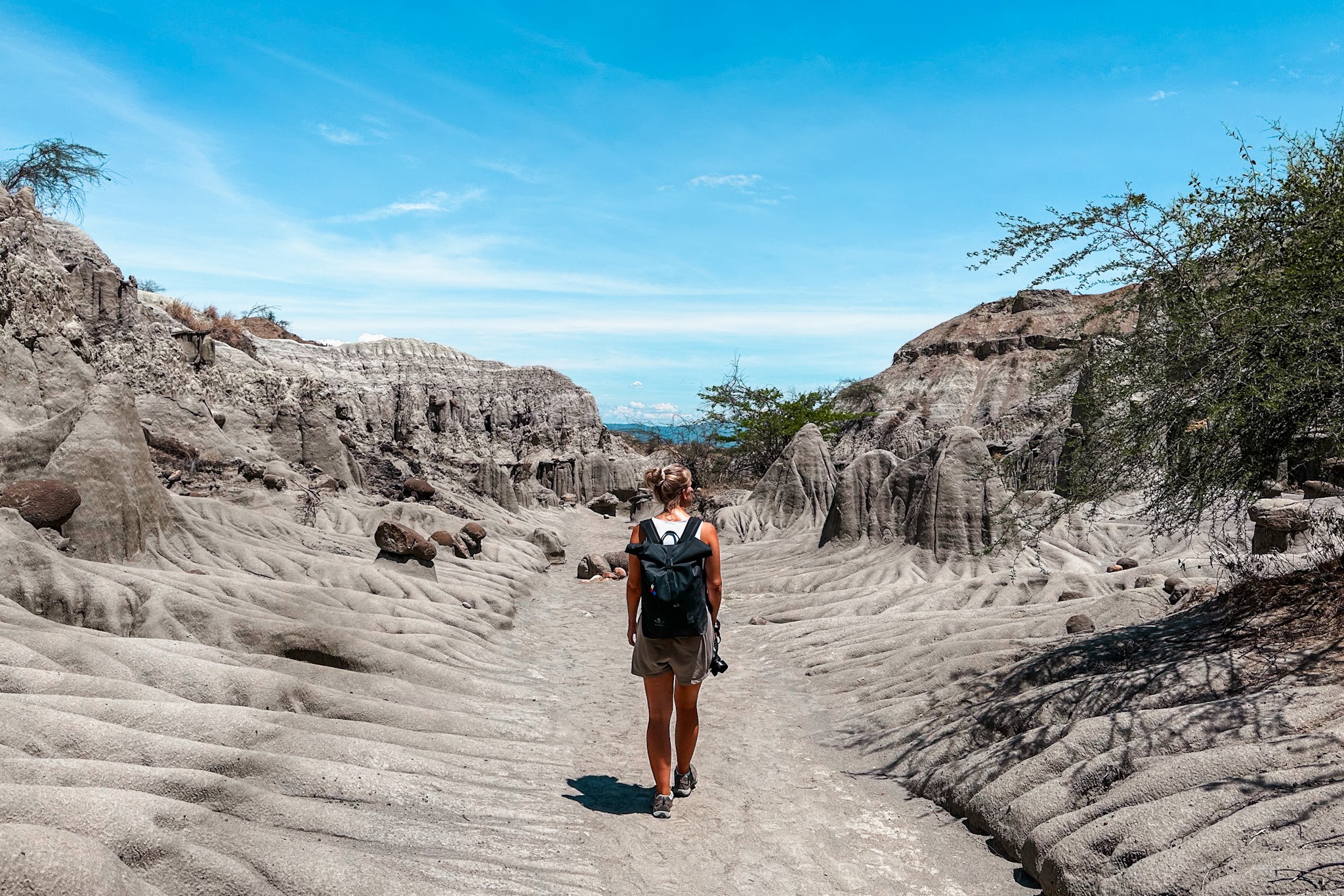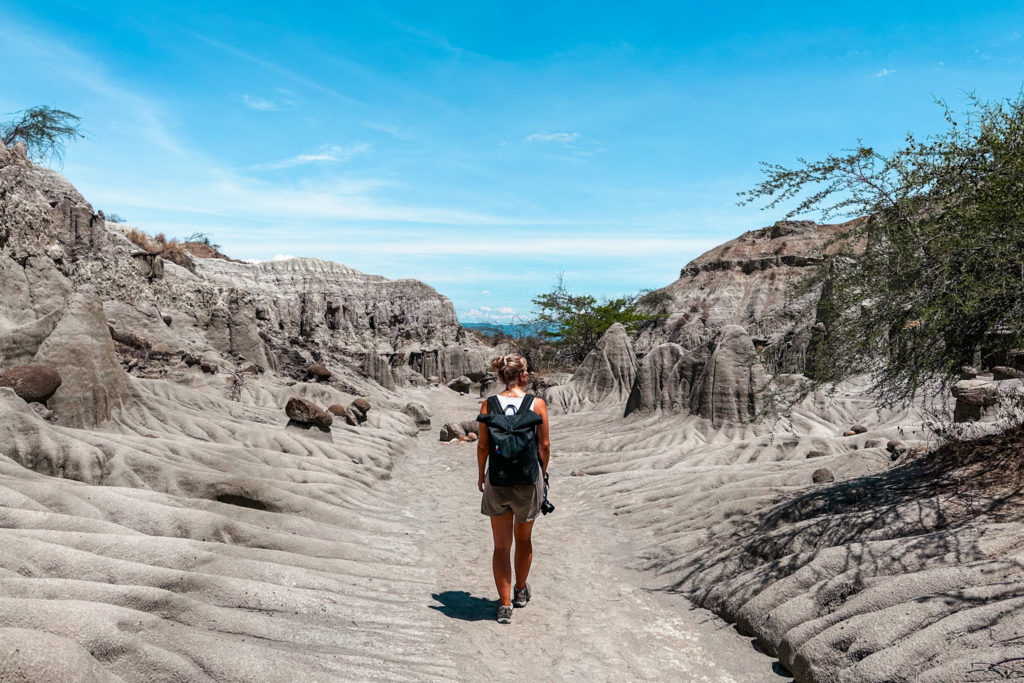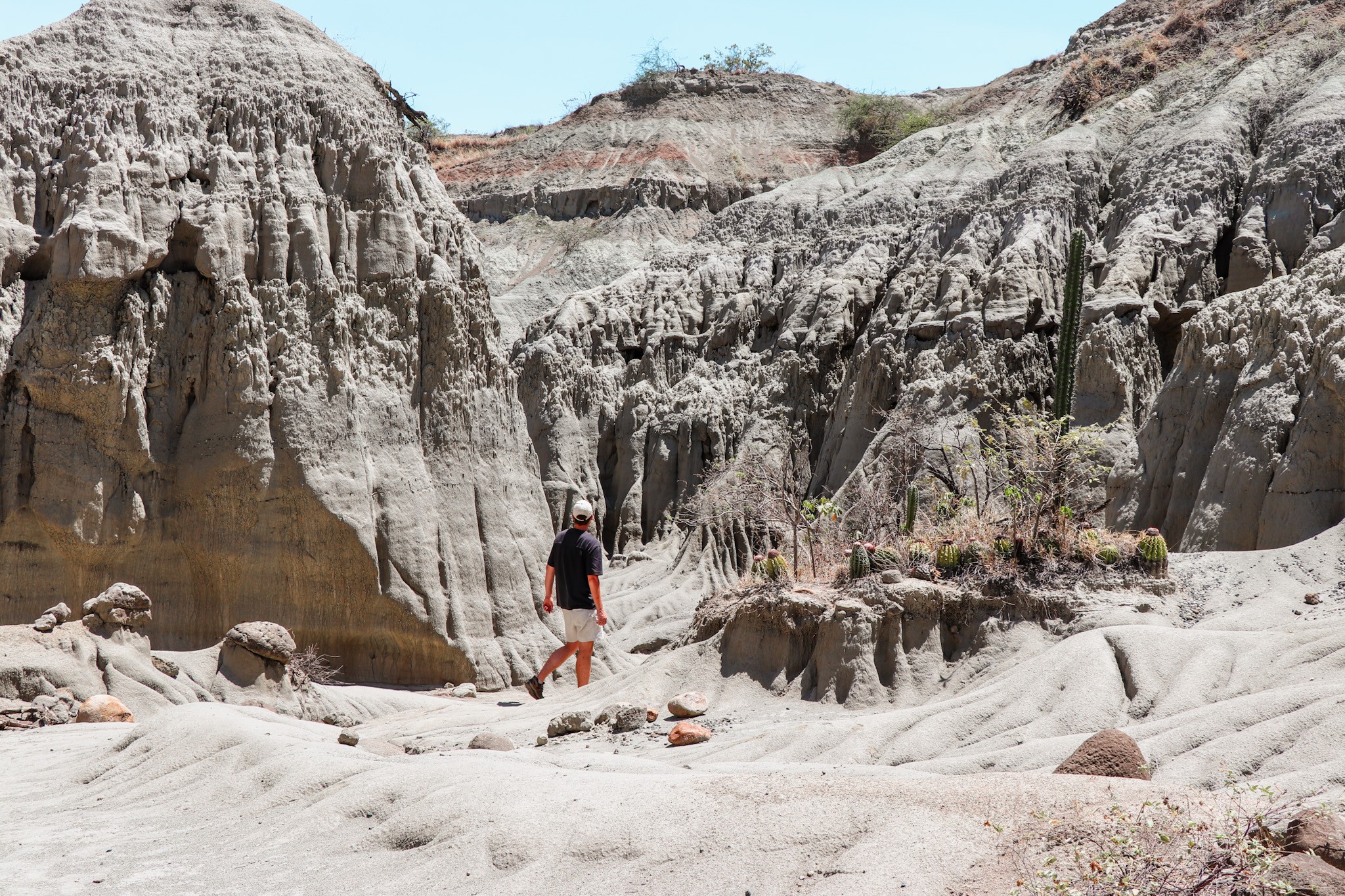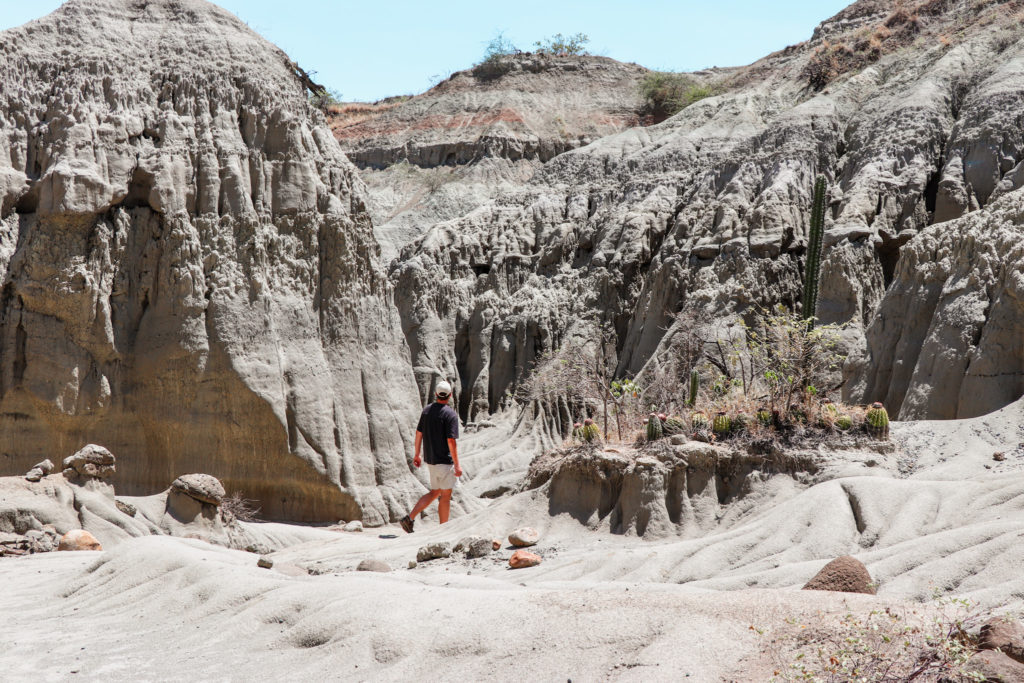 Depending on your itinerary and pace, it will take you 2-5 hours to explore the Tatacoa desert. As it gets very hot in the Tatacoa Desert, we recommend to plan your visit for early morning or late afternoon. In case you would like to enjoy the sunset in the Red Desert, you should be there around 4 pm to allow enough time to explore the labyrinths without feeling rushed.
We'd like to highlight that you should not climb on the delicate walls in the Tatacoa Desert. The soil and rock formations are often very fragile, and climbing can accelerate the natural erosion process.
While visiting the Tatacoa Desert, keep in mind that the terrain can be rugged, so comfortable footwear is a must. Additionally, be sure to bring enough water with you. While there are vendors at the viewpoints, you can expect higher prices there. It's important to note that you won't find any places to purchase water directly on the hiking trail.
The hiking trails in the Tatacoa Desert aren't very well marked, so in case you are visiting the place without a tour guide, we recommend downloading the Maps.me application and an offline map of the area to avoid getting lost.
Save on Pinterest to read it later.
Best things to do in the Tatacoa Desert
We've visited the Tatacoa Desert after our trip to Salento. Going to the desert was one of our bucket list items when we crafted our Colombia itinerary and it didn't disappoint. So, we've collected the best things you can do while being in Tatacoa.
1. El Cuzco - the Red Desert
El Cuzco, also known as the Red Desert, is like stepping onto another planet right here on Earth. The striking contrast between the vivid red and gray rock formations, that have been shaped over centuries, creates an otherworldly atmosphere. 
The Red Desert's breathtaking landscape is the result of millions of years of geological processes. The striking red coloration comes from the high iron concentration in the soil and rocks. Erosion has sculpted the formations into a maze-like labyrinth of canyons, ridges, and spires. Exploring this geological wonderland is like taking a journey through time, as each layer of rock tells a different story of Earth's history. The interplay of light and shadow on the red rocks, especially during sunrise and sunset, creates a magical atmosphere.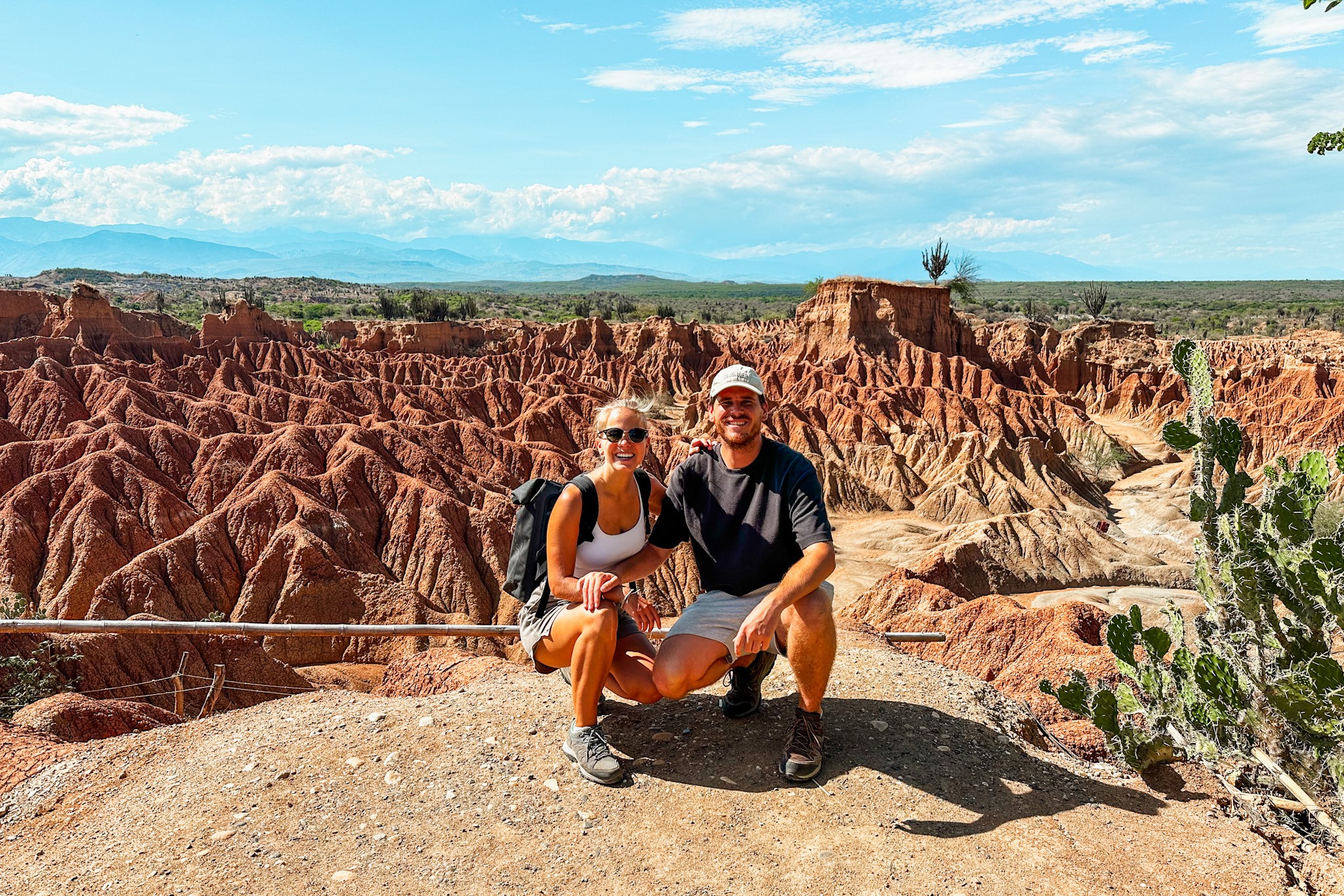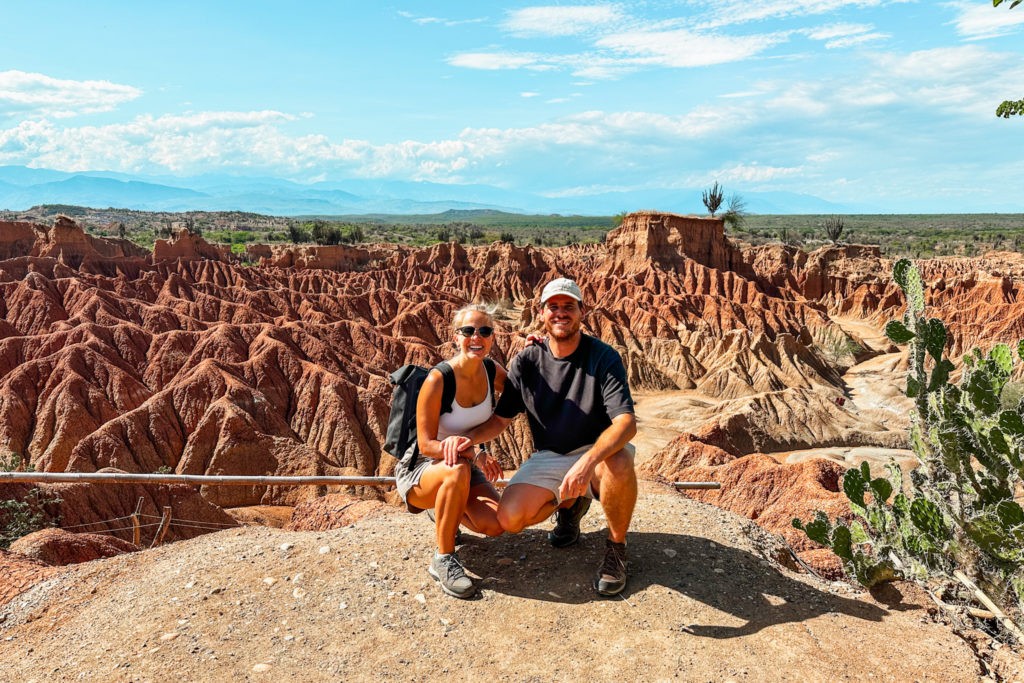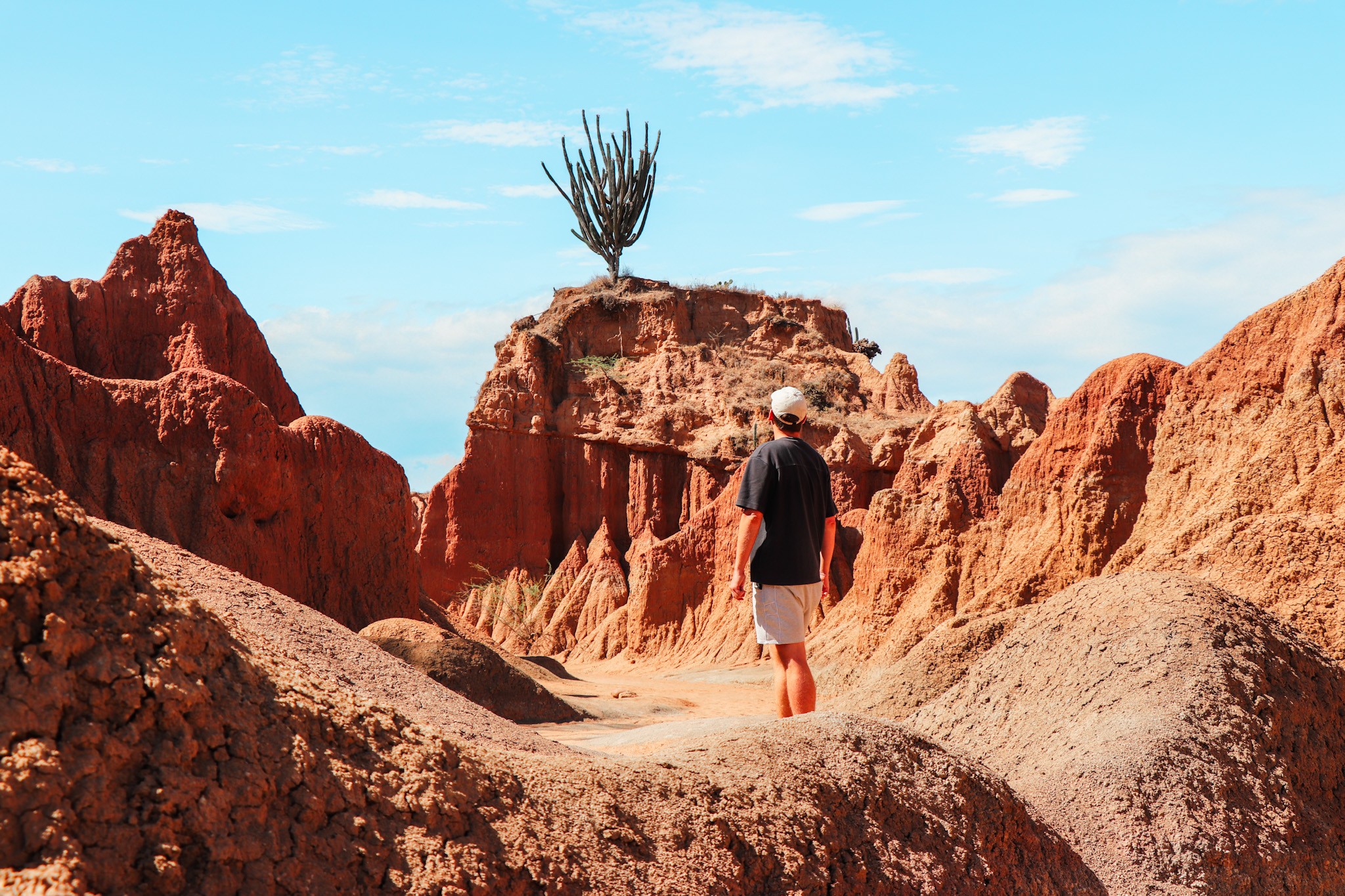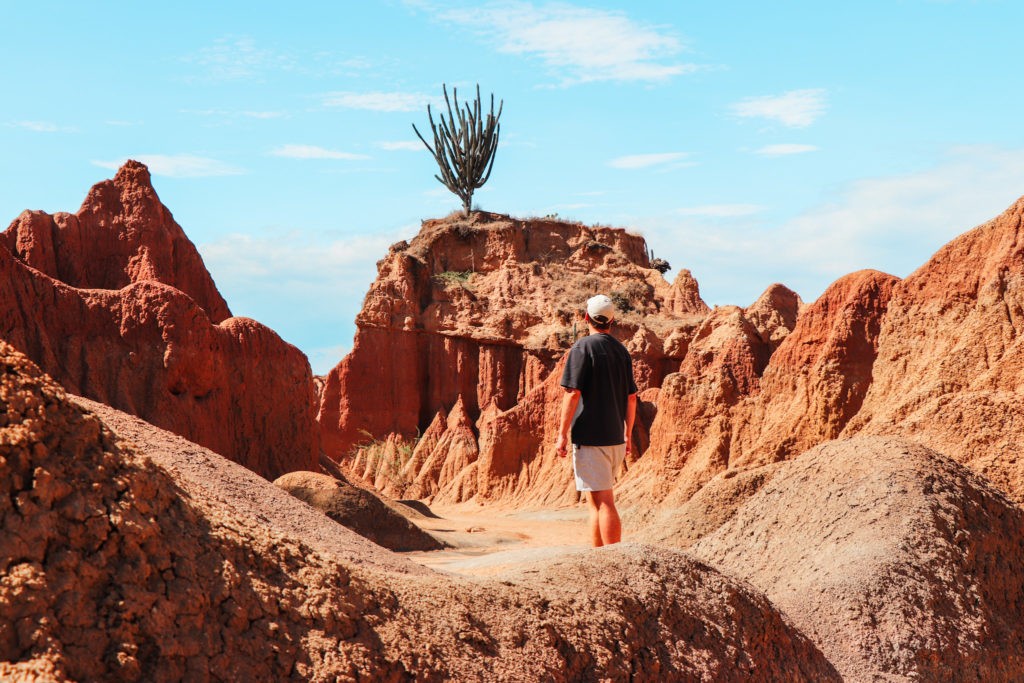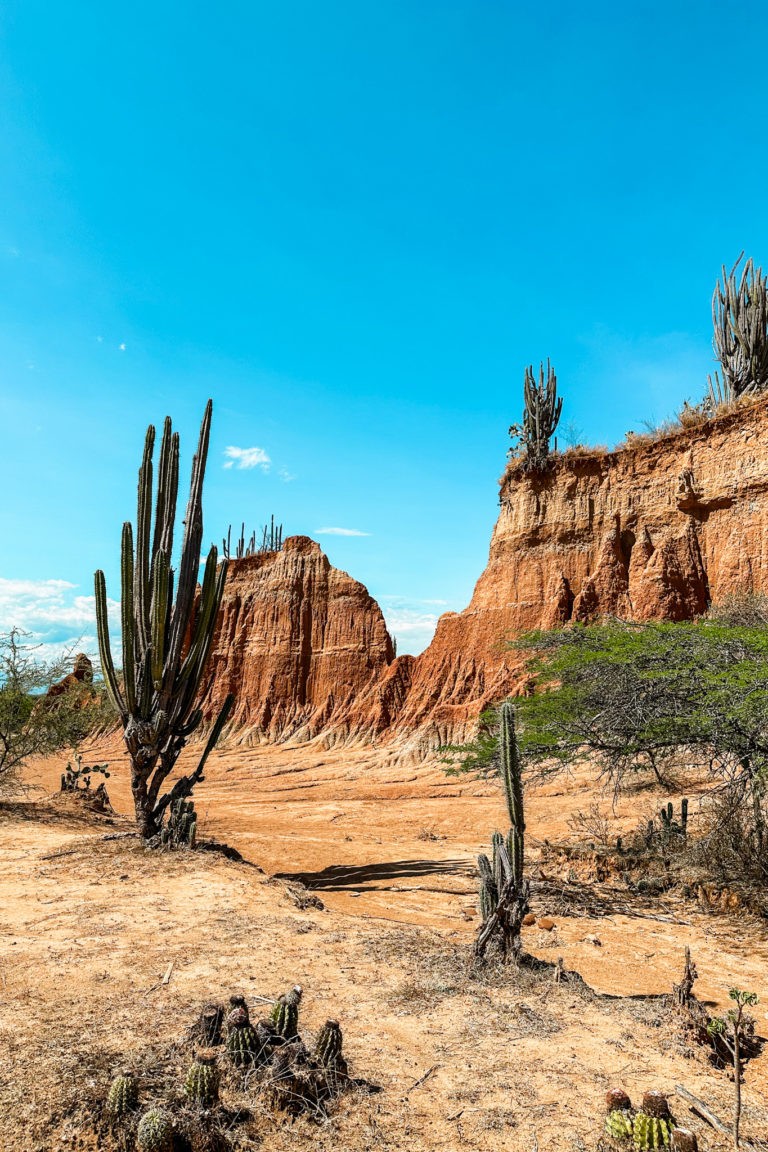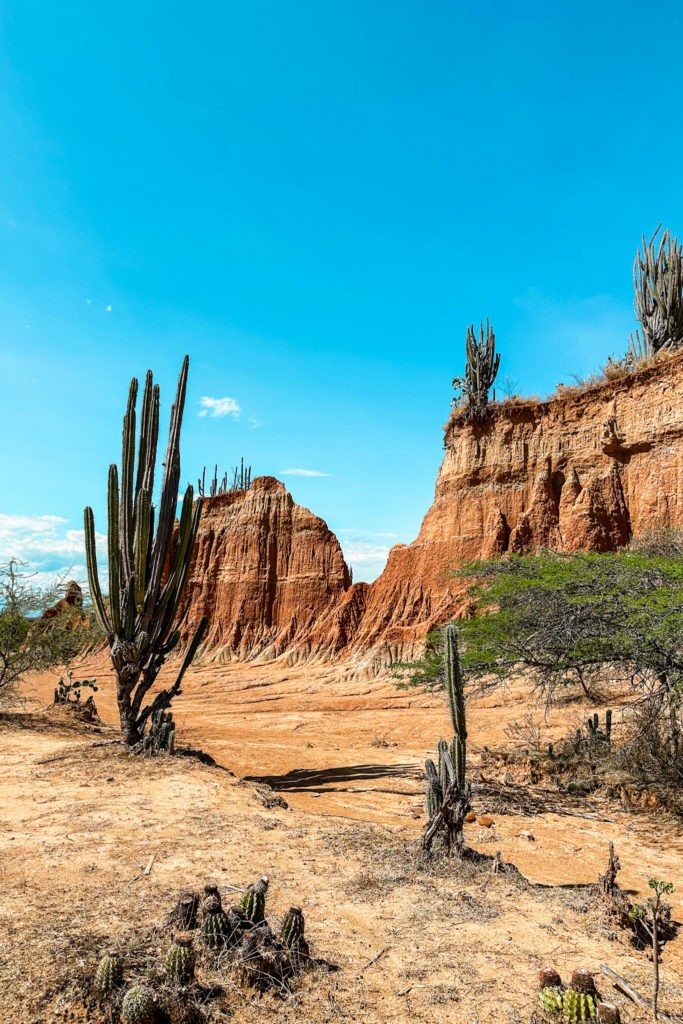 To fully immerse yourself in the wonder of the Red Desert, you'll start your journey at one of the viewpoints: "Mirador El Cuzco" or "Mirador Laberinto El Cuzco." These points offer panoramic views of the surreal landscape, making them ideal spots for photographs. The hike into the labyrinth of these unique formations begins here.
The hike is a one-way journey, and can be completed in either direction. Your driver will be waiting for you at the opposite end or viewpoint. Depending on your pace and the stops you make for photos and exploration, the hike typically takes around 30 minutes to an hour. It's an opportunity to get up close to the dramatic geology that defines El Cuzco.
If you have not tried Guarapo yet, the Tatacoa Desert might be the place. In both viewpoints there are vendors selling this refreshing cold beverage. Guarapo is a drink made from raw, pressed sugarcane juice mixed with water, ice, and lots of fresh limes. Although it is very sweet, we still like it.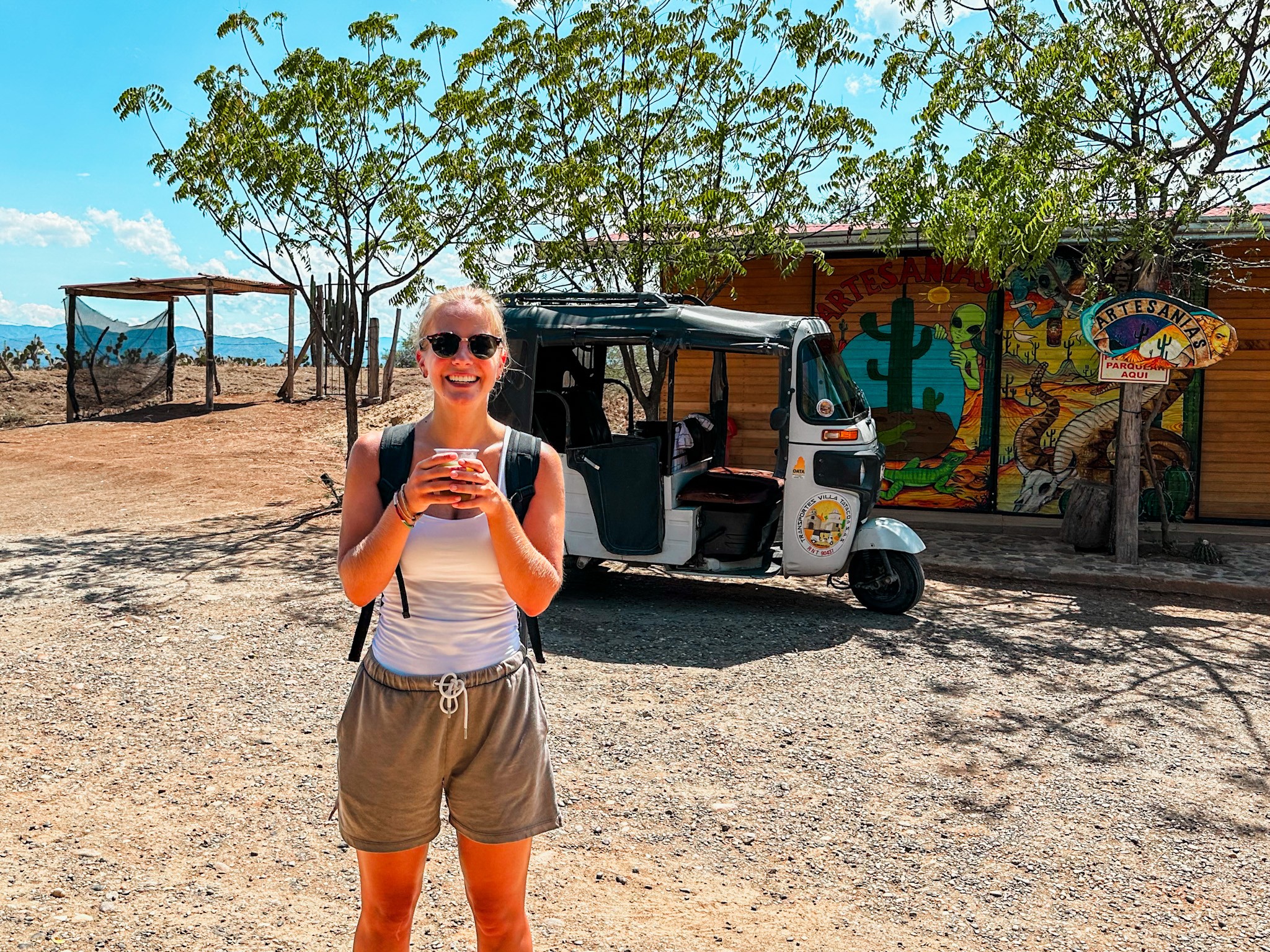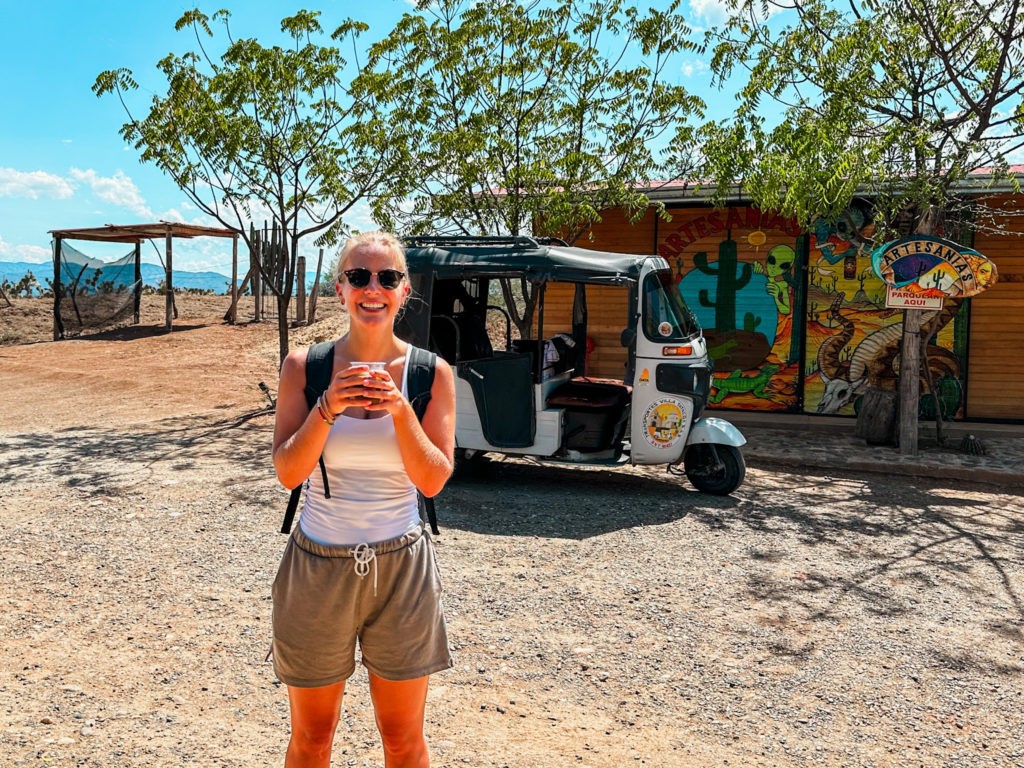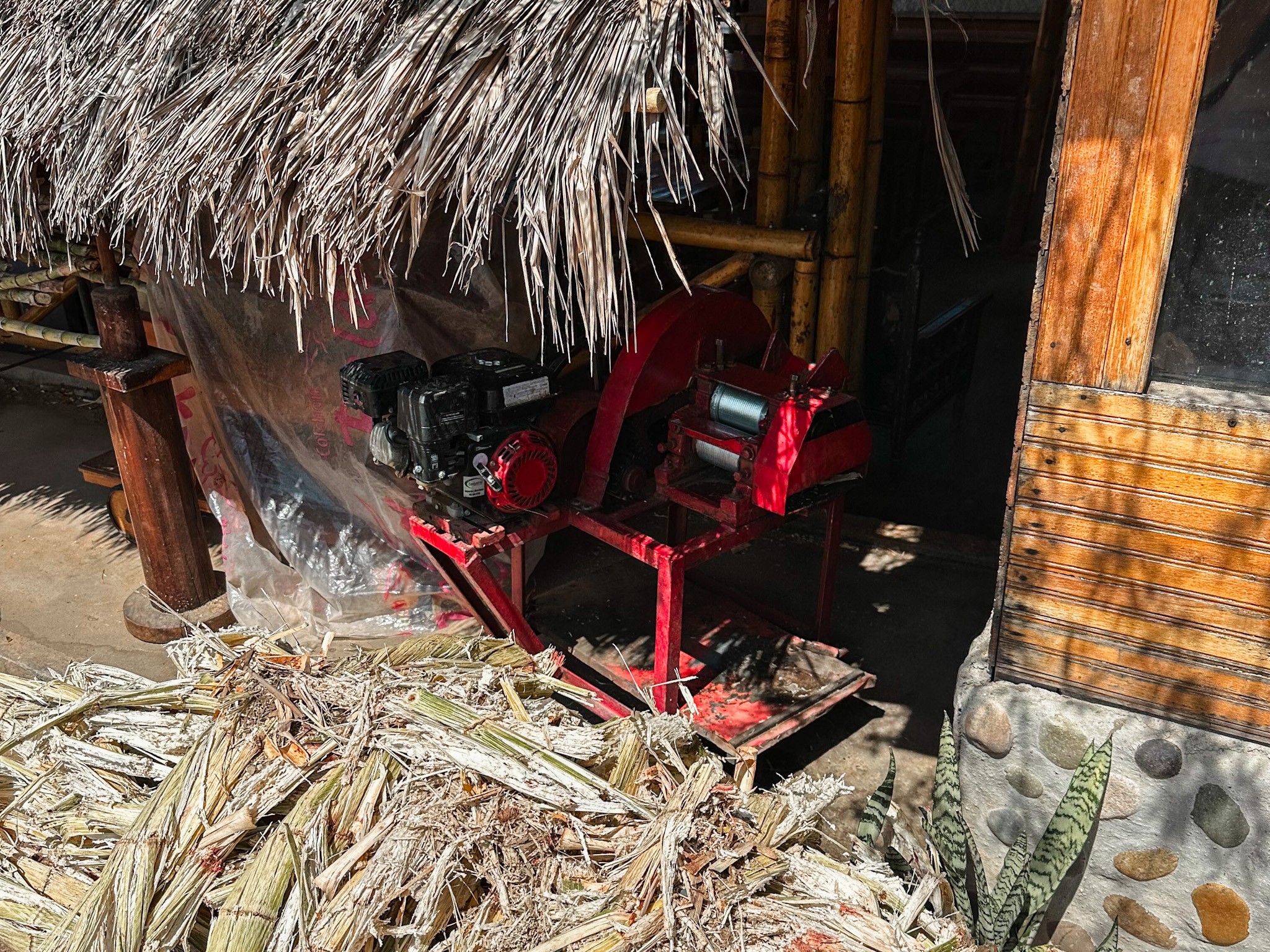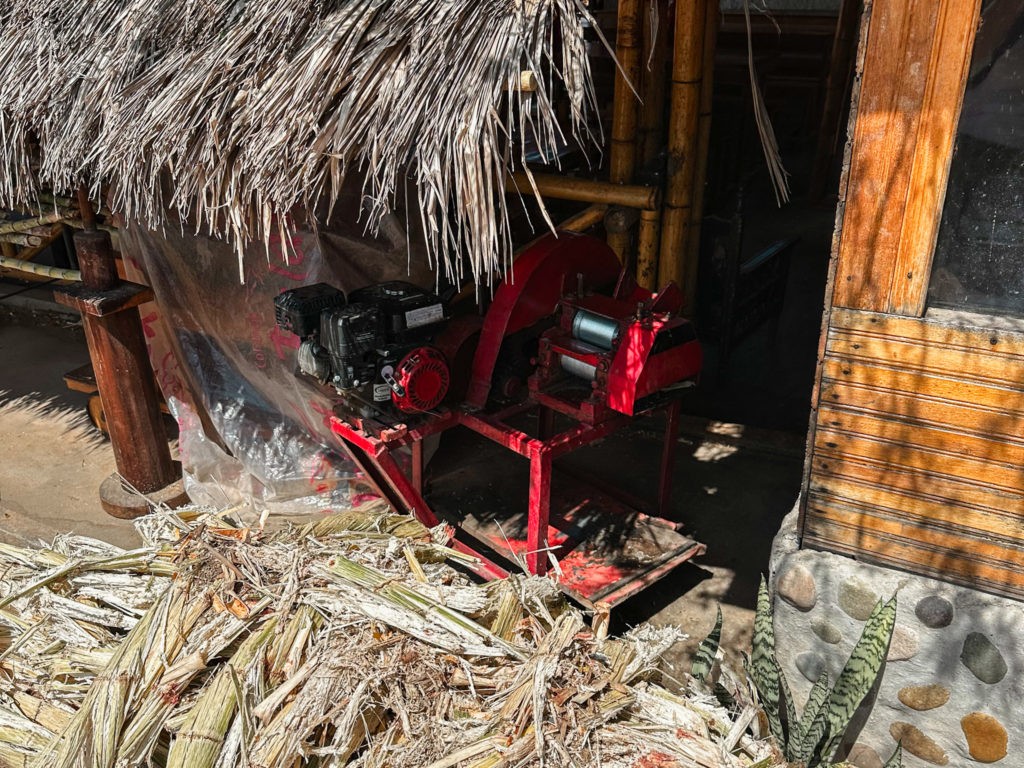 2. Los Hoyos - The Grey Desert
Los Hoyos, known as the Grey Desert, is named for its distinctive gray and silver formations. Although many people seem to like the Red Desert more, we think the two places are totally different and cannot really be compared. Therefore, we recommend visiting both.
One of the most fascinating aspects of Los Hoyos is its geological history. The distinct gray tones of the landscape are due to the presence of volcanic ash, offering a striking contrast to its brother the Red Desert. 
The best way to explore Los Hoyos is on foot, taking a leisurely hike through its winding trails. The trek is about 40 min to 1 hour long and you will end at the parking lot again. As you hike through this mesmerizing terrain, you'll encounter a surreal blend of lunar-like landscapes and viewpoints that reveal panoramic views of the Grey Desert's unique beauty.
At the end of the hiking trail, there's a pool with a view over the Grey Desert. While it did appear nice when we arrived (many blogs claim the water often appears to be dirty), and it would certainly have been a refreshing experience, we made the choice not to support activities that appear unsustainable to us. The idea of having large pools in the midst of the desert doesn't seem environmentally responsible. Also, it does ruin the beautiful views on the landscape.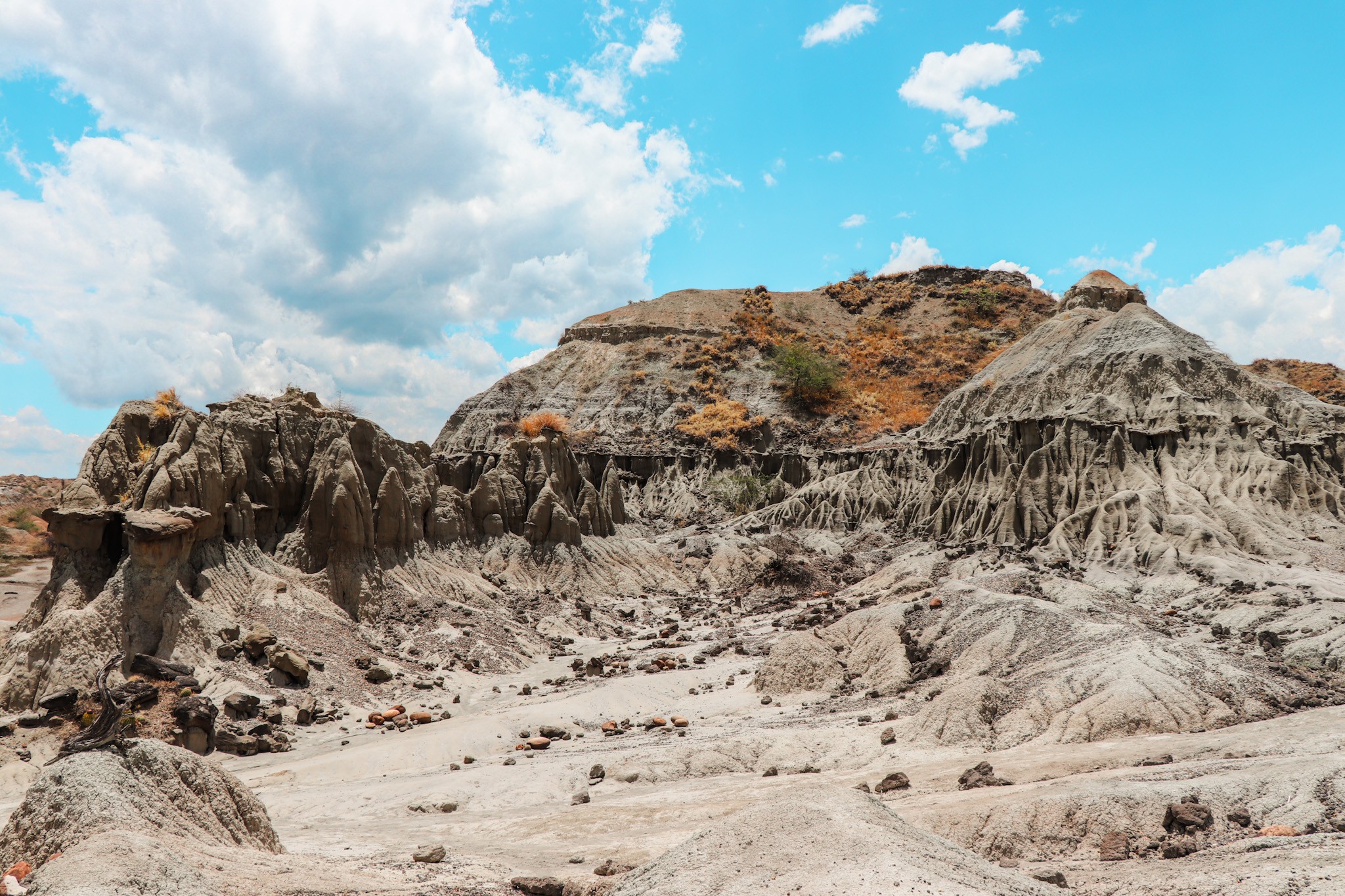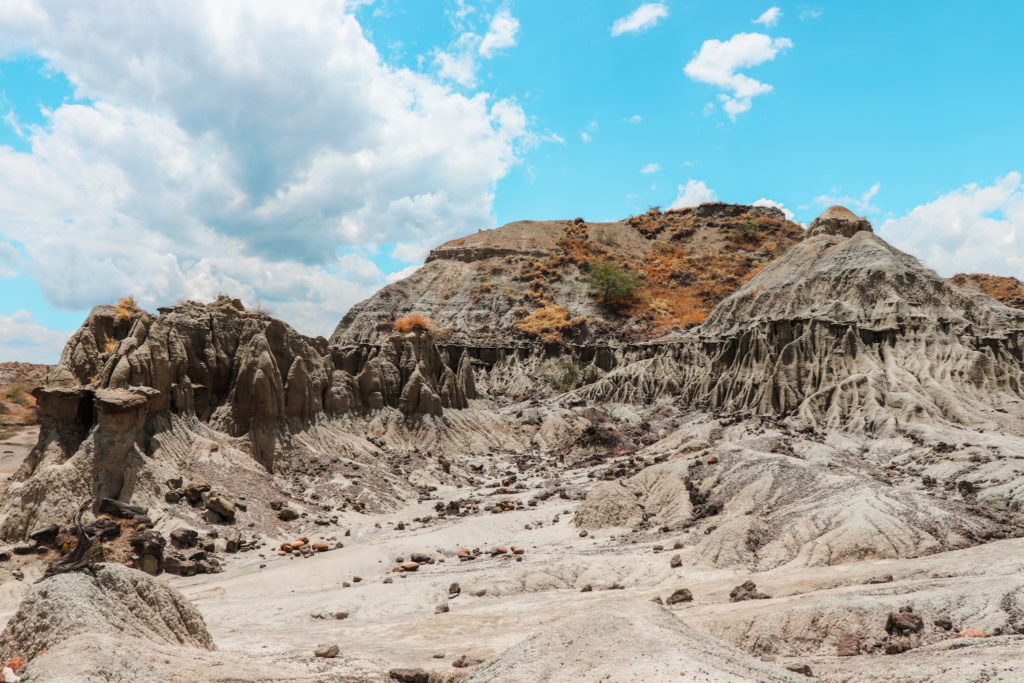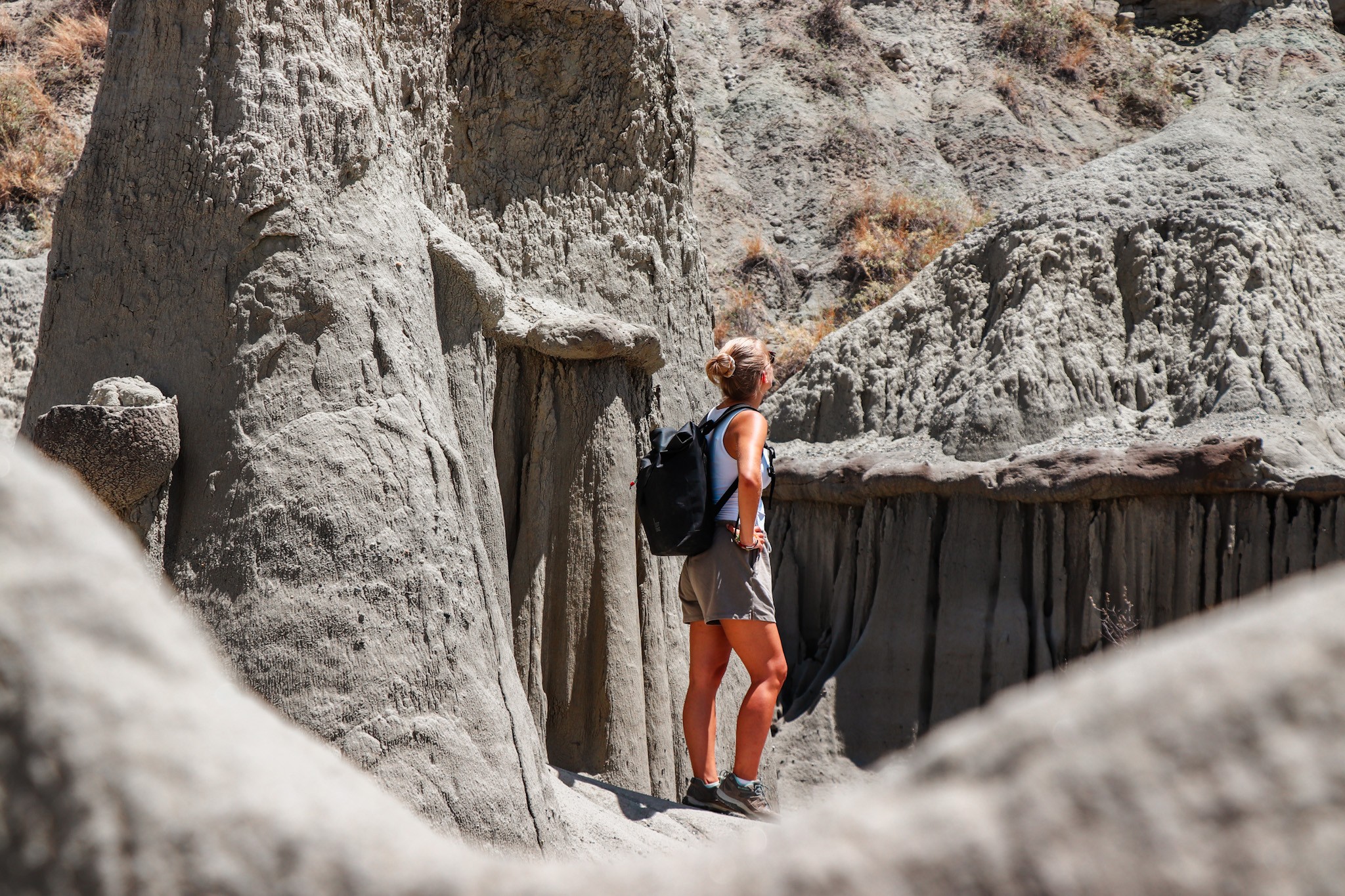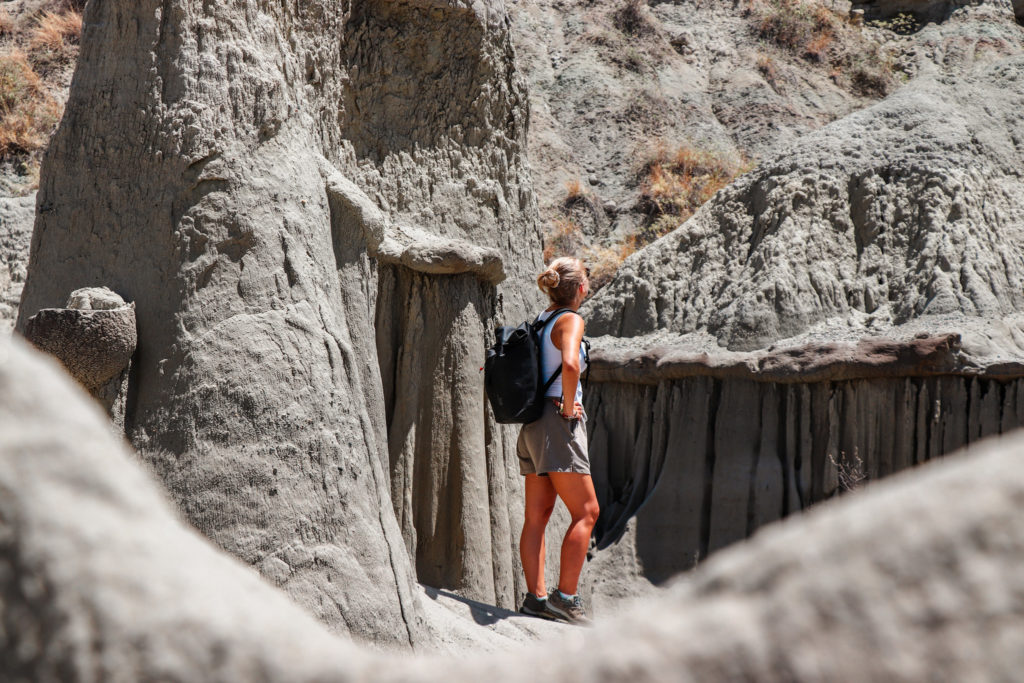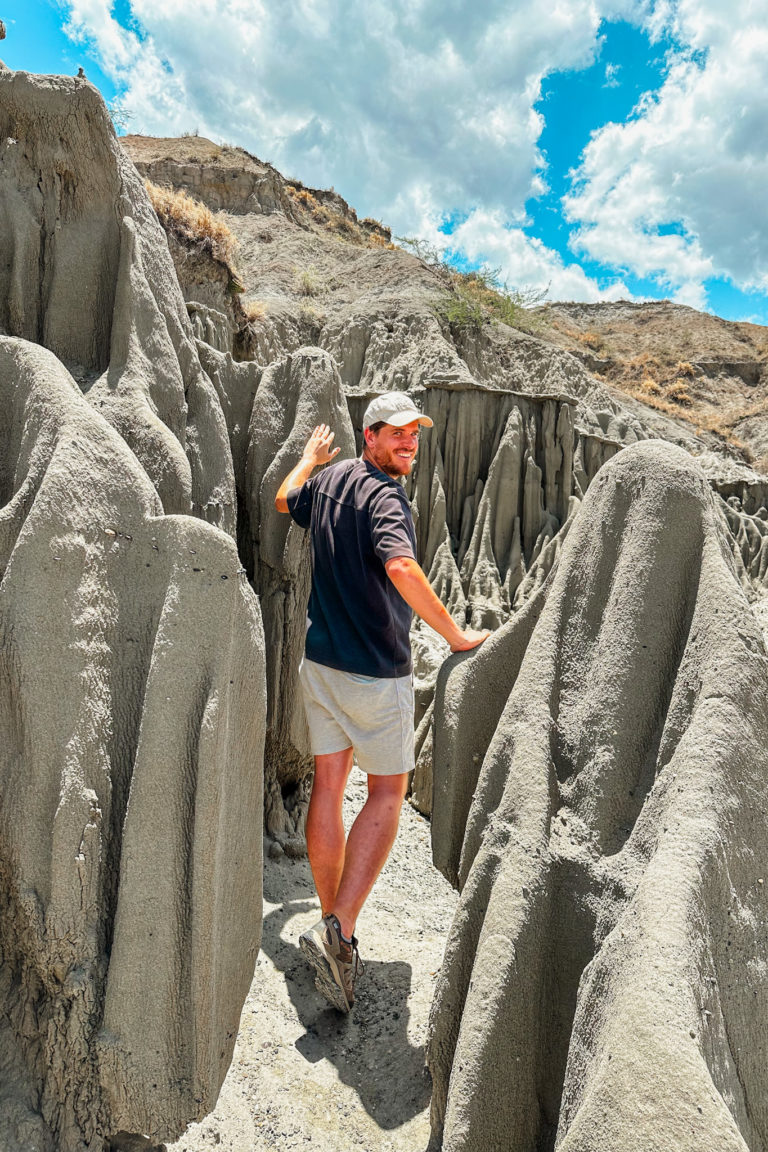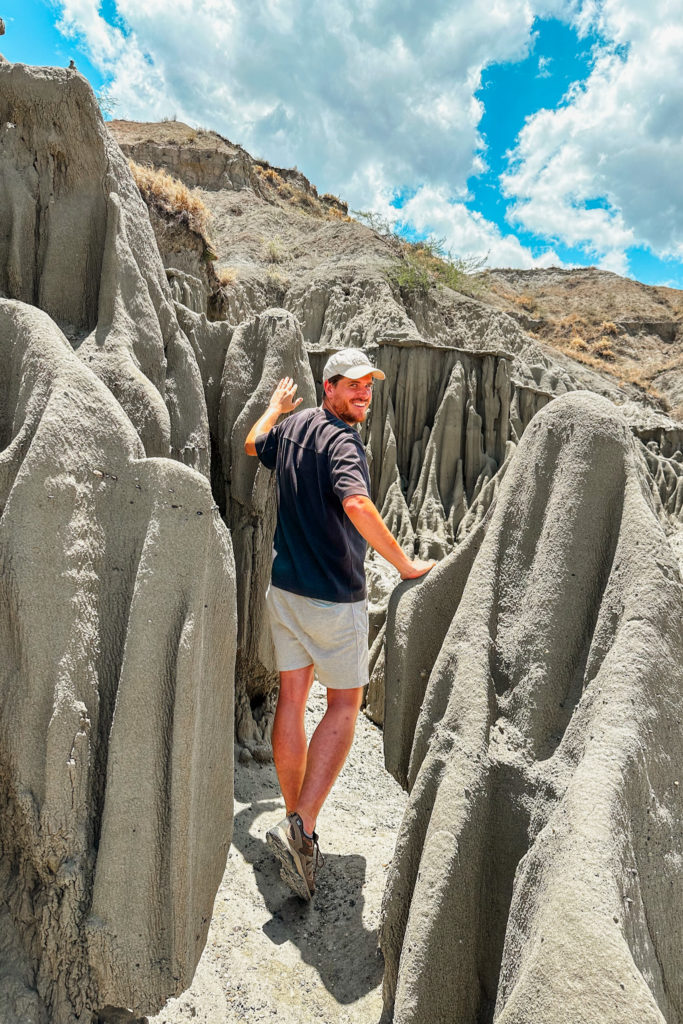 3. Valle de los Xilopalos
Third hike you can do in the Tatacoa Desert is in the Valle de los Xilopalos. This is the furthest away from Villavieja. Also here, the trail starts at a viewpoint. While the rock formations here are not as spectacular as in the Red and Grey Desert, the track offers some fascinating narrow gorges which make the place special. Also, less tourists seem to go there, giving you the opportunity to explore the area alone, if you are lucky. Hiking the Xilopalos Trail takes one to two hours.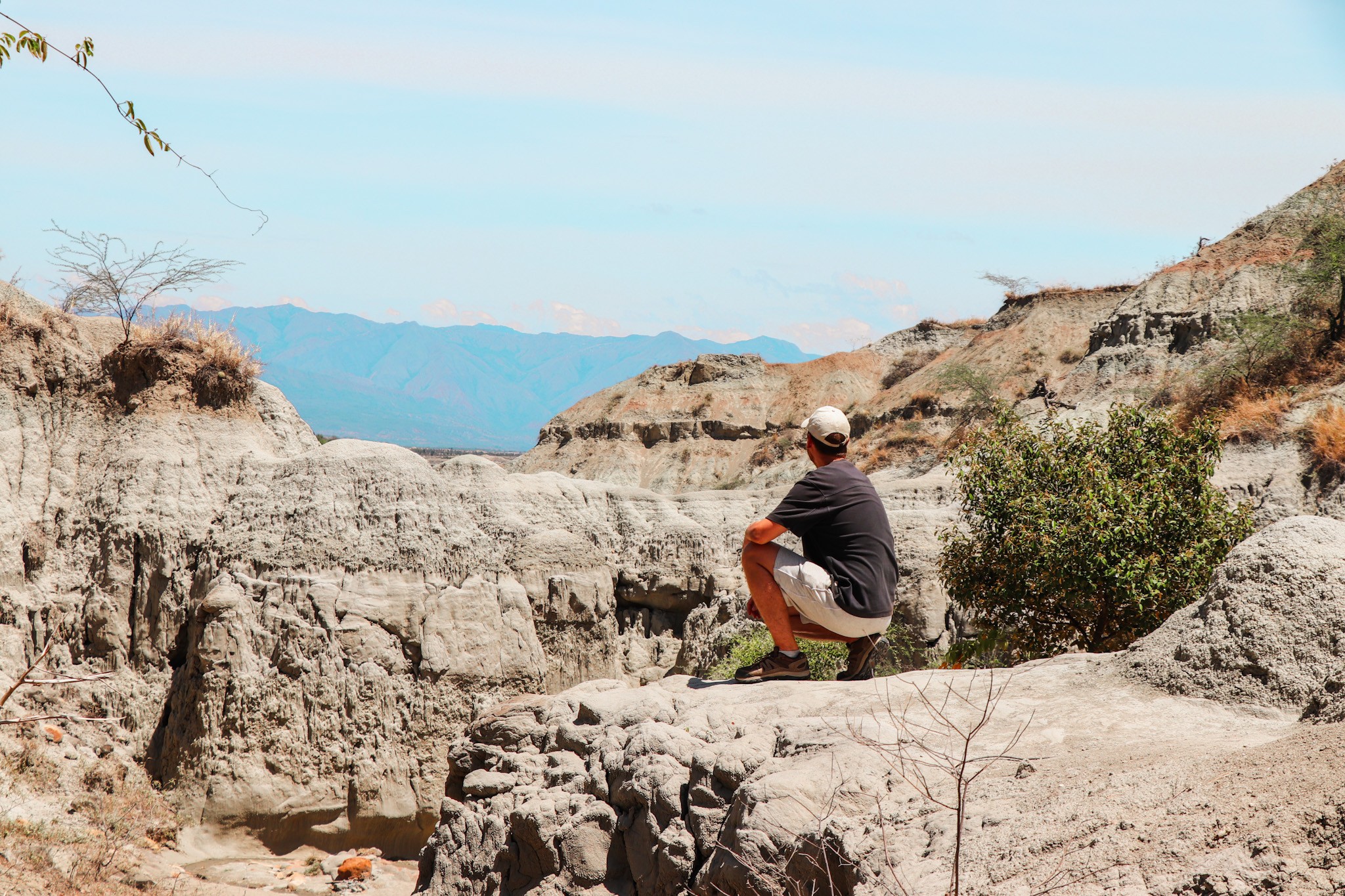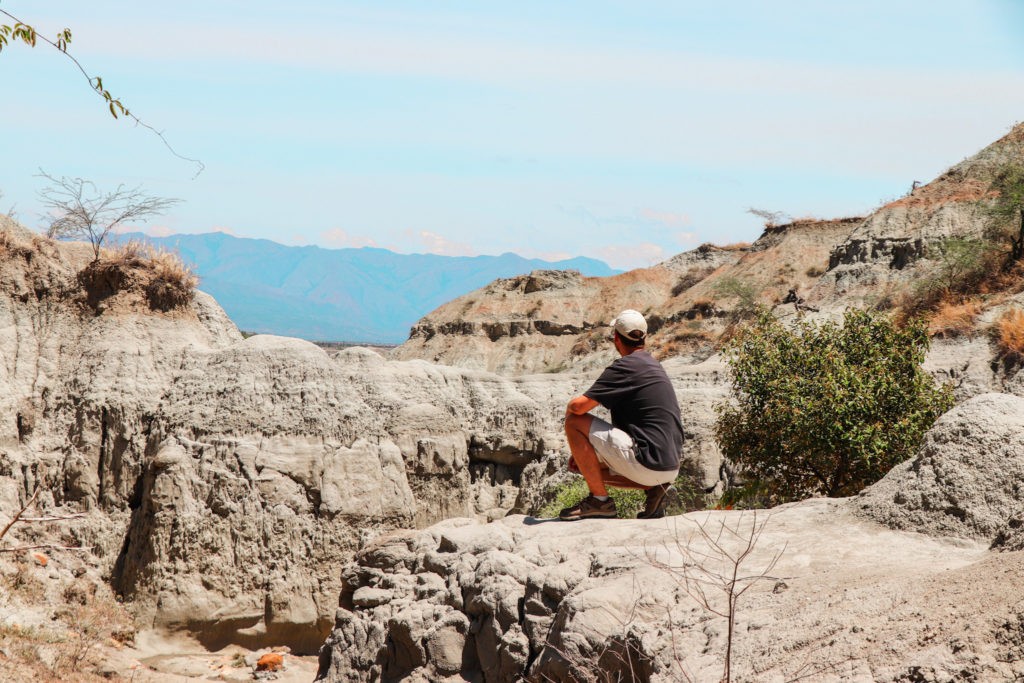 The Tatacoa Desert is a fantastic spot for stargazing. With minimal city lights around, the night sky here is a starry spectacle. There are two observatories where you can go for a guided stargazing experience. Both tours include the use of telescopes and informative explanations about the celestial wonders above while laying on a mat under the sky.
Observatorio Astronomico Astrosur lies in the Tatacoa Desert. While the light pollution there is minimal, it only offers tours in Spanish.
Observatories Astronomico Vyctoriastars is near Villavieja town, which may mean a bit more light pollution. From the positive side, it also has a short 15 min explanation in English at the end of the stargazing experience.
Both tours are very affordable, only costing 10,000 COP (2.50 USD). However, the real cost driver is the tuk-tuk ride there being 30,000 COP per person for a round trip (approx. 8 USD).
You can and should negotiate the tuk-tuk price when heading to the observatory near Villavieja. The ride is only 7 minutes, but they often quote a higher price, stating that the driver will wait throughout your tour. However, in reality, they don't remain there for the entire duration but return to Villavieja until your tour concludes.
The conditions for stargazing are best during moonless nights or during the New Moon phase. We were visiting the observatory Vyctoriastars during that time, were a bit disappointed though. While one could see many stars (we were a bit unlucky with many clouds), the views were nothing to be compared with the night skies of Kenya or Namibia. Maybe we were still too close to the city lights and in the Tatacoa Desert the experience is more spectacular. Nevertheless, the views on the Saturn from the telescope were unforgettable and we got many pictures sent over WhatsApp.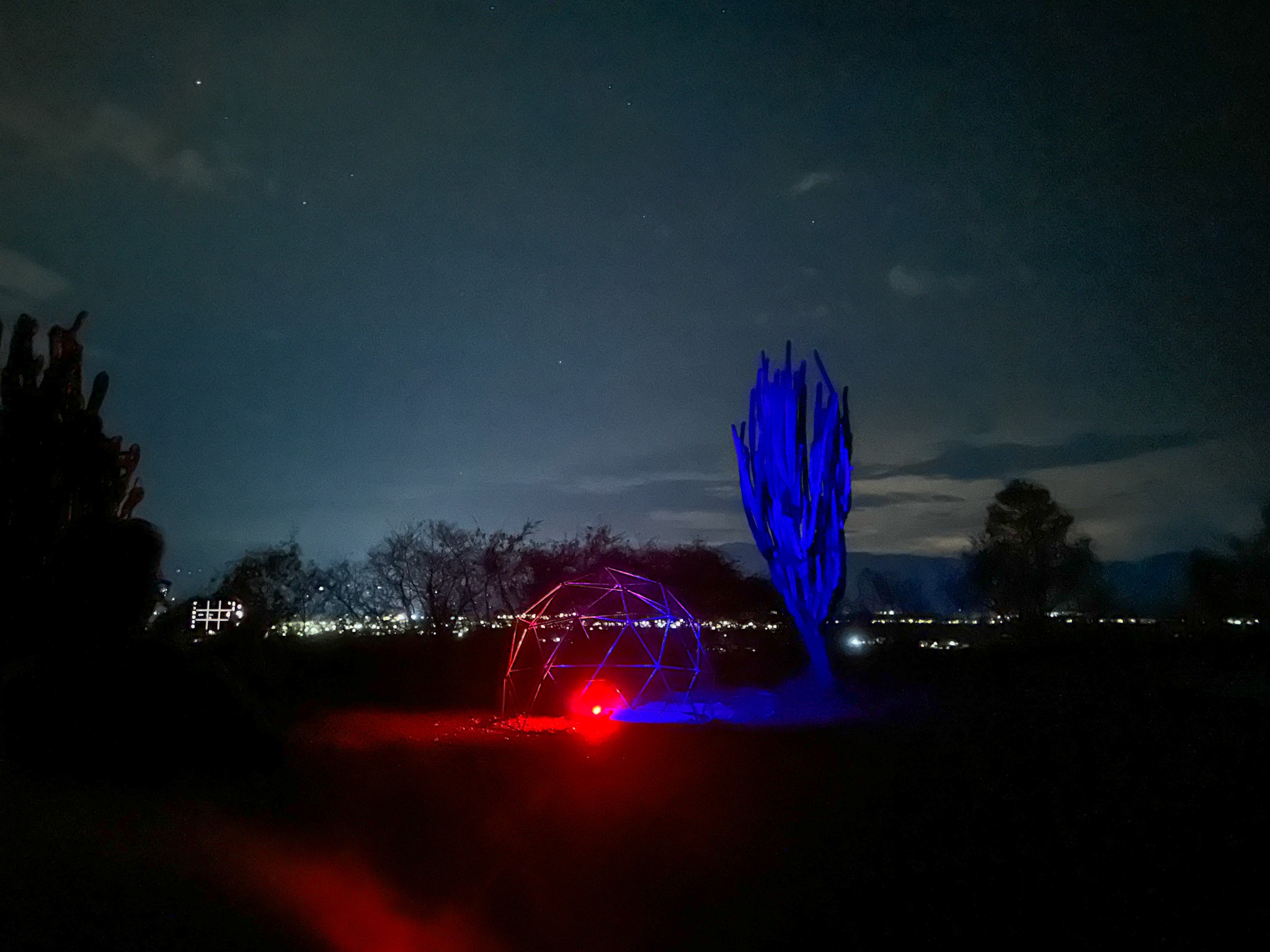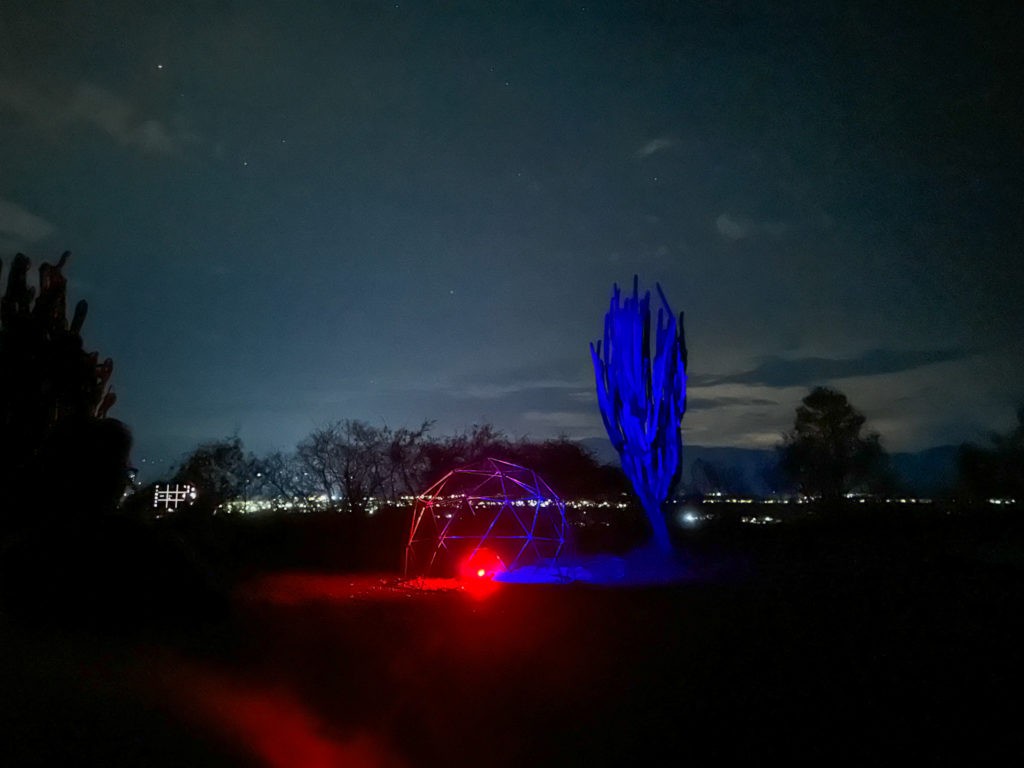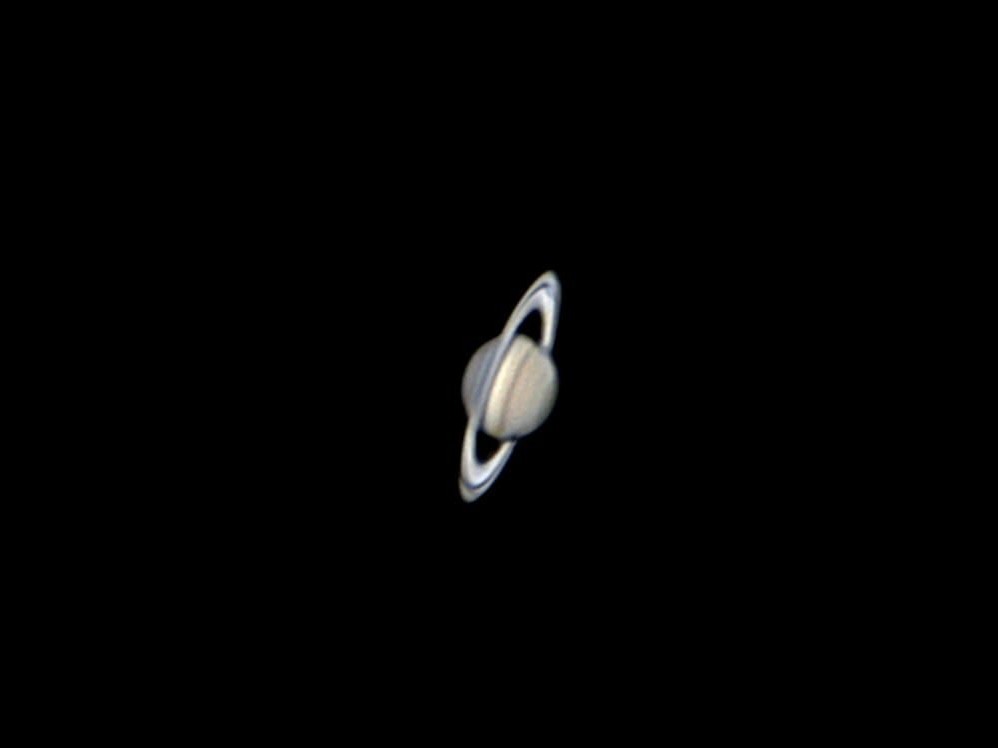 How to get to the Tatacoa Desert?
From Salento to the Tatacoa Desert
There is no direct bus from Salento to the Tatacoa Desert. To reach Villavieja, a small village near the Tatacoa Desert you have two options. For both options you need to travel from Salento to Armenia first. Buses from Salento to Armenia depart every 20 minutes and the ticket costs 6,000 COP (approx. 1.5 USD). The ride takes a good hour to arrive at the Armenia Terminal. The buses may cross through Circasia, if there are passengers that wish to exit there.
Once you have arrived in Armenia you can either buy a bus ticket to Neiva and from there take a mini-van to Villavieja or you can choose to drop off already at Aipe. The journey to Aipe takes around 5 to 7 hours, while the ride to Neiva takes around 6 to 8 hours. The tickets to get to Aipe and Neiva can be booked at the counters of Cootranshuila and Coomotor and cost 60,000 COP to 80,000 COP (approx. 15-22 USD). We would recommend to take one of the buses leaving at 11:00 or 11:15 a.m. in the morning, to be sure you will catch the last bus from Neiva. Here you can check the current timetables for Cootranshuila and for Coomotor online.
If you choose to travel to Aipe, a small village located next to Villavieja on the opposite side of the Magdalena river, you can take a moto-taxi to drive you to the ferry. From there hop on a canoe taxi to bring you directly to Villavieja. While doing so will save you a good 1 – 1.5 hours of travel time, it's a little less convenient, especially if you have heavy luggage. Make sure to arrive at Aipe latest at 5:15 – 5:30 p.m. as the last river-crossing will be at around 6:00 p.m.
If you choose to travel to Neiva, you can buy a ticket for a local mini-van to Villavieja at the local transfer counters. The ride to Villavieja costs 10,000 COP (approx. 2.5 USD) and takes around 1 hour. Tatacoa Desert is about 15 min away from Villavieja and can be easily visited with a tuk-tuk, costing 30,000-90,000 COP (8-23 USD) per person for a round trip, depending on which places you wish to visit.
While the journey to the Tatacoa Desert can be quite an adventure, it's really worth it. We managed to get from Salento to the Tatacoa Desert within one day without problems. We decided to take the easier route to Neiva, which added up a little time. We also talked to another traveler taking the river-crossing at Aipe and can confirm that both options work well.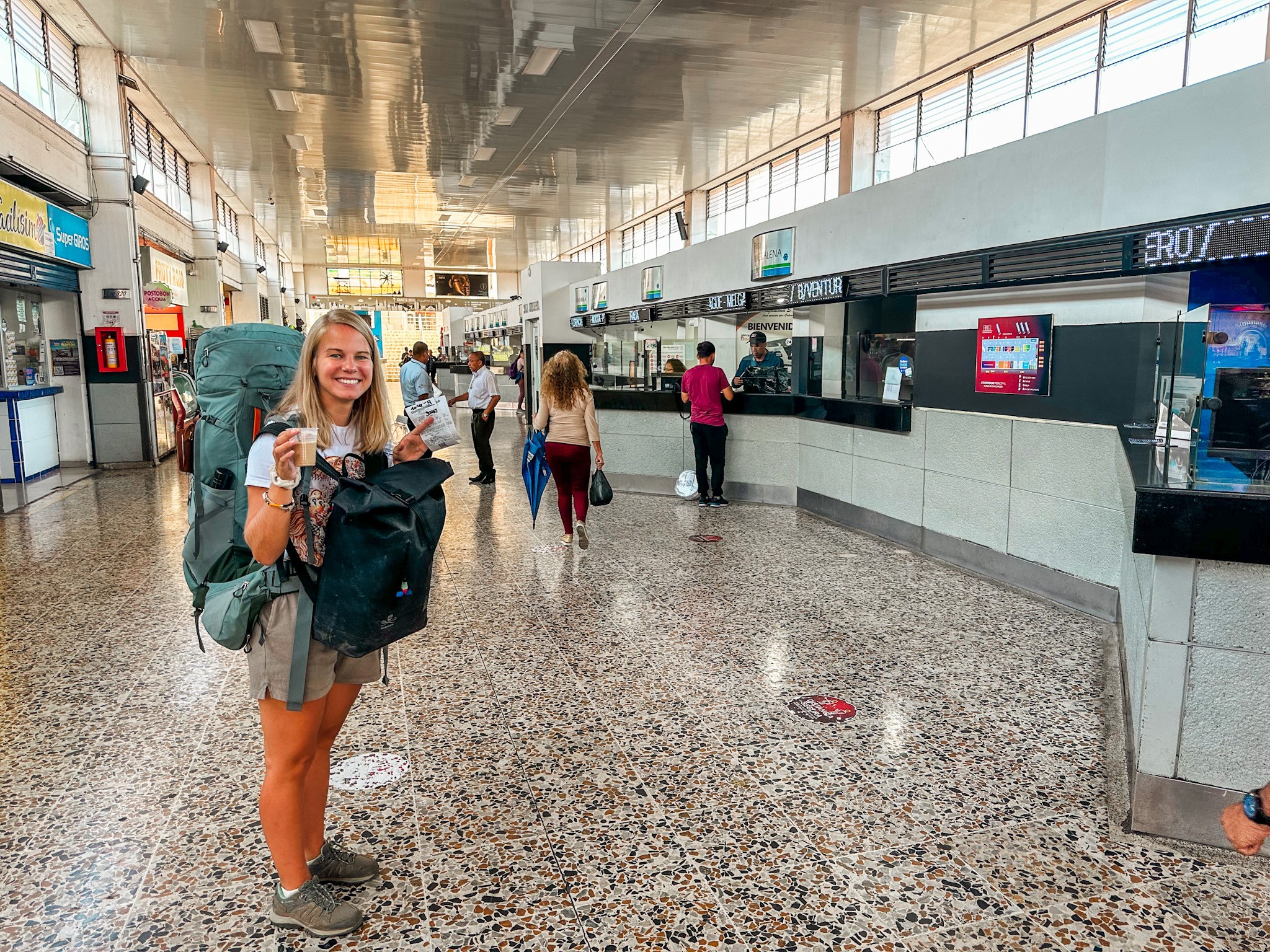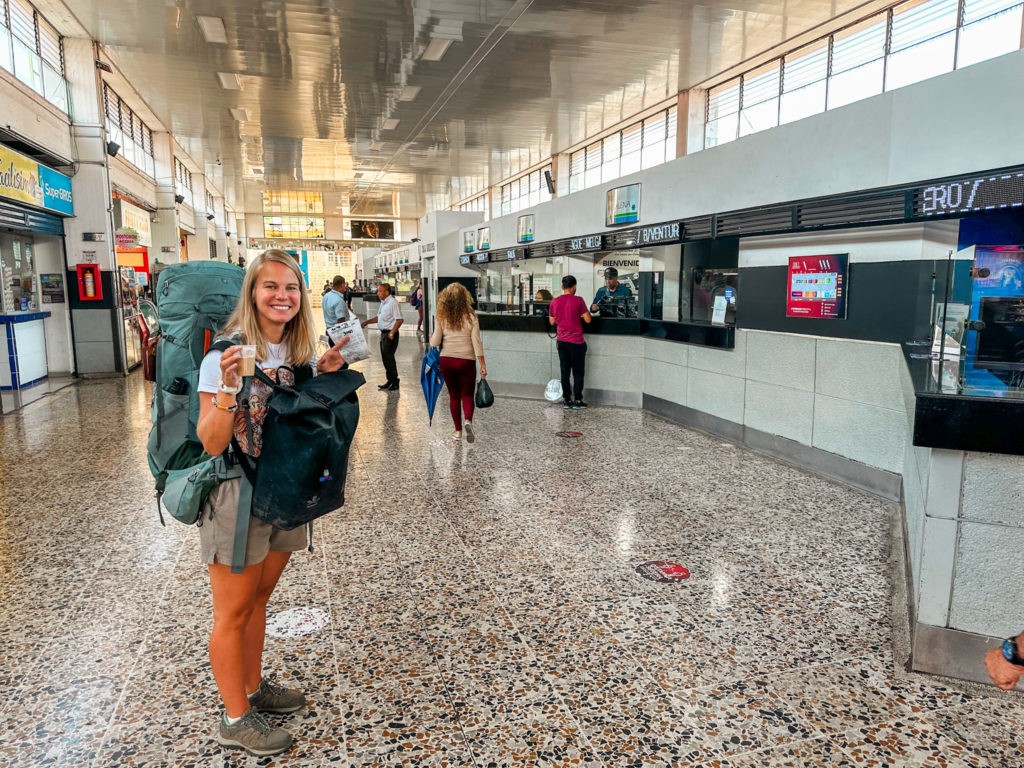 From Neiva to the Tatacoa Desert
In case you decide to stay in Neiva, you can visit the Tatacoa Desert as a day tour. There are two options for that. You can take a local mini-van to Villavieja from the Neiva Bus Terminal. The ride to Villavieja costs 10.000 COP (approx. 2.5 USD) and takes around 1 hour. From there you can take a tuk-tuk to explore the Tatacoa Desert, costing 30,000-90,000 COP (8-23 USD) per person for a round trip depending on you route. Another option is to get a private taxi or a tour from Neiva to bring you directly to the Tatacoa Desert and back.
From Bogota to the Tatacoa Desert
There is no direct bus from Bogota to the Tatacoa Desert – also being a reason why it still not so touristy gem of Colombia. To reach Villavieja, a small village near the Tatacoa Desert, you first have to take a bus to Neiva. For this you will have to go to the Bus Terminal Salitre. There are two bus terminals in Bogota so make sure to go to the right one. 
Once in the terminal, look for ticket offices of Cootranshuila and Coomotor. It is important to note that Terminal Salitre in Bogota is enormous, so plan enough time to find the right ticket booth and your bus. The buses are leaving from Bogota frequently almost around the clock. Here you can check the current timetables for Cootranshuila and for Coomotor online. The bus ride from Bogota to Neiva takes 6-8 hours and the ticket costs 60,000-80,000 COP (approx. 15-21 USD). We want to highlight though, that the connecting bus from Neiva only operates from 6 a.m. to 7 p.m., so it is important to plan your trip accordingly.
From Neiva you can buy a ticket for a local mini-van to Villavieja at the local transfer counters. The ride to Villavieja costs 10,000 COP (approx. 2.5 USD) and takes around 1 hour. atacoa Desert is conveniently located just 15 minutes away from Villavieja and can be readily explored using a tuk-tuk. A round trip on a tuk-tuk to Tatacoa Desert generally ranges from 30,000 to 90,000 COP (8-23 USD)  per person, depending on your itinerary.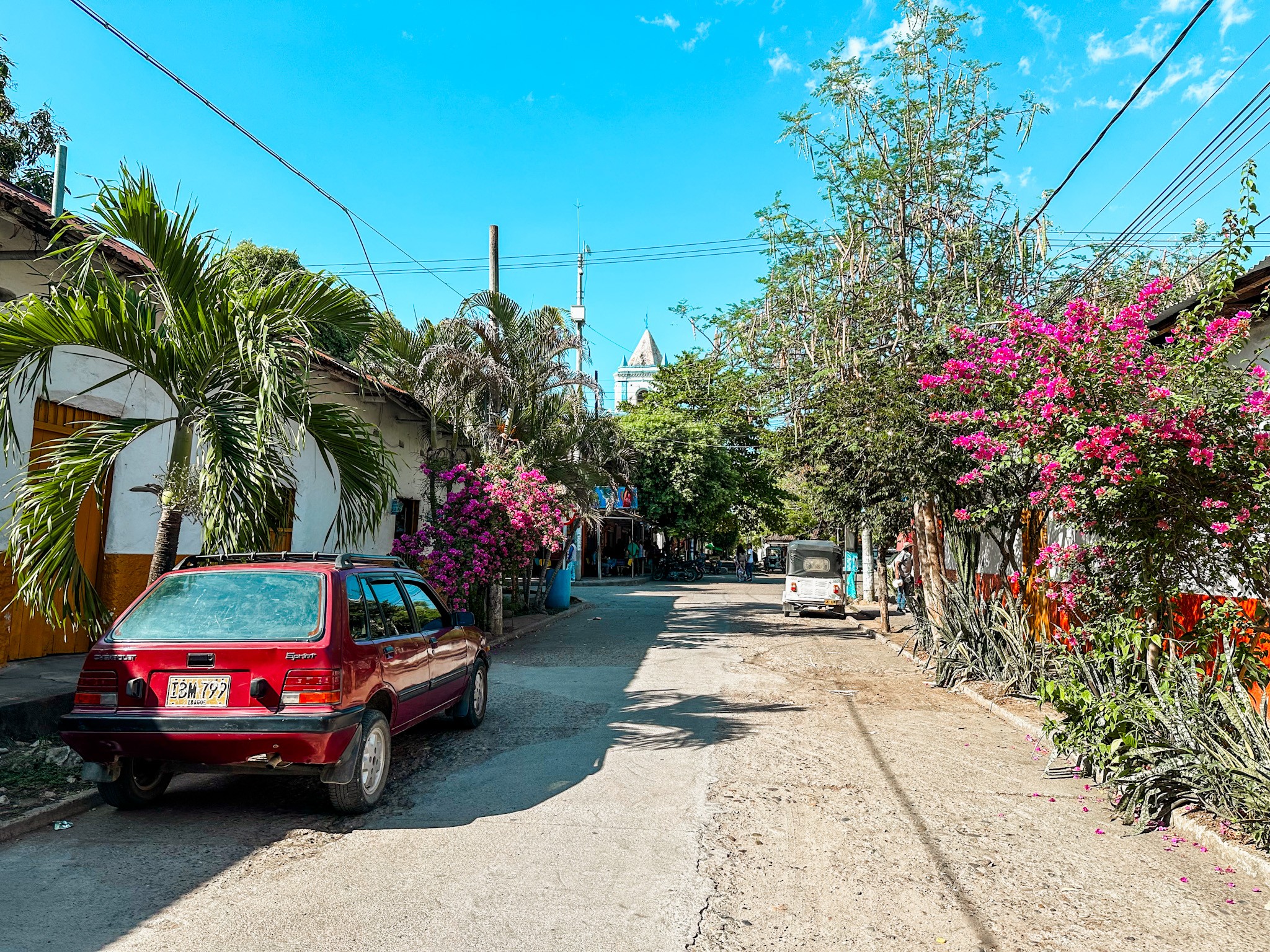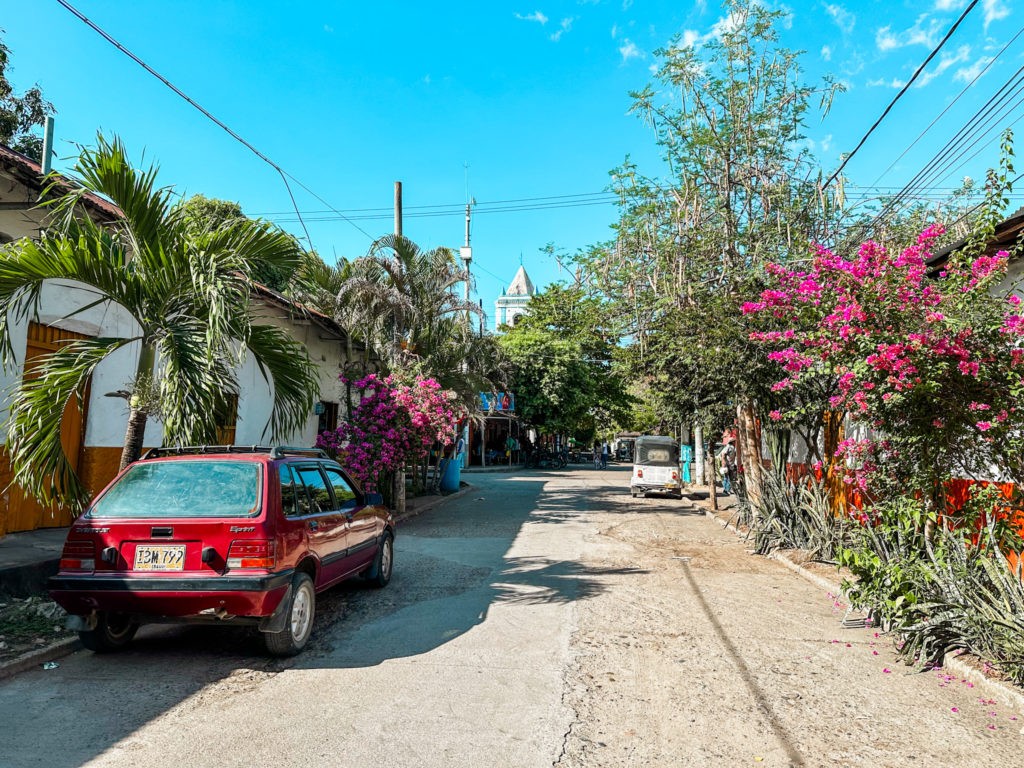 From Cali to the Tatacoa Desert
To reach the Tatacoa Desert from Cali you will first have to take a bus to Neiva. The bus ride takes about 8-10 hours and costs you 77,000-90,000 COP (20-23 USD). When in the Bus Terminal, look for counters of Coomotor or Bolivariano. As the connecting buses from Neiva will only operate until 7 p.m., it is probably best to take a night bus from Cali to not spend a night in Neiva. You can check the current timetables for Bolivariano and for Coomotor online.
Once in Neiva, you can purchase a ticket for a local mini-van to Villavieja at the transfer counters. The journey to Villavieja is priced at 10,000 COP (approx. 2.5 USD), and typically lasts around 1 hour. Tatacoa Desert, conveniently situated just 15 minutes from Villavieja, is easily accessible by tuk-tuk. The cost of a round trip on a tuk-tuk to Tatacoa Desert varies, ranging from 30,000 to 90,000 COP (8-23 USD) per person, depending on your specific travel plans.
Where to stay in the Tatacoa Desert?
There are three options to stay in and around the Tatacoa Desert. You can choose the best place to stay depending on your preferences and available budget. 
Tatacoa Desert: In case you would like to enjoy the peace and starry nights in the desert itself, there are options for you from basic tents to lodges for your stay. As said, this also means that you are more dependent on you accommodation
Villavieja: If you are on budget, staying in Villavieja could be the best option for you. There are several affordable hostels in there but also some more luxurious accommodations.
Neiva: Some people also stay at the nearby city Neiva which is about a 1,5-hour-ride away from Tatacoa. While there may be a wider offer of accommodations and restaurants in Neiva, we have also heard that it is not the safest town to stay.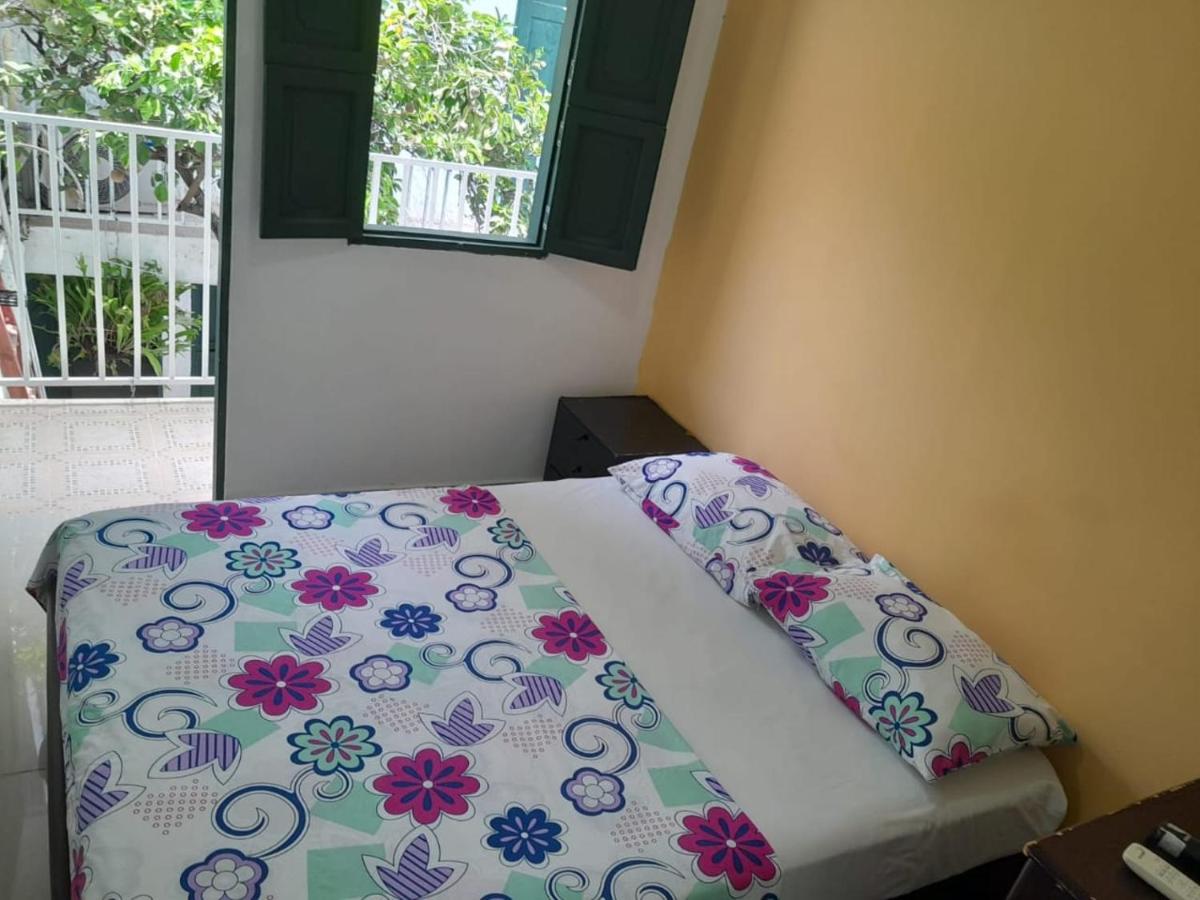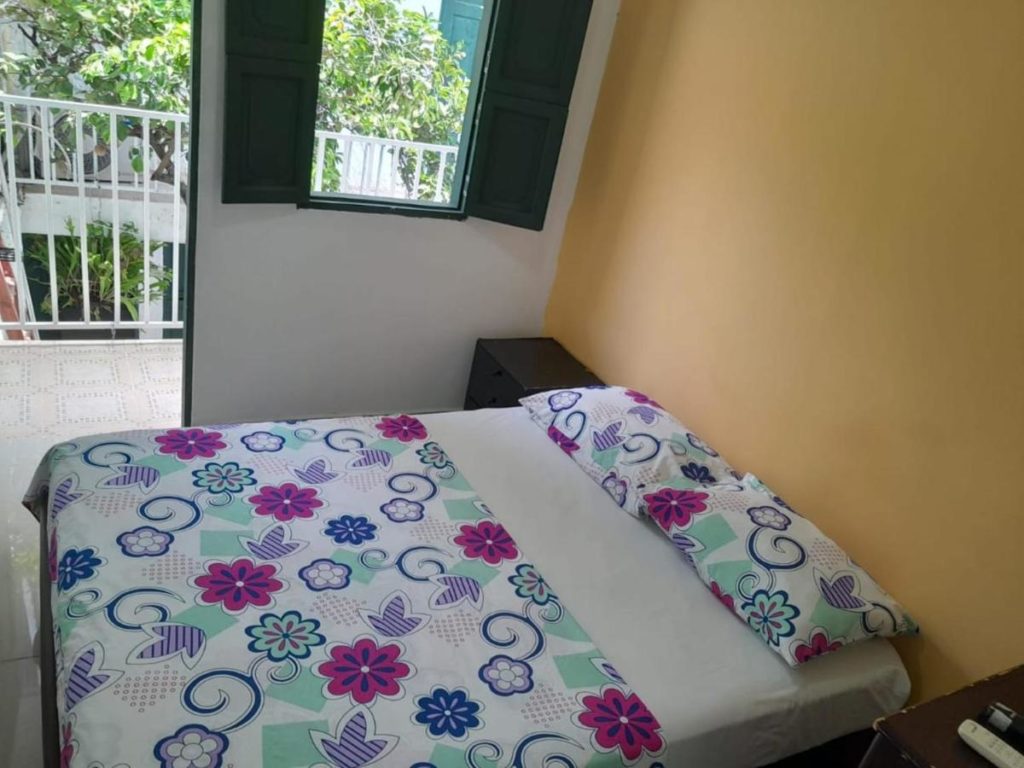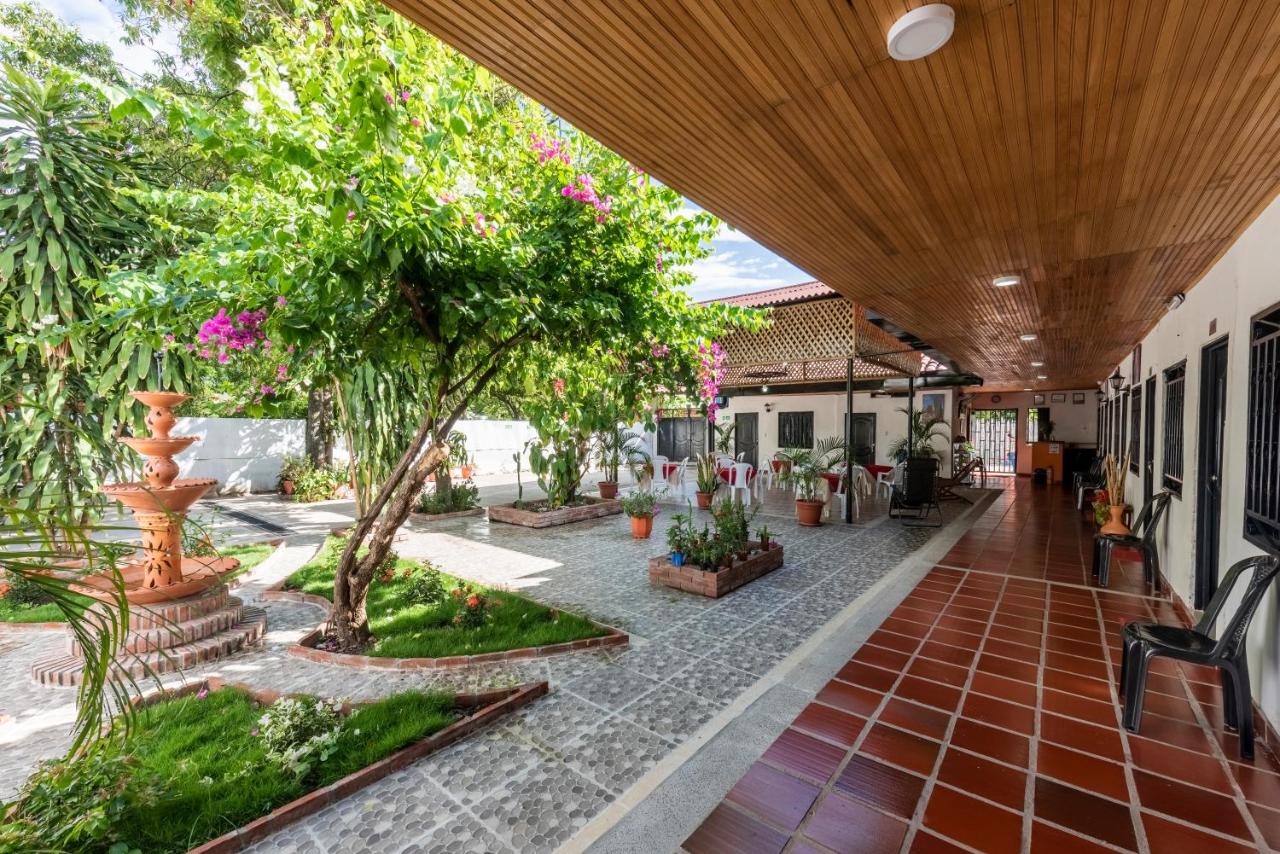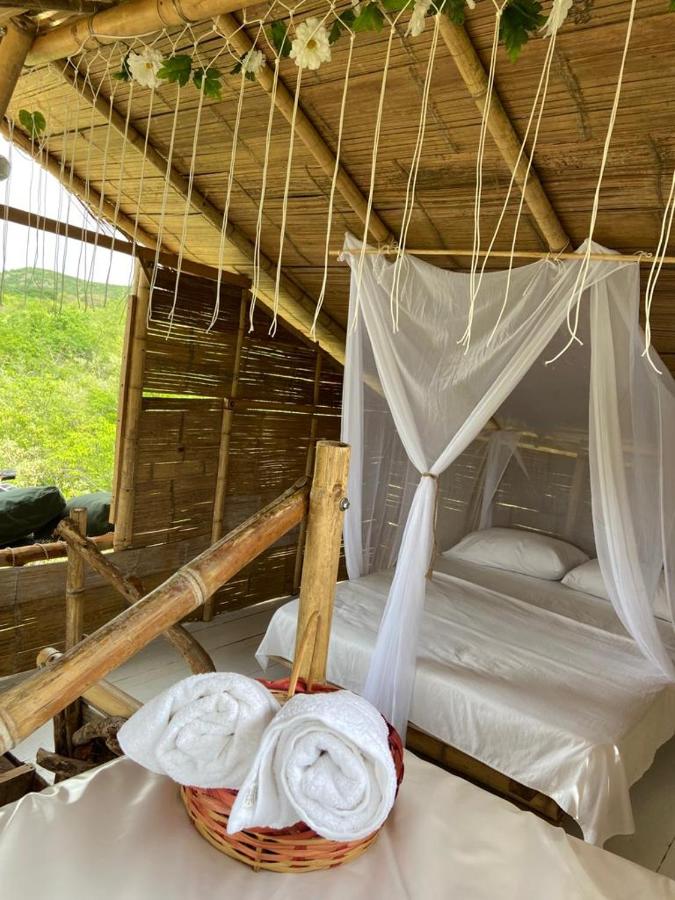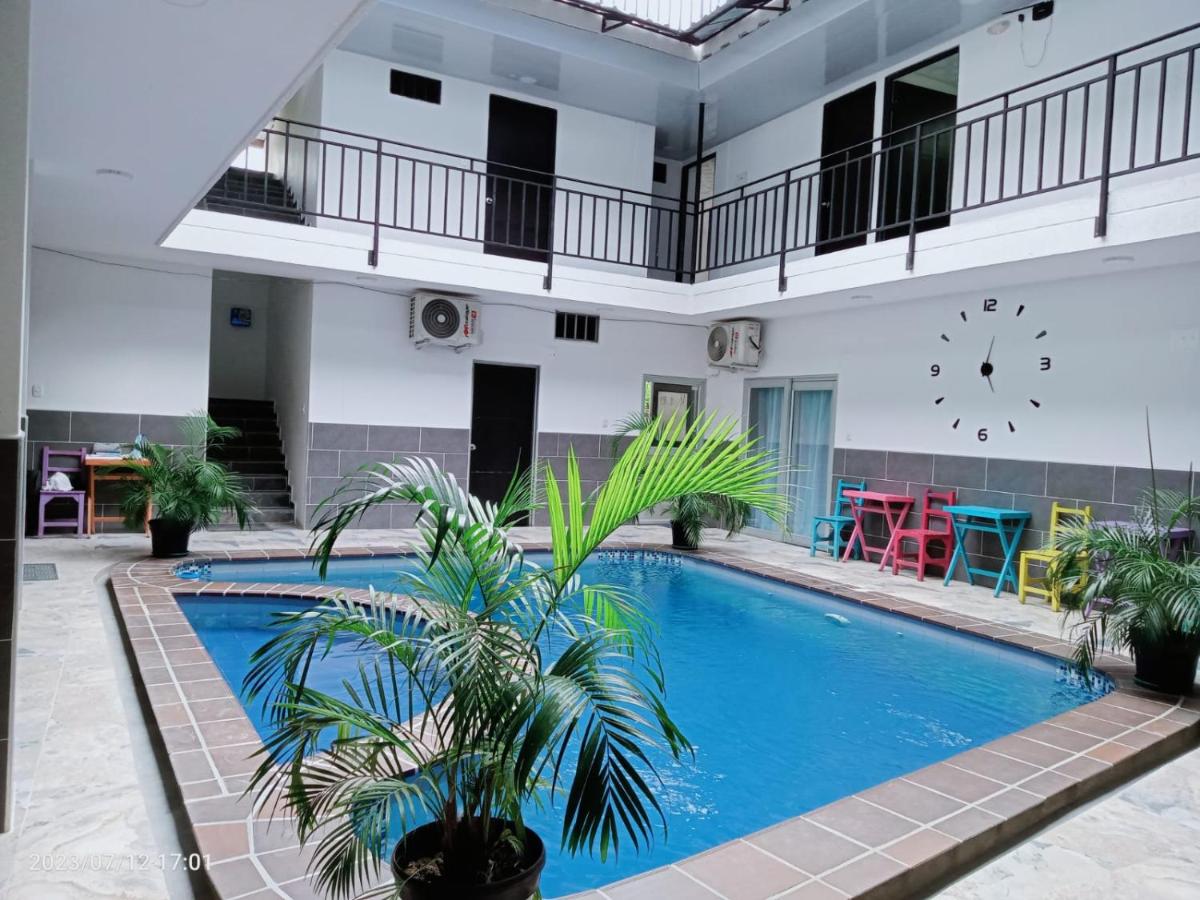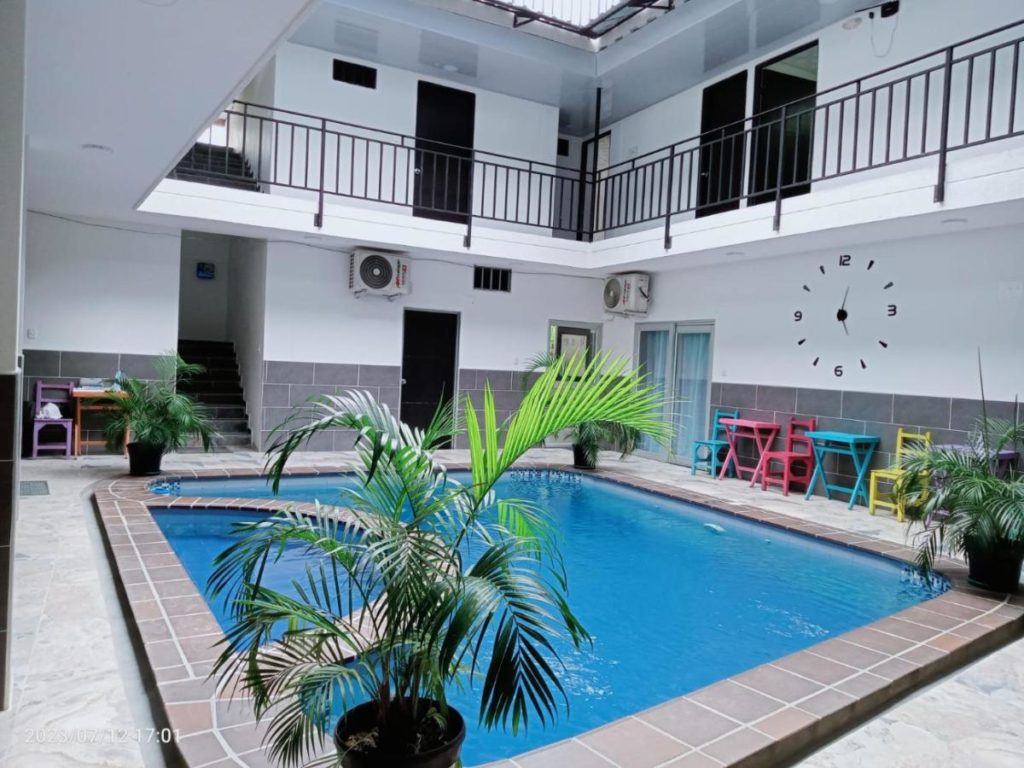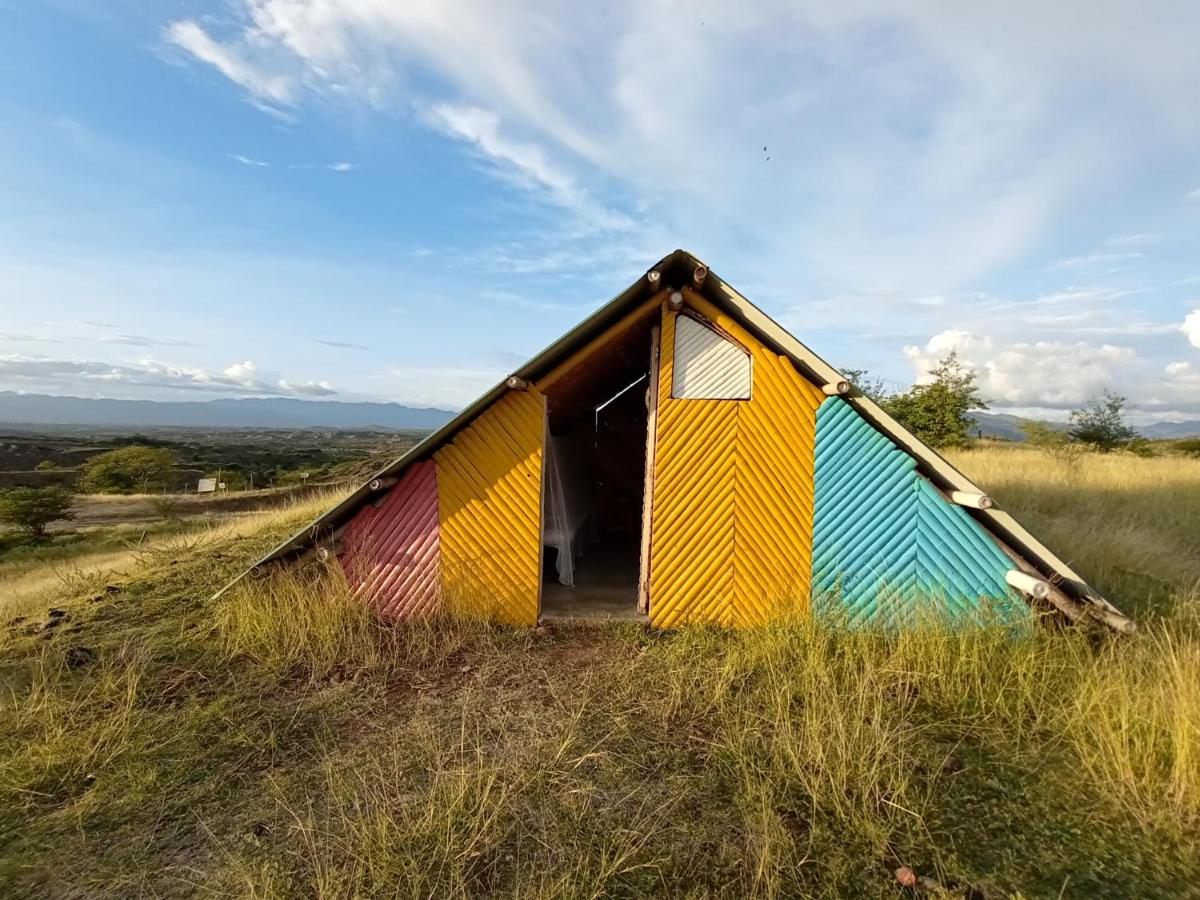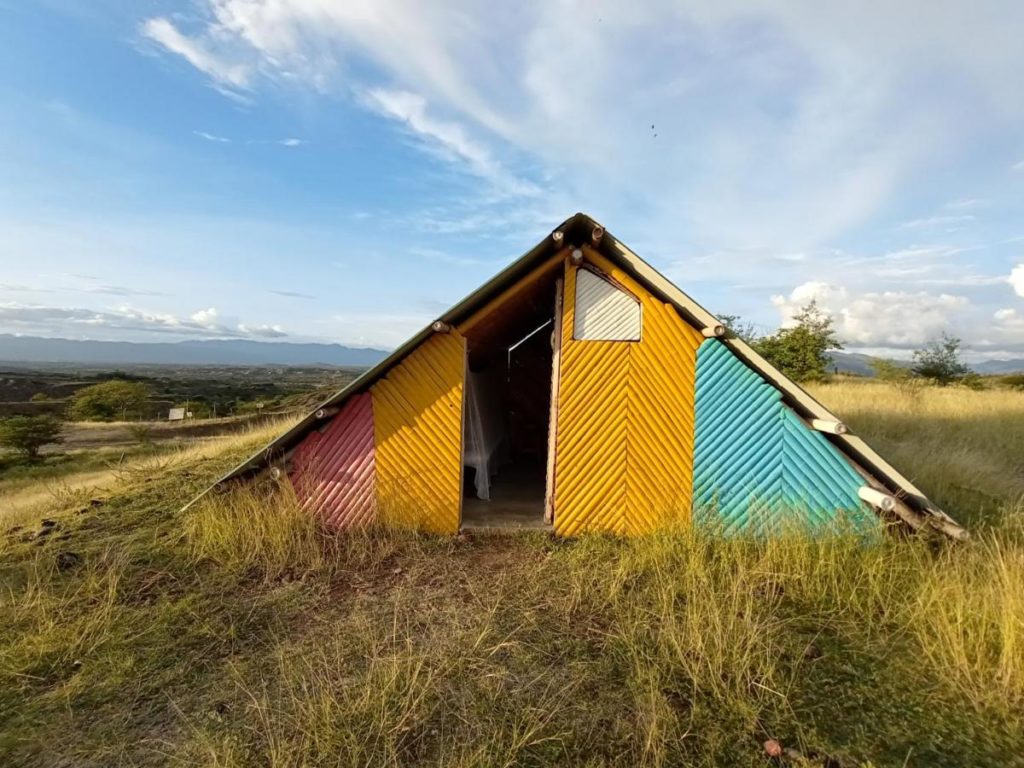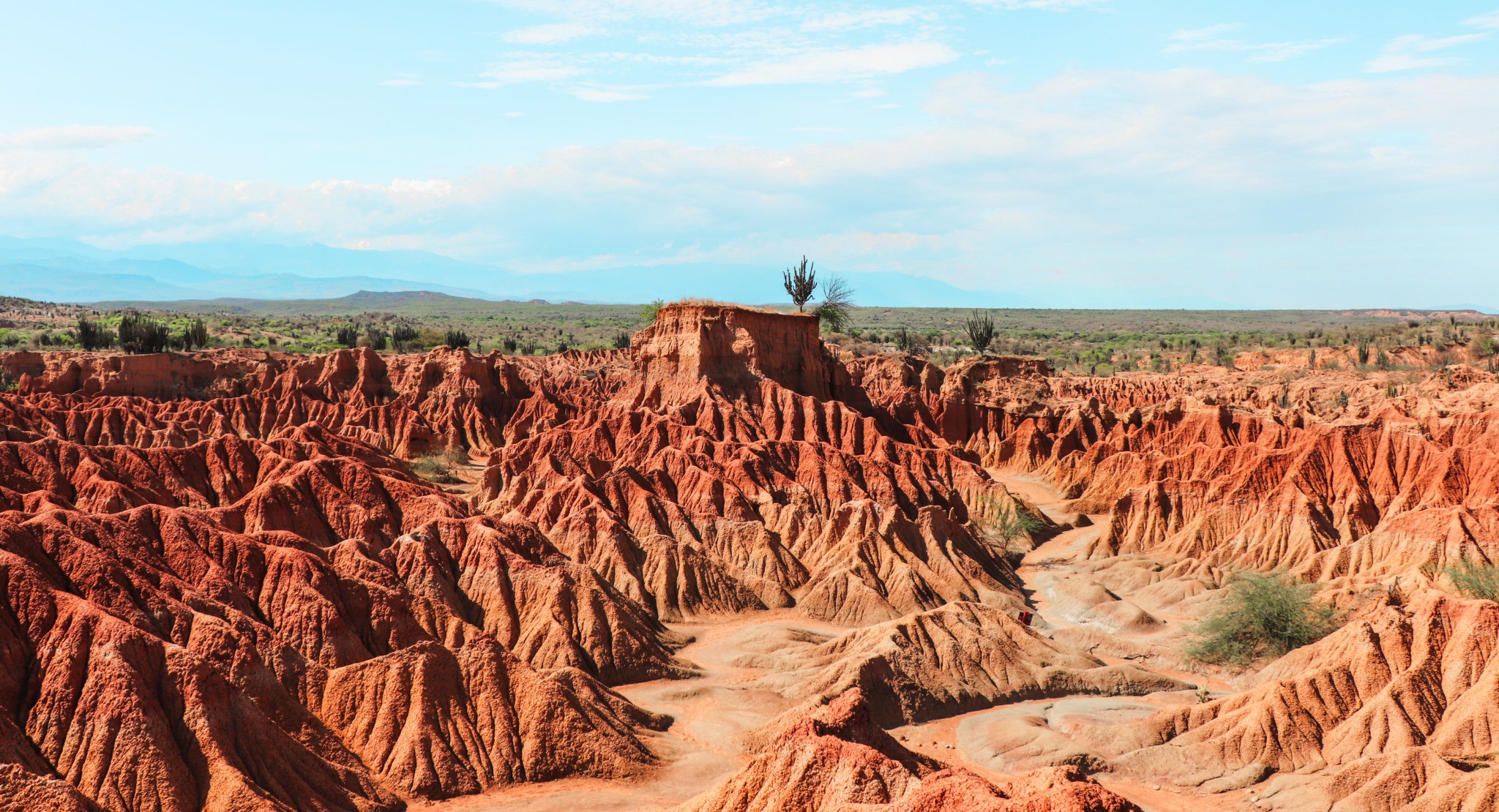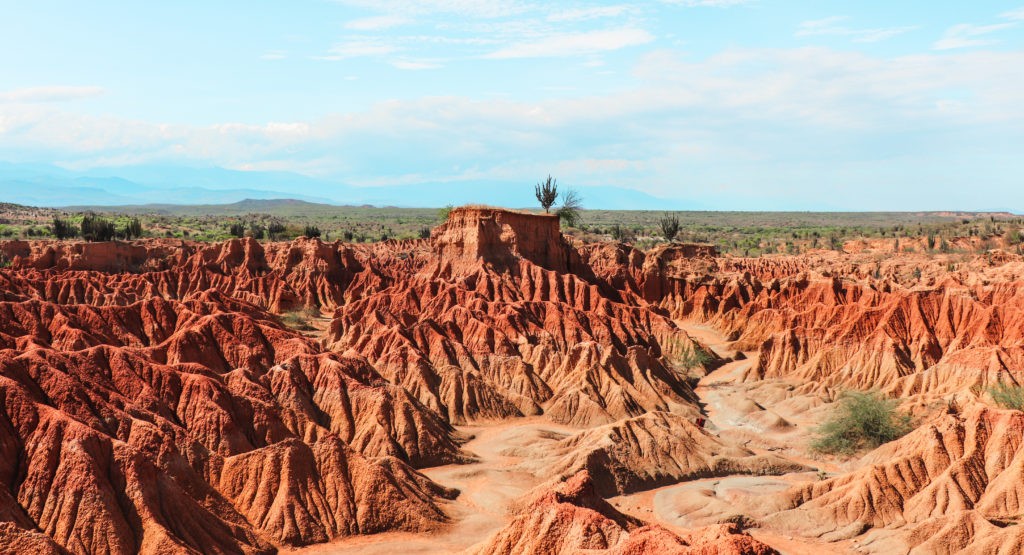 Where to eat in the Tatacoa Desert?
In case you are staying in Villavieja, there are several restaurants and cafes in the town to get some food. We really enjoyed the Restaurante Salsipuedes. Also we recommend to try out some local beer at La Planta Brew Pub Tatacoa. The beer with cocoa was really special. For some coffee and snacks you can go to Cafe Mael. As Villavieja is a really small town, the prices are fair (except for the water in the shops).
In case you have booked your accommodation in the Tatacoa Desert you are rather dependent on your hostel/hotel as depending on where you are staying there may not be many restaurants around. This can also mean that the accommodation is taking a use of the situation and charges higher prices for meals.
Consider trying a refreshing michelada, a drink made by mixing beer with lime juice. It's a great choice after a hot day, as it contains valuable minerals. It tastes a bit like Corona beer.
How to get around in the Tatacoa Desert?
Villavieja is a very small town, so you can easily walk to any destination within it. However, if you're planning to visit the Tatacoa Desert, you'll need to take a short 15-minute ride. There are several options available for visiting the Tatacoa Desert from Villavieja.
You'll find several tuk-tuk drivers waiting at the main plaza in Villavieja. You can arrange your trip to the Tatacoa Desert with them. The price will depend on your preferred route, whereas they have fixed prices based on destination. It's important to note that you will book the tuk-tuk for a round trip, meaning the driver will wait for you while you explore the desert. This is also why the prices are slightly higher than regular city tuk-tuk rides would be. 
Traveling to both the Red and Grey Deserts costs 60,000 COP per person (approx. 15 USD). This fee covers a 2-4 hour tour, during which the driver will take you to the viewpoints and wait for your return from the hike. If you'd like to include a visit to the Xilopalos trail, there is an additional charge of 30,000 COP (approx. 8 USD) per person.
We've also heard that there are tuk-tuk drivers in Villavieja who speak English and can provide you with a private guided tour. If you're interested in learning more about the area and its attractions, you can inquire about this option.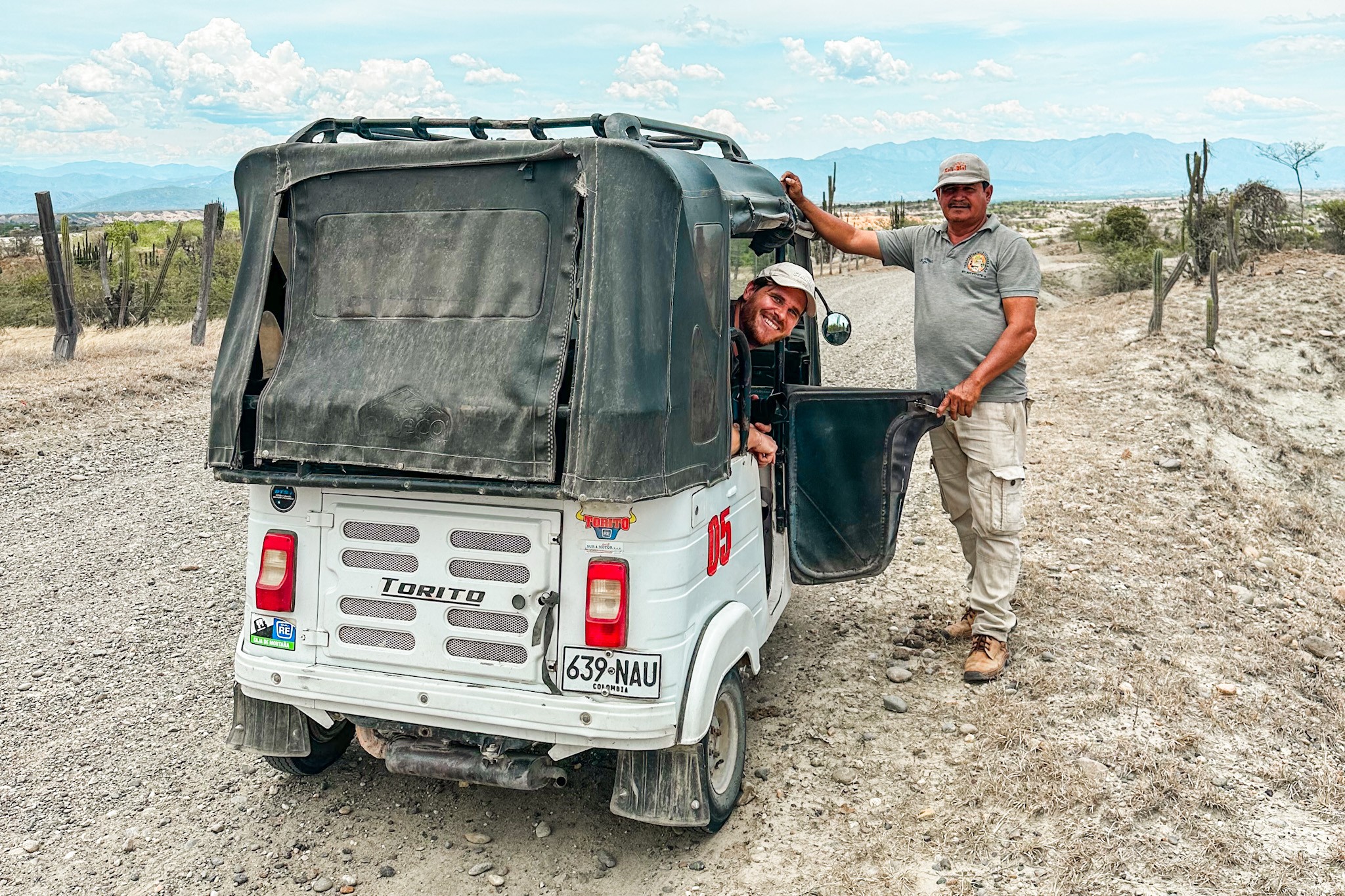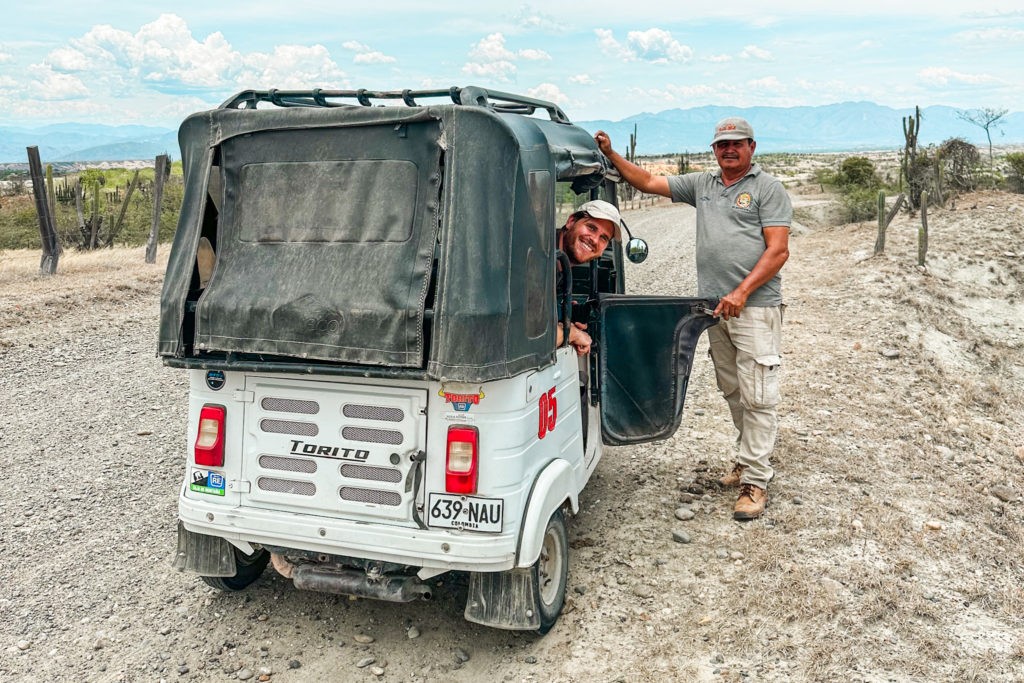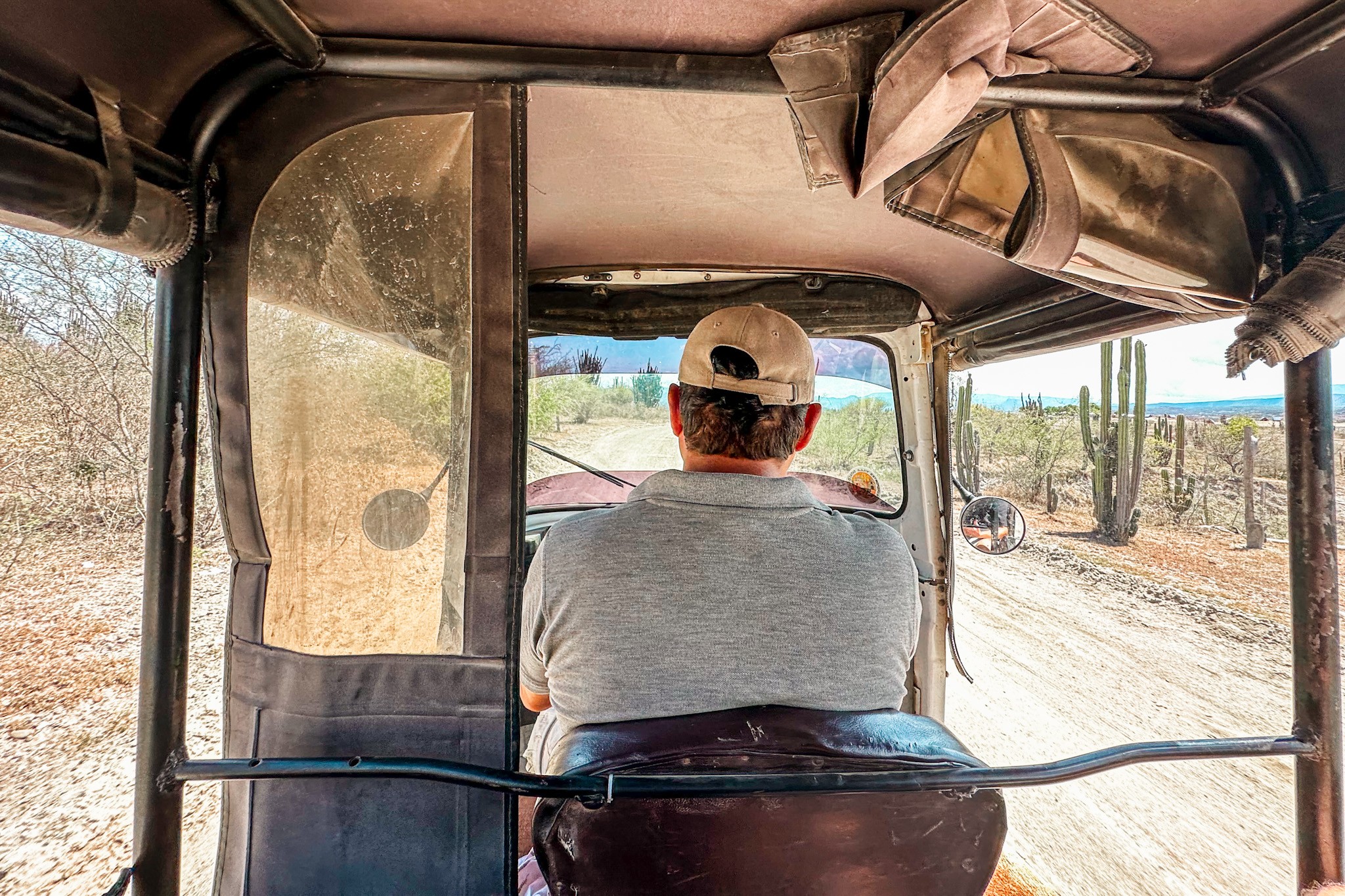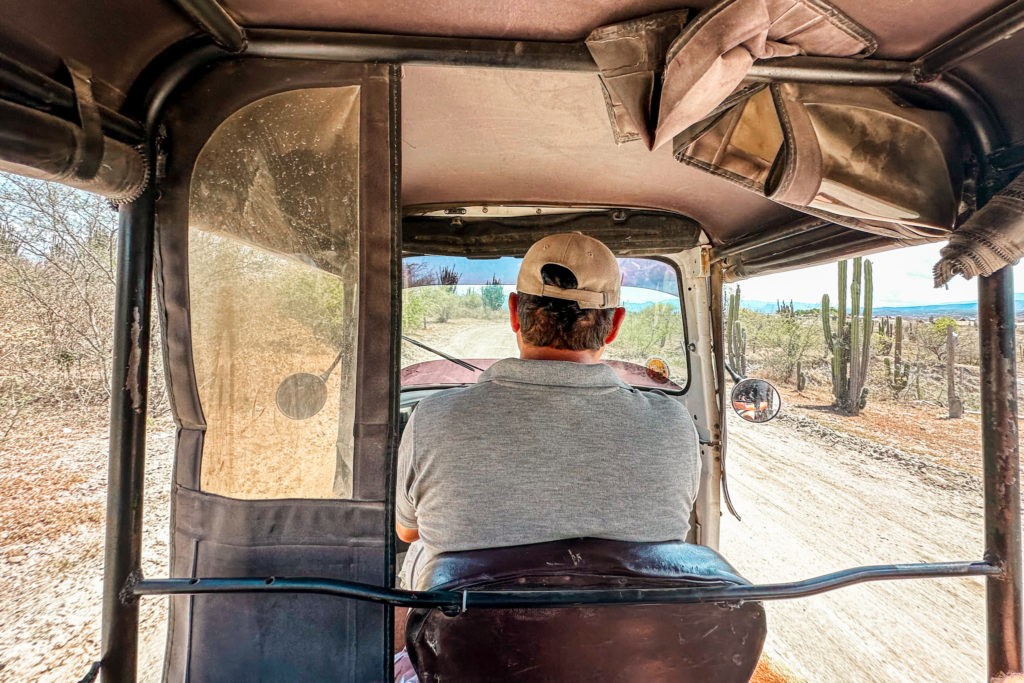 There are, of course, guided group and private tours available for visiting the Tatacoa Desert. You can book these tours either from Neiva or directly from Villavieja, depending on where you stay. The approximate cost of these tours is around 80-100 USD. These guided tours offer a convenient and organized way to experience the desert's wonders while also providing valuable insights into the area.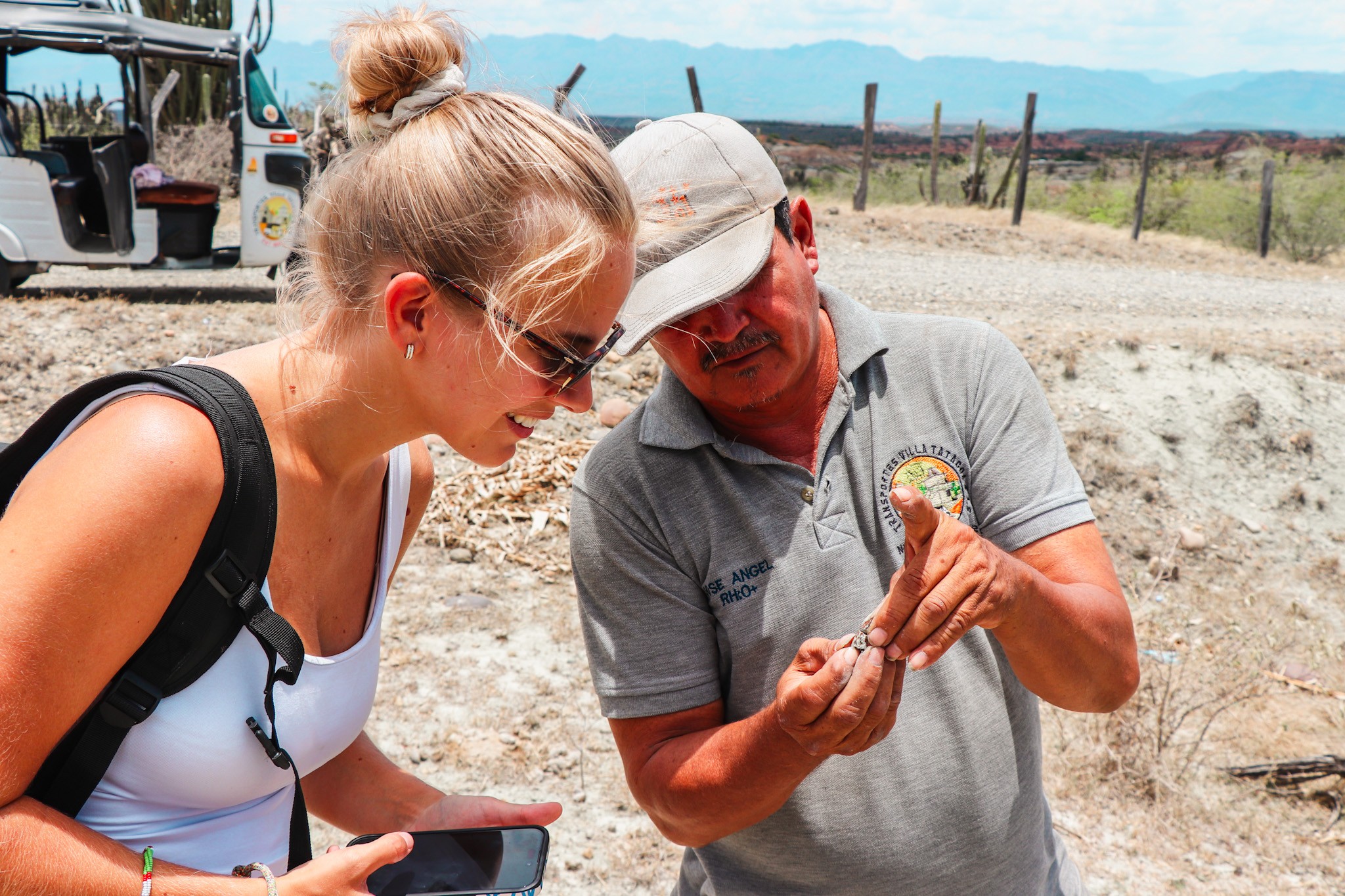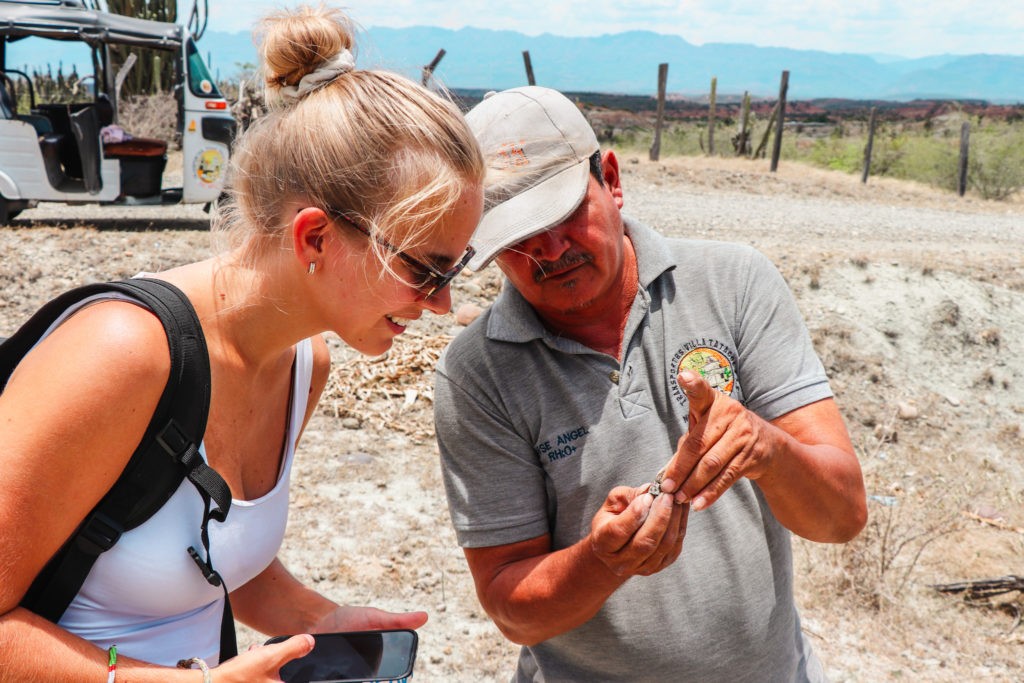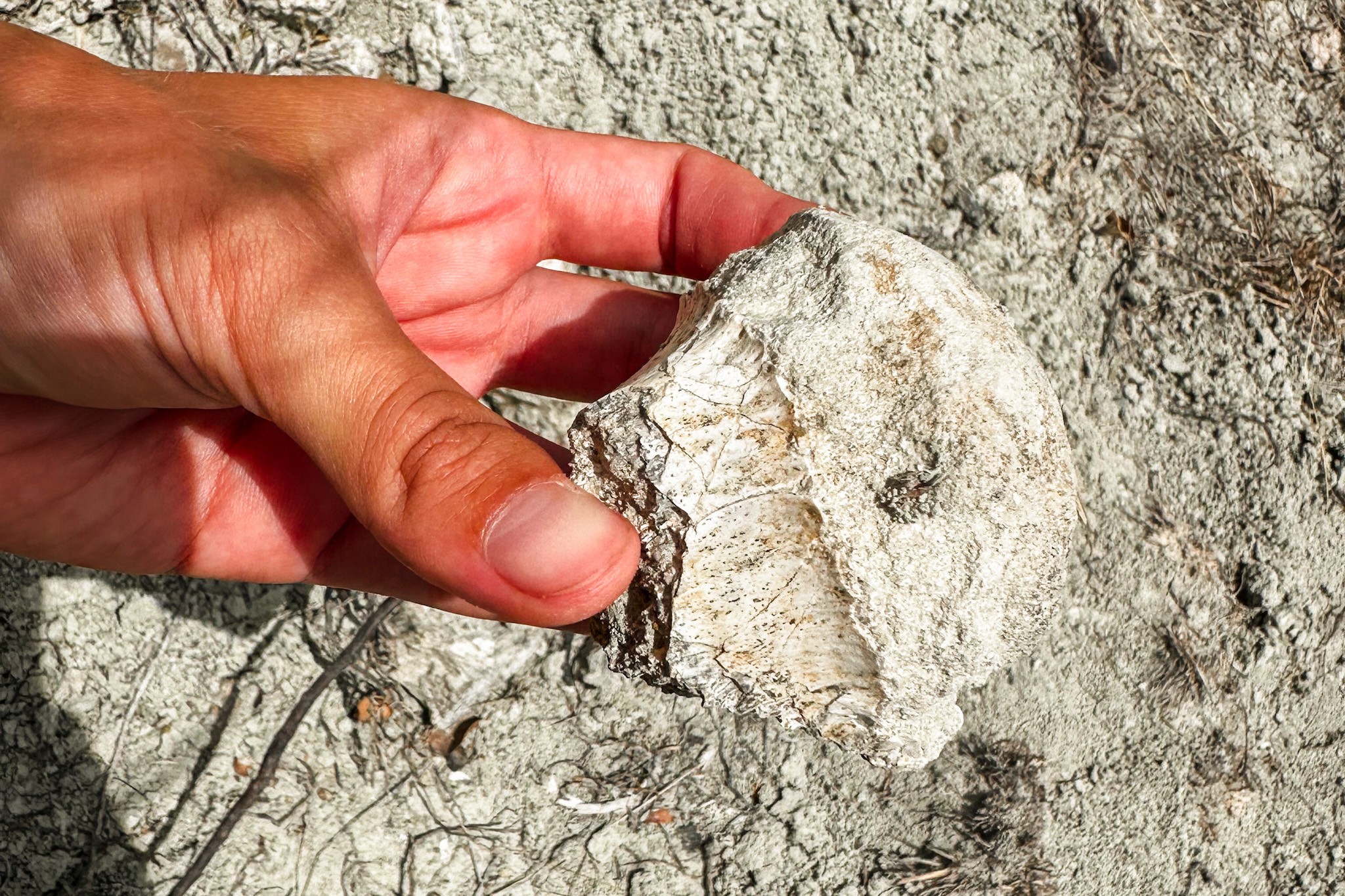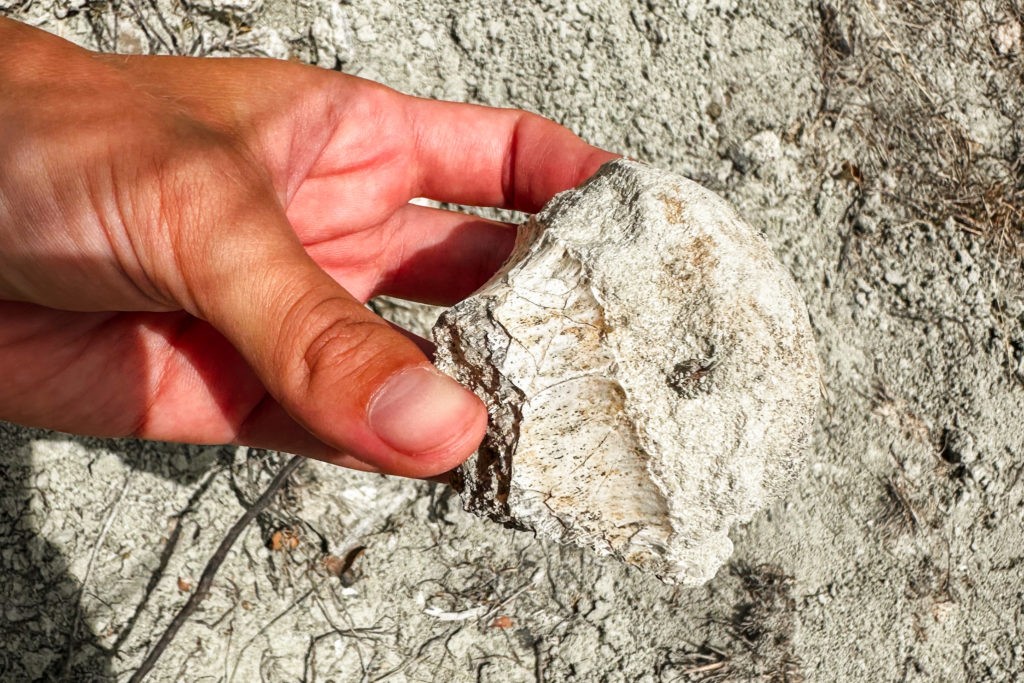 When is the best time to visit the Tatacoa Desert?
The best time to visit the Tatacoa Desert is during the dry season between December and March and during the wet season between June and August, when rainfalls are rare and skies are clear. As common for deserts, temperatures during the day can be extremely hot, while at nights it drops significantly. Expect temperatures around 33°C – 35°C (91°F – 95°F) during the day and 5°C – 15°C (41°F – 59°F) at night.
We visited the Tatacoa Desert in September and we were melting in the sun. Having that said, we've had a really good time while at the Tatacoa Desert. So, if you can cope with high temperatures it's definitely no issue traveling to Tatacoa all year round.
Average peak temperatures
What does it cost to visit the Tatacoa Desert?
Accommodation in Tatacoa Desert is very budget friendly and affordable. You can find cheap private rooms for as low as 15 USD and decent food for 5 USD a meal. However, there is not too much luxury in the desert. Most accommodations in Villavieja and the Tatacoa desert are tented camps or small huts with shared bathrooms. So, don't expect to lodge like a king.
Expect to pay around 200 USD a week if you travel budget up to a maximum of 1000 USD a week, if you are after every activity and the most luxury stays.
How many days to stay in the Tatacoa Desert?
We've been to the Tatacoa Desert for 3 nights and had 2 full-days to explore the area, which we would also recommend. Spend the first day to relax from your travel day to Tatacoa, explore Villavieja, have some good meals and go for some stargazing at night. On the second day, get up early to visit the Tatacoa Desert and spend your second night inside the desert.
While there are not a ton of things to do around the area of Tatacoa and Villavieja, we think it's a perfect adventure trip to some of the remote, yet safe areas of Colombia.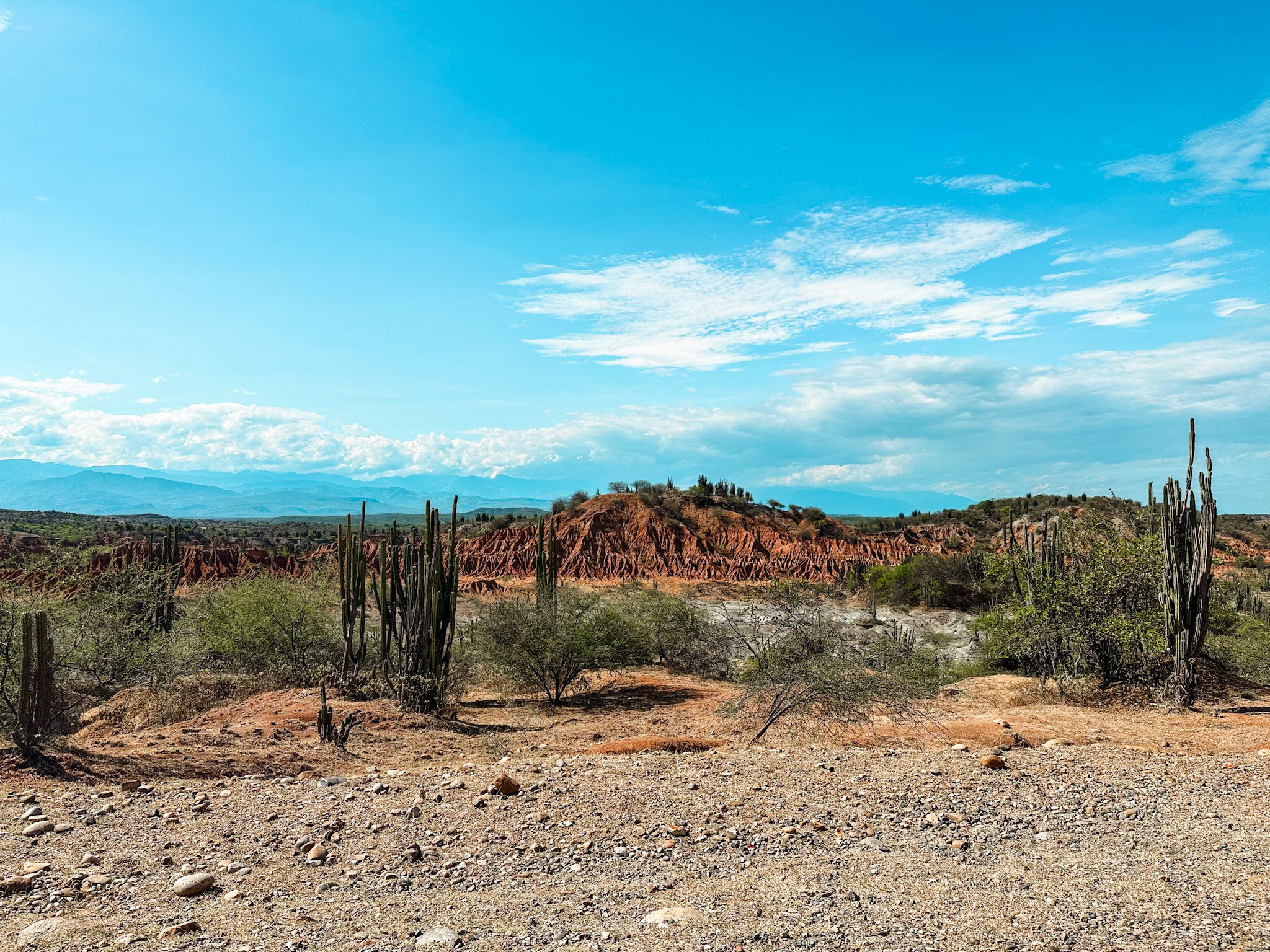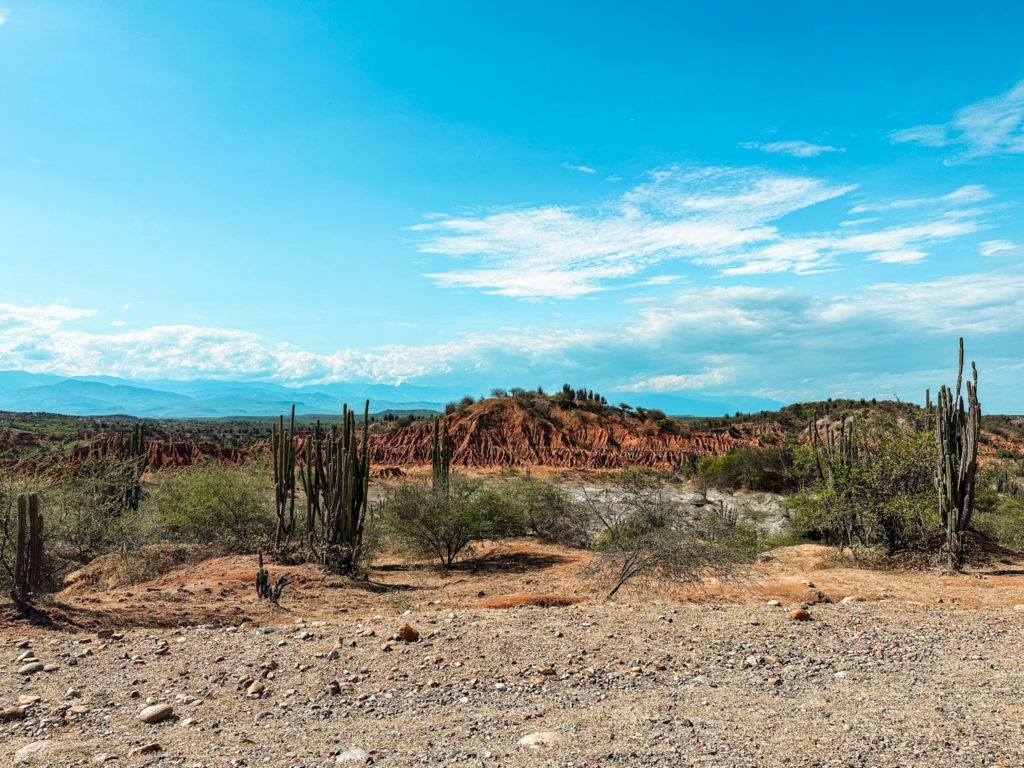 Is visiting the Tatacoa Desert worth it?
Yes, it is! Even though it's a little adventure to get there, we think that you will have a great time. There is no other desert in the country that is a beautiful as Tatacoa and it is still one of the best kept secrets of Colombia. It seems like the Tatacoa Desert has not yet been discovered too much by tourism.
During our stay in September we only saw a hand-full of foreign tourists. The locals are super friendly and not used too much to tourism yet, which makes the trip to the Tatacoa Desert an authentic experience. Moreover, Tatacoa Desert is not the typical desert you would expect, which makes it a unique landmark. We've had so much fun exploring El Cuzsco (Red Desert) and Los Hoyos (Grey Desert) and get lost in the maze of sand formations. And if you're lucky, you'll see crystal clear skies. So if a little adventure is something that you look for when traveling through Colombia, then the Tatacoa Desert won't disappoint.