Salento is like a small colorful jewel nestled in the heart of Colombia's coffee region. But enjoying a cup of Colombia's finest coffee is not the only thing to do in Salento. It is also your gateway to the hike in the stunning Cocora Valley, home to the iconic tall wax palm trees,  and you will for sure love wondering through its colorful streets in look for some souvenirs. Salento stole our hearts with its relaxed and positive vibes and it became one of our favorite cities in Colombia. Here is our guide about the best things to do in Salento to enjoy your visit to this small town as much as we did.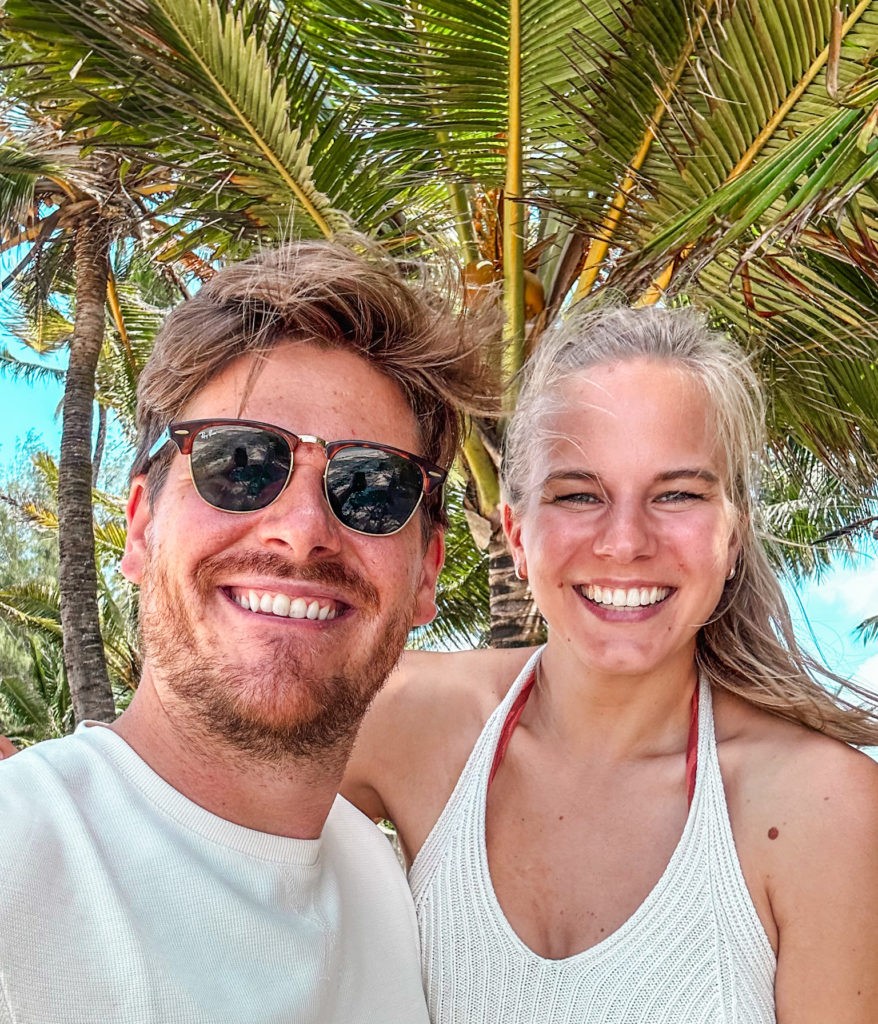 We hope you enjoy our travel stories, guides and tips! If so, please consider supporting our work.
7 Best Things To Do in Salento
Salento is a must-visit destination for those seeking a taste of Colombian authenticity and natural beauty. Compared to big cities like Bogota, Medellin, Cartagena or Santa Marta, this small town, although being touristy still, gives you a better understanding of people living in Colombia. We've spent almost a week in this beautiful town and collected for you the best things to do in Salento.
Save on Pinterest to read it later.
1. Marvel at the iconic Wax Palm Trees in Valle de Cocora
Yes, our number one of the best things to do in Salento is, in fact, not in Salento at all. Valle de Cocora has earned its fame for the tall wax palm trees that rise reach heights of up to 60 meters. Visiting Valle de Cocora is like stepping into a postcard. The lush green hills, crystal-clear streams, and the breathtaking views on the Andes Mountains make it a traveler's dream.
You can visit the Valle de Cocora easily by jumping on a Willy Jeep from the city centre at Plaza de Bolivar. The entrance to Valle de Cocora is free, but if you are up for some hiking trails you'll need to pay a small fee of 15.000 COP (approx. 3.50 USD) to the local farms as they are private property.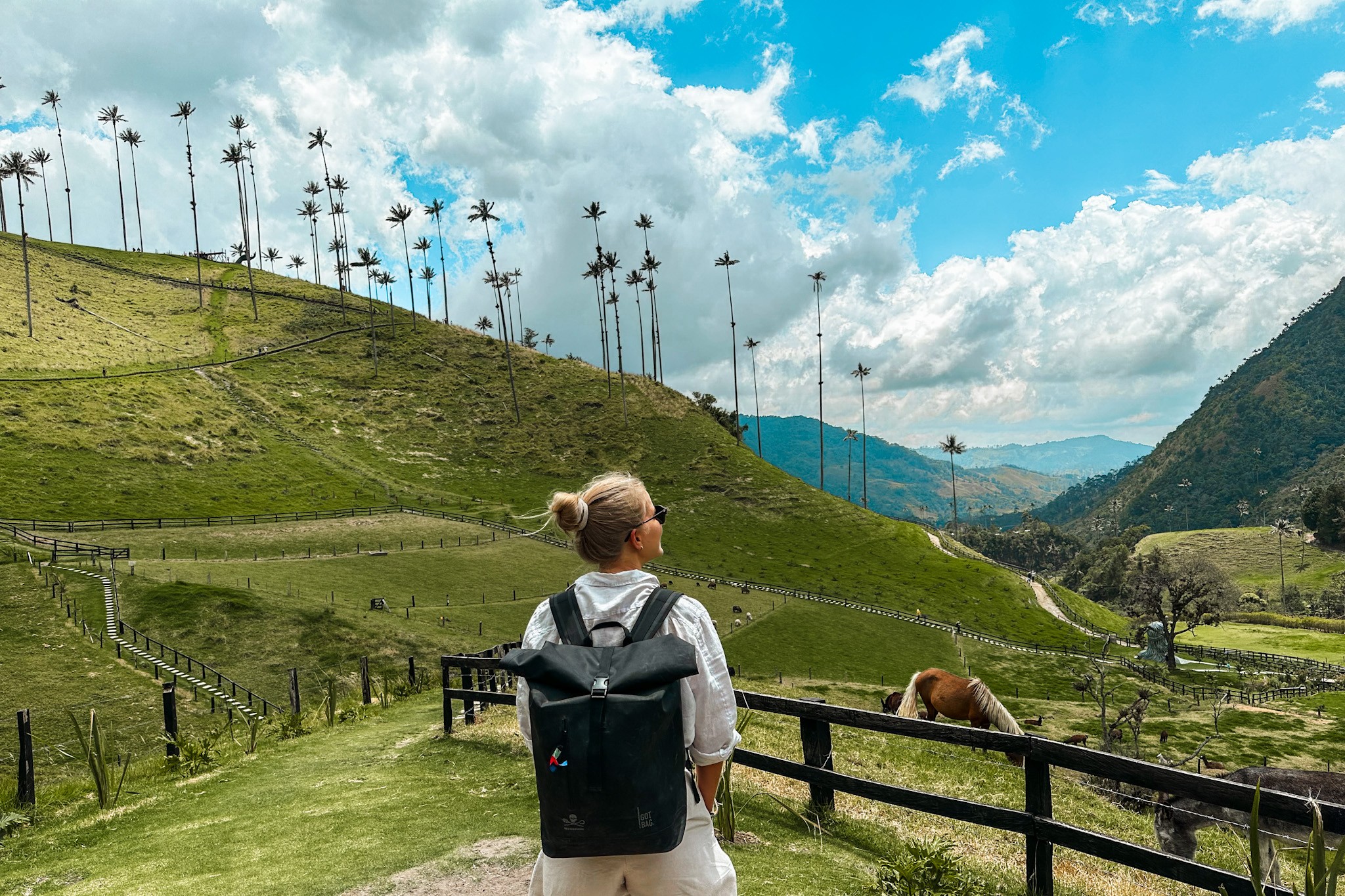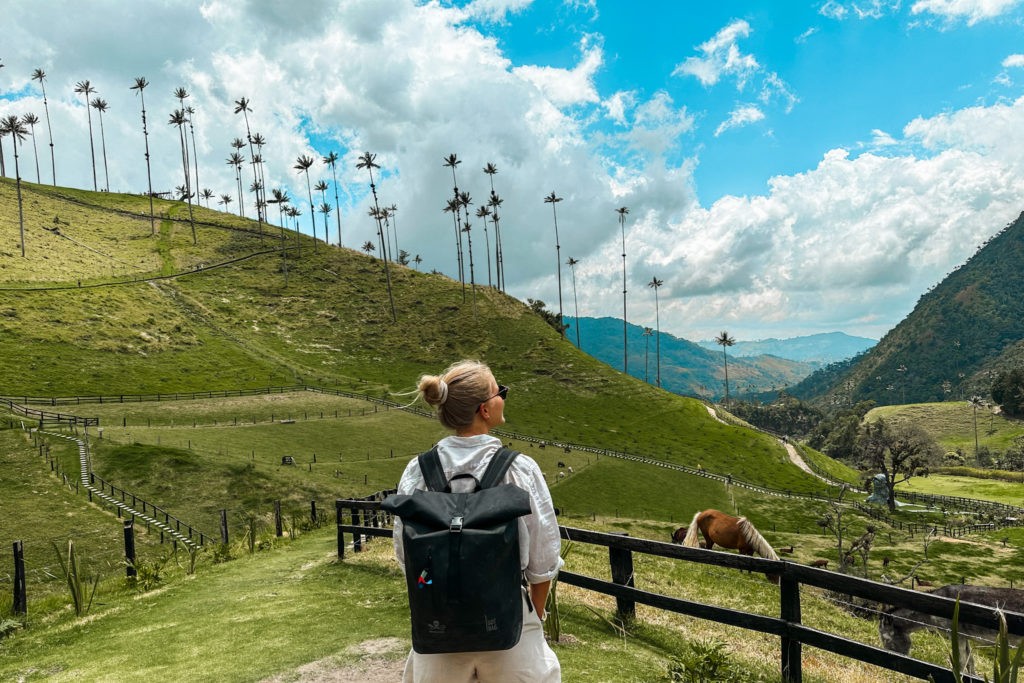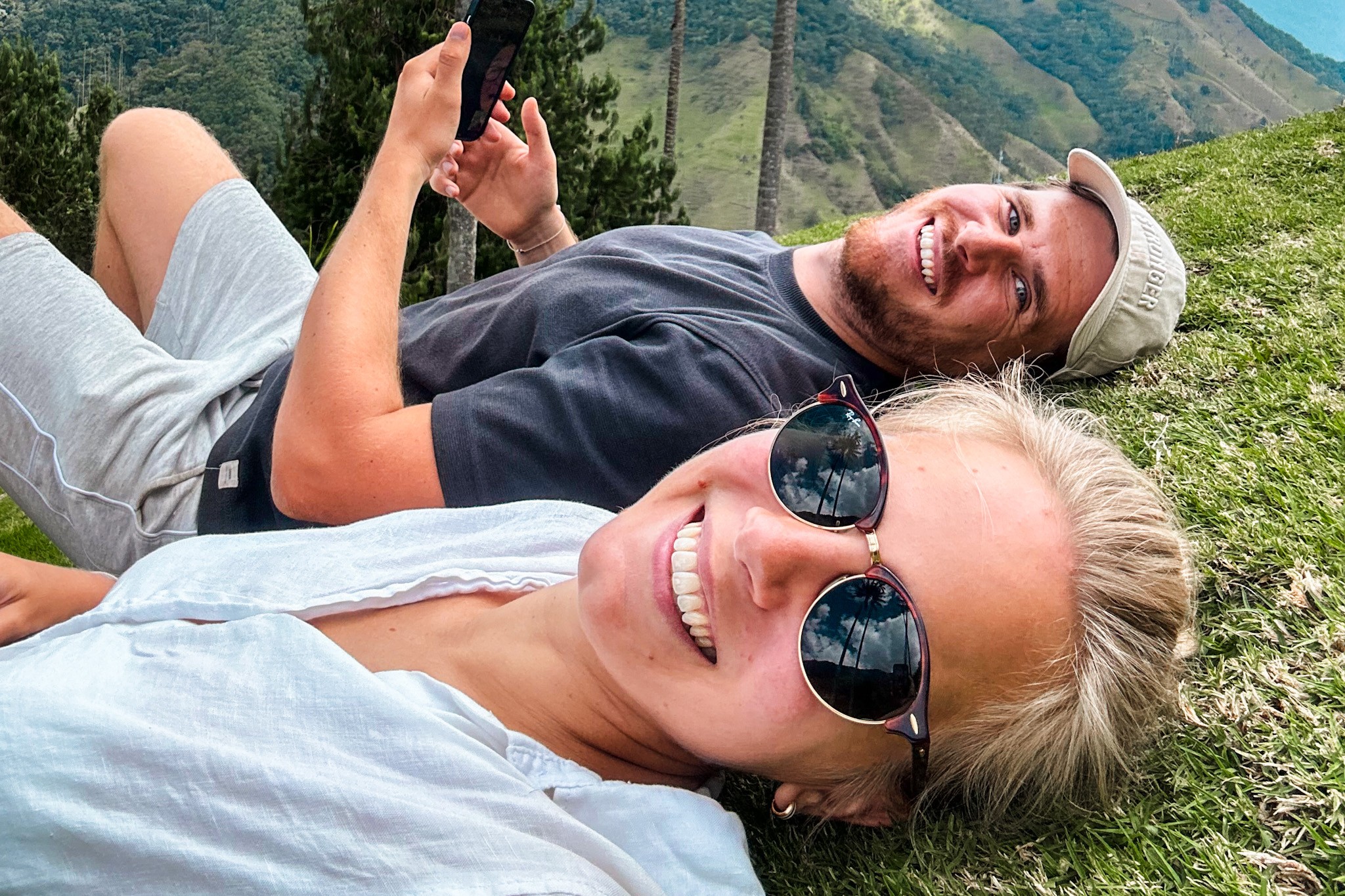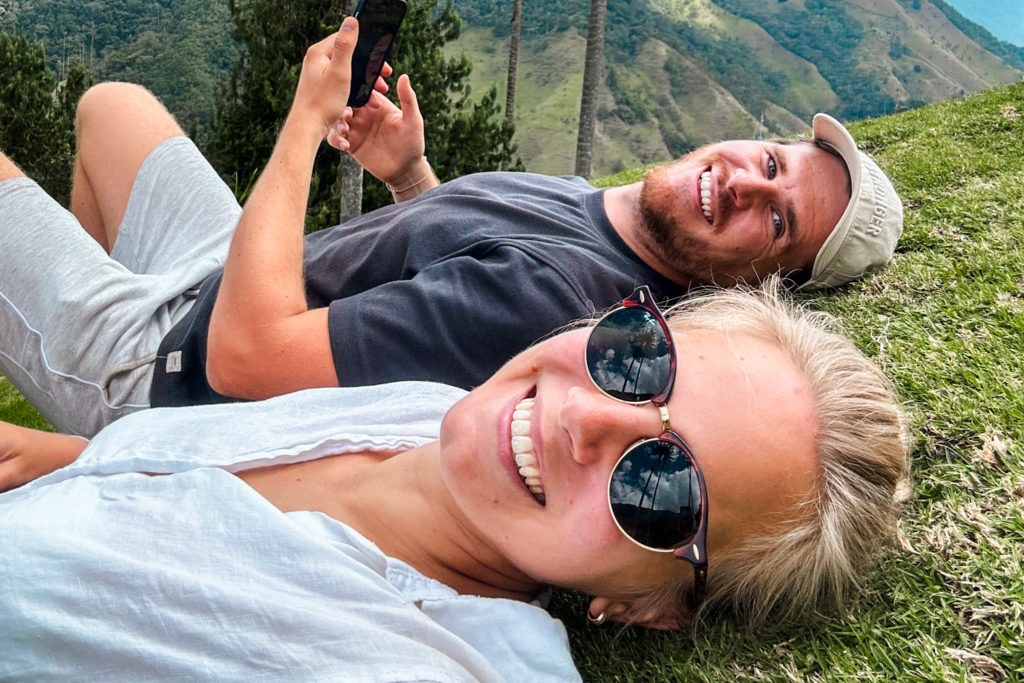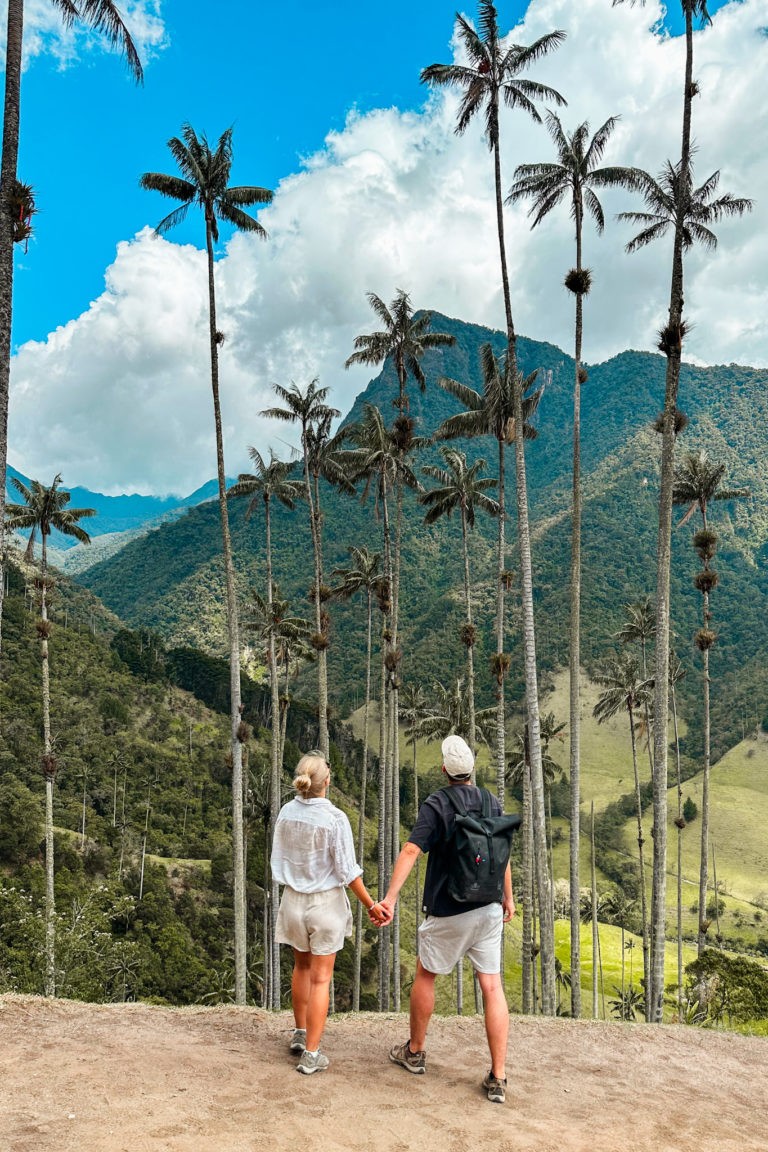 Salento is in the heart of Colombia's coffee region so, whether you are a coffee lover or not, visiting a coffee finca is a must for everyone in the town. It's a perfect way to learn about producing a good quality coffee. There are many fincas around Salento offering coffee tours with various lengths, focus and prices. Some are just around the corner, for others you have to take a Willy's to get there. Also, be aware that in case you do not speak Spanish, you choose finca offering tours in English. The most popular ones are Finca El Ocaso, Finca De Don Elias, Las Acacias, and Finca Momota.
Depending on which Finca you choose, the process to reserving a tour could be different. We decided to go to Finca El Ocaso. They offer shorter 1,5-hour-tours and longer ones lasting for 3 hours. We joined the shorter tour and bought our tickets at the booth on the Plaza Bolivar were all the Willy's stand. The tour itself costs 40,000 COP (approx. 10 USD) and transportation 3,500 COP for one way (approx. 0.90 USD). The tours in English start at 9 am, 11 am, 1 pm, 4 pm, but the Willy's leave 30 minutes before. So we recommend to be at Plaza Bolivar about 45 min before the tour starts to buy your tickets.
During the tour are guided through the coffee plantations, being able to pick some coffee beans yourself, you learn how the beans are dried, roasted and grinded, as well as, how the end result depends on your way of making coffee. The tour is ended with a small coffee tasting. Be aware that they are preparing the coffee as the Colombians like to drink it. It means the coffee is very light and acidic in taste. Unfortunately, we did not find it to be so enjoyable as we rather prefer strong coffee (as we also heard others saying). Still, it was a nice experience. And you will get some strong coffee in the cafes in Salento, so you won't leave disappointed.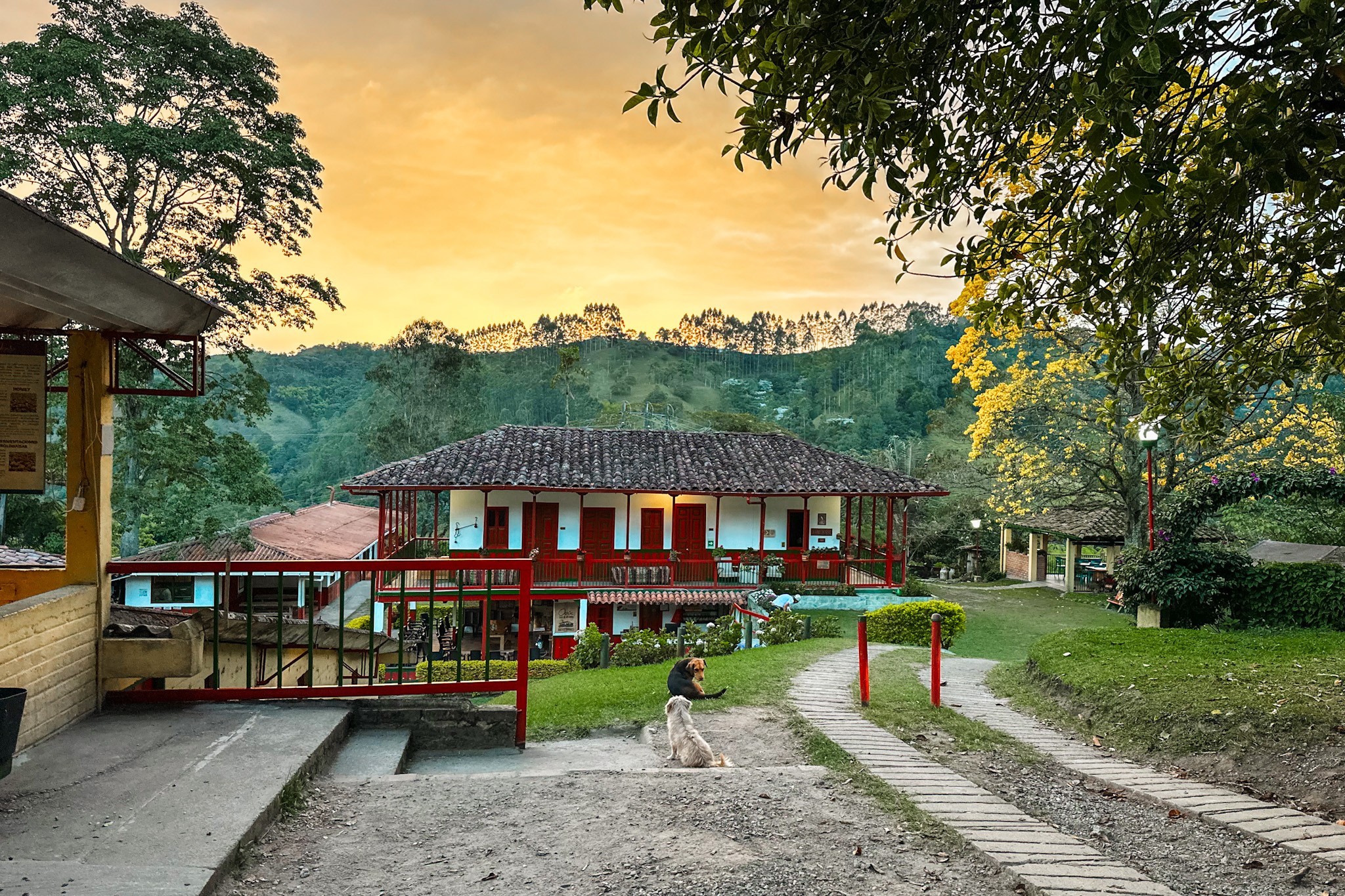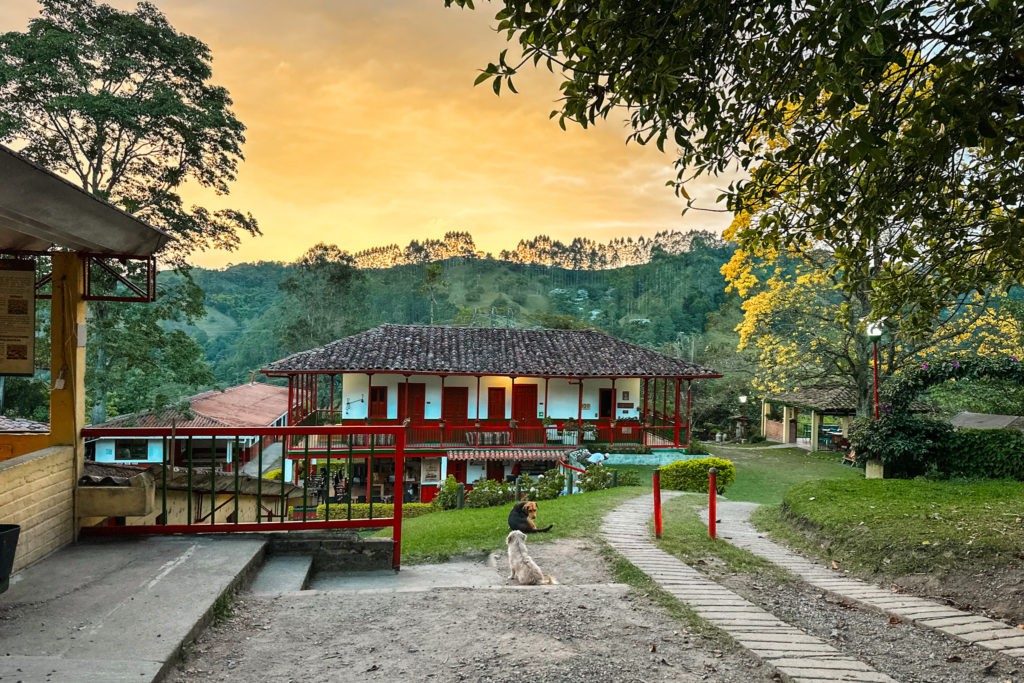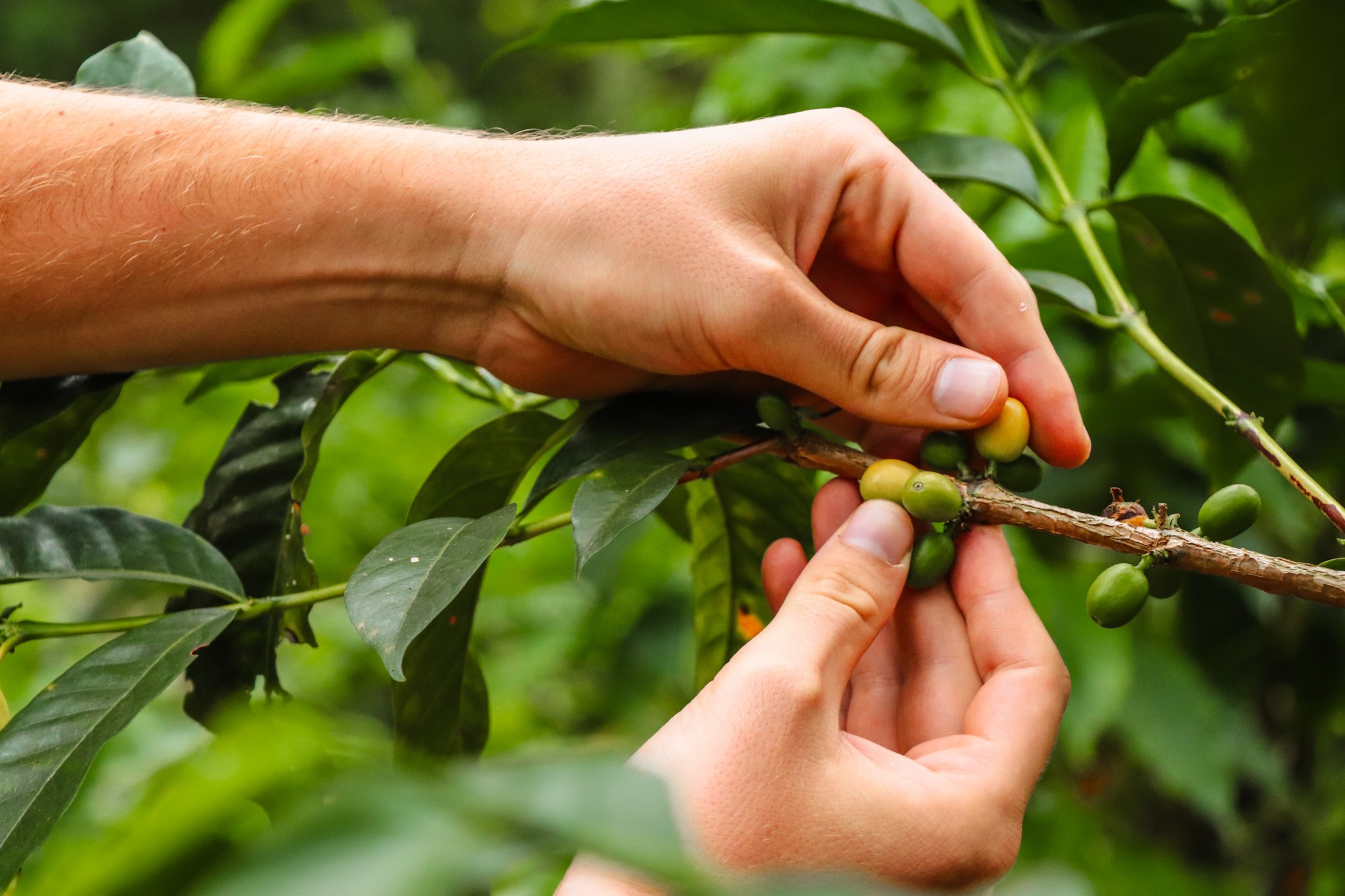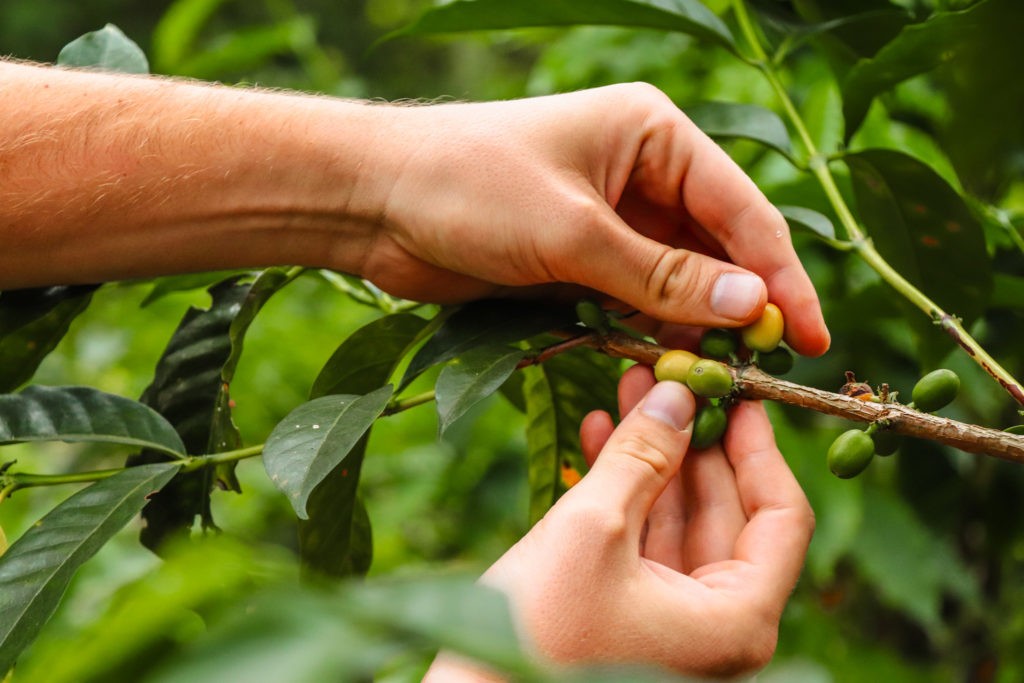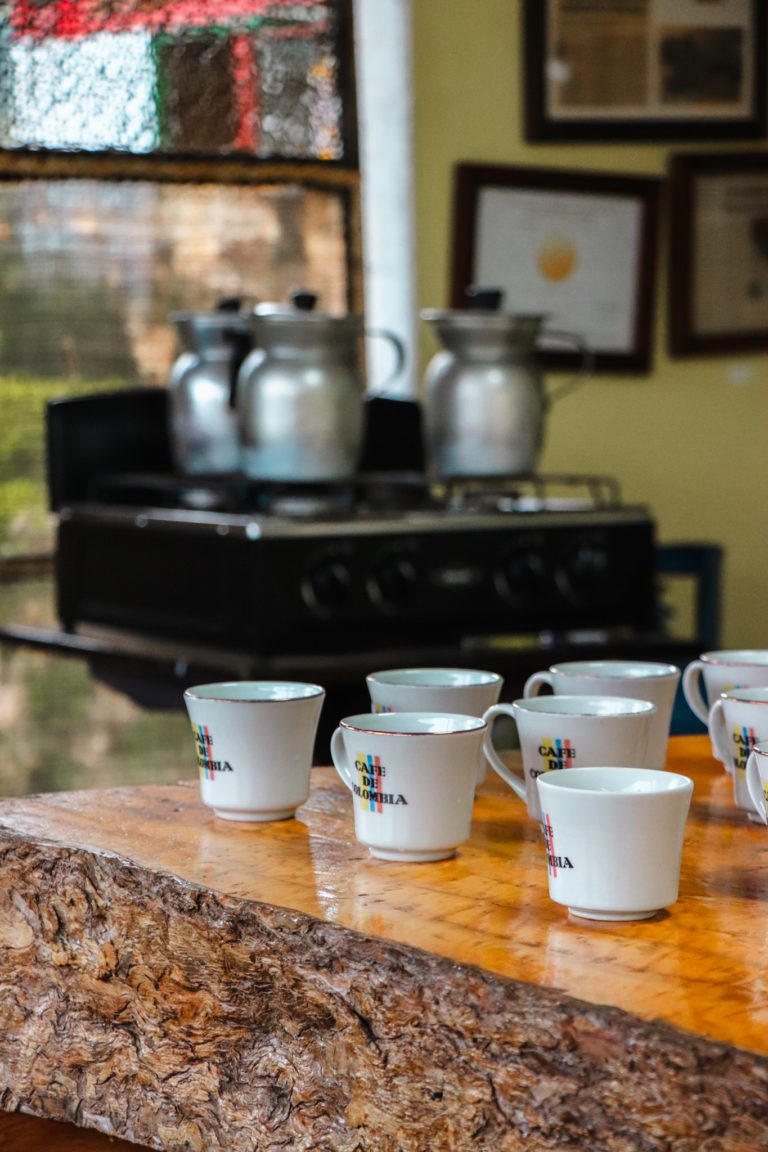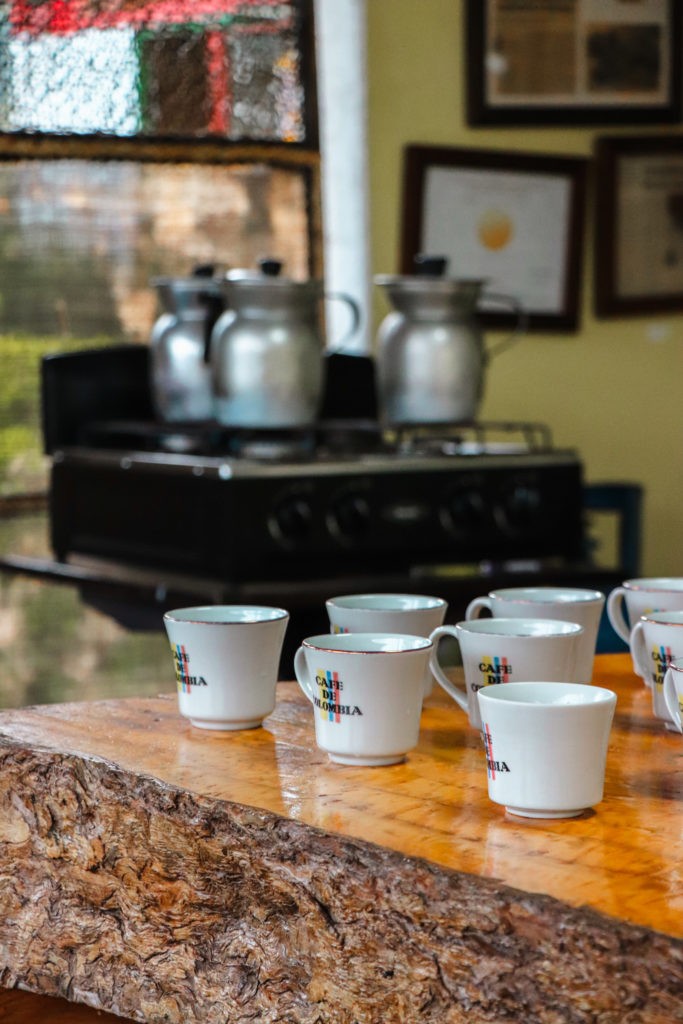 3. Enjoy a cup of the best Colombian coffee
When you sip a cup of coffee in Salento, you're in for a real treat! In fact, coffee was one of the things we were most excited about in Colombia, after our round trip in Kenya. Colombian coffee is famous for its delicious taste, and there are some good reasons for that. You see, Salento is in the perfect place for growing coffee. The soil is just right, the weather is lovely, and they grow a special kind of coffee called Arabica, which is known for being super tasty.
And here's the best part – when you sip that cup of coffee in Salento, you're not just tasting a drink; you're tasting Colombia's history, culture, and the love that goes into making each cup. So, don't miss the chance to savor the rich flavors and smells of Colombian coffee when you're in Salento – it's like a little piece of Colombian magic in your cup!
There are a lot of places in Salento to have a coffee and more often than not you will get a decent coffee. If you would ask us for a recommendation, we would definitely tell you to visit Cafe Jesus Martin next to Carrera 6a. We've been there several times and also had breakfast there. It was so tasty!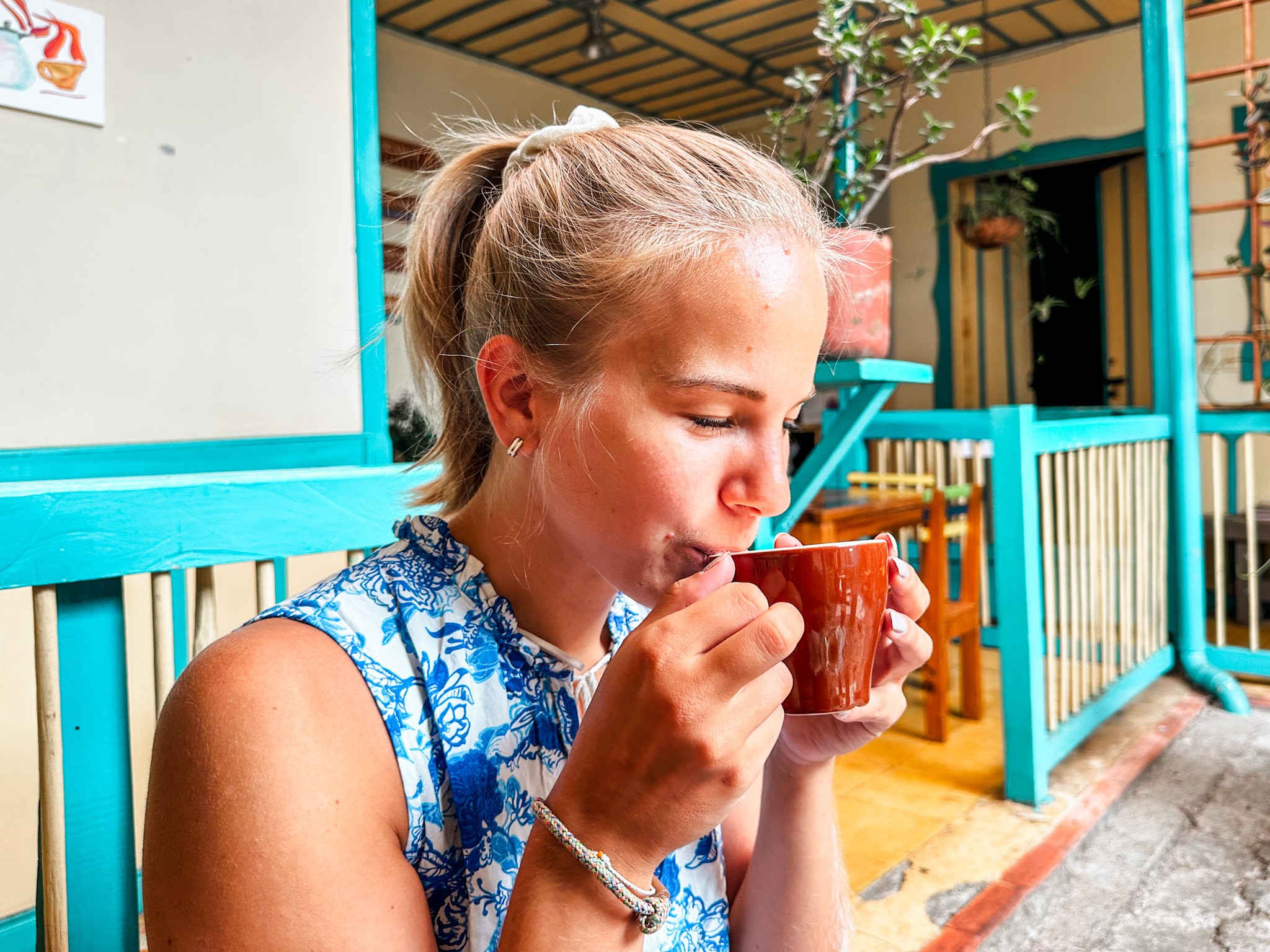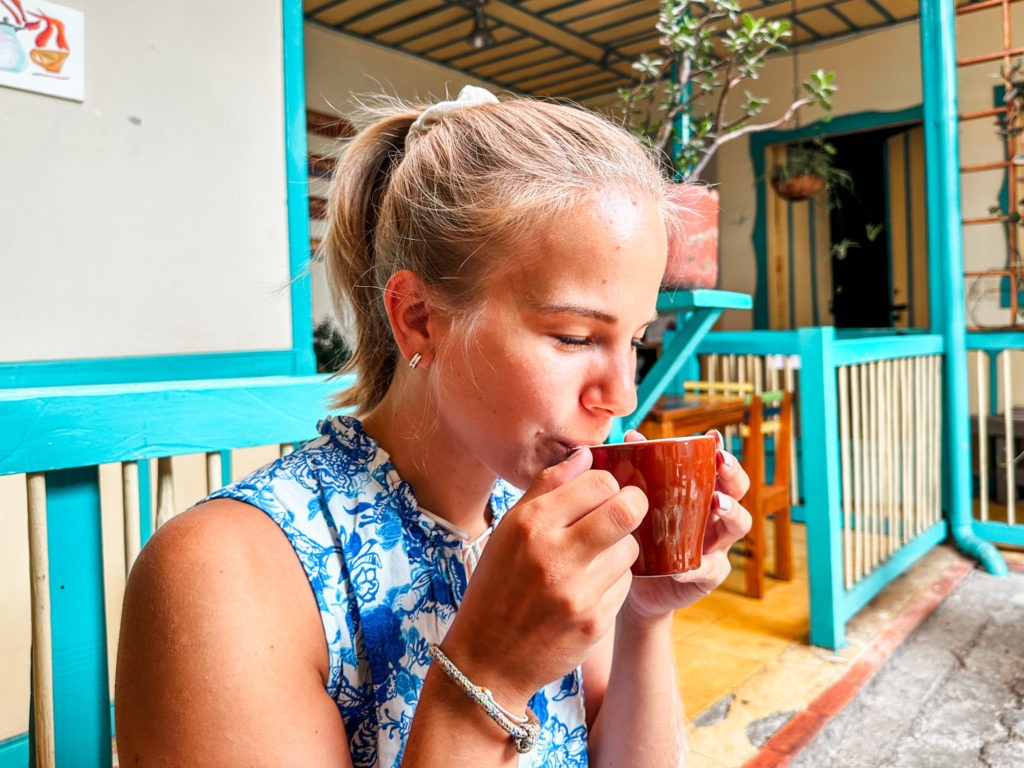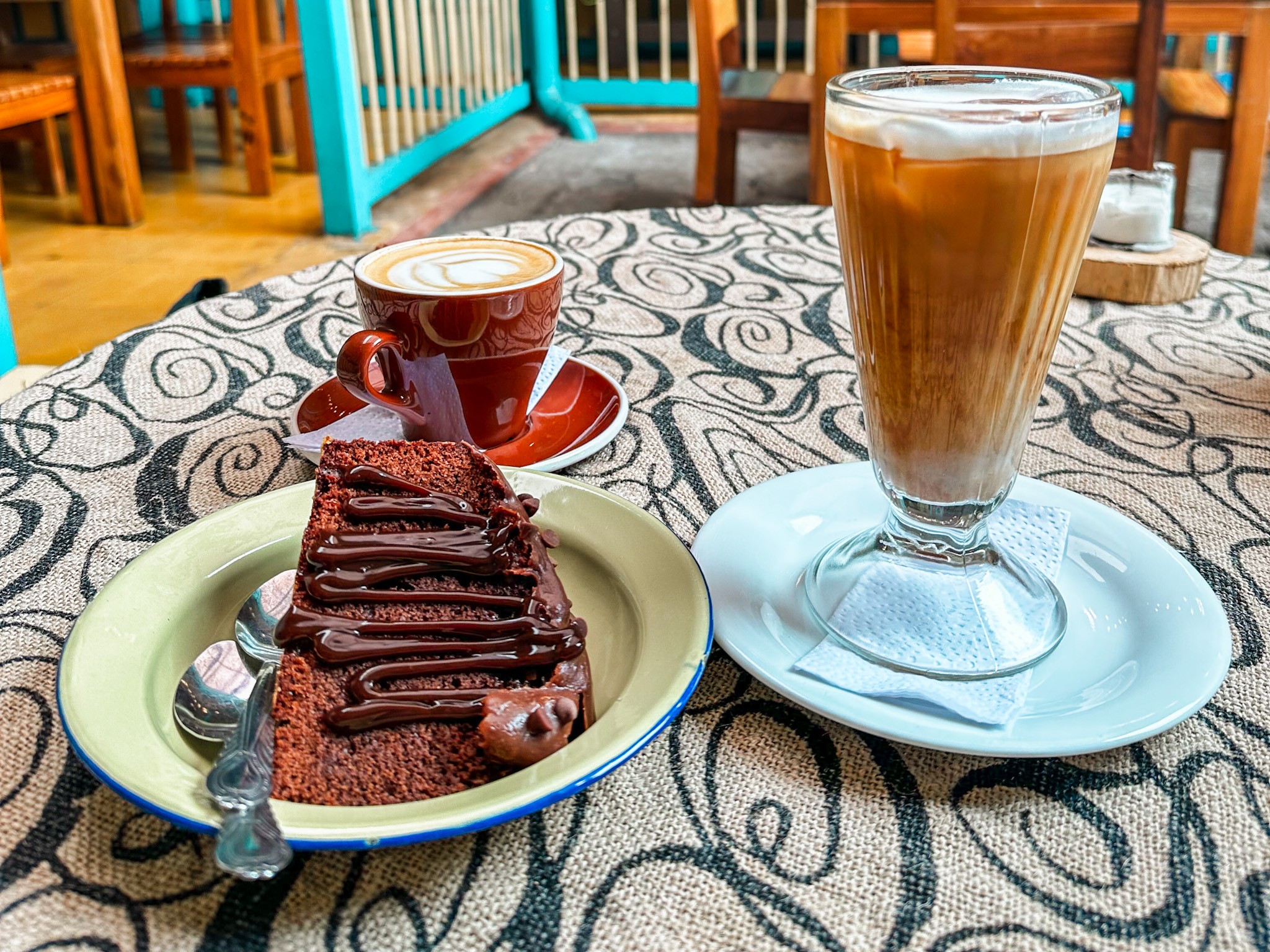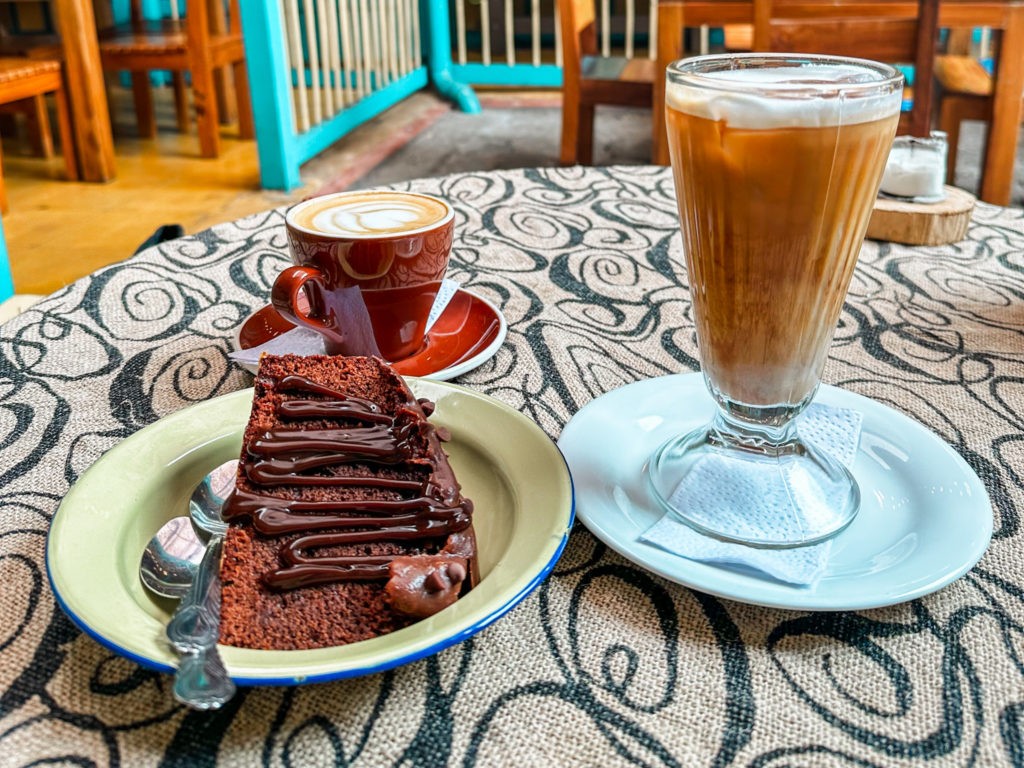 4. Roam around the Calle Real and shop for souvenirs
The charm of Salento lies in the houses which are painted in bright cheerful colors. When we wandered through the streets it very much reminded us of our recent trip to Guatape. To enjoy the cheerful atmosphere, take a walk along the Calle Real. You see older men with Sombreros, calmly observing the buzzing streets, restaurant and coffee owners inviting you in for a coffee or a meal and tourists hopping in and out of lovely artisan shops. Salento is probably the best place where to buy your souvenirs. You can buy colorful souvenirs of any kind, be it a cool sombrero, a warm poncho, some new jewelry or a traditional bag.
Whereas the street is already quite busy during the daytime, the street starts buzzing once it is dark. While being a small city, we felt totally safe moving around in Salento in the evenings.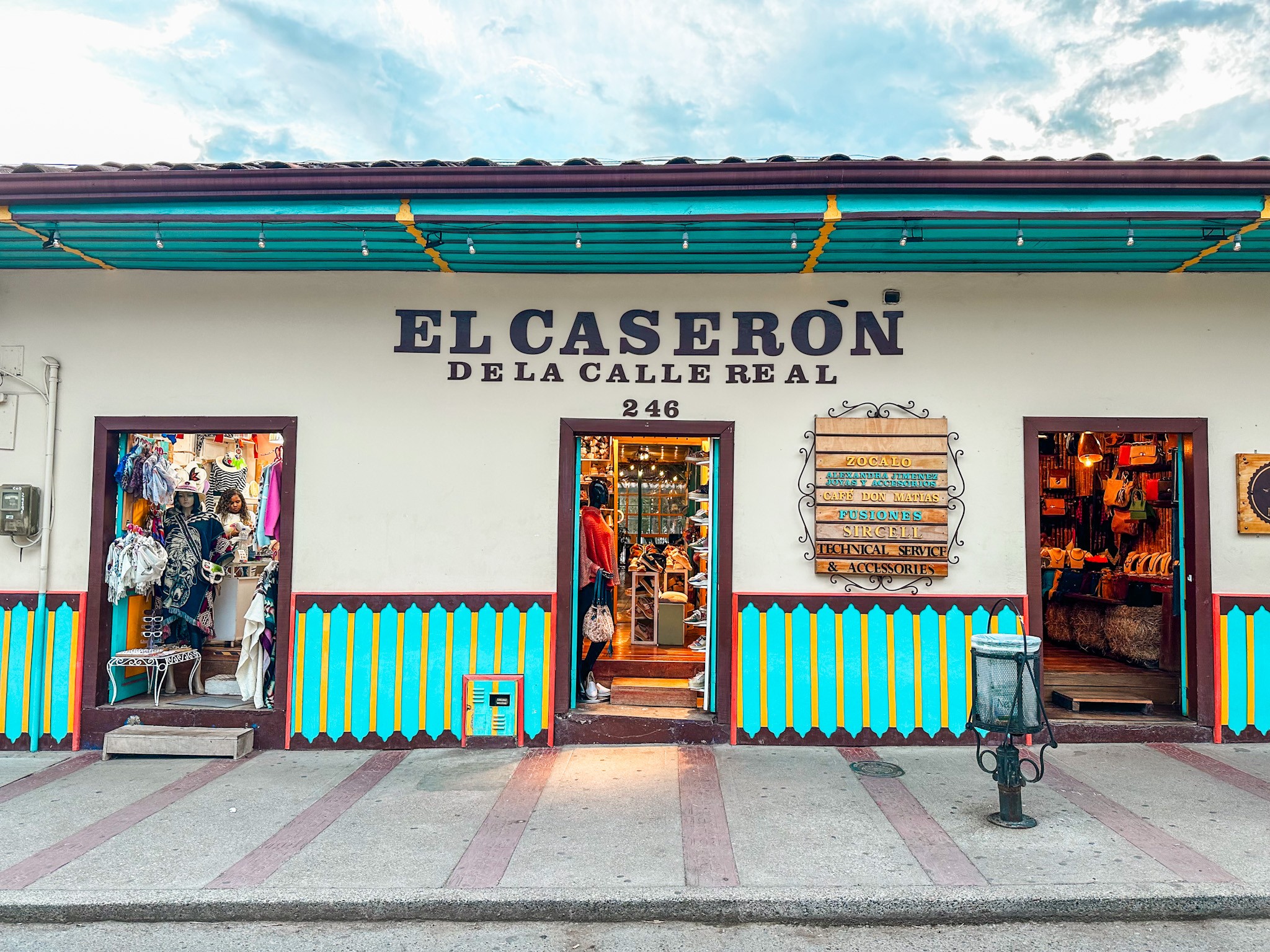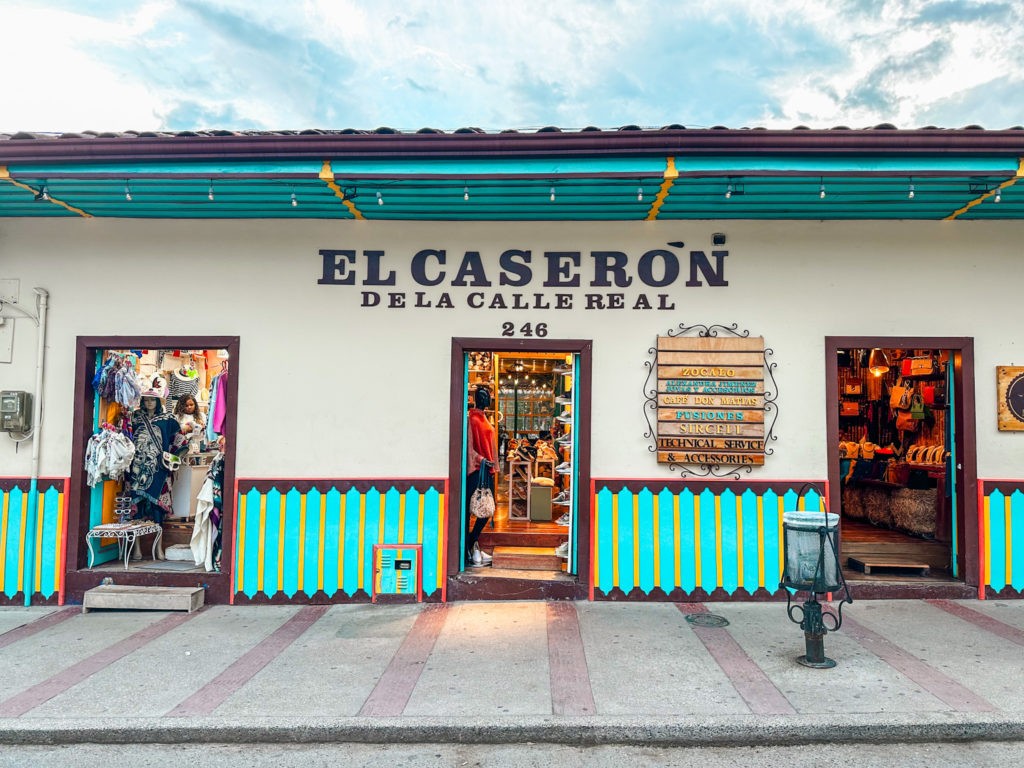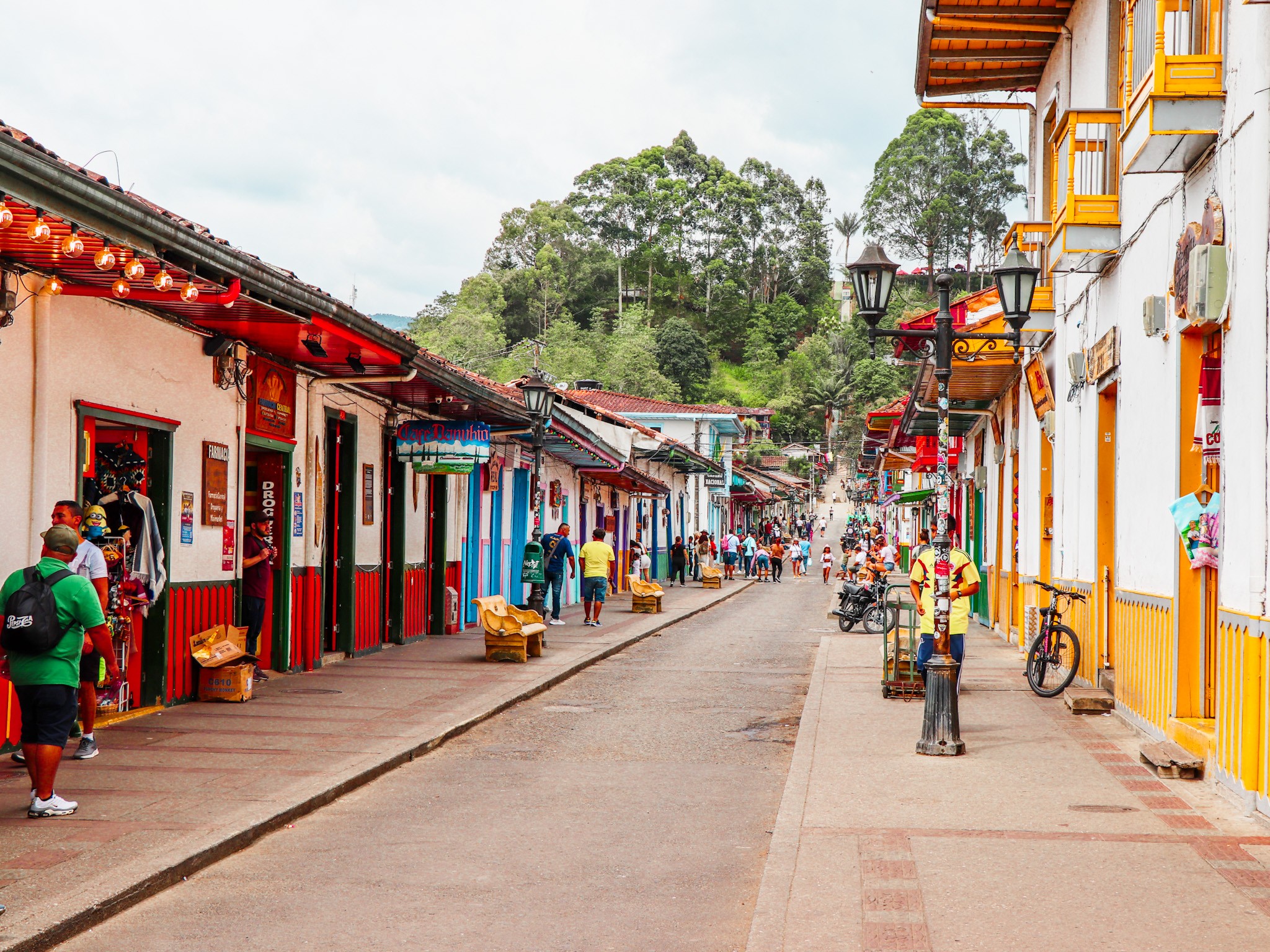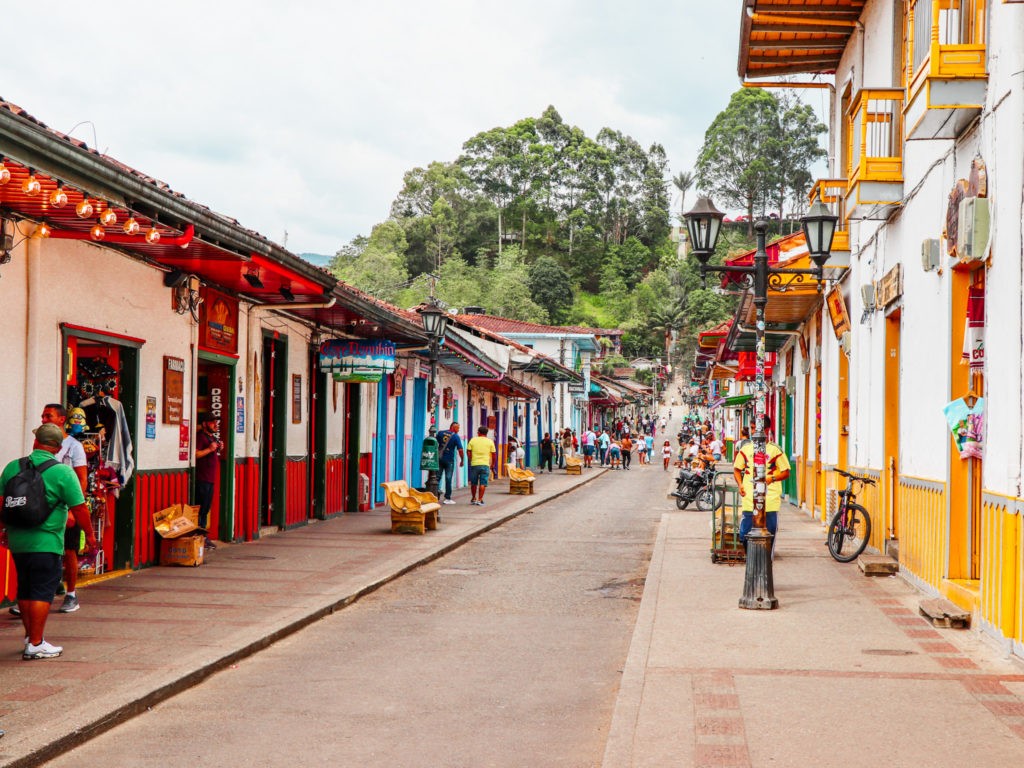 5. Visit Plaza de Bolivar and taste some Trucha with Patacones
During weekends and evenings the Plaza de Bolivar is the place for the locals to come together and have some good time. This is a perfect spot for people watching, visiting the local church or taking a Willy Jeep to explore the area around Salento. During the daytime you can see children playing football and in the evenings bars turn on the music and people enjoy chatting with a beer or michelada (lime juice mixed with beer). 
In Salento you should try tender, locally caught Trucha (trout) prepared in various mouthwatering ways, from grilled to fried, often served with a salad, rice and a patacone. Patacones are crafted from thick slices of green plantains, fried to a crispy, golden perfection. In Salento, patacones are renowned for their enormous size – they are gigantic! We found a perfect little place just right at Plaza de Bolivar called La Cuesta de la Abuela which offers simply delicious garlic trout for a very affordable price.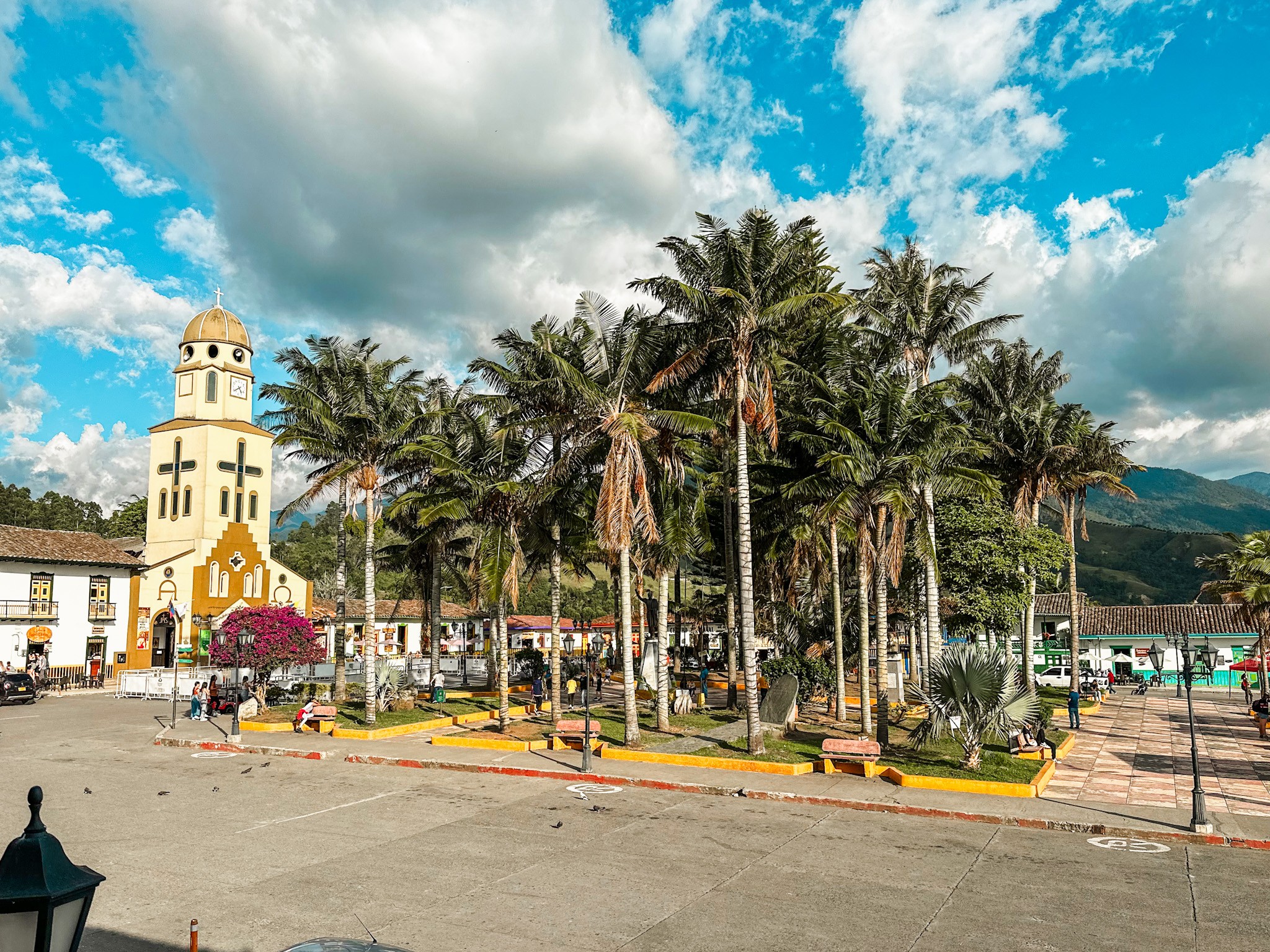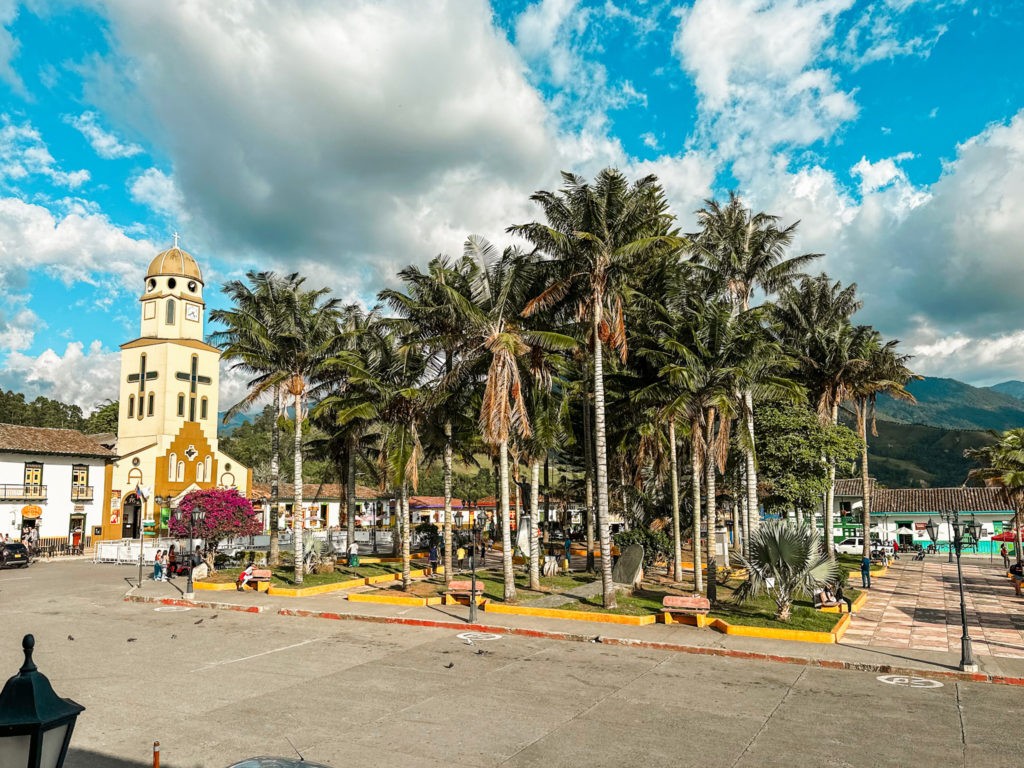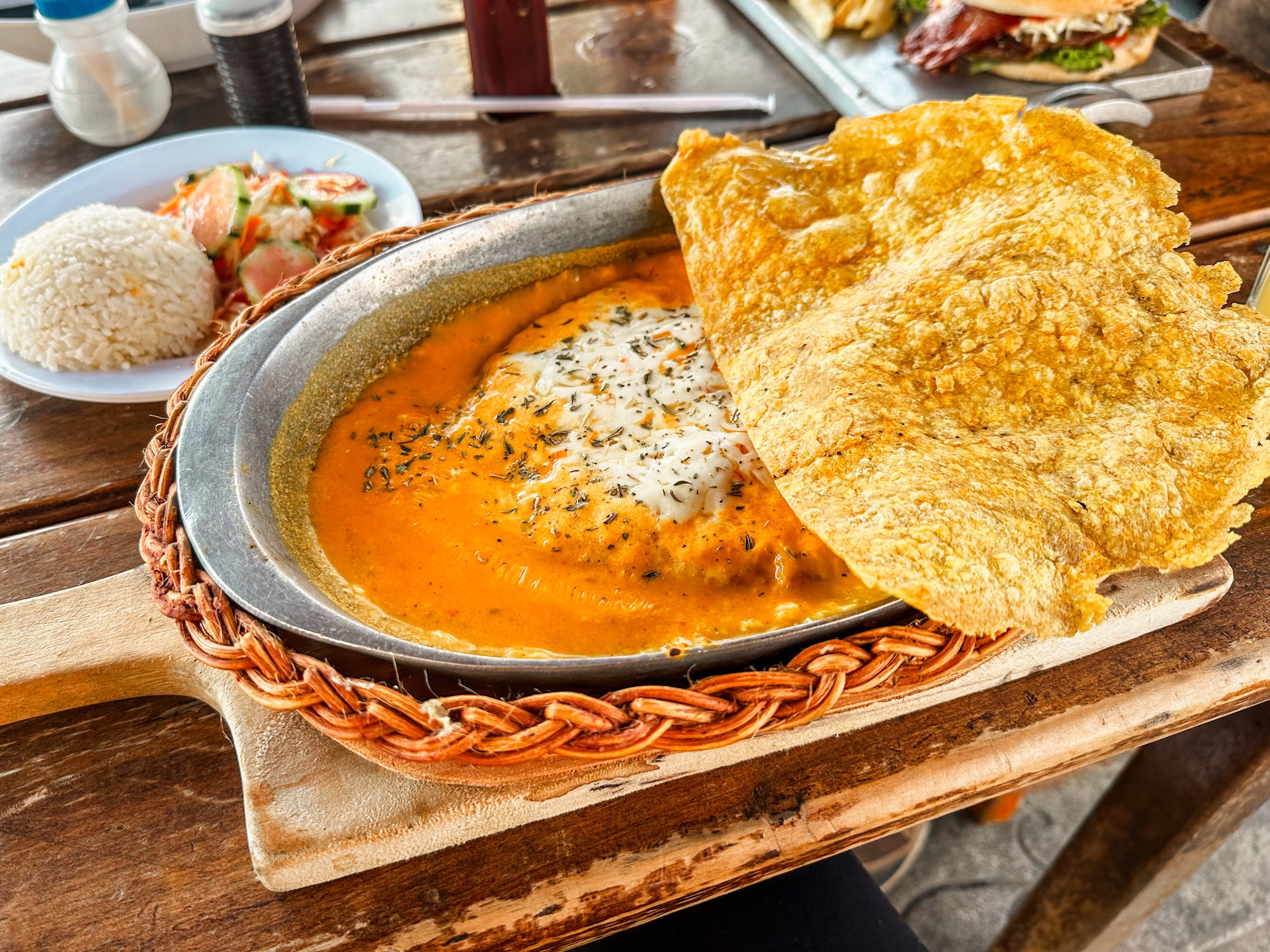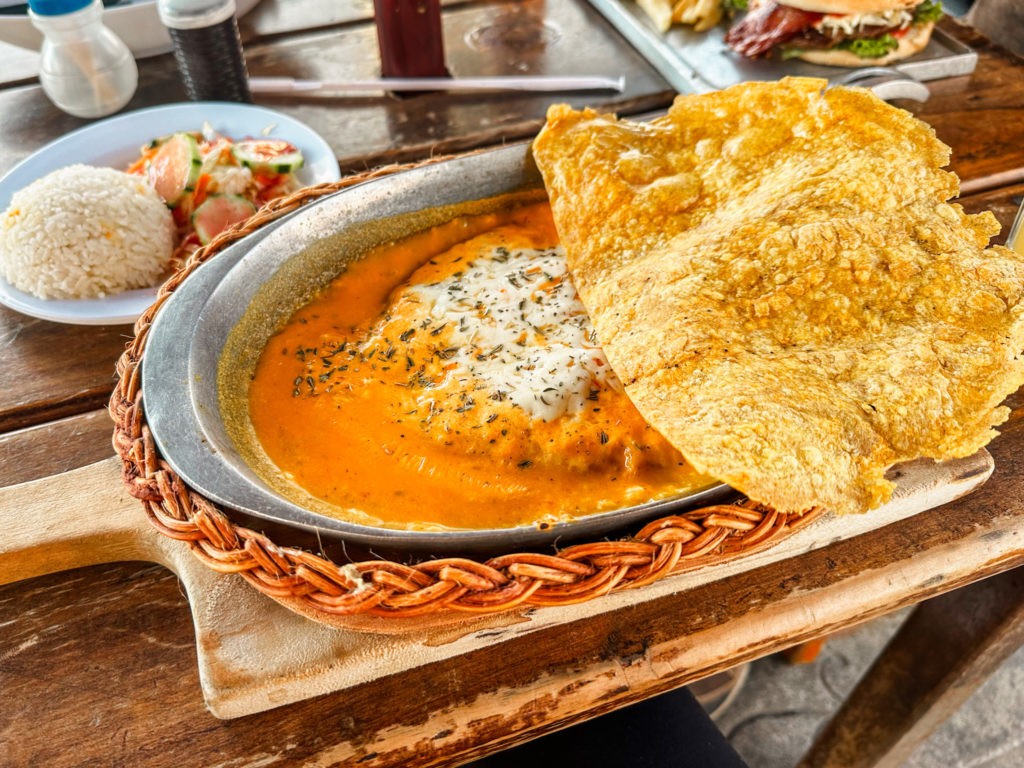 6. Walk to the Salento Mirador
At the end of Calle Real, there is a high stairway, leading to the Mirador de Salento. Climb up the steps to enjoy panoramic views on Salento. If the sky is clear, the best time is to go there just before sunset. Otherwise head in the afternoon or morning to enjoy the views and avoid the crows. If you forgot your water, no worries, as there are vendors selling drinks and snacks. Visiting the Mirador de Salento is free and the walk from the city to the viewpoint is around 20 minutes.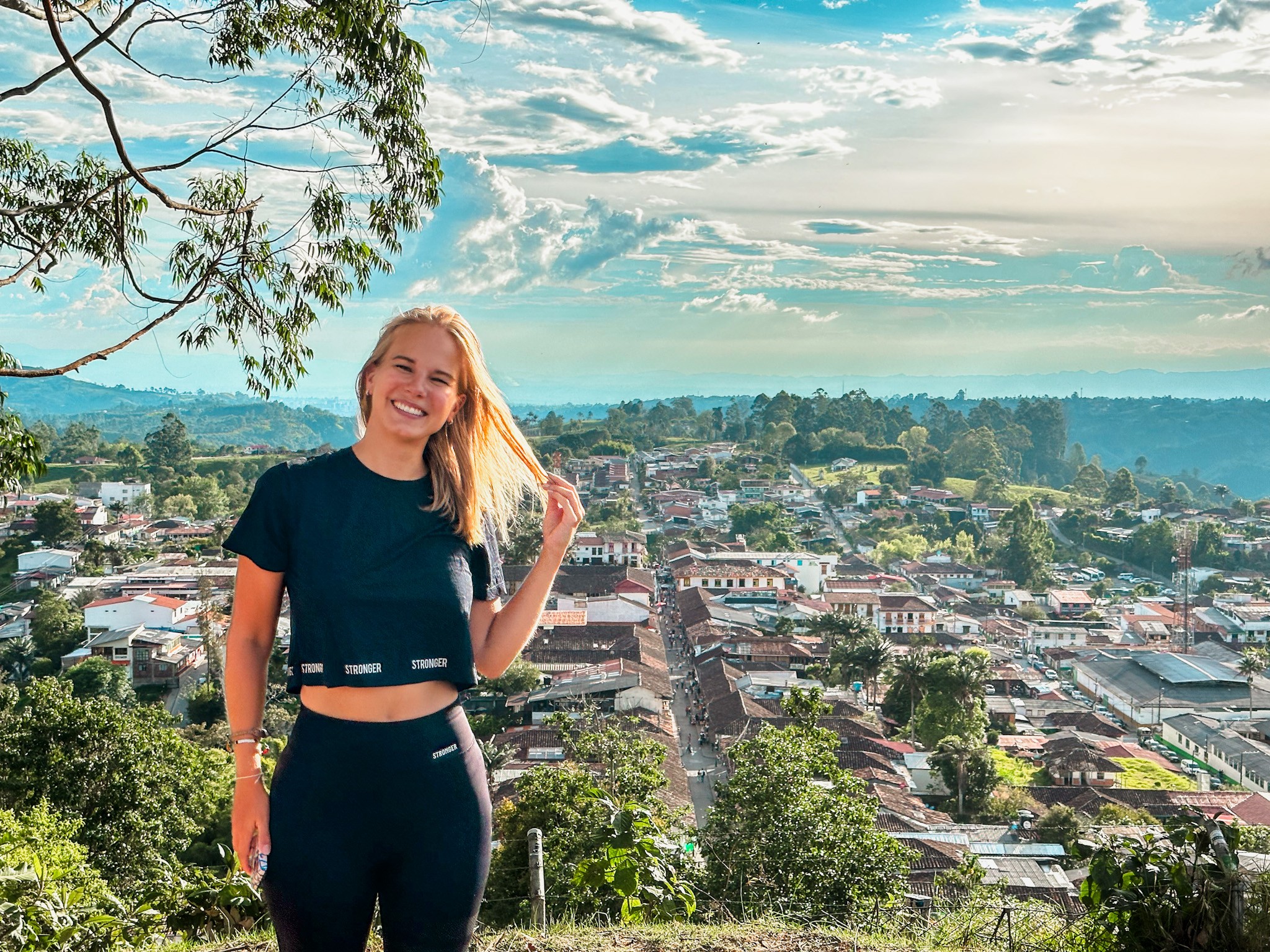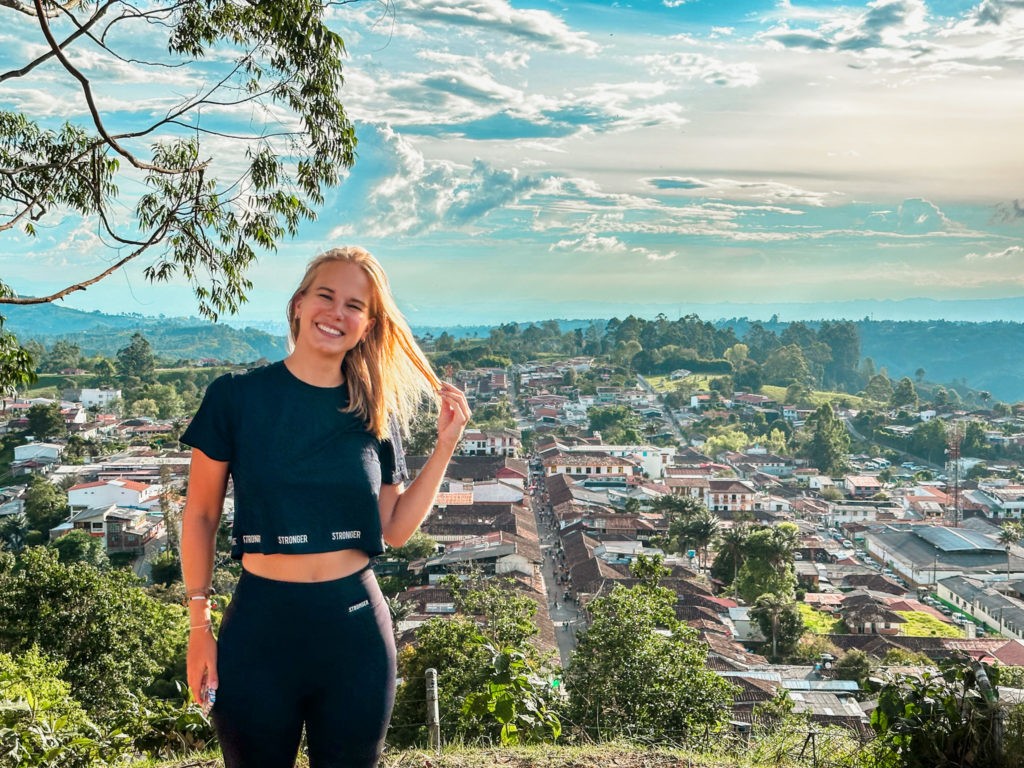 7. Explosives and Beer: Play a game of Tejo
As Jens said, you would probably never enter this small shop, without Google Maps or recommendations from the locals. As you walk up the door, the smell of gunpowder welcomes you. Yes, you read right – gunpowder.
Tejo is a unique and thrilling experience that every tourist should try. In the game Tejo, players take turns throwing heavy metal discs (tejos) at a clay-covered board, aiming to hit small paper packets filled with gunpowder. When a tejo strikes a packet, there will be a small explosion. It was more fun as we thought it would be.
This place is probably rather being operated for the tourists who want to try out this exciting game, than really an authentic place where the locals spend their free time. But it makes it not a bit less entertaining. Probably, it is even good for your ears, that explosions are not that frequent, as the tourists have not mastered the game yet and it requires quite a bit precision.
To play, one has to pay a small fee and also buy one drink per person. We decided to play the traditional way – with a beer. It cost us 24,000 COP (6 USD) everything included. Play as long as you want and laugh as much as we did, when we missed the last pack of gunpowder for the hundredths time 🙂 The place we've been is called "Cancha De Tejo Los Amigos" and can be found here.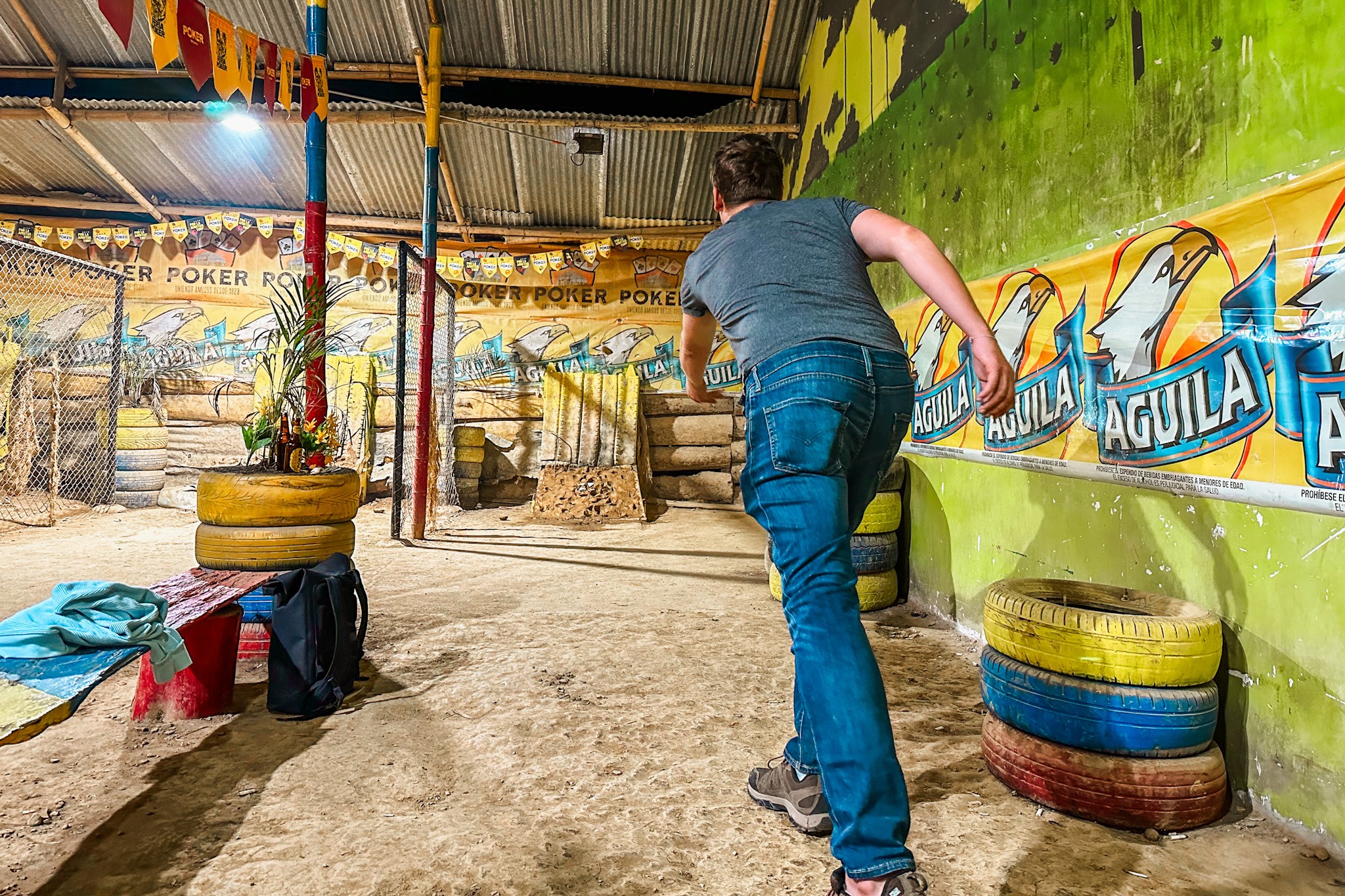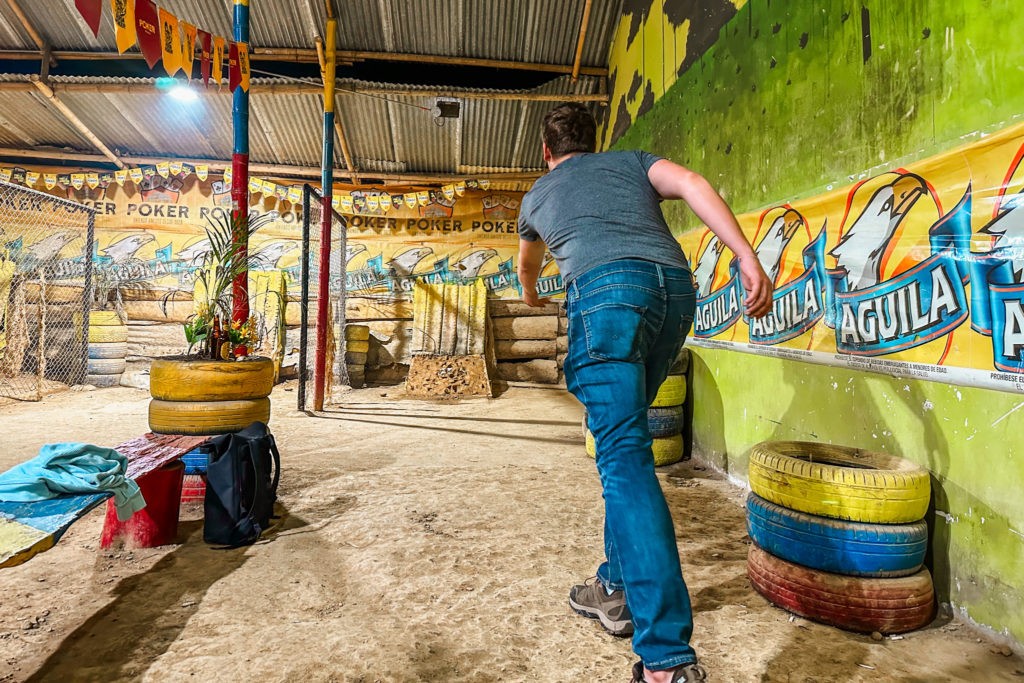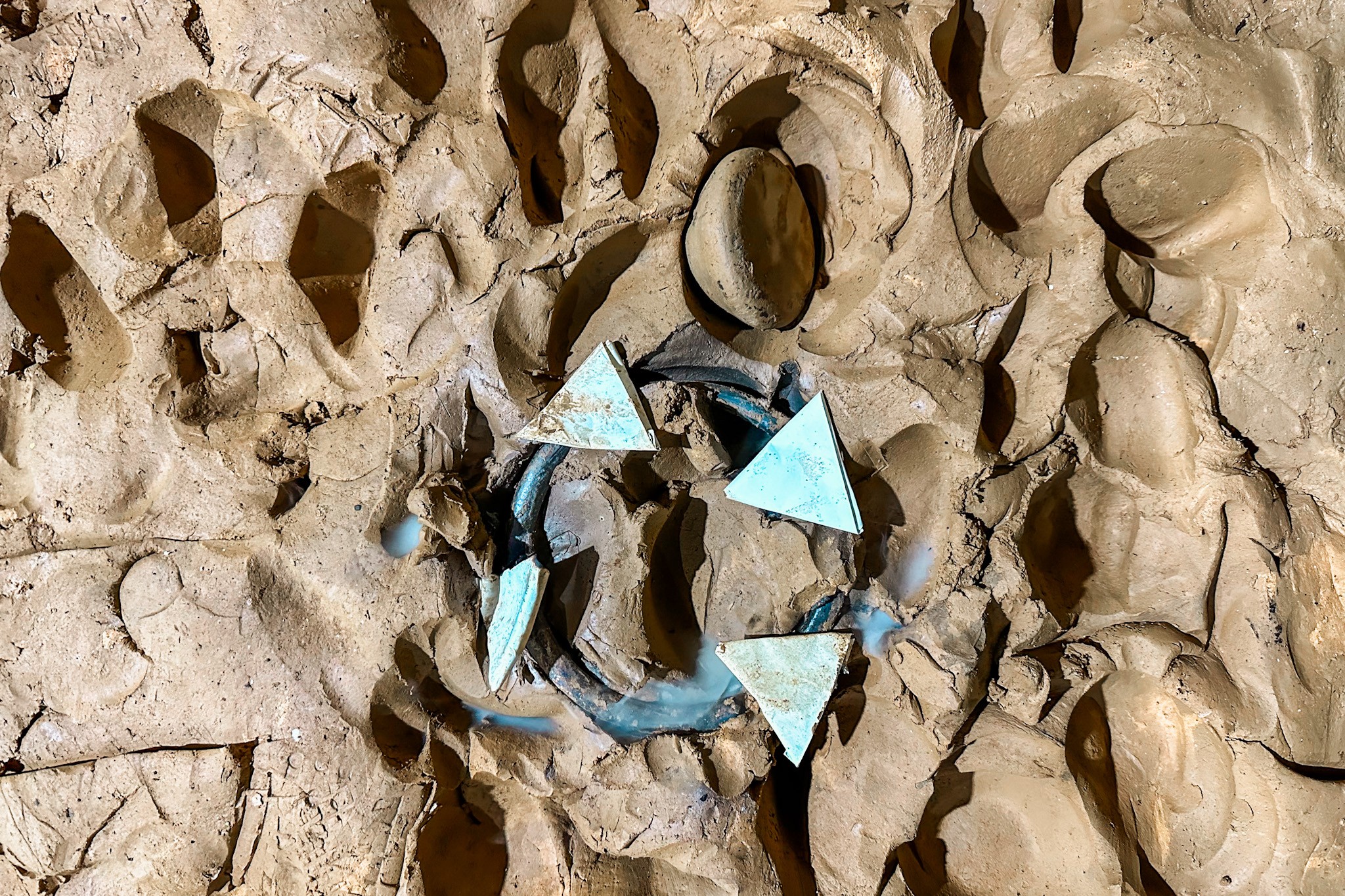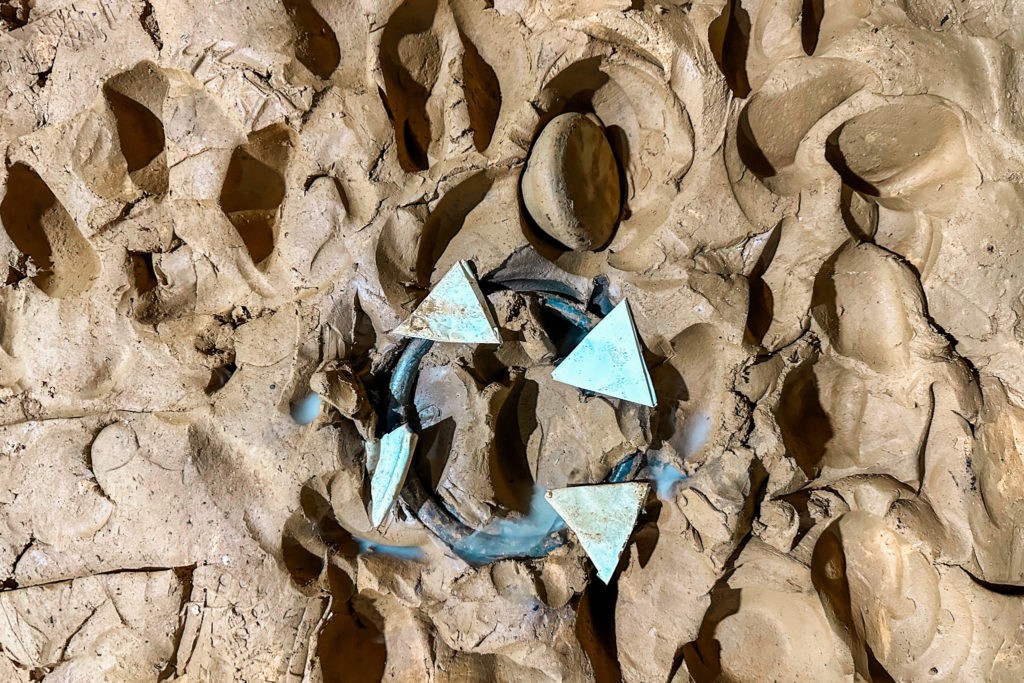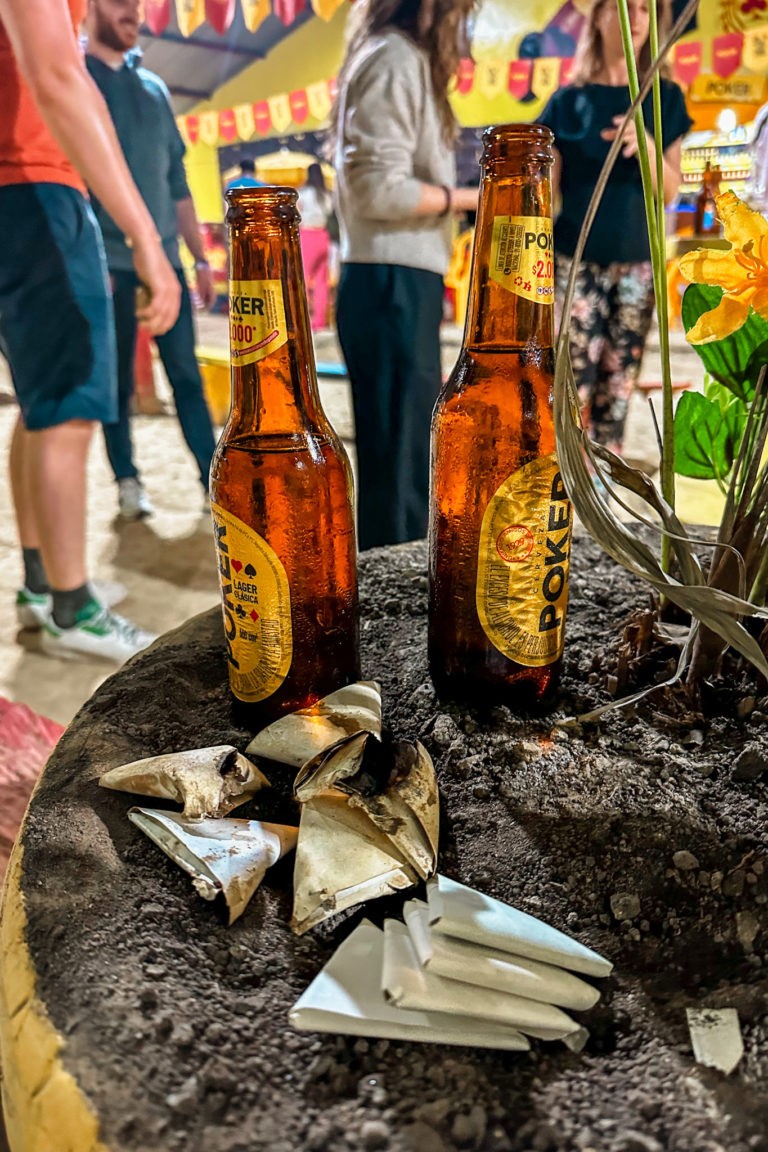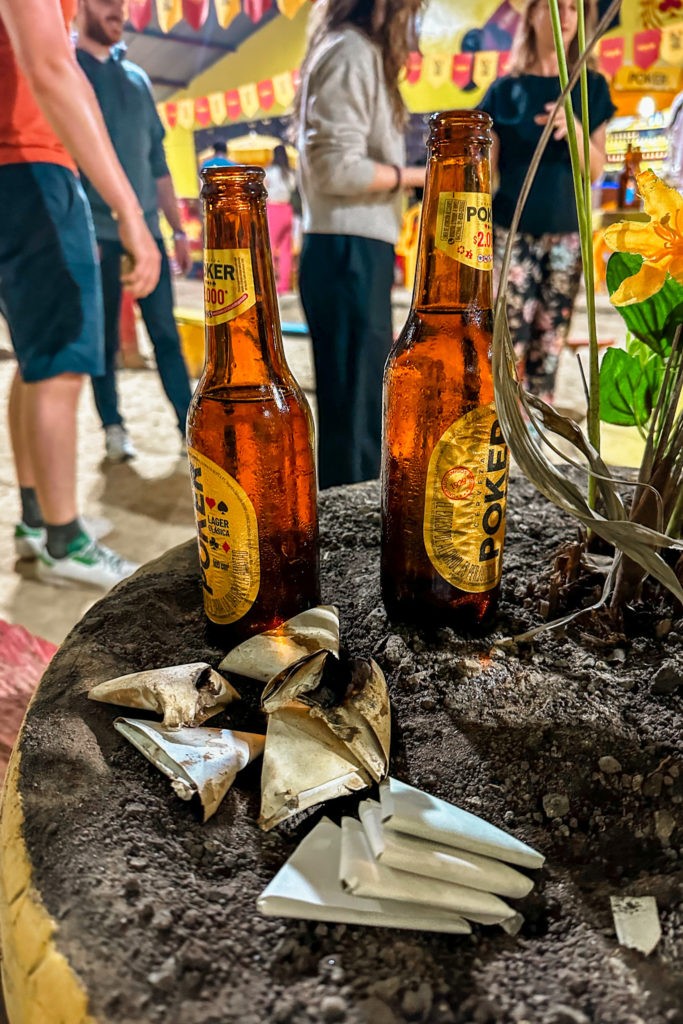 2 Things Not To Do in Salento
Horseback Riding in Valle de Cocora
We wouldn't recommend doing a horseback ride at Valle de Cocora, as we don't know how the horses are treated. We saw many tourists on horses to get some nice pictures at a nearby river or to ride up the trail. As the most popular hiking trail in Cocora is easily manageable for everybody, we think it's not necessary to jump on a horse. Just hike the trail, stop whenever you want to enjoy the beautiful views on the valley and lay on the grass in front of the incredibly tall palms.
Is Salento safe to visit?
Yes, Salento is considered a safe destination to visit. Over the last years the town has benefited from increased tourism and has a reputation for being welcoming to visitors. However, as with any travel destination, always exercise common-sense safety precautions. Keep an eye on your belongings, avoid walking through empty streets alone at night, be cautious when using ATMs.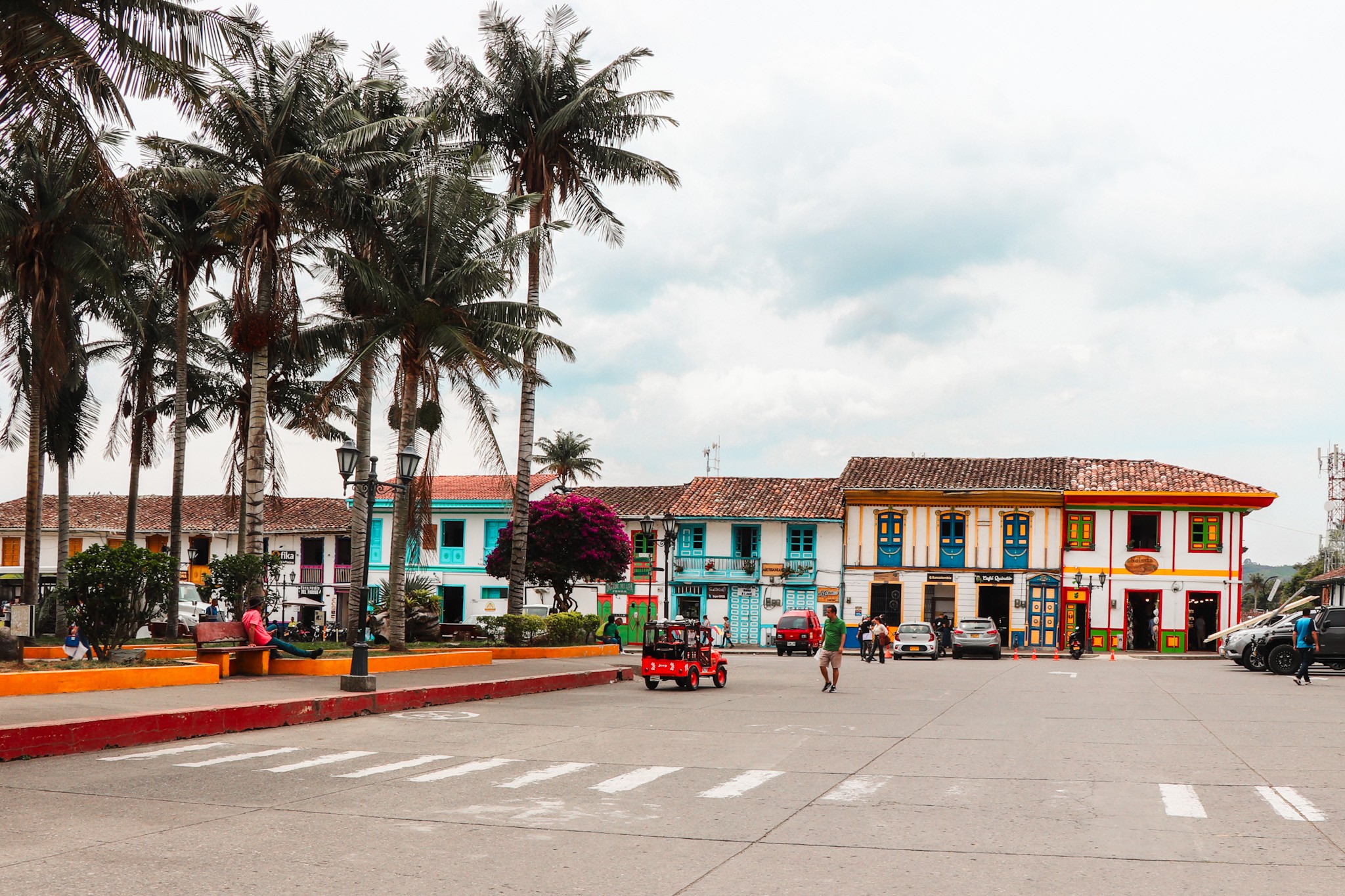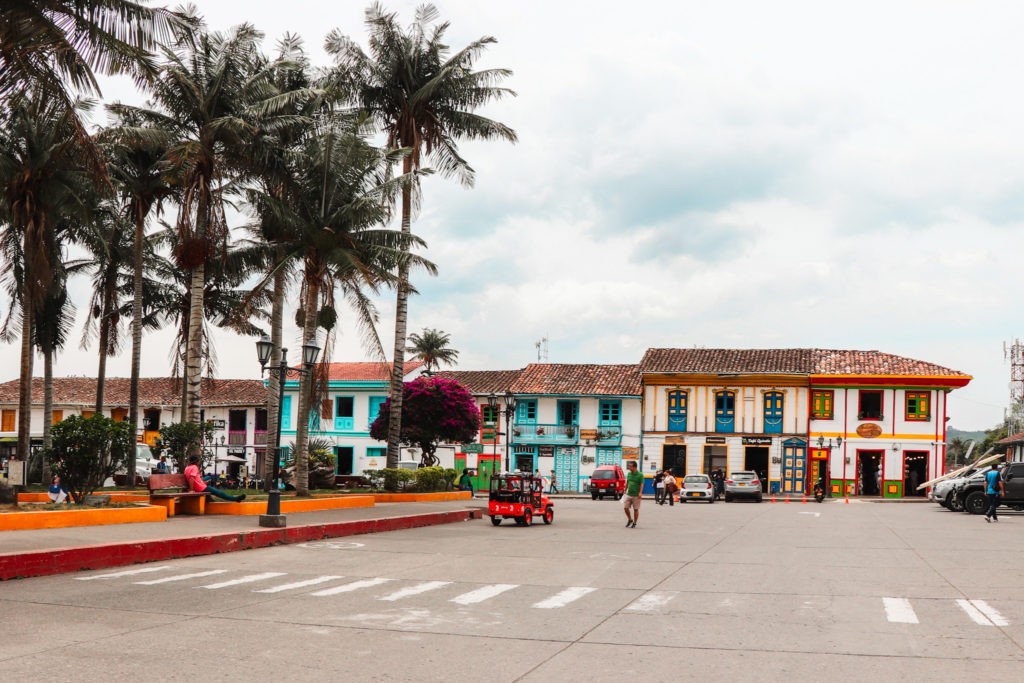 In Colombia there is a saying "No Dar Papaya" that is commonly used, which translates to "Don't give papaya". It means that if you put yourself in a vulnerable position, you should be prepared to face the consequences. While this sound harsh, it's a reminder to be cautious and responsible. The meaning is, that you shouldn't provide an opportunity (the papaya) to somebody to take advantage of you – for example by leaving your phone behind.
By Bus:
The good news is that there are direct buses to Salento from Medellin, with a longer stop in Pereira. These buses depart from the Terminal del Sur in Medellin. Look for the Flota Occidental counter. Buses depart regularly, approximately every hour and there is no need to book in advance. However, since the journey lasts 6-8 hours, it's a good idea to arrive early in the morning. The cost of one ticket is 70,000 COP, which is about 18 USD.
We would not recommend taking a night bus from Medellin as it arrives in Pereira at 3 am and the earliest bus to Salento leaves no earlier than 6.30 am.
By Plane:
A faster option to get from Medellin to Salento is by plane. There is no airport in Salento, but one can fly to Armenia, which is just about an hour's drive away from Salento. Once in Salento, you can choose to take a taxi, which costs about 8-10 dollars, or travel by bus, costing only 6,000 COP (1.5 USD).
The flight costs 150,000-250,000 COP (40-60 USD) and takes 45 minutes. But bear in mind that you also have to factor in the time it takes you to get to the airport in Medellin, check in your luggage, and go through security. So in total, the trip to Salento could still take you about 5-6 hours.
By Bus:
To reach Salento from Bogota, you'll need to take two buses. Firstly, you'll catch a bus from Terminal Salitre to Armenia, which typically takes about 7 hours. These buses operate hourly, and the cost ranges from 50,000 to 80,000 COP (approximately 12-20 USD). Terminal Salitre is enormous so plan enough time to find the right ticket booth and your bus.
From Armenia, you'll then board a connecting bus to Salento, which is roughly a 50-minute ride. They should be departing every 20 minutes, but please note that they only operate between 5 am and 7 pm. The ticket costs 6000 COP per person (ca. 1.5 USD).
There's also an option to take a night bus from Bogota at 9 PM, but it arrives in Armenia at 4 AM, and you'll have to wait for the next bus for 1.5 hours. In general, for your safety, we do not recommend taking night buses in Colombia.
By Plane:
You can also fly from Bogota to get to Salento. However, there is no airport in Salento, so you have to fly to Armenia, which is just about an hour's drive away from Salento. Once in Salento, you can choose to take a taxi, which costs about 8-10 dollars, or travel by bus, costing only 6,000 COP (1.5 USD).
The flight costs 120,000-200,000 COP (30-50 USD) and takes about an hour. But bear in mind that you also have to factor in the time it takes you to get to the airport in Bogota, check in your luggage, and go through security. So in total, the trip to Salento could still take you about 5-6 hours.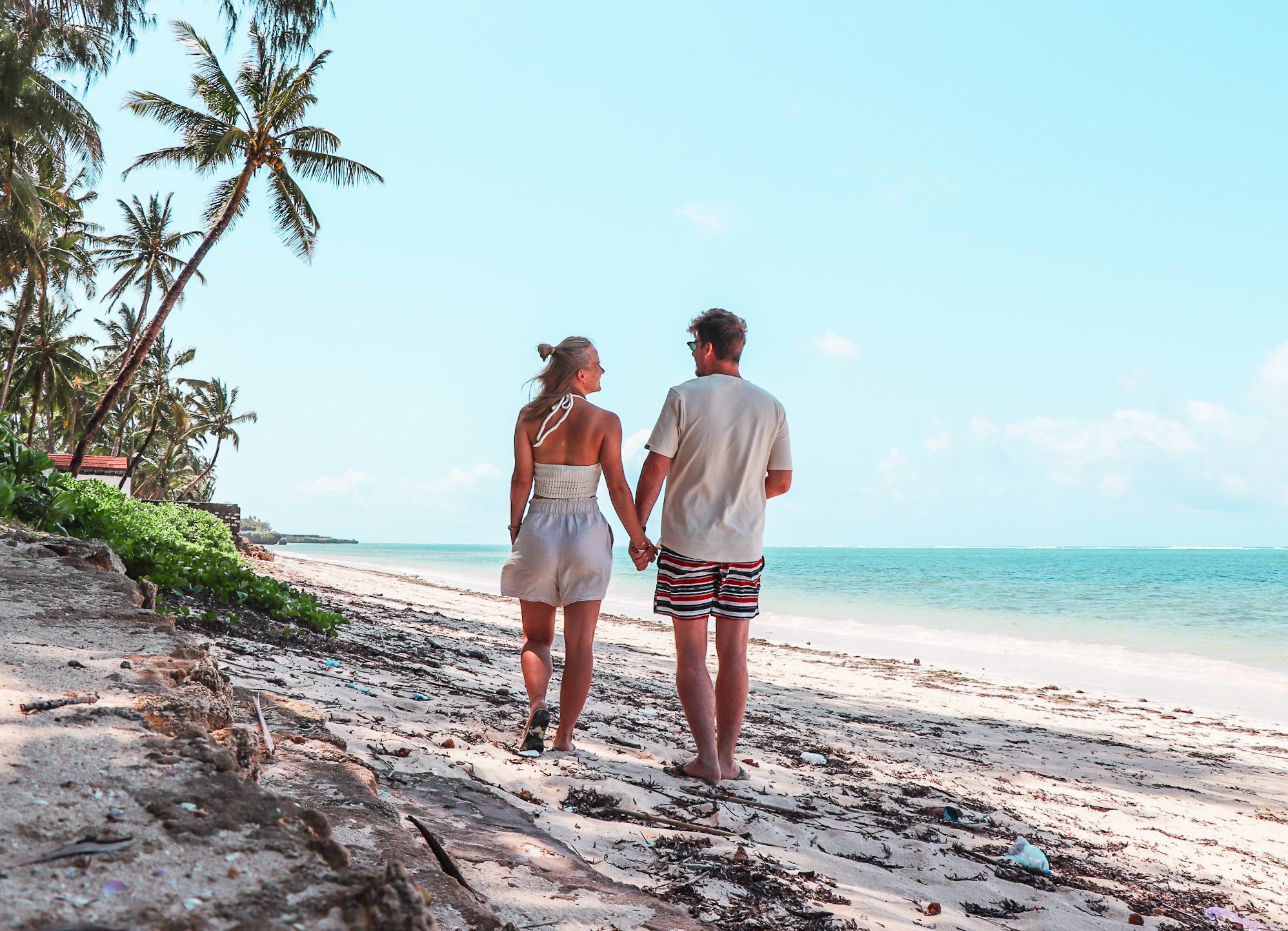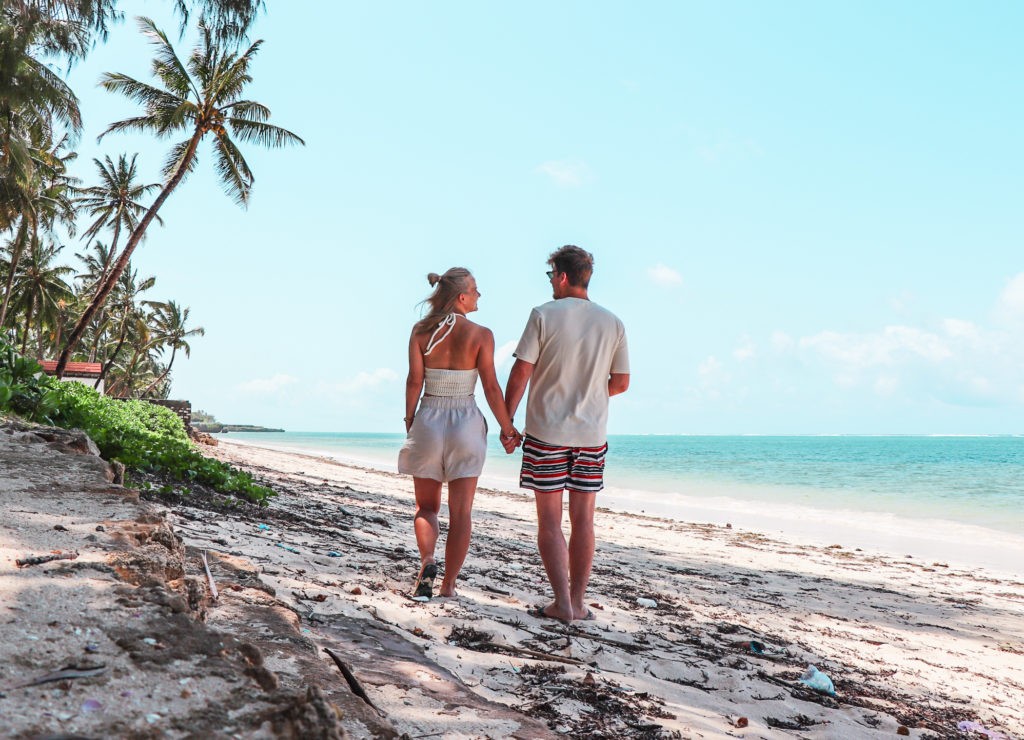 By Bus:
There are no direct buses from Cali to Salento, therefore one has to travel via Armenia. It is still relatively easy to get to Salento. The buses to Armenia depart regularly and the ride lasts only about 3-4 hours. The ticket costs 22,000–42,000 COP (6 to 11 USD).
Once in Armenia, get your connecting bus to Salento. They are very frequent, leaving every 20 minutes, operating between 5 am and 7 pm. The ticket costs 6000 COP per person (ca. 1.5 USD).
From Villaveja to Salento
By Bus:
The journey from Villavieja to Salento is quite lengthy, requiring three different bus rides to reach your destination. First, you'll need to travel from Villavieja to Neiva, which takes approximately 1 to 1.5 hours. From Neiva, you'll embark on a journey to Armenia, which can last anywhere from 6 to 8 hours. Finally, you'll catch the last bus to Salento, which is about a 2-hour ride. We do not recommend taking a night bus, especially since there's a chance you might find yourself stuck in one of the stopover cities. We've heard that Neiva, in particular, is not the safest place to spend the night.
To begin your journey, head to the main square of Villavieja and look for a bus or truck heading to Neiva. These transportation options start running as early as 5 am and depart every hour. The ticket costs 10,000 COP, which is approximately 2.50 USD per person.
Since buses from Neiva to Armenia aren't very frequent, it's essential to plan your trip to Salento accordingly. There are two bus companies that can take you from Neiva to Armenia: Coomotor and Cootranshuila. It's a good idea to leave Villavieja very early to catch the 8:40 AM Cootranshuila bus from Neiva. You can check the current timetables for Cootranshuila and for Coomotor. The ticket price ranges from 60,000 to 80,000 COP, which is about 15 to 21 USD.
Once you arrive in Armenia, inquire about buses to Salento. They should be departing every 20 minutes, but please note that they only operate between 5 am and 7 pm. Therefore, plan your trip accordingly and be prepared for the possibility of spending the night in Armenia. The ticket is 6000 COP per person (ca. 1.5 USD).
Where to stay in Salento?
Salento offers various types of accommodations, primarily targeted for backpackers and budget-conscious traveler. The streets of Salento are plastered with hostels and restaurants, which provides you a good range of options to choose from when it comes to staying in Salento. Staying and walking around anywhere in Salento is safe, as it is a small village. Unlike other major cities in Colombia, there are no special districts where you need to be extra cautious.
In case you don't want to stay in the centre of Salento, there are also nice accommodation options at the nearby coffee farms for a remote stay in the area.
We listed you the hostels we stayed during our week-long trip to Salento, as well as some other recommendations for sustainable, luxury or budget traveler.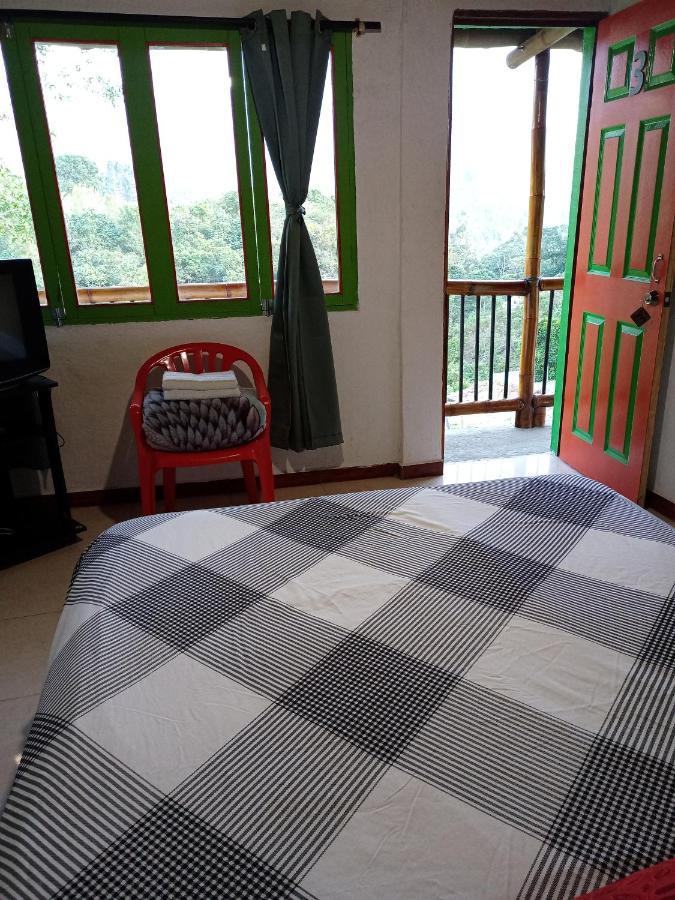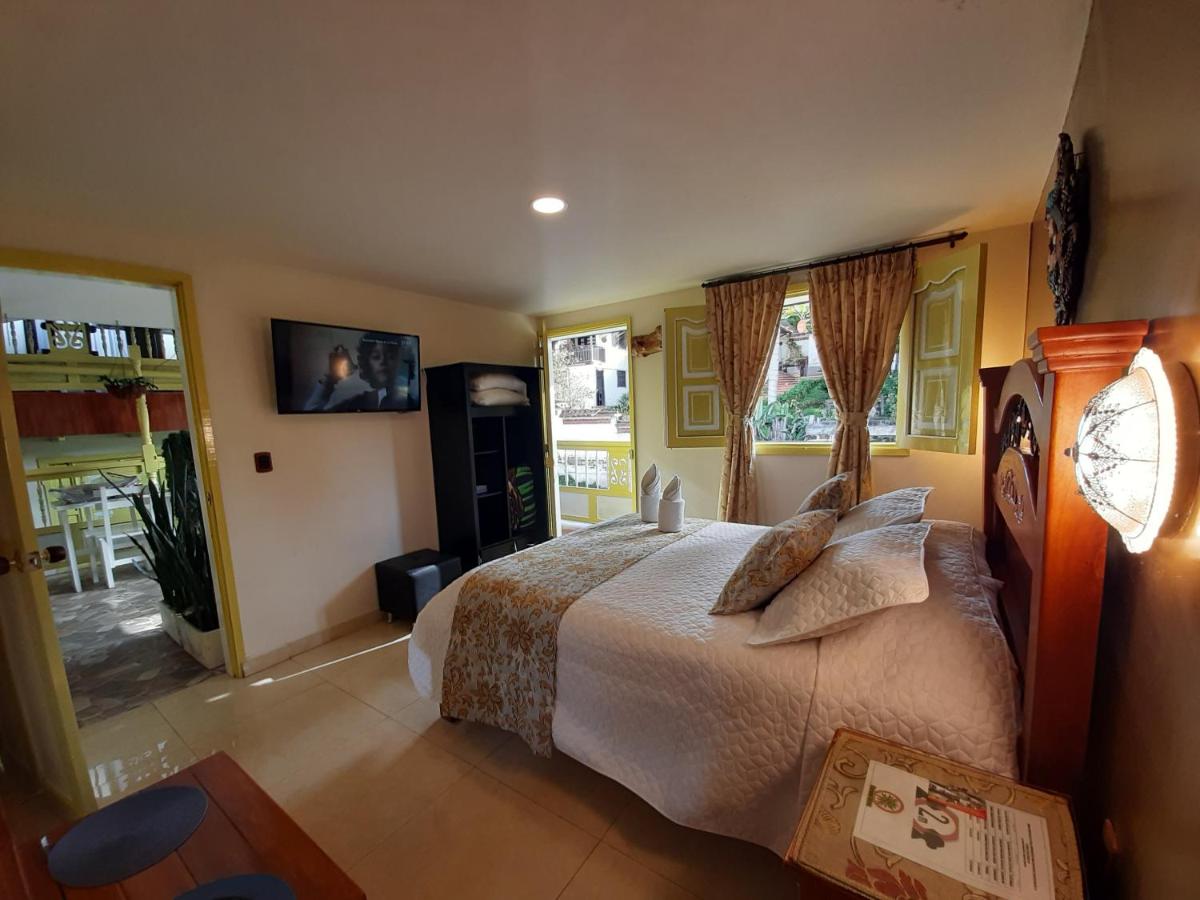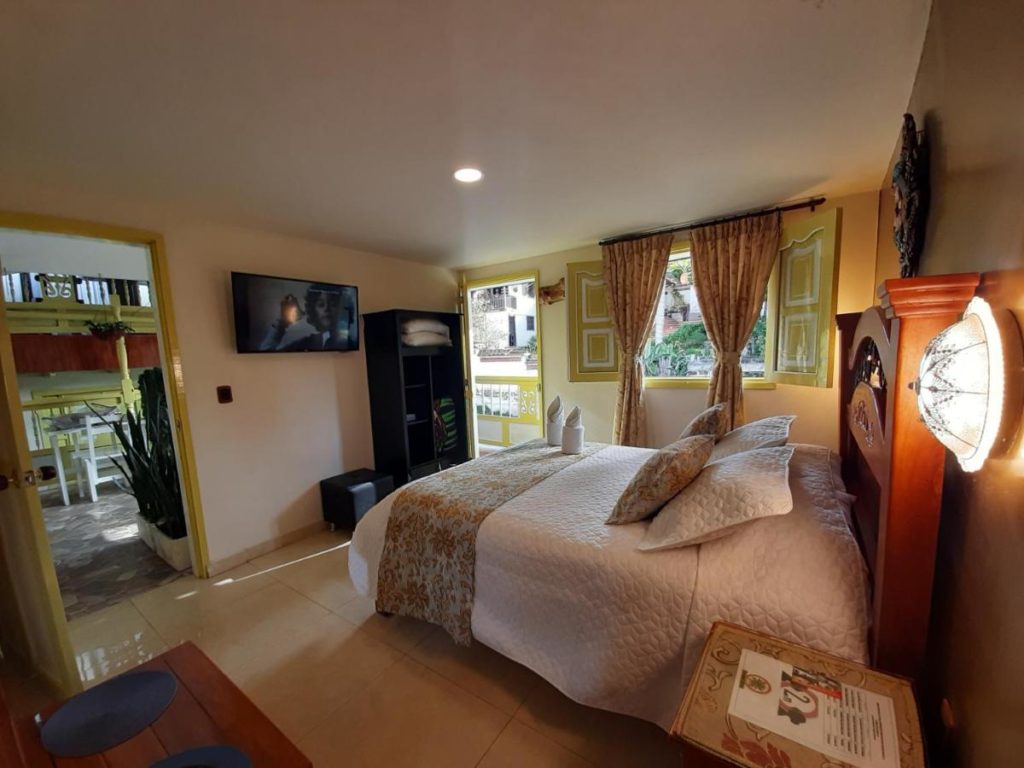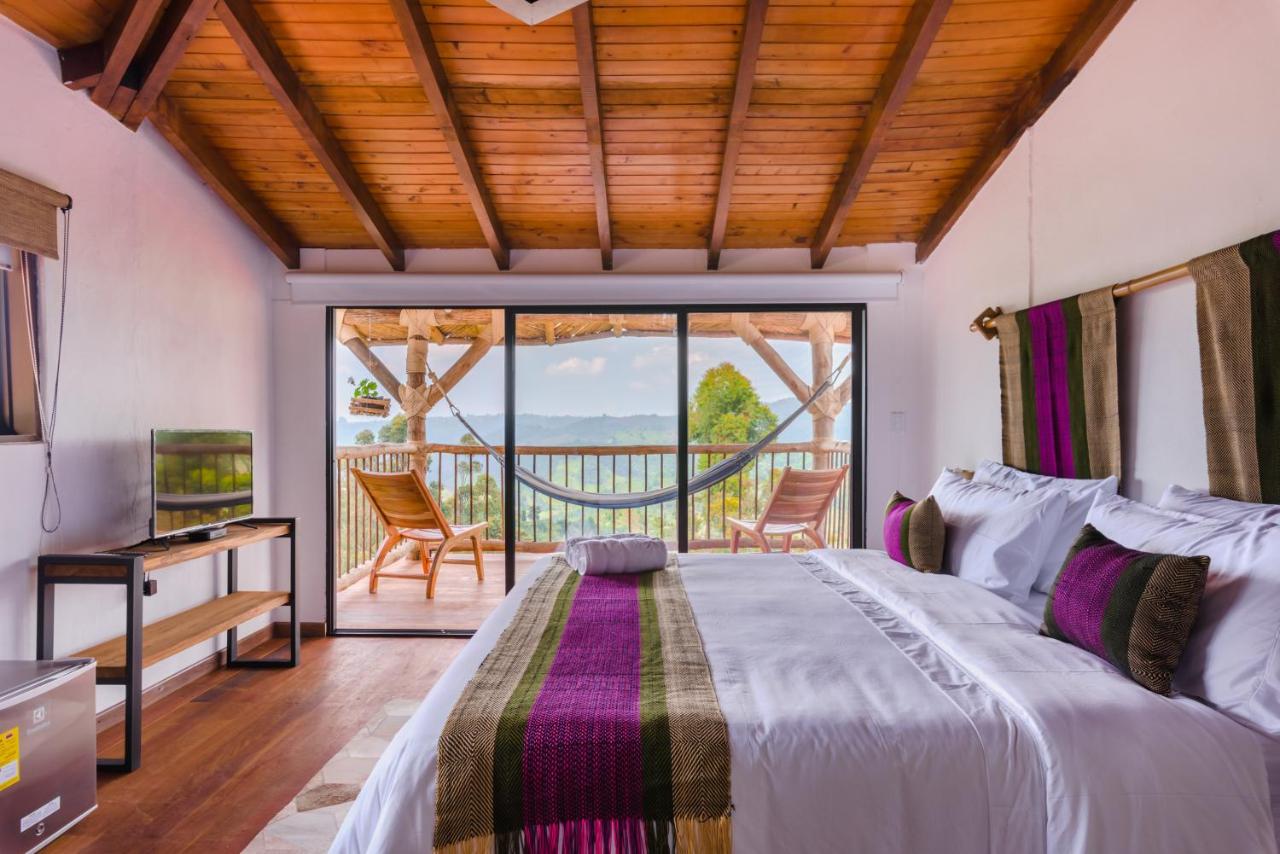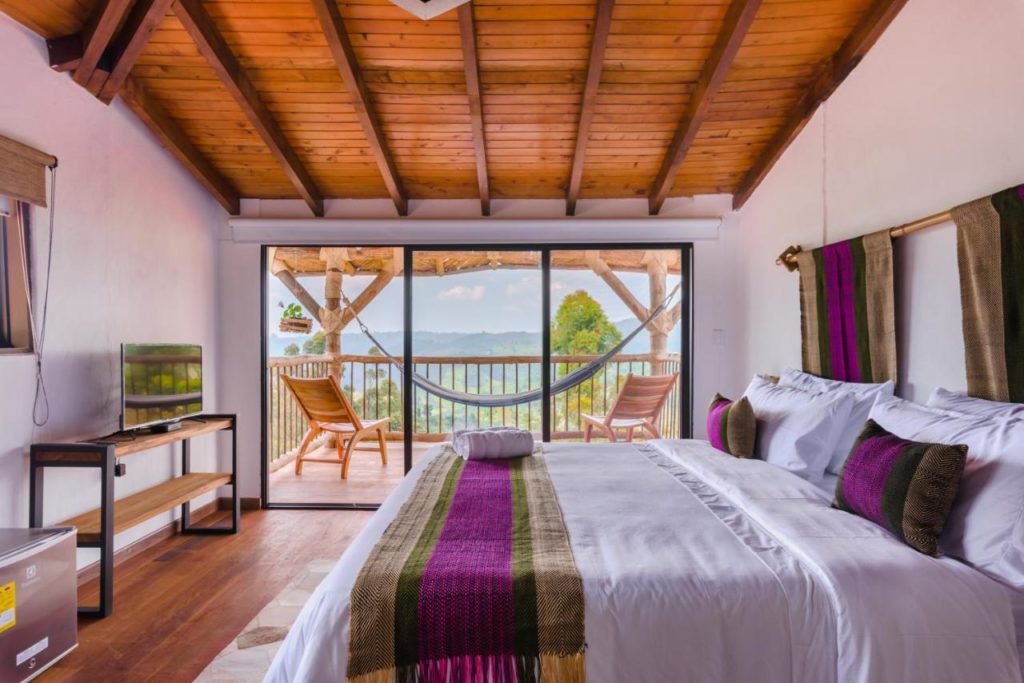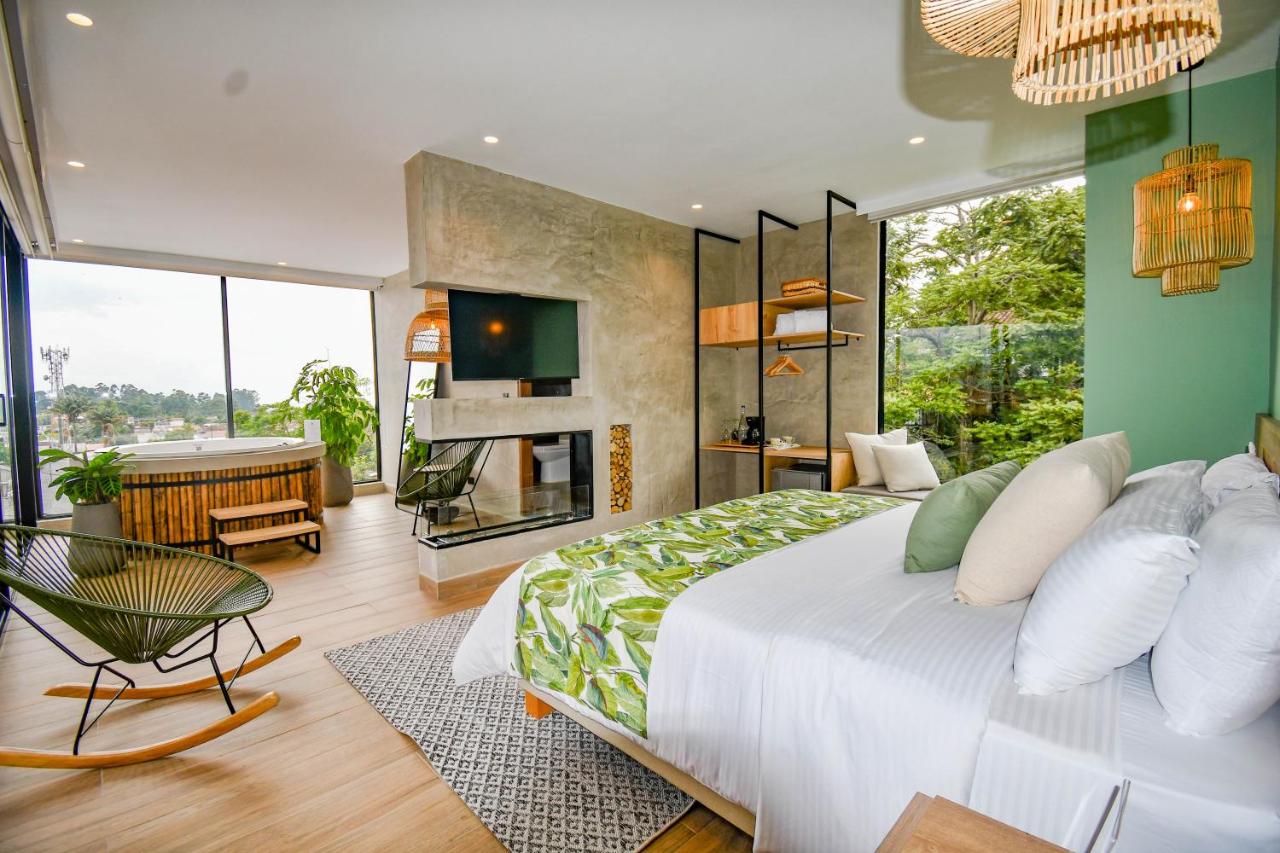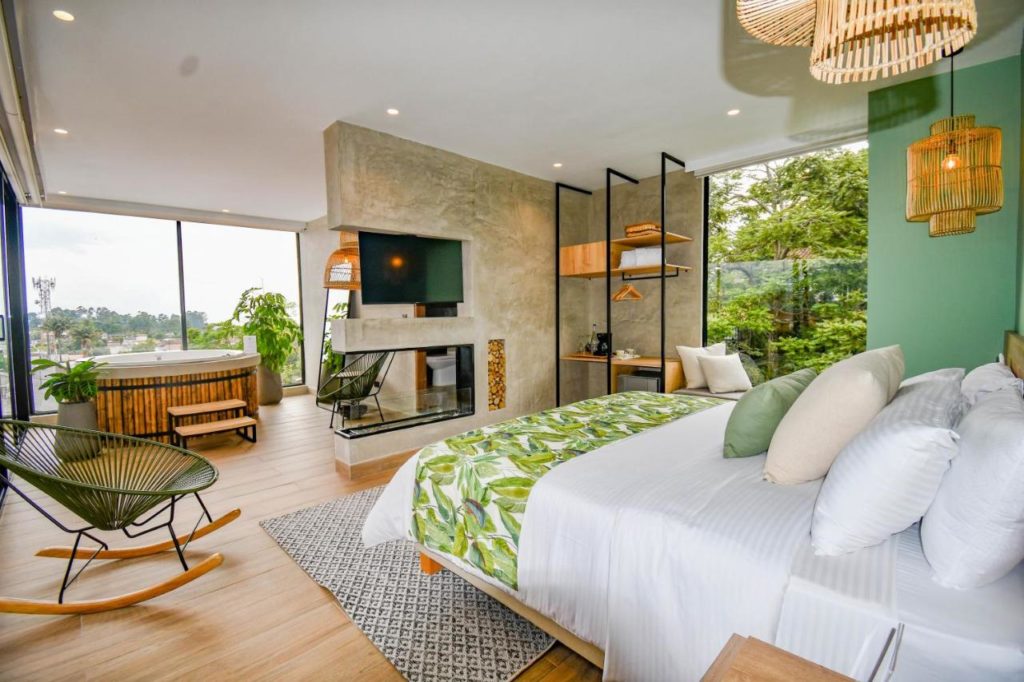 Salento Real Eje Cafetero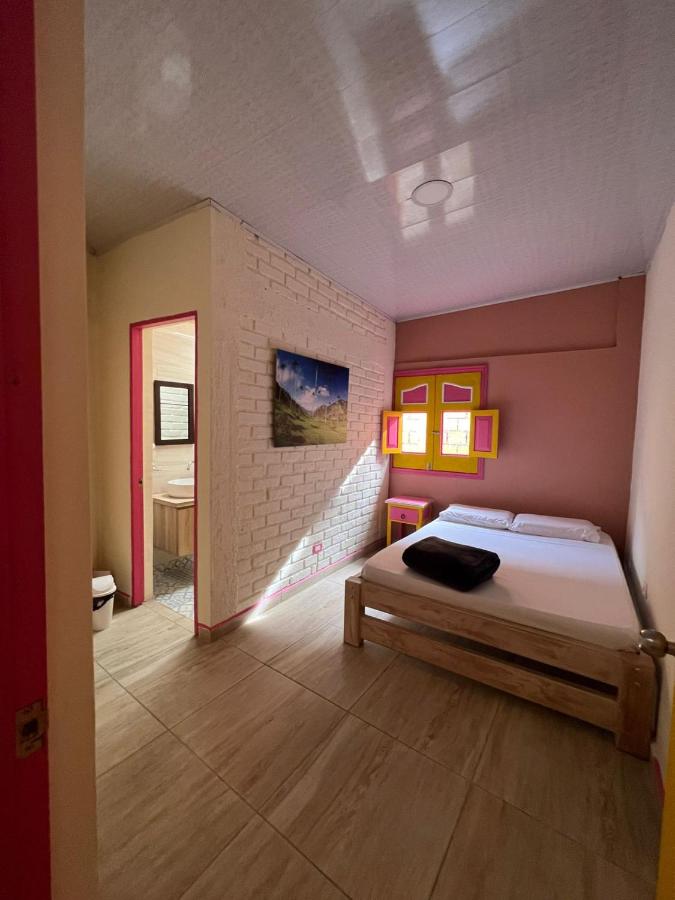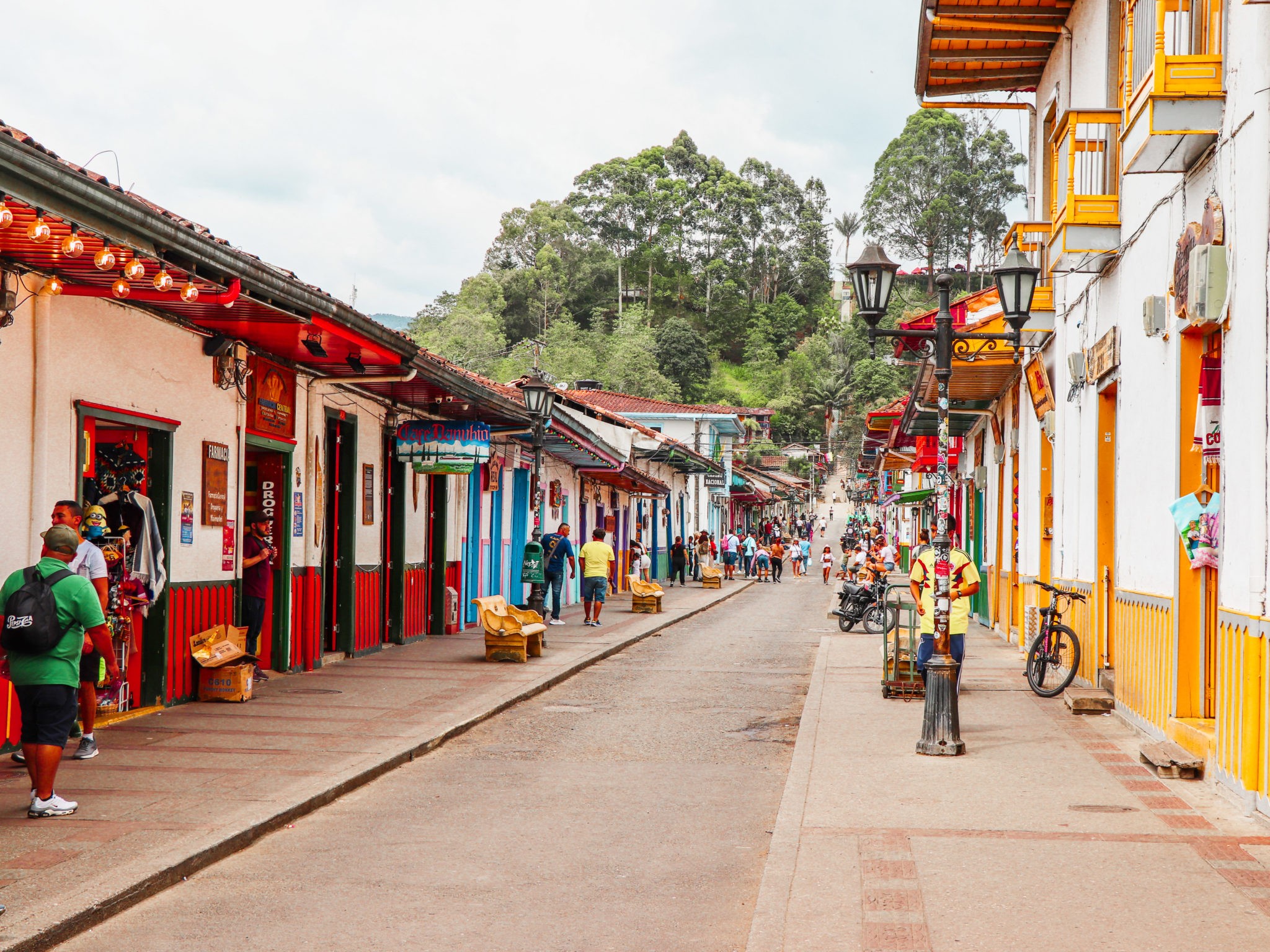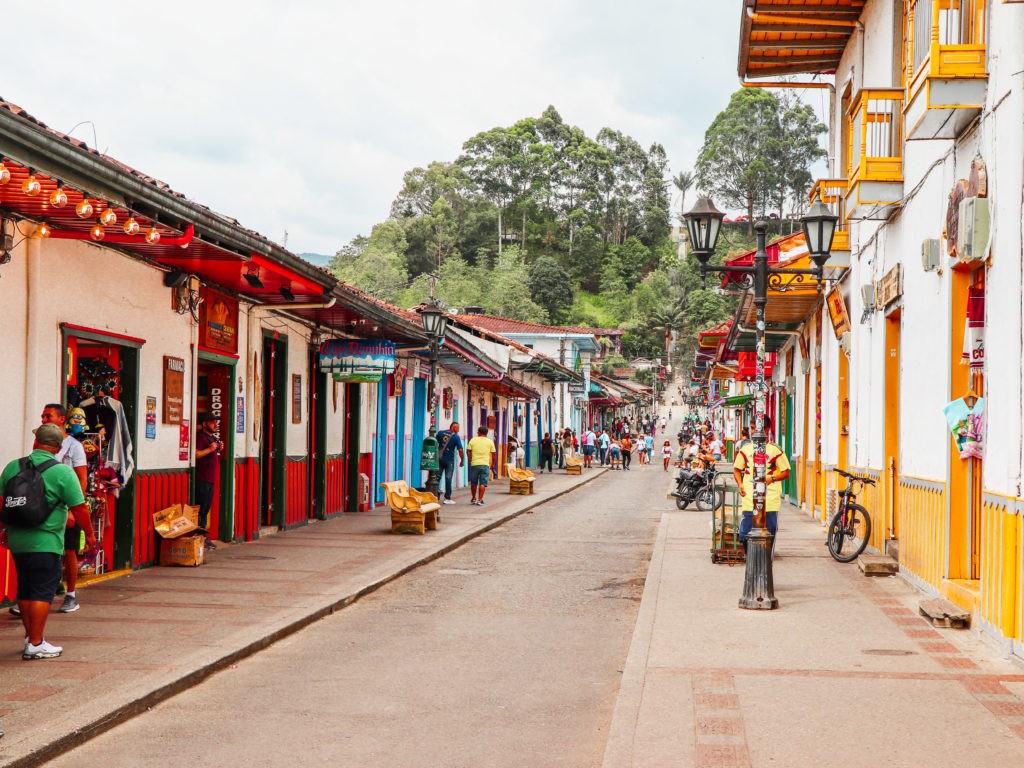 How to get around in Salento?
Taking a Willy is the answer! In case you wonder what we're talking: Willy's are Jeeps, well over 60 years old, making them real vintage old-timers. What's special about them is that they were manufactured for rugged and versatile use. Locals have modified them with open-air, roofless designs and extended bench seats in the back to transport people around the area. We were surprised on how well they still run after such a long time of heavy usage. And you won't get a more authentic feeling of Colombia, when driving with them into the nature that encloses Salento.
You'll find Willy's parked and readily available on the Plaza Bolivar, on the opposite side of the Salento church. There is a little ticket booth where you can purchase a ticket for your ride. Be aware, however, that the modified Jeeps can transport up to 14 people (including the driver): 3 at the front, 8 at the back and up to 3 on the railing. Don't worry about the railing spot, as the drivers are driving carefully – especially around corners. If you don't feel comfortable, just ask the driver or other passengers. There's always somebody that will switch with you.
A ride to the Valle of Cocora costs 4.500 COP (approx. 1.15 USD) per person for one direction. The ride will take around 15 minutes. To get to the nearby Coffee planation you'll pay 3.500 COP (approx. 1 USD) per person for one direction.
So you see that riding with a Willy is not only a perfect authentic adventure itself, but also very cheap. Just for completeness, we also found some Ubers around the area – but they were quite expensive and we didn't take them.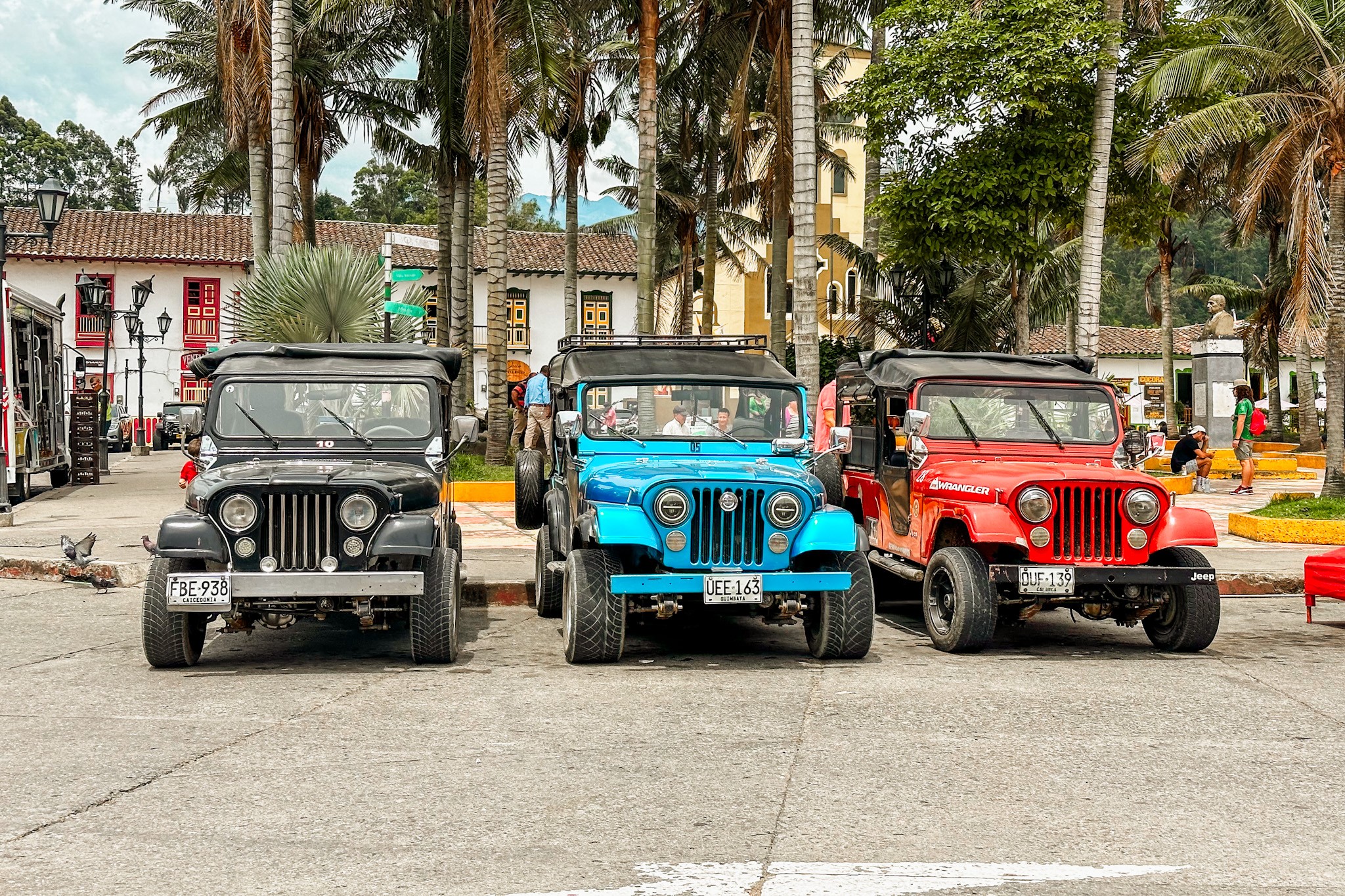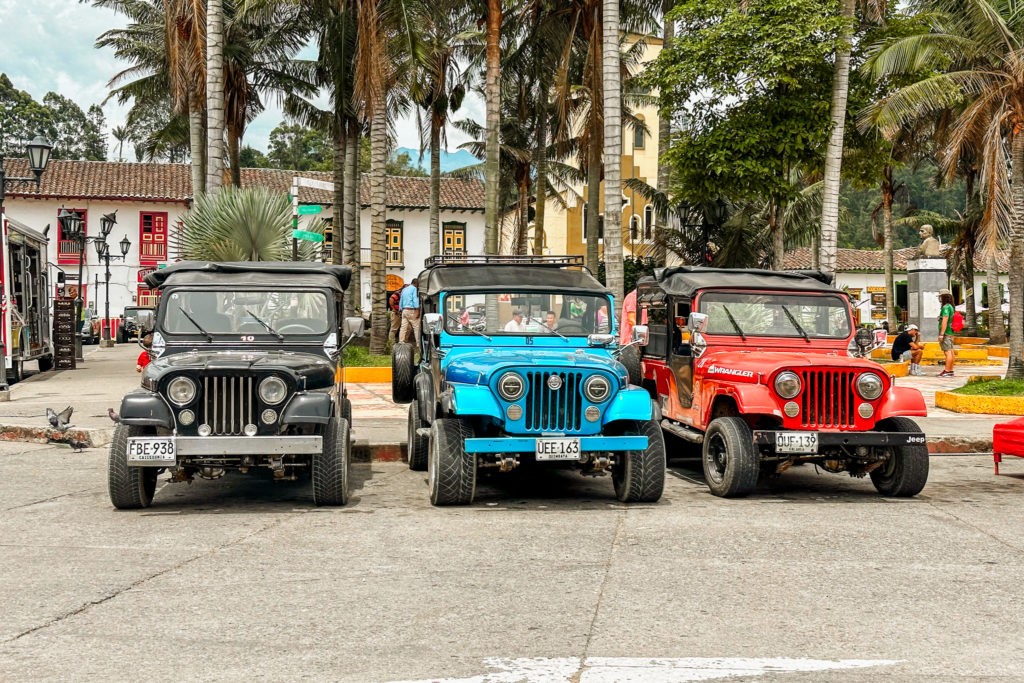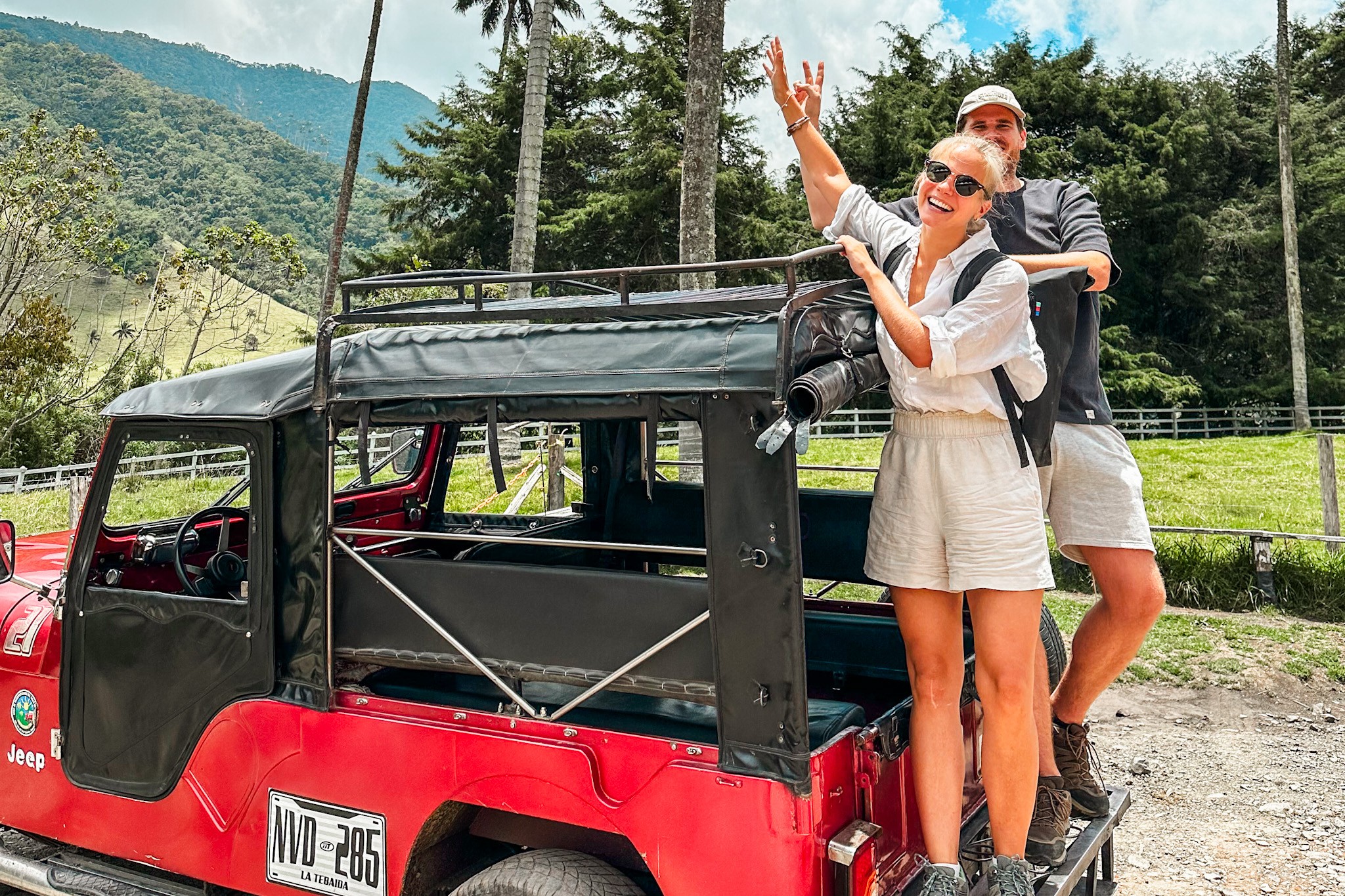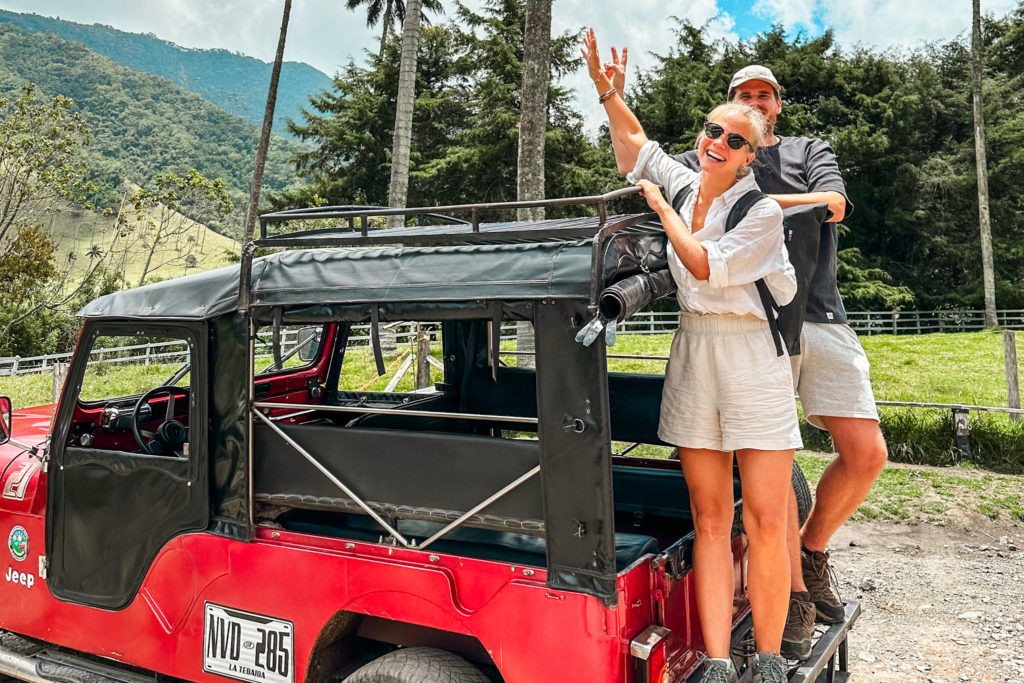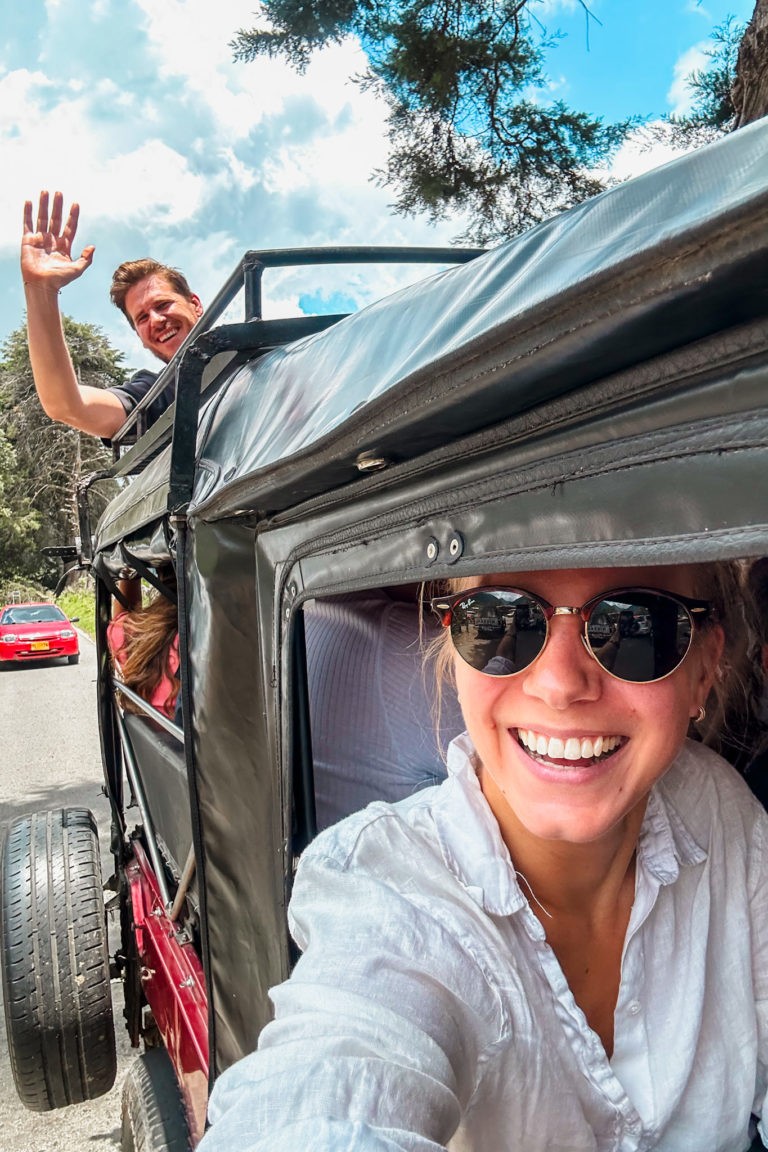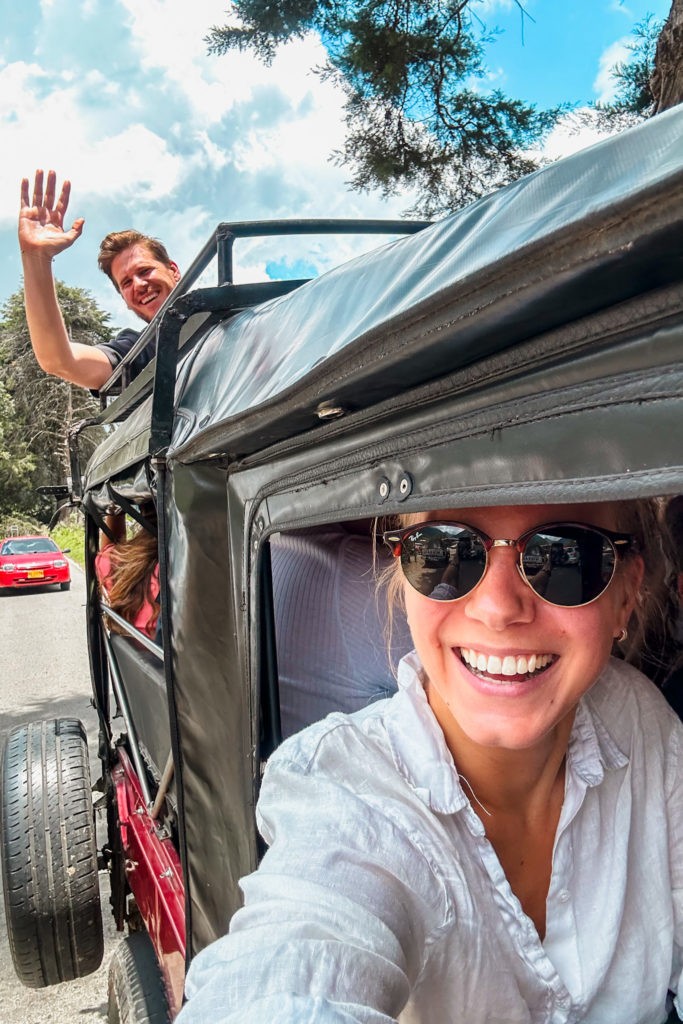 Salento full of charming eateries that usually offer a taste of local flavors but you can also find international dishes like burgers, pizzas or bowls. When you're in Salento, make sure to try their delicious trout, which is a local specialty. You can have it grilled, stuffed, or with tasty sauces. Restaurants we can totally recommend are La Cuesta de Abuela just at the Plaza de Bolivar, Restaurant Hostal La Gata Carola and Origenes Bedoya Lounge – all have very affordable prices, and more importantly the most delicious food in Salento.
Also, if you have not had the chance yet, we recommend to try finally some street food like arepas or empanadas. There is a lovely seller for Perros Calientes (Hot Dogs) just at the corner of Calle Real and Calle 5. And in the evenings there is a man walking around with a white cart having a white umbrella selling some sweet filled pastry pockets with cheese and some jam. These were super yummy!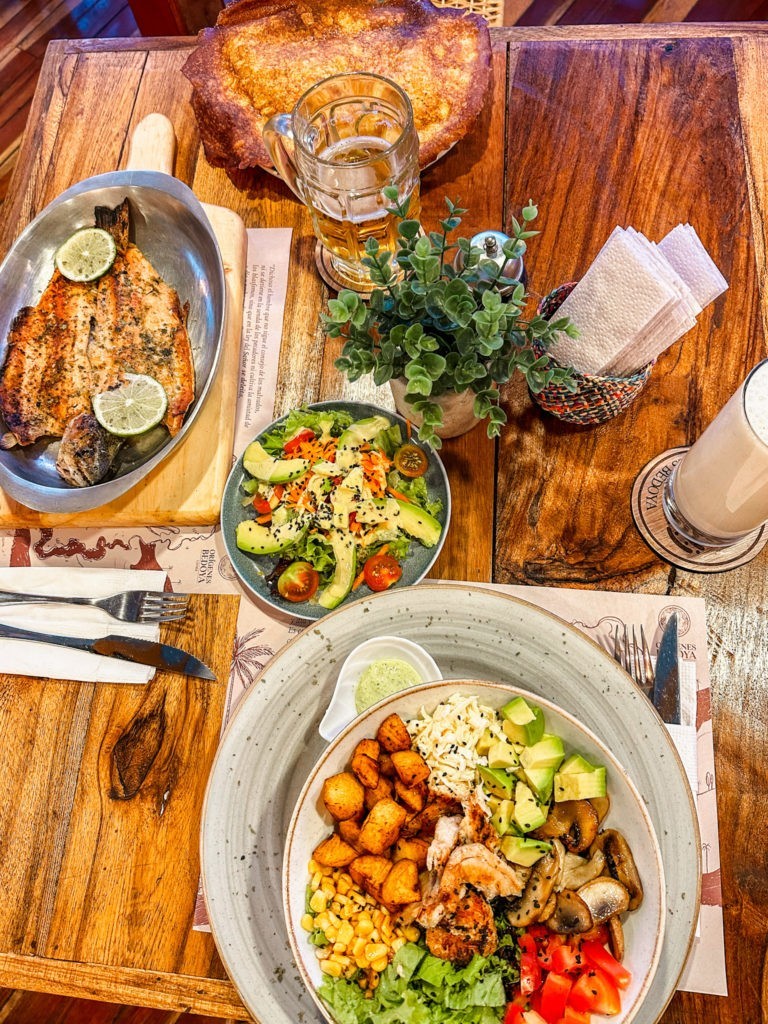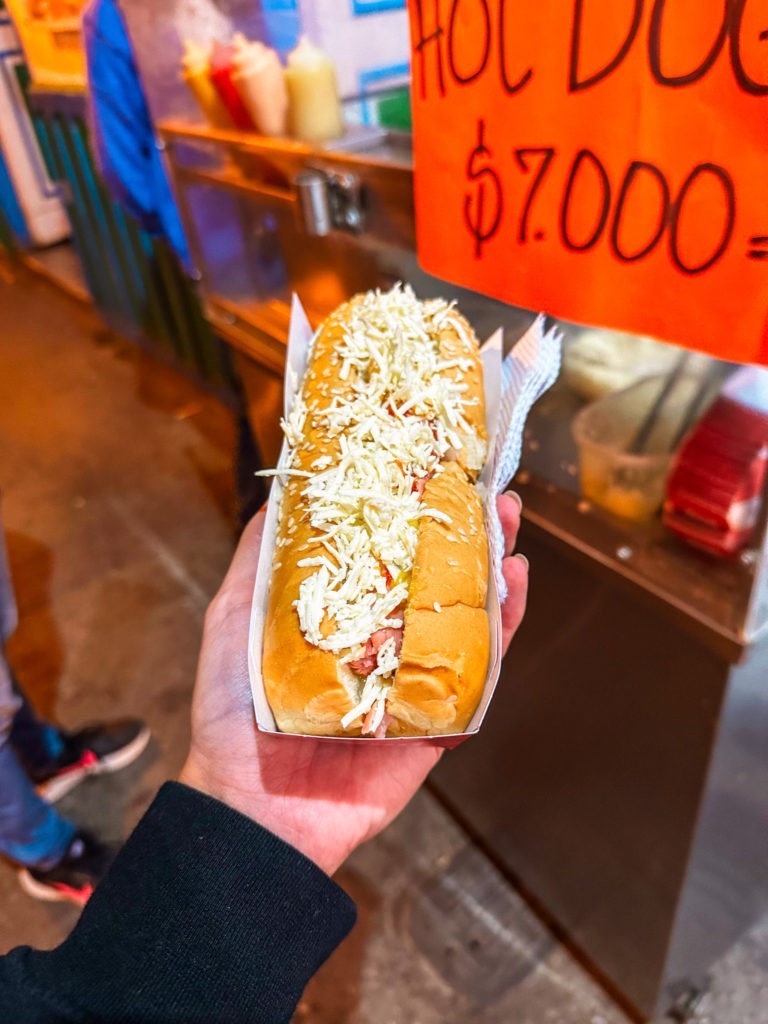 When is the best time to visit Salento?
The best time to visit Salento largely depends on your preferences and what you want to experience. The climate in Salento is mild year-round due to its location in the Andes Mountains typically ranging from 9°C (48°F) to 21°C (70°F). Most tourists visit Salento during the dry season from December to February and June to September. You're less likely to encounter heavy rainfalls and the weather is generally drier.
Visiting Salento between April to May is also a good option in case you are interested in the coffee culture. During those months the coffee harvesting usually takes place. Keep in mind that April to May is also part of the rainy season in Salento, so don't be surprised about getting wet sometimes.
However, we wouldn't recommend going to Salento in October and November. Those months are usually experiencing the most rainfalls, and, while landscapes will be lush and green, also the roads could get blocked around the mountain regions.
We visited Salento in the shoulder month of September, just after our visit to Medellin and our weekend trip to Guatapé. During our stay it did rain very occasionally and mostly at night, which did not disturb us at all. Rather we really enjoyed the good climate for hikes and less crowds in the town.
Average peak temperatures
What does it cost to visit Salento?
Not only is Salento simply beautiful and definitely one of your absolute favourites when visiting Colombia, it's also cheaper compared to other major cities in Colombia. When you plan your trip to Salento, your weekly budget depends on how you travel. On the lower end, a budget-conscious traveler can expect to spend around 170 USD per week. That includes a hostel accommodation, local food and transportation using the Willy collectivos. If you want to treat yourself with a little more luxury, then expect to pay around 1500 USD per week.