Masai Mara, Kenya, the crown jewel of African safaris! Here, amidst the vast savannahs and acacia-dotted landscapes, you'll  witness the world's most spectacular wildlife gatherings.
The Great Migration, one of nature's most incredible spectacles, occurs annually in Masai Mara. Hundreds of thousands Serengeti wildebeest embark on their epic journey in search of fresh grazing, they cross the Tanzanian-Kenyan border and navigate the dangerous Mara River, where crocodiles lurk hungrily in wait. 
Fortunately, our travel dates coincided with the Great Migration, and we were so excited to witness this magnificent spectacle. We can assure you that this unforgettable sight will stay imprinted in your memory forever.
Save on Pinterest to read it later.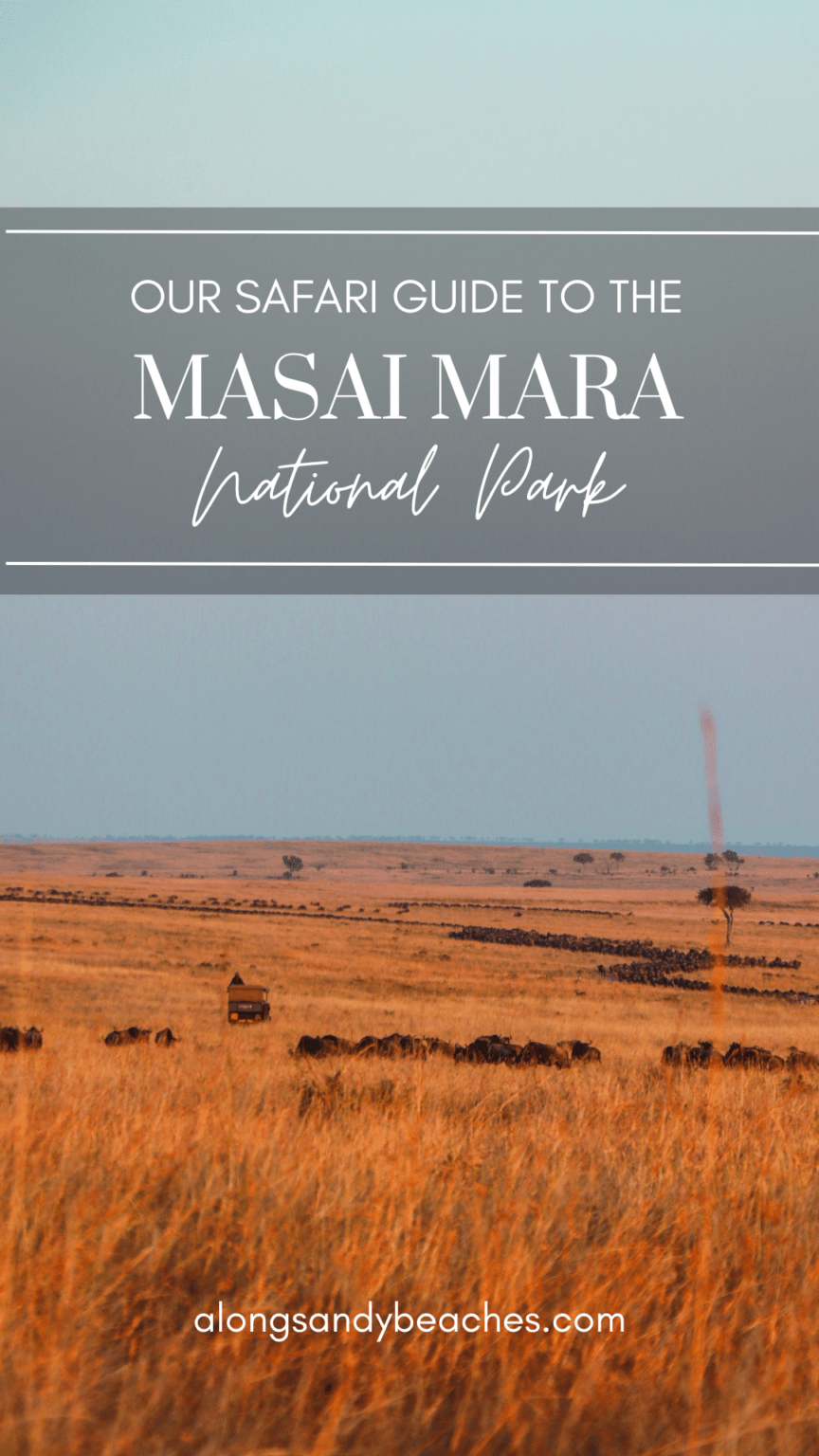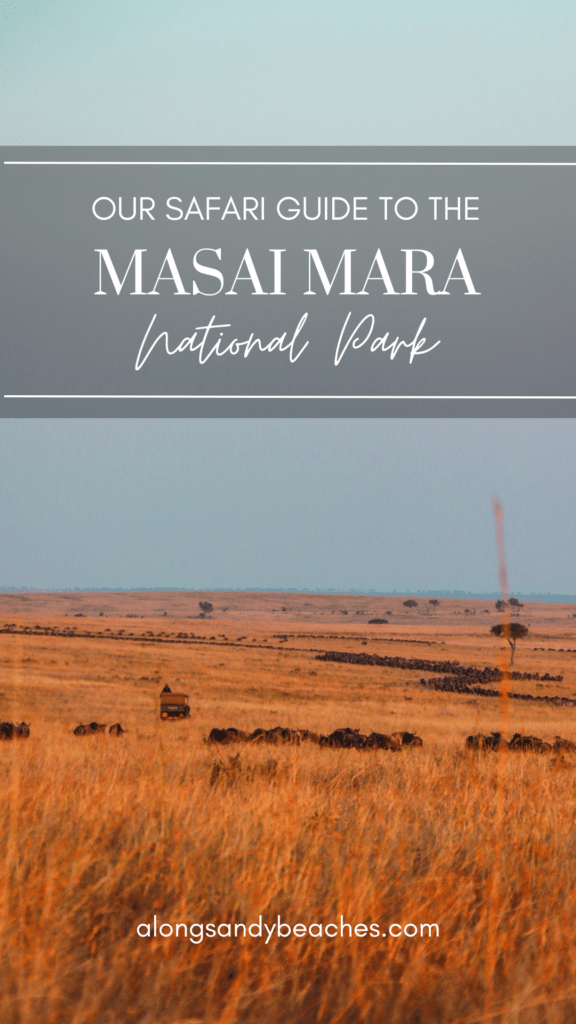 When Is the Best Time to Visit Masai Mara?
Before jumping into the awesome animal encounters you will experience when visiting Masai Mara, let's first answer the question of the best time to travel to the national park.
The ideal time to visit Masai Mara for a safari experience largely depends on your specific interests. If you are looking to witness the incredible Great Migration of wildebeests, zebras and elephants, then planning your visit between July and October would be best. This is when these majestic animals make their daring crossing through the Sand and Mara River, attracting both predators and curious tourists alike.
If you prefer a quieter and more budget-friendly experience, you might want to consider the low season, which falls between April and June. During this time, the landscape is lush and green, and you encounter fewer tourists. The rainy season, from November to May, is perfect for birdwatchers, as many migratory bird species flock to the region.
In conclusion, there is no wrong time to explore the wonders of Masai Mara, as each season offers its own unique charm and opportunities for memorable safari encounters.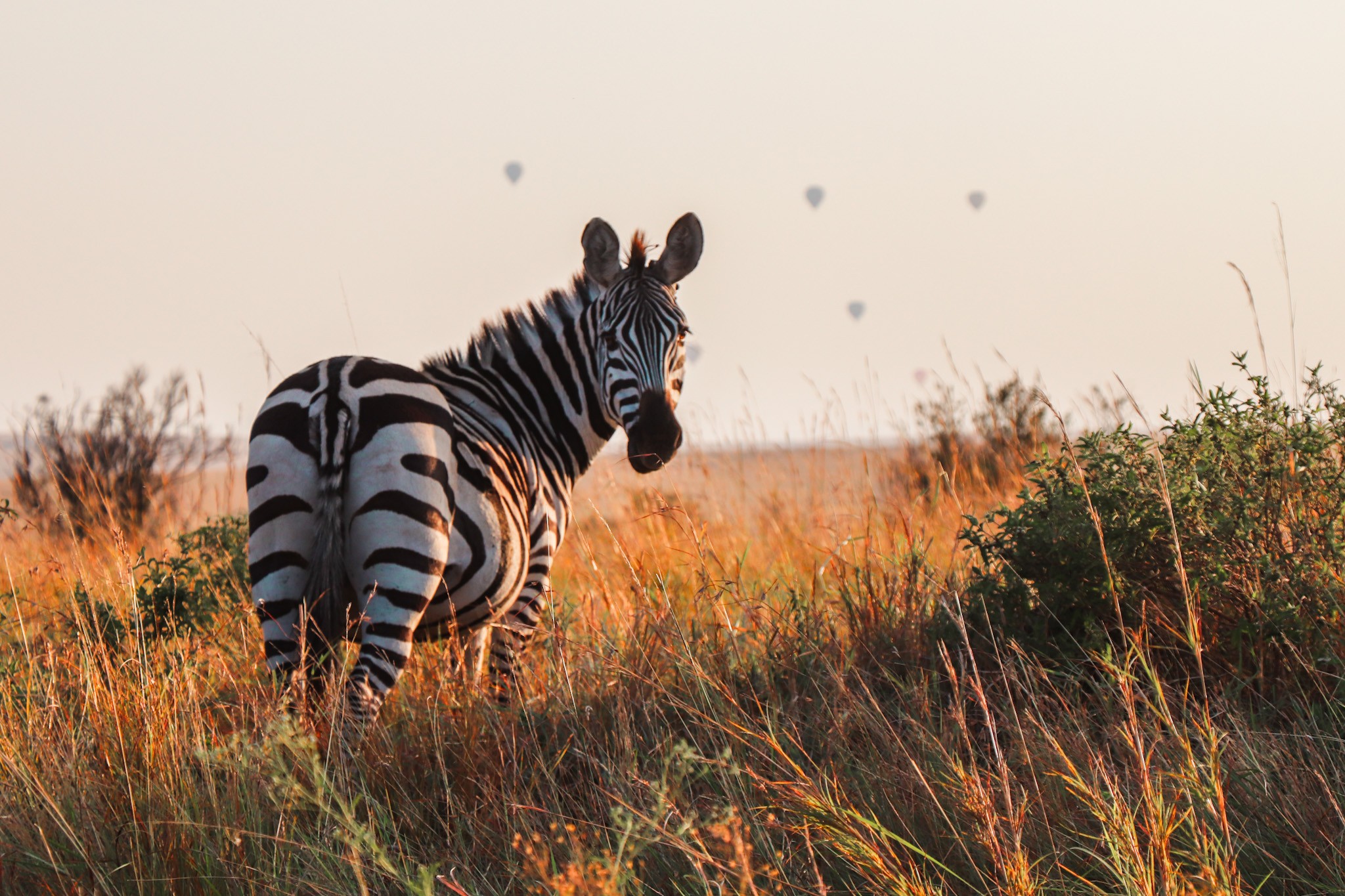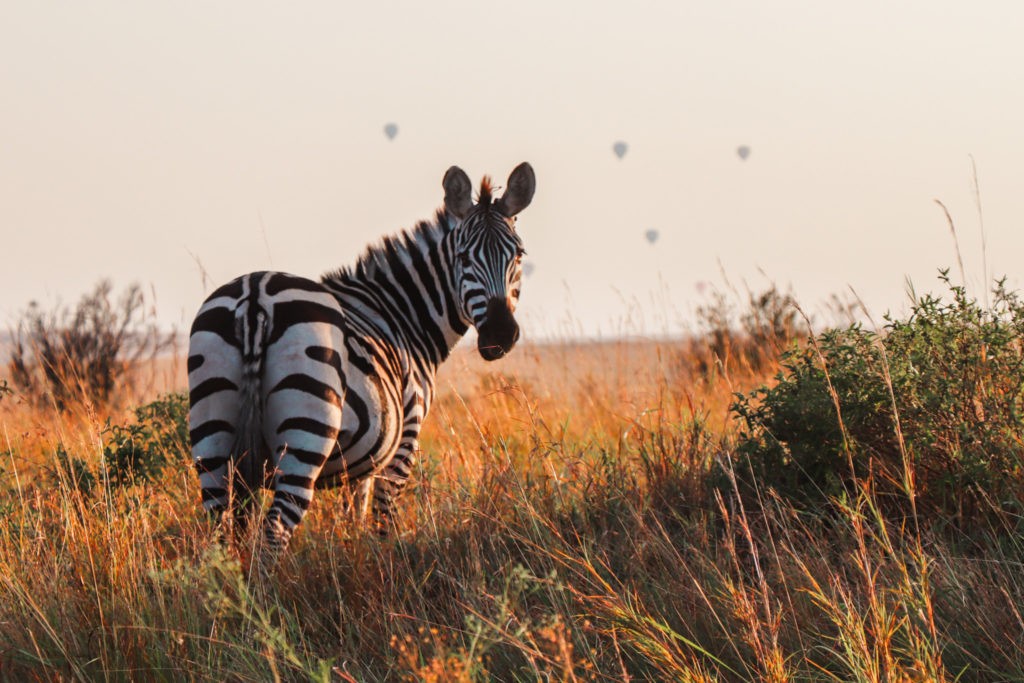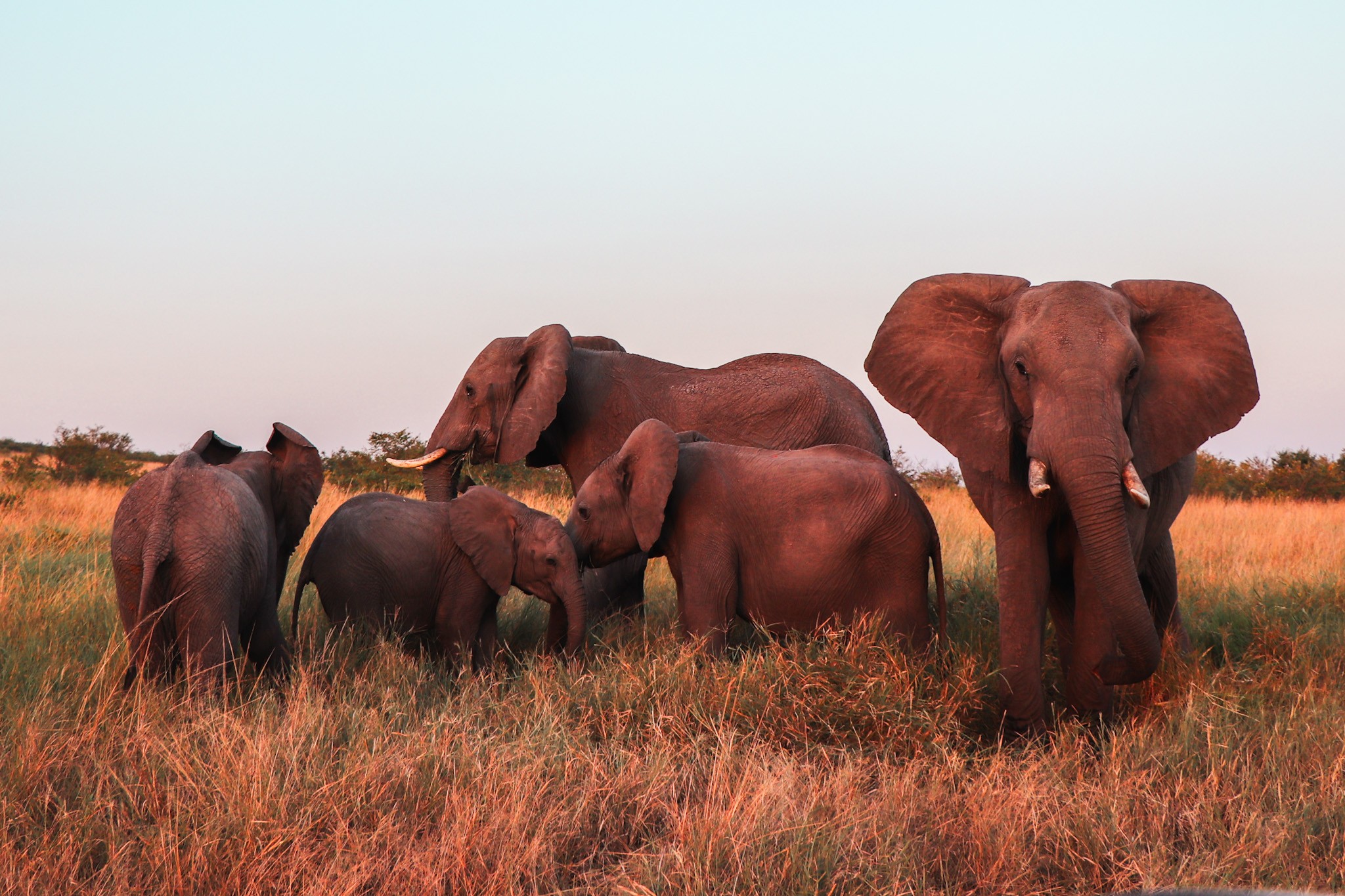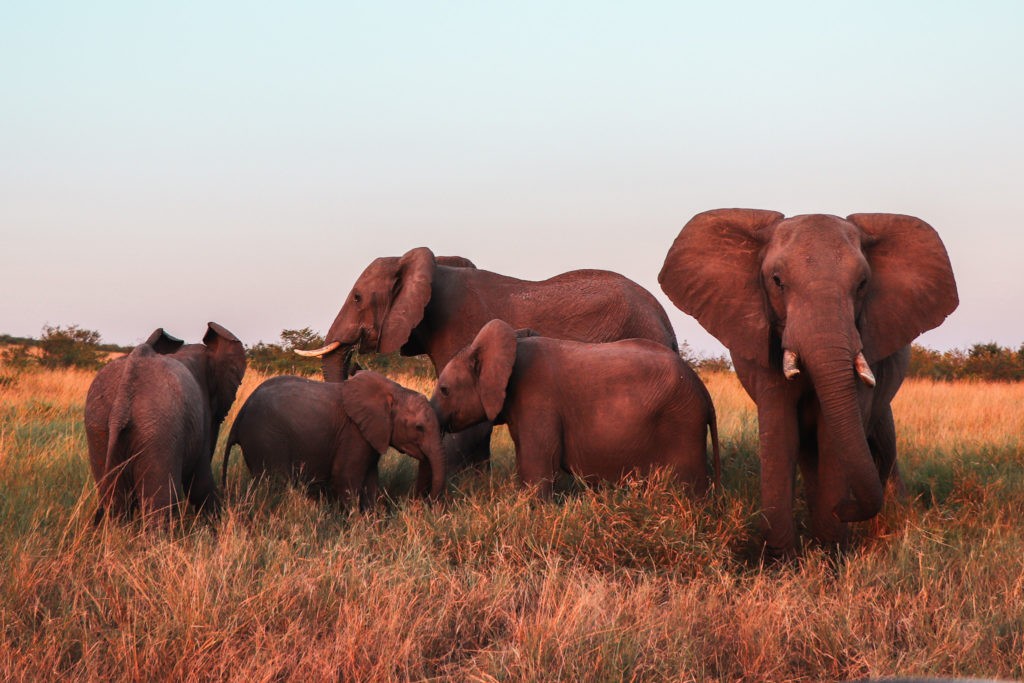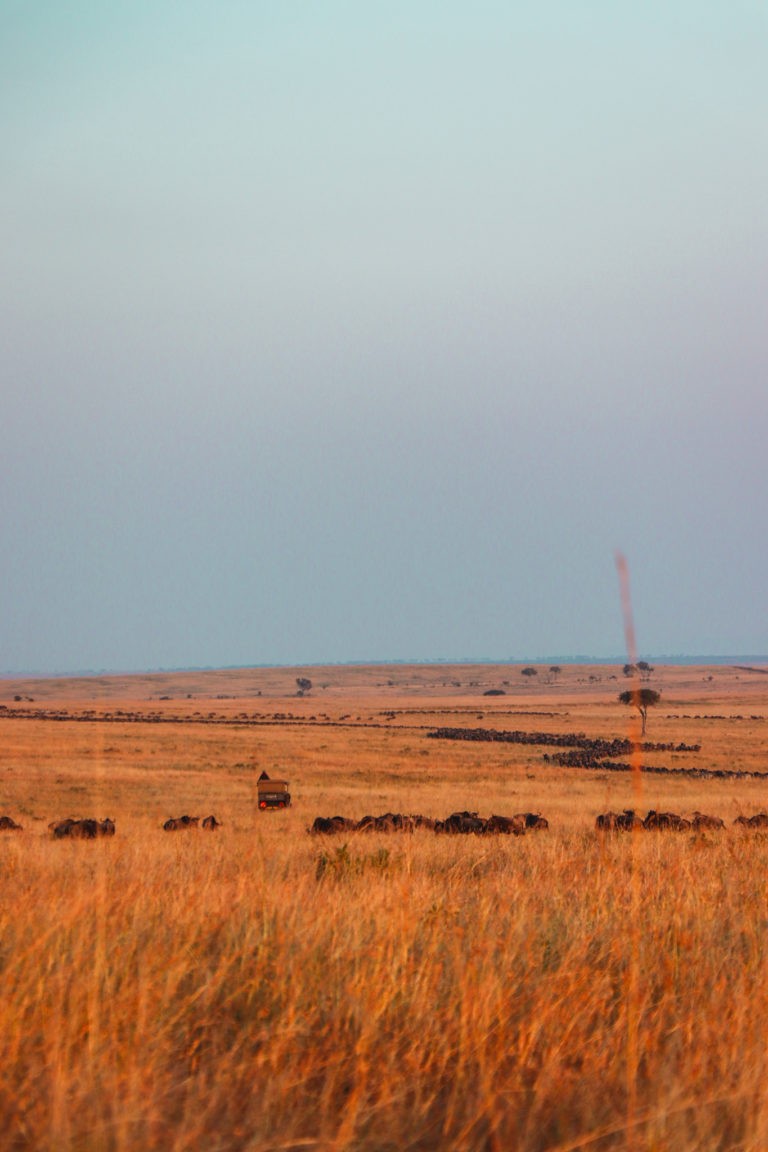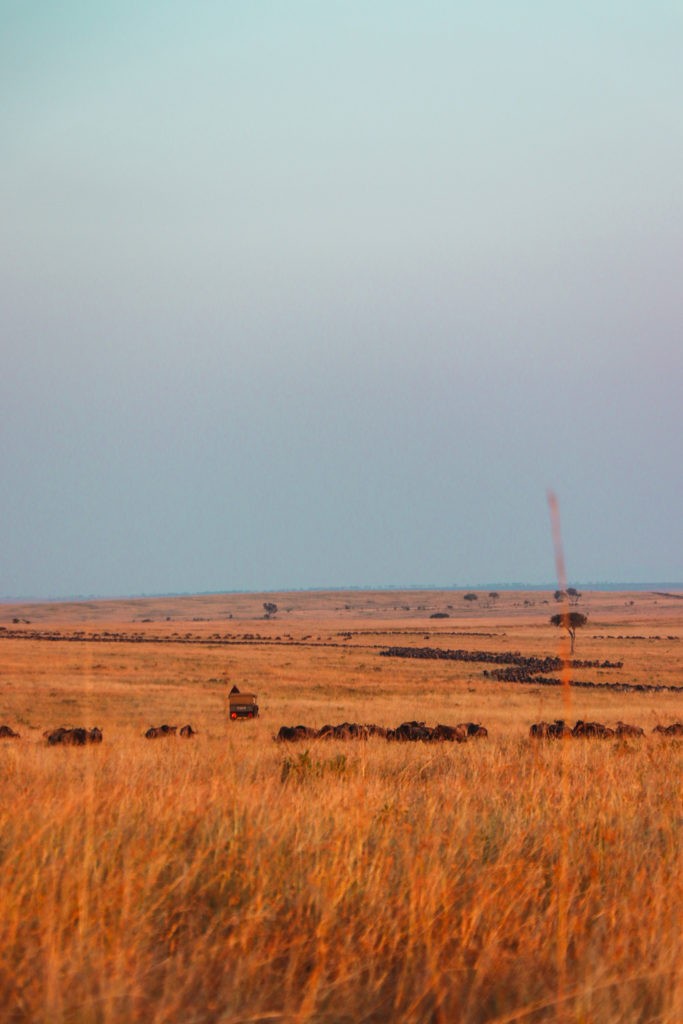 Where Can I see the Great Migration?
There are two major river crossings in Masai Mara National Park: the Sand River, where the crossings typically begin around mid-July, and the Mara River, where crossings usually occur from August until October.
During our visit to Masai Mara from July 17th to 19th, the Great Migration had just commenced three days prior. However, since the Sand River had low water levels at that time, we did not witness the spectacular scenes of crocodiles attacking the wildebeest. Which was not that important for us anyways :). If observing this phenomenon is on your bucket list, it is advisable to postpone your trip to August or September when the wildebeest have reached the Mara Triangle and start crossing the Mara River. It's essential to note that the wildebeest do not cross the river every day, so planning a 3-4 day stay will increase your chances of witnessing this remarkable event.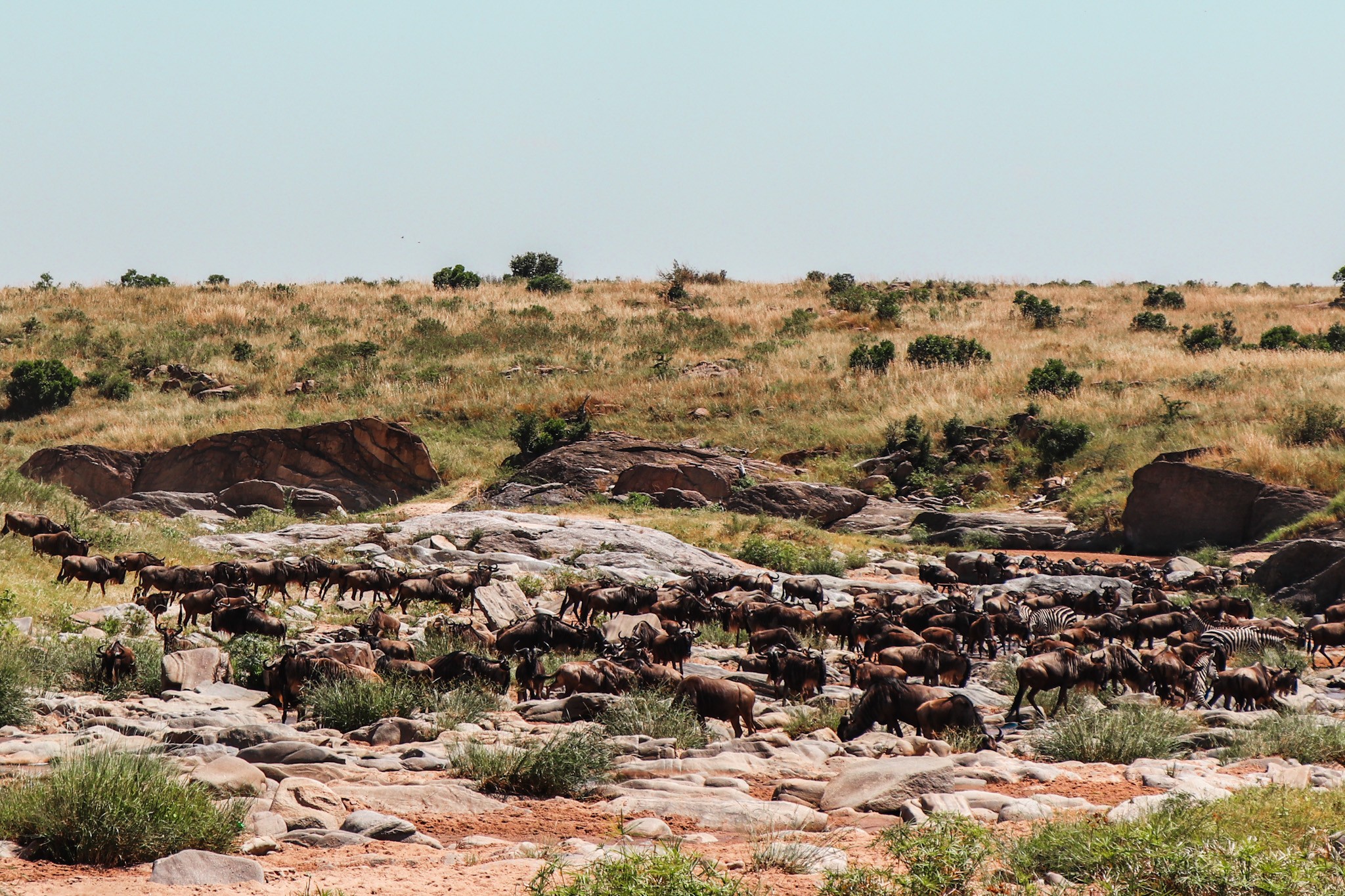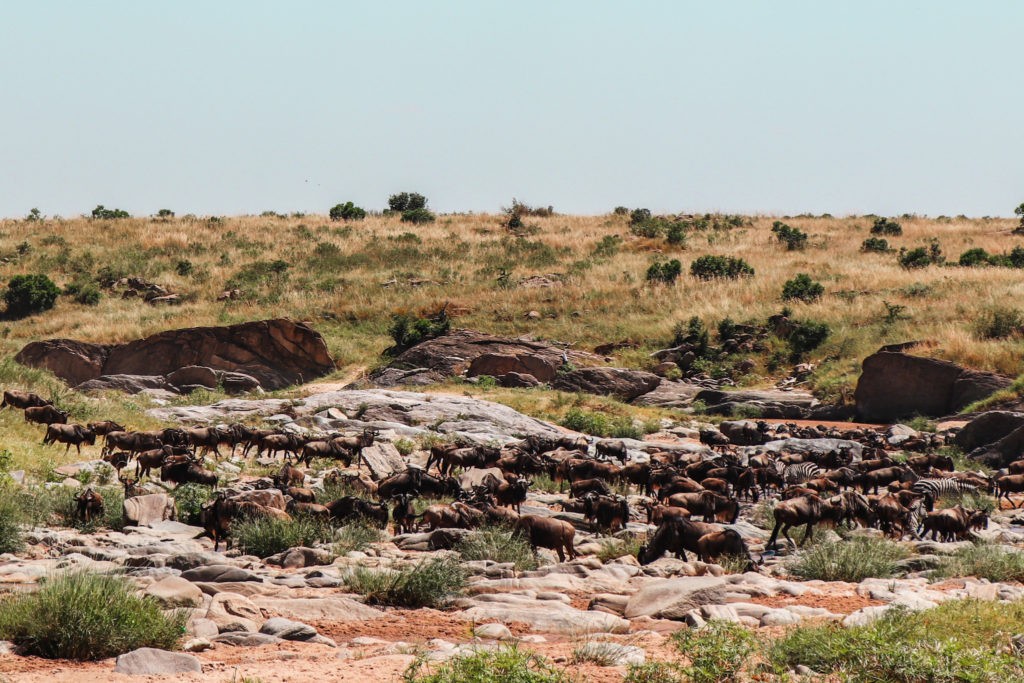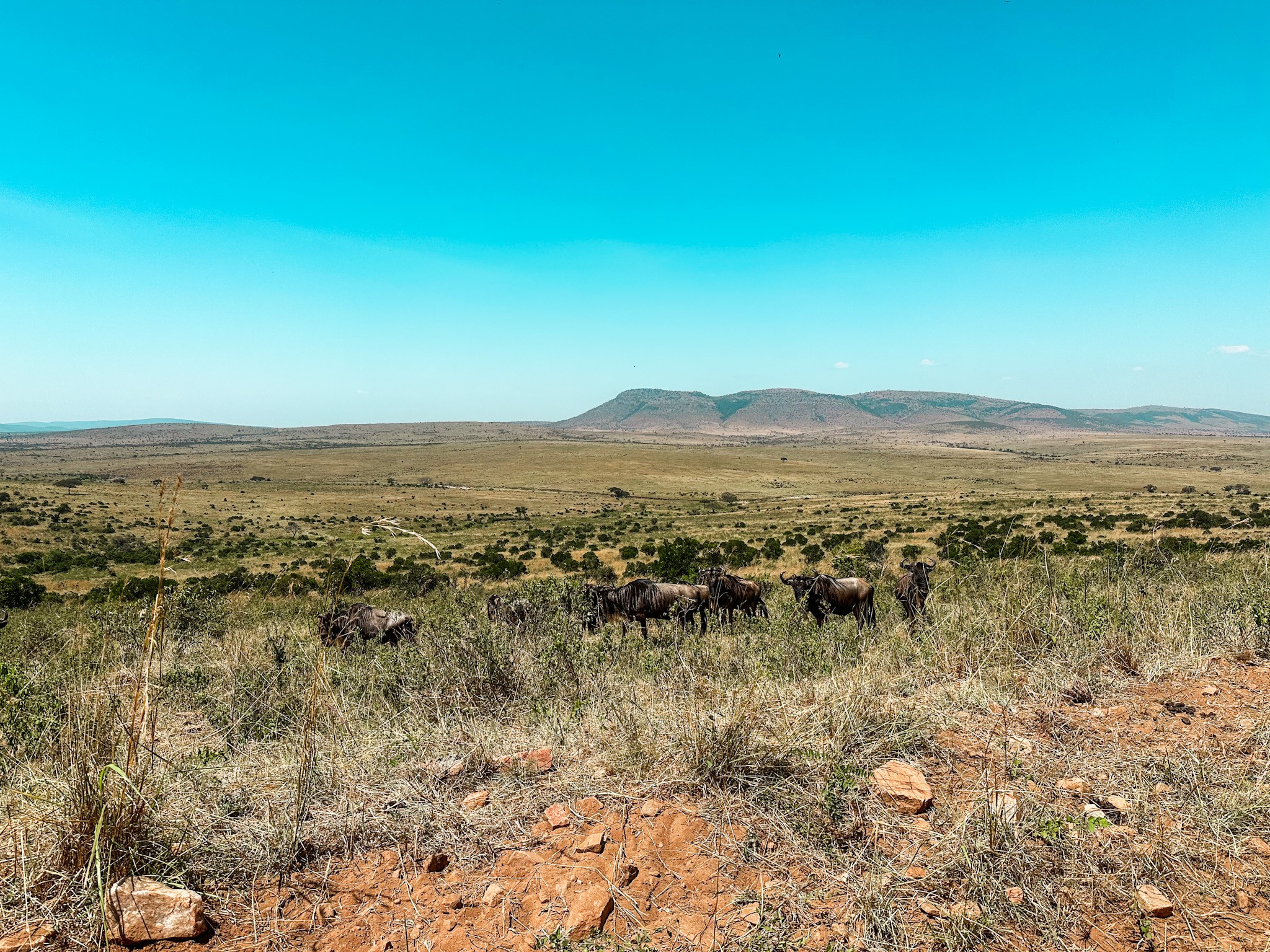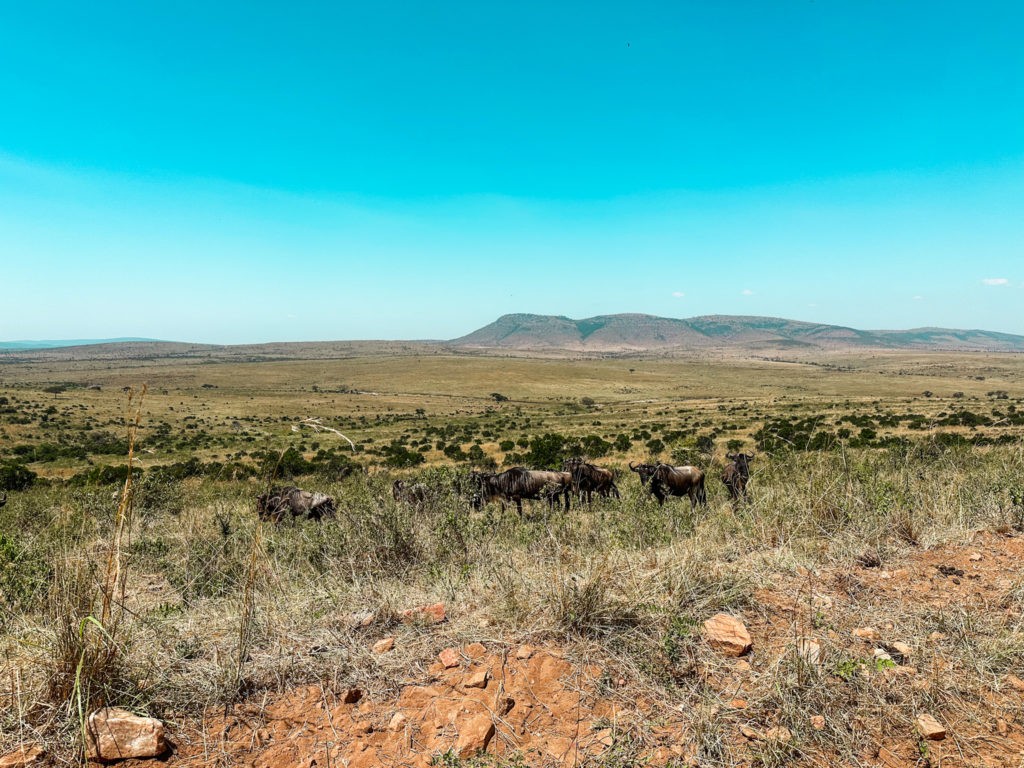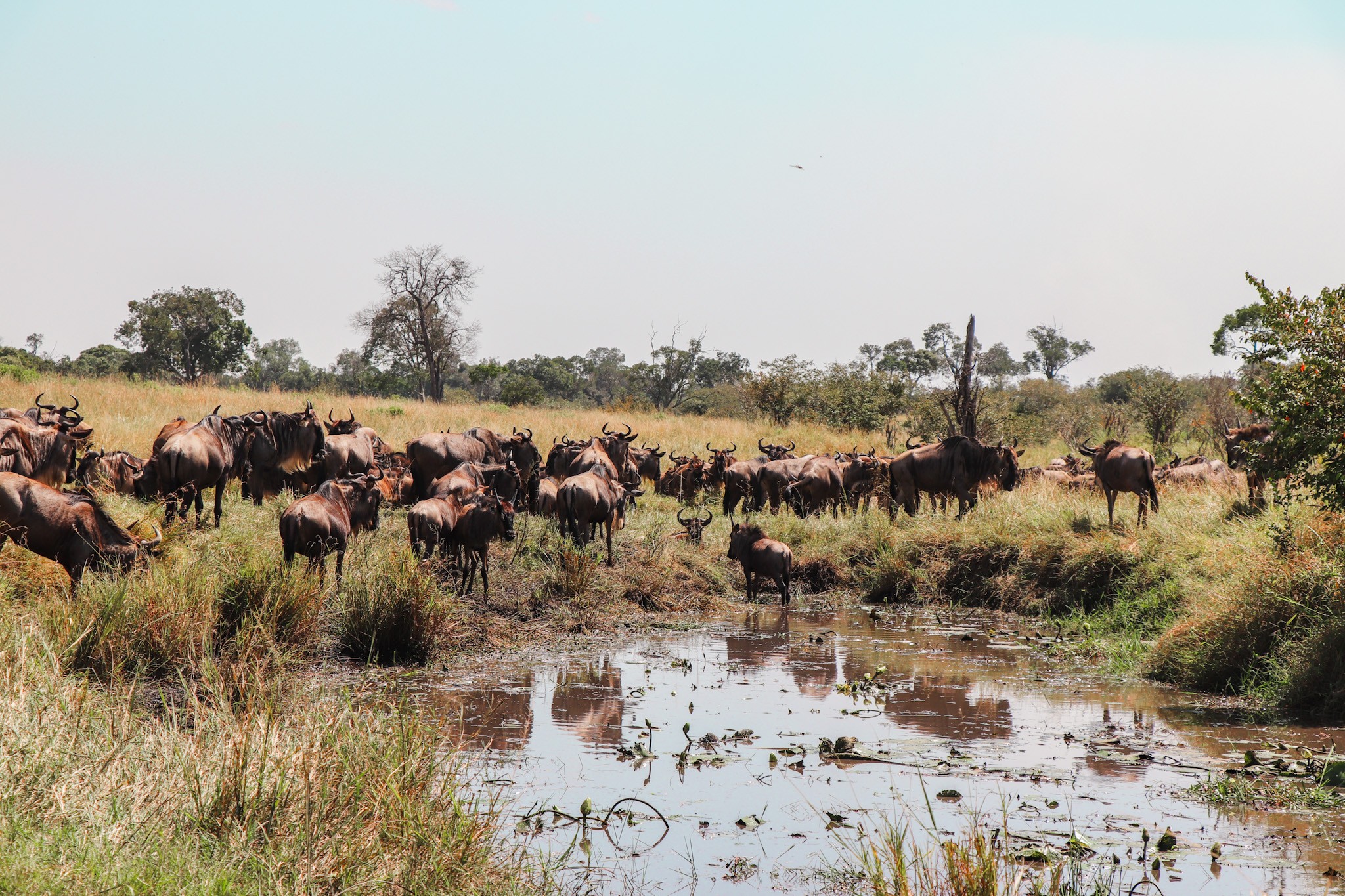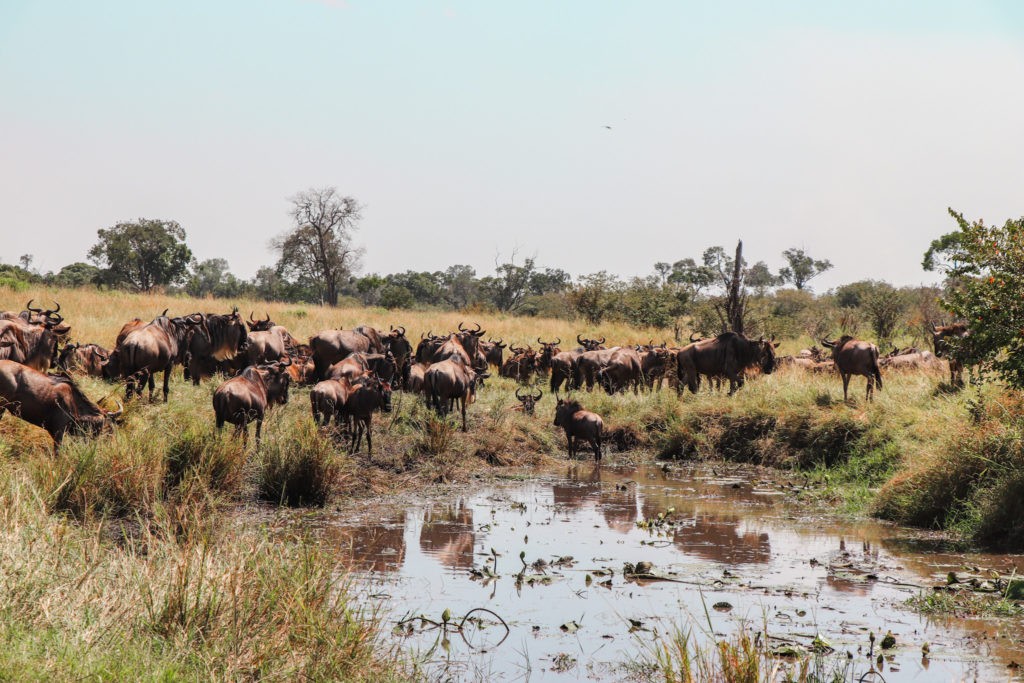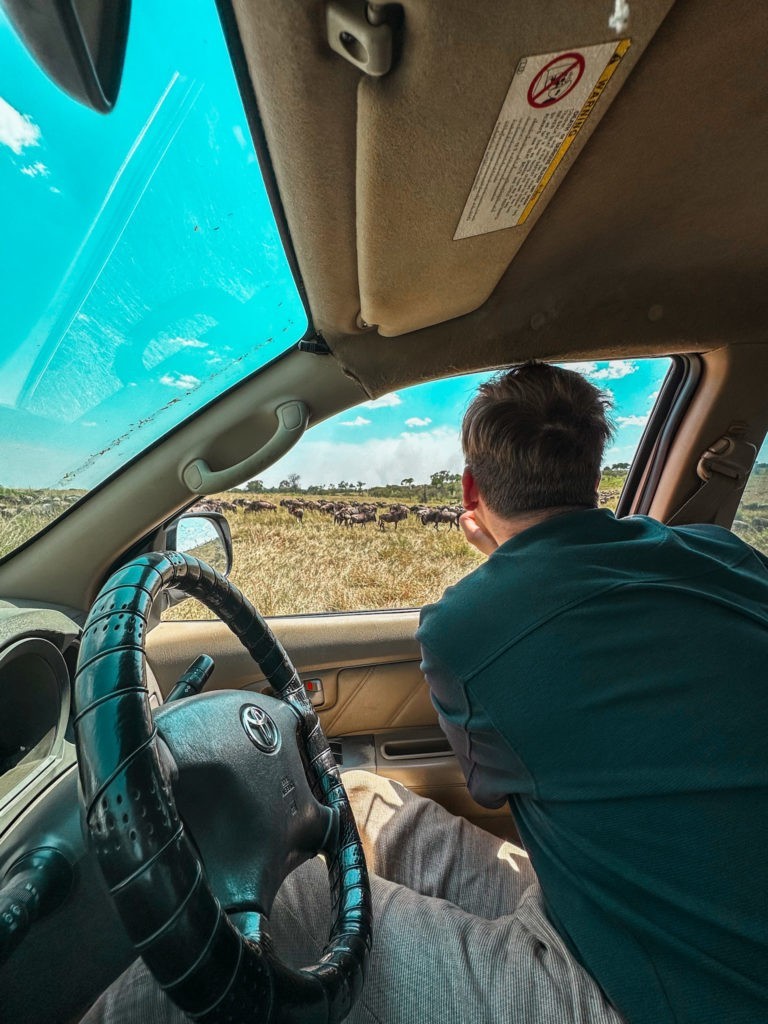 How to Best Get to Masai Mara?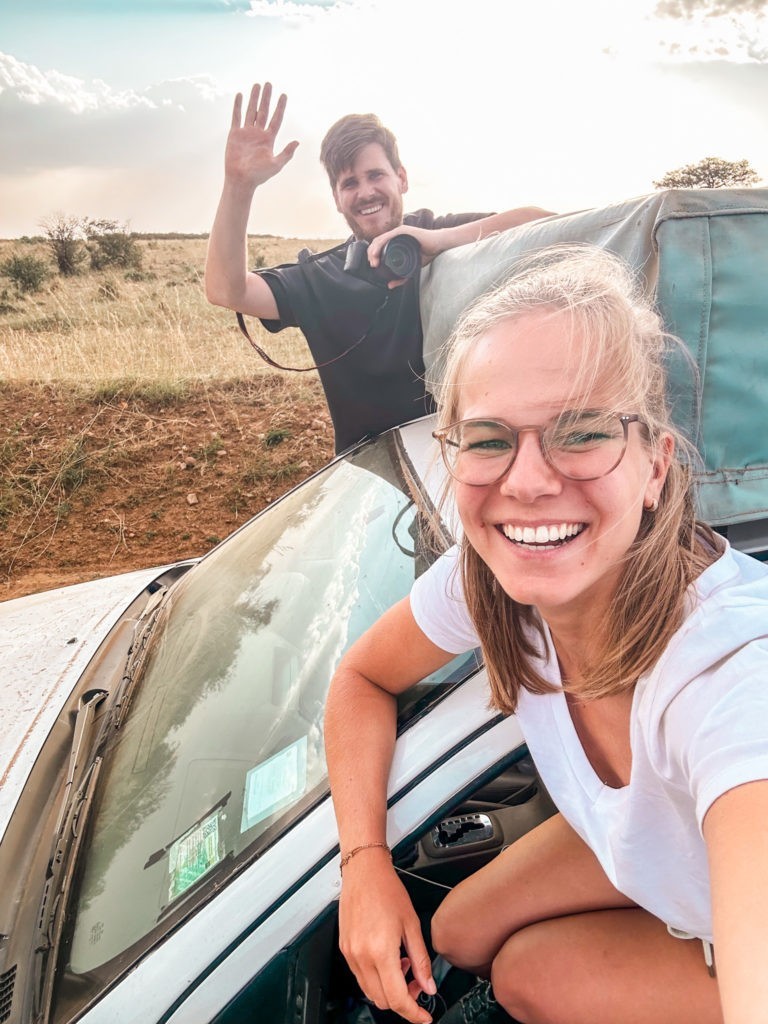 Getting to Masai Mara for your safari adventure is an exciting part of the journey. There are various transportation options available, depending on your preferences and budget.
If you prefer convenience and speed, you can take a domestic flight from Nairobi, Kenya's capital, to one of the airstrips inside the reserve (Keekorok and Serena are the most commonly used ones). This option allows you to avoid long hours of travel by road and quickly immerse yourself in the wilderness. However, it is by far the most expensive option, starting from $280 for a roundtrip during the low season.
Alternatively, for a more adventurous experience you can opt for renting an off-road vehicle – the option we have chosen. As part of our road trip, we have rented a 4×4 car to explore Kenya and Masai Mara on our own. The journey from Nairobi to Masai Mara (Sekenani Gate is the main gate entry to the national park) usually takes 5 to 5.5 hours, but it's an excellent opportunity to soak in the beauty of Kenya's countryside and witness the life in villages. The cost for a vehicle depends on the car type and age, season and rental duration. Since we had the car for an extended period and it was equipped with a roof-top tent and camping gear, we paid approximately 150 USD per day.
If you don't want to rent a car, but still experience the countryside along your way, you can travel by Matatu, local mini-vans that literally take you from anywhere to everywhere within the country. They are also the most budget-friendly option and can be taken for a few Kenyan Shillings only. Be aware that Matatus have multiple! stops along the way, which can result in a relatively long travel time.
If you don't want the hassle of renting a car, booking an expensive flight or travel with local Matatus, then booking a safari tour would be the most convenient option for you. Many reputable safari operators offer game drive and safari packages, making the logistics of your trip smoother and more enjoyable.
What Animals Can Be Seen in Masai Mara?
The Masai Mara boasts an astounding array of wildlife that will leave every safari enthusiast speechless. The park is most renowned for being home to the iconic "Big Five" – lions, elephants, buffaloes, leopards, and rhinos. They are dominating the savannah landscapes and all of them can be found and seen inside Masai Mara. But these majestic creatures are not the only stars of the show; Masai Mara's diverse ecosystem supports over 95 different species of mammals, making every game drive a thrilling adventure.
During our time within Masai Mara, we have almost seen it all. We counted four of the "Big Five". While traveling the park with our own vehicle and without any guide, we did see a lot of elephants, buffaloes, one lion and even a rhino (the most rare encounter within Masai Mara). So if you choose to hire a guide for the day, then maybe you are lucky to see them all. But even if not, you will have an unforgettable visit in Masai Mara, as there are a ton of other animals to see, such as hyenas, ostriches, zebras, wildebeest, hippos and (if you are a bird-lover) over 570 different species of birds.
If you decided to visit Masai Mara during the migration season you will experience an unmissable spectacle. We went to Masai Mara mid of July and have seen thousands of wildebeest and zebras as they journey across the plains in search of fresh grazing.
With such an astonishing wealth of wildlife, Masai Mara promises an unforgettable safari experience that will immerse you in the wonders of the African wilderness.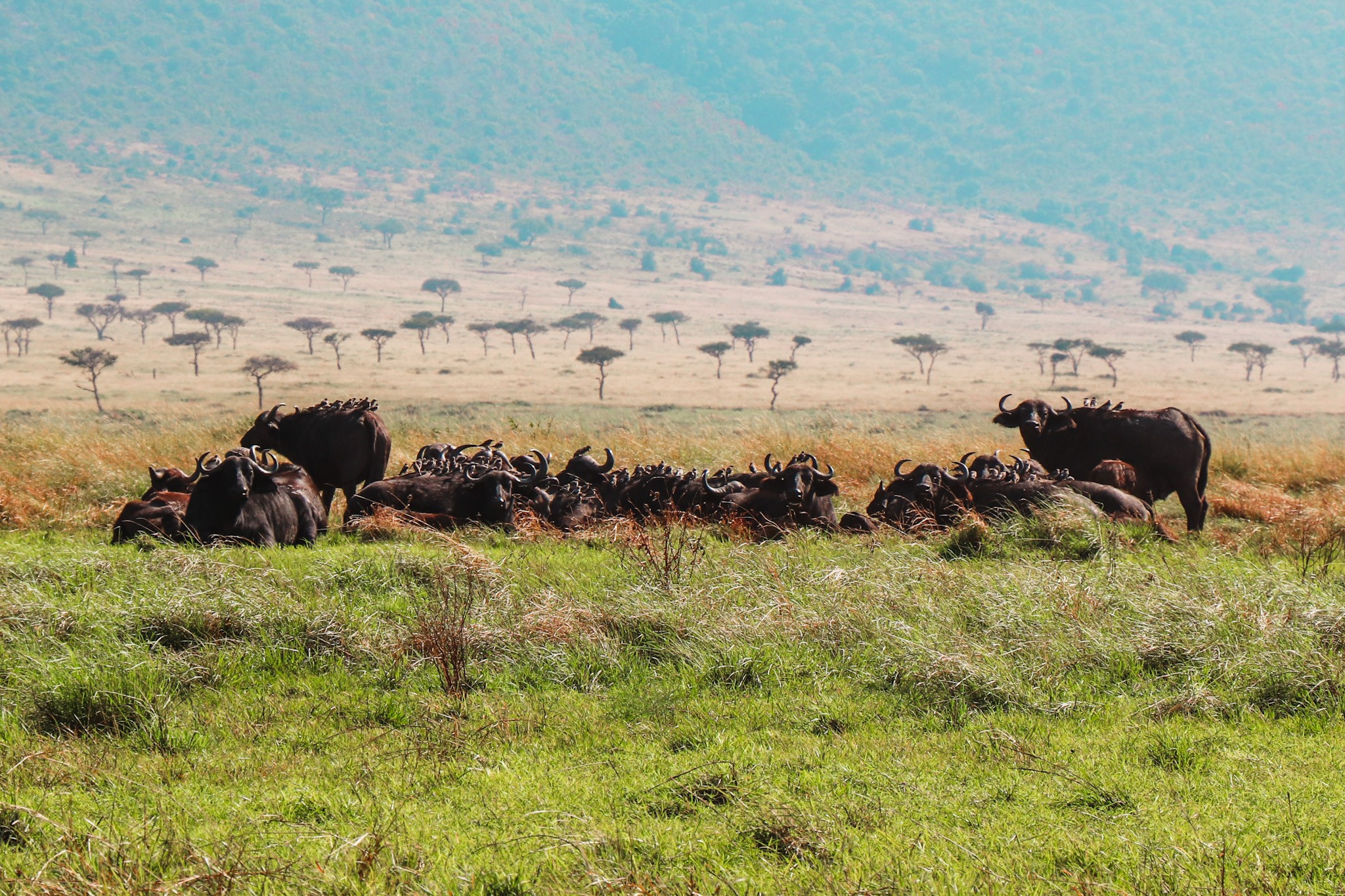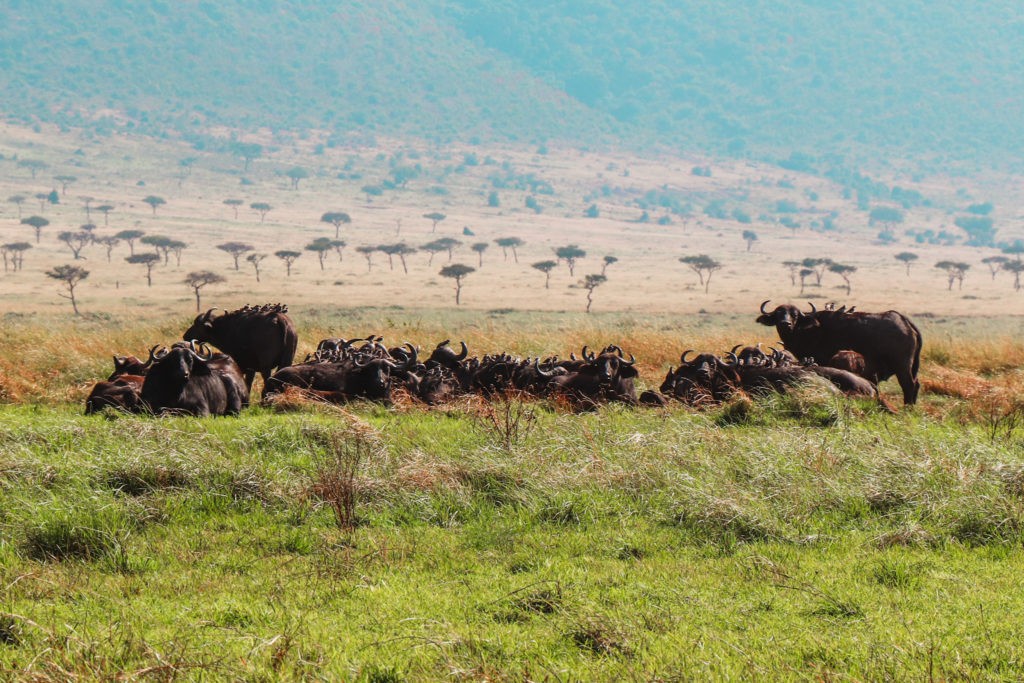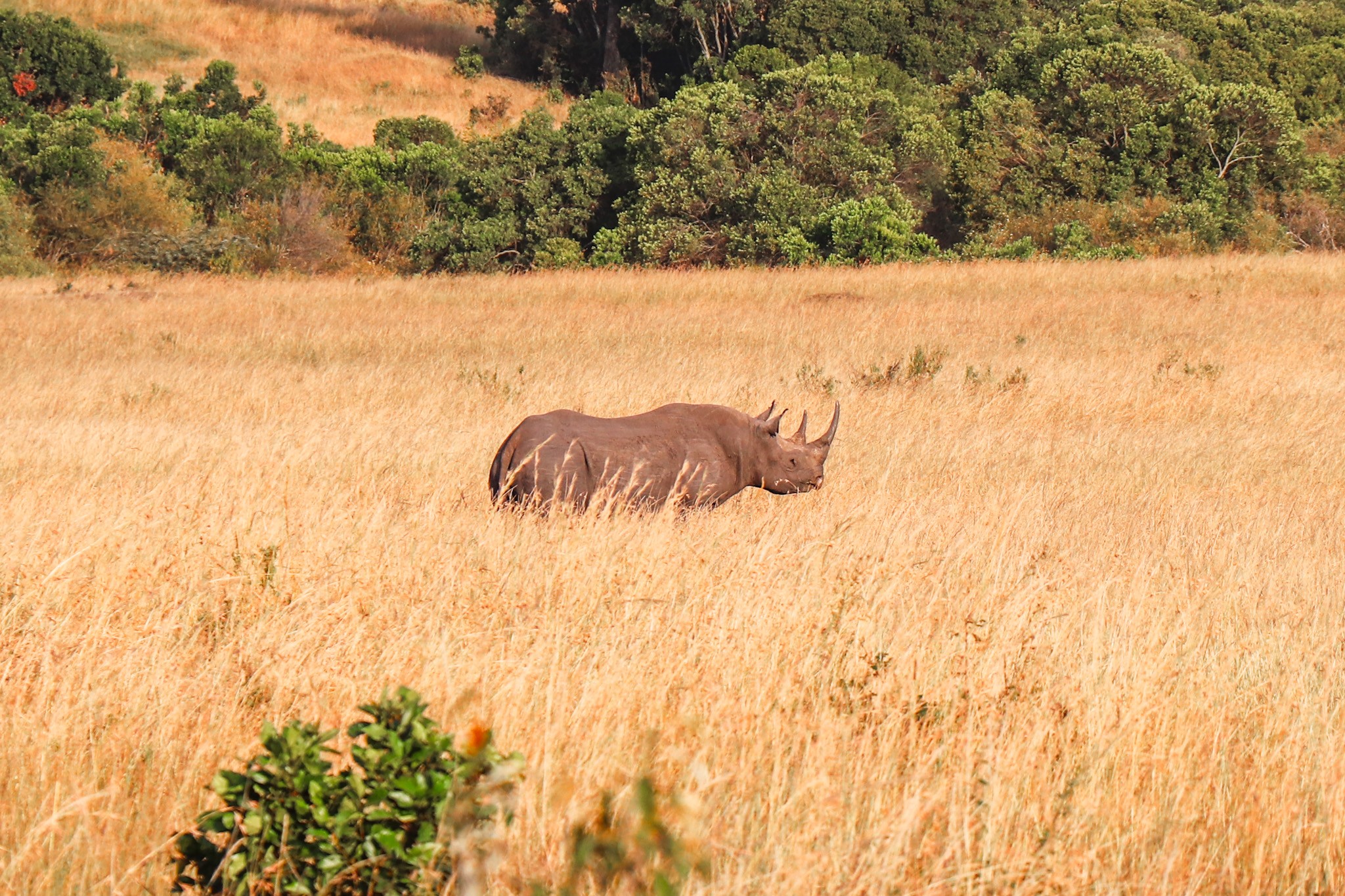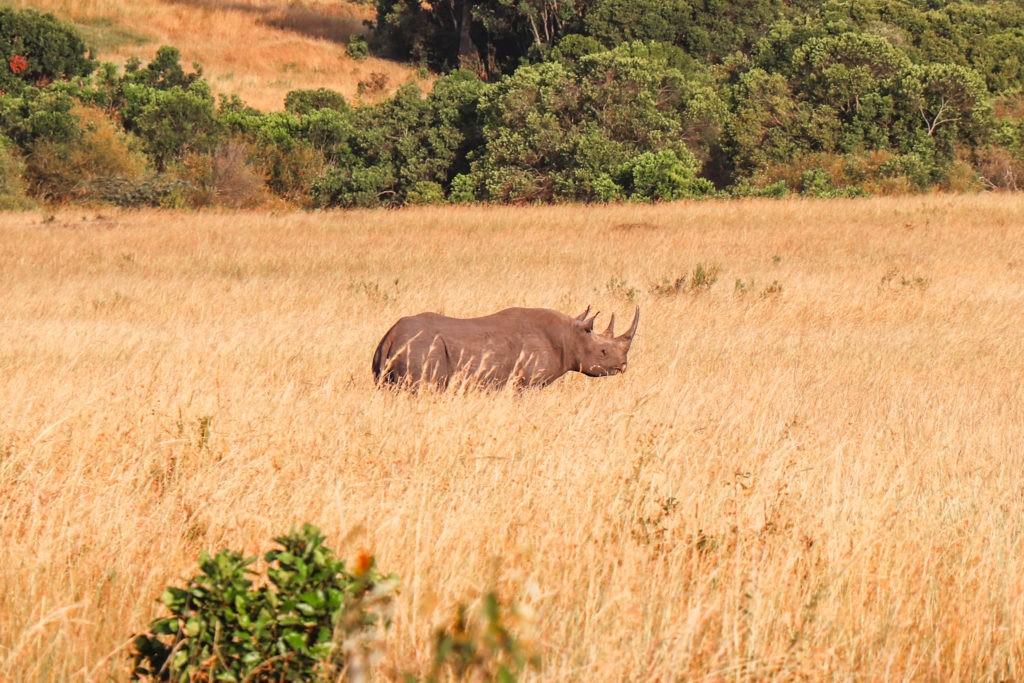 What Accommodation Options Are There in Masai Mara?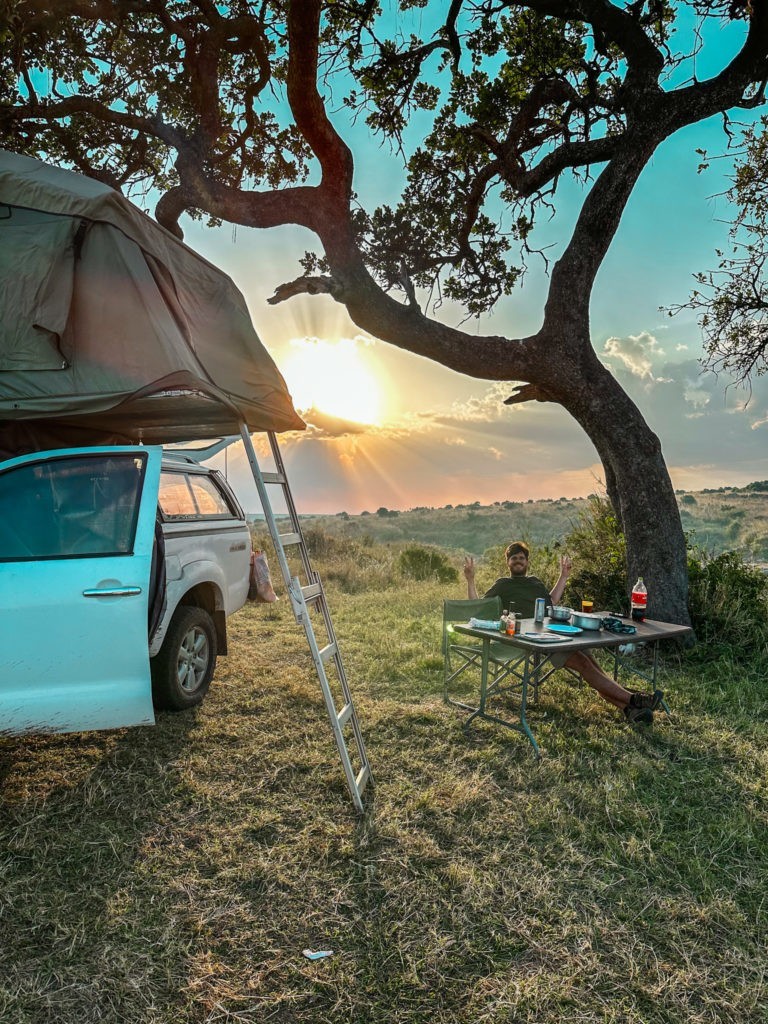 There are multiple accomodation options, if you decide to spend the night inside or outside the Masai Mara National Park.
Lodges: There are lodges located inside and outside of the park. Pricing for Lodges inside the park is higher, as there are fewer sites and the Kenyan Wildlife Service tries to limit the amount of people sleeping inside the park, as ultimately it's still a National Park, not an Amusement Park. Prices for accomodation inside the park ranges widely from 150 USD per person for a tented camp, up to 1500 USD for a suite at the JW Marriott Masai Mara Lodge. If you choose a lodge outside the park, the initial price point will be slightly lower.
Public Campsites inside Masai Mara: When deciding to say inside Masai Mara National Park, you can choose between staying at a public or private campsite. A list of public and private campsites can be found on the Masai Mara National Park Homepage. We have chosen to stay at a public campsite at the Sand River, which costed 30 USD per person per night. We were told that public campsites are always available, even though the website states "first come, first serve". Based on the recommendation of a ranger at the gate, ee stayed at Sand River campsite. It is a beautiful campsite with an amazing view and offering privacy. However, be aware, that there are no toilets etc. available. Also, we would not recommend it for the faint-hearted as there are lions in this region, the rangers are several hundreds of meters away and there is no reception to call for help in case you should get scared or need help :). Just make sure you won't leave your tent at night.
Private Campsites inside Masai Mara: There is also an option to choose a private campsite inside Masai Mara. The cost for a private campsite is 40 USD per person and night, alongside a ranger fee of 2x 3000 KSh (approx. 2x 25 USD). There is a requirement to book two rangers that guard you while you camp privately. Furthermore, ensure to book your private campsite in advance, as they tend to get booked quickly during the high season.
Keep in mind that you have to name the specific campsite you are going to camp when you are entering the park. As the Mara Triangle is a separate conservatory, it may even cost you extra entrance fees, if you do not get it entered correctly on your ticket. 
Also, if you stay for a night inside the Masai Mara National Park, you have to exit the park before 10 a.m. whereas the ticket is valid for 24h (so also make sure to enter the park after 10am on the arrival to avoid extra fees). Otherwise, you will need to pay the entrance fee for the second day.
Campsites outside Masai Mara: Camping outside of Masai Mara is the cheapest option. We have chosen to stay the night before our game drive at a local Maasai camp, called Oseki Camp, for a total of 30 USD self-catered. There are other options available, but we found this to be ideal, as it's only a 10min drive from the entry to the Sekenani main gate to the Masai Mara National Park.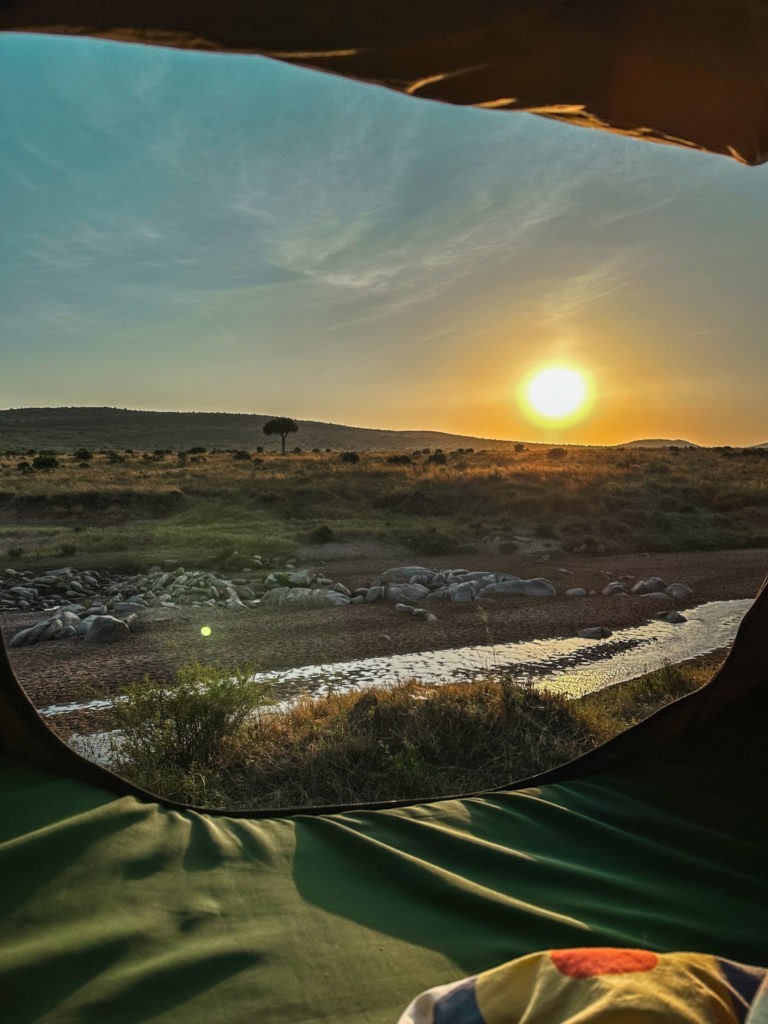 What Does it Cost to Go to Masai Mara?
If you haven't figured it out so far, going on a safari always is a costly experience. So let's quickly summarize the cost we have had. Make note, that we did it "the budget-friendly way", hence there is always the option to spend more.
Vehicle and Fuel (330$): We rented a 4×4 vehicle equipped with a roof-top tent. Rental costs were 120 USD per day. As we stayed two days inside Masai Mara we had a total cost of 240 USD. As we drove every route within the park we used a full tank for around 90 USD (fuel prices may change). Also, be aware, that these costs do not include the drive to and from Masai Mara.
Entrance Fee (283$): We stayed two days in the park and exited the park before 10a.m. on the third day. As the discounted entrance fee is 70$ per person if you decide to stay inside (-10$ cheaper) this costed us 2x 140USD = 280 USD. And a 3$ vehicle fee.
Accomodation (120$): We chose to stay two nights at a public campsite. The costs are 30$ per person and night, therefore resulting in a total of 120$ spent.
Meals (15$): We went shopping the other day, to be able to cook for ourselves when being at the park campsites. We averaged the prices for groceries and spend around 7.50USD per person per day.
Safari Guide (0$): We have chosen the "if there are a lot of cars, we look for something interesting"-type of guiding. However, you always have the option (and we would even recommend it, if you are new to safaris) to book a guide. Either one right from the gate that will join your car or one organized as part of your safari tour agency or lodge.
So overall we spent a total of 748$. Keep in mind that if you decide to visit Masai Mara for a single day only you will spend half of the costs. Still, visiting Masai Mara will be an expensive adventure – but also one that will last a lifetime…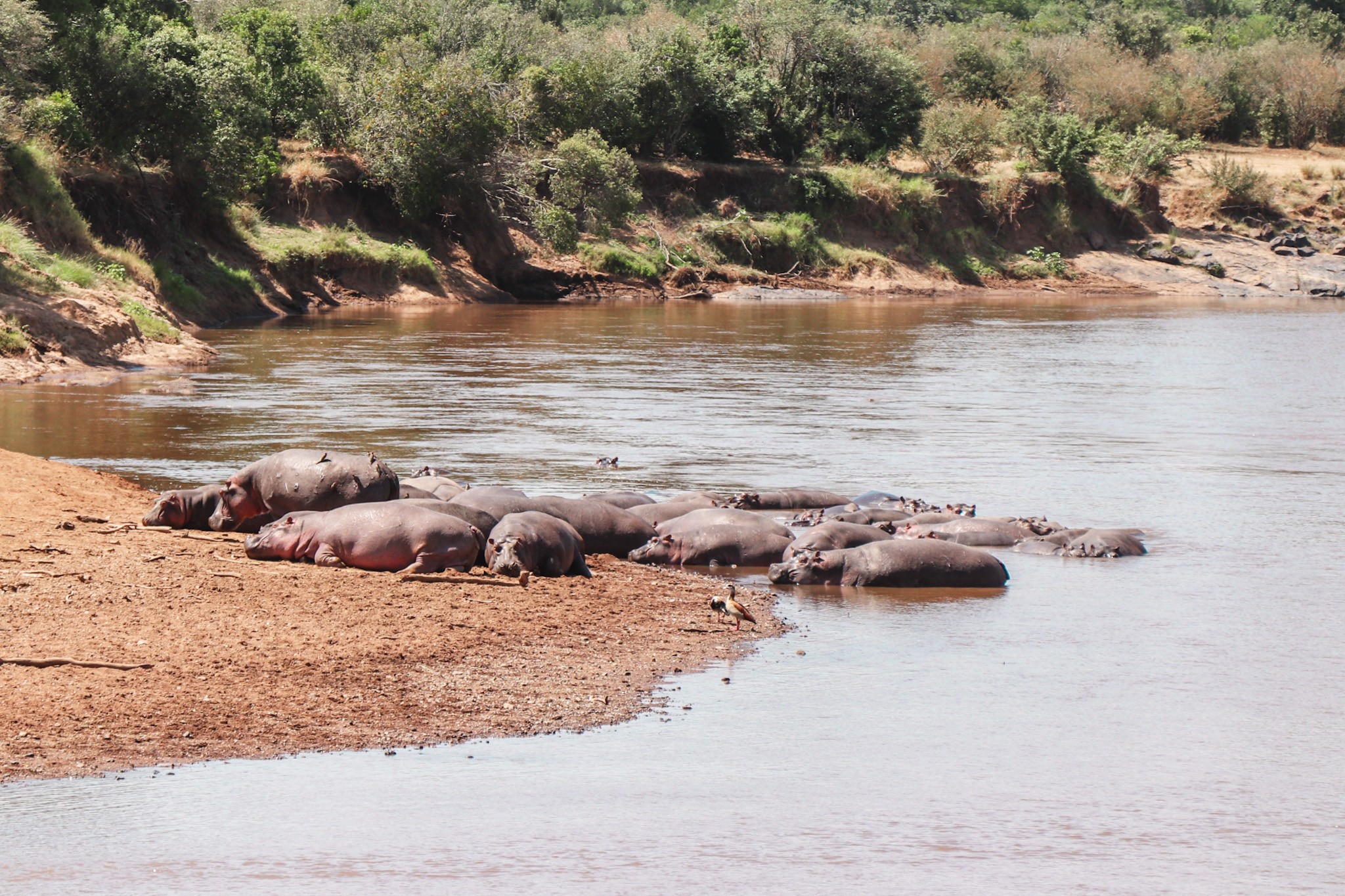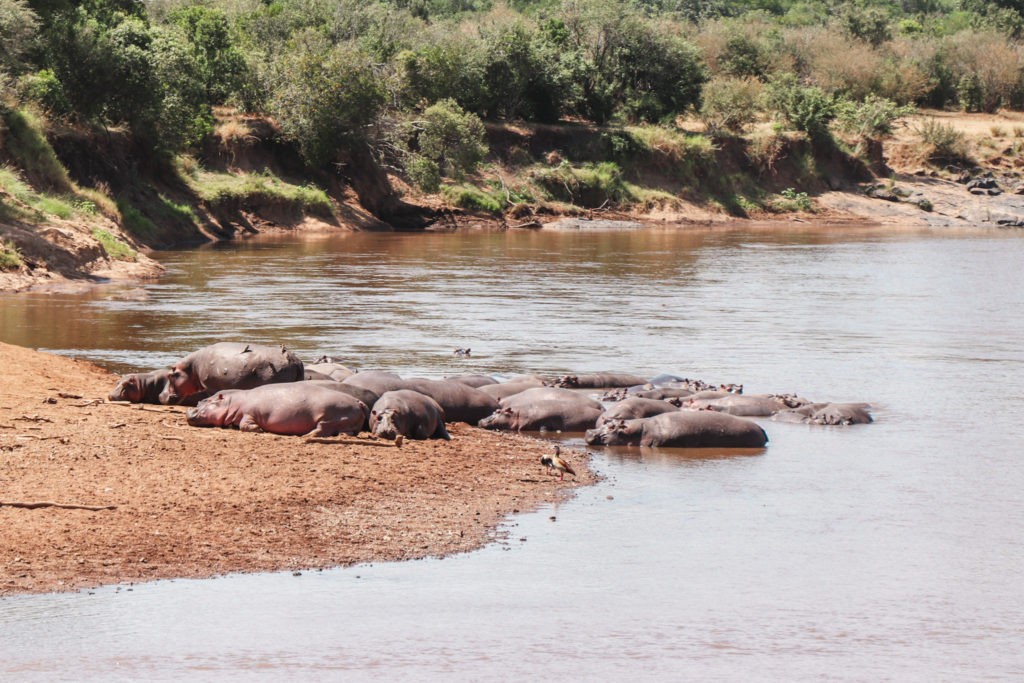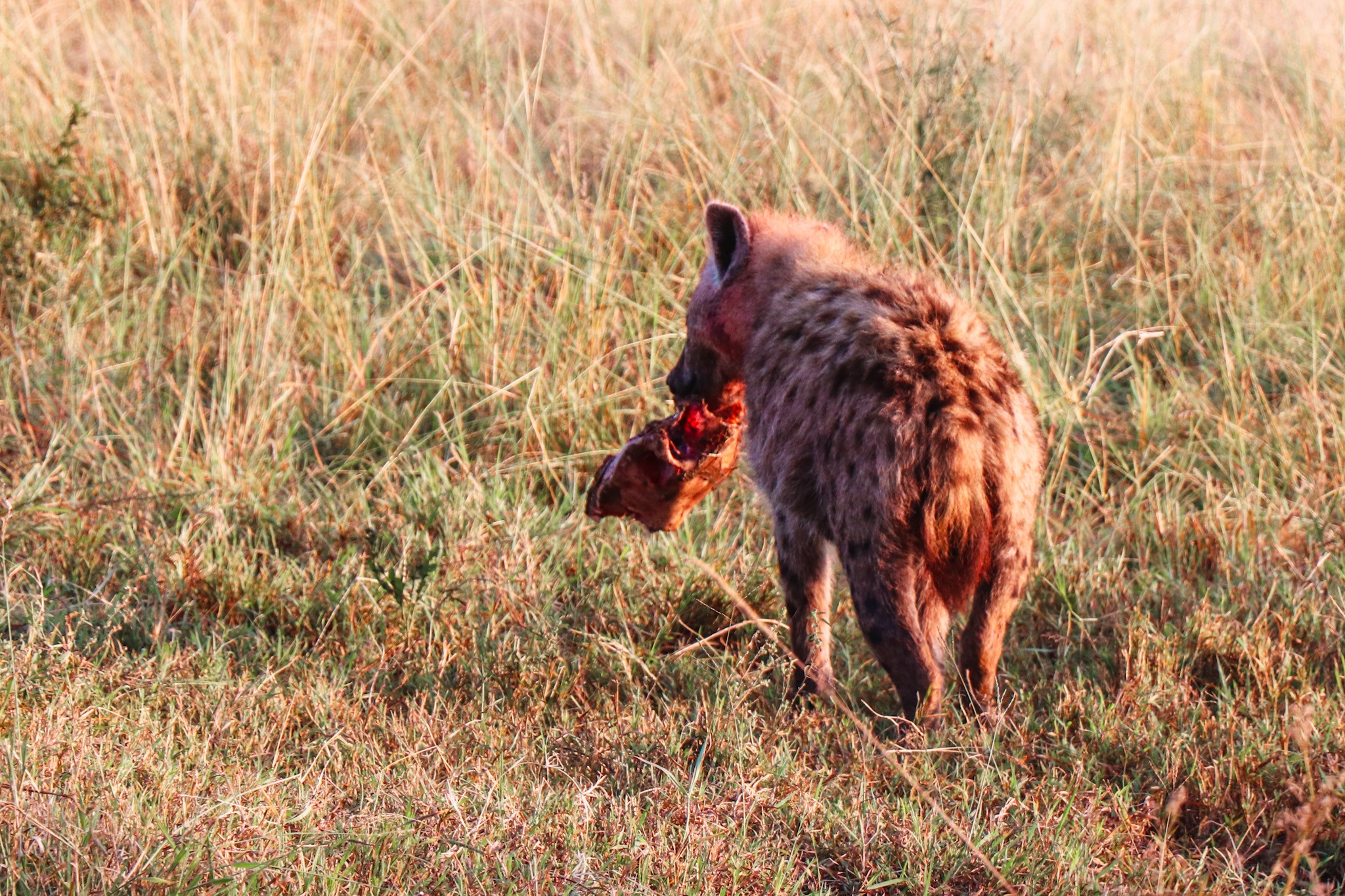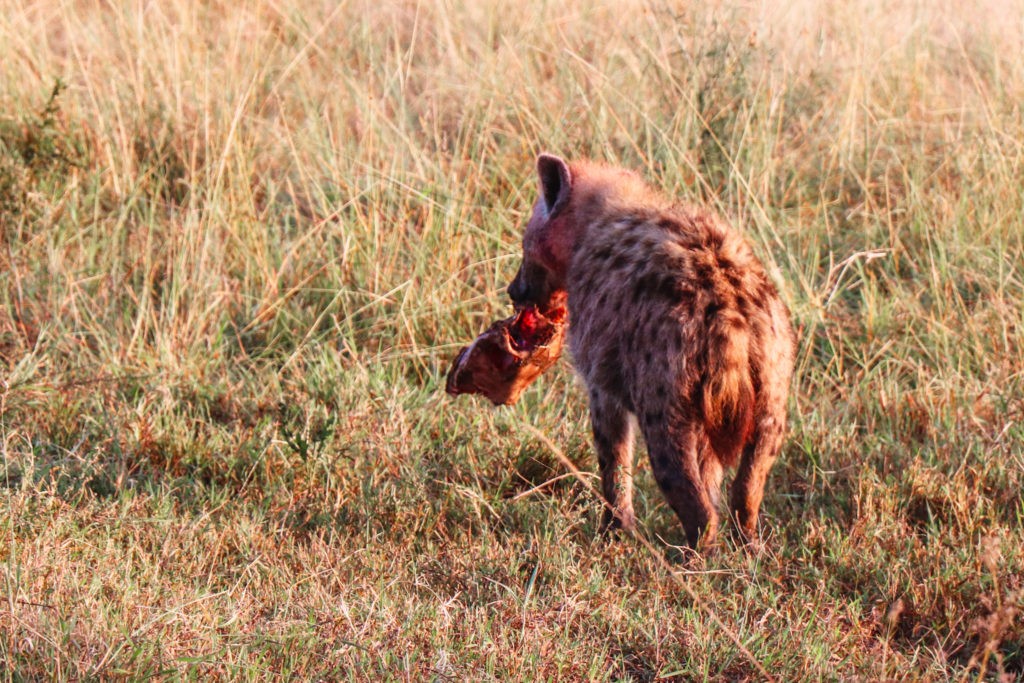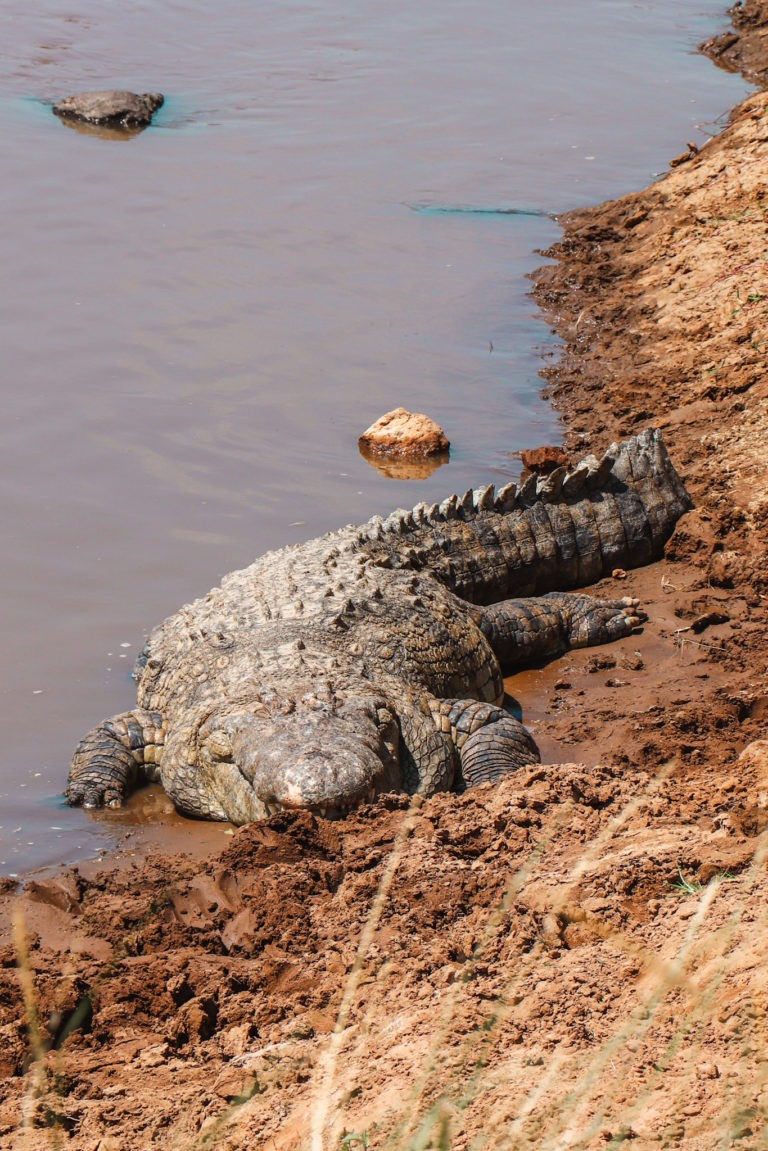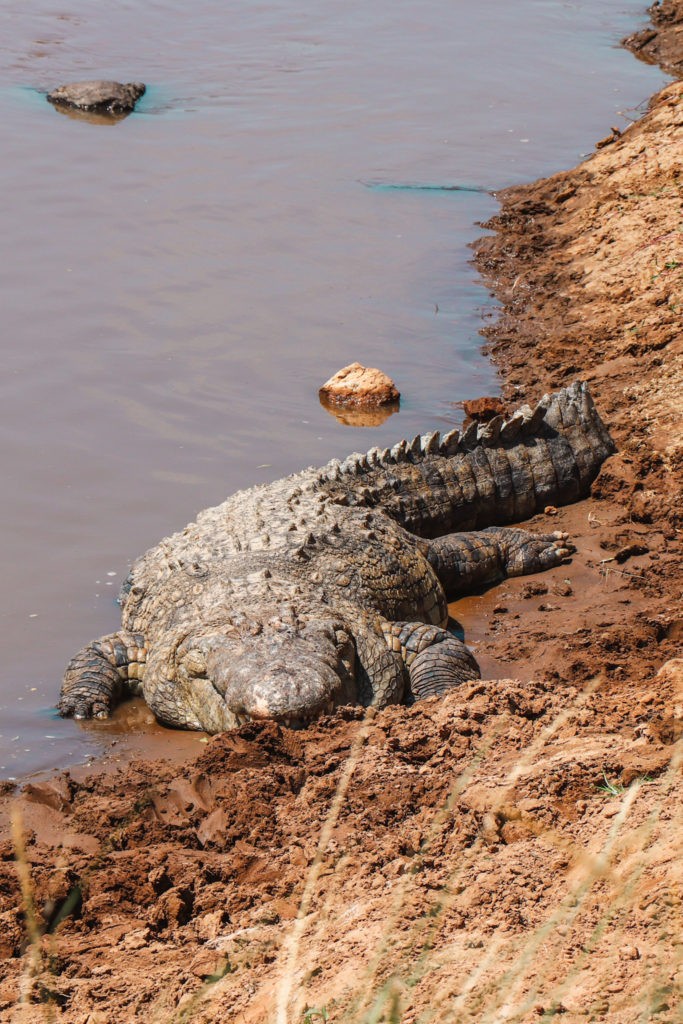 We've had the time of our life at Masai Mara – and experiences that we will never forget. We saw lions sleeping (and heard them roaring in the night), wildebeest migrating and hippos screaming. And even as it was not our first safari, it was definitely the best one. If you are curious where else you can go on a game drive, check out our safari tagged stories.