With the arrival of the new year, it became evident that we have only six months ahead us until our dream would come true. Recognizing the significance of this timeframe, we knew we had a lot of planning and organizing to do. We negotiated with our employers to get time off, got the necessary vaccinations and documents in order, and moved out of our apartment. And let's not forget the furry member of our family — making arrangements for our beloved cat was our top priority too. 
In the following we will share all of our ups and downs of preparing for this life-changing journey.
The Employer Factor: Sabbatical, Leave of Absence or Resignation for Our Year Off
The popularity of work-and-travel programs (e.g. in form of a workation) has been growing in the post-pandemic era. However, we knew early on that this option wouldn't suit us. As a management consultant Laura has supported her clients in defining workation policies and, therefore, she is well aware of the potential tax and immigration complications that could arise from working remotely from another company. Moreover, the significant time zone differences associated with our planned journey across the globe would pose considerable challenges. But even most importantly, we yearned to truly enjoy some time off. And having only evenings and weekends for exploration would simply be insufficient.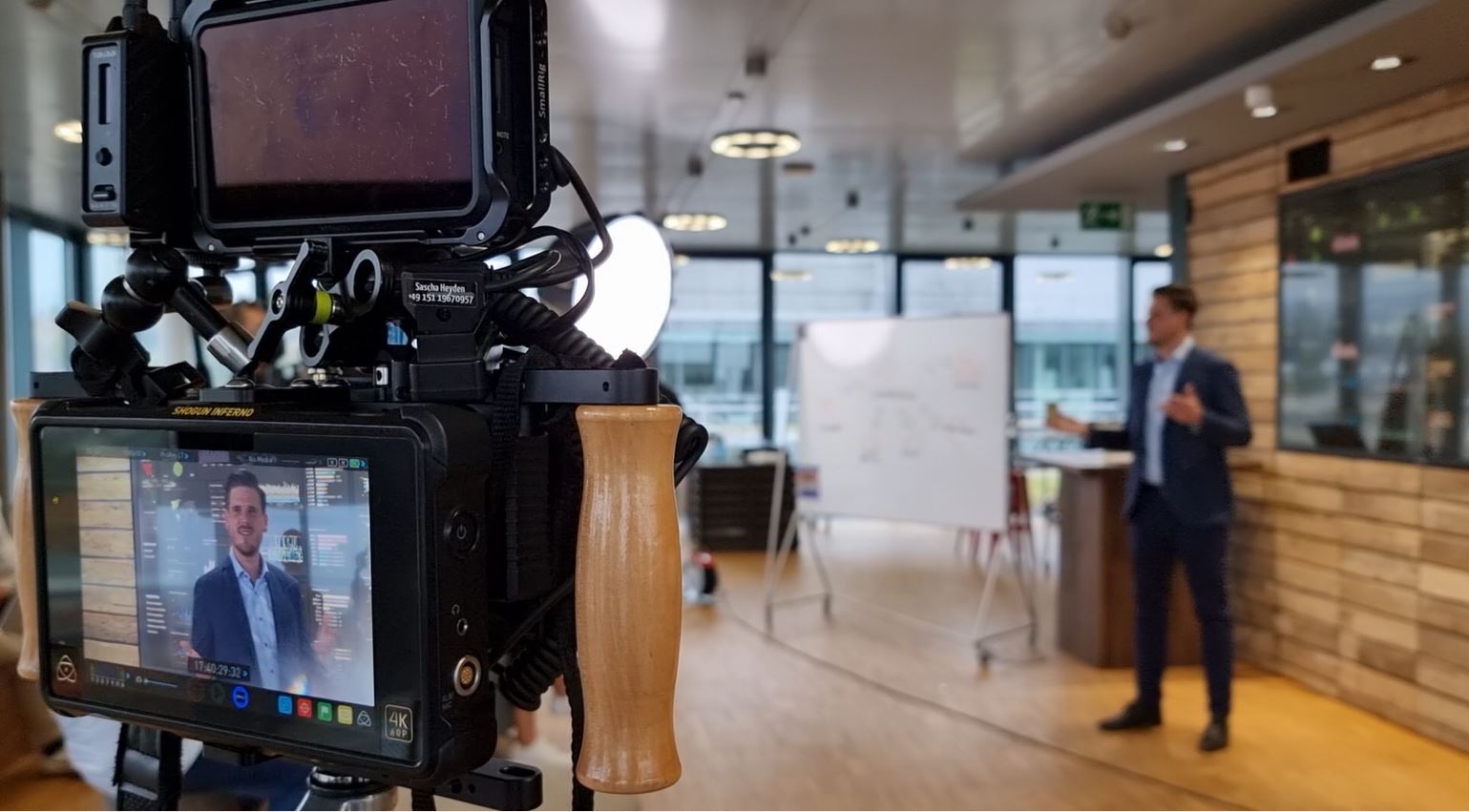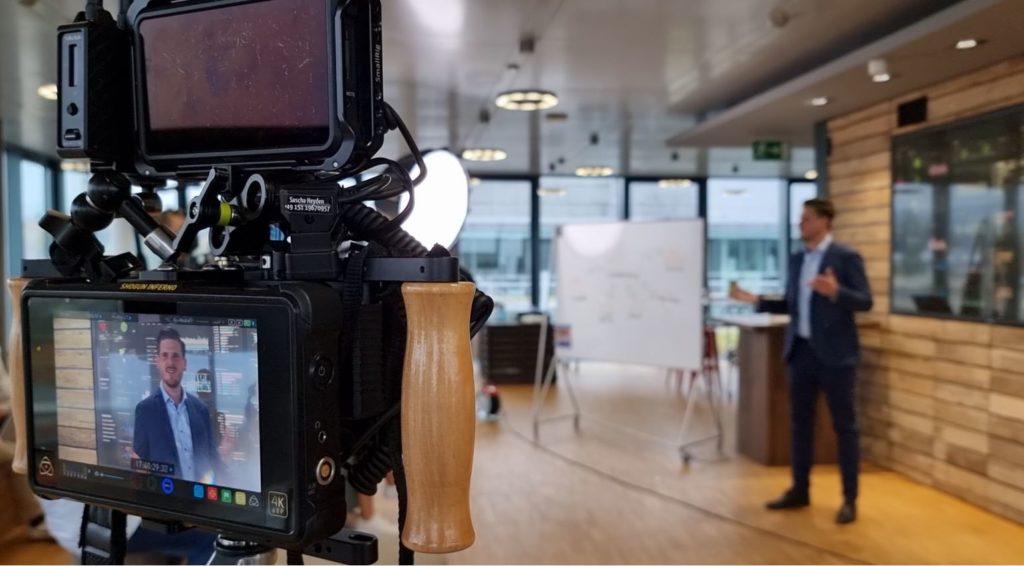 Naturally, one of our initial concerns revolved around whether our employers would grant us the opportunity to embark on this year-long adventure. While we knew that several corporate policies exist, we were uncertain if they were merely hollow words on paper or genuinely lived by our organization. Regardless, we were both willing to resign from our jobs to pursue our dream.
For some context, both of us had been working as management consultants within the same company for the past year (albeit in separate divisions and with different clients). Our job has its challenges, but also offer numerous perks. The project-based nature of our roles makes it relatively easier for our employer to accommodate flexible working requests. With this in mind, we initiated discussions with our bosses, hoping that they would grant us the opportunity to embark on this extraordinary journey. Jens, having been with the company longer, was particularly optimistic.
To our pleasant surprise, the process unfolded more smoothly than anticipated. Within a matter of weeks, we found ourselves holding leave of absence contracts in our hands — a confirmation that our dream was indeed coming true. You can't imagine how grateful we were!
From many flexible working programs, leave of absence was the right one for us. A leave of absence is one of the simplest arrangements in its nature. It entails reaching an agreement with the employer that, for a defined period, we will not work and also will not receive any salary. It is as straightforward as that. This program proved especially beneficial given the relatively short notice of our decision. Compared to sabbatical as it spared us the requirement of working full-time in advance. And it offers opportunities for both, your employer and yourself, as you don't need the hassle of applying for a new job already months before you return and for your employer to have you back (maybe even more happier and loyal than before) without the need to expensively recruit anew.
Selecting Reliable Health Insurance for Our Year-Long Adventure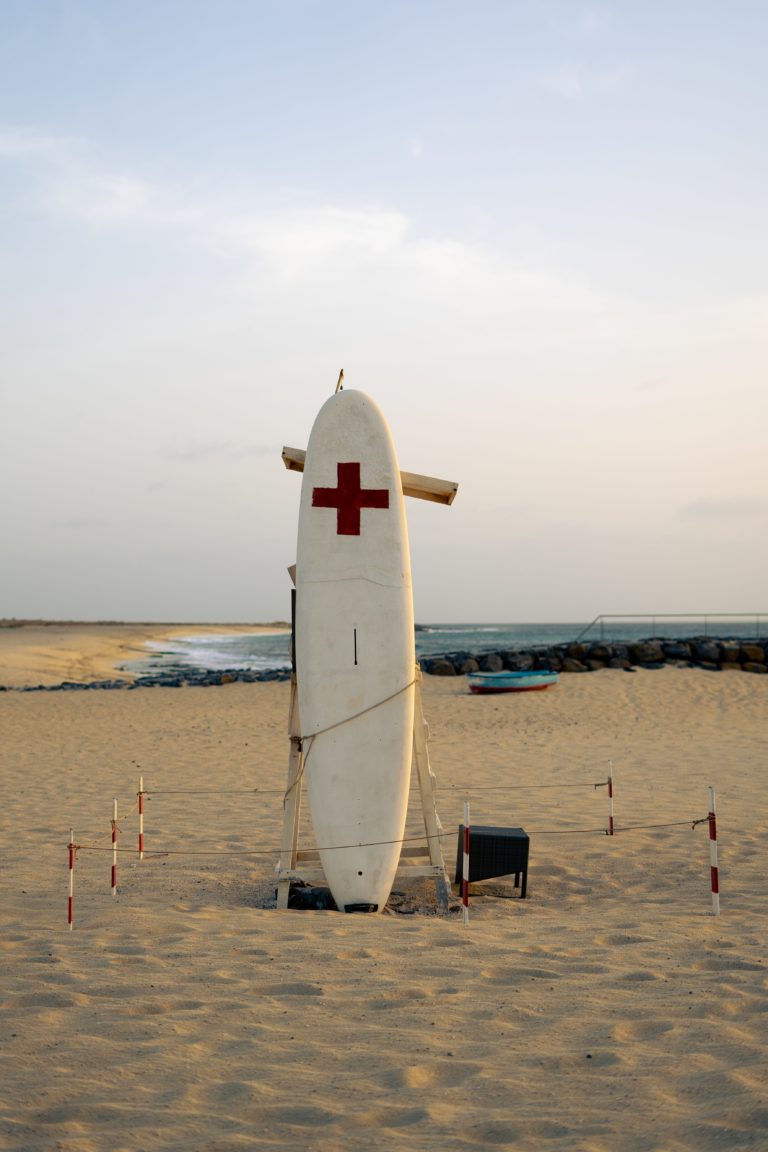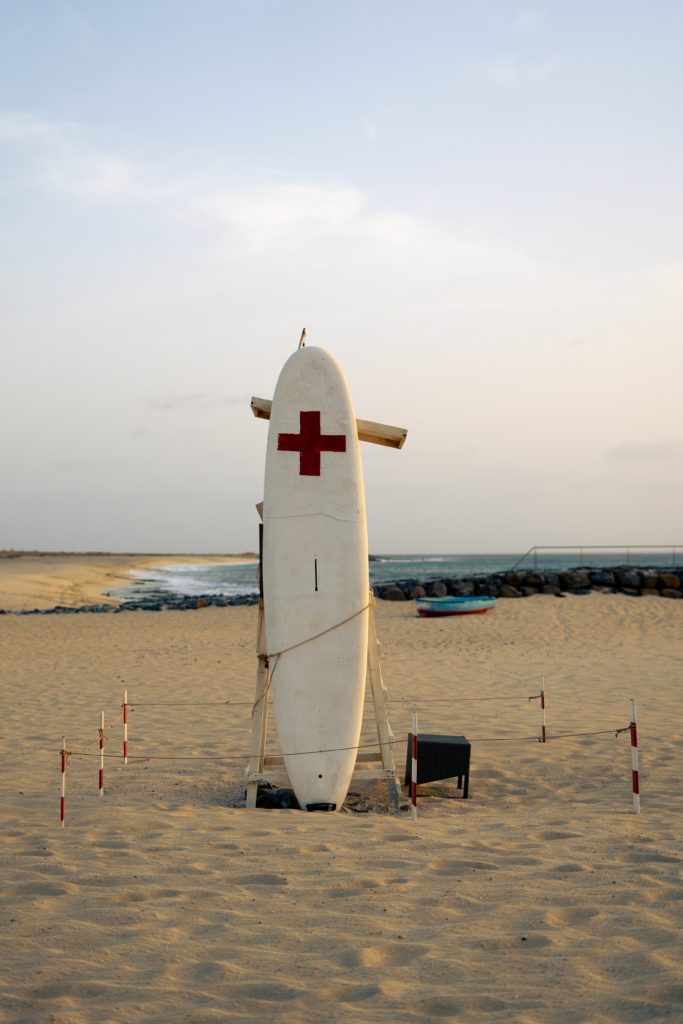 Another critical factor which worked out well for us is the health insurance. As we wanted to remain registered in Germany, we knew that we could face some challenges with the German health insurance in case we cannot terminate it. Fortunately, we could take use of the extraordinary termination. This means we don't have to continue to pay our contributions (which is not little) for services we would not be able to use during our world trip anyways.
In order to qualify for the extraordinary termination, we needed to meet two specific criteria:
One must be located outside of the European Union for the travel period
One must provide an evidence of possessing another equivalent insurance
We also want to point our that we just love our health insurance – Techniker Krankenkasse! They have been so professional and helpful during the whole process. When calling, there have been no waiting lines and they have been able to answer all our questions just within a few minutes. Once we are back, we will definitely return.
Of course, having a proper health insurance is of most critical importance to us. There are several providers and insurance packages available, so some research and comparison is necessary to find the most suitable one. After thorough analysis we have decided ourselves for ERGO. For us it was the best value for the money, offering comprehensive coverage without any deductible. And we can even spend 8 weeks in Germany while being still insured.
Our Marathon through Doctors and Vaccinations
Taking care of our health is absolutely crucial when embarking on any adventure. It can truly make or break the entire experience. That's why we made sure to be well-prepared and minimize any potential health risks along the way.
In the past few months, we've gone through a series of medical check-ups like a marathon. We've seen various specialists, including our diving doctor, ear doctor, and dentist, ensuring that we are in excellent shape for our travels. They have all given us the green light and confirmed our fitness for the journey.
Of course, we also made the decision to get vaccinated. So, here's the chemical cocktail we received 🙂 :
Rabies (3 injections)
Poliomyelitis
Hepatitis A (Laura also received hepatitis B)
Typhus
Yellow fever
Meningococcal disease (2 injections)
Cholera (2 oral vaccinations)
Mumps, measles, rubella (only Laura – 2 injections)
Tetanus & diphtheria (only Jens)
Fortunately, compared to our previous COVID vaccinations, this time, we tolerated the vaccinations much better. It's truly amazing to witness the resilience of our bodies, as they can handle multiple vaccinations at once without making us feel sick.
With this extensive vaccination program, we feel like we've done everything within our power to protect ourselves. Now, we can confidently say that we've taken every precaution to ensure our well-being on this exciting journey. Nothing can stand in our way now!
How We Managed Our Paperwork
You need to think of so many thing when planning for world trip. Not only you must consider the immediate, present topics such as "what documents will I need?" or "what to pack?", but also you need to think about "what happens in case of any emergency?" or "where will I store all my photos and videos?"
There was so much paperwork that had to be done. There were also so many contracts to think about. Obviously we had to cancel our (local) mobile data plan, internet, electricity, fitness-studio, magazines, maybe some online subscriptions, recurring deliveries, insurances for your home, your car,… But let's be honest. Even if you will try to think of everything (and maybe you are an even better organized person than we are) you may miss the one or the other.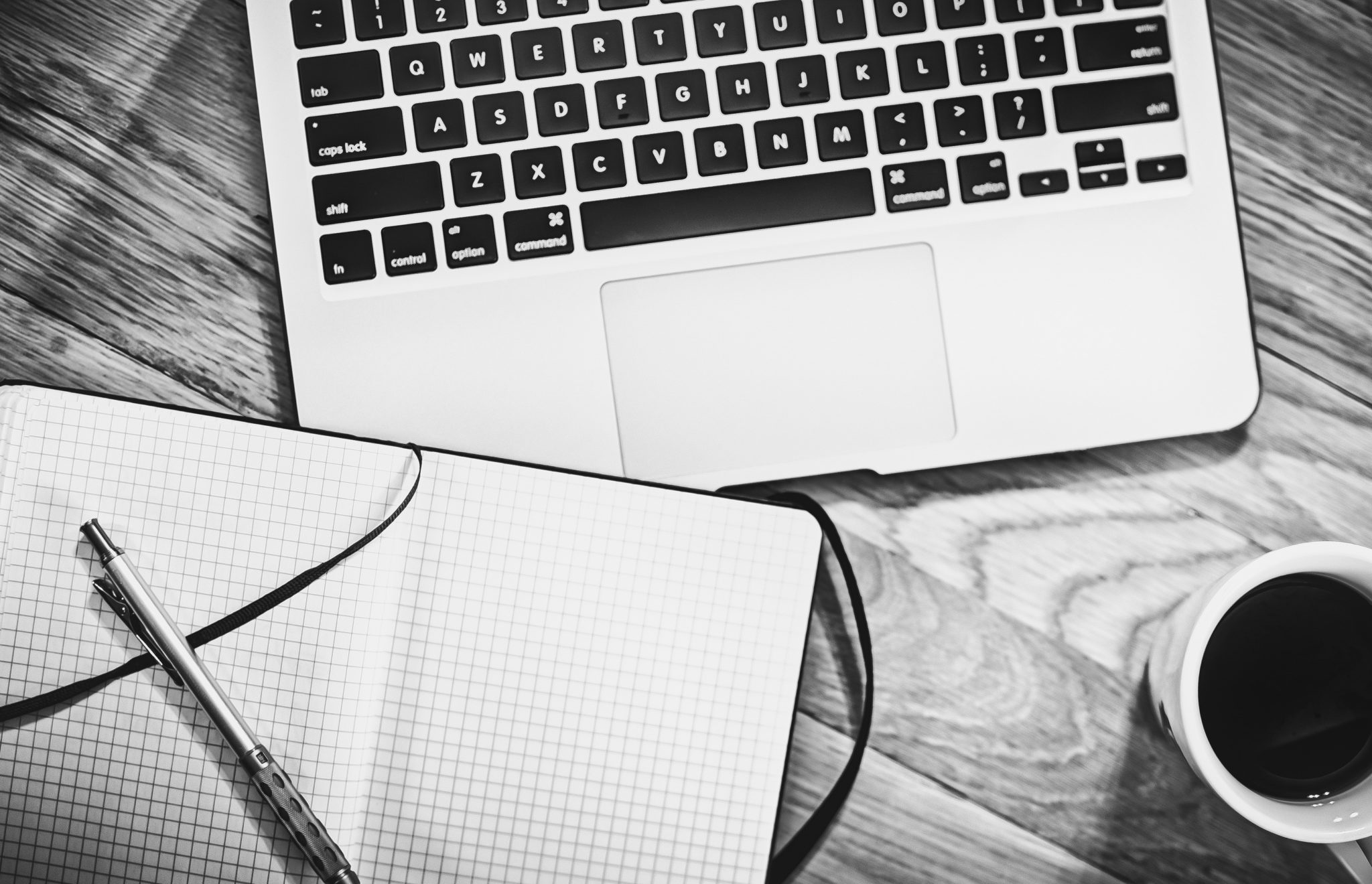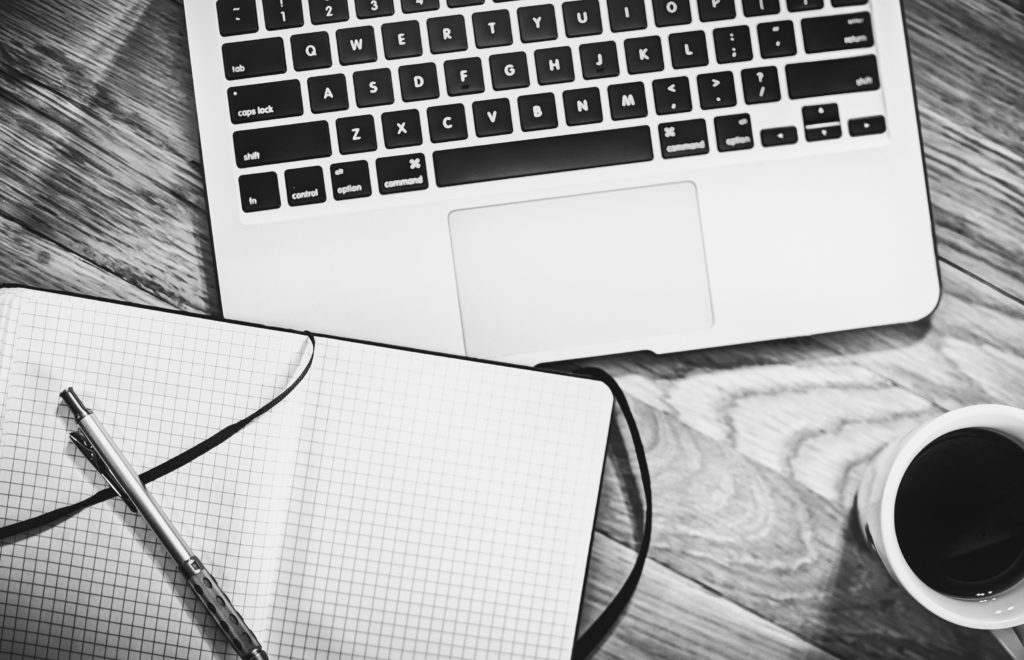 We also needed to visit the Bürgerbüro to get the international driving license and deregister our place of residence. If you live in Germany, then you know that German bureocracy is a real hell. We waited for 3 hours – even when being there one hour before the opening. But luckily we got all sorted out.
Also, we have digitalized all important documents, policies and contracts and stored them securely in the Cloud to be able to access these at all times. After reviewing a lot of storage solutions, Office 365 was ideal. As the one-year subscription comes with a 1.5 TB OneDrive storage, and having Office is also definitely a plus. Also we made sure to not only store documents, but also locked up important passwords and recovery codes in a safe vault, so even in the case of loosing all of our belonging we could make sure to recover everything we would need to proceed with our travels.
Here is a list of the things we have done to make sure that we remain access to all of our important documents while traveling the world:
Find yourself an online storage to backup your pictures, documents, passwords (we chose: Office 365)
Digitalize everything that you may need to have access to while traveling (recommendation: go through your file folders and papers, search through your local hard drives, try to login to all your important accounts and make sure you have a recovery option enabled)
Sign blanco powers of attorneys and hand it to somebody you trust (e.g. parents) in case you need to hand-in something with a written signature (e.g. authorities)
Create an "If-I-Go-Missing" folder with important emergency contacts, your route, how you can be reached, your socials and make sure to update your family regularly about your plans and current locations
A Purrrfect Solution for Our Cat Kiisu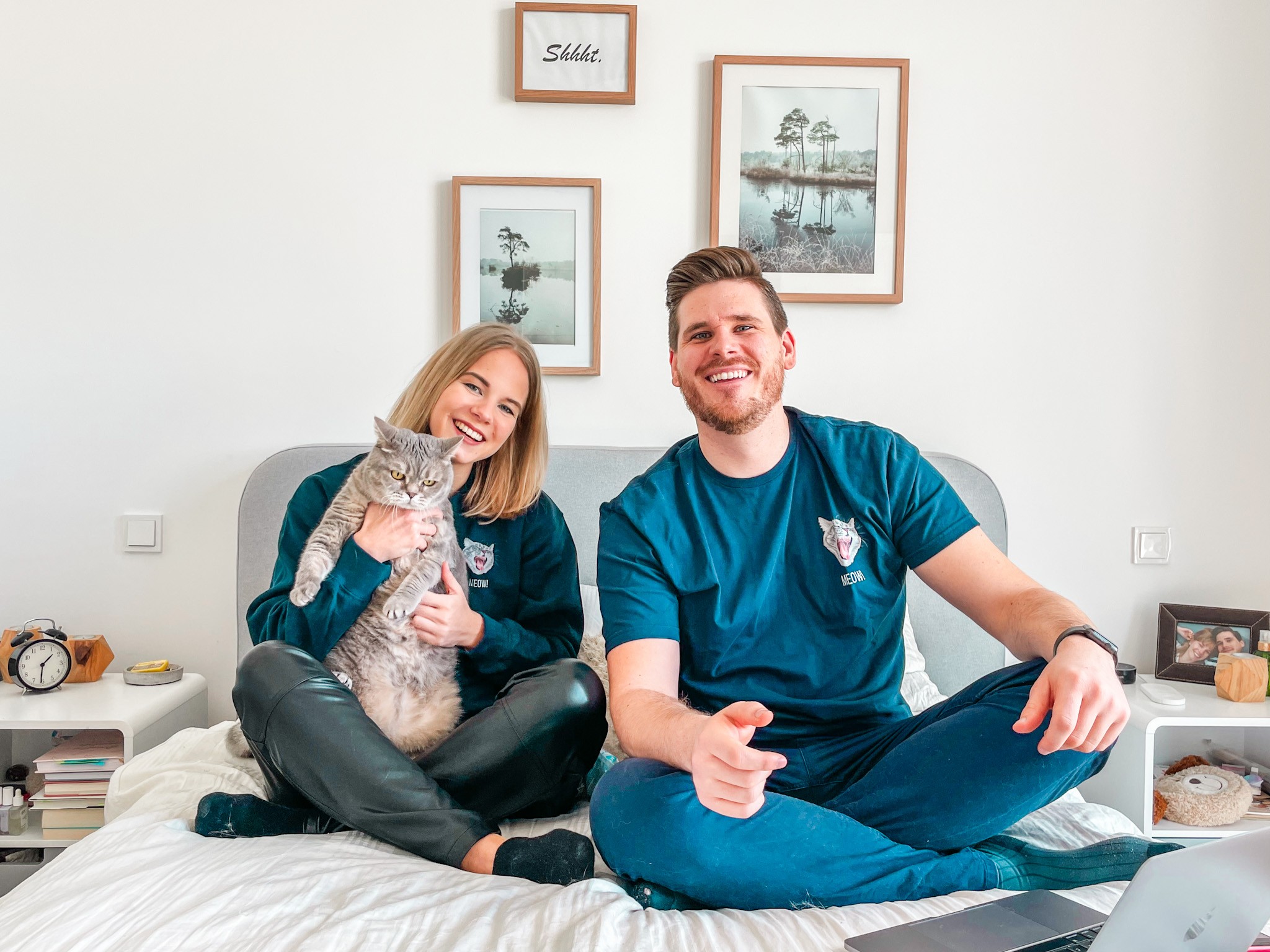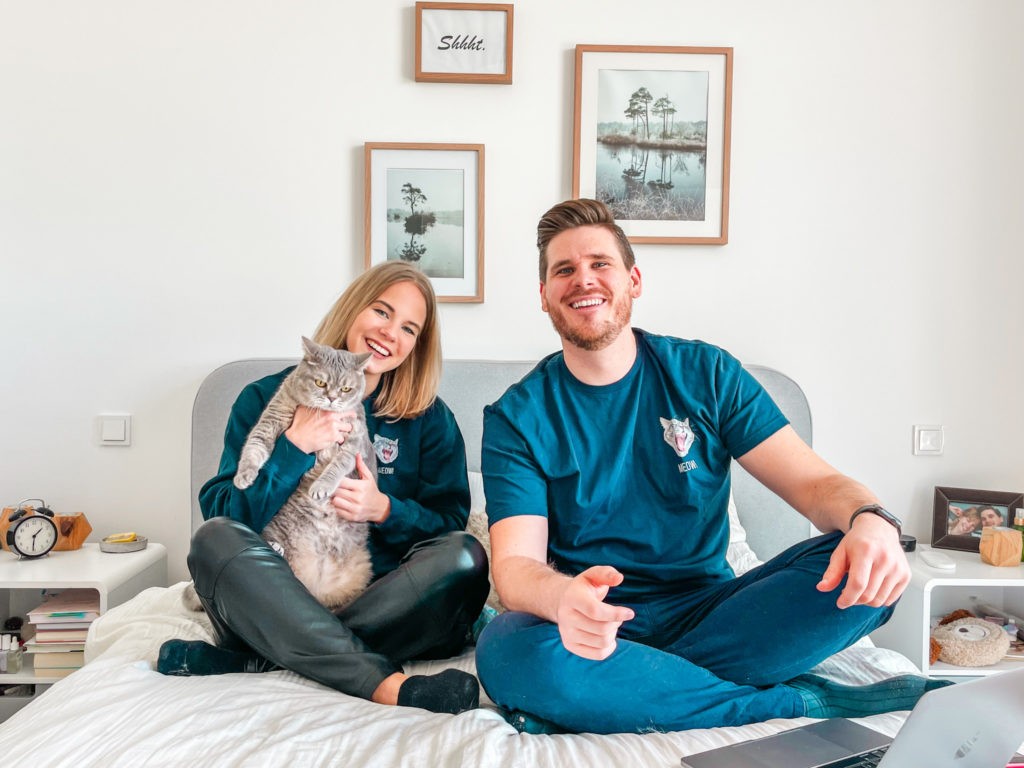 For many of our friends one of the first questions has been – what will happen to our cat Kiisu.
The decision was not an easy one to make. The original plan was to leave her to Jens' parents as they live here in Stuttgart and Kiisu enjoys staying there every time when we are on vacation. However, Jens' mother has retired at the beginning of the year and they plan to travel a lot with Jens' father in the coming times. This would mean that even if someone would come by daily to feed her, Kiisu would stay alone for long periods of time.
So we came up with the idea to bring the cat to Laura's parents in Estonia. They have a house and Kiisu would have enough space. Also, Laura's brothers/grandmother could take care of the cat, should the parents be travelling. Laura's family has always had cats so they know how to get along with these fur balls.
The only fear we had was about how she would bear the journey to Estonia. We researched a lot as well as consulted our veterinarian. We considered both – flying as well as driving by car. After thoughtful consideration we decided to take the plane from Stuttgart to Riga where Laura's mom would wait with the car to drive them to Estonia.
Retroperspectively, it was the best decision. Kiisu felt at home immidiately. Probably since Laura's room was still smelling like her. And already after a few days she was exploring the house and getting social with all family members. We are in close contact wir Laura's parents and get a lot of pictures, confirming she has adapted well. She – being a house cat – has even had enough courage to go outside and explore the garden.
We are so happy that Kiisu has found a new foster home and we are sure she will have great time there. We will miss her much, but we will be with her in a year again.
Saying Goodbye to Our Apartment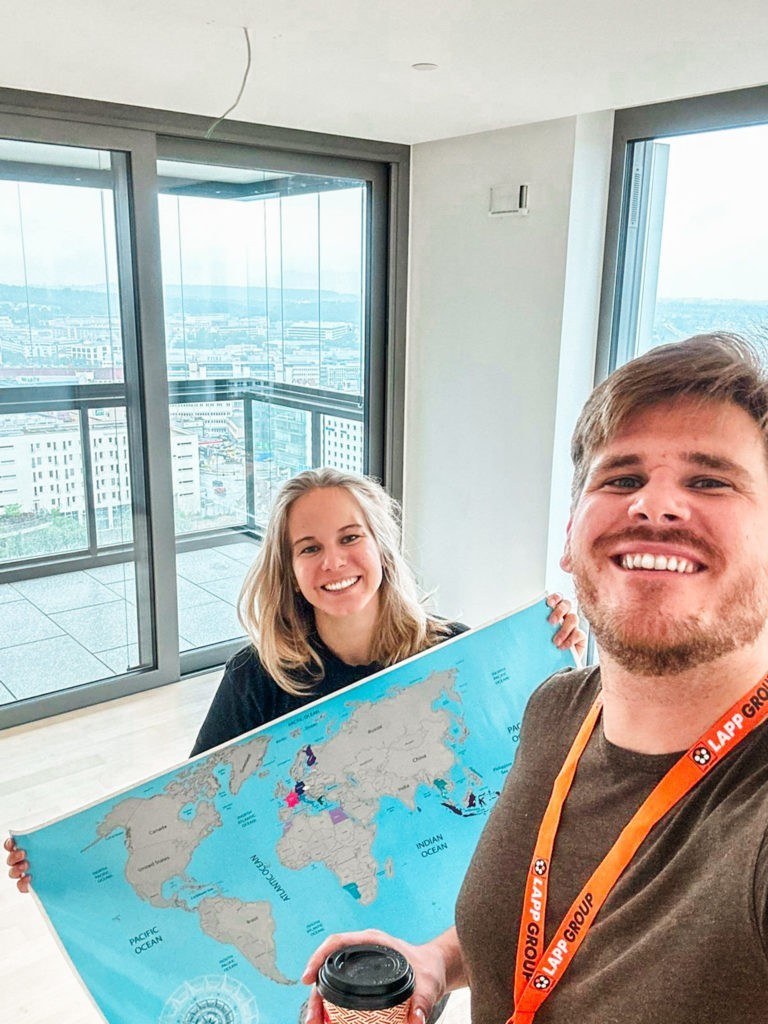 As it makes sense to reduce all running costs at home to minimum for the journey, one of the most important decisions to be made when you are planning a world-trip is – what to do with the apartment/house. Our apartment is owned by an insurance company and falls into a higher standard category, so we didn't want to take the risk of renting it out to temporary tenants who might cause damage. Therefore, the only option for us was to give up the apartment. Meaning we would be really be homeless for the year.
This also meant additional stress as we had to carefully consider what we truly wanted to keep and pack up as well as move all our belongings. As storage space costs are way too high in Stuttgart it was clear that we had to reduce our personal belongings to the bare minimum (although, in the end we were lucky to be able to store our things at a friend's place). And this stress was definitively grater that we would have imagined. The last week we before handing in the apartment keys we were packing day and night.
From the other side, it was a fantastic opportunity for us to mentally declutter, preparing us for a minimalist lifestyle when traveling with just a backpack.
I (Laura) have always been good at letting go of things, so it was relatively easy for me to part with items. I have never allowed Jens to keep anything that was already broken or that he hadn't used in a long time. So as we were analyzing every item we own we asked ourselves, "How often have we used this item in the past year?" or "how often would we use it when we return?" Of course, there were exceptions to this rule, but they were truly exceptions and not just "I might use it someday, so let's keep it." Nevertheless, it surprised us how many boxes of clothes, books, and electronic waste we had accumulated.
We tried to find new owners to as many things as we could. We managed to sell most of our furniture as well as many electronics on eBay. Clothes that were in good condition we decided to donate. Also Jens' parents got some Tupperware, tote bags, groceries, laundry detergent etc. Still there were way too many things that we just had to through away as we could not really give these to anyone. Also, the more stressed we were with the moving, the more our appetite grew just to store things we felt attached to, that were in very good condition or that would be expensive to buy again. In total, we were able to fit our belongings to this 2mx4m space. Although we realized we could have had to get rid of even more things,
Letting go of a home is never easy. This was the first place we designed ourselves, and it holds so many cherished memories. We have truly enjoyed every single moment spent here. But looking at the positive side, we will have the flexibility to choose a new home once we return based to our new values. Maybe we will even move to a new city. For example, Laura has been long wanted to move to Munich, as compared to Stuttgart it has direct flights to her home country, Estonia. Yes, finding a new apartment in Germany can be incredibly challenging and frustrating, and we do not even want to think about it, but we're trying to keep a cool and positive attitude.
But now, it's time for a new chapter in our lives, full of exciting adventures and the opportunity to create more incredible memories in different corners of the world.