Nairobi, the vibrant capital of Kenya, that embraces its rich heritage while embracing a forward-looking spirit. As part of our world trip we had three amazing days to explore Nairobi.
As we've learned and seen: Nairobi is skipped often times by tourists directly heading on Safari. However, we found our time in the capital the perfect start for our road trip through Kenya. So, if you are planning to travel Kenya, make sure to not skip the capital city. For that, we have collected the best things to do in Nairobi with our 3-Days Nairobi itinerary.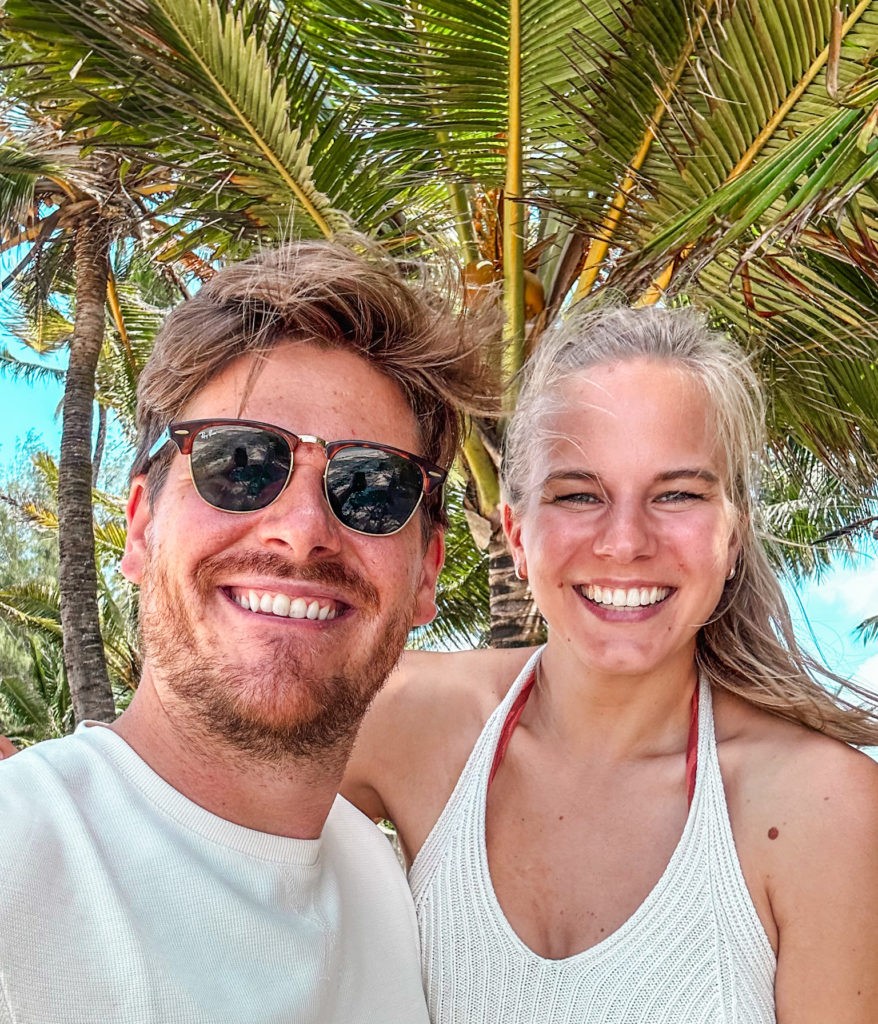 We hope you enjoy our travel stories, guides and tips! If so, please consider supporting our work.
Best Things To Do in Nairobi
Nairobi was the very first stop of our year-long journey around the world. And while people usually think of other places than Kenya, when traveling the world or going for a vacation, we found Nairobi the perfect place to kick-off our road trip adventure to Mount Longonot, Hell's Gate, Masai Mara, Amboseli and Mombasa.
Most likely you start your Kenya adventure in Nairobi as well. Plan at least to spend two to three days in Nairobi. Here is our how we traveled the city as part of our Nairobi itinerary.
Save on Pinterest to read it later.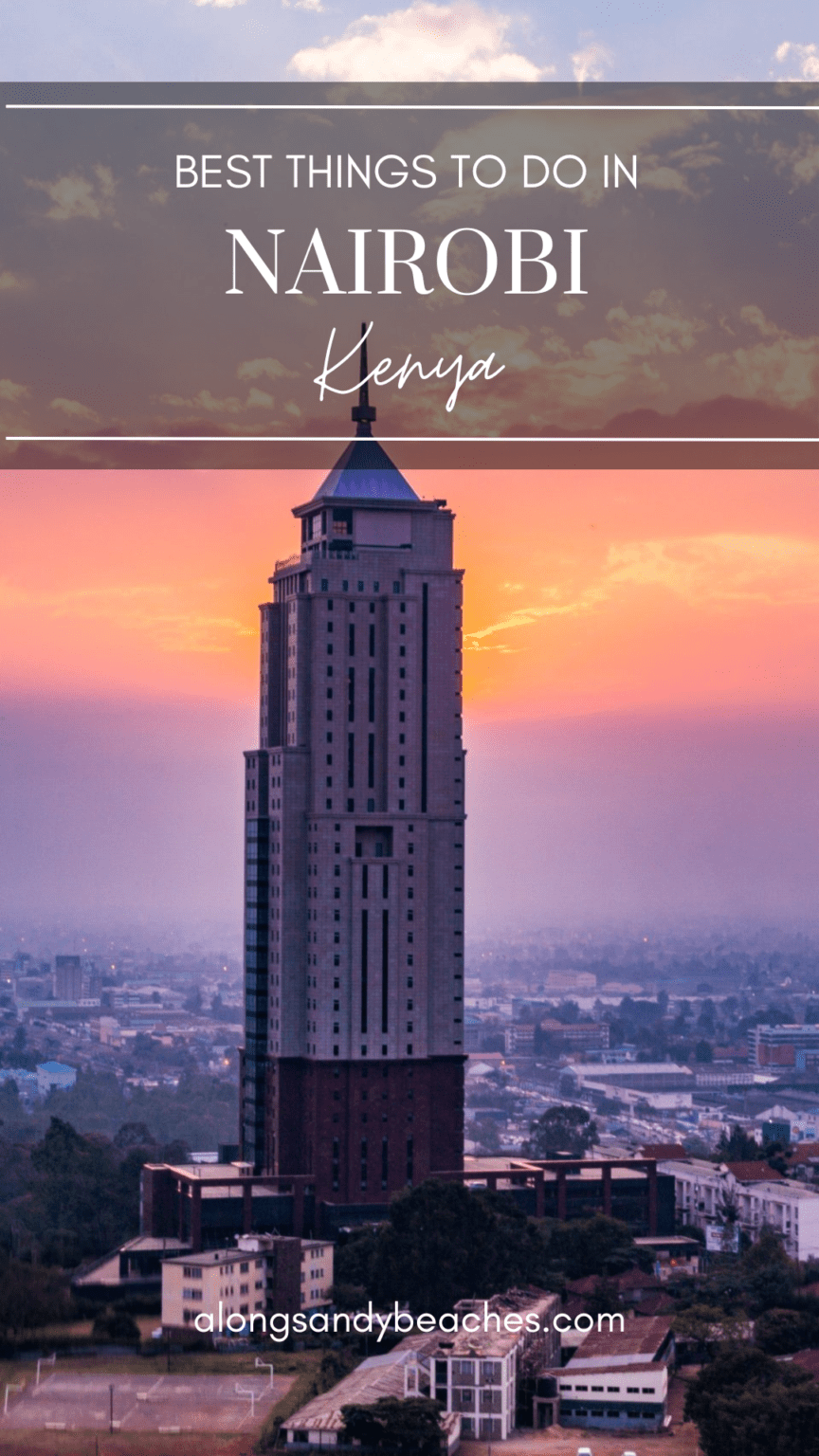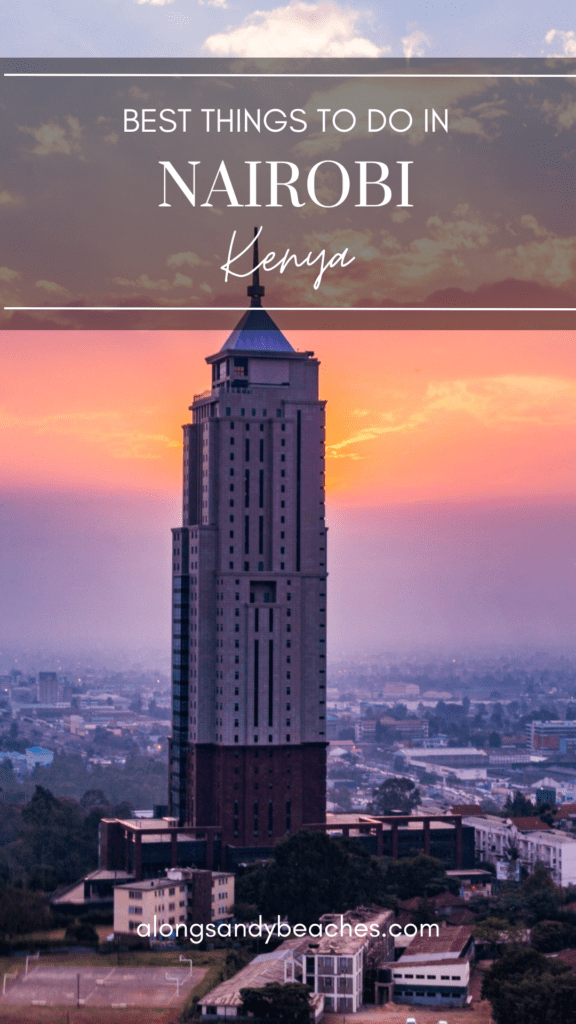 Day 0: Arrival in Nairobi
If you are flying to Kenya, you'll most likely arrive at Kenyatta International Airport in Nairobi. Make sure you have all your required documents (passport, visa confirmation) readily available and printed out, when you arrive, as – even though we were the only plane arriving that late – it took some time to pass immigration and collecting our backpacks.
Before you leave the airport, make sure to get yourself a local SIM-card and some cash. For the SIM-card you'll find some small shops right before you exit the building. We would recommend to get a SafariCom SIM-card as it provides you with the best internet and signal coverage throughout whole Kenya. We paid 2100 Ksh each for a 17GB data plan, 1000 local minutes and 2000 SMS, which is around 15 USD. It is slightly higher compared to other provides – but trust us, it's worth it. We've met so many travelers that complained about their mobile reception. The SafariCom shop is also open 24/7, so you don't need to worry about arriving late. ATMs from well-established Kenyan banks are available in the same area, or, alternatively, in the parking house right opposite to the airport building. 
Once you make your way out of the airport, you'll be greeted by a lot of local taxi drivers. For us, though, the cheapest, most secure and convenient option is to take a Uber. And as we had a SIM-card by now there was no problem ordering. We payed less than 1400 Ksh (around 9.50USD) for the ride to our Airbnb.
Our apartment was located in the Westland district of Nairobi, which is one of the best and safest districts in Nairobi. We've booked it through Airbnb for around 23USD a night and our host Judith was just amazing. We had a nice roof-top terrace to overlook the few skyscrapers of Nairobi at night.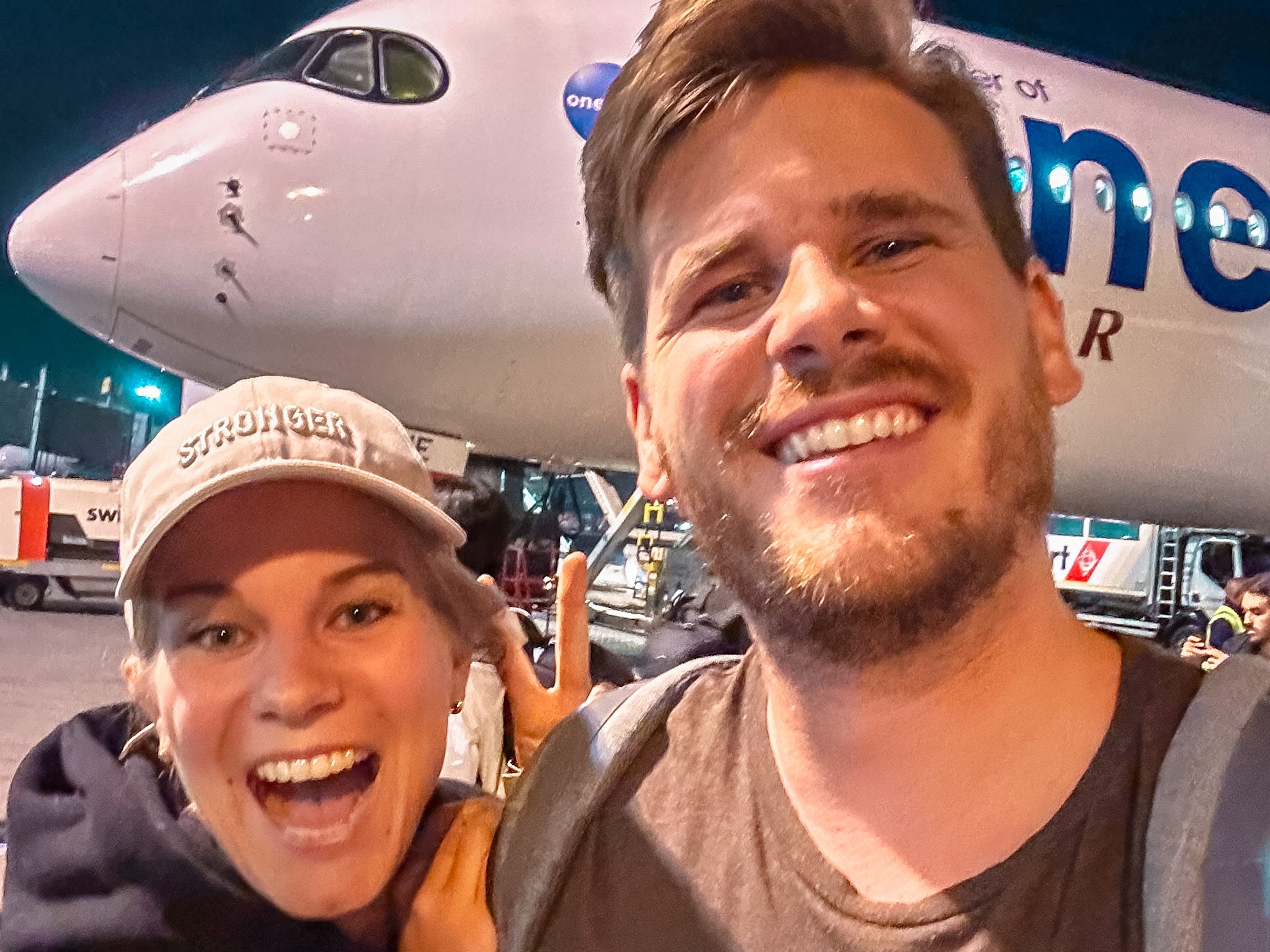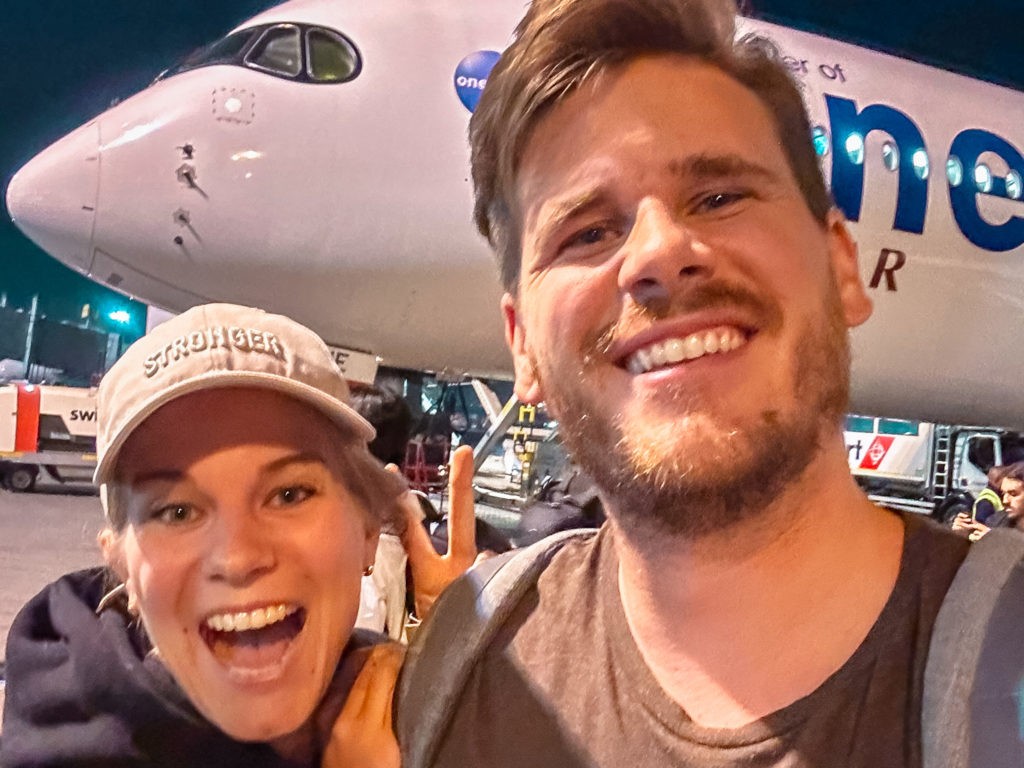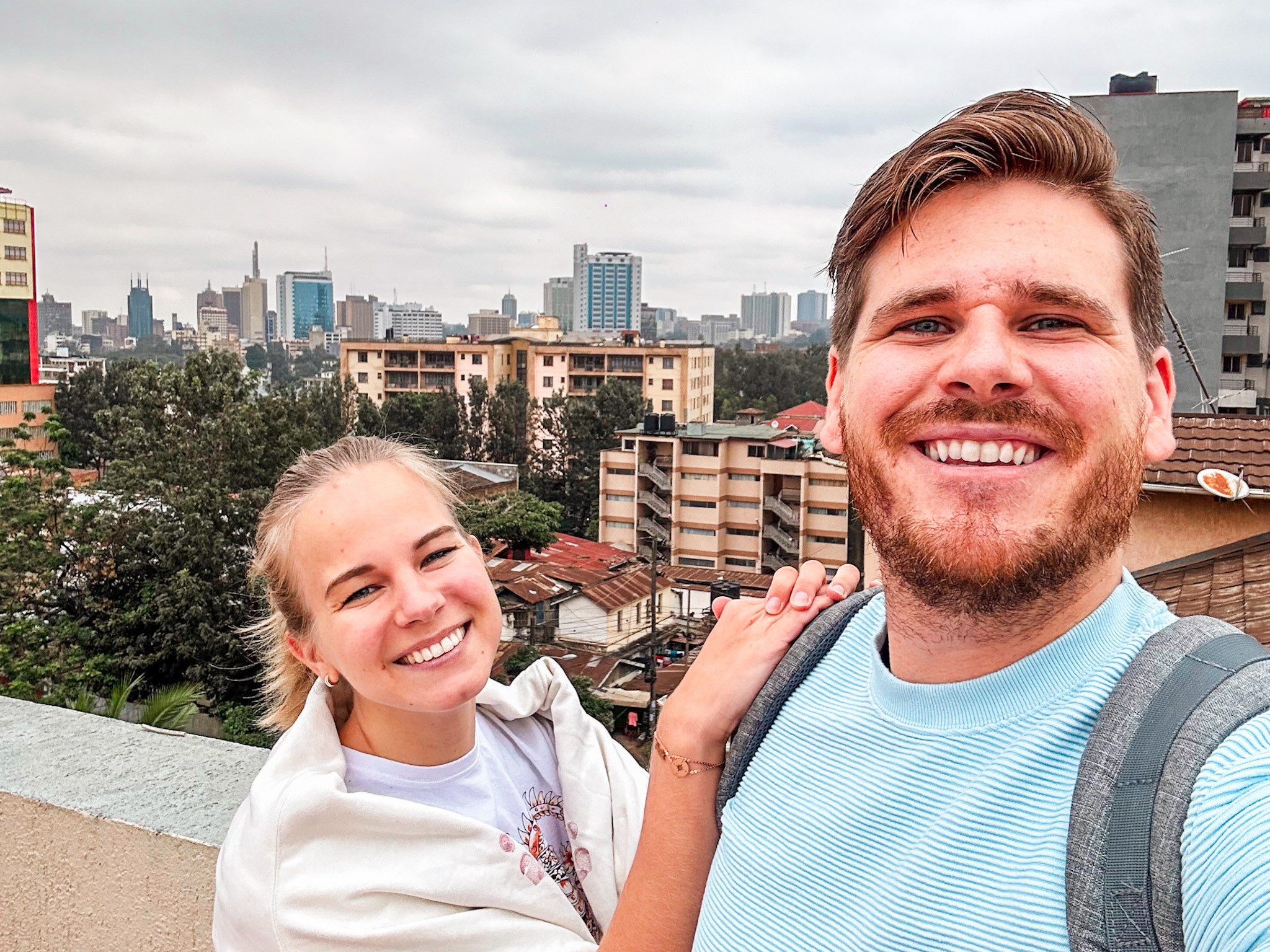 Day 1: Explore the History of Kenya
Our first day in Nairobi started with organizing our financials and a quick breakfast, before we walked to our first destination: The Nairobi National Museum and Snake Park. We purposely didn't plan much for the day, as we were still pretty much tired, so that option came ideal. The Nairobi National Museum offers a great collection of historical and cultural artifacts (such as tribal clothes and tools, ancient skulls, historic contracts,…) as well as a lot to discover about the history of the country, it's colonialization, animals and famous politicians and people. You can easily spend a day in the Museum if history is your passion, but even if not, you will enjoy your time there.
You definitely should plan some time to visit the Snake Park, that is also located in the National Museum area. It's like a little zoo, where you can see a collection of different reptiles and fish common in Kenya. If you are feeling as brave as we were, you even can hold a snake or touch a baby crocodile for a small tip. For the Nairobi National Museum and Snake Park, we paid 1500Ksh (around 10 USD) each.
After the impressions from the museum, we took an Uber to a nice restaurant called Brit e Salam to have a delicious burger and some local craft beers. They've a little garden where you can sit outside or, alternatively, nice couches inside.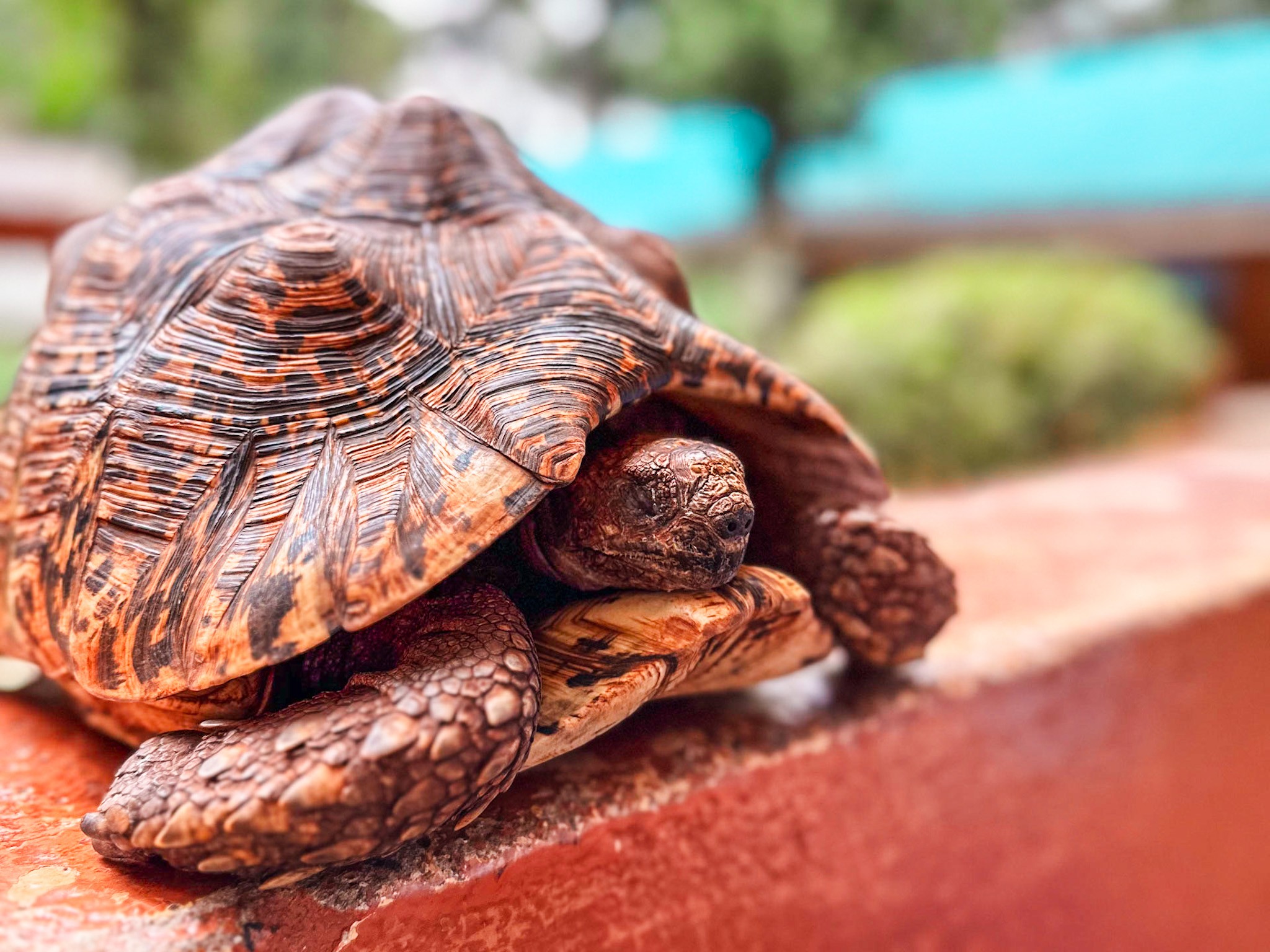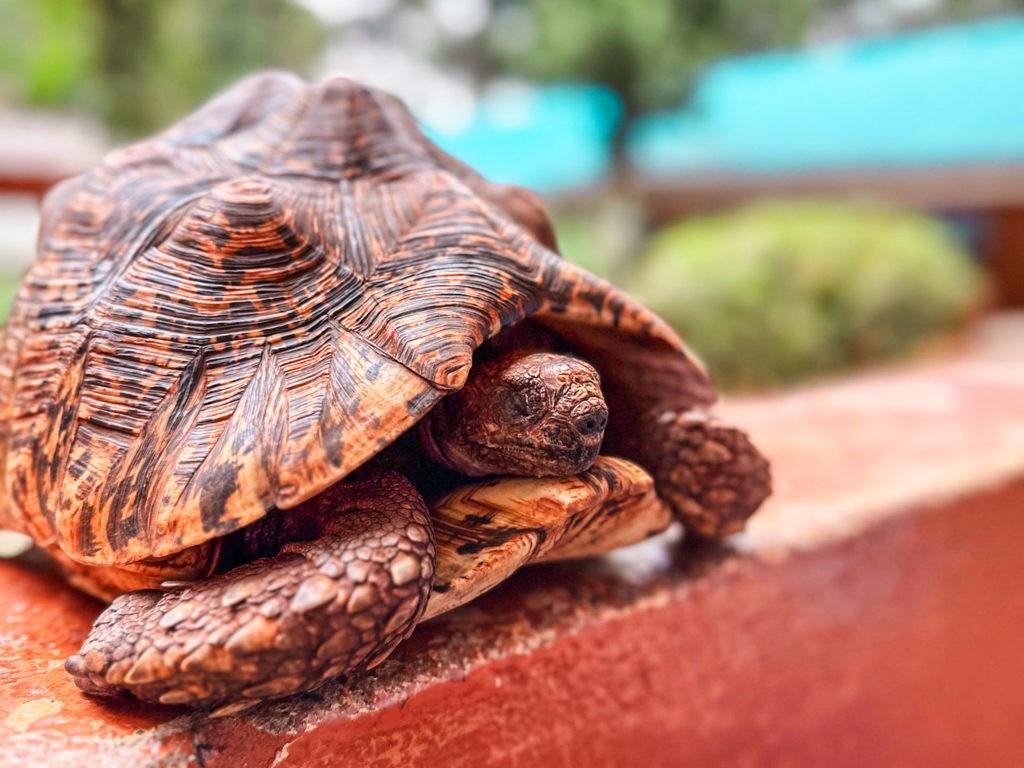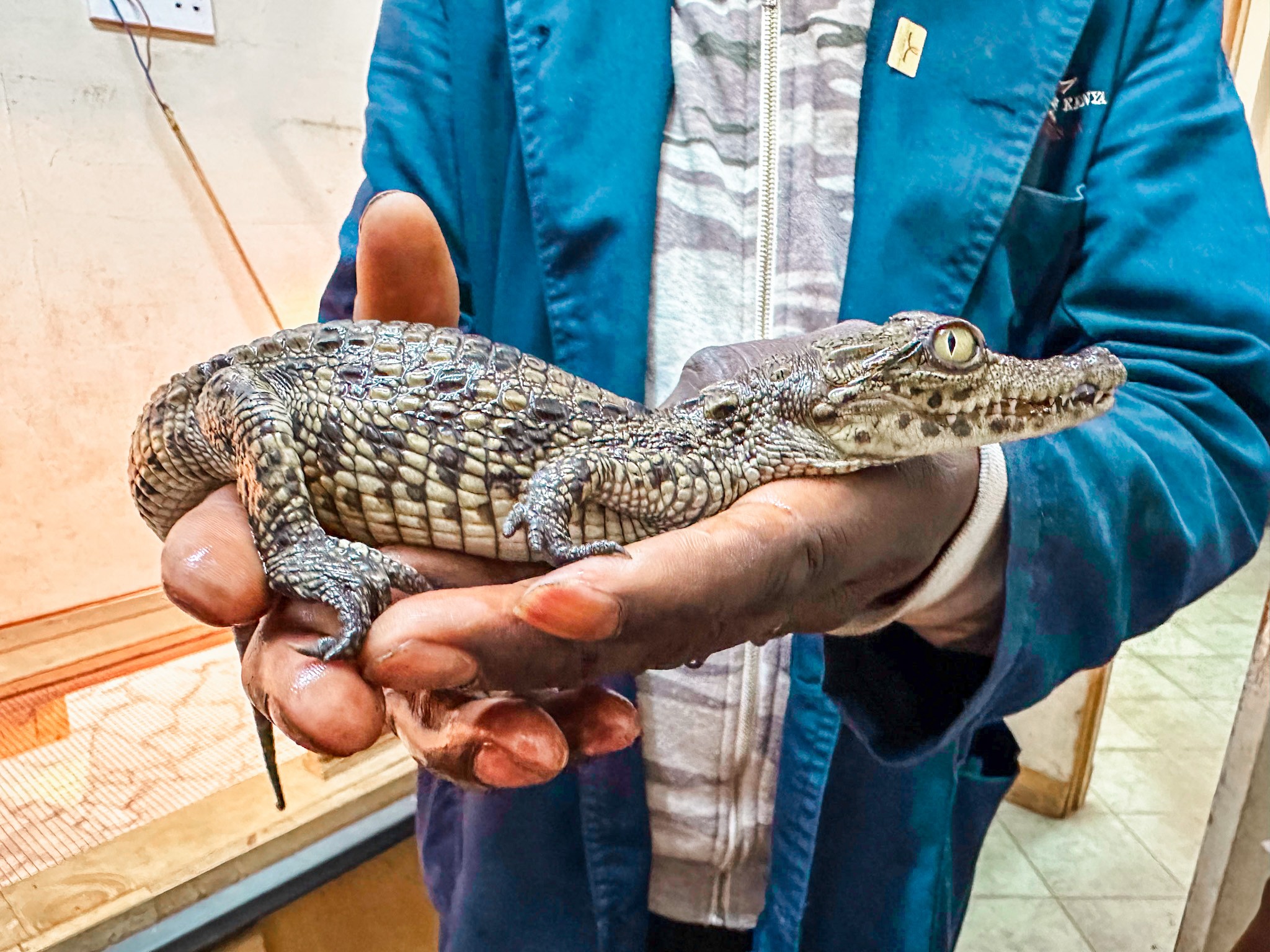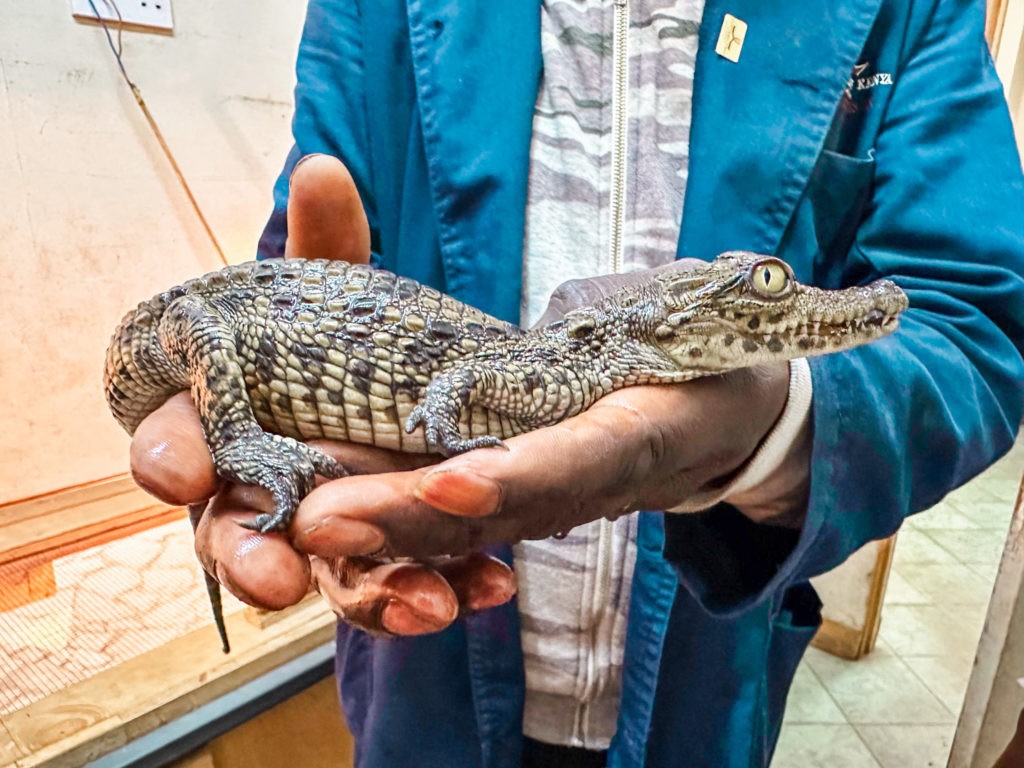 TIP:

Although Nairobi is a safe city, make sure to keep your belongings close to you, as in the city center you will experience a lot of begging. If you don't want to give any money, just politely decline. Usually you won't get harassed.
Day 2: Visit Karura Forest and Nairobi City
Our Day 2 started by cooking some pancakes, as we found out that with UberEats you can have groceries delivered to your doorstep. How convenient is that?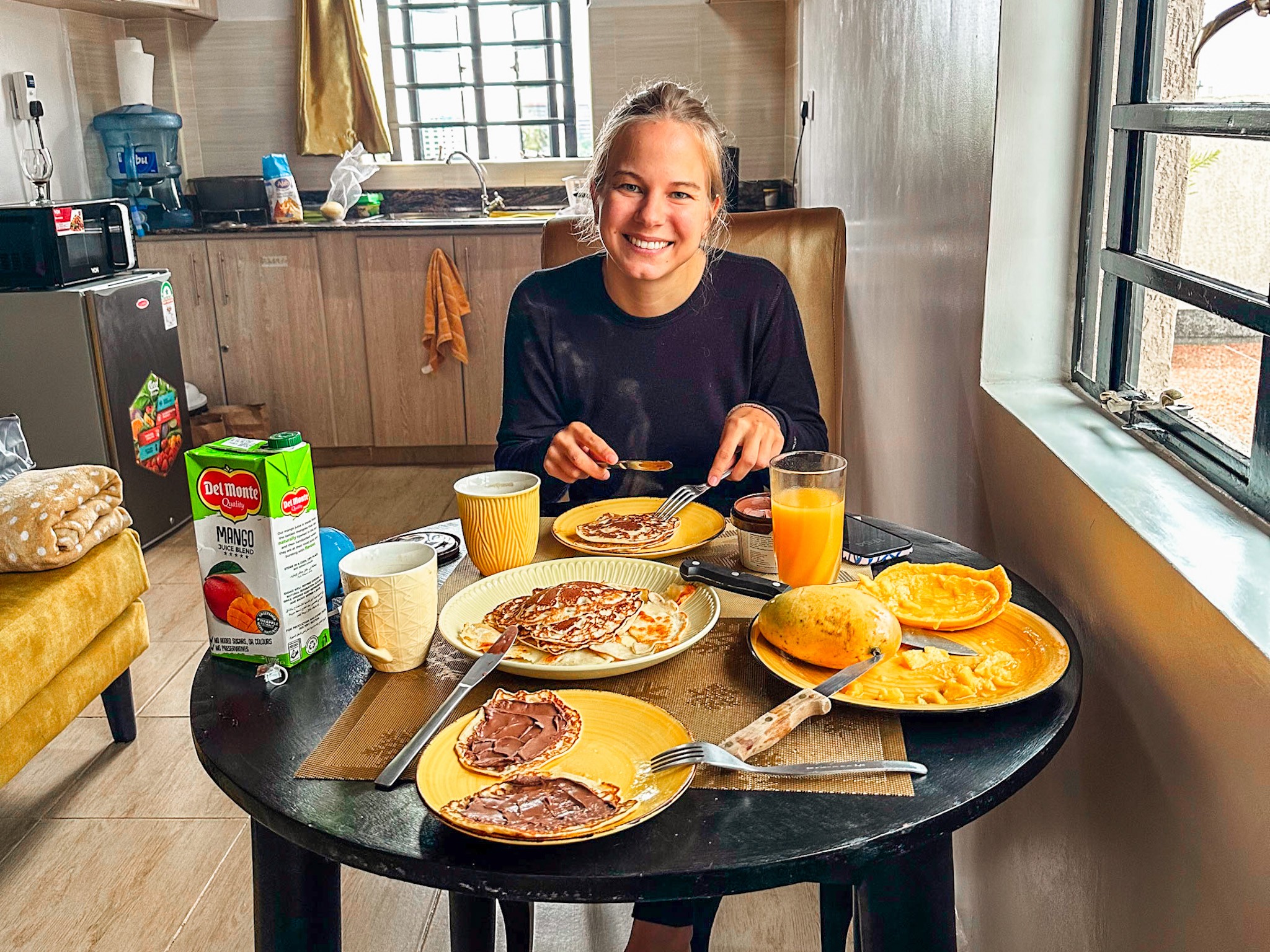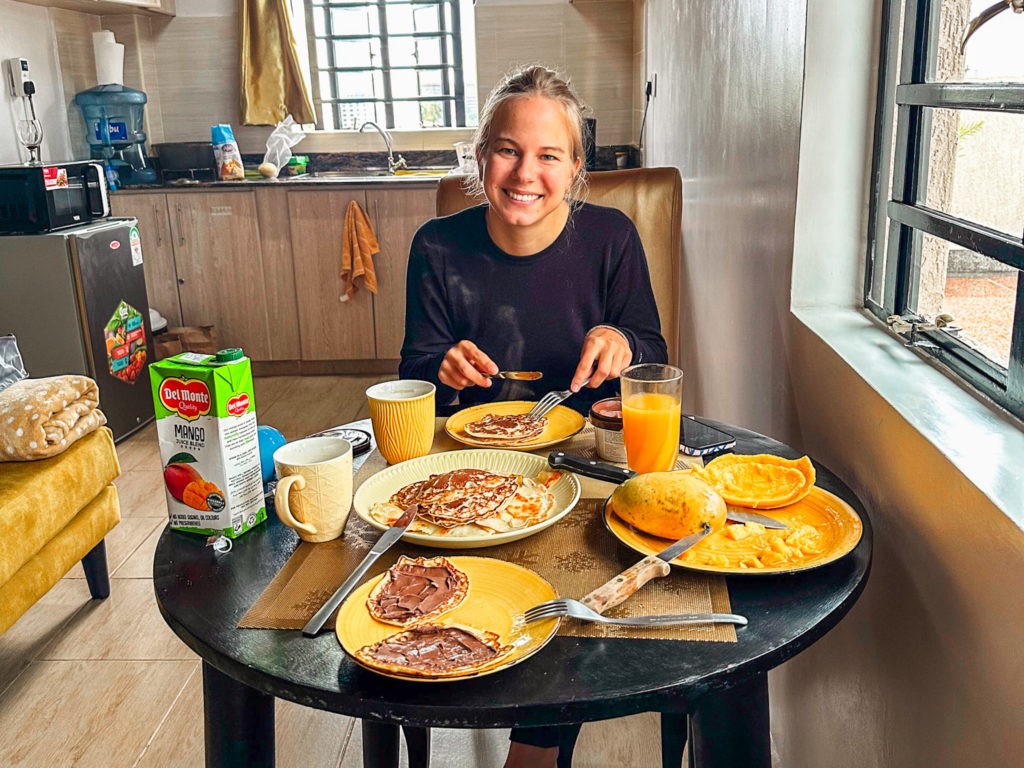 With full stomaches, we headed out to explore the Karura Forest. A calm and relaxing spot of nature located a little, but not far, outside of Nairobi. The entrance fee is 600Ksh pp (around 4.50USD) and we also decided to rent bikes for 500Ksh each (around 4 USD) to explore the area. We found Nairobi's Karura Forest a perfect place to escape the busy streets of Nairobi. There is a waterfall and some caves to explore. And you'll be greeted by a lot of white-colored butterflies along your way through the park.
Unfortunately, Jens' bike broke down after just an hour or so. As he attempted to ride up the hill, the back tire gave in and bent. It seems that the bikes were not properly maintained, and the one Jens was using was probably too small for him. Fortunately, a ranger emerged from the bushes and came to our rescue, arranging for another bike to be delivered promptly. While biking through the forest may sound like a great idea, we would rather recommend opting for a walk instead. The waterfall is not far away, and it's more convenient to explore on foot. Moreover, if you choose to bike, you'll have to carry it up and down the stairs to reach the waterfall, as there are no locks available for securing the bikes during the detour.
After visiting the Karura Forest, it was time to dive into the city for the afternoon. We've chosen to take a free walking tour through Nairobi. The free walking tour is a concept that we've always appreciated, as you can be pretty sure to have authentic and exciting insights into the city, country and its people. The tour itself is free and is most often facilitated by students or local guides – and they do their very best to guide you, answer all of your questions and everything for you to have a good time, as you are encouraged to provide a tip if you liked it. And we were lucky again. Nicolas, an extremely knowledgeable persons about Keyna and especially Nairobi was our guide for the afternoon. We had to opportunity to see all the sights in the city: The National Archives of Kenya, the Maasai Market, the Kenyatta International Convention Center, the old Hilton Tower, the Cathedral Basilica, the August 7th Memorial Park, and many many more.
TIP:

It's advisable to plan your return trip from Nairobi to your accommodation carefully after 5 pm, as heavy traffic jams occur due to the daily commuting of numerous people to and from the city. If you're relying on Uber, be aware that drivers might decline your trip if you're waiting near a congested street.
Day 3: Meet Giraffes at the Giraffe Center Nairobi
On our third and final day in Nairobi, we decided to visit the Giraffe Center, an NGO located on the outskirts of the city, offering an up-close encounter with these majestic creatures. At the center, we had the unique opportunity to learn about their conservation efforts while feeding the giraffes. Something Laura was so excited about as she adores these animals. However, beware of getting too close without treats, as giraffes may gently headbutt if they don't receive any food ;).
Feeding the giraffes by hand was an incredible experience, just as amazing as we've seen in videos. Keep in mind that the center can get quite crowded, though, due to its popularity.
The Giraffe Center is easily accessible by joining a tour or taking an Uber/taxi. Our trip from the city center took around 45 minutes, and we paid 10 USD. The entrance fee to the park, which includes food for the giraffes, was 1500Ksh per person (approximately 10 USD). It's definitely more budget-friendly to visit the center on your own.
Alternatively, the Elephant Orphanage (you need to book well in advance though) and/or the Nairobi National Park would also be good places to visit during your stay in Nairobi. As our plans were to visit the popular National Parks of Kenya (Masai Mara, Amboseli, Lake Naivasha, and Mount Kenya) as part of our roadtrip, we deprioritized these sights for us.
For the afternoon we had planned to go back to the city center, however there was an opposition rally happening on that day. Therefore, it was safer for us to return to our Airbnb, order some food and get our backpacks ready for the roundtrip through Kenya by a 4×4 vehicle. Stay tuned, as we explore whole Kenya.
Our 3-Day Nairobi Itinerary
Visiting and exploring Nairobi is definetely a must. We have seen too many tourists skipping the marvelous capital city of Kenya and directly headed towards the National Parks, however, in Nairobi there is more than meets the eye. This is how our three day itinerary looked like:
Day 0 – Arrival in Nairobi, Kenya
Day 1 – Learn about the local history and culture in the Nairobi National Museum
Day 2 – Explore the Karura Forest and walk through the busy streets of downtown Nairobi
Day 3 – Visit the Giraffe Center and Elephant Orphanage or go on a day-long game drive to the Nairobi National Park
When is the best time to visit Nairobi?
The best time to visit Nairobi is during the months of January to February and July to September. These periods offer pleasant weather and are great for outdoor activities and wildlife safaris. If you are interested to witness the Great Migration in the Maasai Mara National Park, plan your visit between July and September. During this time, expect temperatures ranging from 10 to 24°C.
Avoid visiting Nairobi during the long rainy season, which typically occurs from March to May. When going to Nairobi in November and December you will still experience some rainy days, but not as much as during the rainy season.
Average peak temperatures
What does it cost to visit Nairobi?
When you are planning to visit Nairobi you can expect to spend between 350 USD to 700 USD a week, but it's depending on how you travel. Consider yourself on the lower end for traveling budget, and on the upper end for traveling more luxurious. Also keep in mind that the costs do not include the price for flights, as they vary based on your departure location and time of booking. Check the most current flight prices here.