The Hell's Gate National Park, named after its intense geothermal activity, offers visitors next to magnificent game drives spectacular sceneries, including towering cliffs, gorges sculpted by water, striking rock towers, and impressive billows of geothermal steam. It serves as an ideal destination for a day trip from Nairobi or Naivasha. 
The park's distinct charm lies in the intriguing absence of lions. Being a predator-free haven, the park allows you to fully immerse yourself in the vast savannas and have intimate encounters with majestic giraffes, zebras, graceful antelopes, all while hiking on foot or, for an enhanced experience, gliding on the wheels of a bicycle.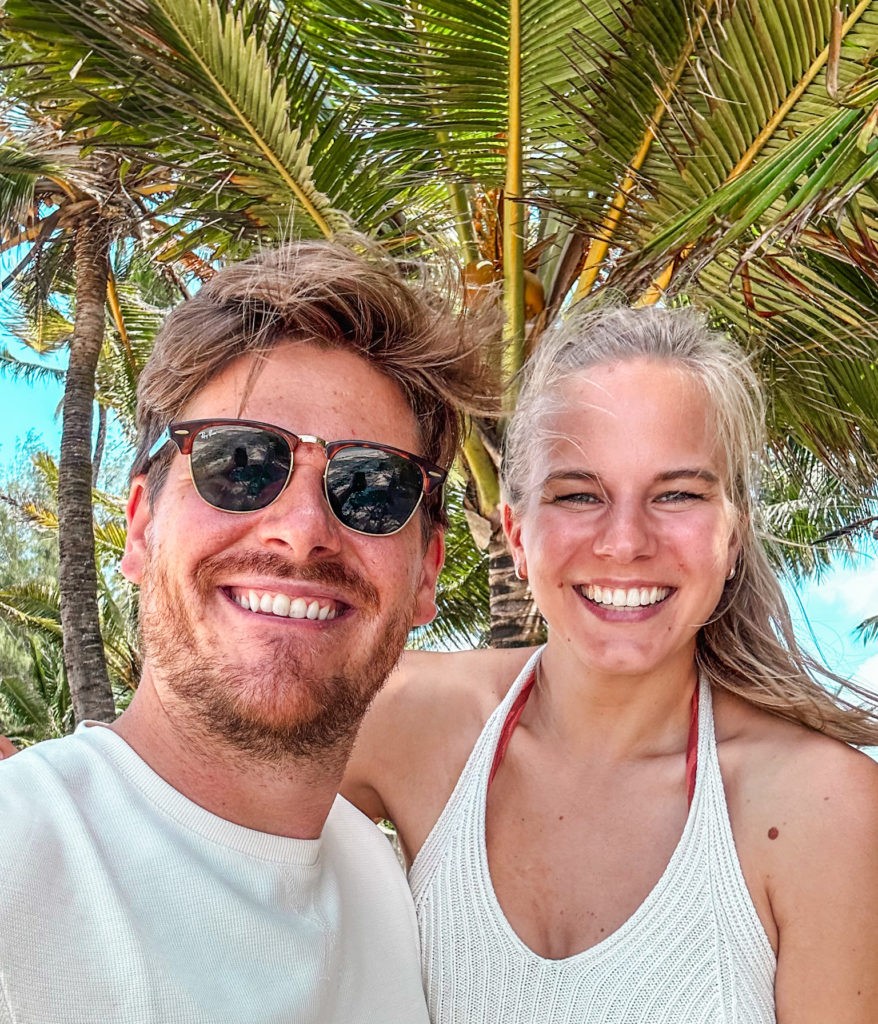 We hope you enjoy our travel stories, guides and tips! If so, please consider supporting our work.
Things to Do on a Day Trip to Hell's Gate National Park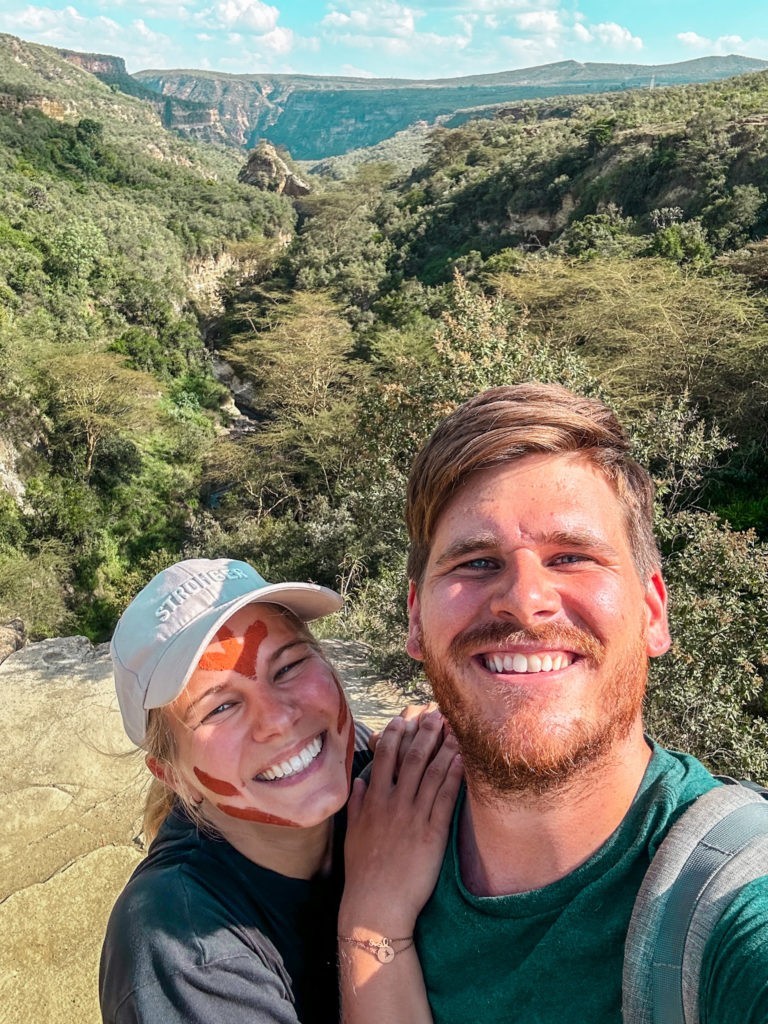 Initially, we were uncertain about whether the park would offer enough to make our visit worthwhile, especially since we had plans to explore Maasai Mara and Amboseli afterward. However, based on recommendations from others, we made the decision to go. Despite initial doubts, we decided to go based on the recommendations of others. Our decision turned out to be a delightful one as the landscape proved to be truly breathtaking. So, if you find yourself in doubt as well, we highly recommend not missing out on this fantastic national reserve.
Visit the gorge
Among Hell's Gate National Park's absolute highlights lies the unparalleled opportunity to embark on a thrilling hike through the park's majestic gorge and canyon. Traversing these awe-inspiring natural formations, you'll be captivated by the sheer grandeur of the landscape and the sense of adventure that accompanies each step. 
Cycle at Hell's Gate National Park
Not only can you embark on a safari at Hell's Gate National Park, but here's the best part – you get to explore the park on foot or by bike, making your experience truly unique. There is no reason to fear, for there are no predators to hold you back. In this park, there are only African buffaloes that could be potentially dangerous. So, get ready for your experience to get up close and personal with those giraffes and zebras.
TIP:

For the ones deciding to hop on a bike, the rental is only available at the main gate "Fisher's Tower Gate". Also, we want to point out that the park's beauty lies in the eastern part of the reserve. The western part only consists of power plants (the park's geysers and hot springs are tapped to produce geothermal energy, which powers almost half of Kenya's electricity). So save your time and energy by avoiding cycling in that area.
Do Some Rock Climbing at Fischer's Tower
Hell's Gate National Park in Kenya has also earned a reputation as a top destination for rock climbing safaris. The park's rugged terrain features steep cliffs and gorges that invite climbers to conquer their heights. A must-try experience is scaling Fisher's Tower. This remarkable rock formation stands tall at 25 meters and is located near the park's main entrance. Adding to its allure, the Maasai folktales narrate a captivating legend of a Maasai girl transformed into stone as a consequence of defying her family before her wedding day.
Swim in the "Spa"
Another great alternative is to visit at Hell's Gate National Park's newly constructed Olkaria Spa, an innovative venture that taps into the park's geothermal resources. The water in the pools is pure and untouched, rich with natural minerals that make it perfect for a soothing bath.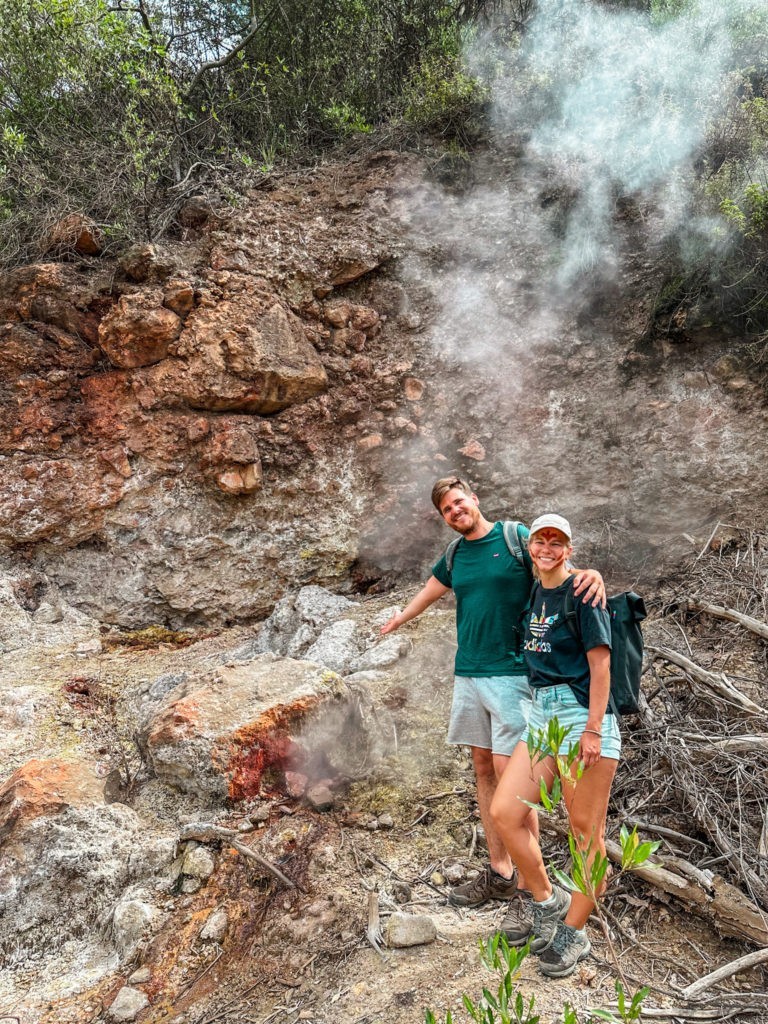 What Wildlife Can I See in Hell's Gate National Park?
In this captivating Kenyan gem, you can witness an array of fascinating creatures amidst breathtaking landscapes. Watch in awe as herds of African buffalo and zebras graze peacefully in the grasslands. Don't miss the chance to spot the endangered Grevy's zebra and the Rothschild giraffe, symbolizing conservation efforts. As you explore the scenic gorges and hot springs, keep an eye out for the cheeky olive baboons swinging through the trees.
While this park may offer fewer animal sightings compared to other Kenyan parks (Our Masai Mara National Park Story), it compensates with an exciting array of activities, including mountain climbing, camping, hiking, and exploring the canyons.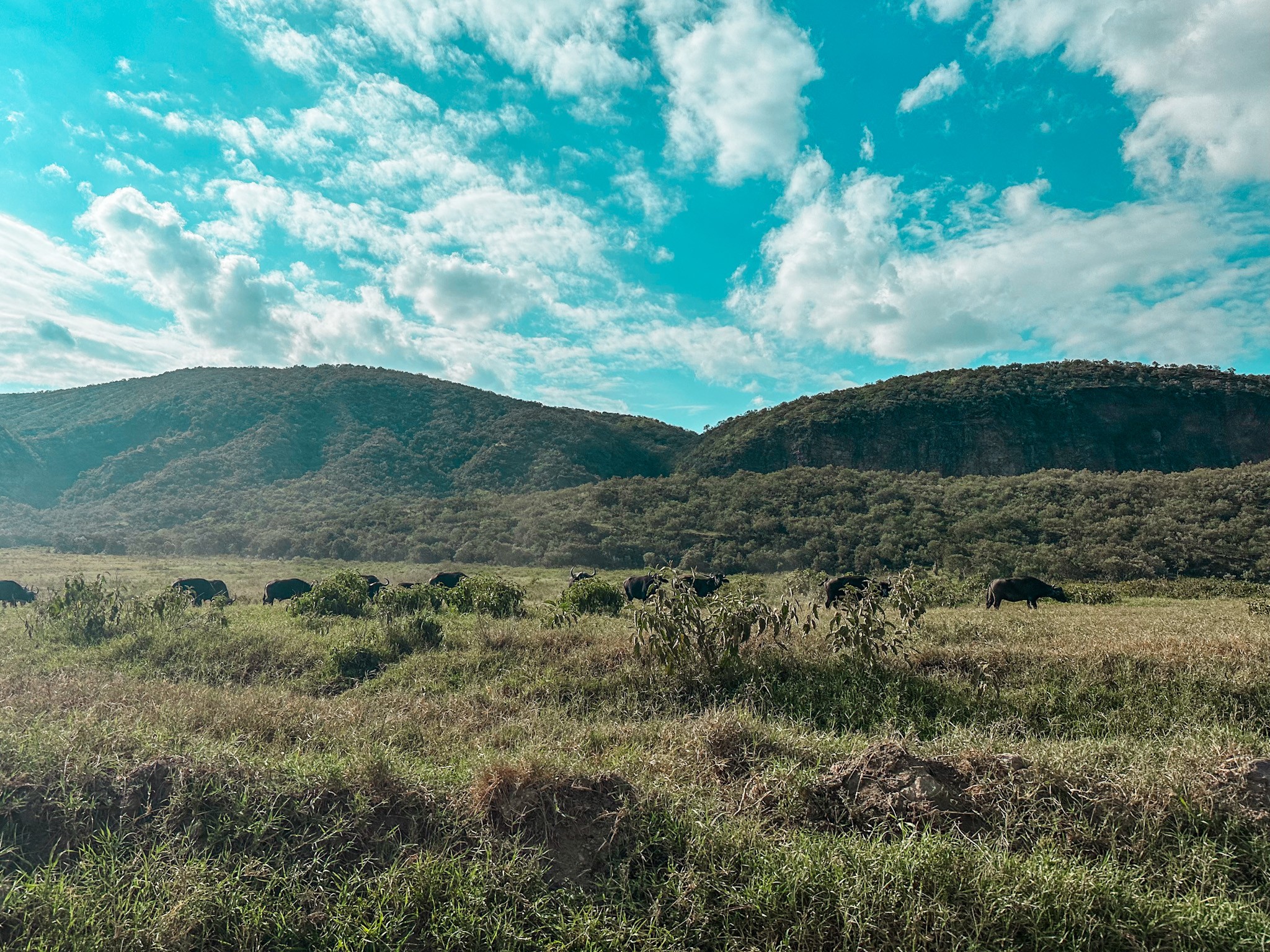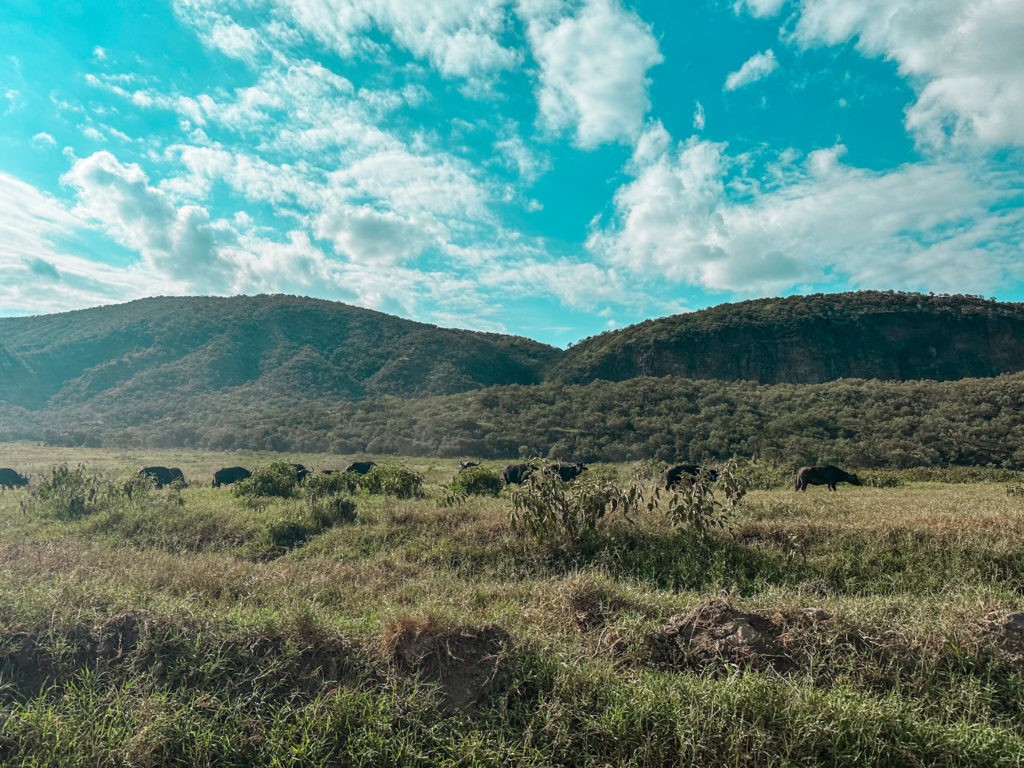 Visiting the Gorge in Hell's Gate National Park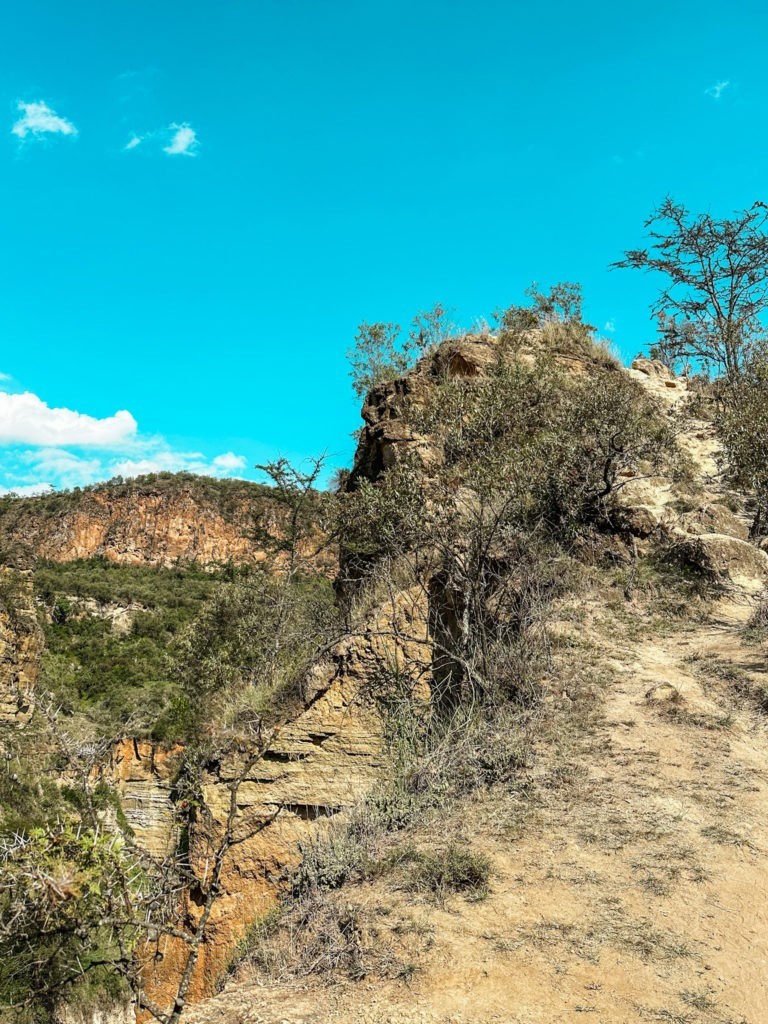 The gorge in the Hell's Gate National Park should not be missed! Its stunning beauty has inspired the Lion King scenery as well as been captured in one of the Tomb Rider's movies.
You might have heard about the recent closure of the gorge due to a tragic incident involving flash floods that resulted in loss of several lives. Yes, the authorities have restricted access to the narrow part of the gorge as the flash floods remain unpredictable and escaping them is challenging. Despite the potential risks, hiking in the wider part of the gorge remains safe as long as you are accompanied by a guide. So, if you plan to visit during the dry season and have an indigenous Maasai guide with you, there should be no cause for concern. Their expertise and knowledge of the area will ensure a secure and enjoyable experience.
If you haven't arranged a guide in advance, don't worry, as there are many guides available at the parking lot near the gorge. You have three options for hiking:
A 45-60 minute hike leading to the first viewpoint.
A 90-minute tour that includes visits to viewpoints 1 and 2, as well as a waterfall.
A 2-3 hour hike, covering approximately 6-7 km, taking you all the way to Hell's Kitchen, where you'll find the natural hot springs.
Save on Pinterest to read it later.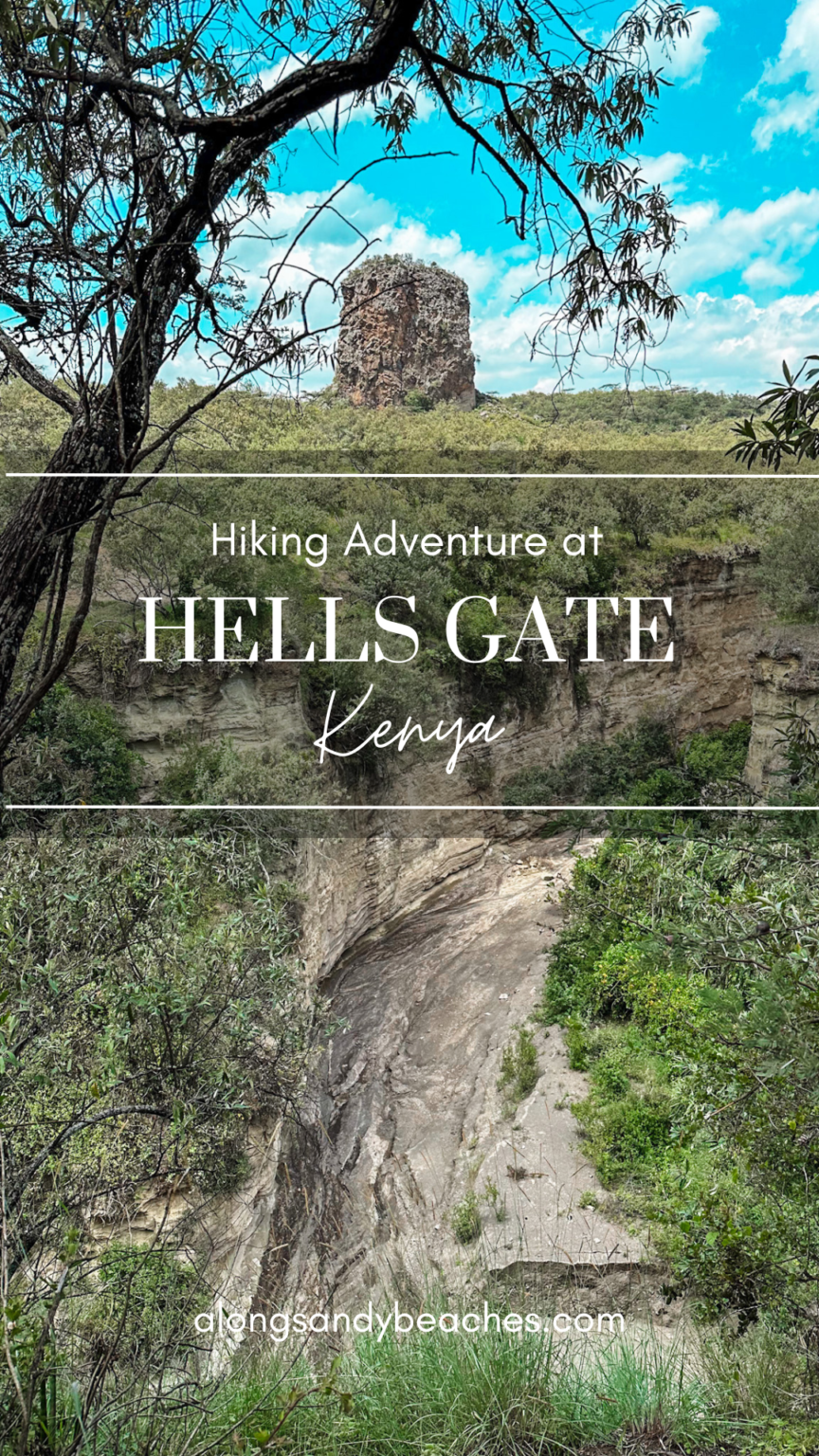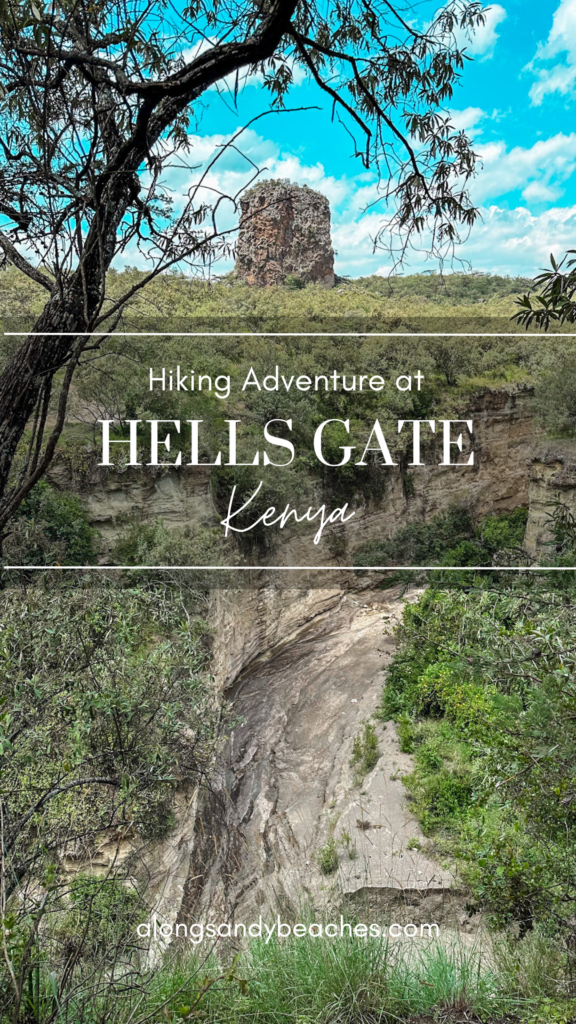 Hiking in the Gorge of Hell's Gate National Park to the Hell's Kitchen
As we had time, we decided to go for the longest route which after a short negotiation cost us 4000 KES (ca. 28 USD) and took around 3 hours. Initial price was 6000 KES (ca. 42 USD).
Although the first and second viewpoints offer breathtaking glimpses of the gorge's beauty, for the complete and authentic experience of the canyons's true beauty, we highly recommend embarking on the hike inside. We were absolutely amazed by the beauty of the canyon.
During our hike, we entered the gorge when it was getting slightly wider. The dry season meant the river had very little water, making it possible for us to walk inside the gorge with our shoes on. Sometimes, we had to jump from one side of the river to the other though. As we went further, the river got wider, and we had to remove our shoes for a short distance where jumping became too difficult.
Our guide was an indigenous Maasai and he was very knowledgeable about the nature. So it was much fun hiking with him to lear more about Kenya's wildlife. He also shared fascinating insights with us about the convergence of cold springs and hot springs in the river, and we had the chance to experience it firsthand. We stood by a wall where water from two sources flowed down in parallel, with one being icy cold and the other as hot as a shower.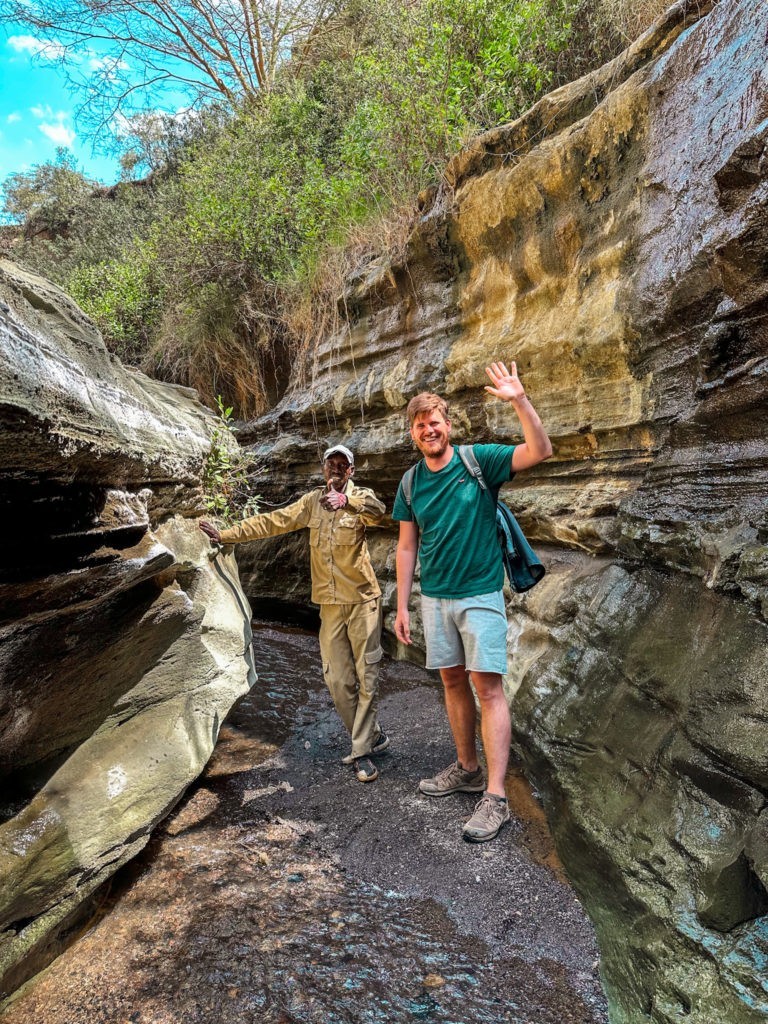 TIP:

To ensure a comfortable hike, it's wise to wear waterproof hiking shoes during your trip to the gorge. The terrain can be unpredictable, and with the possibility of encountering water, having waterproof shoes will keep your feet dry and prevent discomfort. Also, wearing proper hiking shoes provides better traction on slippery surfaces, offering an added layer of safety during the adventure.
Eventually, we reached the captivating Hell's Kitchen, and the name made perfect sense. The bubbling hot water surfaced in multiple spots. Our guide mentioned that these springs are so hot that you could even cook eggs in them. The place felt like being in a steam sauna, and the distinctive smell of sulfite reminded us of our visit to Mount Ijen in Java, Indonesia.
As we explored further, the guide pointed out some red clay on the ground, explaining that Maasai warriors use it for face paint. He playfully insisted that Laura should get a "tattoo" with the clay. So how could she have resisted…
On our journey back, we spotted leopard footprints on the ground. The guide reassured us that there was no need to worry. He had dealt with many leopard encounters before, and he knew exactly what to do if we were to face one.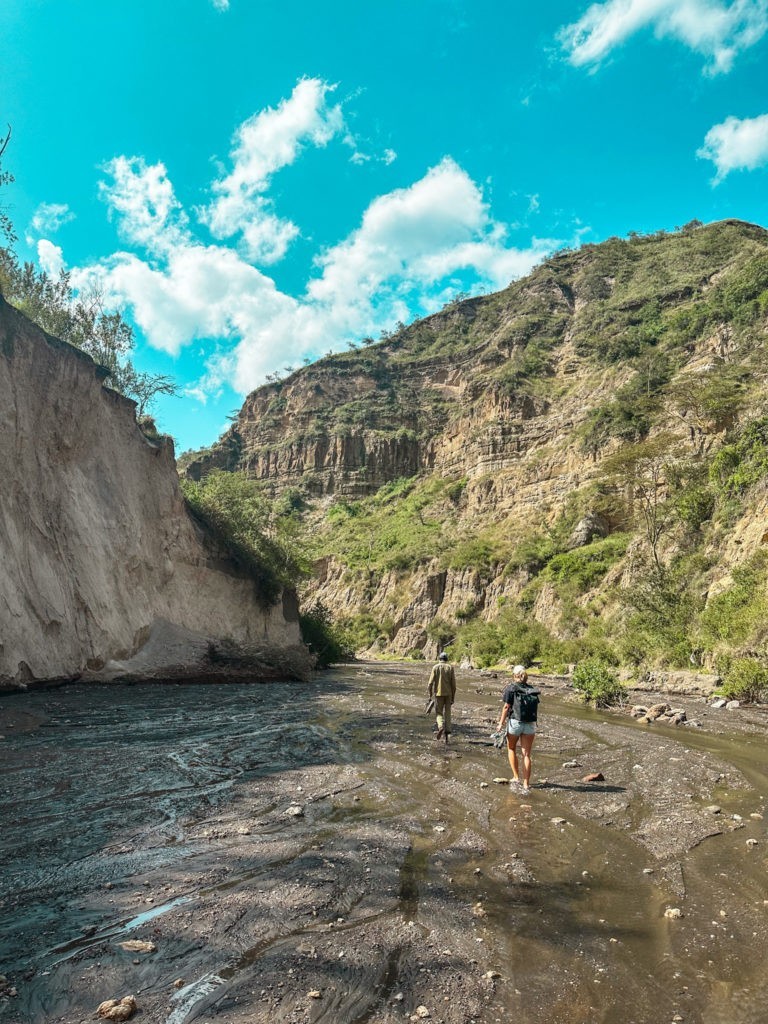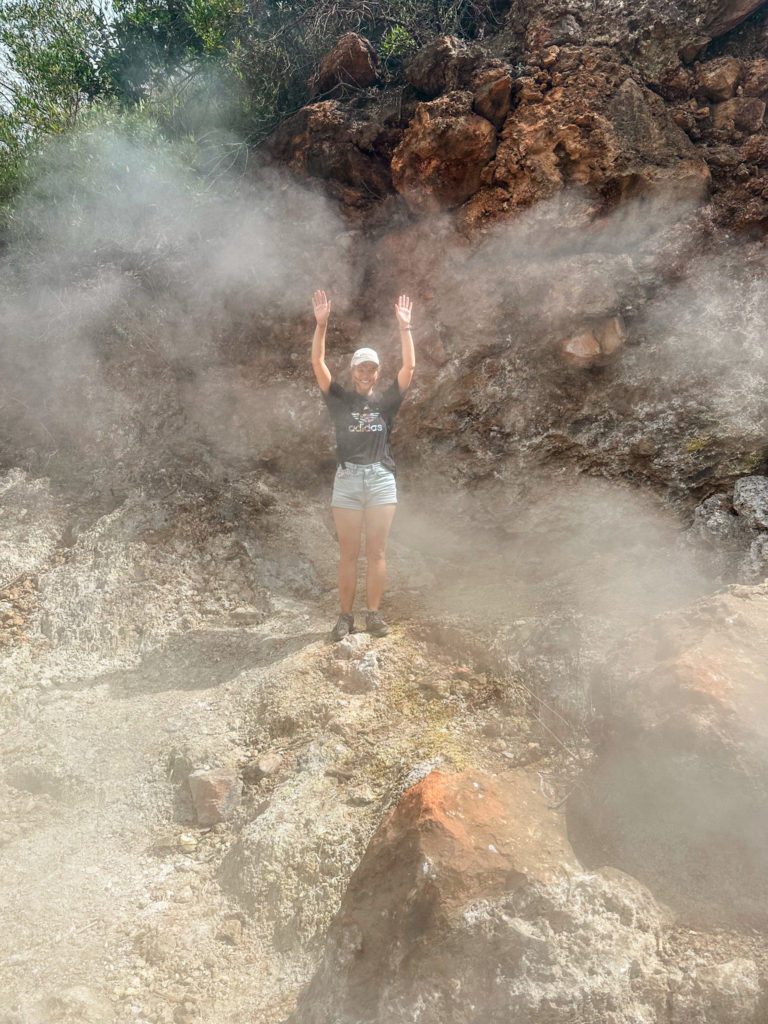 How to Get to Hell's Gate National Park?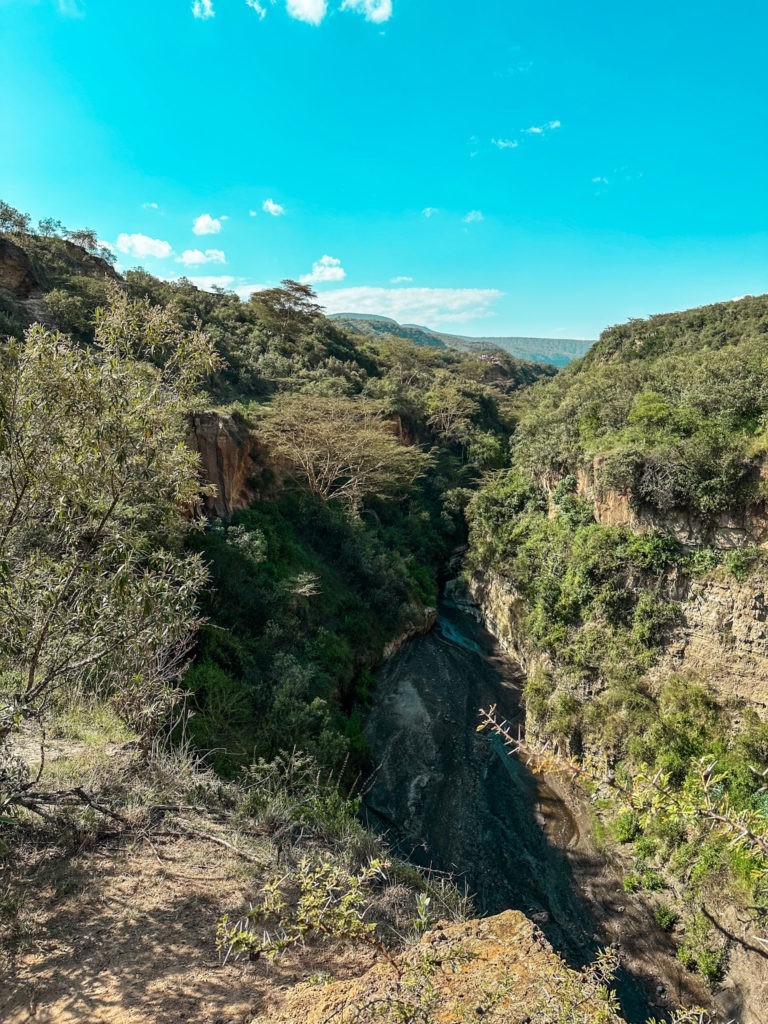 Hell's Gate National Park is located approximately 100 kilometers (62 miles) away from Nairobi. The driving distance between Nairobi and Hell's Gate can take around 1.5 to 2 hours, depending on traffic conditions and the specific route taken. It's a relatively short and easily accessible trip from the capital city, making Hell's Gate a popular destination for day trips and weekend getaways.
Alternatively, you can arrange for a local tour operator or hire a vehicle in Naivasha to take you into the national park. The journey from Naivasha to Hell's Gate will take around 30 to 45 minutes by car. 
Hell's Gate National Park has 3 different entry points:
The main gate, "Fischer's Tower Gate," situated near the park's headquarters, welcomes visitors with sweeping views of the imposing Fischer's Tower, a volcanic rock formation.
The "Oloirika Gate," located on the eastern side of the park, offers access to the iconic Olkaria Geothermal Spa, where travelers can indulge in relaxation and witness the park's sustainable initiatives. In case you are not planning to visit the spa, we do not recommend entering from this gate as this part of the reserve offers nothing else to see than power plants.
Lastly, the "Endachata Gate" grants entry to the park's western region, allowing visitors to explore the lush savannahs and breathtaking landscapes.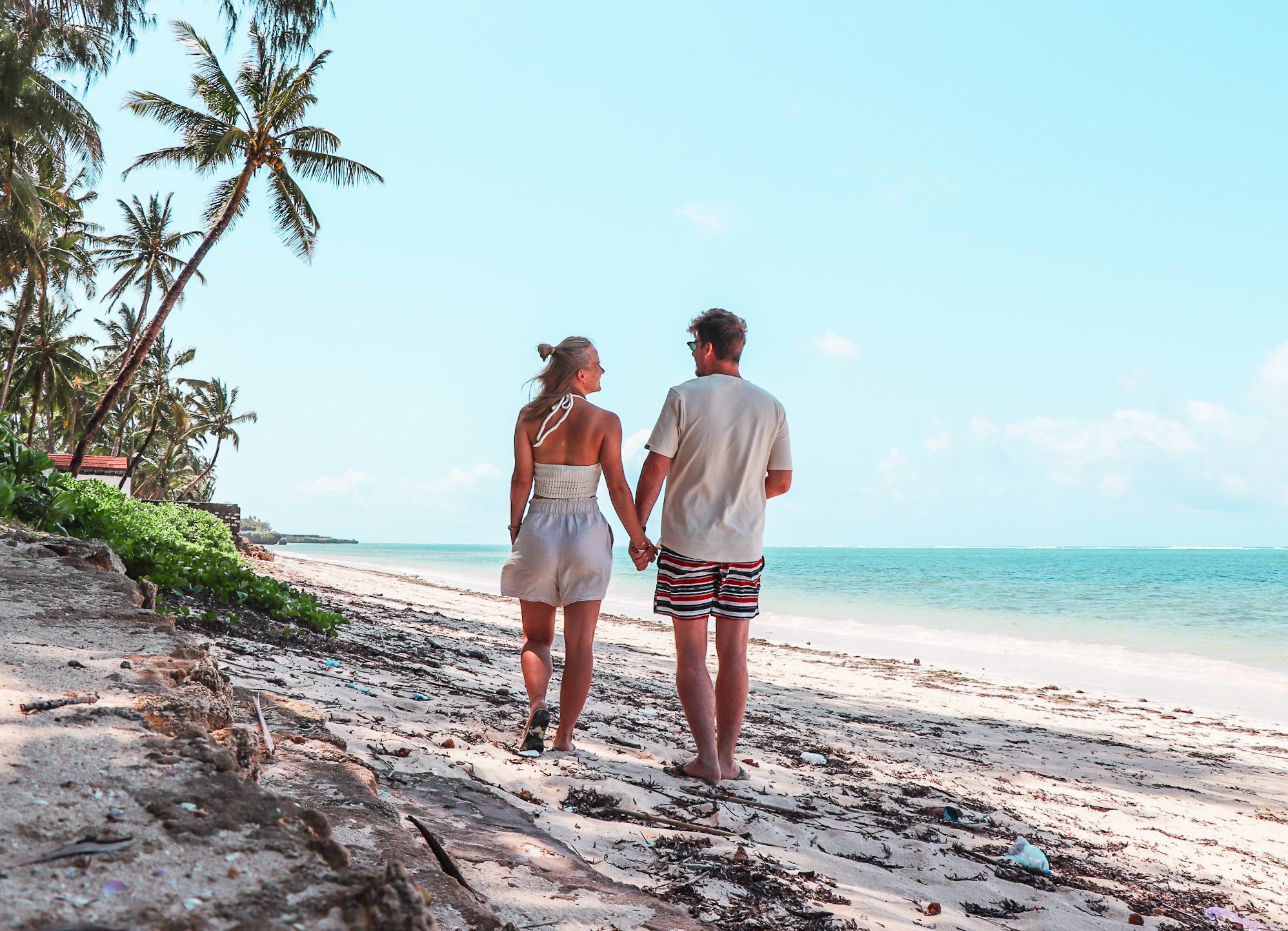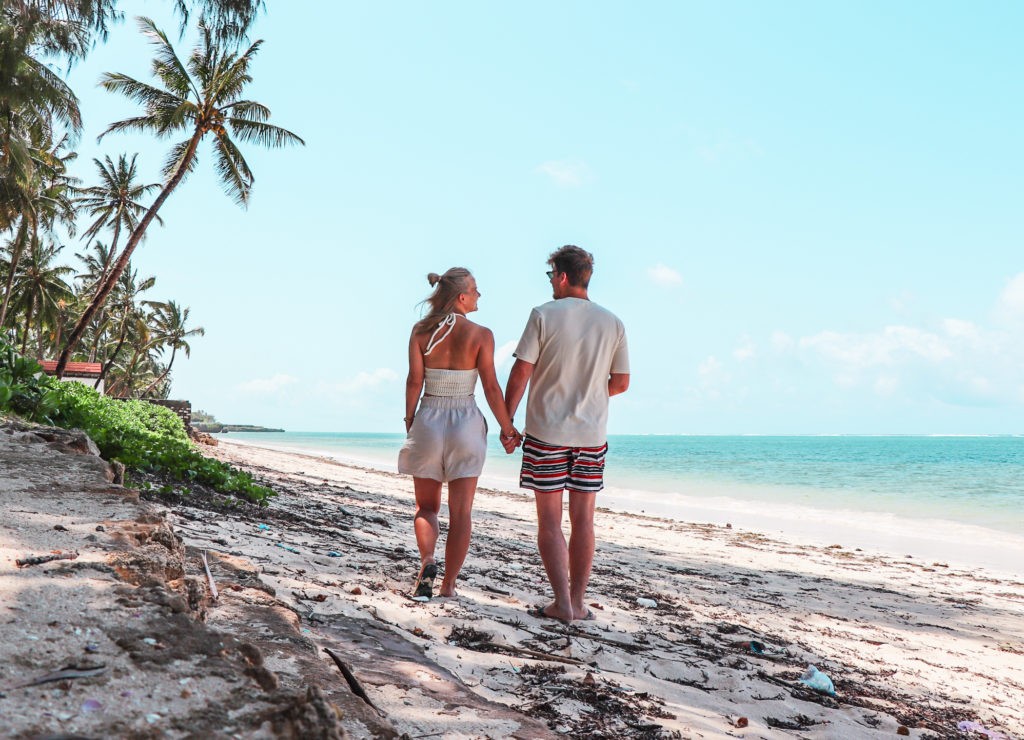 When is the Best Time to Visit Hell's Gate National Park?
Hell's Gate National Park provides excellent wildlife viewing opportunities all year round, making it an ideal spot for nature lovers. To make the most of your adventure, consider planning your visit during the dry season months, which typically fall between June and October. During this time, you can explore the park's wonders, engage in walking and cycling activities, and witness the fascinating wildlife up close. It's essential to know that during the main Wet season months of March, April, and May, the access to the gorge is restricted. So, seize the opportunity and embark on an unforgettable journey through Hell's Gate National Park during the dry season for an incredible safari experience!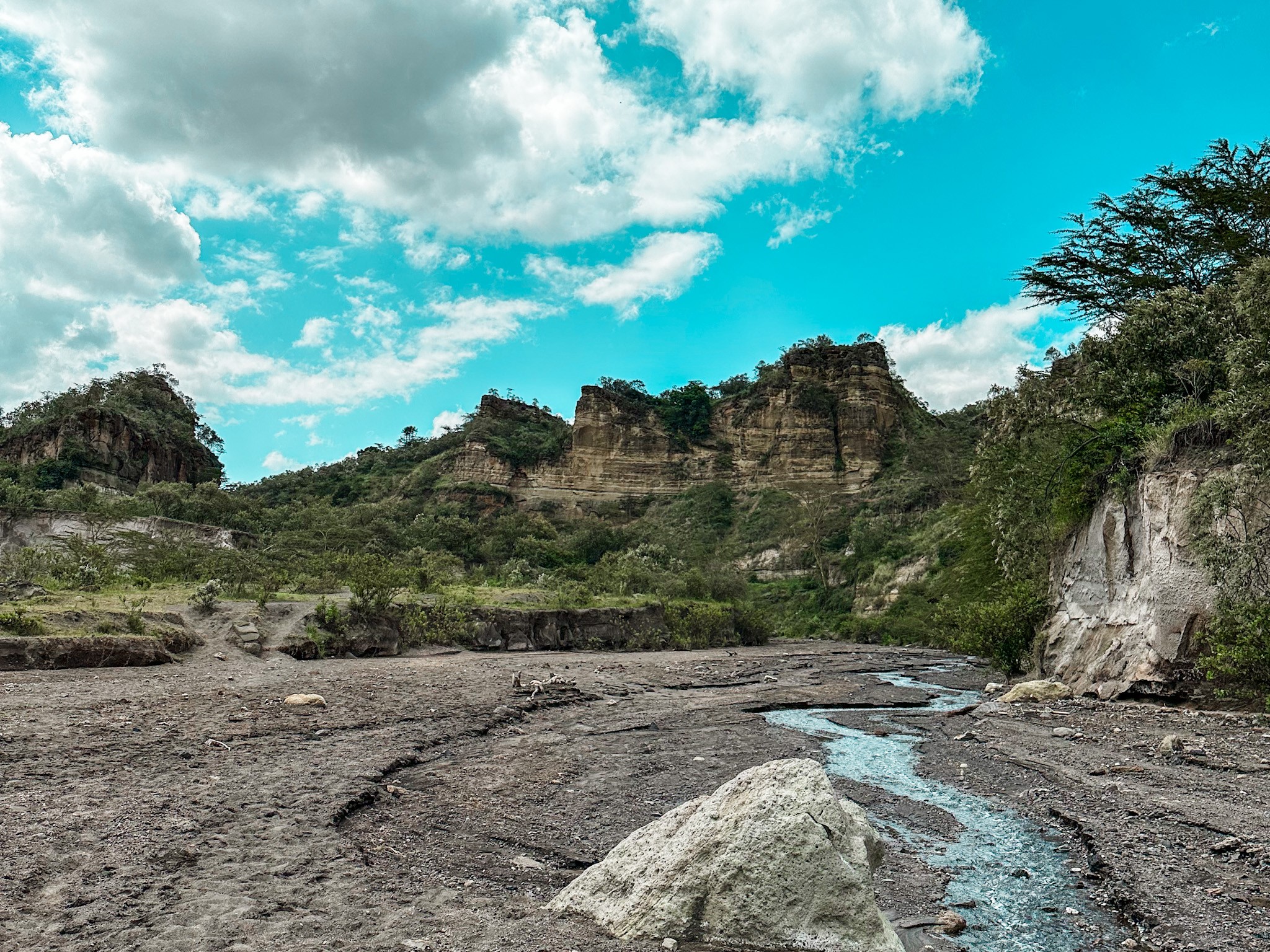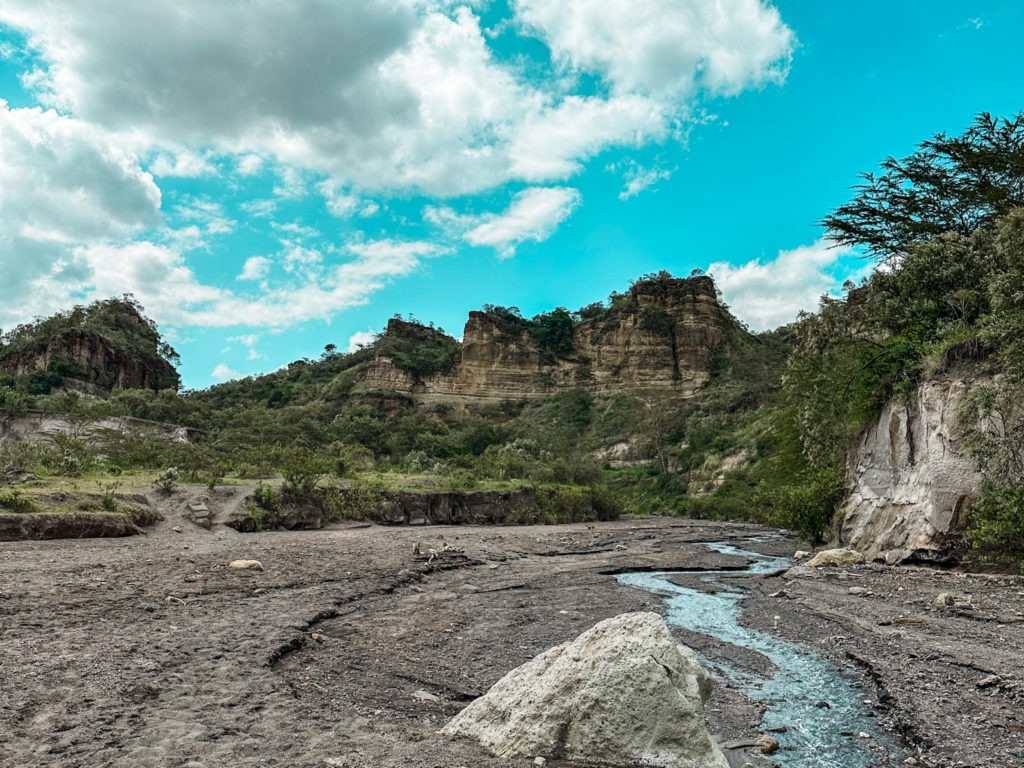 Hell's Gate National Park offers an unforgettable safari adventure that combines captivating wildlife, stunning landscapes and thrilling activities like rock climbing and biking. For the best experience and chance to hike in the gorge, plan your visit during the dry season from June to October. Also join us on our further safari journeys!