Yala National Park is one of Sri Lanka's most famous and popular national parks. We have been on safaris before, but we were still incredibly excited about visiting Yala, espescially because of it's reputation for being home to one of the world's highest densities of leopards!
In this post, we'll share our personal insights and experiences from our trip to Yala National Park, as well as provide you with practical information and tips for planning your own visit. Whether you're a seasoned safari-goer or a first-time adventurer, Yala National Park is an experience you won't want to miss!
Save on Pinterest to read it later.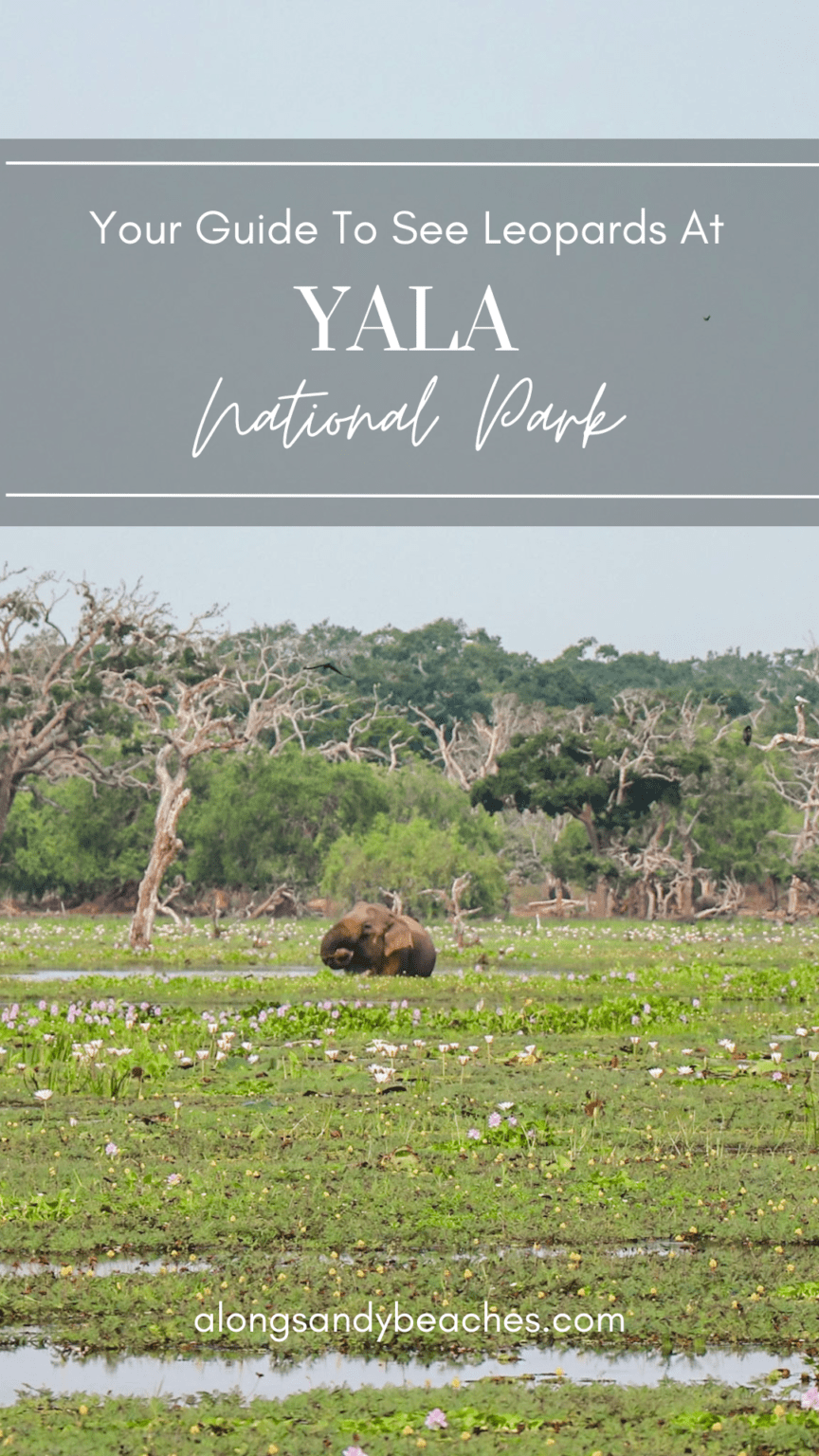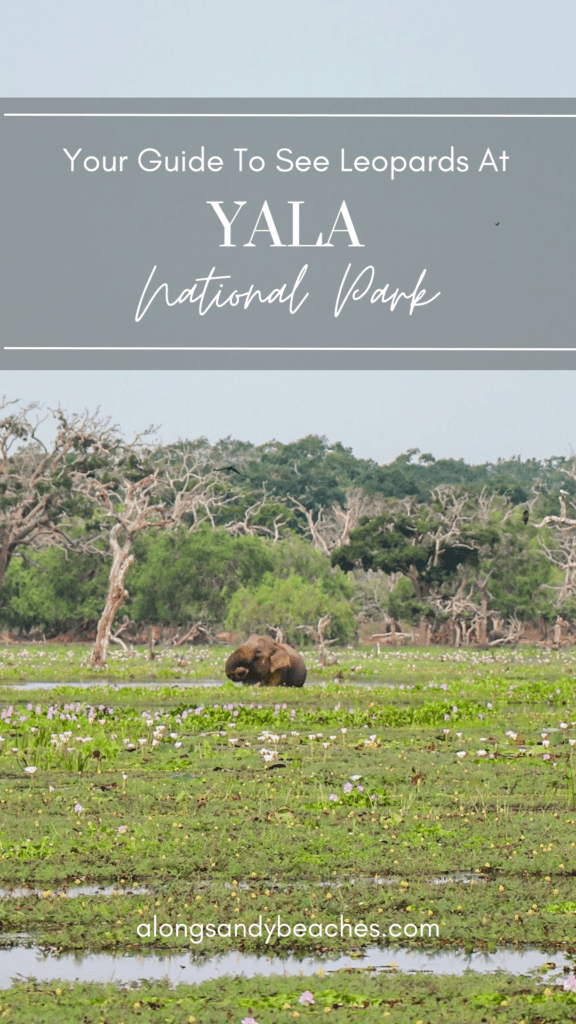 Yala or Udawalawe National Park?
Sri Lanka is blessed with a rich wildlife, and Yala National Park and Udawalawe National Park are two of the country's top safari destinations. Both parks offer incredible opportunities to see a variety of animals, including elephants, crocodiles, and a range of bird species.
However, there are some key differences between the two parks. Yala National Park is perhaps most famous for its population of leopards, with a higher density of these elusive cats than anywhere else on the island. This makes it an excellent choice for wildlife enthusiasts who are hoping to spot a leopard in the wild. On the other hand, Udawalawe National Park is known for its large elephant herds, and visitors are almost guaranteed to see these gentle giants during their visit.
Ultimately, the decision between Yala and Udawalawe will depend on your personal interests and what you hope to see during your trip. We decided to visit Yala National Park since we had never seen a leopard before and were excited at the prospect of spotting one.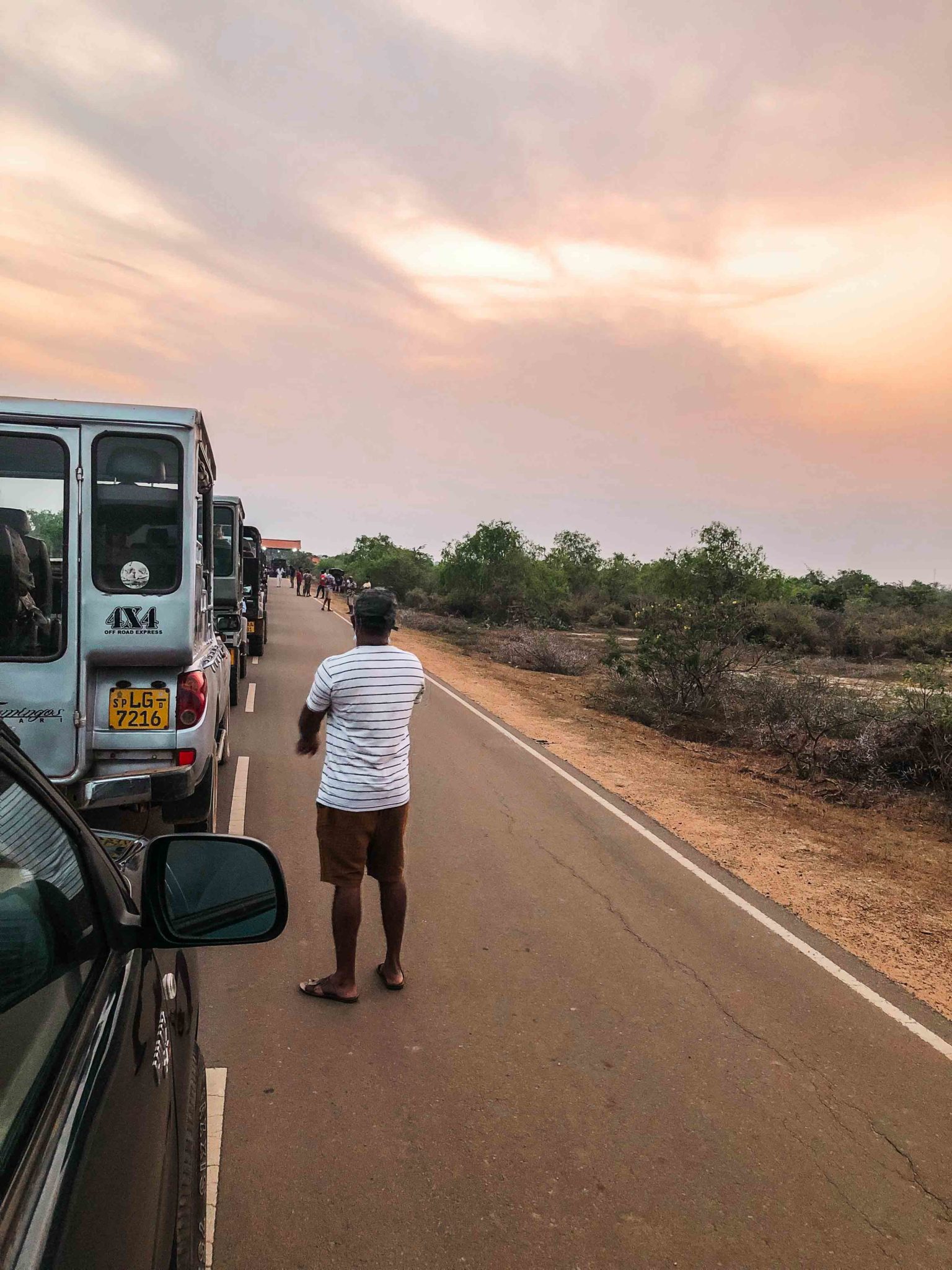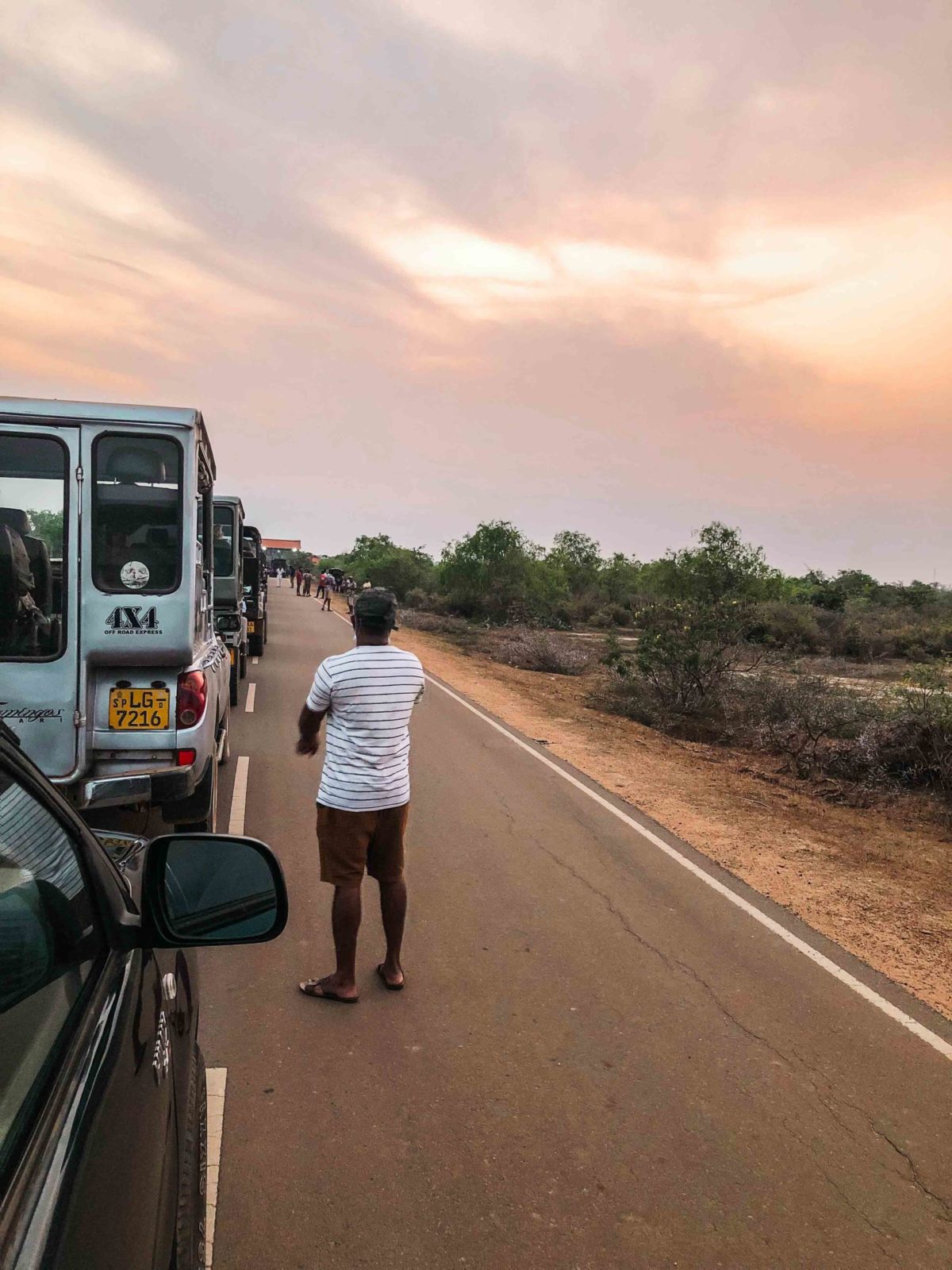 Safari experience options
There are several safari experiences that visitors can book when visiting Yala National Park, depending on their preferences and interests.
Jeep safari: This is the most popular safari experience in Yala. Visitors can choose between a half-day or full-day safari with a knowledgeable guide. The timings of a half-day jeep safari in Yala National Park may vary slightly depending on the tour operator, but generally, there are three options:
Morning safari: This safari usually starts early in the morning, around 5:30 am, and lasts for about 4 hours. It is the best time to observe Yala's wildlife, especially leopards, as they are more active during the cooler hours of the day.
Afternoon safari: This safari usually starts in the afternoon, around 2:30 pm, and lasts for about 4 hours. It is a good time to observe the park's other wildlife, as they tend to be more active during the warmer hours of the day
Night safari: For a different perspective on Yala's wildlife, visitors can opt for a night safari. These safaris allow you to observe the park's nocturnal animals, such as the elusive sloth bear, and experience the park's sounds and smells at night.

Bird watching safari: Yala is a birdwatcher's paradise, with over 200 species of birds, including several rare and endemic species. You can book a birdwatching safari with an experienced guide, who can help them spot and identify the park's feathered residents.
Camping safari: For a truly immersive experience, you can also book a camping safari within the park's boundaries. These safaris allow visitors to spend the night in the wilderness, surrounded by Yala's sights and sounds. Exciting!
In Namibia we made great experiences exploring Etosha National Park by ourselves but self-driving is not allowed in Yala. Nevertheless we would have booked a personal driver anyways, since spotting leopards was our ultimate goal. And having an experienced driver who in navigating the park's terrain, knows the best spots for leopard sightings and is in constant communication with other drivers definitely paid off!
One can also book a guide in addition to a driver. We do not think it's strictly necessary to have a guide. But it can be helpful, in case you are interested in learning more about wildlife, as the drivers may not speak good English or have the deep knowledge about flora and fauna.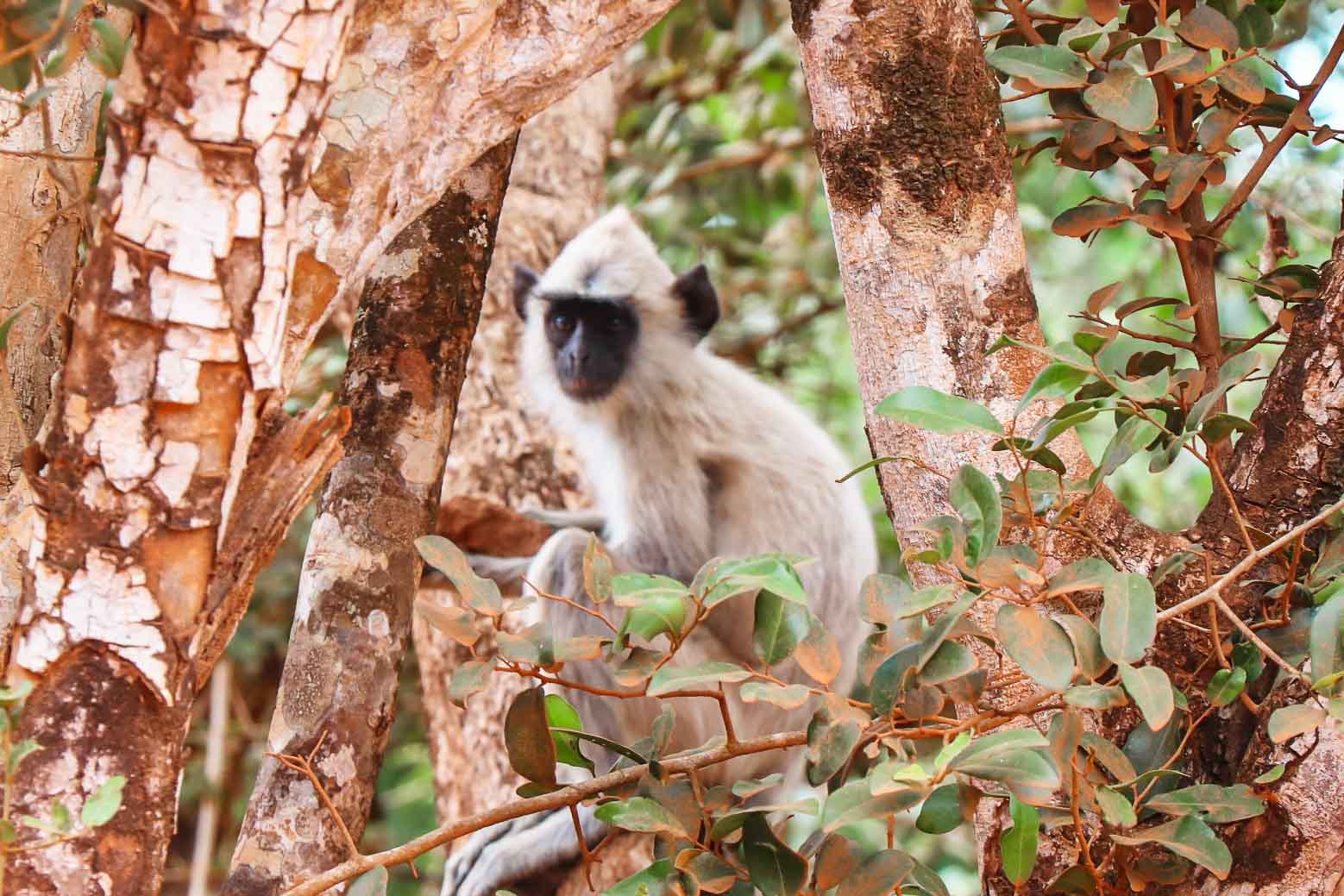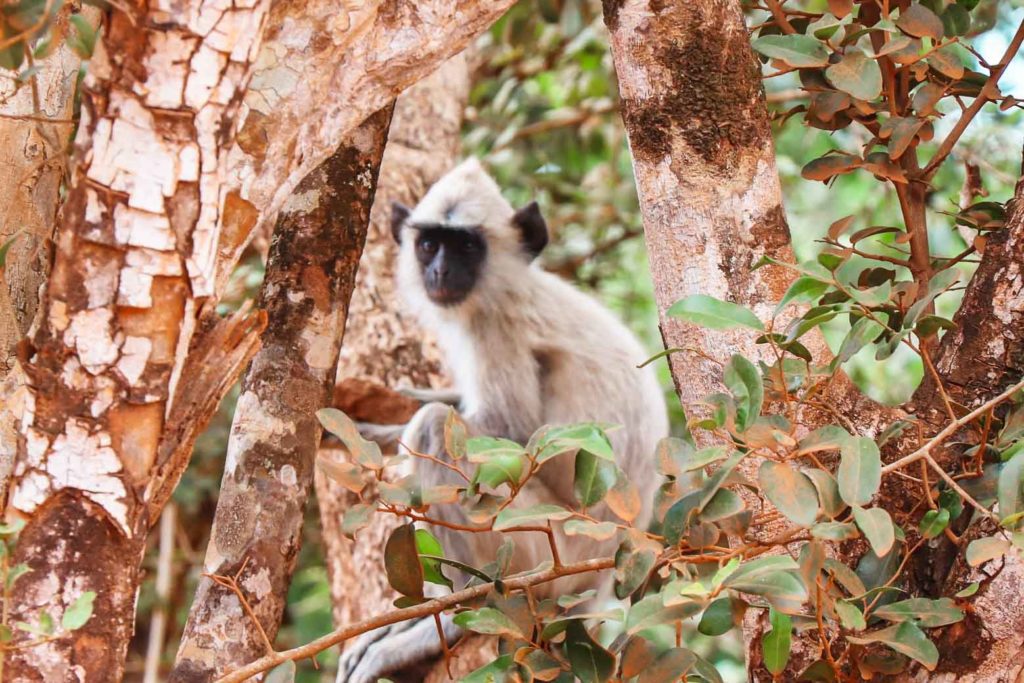 How much does a safari cost?
There are several options for booking safari tours online. We decided to book our driver via our hotel in Tissamaharama just a few days before our arrival as the fee was within the normal price range and they confirmed us that we would be the only ones in the vehicle. 
The park is home to a variety of exotic animals including elephants, leopards, and sloth bears. The cost of a safari in Yala National Park depends on the duration and type of safari you choose:
A half-day safari usually costs around $50 to $70 per person, while a full-day safari can range from $80 to $100 per person. 
If you're interested in experiencing a night safari, the cost is generally higher, ranging from $100 to $150 per person.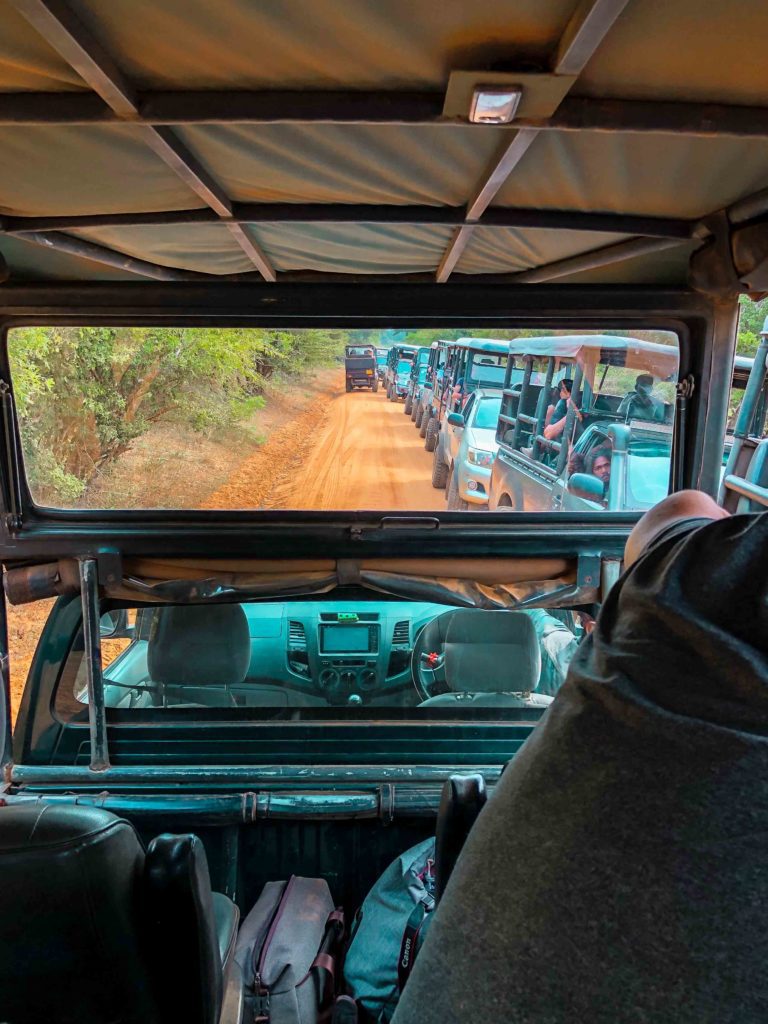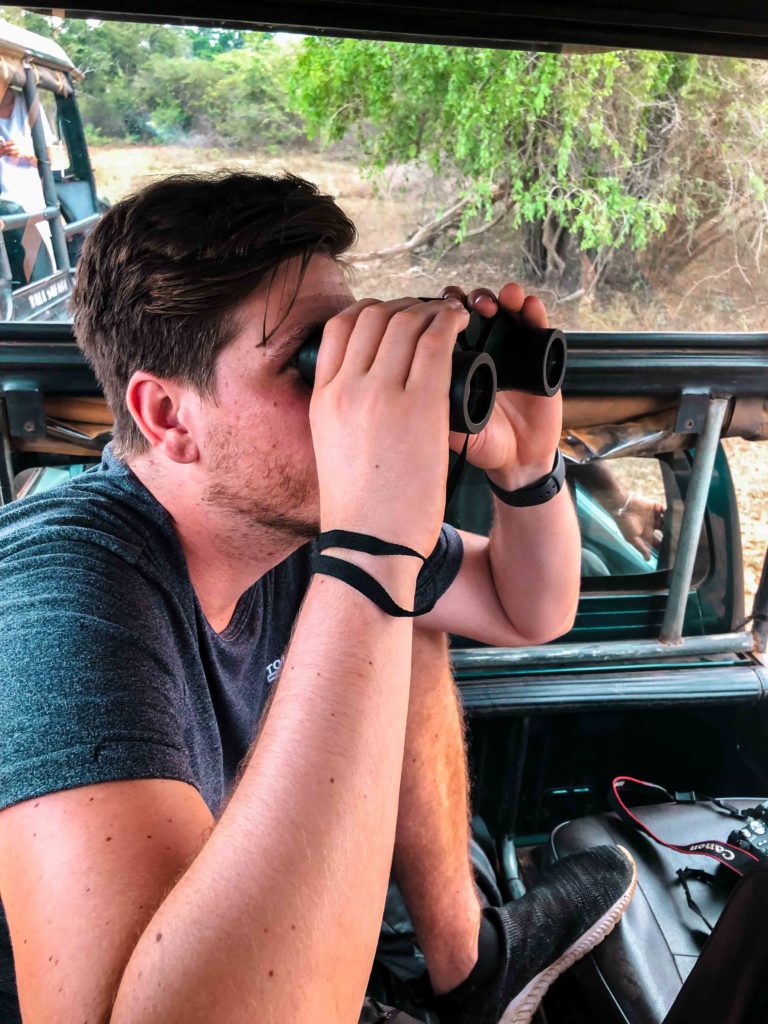 Our half-day safari experience
During our safari, we were lucky to have the car just for ourselves and a knowledgeable and dedicated driver. As soon as we entered the park, he contacted other drivers to share leopard spotting locations and drove us directly to a spot where a leopard was lounging on a big rock. As leopards tend to blend in well with their surroundings and the animal was far away, it was almost impossible to see it without binoculars. And even when looking through one. The guide had to explain us exactly where we would find the leopard. Once we spotted it, we were mezmerized. There it was – looking down at us, observing us just like we were observing him/her. As you observe the leopard from a safe distance, you can't help but feel a deep sense of admiration and respect for this magnificent creature. And suddenly it was enough – the big cat stood up and jumped gracefully off the rock, vanishing and leaving us speechless. We were over the moon!
And boy, this was not all! Exceeding all our expectations – our driver brought us to the next leopard spot soon after that. This one was also far away – lounging on a big tree. It took me 5 min to finally see it. Unfortunately, especially this leopard sighting locations was overcrowded, with as many as 30 jeeps crowding on the road, limiting the view, pressuring you to move on and spoiling the peacefulness of the experience. Nevertheless, seeing these magnificent creatures in their natural habitat was a once-in-a-lifetime experience that we will never forget. 
As we continued our safari, we saw lots of animals such as water buffalos, crocodiles, monkeys etc. One of our highlights next to leopards was to watch an elephant washing and playing in a pond full of water lilies. We were just extremely grateful for all the encounters we had on this short trip to Yala National Park.
Yala National Park is open year-round, but the weather can vary, and different seasons offer different experiences. 
The best time to spot leopards in Yala National Park is during the dry season, which runs from February to June. During this time, the vegetation is less dense, making it easier to spot wildlife, and the animals tend to congregate around the park's watering holes. Additionally, because the park's water sources are limited during the dry season, the animals are more likely to be seen near these areas.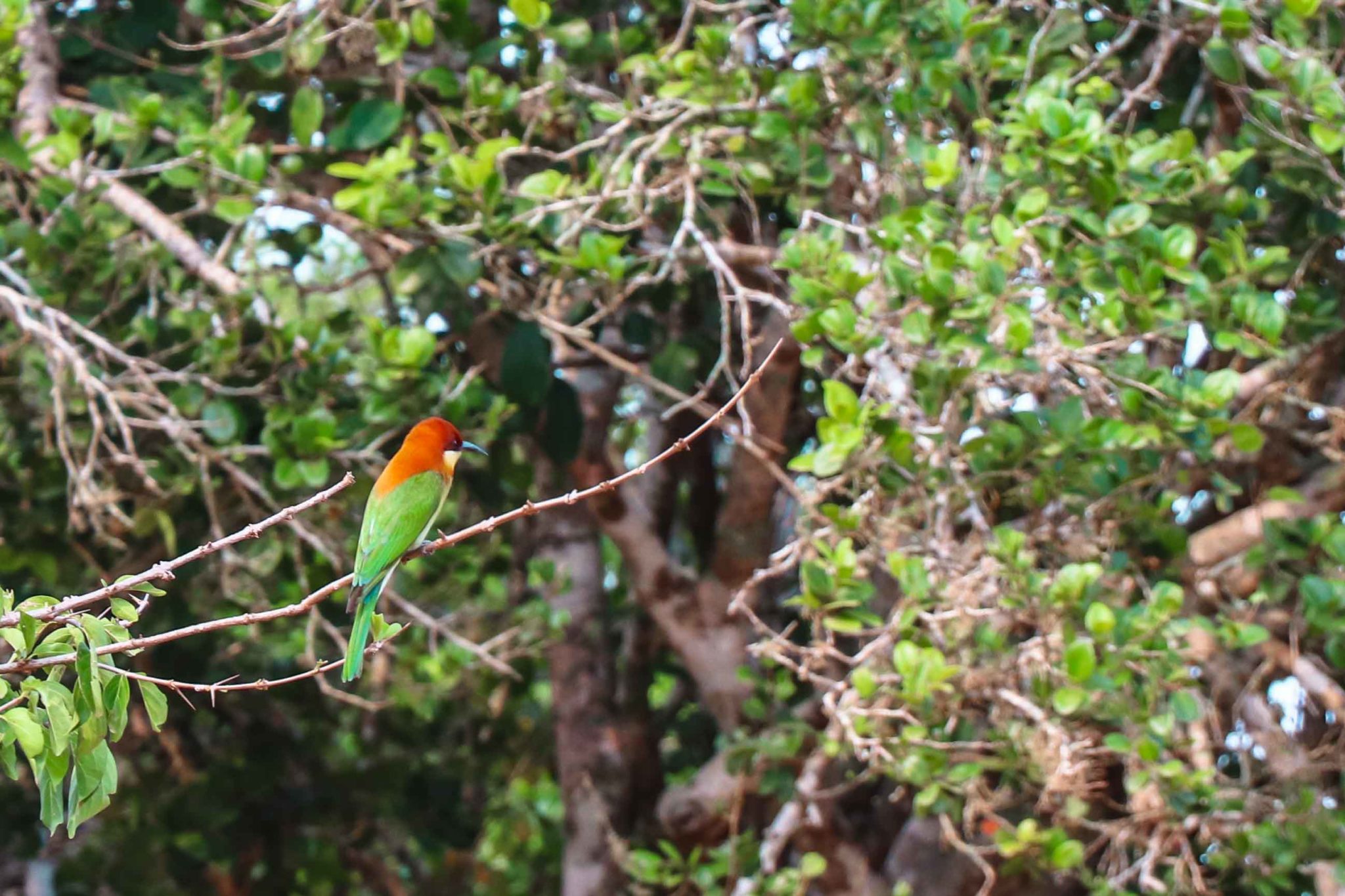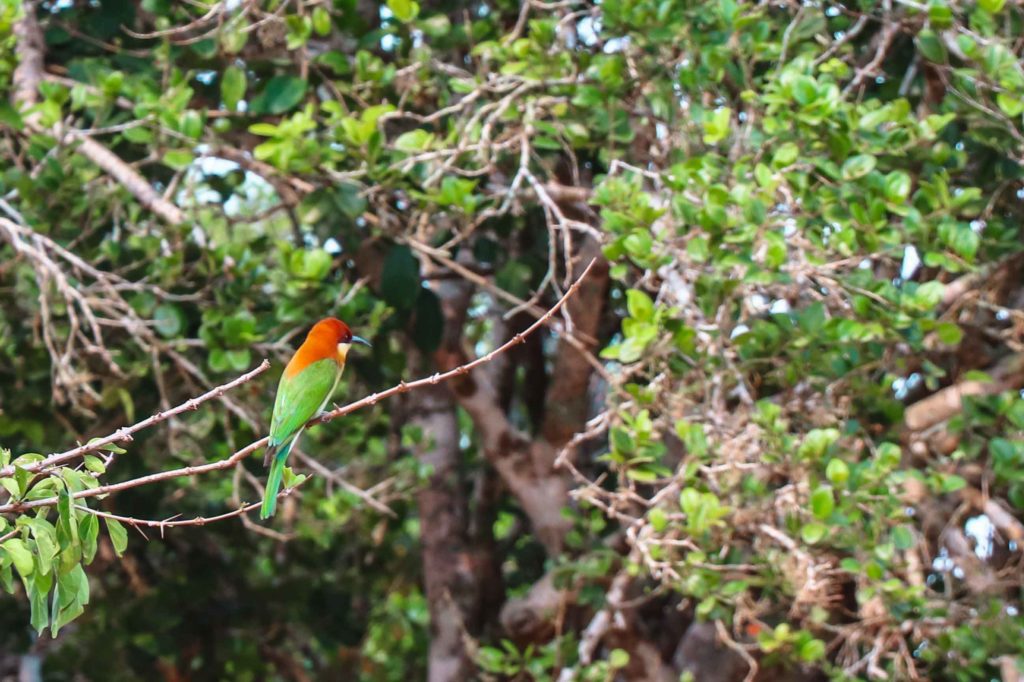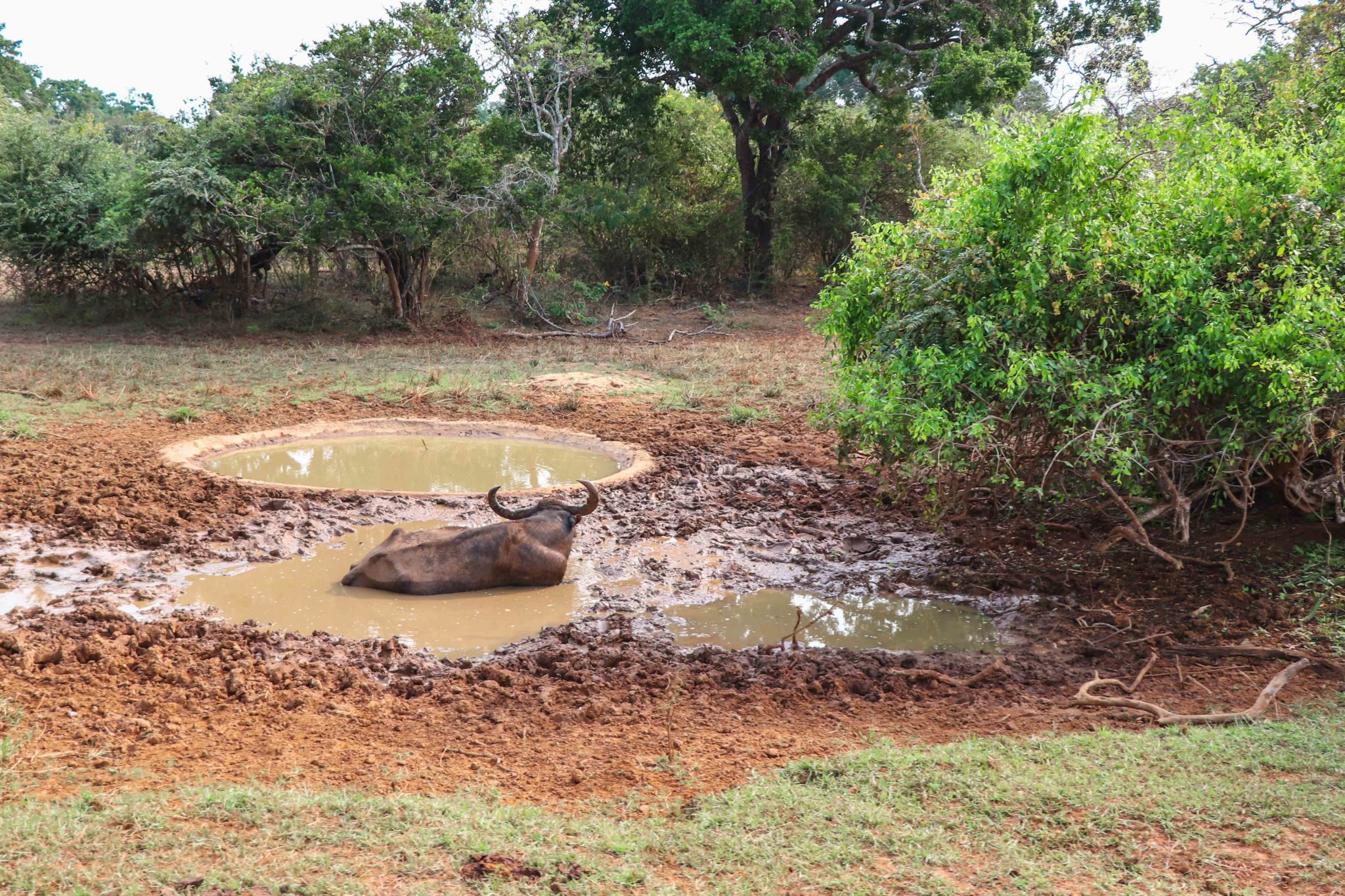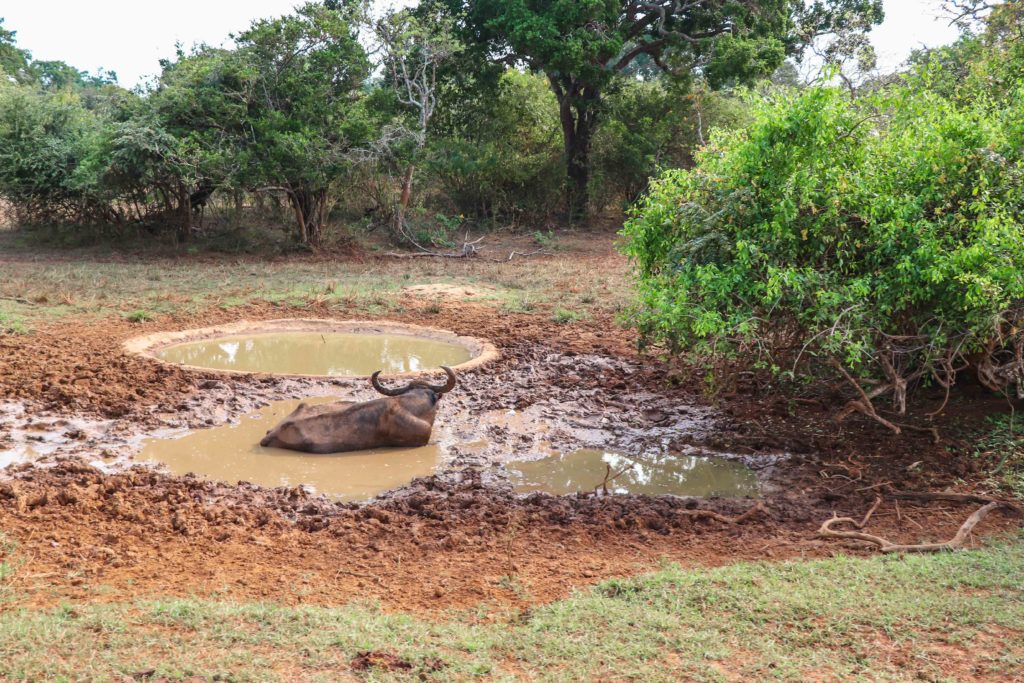 Tips for your next safari
To make the most of your safari experience, we strongly recommend taking a good pair of binoculars or asking your safari guide to bring one. They can help you spot animals that are further away, and also allow you to appreciate the details of the landscape and wildlife around you.
Also, wear natural-colored clothing like green, brown, or khaki to blend in with the environment. A hat, sunscreen, and insect repellent are also essential items to bring along.
Be prepared for a bumpy ride, as the park's terrain can be rough and uneven, but the excitement of spotting wildlife in their natural habitat makes it all worth it.
To explore Yala National Park, you'll need to start your journey from the charming city of Tissamaharama, where the entrance to the park is. You can get to Tissamaharama either by taking a car or bus. Most tourists prefer staying overnight in Tissamaharama before and after the Safari. In case you want to stay overnight in the park, there are several options available, including camping or staying in a luxury tented camp.
We had the pleasure of staying at the Blue Wild Hotel in Tissamaharama. This brand-new hotel is not only beautiful and comfortable but also sustainable, with a strong focus on eco-tourism. The hotel's location is perfect, situated directly at the Tissa lake and surrounded by lush greenery. The small bungalows offer a stunning view of the buffalos feeding directly from your private pool. It's truly a cool experience to be able to relax and soak up the atmosphere while watching wildlife so close by. Overall, our stay at the Blue Wild was fantastic, and we highly recommend it to anyone looking for a sustainable and comfortable stay near Yala National Park.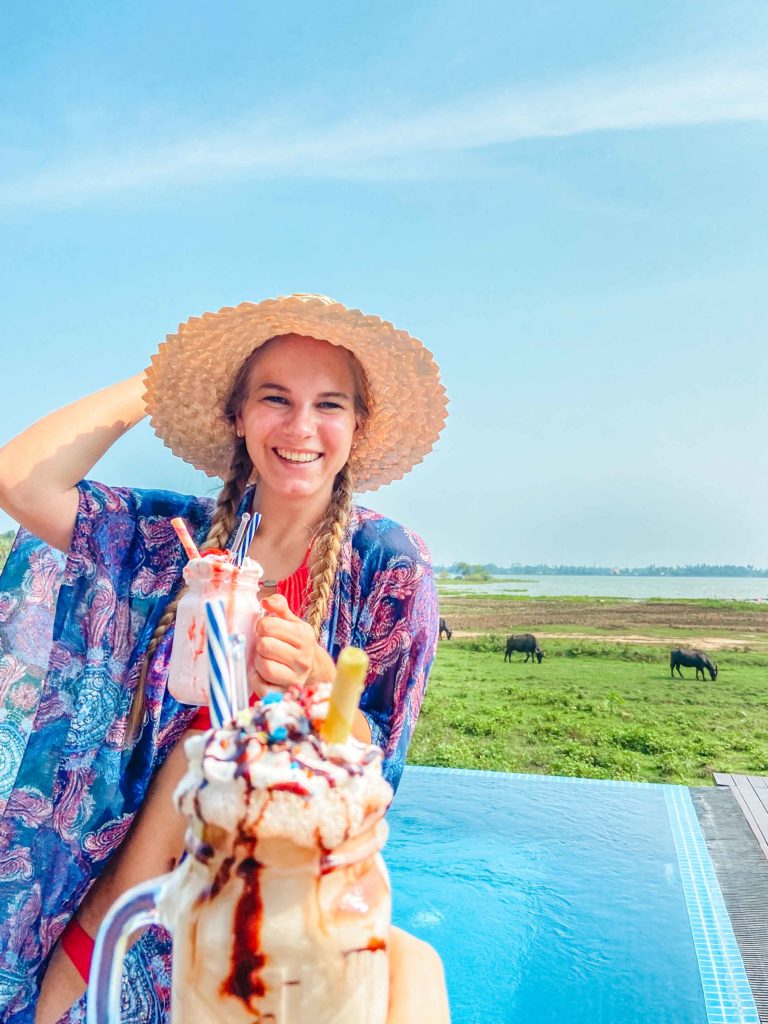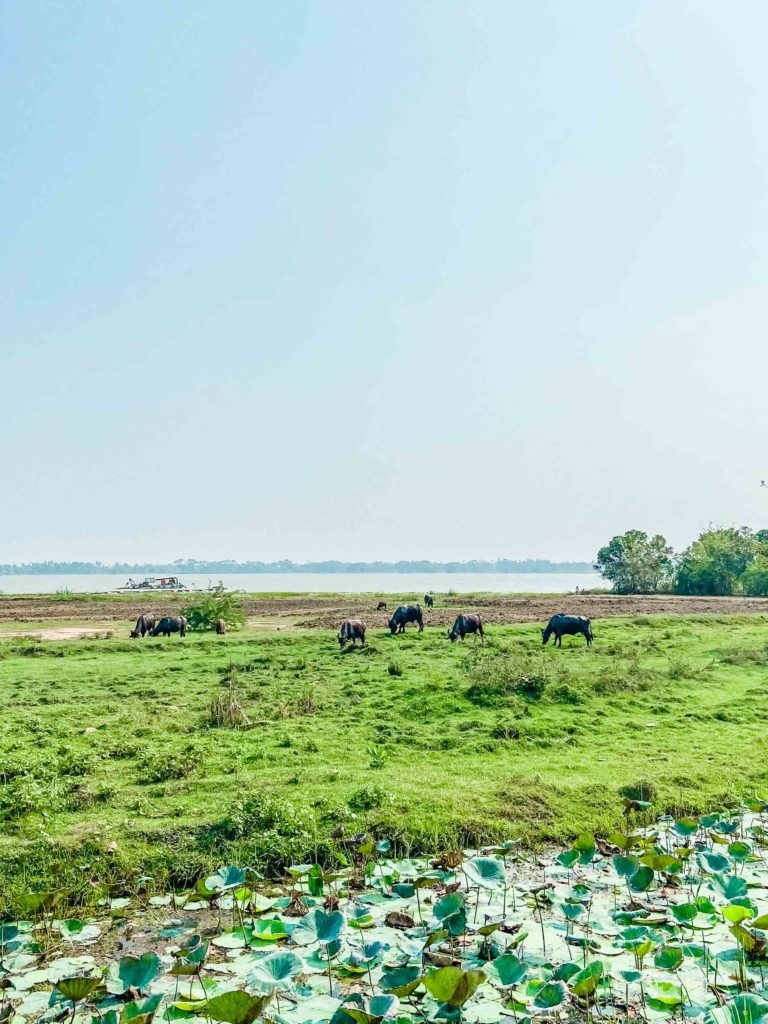 We were extremely grateful and thrilled to catch a glimpse of TWO of the majestic cats in their natural habitat. This experience left us with a deep appreciation for the natural world and a renewed sense of wonder and respect for the delicate balance of our planet's ecosystems.
However, the overcrowded leopard sightings did detract from the serenity of the experience. Still, all in all, Yala as an 8 out of 10, as we feel privileged to have been able to explore and witness the unique and diverse wildlife.