Considered to be one of the most beautiful train routes in the world, the journey by the blue train from Kandy to Ella is a must-do for anyone visiting Sri Lanka. As the train rolls along at a leisurely pace, you'll be treated to breathtaking views of green tea plantations, misty mountains, cascading waterfalls, and picturesque villages. 
Yes, the 6-8 hour journey is absolutely worth it, and yes, also we captured the incredible photos while leaning out of the train door. These spectacular scenes have stayed with us long after the journey is over. So sit back, relax, and let's explore one of the most unforgettable train routes in the world.
As we prepared to leave Kandy, there was a mix of emotions swirling within us. Jens had been battling a stubborn tonsillitis infection for the past two days, preventing us from fully exploring this wonderful city. We had spent the last days within the four walls of our hotel room, longing to immerse ourselves in the rich heritage and bustling markets that Kandy had to offer instead. What a pity. Therefore, there was a sense of relief and gratitude as Jens's fever had finally subsided just in time for our journey. Covid was still in the air at that time and travelling sick could have gotten us in trouble. 
We arrived to Kandy train station about 1 hour earlier to allow enough time to find the right platform. The station is a delightful blend of old-world charm and architectural beauty, welcoming travelers with its charming ambiance. Kandy train station still has this lovely old-fashioned wooden board displaying the platforms for departing trains. As the rhythmic chugging of the old-fashioned train echoes through the station, a real sense of nostalgia fills the air.
TIP:

To make sure you're well-prepared for boarding, it's a good idea to ask the train staff or locals about the specific spots where the train cars for your ticket class typically stop. This way, you can be in the right area, ready to hop on the train when it arrives.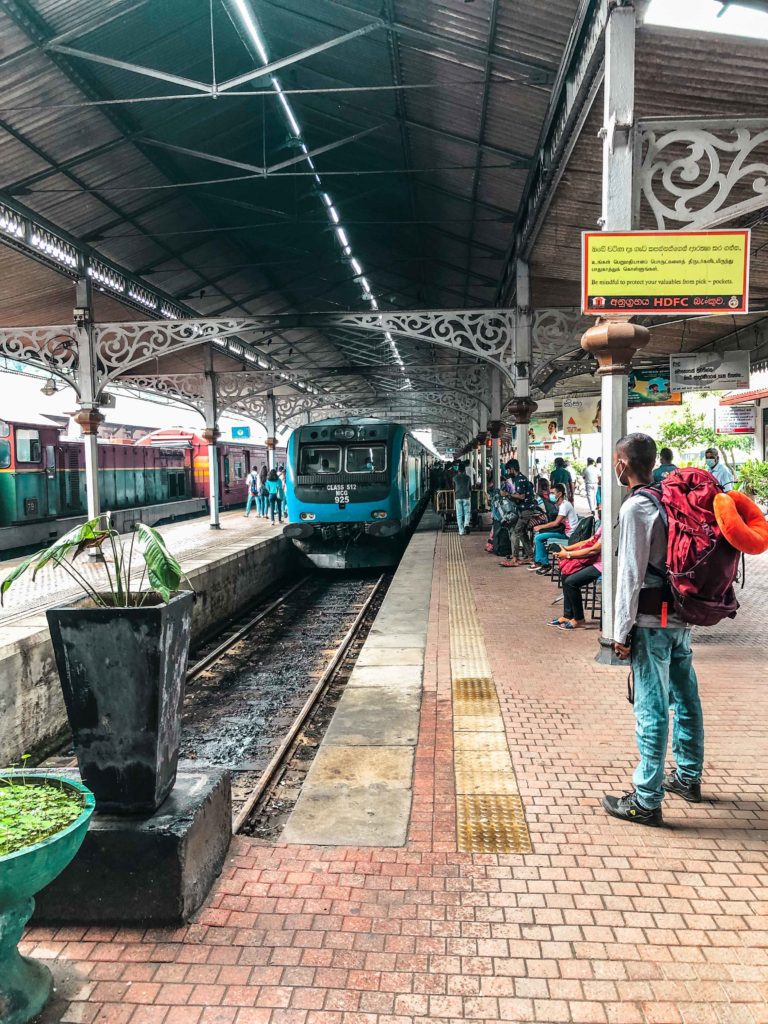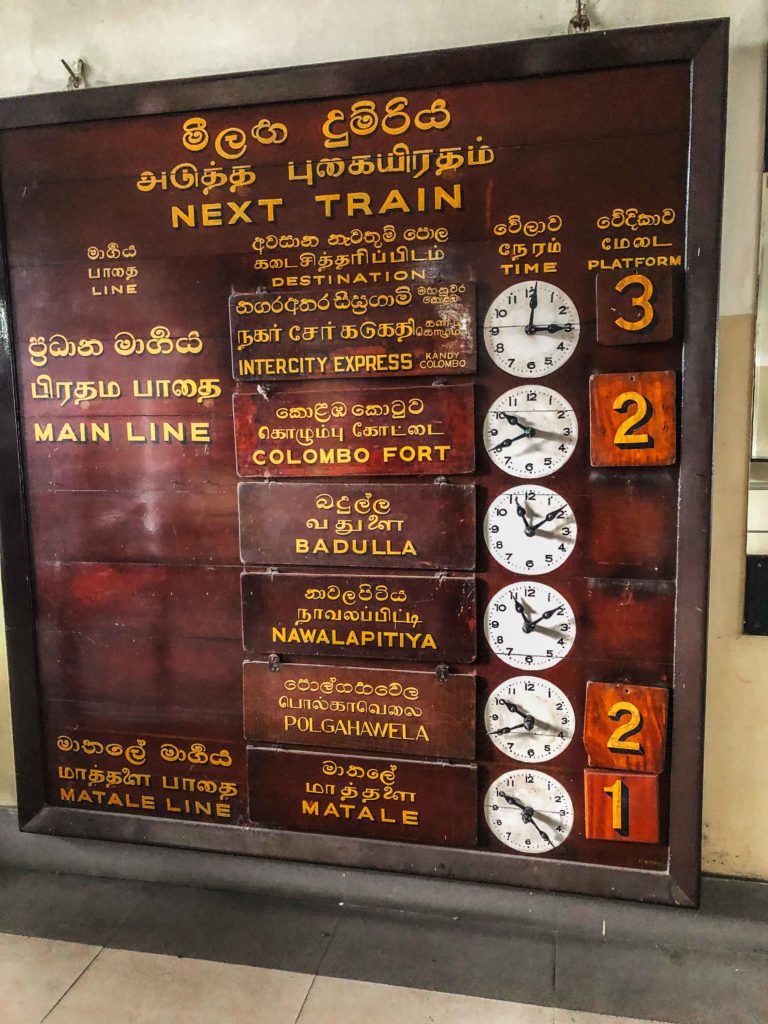 As the train pulled away from Kandy station, a palpable sense of excitement and anticipation filled the air. Thanks to the help of the train staff we were able to find the right car right away. 
Boarding the train, we were immediately immersed in a vibrant atmosphere, surrounded by the cheerful company of local passengers. We had tickets for the third class which is known for the affordability, attracting a large number of local passengers, making it a popular choice. 
Finding our assigned seats, we realized they weren't located directly by the window. However, our fellow passengers, who happened to be part of a larger family, kindly offered us their window seats after about an hour (Sri Lankan people are the friendliest ones we have ever met!). With the windows wide open and the train's doors ajar, a warm breeze blended with the rhythmic clatter of the moving train, creating a unique and inviting ambiance.
As the train journeyed through the undulating hills and lush tea plantations, we were captivated by the breathtaking beauty of the surrounding nature. Each turn revealed a new scene from a fairytale—valleys draped in mist, adorned with picturesque waterfalls cascading down. The expansive tea bushes, painted in vibrant shades of green, stretched as far as the eye could see, transforming the hillsides into a quilt of vibrant hues. The interplay of sunlight and clouds cast enchanting shadows, lending an ethereal touch to the landscape. Along the way, we glimpsed local residents engaged in their daily tasks, tending to the tea plantations or herding their livestock.
Of course, we had seen those breathtaking photographs of people joyfully hanging out of the train doors, their hair playfully dancing in the wind. It took some courage for me to finally make the decision to experience it firsthand. As we grow older, we tend to avoid unnecessary risks, but this was an adventure that had firmly landed on my bucket list, and there was no way I could ignore it.
Surprisingly, no other tourists had been seen hanging out of the door for pictures before I approached it. But I was determined to seize the opportunity and embrace the exhilaration of the moment. Still, it is important to note that locals often prefer sitting at the doors for the whole journey. So, I did feel myself as this stupid tourist who just wants to be cool when taking the pictures. But the resulting picture was absolutely worth it.
Despite the lengthy duration of the train ride, we were never once bored. The ever-changing scenery painted new pictures with every passing moment, fueling our excitement. 
Our train journey became a remarkable adventure, offering a glimpse into the breathtaking landscapes and the vibrant lives of the people who call this region home. It was a testament to the allure of travel, where every moment presented an opportunity for discovery and immersion in the beauty of the world.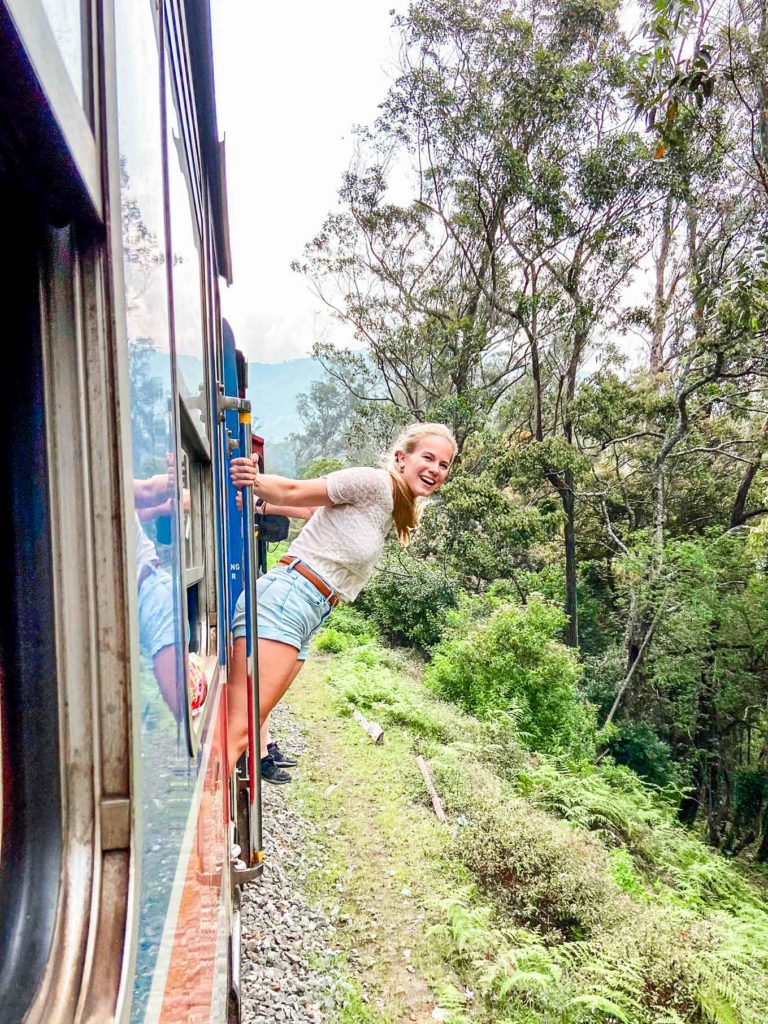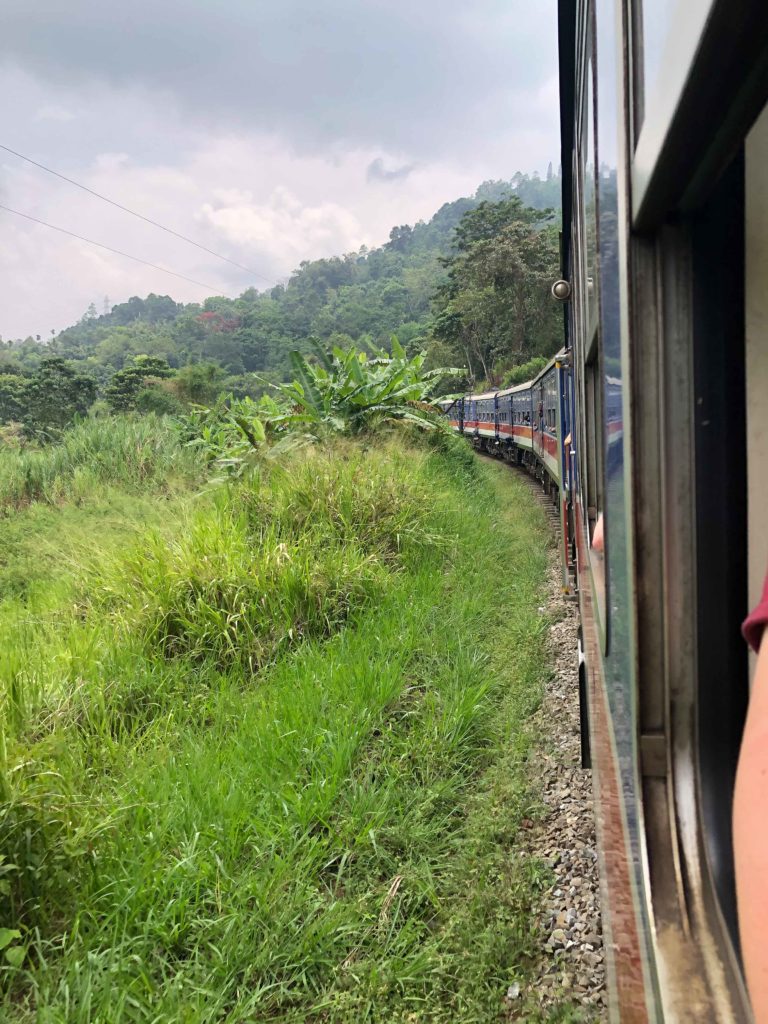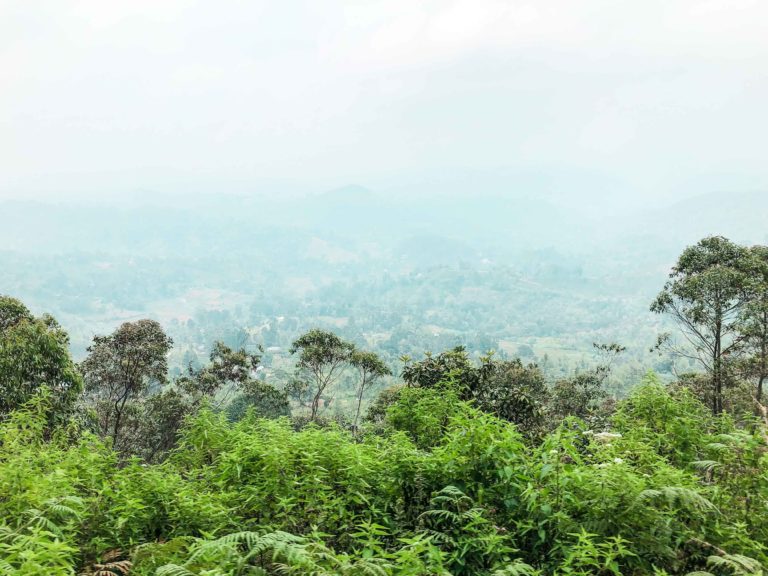 How long is the train ride from Kandy to Ella?
According to the schedule, the train journey from Kandy to Ella is expected to last approximately 6 hours. However, it's important to keep in mind that things tend to move at a more relaxed pace in Sri Lanka, and there may be extended stops and occasional delays along the way. In reality, the travel time can stretch up to 10 hours. We did have our first 30 min delay already in the beginning of our journey (due to an accident). However, we were in Ella after 8 hours. While it may have been a longer ride, the experience was undoubtedly worth every minute spent on this spectacular route.
TIP:

It's important to note that not all trains traveling from Kandy to Ella are blue. There are also red trains, mainly used for carrying mail and goods. Blue trains, however, are express trains. While both types of trains can take you to your desired destination, it's important to keep in mind that blue trains are significantly faster than red trains and also more modern. If you're keen on capturing the iconic blue train, be sure to pay attention to the train type when booking. Also, we reccommend to catch the morning train from Kandy to Ella. Doing so, you'll have daylight all the way, allowing you to enjoy the stunning views and even hang out of the train doors. Don't risk traveling at night and missing out on the beauty.
TIP:

Bring your own food as the train doesn't offer onboard food services. However, there are local vendors who hop on at each station, offering an array of snacks and treats. You'll be greeted by their enthusiastic voices as they make their way through the cabins, showcasing their offerings of roasted peanuts, fresh fruits, and even coffee/tea. So, take some cash with you, as you wouldn't want to miss the opportunity to savor these flavorful delights and support the local vendors along the journey. We enjoyed some ananas which was soo sweet and refreshing. Just be careful should you have a sensitive stomach ;).
How to get tickets for the Kandy to Ella Train
Booking your tickets online
We had read from other blogs that the train tickets for the Kandy to Ella journey tend to sell out quickly, especially during peak tourist seasons. Also, seat reservations are only available when booking online. Knowing that the journey would be about 7-9 hours long, we surely wanted to have a seat reservation. Therefore, we decided to book out tickets via 12go.asia. 12Go is a trusted ticket provider offering convenient online booking services for train tickets in Sri Lanka. You simply provide your preferred travel details such as the desired date, number of tickets, and travel class to the agency. They will be purchasing your tickets from the train station approximately 30 days prior to your travel date. 
It is advisable to book your tickets for the Kandy to Ella Train well in advance to secure your preferred date and class of travel. I guess we booked ours a few days later than 30 days beforehand and there were only third class tickets left. So, in case travelling in the first or in the second class is really important for you, you could book even 2 months earlier.
After your ticket reservation is confirmed, you will receive a ticket voucher via email. It's important to note that the voucher does not serve as your actual train ticket. Upon arrival in Sri Lanka, you will need to collect your real physical tickets. You can collect them from the 12Go office in Colombo or arranging for them to be delivered directly to your hotel for an extra fee. Since our first night was in Negombo and we were not sure whether we would make it to Colombo to pick up out ticket, we chose the second option. It worked without problems and the hotel owner gave us the tickets as we were checking in.
TIP:

When completing the online form, select the "flexible" option. This ensures that if all 1st class tickets are unavailable, the 12Go agent in Sri Lanka will secure 2nd class tickets for you, guaranteeing seats for your journey. In the event of booking 2nd class tickets instead of 1st class, you will receive a refund for the price difference.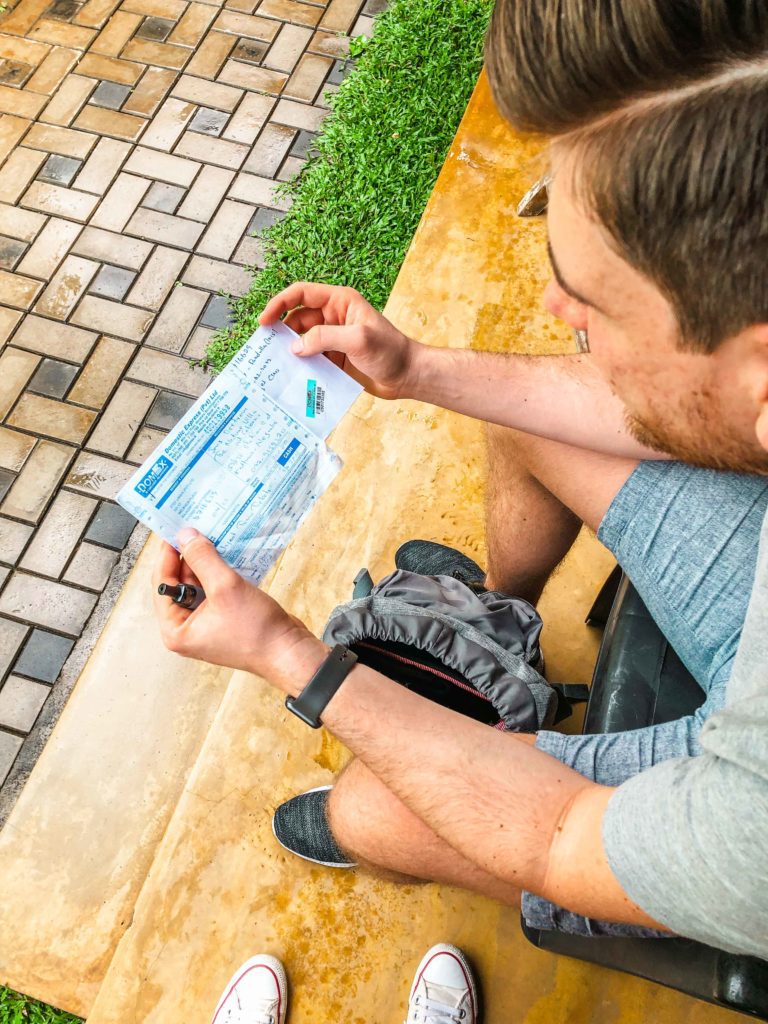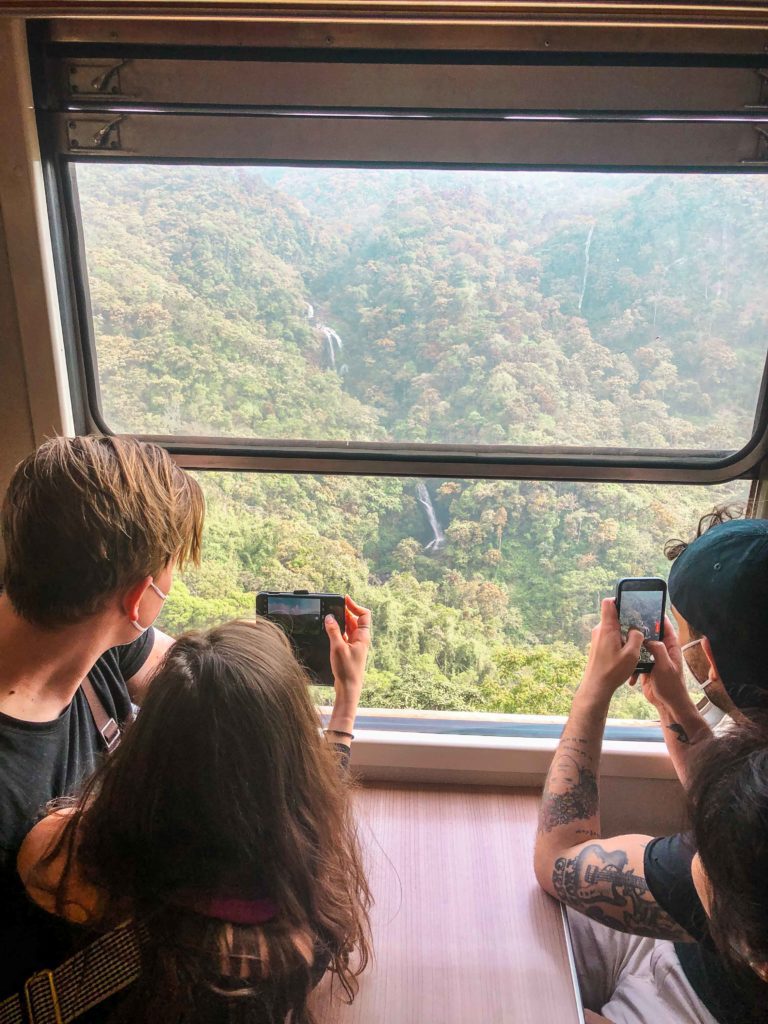 Buying your ticket from the train station
For those who prefer more flexibility in their travel plans and plan to purchase train tickets directly from the station, you can easily do that. Most trains feature unreserved cars, which cannot be pre-booked and are typically available in second or third class. These cars tend to be crowded and can only be purchased on the day of travel. Ticket sales for unreserved cars often start shortly before departure, usually about an hour earlier. It's important to note that unreserved cars will always have availability since they allow people to stand during the journey. This, however means that securing a seat in the unreserved carriages is unlikely.
TIP:

Try to avoid travelling on weekends as during these periods, not only do tourists flock to embark on the scenic journey, but local Sri Lankans are travelling, too. As a result, the trains can become quite crowded, especially in the unreserved sections. If you prefer a more comfortable and spacious experience, it's advisable to plan your trip outside of these busy times, allowing you to fully enjoy the captivating views and serene atmosphere along the way.
Which class should I book?
The train offers several classes, including the Observation Car, First Class, Second Class, and Third Class. The Observation Car provides the best views and comfortable seating, but it is also the most sought-after and tends to sell out quickly. First Class offers a comfortable and spacious option, while Second and Third Class provide more affordable choices. Depending on your preferences and budget, choose the class that suits your needs.
Certain trains have a special observation carriage located at the rear. This unique section features a large window that allows you to admire the track behind you. It's quite popular, so make sure to book your seats early in advance. If you're fortunate enough to secure seats near the rear window, get ready for an incredible journey with stunning views and photo opportunities, even if the window might need a little cleaning.
First-class tickets offer the advantage of air conditioning, keeping you cool throughout the journey. BUT(!) this means that the windows and doors in first-class will remain closed. So there is no possibility to take pictures leaning out of the window. While first-class may be appealing to luxury travelers or those looking for familiar surroundings, second and third-class provide an affordable and authentic way to embrace the true spirit of Sri Lanka during your train ride.
In second class, you'll find individual seats that offer a bit more comfort compared to the bench seating in third class. Additionally, all the seats in this class are positioned facing forward. Second-class carriages provide fans for ventilation, and the windows can be opened to let in fresh air. This option is favored by many who enjoy capturing memorable selfies with their heads hanging out of the windows. It's a fun and popular choice for those seeking unique photo opportunities during the train journey.
Third-class seats offer the most budget-friendly option available, making them a popular choice among locals. In reserved carriages, 3 people sit on the bench and you could also be seating facing backward. We had read that third class seats have wooden benches. Well in our case, in the reserved carriages, we had cushioned seats. Also here, the windows and doors remain open, allowing the breeze to mingle with the sticky air. Electric fans attached to the carriage ceiling provide some respite. 
The train ride from Kandy to Ella was not just a means of transportation; it was an immersive experience that allowed us to connect with the heart and soul of Sri Lanka. It served as a gentle reminder that sometimes the journey itself is as important as the destination, and that true beauty can be found in the simplest of moments.