As we were trying to rent a scooter in Malang to independently visit Mount Bromo we were rejected many times, by claiming that visiting Mount Bromo by scooter is impossible. But we knew better. Internet knew better. And we did not take "no" as an answer until we found someone who was willing to give us what we needed.
The sunrise view on the active volcano Mount Bromo definitely was one of our highlights in Indonesia. The colors of the sky are stunning, with a range of hues from deep purples and blues to bright oranges and pinks making it the most beautiful sunrise we have ever seen.
Join us on our unconventional journey and discover the raw, unfiltered experience of exploring Mount Bromo on your own.
Save on Pinterest to read it later.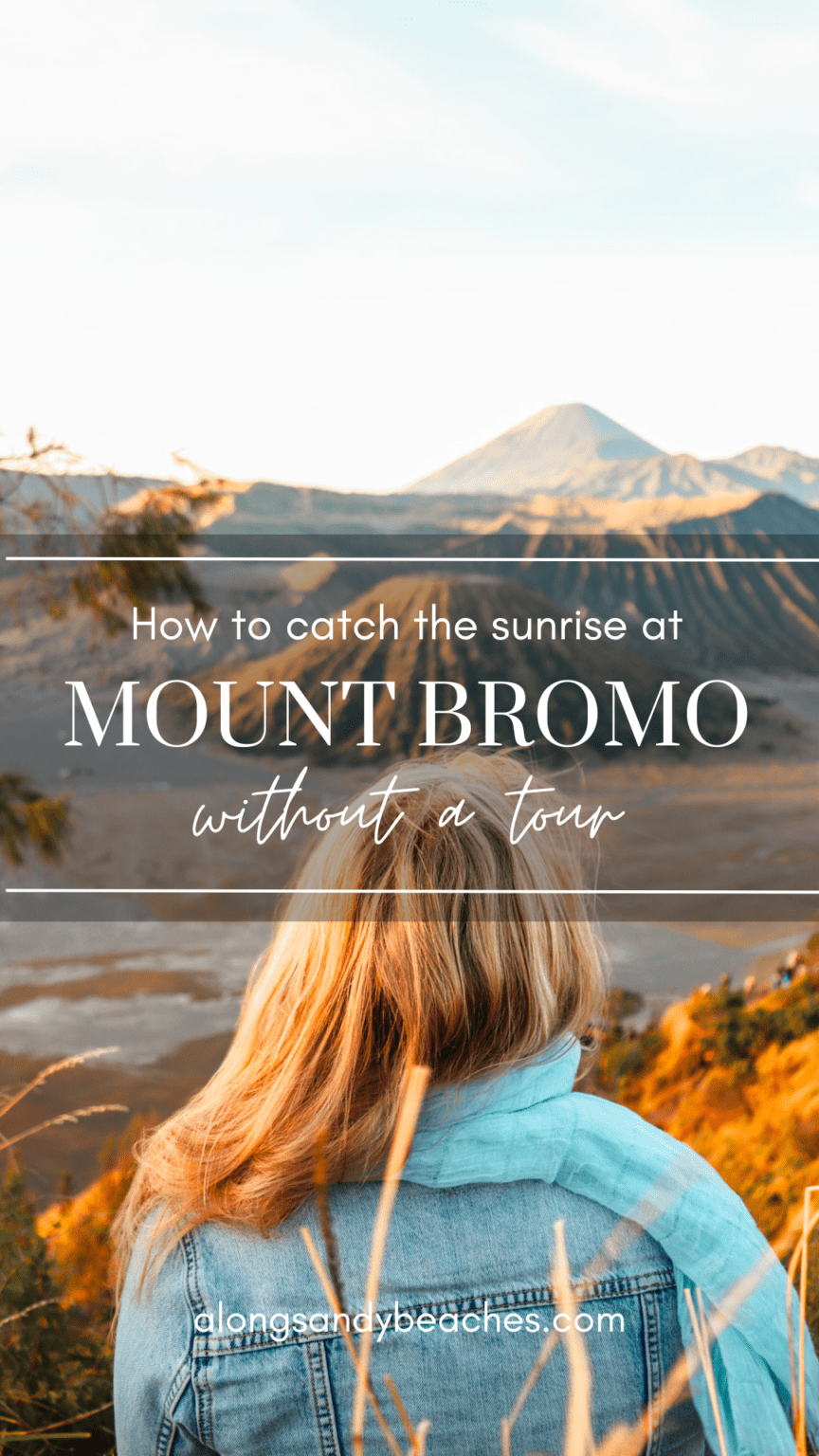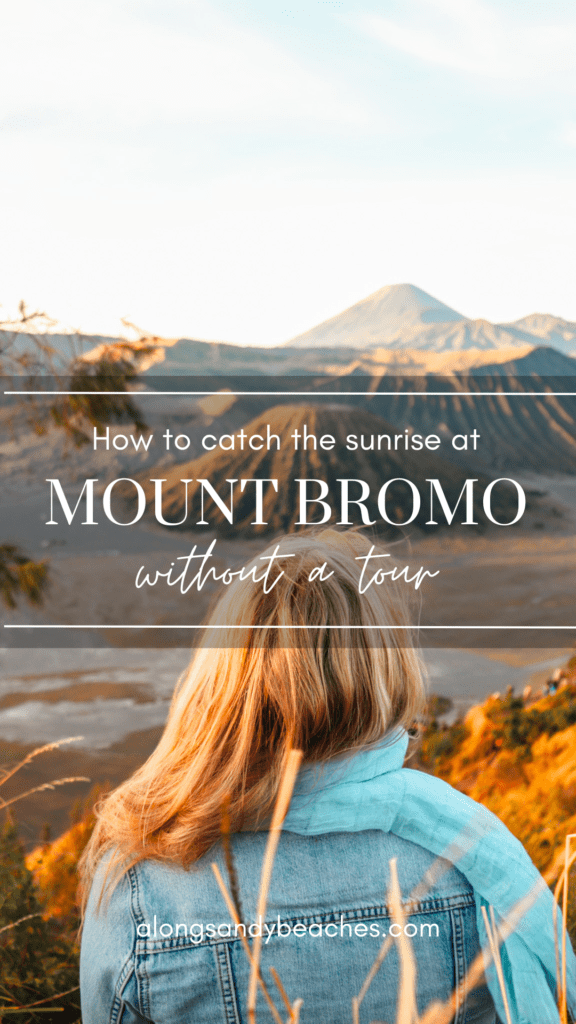 There is something magical about standing on the edge of a volcanic landscape as the sun rises slowly over the horizon, illuminating the dramatic terrain and casting an array of colors across the sky. The view is truly breathtaking, with the silhouette of Mount Bromo in the distance and the Sea of Sand stretching out below. It's no wonder that the sunrise on Mount Bromo has become one of the must-see experiences in Indonesia.
Located within a protected reserve called the 'Sea of Sand', Mount Bromo is surrounded by a massive crater that houses five other volcanoes including Mount Batok, Mount Kursi, Mount Watangan, and Mount Widodaren. Standing at a height of 2,329 meters, the active volcano Mount Bromo is the most popular attraction in the area. Visitors can enjoy breathtaking views of the crater and Bromo from different viewpoints, explore the Sea of Sand, and even climb up to the summit of Mount Bromo for a truly unforgettable experience.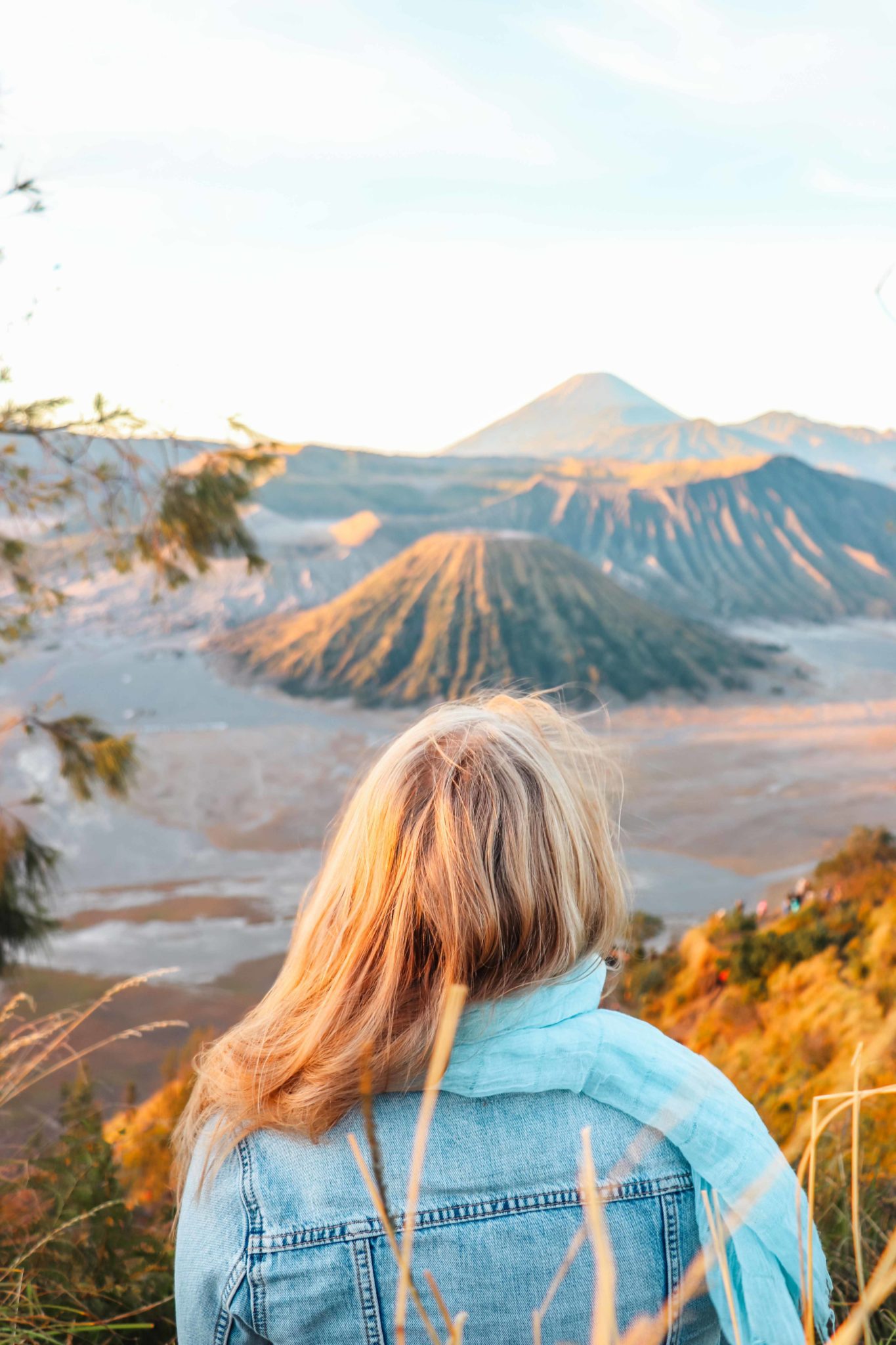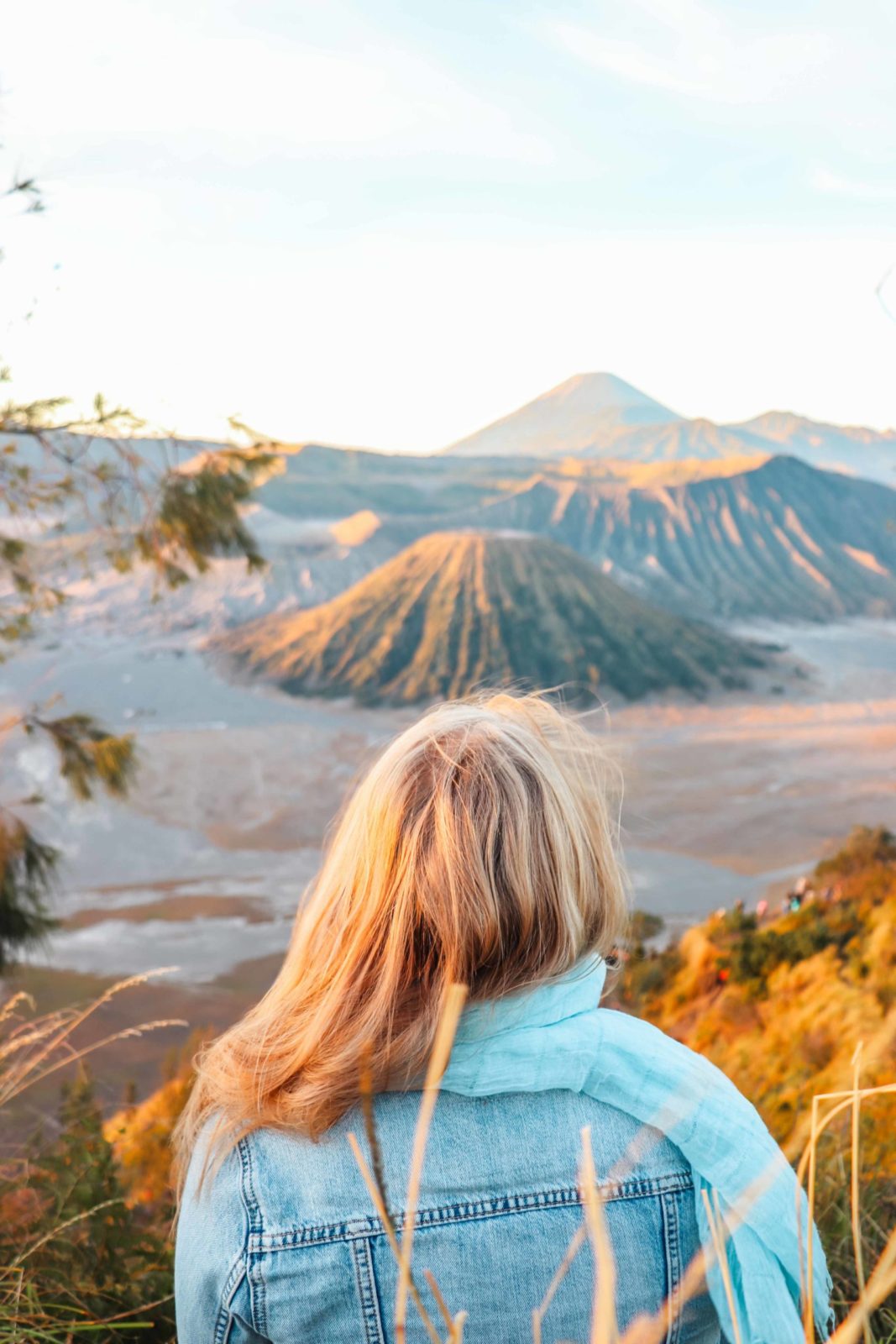 How to plan your trip to Mount Bromo on your own
Explore Mount Bromo without a tour
Visiting Mount Bromo is generally safe, but it is important to note that depending on the level of volcanic activity, there may be warnings issued by the Bureau of Meteorology about visiting. Therefore, it's always a good idea to check the current status of the volcano before planning your trip to ensure a safe and enjoyable experience.
If you're planning a trip to Mount Bromo, the easiest way to get there is by booking a tour from Surabaya, Yogyakarta, or Bali. While this may be the most convenient way, it's not necessary the most enjoyable or cost-effective option. Booking a tour can leave you feeling drained and bored, spending most of your time sitting in a car.
And even worse, when you finally arrive at the volcano, you'll be met with hordes of other tourists. We're not kidding – there are hundreds of Jeeps and crowds of thousands of people descend upon Mount Bromo every single day, making it difficult to fully appreciate the majesty of the landscape. This is why we wanted to experience Mount Bromo without a tour and by ourselves to fully immerse ourselves in the wonder of the region.
If you're planning a trip to Mount Bromo on your own, you'll need to start your journey from one of the towns located near the volcano. The two most popular towns to begin your Mount Bromo adventure are Probolinggo, Malang and Cemoro Lawang.
Probolinggo is the largest town in the area and offers easy access to the volcano via a well-maintained road.
Malang, on the other hand, is a larger city located to the south of Mount Bromo, and offers a more urban experience for travelers.
Cemoro Lawang is a small village situated on the edge of the Tengger Caldera, and provides a more authentic and rustic experience for travelers.
All towns offer unique advantages and can serve as a great starting point for exploring Mount Bromo, with easy access to the volcano and the surrounding area. Travelers can choose the town that best fits their interests, preferences and route.
Our last stop had been Yogyakarta, so we found that Malang was the best place to suite our itinerary. From here, it's only about 50 km to the viewpoint, and a 1.5-hour scooter ride. We want to point out , that as the roads can be narrow and winding, and driving in the dark can be challenging, we recommend this route only for experienced drivers.
To rent a scooter, we contacted several shops using our Indonesian SIM card on WhatsApp until we found one that had powerful scooters (at least 110cc-engine) suitable for visiting Mount Bromo AND who was willing to rent us a scooter. Once we arrived at the Sea of Sand, we understood why not all shops are willing to rent their vehicles for this trip. It is definitely not the easiest drive. For our Yamaha Aerox 155cc we paid 120.000 IDR (ca. 8 USD) for a 24 hours rental.
Starting our journey at 3 am, we  took the route via Sugro and Wonokitri to the viewpoint and navigated using Google Maps. 
There is also a road going south of Mount Bromo. This one we chose for the return journey. Retrospectively, it was the right choice as it's better to avoid driving through the Sea of Sand in the dark. 
As we arrived at the entrance to the Bromo-Tengger-Semeru National Park, we knew that we had to purchase our entrance tickets for the Bromo National Park. It was a quick stop, and we were able to get our tickets easily. The cost per person was only 220,000 IDR, which was ca 15 USD. It was incredibly affordable, especially when compared to the cost of a guided Bromo tour. We opted to rent a scooter and buy some gasoline, but even with those added expenses, it was still an incredibly cheap and enjoyable way to experience the beauty of the Bromo-Tengger-Semeru National Park.
TIP:

It can be very cold in the night, especially in late August when temperatures drop below 10 degrees Celsius in the night. Dress warmly in layers when riding a scooter as the wind can make it feel colder. We also recommend to bring a scarf and gloves. There are also food stalls at the viewpoints, which offer small fires and hot coffee/tea to warm up.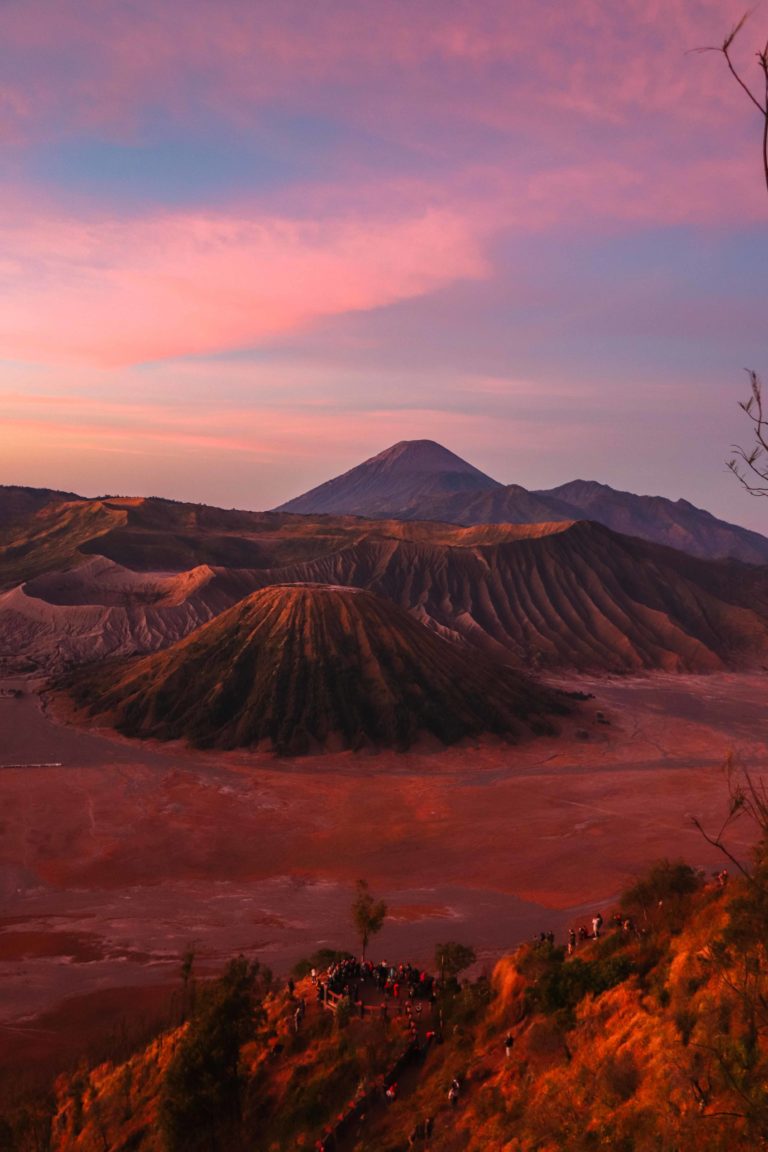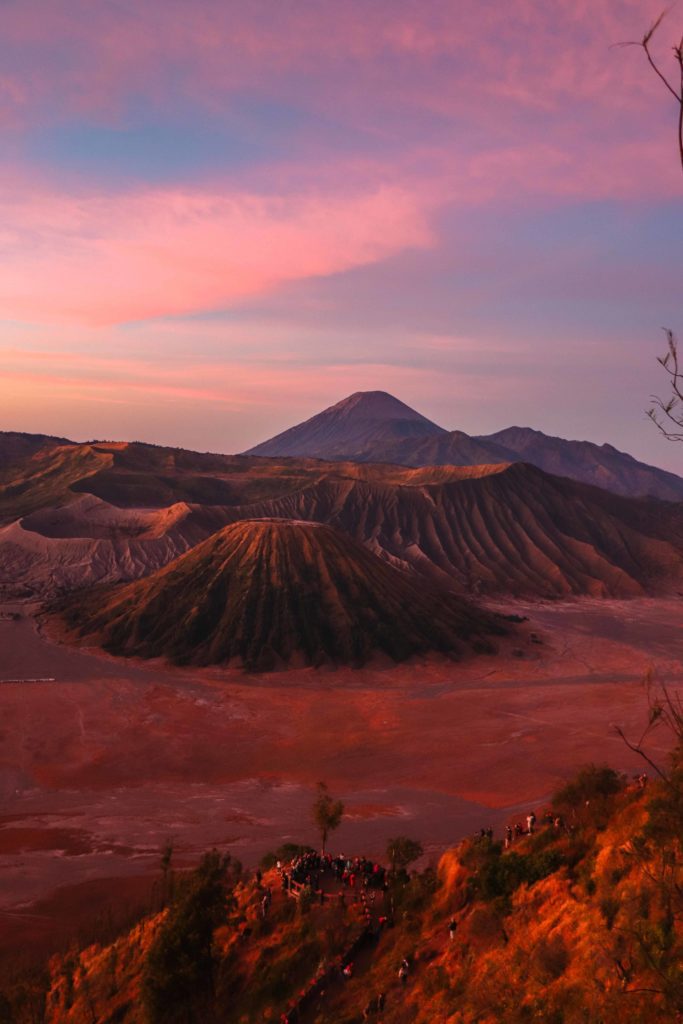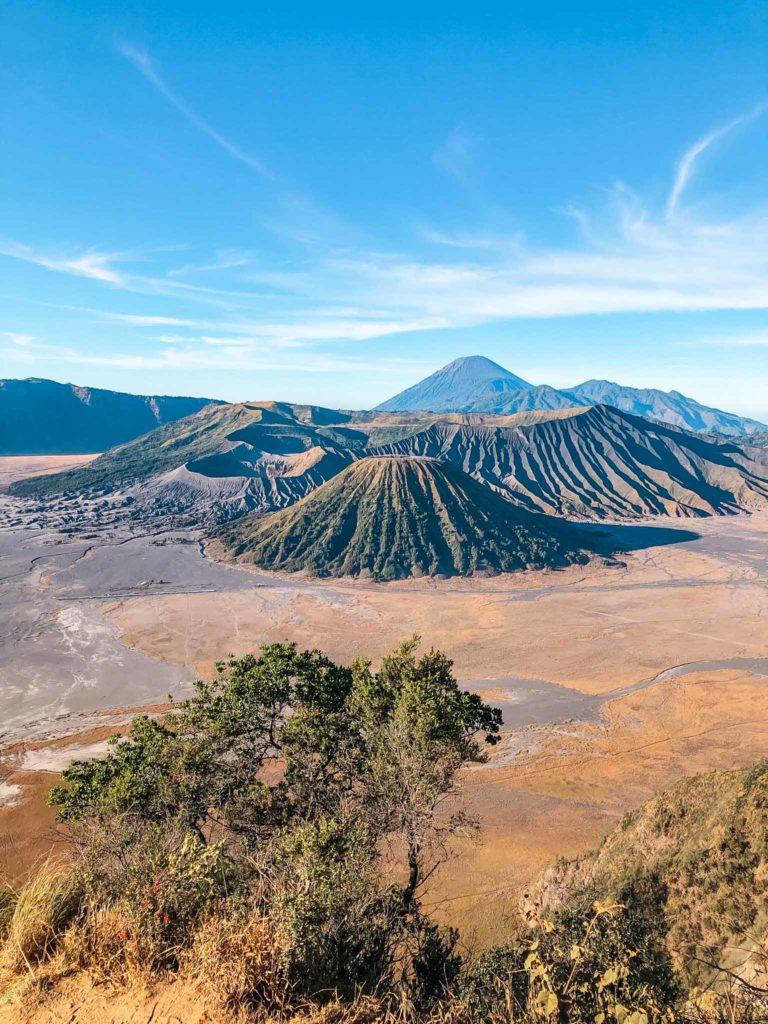 Best Viewpoints for the Sunrise
You don't want to watch sunrise from Mount Bromo itself. There are several viewpoints, each offering a unique perspective of the stunning landscape. The most popular viewpoints are Penanjakan, King Kong Hill, and Love Hill.
Penanjakan is the highest and most crowded viewpoint, offering a panoramic view of the entire area, including Mount Bromo, Mount Batok, and Mount Semeru. It can get very crowded, so be prepared to arrive early to secure a good spot.
King Kong Hill is a less crowded option, located just a short hike away from the Penanjakan viewpoint. From here, you can enjoy a stunning view of the Mount Bromo crater with a foreground of rolling hills and vast savannah.
Love Hill, also known as Bukit Cinta, is a more secluded option, located about 3 km away from the main area. It offers a stunning view of the sunrise over Mount Bromo and the surrounding landscape, with fewer crowds and a more intimate atmosphere.
We opted for the King Kong Hill viewpoint. Also, we found out from a German travel blog that there's a hidden trail after the food stalls on the right side that leads to a secret spot (before the official one). We followed the trail for about 5-10 minutes, and it led us to a stunning viewpoint that was higher up the hill. The best part was that there were only a few people there, so we had plenty of space to enjoy the breathtaking view in peace and quiet.
It's worth mentioning that Mount Bromo is not the tallest volcano in the area, but it's the smaller, smoking one located on the left. 😉
TIP: Keep in mind that you arrive to the viewpoint when it is still dark, so it may be a bit challenging to navigate the trail. Bring a flashlight or headlamp to make your ascent easier.
Climbing the Bromo Crater
As we drove our scooter from the viewpoint towards Mount Bromo, we couldn't help but feel the excitement building up inside us. The sand was still cold in the morning and driving through the Sea of Sand was relatively easy.
TIP:

Start moving towards Mount Bromo before the crowds start gathering, so you can enjoy the view without any distractions.
We had to walk for around 10 minutes from the parking lot on a dusty road to reach the stairs that would take us to the crater. We had read in other blogs and it was important for us to reiterate – please do not take a horse for this small walk as these animals are not treated well.
TIP:

Use your scarf or dust mask to protect you from all the dust. Trust us, you will really need this! We learned this the hard way as Laura got an allergic reaction and started sneezing soon after entering the Sea of Sand. Her nose was running for two days afterwards.
To reach the summit of Mount Bromo, we had to climb up a short but steep path that was paved with stairs. It took us around 20 minutes to reach the top with a normal space. But we noticed that the stairs can get crowded and it is hard to bypass others on the narrow stairs. So we suggest being patient.
The view from the top is absolutely worth it! We were left in awe as we gazed down into the vast, otherworldly caldera and marveled at the fuming, volcanic activity below. It was a truly humbling experience and provided us with a unique perspective on the natural wonders of our planet.
"Swimming" through the Sea of Sand
As we descended Mount Bromo, we realized that our scooter's fuel tank was almost empty. With fingers crossed, we made our way to Cemoro Lawang in hopes of finding some fuel, although Google Maps didn't show any gas stations. We crossed our fingers and asked the locals for help. To our delight, a friendly lady sitting on her patio pulled out two plastic bottles of fuel and filled up our tank. We continued our journey towards the Sea of Sand with a filled tank and grateful hearts. But little did we know the journey ahead would be much harder than we anticipated.
The sand had become incredibly soft, making it almost impossible to ride our scooter. We had to push it most of the way. There were also no trees to provide shade from the scorching sun. However, we kept our spirits up and laughed at the absurdity of our situation. We noticed we weren't the only ones struggling, which made us feel better. After about two hours of hiking through the Sea of Sand, we finally made it to the other side. Despite the challenging journey, the breathtaking views of the landscape and rice fields along the way made it all worth it.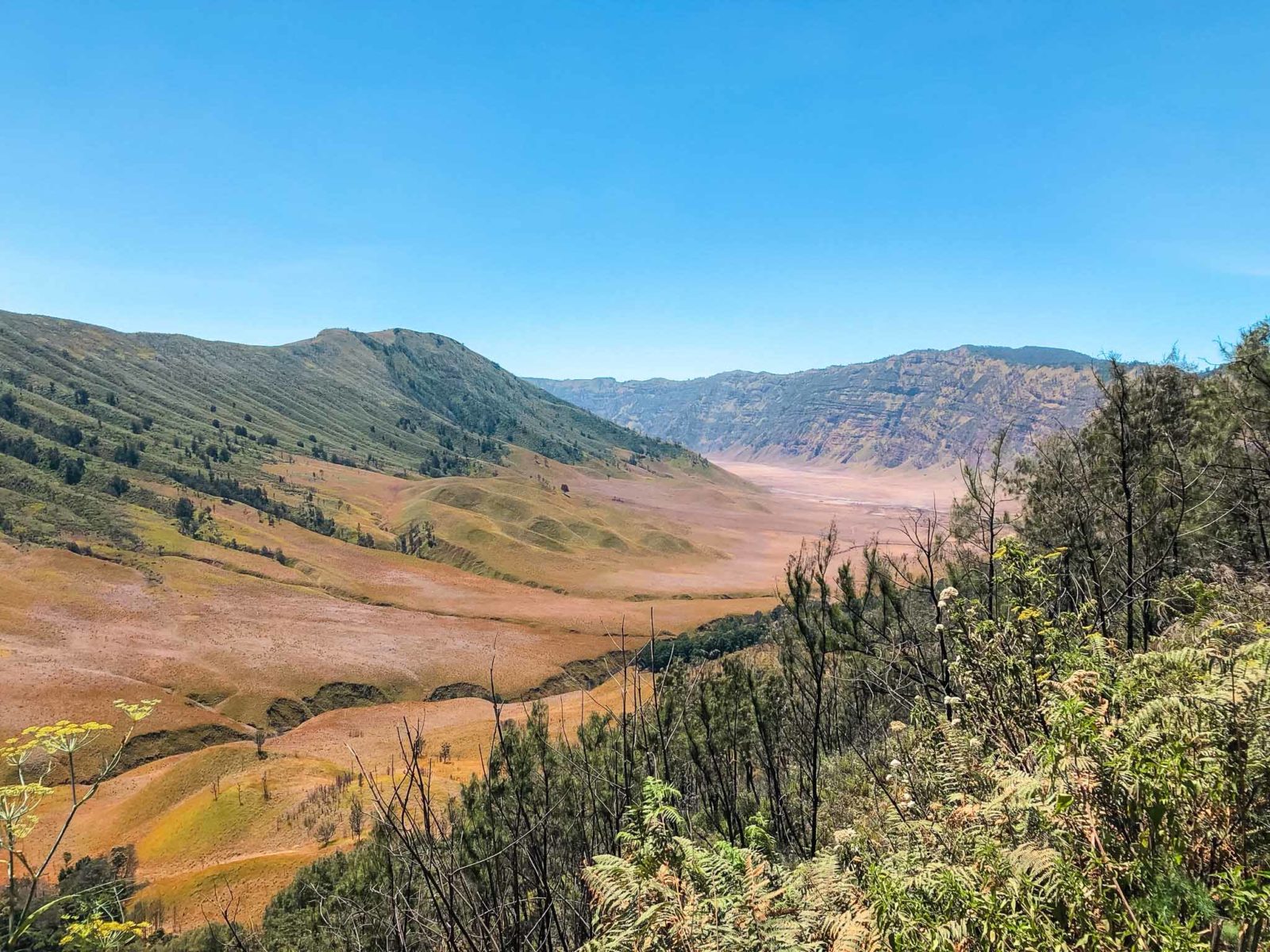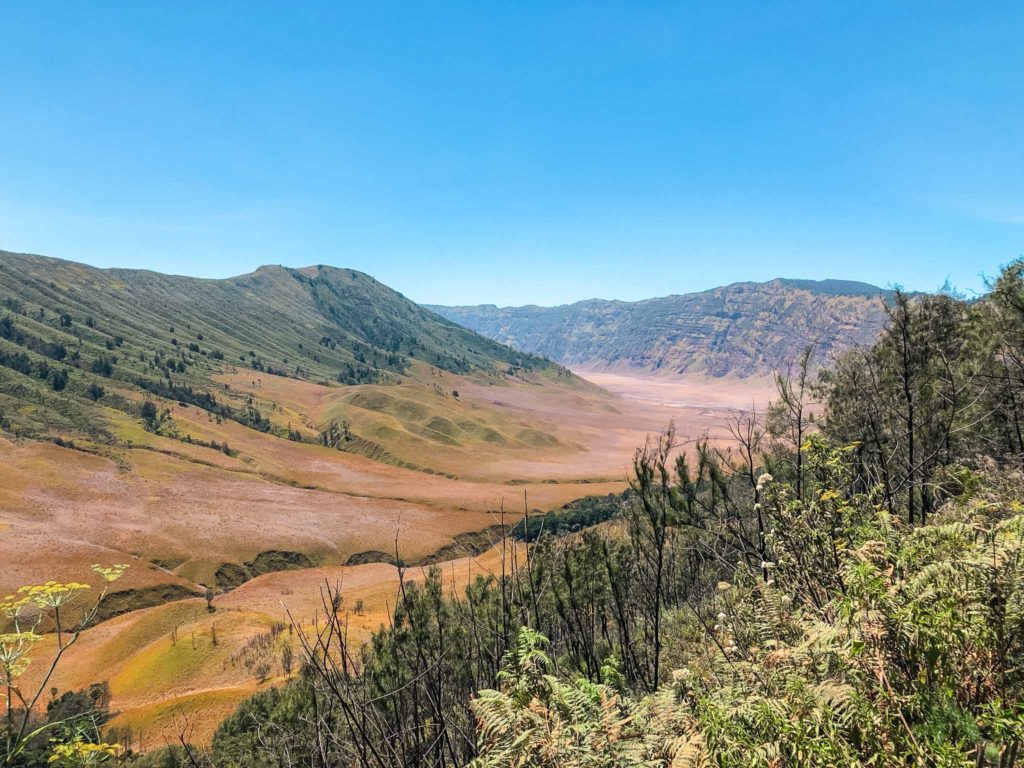 Visiting Mount Bromo is an unforgettable experience. From the stunning views of the sunrise to the unique and awe-inspiring landscape of the crater, the journey to this iconic volcano is worth every bit of effort. Though the drive by a scooter can be challenging at times, the reward of seeing the volcanic activity up close and personal is simply incredible. Overall, our experience of visiting Mount Bromo was nothing short of 10/10 and the memories have remained close to our heart since then.